All the news for Sunday 28 August 2016

UniKL, Tenaga riding on tidal draws

By Jugjet Singh



Pic: UniKL's Shazrul Imran (left) challenges KLHc's import Nam Hyunwoo during their famous 1-1 draw on Friday.

UNIVERSITI Kuala Lumpur (UniKL) and Tenaga Nasional will be riding on their mammoth draws against title favourites when they face another challenging time Sunday in the Premier Division of the Malaysia Hockey League.

On Friday, UniKL held Kuala Lumpur Hockey Club (KLHC) 1-1, while all-local outfit Tenaga Nasional did the unthinkable by holding double champions Terengganu Hockey team (THT) 4-4.

And Sunday, UniKL will play Maybank while Tenaga square off against KLHC.

Tenaga assistant coach M. Kaliswaran said they hope to ride the draw tide in another gruelling match.

"We are the only team in the Premier Division without foreign signings, and it was a proud moment when we held double champions THT to a draw (THT have six foreign signings).

"And tomorrow (Sunday) I believe my players will be riding on that boost when we face another title contender," said Kaliswaran.

It was Tenaga's first point after three matches, and they lost narrowly 4-3 to Maybank and 1-0 to UniKL previously.

As for UniKL, coach Arul Selvaraj echoed the same sentiments.

"After grabbing a point from table-toppers KLHC, I believe my young brigade will face their next match with more confidence.

"But we have our feet firmly on the ground, and even though we had beaten Maybank last week in the Tan Sri Alagendra Cup (1-0), it will be entirely a different proposition this time around.

"We need to be more clinical, as at times we are guilty of wasting too many chances," said Arul.

SUNDAY: KLHC v Tenaga Nasional (KLHA, 6pm), Sapura v Terengganu HT (Tun Razak, 8pm), UniKL v Maybank (KLHA, 8pm).

PREMIER DIVISION

        P  W  D  L  F  A  Pts

KLHC    3  2  1  0  8  4  7
SAPURA  3  2  0  1  7  6  6
THT     3  1  1  1  10 7  4
UNIKL   3  1  1  1  2  4  4
MAYBANK 3  1  0  2  6  10 3
TENAGA  3  0  1  2  7  9  1

Jugjet's World of Field Hockey


---

Day of the underdogs

By  Jugjet Singh



Pic: UniKL players celebrate their hard-fought draw against KLHC

UNIVERSITI Kuala Lumpur (UniKL) almost turned into Giant-killers when they held fancied Kuala Lumpur Hockey Club (KLHC) 1-1 in the Premier Division of the Malaysia Hockey League yesterday.

And Tenaga Nasional also rose to the occasion to hold double champions Terengganu Hockey Team 4-4.

KLHC's longest serving player, since their Arthur Anderson days, Roslan Jamaluddin was a dejected man after the draw.

"We only played in patches and were well below what we are capable of. This is not the way to play if we want to claim a title this season," said Roslan who was a former international goalkeeper.

KLHC forced the first penalty corner of the match in the third minute and South Korean import Nam Hyun Woo sent in a low drag flick that beat UniKL custodian, James Caragh, all the way.

However, Off their second penalty corner in the 50th minute UniKL found their equaliser when Mohamed Tousiq sent in a deft drag flick after being set up by Najmi Farizal from a delightful set-piece.

"We played like it was a friendly game and lost two precious points, this will allow the other teams to claw back in the later stages of the League," said Roslan.

UniKL coach Arul Selvaraj was delighted with the point: "I must say my men showed tremendous spirit and were not daunted by the fact that they were up against a formidable side.

"We absorbed the pressure well and slowed down the pace in the first three quarters to break their rhythm. To us the draw is as good as a win and I hope that this match will give confidence to the players to start believing in themselves."

RESULTS: TODAY: Premier Division -- Maybank 1 Sapura 2, UniKL 1 KLHC 1, Tenaga 4 Terengganu HT 4.
 
PREMIER DIVISION

        P  W  D  L  F  A  Pts

KLHC    3  2  1  0  8  4  7
SAPURA  3  2  0  1  7  6  6
THT     3  1 1  1  10  7  4
UNIKL   3  1  1  1  2  4  4
MAYBANK 3  1  0  2  6  10 3
TENAGA  3  0 1  2  7  9  1

Jugjet's World of Field Hockey


---

Tenaga riding on fine form ahead of KLHC clash

by Aftar Singh




KUALA LUMPUR: Tenaga Nasional are slowly getting back into form in the Premier Division of the Malaysia Hockey League (MHL).

They nearly pulled off an upset against double champions Tereng­ganu – leading 4-3 before the east coast team equalised in the dying minutes to end the game 4-4.

Inspired, Tenaga's all-local line-up are ready to put on another good performance against Premier Division leaders Kuala Lumpur Hockey Club (KLHC) at the Kuala Lumpur Hockey Stadium on Sunday.

It still makes dire reading for Tenaga in the six-team standings as they have only one point after three matches – having lost 4-3 to May­bank and 1-0 to Universiti Kuala Lumpur (UniKL).

KLHC, powered by six foreigners, are sitting pretty atop the standings with seven points after three matches.

Tenaga coach Mohd Amin Rahim admitted that "KLHC are, on paper, a more superior team".

"They are solid in every department, but we're ready to give them a good fight," said Amin.

"I'm happy that my men played true to their form against fancied Terengganu ... and we came close to creating an upset.

"My players are getting back their form, so I'm confident they can at least get a point against KLHC."

Tenaga will again be without main striker Mohd Shahril Saabah, who is still recovering from injuries suffered in a motorcycle accident just days before the Premier Division started on Aug 19.

KLHC coach Harun Al-Rashid is also wary of Tenaga after watching his team grind out a 1-1 draw against UniKL on Friday.

"We were very lucky to escape with a point against UniKL (on Friday) ... they came close to beating us," said the Singaporean coach.

"We put ourselves under unnecessary pressure after taking a 1-0 lead. A one-goal lead is never good enough to win a match.

"We need to make full use of our chances. We can expect another torrid time against Tenaga, who played very well against Terengganu."

UniKL are also brimming with confidence after Friday's draw.

The university team will start as favourites against Maybank at the Kuala Lumpur Hockey Stadium today, having beaten the Tigers 1-0 in the first round of the Tan Sri P. Alagendra Knockout Trophy tournament on Tuesday.

In the only game to be played at the Tun Razak Hockey Stadium in Jalan Duta here, Terengganu's hopes of retaining the title will be put to another stern test when they face second-placed Sapura.

The Star of Malaysia


---

College field hockey: No. 3 UConn edges No. 11 Stanford in opener

UConn Athletics



Montana Fleming scored the deciding goal in the 69th minute to give UConn a season-opening win.

PALO ALTO, Calif. – In the final minutes of a tied game, it was senior forward Montana Fleming that gave the No. 3 Connecticut field hockey team a huge 2-1 victory over No. 11 Stanford on Friday night.

In the 69th minute, Fleming scored off a penalty corner – assisted by junior Charlotte Veitner – to break the tie and give the Huskies (1-0) a win on opening night.

Though it was Fleming's goal that put UConn ahead permanently, it was the Huskies' stifling defense that frustrated the Cardinal the entire game. Stanford recorded just one shot for the entire game – a goal by Jessica Welch in the 58th minute.

UConn tallied 14 shots, including a first half goal by Veitner who fired a shot over the goalie's shoulder and into the cage. Veitner, who led the nation in scoring in 2015, found the back of the net in the eighth minute of action.

The Huskies had eight penalty corners to Stanford's one, proving its offensive attack to be more lethal. Freshmen Antonia Tiedtke, Svea Boker and Barbara van den Hoogen all played significant minutes in the opener.

For Fleming, it is the sixth goal of her career and it happened at a very crucial time. Just when it seemed the game was destined for overtime, Fleming's late-game dramatics scored the Huskies a valuable road win over a highly-ranked opponent.

NCAA


---

Upperclassmen lead Maryland field hockey to a 6-2 win over Saint Joseph's

By James Crabtree-Hannigan

The No. 6 Maryland field hockey team began their 2016 season Friday with a 6-2 win over Saint Joseph's in a game that showcased the talent and experience of the Terps' upperclassmen.

Maryland dominated from the start of the game, not allowing Saint Joe's to take a shot until 26 minutes had passed, and finishing with a shot advantage of 24-9.

"This is a much improved team from a year ago," coach Missy Meharg said.

Last year, the Terps went 19-4 and undefeated in Big Ten play before suffering a surprising defeat in the first round of the NCAA Tournament.

All six of the Terps' goals against Saint Joe's were scored by seniors, with two each coming from midfielder Grace Balsdon and forwards Welma Luus and Emma Rissinger.

Balsdon, who was making her debut for the Terps after playing most of her life in England's Premier League, scored her first NCAA goal in the eighth minute to give the Terps a 1-0 lead. She'd pick up another score at the end of the first half.

"Grace has an incredible amount of confidence and she can put the ball where she wants it," Meharg said. "She grew up with a stick in her hands and she has a world-class understanding of the game."

Sixth-year senior Luus followed up her breakout 2015 campaign with a pair of goals as well. Her first came in the 31st minute, regaining the lead for the Terps after Saint Joe's had tied it at 1-1. She also scored the game's final goal, coming with a little over five minutes to play in the second half.

"[The seniors] are just trying to bring experience and leadership," Luus said. "I've been through this five times already and I think it's just the leadership that comes from that … we want to lead by example and give our best on the field and have the other girls feed of that."

Luus took as many shots (9) as the entire Hawks team.

The other two Terps' goals came off the stick of redshirt senior Rissinger, matching her career high set against Princeton last season. She scored Maryland's fourth and fifth goals of the game, coming in the 48th and 55th minutes.

"I think a lot of the goals were just us knowing where to be on the field and circle, and having balance in the circle," Rissinger said. "It just comes from our conditioning and practice."

Junior midfielder Lein Holsboer set a career high with four assists, two of which were corners taken by Holsboer that were scored by Balsdon. She also picked up an assist on one of Luus' and Rissinger's scores.

"She's just incredible, if you look at her play she is one of the most selfless players I've seen," Luus said. "She will always knock the ball to a teammate. The way she creates those assists and goals is really really good."

Even though they may not have earned any points in the season-opener, the team was excited about the play of the many newcomers to the team. Meharg put two freshmen in the starting lineup (forward Sophie Pelzer and midfielder Madison Maguire) and seven freshmen saw playing time in the opener.

She pointed to the fitness and play of freshman midfielder Kelee Lepage as particularly impressive.

"She's the most fit player on the team," Meharg said. "This young woman can run."

Sophomore goalkeeper Sarah Holliday wasn't tested much in the cage, allowing two goals and making one save. She played 58 minutes before being replaced by junior Penn State transfer Sarah Bates, who played the final 12 minutes rest of the game without having to make a save. 

It was a comfortable start to the season for the Terps, and for the most part the first game went according to plan. But Meharg and the rest of the team knows they have plenty to improve on, like avoiding surrendering penalty corners, which led to one of St. Joe's two goals. They also know they have a significant test coming on Sunday against No. 2 Syracuse.

For now, though, Meharg was content with her team's play.

"It was a great start," she said. "I think we did a tremendous job of reloading [from last year] and we're a very good field hockey team." 

The Diamondback


---

Two OTHL boys make it to National Hockey Academy

s2h Team




In a heartening development of sort, two boys from the globally acclaimed One Thousand Hockey Legs, a project of Delhi based Not-for-profit organization Hockey Citizen Group, have made their organization proud by emerging glorious in a tight trials for the newly put out National Hockey Academy.

Kishore Arya, who is currently an incumbent of Sports Training Centre, Patiala, of Sports Authority of India and Sunil Kumar, former student of Govt Boys Senior Secondary School, Saket, New Delhi have joined the National Hockey Academy last week.

National Hockey Academy is a new entity, will be based in New Delhi. Conceived by Sports Authority of India based on the proposal made by Olympians MP Ganesh, Jagbir Singh and Rajesh Chauhan, the premier academy is expected to cater to quite a few high talented sub-junior boys to catapult them to bigger stage.

The trials for selecting mates for the NHA was held a month before. Based on the input of Hockey India, Sports Authority of India invited about 70 boys for the 3-day trials at Major Dhyan Chand National Stadium, New Delhi.

Besides the triple stars mentioned above, national chief coach Rolent Oltmans was also part of the selection process.

Therefore, it is highly appreciable that OTHL's two boys got selected in a national level high voltage selection trials.

Sunil and Kishore are respectively from govt schools of Saket and Begumpur, where OTHL started hockey five years ago, by creating first school infrastructure and then providing free kit, coaching and tournament exposure.

The duo's rise also validates the NGO's philosophy that week end practice starting from right age can produce valuable players, though the trend presently is to join an Academy early in the life and practice full time.

Kishore Arya is elder son of a private car driver while Sunil's father does petty jobs. Their induction is expected not only usher in their hockey career, but also send right signals to others in the NGO to emulate their success.

It is hoped that the two boys will keep up the levels of discipline and commitment they have shown hitherto, and aim for higher feats in the new found opportunity.

Kishore is an established hand in left half position, while Sunil is an all rounder kind midfielder.

Sunil played Hockey India Sub-Junior Nationals Championships for Citizen Hockey XI at Baroda and Jammu.

Kishore captained Delhi in the latest Junior National Championship in Ranchi, while in the past twice for Citizen Hockey XI at Baroda and Jammu.

Hockey Citizen Group which spotted them and groomed them out of hundreds of kids they introduced hockey, wishes them a grand success in their budding career.

Stick2Hockey.com


---

Maddie Hinch: GB hockey gold medallist on fame, freebies & future dreams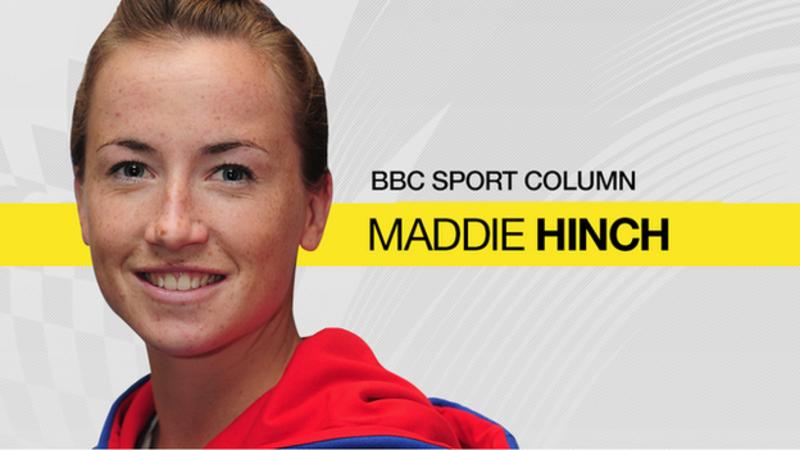 Great Britain's women's hockey team made history in Rio by winning their first Olympic gold, beating the Netherlands on penalties in the final.

One of the heroes was goalkeeper Maddie Hinch, who saved all four penalties in the shootout.

In her latest BBC Sport column, 'Mad Dog' discusses how it feels to become a national hero, to be tweeted by Dermot O'Leary and to get a free curry...
'You're trending on Twitter'

Winning gold is something I have dreamed of, but I don't know if I ever thought it was truly possible.

I knew we were good enough to win gold but sport is sport and it doesn't always go your way. I just wanted us to perform as a group and show what we are about. If a medal came our way, then great, Thankfully it did.

Since landing back in Britain, everything has started to hit home. We've been in a bubble for three weeks; we had no idea what was going on at home.

After winning gold, the first thing my brother texted me was, 'Maddie, you're trending on Twitter', not 'Well done on the gold'.

My social media pages were going mad. I had to sign out quickly. It was too much and it was stressing me out. A few nights ago, Dermot O'Leary, the TV presenter, messaged me. I was thinking, 'What is going on?'

'The start of something special'

BBC television's viewing figures for the Olympic final were something like nine million, which is incredible. I am glad I didn't know that before the game. It would have made it even more daunting.

Coming back home and seeing the number of people in the airport, little kids with hockey sticks and team kits... that was the moment when it hit home. They seemed to be in awe of us and wanted to be us.

But the biggest shock has been finding out that people know what I look like. If they recognise me and I am the one with the helmet on my head, it is a good sign for the sport.

This is the start of something quite special for hockey. Barely anyone knew what the game was or were talking about it about it before we won. That is our number one goal achieved, just getting our sport out there. The medal is a bonus.

I learned to play by going to a hockey club, picking up a hockey stick and deciding that was for me. Now, however many years later, I am an Olympic champion. It can happen to anyone.

I will be down at the club this week for the first time. I can't wait to see the buzz. That is where, more than ever, I will realise we have really done it.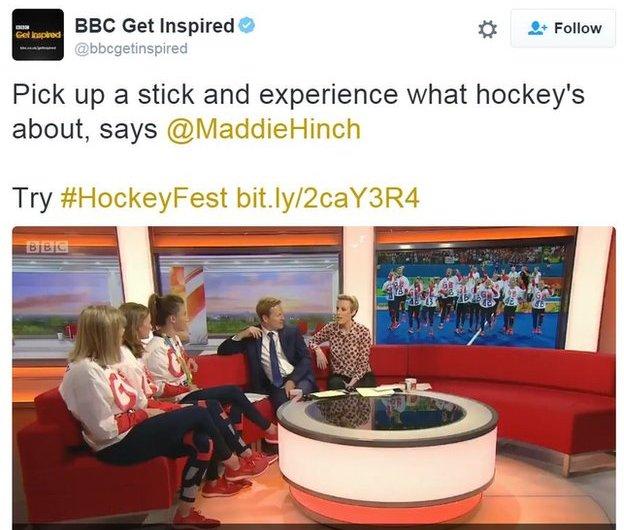 Hinch and GB women's hockey team hope they've inspired a nation with their Rio gold

'Someone jumped on me - it was a blur'

I was a little bit nervous going into the final against the Dutch. I knew I would be busy and would have a role to play; I just prayed it would go well.

I made an early save, which was key. Then there was the penalty miss by Maartje Paumen. I have not seen that girl miss in years, so I thought that was a sign. I was just loving it and couldn't wait to make another save.

Things continued to go our way. It was like that throughout the tournament. There were key moments against key teams. It was like it was written for us.

We beat the Netherlands on penalties last summer to win European gold, so I remember thinking I would much rather be in our camp as soon as it went to the shootout. They had to be nervous and you could see it. They couldn't look at me; their heads were down.

I loved it. I wasn't nervous in the slightest and everything went my way. The ball kept hitting me, whether it was my head or my foot. I have never kept a clean sheet in a shootout, so that was a personal achievement.

I don't remember what happened when we won. I think I turned to my family; I was in a state of shock. Someone jumped on me. It was all a bit of a blur.

I can't wait to watch the game back. I heard some radio footage the other day and that gave me goosebumps. More than anything, we wanted to put on a show, an advert for women's sport and hockey in general.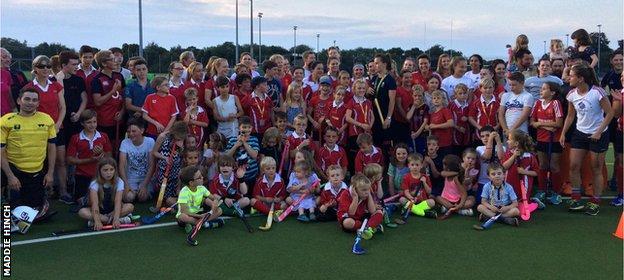 Hinch (centre, dressed in black) and her gold medal pay a visit to Basingstoke Hockey Club

Free curries and first-class upgrades

After the game, our management team organised a party at a rooftop bar that our friends and family could come to. They had been out for the two weeks but we had barely seen them. It was so good to spend some time with them.

We were up there till 2am and a few of us cracked on into town. I lost an entire night's sleep that night - I was just too excited.

The second night we had a party with other Olympians at Team GB's Rio headquarters, British House. It was legendary. It seems wherever we go we leave a mark. Hockey girls certainly know how to party but there are some tired bodies at the moment.

On the way back to Britain, it was surreal to be on a plane full of Olympians - and I made the most of it. Everyone was mingling. I was sat there chatting to the Brownlee brothers; Adam Peaty was there; Max Whitlock was there.

I share a house with Lily Owsley in Maidenhead. We got in and went to our local curry house. We took our medals to show them and they fed us for free.

Then, when some of us were on a train, we couldn't get a seat. As we were walking up and down the carriages, a lot of people were tweeting that there were three Olympic medallists who had nowhere to sit. Then a train manager came out and got us into first-class.

I am going to the Netherlands soon to play for SCHC. It will be slightly awkward - and I am a bit scared they won't let me over the border. My medal will have to come with me. If I get any stick, I will have to pull it out.

I am excited to get over there. It is a good opportunity for me to improve because it is the biggest league in the world and allows me to play club hockey full-time. But, come November, I will be ready to have a rest.

I also need to make sure I do that in the build-up to the Tokyo Olympics in 2020. I have only been GB's number one since 2013. It has gone very well but I want to go on and do so much more.

Post-Olympic blues

Kate Richardson-Walsh, our captain and most-capped player, has retired. She has achieved so much in hockey, she is respected by so many and can, without doubt, lead a team at any level. I hope to see her in the GB coaching set-up.

She has been a legend in our sport and it is so sad to think I will never play alongside her in a GB shirt again. We will face off against each other in the Dutch league, which will be fun.

We couldn't have been prouder when she was asked to be GB flag bearer at the closing ceremony in Rio. Good luck to whoever fills her shoes. It will be tough to do.

We have a team Whatsapp group and everyone has been posting 'good morning' messages at 4am because we are all still jet lagged.

Within seconds of the first message, Susannah Townsend was saying she missed everyone. We had only been apart for four minutes. That is classic Susannah. We all tell her she is needy but we wouldn't change her for the world.

It may be a very exciting time but it is also sad. As a group, we will never be together like that again. As nice as it is to get away from everyone for a little bit, there are some Olympic blues already.

We were warned that this would happen when all the media calms down. I will be back to the real world and I will be thinking, 'Where are my team-mates?'

I remember our coach telling us that the biggest challenge after winning is winning. We need to not only keep the legacy going, but now, more than ever, we need to keep picking up medals.

We have a home World Cup in 2018. That is a fantastic opportunity to carry on and show what we are about.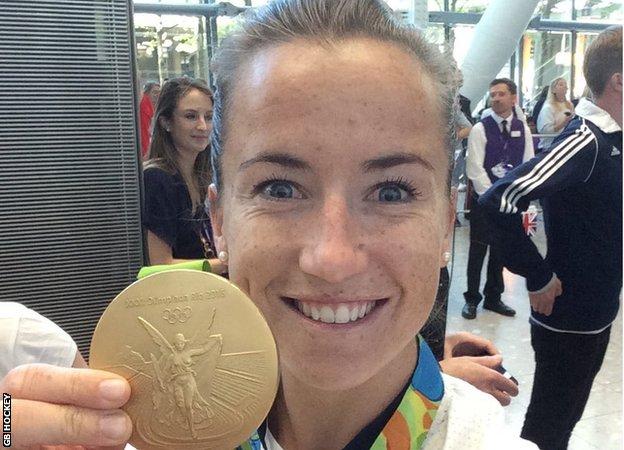 Maddie Hinch with her Olympic gold medal at Heathrow Airport

BBC Sport


---

Indian women's hockey stars humiliated, made to sit on floor of train on way back home from Rio

The tickets of players were unconfirmed and hence the TT asked them to sit on the floor of the bogey of Bokaro-Alleppey Express Train.




New Delhi: While PM Narendra Modi announced setting up a task force to help India prepare for the next three Olympics, a rather shameful incident saw some of the Indian women's hockey team players made to sit on the floor of the train while returning back home from Rio Olympics.

As per CNN-IBN news channel, the tickets of players were unconfirmed and hence the TT asked them to sit on the floor of the bogey of Bokaro-Alleppey Express Train, going from Ranchi to Rourkela.

As reported by omcomnews.com, Panposh Sub-Collector Himanshu Sekhar Behera responded to the controversy stating, "District administration will definitely write to the Railways as the players have represented India in the Rio Olympics and it was the prime duty of the Railways to treat them fairly and would have provided with berths".

Zee News


---

Oman hockey: Naqvi fondly recalls his association with legend Dhyan Chand

by SAS Naqvi



SAS Naqvi

I am the most fortunate hockey player as I grew up under the guidance of 'Wizard of Hockey' Dada Dhyan Chand. It was my uncle Syed Ameer Ahmed, principal of Govt. Husainabad High School Lucknow, who himself had represented th UP state cricket team, had spotted me playing hockey with Govt. High School, Sitapur against Lucknow teams. I was adopted and he got me Higher Studies in Govt. Jubilee Inter College Lucknow, which was a leading college for all sports.

In 1949 I was introduced to K.D Singh Babu, another legend who had played along side Dada Dhyan Chand and Dada Kishen Lal. I like to mention an environment of hockey where I grew up. In 1951 K.D. Singh Babu recommended me to Dada Kishen Lal, who was the 1948 Olympic captain and was playing for then BBCI Indian Railway now the Western Railways. It was in 1953, Dada Dhyan Chand Memorial Hockey at the National Stadium in Delhi. I had the opportunity to play outside right for Western Railway. Being new in Delhi, the press lauded my performance. It was the honour of Western Railway which had won the inaugural Dhyan Chand tournament by defeating Kirkee United 3-0.

Late in the evening team manager Cyril Pearce, a former international umpire, had invited Dada Dhyan Chand for the celebrations, during which 'Dada' expressed his desire to meet a new young face (Naqvi). I was introduced to the legend in front of big audience who had appreciated his gesture.

Dada Kishen Lal as a mark of respect used to called me 'Mian Sayed Sahaib' and during that day's celebrations, Dada Dhyan Chand gave me another nickname 'Maluna'. From then on I was known in the hockey circles with that name.

Later, Dada Dhyan Chand had invited Dada Kishen Lal and me to his official residence in Safdar Ganj (Military Barracks) for lunch, a big honour considering he was in very close circles of the then prime minister Jawaharlal Nehru. In fact, at one such tea party, I also had the opportunity to see Mrs. Indra Gandhi. In the later days, Dhyan Chand used to visit my residence at Matunga Railway Blocks in Bombay and it was a coincidence that beside my flat was Dada Kishen Lal's flat.

In those days, Dada Dhyan Chand used to coach Services XI while Kishen Lal used to be in charge of Western Railways or Railways XI. But the teams used to practice together and Dada Dhyan Chand used to play in the practice matches, giving valuable guidance to young players.

The cut the long story short, it was Dada Dhyan Chand who advised me to take up coaching.

After his retirement from Services, on Field Marshall Manek Shaw's recommendation, Dada Dhyan Chand was named as the Chief Coach of National Institute of Sports (NIS) in Patiala. But before his retirement from the NIS, he advised me to join the coach's course there.

In 1973, he had seen me with the Indian team as their assistant manager and coach at NIS Patiala and Calcutta, and At 1975 World Cup brief Camp in Patiala.

It was Dada Dhyan Chand's most kind gesture who along with Dada Kishen Lal met the Secretary General of Railway Sports Control Board Matti Lal and recommended that I should be nominated for the 1975-1976 coaches courses.

That's how my coaching career took off and I started a new and challenging journey that brought me to Oman, to serve the Sultanate first as the national hockey team coach and as the technical advisor of Oman Olympic Committee.

I owe my present sports career to three hockey legends Dad Dhyan Chand, Dad Kishen Lal and K.D. Singh Babu, all Olympians who served Indian hockey with distinction.

On this occasion, as we celebrate Dada Dhyan Chand's birth anniversary, I would like to express my gratitude to all three greats.

I will always cherish my association with Dada Dhyan Chand. Here in Oman, we (Friends of Naqvi Group and Team Coorg) have been organising the Dhyan Chand Trophy hockey tournament for the past seven years.

I am pleased to announce that we will be organising the event this year too in association with Indian Embassy and the Oman Hockey Association.

Times of Oman


---

Tatas to gift hockey turf to East Singhbhum

Announcement comes on Sir Dorabji's 157th birth anniversary, hunt on for land



Tata Steel MD TV Narendran (left) and vice-president (corporate services) Sunil Bhaskaran arrive to pay homage to Sir Dorabji Tata in Northern Town, Jamshedpur, on Saturday; and (below) Subrata Das, chief of Tata Steel's Jamadoba group, Jharia division, garlands the statue of the visionary in Dhanbad. Pictures by Bhola Prasad and Gautam Dey



Jamshedpur, Aug. 27: East Singhbhum will soon boast an artificial turf as part of a hockey academy sponsored by Tata Trusts.

Tata Steel vice-president (corporate services) Sunil Bhaskaran told this to The Telegraph today at a function to pay homage to the company's first chairman Sir Dorabji Tata on his 157th birth anniversary at Dorabji Tata Park in Northern Town.

According to him, selection of land and laying of the artificial turf was likely to be completed in the next one year.

"The hockey academy will be set up in this district. We will soon zero in on land for laying synthetic turf, which will be an integral part of the hockey academy. We are in talks with experts from the Australian hockey association for laying good quality artificial turf. All formalities, including laying of the turf, will be completed in a year. We will inform about the exact location of the synthetic turf after it is finalised," Bhaskaran said.

The official logo of Tata Hockey Academy, a residential facility, was launched in March at JRD Tata Sports Complex in the presence of secretary of Tata Trusts Burzis Taraporevala, senior executives of Tata Steel and hockey legend Floris Jan Bovelander, founder of Bovelander Hockey Academy, Netherlands.

Sources in Tata Steel's corporate services department said land hunt for the project was currently on with several rounds of meeting with the district administration.

"All details related to maintenance and security of the synthetic turf are being chalked out. The cadets, who will be selected from Jharkhand, will be based at JRD Tata Sports Complex," said a source.

Paying tribute to Sir Dorabji, who was the first chairman of the Indian Olympic Association and sponsored the first Olympic contingent of India to Paris (in 1924), Bhaskaran said that Tata Steel would continue to promote archery as it was its thrust area, but was also prepared to extend support to the Union government for promoting other sports.

"We are happy that four cadets of our archery cradle were among the top 16 at the Rio Olympics and with a bit of luck, would have come home with medals. We are very hopeful of a medal in the next Olympics. Archery will continue to be our focus areas and we will let our infrastructure for training of archers from the country," he added.

This apart, talks are on with Jharkhand State Cricket Association (JSCA) for improving infrastructure of the landmark Keenan Stadium.

"We are hopeful of a positive outcome. We have recently invested in laying pitches at Keenan. In the coming seasons, the stadium will be among the top-class facilities as its outfield is also among the best," Bhaskaran added.

Tata Steel MD T.V. Narendran, who was the chief guest, recalled the contribution of Sir Dorabji not only in setting up Tata Steel and the city of Jamshedpur, but also promoting sports. "Sir Dorabji Tata committed himself to realising the dreams of his father (J.N. Tata) to build the steel plant and the city. Values like integrity, unity, responsibility and pioneering reflects the ethos of Tata group. Sir Dorabji Tata personified all these values in different ways. He was also instrumental in sponsoring our country's first team to the Olympics," the MD said.

Several members of Senior Citizen Advisory Committee also paid floral tribute at the statue of Sir Dorabji.

Tribute in Dhanbad

The occasion was also celebrated at Tata Steel, Jharia division, in Dhanbad, where the workers paid tribute to the Tata group's first chairman at Sir Dorabji Tata Park in Jamadoba. Subrata Das, chief of the group in Jamadoba, senior officials of the company, employees and union representatives garlanded the statue of Sir Dorabji. Recollecting the achievements of Sir Dorabji, Das asked all those present to honour his vision and values that continue to remain relevant even today.

The Telegraph, India