All the news for Thursday 11 August 2016

Views from the pitch: Women's field hockey day 5

By Hayley Tafuro




Highlights from day five of women's field hockey pool play in Rio.

Netherlands Squeaks Past China

In the final seconds of the game, the Netherlands found a way to edge China by a 1-0 score.

Kitty Van Male was in the right place at the right time after China goalkeeper Dongxiao Li dove for a save and missed. Van Male bounced the shot off of her stick for the goal the Netherlands had been looking for down the stretch.

Li was a dominant force all night in the cage. She received all of the action, blocking shot after shot from the Dutch. Her final efforts unfortunately fell through for China, who couldn't set anything up on offense all game.

This win puts the Dutch back on top of Pool A standings with a slight advantage over Germany. With the loss, China stands at fourth place.

Great Britain Prevails

Great Britain stays perfect by holding off Argentina's two-goal comeback and walking away with a thrilling 3-2 victory.

Where to begin?

Team GB had complete control of the first two quarters. Helen Richardson-Walsh led her team with two goals in two minutes, blanking Argentina as they exited the pitch for halftime.

After a brief lull in the action, Great Britain's Sophie Bray found her way toward the cage and put a shot past Argentina goalkeeper Belen Succi.

Just when it seemed out of reach, in came Florencia Habif to score two in a row before the third quarter's end. This brought Argentina fans to their feet, and the energy suddenly changed in Deodoro.

Team GB drew a penalty stroke in the beginning of the fourth quarter, but Succi reacted and made a key save to keep the deficit at one goal.

In a last effort, Argentina took Succi out with seconds remaining on the clock in hopes tie it up. Team GB prevented Las Leonas from getting any clear looks at the cage. Instead, Great Britain survived a true test down the stretch to keep its lead in one of the most excellent matches of the tournament.

Germany Has Crucial Fourth Quarter

Germany topped South Korea 2-0, propelling them to the top half of Pool A's standings.

The teams spend three quarters scoreless. Neither side could establish total control on offense, and both teams had fairly equal scoring opportunities.

South Korea goalkeeper Sooji Jang was like a wall sending away and shot from Germany that she could get a limb on.

 Halfway through the fourth, Jang came out aggressively to block a Germany goal, taking out a player along the way. What looked like a sure penalty stroke for Germany turned out to be a clean play after a video referral from South Korea.

Germany finally scored on its fifth penalty corner when Hannah Kruger pushed one right past Jang. From there, they began to take over. A reverse stick shot from Lisa Altenburg with a minute and a half to go got her teammates and coach extra pumped up and confident that they would walk away with the win.

Don't Count Australia Out

Australia is back.

The Hockeyroos reminded everyone why they are the No. 3 ranked team in the world by razing India in a 6-1 win.

Jodie Kenny was lethal on offense for Australia. Her two goals came off of an earned penalty stroke and clever penalty corner play.

Australia dominated the direction of play for the entire game. India could barely get the ball near Australian goalkeeper Rachael Lynch as the Hockeyroos kept up the pressure all the way through the fourth quarter.

India got on board with eight seconds left in play when Anuradha Thockhom batted the ball out of the air and into the cage.

Four different Australian players besides Kenny contributed to the team's scoring. The team finished the game with 16 attempted field goals compared to three taken by India.

Finally, the Hockeyroos escape last place by sending the message that they are not to be counted out of medal contention.

New Zealand Leaps in the Standings

New Zealand topped Spain 2-1 in the first game of the day and leaped ahead in Pool A standings.

Behind two goals from Kelsey Smith, the Black Sticks climbed from fourth place to second place in the standings. With the loss, Spain still remains in last place.

Spain never ceased to hustle despite trailing the whole game. This paid off in the very last second of the game for Carlota Petchame who knocked a shot between the New Zealand goalkeeper's legs and right into the net and helped her team avoid a shutout.

NBC Olympics


---

Men's field hockey recap day five

By Hayley Tafuro



AP Photo/Dario Lopez-Mills

Recapping the men's field hockey action from Wednesday night's pool play.

Australia Surges

Australia topped Great Britain 2-1 thanks to a late surge in the fourth quarter of the game.

After a scoreless first two quarters of play, the Kookaburras thought they took the lead at the end of the third quarter. The goal ended up being millimeters away from the line, and the umpires ruled that it never actually made it into the cage.

However, Australia finally received its chance when Aran Zalewski, who returned from his one-game suspension, pushed one into the net off of a brilliant pass from Daniel Beale for the 1-0 lead.

This is what it took for the momentum to shift.

Australia pushed the field on a breakaway play with minutes left to play. Glenn Turner's original shot stopped right on the goal line, but Jacob Whetton was right by the goal to tap it in for the team's second point.

Great Britain still had something left up its sleeve. With two minutes left, Ashley Jackson scored off of a penalty corner attempt. Team GB wasn't ready to give up, but neither was the Australia defense. The Kookaburras held off any last-second attempts to clinch the win.

Suddenly Australia finds itself back up at third place in Pool A. They are hanging right behind undefeated Spain and Belgium.

New Zealand Overwhelms Brazil

Behind four goals from Nick Wilson, New Zealand blanked Brazil 9-0 in its first win in the tournament.

The Black Sticks took it to Brazil early, with the first two goals coming from Wilson. Shay Neal, Simon Child and Kane Russell all started to pile on goals to go up 5-0 before the second quarter's end.

Brazil goalkeeper Rodrigo Faustino never caught a break as most of the time was spent near his territory. New Zealand took out its goalkeeper with three minutes remaining in the third quarter. Even so, Brazil could not manage any attempts. They would bring him back in for the fourth quarter.

Nic Wilson finished off New Zealand's scoring on a penalty corner.

NBC Olympics


---

Katie Bam scores hat trick as USA qualifies for the quarter finals with 6-1 romp over Japan

By Jawwad Qamar

The match between USA and Japan was played under a drizzle and the Americans poured it on with six goals, scoring the first one just 22 seconds into the game on a penalty corner as Melissa Gonzales went across, to the far right for the quick 1-0 lead. Katie Bam followed four minutes later with first of her three goals, deflecting a shot from Michelle Vittese, high under the cross bar for 2-0 score.  Katie Reinprecht added to the Americans' lead on their third PC by redirecting a sweeping attempt by captain Lauren Crandle, at the 28th minute mark, from the penalty stroke spot.  A skillful run into the circle by Kathleen Sharkey followed by a fine pass to Jill Witmer seven minutes into the third quarter resulting in Witmer sounding the board with her back to the goal for a 4-0 cushion.

However, Japan came out with a purpose in the fourth quarter and finally got on the scoreboard after gaining back to back penalty corners two minutes in, as Mie Nakashima snuck the ball in from the goal line at the left post to make it 4-1.

Now it was time for Bam to take over. After great hustle to get back a loose ball, she penetrated through Japanese defenders and put in a low reverse shot for her second goal of the evening at the 53rd minute and closed out the scoring three minutes later going to the left thanks to a great ball from Sharkey from the right.

Even thou it was a convincing USA victory, the Americans had to work hard for it as the Japanese were equally aggressive gaining seven penalty corners compared to eight for USA. Again, much credit to the USA defense led by Crandle and goalkeeper Jackie Briggs.

Earlier, Great Britain edged out Argentina 3-2 and has 9 points, same as USA. However, today's six goals puts USA ahead of GB due to goal differential. USA will next face India tomorrow and are expected to win while GB will take on Japan and are also expected to do the same. This means it'll come down to the last pool encounter between the two on Saturday to decide who finishes at top.

Fieldhockey.com Exclusive


---

Bam's Hat Trick and Win Over Japan Propels USWNT into Olympic Games Quarterfinal Placement




DEODORO, Brazil - 180 gritty pitch minutes logged and 10 heart-pounding goals later and the U.S. Olympic Women's Field Hockey Team has climbed to a panoramic view of promise by currently claiming one of the top seeds in Pool B with three consecutive victories. Halfway through preliminary pool play and with each passing match minute at the Rio 2016 Olympic Games, the red, white and blue has steadily scaled its way to securing a spot at the all-important quarterfinals in Rio de Janeiro. Assisting with the team's intended course of action, today multiple goals, including Katie Bam's (Blue Bell, Pa.) hat trick, helped Team USA rise above Japan 6-1.

Pool B Standings
 Rank      Country     Points
1      United States     9
2      Great Britain     9
3      Australia     3
4      Argentina     3
5      India     1
6      Japan     1
*Pool B Standings after today's contest*

Team USA started off quick, grabbing a penalty corner less than 15 seconds into the match. Off of the slip, Melissa Gonzalez (Mohegan Lake, N.Y.) buried a low drag flick into the right corner of the cage to give USA an early 1-0 lead. Japan quickly took possession and countered down the field but a duo defensive effort by Julia Reinprecht (Perkasie, Pa.) and Michelle Kasold (Chapel Hill, N.C.) maintained the pressure. Seconds later, a scare came for USA's goalkeeper Jackie Briggs (Robesonia, Pa.) as a Japan forward got a shot off at close range that went just wide of the post.

"Japan is a difficult team to manage and I think we did a professional job on picking up another three points and the plus five goal difference is really helpful when we're in pool play," said Craig Parnham, USWNT Head Coach. "It was important for us to get out of the blocks tonight. The corner and goal very early on really set us up and put us on a nice platform to continue generating chances."

With speed, Team USA took the ball down the left hand side of the pitch. A crossed field ball found Michelle Vittese (Cherry hill, N.J.) on the top right side of the circle where she struck it hard on target. The ball was reverse deflected into the goal by Bam. This made the score in the 5th minute of play USA 2, Japan 0.  A scoring chance came at the close of the first quarter as Kelsey Kolojejchick (Larksville, Pa.) shot on frame, but the attempt was saved by Japan's goalkeeper Sakiyo Asano.

Off the start of the second quarter, Jill Witmer (Lancaster, Pa.) took the right baseline with speed and dumped the ball into Katie Reinprecht (Perkasie, Pa.) on the stroke mark who found a Japan foot to earn Team USA a penalty corner in the 16th minute of play. The straight strike by Lauren Crandall (Doylestown, Pa.) was blocked by Asano's pads and led to an instant counterattack for Japan. USA recovered hard and held off the pressure but not before Japan earned a penalty corner in the 17th minute. The sweep on cage by Japan's Yuri Nagai was deflected high over the baseline by Kolojejchick to keep it USA 2, Japan 0.

Japan continued to show hustle in their attacking half as they looked to create forward passing channels. This hard work paid off and led to back-to-back penalty corner chances for Japan. On the second attempt Hazuki Nagai's shot on cage was absorbed by Briggs and outletted by Crandall. Team USA used their hard high pressure to switch the momentum into their favor looking for open lanes. A chance came in the 25th minute when Bam tested Japan's defense with a shot at close range but was ultimately denied. The hard work continued as Kat Sharkey (Moosic, Pa.) earned a penalty corner in the 27th minute. Off the stick stop, Crandall swept the ball down to K. Reinprecht who deflected it into the net to make the score USA 3, Japan 0. Quick to take possession to the other end, Japan fired off a backhand shot from the right baseline that crossed the mouth of the cage without a result to end the quarter.

As USA looked to extend their lead, they quickly entered their offensive circle in the third quarter searching for a threat. The attacking momentum was anchored by Team USA's backfield as Crandall sent a threatening ball right to Kasold's stick at the midfield line who turned up field. The constant determination went rewarded in the 36th minute when Sharkey swiped the ball out of a Japan's defender grasp to send the play to Witmer who turned and popped the ball into the cage to make it USA 4, Japan 0.

Continuing on a pursuit forward, USA quickly transitioned into their attack and earned back-to-back penalty corners with no results. A third penalty corner chance came for Team USA but Japan requested a video referral. The call was upheld and corner played on. The initial shot by Vittese hit a Japan defender's foot, a second penalty corner chance saw Kolojejchick redirect a ball just over the crossbar. The red, white and blue's attacking prowess was evident as USA grabbed yet another penalty corner in the 39th minute. The first sweep by Vittese and second one-time rebound shot by Gonzalez were both saved by Japan's goalkeeper Asano. Japan kept looking to break into their attacking circle but the solid defense by Team USA kept intercepting the dangerous runs.

To start the fourth quarter, Japan came out hungry as they took possession early. In the opening minute two big saves were recorded for Team USA as Briggs came out of the cage for one and Stefanie Fee (Virginia Beach, Va.) stepped up hard to make a strong block tackle for the other. Shortly after, Japan earned back-to-back penalty corners where they capitalized on the second opportunity on a pass that went back to inserter Mie Nakashima who pushed in the goal from the baseline to make it USA 4, Japan 1.

Forward passing continued to show offensive sparks for both teams halfway through the final quarter. After a solid defensive run by Kasold to recover the ball in the 53rd minute, K. Reinprecht found Bam inside the circle who beat two Japan defenders with her quick stick skills to gain space. From there, she sent a low backhanded shot into the goal to make it USA 5, Japan 1. Japan did not sit back and eagerly dribbled into the attacking circle and earned back-to-back penalty corners. USA's defensive unit kept Japan scoreless and quickly transitioned the ball to the other end. Another result came for Team USA in the 55th minute when Caitlin Van Sickle (Wilmington, Del.) dumped the ball into Sharkey. Sharkey turned and found Bam at the stroke mark who popped the ball into the cage for her third goal of the match, achieving a prized Olympic Games hat trick. 

"I'm not sure it has sunk in yet," said Bam. "It doesn't feel different from any other game. That's how our coaches prepared us. That no match is different than any other match we have played before. We come in attacking it the same way we always have and always will. Today my hands were feeling great and I managed to find those tight spaces in front of the cage. And in all honesty, I managed to find those spaces in other Olympic Games and haven't put them away. Today I'm glad I was able to switch that."

Team USA continued to show more potential scoring chances before the buzzer rang to make the final score USA 6, Japan 1.

Next, the USWNT will compete against India on Thursday, August 11 at 6:30 p.m. EST. The match can be viewed live on the NBC Sports Network. Click here for a full broadcast schedule. Pool play is halfway over with two more matches are set to round out the preliminary round.

USFHA media release


---

U.S. Women Stay Perfect in Olympic Field Hockey, Routing Japan

By JAY SCHREIBERAUG



The United States team celebrated Katie Reinprecht's goal for a 3-0 lead over Japan. Credit Mark Kolbe/Getty Images.

RIO DE JANEIRO — In case you were wondering, field hockey games are not called on account of rain. And rain is what it did on Wednesday, a slow drip that went on for a good while as the United States women's field hockey team played its third game of the Olympics.

It did not matter. Scoring just 22 seconds into the game and adding a second goal before five minutes were gone, the Americans cruised to a 6-1 victory over Japan that left them with a 3-0 record in this tournament and an increasing sense that they are writing a compelling story for themselves in Brazil.

The game was played before a boisterous crowd that filled a good part of the stands at the Olympic Hockey Center. Some American fans barely had time to take their seats before they were back on their feet celebrating after Melissa Gonzalez fired home a shot on the first corner of the game.

There appeared to be a bit of deception on the play, just as there was on Monday, when the Americans used clever choreography on a corner to score the first goal of the game against Australia. Corners are an essential way of scoring in field hockey, and the Americans are almost fearsome when they take them.

A few minutes after Gonzalez scored, Katie Bam made it 2-0 on a shot that deflected off Japan goalkeeper Sakiyo Asano and high into the goal. On another corner, early in the second period, Katie Reinprecht made it 3-0 and made it clear which way the game was going to go.



Katie Bam, right, battled Ayaka Nishimura of Japan on Wednesday. Bam's three goals lifted the Americans to a 6-1 win. Credit Dario Lopez-Mills/Associated Press

Japan did score in the second half, but then Bam scored two more goals, and it was time for the Americans to celebrate another victory and find somewhere to dry off.

The victory guarantees that the United States will advance out of their first-round group of six teams and into the quarterfinals, which begin on Monday. They share first place in their group with surprising Britain, which upset Argentina on Wednesday, four days after the Americans had done the same.

The Americans and Britain will meet on Saturday in a game to determine who will finish first in the group and earn a top seeding that would delay a potential showdown with the mighty Dutch, the two-time defending Olympic champions, who sit atop the other group in the tournament. The Dutch have yet to surrender a goal.

But the Americans, and their fans, will not have to deal with the Dutch until later, if at all. Wednesday was a day for focusing on Japan and more or less ignoring the weather. In the stands at halftime sat the Witmer clan, there to root on Jill Witmer, who is from Lancaster, Pa.

Not much rain gear for them. They sat in yellow T-shirts that stated "We'll Just Keep Going," which seems as good a rallying cry as any for the American team. Jocelyn Witmer, Jill's older sister and a former pole-vaulter at Penn State, said she had predicted that the United States would beat Argentina in the tournament opener, and said she thought her sister and her teammates would end up playing for the gold medal.

It was a bold thought, but why not? And a few minutes after she spoke, the second half began, and Jill Witmer spun to her left and fired the ball past Asano to make it 4-0. Neither rain nor a goalie, nor anything else, has been getting in the way of the American field hockey women.

The New York Times


---

Katie Bam leads Team USA to third straight win

By Hayley Tafuro

Team USA women's field hockey dominated Japan behind a hat trick from Katie Bam.

Team USA stayed perfect in pool play with 6-1 rout of Japan and took over the top spot in the Pool B standings.

Katie Bam was a machine, collecting a hat trick off of three skillful field goals.

"Games like this are statement games for us," Bam said. "It's easy to step up and play the people that are ranked higher than you. It's hard to step up and bury a team like we just did that's ranked lower than you."

The U.S. had full control over the game, starting with a Melissa Gonzalez goal less than a minute into play.

Not long after, Bam kicked into gear by deflecting a pass high into the cage that flew over Japan goalkeeper Sakiyo Asano.

With two minutes left before halftime, the U.S. ran another tricky play on a penalty corner attempt that had Katie Reinprecht taking the shot. She came through and just like that, Team USA completed its most dominant beginning of the Olympic tournament.

It didn't take much time for Jill Witmer to score the fourth goal of the game, but the Cherry Blossoms followed up on a penalty corner attempt when Mie Nakashima snuck one into the corner of the cage.

Bam had an answer for that, using incredible stick skills to weave through two Japan defenders and fire one into the goal. She finished off the scoring with another field goal before heading to the bench.

"Really important game for us tonight," USA coach Craig Parnham said. "Japan were a very, very difficult team. I thought we did a really good job and a professional job, of picking up another three points. And the plus-five goal difference is really helpful when we're in pool play."

The goal difference puts Team USA ahead of Great Britain in the standings. From last in London to first currently in Rio, this team is now a real medal contender.

"While there's possibilities and our goal is to medal, our focus is each game, every game, to finish that particular game," Bam said.

NBC Olympics


---

Who is...Katie Bam

By Eric Scatamacchia



Bob Donnan/USA Today Sports

Meet one of Team USA field hockey's premier goal scorers Katie Bam.

Katie Bam has been with the U.S. national team for over a decade and is one of the top goal scoring threats for Team USA. In her Olympic debut in 2012, she scored one goal.

Field hockey beginnings
Bam joined the national team at the age of 16, becoming the youngest field hockey player ever to earn an international appearance  for Team USA. After making her international debut in 2005, she played for the University of Maryland.

Major competitions/medals
2011 Pan American Games, gold
2012 Olympics, 12th
2015 Pan American Games, gold

Breakout moment
Despite debuting in 2005, Bam did not make the 2008 Olympic team. The disappointment pushed her to improve and she was named the 2010 USA National Team Athlete of the Year.

Top quote

    This is going to sound really weird, but I love the locker room stuff. The talks, the camaraderie that doesn't have much to do with the on-field action. It's everything that a teammate van give you a smile, a complement and your entire day and mindset have changed.

Olympic experience
Bam made her Olympic debut at the 2012 London Games where Team USA finished 12th.

Off the field
In 2010, Bam was awarded the Sportswoman of the Year by the Women's Sports Foundation, an award Mia Hamm, Serena Williams and Abby Wambach have also earned. In 2015, she married former South African field hockey player and 2008 Olympian Marvin Bam. Katie and Marvin both enjoy photography and were even asked to shoot U.S. national team goalkeeper Jackie Brigg's wedding.

Social media
Facebook: Katie O'Donnell
Twitter: @KatieODonnellFh
Instagram: @katieod16

NBC Olympics


---

The United States women's field hockey team advanced to the Olympic quarterfinals after defeating Japan 6-1.




Melissa Gonzalez scored on a penalty corner 21 seconds into the match to set the tone on a rainy Wednesday evening. Katie Bam scored the first of her three goals four minutes later.

Katie Reinprecht scored late in the second period to make it 3-0 at halftime. Jill Witmer scored for the United States in the third period, and Bam scored twice in the fourth.

The Americans improved to 3-0 and moved to the top of Pool B by moving ahead of Britain in goal differential.

The United States will face India on Thursday and will close pool play with a showdown against Britain on Saturday.

Team USA


---

No Hocus Pocus as van Male summons late Dutch win



Kitty van Male scores the only goal of the game. Pic: Frank Uijlenbroek/EHF

Kitty van Male grabbed a 59th minute winning goal to ensure reigning champions the Netherlands continue their perfect start to the competition, copper-fastening a place in the quarter-finals.

Van Male's goal secured a 1-0 win over China in which the Asian side did not manage a single shot as the Dutch pushed for a goal and eventually got their reward.

After two big wins over Spain and Korea, van Male said this different challenge was "good for the confidence to know that you can score in the last minute of the tie to win it."

"It was not frustrating but it was difficult. We had to keep going, pass, pass, pass, pass, to make our own space which was very tough for us. It was good to have this different tactical challenge. You have to be sharp every single match and New Zealand and Germany are very good so it was good for us to have a tough match [before we play them]."

Naomi van As added that "it was a big relief" to get the goal.

"In the first half, we gave them a little bit too much space so they could turn out of their defence. In the second half, we were more on it and were like a different team.

"Eventually, we deserved to win but needed to get the goal. For that, we waited a really long time. It's so good when it eventually goes in and we are on the good side of the story."

Van As said that there is magical formula for success, quoting her coach Alyson Annan's mantra: "it's not hocus-pocus, it's focus-focus".

"The lesson from the first half was that we need to defend closer to the player, not giving them too much space.

"New Zealand will be a totally different team; they will play more open with a lot of speed, a lot of handy players and there will be more space for everybody."

Finally, Eva de Goede said it was a deserved victory. "Super relieved, I think we deserved the goal in the end. It was super tough to play and they defended really well. We weren't frustrated but we do love to attack. They make it hard, defending their 23, making it tough to get through.

"But it's a complement to us that we got through. We are playing well, beating Spain 5-0 and Korea 4-0 so they saw they would need to defend to have a chance but we are happy with the win!"

EuroHockey media release


---

Great Britain seal quarter final berth with Argentina win



Helen Richardson-Walsh is mobbed after scoring. Credit KOEN SUYK

Great Britain sealed their place in the Olympic quarter finals with a hard fought 3-2 win over world No2 Argentina. A brace from Helen Richardson-Walsh and one from Sophie Bray put Great Britain in the driving seat and despite a double from Florencia Habif and a missed penalty stroke from GB, Danny Kerry's side saw the game out to secure the win and with it, a quarter final place.

The first quarter was tough going for both sides with a midfield battle ensuing as the two teams fought for a foothold in the game. Las Leonas had a gilt-edged opportunity early on. Delfina Merino was clean through but despite rounding Maddie Hinch, her shot thudded back off the woodwork. Great Britain defended well, keeping Las Leonas at bay with Hollie Webb, making her 100th international appearance looking her usual solid self in the back line. Argentina had a penalty corner chance just before the interval but Victoria Zuloaga slapped it wide and it stayed 0-0 going into the second quarter.  

Great Britain started the second quarter brightly. Laura Unsworth tip-toed forwards into a good position and brought a sprawling clearance out of Belen Succi in the Argentina goal. Susannah Townsend started to cause the defence some problems with her direct, powerful running and with eight minutes gone in the quarter GB won a penalty corner. Kate Richardson-Walsh slid the ball in from the top of the circle with unerring accuracy to find a sliding Helen Richardson-Walsh to deflect in for the opening goal. With Argentina reeling, Danny Kerry's side struck again. It was Helen Richardson-Walsh who applied the finish again, pouncing on a loose ball to stab in from close range. Argentina had an opportunity to pull one back with a penalty corner. Noel Barrionuevo took the shot and brought the best out of Hinch who got a good glove on the ball to make the save, protecting the lead at the break.

Las Leonas started the third quarter at a high tempo. Carla Rebecchi broke free in the circle and shot but Hinch was alert and palmed it away. At the other end Townsend set up Danson who found space and smashed a powerful low shot just wide of the far post. Giselle Ansley almost added another from a broken down penalty corner but it wasn't long before GB had a third thanks to the poacher's instincts of Bray.   

On 41 minutes Argentina got on the board. Florencia Habif won possession high up the pitch, popped the ball into the circle and slammed it into the bottom corner for a well-taken solo goal. Just two minutes later the same player added a second from a penalty corner rebound, bringing Argentina right back into the contest.

The tension mounted in the final quarter with Great Britain reduced to nine players after cards for Bray and Townsend. Danny Kerry's team weathered that storm and then after a foul on Danson they had a glorious chance to make the game safe from the penalty spot. Helen Richardson-Walsh stepped up looking for her hat-trick but Succi guessed right and made the save. Martina Cavallero forced Hinch into a good block at the other end and Argentina pressed Great Britain onto the back foot as they searched for an equaliser. All the Great Britain players were called into defensive action with Danson and Lily Owsley dropping deep and doing their part to hold the blue and white tide off. The team's excellent defensive work completed the job and Great Britain's three points confirmed their place in the quarter finals. 

Great Britain's next match is 12 August vs. USA at 00:30, live on BBC Sport

Helen Richardson-Walsh Great Britain Midfielder:

"We're really pleased to get the three points. Argentina are a really good team so we expected them to come back. We tried not to concede the goals but it is what it is! We're really pleased to get the job done in the end."

"I'm annoyed about the stroke but pleased to get the goals I did get. Fortunately it didn't cost us but hopefully I'll save that goal for another game."

"Argentina's crowd are amazing. They brought a big contingent who was getting behind their team but actually that lifts us. They're a good team who played some nice hockey but we'll learn some lessons and take those forwards to the next round."

"Today the atmosphere was amazing it was rocking today and it was against Australia. Our fans were amazing that night. It's great when the crowds are in and enjoying it. We just need to give them something to cheer."
"Beating a team like them gives us confidence but I don't think we're firing on all cylinders. At the start we felt comfortable which is good but this tournament is tough anything can happen in the quarter finals but we're building momentum and hopefully we can use it. We like playing in the rain, it felt like home."

Great Britain 3 (2)
Helen Richardson-Walsh 23 25 (PC FG)
Sophie Bray 38 (FG)

Argentina 2 (0)
Florencia Habif 41 43 (FG PC)

Great Britain Hockey media release


---

Richardson-Walsh singing in the rain after Argentina victory



Great Britain celebrate one of the goals from Helen Richardson-Walsh (centre). Pic: Koen Suyk/WSP

Helen Richardson-Walsh claims she and her Great Britain team mates "always like playing in the rain" following their 3-2 win over Argentina to continue their perfect start to the women's Olympic competition.

She scored twice in the first half as GB built a 3-0 lead only for the South Americans to fight back and come close to a nicking a draw.

Richardson-Walsh missed a stroke in the second half in an eventful match but she said she was happy her side continued their winning ways.

"Obviously, I am really pleased to get those goals but a bit annoyed to have missed the stroke. Fortunately, it didn't cost us and hopefully I will save it for a bigger game."

The fixture had one of the liveliest atmospheres in the stadium to date and Richardson-Walsh really enjoyed the singing and noise generated by the large Argentinean contingent.

"The Argentinean crowd were fantastic and it's pleasing that they brought a really big contingent. They were getting behind their team but it also kind of lifts us as well.

"They are a really good team and played some really nice hockey towards the end but we will learn some good lessons from this and take it forward to the next round.

"Beating a team like Argentina gives us good confidence. I don't think we are firing on all cylinders yet but toward the start of the game, it felt pretty comfortable. We can take a lot of confidence from that.

However, with the quarter-finals, anything can happen and hopefully we can build momentum."

Key defender Laura Unsworth agreed that even though the side let in two goals in the second half, it was a memorable result: "3-2 is still a great result and we're very happy and looking forward going into the tie with Japan.

"The atmosphere here against Argentina was exactly like when we play them in Argentina. It was phenomenal at times, especially during the anthems when they all started cheering; it really gave you goosebumps and it's really special to play in this kind of match."

EuroHockey media release


---

Aussies claim 'must win' game!

Defeat India 6 - 1

Holly MacNeil



Jodie Kenny scored her 100th international goal

It was a do or die game for the Australian Women tonight in their clash against India, and did they ever deliver, defeating India with a 6 – 1 scoreline.

Kathryn Slattery got the girls off to a fantastic start, with a penalty corner goal four minutes into the first quarter, thanks to a swift pass from Captain Madonna Blyth.

Only four minutes later, and Georgie Morgan found herself with her second goal for the tournament, with a powerful drag flick slotting in a penalty corner goal for the Aussies.

There were chances for both teams in the second, but they weren't converted and the Aussies went into the half time break with the lead remaining at 2 – nil.

Only four minutes of play into the second half, and Jane Claxton managed to get a fantastic shot on field goal which sailed into the net. Georgie Parker followed up with a massive backhand tomahawk which went into goal off a deflection from Indian player Sunita Lakra, giving the Aussies a 4 – nil lead.

With three minutes to go in the third, Jodie Kenny was awarded a shot on a penalty stroke after her goal attempt during a penalty corner was blocked. The goal sailed in, and the Australian's went into the final quarter leading 5 – nil, their groove back.

The girls had their sixth penalty corner shot one min into the final corner, and it was Jodie Kenny who delivered, scoring her 100th international goal for Australia  and extending the lead to 6 – 0.

With only 8 seconds remaining on the clock, India got one on the board, with a high shot off a deflection sailing high into the net thanks to Anuradha Thokchom.

The Australian Women next play Argentina on Friday at 5am AWST / 6.30pm ACST / 7am AEST.

AUSTRALIA 6 (2)
Kathryn Slattery (PC) 4
Georgie Morgan (PC) 8
Jane Claxton (FG) 34
Georgie Parker (FG) 35
Jodie Kenny (PS, PC) 42, 46

IND 1 (0)
Anuradha Thokchom (FG) 60

Australia squad v IND
Madonna Blyth (Brisbane, QLD) 339/70
Jane Claxton (Adelaide, SA) 105/10
Jodie Kenny (Wamuran, QLD) 183/100
Rachael Lynch (Warrandyte, VIC) 153/0
Karri McMahon (Berri, SA) 107/9
Georgina Morgan (Armidale, NSW) 49/10
Georgie Parker (Berri, SA), 105/33
Brooke Peris (Darwin, NT) 98/13
Casey Sablowski (Albion Park, NSW) 255/44
Kathryn Slattery (South Stirling, WA) 59/19
Emily Smith (Crookwell, NSW) 160/63

Used Substitute
Edwina Bone (Evatt, ACT) 118/2
Kirsten Dwyer (Mackay, QLD) 111/2
Gabrielle Nance (Kingscliff, SA) 39/2
Grace Stewart (Gerringong, NSW) 25/10
Mariah Williams (Parkes, NSW) 53/6

Hockey Australia media release


---

Indian women's hockey team could've shown some heart in loss to Australia

Sundeep Misra



Australia's Kathryn Slattery, foreground, scores her goal against India. AP

With a gap of ten spots separating the three-time Olympic gold medallists Australia (ranked third) and one-time Olympic participant, India (ranked 13th), the odds were stacked against one side from the very beginning. And when the score-line flashed 6-1 at the final buzzer, out-played was an expression that could apply to only one team – India.

Not picking at straws, but the match against Australia was an opportunity to become obsessed with the obsessives. It was a moment where India could have played freely, mixing skills with tight man-to-man marking and sticking to the ball like gum to steel.
Australia's Kathryn Slattery, foreground, scores her goal against Indian women's hockey team. AP

After opening the scoring in the fourth minute off a penalty corner, by Kathryn Slattery, Georgina Morgan got the second one, again off a penalty corner. Two field goals followed, scored by Jane Claxton and Georgina Parker. Jodie Kenny got the last two, one off a stroke and the last off a penalty corner. India got their consolation goal with eight seconds remaining when Anuradha Thokchom smashed it in.

In today's hockey, with four quarters, you play four matches inside a bigger match and India threw away that chance. Once Sushila, the Indian captain, realized that the team was 0-4 down, caution should have been dumped and the midfield should've been opened up. But India, in erroneously trying to match Australia, didn't do any favours for itself. Consistency is a virtue, and only a few players strive to attain it.

Australia, finalists at the 2014 World Cup but fifth at the last three Olympics, are in the process of rebuilding and it showed when they lost their first two matches to Great Britain and the United States by an identical margin of 1-2.

For Australia, losing another match was out of the question and they required a big win margin, to improve their goal difference. It also meant playing with ambition and giving up space to create those moves. In other words, India had the perfect opportunity to exploit the gaps. Surprisingly, the team didn't respond.

Throughout the match, momentum was missing. Errors were being committed like it was part of the game plan. Australia's third goal came after four Indian players couldn't trap the ball cleanly – one player after the other failing to trap, till the ball rolled free to an eager and surprised Jane Claxton, who swept it into the goal.

Savita, the Indian goalkeeper, kept up a lone battle. Coming out, using the pads to good effect and throwing herself to the right to bring off a brilliant penalty corner save. Though she couldn't keep India in the match; she did, however, ward off major humiliation to the side.

It's a match not many in the side would be proud of. Rani Rampal was missing. Whether it's an injury or just disinterest, the team management would be better off to find out. It's a general rule that when things are not moving upfront, good forwards try and come back to pick up the ball and create moves.

On Wednesday, that job was splendidly done by Vandana Katariya. Her vision was good and she was sweeping into midfield positions, switching in from the flanks. The second quarter was the only period where no goals were scored and India conceded only one penalty corner. Playing under such pressure, as Australia was pressing hard, the defenders did a good job with Deepika, Namita Toppo, Sushila and Sunita Lakra.

Australia had eight penalty corners to India's two. India created a last assault, creditably coming with the midfield and forwards trying one last time to extract some positives out of the match, to be able to walk off with some pride intact.

A goalmouth skirmish and the ball rose off the Aussie goalkeeper, Rachael Lynch, but as the Australian defenders hesitated for a second, Thokchom Anuradha seized the opportunity to smash the ball in. Australia did go for a referral, pointing to dangerous play, but the video umpire overruled it and gave the goal to India.

India left the pitch on a mini-high. But they would know, including, of course Coach Neil Hawgood, that the match wasn't one of missed chances; it was a game where the Indian women could have tested themselves by showing some heart, a few of them for sure.

Firstpost


---

Kenny hits 100th goal but misses high five



Jodie Kenny reached the 100 goal mark for Australia. Pic: Frank Uijlenbroek/EHF

Jodie Kenny capped Australia's opening win of the women's Olympic competition with a pair of goals, efforts that saw her reach an incredible 100 international strikes as they swept past India 6-1 this morning.

Speaking about the goal which brought her to three figures, the Hockeyroo said: "It was an absolute cracker. I was really happy to score. To execute like I did, it was a great team goal because Georgina Morgan spun it to me and I managed to finish it.

"I wasn't thinking about that before the game but I'll take the 100. I'm really happy and I'm really proud of myself for getting there!"

The goal led to one of the game's more humourous moments, her attempted high-five with Jane Claxton providing plenty of mirth.

"There was just a big lineup and I got through I think about four or five high-fives and then I pretty much went hand to face to Janeo so she nearly lost an eyeball. It was a bit awkward, though, that's for sure. I can't say a high five to the face is something we rehearse but it happens."

From Claxton's side of things, she said there is no lasting damage.

"Jodie's just taller and we didn't get the elbow connection right. It's good to have a laugh out there as well, when you are winning too.

"Usually, we go for the hug so there's not much room for error. That's probably a first head high-five."

EuroHockey media release


---

Australia thrash India 6-1

Anuradha Thokchom scored India's solitary goal in the 60th minute




India went down to Australia 1-6 in the women's hockey tournament at the Olympics.

Australia, the higher ranked team almost immediately starting exerting pressure, playing a high midfield and rotating possession very frequently. They won their first penalty corner in the 4th minute, but India's runners denied Georgina Morgan from the flick, albeit illegally to concede another PC. Morgan's second dragflick was saved again on the line and in the goal line scuffle, the loose ball popped up for Kathryn Slattery who slot it into the roof of the net, to give Australia an early lead.

India had a couple of penalty corners of their own very soon, the first blocked away by Australia, who were very quick to charge off the line. Off the second India looked to have pulled off a clever improvisation; Rani pushed her flick into the path of Preeti Dubey, who with her back to the goal deflected it inches wide of the post.

But Australia soon scored their second in the 9th minute via a Georgina Morgan PC conversion, and led 2-0 heading into the first break.

India came out with more determination and confidence in the second quarter, and even looked to have the Australians on the ropes for a while, with some superb movement around their circle. The closest chance fell to Anuradha Thokchom, a reverse hit, that went high off goal. Soon Savita was at the centre of it all again, facing the Australian backlash pulling off a series of superb saves to keep her team in the game.

First there was a smart block from a Slattery snapshot on the right, before she calmly padded away Morgan's PC — Australia's fourth of the game — which seemed destined for the top right corner. The saves and a long spell of superb defending meant India would hold the Aussies to a two-goal advantage heading into halftime.

In the second half, Australia started off on the front foot again, and drew a save off a PC from Savita in the first few minutes. Soon after, a cross from the right by Georgina Parker found Emily Smith in front of an empty goal. Smith fluffed her shot wide. Jane Claxton soon found the board though in the 35th minute, and soon after another Parker cross took an unlucky deflection off an India stick to give Australia a 4-0 lead. Right at the end of the quarter, India conceded a stroke after an illegal save from a PC and Jodie Kenny put it away. Savita, India's best player on the pitch, pulled off two quick saves at the end of the quarter to take them into the final break.

Kenny had her second of the game in the first minute of the final quarter via an improvised PC to give Australia a 6-0 lead. India pulled a goal back in the final seconds of play via Anuradha Thokchom, as the game ended 6-1.

India play USA next, on August 12, 2016 at 04:00 AM IST (August 11, 2016, 19:30 in Rio).

Stick2Hockey.com


---

Australia too good for Indian eves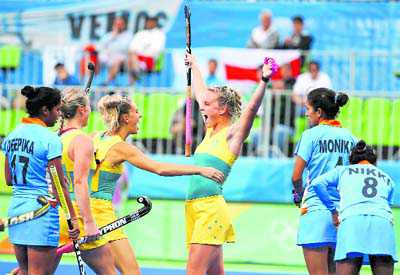 Indian women's hockey team received a 1-6 thrashing at the hands of a rampaging Australia in their third fixture at the Rio Olympics on Wednesday. The Indians, who are playing in the Olympics after a gap of 36 years, were outplayed by the higher-ranked Australians who exposed the defensive frailties of their opponents with a comprehensive win in a lop-sided match. Jodie Kenny struck twice (43rd and 46th minute) while Kathryn Slattery (5th), Georgina Morgan (9th), Jane Claxton (35th) and Georgina Parker (36th) scored a goal each to route the Indians.

The Tribune


---

New Zealand Women back to winning ways



Photo: www.photosport.nz

The New Zealand Women have given their quarter finals hopes a major boost after a 2-1 win against Spain at the Rio Olympic Games.

New Zealand dominated possession and the statistics sheet, with the final score not a true reflection of their hold on the game.

Capital striker Kelsey Smith was outstanding in one of her finest performances in a still fresh international career, scoring a goal in each half to secure the result.

The result sees the Kiwis remain well in touch on six points in Pool A, with two games still to play in the preliminary round against the Netherlands and China.

It was a fitting result in a game which saw captain Kayla Whitelock become just the second New Zealand Women's player to reach the 250 test milestone.

Head coach Mark Hager said while there were plenty of aspects to work on, the important factor was taking away three points with a win.

"We had a lot of opportunities throughout the game with plenty of circle entries but very little to show for it," he said.

"We need to be better in the attacking circle and make sure we put teams away when we can, and to switch off and concede a goal in the last few seconds isn't good enough.

"The positive is that we got the win and importantly take away the three points. By no means are we guaranteed a quarter finals spot yet so it's important we focus on being more consistent."

Both sides tested each other out during the first quarter, with New Zealand creating the better of the scoring chances.

New Zealand opened the scoring in the 22nd minute from a penalty corner, with Smith getting a sublime diving deflection on a Whitelock shot from the top of the circle.

Leading by one goal at halftime, the Kiwis continued to put pressure on the Spanish defence throughout the second half but found it hard to find the back of the net.

Smith brought up her double in the 50th minute when she pounced on a loose ball in the circle to shoot through the feet of the goalkeeper.

Spain managed a consolation goal, their first at the tournament, from Carlota Petchame in the final touch of the match.

The New Zealand Women have a day off competition tomorrow before a huge match-up against the Netherlands at 2:00am on Saturday (NZ time), with the game broadcast live on SKY Rio Pop-Up 4.

Meanwhile, the New Zealand Men face a must-win against home side Brazil at 10:30am this morning, live on SKY Rio Pop-Up 1.

New Zealand 2: (Kelsey Smith 2)
Spain 1: (Carlota Petchame)
Halftime: New Zealand 1-0

Hockey New Zealand Media release


---

Black Sticks do enough to beat Spain

New Zealand's women's Black Sticks have been made to work hard for a 2-1 win over Spain to keep their hopes of a quarter-final berth alive.

Two goals to Kelsey Smith led the way for the Kiwis as lowly Spain put up a tremendous fight on the turf.

The win was the side's second in the Olympic tournament and temporarily moves them to the top of their pool, equal with the Netherlands on six points.

Spain largely dominated the opening quarter of a scrappy opening to the match, the Black Sticks struggling to find any momentum on attack especially.

Against the world's 14th ranked side, the New Zealanders took their time in establishing themselves. Halfway through the second quarter they opened their account with Kelsey Smith scoring from a penalty corner set play.

The opening goal seemed to be the boost the side were looking for as they dominated the rest of the half's proceedings.

However, Spain came out fighting after the break and their tenacious defence was able to deny New Zealand any further goals until six minutes into the final quarter when Smith bagged a double with a deflection into the Spanish goal.

With five seconds on the clock Spain scored a consolation goal out of nowhere, their first of the tournament, as the New Zealanders seemed to lose focus in the closing stage of the match.

The New Zealand Herald


---

The drought is broken!

Men defeat GBR 2 - 1

Holly MacNeil



Glen Turner had this goal poached by Jake Whetton (stick bottom right) on the line!

After 206 minutes of play without a goal, one of the longest periods for the Australian's, the Aussie Men have come back to break the drought and defeat Great Britain 2 – 1. The late resurgence saw all three goals come in the last ten minutes of play, making for a nail-bitingly tense game.

The first three quarters of the game saw opportunities on goal missed by both teams, as well as fantastic saves by Australian goalkeeper Andrew Charter and Great Britain goalkeeper George Pinner. But, it was the final quarter of the game where the magic happened and Australia's hopes were kept alive.

Aran Zalewski coming back from a one match ban, was instrumental in breaking the Australian's drought, flicking the ball straight into the net after some fantastic ground work from Simon Orchard and Daniel Beale.

With five minutes on the clock Glenn Turner went for a huge piece of ground work, and having found their mojo, the boys scored another with Jake Whetton cherry picking the goal - literally just tapping the ball over the goal line!

With only two minutes to go, Great Britain came in for a late fight back, forcing a penalty corner shot. Ashley Jackson nailed the drag flick, getting some force on it and slamming it into the net.

The last two minutes were tense, as the Aussies counted down the clock, waiting for that win they had been missing. Matt Swann was literally on the ground in the Great Britain circle defending until the final buzzer sounded.

Australia are now placed third in their pool and next play Brazil on Saturday at 7.30am AWST / 9am ACST / 9.30am AWST.

AUSTRALIA 2 (0)
Aran Zalewski (FG) 50
Jake Whetton (FG) 55

GREAT BRITAIN 1 (0)
Ashley Jackson (PC) 58

Athlete (Hometown)
Australian Men v Belgium Start List
Daniel Beale (Brisbane, QLD) 85/15
Andrew Charter (GK) (Canberra, ACT) 118/0
Chris Ciriello (Melbourne, VIC) 192/115
Matthew Dawson (Central Coast, NSW) 51/7
Jamie Dwyer (Rockhampton, QLD) 363/241
Matt Gohdes (Rockhampton, QLD) 157/52
Mark Knowles (Rockhampton, QLD) 289/24
Matthew Swann (Mackay, QLD) 145/6
Glenn Turner (Goulburn, NSW) 134/93
Jake Whetton (Brisbane, QLD) 106/44
Aran Zalewski (Margaret River, WA) 95/12

Used Substitute
Tim Deavin (Launceston, TAS) 136/6
Blake Govers (Wollongong, NSW) 36/26
Fergus Kavanagh (Geraldton, WA) 229/15
Eddie Ockenden (Hobart, TAS) 282/65
Simon Orchard (Maitland, NSW) 207/56

Hockey Australia media release


---

Great Britain downed by Australia at Olympic Games



Sam Ward goes close against Australia. Credit FRANK UIJLENBROEK

Great Britain were left facing a must win game in their final pool match against Spain after an agonizing 2-1 defeat at the hands of Australia at the Olympic Games. Goals from Aran Zalewski and Jacob Whetton sunk Bobby Crutchley's. A late Ashley Jackson penalty corner wasn't enough to save a point leaving GB with a nervy final match to come. 

The game started at a terrific pace as both sides looked to impose themselves on the contest. The first clear chance fell to Australia. Former Wimbledon striker Blake Govers found space and hammered a backhand shot at goal that George Pinner did well to repel with his pads. Australia's intensity ensured they started to have the better of the game and before long they won a penalty corner. Govers took the responsibility but Dan Fox was out in a flash to charge down brilliantly. With the final few seconds to go to the break the Kookaburras almost forced the ball in via a crowded circle but David Ames emerged with the ball and it remained all square going into the second quarter.

The first action of the second quarter was a fine smothering save from Pinner to deny Glenn Turner. Bobby Crutchley's side grew into the game and won their first penalty corner. Ashley Jackson played the pass to Harry Martin but his deflection flew just over the bar. Jackson and Captain Barry Middleton started to grow in influence and GB forced another penalty corner just minutes later. This time Mark Gleghorne slipped the ball to Simon Mantell. His shot beat Andrew Charter but went agonizingly wide of the target and it was anybody's game going into the second half.  

The second half picked up where the first left off. Fantastic determination from Middleton almost freed David Condon but he couldn't quite escape the defender and Australia cleared. Pinner made a smart stop from a Chris Ciriello penalty corner. It was end to end play with both sides knowing the first goal was vital. Turner squandered a great chance to give his team the lead before Ward did brilliantly to manufacture an opportunity which Charter somehow blocked with his shoulder. Right on the stroke of quarter time the Kookaburras thought they had taken the lead. A penalty corner was charged down but Ciriello lashed the rebound at goal. Pinner got something on it, turning it onto the post before Middleton completed the clearance to the disbelief of the Australians.  

Five minutes into the final quarter with GB down to ten men, Australia got their noses in front. Zalewski turned in Daniel Beale's cross from close range. GB steeled themselves and despite fighting back they found themselves 2-0 down five minutes later. A swift break left Iain Lewers facing four attackers. The ball was slipped to Turner who touched it goalwards before Whetton made sure, slamming in from on the line.  With two minutes to go Crutchley's team got a lifeline with a textbook penalty corner goal from Jackson. Throwing everything forwards GB almost rescued the game when Nick Catlin's shot was cleared off the line by Matthew Swann but despite the late charge Australia hung on to take the win.

George Pinner, Great Britain Goalkeeper

"It was frustrating to lose. We came out wanting three points and we nearly salvaged a draw at the very end there. It is disappointing but it is the first time in this tournament we have really put up a proper performance and that is something we can build on going into our last game against Spain where we should know what we will have to do to get through."

"It was a classic game against Australia where it was pretty tight. They have some good players and had some good chances but we managed to keep them out. It was disappointing that they managed to get their noses ahead when we were down to ten and then they got a lucky break when it fell to them in the circle but we rallied well and were unlucky not to get something from the game."

"We will look to go out and get the win against Spain and hopefully that should be enough to take us through."

Barry Middleton, Great Britain Captain:

"Unfortunately we didn't nick a goal at the right time like they did. At 2-1 down at the end we played with real calmness and composure to make another good chance right at the end. We always trust in our game that we will get another chance whatever is happening. We got it and it just didn't quite go and sometimes that happens. We played well and defended but it is just frustrating with the result."

"We knew coming into the Spain game, wherever we were, we would want to win it so this doesn't change much, it just means we need to do our jobs right. We are showing we are in the right place. We have a day off tomorrow which is nice so we will go away, have a good rest and come back as strong as we possibly can for Spain."

Great Britain's next match is Friday 12 August at 21:00 vs. Spain

Australia 2 (0)
Aran Zalweski 50 (FG)
Jacob Whetton 55 (FG)

Great Britain 1 (0)
Ashley Jackson 58 (PC)

Great Britain Hockey media release


---

Men's hockey on verge of exit from Group A after 2-1 defeat to Australia

Team GB must now beat Spain if they are to have any chance of progressing

by Sam Morgan



Great Britain stars wonder what could have been after defeat to Australia

BRITAIN'S men face a tough task to qualify for the hockey quarter-finals after losing 2-1 to Australia in this Ashes showdown.

After a tense first half ended goalless, Australia eventually took the lead after 50 minutes when Daniel Beale's cross was turned in from close range by Aran Zalewski.

Team GB piled forward looking for an equaliser but it was Australia who extended their lead four minutes later.

Jacob Whetton cheekily tapped in Glenn Turner's shot when the ball was going over the line anyway.

Ashley Jackson pulled one back from a penalty corner with two minutes left to set up a frantic finish, but Australia held on to move above their opponents in the group.

That effectively leaves Britain needing a better result against Spain in their final game in Group A on Friday than New Zealand manage against Belgium later in the day.

The Sun


---

New Zealand Men run riot over Brazil



Photo: FIH/Getty Images

The New Zealand Men have recorded an emphatic 9-0 victory over home side Brazil in their fourth pool match at the Rio Olympic Games.

The Kiwis were dominant from start to finish, pouring on five goals in the first half and another four in the second.

Striker Nick Wilson was in devastating form with four goals while Shay Neal, Simon Child, Kane Russell, Stephen Jenness and Nic Woods added to the tally.

The crucial result keeps New Zealand in contention for the quarter finals, ahead of their final pool game against Belgium at 9:00am on Saturday, with live coverage on SKY Sport 3.

Head coach Colin Batch said it was pleasing to come and get the result required to stay in the hunt at the Olympics.

"We're very pleased with the win, it was a crucial match that we needed three points from so this puts us back in the tournament," he said.

"We didn't set ourselves a margin but it was nice to win by nine, that could prove important if goal differential comes into play."

New Zealand opened the scoring in the 14th minute when Wilson ran onto an aerial defensive deflection into the circle and calmly guided the ball past the goalkeeper.

Four minutes later it was Wilson on the score sheet again after receiving a nice pass at the top of the circle from Hugo Inglis and smashing home on his forehand.

The Kiwis went out by three goals in the 20th minute with a perfect crash ball across the face of goal from Simon Child finding Shay Neal at fill dive to deflect in on his reverse stick.

Child scored one of his own five minutes out from halftime with a solo run into the circle before hammering past the keeper on the half volley.

Defender Kane Russell sent New Zealand into the break with a 5-0 lead after rocketing a drag flick into the side of the net from his side's second penalty corner of the game.

The Kiwis kept all the momentum after the break and Wilson picked up another two goals in the 33rd and 40th minutes to extend his personal tally to four.

Capital striker Stephen Jenness scored New Zealand's ninth goal just out from three quarter time before Nic Woods delivered the final blow with a powerful drag flick from a 58th minute penalty corner.

With the Men looking to grab another win against Belgium, the Kiwi Women face a huge battle against world number one the Netherlands in their next match at 2:00am Saturday, live on SKY Rio Pop-Up 5.

New Zealand 9: (Nick Wilson 4, Shay Neal, Simon Child, Kane Russell, Stephen Jenness, Nic Woods)
Brazil 0
Halftime: New Zealand 5-0

Hockey New Zealand Media release


---

Hockey men crush hosts

By Andrew Johnsen

The New Zealand men's hockey siude trounced home country Brazil 9-0 in their penultimate pool match of the Rio Olympic Games.

After scoring just one goal in the first quarter, the Kiwi side flipped the switch and put four goals in 11 minutes past the Brazilians in the second, effectively ending the game as a contest.

Striker Nick Wilson was in devastating form with four goals while Shay Neal, Simon Child, Kane Russell, Stephen Jenness and Nic Woods added to the tally.

The result was vital for their medal hopes, keeping them in contention going into their final pool match against the highly-rated Belgium.

Head coach Colin Batch said it was pleasing to come and get the result required to stay in the hunt at the Olympics.

"We're very pleased with the win, it was a crucial match that we needed three points from so this puts us back in the tournament," he said.

"We didn't set ourselves a margin but it was nice to win by nine, that could prove important if goal differential comes into play."

New Zealand opened the scoring in the 14th minute when Wilson ran onto an aerial defensive deflection into the circle and calmly guided the ball past the goalkeeper.

Four minutes later it was Wilson on the score sheet again after receiving a nice pass at the top of the circle from Hugo Inglis and smashing home on his forehand.

The Kiwis went out by three goals in the 20th minute with a perfect crash ball across the face of goal from Child finding Neal at fill dive to deflect in on his reverse stick.

Child scored one of his own five minutes out from halftime with a solo run into the circle before hammering past the keeper on the half volley.

Defender Russell sent New Zealand into the break with a 5-0 lead after rocketing a drag flick into the side of the net from his side's second penalty corner of the game.

The Kiwis kept all the momentum after the break and Wilson picked up another two goals in the 33rd and 40th minutes to extend his personal tally to four.

Striker Stephen Jenness scored New Zealand's eighth goal just out from three quarter time before Nic Woods delivered the final blow with a powerful drag flick from a 58th minute penalty corner.

The Northern Advocate


---

McLeod couldn't be happier with Belgian men's start



Belgian coach Shane McLeod issues instructions during last night's win over Australia. Pic: Koen Suyk/EHF   

Shane McLeod says he "couldn't be happier" with how his Belgian men's side has been playing so far in the Olympic Games after a 4-1 win over Great Britain, a 12-0 thumping of Brazil and a 1-0 win over Australia.

"Nine from nine [points] and within that nine you take the scalp of Australia and GB, it's a really good start."

The New Zealander came into the role late in the day, taking over from Jeroen Delmee after the European Championships in August 2015 but it looks like he has made a big impact.

Speaking about the job, he said: "For me, it was a case of coming in and just trying to get them reaching their potential and at the moment we are getting close. I think there is another couple of levels but they're getting close.

"They're aggressive. Apart from a few moments in this last game where Australia really tried to push them a long way, they respond well.

"The word we are using a lot is relentless and I think that's a really powerful word in sport because it means you're not going to stop, you just keep going, keep going, if you're winning, if you're losing and they love it.

"They love that word [relentless]. They had to teach them that because it's not really in the French or Flemish translations directly so they tried to find the word for me but they couldn't quite do it."

EuroHockey media release


---

Boon closing in on Rio return

Tom Boon says he is closing in on a return from his hamstring injury for the quarter-final stages having missed the opening three wins of Belgium's campaign.

The Racing Club de Bruxelles man says he is "almost there" with Friday the current target for his return to playing.

Speaking about missing the first three games, he said it has been a difficult situation to handle, picking up the strain on the eve of the event.

"Getting through the emotions, I thought I could be headed home after one day. At the end the physio did a good job and I think I will back for Friday and Sunday.

"It was pretty difficult the first game. But after the 4-1 win against Great Britain in that first game, we are just here to win as a team. I just have to get through my emotions on my own and let the team get well.

"The second game was a bit easier and for Australia, I was on the bench again and it helped me to feel the atmosphere within the team again. It was a really nice game actually, I enjoyed it."

He has seen his side qualify for the last eight with three successive victories with ties against New Zealand and Spain still to come.

"I think we are playing at a good level. With 15 it is amazing how we can match the other teams physically."

Euro Hockey League media release


---

Points Table: India third and all poised for quarter final berth

s2h Team




With all win record, reigning double Olympic Champions Germany took their appointed quarter final berth even as two more matches are to come in their Pool.

Germany defeated Canada 6-2 in the event opener and then came out of Indian clutches with a mercurial last seconds goals before again winning a tight match against Ireland yesterday.

The Netherlands are also going steadily. Despite drawing continental champions Argentina 3-3 in the opener came out with colour in two subsequent encounters. The Dutch got whitewashed Ireland 5-0 and Canada 7-0. With seven points they are second in the pool.

Providing twists and turns, India stands at three with two wins and a loss. India lost to Germany 2-3, defeated Argentina 2-1 in the third match after narrow win in the opener against Ireland.

With a point, both Netherlands and India can easily move to the knockout, though the case of Netherlands is solid as of not.

India looks to get more points as it will face lowly ranked but spirited Canada in its last match.

Argentina, with a win, draw and loss is fourth in the table.

Stick2Hockey.com


---

After tense win, India faces tough Dutch test



India huddles up during the match against Argentina on Day 4 of the Rio 2016 Olympic Games in Rio de Janeiro on Tuesday. Photo: Christian Petersen

The target now will be to finish the league stages as high as possible in the points table so as to avoid Australia in the last eight fixture.

Virtually assured of a quarterfinal spot after their morale-boosting win against Argentina, a buoyant India will face world number two side the Netherlands in a tough pool B clash in the Rio Olympics in Rio de Janeiro on Thursday.

After a close 3-2 win over Ireland in their opening match, India suffered a disappointing 1-2 loss against the reigning Olympic champions Germany but bounced back to notch up a 2-1 win against Argentina to remain among the top four in the six-team pool.

The target now will be to finish the league stages as high as possible in the points table so as to avoid the world number one Australia in the last eight fixture.

"We are only done with three matches and have two more to go. We need to play harder and better because it will determine whom we play against in the quarterfinals," goalkeeper and captain P.R. Sreejesh said.

"The higher we finish in the points table, the lesser ranked team will play with us from the other pool," he added.

India will look to get inspiration from their win against the Netherlands in the 'World League Final' at home in December last year.

"Netherlands are one of the top ranked teams in the world and a win against them will give us more confidence. It is important that we keep up the rhythm. They have an experienced line-up and to do well against them means we need to be extremely well-prepared both mentally and physically," the captain added.

The task will be cut out for the Netherlands-born coach Roelant Oltmans who was at the helm of the Dutch team when they won their first Olympic gold 20 years ago, in Atlanta 1996.

Having started off with a 3-3 draw against Argentina, the Netherlands, the London 2012 silver medallists, have picked up the momentum by hammering 15 goals in three matches to sit second in the Pool B table behind defending champions Germany.

After their drawn match against Argentina, they blanked Ireland 5-0 and in their last tie, they routed Canada 7-0.

"It is up to us to find a strategy to get closer to them or maybe even beat them," said Oltmans.

"We have already played quite a number of matches against them, and everyone knows that when I work for India I just want one thing, and that is to beat my own country."

The Netherlands have an experienced captain in Robert van der Horst, the 2015 FIH Player of the Year, a two-time Olympian and 2012 silver medalist who is hoping to lead the second-ranked Oranje to their first Olympic gold since Sydney 2000.

"We knew we had to grow in this tournament. We couldn't play our best hockey in the beginning of the tournament, we know that. The two emphatic victories have given us a good vibe," he said.

In the heart of the Dutch attack will be the baby-faced Jorrit Croon, who turned 18 during their win against Canada, on Tuesday.

"I didn't expect a year ago that I would be celebrating my 18th birthday at the Olympics. It's a really special moment to be celebrating over here," Croon said.

India survived a nerve-wracking fourth quarter against Argentina, holding on to their 2-1 lead. For India, the key would be their defence to hold firm in the dying stages.

The Hindu


---

Setting the stage for Canada's battle with Ireland on Thursday

Shaheed Devji



Canada's Olympic men's field hockey team during the Canadian national anthem at the 2016 Olympic GAmes in Brazil (By Yan Huckendubler)

Canada's men's field hockey team takes on Ireland in both teams' fourth pool match at the 2016 Olympic Games in Brazil on Thursday (7:00am PT/10:00am ET, Sportsnet, olympics.cbc.ca).

The match has heavy implications on the final Pool B standings and both teams' chances of advancing to the knockout stage.

Canada and Ireland are both winless through the first three games and sit in the bottom two spots in Pool B, with Ireland holding the 5th place tie-breaker on goal differential.

With Argentina currently in the fourth spot with four points, Canada still has a chance to advance to the quarterfinal round, but to do so it will need at least four points from its last two games.

In Thursday match against Ireland, Canada – ranked 15th in the world – faces a team which it has seen in action quite recently.

Canada visited Belfast and Dublin in June for four test matches against the 12th ranked Irish, which resulted in three losses and one draw.

The Canadians were encouraged by their continued improvement in each of those matches, and that form was reflected in the following days, when it went on to draw two of three games against higher ranked Spain.

Ireland has shown well at these Olympic games, despite the 0W-3L record through its first matches, setting up for what will likely be a heated match on Thursday. From the outset of the tournament both nations had surely targeted Thursday's match as a key game and best chance to get in the win column.

After facing Ireland, Canada will then take on 5th ranked India in its final preliminary round match on Friday (8:30am PT/11:30am ET, Sportsnet, olympics.cbc.ca), while Ireland faces Argentina.

Two wins from its final two games will give Canada the best chance to advance to the next round. With a maximum of six points possible, Canada would then need Argentina – which faces Ireland and Germany in its final two matches – to take no more than 3 points from its last two games.

Field Hockey Canada media release


---

The one with the privileges, explained



Dan Fox adopts the role of kicking back

In the 50th minute of last night's match with Brazil, Bobby Crutchley replaced goalkeeper George Pinner with forward Sam Ward. Substitutions in hockey are no rare thing with almost 100 happening per side during each game. This change however piqued many people's interests as hockey fans and laymen alike may not have seen too many of these types of changes.

The move resulted in Dan Fox donning a green shirt as Great Britain moved to playing with 11 outfield players and no goalkeeper. The significance of the green shirted player or "kicking back" is that the chosen player has "goalkeeping privileges". That is to say, whilst they are not wearing all the protective gear of a normal goalkeeper, they can save the ball in the same way George Pinner would. Think of it in terms of how you'd play football in the playground during your school days with "Rush Goalie" and you are pretty much spot on.

By and large you'll see this move late on in a game when a team needs to salvage a match they are behind in. You know the sort of shot to nothing, last chance saloon Hail Mary-type situation. That said, it can be used to great effect as a genuine tactic with time left as the four goals in ten minutes Crutchley's side plundered will testify.

Knowing Brazil were flagging and with the knowledge that unlike football, no one can score from outside the area, Crutchley used the extra man to create an overload and to stretch the hosts' defence, resulting in the four goal flurry we saw. It is a tactic the coach should be applauded for using and hopefully one that we have made a little clearer here!

Great Britain Hockey media release


---

Rio Statistical highlights

K. Arumugam

First three action days produced 94 goals in 18 matches.

With six goals in his kitty, penalty corner expert of Netherlands, Mink van der Weerden top the highest scorer chart, followed by Tanguy Cosyns of Belgium and Moritz Furste of Germany.

Interestingly, 16 out of 18 matches resulted in outright results.

There are no goalless draws.

Each pool witnessed a draw apiece.

Only two players have scored at least a goal in all three matches they played: Tanguy Cosyns (Belgium) and Joren Hertzberger (The Netherlands).

Brazil conceded max goals (28).

Three teams, Australia, Netherlands and Germany conceded just 3 goals.

Australia scored minimum goals in three matches: 2. (besides Brazil which has got just one).

11 players from Belgium on scoreboard, max for any country, with 8 scorers Great Britain comes next

Whatever the results, both pool saw nearly equal number of goals cored, Pool A just two goals more than Pool B's 46.

No of goals struck till Half Time goals: 45

Most goals in a match: 12 by Belgium over Brazil

In only one match the winning team did not get even a token Penalty Corner (Spain in Australia match)

The Netherlands is the only team to score from all the penalty corners it got 4 out 4 against Brazil

Stick2Hockey.com


---

Hockey wizard Major Dhyan Chand scores in Berlin again

By Dipanjan Roy Chaudhury



For the first time ever, besides pictures of his on-field wizardry, several honors received by Major Dhyan Chand and his personal artifacts will be on display.

NEW DELHI: On August 15 while India celebrates the 70th Independence Day, the Embassy of India, Berlin has another special reason to cheer. An unique exhibition on the life and times of hockey wizard major Dhyan Chand will be inaugurated on the same day at the Embassy premises.

German Olympians Natascha Keller and her brother Florian Keller will be present on the occasion. Their grandfather Erwin Keller had played against the Indian hockey team in the 1936 Olympic Games in Berlin. Natascha Keller herself has been a member of the German Women's hockey team which won an Olympic Gold Medal in 2004. She was the flag bearer for Germany at the 2012 Summer Olympics, becoming the first female field hockey athlete being honored this way. Her brother, Florian Keller was also a part of the German national hockey team, which won the Gold Medal at the 2008 Olympics in Beijing.

Three German MPs - Peter Stein, Kathrin Voglerand, Johannes Selle, the Chief of Protocol from the German Foreign Office, Jurgen Mertens and the mayor of Rothenburg, Dieter Kolle are also expected to join the event.

For the first time ever, besides pictures of his on-field wizardry, several honors received by Major Dhyan Chand and his personal artifacts will be on display.

These include his Olympic coat and tie, his spectacles, several personal framed pictures and original recordings of training sessions and the Olympic Final in Berlin 1936. The exhibition will also show copies of German newspaper articles about the Indian team from the media coverage of the Olympics in Berlin.

Among the pictures displayed in the exhibition will be the photograph of a 30-foot statue his fans have built atop a hill in his hometown Jhansi. The exhibition will also display the commemorative postage stamp which the postal department had brought out on December 4, 1980.

The bilingual exhibition is scheduled to run for a month at the Indian Embassy in Berlin.

The Economic Times


---

'Tour to Spain, Holland will help Pakistan prepare for Jr World Cup'

LAHORE: After a disappointing tour of Germany last month, the Pakistan Hockey Federation (PHF) is now gearing up to send the national U-21 squad to Europe to play matches in Spain and Holland as part of preparations for this year's Junior World Cup.

While Pakistan, during the Aug 22-Sept 12 tour, will play three-Test match series in Spain, no Test match is scheduled with the national team of Holland where the touring team will feature in matches against some top Dutch league outfits, a PHF press release read.

The coming tour will be Pakistan U-21s' second trip to Europe in a short span of one month.

In Germany last month, the Pakistan team failed to win a single match of the three-nation event also involving Holland and Germany.

Now in an interesting move, the PHF, instead of retaining the team which toured Germany, has called on 31 probables for the training camp (for the coming visit to Europe) being held at the Johar Town Stadium from Aug 16.

APP adds:

Meanwhile, U-21 team's chief coach Tahir Zaman said the tour to Europe would benefit Pakistan in their preparations for the Junior World Cup.

"Actually, this European tour is part of our preparations for the Junior World Cup and hopefully our youngsters [on the tour] will learn while competing with the world's top players," Tahir said.

"The tour will help us test and form various combinations well before the Junior World Cup [scheduled to be staged in Lucknow in December]."

Tahir added: "Certainly we need to introduce long-term plan based on a consistent set of policies to enable Pakistan to regain its glory in world hockey."

Probables:

Goalkeepers: Ali Raza (NBP), Mohammad Talal Khalid (Sialkot), Usman Ghani (Railways), Muneer-ur-Rehman (SSGC), Roman Khan (KP Whites), Hafiz Ali Umair (SNGPL).

Full-backs: Atif Mushtaq (NBP), Hassan Anwar (SSGC), Mubashir Ali (NBP), Zahidullah (PAF).

Halves: Abu Bakr Mahmood (NBP), Faizan (NBP), Junaid Kamal (NBP), Mohammad Usman (Railways), Mohammad Qasim (Wapda), Tanzeem-ul-Hassan (Railways), Ammad Shakeel Butt (NBP).

Forwards: Shan Irshad (NBP), Azfar Yaqoob (NBP), Mohammad Dilber (NBP), Mohammad Atiq (NBP), Bilal Qadir (NBP), Mohsin Sabir (Navy), Rana Sohail Riaz (SSGC), Samiullah (PAF), Mohammad Rizwan (SSGC), Mohammad Naveed (NBP), Bilal Mahmood (Wapda), Fahadullah (PAF), Amir Ali (NBP), Umar Hamdi (Wapda).

Dawn


---

Tour of Europe: U21s to leave for Spain on Aug 21

KARACHI: The Pakistan Hockey Federation yesterday announced that the U21 team will leave for the tour of Europe for a test match series against Spain and Netherland on August 21.

The tour is part of the U21 team's preparation for the Junior Hockey World Cup, along with a training camp that will take place at the National Hockey Stadium in Lahore from August 16.

The camp currently holds 31 probables that will be shortlisted to 16 players who will fly off to Spain.

The U21 team will first face Spain's national junior side in a three-test series, before leaving for the Netherlands where they would play against top teams from Dutch Premier Division league — the most competitive domestic hockey league in the world.

The Express Tribune


---

PHF names 31 probables for junior hockey camp

LAHORE: The Pakistan Hockey Federation on Wednesday announced names of 31 junior players for attending a short duration camp here from August 16 to prepare for the second leg of Europe tour.

"The Under-21 camp will commence at Johar Hockey Stadium to groom players for the tour which will start from August 22 to September 12," said a spokesman for the PHF. In the first leg of the tour, the junior team toured Germany and participated in a four-nation tournament last month. "During the second tour in Spain, Pakistan juniors will face hosts national junior side in a three test series.

While later in the Netherlands, they will play matches against some of the top teams from Hoofdklasse (Dutch Premier Division)," he added. It is pertinent to mention that the Dutch league is the most competitive domestic hockey competition in the world with top sides fielding mega international stars from different countries. "This European tour is a part of preparation for the Junior World Cup to be held in Lucknow, India later this year," he added.

Following will attend:

Goalkeepers: Ali Raza (NBP), Mohammad Talal Khalid (Sialkot), Usman Ghani (Railways), Muneer-ur-Rehman (SSGC), Roman Khan (KPK Whites), Hafiz Ali Umair (SNGPL).

Full backs: Atif Mushtaq (NBP), Hassan Anwar (SSGC), Mubasshir Ali (NBP), Zahid Ullah (PAF) (Halves) Abu Bakar Mahmood (NBP), Faizan (NBP), Junaid Kamal (NBP), Mohammad Usman (Railways), Muhammad Qasim (WAPDA), Tanzeem-ul-Hassan (Railways), Ammad Shakeel Butt (NBP).

Forwards: Shan Irshad (NBP), Azfar Yaqoob (NBP), Muhammad Dilber (NBP), Muhammad Atiq (NBP), Bilal Qadir (NBP), Mohsin Sabir (Navy), Rana Sohail Riaz (SSGC), Sami Ullah (PAF), Muhammad Rizwan (SSGC), Muhammad Naveed (NBP), Bilal Mahmood (WAPDA), Fahad Ullah (PAF), Amir Ali (NBP), Umer Hamdi (WAPDA).

The Daily Times


---

Wapda thrash Sindh Whites in National Women Hockey

ISLAMABAD - Defending champions Wapda thrashed Sindh Whites 10-0 in the 29th National Women Hockey Championship match played here at Naseer Bunda Hockey Stadium on Wednesday.

A total of four matches were played on the sixth day of the mega event.

Australian High Commissioner to Pakistan Margaret Adamson was the chief guest on the occasion and spent more than an hour at the venue.

She looked quite impressed with females' performance and lauded the Pakistan Hockey Federation (PHF)'s efforts and hoped international hockey would soon resume in the country.

PHF secretary Olympian Shahbaz Senior introduced the chief guests to teams and women wing officials.

As the event is entering the last stage, the things are looking streamlined and finally, the organising committee especially Shahbaz Senior lived up to their words of ensuring smooth working of things, which were highly missing for the first four days.

In the first match of the day, Wapda was too strong for Sindh Whites and completely outclassed them.

Hina Pervaiz was in awesome form and slammed five goals and also remained instrumental in other five goals, while Ambreen Arash hammered three goals and Ishrat and Afseen hit one goal apiece for Wapda.

In the second match of the day, Railways taught hockey lesson to Punjab Whites, as they scored a dozen goals against hapless Punjab.

Goal-scoring machine Kalsoom Muneer smashed 10 goals while Hina Kanwal and Iqra Hanif contributed one goal apiece for the winners.

In the third match of the day, Army routed Sindh Colours 8-0.

Sana Allahdita scored a hat-trick, while Sahil Malik scored a brace and Shahida Raza, Saira Khanum and Aneeza Basheer hit one goal each.

In the fourth and last pool match of the day, Islamabad held KP in a goalless draw.

Wapda will take on Army in the first semifinal today (Thursday) while Punjab Colours will face Railways in the second semifinal.

An exhibition hockey match will also be played today (Thursday) between Mohsin Ali-led RISJA XI and Shahbaz Senior-led Olympians XI to mark the Independence Day.

The Nation


---

Kelburne add Shepherd to coaching team



Picture: Koen Suyk

Scottish champions Kelburne have appointed Gordon Shepherd as their new coach for the upcoming season, a high quality appointment who will do the job in tandem with his role as Scotland's women's senior coach.

He was previously the head coach with Clydesdale men and spent four years as Kelburne's senior men's assistant coach, during which he worked with several of the current Kelburne squad.

The club returns to the EHL this October and will be looking to continue their amazing run of  12 consecutive Scottish regular season titles.

With the club returning to the EHL and looking to be successful here and continue our run of 12 successive league titles,  the process of recruiting a new coach has been an ongoing

Speaking about Shepherd's addition, Kelburne club president Mark Fulton said: "As a club, we identified the need to recruit an off-field coach to take the squad in a different direction whilst also building on the treble-winning success of Chris Nelson and Iain Scholefield during last season.

"We are very confident this marquee recruitment of Gordon will provide further benefit to the squad of players at our disposal and keep us at the forefront in the coming years ahead.  From our first meeting with Gordon,  it was clear there was a shared vision for the direction of the club and everyone at Kelburne is very excited to have him on board."

Speaking about his appointment, Shepherd added: "I am delighted to be working with Kelburne to further develop what is an already successful club. There is a good group of experienced players and talented youngsters and this makes for an exciting blend. I intend to challenge all the players to drive for more success domestically and also at European level."

Euro Hockey League media release


---

Hockey stars score bursaries

Two pupils have won Varsity College bursaries at the SPAR KZN School Girls' Hockey Challenge Prize Giving ceremony.

Lorna Charles



Jody Taylor, Varsity College's sports co-ordinator, St Mary's pupil, Tegan Fourie, Carole Adam, Varsity College's national sports manager, Westville Girls' High pupil Courtney Slaney and Claire Hogg (SPAR KZN sponsorship controller are seen at the SPAR KZN School Girls' Hockey Challenge Prize Giving. Photo: Jonathan Burton

AS part of this year's SPAR KZN School Girls' Hockey Challenge, Varsity College offered a bursary to a player that stood out at the regionals that took place around KZN this year.

However, due to the talent shows at the various regionals, Varsity College made a decision to offer two bursaries. Carole Adam, National Sports Manager from Varsity College said they were impressed with the level of hockey in the province.

"The quality of hockey made our decision extremely difficult, so on reviewing the possible bursary winners from around KZN, and what they could bring to our hockey team, we opted to open up two bursaries this year. We also didn't want to waste the opportunity and offer it to a player who didn't intend on using it."

The two winners of the bursaries are Tegan Fourie from St Mary's DSG and Courtney Slaney from Westville Girls' High School.

Part of the winning team, vice-captain for St Mary's DSG ended her school playing hockey career on a high. "Winning the final would definitely be the highlight of this year's SPAR tournament. That, together with being awarded the bursary certainly is the best moments of the hockey weekend."

"It is every athlete's dream to represent their country in their chosen sport at big events like the Olympics. So, winning this bursary and being able to further my hockey career is extremely exciting for me." Fourie was recently selected for the SA U18A team and the SA U21 team that will be travelling to Chile for the Junior World Cup.

Slaney, the second recipient of this year's Varsity College Bursary said she was excited at receiving the bursary and was looking forward to being able to play with one of the top hockey teams in the country. I feel very privileged that I have this opportunity."

Berea Mail