All the news for Sunday 31 July 2016

The elite - Hockey's officials ready for Rio!




The excitement has been building for months now. One by one the pieces fall into place as nations qualify, teams are announced, the schedule is released and the world waits for the whistle to blow. And it's not just the players who have been on tenterhooks waiting to see if they have made the cut.

For the 32 umpires and 4 video umpires who will be officiating the men's and women's hockey events at the 2016 Rio Olympics, waiting for the appointment email to ping into their in-boxes last September was a tortuous time.

"I found out at 3am in the morning and had to wait until everyone was awake to share the news," said Australian umpire Kylie Seymour.

"I was away from Moscow with no wifi, so I didn't find out until I had a message saying a letter had arrived." Elena Eskina, Russia's top hockey umpire laughs as she recalls, "My friends were going crazy because they knew the appointments were out but they didn't know if I had been selected."

It's not just the athletes who have spent the past four years training for selection to go to the Rio Olympics. For umpires too, taking their place on the biggest sporting stage is a dream come true, but it is a dream that is only realised after a heap of hard work and preparation.

"The demands upon umpires are increasing all the time," Kylie says. "The players at the moment are the fittest I have ever seen. We have to make sure we are consistently at a level – mentally and physically – that allows us to move with the game as it intensifies."

Lim Hong Zhen, who is making history as the first Singaporean umpire to officiate at the Olympics since John Martens at the Munich Games in 1972, expands upon Kylie's point: "Mental and physical fitness preparation is key to our game today. At an event of this magnitude, where the whole hockey world is watching, there is very little margin for error. We must all turn up mentally prepared and physically fit to be at our very best from the first whistle."

To help prepare, the umpiring team has been using the FIH Dartfish private collections of videos for umpires and video umpires. They have also made use of the Coach Logic video platform, where individual umpires' Sportscode and Dartfish logging from their matches at previous tournaments has been uploaded. This allows the umpires to review their performances, evaluate and identify areas for improvement when they return home from events.

Lim Hong Zhen explains that, as part of the review, the umpires look at decision-making, their management, positioning on the field, body language and concentration levels during different stages of the match.

"It terms of fitness, we break it down into two aspects: 'physical fitness' and 'match fitness'," he says. "Gym work gets us physically fit for the job, while umpiring in as many local leagues and tournaments ahead of the Olympics gives us that all-important match fitness, so that we can arrive in Rio completely ready and not to have a 'cold' start to the tournament."

It is a tough ask. These umpires are in full-time jobs and the training is done in their own time. And yet, their approach is as professional as any player's.

Like Elena, New Zealand's Kelly Hudson is at her second Olympics. She said: "I think the main thing that I have done since London, aside from now clocking up more experience and time at the top level matches, is continue to develop the understanding of the players, what they are trying to do, and where the game is heading. To consistently apply the rules when the game is becoming faster, more dynamic, skilful and spectacular, is a tough thing to do! But I like to manage the game by communicating with the players and getting them to understand where I am coming from with a touch of empathy."

Looking back to her appointment to London2012, Elena says that the significance of the Games took some time to sink in: "My first reaction was simply that this was a really big, really prestigious hockey tournament. I didn't realise the difference between being at a big hockey tournament and being at the Olympics. It took a while to sink in, to realise just how special that was. So my feelings before the Olympics compared to my feelings after the Olympics were totally different."

Elena says it was only when she returned from London that she realised she had been part of something very special. "It became obvious to me that it doesn't matter what role you are in, the important thing is that you are there. Whether you are a sportsperson, volunteer, official – it is really, really special and you only fully understand that when you have been part of it."

Kylie listens on intently as Elena speaks: "Well that has sent goosebumps down my spine," she says. "If I wasn't a bit nervous before, I am now."

If Kylie is busy controlling her nerves, Lim Hong Zhen is positively fizzing with anticipation: "Having watched the 2014 FIFA World Cup from home, where you could feel the passion of the people of Brazil even through a TV set thousands of miles away, I am sure this Olympic Games will be amazing. The atmosphere will be electric and the Brazilians are known for their "Samba style", so I am very sure this will be shown during the upcoming games in August. I can't wait to soak in the atmosphere!"

FIH site


---

Alex Danson Exclusive: Why the Olympics is still special despite controversial build up

GB hockey star Alex Danson has still got the Olympic bug – and insists no mosquito will take that away.

By Bruce Archer



Alex Danson hopes to lead the GB hockey side to glory. GETTY

The build up to the Rio Olympics have been surrounded in controversy with high profile withdrawals, the zika virus and the Russian doping investigation.

But Danson, set for her third Games, believes the appeal is still strong.

It gets underway on August 5 with Danson chasing an upgrade on her bronze medal from London four years ago.

"The Olympics is the pinnacle of our sport along with the World Cups," she told Express Sport.

"It is the tournament you dream of. It's massive. We build on it for four years so it really is a very special moment to make a games.

"I don't think it's diminished by the comments because the vast majority of athletes are in the same boat as us, so we just focus on us and what it means to us. It's the pinnacle and such an incredible event so we're very excited to go."

The 31-year-old, who has 91 Great Britain caps to go along with her 170 for England, can't believe how far she's come since playing with her brother and sister in the garden. It was there the competitive spirit inside her grew. From football or hockey to tag or 40-40. Being outside led her fight for the chance to play professionally.

She was brought up with a close knit family in Hampshire and her mother, father and brother will be pitch side in Rio, while her sister is embarking on her own sporting career in the triathlon so has to miss the trip.

Danson, since making her debut in 2001, has become key for GB as they look to press on having followed that bronze in 2012 by winning the 2015 Women's EuroHockey Nations Championship in a dramatic penalty shoot-out.



Danson helped GB win the Eurohockey Nations Championship last summer. GETTY



Danson was named player of the tournament and will be important again next month. GETTY

"I'm very excited. I don't think you ever lose that," she said. "I'm just looking forward to going now. The team is ready.

"Never in a million years did I think I'd get the chance to play in three Olympics and I don't think you ever truly believe it until you're stepping out onto the field and ready to play, so I'm absolutely delighted to be going."

Danson was named the best player of Eurohockey tournament last summer after scoring four goals and is likely to be one of Danny Kerry's most important players again next month.

GB struggled in last month's Hockey Champions Trophy in London - finishing bottom in the six-team round robin tournament as they failed to win in five games - but Danson insists progress was made and the team are on course.

"It was a tournament close to the games and all the matches were very, very tight," she said. "We've been improving year-by-year as part of our four-year program and we're very much focused on Rio, so what that tournament did give us was the opportunity to fine tune some final things before we go.

"So that was how we looked at it. We're in a good place as a team and excited by our prospects."

The zika virus has threatened to derail the games although pull outs have so far been minimal.

And Danson says the hockey side are all committed to going after getting best advice and all the focus is now on playing.

"We've been given advice about covering up and about wearing the appropriate mozzi spray," she said.



Danson is heading to her third Olympic Games next month. GETTY

"For us we're there to go and play and we fully recognise it's a public health issue, so we'll follow the advice but we're very much focused on playing.

"We've had a very good open process where if anyone's had any question you could ask them."

Danson stops short when pushed on medal targets for the team, but knows the pressure will be on having picked up the bronze in London.

She insists they will judge themselves on performances rather than medals and just wants the team to do itself justice.

British hockey is in a good place after years in the doldrums and while 2012's Olympic legacy has not been felt everywhere – it has in hockey.

It's now shown live on BT Sport, the players are becoming more and more well known and the game has become more appealing to youngsters picking their sports.

"There's always more to do, that's the beauty of life and the beauty of sport, but I think we're doing a fantastic job of getting people into the game," Danson said.

"And our main focus is performing because if we're doing well it's going to help draw people in."

Daily Express


---

The Indian women's hockey team will make history at Rio even if it doesn't win a medal

The women's team has qualified on its own strength for the first time, and it's raring to pull off an upset or three.

Suhavi Kaur



Image credit:  SAJJAD HUSSAIN / AFP

Ritu Rani was in tears at home when India's hockey squads were being announced at a glitzy ceremony organised by Hockey India (HI) on July 12. The women's team will break a 36-year jinx when they take the field in Rio – only for the second time at an Olympic Games – but Rani, who was at the helm when India won the Asian Games bronze and then qualified for the Olympics, wouldn't be on the flight to Brazil.

Sushila Chanu was the cynosure of all eyes instead. The Manipur girl, whose biggest moment on the hockey field came when she led the junior team to a World Cup bronze, is captaining India at Rio. Rani was dropped on disciplinary and performance grounds after she left the camp in Bengaluru.

The Indian women's hockey team will be hoping these were their only uncomfortable moments on their Rio odyssey. The countdown has begun, and the team is warming up with practice games in the USA en route to Brazil.

Uphill task

In some senses, this is an adventure without pressure. For, a medal seems a far-fetched notion right now. Even qualifying for the quarter-finals from the six-member group may not be easy, with each of the other teams being ranked higher, and at least two wins being necessary.

Despite the women's team's spirited wins over US and Canada, hopes of a hockey medal are still riding only on the men's team, which has been faltering suddenly. Still, it's a huge opportunity for the 16 debutantes to play out of their skins to show that their 13th FIH ranking is just a number.

Coach Neil Hawgood quit his job before returning after a brief stint with Malaysia, but consistency is something that continues to elude him even in his second term. Wins over lower-ranked teams like Canada and Scotland don't highlight the yawning gaps with Argentina, Australia, Great Britain, Japan and the United States – the teams India will face in Group B at Rio Olympics.

Indeed, all of India's opponents are in the top 10 of FIH rankings. But it's important to recall that it was under the same coach-captain combination of Hawgood and Sushila that the junior women's team won the World Cup bronze.

Where India's women hockey has historically lagged behind is in matching the fitness of its opponents, who thrive on common balls and breakaway attacks. In comparison, Indian women lack speed and stamina, especially when pitted against the Europeans and Australians.

A matter of pride

Without the stress of meeting expectations, can the Indian team raise their game? The Olympics, of course, are thew biggest stage, and midfielder Chanu will relish her stint as captain of the senior national team.

The 24-year-old skipper will have players like Poonam Rani, Rani Rampal, Deepika, Sushila and Deep Grace Ekka available for advice. The restriction of a 16-member squad – versus the normal 18 – for the Olympics forced India to pick only one goalkeeper in the form of Savita. That's a worry which will constantly nag coach Hawgood should the need for a back-up arises.

The attack will bank on the skills of Rani Rampal, Navjot Kaur, Poonam Rani, Vandana Kataria and Lilima Minz, while Sushila marshals the troops as the defensive centre-half. The team's vice-captain and 2016 Hockey India Player of the Year Deepika will fortify the defence along with Ekka and Namita Toppo.

Unlike the invitational appearance at the 1980 Moscow Games – which many countries boycotted – this time the women's hockey team has earned a place with its blood and sweat. That pride should be reflected on the field. Even if they are unlikely to make it count in terms of medals, a top-eight finish in the 12-team event will ensure a hero's welcome back home.

The Squad: Sushila Chanu (c), Navjot Kaur, Deep Grace Ekka, Monika, Nikki Pradhan, Anuradha Devi Thokchom, Savita, Poonam Rani, Vandana Kataria, Deepika (vice-captain), Namita Toppo, Renuka Yadav, Sunita Lakra, Rani, Preeti Dubey, Lilima Minz.

Scroll.in


---

For Indian women's hockey team, Rio 2016 Olympics a measure of freedom

For the first Indian women's hockey team to go to the Olympics in 36 years, Rio is also a measure of how close the girls have come to freedom.

Written by Mihir Vasavda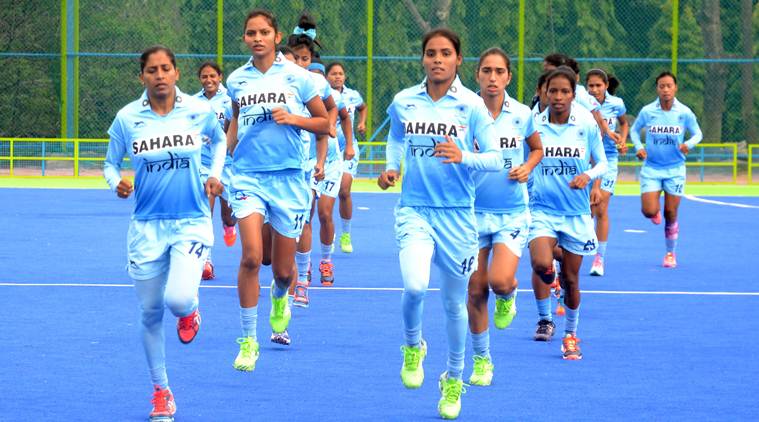 Girls, uninterrupted: The women's hockey team at the camp in Bangalore.

Marriage and family. That's what they've always told us. That's what they said lies ahead for us," says Rani Rampal, smiling. "Not anymore, though."

The 21-year-old midfielder from Shahbad town in Haryana is headed to Rio, as a member of the first women's hockey team to represent India at the Olympics in 36 years. But as Rampal's life and that of her teammates show, this is not just a momentous sporting achievement. It is a measure of how close they have come to freedom.

Rampal is reminded of it every time she goes home to Shahbad, the cradle for women's hockey as well as a deeply conservative north Indian town. On a recent visit, she caught up with a childhood friend, now married, who remarked how lucky Rani was to have escaped the life Shahbad had chosen for most of its girls. Rampal, who was just 15 when she made her India debut, agrees. "If I did not play, I would have been married by now," she says.

Twenty-three-year-old Poonam Rani, also from Shahbad, was always told that girls should stay indoors as they would be "better protected from men". When she picked up the stick for the first time, she was disowned by her neighbourhood.

Around 150 km away, in Roshanabad, Haridwar, things were not too different. Twenty-four-year-old striker Vandana Kataria started playing hockey when she was 11. But the hostile opposition her father and brother faced for allowing a girl to play forced her to pull out.

The young girl was distraught. Unable to see her misery, her father stood up to the pressure to ensure she continued to play at an academy in Roshanabad.

Poverty was the nemesis of Kataria's future teammates from Orissa. Lilima Minz, 22, remembers how her family sacrificed a meal to ensure her needs were fulfilled. The daughter of a mine worker in Bihabandh Tanatoli village, Minz moved to the famous Panposh Hockey Academy in Rourkela in 2005 to continue playing. There, she would be joined by Namita Toppo, 21, and Sunita Lakra, 25, both from poor backgrounds.

Midfielder Renuka Yadav hopped on a bicycle every morning to supply milk in her locality in Rajnandgaon, a Maoist-affected district of Chhattisgarh, to keep her ambitions alive. Her parents worked as domestic help and were not able to meet the family's basic expenses. At the insistence of her local coach, Renuka would later join an acclaimed academy in Rajnandgaon. Today, the 22-year-old is the first woman Olympian from the state. Another player recalls the time when she entered the room for a meeting. It was her first day in the national team. So conscious was she of her "low" status that she thought of sitting on the floor.

June 20, 2016. 8 am. An idol of Jesus is placed next to one of Lord Shiva's in a room at the women's hostel of Sports Authority of India (SAI) in Bangalore. Lily Chanu and Ritu Rani are both on their knees. One makes the sign of the cross while the other folds her hands. A short prayer and they are off to the turf.

It's a wet monsoon morning and the team that will represent India will be selected today. Four years ago, they were an unassuming bunch of teenaged girls, many of them not even aware of the Olympics.

When chief coach, Australian Neil Hawgood, set them the goal of qualifying for the games, they didn't know what he was talking about. For them, the Commonwealth Games was the biggest event. It was a comment on the state of women's hockey in the country.

When they first met at a junior national camp, most of the girls gave each other curious stares. They were different in appearance, in how they dressed, in the languages they spoke and what they ate. It was an assortment of players from across the country: Jharkhand, Madhya Pradesh, Haryana, Uttar Pradesh, Punjab, Orissa, Manipur and Andhra Pradesh.

Chanu recalls how she and several other girls had to improve their Hindi since that eventually became the team's link language. "I was just 15 when I came to a national camp. For the first time, I was going to stay outside my home," Rampal says. "The biggest difference was food. Our camp is usually held in the south and the cuisine is very different. But you get used to it."

The simplicity of the players is what astonishes the all-Australian coaching staff. The men's team swaggers around in flashy clothes and stylish hairdo. In contrast, the women are shy and retiring.

Many of them are still afraid of flying. "Some were crying and shaking during turbulence on our first trip to New Zealand in 2013," Hawgood says. But they find ways to make light of it. During one of their recent trips abroad, the girls decided to play a prank on a new entrant to the team. They told her she would have to pay in cash for every meal she had on the flight. The player was almost on the verge of breaking down when the others showed mercy.

The orchestrator of most pranks is Deepika Thakur, the seniormost player, with 172 appearances. She is the most aggressive on field, along with Rampal. But Thakur is also the shoulder to lean on during tough times. "We all have our mood swings and Deepika didi and other senior players help us. Away from our parents, we rely on them for emotional support," says Nikki Pradhan, one of the team's youngest players.

At the camp, they stay in one block and have their meals together. Occasionally, they go for a movie. At other times, impromptu dance and quiz sessions help them spend time. Senior players like Thakur, Chanu and Ritu Rani make it a point to counsel the younger ones, trying to understand their problems and needs. But it's not always serious. "Sometimes, we discuss our crushes too," says Kataria.

But when on tour, the players rarely venture out of the hotel. The few times they do, it is to shop. Buying shoes — both turf shoes and designer sandals — is the collective fetish of this team.

Hawgood and his coaching staff often urge them to explore the cities they visit as they play across the world. Earlier this year, during a tournament in Darwin, Australia, the team's scientific advisor Matthew Tredrea arranged a dinner by the lake at a national park. The girls, instead, chose to stay indoors. "Maybe, there's a language issue and the fear of getting lost in an unknown city. Sometimes, we hover in the background to ensure they stay safe. But they generally prefer staying indoors," Hawgood says.

Perhaps, it is a sign of their lack of confidence, a trait visible on the field as well. And that's the concern Hawgood has as the team prepares for its biggest test in Rio. "Right now, there is a lot of pressure on them. There's a lot of attention, which, at times, doesn't help. This team does not know anything about Olympics because no one in 30 years has been there from India. But they will gain from this experience," Hawgood says.

The coach's priority is to ensure the Olympic qualification isn't a one-off thing. But it already seems a daunting task. One of Hawgood's biggest worries is that many from this team won't even be a part of the squad for the 2020 Olympics.

The other 'Rani' from Shahbad, Ritu Rani, was dropped when the team was announced on July 12. Not too long ago, the 24-year-old midfielder was the cynosure of the women's side. She was the captain, one of the mainstays of an inexperienced side, and recommended for the Arjuna Award in May.

Rani claims she was never given an official reason for her exclusion but her engagement last month was seen as one of the reasons. "Since then, questions are being raised about my focus," she says.

But even before she was dropped, Rani had said she wouldn't carry on till the Tokyo Games. "I have been away from home for more than 10 years now. It's a tough life and I would like to do normal things like other people," she says.

Hawgood knows that an exodus is on the cards, as the girls give in to social and familial demands. "I know that's going to happen. We could lose more than half of this group. They all have to face different pressures. It's one of the reasons why we need to invest in the juniors," he says.

Nevertheless, their presence in Rio is a riposte to years of discrimination as well as a way to a better life. They have undermined and challenged the old order with their exploits on the field. Many of them have become the main providers for their families. Rampal says she has invested her career prize money of around Rs 70 lakh in a house for her parents in Shahbad.

Chanu, the captain, had seen enough sportspersons emerge from Manipur to realise it's the ticket out of poverty. But it wasn't poverty as much as her father's risky job that motivated her to take up hockey.

A truck driver, her father transported goods from Manipur to Meghalaya on treacherous roads, where fatal accidents were common. Because of his daughter's steady earnings, he does not need to do the work anymore.

Not many are giving the women's team a chance to continue their fairy-tale run in Rio. But it is a team that will be remembered for shattering stereotypes and breaking new ground. In a week, they will take a giant step into the unknown. But it won't be the first time.

Indian Express


---

The Triangle's Olympic sport

Former East Chapel Hill High and Wake Forest University field hockey player

By Luke DeCock



Michelle Kasold of Team USA plays against Team India during a field hockey match in preparation for the upcoming Rio Olympics on July 18, 2016 in Manheim, Pennsylvania. Rob Carr Getty Images

After going to the Olympics in 2012, Michelle Kasold came home to visit her alma mater, East Chapel Hill. When she walked into field-hockey practice, it was like a conquering hero had returned from the wars, a rock star descending into the audience.

"The girls lost their minds," East Chapel Hill coach Susan Taylor said. "It was pretty exciting."

Kasold is an exception and a rarity, an Olympian from North Carolina in field hockey, a popular Northeastern sport that North Carolina colleges dominate but is just now starting to gain traction at the high-school level here. As Kasold heads to Rio de Janeiro for her second Olympics, the 29-year-old is one of seven players on the U.S. field-hockey team with ties to the area.

With Kasold, five players from the University of North Carolina and one from Duke, field hockey really is the Triangle's Olympic team. Throw in one other player who attended Wake Forest, and half the 16-player roster has some link to North Carolina. That's an immense number considering Kasold is the state's only homegrown Olympian in the sport, and the vast majority of players who come here for college still come from field-hockey hotbeds like Pennsylvania and New Jersey.

"The sport has grown so much," Kasold said. "There are so many more clubs. It helps that there are such good programs at North Carolina and Duke and Wake."

Building a powerhouse

Field hockey is a hybrid of ice hockey, lacrosse and soccer, played almost entirely on the ground since the sticks have short, rounded blades with only flat side and no curve – making it one of the very few sports that's better suited to artificial turf than the real thing.

It remains a bit of a novelty in North Carolina, unsanctioned by the North Carolina High School Athletic Association at the high-school level. But schools from North Carolina and Virginia have won 19 of the 34 national titles since it became an NCAA sport in 1982 – nine by Old Dominion, six by North Carolina, three by Wake Forest and one by James Madison.

It's an odd geographic shift, one that started about 30 years ago and has continued to strengthen. Of the 16 players on the 1984 Olympic team, the only one to win a medal, 11 were from Pennsylvania or New Jersey. Many went to smaller Philadelphia-area colleges like Ursinus or West Chester, holdovers from the pre-Title IX days before bigger schools began to get involved.

There were always little hotbeds of the sport scattered throughout the country at the college level, schools like Iowa and Northwestern and California, even as its heart remained squarely in the mid-Atlantic. Old Dominion, an early power in the sport, helped push it south, at least at the college level.

North Carolina added the sport in 1971, but it languished until the school in 1981 hired Karen Shelton, a graduate of West Chester and a future member of that 1984 bronze-medal team. Shelton quickly built a powerhouse, winning the first of six national championships in 1989.

Others would follow suit. Wake Forest won three straight championships from 2002-04, while Duke has gone to four national-title games. The players still come predominantly from the northeast, but the talent has for a long time flowed south for college – and then onto the Olympic team.

Every national team since Shelton arrived has included at least one UNC player, including six for the 2008 Olympics, three in 2012 and this year's five: three-time Olympians Rachel Dawson and Katelyn Falgowski and first-timers Jackie Briggs, Kelsey Kolojejchick and Caitlin Van Sickle.

"I can relate with all of those athletes so it's fun for me every four years," Shelton said. "And of course, to have former players there and our program known as a breeding ground for national players and Olympians helps us in recruiting. They know this is the path to the national team."

Blazing trails

With that success at the college level, more players within the state have picked up sticks. Kasold remains a trailblazer, but the 21-member national team pool includes not only Kasold but two other N.C. natives, Charlotte's Loren Shealy (North Carolina) and Durham's Lauren Blazing (Duke), both of whom were among the final cuts for Rio and could very well be part of the 2020 team.

The North Carolina Field Hockey Association oversees competition among 20 public schools, including new participants in Charlotte and the Triad, while 15 private schools play in the N.C. Independent Schools Athletic Association.

"What you're seeing is a lot of these people that are from the hotbeds, the Northern states, California, that play these sports and that are staying in this area are starting to get involved," said Kaitlin Brown, head of the N.C. Field Hockey Association. "Over the next couple of years, field hockey is going to boom. Maybe not as rapidly as lacrosse, but it's going to get there."

This fall, UNC will have five players on its 26-player roster from within the state: two from Charlotte, one from Cary, one from Chapel Hill and one from Clemmons. That's more than Pennsylvania (four), Virginia (three), New Jersey (two) or New York (one). Duke has one from Raleigh and one from Durham.

The obstacles facing an elite field-hockey player coming out of North Carolina aren't that different than those a would-be NHL player would face. Without the development programs and elite competition found in Pennsylvania and New Jersey, just as on the ice in Minnesota and Michigan and Massachusetts, it's tough for even a talented North Carolina athlete to advance at the same rate.

Those who can overcome those obstacles find opportunity. Kasold, who was born in California but moved to Chapel Hill when she was 4, said it actually may have been an advantage for her, since being a standout in a small pool of players here opened doors for her that might not have been open if she had been part of the crowd in Pennsylvania.

"The coaching has gotten better. The facilities are getting better," Shelton said. "You can find great athletes anywhere in the country, terrific student-athletes. We've gotten players from Texas, which is not a field-hockey hotbed, St. Louis, even Oklahoma. It's been tremendous for us. The trend is better coaching and earlier exposure to our sport.

"Young kids are playing at a much younger age. I didn't pick up a field-hockey stick until seventh grade. Now kids are playing in third and fourth grade. That's where other countries around the world are – the Netherlands, Great Britain, Australia, Argentina. That gap is starting to close."

Medal aspirations

The gap is starting to close on the field as well. For the first time in a while, perhaps ever, expectations are high for the United States heading into the Olympics. The Americans have been ranked as high as fifth in the world this year, and this summer finished third at a tournament in London that brings the six best teams together before the Olympics.

After a disappointing 12th-place finish in London, the United States moved its residency program from California to Lancaster, Pa., in the middle of field hockey's homeland. Changes were made to the coaching staff. Fitness levels were raised, technical skills improved. There's plenty of on-field evidence to suggest that this team has a fighting chance to win the second U.S. medal in the sport, 32 years after Shelton and her teammates won bronze.

"As much as we learned in London about the experience of being on that big stage, every day we've put in work to make sure we don't feel like we did at the end of those Olympics," Kasold said. "We've learned a lot from that experience. I'm really excited."

Kasold already has made history in the sport. She has a chance to make a little more in Rio.

The News & Observer


---

Stats Speak: fascinating set of facts and figures  in 108 years of Olympic Hockey(part-1)

By B.G.Joshi (Sehore-Bhopal, India)

Renowned Hockey statistician B.G.Joshi has provided some fascinating set of facts and figures, you probably never knew about the game. Here are the details of Golden Siblings.

Siblings playing together in Olympics looks amazing and winning Gold medal too is even more so. Following siblings have won Gold medals in 108 years of Olympic Hockey:

A: Women (3 siblings won 4 Gold Medals)
| | | | | |
| --- | --- | --- | --- | --- |
| Year | Venue | Country | Sister-1 | Sister-2 |
| 1980 | Moscow | Zimbabwe | Sonia Robertson | Sandy Chick |
| 1988 | Seoul | Australia | Michelle Capes | Lee Capes |
| 1988 | Seoul | Australia | Lisa Powell | Katrina Powell |
| 2000 | Sydney | Australia | Lisa Powell | Katrina Powell |
B: Men(5 siblings won 8 Gold medals)
| | | | | |
| --- | --- | --- | --- | --- |
| Year | Venue | Country | Brother-1 | Brother-2 |
| 1932 | Los Angeles | India | Dhyan Chand | Roop Singh |
| 1936 | Berlin | India | Dhyan Chand | Roop Singh |
| 1976 | Montreal | New Zealand | Selwyn Maister | Barry Maister |
| 1992 | Barcelona | Germany | Stefan Tewes | Jan Peter Tewes |
| 2008 | Beijing | Germany | Philips Zeller | Christopher Zeller |
| 2008 | Beijing | Germany | Timo Wess | Benjamin Wess |
| 2012 | London | Germany | Philips Zeller | Christopher Zeller |
| 2012 | London | Germany | Timo Wess | Benjamin Wess |
 C: Following three pairs of siblings have won the Gold Medal  in different Olympics
| | | | | | | |
| --- | --- | --- | --- | --- | --- | --- |
| Country | Brother-1 | Year  | Venue | Brother-2 | Year | Venue |
| India | Willian James Cullen | 1928 | Amsterdam | Ernst Cullen | 1936 | Berlin |
| Pakistan | Munir Dar | 1960 | Rome | Tanveer Dar | 1968 | Mexico City |
| Pakistan | Abdul Hamid"Hamidi" | 1960 | Rome | Abdul Rashid Jr. | 1968 | Mexico City |
 D: Following cousins have won the Gold Medal  together
| | | | | | | |
| --- | --- | --- | --- | --- | --- | --- |
| Country | Cousin-1 | Year  | Venue | Cousin-2 | Year | Venue |
| Netherlands | Jeroen Delmee | 2000 | Sydney | Sander van der Weide | 2000 | Sydney |
| New Zealand | Mohan Patel | 1976 | Montreal | Ramesh Patel | 1976 | Montreal |
 E: Only  Two Golden Pairs in 108 years of Olympic Hockey
| | | | | | | |
| --- | --- | --- | --- | --- | --- | --- |
| Country | Her(Wife) | Year  | Venue | His(Husband) | Year | Venue |
| Australia | Angela Skirving | 2000 | Sydney | Stephen Lambert | 2004 | Athens |
| Germany | Louisa Walter | 2004 | Athens | Andreas Keller | 1992 | Barcelona |
Fieldhockey.com


---

Penang coach Bob gets it right at eighth attempt – that's perseverance!

by Aftar Singh



This is for you, coach: Penang's hockey players celebrate their victory with their coach Bob Rajendran. - GLENN GUAN/The Star.

KUCHING: Eight is a lucky number for Penang hockey coach Bob Rajendran.

After failures in the past seven Sukma, the islanders finally lifted their first gold medal at the Petra Hockey Stadium on Saturday.

And it could well be another disappointment as they Penang had to come back from a goal down to edge Perlis 2-1.

Muhd Najmi Farizal Jazlan gave Perlis the lead in the 12th minute off a penalty corner. Mohd Rozaini Baharom cancelled the lead with a penalty corner goal in the 35th minute before Muhammad Rahimi Iskandar Baharom sealed the match with the winner in the 55th minute.



Penang's Muhammad Rahimi Baharom celebrates after scoring a goal against Perlis during the men's hockey final at the Sukma Games. - GLENN GUAN/The Star.

Coach Bob, who was in tears after the match, heaped praises on his players.

"We won because of my players' determination," said Bob, who has been coaching the team since 2000.

"We finally nailed the title in my eighth Sukma Games. The one-week stint in Perth worked well for us.

"I must also thank former international Jiwa Mohan. Jiwa lives in Kuala Lumpur but he will fly down to Penang just to help me train the boys.

"I'm 67-years-old and have been coaching for the last 30 years and I may call it a day," added Bob.

In the women's final, Malacca created history by edging Selangor 2-1 to bag the gold for the first time.

Skipper Nur Aisyah Yaacob gave Malacca the lead in the 14th minute off a penalty stroke but 10 minutes later Selangor equalised through Ellya Syahirah Ellias off a penalty corner.

Nur Aisyah was the toast of the Malacca team when she netted the winner in the 34th minute off a penalty corner.

The Star of Malaysia


---

Sliders maul woeful JKUAT in hockey clash

In the men's National League, Kabarak University thrash Thika Rovers 5-1 at City Park Stadium.

By BRIAN YONGA



Juliet Otieno of Sliders (left) drives the ball past Mariam Ngugi of Jomo Kenyatta University of Agriculture and Technology during their Kenya Hockey Union National Women's league match at City Park Stadium on July 30, 2016. PHOTO | MARTIN MUKANGU | NATION MEDIA GROUP

Sliders on Saturday stormed the summit of the Kenya Hockey Union women's league after an emphatic 7-0 win over Jomo Kenyatta University of Agriculture and Technology (JKUAT) at City Park Stadium in Nairobi.

June Kagongo struck a brace during the one-sided affair with Anita Agunda, skipper Beryl Okumu, Sarah Ragangi and Doris Kirui scoring a goal each as Sliders moved to six points from two matches.

In the men's National League, Kabarak University ran out 5-1 winners over Thika Rovers at the same venue.

Despite the huge scoreline, Sliders' coach Nixon Nyangaga was not convinced by his charges' performance, whom he said suffered from fatigue and lack fitness.

"We controlled the match pretty well but the girls need to work on their confidence and finishing," Nyangaga told Sunday Nation Sport on Saturday.

Sliders, who finished second last season, were 5-0 up at the break after an attacking first half in which they severally breached the university students' defence in impressive fashion.

SCORED TWO GOALS IN A MINUTE

Striker Agunda needed only five minutes to break the deadlock after latching onto a wonderful through pass from Sharon Mukui to fire past JKUAT keeper Gloria Ngeresia. The Juja-based side struggled to deal with the pace of Agunda ad Doris Kirui's marauding runs.

They were dully punished as Sliders scored two goals in a minute to lead 3-0 at the quarter mark thanks to goals from captain Okumu and another field goal from Kagongo. JKUAT struggled to create chances.

With the students subdued, Sliders went ahead in the 36th minute of the match.

The second half half followed the same script. In the 40th minute, Kirui sounded the board after receiving a pass from midfielder Rebecca Awuor and Kagongo got her second goal three minutes later after finishing off Kirui's cross to wrap up the tie.

"We did not turn up today and deservedly got punished by a hungrier and better side. We will pick ourselves up and hopefully bounce back in our next match," JKUAT coach David Onaka said.

Daily Nation


---

Sliders go past JKUAT at City Park Stadium

By Elizabeth Mburugu



Team Sliders's Ndombella Sikwata, left, challenges Strathmore University's Christabel Moraa during a league match organized by Kenya Hockey Union at City Park Stadium. PHOTO: JONAH ONYANGO/STANDARD.

Sliders women's hockey club whitewashed Jomo Kenyatta University of Agriculture and Technology (JKUAT) 7-0 in a league match played yesterday at City Park Stadium.

In spite of the impressive scoreline, Sliders Coach Nixon Nyangaga was not totally convinced with his charges whom he said were not at their best.

"We controlled the match well but the girls need to work on their confidence and finishing. I have a full squad now and we aim to improve in our subsequent matches," Nyangaga said.

JKUAT struggled to create any chances in the first half as Sliders closed them down limiting their movement every time they attempted to launch an attack on their territory.

The Standard Online


---

JDF seeking to end hockey season unbeaten

BY GERALD REID



Andrew Fletcher of the Jamaica Defence Force (right), eludes Carlyle Grant of Sharpes Rebels in a National Field Hockey League match at the Mona Hockey facility. The JDF won 4-2. (Photo: Lloyd Butler)

Jamaica Defence Force (JDF) go up against Circus Circle hoping to maintain their unbeaten season. The match will be played tomorrow afternoon at the Mona Hockey Field, starting at 4:30 pm.

The soldiers, who are the defending champions have not lost a game this season and they are going all out to win and win convincingly, despite already being crowned champions. Coach Major Radcliffe Barrett, informed that the team has been playing extremely well this season and want to end with a flourish.

"It would be more joyous and important to come out with a win instead of losing, despite having won the title already, prior to our final match."

"The team is quite a young one but still has a few regular seasoned campaigners who have been playing for many years for the soldiers, and are holding their own nicely," Major Barrett said.

Major Barrett said the team has drawn five matches, twice against former many-time champions Raiders United, against Munro College Old Boys, and the University of the West Indies.

"Our intentions are to go all out for a win, and already we are a confident aggregation, despite playing without two of our key players but nevertheless, we have won without them already," said Major Barrett.

He said the soldiers have beaten Circus Circle 4-1 in their first meeting and are likely to win convincingly with forwards Jerome Davis and Oneil Salmon playing well together. The JDF coach added that the defenders can hold their own well, and he is looking for a good performance from the entire team.

Prior to this game scheduled for tomorrow, the soldiers lead the point standings with 29 points from 13 outings, including eight wins and five draws.

They have scored 24 goals, while conceding twelve goals. In second place is Munro College Old Boys with 24 points from 13 matches, Sharpe's Rebels third with 22 points from 13 outings, followed by St Andrew Phoenix with 21 points from 13 games, Raiders United 20 points from 13, Circus Circle on 13 points from 13 games, University of the West Indies (UWI) 13 points from 13 starts, and Explorers at the bottom of the table with 3 points from 13 matches. Other matches scheduled to be played this afternoon (Saturday, July 30, 2016) are, St Andrew Phoenix vs UWI at 1:30 pm; and Raiders vs Explorers at 3:00 pm at the Mona Hockey Field.

Jamaica Observer


---

Germany are U18 EuroHockey Men's Champions
After 20 games we have a new EuroHockey Champion, Germany
Final:
Germany 4 (R Hartkopf 2, J Schiffer, L Harms) Netherlands 3 (D de Vilder 2, S Schoenaker)
Germany won an epic penalty corner shoot-out to win the boys EuroHockey Youth Championships title ahead of the Netherlands as their first half work was never caught by the orange tide.


Despite all the goals coming from set pieces, this was a match full of flair and technical wizardry, the dribbling skills on display a joy to watch in an intense affair, enjoyed by a large crowd at the Mardyke.


Leopold Harms got the ball rolling in the 16th minute with a low drag-flick; Raphael Hartkopf got the second, sliding in to deflect Paul Doesch's low push into the goal.


Siem Schoenacker got one back when a corner move was blocked but the Dutch recovered before working the ball into the centre and he flicked in.


Jan Schiffer – who ended as tournament top goalscorer with nine goals – restored the two-goal advantage, though, on the half hour with another direct drag-flick to the right corner, 3-1 at half-time. And Germany were in dreamland when Hartkopf picked up a rebound and pushed in the fourth goal.


The Netherlands summoned a big sprint in the final quarter as they looked to grab a famous comeback. Captain Derck de Vilder got one back with a low bullet of a corner for 4-2 with 11 minutes to go and they had their chances to get another on the board – especially when Germany were reduced to nine players.
But the only chance that stuck was a penalty stroke on the final second, converted by de Vilder. Germany were already celebrating, however, and despite the concession they were already racing to hug each other in the throes of victory.
Bronze Medal Game: 
Belgium 2 (C Freyling, B Gougnard) England 2 (E Gilmour, L Ward), Belgium win 2-1 in a shoot-out
Belgium finally got a win in a shoot-out after a number of rough defeats in the last two days as goalkeeper Simon van den Broucke made four saves to deny England and claim European bronze.
It came after a cracking encounter between two side full of pace, trickery and power with little quarter asked for or given. England took the lead from a tenth minute penalty corner when Euan Gilmour grabbed a smartly taken rebound from close range.
But this was never going to be an easy ride for either team. Soon after, Boris Gougnard tested Rory McCallum's reflexes and Belgium won a corner in the 14th minute when William Hewer dived in, picking up a yellow in the process.
Cyril Freyling fired in the drag-flick, clipping the underside of the crossbar for his fifth goal of the campaign to make it 1-1. England bounced back, winning a number of corners before the half-time break but could not find a way through the defences of van den Broucke.
Belgium then went in front early in the second half when Romain Delavignette's pass trickled all the way through to Boris Gougnard. With time in the circle, he steadied himself before unleashing a rocket to the top corner for a 2-1 advantage.
It signalled the start of an English onslaught as they pushed forward in search of their equaliser. Their corner count moved up and up while both sides shipped yellow cards. The leveller came in the 62nd minute from one of those corners, Lucas Ward pumping home the second phase chance with a brutal bash.
Belgium had the better chances to win it in the closing phases but McCallum kept out a pair of shots to send the game to shoot-out. There, Emile Esquilin gave Belgium the early advantage, Oliver Rogerson equalised in round two before Loic Sidler scored the all-important effort for 2-1 before van der Broucke took over with three successive saves and a bronze medal.
 U18 EuroHockey Championships Pool C
Ireland 2 (M Crookshanks, M Nelson) Italy 2 (M Malucchi, F Rubin)
Matthew Nelson showed nerves of steel to sweep home a crucial equaliser for Ireland, one that keeps them in the top tier of the Under-18 EuroHockey Youth Championships for the next edition.
It means Italy are relegated in devastating fashion, the goal coming with just seven minutes left on the clock in what was a must-win game for Gianluca Cirilli's team.
Nelson had also created the first goal for Ireland, setting up Matthew Crookshanks with a neat spin and pass which was slapped home first time.
Italy replied instantly with Matthias Malucchi scoring from the penalty spot less than a minute after this side went behind. And they continued to take the game to Ireland in the second half, taking the lead from a penalty corner, Filippo Rubin picking out the top of the goal with a powerful effort.
It put the hosts under huge pressure but they kept plugging away and when Nelson was found on his own on the right of the circle, he calmly picked his spot and swept home for 2-2. Italy had their moments in the closing phases but Ireland clung on for the all-important result.
Spain 6 (A Tello 2, J Torras 2, S Cortes, M Recasens) Czech Republic 2 (J Griebl, K Bodnar)
Spain finished their EuroHockey Youth Championships campaign with a flourish, capping a campaign that ended with fifth place with a 6-2 win over the Czech Republic.
It was not all plain sailing, however, as the Czechs were level at half-time when Jakub Griebl cancelled out Alvaro Tello's opening goal. Captain Sam Cortes and Jaume Torras did give Spain some breathing space at 3-1 before Krystof Bodnar reduced the deficit with 14 minutes remaining.
But three goals in the closing 11 minutes from Tello, Torras and Marc Recasens saw Spain pull clear.
Boys top goalscorers
9
Jan Schiffer (GER)
Boys Best Player:
Jonas de Geus (NED)
Boys Best Goalkeeper:
Simon Vandenbroucke (BEL)
---

The Netherlands Are U18 EuroHockey Champions
After 20 games, 105 goals we have a new European Champion, The Netherlands
Final: 
Netherlands 2 (F van der Elst 2) Germany 0
Two Fay van der Elst deflections were enough to see the Netherlands win the girls EuroHockey Youth Championships final with a supremely composed performance to defeat Germany 2-0.
They controlled much of the play as their opponents sat deep for long periods, playing in half court an looking to pounce on the break when they good.
But the orange tide were patient and eventually took their chances when they came along. Van der Elst broke the deadlock in the 30th minute when she got on the end of Gabrielle Mosch's powerful diagonal pass from left to right into the circle.
And the clinching effort came with 10 minutes remaining with one of the moments of a top quality tournament. Freeke Moes flicked the ball out of triangle of German players far out on the left wing to create the space and she spotted van der Elst racing into the circle.
The pass was slightly the wrong side of her body for a natural deflection but, no matter, she redirected the ball the opposite direction, wong-footing Karlotta Lammers to find the bottom corner.
It was a fittingly beautiful goal to match a strong tournament from the Dutch in which they improved rapidly from game to game. Indeed, their opening 4-3 win over Spain was their toughest moment, needing a last minute Yibbi Janssen goal to claim the points.
They also struggled in the first half against Belgium before emerging victorious while their first clean sheet only arrived in the semi-final against England.
There was no doubt about the final, however, as Marieke Dijkstra leads them a famous success.
Bronze Medal Game: 
England 1 (L Millington) Belgium 1 (L Goeminne), England win 3-2 in a shoot-out
England goalkeeper Miriam Pritchard proved the hero as she kept out three Belgian shoot out efforts to earn the girls EuroHockey Youth Championships bronze medal in dramatic fashion.
It came at the end of a high octane battle between two incredibly closely matched sides with both side having chances a plenty. The Belgians got the first sense of the form Pritchard as she kept out a couple of corners while Alexia 't Serstevens was denied at close quarters.
England upped their tempo and bossed the latter part of the first half with Lily Wolstenholme a key threat. And they went in front 90 seconds into the second half when their press secured possession deep in enemy territory. Lucy Holder picked up the ball on the right baseline and while Pauline de Ryck got a great touch to deny her, the ball broke to Lucy Millington who slammed home from the top of the D.
They went close to a second from a corner soon after but Elisha Evans shot slid just wide of the right post. Wolstenholme also stung the pads of de Ryck before Belgium fought back.
 Pool C: 
Russia 9 (I Saratkova 3, A Golubeva 2, S Eroshina 2, V Borisova, V Serova) Poland 3 (N Suszynska, K Glowacka, M Polewczak)
Russia ended their girls EuroHockey Youth Championships week on a high note with a comprehensive 9-3 win over Poland at Garryduff.
The Russians ended as they had started – beating Germany 3-2 in their first game – and this result was never in doubt after a strong first half performance ended 6-1. Valeriia Borisova started the ball rolling with her seventh goal of the campaign.
Iuliia Sartakova added a double before the break along with goals from Svetlana Eroshina, Anna Golubeva and Varvara Serova. Erohsina added another after the break while Sartakova completed her hat trick. Poland, for their part, netted twice in the closing seven minutes to reduce the gap. Russia finished seventh and Poland eighth and will play in the second tier in 2018.
They went close to a second from a corner soon after but Elisha Evans shot slid just wide of the right post. Wolstenholme also stung the pads of de Ryck before Belgium fought back.
Lauren Vanhee had a huge chance from close range but Pritchard booted away the chance. Anouk van der Steen also had a huge chance go a begging.
The equaliser did eventually come with three minutes to go from a penalty corner. Sophie Limauge's corner hit was half-stopped but Laetitia Goeminne was on hand to tap in the rebound.
England had a huge chance in the closing five seconds to win it but it eventually went to a shoot-out in which Pritchard did her thing, keeping out the first two Belgian runs on goal. Esme Burge, Mimi Tarrant and Wolstenholme all converted their efforts and when Pritchard denied Camille Lycke, the bronze was England's.
Spain 6 (P Alvarez 3, L Abajo Saenz de Tejada, F Amundson, A Conill) Ireland 1 (M Carey)
 Patricia Alvarez's hat trick saw Spain claim fifth spot from the girls EuroHockey Youth Championships with hosts Ireland forced to settle for sixth in the competition at Garryduff.
 Spain took the lead in the 13th minute when Florencia Amundson slammed home with sheer power with her fourth goal of the campaign.
 Ireland produced a fine response with Michelle Carey and Freya McDermott pushing them forward from midfield while Niamh Carey's driving run ended with a smart Paula Ruiz save.
 Spain, though, were more incisive. Alvarez hit the post from one chance before Lucia Abajo Saenz de Tejada got a deft deflection to a crash ball for the second goal.
 Alvarez extended the lead further in the second half with an excellent attack through the middle, picking out the bottom corner across the goalkeeper's bows.
Alejandra Conill hit the post for Spain for a second time moments later but Ireland never stopped battling and got their reward when Rosie Henderson flipped a pass through to Michelle Carey. She was 40 metres out from goal when she picked up the ball but the defence back-pedalled and she took fullt advantage, hitting a crisp strike through Ruiz.
Spain replied immediately, however, with Alvarez nabbing her second. Chances came and went at each end and Alvarez finished out the tournament with her third goal and Alejandra Conill got another at the end. The win meant they finish the tournament in fifth place with Ireland sixth.
 Final Ranking Pool C: 
 Girls top goalscorers
7
Valeriia Borisova (RUS)
7
Carmel Bosch (NED)
7
Yibbi Jansen (NED)
Girls Best Player: Valeriia Borisova (RUS)
---

U18 EuroHockey Championships II, Belarus and France are the winners

30 July 2016 at the National Hockey Centre, Glasgow Green, Scotland. EuroHockey U18 Championships II. Day 6. Girls Final Belarus v France30 July 2016 at the National Hockey Centre, Glasgow Green, Scotland. EuroHockey U18 Championships II. Day 6. Girls Final Belarus v France   

Finals day in Glasgow brings success for Belarus girls and France boys

Belarus and France were the winners of the two fantastic U18 EuroHockey Youth Championship II competitions in Glasgow.

The story of the tournament belongs to Belarus. From arriving in Glasgow just hours before their opening game due to travel problems, which also saw their kit go missing, they won their opening game 5-1 using Scottish kit, and kicked on from there to win the girls' tournament in Glasgow.

The girls' final between France and Belarus had a very competitive opening half with neither side having a clear advantage. The first half ended in stalemate with so much at stake. The game only really came alive when Belarus scored a fully deserved goal on 41 minutes. Volha Skryba struck the ball well, right in front of goal, to give her side the lead in the final.

The French played some good hockey and were rewarded for it when Johanna Lhopital levelled the score with an improvised finish. The game went to a shootout, just as it did when the two met in the final group game, which France eventually won. This time it was Belarus who kept their nerve to win the shootout and the final, taking the trophy, and some Scottish kit, back to Belarus.

France were the winners of the boys' final against Poland with a fantastic performance in the Glasgow sun. Krystian Sudol had an excellent chance for Poland after 12 minutes, but the dangerous striker was crowded out by French sticks before he could properly connect a shot on goal.

It was France who made the breakthrough as half time approached. They broke in well from the left side, crossed, and Timothee Clement finished clinically to make it 1-0. Then, in the blink of an eye, came a quick reply from Poland's Sudol who fired away a brilliant finish to pull Poland back onto level terms. 1-1.

France took the lead again through a penalty flick to make it 2-1. Adrien Coffigniez stepped up with a low flick that the keeper managed to get a stick to, but couldn't prevent from hitting the net.

France made it 3-1 from a penalty corner when Martin Poupee finished clinically with a drag flick from the top D. They sealed the game when Theo Viguie scored on 58 minutes. To rub salt into Polish wounds Clement scored a thunderous strike on 61 minutes to make it 5-1. France ran out as winners and deservedly took the trophy home from Glasgow.

Earlier, Lithuania and Italy girls got the day off to a high scoring start. Dovile Juraite scored the first goal of the game, giving Lithuania a great start in six minutes. They doubled their lead on 18 minutes when Rimante Gudeliauskyte scored from open play. 2-0. Italy struck back a minute later when Federica Carta scored to make the score 2-1. Sara Puglisi equalised for the Italians with half time approaching to bring the first half to an even end. Italy took the lead early in the second half with Federica Carta grabbed her second of the game. Dovile Juraite also grabbed her second of the game shortly after, and in the end both sides ended their tournament with a competitive 3-3 draw in Glasgow.

Czech Rep were the opposition for Scotland girls in the U18 3rd/4th place play off and it was the Czechs who claimed third place in the EuroHockey U18 Youth Championship II through a penalty shootout. An excellent break by Scotland allowed Hanna McKie to sprint into the Czech D, het shot was saved but Millie Steiger was on hand to score the rebound and give Scotland the lead.

Czech Rep got off to a flier in the second half when they scored when they scored through Veronika Koprivova within a minute of the restart. The Czechs broke quickly down the right and Koprivova popped up at the far post to score. 1-1. Scotland were awarded a great chance to snatch victory just before full time when they were awarded a penalty flick. Morven Cawthorn stepped up to strike it but was met by a great save by Tereza Koprivova. A penalty shootout beckoned and it was the Czechs who prevailed with a 2-0 victory in the shootout.

Ukraine girls ended their tournament with an excellent 4-2 win over Austria in Glasgow. Ukraine got off to an incredible start with Mariia Handabura scoring in two minutes, Alevtyna Shalyhina scoring on eight minutes, and Hanna Serozheko scoring on 11 minutes to give them a 3-0 lead. Helene Herzog pulled one back on 24 minutes to make it 3-1 before Karyna Leonova restored the three goal advantage for Ukraine. Luisa Mayer scored a penalty corner to make it 4-2 towards the end of the game, which is how it finished.

Scotland boys defeated Austria to win bronze on Pitch 1 in Glasgow. Scotland boys got off to a great start with Andrew Webb scoring from a penalty corner. He flicked the call quickly past the goalie and into the bottom right corner of the goal. 1-0. Shortly later, Philipp Schippan had a great chance to equalise for Switzerland, but his swivel and strike fired past the post.

Austria began the second half by applying pressure through a succession of penalty corners. Scotland defended them well and kept Austrian intentions of an early strike back at bay. Then Schippan deflected a smash into the D with 12 minutes remaining to give Austria an equaliser. 1-1.

Alan Johnston very nearly restored Scotland's lead when he slid in to try and knock the ball into the goal, but he couldn't connect his stick and the chance passed.

Scotland wouldn't be denied for long when Aidan McQuade bagged yet another goal from a penalty corner this tournament. 2-1. Scotland held on to win the match and the bronze medal in Glasgow.

Wales and Switzerland battled out a fantastic 2-2 draw on pitch 2 in Glasgow. Wales' penalty corner expert Ioan Wall gave his side the lead through a good strike on six minutes. Felix Schwander equalised for Switzerland on 54 minutes; a good goal from open play. Nick Schwehr converted a penalty corner to give the Swiss the lead on 61 minutes, but Jolyon Morgan snatched Wales a draw with five minutes remaining.

Russia against Ukraine got off to an explosive start with Aleksandr Laptev scoring a goal for Russia. Ukraine had a penalty corner on the stroke of half time and nearly equalised, but Russia defended well. The second half was even more explosive than the first with Russia setting off on a goal scoring rampage. Three goals from Oleg Kotkov, and one a piece from Georgii Arusiia, Pavel Shaboldin, Konstantin Zinkovskii made the score 7-0 full time.

EuroHockey media release


---

Day 3 – U18 EuroHockey Championships III
Hot emotions for all teams in the third day before the Final Day of the EuroHockey Youth Championships III 2016 Boys U18
 Turkey 3 – 6 (2 – 2) Portugal
The first match of the third day of competition caused a lot of emotions. The teams of Turkey and Portugal were ready to do anything to win. The winner of the this match will fight for gold medals at the European Championship.
In the first half, the team of Turkey took the initiative. Lead with two goals in 11 and 16 minutes. The team of Portugal take advantage of errors by the Turkish team and managed Depositary equalize. After halftime, the score is equal to 2: 2.
In the second half, the Portuguese team used a new tactic. With persistence, discipline and concentration contestants managed to get up after 24 minutes. After displayed good technical skills and tactical discipline, team of Portugal scored 5 more goals.
The emotional match ended with result: Turkey – Portugal 3: 6.
Currently RIBEIRO Vasco lead in the ranking of top scorer with 9 goals scored in the league followed by AYDIN Celal from the team of Turkey with 5 goals.
| | | | | |
| --- | --- | --- | --- | --- |
| Team | Minute | Shirt # | Player | Score |
| Turkey | 11 | 9 | AYDIN Celal | 1 – 0 |
| Turkey | 16 | 9 | AYDIN Celal | 2 – 0 |
| Portugal | 24 | 3 | DA SILVA TEIXEIRA Rúben | 2 – 1 |
| Portugal | 32 | 13 | LEAL João | 2 – 2 |
| Portugal | 43 | 10 | RIBEIRO Vasco (C) | 2 – 3 |
| Turkey | 53 | 9 | AYDIN Celal | 3 – 3 |
| Portugal | 63 | 19 | SÁ Jorge | 3 – 4 |
| Portugal | 67 | 10 | RIBEIRO Vasco (C) | 3 – 5 |
| Portugal | 68 | 10 | RIBEIRO Vasco (C) | 3 – 6 |
Bulgaria 0 – 9 (0 – 1) Belarus
The second match between the teams of Bulgaria and Belarus finished at 0: 9 in favor of the Iberians.
In the first half, Bulgarian team started very well. Players were able to prevent an opponent score. In the 13th minute after good performance of SIZHUK Anton, Portuguese scored his first goal.
The second half was filled with new goals for the team of Belarus. Bulgarian plauers failed to keep pace and good technical and tactical play of the Portuguese. In the second half were scored 8 goals. Two goals scored KORSIK Pavel, VALOSHYN Uladzislau and SIZHUK Anton.
With this victory, Belarus will play for the gold medals!
| | | | | |
| --- | --- | --- | --- | --- |
| Team | Minute | Shirt # | Player | Score |
| Belarus | 13 | 10 | SIZHUK Anton | 1 – 0 |
| Belarus | 41 | 3 | KORSIK Pavel | 2 – 0 |
| Belarus | 44 | 7 | VALOSHYN Uladzislau | 3 – 0 |
| Belarus | 51 | 5 | HAURYLAU Yauheni | 4 – 0 |
| Belarus | 56 | 3 | KORSIK Pavel | 5 – 0 |
| Belarus | 63 | 7 | VALOSHYN Uladzislau | 6 – 0 |
| Belarus | 66 | 9 | TRYPUZ Dzmitry | 7 – 0 |
| Belarus | 67 | 10 | SIZHUK Anton | 8 – 0 |
| Belarus | 70 | 11 | KROT Dzmitry | 9 – 0 |
---

Shootout heartbreak for England U18 Boys



England U18 Boys celebrate

England Under-18 Boys just missed out on bronze after a dramatic penalty shootout saw Belgium beat them in the EuroHockey Youth Championships in Ireland on Saturday.

The two sides looked evenly matched for much of the game, but England struggled to convert enough of the many chances they created.

Head Coach Jody Paul said: "Over this cycle the development of the players in the last nine months has been very good, and to see the way they've competed head on with some of the best teams out there is pleasing.

"I was pleased with the way they played today, the final outcome could've been very different if we had put away a few more of the chances we created."

It was end to end stuff in the first half, with Euan Gilmour putting England ahead from a tenth minute penalty corner before Cyril Freyling rifled home for Belgium from a 15th minute penalty corner.

Five minutes after the break Belgium took the lead for the first time as a mix-up between England's full backs let in Boris Gougnard to fire home in style.

England's Lucas Ward hit back to level on 62 minutes from a penalty corner, and they created several other chances on goal.

But it ended level, and in the shootout only Oliver Rogerson could score for England as they lost 2-1 in the shootout.

England Under-18 Boys 2 (1)
Belgium Under-18 Boys 2 (1)

Belgium win 2-1 on penalty shootout

England Hockey Board Media release


---

Bronze medal for England U18 Girls



England U18 girls team talk

England Under-18 Girls won bronze in the EuroHockey Youth Championship in dramatic fashion in Ireland on Saturday morning, beating rivals Belgium in a penalty shootout after the match had been level at 1-1 at full time.

After a tense but goalless first half, England came out strongly for the second half and took the lead through Lucy Millington's 37th minute strike.

That goal looked to be enough for England to take the win, but with English legs tiring Belgium hit back with Laetitia Goeminne scoring three minutes from the end from a penalty corner, forcing the match into a penalty shootout.

Esme Burge scored England's first strike, while Belgium missed their last two. Mimi Tarrant and Lily Wolstenholme then found the goal, meaning that Belgium's third miss in five shots handed England the win.

Head Coach Sarah Kelleher said: "I'm very pleased to win, although we didn't play to our full potential. But their grit and determination got them through, and our goalkeeper Miriam Pritchard was outstanding in the shootout.

"Over the whole tournament the girls have responded very well to everything that has been put to them."

England U18 Girls 1 (0)
Belgium U18 Girls 1 (0)

England win 3-2 in penalty shootout

England Hockey Board Media release


---

Scotland boys defeat Austria to win Euro bronze




Scotland U18 boys claimed the bronze medal at EuroHockey U18 Youth Championship II in Glasgow with a 2-1 victory over Austria.

Scotland boys got off to a great start with Andrew Webb scoring from a penalty corner. He flicked the call quickly past the goalie and into the bottom right corner of the goal. 1-0.

Philipp Schippan had a great chance to equalise for Switzerland, but his swivel and strike fired past the post. The effort carried a lot of power so if it had been on target there would have been no stopping it.

Barry Platt popped up in a good position in the Austrian D, he cracked a shot towards goal but it was well saved by Andreas Hagmuller.

Konstantin Schneider fizzed the ball into the Scottish D but couldn't find a stick to connect with it as half time approached.

Half Time: Austria 0 Scotland 1



Scotland boys v Austria

Austria began the second half by applying pressure through a succession of penalty corners. Scotland defended them well and kept Austrian intentions of an early strike back at bay.

Schippan had a great chance to equalise for Austria; the ball zipped into the D from the right and he hit it on the turn but it flew wide of the goal. A let off for Scotland.

Scotland thought they'd scored a second when Hamish Robson deflected the ball towards the roof of the net in the Austrian D, but the goalie reacted well and got a pad onto the ball to save.

Then Schippan deflected a smash into the D with 12 minutes remaining to give Austria an equaliser. 1-1.

Alan Johnston very nearly restored Scotland's lead when he slid in to try and knock the ball into the goal, but he couldn't connect his stick and the chance passed.

Scotland wouldn't be denied for long when Aidan McQuade bagged yet another goal from a penalty corner this tournament. 2-1. Scotland held on to win the match and the bronze medal in Glasgow.

Full Time: Austria 1 Scotland 2



Scotland boys v Austria

Scottish Hockey Union media release


---

Czechs claim third spot with win over Scots girls




Czech Rep were the opposition for Scotland girls in the U18 3rd/4th place play off and it was the Czechs who claimed third place in the EuroHockey U18 Youth Championship II through a penalty shootout. Scotland recorded a 3-2 win over the Czechs in the group stages with a dramatic late Ella Watt winner, so the Czechs were out for revenge. The first 15 minutes of the half was very tactical with no clear opportunities for either side.

Then an excellent break by Scotland allowed Hanna McKie to sprint into the Czech D; her shot was saved but Millie Steiger was on hand to score the rebound and give Scotland the lead. 1-0.

Scotland nearly doubled their lead two minutes later when the ball found its way to McKie in the D but she shot wide at speed.

A good feature of the Czech play was their ability to up the tempo near the Scottish D. A rapid exchange from a penalty corner saw the Czechs strike Scotland's post. Another quick exchange sent C16 running through on goal but goalie Natalie MacKinnon slid out quickly to clear the danger.

Scotland, moving through the gears, had Katherine Holdgate denied by a superb reaction save as half time approached.

Half Time: Czech Rep 0 Scotland 1



Scotland v Czech

Czech Rep got off to a flier in the second half when they scored through Veronika Koprivova within a minute of the restart. The Czechs broke quickly down the right and Koprivova popped up at the far post to score. 1-1.

Czech Rep had a chance to take the lead when Anna Kolarova stole the ball from Anna Logan, but the Scotland captain recovered and snatched the ball back before Kolarova could strike at goal.

Holdgate struck a powerful shot from a penalty corner, which was well defended by the Czechs, but Scotland kept at them and Robin Robeson struck a powerful shot what was padded away by the goalkeeper.

A brilliant run by Bella Fisken saw her power through the Czech half of the pitch and then set up Maddie Cleat, who blasted a shot just past the post.

Scotland were awarded a great chance to snatch victory just before full time when they were awarded a penalty flick. Morven Cawthorn stepped up to strike it but was met by a great save by Tereza Koprivova. A penalty shootout beckoned and it was the Czechs who prevailed with a 2-0 victory in the shootout.

Full Time: Czech Rep 1 Scotland 1 (2-0 shootout)



Scotland v Czech

Scottish Hockey Union media release


---

U18 National Championship – Day 4 Update

Tyler Klenk




The final day of the U18 National Championships went off with a bang as all 3 matches provided some spectacular hockey for the spectators. As teams were vying for final placements, everyone was leaving everything on the field for their provinces.

The first match of the day featured Ontario White and Alberta in the final consolation match. In the 2nd minute Ontario White's Anna Costanzo tipped in a hard cross to open the scoring. Bria Bentley was able to equalize for Alberta in the 18th minute as she smashed home a penalty corner hit past the goals left hand side. The game stayed locked at 1-1 until the 52nd minute when Jocelyn Rough was able to finish off a nice passing sequence to give Ontario White a 2-1 lead. Moments later Costanzo got her second goal of the match to make it 3-1. Despites some furious pressure from Alberta, Ontario White was able to hold on for a 3-1 victory to take 5th place, leaving Alberta in 6th.

The second match of the day brought together BC White and BC Yellow to decide the bronze medal winner. With a well worked penalty corner, Audrey Sawers was able to give BC White a 1-0 lead in the 26th minute. With both teams playing strong defense, the match stayed locked at 1-0 until the 51st minute when Tessa Johnston was able to bang home a loose ball to make it 2-0 in favor of BC White. The score remained 2-0 until the final whistle giving BC White the Bronze medal.

The final game of the day was the gold medal match between BC Blue and Ontario Red. With both teams coming our flying, the game had end-to-end action as both teams pushed for the opening goal. Leina Dueck was able to open the scoring for BC Blue in the 37th minute as she finished off a goal mouth scramble. As Ontario Red pushed forward for a 2nd half equalizer, BC Blue goalkeeper Robin Fleming made many great saves to keep her team in the lead. In the 68th minute a shot on target hit a body on the goal line and BC Blue was awarded a penalty stroke. Anna Mollenhauer stepped up and converted to give BC Blue a 2-0 lead. Despite a last minute surge from Ontario Red, BC Blue was able to hold them off and win the gold.

A big thank you goes out to Field Hockey Ontario as they were able to put on a fantastic event in Brampton, Ontario.

2016 U18 National Championship Final Standings

    BC Blue
    Ontario Red
    BC White
    BC Yellow
    Ontario White
    Alberta
    PEI

See pictures of the event here

Field Hockey Canada media release