All the news for Friday 29 July 2016

Indian hockey team loses to Spain in practice game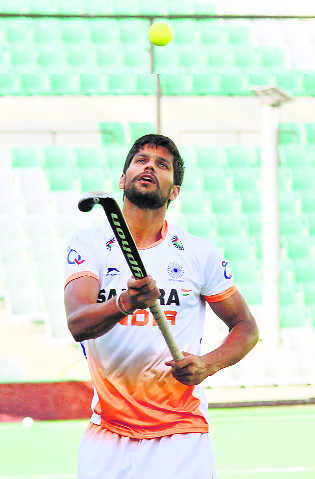 Rupinder Pal Singh scored India's lone goal in the 4-1 defeat. File photo

The Indian men's hockey team witnessed a disappointing start to its final preparatory campaign ahead of the Rio Olympics as it went down 4-1 to Spain in the first of the two practice games in Madrid.

Rupinder Pal Singh (21st minute) scored India's lone goal last night. For Spain, Xavi Lleonart (10th, 31st) and Pau Quemada (30th, 42nd) scored two goals each.

The hosts started quickly off the blocks and opened the scoring in the 10th minute via Lleonart. India's equaliser came in the second quarter from a penalty stroke that was converted by Rupinder.

Spain restored their lead in the final minute of the second quarter through Quemada. Spain scored two more goals in the third quarter.

The Tribune


---

Indian colts outplay England at their homeyard

K Arumugam




Dipsan Tirkey's team completely outplayed the hosts England in every department of the game to romp home a fluent 7-1 in the first of the four match series here in Bisham Abbey, England.

Indian team showed cohesion and purpose in all what they did to posts goals at ease. Indians aggression and opportunism did not give time or elbow room for the English to settle. Quick goals on alert moves kept their defence headed by captain James Albery on tender hooks. Playing under drizzle, Manpreet Singh started the onslaught to be followed by Ajay Yadav. Man in form Varun struck a brace off penalty corners before going for lemon break (4-1). Goalie Reynolds could not do anything to contain Indian onslaught as the defence appeared below to the task.

Neither did the rain nor the goals stopped on resumption.

Varun completed his hat-trick with an immaculate conversion of penalty corner, the ball going centre of the net wide off goalie.

Simranjit Singh thereafter cut through the tired looking defence, and lifted the ball from the sidelines to scoop an exciting goal to enlarge the lead.

Gujrant Singh added another one quickly.

England attacked strongly in the last fifteen minutes, but could not break the wall manned by Gurinder Singh and captain Dipsan Tirkey.

England's consolation goal in the first half was struck by burly Ed Horter.

Indians showed great acumen in finish and build, which upset the applecart of the hosts from the beginning.

Coach Harendra Singh expressed happiness over the result, while conceding the fact that it will be difficult to continue the same form in the subsequent matches.

"Normally we create chances but don't score. But today we created good number of chances and availed them too" he said.

English coach Kwan Browne hoped his team lost the initiative against a much improved Indian side.

Last time we played against India was the Johor Cup. This time, compared to the Johor team, is vastly improved", he said.

Stick2Hockey.com


---

Ajay, Varun shine as India colts beat England 7-1

MARLOW (England): India's junior men's hockey team maintained their unbeaten run on the tour of England by thrashing the hosts 7-1 at the Bisham Abbey Sports Centre .

For India, Ajay Yadav (27th, 43rd minutes) and Varun Kumar (32nd, 35th) scored two goals apiece on Thursday, while Manpreet (15th), Gurjant Singh (38th) and Simranjeet Singh (40th) found the back of the net once each.

England's lone strike came from the stick of Ed Holer.

Holding possession for sustained periods seemed to be India's tactical objective as they started off the game, pulling the England team out of their positions and forcing them to create large spaces in their formation.

India's relentless pressure resulted in the breakthrough when Manpreet found the net in the 15th minute.

England hit back almost immediately through a penalty corner which was converted by Holer to level the scores.

But that was all England could manage as India took the lead in the second quarter when Gurjant's cross found Ajay inside the circle and he made no mistake to give India the lead in the 27th minute.

Soon after Varun Kumar increased India's tally, scoring from a penalty corner in the 32nd minute. He doubled his tally just before half time by converting another set piece to ensure India went into the break leading 4-1.

India kept up their high tempo after the cross over and scored early via Gurjant before Simranjeet's brilliant individual goal gave the visitors a 6-1 lead.

India then earned two quick penalty corners and Ajay scored his second off an indirect hit for a 7-1 lead.

The Times of India


---

Women's Olympic Preview: Who is going for gold in Rio?




In only nine days time, the greatest show on earth begins, with the planet's finest hockey teams preparing to battle it out for the biggest prize in sport – an Olympic gold medal.

Today we focus on the women's competition, where the Netherlands are aiming to make history by becoming the first women's hockey team to claim three successive Olympic titles.

With six teams fighting it out for four quarter-final positions in each pool, every single match has meaning and one slip-up could prove costly. Here is a look at the competing teams.

Pool A

Netherlands - FIH Hero World Ranking: 1
The Netherlands, coached by Australian hockey legend Alyson Annan, are the Olympic gold medallists from both the Beijing 2008 and London 2012 Games, and two years ago once again proved themselves as the finest team on the planet by winning the Rabobank Hockey World Cup in front of their home fans in The Hague. The squad named for Rio contains four FIH Players of the Year – Naomi van As (2009), Maartje Paumen (2011 and 2012), Ellen Hoog (2014) and Lidewij Welten (2015), while brilliant shot-stopper Joyce Sombroek, the FIH Hockey Stars Goalkeeper of the Year for both 2014 and 2015, is an ever-reliable presence. They remain the world's top ranked side and will surely be the team to beat.

New Zealand - FIH Hero World Ranking: 4
Under the guidance of Head Coach and former Australian international Mark Hager, New Zealand's Black Sticks have enjoyed arguably the most successful period in their history. The New Zealand squad named for the 2016 Olympic Games contains masses of world level experience. The team just missed out on the medals at London 2012 with a fourth place finish, but their talented squad is certainly capable of a podium finish in Rio. Five players in the group have represented the Black Sticks over 200 times, with Gemma Flynn (238), Charlotte Harrison (214), Stacey Michelsen (208), Kayla Whitelock (formerly Sharland, 247) and Anita McLaren (formerly Punt, 239) all having achieved the milestone. McLaren and Flynn provide speed and goals, while team captain Whitelock has made a sparkling return to international hockey in 2016 following the birth of her daughter last year.

China - FIH Hero World Ranking: 6
China have been in something of a transitional phase in recent years, but the current group is really starting to make some serious headway in their bid to restore the team to the performance levels achieved in 2008, when they claimed the silver medal at the Beijing Olympic Games. Ace goalkeeper Li Dongxiao, lively midfielder De Jiaojiao and forward Zhao Yudiao – the 2010 FIH Young Player of the Year - are key players in a China team that is growing in confidence with every tournament that they enter. 24-year-old defender Wang Mengyu is one of China's most experienced campaigners and has a reputation as a feared goal-scorer from penalty corner situations.

Germany - FIH Hero World Ranking: 9
2013 European champions Germany – known as Die Danas – are always serious title contenders in every event in which they compete, something that will be no different in Rio. Head Coach Jamilon Mülders has been nurturing this gifted group for a number of years, and has named a squad containing a fine balance of talented youngsters alongside some experienced heads. Goal-scoring sensation Lisa Altenburg has been included, as has inspirational defender Julia Müller, who is back to full fitness after a year-long absence through injury. The 2004 Olympic gold medallists took the bronze medal at the Unibet EuroHockey Championship 2015 in London last summer, and have set their sights on a podium finish in Rio.

Korea - FIH Hero World Ranking: 8
Double Olympic silver medallists Korea are known for being one of the most well-organised international sides in world hockey, and on their day are capable of giving any team a run for their money. Feared striker Park Mi Hyun and ace attacker Kim Jong Eun are usually the first names down on the team-sheet and are massively influential figures both on and off the field, as is key midfielder Han Hye Lyoung. Goalkeeper Jang Sooji is another player to keep an eye on, having earned a reputation as a terrific shot-stopper who is something of an expert when it comes to shoot-outs.

Spain - FIH Hero World Ranking: 14
There can be no doubt that under the guidance of Head Coach Adrian Lock, 1992 Olympic gold medallists Spain have been undergoing something of a revival. The Englishman – a former U-21 international - is getting the best out of a youthful but extremely talented group of players, many of which could be central figures not just at the Rio 2016 Olympic Games but also in Tokyo  in 2020. Key players include battling midfielder Georgina Oliva, team captain Rocío Ybarra and 24-year-old Berta Bonastre, the younger sister of Silvia Bonastre, who represented Spain at the Athens 2004 Olympic Games. With 235 caps to her name, Ybarra is the most capped athlete in the group and is likely to be a key player in Rio.

Pool B

Argentina - FIH Hero World Ranking: 2
Alongside the Netherlands, Argentina have been the dominant force in women's hockey for well over a decade. Las Leonas (The Lionesses) have won six of the last seven Hockey Champions Trophy competitions and also claimed the bronze medal at the Rabobank Hockey World Cup in 2014 and silver at the London 2012 Olympic Games. Despite the retirement of iconic attacking midfielder and eight times FIH Player of the Year Luciana Aymar in 2014, there is no question that Argentina remain a true powerhouse of world hockey, a fact proven by their title successes at the Hockey World League (2015) and the recent Hockey Champions Trophy in London. Livewire attacker Carla Rebecchi and drag-flicking defender Noel Barrionuevo are both potential match winners amongst the current group, while 2014 FIH Young Player of the Year Florencia Habif and exceptional forward Maria Granatto are rated as two of the most exciting talents in the game.

Australia - FIH Hero World Ranking: 3
Between 1994 and 2000, Australia were unquestionably the best team on the planet, claiming two Olympic gold medals and two World Cups as the team coached by Ric Charlesworth (and inspired by the on-field brilliance of current Netherlands women's Head Coach Alyson Annan) ruled the hockey world. Many years have passed since that time, but under the expert guidance of Head Coach and former Australia men's international Adam Commens, the side are once again challenging for the game's top honours. The team will be led by inspirational captain and all-time record cap holder Madonna Blyth, while defender, penalty corner expert and Hockey Australia's women's Player of the Year for 2015 Jodie Kenny is a prolific goal-scorer for the Hockeyroos.

Great Britain - FIH Hero World Ranking: 7
Following their bronze medal at the London 2012 Olympic Games, Great Britain will be aiming even higher at Rio 2016 and certainly have players capable of mixing it with the very best in the world. The vast majority of the GB squad for Rio represented England at last year's Unibet EuroHockey Championships in London, where they took the title thanks to the goalkeeping heroics of Maddie Hinch, whose brilliance in the shoot-out helped her team overcome world number one ranked Netherlands. A fifth place finish at the Hockey Champions Trophy on home soil earlier this year was below expectations, but the team coached by Danny Kerry are expected to be back to their very best at this summer's Olympics.

USA - FIH Hero World Ranking: 5
Over the past two years, Team USA have earned a reputation as a team that needs to be feared and respected in equal measure. The team – coached by former England and Great Britain international defender Craig Parnham - claimed a remarkable fourth place finish at the 2014 Rabobank Hockey World Cup, despite entering the event placed 10th in the FIH Hero World Rankings. In 2015, they successfully defended their Pan American Games gold medal by defeating Argentina in the final, and in 2016 the side snatched the bronze medal at the Hockey Champions Trophy in London. The USA team is captained by 31-year-old defender Lauren Crandall, who with over 270 international appearances, is one of the longest serving members of the group.

Japan - FIH Hero World Ranking: 10
Over the past decade the Japanese women's team has been making in-roads on the international hockey scene and will be looking to upset the FIH Hero World Rankings in Rio. One of their most notable performances in recent years came in 2013 when the Cherry Blossoms defeated higher-ranked Korea in the final of the Asia Cup. The Japanese team is renowned for being exceptionally quick and masters of counter-attacking hockey, which will be useful assets as they try to negotiate their way out of the pool and secure a place in the competition Quarter-Finals. Team captain Miyuki Nakagawa is Japan's most influential and experienced player, having represented her country over 280 times.

India - FIH Hero World Ranking: 13
This will be the first time in 36 years that India's women's team will be participating at the Olympic Games. The team achieved a fourth place finish at the Moscow 1980 Olympics, the one and only Olympic competition that the Eves have played in to date. India certainly have more than enough quality in their ranks to trouble the top teams. In fact, their opponents will need to figure out exactly how to stop free-scoring attacking duo Vandana Katariya and 21-year-old strike partner Rani Rani, two of the most prolific goal-scorers in the game.

The Olympic hockey events take place from 6-19 August at Rio's purpose-built Deodoro Olympic Park, and will feature the 12 men's and 12 women's international teams that qualified through the Hockey World League and Continental Championships.

Make sure that you use #Hockey, #SambaSticks and
 #Rio2016 on social media when showing your support for your nation, and follow FIH for all the latest updates as teams and fans get ready for the biggest show on earth – the Olympic Games.

Tickets for the Olympic Games can be bought here.

FIH site


---

Australia the team to beat at Rio

by Sudipto Ganguly




MUMBAI - Germany might be the twice Olympic champions defending their title in men's field hockey but top-ranked Australia will be the team to beat at next month's Rio Games.

Since 1992 Australia have won a medal at every Olympic tournament and the World Cup winners will be the favourites to clinch what would be only their second gold medal.

The Kookaburras, who recently beat India in a penalty shootout in the Champions Trophy final, only managed a bronze four years ago in London despite being overwhelming favourites.

Their London heartbreak triggered a lot of soul searching from the men in gold and green.

"Yeah, we had to do a lot of long hard looking at ourselves, but it paid off ultimately," 32-year-old Glenn Turner, a member of the Australia squad, said.

"Leading up to London we had trained really hard but there was a very different feel to the squad compared to this time around.

"After London we got a psychologist in and we started to get to know each other a lot better."

Mark Knowles and Jamie Dwyer, a five-time International Hockey Federation player of the year, provide Australia with a wealth of experience since Rio will be their fourth Games.

Knowles said the team, who face New Zealand in their first match, would settle for nothing but gold in Brazil.

"When we go to the Olympic Games as the Australian men's hockey team we want to win, we don't want to get bronze, just make the semis or play off for fifth," he said.

Also in Australia's group are Great Britain, Belgium, Spain and the host nation.

Germany, who triumphed in Beijing and London, are ranked third in the world. The squad chosen by head coach Valentin Altenburg contains five Olympic gold medallists from London.

The champions have been pooled with the Netherlands, Argentina, India, Ireland and Canada, with the top four teams from each group advancing to the quarter-finals.

Once-mighty India are the most decorated nation in the sport's Olympic history but the South Asians won the last of their eight gold medals way back at the Moscow Games in 1980.

Their strong build-up, claiming silver at the Champions Trophy, has again boosted optimism among fans in the nation of 1.25 billion people.

On the women's side, the Netherlands have captured seven world titles and been to every Olympic Games since 1984, winning three gold, one silver and three bronze medals.

The world's top-ranked side will be the heavy favourites to add to their gold medal tally in Rio.

The Star of Malaysia


---

Ireland hockey team making history as they advance on Rio

Craig Fulton's side hoping to make their mark on the biggest of stages

Stephen Findlater



This is the first Irish team of any description to compete in the Olympics Games since their basketballing counterparts of 1948. Photograph: Dan Sheridan/Inpho.

When Ireland's men take the field against India in Deodoro on Saturday, August 6th, it marks the latest journey into the unknown for a side who enjoy confounding expectations.

They become the first Irish team of any description to compete in the Olympics since their basketballing counterparts of 1948. It was 1908 when an Irish hockey team last played in the marquee event for the sport, albeit – before the formation of the state – under the British flag with England winning, Scotland coming third and Wales fourth.

Playing at the sport's highest level marks the zenith of an emotional seven-year journey for the majority of the players, now widely seen as the golden generation.

Near misses

Eleven of the squad have been together since the 2009 World Cup qualifiers, enduring a series of near misses in pursuit of the dream. Never was this more evident than the Olympic qualifiers for London. St Patrick's week 2012, Michael D Higgins was among the biggest home crowd ever assembled at the National Stadium for an international match.

Onlookers pressed their faces against the netting around the Belfield venue for a peak, others tuned in online to live streams to see sport for the first time. And then, devastation. Seven seconds from full-time, Korea's Nam-Yong Lee got the faintest of touches to a crash ball just inside the circle. Initially missed, a video review confirmed the goal and the green machine's dream of an Olympic ticket was over.

Through the tears, John Jackson – the skipper of the time – vowed his side would be back, saying: "We've got so much belief in what we're trying to do. If it's not this week, and this Olympics, it's going to be the next one. We'll take this on the chin but we're not going down."

Initially, his words looked fanciful. Ireland are the only unpaid side in the world's top 15 and the real world meant players drifted, pursuing careers, mortgages and families. Coach Paul Revington moved on, Ian Sloan and David Ames withdrew from the panel to take their chances with Britain.

The 2014 World Cup campaign stumbled along unsuccessfully. Revington's successor Andrew Meredith parted company with Hockey Ireland just 14 months into the job, then chief executive Mike Heskin stating "it just was not gelling".

It needed someone special to turn things around. Luckily, South African Craig Fulton was available and ready for the challenge. His nickname of Ned is an acronym for "never ending dream", a moniker given to him by an elderly house-mate while he was in digs.

Obsessed drive

Despite the blond highlights and laid-back, surfer-dude look, she recognised a fire and an obsessed drive behind his eyes.

He was well known in Ireland. A double Olympian with his home country, he was signed up with Pembroke as player-coach in 2005 and duly led them to the most successful run in their history, winning three All-Ireland championships and two Irish Senior Cups in four seasons.

Among his Pembroke lieutenants was Ronan Gormley – who has gone on to be Ireland's most capped player – and he credits Fulton for bringing high-performance principles into the usually fairly loose standards of club hockey.

"It was the first time we had an international standard coach who was dedicated his life to it."

The influence did not go unnoticed and he was quickly co-opted to work with the senior team from 2006 to 2009.

Five years may have passed but Fulton, crucially, still knew the senior players inside-out and what could be achieved. Belief grew, particularly when the side beat England – a world top-four side – for the first time in 12 years.

The guts of the panel were back in place for 2015 and they swept through World League Round 2, the first phase of Olympic qualification, with plenty to spare.

World League Round 3, though, was where the tickets to Rio were going to be handed out and the build-up signs were ominous. Seven successive warm-up matches were lost and a chastening 4-1 defeat to Malaysia in the group stages hardly lifted the mood. They dropped into the fifth- to eighth-place playoffs.

An Olympic place was still on the line, though, if they could win against the higher-ranked Pakistan – a team they never beat before – and Malaysia.

The former were eliminated thanks to an Alan Sothern peach and David Harte's heroics, a last-minute touch indicative of why he was named the world's best goalkeeper.

Qualifying system

Malaysia were hammered 4-1. After six months, the vagaries of the qualifying system were ironed out, and the place was confirmed. For good measure, Ireland made more history with a first European Championships medal when they again beat England to bronze. And so to Rio.

Skipper David Harte is hopeful the opportunity can have even longer lasting effect for the game on the island.

"Hockey in Ireland is a minority sport, it is what it is. There are no excuses behind that but we flipped it on its head and instead of seeing it as a challenge we saw it as an opportunity to break the mould of being the nearly men and actually qualify for a major tournament.

"And hopefully now we can change a lot of people's views and opinions of hockey within Ireland and maybe create much more hype and buzz around it."

AGAINST ALL ODDS IRISH PLAYERS EXCEL

Despite being one of very few non-professional leagues at the top table of world hockey, Irish clubs can lay claim to producing more of this year's male hockey Olympians than any other country.

In addition to Craig Fulton's central panel of 16 and three reserves, a quarter of the Britain main panel - Iain Lewers, Mark Gleghorne, Ian Sloan and David Ames – hail from Ulster and initially played for Ireland's senior men, a testament to the coaching at club level.

They all took three years out of international hockey to qualify to play for England and subsequently be eligible for GB selection for the Olympics. Like most sports apart from soccer, Hockey Ireland governs on a 32-county basis with Ulster club players grow up contesting interprovincial tournaments that filter into the Irish underage teams.

Previously, Ulster players were previously allowed to play for Ireland and GB simultaneously, a situation that allowed Stephen Martin – now the Olympic Council of Ireland chief executive – and Jimmy Kirkwood to win gold in Seoul in 1988.

Hockey was by invitation in those days but, with the onset of qualifying tournaments in the 1990s , this loophole closed with players now having to decide which team they wished to represent.

So what leads to their moves? For Lewers and Sloan, the primary reason was a feeling Ireland had not the structures in place to reach the highest level. Ames was more pragmatic having set up a coaching company in Nottingham.

Gleghorne never publicly declared a reason but the likelihood is he would not still be playing in Ireland, having received huge medical support in the GB system to recover from plantar fasciitis.

All are centrally contracted players with England and GB, playing full-time in their set-up at Bisham Abbey – an enviable position for an Irish team made up of teachers, students, solicitors and IT workers.

The Irish Times


---

How's training in Rio for our GB men?



Hockey in Rio - image by www.brasil2016.gov.br

Great Britain's men's Olympic hockey team have had their first training session in Rio.

Having travelled on Tuesday from Heathrow to Brazil, the men's squad trained on Wednesday for the first time at the Deodoro hockey venue.

Men's coach Bobby Crutchley told greatbritainhockey.co.uk from Rio, "The venue looks great and myself, the staff and players really like the pitch. We only arrived the evening before so it was a very light session.

"The village is looking really good and the BOA have done a great job getting the apartments ready. It's relatively quiet in the village at the moment but it will be very busy very soon!

"Overall Rio absolutely has the Olympic feel, but in Brazil's own special way which is great, and the volunteers are very friendly and always looking to see who they can help - they're like our own Hockey Makers in that respect!"

Crutchley's team play their first game on Saturday 6th August at 4:30pm UK time when they take on Belgium, and every game is live on BBC Sport online/red button, with selected matches also on network TV.

Great Britain Hockey media release


---

Former Canadian Olympic goalkeeper Mike Mahood helps send off Canadian men in style

Shaheed Devji



Iain Smythe (left) being fitted by former National Team goalkeeper and two-time Olympian turned tailor Michael Mahood (right).

After a couple days of travel earlier this week, Canada's men's field hockey team has safely settled at the Athletes Village in Rio de Janeiro, Brazil ahead of the 2016 Olympic Games.

If you've seen any photos of the team travelling, you will have noticed they were travelling in style.

That's thanks largely in part to former Men's National Team goalkeeper and two-time Olympian Michael Mahood, who has hung up his field hockey equipment in favour of measuring tape.

Mahood is now a tailor and runs Martin Fisher Tailors out of Vancouver, British Columbia.

He competed at the 2000 Olympic Games in Sydney and 2008 Games in Beijing, and was part of a tradition that began at the 1998 World Cup and saw Canada's men travel to major tournament – like the Olympic Games and World Cup – in style in suits.

The practice began as a blazer, then a suit off the rack, and has grown since then.

This year, Canada's men were outfitted in custom tailored suits from Martin Fisher Tailors.

Two athletes who experienced that tradition early on were Scott Tupper and Mark Pearson, who were around for the 2008 Olympic Games, where they were teammates of Mahood, and the 2010 World Cup. The two veterans, who are set to become two-time Olympians in Rio, helped re-kindle the tradition with the help of Mahood.

The suits were designed by Mahood and made in Canada. And knowing that finances are always top of mind, they were heavily discounted for the men for the team to be able to not feel a large financial burden while continuing the tradition.

Martin Fisher Tailors is selling the specially designed suits as a fundraiser for the Men's National Team, with all proceeds going back to the program. The goal is to sell 50 items by the time the Canadian men step on to the field for the first game of the Olympics on August 6th against Germany.

Here are the details:

The Suit – $799
Regularly $1099 – available in 4 colours (two shades of navy, charcoal & black)

The Sportscoat – $599
Regularly $899 – available in 3 colors (two shades of navy & black)

Inquiries about the suits can be directed to This email address is being protected from spambots. You need JavaScript enabled to view it..
More photos:
Watch Michael Mahood shares his best Olympic memories here:

Field Hockey Canada media release


---

Against all odds, here's how women hockey players made it to Rio Olympics

By Vivek Phadnis



Members of the Indian team during their training stint in Bengaluru | JITHENDRA M

The grit and determination on faces of the women hockey players often reveals the bigger picture. Many have had to endure hardships just to make it here, training for the Rio Olympics. Poverty, lack of proper equipment, bad pitches, no specialised support staff, and perhaps even coaches not well versed with modern coaching methods — these are some of the challenges beginners face. Consider this. If a talented player from some remote region in Odisha hones his or her skills on natural grass or gravel, it is probably going to be a nightmare if the player has to switch to artificial turf. Precious time is lost in re-learning, and adjusting, to the new surface. Apart from all these, some even have had to put up with gender discrimination.

Still, for those who have set their minds and goals on achieving something in hockey — like making the Indian team for World Cup, Champions Trophy or even the Olympics — these troubles do not matter. On-field, external pressures are kept aside, and there is only the game.

Shahabad is a small town in Haryana's Kurukshetra district, and is known for producing good players. But for girls there, it has been a struggle. Many come from humble economic backgrounds, and cannot afford equipment. In ages past, it was a struggle for them to take up sport, living in a male-dominated society. Removing their veils was big, let alone playing in shorts. Fortunately, times have changed, and one can see a good number of girls at the only academy in the town, set up by Olympian Baldev Singh, who also helps with equipment. The academy has about 60 players.

Rani Rampal, Navjot Kaur and Jaspreet Kaur are happy to talk about their story, from the days of severe gender discrimination to playing for India at the Rio Olympics. "Hockey is in our blood," say the girls.

"Everybody in Shahabad is crazy about hockey, and every house has someone playing. Our coach Baldev Singh is very good. But there are lots of families not doing very well, and lots of girls from such households play hockey. Some don't have fathers or brothers. Baldev sir provides them with sticks and shoes. He never lets us feel we're from poor families. Senior players also give juniors equipment. When we were young, our seniors used to do the same, and now we're doing so. This is the good thing about that place. Our coach also believes that kids from poor families work harder," they add.

It wasn't always smooth. "Things have changed, and girls from every other house play. When our coach started the academy, it was in a Punjabi school, and girls were not allowed to remove dupattas from their heads. And it was difficult for them to play with shorts. But he made the school staff understand that we should do something our country can be proud of, something that will benefit girls. He took it as a challenge to eliminate discrimination against girls in Haryana. He wanted to do something that would make them proud of girls. He has done that, and all parents want a girl who plays hockey now," the girls opine.

The previous generations had to struggle to even start playing. They had not imagined they would represent India, or that hockey would help them get jobs. Parents did not know too. The girls were also discouraged from playing due to gender bias. It was difficult to even go outside. "There was a lot of negativity, but things have changed. We thank our parents for giving us a chance to do something."

Captain Sushila Chanu, Anuradha Devi and Lily Chanu are from Manipur, and had other issues. They may not have had the best of infrastructure, and sport was probably hit by insurgency. But the biggest problem they faced was lack of knowledge about the game. Being a region that loves sport, it is natural for boys and girls to take up a discipline no matter how difficult the circumstances.

Sushila's family encouraged her to take up sport, and supported her. But with Lily and Anuradha, the stories are different. Being from small towns, infrastructure was a premium.

"I loved football, and in my town, it is very popular. But there were no girls playing hockey. My brother and other boys used to play. I would try playing with the equipment my brother had, and that is how I learned basics. There were about 50 girls who played hockey in my town, but I did not join them. Later, there was a tournament, and they were forming a team. That's when they put my name down," said Anuradha.

For Lily, it was a lack of knowledge. "We didn't know much about all this, but we used to see sport on TV. Our families encouraged us to reach that level. We did not know anything about the Olympics because we had not qualified for a while. Our generation had never seen the women's team qualify," she said.

Women's team stalwarts like Surajlata Devi, Tingonleima Chanu and Sanggai Chanu are role models for girls from the North East region. "Thoiba Singh is popular, but not as much as footballers and boxers. However, hockey's popularity grew after Surajlata, Tingonleima and Sanggai made it to the Indian team," the trio says.

Odisha is the country's hockey hotbed at present. When one talks about the sport and the state, many names come to mind. Dilip Tirkey, Lazarus Barla, Ignace Tirkey, Prabodh Tirkey, William Xalxo, Bimal Lakra, Birendra Lakra, Roshan Minz, Jyoti Kullu and Subhadra Pradhan are some of the top players to have emerged from the sports hostel in Panposh, Sundargarh district, and also other places in the state.

Adivasi people love their hockey, and take to it readily, which helps produce players for the national team. There are few turfs, but nowhere near the real requirement. It is much better now, as many had to play on natural grass earlier. There are sports hostels, and a Sports Au­thority of India centre (Bhuban­eshwar), but it is still tough for some pl­ayers. Deep Grace Ekka's is an example. There is no road in her village, and paths are narrow, with only bikes being able to pass. Sunita Lakra, Namita Toppo and others have only had it marginally better. "There is no road in my village," Grace chuckled. "I had to come by bike, and then board the bus. Sundargarh is very far, and there is a thick jungle in between."

Tribal regions have slowly started to learn about trials. "People didn't know earlier, but now they know that trials are conducted regularly. In the inter-city Gold Cup which started last year, villagers and hostel people also played," the girls said.

With big families at home, it gets difficult, they say. But they are happy that hockey has given them a good life. "Firstly, we're playing for India, and we never thought we would visit so many countries. If we had not played, such chances would not have come our way. Even if we had studied and taken up jobs, we would not have learned so much," the girls remarked.

Educated people in villages find out about players through newspapers. "They all know that we play, but may not know that we're playing at the Olympics," the girls note.

The common factor is that players have had to struggle to make it to the Indian team. Hopefully, making it to the Olympics after 36 years will put spotlight on the women, and things will improve.

The New Indian Express


---

Stats Speak:  know the teams  in the Rio Olympics (part-11)

By B.G.Joshi (Sehore-Bhopal, India)

Renowned hockey statistician B.G.Joshi have compiled stats and records on all the 24 competing teams  in Rio Olympics. Today he is providing stats and records of Spain and Ireland- two men teams.

9.0 Spain (ESP)
Pool: A
World Ranking:11
Title: Nil
Coach: Frederic Soyez(France)
Captain: Manel Farre Terrace
How Qualified: Dual qualification of Netherlands vacate the slot,Spain qualify as stood 5th in Buenos Aires HWL(2015)
Appearances:16, 3 Silver(1980,1996,2008),1 Bronze(1960),twice 4th(1964,2004),once 5th(1992), thrice 6th (1968,1976,2012),twice 7th(1928- not classified, ranked as per pool position,1972),once 8th (1984),twice  9th(1988,2000),once 10th (1948- not classified, ranked as per pool position).
Records: P-W-D-L-GF-GA- 107-47-24-36-213-165.
Head to head versus pool competitors in Olympics:
| | | | | | | |
| --- | --- | --- | --- | --- | --- | --- |
|  Spain vs. | MP | W | D | L | GF | GA |
| Australia | 8 | 2 | 1 | 5 | 13 | 23 |
| Great Britain | 6 | 3 | 2 | 1 | 10 | 6 |
| Belgium | 7 | 5 | 0 | 2 | 17 | 11 |
| New Zealand | 7 | 3 | 2 | 2 | 7 | 4 |
| Brazil | 0 | 0 | 0 | 0 | 0 | 0 |
Biggest ever win: 12-0 vs. Tanzania in 1980
Worst defeat: 1-9 vs. Germany  in 1976
Prolific Scorer: Pau Quemeda, born-April 4,1983, Caps-165 ,updated Goals are not with me

10.0 Ireland (IRL)
Pool: B
World Ranking:12
Title: Nil
Coach: Craig Fulton(South Africa)
Captain: David Harte
How Qualified: Dual qualification of Australia vacate the slot,Ireland qualify as stood 5th in Antwerp HWL(2015)
Appearances:Debut(In 1908 Olympics, Ireland played as home country under the banner of UK, Republic of Ireland came in existence in 1949)

Fieldhockey.com


---

Car company hosts champion hockey teams

Pravin Narain



Staff members of Asco Motors with members of the men's and women's hockey teams yesterday. Picture: SUPPLIED

MEMBERS of the Fiji Hockey men's and women's team were hosted by Asco Motors to a morning tea to celebrate their recent success at the FIH World League Round One in Suva last month.

The side was hosted at the company's office in Nabua yesterday.

Fiji men's team captain Hector Smith Jr. also works for the company as senior key accounts executive in the sales division.

Fiji Hockey Federation president Dr Robin Mitchell thanked the company for their support.

"Fiji had been playing hockey for the past 100 years and we are celebrating 100 years of hockey in the country this year," he said.

"I won a gold medal in 1979 for hockey and we have always won a gold medal in the Pacific Games in the past.

"We are rebuilding our structure at the primary and secondary school level."

Company chief executive officer Jai Kumar was happy with Hector Smith's achievement.

"We are very proud that the Fiji men's hockey team was represented by our very own Hector Smith Jr and it is a very proud moment for Asco Motors," he said.

"We have produced some athletes at the national level in the past.

"The company always support sports. Whenever, Hector has a commitment we always assist him with the leave and another other kind of assistance."

Fiji women's team will play in FIH World League Round One in Malaysia in January while men's team will play in Bangladesh in February.

The Fiji Times


---

Semi-Finals and Medal Games Streamed
The EHF is delighted to announce that we will be streaming the U18 EuroHockey Championships – Semi-Finals and Medal Games from UCC, Cork via the FIH YouTube Channel.
EHF Director General, Angus Kirkland said "As part of our 2016 Live Streaming Project we are really pleased to be showcasing the future stars of our sport from in Cork. We have had a fantastic working relationship the FIH Communications team over this past year, securing using their YouTube Channel and being able to push out the highlights through Snappy.tv on Twitter. We are looking forward to some excellent games as the talent at this Championships is very inspiring. There is no doubt some future Olympians are here and we are really happy to be able to stream these games"
All games will be streamed here
The Schedule is:
Boys:
| | | | | | | | |
| --- | --- | --- | --- | --- | --- | --- | --- |
| 29 Jul   | 15:30 | 15 | Netherlands | – | Belgium |   | Semi Final 1 |
|   | 18:00 | 16 | Germany | – | England |   | Semi Final 2 |
| 30 Jul  | 12:30 | 19 | Loser SF1 | – | Loser SF2 |   | 3rd/4th place |
|   | 17:30 | 20 | Winner SF1 | – | Winner SF2 |   | Final |
Girls: 
| | | | | | | | |
| --- | --- | --- | --- | --- | --- | --- | --- |
| 29 Jul | 09:30 | 13 | Netherlands | – | England |   | Semi Final 1 |
|   | 12:00 | 14 | Germany | – | Belgium |   | Semi Final 2 |
| 30 Jul | 10:00 | 17 | Loser SF1 | – | Loser SF2 |   | 3rd/4th place |
|   | 15:00 | 19 | Winner SF1 | – | Winner SF2 |   | Final |
---
U18EuroHockey Championships III gets underway!
High temperatures, summer mood and great hockey atmosphere in EuroHockey Youth Championships III 2016 Boys U18, Albena 2016

In Albena (Bulgaria, pearl of the Bulgarian Black Sea coast) started EuroHockey Youth Championships III 2016 Boys U18. In the first competition day was played two matches and was scored 19 goals: 1st from 16.15 Belarus 7-2 (3-1) Portugal and 2nd 18.30 Turkey 9-1 (2-0) Bulgaria.
Belarus 7-2 (3-1) Portugal
The first match started equally as Portugal scored the first goal. Belarus tied the game and the end of the half and took a 3: 1. The second half Belarus finally imposed their rhythm of play and reached the final victory with 7: 2.
 Turkey 9-1 (2-0) Bulgaria
The match between the teams of Turkey and hosts Bulgaria started with the implementation of two successive penalty corners for Bulgaria in the first minute of the game. Start did not bode outcome of the game. The first goal was scored in 12 minutes, to the end of halftime young Turkish athletes score another goal and the first half ended at 2: 0. In the second half of the match, Bulgarian enabled Turkish counterparts to impose control and to realize new 7 goals. Minutes before the end, young Bulgarian athletes scored their goal. The match ended at 9: 1 in favor of Turkey.
---

U18 National Champions – Day 2 Update

Tyler Klenk




Day 2 of our 2016 U18 National Championships began again with some blistering heat. The first 3 matches of the day were the final round-robin games, which were followed by 3 quarter final games. It was all or nothing for our 7 teams vying for a gold medal.

Game 1 of the day featured PEI and Ontario Red. Ontario Red came out strong opening the scoring in the 4th minute as Junior National Team standout Margaret Pham was able to find the back of the net through a well built up field goal. At Half time Ontario was ahead 7-0. PEI goalkeeper Jacklyn MacKinnon stood on her head making countless saves to keep the game close. Pham finished off with 4 goals in total as Ontario Red took the game 12-0.

The second game of the day had BC Yellow and Alberta facing off. With both teams playing strong defense, it was a low scoring affair. Alberta goalkeeper Camilla Macgillivary made some spectacular saves to keep the Albertans in the game. Vancouver Island native Kyla Toljander scored late in 63rd minute to crack the dead lock giving BC Yellow the lead. Alberta threw everything forward, but was unable to equalize, as BC Yellow took the match 1-0.

Game 3 was a heated battle between BC White and Ontario White. With quarter final placements on the line, both teams came out swinging. BC White took the early lead with a 7th minute goal by Chloe Walton, which was immediately followed by a 2nd two minutes later as Madeleine Shandro pounded one home. With BC White leading 3-1 late in the 2nd half, Victoria Van Sickle scored a beautifully taken stroke to pull Ontario White within 1 in the dying minutes. BC White was able to hold off the late surge by Ontario White, as they took the victory 3-2.

Game 4, quarter final number 1, featured BC Blue and PEI. Finishing atop pool B, BC Blue proved their quality as they came out flying with a goal in the 2nd minute through Isabelle Fraser and in the 4th minute through Leina Dueck. At half the score read 7-0. Standout performance goes to Dakota Chan who finished of with 3 goals. BC Blue was victorious 12-0.

Game 5, quarter final number 2, brought together Ontario White and BC Yellow. This was a very balanced match with both teams creating their share of chances. BC Yellow was able to capitalize in the 25th and 27th minute with both goals by Ashton Aumen. They were able to hold on the 2-0 scoreline to qualify for semi-finals.

The last game of the day, quarter final number 3, had Alberta taking on BC White. BC White were able to open the scoring in the 18th minute with a penalty corner goal through Anna Gosney. They continued to pressure Alberta and took a 4-0 lead into the half. Standout performance goes to Audrey Sawers who finished the game with 4 goals. The final score had BC White ahead 9-1. The lone Alberta goal came from Kelsie Volek.

Schedule for Friday July 29th

9:00am – Cons: PEI vs Ontario White
11:00am – Semi-final 1: Ontario Red vs BC White
1:00pm – Semi-final 2: BC Blue vs BC Yellow
3:00pm – Cons: Ontario White vs Alberta

See pictures from the event here

Field Hockey Canada media release


---

Madibaz women need strong hockey league finish



The talented South African National team player Ignatius Malgraff will have an important part to play for the Madibaz in their remaining premier league matches.

The NMMU-Madibaz women's hockey team will be looking for a strong finish to their season when they play defending champions Gelvan Tornados in their final match at the south campus on Saturday.

Under coach Dalan Phillips, the Madibaz have had an excellent season, winning eight and drawing two of their matches to have an outside chance of snatching the league title.

The problem facing the Madibaz is that the Tornados have been equally successful, with eight wins and a draw in their nine matches. That has placed the sides level on 39 points as the season draws to a close, but the champions have the advantage of a game in hand.

To have chance of winning the league, the Madibaz would have to beat the Tornados on Saturday and earn a bonus point, not an easy task against a quality side with whom they drew 2-2 in the first half.

Phillips acknowledged that they faced a difficult situation.

"Our plan was to go through the season unbeaten and to try to take the title. But we know that will not be easy now and all we are focused on is doing well in our final game against the Tornados.

"They have a match in hand and so have the advantage, but we will just do our best and then see what happens."

Due to a number of breaks in their league programme, the Madibaz premier men's team still have five matches to play.

A loss against the Gelvan Hurricanes last weekend has hurt their chances, but coach Cheslyn Gie said they had not given up hope in the title race.

"We were without the services of five key players who were out injured and not available for the Hurricanes match," he said.

"It was always going to be challenging to remain competitive without the bulk of our first team squad available."

Gie said he was hopeful one or two of them could return for this weekend's key games against the Hurricanes on Saturday and Old Grey on Sunday.

"We managed to get a bonus point by losing only 3-2 to the Hurricanes and we will take it match by match from now on," he said.

"This is an important weekend for us and if we manage to do well in the two matches, we could still have an outside chance in the league race."

The unbeaten Hurricanes top the log with 27 points from seven games, followed by Lakeside Cavaliers with 24 points from seven games. The Madibaz lie third with 15 points from five games and two good performances this weekend could see them close the gap.

RNews

---

Hockey turf "last brick"

By Lynda van Kempen

A further grant of $40,000 will be the "last brick in the wall'' for the new amenities building at the upgraded hockey turf in Cromwell, New Zealand

That was the message given to the Cromwell Community Board by Central Otago Sports Turf Trust chairman Mike Paardekooper this week.

Mr Paardekooper said the group had raised $1.75million for the whole project - replacing the sand turf with water turf and constructing an amenities building on the site.

The turf had been upgraded but work could not begin on the building until all the funding for it was confirmed and the trust had a shortfall of $130,000.

It was working to lower the cost of the building and had exhausted all funding avenues.

The turf trust had asked three of the main donors to the turf upgrade - the Otago Community Trust, the Central Lakes Trust and the Cromwell board - to each give an extra $40,000 to the project to cover the shortfall. The turf trust would fund the balance.

Both the Otago Community Trust and Central Lakes Trust had already agreed to the further grant, provided all three funders were contributing.

"This is really the last brick in the wall,'' Mr Paardekooper said. The hockey turf was just as important to the district as a rugby field, football field or cricket pitch, he said.

Central Otago District Council parks and recreation manager Mat Begg said the further $40,000 could be funded from the board's general reserves.

The board had given $150,000 to the project so far.

The board agreed to provide the extra $40,000.

Board member Shirley Calvert said the community was concerned about the recent Cromwell rates rise and she wondered if there was another way to get the money, such as a loan from the board.

Mr Paardekooper said one of the conditions of extra funding from the two trusts was the other funds had to be "freely available'' from the other funders. Mr Begg said the board's share would come from general reserves, not from rates.

Board member Glen Christiansen said the turf trust had worked hard and was close to completing the project so the board "shouldn't be the stumbling block''.

Chairman Neil Gillespie said the facility was no different to the bike park or the facilities established by the Central Otago Equestrian Trust, "which are for the community and save us money''.

Otago Daily Times


---

Hockeyroos Head Coach recruitment

Holly MacNeil




(Perth, WA) – Hockey Australia has today announced the recruitment for the position of Hockeyroos Head Coach following the resignation of Adam Commens earlier this year.

Former Kookaburra and Head Coach of both the Hockeyroos and Kookaburras, Dr. Ric Charlesworth will be a key member of the selection panel.

Charlesworth was Head Coach of the Hockeyroos from 1993 to 2000 leading the team to Olympic gold in 1996 and 2000, before going on to coach the Kookaburras from 2009 to 2014.

Completing the selection panel will be Hockey Australia Chief Executive Cam Vale, President David Hatt, Director Mel Woosnam, and AIS Director Matt Favier.

Cam Vale said: "This is an extremely well credentialed panel to assist the Hockey Australia board in the appointment of the next Head Coach of the Hockeyroos following on from the Rio Games.

"We are expecting strong interest in coaching Australia's most iconic women's sporting team, the Hockeyroos, from both Australia and overseas."

Hockeyroos Assistant Coach Jason Duff will step in as Interim Head Coach until the recruitment process is completed, with Goalkeeping Coach Mark Hickman stepping into the Interim Senior Assistant Coach position.

To view the position description, and process for application please visit: http://hockey.org.au/jobs

Adam Commens will finish his appointment with the Hockeyroos in September. The process for the recruitment of High Performance Director of Hockey Australia will be announced following the Rio Games.

Hockey Australia media release


---

Shahid memory echoes London

s2h team




Triple Olympian and hockey legend Mohammad Shahid's untimely death did not go unnoticed in England. Almost anyone one who is someone connected to hockey has something to say, share and enquire more.

Fittingly, the Indian junior team here in Lilleshall National Sports Centre, observed two-minute silence on Friday, the 22nd July before the start of Scotland test match. Their rival team of the day too join them in mourning.

David Faulkner, who played against Mohd. Shahid in two major events of his career – 1986 world Cup and 1988 Olympics – condoled his death.

"I remember his game vividly, its extremely good one. Am really sorry to hear his early death, thanks for telling more about his post playing days", he said on the sidelines of the Synthetic grass stadium in Lilleshall Sports complex.

David Faulkner defended GB citadel in these two events, must be knowing how difficult it was to stop the likes of Shahid on the field.

He was there to witness a practice match between Scotland and Development Squad of England in which his son also figures.

Manjeet Degun, pillar of Birmingham based Braford Tigers Club expressed his profound sadness over the legend demise.

"I saw him at 1984 Olympics and 1986 World Cup here. He is a class apart", Manjeet Devgun said with a deep throat.

Amarjeet, an England international, echoed the feeling. " I heard about him, but I must have been a ball boy then. Indians are known for their skilful game, not surprised they produced classic players like Shahid:", he said.

A hotel owner from a Punjabi Restaurant in Birmingham , who says many cricket journalists frequent his hotel, feels sad on Shaid's death.

"I migrated from Mumbai 15 years ago. I used to frequent Mahindra Stadium near Churchgate. I often saw him playing in tournaments there. He used to take ball from circle to circle and pass beautifully to others. Long live his memory"

Stick2Hockey.com