All the news for Wednesday 27 July 2016

In the Final Match on USA Turf, USWNT Defeats Canada in the Citi Rio Send-Off



Image taken by Mark Palczewski

LANCASTER, Pa. - July 26, 2016 - The colors of the Brazilian flag were painted over packed stadium bleachers and surrounding grass seating at Spooky Nook Sports in Lancaster County, Pa. setting the scene for the U.S. Women's National Team's final match of the Citi Rio Send-Off Series. Team USA took on Canada in their last game on United States turf before heading to the Rio 2016 Olympic Games and left the pitch victorious with a score of USA 5, Canada 0.

"This week was about playing against good opposition, working on our connections and continuing to build unity," said Craig Parnahm, USWNT Head Coach. "These are the first games we've had since selecting the Rio roster. Playing against India and Canada during this series has been very useful."

With the starting push back, Team USA gained possession breaking into their attacking circle. In the 4th minute of play, Katie Bam (Blue Bell, Pa.) out sprinted her opposition to find herself in a 1v1 with Canada's goalkeeper Kaitlyn Williams but was unable to convert. Team USA continued to apply high pressure working the ball into the attacking 25 yards. After a flurry of shots on cage, Jill Witmer (Lancaster, Pa.) put the ball high into the back of the net in the 8th minute of play to give USA a 1-0 lead.

The upscale pressure did not stop when in the 10th minute of play the USWNT earned their first penalty corner of the match but was unable to capitalize on the opportunity. Canada started working the ball in and out of pockets pushing forward but play was interrupted by Stefanie Fee (Virginia Beach, Va.) and Team USA's organized defense. The intercept transitioned to instant attack as the ball made its way into the circle where Caitlin Van Sickle (Wilmington, Del.) ripped a shot from the left top of the circle that Paige Selenski (Shavertown, Pa.) tipped in to make the score USA 2, Canada 0.

Canada did not sit back as they immediately went up the field and earned back-to-back penalty corners where the second attempt went wide of the post. Due to a previous green card issued to Stephanie Norlander and an illegal substitution by Kate Gillis that lead to a green card, Canada was two players down to finish out the first quarter, USA 2, Canada 0.

As the second quarter got underway, possession percentage was shared between the two teams. In the 20th minute of play, Canada's Karli Johansen received a yellow card giving Team USA a player up advantage. Being patient with the opportunity and having composed stick-to-stick passing gained Team USA a penalty corner in the 25th minute. Located at the top left, Michelle Vittese (Cherry Hill, N.J.) swept the ball on goal and found the back of the cage to make it USA 3, Canada 0. As Canada threatened forward, USA's defense stayed strong to shut down any chances to take it into halftime.

Coming into the third quarter poised, USA swung the ball from sideline to sideline waiting for the opportune moment to trail forward. Their first moment came in the 35th when Van Sickle dished the ball to Vittese who located a Canada foot to earn a USA penalty corner. Though the initial chance was stopped by Canada's defense, Team USA worked hard to earn a second opportunity in the 38th minute. Off the insert, Gonzalez drug the ball down to Kelsey Kolojejchick (Larksville, Pa.) who redirected the ball in to make the score USA 4, Canada 0. Team USA maintained strong attack for the remainder of the quarter fueled by the high pressure applied to Canada's mid and back field.

With the final 15th minutes of action came more scoring opportunities for both squads. In the 48th minute off a USA penalty corner, Michelle Kasold's (Chapel Hill, N.C.) placed a sweep to the left post just out of Julia Reinprecht's (Perkasie, Pa.) reach. Play transitioned to the other end of the pitch as Canada grabbed their own penalty corner just a minute later. Staying strong in goal, USA goalkeeper Jackie Briggs (Robesonia, Pa.) made the save to regain possession. Just two minutes later, Selenski found an open opportunity but Canada's goalkeeper Williams made a glove save to deny the chance. Working hard, Kolojejchick earned a penalty corner for USA in the 53rd minute. With a Canada defender stepping off the line too soon, a re-award was earned and off that second opportunity a rapid passing combination started by Vittese lead to Bam finishing the ball into the net at close range to make the final score USA 5, CAN 0.

After the conclusion of tonight's match, presenting sponsor Citi awarded an athlete with a player of the series trophy. Presenting the honor on behalf of Citi was aspiring Paralympian and USA fan Deven Jackson who presented Katie Bam with the crystal trophy.

In their first match of the Citi Rio Send-Off Series against India, the U.S. Women's National Team withstood India's comeback to secure a 3-2 victory. In a close hard fought contest, India came from behind in the second match to secure a 2-1 win.

"I think leaving today with a win gives us momentum heading to Rio," said Parnahm. "Our confidence has really grown over the past couple of years and this is especially key going into the most important tournament for us. We're in a good position, a good place physically and mentally and are well prepared for Rio."

USFHA media release


---

Canadian women close out series at Spooky Nook with loss to United States

Shaheed Devji



PHOTO: Canada and the United States play at the 2015 Pan American Games in Toronto, Ontario (By Yan Huckendubler)

Canada's women's field hockey team is headed back home to Vancouver after what turned out to be a three-game series at the Spooky Nook Sports Complex in Lancaster, Pennsylvania.

The women finished the series with a 5-0 loss to the United States Tuesday in Lancaster, after the third game of the competition – which was slated to be the third of three against India – was cancelled due to heavy rains on Monday.

Tuesday's was not only Canada's last match before returning home, but was also the last match for the United States, who are ranked fifth in the world, before they head to the 2016 Olympic Games in Rio de Janeiro, Brazil.

The United States had a chance to open the scoring in the fourth minute, but Canadian goalkeeper Kaitlyn Williams challeneged Katie Bam – who found herself on a break behind the Canadian defence – and forced her off the ball.

Williams was Canada's best player on Tuesday, making a handful of strong saves against an American offence which looked primed for the Olympics.

The U.S. opened the scoring in the 8th minute after Bam found Jill Witmer at the side of the Canadian goal and Witmer beat Williams for the 1-0 lead.

Witmer had a chance to get her second of the match a minute later, but Williams made a quick left foot save. Canadian defender then made a strong stick stop on a U.S. penalty corner in the 10th minute to keep the score at 1-0.

After Paige Selenski added to the lead, Canada had it's first corner of the game in the 14th minute.

Johansen took the ball and was looking for a deflection at the near post, but nary a Canadian could make contact.

The U.S. added a third before half-time and in the third quarter picked up a fourth on corner in the 38th minute. The play came after a scary collision between Witmer and Canadian goalkeeper Rowan Harris, who came in to play the second half.

Harris came out to kick a ball that was played to an onrushing Witmer behind the Canadian defence. Witmer ran into Harris as she tried to kick the ball. Both players went down hard, with Witmer favouring her head and Harris her knee. Harris was issue a card and on the ensuring corner Kelsey Kolojejchick scored the States' fourth goal.

Harris left the game after the corner to seek treatment for her injury. Williams came back into the game in relief.

Canada's best chance to score came in the 47th minute when a ball played into the American circle bounced free to a wide open Natalie Sourriseau, who put a forehand hit toward goal but was stopped.

The United States added another before the final siren to go on to the 5-0 win.

Field Hockey Canada media release


---

Match called off due to bad weather

s2h team

US Tour : The last match of Indian women's team against Canada called off due to extreme weather conditions

Due to extreme weather conditions, the Indian Women Hockey Team's USA Tour match dated 26th July 2016 at 4.00 IST against Canada was called off. The team will now head to Rio on 29th July for the much anticipated Olympic Games.

Results of the Tour:

19 July 2016 04:00 IST India Vs USA 2 - 3
21 July 2016 04:00 IST India Vs USA 2 - 1
22 July 2016 21:30 IST India Vs Canada 5 - 2
23 July 2016 19:30 IST India Vs Canada 3 - 1
26 July 2016 04:00 IST India Vs Canada Called off

Stick2Hockey.com


---

Amateur passion fuels the 'Green Machine': Irish men's hockey team back at Olympic Games after 108-year wait

By FIH/Stephen Findlater



Ireland's Green Machine will be competing in the men's hockey tournament at the Rio 2016 Olympic Games. (Photo: Getty Images/Bryn Lennon)

Absent from the Olympic Games since 1908, a team made up mainly of amateurs and part-funded by fans will be one of the highlights of the Rio 2016 hockey tournament

Their members are a motley mix of teachers, IT workers, lawyers and accountants, but the Irish men's hockey team are united by two words: "No excuses."

The team adopted the "No excuses" mantra during their long road to the Rio 2016 Games, the first time the Irish men's hockey team has qualified for the Olympic Games in 108 years.

Goalkeeper David Harte – one of the few professional players on the Irish team dubbed "The Green Machine" – says the slogan "probably summarises everything about this senior men's team."

The team fell just short of competing in the London 2012 Olympic Games when the Republic of Korea scored a game-winner with just seven seconds remaining to knock them out of qualification.

The defeat only strengthened their resolve. The Irish qualified for the Rio Games after a fifth-place finish at the FINTRO Hockey World League Semi-Final, which included back-to-back wins over higher-ranked Pakistan and Malaysia.

The Green Machine needed to not only focus on the pitch, but on their pocketbook, raising 225,000 euros to cover the costs of their Olympic journey. The tream has regularly raised funds from fans to travel to tournaments.

"We play tournaments constantly against teams higher ranked than us, with monthly wages supported by corporate sponsors and national governments," Harte says, adding that fundraising efforts have only brought the players closer together.

Kookaburras have gold in their sights: hockey superpower Australia names squad for Rio 2016

Hockey giants set to renew rivalries as match schedule unveiled for Rio 2016 Olympic Games

The Irish earned a silver medal back in the London 1908 Olympic Games. In Rio, Ireland will be tested to the limit in the group stage where they will face London 2012 gold medallists Germany and 2012 silver medallists Netherlands in Group B competition as well as Argentina, Canada and India.

Harte says the team is up to the challenge.

"'No Excuses' means when we go to a tournament where things may not go our way on the pitch we do not look at this, that and the other disadvantages, and use them as an excuse."

All matches will take place at the Olympic Hockey Centre in Deodoro Olympic Park.

The top four teams from each two pools in Rio will progress to the quarter-finals. This is the first time in an Olympic hockey competition that quarter-finals will be played; in recent tournaments the top four teams progressed straight to the semi-final stage.

Rio 2016


---

Men's Black Sticks not out there to make up numbers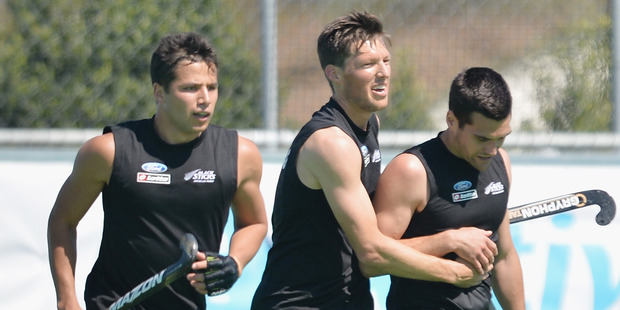 George Muir, Simon Child and Nick Ross celebrate scoring a goal. Photo / Getty Images

The men's Black Sticks are out to prove they aren't at the Olympics to simply make up the numbers.

The squad are currently en route to Rio and earned a spot in the Olympics after South Africa withdrew.

The team finished third in a recent six nations tournament where they beat India and Argentina.

18-year-old rookie Hayden Phillips says they will settle for nothing less than a medal placing in Rio.

Phillips says they've done a lot of work on penalty corner attack and defence as it was an in issue in Europe, but overall the team's in good shape.

Radio Sport


---

Olympic Preview: Carter to debut Olympic themed mask in Rio

Shaheed Devji




Canadian Olympic goalkeeper David Carter will be debuting a new Olympic-themed goalie mask at the 2016 Olympic Games in Rio.

The mask, designed in conjunction with Ian Johnson of Excalibur Airbrushing, pays homage to the six previous men's field hockey teams that have competed at the Olympic Games and this year's team competing in Rio.

The prominent features of the mask include a large maple leaf on each side, with a different designs within them.

Etched into a maple leaf on one side is a special tribute to the Rio Games: the "Christ the Redeemer" statue that stands high above Rio de Janeiro, where Carter will officially become an Olympian for the first time.

The other side features parts of the Vancouver's iconic skyline including B.C. Place, Science World, and the Harbour Tower.

Also part of the design are the seven years that Canada's men have competed at the Olympic Games. These years are painted in gold.

The top of the mask features a "Red Caribou" head, referencing the Men's National Team self-proclaimed team moniker, while on the chin is Carter's number 30.

Finally, on the back of the mask is Field Hockey Canada's logo and the word "Carter."
Field Hockey Canada media release


---

Men's team set off for Rio



Team GB men at Heathrow

The Great Britain men's hockey team are on their way to Rio.

The squad set off from Heathrow today as they aim for glory in Brazil this summer.

Our women's team set off on Wednesday, and four years' worth of hard work have gone into this process - so everyone at Great Britain Hockey would like to wish them the very best of luck.

Every game in this summer's Olympics will be broadcast by the BBC, either online / red button or on network TV - stay tuned for the biggest hockey tournament in the world.

Great Britain Hockey media release


---

Guardian select Hinch as 'one to watch in Rio'



Maddie Hinch in The Guardian

Our women's goalkeeper Maddie Hinch was selected as one of The Guardian's athletes to watch during this summer's Olympic games.

Maddie was highlighted by the newspaper and featured in a superhero photoshoot alongside the likes of Tom Daley, Greg Rutherford, Katarina Johnson-Thompson and Jonnie Peacock.

Read the full article here, and Maddie's interview is below.

Maddie Hinch's potential as a hockey goalkeeper was spotted during a game of rounders. She was 13 and had just returned to the UK after attending schools all over the world (her father was in the navy). "Balls were coming straight at me," she says, "and I was diving and tumbling. At the end of the season, the PE teacher came up to me and said, 'We're going to get you in goal in hockey.'" Hinch had never heard of the sport, nor did she really like the idea of being stuck in goal, but being the new kid, she didn't get much of a say in the matter.

It took a while to fall in love with the game. "At first, I couldn't understand what was enjoyable about wearing all this smelly kit, standing still and rolling the ball back to everyone who is celebrating." But she soon experienced the thrill of goalkeeping: "You suddenly have one of those moments when you're basically a hero and everyone appreciates the smallest save. And who wouldn't want to be a hero for the day?"

Hinch can't quite believe how far she has come, not least because it hasn't exactly been a smooth rise to the coveted goalkeeper's shirt. She was overlooked at county level until she was 18, because of her unusual style: "I am quite agile, so I run around a lot," she says, "whereas 10 years ago, it was very stereotypical to put the biggest person in goal who would just fill it and save the shot." Hinch is clearly strong, with some of the biggest trapezius muscles I've ever seen (the ones behind the neck; she thinks that might be due to the helmet), but, at 5ft 6in, she is by no means big. "Different scares people a little bit. I could make all these dramatic saves, but I would probably let a few in that someone else would have saved all the time."

Hinch was forced to wait on the sidelines until recently, overlooked for both the top spot and the reserve position for the London 2012 squad. She now thinks this was a blessing in disguise: "Looking back, I thought I was ready to take it on, but I was too young."

In early 2013, the Team GB goalkeeper, Beth Storry, who had been part of the Olympic bronze-medal winning team in 2012, retired, leaving a slot open for Hinch to fight for. "It was very much a shirt to grab," she says. Hinch got it and hasn't let go since. Last year, England won gold at the EuroHockey championships, with Hinch hailed as the woman of the match after it came down to a penalty shootout: "It's mad," she says. "I only had about four or five caps to my name in 2013, and this summer I could get my 100th. I can't quite believe how well it's gone."

Could this year's team improve on their bronze medal? "Can we do one or two better? I think so. We grabbed our first gold medal in a long time last year, so we are definitely on the right track. Sport is brutal, but we will certainly be ready."

Great Britain Hockey media release


---

How Sam Ward went from car sales to the Olympics



Sam Ward and Geoff Prince at Arthur Prince, Volkswagen dealership on Belton Road, Loughborough

GB men's athlete Sam Ward flies out to Rio today for the 2016 Olympics, and he has a great story of balancing a working life with the demands of hockey.

Ward worked at Arthur Prince Volkswager car dealership in his native East Midlands for four years, before becoming a contracted GB athlete at our base in Bisham Abbey.

Speaking to the Loughborough Echo, Sam said, "It was tough working long days and then going training. I did it the hard way - I didn't play in any junior international tournaments.

"It was very hard to train as much as you should to reach the top level. It was just a case of cracking on and doing as much as you could in club hockey, having not played for a university.

"I went to a few training camps and after that it was just playing club hockey for the next two years, before I was offered a contract for the England squad."

And with Rio around the corner, he couldn't be any more excited. "Even at the Team GB kit launch it still hadn't sunk in, I just can't wait to be on that plane to Rio.

"It is going to be tough, but I have played against every side in our group and we have beaten most of them before, so if we work hard and play as well as we know we can I'll keep everything crossed we can get through."

Great Britain Hockey media release


---

Brogdon & Cullen on the importance of compression

With Rio just around the corner, our athletes are continuing to look for every possible advantage in the pursuit of Olympic glory. Our compression partner 2XU are crucial to an athlete's success, and Alastair Brogdon & Crista Cullen have spoken of 2XU's importance.

Alastair Brogdon - GB Men's Olympian
During our busy training and competition schedule our recovery is paramount to ensure that we are getting the most from our bodies on a daily basis. Our training is high intensity, physically demanding work both in the gym and out on the hockey pitch and when you're preparing for an Olympics you want to know that you're delivering everything possible to make any marginal gains.

In competition and especially in tournament hockey we're required to play a high number of matches in a fairly short period of time, and this couldn't be more evident than at the Olympics when we are due to play 8 matches in just 13 days. To be in the best shape possible every day we have a number of recovery strategies, one of which are the 2XU recovery compression tights. They are a really convenient and comfortable garment to wear straight after our matches which allows us to get the recovery process going almost instantly. By wearing the compression tights it speeds up that recovery, whist helping to reduce fatigue and any muscle soreness during the limited time we have in between games.

Crista Cullen - GB Women's Olympian
As elite athletes the support from 2XU through their compression tights enables us to train at the level that is asked of us, and required in gruelling training & a match filled programme in the build up to an Olympic Games.

We are always looking to make marginal gains and post-training recovery is key in this department. The 2XU compression products which they support us with ensure that in the following days/weeks commitments can be adhered to, giving my muscles that extra assistance in blood flow and support to enable me to keep coming back at a high level.

As in other tournaments, but now especially in the Olympic Games competition with 8 matches in 13 days, recovery will play a huge part in consistency of performance and therefore the 2XU products will come into their own.

England Hockey Board Media release


---

Stats Speak:  know the teams  in the Rio Olympics (part-9)

By B.G.Joshi (Sehore-Bhopal, India)

Renowned hockey statistician B.G.Joshi have compiled stats and records on all the 24 competing teams  in Rio Olympics. Today he is providing stats and records of India and Belgium- two men teams.

5.0 India (IND)
Pool: B
World Ranking:05
Title: Asian Games Champions(Incheon-2014)
Coach: Roelant Oltmans
Captain: PR Sreejesh
How Qualified: Asian Games Champions (Incheon-2014)
Appearances:19,8 Gold(1928,1932,1936,1948,1952,1956,1964,1980), 1 Silver(1960),2 Bronze(1968,1972),once 5th(1984),once 6th(1988),four times 7th(1976,1992,2000,2004),once 8th(1996), once  twelfth(1968)
Records: P-W-D-L-GF-GA- 120-75-16-29-423-151
Head to head versus pool competitors in Olympics
| | | | | | | |
| --- | --- | --- | --- | --- | --- | --- |
| India vs. | MP | W | D | L | GF | GA |
| Netherlands | 11 | 7 | 1 | 3 | 29 | 17 |
| Germany | 10 | 4 | 3 | 3 | 19 | 16 |
| Argentina | 8 | 5 | 2 | 1 | 28 | 11 |
| Ireland | 0 | 0 | 0 | 0 | 0 | 0 |
| Canada | 3 | 3 | 0 | 0 | 11 | 1 |
Biggest ever win: 24-1 vs. USA in 1932 (Olympic Hockey Record)
Worst defeat: 1-6 vs. Netherlands in 1976
Prolific Scorer: VR Raghunath, born-Nov 1,1988, Intl.Caps-214,Goals-130

6.0 Belgium (BEL)
Pool: A
World Ranking:06
Title: Nil
Coach: Shane McLeod(New Zealand)
Captain: John John Dohmen
How Qualified: 2nd in Antwerp HWL(2015)
Appearances:13, 1Bronze(1920),once  4th(1928),once 5th(2012), twice 7th(1948*,1956),fifth  occasions  9th(1936*,1952*,1968,1976,2004),once 10th (1972),twice 11th  (1960,1964*).
Records: P-W-D-L-GF-GA- 72-25-11-36-120-150.
Head to head versus pool competitors in Olympics:
| | | | | | | |
| --- | --- | --- | --- | --- | --- | --- |
|  Belgium vs. | MP | W | D | L | GF | GA |
| Australia | 1 | 0 | 1 | 0 | 2 | 2 |
| Great Britain | 3 | 0 | 1 | 2 | 3 | 14 |
| New Zealand | 7 | 0 | 2 | 5 | 8 | 16 |
| Spain | 7 | 2 | 0 | 5 | 11 | 17 |
| Brazil | 0 | 0 | 0 | 0 | 0 | 0 |
Biggest ever win: 6-0 vs. Finland in 1952
Worst defeat: 1-12 vs. England in 1920
Prolific Scorer: Tom Boon, born-Nov 25,1990, Updated Caps and  Goals are not with me
Note: *not classified, ranked as per standings of pools

Fieldhockey.com


---

Hockey embraces inclusivity in John's Road to Rio




With seven men's teams, five women's teams, more than 350 juniors and a thriving Masters section, Cambridge City Hockey Club is clearly giving something back to the community.

However, earlier this summer a new level of inclusivity was reached when the club combined forces with Cambridge University Sports Department (CADMuS) and John Willis, founder and CEO of Power2Inspire, to hold an inclusive Festival of Hockey.

John Willis himself is an inspirational figure. Born without forearms or lower legs, he has never let his disability stand in his way.

When John contacted Andy Richardson – chair of Cambridge City Hockey Club – and club coach, Olympian Nicky Thompson to explain that he was taking his own Road2Rio, by playing every sport that would feature in both the Olympics and Paralympics, the club chairman jumped at the chance of getting involved.

The Festival of Hockey would provide a great opportunity for Willis to tick the 'hockey box' on his Road2Rio. Cambridge City had already become involved in inclusive hockey activities via a programme it had run the previous year in conjunction with the FreFlyerz, but this was a whole new adventure.

The serious aim of Power2Inspire is to use sport as a vehicle for inclusion and integration, no matter what your ability.

Power2Inspire organises, runs and funds the Powerhouse Games, which delivers adapted sports in schools, organisations and local community groups. Any money raised through the Road2Rio challenge is channelled back into the Powerhouse Games.

Richardson mobilised the club and Willis found himself being coached by former Great Britain and England player and International Hockey Federation (FIH) High Performance Coach Darren Cheeseman, and Great Britain team manager Andy Halliday, as well as playing alongside some of the stars of the ladies first team – Welsh international Emma Griffiths, Hannah Crack and Becky Livings.

While preparing for the Festival, John had a hockey stick clamped and taped to his right arm socket, however he soon discovered the stick twisted as he hit the ball, so some emergency engineering work was carried out and a thin metal rod inserted into the middle of the stick and glued in place. "I found I could push the ball pretty hard once the stick was attached to my arm," said Willis.

Talking of his experience, Willis says: "Once my stick was sorted, we had an inclusive game. There were former internationals on both sides and also novices and me.

"It was great fun. My team tried their hardest to put me in position to score. I did twice, though I accidentally followed through on one and scored a direct hit on one of my own players. My teammates tried so hard to put me clear but if they pushed it left I went right and if I went forward, it went behind me!  It was almost telepathic how accurately wrong I was.

"But I did improve, in fact Darren Cheesman said: 'He can generate some real power with that!' which chuffed me enormously.

"Andy Richardson, Chair of the club, and in my mind a modest superstar, has championed inclusion at the club. He is passionate that a club can push its elite players at the same time as encouraging all to join in. His views so thoroughly reflect our goals at Power2inspire, we can but applaud and support him every step of the way."

After the match, Willis was presented with a club shirt. With Rio 2016 just around the corner, there are a few sports left on his 'to-do' list, but the determined sportsman is certain that come the start of the Paralympics he will have nailed them all.

Speaking after the Festival, Richardson, who is brother to Great Britain star Helen Richardson-Walsh, said: "When I first sat down with Nick Thompson five years ago, we said that we wanted to create a place where all ages and abilities could enjoy playing hockey in a safe and welcoming environment, today was just about that."

This activity is in line with the FIH's 1-year Hockey Revolution strategy which aims to make hockey a global game that inspires the next generation. For more information on the strategy, click here.

For more information about Power2Inspire, click here:

FIH site


---

U18 EuroHockey – Day two in Glasgow brings drama and goals

25 July 2016 at the National Hockey Centre, Glasgow Green, Scotland. EuroHockey U18 Championships II, Day 2. Belarus v Lithuania. Photo Credit – Duncan Gray
---

Day 3 in Glasgow sees wins for Austria boys and Czech girls
---

Big second half performance sees Scotland girls earn a draw against Italy



Hanna McKie U18 girls

Scotland U18 girls produced a big second half performance to claw back a two goal deficit against Italy, in their second game of the EuroHockey U18 Youth Championship II competition in Glasgow.

There was a terrific atmosphere in the National Hockey stadium as the match approached. A piper led the teams out to a loud home support, who hardly missed a beat during Flower of Scotland.

Italy got the game underway in the pouring rain and it was Scotland who were zipping the ball around the wet pitch in the early stages.

The game's first opportunity came when Scotland's Anna Logan chipped the ball into the D but it led to nothing. Robin Robeson was next to have a chance in front of goal but couldn't cleanly connect a shot and Italy cleared the danger. Not long later, a good effort by Cat Booth from a penalty corner was saved again by the goalie with her feet.

Italy then took control, and looked very dangerous in attack. They deservedly opened the scoring, taking the lead through Federica Carta who scored with a low shot from a penalty corner. 1-0.

Scotland were pressing well but found the Italian defence resolute and stubborn. Italy doubled their goal tally when they tore forward and a defensive mistake allowed Veronica Marroccoli to make it 2-0; knocking the ball into an open goal.

There was a chance for Scotland from a penalty corner in the last minute of the first half but McKie couldn't beat the keeper from a tight angle.



U18 girls v Italy

Half Time: Italy girls 2 Scotland girls 0

Scotland started the second half well and they quickly produced a good chance but Iona Macintyre-Beon couldn't connect properly with the ball in the D. Katherine Holdgate was then denied by an excellent save low at the Italian post.

Italy looked dangerous on the counter attack and some excellent play by Sara Puglisi fashioned a good opportunity, but her shot was well saved. Ella Watt then broke for Scotland but her shot was booted clear by the Italian goalie.

There was a succession of penalty corners for Scotland but they couldn't make any of them count. That was until Hanna McKie forced the ball over the line in a battle with the goalkeeper to make it 2-1.

Scotland were full of life and McKie quickly scored again, smashing the ball in from close range and the stand erupted.

It looked like Scotland might produce a grandstand finish - Bella Fisken was having an exceptional game making many brilliant interceptions.

In the final moments Scotland were denied by a brilliant save following a scramble in the D. Italy broke with seconds on the clock and Mairi Fletcher was called upon to make an incredible save to stop a late Italian winner.

2-2 it finished and Scotland girls are scheduled to play their third game of the group tomorrow against Austria.

Full Time: Italy girls 2 Scotland girls 2U18 girls v Italy




Scottish Hockey Union media release


---

U18 EuroHockey Championships – Ireland come back from a 2-0 deficit
Ireland's girls come back from a 2-0 deficit to beat a well organised Russian team 2-3 and blow Pool B wide open! 
England 1 (T.Howard) Germany 6 (F.Gunther, N.Pluta 3, K.Kiefer, L.Arndt)
A hat-trick from Nicola Pluta put Germany back in contention in the Pool. Germany started the game with relentless pressure on the English defence from the starting whistle! England held off until the 11th minute when a scramble in front of goal saw Feline Gunther defect a rebound into the goal. Constant pressure by the German's, hunting it seemed like a pack, saw them 4-0 ahead by half time.
England did have some chances in the second half and clawed one back via a well worked corner, back to the injector Tess Howard who took no hesitation in firing home England's only goal of the game.
The game finished 6-1  and Germany's Coach Markku Slawyk said he that today he was "Very happy with the performance and the result, the performance against Russia was good, but the result not." He added that he was very happy with the number of goals that his team had scored.
A fantastic game between 2 technically savvy teams saw the crowd here in the Mardyke Arena being treated to a great battle. Belgium went ahead via a corner from C.Freyling in the 26th minute, Germany immediately replied with an attack that led to a stroke being awarded and J.Schiffer put it away, drawing the game level in the 28th minute. A second half of "chaotic defending" as mentioned by head coach Simon Letchford as Belgium tried to defend their 2-1 lead, and with seconds on the clock P.Doesch put a stroke away to earn Germany a draw. Letchford continued that he has targeted the 2 other pool games as must wins and to earn a draw with the much fancied German's was a bonus, but the result has given his players "a bit of confidence and self belief to run the German's as hard as we did" He added that his players had played more with their hearts rather than their heads. He added finally that the draw was a "fair reflection of the game."
Russia 2 (V.Borisova 2) Ireland 3 (H.Irwin, J.McMaster, M.Barry) 
Russia dominated the first half of this game and went ahead via V.Borisova, just into the second half she doubled the score from a nicely executed corner in the 37th minute. Ireland's 12, Jessica Mc Master worked hard pressing for corners which were being wasted as they ripped past the post, but in the 51st minute Ireland brought on Ellen Curran who immediate had an impact on the play and played a beautiful pass to Hannah Irwin who sent it home. In the 65th minute Mc Master got her reward for her huge effort as she equalised. In the 70th minute Michelle Barry put Ireland ahead to clinch the win. Irish Coach Stephen Arbuthnot said "We had a lot of things to fix after the first game, we didn't start well at all, we had an honest meeting and were disappointed in ourselves." He said of the match today that they "needed a big response which didn't come in the first half, it had to come in the second half, but to be honest we never felt we would lose that game, even at 2-0 down." He was frustrated at the number of corners awarded that were not converted as the scoreline could have been greater!
Great early goal for Ireland U18 Boys as Nelson fires on the reverse to give Irl 1-0 lead against Czech Republic. Guy Sarratt added one in the 10th minute from a direct flick. Walker added a 3rd in the 15th minute and 2 quick more goals were added before the half, brining the score to 5-0 at half time. Ireland played exceptionally well and executed their corners well which added another 6 to their tally. Czech did score an consolation goal just before the end of the game.
Speaking to the Irish Coach Gareth Boreland after the win he said  "We started off very fast we were happy with that. Unfortunately the way the tournament has ended up we had to score a lot of goals and we managed to do that." He added that goals difference may be important in the pool as they work to their semi-final target. Speaking about their upcoming game against Belgium he noted that Ireland would "Have to play to their full potential to get a result out of it" but he is confident that they can and this evening will be about doing their homework on Belgium.
 To follow the games, click below:
EuroHockey Youth Championships III, U 18, Girls, Gibraltar
EuroHockey Youth Championships, U18, Boys, Cork
EuroHockey Youth Championships, U18, Girls, Cork
EuroHockey Youth Championships II, U18, Boys, Glasgow
EuroHockey Youth Championships II, U18, Girls, Glasgow
EuroHockey Youth Championships III, U18, Boys, Albena
We Will Be Active On All Our Social Channels!
So follow us on:
Twitter – @eurohockeyorg #EHYouth2016
SnapChat from Cork – @eurohockeyorg
Instagram – eurohockeyorg
There will Live Streaming of the Finals in Cork and Glasgow. 
EuroHockey media release

---

Netherlands girls play themselves into the semi-finals
---

Germany too strong for England U18 Girls



England U18 girls huddle

A strong second half performance from England Under-18 Girls wasn't enough as they lost out to Germany in their second game at the EuroHockey Youth Championships in Ireland on Tuesday morning.

England soaked up plenty of Germany pressure in the second half, but much of the damage had already been done by the break with four unanswered goals.

"We know we can compete with the Germans, but they had a point to prove having been beaten by the Russians on day one, and they hounded us a lot and they always seemed to have two players closing us down," said Head Coach Sarah Kelleher.

"Our second half performance was much better, unfortunately they scored in the last minute otherwise it would've been an even half.

"They came 20 per cent harder than when we played them a few weeks ago. We were able to dominate against the Irish and played confidently, but coming out against a really good German side it was always a battle to compete.

"We competed well in the second half, but unfortunately not in the first half."

Germany got off the mark in the 11th minute through Feline Gunther, while they doubled their advantage when Nicola Pluta scored on 17 minutes.

Katharina Kiefer and Pluta scored goals just before the break, and Liv Arndt added another shortly after.

Ten minutes into the second half England pulled a goal back through Lucy Millington. She was the injector at a penalty corner, and found the goal after the ball had been pinged back to her.

But Germany had the last word with Pluta completing her hat-trick

England are next in action on Wednesday morning, playing Russia at 9.45am.

England U18 Girls 1 (0)
Germany U18 Girls 6 (4)

England Hockey Board Media release


---

FT check into hockey semis in Sukma

by Aftar Singh

KUCHING: The Federal Territories are the comeback kings in men's hockey.

They are the first team from Group B to have sealed a place in the semi-finals despite still having a game in hand against Selangor on Wednesday.

They topped the group with 13 points from four wins and a draw.

FT, the gold medallists in the Malacca edition of Sukma in 2010, lived dangerously and trailed in all four group matches. Fortunately, they were able to bounce back strongly to win three and draw one.

In their opening match against Terengganu, they trailed 3-1 before staging a fightback to win 4-3.

Against Negri, they again fought back from two goals down to win 4-3.

FT were down 2-0 against Pahang, but came back to level the score 2-2.

It was no different against Sabah at the Paku Secondary School. FT again found themselves trailing 3-1, and again they staged another gallant fight back to win 5-3.

Sabah took the lead in the 10th minute through Shello Silverius before Granson Noel Goden made it 2-0 two minutes later.

Altough FT managed to narrow the deficit with a goal by Danial Asyraf Abdul Ghani in the 28th minute, Sabah restored their two-goal cushion through Granson in the 47th minute.

Then came the FT fightback, as they scored four goals in the last 19 minutes. Goals by Wan Haziq Hisyamuddin (51st), Ahmad Ashraf Alias (66th), Jagveen Singh (67th) and Rafizul Ezry (69th) were enough for FT to ward off Sabah.

FT coach K. Rajan is hoping that his team would stop relying on fightbacks.

"In all the four matches, we put ourselves under pressure by conceding early goals. This has to stop. Although we're unbeaten in five matches, I want my defence to buck up against Selangor tomorrow in our last group match and also in the semi-finals on Friday," said Rajan.

The Star of Malaysia


---

Canterbury women's hockey team boosted by Great Britain additions



Former Black Stick Rachel McCann will be a key performer for Canterbury in the national league. MartinHunter

The Canterbury women's hockey team will have a strong Great Britain flavour for this year's national league.

Canterbury's side features international guest players, Emily Maguire from Scotland and England's Joanna Leigh, who have both represented their countries at the highest level.

Maguire is an experienced defender, who has played more than 150 games for Scotland and Great Britain combined, including the 2012 London Olympics and 2010 and 2014 Commonwealth Games.

Leigh debuted for England in February 2013 and has played 43 international matches.

She was a member of the Great Britain side at the recent Champions Trophy tournament and is a travelling reserve for the Rio Olympic team.

The Cats will have new coaches this season with husband and wife duo Andy and Sue Innes taking over from Aaron Ford.

Sue, who was a member of New Zealand side at the 1992 Barcelona Olympics, was Canterbury's assistant coach last year.

They are attempting to improve on Canterbury's third consecutive fourth place finish last year.

Canterbury will have 11 members of last year's side returning, including former Black Sticks Jordy Grant, Rachel McCann, Cass Reid and Jenny Storey.

Their opening game is against Capital in Christchurch on September 3 with the remaining games being played in Whangerei from September 10-17.

Leah Butt, Anne Mackechnie and Courtney Ross will make their first appearance for Canterbury at NHL level.

Butt, a former Canterbury age-group representative, moved south to Dunedin for her tertiary studies and has represented Southern over the past few seasons.

The NHL will be a seven-team competition this year after the withdrawal of Southern earlier this year.

The Canterbury Cavaliers' men's side will be named next week.

AT A GLANCE:

Canterbury women's squad: Libby Bird (Avon), Leah Butt (player of origin), Jordy Grant (Harewood), Melissa Harris (Hornby), Hannah Hill (HSOB/Burnside), Bridget Kiddle (Carlton Redcliffs), Joanna Leigh (International guest player), Emily Maguire (International guest player), Anne Mackechnie (Harewood), Rachel McCann (HSOB/Burnside), Kirsty Nation (Carlton Redcliffs), Cass Reid (Harewood), Courtney Ross (Carlton Redcliffs), Phoebe Steele (player of origin), Jenny Storey (Harewood), Charlotte Symes (Carlton Redcliffs), Catherine Tinning (Harewood), Sarah Walcott (Avon).

Stuff


---

School Girls' Hockey Challenge finals

Cheryl Moig



The Green Machine's leader, Lauren Brown chats to fellow team mate Polly Mashau from Pietermaritzburg Girls' High School during the penalty shootout with St Anne's College at the SPAR KZN School Girls' Hockey Challenge that took place this weekend at St Mary's DSG. PHOTO: Jonathan Burton

THE wet weather did not dampen the spirits, or the action at the grand finals of this year's SPAR KZN School Girls' Hockey Challenge with St Mary's DSG taking the win in determined fashion on their home turf.

Meeting the defending champions, the host school St Mary's took on Durban Girls' College in the gold silver game. After 30 minutes of equal possession, the score was level on nil nil with the 2016 winner being decided in a penalty shoot-out which Saints won, two nil. In their fifth appearance of the tournament, this is the second time St Mary's DSG have won. Their first time was in 2012, also tallying up a bronze in 2011 and 2013 and a fourth place last year.

It was not to be for Durban Girls' College. In their sixth appearance, College were hoping to make this their fourth title in a row, with gold in 2013, 2014 and 2015. The team representing the Durban Central Regional ended tied on nine points with King Edward High School, College advanced to the final having scored more goals.

The bronze medal game was a Pietermaritzburg derby with St Anne's and Pietermaritzburg Girls' High. St Anne's managed to clinch the win to claim bronze. After half an hour in the bronze final, the whistle went for full time with the score sitting on nil nil. Both teams first attempts did not manage to find the back of the net and levelled their scores in the second attempt. The game moved on to sudden death with St Anne's Captain Julia Saulez leading by example and scoring. Then vibrant keeper for St Anne's, Megan Rebstein-Dovey rose to the occasion, not allowing the first and final shot in the sudden death to pass her, giving her team the title of bronze winners.

"After 29 games this weekend, 160 young ladies can be extremely proud of themselves for their achievement. Each and every one of the players battled the chilly weather and did so superbly. They not only represented their school, but their region with great pride and grace. Well done ladies to your successes at this wonderful tournament," said Rob Philipson, managing director for SPAR KZN.

A new initiative this year was the inclusion of a hockey bursary by Varsity College which went Tegan Fourie from St Mary's DSG and Courtney Slaney from Westville Girls' High School.

"Ladies, you entertained us this weekend with a display of phenomenal skill and talent on the turf. Looking at the score lines, the standard of hockey is certainly improving in our province. A team like King Edward played impressively keeping hockey playing school, College to a draw. Another outlying school, Wartburg also impressed, giving it their absolute all this year. It is a joy to see our great game of hockey winning at the end of the day]," said Les Galloway, tournament director.

News24