All the news for Tuesday 19 July 2016

1,700 Fans Rally Around a Victorious Team USA During a Suspenseful Series Opener




LANCASTER, Pa. - In front of a packed stadium of red shirts and just 18 days until the start of the Rio 2016 Olympic Games, the U.S. Women's National Team took on India in the first match of the Rio Send-Off Series at Spooky Nook Sports in Lancaster County, Pa. A very competitive match between the Olympic Games bound teams lead to a USA victory by a score of 3-2.

"It was a terrific game and terrific atmosphere tonight and we are very grateful for the people who turned up to support us in the final weeks before we depart," said Craig Parnham, USWNT Head Coach. "These are the evenings where we hopefully can inspire a couple more people to join the game and get involved. It's nice to see so many people here."

Quick off the pushback, India made the most of their first circle penetration by hitting a sharp shot that ricocheted off of the cross bar. Team USA regained possession and worked the ball up the field into the circle where a composed Kat Sharkey (Moosic, Pa.) found herself on the end of a goalmouth scramble to give USA a 1-0 advantage in the 6th minute. India didn't sit back and quickly found themselves in Team USA's defensive circle where Jackie Briggs (Robesonia, Pa.) recorded her first save of the game. Play continued to be an exchange of possession and circle entries as both forward lines sustained constant pressure. The hard work was eventually rewarded for Team USA as they earned their first penalty corner of the match in the 13th minute of play. Though the ball was mistrapped at the top of the circle, the red, white and blue stayed composed to work it back into their offensive end and earn a second penalty corner. As the first quarter time wound down, USA kept up the pressure and finished with a hard shot from the top right of the circle by Katie Reinprecht (Perkasie, Pa.) that went just wide to keep the score at USA 1, India 0.

Quick passing opened the second quarter for Team USA followed allowing multiple scoring opportunities. India responded with chances of their own, but a solid defense lead by Briggs' communication denied those threats. Play continued to be a midfield battle, but in the 22nd minute India secured their first penalty corner of the game but could not find a result. Transitioning down the field quickly off the 16-yard hit, Team USA found themselves in their attacking circle where Michelle Vittese's (Cherry Hill, N.J.) flat ball from the top right of the circle bypassed India's goalkeeper but was stopped by India's defender. USA held possession in the defensive end swinging the ball back and forth looking for the opportune moment to threaten forward. The patience paid off as Team USA earned a penalty corner in the 28th minute of play but Melissa Gonzalez's (Mohegan Lake, N.Y.) drag flick was deflected wide by India's defender to keep the score USA 1, India 0 at halftime.

Eager to make a mark in the second half, Team USA earned a penalty corner in the first minute of play. Gonzalez initial sweep was stopped by India's goalkeeper but Katie Bam (Blue Bell, Pa.) was on the end of the rebound to one time the ball in the goal to make the score USA 2, IND 0. The change in score only stood for a minute as India's Preeti Dubey was quick to respond with a goal of their own off of a penalty corner in the 32nd minute of play to close the scoring gap and make it USA 2, IND 1. Team USA did not sit back and immediately threatened forward working the ball into the circle. Off the quick passing Bam found Jill Witmer (Lancaster, Pa.) who ripped a shot off the post. Offensive threats continued for the USWNT as Bam intercepted the ball and maneuvered past India's defender to score but the goal was called back after the play was reviewed.

In the 38th minute of play India got the equalizer as they found themselves in a 1v1 situation with Briggs who made a solid stick save but the rebound fell to Deepika who scored to tie the game 2-2. Working hard to find open lanes, USA earned a penalty corner in the 41st minute of play but the opportunity was halted as the insert hit the stick stoppers foot. Play finished out in the third quarter tied 2-2.

With 15th minutes remaining to decide the winner of the match, Team USA came out strong and ready to fight in the fourth quarter. Their hard work translated as they reclaimed the lead in the 47th minute of play when Kelsey Kolojejchick (Larksville, Pa.) grabbed hold of a rebounded ball and tucked it into the goal at close range to give USA a 3-2 lead. India showed strength as they skillfully worked the ball into USA's defensive circle where their low baseline shot was saved by Briggs. Play switched possession multiple times as the match came to a close and finished with a 3-2 Team USA victory.

The U.S. Women's National Team is back in action on Wednesday, July 20 for their second match of the Rio Send-Off Series against India at 6:30 p.m. EST. This game can be streamed live by clicking here. Tickets for this game will be available for purchase by cash or credit card at the door.

The theme for Wednesday's match is Club Jersey Night and encourage teams to wear their jersey to should support of their club. Each club team in attendance wearing their uniform will get a shout out at halftime and be able to take a victory lap post-game around the field.

USFHA media release


---

U.S. women's field hockey withstands India's comeback to win 3-2

Despite giving up a two-goal lead, the U.S. beat India 3-2.  

By Eric Scatamacchia




In the first match of the U.S. women's field hockey team's Rio Send-Off Series, the U.S. beat India 3-2.

The U.S., coming off a bronze medal at the Hockey Champions Trophy in June, continued its strong form with the victory. The U.S. is currently ranked fifth in the world, its highest ranking ever.

India, who will face the U.S. in Pool B of the women's Olympic field hockey competition in Rio, provided tough competition for the U.S. in the Olympic tune-up.

In the first quarter, India put some early pressure on the U.S., including a shot that hit off the U.S. post.

However, the U.S. settled in with a goal in the sixth minute by Kat Sharkey. Sharkey dribbled the ball down the end line and scored off a tight angle to give the U.S. the lead.

The U.S., without captain Lauren Crandall who was sidelined by a foot injury, continued to control play into the second quarter, but was unable to add to its lead.

Katie Bam doubled the lead for the U.S. early in the second half in the 32nd minute. Off a penalty corner she corralled a rebounded shot and slotted the ball into the goal.

India responded just two minutes later, as Preeti Dubey scored off a nicely orchestrated penalty corner, making the score 2-1.

India equalized in the third quarter as Deepika Thakur beat U.S. goalkeeper Jackie Briggs in a one vs. one.

With the scored tied at 2-2 going into the fourth quarter, the U.S. regained the advantage through a Kelsey Kolojejchick goal in the 47th minute. After having her initial shot saved, Kolojejchick was able to get her second attempt past India's defense.

The U.S. defense was able to maintain its lead for the final 13 minutes to come away with the win.

The U.S. and India will meet again on Wednesday night before the U.S. faces Canada on July 26 in its last match before heading to Rio.

The U.S. opens Olympic play on August 6 against Argentina.

NBC Olympics


---

India lose 2-3 to USA in Tour Opener

MANHEIM: It was a disappointing start to the USA tour for the Indian Women hockey team as they suffered a narrow 2-3 loss to the Champions Trophy bronze medalists in their opening match.

For India, Preeti Dubey (33rd minute) and Deepika (38th) scored a couple of goals in the third quarter, while Kathleen Sharkey (6th), Katie Bam (31st) and Kelsey Kolojejchick (48th) sounded the board for US.

Both the teams tried to play cautious hockey and avoid defeat. The game's tone was set, with both looking to hold fort and react through counter attacks.

In the 6th minute of the match, USA took the lead via Kathleen Sharkey. In an otherwise timid first half, India's Vandana Katariya's attempt at goal was unsuccessful as the ball hit the post.

India came back tougher in the second quarter and started making inroads into the USA defence. They soon started playing strategically compact hockey, denying USA the ball in scoring areas. The two teams went into the half time break with USA leading 1-0.

The third quarter was a hard fought battle as India looking to get back into the game started pushing forward in numbers. USA, defending deep and working on the counter, were lucky when Katie Bam scored a second in the 31st minute via a penalty corner.

India countered quickly and capitalised on their advantage as Preeti Dubey scored the first goal for India in the 33rd minute.

Immediately, in the 38th minute Deepika scored the equaliser with both teams entering the final quarter as 2-2. However, the final quarter saw USA take the lead with Kelsey Kolojejchick scoring the third goal for USA in the 48th minute.

Speaking after the match, Chief Coach Neil Hawgood said, "These matches are extremely crucial as our final preparations for Rio Olympics. We had a neck-neck fight today, the girls played well. We are going to analyse the loopholes and better on in our subsequent matches."

India's next match with USA is on 21st July at 04:00hrs IST.

The Times of India


---

Stats Speak:  know the teams  in the Rio Olympics (part-2)

By B.G.Joshi (Sehore-Bhopal, India)

Renowned hockey statistician B.G.Joshi have compiled stats and records on all the 24 competing teams  in Rio Olympics. Today he is providing stats and records of Australia and New Zealand- two women teams.

3.0 Australia (AUS)
Pool: B
World Ranking:03
Title:Oceania Cup Champions (Taranaki-NZL 2015)
Coach: Adam Commens
Captain: Madonna Blyth
How Qualified: 3rd in Antwerp HWL(2015) and Oceania Cup Champions (Taranaki-NZL 2015) 
Appearances: 8, 3 Gold(1988,1996,2000),once 4th (1984),four times 5th(1992,2004,2008,2012)
Records: P-W-D-L-GF-GA- 49-33-8-8-120-45
Head to head versus pool competitors in Olympics:
| | | | | | | |
| --- | --- | --- | --- | --- | --- | --- |
| Australia  vs. | MP | W | D | L | GF | GA |
| Argentina | 4 | 3 | 1 | 0 | 13 | 3 |
| USA | 3 | 3 | 0 | 0 | 8 | 1 |
| Great Britain | 3 | 3 | 0 | 0 | 5 | 1 |
| Japan | 1 | 1 | 0 | 0 | 3 | 1 |
| India | 0 | 0 | 0 | 0 | 0 | 0 |
Biggest ever win: 7-1 vs. Argentina in 1996
Worst defeat: 0-2 vs. Netherlands in 1984

4.0 New Zealand (NZL)
Pool: A
World Ranking:04
Title: Nil
Coach: Mark Hager(Australia)
Captain:Kayla Whitelock
How Qualified:  Qualification of Argentina vacate the slot,New Zealand qualify as stood 4th in Antwerp HWL(2015)
Appearances: 6,once 4th(2012),once 5th(2000),twice 6th(1984,2004),once 8th(1992),once twelfth(2008)
 Records: P-W-D-L-GF-GA- 36-7-4-25-40-87
Head to head versus pool competitors in Olympics:
| | | | | | | |
| --- | --- | --- | --- | --- | --- | --- |
| New Zealand vs. | MP | W | D | L | GF | GA |
| Netherlands | 4 | 0 | 1 | 3 | 6 | 10 |
| China | 2 | 1 | 0 | 1 | 2 | 2 |
| South Korea | 2 | 1 | 0 | 1 | 3 | 7 |
| Germany | 4 | 0 | 2 | 2 | 2 | 4 |
| Spain | 2 | 1 | 1 | 0 | 5 | 4 |
Biggest ever win: 4-1 vs. South Africa in 2012
Worst defeat: 1-7 vs. Argentina in 2000

Fieldhockey.com


---

Spain prevail in close match with England U16 Boys



England U16 Boys' Tom Russell

Spain edged to victory over England Under-16 Boys at the end of a closely-fought clash on a sweltering second day of the Osaka Six Nations Tournament in Antwerp on Monday.

England twice battled back from behind to level with their opponents, but were caught short-handed at the back in the final minute as Spain clinched the winner with just seconds to spare.

"I'm happy that we've demonstrated the courage to come back twice from being behind," said Head Coach Jerome Goudie. "But we didn't take enough advantage of the ten minute yellow card that Spain received for going to ground in a tackle on 57 minutes.

"The last ten minutes we had two yellow cards ourselves which cost us the opportunity to take a draw or even a victory."

Roger Figa put Spain ahead in the 19th minute from a penalty corner. He had injected the ball and received it on the left to score.

And Spain doubled their lead with Jan Dall scoring from open play on 33 minutes on the counter attack.

But England hit back on the stroke of half time from a penalty corner, Tom Russell (pictured) scoring with a drag flick straight down the middle.

Russell scored again on 45 minutes after great build-up play, pouncing on a rebound after Elliott Killington's shot.

The scores were only level for five minutes before captain Ignacio Abajo scored for Spain with a reverse stick shot following another counter-attack.

However, England levelled again on 68 minutes, Finlay Newton scoring with a drag flick to the goalkeeper's right hand side at a penalty corner.

However, Edu de Ignacio-Fimo secured the win for Spain with a 69th minute winner after he had beaten the full back and rounded the England goalkeeper.

A rest day on Tuesday is followed by a clash with the Netherlands on Wednesday.

Spain U16 Boys 4 (0)
England U16 Boys 3 (0)

England Hockey Board Media release


---

England U16 Girls narrowly beaten by Spain



England U16 Girls anthems, July 2016

Battling England Under-16 Girls held Spain at bay until midway through the second half, but searing midday temperatures contributed to their downfall in the second match of the Osaka Six Nations Tournament in Antwerp on Monday.

Spain had taken the lead late in the first half through an open play goal from Laura Barrios Navarro, but England battled back and leveled on 42 minutes with Rachel Greenwood taking the ball above her head and scoring on the volley.

England pressed hard to take the lead, but Spain edged back in front with Lucia Monsalve Sunyer scoring from a 57th minute penalty corner, before Sara Barrios Navarro scored four minutes from time as England wilted in the hot temperatures.

"It was a much-improved performance from our first game," said Head Coach Marc Bourhill. "We were disappointed after losing to Belgium, but the girls came together and played well today with a good team effort."

After a rest day on Tuesday, England Under-16 girls are back in action on Wednesday afternoon against the Netherlands.

Spain U16 Girls 3 (1)
England U16 Girls 1 (0)

England Hockey Board Media release


---

Lessons learned in Spain by Scotland U21 men



Head Coach Graeme Moodie

Scotland U21 men showed real progress over a three-match outing against a very good Spain U21 side, who are on route to the Junior World Cup in India.

The opening game of the three-match trip resulted in a 4-0 defeat, after which Head Coach Graeme Moodie said his Scotland side were not yet at the right level. It was a disappointing start for the Scots but in the last two games of the tour Scotland were much more in the contest - defending well and creating chances.

The second game was on Saturday and saw Scotland resolve their defensive inefficiencies from the first game. They lost 2-0 to Spain but showed vast improvement from the previous day.

The third and final game saw Scotland produce their best performance of the trip in a narrow 1-0 defeat, with Spain scoring the only goal after ten minutes. Scotland had chances to score and were unlucky not to find an equaliser.

The three games showed a good progression from the disappointment of the first meeting, with defensive progress in the second game, and attacking threat carried in the third. Graeme Moodie said his side have to learn a lesson from the first game that they can't start so slowly against quality opposition.

Jamie Wong was a stand out for Scotland and there were notable performances from Hamish Imrie, Patch Christie and Ben Cosgrove.

The games against Spain signal the end of the summer programme for Scotland U21. Their next outing will see them play England U21 on 19-21 September at Lilleshall. The last time the two met it resulted in a 2-2 draw and a 5-2 victory for England. Scotland U21 Head Coach Graeme Moodie said the prospect of facing England is an exciting challenge.

Friday – Spain U21 4 v 0 Scotland U21
Saturday – Spain U21 2 v 0 Scotland U21
Monday – Spain U21 1 v 0 Scotland U21


Squad Details:
| | | |
| --- | --- | --- |
| Steven McIlravey | Menzieshill | GK |
| Gordon Amour | Edinburgh University | D/M |
| Jock Breckenridge | Edinburgh University | D |
| Fabian Goldie | Western Wildcats | D |
| Jamie Wong | Edinburgh University | D/M |
| Chris McFadden | Clydesdale | D |
| Fraser Henderson | Bath University | D |
| Ben Cosgrove | Menzieshill | M |
| Patrick Christie | Durham University | M |
| Joe McConnell | Western Wildcats | M |
| Conor Annand | Loughborough University | M |
| Rob Harwood | Western Wildcats | M/F |
| Ed Greaves | Loughborough University | M/F |
| Patrick Lonergan | Clydesdale | M/F |
| Kyle Gladwin | Bath University | F |
| Hamish Imrie | Beeston | F |
| Tom Graham | Durham University | F |
| Luke Cranney | Western Wildcats | F |

Scottish Hockey Union media release


---

Hockey playing lawyer Timothy Cockram is on the ball for Rio Olympics



From left: Carson McDowell managing partner Michael Johnston with Timothy Cockram and the firm's partner Hugh McGrattan

A Belfast solicitor will have a stick instead of a statute book to hand as he departs for the Rio de Janeiro Olympics tomorrow.

Hockey player Timothy Cockram - also an associate in Carson McDowell's ligitgation team - is one of the Ireland team's three travelling reserves.

It's the first time in over 100 years that Ireland's international hockey team has qualified for the Olympics. Mr Cockram said: "I am excited to be representing Ireland. If a player is injured in training or during a game then I'll be called up to the main playing squad."

He travels to South America tomorrow for a 10-day training camp before heading to Rio. "Our first match is against India on August 6, with really tough games against Holland and Germany after.

"We have a tough group to qualify from, but I believe we have the quality and talent to do so."

The Belfast Telegraph


---

Is your club Rio-ready?

Top tips for making the most of the Olympic Games

Lawrence West




The excitement of the Olympic Games, 6-21 August, and possible medal success in Rio is likely to drive new interest from people keen to try their hand at hockey. But clubs and associations in Australia could miss out if they don't plan accordingly.

With the Olympics coming shortly before the end of the traditional hockey season, clubs and associations need to consider how they might cater for an uplift in interest at the 'wrong' time of year, when volunteers tend to be thinking about long, hockey-free summer days.

We've compiled six simple questions that you and your committee can ask yourselves to determine how prepared you are for Olympic interest. You can use them as the starting point for your Olympic plan.

For more hints and tips about the sorts of activities you could consider hosting, download our list of 16 suggestions.

Are we Rio-ready?

1. Have we discussed what impact Australian Olympic success might have on demand for hockey in our area?

2. Are we going to do anything for our existing members during the Olympic Games?

3. If someone used the Hockey Australia online hockey club finder, Play Hockey, to search for their local club/association, would they find our club's details up-to-date? If not, you can update them by following the instructions here.

4. What will we say to those people that contact us during the Olympic Games or afterwards, towards the end of the season?

5. What might our offering be? Do we have something to offer people who show an interest in hockey but who might be apprehensive about committing to training and matches every weekend?

6. Have we spoken to our local newspaper, radio or TV station about running stories on hockey during the Olympics? How can we help them?

Remember, your local hockey association and state or territory association are on hand to provide advice and support throughout the season. Why not pick up the conversation with them, too?

Happy planning.

Hockey Australia media release


---

SA Junior World Cup women's hockey team announced

Jonathan Cook

The SA Hockey Association have released the names of the players who will represent the SA U21 team at the 2016 Women's Junior World Cup which takes place from November 24 to December 4 in Santiago, Chile.

SA U21 head coach Patrick Tshutshani says that he appreciates the sacrifices made by the players and their parents as well as their ongoing support in ensuring that the players could attend the various selection camps.

"The selection process has been insightful and challenging in ensuring that the players are excelling on a consistent basis," Tshutshani added. "I am pleased that these players put their hands up throughout the selection phase.

"I have stated all along that selection was an ongoing process.

The national U21 women's coach says "the next phase is crucial in our preparation for the Junior World Cup. We will be seeking to play as many matches together as possible. There is a potential opportunity for the team to play against the Indian junior team, who are looking to come to South Africa in August."

Tshutshani says that the players are also set to benefit from the upcoming National Hockey League, which will take place in September.

"The other challenge is in raising the necessary funds to travel to the Junior World Cup in Santiago, Chile."

SA U21 TEAM
Amy Etherington NG
Antonet Louw FS
Christine Seggie WP
Dani Cairns WP
Donna Small KZN
Gretchin Davids  WP
Kristen Paton SG
Marguerite van Wyk NG
Marlise van Tonder NG
Marizen Marais SG
Natalie Esteves NG
Nthabi Maine  SG
Ongeziwe Mali EP
Sandisiwe Tabata EP
Shindre-Lee Simmons FS
Sisipho Magwaza SG
Tarryn Glasby WP
Tegan Fourie KZN
Non-Travelling
Alegra Dijkstra WP
Marissa Poolman NG

SA Hockey Association media release


---

World Cup preparations begin: Pakistan juniors off to Germany



Hockey players train at the Gaddafi field hockey stadium in Lahore, Pakistan on July 11, 2016. PHOTO: REUTERS

KARACHI: Pakistan's 16-member junior hockey team has received their visas and will leave today for Germany to take part in a four-nation tournament, which will be played from July 21 to 24.

Besides Pakistan, the tournament also features hosts and reigning world champions Germany, third-ranked Netherlands and sixth-ranked Belgium.

Locking horns with such top-ranked sides will apparently boost the skills of Pakistan juniors, who finished in an abysmal ninth place at the 2013 World Cup. With the next World Cup set to take place later this year in India, it is hoped that the four-nation tournament will also provide some much needed practice to the Pakistani contingent.

Army boot camp for hockey players to kick start on Monday

Dilber Hussain will captain the team, while Olympian Tahir Zaman will double as the head coach and the manager. Zeeshan Ashraf will also accompany the team in a coaching capacity.

"We practiced at the training camp held after Ramazan. It was a brief camp so we focused on the weak areas that were pointed out during the five-a-side tournament in Ramazan," Hussain told The Express Tribune.

Eyes on Europe tour, World Cup: 'Hockey-5 to have direct bearing on int'l tours'

"The team selected has a great bonding, and although we will be facing some top European sides, we will do our best to win matches. The players know that if they perform below the expectations then they can be dropped from the final squad for the big tournament in India."

Zaman reiterated that the main purpose of the tour is to give players some exposure before the World Cup. "The players have been asked to give their all as the management wants all mistakes and weak areas identified before the World Cup," he said.

The Express Tribune


---

PHF Grateful to German Embassy

Pakistan Hockey Federation conveys its gratitude to the German Embassy in Islamabad for processing the visas of the Pakistan junior hockey squad in a very short time.

Pakistan will be participating in a 4- Nation under 21 tournament in the German city of Hannover, starting from July 21.

PHF Media release


---

Five of a Central mind

By Jared Smith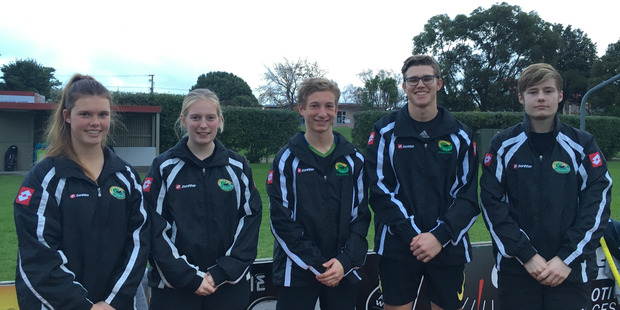 The Whanganui players selected to play for the Central teams at the national under 18 tournament. Emma Rainey, left, Joanna Bell, Joseph Redpath, Ryan Gray, Jordan Cohen.

Five Wanganui hockey players were in the thick of the action as their Central Under 18 team's played very well at the National tournament in Palmerston North last week.

Emma Rainey and Joanna Bell were in the Central U18 women's team who finished second to the dominant Auckland side after a tight final on Saturday at the Twin Turfs, losing the shootout 3-1 after the game was tied 3-3 at fulltime.

Joseph Redpath, Ryan Gray, and Jordan Cohen were in the Central men's team who finished fourth after losing 3-1 in the bronze medal game to Auckland.

Rainey, a New Zealand U19 rep, had a very good tournament with six goals, tied for second most in the women's competition.

Drawn in Pool A alongside Auckland, Central started with a 5-2 loss, but then won their remaining matches against North Harbour (5-2), Northland (6-2), Canterbury (6-3) and Capital (5-4).

Rainey scored in each of those games, including twice against Northland, with three penalty corners and two field goals.

That put Central into the final for the rematch with Auckland, and after being down 1-0 at halftime, they came back to tie the match 3-3 at the end of regulation, with Rainey scoring off a penalty corner in the 49th minute.

The match went to a shootout, but Rainey could not connect with the team's third attempt, as after getting their first goal Central missed the next three tries, whereas Auckland got three from five to make it home.

In the men's draw, Central started with a 4-1 win over Northland, with Gray scoring a 26th minute field goal while Cohen added a penalty corner in the 60th minute.

Central then lost to Canterbury 5-3 in the shoot out after being tied 1-1 at fulltime, with Gray unable to connect on his turn.

They were hammered 6-1 by Auckland, before a narrow 3-2 defeat to Midlands, where Gray's 66th minute goal narrowed the gap.

A 5-2 win over North Harbour got Central into the bronze medal match with Auckland, where despite a much improved effort on their last clash, the Aucklanders still prevailed 3-1.

Hockey Wanganui operations manager Kylie Penn watched the games on Friday and said Rainey was in good form, while Cohen continues to show a lot of promise.

"There's people talking that he'd go all the way [to national honours].

"He's another Emma, up and coming."

The players will now return to their senior Manawatu competitions, which were on a break at the weekend to make way for the national tournament.

The combined Whanganui women's team will play College Development at Gonville Domain, while the Tech College Old Boy's men travel to the Twin Turfs to meet Palmerston North Boys High School, with both games starting at 1.30pm.

Wanganui Chronicle


---

Double blow as Haziq and Meor leave UniKL to join KLHC

by S. Ramaguru



Meor Mohamed Azuan has decided to leave UniKL for KLHC.

KUALA LUMPUR: Universiti Kuala Lumpur (UniKL) have been dealt a double blow in their run-up to next month's Malaysia Hockey League (MHL).

On Monday, national players Mohamed Haziq Shamsul  and Meor Mohamed Azuan Hassan left to join Premier Division rivals Kuala Lumpur Hockey Club (KLHC).

UniKL team manager Mohamed Asmadi Mohd Nor said they allowed Haziq and Meor to leave despite the duo still having a contract with them.

"The matter was settled amicably today after KLHC agreed to the terms and compensations for the players' release," said Asmadi.

With four days to go before the registration of players close on Friday, UniKL are now racing against time to fill up the two vacancies.

"We are running out of time to get two more players. We are now thinking of hiring a foreigner to fill up one of the places," said Asmadi.

UniKL have so far recruited five foreign players – two from Ireland, three from Germany and one each from Holland and New Zealand. Each team are allowed to sign six foreigners.

"We need to evaluate some of the players over the next few days. We still have two national players in Baljit Singh and Mohamed Najmi Farizal.

"I believe we have a team that can challenge for honours," said Asmadi.

Asmadi has targeted a top-four finish in the six-team Premier Division.

"There's no quarter-finals this season. To vie for the overall title we need a top four finish in the league. There is also no prize money for being fourth. So the stakes are higher this year," he added.

Former international A. Arul­selvaraj will remain as UniKL's coach.

UniKL finished fifth last year.

Besides UniKL and KLHC, the other four teams in the Premier Division are double champions Terengganu, Sapura, Maybank and Tenaga Nasional. The Premier Division is slated to start on Aug 18.

The Star of Malaysia


---

Three pupils selected for SA schools hockey teams

Take a look at some of Kearsney College's sport developments during the school holiday.

Deshni Ramkissoon-Pillay



Kearsney's SA hockey reps, Lyle Jarvel (SA U18B capt) and Guy Morgan (SA U16A capt) with SA U16 coach Sihle Ntuli.

KEARSNEY College enjoyed some good sports news during the July holidays.

Two Kearsney hockey players and the 1st X1 coach were selected for SA Schools hockey teams. Lyle Jarvel was named captain of the U18B team and Guy Morgan captain of the U16A team. The school's coach, Sihle Ntuli, was chosen to coach the national U16 hockey team.

In waterpolo news, three Kearsney water polo coaches were announced as provincial representatives – Michael Simpson is the U15 boys' manager, Justin Randall the U19B girls' coach and Scott Mantle the U16 girls' coach.

Four Kearsney squash players participated in the IPT (Interprovincial Tournament). The KZN U19B team, which played in Paarl, included Kearsney's Graham Hudson (ranked number 1), Matt du Toit (3) and David Comrie (5). Reid Stuart was ranked number 3 in the KZN U16B team which played in Pretoria. Kearsney teacher Etienne Grundling managed the U16B side in Pretoria.

Highway Mail


---

Umpire blows whistle on KZN school girl hockey talent

"This is my first time I am involved and it definitely won't be the last. I can't wait."




"PART of growing up is the adventure of adolescence, where you can get into trouble, mess up and might be a bit stupid, but it's how you get back up, dust yourself off and learn from these mistakes. This goes for hockey as well! You may mess up on the field, but it's how you track back and work hard for your team to fix your mistakes that make a huge difference."

These simple words were the advice Nduduzo Mchunu received from his coach, Nathi Ngubane.

"Coach Nathi is like a father to me. His words will stay with me forever. He has moulded not only my skills on the turf, but helped me with a number of lessons in life as well," said Mchunu, who is one of 10 umpires who have been invited to the grand finals of the Spar KZN school girls hockey challenge which takes place at St Mary's DSG.

    You may mess up but it's how you get back up, dust yourself off and learn from these mistakes that make a huge difference

This is the first time that he is involved in the finals, representing Grosvenor Girls High. "My girlfriend coaches there. I'm looking forward to umpiring and being able to watch the amazing hockey on display from the top girls schools in KZN. There is a lot of young talent in our province that still hasn't been discovered, and I think we will see a lot of it at the finals."

"I play hockey for the INK Hockey Club. We are in the first division but might be promoted to the premier league next year. I started playing hockey when I was seven-years-old in grade 3, and perfected a number of my skills at Northwood School."

Mchunu, who has been umpiring for two and a half years, claims with the background knowledge of the rules as a player, he made a smooth transition on his first occasion with the whistle. 'I'm actually on my way home from Johannesburg, having officiated at the U16 boys IPT."

"My first time with a whistle was actually not that bad. But having to manage the game was an eye-opener for me. It was very hard, and I thought I would never umpire again but now with a number of games under my belt, I have advanced to blowing at the fast moving U16 IPTs," said the proud young umpire.




Other sports he participates in are tennis and soccer. "I am venturing into the golf world as soon as I wrap up the hockey season. I am looking forward to the new challenge."

About his hobbies away from sports, the intrepid umpire said: "Well, I'm a curious person, so I search a lot on the internet. I love to read and I relish delving into history. Socialising with my friends and doing fun stuff like bowling is a great break from reality for me."

Laughingly he adds: "I'm not in a band but it would be fun to join one though. I've always wanted to play drums in a band. I wonder if my stick skills from hockey would impress – they're not quite drumsticks though."

Asked about his role model is in life, he affirms it's Barack Obama. "Obama has done a lot of good for not only America, in my opinion. In hockey I truly admire Jamie Dwyer's agility; the way he plays the game is majestic. The Australian men's hockey side is by far the best team. Best hockey club in the world would have to be the Dutch Den Bosch club."

Having just finished school, Mchunu is taking a gap year with the intention of studying business law at either DUT or UKZN next year. "I'm currently coaching hockey and soccer at Danville Park Girls' High School. I am also coaching soccer at my old school, Northwood School."

"This is my first time I am involved and it definitely won't be the last. I can't wait."

Southlands Sun


---

Road works delay National Hockey Centre in Albany

Felicity Reid



Improved facilities could attract more international hockey tournaments to New Zealand. Joel Ford

The eyes of the hockey world will be on Albany next year when New Zealand hosts the FIH Women's World League Final for the first time.

But the facility that will be beamed to an overseas audience will look a little different than Hockey New Zealand intended.

When New Zealand won the hosting rights in 2014, plans to transform North Harbour Hockey's site into a National Hockey Centre were announced.

The hub for top-level hockey, which has $2.5 million backing from Sport New Zealand, was on track to start in mid-2015 with completion expected in 2016.

An upgraded viewing pavilion and lighting suitable for televised events were part of the redevelopment plans.

However New Zealand Transport's Agency's Northern Corridor Improvements project halted the hockey centre.

The project realigns Upper Harbour Highway (SH18) for a motorway interchange and encroaches on the hockey site in Paul Matthews Drive.

Sharon Williamson, chairwoman of the Harbour Hockey Charitable Trust says on seeing NZTA design proposals in early 2015 she realised the project will have a bigger impact than anticipated.

"All options go through the turf," Williamson says.

Harbour Hockey and those behind the National Hockey Centre are working with NZTA to find a solution.

NZTA's Auckland highway manager, Brett Gliddon, says options are being investigated that "will either reconfigure or relocate the [hockey] facilities, with a number of locations in the area being considered".

NZTA is funding temporary measures to ensure the Women's World League Final and the World Masters Games events next year can still go ahead in Albany.

Harbour Hockey has three turfs at the site. Land set aside for a fourth turf that was to be operational in 2018/19, will be lost to the roading project.

The association's headquarters is home for 11 clubs, 30 representative teams and teams from 99 schools.

With 10,000 players using the facilities each week in winter, Harbour Hockey chief executive Riki Burgess says they are running at capacity.

Burgess says he can't have turfs decommissioned without an alternative in place.

The National Hockey Centre was touted as a future-proofed community facility, a base for hockey's high-performance programme and a venue attractive to FIH events.

Williamson is still positive about finding a suitable outcome. "We'll end up with what we want, it will have just taken a bit longer."

Stuff