All the news for Wednesday 13 July 2016

Hockey India announces squad for the Rio Olympics 2016   




New Delhi: Hockey India today announced the 16 member squads of the Men and Women Hockey Teams that will represent Team India at the Rio 2016 Olympic Games.

In a packed felicitation ceremony, Hockey India President Dr. Narinder Dhruv Batra alongside Mr. Amit Shah, President BJP and Chief Guest for the function, Mr. Vijay Goel, Sports Minister, Govtt: of India and Mr. Leandro Negre President FIH announced and honoured all selected players from the men's and women's hockey teams for the Rio Olympic Games here in New Delhi.

Speaking on the occasion, Hockey India President, Dr. Narinder Dhruv Batra said, "I am really proud of how our teams have shaped up this year for the Olympics and can proudly say we have one of the most cohesive units for many years in terms of a collective team coming together for both our men and women teams. Hockey being a team sport needs each player to be able to play multiple roles and also be able to support his or her team members on the field. The kind of game the teams have displayed in the last few months is a true testimony of the hard work, sweat and blood each and every one of them has put in."

"The result is a team that stands before us today, selected basis an exquisite performance and grit to come together and showcase Indian hockey at its best at the pinnacle of sports – the Olympics. Our expectations are high and we look forward to take on the responsibility of being in the spotlight of the Indian Contingency at Rio 2016."

The men's squad features a formidable defense line-up, with experienced campaigners V.R Raghunath, Rupinder Pal Singh and Kothajit Singh. Harmanpreet Singh and Surender Kumar provide the youth to the backline. The midfield combination is strong with Danish Mujtaba, Chinglensana Singh, Manpreet Singh, S.K Uttappa, Devinder Walmiki and Sardar Singh all selected in the team. Strikers S.V Sunil, Akashdeep Singh, Ramandeep Singh and Nikkin Thimmaiah promise to add steam to the line-up. In-form PR Sreejesh is the teams goalkeeper and Captain.

The men's hockey squad has risen consistently up the world rankings since the Asian Games in 2014. Ranked 13 in the world after the London Olympics, the team is now poised at No.5 after their heroics at the recently concluded FIH Champions Trophy.

"With our recent performances, we have shown the world that we can beat the best in the business and that's what we will aim at doing at the Olympics. This squad is the best representation of Indian hockey and I am confident this combination will bring us the best results. We have received tremendous support from Hockey India and Sports Authority of India who have ensured we get world class training facilities in the lead-up to the Olympics and we hope to live up to the expectations of the one billion people cheering our team as we fly the tricolor at the Olympics. " said Men's Team Chief Coach Roelant Oltmans.

The women's team includes the experience of Deepika Thakur, Sunita Lakra, Sushila Chanu, Namita Toppo and Deep Grace Ekka in defense. In the midfield Renuka Llima Minz, Monika, Navjot Kaur and Nikki Pradhan have all been selected. The forward line includes Rani, Poonam Rani, Vandana Katariya, Anuradha Devi Thockchom and Preeti Dubey. The team is supported in the goals by Savita.

This will be the first time in 36 years that the women's team from India will be participating at the Olympic Games and the women's squad will vie to make the most of this opportunity.

"It is a big moment for the girls and our realistic goal is to qualify for the quarterfinals and I believe we can do it. The girls have worked day in and day out to get where they are today and we are excited as a team to convert whatever we have worked on during the camps." said Women's Team Chief Coach Neil Hawgood.

Wishing the best to the teams, Dr Batra further added, "Over the past few years, in the lead up to the Olympics, both the teams have shown a lot of resilience and dedication. Hockey India is very happy with how the men's team has climbed the rankings since the 2014 Asian Games and have brought back the fan following hockey once enjoyed in the country. The kind of support we have received from people in India and abroad has been overwhelming. I believe their excellent showing this year has made them serious medal contenders. Meanwhile, the women's team has been remarkable in achieving a qualifying berth after 36 years and this is only the beginning for the sport for women in India. I have watched the team play and am sure they have it in them to convert wins at the Olympic Games and Hockey India wishes them the best."

Being the largest contingent from India at the Olympics all eyes are set on the Indian Hockey teams to push hard and put India on the Olympic podium.


INDIAN MEN HOCKEY TEAM
| | | | | |
| --- | --- | --- | --- | --- |
| Sr. No. | Jersey Number | Name | Position | International Caps |
| 1 | 1 | Harmanpreet Singh | Defender | 16 |
| 2 | 3 | Rupinder Pal Singh | Defender | 144 |
| 3 | 5 | Kothajit Singh Khadangbam | Defender | 131 |
| 4 | 6 | Surender Kumar | Defender | 24 |
| 5 | 7 | Manpreet Singh | Midfielder | 156 |
| 6 | 8 | Sardar Singh | Midfielder | 247 |
| 7 | 12 | V.R Raghunath | Defender | 214 |
| 8 | 15 | S.K Uthappa | Midfielder | 94 |
| 9 | 16 | P.R Sreejesh (Captain) | Goalkeeper | 156 |
| 10 | 17 | Danish Mujtaba | Midfielder | 160 |
| 11 | 22 | Devindar Walmiki | Midfielder | 29 |
| 12 | 24 | S.V Sunil (Vice Captain) | Forward | 190 |
| 13 | 27 | Akashdeep Singh | Forward | 102 |
| 14 | 29 | Chinglensana Singh | Midfielder | 110 |
| 15 | 31 | Ramandeep Singh | Forward | 72 |
| 16 | 32 | Nikkin Thimmaiah | Forward | 71 |
RESERVE ATHLETES IN CASE OF INJURY
| | | | | |
| --- | --- | --- | --- | --- |
| Sr. No. | Jersey Number | Name | Position | International Caps |
| 1 | 18 | Pardeep Mor | Midfielder | 14 |
| 2 | 19 | Vikas Dahiya | Goalkeeper | 7 |
INDIAN WOMEN HOCKEY TEAM
| | | | | |
| --- | --- | --- | --- | --- |
| Sr. No. | Jersey Number | Name | Position | International Caps |
| 1 | 1 | Navjot Kaur | Midfielder | 68 |
| 2 | 3 | Deep Grace Ekka | Defender | 101 |
| 3 | 4 | Monika | Midfielder | 54 |
| 4 | 8 | Nikki Pradhan | Midfielder | 12 |
| 5 | 10 | Anuradha Devi Thokchom | Forward | 86 |
| 6 | 11 | Savita | Goalkeeper | 121 |
| 7 | 15 | Poonam Rani | Forward | 159 |
| 8 | 16 | Vandana Katariya | Forward | 139 |
| 9 | 17 | Deepika (Vice Captain) | Defender | 172 |
| 10 | 19 | Namita Toppo | Defender | 92 |
| 11 | 24 | Renuka Yadav | Midfielder | 24 |
| 12 | 26 | Sunita Lakra | Defender | 71 |
| 13 | 27 | Sushila Chanu (Captain) | Defender | 112 |
| 14 | 28 | Rani | Forward | 154 |
| 15 | 30 | Preeti Dubey | Forward | 9 |
| 16 | 31 | Lilima Minz | Midfielder | 72  |
RESERVE ATHLETES IN CASE OF INJURY
| | | | | |
| --- | --- | --- | --- | --- |
| Sr. No. | Jersey Number | Name | Position | International Caps |
| 1 | 6 | Hnialum Lal Ruat Feli | Defender | 15 |
| 2 | 19 | Rajani Etimmarpu | Goalkeeper | 47 |
---

Hardly any surprises in Rio squads



SAY CHEESE: P.R. Sreejesh is all smiles as he takes a selfie along with a few other members of the men's team. Photo: Sandeep Saxena The Hindu

Sreejesh to helm the men's team, Sushila Chanu gets the honour of leading the women.

In the end, there were few surprises as the final 16 men and women to represent Indian hockey at the Rio Olympics were named on Tuesday. The men's team would be led by goalkeeper P.R. Sreejesh while Sushila Chanu has been named skipper of the women's squad.

While most team announcements are staid affairs, Hockey India believes in grandeur.

The function had BJP president Amit Shah as chief guest and Sports Minister Vijay Goel as the guest of honour besides SAI director general Injeti Srinivas, IOA secretary general Rajeev Mehta, and several former Olympians.

But for once, the big shots took backstage as the spotlight remained firmly on the players, provided with special formal apparel for the occasion.

Sreejesh, who became the first hockey player from Kerala to lead at the recent Champions Trophy, would now be the second goalkeeper to get that honour at the Olympics.

Bharat Chhetri had led in 2012. But while there was a buzz around removing long-time captain Sardar Singh from the post, the man himself downplayed it.

"For me, the nation comes first. Our only target is to give our best and we have been preparing hard for it. For me everybody is a leader in the team," Sardar said even as Sreejesh and coach Roelant Otlmans agreed. "Captaincy is like a dream. But like at the Champions Trophy, there is a leadership group in the team.

"We will rotate the armband which helps divide responsibility and when all the seniors share the burden, the juniors also realise the importance of their role in the team.

"Sardar is one of the best players in the world and definitely part of the leadership group," Sreejesh said.

It was a bigger achievement for Sushila, who not only recovered from a serious knee injury suffered a few months ago but also stepped into the shoes of Ritu Rani, the seasoned former captain who was dropped from Rio squad for lack of focus.

"When she was initially injured, I thought she's gone," coach Neil Hawgood admitted, adding that he spent a lot of time talking to doctors and sportspersons back home in Australia including a few who played at the Olympics without the ACL — the muscle that Sushila injured — before deciding not to go for surgery.

"The focus was on developing strength and in the end she came back just in time for the Australia tour and adjusting to all this pressure of leading the side while coming back from injury, it was good to watch," Hawgood said.

"Her determination to train and push herself and her resilience through this injury proved these are the people you need in tough times," he added.

While the women go into uncharted territory — the only time Indian women's hockey team played at the Olympics was on invitation in 1980 — the men are keen to erase the humiliation of finishing last four years ago.

Seven of the 16 were at London and Sreejesh admitted that wiping off that hurt was the biggest motivation for the boys.

"We want to change what happened in 2012. We also want to re-create history and the players are intelligent enough to work for it," he said.

Dhanraj Pillay had advice for the women. "You may see a Martina Hingis or Usain Bolt walking around at Olympics and you can meet and talk to them. But you are also proud representatives of your country and are there on merit, just like them. So don't bother about the stars and concentrate on your game. If you do well, you will be stars too," he told Rani Rampal.

While the men return to Bengaluru for a week before flying to Madrid for a five-day tour on July 23, the women leave on Thursday for USA where they would play a series of practice matches against the host and Canada before moving to Rio.

The squad:

Men: Goalkeeper: P.R. Sreejesh (c); Defenders: Harmanpreet Singh, Rupinderpal Singh, V.R. Raghunath, Surender Kumar, Kothajit Singh; Midfielders: Manpreet Singh, Sardar Singh, S.K. Uthappa, Danish Mujtaba, Devinder Walmiki, Chinglensana Singh; Forwards: S.V. Sunil, Akashdeep Singh, Ramandeep singh, Nikkin Thimmaiah.

Stand-byes: Pradeep Mor, Vikas Dahiya.

Women: Goalkeeper: Savita Punia; Defenders: Deep Grace Ekka, Deepika Thakur, Namita Toppo, Sunita Lakra, Sushila Chanu (c); Midfielders: Lilima Minz, Renuka Yadav, Nikki Pradhan, Monika, Navjot Kaur; Forwards: Anuradha Devi, Poonam Rani, Vandana Katariya, Preeti Dubey, Rani Rampal.

Stand-byes: Hnialum Lalruatfeli, Rajani Etimarpu.

The Hindu


---

Indian Team (M) for Rio: Bold team and bolder choice of leadership

Indian men's team announced today has all the trappings of Dutch fox Roelant Oltmans. His penchant for physically strong players and importance to current form than stardom come to the fore as the Indian Rio team is announced in a grand function in which ruling party BJP President Amit Shah, Union Sports Minister Vijay Goel, cricket supremo Anurag Thakur inter alia were present.

First, leadership doesn't mean seniority.

20 years before, Roelant Oltmans was in Chennai with the Dutch team. Jacques Brinkmann was the senior most, but the team leader was Stephen Veen. When asked the anomaly, he answered without wasting a second, 'a leader is not comparative numbers'.

He relied on over all impact a player can make on the team, through his own form of course.

So, we have here last Olympics second goalie, Sreejesh is promoted to envious Olympic captain.

The mere fact that captaincy issue is being discussed is due to giving or taking it from Sardar Singh, speaks of his legacy, but bottomline for success is form nothing else.

Whatever other reasons concerning the leadership continuum of Sardar, an inform player, who was talk of hockey in every tournament that India played in the last two years, is given the honour to lead India at the Rio Olympics.

Well done Sreejesh, you deserve it and got it.

Second aspect that catches mind is inclusion of youngsters like Surender Kumar, Devinder Walmiki, SK Uthappa, Nikkin Thimmaiah.

Surender has shown tremendous form starting from this year's Hockey India League.

He was given senior cap and emerged successful at Ipoh, London and Valencia this year.

Any European coach will go for any number of valuable defenders in the team, as they can easily fit into halfline too.

Harmanpreet Singh, calm and composed, also a new star got his deserving elevation. Jasjit Singh was gritty, and comes close to selection but Harmanpreet has better prowess at penalty corners.

India now has a problem of plenty at rear. Rupinder Pal Singh, V Raghunath besides the duo provide a strong defence plank.

Manpreet Singh, Devinder Singh, irresistible Sardar Singh lend solidity to midfield, with Danish Mujtaba, lucky to be selected considering his struggling form, lending extra hope.

Forwardline is a weak department for India. Barring SV Sunil, who was declared Vice-Captain, nobody commands wholesome selection on merit. Gurmail Singh, Mandeep Singh, Dharamvir Singh, Sarbhjit Singh got enough exposure; Lalit Updhyay and Affan Yousaff discarded long back.

Ramandeep Singh for his dash, despite his over-enthusiasm that results no goal, got the nod ahead of the likes of Talwinder Singh and Mandeep Singh. Its apparent the selected player counts better on physique and dash.

Akashdeep Singh must count his stars for making it, despite the fact that he was not a force as he was known for otherwise, in London.

Over all, it's a bold decision to go for young blood and count on form rather than name.

This team selection is exactly this.

Stick2Hockey.com


---

Sardar removed from captaincy, Sreejesh to lead India at Rio Olympics

NEW DELHI: In one of the most significant decisions in recent times, Hockey India named senior goalkeeper PR Sreejesh as the captain of the national team for the Rio Olympics, removing long-time skipper Sardar Singh.

Sreejesh, one of the finest custodians in world hockey at the moment, was rewarded after the team, under his leadership, ended up with a silver medal at the six-nation Champions Trophy hockey tournament in London.

Sreejesh had a good tournament both as a player and captain as India had their best performance in the 38-year-history of the tournament. The team played a brilliant final where they held eventual champions Australia to a goalless draw in the regulation time before losing in a controversial shoot-out.

Playmaker SV Sunil, who is also a key component in the team, has been named vice-captain.

Things fell in place for Sreejesh at the right time and went awry for Sardar, who has been going through a torrid time both on and off the field.

His performance has dipped on the field as he is no longer as sharp a midfielder as he used to be. Off it, allegations of rape after promising marriage levelled by a British national has also dented his reputation.

Sardar has been the captain of the national team for a number of years having led the team in London 2012.

While Sardar was rested for the Champions Trophy where India produced their best-ever show, the team did have a slump when it played the next tournament in Valencia, where they could win only one match against minnows Ireland, losing two games and managing to draw a couple.

The Team:

Goalkeeper: PR Sreejesh (Captain)

Defenders: Harmanpreet Singh, Rupinder Pal Singh, Kothajit Singh, Surender Kumar, VR Raghunath

Midfielders: Sardar Singh, Devinder Walmiki, Danish Mujtaba, Chinglensana Singh, Manpreet Singh, SK Uthappa

Forwards: SV Sunil (Vice-captain), Akashdeep Singh, Ramandeep Singh, Nikkin Thimmaiah

Standbys: Pradeep Mor and Vikas Dahiya (goalkeeper)

The Times of India


---

Ritu dropped, Sushila to lead Indian women's hockey team in Rio

New Delhi: Veteran midfielder and longtime skipper Ritu Rani was dropped from the Indian women's hockey squad for the upcoming Rio Olympics on Tuesday and Sushila Chanu named the captain.

Ritu has been an important member of the national team over the years and led them to their first Olympic qualification in 36 years. But she left the national camp last week following allegations of poor performance and attitude problems from Hockey India (HI) officials.

The HI announced the 16-member squad on Tuesday, with Deepika as the vice-captain.

Sushila had captained the Indian team in Ritu's absence during their tour of Australia earlier this year. She also led the Indian junior women's team to a bronze medal finish at the 2013 Junior World Cup in Monchengladbach, Germany.

Ritu has been one of the key midfielders for India over the years and her absence could hurt the team's chances at the Olympics. She made her India debut in 2006 and has notched up 213 international caps.

Ritu has represented the country in almost every tournament and every national camp since her international debut and the Rio Olympics will be the first major tournament that she will miss out on.

At the Rio Olympics, the Indian women's team have been placed in Group B alongside Argentina, Australia, Britain, Japan and United States.

The squad:

Goalkeeper: Savita

Defenders: Deep Grace Ekka, Deepika (vice-captain), Namita Toppo, Sunita Lakra (defender), Sushila Chanu (captain).

Midfielders: Navjot Kaur, Monika, Renuka Yadav, Lilima Minz.

Forwards: Anuradha Devi, Poonam Rani, Vandana Kataria, Rani Rampal, Preeti Dubey, Nikki Pradhan.

The Times of India


---

Agony for Ritu Rani as Sushila Chanu appointed captain of Indian women's hockey team

Ritu Rani was axed from the squad due to poor form and attitude problems.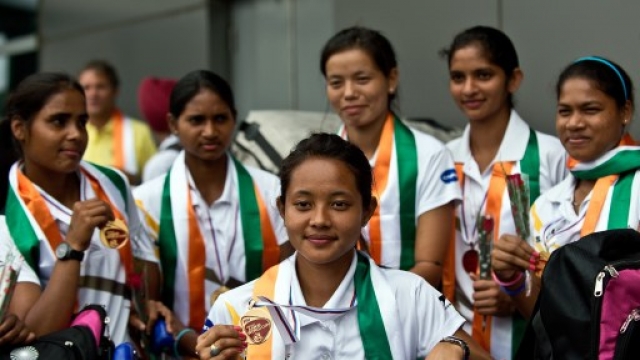 Sushila Chanu (AFP)

Defender Sushila Chanu will lead the 16-member Indian women's hockey team at the forthcoming Olympic Games to be held at Rio de Janeiro from August 5 to 21.

Hockey India on Tuesday named Sushila as the skipper in place of Ritu Rani who was dropped from the squad by the selectors due to poor form and attitude problems. Sushila's colleague in the backline, Deepika will assist her as the vice-captain during the Games.

The team includes five defenders, five midfielders, five forwards and only one goalkeeper in Savita.

The women's team includes the experience of Deepika, Sunita Lakra, Sushila, Namita Toppo and Deep Grace Ekka in the defence.

The midfield will be manned by Renuka Llima Minz, Monika, Navjot Kaur and young Nikki Pradhan, while forward line consists of Rani Rampal, Poonam Rani, Vandana Katariya, Anuradha Devi Thockchom and Preeti Dubey.

Just like the men's team, the women's squad also has two reserve players in defender Hnialum Lal Ruat Feli and goalkeeper Rajani Etimmarpu.

This will be the first time in 36 years that Indian women's hockey team will be participating at the Olympic Games, after stellar show at the Hockey World League Semifinals in 2015. Indian eves' only appearance in the Olympics till now was in the 1980 Moscow edition, but there was no qualification process back then.

Speaking about the selected squad, Indian women's hockey team's chief coach Neil Hawgood said they have handpicked the best-available team on the basis of merit. "We have picked the best physically and mentally prepared team," Hawgood said during a glittering team announcement function here today.

"It is a historic moment for the girls no matter whom we pick because they never played in the Olympics. The men's team have tasted the Olympics with seven players of the selected squad featuring at London. So we really don't know what's going to come over."

Asked about the experienced Ritu Rani's omission from the squad, Hawgood said: "We picked up a committed 16-member squad from the trials. We have selected the best 16." Indian women's team captain Sushila said it is a huge responsibility given to her and she vowed to fulfil it to the best of her potential.

"I am really happy but I am little tensed as well because it is a big responsibility to lead the side in the Olympics after 36 years," Sushila said.

"But I have been a captain at the junior level and have got a lot of support. I am getting a lot of support here as well. So I think I won't have any problems." The Indian eves will leave for USA on Thursday where they will play three practice games against Canada and two against USA before reaching Rio on July 29 for the Games.

Squad: Sushila Chanu (Captain and Defender), Navjot Kaur, Deep Grace Ekka, Monika, Nikki Pradhan, Anuradha Devi Thokchom, Savita, Poonam Rani, Vandana Katariya, Deepika (vice-captain), Namita Toppo, Renuka Yadav, Sunita Lakra, Rani, Preeti Dubey, Lilima Minz.

Standbyes: Hnialum Lal Ruat Feli, Rajani Etimmarpu (Reserve Goalkeeper).

DNA


---

Sreejesh replaces Sardar Singh as hockey captain for Rio

Ritu Rani dropped from women's squad



India hockey captain Sardar Singh celebrating after victory over Pakistan during the men's hockey final at the 17th Asian Games in Incheon, South Korea. —PT

Sabi Hussain

Neither Haryana's Sardar Singh nor Ritu Rani will captain India's hockey teams that will head to the Rio Olympics 2016.

In significant changes announced in the squad on Tuesday, goalkeeper PR Sreejesh replaced Sardar Singh as captain of the men's team.

In the women's team, Sushila Chanu will lead the team, with Deepika as her vice-captain, while current captain Ritu Rani — the most experienced player of the women's hockey team — has been dropped from the squad. 

Overall, 10 players from Haryana and five from Punjab have found a place in both teams.

Sreejesh, one of the finest custodians in world hockey at the moment, was rewarded after the team, under his leadership, ended up with a silver medal at the Champions Trophy in London, their best-ever result in the 38-year-history of the blue riband six-nation tournament.

The team played a brilliant final where they held eventual champions Australia to a goalless draw in the regulation time before losing in a controversial shoot-out.

Playmaker SV Sunil, who is also a key component in the team, has been named vice-captain. He was Sreejesh's deputy in the Champions Trophy.

While there were rumours that Sardar's axing was a result of his dip in form in recent times, Indian hockey team's chief coach and High Performance Director Roelant Oltmans said the move to relieve the ace midfielder from captaincy was purely taken to free him from excess responsibilities.

"The philosophy behind changing the captain is that we felt people need to take more responsibilities on the pitch and off the pitch. Sardar was taking too many responsibilities because of which he was not performing at the level that is expected of him," Oltmans told reporters.

"By changing the captain I belive Sardar will play a much better Olympic Games. Sardar took the decision (of him being removed from captaincy) very sportingly. He understands what's required from him."

Off the field too, Sardar had been going through tough times following allegations of rape after promising marriage were levelled against him by a British national.

Asked if Sardar's off-field controversy bogged him down, the Dutchman reacted in affirmative.

"Of course those things did affect him," he said, pertaining to the legal tangle that the former skipper finds himself pertaining to the rape allegation.

Ritu Rani was dropped from the squad by the selectors due to poor form and attitude problems.

Sushila Chanu's colleague in the backline, Deepika will assist her as the vice-captain during the Games.

This will be the first time in 36 years that Indian women's hockey team will be participating at the Olympic Games, after stellar show at the Hockey World League Semifinals in 2015.

Indian eves' only appearance in the Olympics till now was in the 1980 Moscow edition, but there was no qualification process back then.

Speaking about the selected squad, Indian women's hockey team's chief coach Neil Hawgood said they have handpicked the best-available team on the basis of merit.

"We have picked the best physically and mentally prepared team," Hawgood said.

"It is a historic moment for the girls no matter whom we pick because they never played in the Olympics. The men's team has tasted the Olympics with seven players of the selected squad featuring at London. So we really don't know what's going to come over."

The Tribune


---

Rise and rise of Harmanpreet

Indervir Grewal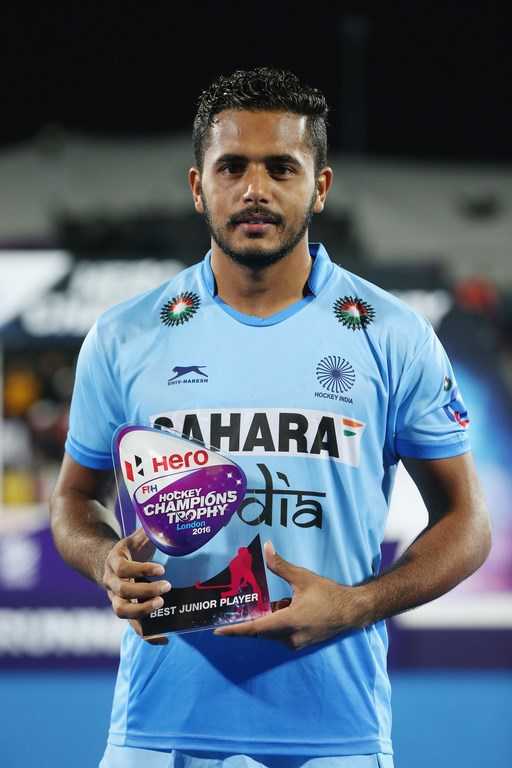 Harmanpreet

Chandigarh: At the start of the year, no one would have imagined Harmanpreet Singh making the men's hockey squad for the Rio Olympics.

In the last two years, Harmanpreet has seen a great rise through the junior circuit. Coach Roelant Oltmans had closely watched Harmanpreet's progress during the Dutchman's days as the High Performance Director attached with the junior team.

However, despite his growing stature as a defender and drag-flicker, it was hard to imagine a 20-year-old finding his way into a team that already included two established penalty-corner experts, VR Raghunath and Rupinderpal Singh.

Oltmans, however, showed confidence in the Punjab player to include him in the squad for the Sultan Azlan Shah Cup. Harmanpreet's performance justified Oltmans' decision and the Dutchman retained him for the Champions Trophy, in which he was named the best young player.

"We are all very happy for him. He has worked really hard in the last few months and the improvement shows," said midfielder Manpreet Singh, who was Harmanpreet's senior at the Surjit Academy in Jalandhar.

Avtar Singh, Harmanpreet's coach at the Surjit Academy, said: "The pressure of playing in the senior team is huge. But with the added pressure of having to fight for a place in the Olympics-bound team, anyone's game can suffer," said Avtar.

"But Harmanpreet's performances have belied his age. He always had a very cool head but the way he has matured in the last few months is unbelievable."

The Tribune


---

The story behind Chhattisgarh's first woman Olympian will inspire you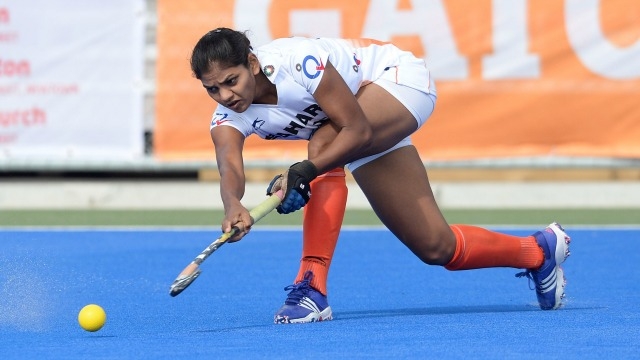 Renuka Yadav used to sell milk from door to door while her parents worked as domestic help in the homes of other people. (Getty Images)

It was a big day for Renuka Yadav on Tuesday, when she saw her name in the Rio 2016 Hockey Women squad - not only because she became Chattisgarh's first woman to qualify for Olympics but also because for this small town girl, it was a dream come true.

Going from one door to the other, the Rajnandgaon girl used to sell milk for survival while her parents worked as domestic help in the homes of other people. Not letting go of her passion for hockey, she has come a long way in becoming the first woman in Chhattisgarh to qualify for Olympics. In an interview with Times of India, she described the moment as her happiest, saying, "This is a golden moment of my life. We have got the opportunity to be at the Olympics after a long gap of 36 years. I am happy to be the first ever woman Olympian of Chhattisgarh."

The 22-year-old started playing hockey when she was in class seven. Thanking her mentor Bushan Sao, from who she got her first hockey stick, she said that her journey began with him. "It's her hard work that earned her this position. In the school team, we used to practice twice in a day but only Renuka practiced even during extra time. She was always very eager to learn," said her coach Sao.

Renuka had been receiving free hockey training at the Girls Hockey Academy in Gwalior since class 10. Now a ticket examiner with Mumbai's Central Railway, she hopes that Chief Minister Raman Singh, who is also from Rajnandgaon, and the state government will take positive steps to encourage sports by supporting them.

DNA


---

Four Odisha players part of Olympic-bound women's hockey squad

Bhubaneswar: Four women hockey players from Odisha have found place in the Indian squad for the Rio Olympics starting from August 5.

Defenders Deep Grace Ekka, Namita Toppo, Sunita Lakra and midfielder Lilima Minz from Odisha will represent the national team in the Olympics.

Indian hockey women will feature in the quadrennial Games after a gap of 36 years.

The state government announced a cash prize of Rs 50,000 each for the four girls.

"The state government has decided to give Rs 50,000 each to the four girls. It is a matter of pride for the state that its four girls will be part of the Indian Olympic team," said Sports and Youth Service Minister Sudam Marandi.

Ace sprinters Srabani Nanda and Dutee Chand from Odisha have already selected for the Olympics.

Chief Minister Naveen Patnaik also congratulated the four girls.

"Congratulate Deep Grace Ekka, Namita Toppo, Lilima Minz & Sunita Lakra for making it to #Rio2016 women's hockey team. Wishing all success," Naveen Patnaik tweeted.

Former India hockey team captain Dilip Tirkey also congratulated the Odia girls for being part of the Olympic team.

Notably, Dilip had participated in Olympics three times starting in 1996 Atlanta Games. The record cap holder for India is the first player from Odisha to be part of the Olympics.

The Times of India


---

Oltmans: Coaching three nations for Olympics.

K. Arumugam

The Netherlands and India is geographically far off, culturally wide off. So also Pakistan and The Netherlands. But there is one common thread that spins all these three countries in the hockey domain. That is Roelant Oltmans.

As Rio nears, this celebrated coach from Dutch makes his unique record: coach of three national hockey teams for Olympics. Another record is on numbers that he will be going to Olympics for the sixth time.

Oltmans, India's saviour national coach and original High Performance Director, first went to greatest sporting spectacle the Olympics at Barcelona.

Barring 2000 number he had been to all Olympics as coach or HPD.

After Dutch duty for men and women, Oltamans was drafted into the vortex of Pakistan hockey in the middle of 2003 and his assignment continued upto the 2004 Olympics.

At Athens, Roelant had mixed results with declining Pakistan. The previous semi-finalists, failed to maintain the status. It finished 5th. He was then shown the doors.

At 1992, his first Olympics encounter, he was with the Dutch women.

At Atlanta Olympics, his team defeated Spain 3-1 in the finals, becoming the golden coach. Two years later he saw his men's team win World Cup at home in Utrecht.

Thereafter he moved to football

Whatever the history, he can be reckoned greatest ever coach if he can get a medal to Sreejesh's and Co.

India is always a dream destination for every proven coach, and a success here meant managerial capabilities too.

The long coaching journey of Roelant is on a crucial stage, as he moves for Rio to hunt the elusive medal for ever evasive India.

The London performance has given India a big hope, and now he has work against the raising expectation of Indian sub-continent.

Stick2Hockey.com


---

Funding boost for Rio-bound hockey squad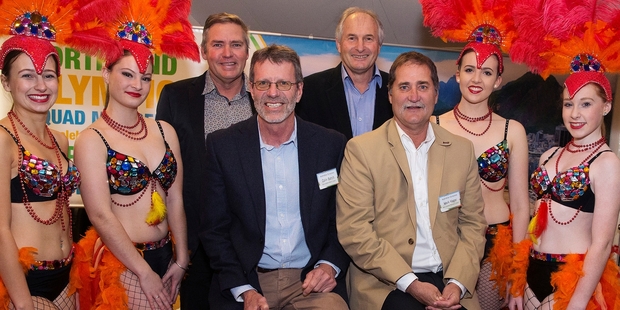 Mark Hager, Colin Batch, Terry Evans (NZ high-performance manager) and Richard Palmer (NZ events manager) with Whangarei Academy of Dance and Performing Arts members Teal Vint, Gillian Kent-Smith, Ceri-Ann Halliday and Page Massey.

Hockey Northland hit a winner when it held a fundraising dinner for Northland players heading to Rio in New Zealand's Olympic hockey squad - Stacey Michelsen, Brooke Neal and Shay Neal, with Ella Gunson also an honoured guest.

While Gunson has not been named in the official team, Northland Hockey wanted her to be part of the celebration to recognise her achievements at hockey's highest level.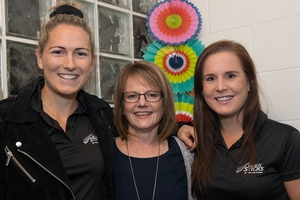 Stacey Michelsen, Tracey Morris and Ella Gunson at the Rio-themed event.

Hockey Northland chairman Bill Shepherd said the association looked forward to Gunson becoming Hockey Northland's "Stephen Donald", who came in after a late call-up and won the Rugby World Cup for the All Blacks. Shepherd suggested Gunson does not go white-baiting and keeps her cellphone switched on.

Former Northland player and Black Stick Sandy Hitchcock (nee Bennett) was MC. She played in the 2000 Sydney and 2004 Athens Olympics.

Anna Lawrence was guest speaker. A former Black Sticks captain with 165 caps to her name, she has been to two Olympic Games, two World Cups and two Champions Trophy's tournaments. Other former hockey Olympians were Ted Salmon, Shirley Blake representing Trevor Blake, Grant McLeod, Neil McLeod, and Trevor Manning, the two latter players part of the 1976 gold medal-winning hockey team.

Guests included NZ men's coach Colin Batch, and NZ women's coach Mark Hager. Hockey Northland has raised about $12,000 for the players.

The Northern Advocate


---

HBF signs with Players Association

Holly MacNeil




The Australian Hockey Players Association (AHPA) together with Hockey Australia today announced a new partnership with HBF Health Ltd, one of Australia's largest not for profit health insurers.

The initial one year partnership will see players awarded with discounted health insurance; something which is highly beneficial to professional athletes given the physical demands their bodies are put through.

HBF have waived waiting periods for athletes and staff of Hockey Australia, and will also honour any existing time with current providers as a part of the negotiation.

AHPA representative and Kookaburras Goalkeeper, Tyler Lovell said: "We are delighted to be working with such a high profile and respected insurance fund such as HBF.

"As athletes we are committed to our sport, and in doing so put our bodies under more pressure than the average person, so knowing that we have backing from such HBF is very reassuring.

"It's fitting that we are tying in with HBF, as we have similar missions as organisations – to be fit, active, strong and respectable. AHPA looks forward to a fantastic, ongoing relationship with HBF."

HBF Corporate Sales Manager, Martin Williams said: "As for all our members, our goal is to be a valued health partner for AHPA, not just an insurer. It's a real privilege to be backing some of Australia's finest elite athletes."

For more information on the Kookaburras or Hockeyroos follow them on twitter at: @kookaburras or @hockeyroos

Hockey Australia media release


---

Canadian Olympic team heads to Vancouver Island for training and clinics

Shaheed Devji



Mark Pearson competed in an exhibition match against Canada's Junior Men as the Olympic Team prepares for the 2008 Games in Beijing on a training tour of Vancouver Island.

As part of its final stages preparation for the 2016 Olympic Games in Rio, Canada's men's field hockey team is spending a few days on Vancouver Island starting Tuesday.

The men will be staying and training at Shawnigan Lake School Tuesday and Wednesday, before hosting a camp and clinic for young field hockey players in the area on Wednesday evening. The clinic is free to attend.

The men will then hold another camp and clinic at the Uvic Field Hockey Turf on Thursday evening. The suggested donation for Thursday's camp is $20.

It's a rare visit to the Island for the Canadian men, who are based in Vancouver on the mainland, where many of the National Team athletes are from, where field hockey facilities are plenty, and where Field Hockey Canada's offices are situated.

"Getting that feeling of being away and being together and though it's not going to be a super intense period for us, to be able to work on things, hang out together in a relaxed environment is probably going to be good for us," says Canadian captain Scott Tupper.

"On the other side, we can reconnect with some of the Island hockey community, which – though its not far away –  if you're not playing or travelling there, it's easy for kids that are growing to maybe not be attached to the National Team."

But that's not to say the Island does not have a deep-seeded field hockey tradition.

In 2008, ahead of the Beijing Olympics the Canadians spent the better part of a week on the south of Vancouver Island in Victoria and the Cowichan Valley.

Tupper and Mark Perason, who were on the 2008 Olympic Team, and goalkeeper David Carter who was a reserve, were on that Island trip, along with a handful of Canadian junior men, including current National Team member and Olympian to be Ben Martin.

"Back then it was just a good opportunity to get away and centralize somewhere close to home and there are good facilities there," says Pearson.

"Obviously as a personal connection, I lived in Victoria when I was a kid for 6 or 7 years, and started my field hockey there. So it was kind of a full circle moment for me."

In addition to Pearson, the Island has helped produced Olympians, like two-time Olympians and Field Hockey Canada Hall of Fame inductee Nancy Mollenhauer, and boasts a strong University field hockey program at the University of Victoria.

Commuting from the mainland of British Columbia to Vancouver Island is not out of the ordinary for Men's National Team midfielder Brenden Bissett. The New Westminster native has spent the last five years playing for the University of Victoria Vikes.

"Being the one guy on the team from Victoria, travelling and commuting back and forth form UVic to Vancouver, I definitely feel a bit of pride," he says.

"I am looking forward to going back there."

Bissett is one of three members of the 2016 Canadian Olympic field hockey team who has ties to the Vikes. The others are Matthew Sarmento and Keegan Pereira.

Field Hockey Canada media release


---

Scotland Women's Squad for Ireland 4-Nations



Scotland women v Spain June 2016. Photo - Gordon Newlands

Scotland Women's Head Coach Gordon Shepherd has selected his squad for Scotland's participation in the Ireland 4-Nations tournament on 30 July – 5 August.

The young squad includes two players who have not been capped yet - Mairi Drummond and Erin Gilchrist. The Scots will take on Ireland, Belgium and Chile in the tournament.

Since last summer the squad has set out to develop to compete in World League 2 in Feb 2017. The World League 2 clashes in Spain will see Scotland play their hosts and Azerbaijan plus five other teams yet to qualify. Gordon Shepherd said the players have all worked hard to move the squad forward, and that he and the other coaches fully believe that the team is on track to achieve the goal of qualifying for World League 3 in the summer of 2017.

The squad recently competed against Spain in Alicante and pushed the Olympic-bound Spanish side hard in four international challenges, played in blistering heat. The 4-Nations in Ireland will present another competitive challenge for the Scots.

Ahead of the 4-Nations in Ireland, Gordon Shepherd said:

"The tournament will be a tough test for the players - the opposition are all of good quality. Belgium beat us in the Europeans last year 1-0 but it should have been more. Ireland have had good games recently having played in the Hawkes Bay tournament in New Zealand in April, and recently beat Spain in a series. Chile are a bit of an unknown but have played quality opposition in USA recently.

"The squad is a young squad. There are a number of players unavailable or are being rested. We still feel that this squad has the ability to build on what they achieved in Alicante recently. There are two players in the squad who have not been caped. Mairi Drummond and Erin Gilchrist. This is a great opportunity for them as well as others to stake a claim for future selection."

Scotland Squad

Nicola Cochrane (Edinburgh University)
Erin Gilchrist (Drexel University)
Kareena Marshall (Western Wildcats)
Becky Ward (Dundee Wanderers)
Emily Newlands (Watsonians)
Amy Costello ((Birmingham University)
Karin Belch (Grove Menzieshill)
Nikki Lloyd (Wimbledon HC)
Katie Robertson (Grove Menzieshill)
Heather Howie (Clydesdale Western)
Kate Holmes (Clifton HC)
Mairi Drummond (Edinburgh University)
Becky Merchant (Edinburgh University)
Jen Eadie (Clydesdale Western)
Fiona Bruce (Clydesdale Western)
Charlotte Watson (Dundee Wanderers)
Sarah Jamieson (Grove Menzieshill)
Millie Brown (Clydesdale Western)

Scottish Hockey Union media release


---

U21 Men downed by Belgium



GB U23 v Holland Match Photo credit: Jim Sorsby

The match was a fairly even affair with the Belgium earning an early corner and both teams looking to counter against each other with pace. Early chances were created but not finished, until Will Calnan burst into the right side of the circle and evaded two attempted tackles before reverse hitting his shot low into the corner of the goal in the 11th minute. The game continued to be a counter attacking battle with neither side able to create clear cut chances, until the 20th minute and a scrappy series of mis-traps in the English defence led to Van Lierde pouncing on a loose ballot fire past Chris Wyver in England's goal. England crated a couple of good chances at the end of the half with Matt Richards' shot saved and Chris Proctor's rebound put over the bar.

The second half saw England respond positively, beginning to cut through the Belgian midfield. They failed to make the final connections that would have led to goals or scoring chances. During this period of ascendency Belgium also received two green cards and this allowed England to take territorial dominance. Several chances were created, but the Belgian goalkeeper made two good saves and the defence remained resolute. As the half progressed England's attacking thrust declined and Belgium came back into the game, although the winning goal came from a counter attack by the Belgian midfield and a long ball threaded through the middle of the pitch to Verhoeven, who had made a long lead run behind the defence. He received the ball and part rounded Wyver to slide the ball into the goal down the goalkeepers' left hand side. With time running out England pressed and created a series of chances around the Belgium goal, but could not convert and the match ended with Belgium holding on to the ball in the attacking third of the pitch.

Kwan Browne, Head coach said afterwards:

"An encouraging performance for a first game back for 10 weeks for the 21 group, that saw the inclusion of five players new to the squad, or returning from significant lay-offs from the game. They implemented the strategies well and the game ebbed and flowed fairly evenly. Some of the detail and execution could be improved, but the group continued to build on the momentum they generated during the Easter series with Germany."

England 1 (1)
Will Calnan, 11 mins, FG

Belgium 2 (1)
Quentin Van Lierde, 20 mins, FG
Stanley Verhoeven, 62 min, FG

Two first half Belgian goals put the visitors in control of this one, but a late charge from England ensured a share of the spoils. Belgium capitalised on their early pressure to move into a 2-0 lead at half time and whilst England's tempo and passing were good they couldn't complete the final pass into the circle for goal scoring opportunities to be created. Five penalty corners in the first half to England highlighted the dominance on the field, if not on the scoresheet.

The second half saw England press with greater intensity and as both teams tired; the game opened up. The Belgian goalkeeper made several excellent saves to deny Jack Clee and Will Calnan's efforts at goal. The first England goal came about from a good counter attack down the left side and Calnan received and shot under pressure. This shot was across the goal and Albery got an important touch to beat the goalkeeper. England continued to press and removed their goalkeeper. The additional pressure led to encampment around the Belgian circle and England were awarded a PC in the 68th minute. Ed Horler's flick off a spin move was stopped by the Belgian keeper and Waller stepped in to lift the rebound over the prone goalkeeper. Belgium finished strongly and were awarded a corner in the 69th minute. Toby Reynolds- Cotterill save the flick to his left and cleared the danger to ensure England collected a draw.

Kwan Browne said afterwards:
After a high tempo start it was very disappointing to concede two goals in the first half. The team showed great resilience and character to raise their levels even higher and pressurised the Belgian defence and equalised with 2 minutes to go. An improvement in level of execution and intensity from previous match sets us up for a series decider in the morning. Kwan Browne

England 2 (0)
Albery, 51min, FG
Waller, 68 min, PC

Belgium 2 (2)
Poncelet, 7min FG
Verheye, 29min, FG

In a first half of low quality with both sides showing fatigue from short recovery period Belgium scored first from sliding deflection at a penalty corner. England equalised with a great solo effort from Jack Waller who drove in along the right baseline and lifted the ball over the goalkeeper from an acute angle. The pattern of scoring continued with Belgium converting another penalty corner but this time the initial shot was well saved but the ball broke to the top of the D and was hit home without pressure by Vanwelter. The half finished with both sides having clear cut chances but both goalkeepers making good reactive saves.

In the second half England struggled to get a foothold in the game and a series of turnovers of possession in their own half handed Belgium the initiative and mounted the pressure. Several chances followed and Reynolds-Cotterill in the England goal made several good saves and one spectacular save his to his right with his stick. However the lack of fluency in England's out-letting against an effective Belgian zone defence led to more chances and Belgium extended their lead in the 44th minute after a break along the baseline. An additional goal followed soon after from a penalty corner low left into the corner. This provoked a positive response from the England team who stepped up their game, made better connections and created chances in and around the Belgian circle. However a late counter attack goal cemented a comprehensive win for Belgium and a win in the series 2-0.

Browne told England hockey afterwards: "A game from which a lot of learning opportunities have come, about how to manage the game when it is not going your way, how to respond when the opposition have had a period of dominance and what sort of character and resilience is embedded in this team. As a coach you can sometimes get more from a defeat like this than a draw or a tight win or loss."

England 1 (1)
Waller, 15, FG

Belgium 5 (2)
Van Lierde, 5 min, PC
Vanwelter, 21 min, PC
Rous, 44min, FG
Kina, 53 min, PC
Verheyen, 65 min, FG

England Hockey Board Media release


---

U18 Girls win series against Belgium



U18 Girls 2015-2016

England U18 Girls clinched a 2-1 series win over Belgium away from home giving them a confidence boost before they head to the Euros at the end of July.

In the first game of the series England came back from 1-0 down to take away a 2-1 win. They started slowly, conceding a goal from a penalty corner just before half time. They came out fighting in the second half and were soon rewarded with Sophie Shakespeare finishing a penalty corner to draw level. They pushed on and soon secured the winner from Tess Howard deflecting the ball into the net.

The second game saw home side Belgium turn the tables with a close 2-1 win, despite England being first on the score sheet from Lucy Milington. The third game was all to play for as both sides were eager to take the series win ahead of the Euros later this month. Both sides started well and had many opportunities to take the lead in the first half but it wasn't until the second half that Lauren Hunt deflected the ball into the right hand corner, off the post to claim the series.

Head coach Sarah Kelleher said; "This series of matches has been a very good test for us, giving us a great opportunity to work on key areas of our game. I am pleased with the results and know that our girls have a great team spirit, full of grit and determination ahead of our Euros campaign which start against Ireland on Sunday 24th July in Cork."

Match 1

England (0) 2
Sophie Shakespeare 39' (PC)
Tess Howard 52'(FG)

Belgium (1) 1
35' (PC)

Match 2

England (1) 1
Lucy Millington 10' (PC)

Belgium (1) 2
25' (PC) 70' (PC)

Match 3

England (0) 1
Lauren Hunt 46' (FG)

Belgium (0) 0

England Hockey Board Media release


---

Series win for England U16s



England U16s against Belgium. Photo courtesy of Sandie Rushemere.

England's U16 Boys were left shell shocked as a blistering first half display from their Belgian counterparts left them reeling in the first of their three matches at Canterbury's Polo Farm. A devastating spell of five goals in the first 26 minutes from the visitors left Jerome Goudie's team with a mountain to climb despite Finley Newton's penalty corner goal just before the break.  An improved display in the second half ensured there were no further additions to the scoreboard but the damage had been done and England were beaten.

Jerome Goudie Head Coach said afterwards:

"We showed today that when we play with a purpose, intensity and pass the ball quickly, we can produce effective performances and outcomes. However, in the first half we were unable to combine these traits with enough frequency especially early in the game and as a result found ourselves in a very tough position several goals behind. In the second half we improved our defensive performance and were able to build more structured scoring opportunities an we'll look to start tomorrow with greater intent and focus to our play and work to get an improved result."

Belgium U16 5 (5) 
F (1'), F (8'), PC (12'), PC (14'), F (26')

England U16 1 (1)
Newton PC (33')

http://www.englandhockey.co.uk/core/core_picker/loadimg.asp?id=14462
U16 boys v Belgium. Photo courtesy of Sandie Rushemere.

England bounced back from the disappointment of their opening defeat to Belgium to secure a well-earned 3-1 win in the second match of the series. Goals from Murray Whitaker, Harry Gough and Rohan Bhuhi did the damage for the hosts to level the series at one match apiece. 

Having found themselves behind in the stages in the first match, a strong start was what Jerome Goudie's team needed and that's what they got. In the fourth minute Tom Russell's penalty corner was well saved by the Belgian goalkeeper. Russell collected the rebound and found Whitaker who reacted quickest to tuck the ball away to give the hosts the lead.

The match ebbed and flowed with chances at either end. With the next goal seemingly vital in the context of the match it was England who managed to find it. Belgium struck the upright and with Tom Stevenson launching a counterattack down the left, England tore Belgium apart down the left. The ball found its way to Gough who beat two defenders with searing turn of pace, before cutting inside and coolly firing a forehand shot in via the goalkeeper's pads. 

The lead was extended just after the break. After a good spell of possession James Hunt played the ball into the circle, a mistrap from a Belgian defender was seized upon by Bhuhi who moved the ball towards the baseline before deftly lifting it over the advancing goalkeeper, in off the far post from an acute angle.

Belgium struck back with a penalty corner in the last minute but it was too little, too late and England took a well-deserved win.

Jerome Goudie was altogether happier with his team's display in the second game, saying:

"I thought we were much more effective at executing our game plan today and putting more pressure on Belgium across the pitch. Our marking was, generally, better and as a result we created more turnovers, which we were able to transition into good circle entries and more goal scoring opportunities. If we can maintain the level of intensity we showed today, we will be able to challenge all of the teams at the upcoming 6 Nations fixtures."

Belgium U16 1 (0)
PC (69')

England U16 3 (2)
Whitaker PC (4'), Gough F (31'), Bhuhi F (39')

http://www.englandhockey.co.uk/core/core_picker/loadimg.asp?id=14461
U16 boys vs Belgium. Photo courtesy of Sandie Rushemere.

Two late goals from Harry Gough fired England to an exciting 4-2 win over Belgium, ensuring the hosts took the series, 2-1 with a dramatic final match. As they had done in game two, England got off to a flying start with a seventh minute strike from Elliott Killington.

Belgium pegged them back with a goal in the 30th minute but parity lasted just two minutes. Finley Newton slotted in a precise drag flick to the goalkeeper's right to restore his team's lead.

Belgium hit back in the 43rd minute, also from a penalty corner to make it 2-2 and with the game entering the final stages it looked like that's how it would end. Gough had other ideas, however. In the 69th minute he beat the goalkeeper with a powerful strike that went through the goalkeeper and in off the far post from the narrowest of angles. Belgium threw everyone forwards in search of an equaliser but with England turning the ball over and swiftly breaking forwards Gough was played in to calmly round the goalkeeper and flick the ball into the net to secure the win for the home side.  

Goudie said afterwards:

"We faced some tough phases during this game and some improved individual defence and our team penalty corner defence really kept us in the game and gave us a chance to win the game at the end. Once again we started the game well but during the middle of the game we allowed the Belgian pressure to affect our mindset and we need to recognise those moments in the future and continue to execute our game plan and play to our principles. We can now look to build on this weekend's performances before our first match of the 6 Nations, also against Belgium on Sunday."

Belgium U16 2 (2)
F (30'), PC (43')

England U16 4 (2)
Killington PC (7'), Newton PC (32'), Gough F, F (69', 70')

England Hockey Board Media release


---

U16 Girls stung by Belgium

England U16 girls put up a solid fight against a physical Belgium side but it wasn't enough and lost the series 3-0.

The first game saw the home side score in the early minutes of the game which resulted in England springing into action but they were unable to convert, including missing a penalty stroke. They were finally rewarded for their hard work as Rachel Greenwood equalised smashing the ball into the net in the 17th minute. Two quick goals from Belgium shook England but they responded when Greenwood robbed a defender before delivering a perfect pass for Maddy Wray to add the finishing touch. Belgium finished the game strongly scoring a fourth and a fifth goal to secure the win.

England started the second game strongly and created some good chances. They were rewarded with a superb reverse strike from Rachel Greenwood to open the scoring. Belgium equalised with a straight strike from a penalty corner five minutes before the half time whistle. The home side took the lead but England continued to create chances as they went in search of an equaliser. Belgium were awarded a penalty stroke with four minutes left on the clock, which they converted, leaving little time for England to come back losing 3-1.

England were unlucky not to come away with the win in the final game of the series as they succumbed to a narrow 3-2 loss. Belgium were quick off the mark and opened the scoring only six minutes in. Just after the break captain Fiona Crackles' hard work resulted in Lynn Vanderstichele calming slotting home the rebound. Shortly afterwards Mollie Redgrove gave England the lead from a penalty corner. The home side came back with two goals despite some excellent goalkeeping by Ali Eatch.

Head coach Marc Bourhill was pleased with the progress his side made; "The group have learned a lot this weekend on how to play against different presses and have improved their leading. We still need to take more care when we get in the opponent's circle to help convert the chances we create."

England (1) 2
Rachel Greenwood (FG) 17'
Maddy Wray (FG) 60'

Belgium (2) 5
2' (FG) 35' (PC) 51' (FG) 56' (FG) 65' (FG)

Match 2

England (1) 1
Rachel Greenwood 16' (FG)

Belgium (1) 3
30' (PC) 49' (FG) 66' (PS)

Match 3

England (0) 2
Lynn Vanderstichele 38'(FG)
Mollie Redgrove 42'(PC)

Belgium (1) 3
6'(FG) 51'(PC) 55'(FG)

England Hockey Board Media release

---

U21 Field Hockey Team Travels To Philadelphia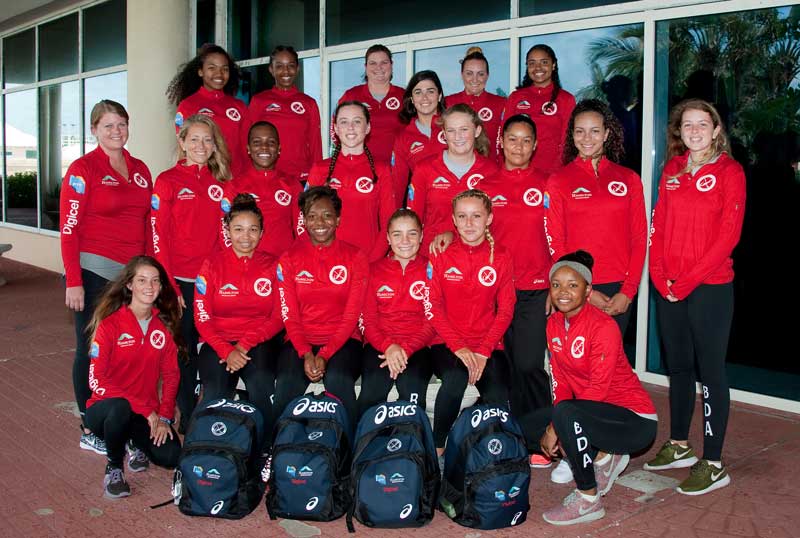 Bermuda Under 21 Women's Field Hockey

With funding from Hamilton, the Bermuda Under 21 Women's Field Hockey team recently departed for a trip to Philadelphia, where they'll spend a week attending five clinics run by Olympic field hockey coaches.

The young women will also play five matches against local field hockey teams in the area. Bermuda's team, who have been training three times a week since their formation in September 2015, is comprised of 17 girls ranging in age from 11 to 21.

A spokesperson said, "This trip provides an opportunity for young Bermudian female athletes to be exposed to the level of field hockey that's played overseas. Several girls on the team, [Azari Thomas, Georgia Harris, Isabella Boonstra and Constance Francis] are actively playing for their schools in the US and Canada and two of the Bermudian coaches, Jessica Hollis and Jennifer Beech, also played field hockey for their universities before graduating.

"Hamilton supports non profit organizations in the Bermuda community through its Community Giving Committee, using a variety of criteria to evaluate applications for funding that include the manner in which the organization contributes to the health and wellbeing of Bermuda's families in three main areas – arts and education, sports and social services."

Bernews


---

Going for hockey gold

Cheryl Moig

PIETERMARITZBURG'S Kara Stella, South African Women's hockey player, began her love affair with hockey from a young age and enjoyed learning the technical side of the sport.

"I think what I love most about the game is that it's such a technical sport so there is always something new to learn. I also love being able to express myself on the field, it has an awesome culture and some of the best people I have met, have been through hockey," she said.

The versatile athlete has not one, but three national colours to her credit, having represented South Africa for the U20 women's basketball team, indoor and outdoor hockey. "I would like to cement my place in the national side, and hopefully get the opportunity to go to a major tournament," said Stella.

Having been awarded the Indoor Player of the Series when they toured Namibia there last year, she then followed up that performance with another Player of the Series, this time at home also against Namibia in December.

"Any time you wear the green and gold is incredible but actually, my proudest moment was captaining Tuks when we won USSA in 2013. We as a team had to overcome a lot that year, and it was a really rewarding feeling being able to get a reward for all that hard work.

"A close second though was being able to sing the national anthem at Hartleyvale in Cape Town when I played my fifth Test after trying to get back into the team for five years. That was a special and personal moment for me," she said.

With 11 caps for the national team, Stella decided to share her knowledge with future generations.

"The thing I enjoy most about coaching children is that moment when the light bulb flashes and they understand the skill or idea you have been trying to teach them. With that realisation comes this pure joy and happiness that just lights up their face. To me, that is the best feeling in the world, because you just enhance their passion for the game. Coaching children isn't just about teaching them a skill; it's about showing them what they are capable of if they just try. When I coach, I try not coach just the game, I try use the game to teach them life skills as well," said Stella.

She will now coaching the first team from Pietermaritzburg Girls' High School and hopes her team will be able to bring home gold in the upcoming Spar KZN School Girls' Hockey Challenge having only won silver and bronzes over the entire history of the tournament.

"I think it's an awesome way to showcase the hockey talent in this country. It's also good for children to see what is out there and the competition they have. Hopefully it will motivate them to work harder and fuel their passion for the game.

"Hockey tournaments like this are also great for developing relationships as well and make you feel like you are part of community," said Stella

News24


---

2016 Hall of Fame inductees honoured at ceremony in Vancouver

Shaheed Devji




On July 8th, Field Hockey Canada's 2016 Hall of Fame inductees were honoured in front of family, friends, teammates, and current National Team athletes at a ceremony in Vancouver, British Columbia.

The Olympic-themed induction ceremony was embceed by two-time Olympian Ian Bird, and was combined with a special sendoff for the 2016 Canadian men's Olympic field hockey team, which was named only days prior.

Janet Ellis, Nick Sandhu, and the 1964 Canadian Men's Olympic Team were celebrated at the gala dinner at St. George's Senior School in Vancouver.

Ellis was introduced by Field Hockey Canada Chair Ian Baggott and presented her Hall of Fame award by current Women's National Team member and captain Kate Gillis.

Sandhu was introduced by his daughter, and former Women's National Team member, Poonam Sandhu, and presented his award by 2014 Hall of Fame inductee, three-time Olympian, former teammate and mentor Paul "Bubli" Chohan.

And the 1964 Olympic team was introduced by current Men's National Team defender Benjamin Martin – who later in week played in 100th international match for Canada – and were each presented specially designed 1964 Olympic pins by former Men's National Team member and Olympian Alan Hobkirk.




Field Hockey Canada media release


---

From across the border, Shahid's old rival recalls the battles

Siddharth Saxena

NEW DELHI: Indian hockey legend Mohmmed Shahid, who is battling severe liver ailment , was on Tuesday put on life support after the 56-year-old's condition became critical.

According to family members and doctors at Medanta where he is being treated, his condition worsened late Monday after his kidneys failed to respond to dialysis. Dr Randhir Sud, chairman of the hospital's Institute of Digestive and Hepatobiliary Sciences, told TOI. "Despite intensive care, there is little improvement in his condition. His liver is not working and condition continues to be critical," he said.

Shahid was admitted to the Gurgaon hospital earlier this month with high levels of creatinine and bilirubin. Doctors said a liver transplant, the only life-saving treatment, was not possible due to poor kidney function. The condition was aggravated after bouts of jaundice and dengue.

For the master of the hockey weave and dribble, who commanded much adulation in the 1980s, it is a far cry today from the past. "Elderly people would come up and want to kiss my hands," Shahid once said. "'Are these those hands that are weaving such magic?' they'd ask. It was a humbling moment."

Of the few visitors, his former captain and striking partner Zafar Iqbal has been a regular at the hospital, and on Tuesday concern came from across the border. Hassan Sardar, the handsome captain of Pakistan in the 1980s, expressed shock at his former rival's state. "Yeh bade afsos ki baat hai (It is quite unfortunate to hear of this)," the 58-year-old told TOI over the phone from Karachi. "Kya kamaal ka khiladi tha! Aisi behetreen stickwork modern hockey mein bahut kum dekhne ko milti thi. We may have been sworn rivals on the field, but I was a Shahid fan." In between the despair, the Pakistan legend even allowed himself a chuckle or two. "All our pre-match plans would revolve around how to check Shahid and he would simply destroy it all. We could never catch him," remembered Sardar.

"But do you know, Shahid and I were part of a dream attacking trio that could never be realised," said Sardar. "Shahid would often tell me, 'Hassan-bhai, had we played together in the same team, no one would have been able to touch us.' Imagine a team where Zafar was left-in, I was centre forward and Shahid on the right..." Sardar trailed off.

Sardar was alluding to a time when India and Pakistan were keen sporting rivals and exchanges were not politically manipulated as today. In Shahid's own words once, "Pakistan toh aise jaate they, jaise Orderly Bazaar se Kachehri..." As if it were a jaunt down the crowded lanes of his beloved Varanasi.

"He claimed all the spotlight with his dazzling performance in the memorable 1986 Test series, where he was simply magical but I had been watching him since 1982 and in my view, Shahid was the best Indian player I have played against," Sardar said, "And this says a lot, since the '80s Indian team was perhaps one of the best Indian hockey teams ever."

Sardar reveals how the infamous 7-1 verdict against India in the 1982 Asian Games final is often misread. "Do you know who the man-of-match that day was? It was our 17-year-old goalkeeper, also named Shahid (Ali Khan) who made more than eight saves that day. Nobody remembers that, the scoreline should have been 7-5 or 7-6, just an indication of how good the Indian team was back then."

There is a famous story of how Sardar was so furious at Shahid after being at the receiving end of Shahid's wizardry during a 1986 Test that he almost went to hit him. "Shahid pushed the ball between Sardar's legs and then drew it back. He did that a couple of times and a furious Hassan Sardar told Shahid he would come to his hotel room and sort out matters later," former teammate MM Somaya once recalled.

When reminded of the incident, Sardar laughed. "Blind with rage, I told him, 'Arrey, mujhe sey panga kyun le rahe ho?! Lag jayegi, toh udte hue jaoge.' But it just wasn't us alone. None of the European teams could ever catch him. In the Pakistan camp, we would say, 'Yeh sabke phephre nikal deta hai, bhaga bhaga ke..."

Three decades later, the man who busted others lungs as they chased him on the field, is running his own race against the clock.

The Times of India


---

Rome hockey Olympian Joe Antic no more

MUMBAI: Hockey Olympian Joe Antic, who had been hospitalised a few days ago, died Tuesday night, according to family sources.

He was 90.

Antic, the centre half of the Rome Olympics squad in 1960 that won the silver medal, is survived by son William and daughter Rita. He had lost his wife in 2011.

"He was unwell and did not come out of ICU. Please highlight the fact that no one bothered to come to his financial aid although he had brought laurels to the country," Antic's son William told PTI.

Antic represented the country in the Rome Games where Pakistan ended India's glorious 32-year golden run by winning the final between the arch-foes 1-0.

A centre half, Antic also was part of the hockey squad that finished runner-up, again to Pakistan, in the Asian Games at Jakarta two years later.

According to William, the former international player, who toured East Africa and Europe with the senior team in the late 1950s, had retired from Western Railway in the mid-1980s.

After his playing days, he took up coaching. After being one of the coaches in the Indian team's World Cup camp in 1973, he became the national coach of the Oman team that took part in the 1982 Asian Games in Delhi.

"He was the Oman national team's coach for two years," William said.

S S Naqvi, who was his former Bombay (now Mumbai) and Western Railway teammate, wrote on his Facebook page that one by one the stalwarts of Indian hockey during its Golden era (1928-1964 when the country won seven of its eight gold medals in Olympics) are departing from this world.

"The Golden era stalwarts are now leaving one by one. The passing of Mr J Antic is another blow. I sincerely offer my deepest condolences on his sad demise. May God bless his soul in peace. I pray the Almighty to give patience for the greatest loss to Antic dynasty," said Naqvi.

"I may add that Mr Antic and myself started playing in the Western Rly, Bombay XI and the Indian Railways as well as coaches at the 1973 World Cup camp at NIS Patiala and Calcutta. We both had captained the Bombay XI, Western Rly. The greatest centre half was most outstanding defender," wrote Naqvi.

The Times of India