All the news for Saturday 25 June 2016

Flying Dutch snatch win with big comeback



Photo: www.worldsportpics.com

Hosts the Netherlands have mounted a come from behind win to defeat the Black Sticks Men 4-2 in the third and final test in Groningen.

The Black Sticks played a strong first half which saw them race out to a 2-0 lead over the world number two side thanks to goals from Nick Wilson and Stephen Jenness.

But the Dutch lifted coming out of the break and poured on four unanswered goals to snatch the result away from the Kiwis.

Head coach Colin Batch said the result was disappointing but there were plenty of learnings to come out of the game which will help them become a better team.

"I thought we had a really good first half and it was pleasing to be able to execute on our chances and go out by two goals," he said.

"We knew a team as good as the Netherlands were always going to come back, and they certainly did. We weren't able to contain them at all at times in the second half.

"The result is disappointing but it was more good experience against a top class team, and shows us what we need to work on going into the Six Nations and Rio Olympic."

The Black Sticks were on form from the opening whistle and Nick Wilson opened the scoring in the fifth minute with a well-worked field goal.

New Zealand doubled the lead in the 26th minute when Stephen Jenness knocked home from a penalty corner deflection.

Trailing by two goals, the Netherlands lifted in the third quarter with goals from Bob de Voogd and Robert van der Horst to erase the advantage and level the score at 2-2.

The Dutch grabbed the lead for the first time in the 49th minute after a Rogier Hofman field goal before Jelle Galema sealed the result with his side's fourth goal two minutes from fulltime.

The Black Sticks now travel to Valencia for a Six Nations tournament with their opening game against hosts Spain on Tuesday 28 June at 6am (NZ time).

Hockey New Zealand have arranged for all Black Sticks games at the Six Nations to be streamed LIVE through www.hockeynz.co.nz and www.blacksticks.co.nz

BLACK STICKS 2: (Nick Wilson, Stephen Jenness)
NETHERLANDS 4: (Bob de Voogd, Robert van der Horst, Rogier Hofman, Jelle Galema)
Halftime: Black Sticks 2-0

Hockey New Zealand Media release


---

Black Sticks men go down to Dutch after blowing two goal halftime advantage

Clay Wilson



Simon Child and the Black Sticks were overcome by the powerful Dutch in the second half of the third test in Groningen. ANTHONY AU-YEUNG/PHOTOSPORT

The Black Sticks men have blown a golden chance for a rare win against their powerful Dutch counterparts.

World No 8 New Zealand were swept by their second-ranked hosts after a 4-2 loss the third and final test of the series in Groningen on Friday (Saturday NZ time), unable to capitalise on a 2-0 halftime lead.

After close 1-0 and 2-0 losses in the first two matches, the result leaves head coach Colin Batch plenty to ponder as the team head to Spain for their final tournament before the Rio Olympic Games.

The Black Sticks open their campaign at the Six Nations event in Valencia with a clash against the host nation on Tuesday morning, with Germany, Argentina, India and Ireland the other teams taking part.

A disappointed Batch said there were plenty of learnings to come out of the final Dutch test for his side.

"I thought we had a really good first half and it was pleasing to be able to execute on our chances and go out by two goals.

"We knew a team as good as the Netherlands were always going to come back, and they certainly did. We weren't able to contain them at all at times in the second half.

"The result is disappointing, but it was more good experience against a top class team and shows us what we need to work on going into the Six Nations and Rio Olympic."

Having not beaten the Netherlands in 13 matches and almost six years, the Kiwi team took a number of positives from pushing their hosts in the first two matches.

The Kiwis clearly carried some of that confidence into the third test as they took the lead after only five minutes through a field goal to striker Nick Wilson.

That advantage was doubled in the shadows of the major break by a Stephen Jenness penalty corner deflection and, as the contest entered the second half, New Zealand's first win against the Dutch since a 3-1 triumph at the Champions Trophy in 2010 looked very much on the cards.

However, the home team were having none of it, Bob de Voogd pulling one back midway through the third and Robert van der Horst levelling the scores at the end of the quarter.

The Netherlands maintained that momentum early in the fourth quarter as Rogier Hoffman put his team in front for the first time in the match, before Jelle Galema sealed victory in the final minutes after the Black Sticks had withdrawn their goalkeeper.

Stuff


---

Dutch comeback sinks Black Sticks in series sweep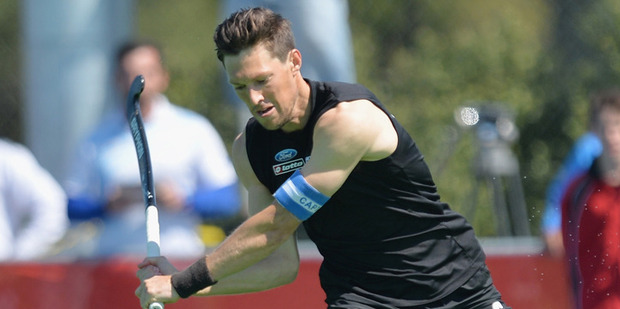 Simon Child of the New Zealand Black Sticks passes the ball during an international men's hockey match. Photo / Getty

The Netherlands completed a 3-0 clean sweep over New Zealand with a 4-2 win in the final international in Groningen today.

But the world No 2 Dutch had to fight back after conceding a 2-0 lead to the Black Sticks.

Goals from Nick Wilson and Stephen Jenness gave eighth-ranked New Zealand a big chance to finish the series on a high note.

Wilson scored in the fifth minute from a well-worked field goal, and Jenness doubled the lead four minutes before halftime when he deflected in a penalty corner strike.

However the Dutch came roaring out in the second spell to bag four unanswered goals, two in the third quarter to level the game up, and two more in the final quarter to seal the victory. The Netherlands had won the first two matches 1-0 and 2-0.

Head coach Colin Batch said the result was disappointing but there were plenty of learnings to come out of the game.

"I thought we had a really good first half and it was pleasing to be able to execute on our chances and go out by two goals," he said.

"We knew a team as good as the Netherlands were always going to come back, and they certainly did. We weren't able to contain them at all at times in the second half."

Batch said the series had been a good experience for his team, and showed him how much work the Black Sticks needed to do ahead of the Rio Olympics and the Six Nations tournament, which will be their final proper shakedown before the Games, in Valencia starting next week.

New Zealand's opening game in Valencia is against hosts Spain early next Tuesday morning (NZT).

The New Zealand Herald


---

Netherlands win for GB U23 Men



GB U23 Men v Ned, June 21 2016

Great Britain Under-23 men scored an emphatic three-nil victory over the Netherlands to wrap up the overall series win at the Futures 2020 Invitational Tournament at the Nottingham Hockey Centre on Friday afternoon.

Head Coach Kwan Browne heaped praise on his squad after the win, praising their maturity following defeat to the same side just 24 hours earlier.

"I'm really proud of the maturity that the team has shown to stay disciplined throughout," he said. "It was a solid performance against a strong Dutch side.

"I'm delighted with the Series win and to have kept a clean sheet against a team who are renown for scoring goals."

Jack Clee gave Great Britain the lead after just five minutes when he volleyed into the goal on the back foot from the top of the D.

Clee doubled GB's lead with his second goal 11 minutes later, this time scoring on the rebound from a penalty corner.

They held that lead until the second half, but remained strong throughout and added further to their lead with Ben Francis scoring in the 52nd minute. He found himself one on one with the goalkeeper before slotting the ball through his legs and into the goal.

Great Britain U23 Men 3 (2)
Netherlands U23 Men 0 (0)

Great Britain Hockey media release


---

Defiant Owsley ready to bounce back



Lily Owsley takes on the New Zealand defence. Credit Simon Parker

Great Britain forward Lily Owsley remains defiant despite the Hockey Champions Trophy not going to plan for the host nation during their first four games.

In the wake of Great Britain's loss to the USA on Thursday evening, Owsley was adamant that despite things not quite "clicking" there is no need to panic.

Following a good performance in their opening game – a 2-2 draw with World No2 Argentina, Danny Kerry's side went on to slip to defeats to the Netherlands, New Zealand and USA leaving them out of contention for the gold and silver medals and needing a victory over Australia by three clear goals this coming Saturday just to make it into the bronze medal match.

"The first thing to say is we're focusing on sticking together as a team." Owsley told Great Britain Hockey. "We believe this has no reflection on how we will do at Rio. It's important to keep believing and keep doing what we do and it'll come together at the right time."

"Everyone in the team has gone through worse and experienced tough times and we know how to deal with them and how to overcome them. We will lift each other and it's important that we do that." she added.

The team will need all of their resilience and character to bounce back from a campaign that so far has not met the team's expectations. Despite this disappointment, the FIH Rising Star of the Year for 2015 insists the problems are more cosmetic and not fundamental:

"Everything's there it's just not quite happening. It's not clicking. It's not anything we need to worry about it's just that things aren't going our way. A few cards, shots, chances not quite falling for us but these things happen in sport. We need to put them right and step up."

Their next test is to take on Australia on Saturday. The Hockeyroos are a team Danny Kerry's squad know well, having taken them on in a six-test series down under earlier on this year. Australia won two of those matches, Great Britain one and there were three draws. The two sides could not be closer in their recent matches, and with both teams aiming to bounce back from losses in the last round of matches it is set up for a thriller. Owsley remains determined to turn the tide against the Australians tomorrow:

"We've played Australia six times already this year so we know each other well. It'll be tactical and physical but it'll come down to fitness and preparation and we believe we can do it. It's tough but if we come together we can get a result."

Great Britain Hockey media release


---

Media trashed at Champions Trophy

The Hockey Makers, an enthusiastic organisation team of volunteers at the Champions Trophy, beat a desiccated media team 6-3 on the main pitch at Queen Elizabeth Park yesterday (Thursday).

The weather which caused such a huge traffic snarl up yesterday, led to quite a few of the media team, including two former internationals, to arrive too late to play.

A few of the international teams playing in the Champions Trophy had they watched, might have learnt the value of using all the pitch. It produced a delightfully open game.

The media held their own until the last quarter but it was noted that the traditional match protocol of men not being allowed to hit a shot at a female goalkeeper seemed to be lost in the general enthusiasm.

The media were particularly distressed at the absence of the chance to have video referrals, especially as one of the umpires wore the same colour as the organisation team.
 
Pat Rowley was invited to captain the media team. He played in the first ever press v organisation match at the IFWHA tournament in Leverkusen in 1967. He has never forgotten the heading on the front page of HOCKEY, the German magazine "Rowley masterminds press win". He recalls that he could hardly move (back trouble) that day and stood in the centre circle just passing the ball on, mainly to the then German editor of Hockey (Rudolf Dreisilker). Nepotism was rife in those days.

One had to turn to an inside page to read a report of the international tournament.

Rowley recalled in one of the media matches, a lady (?) tugged at his shorts which needed to be replaced. The late Robert Watson suggested the players made a ring so Pat could change his shorts. At the moment he was completely naked, everyone walked away.

Yesterday Rowley could move but his lack of pace was sadly exposed by the youngsters.

It didn't help that he had persuaded Andrew, the husband of Olympic media mogul Jayne Pearce to join him in defence though the Irishman had never played before. His game was described as whole-hearted but somewhat unpredictable.

After three quarters (4 x 15 mins), he volunteered to go in goal and clearly showed huge potential in that role. Aurora Mears, a Holcombe goalkeeper who had been outstanding between the posts, was equally adept on the field in the last quarter.

Another to shine for the media was a former England international Lynn Morgan, a colleague of Rowley in the Hockey Museum.

Elizabeth Furber, a goalkeeper and York Univ student, will always remember scoring her first ever goal. She put the Match Makers in the lead. Jade Bloomfield (2), the amusing Katie Bent, Chris Wardale and Neil Monk scored the other organisation team goals. Rodrigo Jaramillo, Aurora Mears and media supremo Richard Stainthorpe scored for the Media.

It was fitting the Match Makers won. They have done a great job ensuring the success of the Champions Trophy event.

Fiedhockey.com


---

Married British hockey pair Kate and Helen Richardson-Walsh await email to discover if they will both make Rio Olympics squad

By Martha Kelner



Helen Richardson-Walsh (left) celebrates with partner Kate (left) during a match with Argentina

The email informing Great Britain's 31-strong women's hockey squad which 19 of them are going to the Olympics this summer and which 12 miss out will arrive any day now.

They have known about it for months, so each player can plan exactly where they want to be when they receive the news and with whom.

For Kate and Helen Richardson-Walsh — teammates for almost two decades, a couple for eight years and married for the last three — the day could present a complex cocktail of emotions.

It's normally alphabetical so if you don't see two really long double-barrelled names you know something's wrong,' says Kate. 'You look for your name immediately and then you look for your closest friends and it's so emotional because some people are having their dreams made and others broken.

'One of you might be in when the person living in the next room is not. Even though Helen and I are so close we'll be reading the email separately because you need the space to deal with it.'

Kate, 36 and Helen, 34, have been mainstays of the Great Britain set-up for the last 17 years, winning a bronze medal together at London 2012.

But in 2014 their resolve was tested to the limit. Two decades of playing had left Helen, a tempo-dictating midfielder, with a career-threatening back injury requiring two lots of surgery. Both were trying to make the 2014 World Cup but only Kate, who had recently come out of retirement, made the cut.



The couple are among British women's hockey stars waiting to find out if they have made the Olympic squad

'I did find that hard,' says Kate, 'I felt so much for Helen and what she'd been through with her back. I needed to deal with that internally away from the squad so I could present the professional front but to be there for Helen as a partner at home.'

When they got married in 2013, the entire squad were invited to the reception and they say the other women are so comfortable playing alongside a married couple that it has become a source of humour.

'If I do a bad tackle on Helen or if she's skilled me there'll be a bit more of an "ooohhh" from the rest of the team,' says Kate.

'That's how normal it is, it's nice that we can laugh about it. In training recently Helen scored an amazing goal and it was very much the two of us who made it and one of our coaches said we'd become telepathic.'



Helen Richardson-Walsh suffered a career-threatening back injury in 2014 but has since recovered

The pair have known each other since they were young teenagers and played for the under 18s in 1997, both making their full debut in 1999. They lived together with another hockey player in 2001 but it wasn't until just before the Beijing Olympics in 2008 that they became a couple.

Both had recently gone through break-ups — Kate from a long-term relationship with a man and Helen with a woman.

'We were friends but we weren't bezzie mates before that,' says Kate. 'But we just clicked and developed a deep emotional connection. We have similar values and morals, even though we're opposite in lots of other ways.'

'Obviously at the start there were some people on the team who thought "oh that's different" but now nobody bats an eyelid and it's really nice actually,' says Helen.

'I think that's something I've noticed a change with,' says Kate. 'In the squad there's always been a whole range of women and what they stand for and who they are in terms of sexuality.



Britain's most capped Hockey player Kate Richardson-Walsh went to the World Cup in 2014 without Helen

'Nobody had a problem with it before but it just wasn't an open talking point. Now if you've got a boyfriend, girlfriend or are married it's a non-issue. It's not a taboo, it's just part and parcel of who we are and it's special. It makes me proud of my sport.'

'Full credit to the management and coaching staff as well because they could have reacted in a different way but they didn't and that probably had a big part in how accepted it was,' says Helen.

The couple, both part of the five-strong Great Britain squad leadership team, drive from their home in Reading to the Bisham Abbey Sports Centre in Buckinghamshire together for training each day but try to draw a distinct line between home life and work.

'We do talk about hockey at home, we're both massively passionate about making the squad as good as it can be but we're trying to get better at not doing that,' says Helen, 'We've both always wanted to win an Olympic gold medal and that is an individual dream so we wouldn't allow our relationship to affect that.'



Midfielder Helen dribbles with the ball during Great Britain's Champions Trophy match with Argentina

'Lots of people work with their partners,' says Kate. 'I think sometimes there'd be that assumption that we do everything together all the time but we do have other lives away from each other.'

Their lives after the Rio Olympics are uncertain but neither is likely to continue playing until Tokyo. Helen is studying for a degree in psychology at the Open University and is exploring the idea of a career in sports psychology. While defender Kate — the most capped British hockey player of all time with 361 — would like to pursue coaching after her playing career ends.

First though there is the matter of returning to Stratford's Olympic Park for the Champions Trophy, which concludes this weekend, pitting the top six teams in the world against each other in a tournament format. It's a final test before the Olympics and a last-ditch opportunity to impress the selectors.

'The strength and depth of hockey worldwide has improved massively since London 2012,' says Kate, 'I certainly think winning a gold medal in Rio is possible for Great Britain and yes, hopefully we can do it together.'

Daily Mail


---

UDP at the Hockey Champions Trophy in London




UDP Groups 8, 9 and 10 held a joint seminar this past weekend at the FIH Hockey Champions Trophy in Lee Valley Hockey and Tennis Centre in London, England. This was a unique opportunity not only for group 10 to officially meet the other groups but also to experience top level hockey and umpiring.

Shane O'Donnell, from Group 10, sent us a report on his first experience at a UDP seminar.

UDP touch down in London Town

The weekend began in exciting fashion as the groups met on Friday evening at the final of the Men's Champions Trophy. After introductions, the groups enjoyed a thrilling game with a great atmosphere and some late drama.




Saturday began early with a breakfast introduction from our Mentors, Carol Metchette, Michiel Bruning, Stella Bartlema and Andy Mair. We formed groups and reviewed each match with a particular management aspect in mind. Working with the other UDP groups and mentors was great as it provided a different perspective on each topic and after each game we had a good discussion on the issues. After three games of hockey, we had a special treat at dinner where Umpire Claire Adenot joined us after her game earlier in the day. It was a great opportunity to get to know Claire and especially her thoughts on her game and how it went.




On Sunday morning, we had another early start and we were welcomed to Loughborough University's London Campus where we kicked off with a review of Saturday's action and what we observed and took from the games. This was followed by an amazing opportunity to learn from none other than the one of the Rio Olympic Games Umpires Manager, Craig Gribble. Craig provided some fascinating insight into his view of how the game of hockey has changed over the years and shared some of his thoughts on how umpires can evolve with the game to ensure they are continually developing. The session was concluded with specific video clips to highlight areas for umpire improvement.




We then departed for Lee Valley  to watch the last two games of the day. The focus for the groups was "Umpire Anticipation" and how it could take different forms depending on the type of game. Through group discussions and input from the mentors, it was again another hugely beneficial day.




The EHF would like to thank the mentors, Claire Adenot and Craig Gribble for giving of their time and sharing their knowledge with the UDP groups.

Source: EHF/Shane O'Donnell


---

Hockey's amazing history on show at Champions Trophies




Away from the action on the field, the thousands of fans that have visited the Hockey Champions Trophies over the past two weeks have been able to enjoy a vast array of attractions and exhibitions.

One of the most popular by far has been The Hockey Museum marquee, where a very special collection of rare historical artefacts from the sport are on show.

The central aim of The Hockey Museum is to preserve, share and celebrate the rich heritage and history of the sport of hockey, not only in Great Britain where the modern game started, but also from all round the world.

The Museum is now home to a growing collection of hockey archives, artefacts and memorabilia. A key part of the work of the Museum's team of volunteers is to register, collate and store these fascinating records and items and over time, to make them accessible to the hockey family and the wider public through the website, newsletters, displays and other exhibitions.

"With the Hockey Champions Trophies being the last major competition before Rio 2016, The Hockey Museum has taken an Olympic theme for its exhibition", said Katie Dodd, the Chair of The Hockey Museum Trustees.

"We are displaying a selection of kit worn by players and officials at previous Olympics, memorabilia from previous Olympics including medals won by Great Britain players at the three London-based Olympics in 1908, 1948 and 2012. We also have archives including the playing records and results from many Olympic events, and the reaction from those who have visited over the past two weeks has been wonderful."

The exhibition also features all the nations playing in this year's Hockey Champions Trophies, displaying stamps, images of former star players and flags from all the competing nations.

Another eye-catching aspect is a spectacular 60 metre Hockey Timeline, something that was first displayed along the length of the south wall at last summer's EuroHockey Nations Championships but has now been updated and now features all the nations that have been competing over the past two weeks.

One of the most popular exhibits this year has been a display of the winning and highly commended entries to the Art of Hockey competition that The Hockey Museum ran in UK primary schools earlier this year.

The entries had to reflect a hockey and South American theme. This display has attracted many, many, schoolchildren into the exhibition who have been voting for their own favourite image.

On Tuesday, Alice Hannan from The Holy Family Catholic Primary School in Surrey was revealed as the winner, with Great Britain star Helen Richardson-Walsh presenting the ten-year-old with her prizes.

For more information about the amazing perseveration and archiving work being done by The Hockey Museum, visit their website: www.hockeymuseum.net.

You too can play a part in helping to give hockey's history a future by completing The Hockey Museum's worldwide heritage study by clicking here.

#HCT2016 #BestOfTheBest

FIH site


---

OGDCL – 5-A Side Hockey: Islamabad plays Quetta in final.

Faisalabad meets Lahore for 3rd place. Karachi and Peshawar in 5th position play off

Lahore: It was the last night of the league games in the first OGDCL 5-A Side Floodlight Hockey Tournament at Lahore's National Stadium. The six teams played their fifth and last game.

Results:      
Faisalabad Falcons beat Islamabad Fighters 5-3
Scorers:Faisalabad: Dilber 3, Atiq Arshad, Abu Bakar
Islamabad: Arslan Qadir, Ejaz & Rizwan Ali
Happilac Man of Match: Abu Bakar (Faisalabad)

Quetta Warriors beat Lahore Lions 5-4
Scorers:                                                                                                                                                                    
 Quetta: M.Rizwan Jr 2, Kashif Javed, Umar Hamdi & Faisal Shah                                                                
Lahore: Bilal Mahmood, Faizan Jonty, Usman Malik & M. Aamir
Happilac Man of Match: M.Rizwan Jr (Faisalabad)

Karachi Sharks beat Peshawar Panthers 6-3
Scorers:                                                                                                                                                                   
Karachi: Qasim, Qamar Bukhari, Ali Raza, Zeeshan Bukhari, Saran bin Qamar & Sikander                 
 Peshawar: Adeel Latif 2, Faisal Rasheed
Happilac Man of Match: M.Asif (Karachi)

Play off Matches:                                                                                                                                                           
Final: Islamabad Fighters vs Quetta Warriors
3rd/4th Position: Faisalabad Falcons vs Lahore Lions                                                                                                         
5th/6th Position: Karachi Sharks vs Peshawar Panthers
                                                                                                                                                                                                                                                                                               
MATCH REPORTS:

Islamabad had already qualified for the final having won all the first four matches. For the second spot in the final, it was between Quetta and Faisalabad.  Quetta had the destiny in their own hands. A win meant a place in the final. For Faisalabad, they not only had to beat Islamabad but also needed Quetta to lose points against Lahore.

Faisalabad Falcons beat Islamabad Fighters 5-3

 Faisalabad began aggressively and their captain Dilber put them ahead as early as third minute with a flat reverse hit.  Both the teams looked for the goal and had their chances but the two international goal keepers Islamabad's Imran Butt and Faisalabad's Mazhar Abbas were equal to the task. It stayed 1-0 at Ist period.

Early in the 2nd period, an Islamabad counter attack saw them at three on one advantage. Arslan Qadir easily made it 1-1. Faisalabad created many chances but were thwarted by the net minder and some attempts  went wide. Then end to end game ensued.  With two minutes to go in the period, Islamabad earned a 1 vs 1 Challenge which was converted by international Ejaz with a strong high push. However, before the hooter, the Faisalabad side was back on equal terms. Once again, it was their captain Dilber whose first time hit beat Imran Butt all ends up, and it was 2-2; a wonderful absorbing contest.

Islamabad, already assured of a spot in final the next day, had rested their two most experienced players, Olympians M.Rashid and Rizwan Senior.  The third period also began at a good pace. In a spell of two minutes, Faisalabad made it 4-2. First, Atiq Arshad found the target with a forceful and well placed hit from some distance. Then their dynamic captain Dilber netted on a rebound to complete his hat trick.  With their unblemished record in danger, Islamabad pulled one back via Rizwan Ali who managed to put the ball in a narrow gap between goal keeper and the pole.  Very next minute, Abu Bakar, after a good run made it 5-3 with just three minutes left. Faisalabad slowed the tempo and kept possession for long periods and saw off the remaining time. Now, they had to wait for the result of the Quetta/Lahore tie.

Quetta Warriors beat Lahore Lions 5-4

For Quetta, only a victory could do. For Lahore, any result would make no change in their 4th position in the table. They didn't include their captain Amad Butt and vice-captain Azfar Yaqoob.

Match began with Quetta having most of the early exchanges.  In the 9th minute, a stick check on their star player Rizwan resulted in a 1 vs 1 challenge. Rizwan himself stepped in to turn it into a goal with a strong high push.  But very next minute, M.Aamir, after a good run on right, sent in a minus to Bilal Mahmood who easily made it 1-1. Ball was travelling towards both sides at a fast pace. A couple of Quetta attempts went fruitless.

In the early minutes of the second period, Lahore surprised Quetta when Faizan Jonty sounded the board with a long range flat push. Lahore wasted a couple of more chances. Warriors fought back and in a wonderful spell of attacking hockey scored three goals in as many minutes. Scorers were Kashif Javed with a forceful hit, Umar Hamdi, who capitalized on a fluent combined move and Faisal Shah who netted a rebound.  All of a sudden it was 4-2.

The jolted Lahore side managed to regroup early in the third period and were soon back in the game.  Rana Sohail robbed a defender deep in Quetta's territory and passed it to M.Aamir who easily slotted in. At 4-3, it was game on. Both the sides attacked each other's fortress.  Usman Malik managed to put Lahore on equal terms with a first time high flick.  With just four minutes to go, Quetta's big chance was slipping away. Again, it was M.Rizwan who had pulled them out of the tight spot many a time, who scored his team's fifth goal through an unstoppable reverse slap shot. Lahore searched for the equalizer but Quetta managed to keep the lead intact. And wild celebrations broke out at the final hooter.

Karachi Sharks beat Peshawar Panthers 6-3

It was a tie between the two bottom placed sides. Karachi on one point and Peshawar on zero had no chance of qualifying for the third place play off. Only pride was at stake.

It turned out to be an interesting contest. Peshawar going ahead with Karachi equalizing; the sequence was repeated thrice during the first two periods.

Peshawar were again served well by Adeel Latif , who apart from scoring two goals, also created many moves.

So it was 3-3 when the third period began.  Though, both the sides had opportunities but Sharks found the target at regular intervals: After a melee in the front of the goal, Zeeshan Bukhari managed to make the ball cross the goal line. Saran bin Qamar's first attempt was blocked by the Peshawar goal keeper but he put the rebound in with a good reverse flick. Sikander Mustafa scored Karachi's sixth goal with a first time strike. The two teams would face each other again in the 5th/6th position match.

PHF media release


---

Dipsan Tirkey to lead Indian hockey juniors at EurAsia Cup, England tour

BENGALURU: Promising defender Dipsan Tirkey was on Friday named skipper of the junior Indian men's team for the upcoming EurAsia Cup in Russia and a six match tour of England next month.

The EurAsia Cup will be held from July 9 in Yekatarinberg in Russia while the England tour kicks off on July 22, Hockey India announced while naming drag flicker Varun Kumar as Dipsan's deputy for both the tournaments.

In the EurAsia Cup, the Indians will lock horns with two Russian clubs before heading for England for six matches against the hosts and Scotland.

Keeping in mind the junior World Cup in Lucknow later this year, the team expects to give enough exposure to the likes of talented youngsters like Santa Singh and Parvinder Singh.

Speaking at the announcement function, HI secretary general Md. Mushtaque Ahmad said, "As hosts of the junior World Cup, we want to give our team the best platform and preparation to bring glory to the country. Keeping that in mind, we have started the process early, and are initiating the boys into international hockey on these two back to back tours. I have full confidence they will come back enriched and make us proud of their performances."

Squad:

Goalkeepers: Suraj Karkera, Kishan B. Pathak

Defenders: Dipsan Tirkey (Captain), Varun Kumar (Vice Captain), Hardik Singh, Vikramjit Singh, Gurinder Singh, Nilam Sanjeep Xess

Midfielders: Nilkanta Sharma, Sumit, Santa Singh, Manpreet, Shamsher Singh

Forwards: Gurjant Singh, Ajay Yadav, Parvinder Singh, Simranjeet Singh, Ajit Kumar Pandey

The Times of India


---

Dipsan Tirkey to lead Indian colts on extensive to Europe

s2h team




BENGALURU, 24 June 2016: Defender Dipsan Tirkey will lead India in the forthcoming elaborative tour of Europe. The squad in preparation for the home Junior World Cup, will first take part in the EurAsia Cup in Russia in which two Russian teams (Dinamo Stroitel and Dinamo Stroitel) will also figure. India will be hosting its second Junior World Cup in Lucknow in December this year.

From there, India's Junior team will fly for England and Scotland to take in test matches against these nations from 22 July to 1 August 2016.

The team

GOALKEEPERS
1. Suraj Karkera
2. Kishan B. Pathak

DEFENDERS
3. Dipsan Tirkey(C)
4. Varun Kumar (VC)
5.Hardik Singh
6. Vikramjit Singh
7. Gurinder Singh
8. Nilam Sanjeep Xess

MIDFIELDERS
9. Nilkanta Sharma
10. Sumit
11. Santa Singh
12. Manpreet
13. Shamsher Singh

FORWARDS
14. Gurjant Singh
15. Ajay Yadav
16. Parvinder Singh
17. Simranjeet Singh
18. Ajit Kumar Pandey

Stick2Hockey.com


---

Grunwald pushing for 20th Polish title




The Polish championships reaches it climax this weekend as the top four battle it out to be national champions with reigning champions WKS Grunwald Poznan looking to land their 20th title.

They finished the regular season with a perfect record of 18 wins from 18, topping the table by 14 points, scoring 141 goals in the process.

Grunwald meet LKS Gasawa at 12pm on Saturday in the first semi-final match and will hope Waldemar Rataj will keep firing after 24 goals.

They need to be wary, though, of Marcin Strykowski who is the Polish league's top scorer with 28 goals in the game. Grunwald won the first meeting this season 8-3 before running up a 7-2 win earlier this month.

Karol Majchrzak has a broken finger in his right hand while Mateusz Poltaszewski has a fracture and will be out for the weekend.

The other semi-final pits AZS AWF Poznan against Pomorzanin Torun. Just one point separated the sides during the regular season with Torun ending second on 40 points, one ahead of AZS AWF.

Euro Hockey League media release


---

UJ prepare for Ussa hockey examination

By Coetzee Gouws




Despite their proud standing in Varsity Hockey, the University of Johannesburg men's and women's teams know they face a searching challenge in the University Sport South Africa (Ussa) tournament at Wits from July 4 to 8.

The men captured their second straight Varsity Hockey title in the biennial competition this year to add to three straight Ussa titles from 2012 to 2014.

Coach Garreth Ewing said that, given the different format it has compared to the Varsity Hockey competition, they would treat the Ussa tournament as a new challenge.

"We've done quite well in recent years, winning three in a row, but last year we came fifth so we are hoping to climb back up the table this year.

"With the eight-team, two-pool format, the tournament is really a bit of a shootout, so anything can happen."

Although the UJ women are the defending champions, hockey manager Elize le Roux said they would not be getting ahead of themselves.

"While I would love to see them defend the title, there is a process in place to prepare and play each game on its merits. We have to first focus on our pool fixtures before worrying about possible semis or the final."

They had lost some key players from last year's side, but Le Roux said UJ were fortunate to have retained the core of their team. They did however receive a blow recently when one of their top players, Carmen Smith, was ruled out through injury.

Due to the congested nature of the tournament, she said several factors were essential for sides in their pursuit of success.

"I do think it differs per institution, but playing five days in a row, often with limited rest in-between, is challenging.

"That is why planning, the team environment and player management become vital," she said.

"It is important to keep a good routine and to use your build-up period to manage and maintain the players' performances."

Ewing said the UJ men had managed to retain a sense of continuity from the Varsity Hockey squad, which should stand them in good stead in a congested schedule.

"We have three new players in Brad Robertson, James du Plessis and Luke Barnard. Unfortunately Leneal Jackson is injured, otherwise it's the same group as the Varsity Hockey squad."

He said team ethic would be important in their drive for success.

"Gareth Heyns and Taylor Dart have been influential players for us the whole season, and I think the whole forward line will be key for us too.

"I don't really want to single anybody out to be honest. Our strength is that everybody has a role to play.

"We are looking forward to the week. The tournament has a special atmosphere and it's very competitive and it will be a big challenge for all the teams involved."

Varsity Sports media release


---

Callum McLeod leaves Scottish Hockey



Callum McLeod

After ten years Callum McLeod, Scottish Hockey's Performance Manager, will have his last day with the organisation on Friday 24th of June. Callum has worked with Scottish Hockey for over a decade, as Performance Manager.

During his time at Scottish Hockey, Callum has successfully obtained the funding required for the Scotland women's national team to train full time leading up to major events.  Recently he successfully project-managed the Champions Challenge and Men's 4 nations events in 2014 - the first time Scotland hosted a world-level event for over a decade. In addition to this he has successfully bid to bring European and World level events to the Glasgow National Hockey Centre.

He devised and implemented wide ranging changes to the performance programmes of Scottish Hockey including the introduction of weekly contact time for all national age group players, in addition to significantly increasing the contact time of all the national teams. Callum's remit went beyond the national teams, he has consistently led the charge to raise the standard of the National League and worked to develop the level of competitiveness of youth competitions.

David Sweetman, Scottish Hockey CEO Commented:  "Callum has been a hard-working, committed and enthusiastic member of our team. From my experience as a volunteer and latterly working for Scottish Hockey, Callum's passion for the sport has always been evident. I know that he will remain actively involved in the sport, and we all wish him the best for the future."

Scottish Hockey Union media release


---

'People said 'are you mad?'' - Ex-hockey star O'Flynn eyes Olympic 7s

The Cork native is part of the Ireland squad striving to secure the last place in Rio.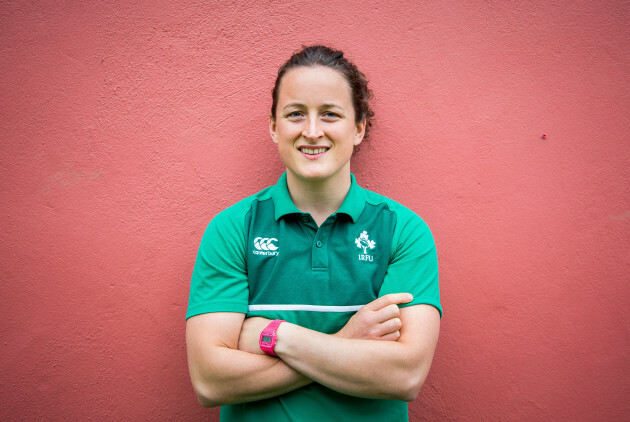 Audrey O'Flynn O'Flynn is part of the Ireland squad for the Olympics qualifier this weekend. Source: Gary Carr/INPHO

THE OLYMPIC GAMES have always been a central part of Audrey O'Flynn's sporting ambition, beginning well before she became an Ireland hockey international.

The Cork native recalls watching local hero Sonia O'Sullivan battle for Irish pride on the global stage as she grew up. Having taken up hockey at the age of 12, the dream of making the Games herself came into existence.

O'Flynn won 120 caps for Ireland in hockey before switching into sevens rugby in 2014, and now finds herself on the brink of helping Ireland to earn qualification into the Olympics. The dream is still alive.

"My sporting background would have been always looking at the Olympics," says O'Flynn.

"With hockey, that's the main tournament. It's Olympics, then the World Cup and then the Champion's Challenge. The Olympics is the be-all and end-all."

The 29-year-old is part of the Ireland squad that will compete with 15 other nations over the course of this weekend in UCD, with the final spot at the Rio Olympics going to the victors of the tournament.

O'Flynn remains relatively new to sevens – several of the Irish squad are converts from other sports – but she has adapted into a new international sport with aplomb. Four years after coming up short in a bid to make the Olympics in hockey, O'Flynn has another chance.

"Our Olympic qualifiers for hockey were in Belgium in March four years ago, and we lost in the final to Belgium," says the Mount Mercy College alumnus.

"They had their home crowd, there was about 4,000 at the game, a compact stadium and the noise that they made [was incredible].

"I was playing with a broken jaw at the time, and I didn't know it. I had my gumshield in. I remember the noise was so loud you couldn't hear anything. I was playing left-back, and I was trying to shout up to Lisa Jacob, who also played rugby for a bit, who was playing left-mid.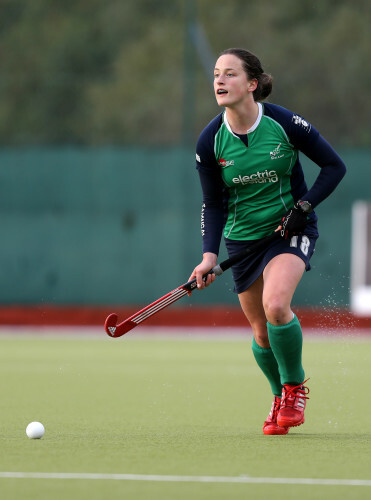 Audrey O'Flynn   O'Flynn scored 30 goals for Ireland. Source: Cathal Noonan/INPHO

"I couldn't speak, I couldn't hear. The Belgians did have the advantage of the home crowd, with the noise they made, and home advantage for us will be really important for this tournament here."

There may not be a raucous crowd of 4,000 at the UCD Bowl as Ireland go up against China, Portugal and Trinidad and Tobago in the pool stages today, but they are hoping for vocal support as they attempt to overcome fellow qualification contenders Russia and Spain in the knock-out stages on Sunday.

O'Flynn – formerly of the Hermes hockey club and a star for UCC before that – first joined Ireland's sevens programme in November of 2014.

As with Ireland captain Lucy Mulhall, it was the IRFU's Stan McDowell who reached out to O'Flynn – who made her Ireland hockey debut in 2010 - and she didn't need too much convincing to switch sports.

In fact, the invitation to try sevens rugby couldn't have come at a better time.

"I was with Irish hockey for years, and I stopped in October 2014. It just got to a stage with hockey where everything had gotten really stale and I wasn't enjoying it for over a year. I just decided to call it a day and Stan approach me."

O'Flynn's brothers and cousins had played rugby in their youth, so she had attended plenty of schools games in Cork and had also played some tag rugby.

Nonetheless, her switch into sevens shocked many of O'Flynn's friends and hockey team-mates.

"After people had heard that I'd stopped playing hockey, they were just like 'God, brave decision' and I was just thinking 'have I made the right decision?'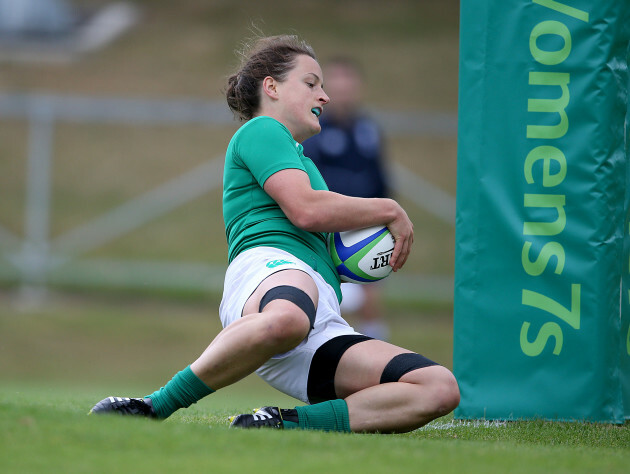 Audrey O'Flynn scores a try O'Flynn has made a successful transition. Source: Dan Sheridan/INPHO

"People said 'are you mad?' Especially because I was playing probably my best hockey when I stopped, but I just felt when I wasn't enjoying it, there was no point. I really wasn't enjoying it.

"You had to give up loads for it. I moved up to Dublin from Cork, and the funding for it wasn't great. You're pretty much fundraising yourselves; as in, I think the month before I left we had a golf classic to raise funds.

"I had given up so much and getting not as much back from it and, as well, the fact that I wasn't enjoying it I thought 'I can't keep this going.'"

Already an athlete of international class, the switch into sevens revitalised O'Flynn and she was immediately engrossed by her new sport.

Certainly, the sacrifices remain heavy but within the IRFU's ever-improving sevens programme, the balance between her sport and working life as a teacher has been managed adeptly.

O'Flynn does think she will eventually go back to playing club hockey but for now sevens is everything. A year and a half into her adventure, O'Flynn is still learning with every session.

Have there been struggles with getting to grips with sevens?

"I get a lot of stick because I was asked about this before and I said 'ball-passing,'" explains O'Flynn with a laugh. "The girls were like 'what the hell is ball-passing!?'

"But, yeah, passing the ball. I used to throw around the ball with my brothers in the garden but I was always just passing on the right-hand side. I got into bad habits, because I'm told I had a dinosaur hand when I finished off.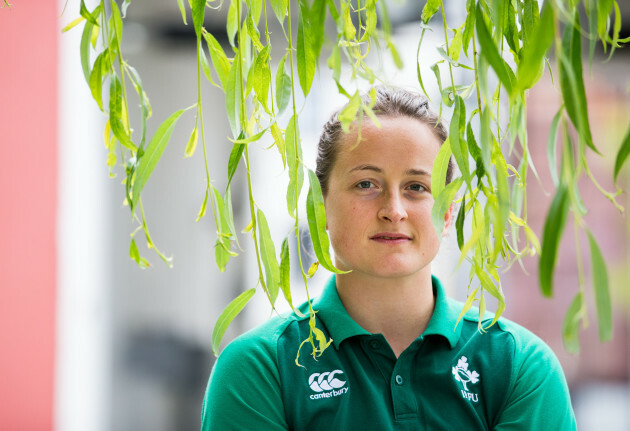 Audrey O'Flynn O'Flynn played with the Hermes club in her hockey days. Source: Gary Carr/INPHO

"I'm actually better with my left now because I didn't develop any habits passing left to right. I'm lucky the fact that I'm probably the biggest on the squad that contact wasn't as difficult for me, compared to say Lucy.

"Lucy, she's half my size but Lucy is able to throw around her weight really well, and it does come down to technique as well with tackling. Nicole [Cronin], she's only 52 kilos, and she's able to bring anyone down.

"Obviously, the technique of tackling, and the contact aspect of it, it took a while to get used to it. After my first week of training, they just threw me into the deep end.

"I remember I went to watch the Ireland-South Africa game in the Aviva [in November 2014] afterwards and I was up at the very back of the stand with my brother, and I was just in bits [walking up], 'I can't do this!'"

Current director of sevens and women's rugby Anthony Eddy arrived into his IRFU position soon after O'Flynn had made the switch, meaning she has largely had the benefit of working under one coaching philosophy.

Now, the ambitious Cork woman has amassed the knowledge and rugby intellect to match her longstanding athletic prowess. O'Flynn is part of an Ireland squad that can truly put sevens rugby on the Ireland sporting map by reaching the Olympics.

"It would be superb. When we were watching the men last weekend, we were just thinking 'God, if they won it, it would do so much for the men's sevens sport'.

Ireland Women's Sevens squad:

    Ashleigh Baxter – Belfast Harlequins / Ulster
    Niamh Briggs – UL Bohemians / Munster
    Nicole Cronin – Shannon / Munster
    Aoife Doyle – Shannon / Munster
    Louise Galvin – UL Bohemians / Munster
    Kim Flood – Railway Union / Leinster
    Stacey Flood – Railway Union / Leinster
    Alison Miller – Portlaoise / Connacht
    Lucy Mulhall – Rathdrum / Leinster (captain)
    Amee Leigh Murphy-Crowe – Railway Union / Munster
    Audrey O'Flynn – Talent ID Programme
    Megan Williams – St. Mary's College RFC

Ireland fixtures:

Ireland v Trinidad and Tobago
UCD Bowl, Saturday 25 June, 12.43pm

Ireland v Portugal
UCD Bowl, Saturday 25 June, 3.40pm

Ireland v China
UCD Bowl, Saturday 25 June, 6.48pm

Play-offs
Sunday 26 June

The 42