All the news for Tuesday 7 June 2016

Phoenix Gas Test Series Ireland v Spain




Ireland won the first of the Phoenix Gas test series against Olympic bound Spain played in glorious weather at the NICS ground at Stormont this evening. 

Ireland started with a lot of possession in the opening period but it was Spain who earned the first PC of the game saved by Davis in the Irish goal but a follow up comer was awarded and this time the Irish defence cleared and quickly countered through Duke but the Spanish defender cleared the danger. 

Beatty, who was making her 50th international appearance, played a lovely ball into O Flanagan who won Ireland's first PC but Watkins drag was saved. 

It was O Flanagan again a minute later winning another PC after great approach work by Capt Megan Frazer but Spanish keeper saved Frazer's drag.

Spain earned two further PC's in the 18th and 23rd minute but Davis was having a fine game between the posts to leave the game scoreless at half time.

Ireland took the lead in the 35m, following PC won by Chloe Brown,  Megan Frazer drag was saved by the keeper but O'Flanagan pounced on the rebound with a cracking finish.

Davis was called on to make some fine saves, as Spain forced three further PC's, but it was Megan Frazer, low drag in the 58m from Ireland's fourth penalty corner  that sealed victory.

The sides meet again Tuesday 7th June at 19.30 at NICS, Stormont before switching to UUJ for games three and four of the series on Thursday 9th 12 noon and Friday 10th at 11am.

Ireland 2 (Chloe Brown 35, Anna O'Flanagan 58)
Spain 0

Ireland: S Davis, Y O'Byrne, N Evans, K Mullan, M Frazer, E Beatty, S Loughran, C Watkins, H Matthews, A O'Flanagan, Z Wilson
Subs: C Brown, N Carroll, A McFerran, L Colvin, G Frazer, D Duke, A Meeke

Spain: M Lopez de Eguilaz, R Ybarra, R Gutierrez, C Petchame, M Garcia, L Riera, P Marana, B Perez, G Comerma, G Oliva, B Garcia
Subs: C Salvatella, M Lopez Garcia, B Bonastre, C Guinea, M Contardi, M Ruiz, L Jimenez

Irish Hockey Association media release


---

Australia's Kookaburra's looking to light up London



Tim Deavin and his Australian team-mates are aiming to claim this historic title on British soil Photo: FIH/Getty

Australia's Kookaburras (FIH World Ranking: 1) are regarded as the most consistently successful Australian sports team over the past two decades and for more than 30 years have been ranked amongst the top four nations in the world. Their free-flowing, exciting brand of attacking hockey is a hallmark of the team and will certainly thrill the fans in London as they look to retain their dominance of world hockey by winning this year's Hero Hockey Champions Trophy.

Australia have won a medal at every Olympic hockey tournament since 1992 and in total, since first competing in the Melbourne Olympic Games of 1956, have amassed nine Olympic medals – a tally they will be determined to add to this summer at the Rio 2016 Olympic Games. They have won all five of the Commonwealth Games hockey competitions played to date and in 2014 became only the third country to ever successfully defend a World Cup title when they defeated hosts the Netherlands 6-1 in the competition final in The Hague, Netherlands. 2015 was another stellar year for the side, with a title success in the Hockey World League Final in Raipur, India being their crowning achievement.

The Kookaburras come into this Hockey Champions Trophy as the top ranked team and, with 13 Hockey Champions Trophy titles to their name, the most successful team in the competition's history. Despite resting veteran stars Jamie Dwyer and Mark Knowles – with the latter remaining in Australia in anticipation of the birth of his third child – Head Coach and former Kookaburra Graham Reid has selected a side containing plenty of world class experience. Key defenders Chris Ciriello, Tim Deavin and Matthew Swann are all included, as is ace midfielder Eddie Ockenden, a player who has made over 270 senior international appearances for Australia.

Teenage goal-scoring sensation Blake Govers – younger brother
of Kookaburras stalwart Kieran Govers – has also been named and will be looking to make his mark and seal his place on the plane to Rio. 29-year-old midfielder Simon Orchard, another hugely influential player for Australia, starts the competition on 197 international appearances and looks likely to reach the 200 mark in London. A recent series victory against Great Britain on home soil suggests that the side are very much ready for the challenges that lie ahead this summer.  

Coach comment – Graham Reid: "The Champions Trophy is being used to manage the load of a number of our players, and to provide the last opportunity for other players vying for Olympic selection.The objective of 2016 has been to get as many players as possible up to the level where they are in the mix for the team going to Rio."

Player perspective – Tim Deavin (defender): "What better preparation for Rio is there than winning the last major, just before the Olympics take place. We go to every tournament to win and anything less is a failure."

One to watch: Chris Ciriello. In a team blessed with numerous world class penalty corner experts, Ciriello has developed a reputation as the man for the big occasion. In 2014, the powerful defender – nicknamed 'Big Dog'- scored a hat-tricks in the finals of both the Rabobank Hockey World Cup (versus the Netherlands) and the Commonwealth Games (versus India) to help the Kookaburras to double glory.

FACTS
Nickname: The Kookaburras
Current FIH World Ranking: 1
Notable honours: Olympic Champions (2004) 3x Olympic silver medallists (1968, 1976, 1992), 5x Olympic bronze medallists (1964, 1996, 2000, 2008, 2012), 3x World champions (1986, 2010, 2014), Hockey World League champions (2015), 13x Champions Trophy winners (1983, 1984, 1985, 1989, 1990, 1993, 1999, 2005, 2008, 2009, 2010, 2011, 2012), 5x Commonwealth Games gold medallists (1998, 2002, 2006, 2010, 2014), 9x Oceania Cup champions (1999, 2001, 2003, 2005, 2007, 2009, 2011, 2013, 2015).

Rank in previous CT editions: 2014 – 3rd,2012 – 1st, 2011 – 1st, 2010 – 1st, 2009 – 1st, 2008 – 1st, 2007 – 2nd, 2006 – 4th, 2005 – 1st, 2003 – 2nd, 2002 – 5th, 2001 – 2nd, 2000 – 5th, 1999 – 1st, 1998 – 3rd, 1997 – 2nd, 1996 – 6th, 1995 – 2nd, 1994 – 4th, 1993 – 1st, 1992 – 2nd, 1991 – 4th, 1990 – 1st, 1989 – 1st, 1988 – 3rd, 1987 – 3rd, 1986 – 2nd, 1985 – 1st, 1984 – 1st, 1983 – 1st, 1982 – 2nd, 1981 – 2nd, 1980 – 3rd, 1978 – 2nd

Hockey Australia website: www.hockey.org.au 
Twitter - @kookaburras
Facebook: TheKookaburras
Instagram: hockeyaustraliaofficial

To buy tickets for the Hockey Champions Trophy 2016 in London, click here.

#HCT2016 #BestOfTheBest

FIH site


---

Black Sticks bolstered for Champions Trophy



Photo: www.photosport.nz

The Black Sticks Women have been bolstered by the return of four experienced players to compete at the FIH Champions Trophy in London later this month.

Fresh from their gold medal victory at the International Hockey Open in Darwin Kayla Whitelock, Gemma Flynn, Stacey Michelsen and Sally Rutherford all return for what serves as the final major tournament before the Black Sticks take to the turf at the Rio 2016 Olympic Games.

New Zealand will go up against the Netherlands, Argentina, Australia, Great Britain and USA as they battle it out to be crowned the best of the best at the Champions Trophy from 19-27 June.

The Black Sticks open their campaign with a bang in a clash against world number one Netherlands on Sunday 19 June  at 3am (NZ time), with a rematch of the Darwin final against trans-Tasman rivals Australia the following day.

The team is hugely experienced with only four players who have less than 100 international caps while Flynn (231), Whitelock (235), Michelsen (201), Emily Gaddum (274), Anita McLaren (232) and Charlotte Harrison (207) combine for well over 1000 games.

New Zealand will be captained by a leadership group in London which includes Michelsen, Charlton, McLaren and Liz Thompson.

Head coach Mark Hager said the tournament against some of the world's best sides provides the last chance for players to step up for Olympic selection.

"We have built a great deal of depth within our squad and Olympic selection is still wide open. There were plenty of players who performed well in Darwin and that, along with Champions Trophy will be taken into consideration," Hager said.

"Champions Trophy will be a good gauge of where we're at, there are no easy games and that will help identify any weaknesses we need to tighten up in the last phase before Rio.

"We have proven that we can win big games against tough opposition so it's now about continuing to progress to ensure we peak at the right time."

In the last edition of the Champions Trophy in December 2014, the Black Sticks finished fourth after being edged 2-1 by Netherlands in the bronze medal game.

The New Zealand Women's Olympic team will be selected following the conclusion of the tournament.

CLICK HERE for the full Champions Trophy match schedule

BLACK STICKS WOMEN
Champions Trophy, London
| | | | | | |
| --- | --- | --- | --- | --- | --- |
| SHIRT # | PLAYER NAME | REGION | POSITION | AGE | CAPS |
| 13 | Sam CHARLTON | Midlands | Defender/Midfielder | 24 | 171 |
| 17 | Sophie COCKS | Canterbury | Striker/Midfielder | 21 | 100 |
| 22 | Gemma FLYNN | Midlands | Midfielder/Striker | 26 | 231 |
| 2 | Emily GADDUM | Central | Defender | 30 | 274 |
| 10 | Amelia GIBSON | Auckland | Goalkeeper | 24 | 54 |
| 12 | Ella GUNSON | Northland | Midfielder/Defender | 26 | 142 |
| 23 | Charlotte HARRISON | Auckland | Striker | 26 | 207 |
| 26 | Pippa HAYWARD | Canterbury | Defender/Midfielder | 25 | 102 |
| 24 | Rose KEDDELL | Midlands | Defender/Midfielder | 22 | 121 |
| 32 | Anita McLAREN | Capital | Midfielder | 28 | 232 |
| 4 | Olivia MERRY | Canterbury | Striker | 24 | 125 |
| 31 | Stacey MICHELSEN | Northland | Midfielder/Defender | 25 | 201 |
| 9 | Brooke NEAL | Northland | Defender | 23 | 81 |
| 18 | Kirsten PEARCE | North Harbour | Striker | 25 | 46 |
| 8 | Sally RUTHERFORD | Midlands | Goalkeeper | 34 | 105 |
| 16 | Liz THOMPSON | Auckland | Defender | 21 | 108 |
| 6 | Petrea WEBSTER | North Harbour | Striker/Midfielder | 26 | 137 |
| 1 | Kayla WHITELOCK | Central | Midfielder/Striker | 30 | 235 |

Hockey New Zealand Media release


---

Four return to Black Sticks as Champions Trophy squad announced

By David Leggat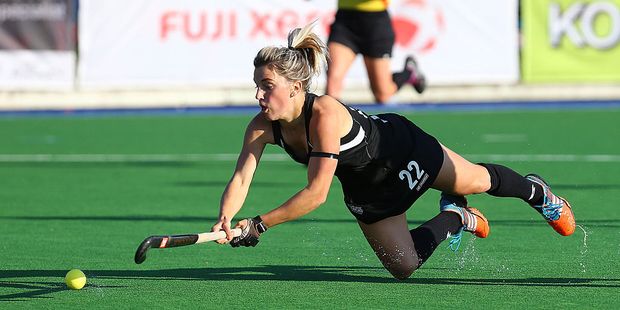 Gemma Flynn is one of four players returning to the Black Sticks after missing the Four Nations tournament. Photo / Getty Images

Senior New Zealand quartet Kayla Whitelock, Stacey Michelsen, Gemma Flynn and goalkeeper Sally Rutherford are back in the Black Sticks squad for the Champions Trophy six-nation tournament starting in London later this month.

All four missed the Four Nations tournament in Darwin, which New Zealand won on Saturday night, beating hosts Australia 2-0 in the final.

Michelsen was in the group in Darwin but withdrew to rest a niggly hamstring injury, while Rutherford sat the event out giving Amelia Gibson and Georgia Barnett a chance to vie for the job ahead of the Rio Olympic squad naming.

Both produced quality moments in Darwin, with Gibson getting the nod for London.

Whitelock, who has played 235 internationals, Flynn (231) and Michelsen (201) will bring an extra edge to New Zealand's attack in London, where world No 4 New Zealand will play games against the world's top three ranked nations, the Netherlands, Argentina and Australia, along with Britain and the United States, ranked sixth and seventh respectively.

New Zealand will be captained by a leadership group in London which includes Michelsen, Sam Charlton, Anita McLaren and Liz Thompson.

Head coach Mark Hager said the tournament against some of the world's best sides provides the last chance for players to step up for Olympic selection.

"We have built a great deal of depth within our squad and Olympic selection is still wide open. There were plenty of players who performed well in Darwin and that, along with Champions Trophy will be taken into consideration," Hager said.

"Champions Trophy will be a good gauge of where we're at, there are no easy games and that will help identify any weaknesses we need to tighten up in the last phase before Rio.

"We have proven that we can win big games against tough opposition so it's now about continuing to progress to ensure we peak at the right time."

New Zealand women's team for the Champions Trophy starting in London on June 19:

Goalkeepers: Sally Rutherford (Midlands), Amelia Gibson (Auckland)

Defenders: Liz Thompson (Auckland), Brooke Neal (Northland), Emily Gaddum (Central), Rose Keddell (Midlands), Sam Charlton (Midlands).

Midfielders: Anita McLaren (Capital), Kayla Whitelock (Central), Ella Gunson, Stacey Michelsen (Northland), Pippa Hayward (Canterbury),

Strikers: Sophie Cocks, Olivia Merry (Canterbury), Charlotte Harrison (Auckland), Petrea Webster, Kirsten Pearce (North Harbour), Gemma Flynn (Midlands).

New Zealand's schedule (NZT):

June 19: v Netherlands (world No 1), 3am
June 20: v Australia (3), 3am
June 22: v Britain (6), 7am
June 24: v Argentina (2), 1.30am
June 26: v United States (7) 1am.
June 27: Playoff games.

The New Zealand Herald


---

Black Sticks welcome back four stars for FIH Champions Trophy in London



Kayla Whitelock returns to the Black Sticks team just in time for the Champions Trophy. John Cowpland / www.photosport.nz

The Black Sticks women will be boosted by the return of four experienced stars for the FIH Champions Trophy in London later this month.

Kayla Whitelock, Gemma Flynn, Stacey Michelsen and Sally Rutherford are all available for the last major major event before the Black Sticks head to the Rio Olympics in August, after they were rested at the International Hockey Open in Darwin.

New Zealand will take an experienced outfit to England, with only four players in the squad having fewer than 100 international caps to their name.

Their first game will see them face world No 1 side Netherlands, before clashes with Argentina, Great Britain and USA.

Head coach Mark Hager has laid a challenge to his players to prove themselves ahead of final selection for the Olympics, fresh after winning gold in Darwin.

"We have built a great deal of depth within our squad and Olympic selection is still wide open," he said in a statement.

"There were plenty of players who performed well in Darwin and that, along with Champions Trophy, will be taken into consideration.

"Champions Trophy will be a good gauge of where we're at, there are no easy games and that will help identify any weaknesses we need to tighten up in the last phase before Rio.

"We have proven that we can win big games against tough opposition so it's now about continuing to progress to ensure we peak at the right time."

After playing the Netherlands on Sunday June 19 (NZ time), New Zealand will face Australia the following day in a repeat of the Darwin final they won last week.

And the return of Whitelock (235 caps), Flynn (231), Michelsen (201), and Rutherford (105) is a timely boost for the Black Sticks, who will be captained by a leadership team that includes Michelsen, Sam Charlton, Anita McLaren and Liz Thompson.

New Zealand finished fourth in the Champions Trophy in 2014, after losing the bronze medal game 2-1 to the Netherlands, and their Olympic squad will be finalised at the conclusion of the tournament in London.

AT A GLANCE:

Champions Trophy June 19-27, London

Black Sticks womens squad: Sam Charlton, Sophie Cocks, Gemma Flynn, Emily Gaddum, Amelia Gibson, Ella Gunson, Charlotte Harrison, Pippa Hayward, Rose Keddell, Anita McLaren, Olivia Merry, Stacey Michelsen, Brooke Neal, Kirsten Pearce, Sally Rutherford, Liz Thompson, Petrea Webster, Kayla Whitelock.

Stuff


---

India's Hero MotoCorp to be title sponsor of men's 'Hero Hockey Champions Trophy 2016'

Hero will also be FIH lead partner of women's Hockey Champions Trophy




The International Hockey Federation (FIH) is delighted to confirm Hero MotoCorp Ltd, the world's largest two-wheeler manufacturer, as the title sponsor of the men's Hockey Champions Trophy 2016.

Taking place at Lee Valley Hockey and Tennis Centre in London, Great Britain between June 10-17, the men's event will be called the 'Hero Hockey Champions Trophy 2016'.

In addition to title sponsorship of the men's event, the New Delhi (India) headquartered Hero, the world's largest manufacturer of motorcycles and scooters, will also be a FIH lead partner of the women's Hockey Champions Trophy taking place immediately afterwards, between 18-26 June in the same venue.

This is the latest agreement between Hero and FIH as part of the Hockey Revolution's major initiative aimed at securing commercial partners who share the 10-year strategy's vision – to make hockey a global game that inspires the next generation.

Speaking of this partnership, Mr Pawan Munjal, Chairman, Managing Director and CEO, Hero MotoCorp, said: "Hockey continues to be among the most popular sports in various parts of the world, and Hero has been a constant partner of FIH in hosting marquee hockey events across the globe. Our title sponsorship of the Hero Hockey Champions Trophy 2016 is also in keeping with the increasing global footprint of Brand Hero, which is now present in 30 countries across Asia, Africa and South and Central America."

FIH President Leandro Negre was also pleased to confirm the new agreement. He said: "We are delighted to continue our long-standing, positive relationship with Hero. As one of the world's leading brands, partnering with one of India's most successful businesses once again is great for our sport. We will be doing all that we can to ensure their investment continues to develop the sport of hockey globally."

FIH CEO Kelly Fairweather added: "We are pleased to have Hero MotoCorp as a long-term partner of FIH, this relationship continuing with the Hockey Champions Trophies in London. The event is going to be watched by a global audience, with over 2,000 hours of TV coverage being broadcast to more countries than ever before. This is yet another important partnership facilitated by FIH as we continue to drive the marketing and commercial value of hockey as our sport continues to grow."

The Hero Hockey Champions Trophy gets underway on Friday, with excitement already beginning to grow. Make sure you don't miss out on any of the action - for more information about these events, including ticket information, click here.

About Hero MotorCorp
For the past 15 consecutive years, Hero MotoCorp has remained the world's largest two-wheeler manufacturer in terms of unit volumes sold by a single company in a calendar year. The company achieved a significant milestone recently with the inauguration of its world-class Hero 'Centre of Innovation and Technology' (CIT) in the northern Indian state of Rajasthan. In financial year 2015-16, Hero sold over 6.63 million two-wheelers. The company currently sells its products in 30 countries across the world.

Hero MotoCorp has been associated with various disciplines of sports including cricket, golf, field hockey and soccer for over two decades now. Hero MotoCorp has also had a long association with cricket in various capacities. The company was earlier one of the Global Partners of the International Cricket Council (ICC). The company was also the team sponsor of 'Delhi Daredevils' and later of 'Mumbai Indians' in the Indian Premier League (IPL). Fourteen-time major winner Tiger Woods is Hero's Global Corporate Partner. Hero is also a partner of the Tiger Woods Foundation and hosts the marquee Hero World Challenge golf tournament at Albany in the Bahamas, with participation from 18 top golfers in the world.

Website: www.heromotocorp.com
Facebook: /HeroMotoCorpIndia
Twitter: @HeroMotoCorp

FIH site


---

Hero patronage extends to London CT

s2h team




Indian MNC Hero MotoCorp continues its patronage towards field hockey, this time coming out to title-sponsor last of men's 'Hero Hockey Champions Trophy 2016 to start in London in a week's time.

Hero came with a big bang when India hosted the 2010 World Cup and the affinity then continued, even becoming global partner of the FIH, which has today has confirmed Hero MotoCorp Ltd, the world's largest two-wheeler manufacturer, as the title sponsor of the London event.

In addition to title sponsorship of the men's event, the New Delhi (India) headquartered Hero, will also be a FIH lead partner of the women's Hockey Champions Trophy taking place immediately afterwards, between 18-26 June in the same venue.

This is the latest agreement between Hero and FIH as part of the Hockey Revolution's major initiative aimed at securing commercial partners who share the 10-year strategy's vision – to make hockey a global game that inspires the next generation.

Speaking of this partnership, Mr Pawan Munjal, Chairman, Managing Director and CEO, Hero MotoCorp, said: "Hockey continues to be among the most popular sports in various parts of the world, and Hero has been a constant partner of FIH in hosting marquee hockey events across the globe. Our title sponsorship of the Hero Hockey Champions Trophy 2016 is also in keeping with the increasing global footprint of Brand Hero, which is now present in 30 countries across Asia, Africa and South and Central America."

FIH President Leandro Negre was also pleased to confirm the new agreement. He said: "We are delighted to continue our long-standing, positive relationship with Hero. As one of the world's leading brands, partnering with one of India's most successful businesses once again is great for our sport. We will be doing all that we can to ensure their investment continues to develop the sport of hockey globally."

FIH CEO Kelly Fairweather added: "We are pleased to have Hero MotoCorp as a long-term partner of FIH, this relationship continuing with the Hockey Champions Trophies in London. The event is going to be watched by a global audience, with over 2,000 hours of TV coverage being broadcast to more countries than ever before. This is yet another important partnership facilitated by FIH as we continue to drive the marketing and commercial value of hockey as our sport continues to grow."

The Hero Hockey Champions Trophy gets underway on Friday, with excitement already beginning to grow. Make sure you don't miss out on any of the action - for more information about these events, including ticket information

Stick2Hockey.com


---

Hockey Champions Trophy: It's not just hockey



HCT 2016: More than just hockey

Saturday 25th June has already sold out and Saturday 11th is getting booked up quickly. Don't miss out, find out below why you should book your Hockey Champions Trophy tickets now!

With summer finally here, we can't think of a better way for you, your friends and family to spend your weekends or nights after work than at the Queen Elizabeth Olympic Park relaxing and enjoying world class sport. We can offer something for everyone.

How about sitting back and relaxing in our quintessentially British Pimm's garden? If that's not your scene, then we think the Kicking Back Bar could be the place for you. Perhaps we can interest you in a food market representing cuisines from all the competing countries without having to even get on a plane?

If you're looking to keep the kids entertained, why not take them to the Hockey Hub? They can pick up a stick and have a go themselves and they could even meet some Olympians for a quick picture or autograph.

Given the Olympics is just around the corner, how about this: Imagine yourself sitting on a beach in London. That's right! We're bringing Rio to you this summer – we can't give too much away, you will have to come see for yourself, but rest assured this is not to be missed!

Now you know about all the AMAZING things going on, let's talk tickets! Prices start from just £5 for U18s and £12 for adults a price you won't be able to beat to watch GB Olympians just one month before the Olympics. Snap your tickets up now!

England Hockey Board Media release


---

JMWC: International returns to Lucknow exactly after 20 summers

K Arumugam




It was exactly 20 summers ago, the city of Nawabs, as Lucknow is known, last hosted an international hockey tournament. Fittingly, defender Rajnish Mishra, son of the soils, led his team to Gold in the smallest field of the 10-year old, India's own invitational tournament.

Of course the event that Rajnish won had two unique features: it was the dead-end for the tournament, secondly first and last international event that ESPN event-managed for the then IHF, though the original contract thereto was for ten years!

The Junior World Cup for Men comes to the hockey provenance, Lucknow, of prominence which produced no less than the player of calibre of Dhyan Chand.

There cannot be a sweeter news for hockey connoisseurs than this.

Uttar Pradesh State, whose capital is Lucknow, is byword for hockey till not long ago.

Besides global beacon Dhyan Chand, the provenance produced such stalwart hockey players as Kunwar Digvijay Singh (50s), Jhamanlal Sharma (60s), Mohammad Shahid, Zafar Iqbal, Romeo James (80s), Sujit Kumar, Ravinder Pal Singh,RP Singh Vivek Singh Mohinder Pal Singh, Vineet Kumar (90s), Mohd. Shakeel Khan, Sanjay Bist, Mohd Arif Khan, Praveen Kumar came later.

Devesh Chauhan and his contemporaries marked the 2000s.

Danish Mujtaba is the lone torch bearer now of once dominating power house.

Lucknow based Sports Hostel produced unending number of stars for about three decades before it was consumed by the over-age rage in the last decade.

Due to various factors, Uttar Pradesh hockey nowadays lives on the past.

Despite producing equal number of men and women hockey players, UP finds it difficult to find its traditional mooring nowadays, giving way to Jharkhand, Orissa, Karnataka, Haryana and Punjab to dominate national scene.

However, its fact that the decline of Indian hockey in the 90s and early 2000s coincided with the diminishing returns from UP hockey.

The Indira Gandhi Cup which it last hosted in 1996 for instant was led by Rajnish Mishra, coached by Aligarh product Zafar Iqbal, had six UP players in the team.

Present Indian team has just one token UPite in Danish. This is one instant how the State slipped in producing players.

The State started believed in Jugaad kind rather than belief on hard work.

UP is one of the rare States in India which boasts about ten synthetic turf, from Bareilly, Rampur to Gorakhpur, Varanasi and Jhansi.

The hosting of Junior World Cup in six months is a good news for the city, the State and the provenance.

Hosting of Hockey India League brought Ranchi and Bhubneswar to the limelight, so also major international events there.

Raipur provided another vista how taking international tournaments outside Delhi, serves meaningful purpose, help hockey grow in traditional centres.

Like Madhya Pradesh, it is hoped the Uttar Pradesh will take this opportunity not only to host it on professional lines, but also develop an extensive grassroot project and spread hockey uniformly.

Having been to Lucknow to cover Indira Gandhi Cup (men and women) regularly, I hope the city will turn out to be an excellent host.

But times were different then, the host having many powers which nowadays usurped by the global body.

Now people fly from Europe where the FIH is headquartered, to attend to every ceremonial step, taking away in the process the enthusiasm of the host.

Be it as it may.

Coming of big ticket event to UP is a welcome step.

Stick2Hockey.com


---

Scottish Squad named for 4 Nations Tournament

SCOTLAND head coach Derek Forsyth has selected an 18-strong squad to contest the 90th birthday celebrations of the Polish Hockey Association.

His side will play matches against France, Poland and Italy from June 17-19 in Gniezno (50k north of Poznan) for the Anniversary Cup.

Scotland's Great Britain squad players, captain Chris Grassick and Alan Forsyth, are unavailable for the squad which includes a number of debutants at this level.

Uncapped players are goalkeeper Sean Hadfield, who moves up from the under-21 squad, and his former Grange team-mate, Duncan Riddell, along with former Inverleith striker Patrick Christie, and ex-Kelburne midfielder Ed Greaves.

Amsterdam-based Kenny Bain will reach his 150th cap if he plays in all the games.

Derek Forsyth said: "This tournament kick-starts our competitive fixtures leading towards the World League in Glasgow from September 6 to 11 when we play Switzerland, Wales, Portugal and Slovakia.

"The World League is a key tournament for us and we must do everything we can to have the squad ready."

SCOTLAND: Wei Adams (Canterbury), Gordon Amour, Dan Coultas (Edinburgh University), Russell Anderson (Cannock), Kenny Bain (Amsterdam), Michael Bremner (TC Blau-Weiss, Germany), Patrick Christie (Durham University), Murray Collins and Ed Greaves (Loughborough University), Callum Duke (Hillhead), David Forrester (Bordeaux, France), David Forsyth (Qui Vive, Holland), Cameron Fraser and Sean Hadfield (GK) (Grange), Hamish Imrie (Beeston), Willie Marshall and Nick Parkes (Surbiton), Duncan Riddell (Grove Menzieshill)

Umpire Alex Fedenczuk

Scottish Hockey Union media release


---

Rot-Weiss shoot their way to German title

Rot-Weiss Köln retained the German national title as UHC Hamburg's wait for the biggest crown continues following a 7-6 shoot-out win after normal time had ended 2-2 in Mannheim.

Rot-Weiss had knocked out Harvestehuder on Saturday while UHC eliminated the hosts Mannheim, setting up the final shoot-out in front of an excited crowd of over 3,000.

After a strong opening, Rot-Weiss hit the front from a foul by Jan-Philipp Rabente which led to a corner; specialist Tom Grambusch shot home for a 16th minute lead.

UHC equalised seven minutes later when Pilt Arnold played in Florian Fuchs for a backhand shot that clattered into the backboard, 1-1 at half-time.

Rot-Weiss retook the lead again from a Tom Grambusch corner against a shortened defensive line-up as UHC broke the line prematurely. The Hamburg side replied again with a couple of good opportunities and they got back level for a second time in the 61st minute via Carl Alt and his shot was deflected into his own goal by Philip Zeller.

Mats Grambusch, Christopher Rühr and Marco Miltkau all went close for a Rot-Weiss winner but none materialised and a shoot-out followed.

Nicolas Jacobi made a great reflex save from Matthias Muller in round two but Arnold missed in round three to keep things level. It stayed neck and neck until the seventh series when both sides were unable to convert.

The winner came in round eight when Victor Aly kept out Florian Fuchs and Moritz Trompertz stepped up to score the winning goal for the title.

UHC coach Kais al Saadi said of the final: "In a game between two extremely strong defensive organisations, we have not really hit our full flow.

"With 2-2 in regular time, we actually did quite well but in the shoot-out, you need just a bit of luck and that fell to Köln."

Euro Hockey League media release


---

Grunwald win high tempo battle of Poznan




WKS Grunwald Poznan saw off one of their hardest challenges to date in the Polish league as they clung on to a 3-2 win over KS AZS AWF Poznan.

It was their 17th successive victory of the league campaign, making them clear champions of the regular season with one round to go, leading KS Pomorzanin Torun by 11 points.

Grunwald were without the services of Karol Majchrzak, Matthew Poltaszewski, Robert Grzeszczak and Tomasz Marcinkowski and they were given a real test by AWF.

In the end, it came down to greater corner accuracy. Pawel Bratkowski opened the scoring in the 23rd minute before Szymon Hutek doubled the advantage three minutes into the second half.

Patryk Bulka pulled one back before Bratkowski extended the lead to 3-1. But Mikolaj Gumny kept the game interesting with a goal six minutes from the end for AWF.

And they had a corner in the closing minutes but Maciej Popiolkowski made a big save to retain their 3-2 lead until the end.

AWF, though, remain on course for a playoff place as they sit in third place thanks to a 4-0 win over KS Polonia Sroda. Fourth place is likely to go to LKS Gasawa barring a final day hammering with UKH Start 1954 Gniezno, in fifth, three points back and nine goals worse off on goal difference.

Euro Hockey League media release


---

Hockey greats Sheikh, Islahuddin back PHL

By Nabil Tahir



Pakistan's hockey greats believe that the proposed PHL can play a vital role in rekindling youngsters' interest in the national game. PHOTO: AFP

KARACHI: Pakistan's hockey greats, who led the team to the pinnacle of the sport's glory, believe that the proposed Pakistan Hockey League (PHL) can play a vital role in rekindling youngsters' interest in the national game.

Olympian Islahuddin Siddique, capped a total of 130 times, said the leagues around the world attract audiences due to their format.

"The format of the league and sponsors is the main factor that compels fans to come to the venue and watch," Islahuddin, who won the 1971 World Cup and finished runner-up in the 1975 and 1978 editions, told The Express Tribune.

The former captain added that participation of international players will also be a lucrative incentive for rekindling interest in hockey.

Meanwhile, Olympian Shahnaz Sheikh fears the present critics of the Pakistan Hockey Federation may harm the first PHL.

He said the efforts of the federation were witnessed in the recently concluded U18 national championship where a large number of youngsters turned up to play competitively. "A hockey player gives everything if he is dedicated, as we saw in the U18 event."

The Express Tribune


---

National Junior Squad 2016

Women's junior squad & U23 tour squad announced

By Lawrence West

Hockey Australia has today announced two junior women's squads; its 2016 National Junior Squad and an U23 touring party to travel to England this month, coinciding with the senior Hockeyroos team's Champions Trophy campaign in London.

The National Junior Squad comprises athletes in the under 21 age group, in preparation for the Junior World Cup in Chile in late November. In addition to those named in the squad, a number of junior players currently participating in the senior and development high performance programs remain eligible for Junior World Cup selection.

Additionally, next week, an Under 23 side will travel to England to play a series of competitive fixtures in Nottingham. The tour, which runs from 11-27 June, has been made possible thanks to the support of the Australian Commonwealth Games Association through its NextGEN AUSComGames program.

The tour will provide the athletes with exposure to a high level of competition against their British and Dutch counterparts in a tournament structured in a similar manner to the Champions Trophy, in which the senior Hockeyroos are competing.

Athletes have been assessed across the year including at the National Futures Camp, the Junior World Cup qualification camp and the Junior World Cup Qualifier on the Gold Coast, at the Under 21 Australian Championships in Sydney in April and, most recently, the National Training Centre Challenge in Canberra in May.

The Junior World Cup in Santiago, Chile, runs from 24 November to 4 December.

National Junior Coach, Craig Victory, said, "We are very much looking forward to our tour to England. It is a significant opportunity for our athletes as we play quality international teams, Great Britain and the Netherlands.

"I want to acknowledge the tremendous support we receive from the Australian Commonwealth Games Association through its NextGEN AUSComGames program, without which our athletes would not receive the opportunity to experience such first-rate competitive matches at this age group.

"This was naturally a very difficult selection given the nature of the under 23 age range and some very talented young girls coming through our system.

"Ultimately, our overall philosophy was to be able to hit the ground running post-Rio. In Jocelyn Bartram, Penny Squibb, Jacqui Day, Jordyn Holzberger and Laura Barden we'll have one 'senior' player on each of the five lines. The other 13 athletes are all eligible for the Junior World Cup, along with Mariah Williams who will be part of the Hockeyroos' Champions Trophy squad.

"We finish off the tour by watching the final of the Champions Trophy in London, which will be yet another wonderful learning opportunity for the Jillaroos."

2016 Women's National Junior Squad
Name (Home town / suburb) [Representative State/Territory]
Alphabetical by surname
Alice Arnott (Werris Creek, NSW) [New South Wales]
Hannah Astbury (GK) (West End, QLD) [Queensland]
Kristina Bates (Port Melbourne, VIC) [Victoria]
Olivia Colasurdo (East Keilor, VIC) [Victoria]
Talei Forrest (GK) (Oxley, ACT) [Aust Capital Territory]
Annie Gibbs (Waterford, WA) [Western Australia]
Andrea Gillard (Lithgow, NSW) [New South Wales]
Laura Gray (Goulburn, NSW) [Aust Capital Territory]
Rebecca Greiner (Bundaberg, QLD) [Queensland]
Rachael Guy (Berwick, VIC) [Victoria]
Greta Hayes (Maroubra, NSW) [New South Wales]
Rene Hunter (Wentworth Point, NSW) [New South Wales]
Ambrosia Malone (Molendinar, QLD) [Queensland]
Phillipa Morgan (Nedlands, WA) [Western Australia]
Madeleine Murphy (Hobart, TAS) [Tasmania]
Mikaela Patterson (Blackbutt, NSW) [New South Wales]
Candyce Peacock (Palmyra, WA) [Western Australia]
Aleisha Power (GK) (Clackline, WA) [Western Australia]
Michaela Spano (Toorak Gardens, SA) [South Australia]
Tina Taseska (Palmerston, ACT) [Aust Capital Territory]
Sophie Taylor (Camberwell, VIC) [Victoria]
Shanea Tonkin (Darch, WA) [Western Australia]
Leah Welstead (Taperoo, SA) [South Australia]
Abigail Wilson (South Bowenfels, NSW) [New South Wales]
Georgia Wilson (Mahogany Creek, WA) [Western Australia]

U23 Tour Squad to England, June 2016
Name (Home town / suburb) [Representative state/territory]
Alphabetical by surname
Laura Barden (Kew, VIC) [Victoria]
Jocelyn Bartram (GK) (Albury, NSW) [New South Wales]
Jacqui Day (Mountain Creeks, QLD ) [Queensland]
Madison Fitzpatrick (Cabarita Beach, NSW) [Queensland]
Savannah Fitzpatrick (Cabarita Beach, NSW) [Queensland]
Rebecca Greiner (Bundaberg, QLD) [Queensland]
Kate Hanna (Constitution Hill, NSW) [New South Wales]
Greta Hayes (Maroubra, NSW) [New South Wales]
Madeleine Murphy (Hobart, TAS) [Tasmania]
Jordyn Holzberger (Yamanto, QLD) [Queensland]
Kaitlin Nobbs (Newington, NSW) [New South Wales]
Aleisha Power (GK) (Clackline, WA) [Western Australia]
Madi Ratcliffe (Warrnambool, VIC) [Victoria]
Michaela Spano (Toorak Gardens, SA) [South Australia]
Penny Squibb (Tambellup, WA) [Western Australia]
Sophie Taylor (Camberwell, VIC) [Victoria]
Renee Taylor (Everton Park, QLD) [Queensland]
Georgia Wilson (Mahogany Creek, WA) [Western Australia]

Hockey Australia media release


---

MHC website and password for everybody



THE MASTER COACH

THE Malaysian Hockey Confederation (MHC) yesterday launched the 1Mas Coaching Website 'for everybody' who are interested in the sport, and gave away the password.

The URL for the website is mhc1mas.com and the password is 1Coach.

And information in the website is based on the wealth of experience gained by one of the world's best hockey mind, Australian Terry Walsh.

Walsh, the MHC Technical Director now, said it is a new initiative and visual learning programme which will help players and coaches around the country.

It is not meant to be prescriptive but information sharing, reminded Walsh.

"We are trying to make it as open as possible for everybody around the country to go online and have a look at what we have produced. It is basically an education process, as we look forward to go as deep as we can into the hockey community in Malaysia.

The content of the website is mostly about how to develop skills into the highest level, simple playing concepts, what do they mean and how to go about it," said Walsh during the soft launch in Bukit Jalil.

Also present at the event were MHC Deputy President, S. Shamala, Independent member Ahmad Najmi, CEO K. Logan Raj, 1Mas Director of Development Tai Beng Hai and 1Mas coaches.

Shamala praised the brilliant effort taken by Walsh to build a strong platform for the future of Malaysian hockey.

"This website will serve as the digital platform for the hockey family to harness knowledge and resources that were developed by Walsh.

"The platform is intended to serve as a critical and complementary partner to the existing avenues of knowledge transfer," said Shamala.

It is going to be a massive advantage for kids who are keen on learning the game and also the coaches, who would be able to learn the process of skill development and understanding what are the coaching concepts are all about.

Jugjet's World of Field Hockey


---

Fourways High hockey boys wins Aitken Trophy

Fourways High boys hockey team wins Aitken Trophy B-league and is promoted to the A-league.



STARS: Fourways High School boys hockey first team.

Fourways High School's boys first hockey team competed in the Aitken Trophy Tournament, the highlight of the season for schools' first hockey teams.

This year, the tournament was held at King Edward VII School.

Kate Palmer, Fourways High School's first team boys hockey manager said, "The first game was Fourways High School against HeronBridge, a game that was well played and saw Fourways victorious, winning 4–0."

She continued, "With the extra boost behind us, we faced Monument High School, a very fast-paced and strong game but, unfortunately, we lost 1–0."

Pelmer said, "The last game of the day was Edenvale High versus Fourways High School and we triumphed 2–0. This put us through to the next round which was the quarter-finals."

Palmer added that on day two, the weather shifted but the Fourways team did not let a little rain slow them down and, in an outstanding game, they conquered Randpark High School 2–0 which meant the team was into the semifinals to play against Redhill School.

"With the mindset of a fresh game and a very wet Astroturf, the boys remained determined and focused and it was an outstanding game by both teams," she said.

"Overriding passion and persistence through all the conditions saw Fourways High School win 2–0 and this sent us into the final of the Aitken B league, with our rivals, who were none other than Monument High School."

Palmer added that the final was a nail-biting affair as Monument gave it their all, but Fourways came through winning 1–0. For winning the Aitken B-league, the Fourways team gained automatic promotion to the A-league next year.

"As a school we could not be more proud of our first team boys – the hockey legends that they truly are."

Fourways Review


---

Rangi Ruru to unveil new hockey turf



Rangi Ruru will unveil their new hockey turf on Wednesday.

Black Sticks Gemma Flynn, Jordan Grant and Rachel McCann will help open Rangi Ruru Girls' School's artificial hockey turf on Wednesday.

The three Black Sticks will showcase their skills on the new turf, running through drills with Rangi's first 11 hockey team, who are national secondary schoolgirls' champions.

Sports broadcaster and former New Zealand dual international in cricket and hockey, Lesley Murdoch, will also formally announce the facility.

Murdoch featured on the Queen's Birthday Honours List, being named an Officer of the Order of New Merit (ONZM).

Costing just over $1m, the half-size surface, is part of stage two of the Project Blue Sky Rangi Ruru campus redevelopment project which began in 2012.

Rangi's board of Governors chair, Stuart Nattrass said a collaboration with Canterbury Hockey has enabled the turf to be installed which has mutual benefits for both the school and Canterbury Hockey.

"We have always had an excellent relationship with Canterbury Hockey, as we do with a number of regional sports organisations and in this case, we were able to negotiate an interest free loan from Canterbury Hockey which enables Rangi Ruru to complete this world class facility while providing access to the turf for our local sportsmen and women."

Christchurch club HSOB/Burnside, Canterbury hockey's affiliated club, will use the hockey turf for training.

Canterbury Hockey will use the facilities for weekend junior hockey and representative training.

Stuff


---

#MotivationMonday – Rotterdam HC into the Guinness Book of Records! 




The 27th of May was no ordinary day for HC Rotterdam, but what a #MotivationMonday day it was as they played their way into the Guinness Book of  Records!

HC Rotterdam youth members managed the greatest exercise ever delivered as they took their in the famous Guinness Book of Records. With 1,042 participants taking part in one training it's a new record. The record attempt was to kick off a weekend of festivities to mark the ninety anniversary of HC Rotterdam.

The basis for the new HC Rotterdam record is among the youngest youth HC Rotterdam. The usual Friday afternoon training for the more than six hundred young hockey players were joined by the other youth teams and really enthusiastic parents!

Take a peak at the joy, if this doesn't motivate you what will! Well done to HC Rotterdam and especially to the players and coaches who made it happen…

EuroHockey media release