All the news for Wednesday 9 March 2016

Black Sticks surge past Malaysia in third test



Photo: www.photosport.nz

A hat-trick from Hugo Inglis has helped the Black Sticks Men to a 4-2 win over Malaysia in the third test at Blake Park in Tauranga.

Trailing by a goal in the second half, Inglis scored three goals in the final 20 minutes to lift the Kiwis to a 2-1 lead in the four test series.

Head coach Colin Batch said it was another tough game against a Malaysian side who are playing at a higher level than their world ranking of 13th.

"One of the things we wanted to do was start the game better and we did that – our first goal was very good," Batch said.

"Credit to Malaysia it was a struggle to win the game and they are a very competitive side. They're testing us in ways we want to be tested going forward.

"In this series we are putting ourselves through difficult situations. We learnt a lot from the second test and it was good to come through with a win tonight."

The Black Sticks made a strong start and found themselves leading in just the second minute after James Coughlan delivered a stinging reverse shot past the goalkeeper.

New Zealand held the majority of possession in the first half but Malaysia scored against the run of play just out from halftime when Rashid Baharom controlled a long overhead before slipping the ball past Devon Manchester's pads.

With the game locked at 1-1 it was Malaysia who were next to strike after being awarded a stroke five minutes into the third quarter, Fitri Saari finding the goal.

Just out from three quarter time Inglis levelled the score once again when he got the final touch on a penalty corner play which saw Nic Woods slip a precision pass to the right post.

With less than two minutes on the clock the Black Sticks were awarded a stroke when Nick Wilson was chopped down from behind in the circle, with Inglis obliging from the spot.

Straight off the restart it was Inglis again who put the result beyond doubt, going on a breakaway run thanks to a pass from Wilson and slipping the ball over the goalkeeper.

Auckland striker Jared Panchia celebrated his 50th international test during the game.

The Black Sticks play the fourth and final test against Malaysia tomorrow at 6pm, with pre-sale tickets still available through www.dashtickets.co.nz

Following this series the Black Sticks head north to Auckland to prepare for four tests against Korea from 16-20 March at Lloyd Elsmore Hockey Stadium.

The Black Sticks vs Malaysia series at Blake Park is proudly supported by the Tauranga Energy Consumer Trust (TECT).

BLACK STICKS 4: (Hugo Inglis 3, James Coughlan)
MALAYSIA 2: (Rashid Baharom, Fitri Saari)
Halftime: 1-1

Hockey New Zealand Media release


---

Black Sticks back to winning ways

By David Leggat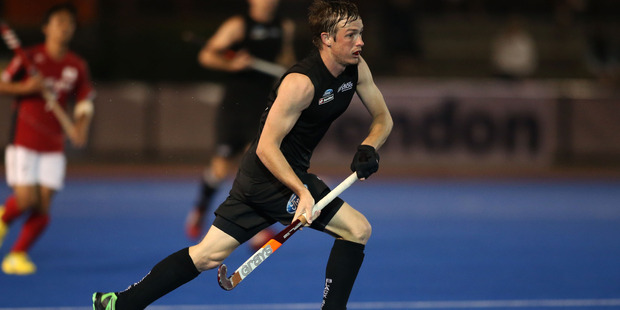 Hugo Inglis scored a hat-trick to help New Zealand beat Malaysia. Photo / Getty

A Hugo Inglis hat trick got the Black Sticks back to winning ways in the third game of their series against Malaysia in Tauranga tonight.

But there's no doubt 13th ranked Malaysia are giving New Zealand, ranked five places higher, some real cheek in this four-game rubber, which ends at the same venue tomorrow (Thu) night.

The Malaysians bounced back from losing game one with a 3-2 win to square the series and things were getting sticky for the Black Sticks tonight until Southern striker Inglis stepped up.

New Zealand had led early through North Harbour's James Coughlan, but Malaysia got level through Rashid Baharom before halftime.

The visitors then went ahead through a penalty stroke from Fitri Saari.

However Inglis then made his play, to get New Zealand out of a jam.

He got New Zealand's second goal, deflecting a drive into the net before adding a penalty stroke, after a foul on Nick Wilson five minutes from the end.

Then to cap it off, he broke clear and flicked the ball past Malaysia's goalkeeper for the fourth goal.

New Zealand were impressive in the first and final quarters, more ordinary for the half hour in between.

The New Zealand Herald


---

Hugo Inglis hat-trick powers Black Sticks home over Malaysia in third test



Hugo Inglis scored a hat-trick as the Black Sticks beat Malaysia 4-2 on Wednesday. PHOTOSPORT

A Hugo Inglis hat-trick powered the Black Sticks to a 4-2 win over Malaysia in the third test at Blake Park in Mt Maunganui on Wednesday.

Inglis scored once in the third quarter and twice in the dying minutes to carry the Black Sticks home, giving them a 2-1 advantage in the four-game series.

His final two goals were the last acts of a game which had both sides trading blows right from the start.



James Coughlan opened the scoring for the Black Sticks in their 4-2 win over Malaysia on Wednesday. PHOTOSPORT

James Coughlan opened the scoring for the Black Sticks, giving them a 1-0 lead after just three minutes when he fired home from a penalty corner.

They held that advantage at the first quarter break, but conceded against the run of play just before half time, Rashid Baharom's goal leaving the game evenly poised at the break.

Shortly into the third quarter, Malaysia won a penalty stroke, and Fitri Saari made no mistake in putting his side ahead.

It was then Inglis who got the Black Sticks back level, getting on the end of a Nic Woods shot, and 2-2 was how the scores stood at three quarter time.

Both sides traded penalty corners in the final stanza, but it was the Black Sticks who were able to convert, giving themselves a 3-2 lead, which they then extended before the final whistle on a break.

The win means the Black Sticks have bounced back well from the 3-2 loss they suffered on Monday night, after winning the first game of the series 4-1 on Sunday afternoon.

The fourth and final test between the two sides is on Thursday night, with the Black Sticks then moving on to a four-game series against South Korea in Auckland starting next Wednesday.

Black Sticks 4 (Coughlan, Inglis 3) beat Malaysia 2 (Baharom, Saari) HT: 1-1

Stuff


---

Black Sticks women's coach Mark Hager names strong squad to prepare for Olympics



Kayla Whitelock is one of several experienced campaigners in the Black Sticks squad. FRANCOIS NEL/GETTY IMAGES

Black Sticks women's coach Mark Hager has named a squad brimming with experience to prepare for the Rio Olympics in August.

The 25-strong group has four players with more than 200 internationals under their belts, including Kayla Whitelock and Emily Naylor, who have 498 caps between them, as well as Anita Punt (222) and Gemma Flynn (224).

Hager said selections were extremely tough given the depth of players that has been built over the past few years.

"This is a really strong group of athletes who are vying for Rio Olympic selection later in the year. We have built great depth and healthy competition between all squad members," the coach said.

"The experience within this group will greatly benefit all players as they strive to become better and push hard for the final selection ahead of Rio.

"All squad members are looking forward to the challenge Rio will present and are excited about what opportunities will come over the next six months."

Having just returned home following their series win over world No 2 Argentina, the Black Sticks now switch focus to two tests against Canada over Easter and the Hawke's Bay Cup in April.

Whitelock stood out during the Argentina series in what was her first taste of international hockey since the 2014 Commonwealth Games.

And the experienced campaigner believes this is the strongest New Zealand squad she has been a part of.

"I'm excited about the challenge of continuing to work my way back into the team. I know it's not going to be easy and a lot has changed since I played last," Whitelock said.

"As a team we have great confidence for this year with genuine belief we can achieve something special at the Olympics."

The Black Sticks play two tests against Canada in Hamilton on March 27 and 28 before the Hawke's Bay Cup, which features seven other international sides, gets under way on April 2.

2016 Black Sticks women's national squad

Amelia Gibson, Charlotte Harrison, Julia King, Liz Thompson (Auckland), Georgia Barnett, Emily Naylor, Kayla Whitelock (Central), Sam Charlton, Natasha Fitzsimons, Gemma Flynn, Shiloh Gloyn, Rose Keddell, Sally Rutherford (Midlands), Jordan Grant, Pippa Hayward, Olivia Merry, Rachel McCann, Sophie Cocks (Canterbury), Ella Gunson, Brooke Neal, Stacey Michelsen (Northland), Kat Henry, Kirsten Pearce, Petrea Webster (North Harbour), Anita Punt (Capital).

Stuff


---

London to host men's Champions Trophy

by Martyn Herman




LONDON (Reuters) - Germany will return to the scene of their Olympic triumph four years ago as they prepare for this year's Rio Games at the Champions Trophy in London in June.

The International Hockey Federation (FIH) confirmed on Tuesday that the week-long tournament, originally scheduled for Argentina, will be held at the Queen Elizabeth Olympic Park starting on June 10.

Germany's men, who will be bidding for a hat-trick of Olympic titles in August having also won gold in Beijing, will be joined by Australia, Belgium, Britain, India and South Korea.

Germany will open their campaign against India on June 10 when Britain face Australia in a repeat of the bronze medal match at London 2012 which Australia won 3-1.

The women's Champions Trophy will take place in the same venue the week before.

The men's event was switched to London after the FIH cancelled its contract with the Argentine Hockey Confederation over a dispute about television rights contracts and sponsorship.

The 2018 women's World Cup will also be hosted at London's Olympic Park.

The Star of Malaysia


---

SSGC, NBP, KP Whites and Army reach semis

LAHORE: Sui Southern Gas Company (SSGC), National Bank of Pakistan (NBP), Khyber Pakhtunkhwa Whites and Pakistan Army advanced to the semi-finals of the 35th National Junior Hockey Championship with contrasting last-eight victories on Tuesday.

While SSGC and Army scraped 2-1 past Wapda and Pakistan Railways respectively, NBP were rampant in a 9-1 thrashing of Pakistan Customs while KP Whites hammered Punjab Whites 5-0 here at the National Hockey Stadium.

Rana Sohail gave SSGC a fifth-minute lead, finishing off a fine team move, but Wapda levelled just four minutes later through Bilal Sohail.

Rana, though, scored the winner barely a minute later in an absorbing match which saw both teams waste good chances to add further to the scoreline.

Full-back Abubakar Mehmood was the star of the show for NBP, scoring through four penalty corners, as they crushed Customs.

His conversions came in the fifth, 17th, 20th and 25th minutes, adding to Mohammad Atiq's 22nd-minute strike and Azfar's goal in the 29th as NBP raced into a 6-0 lead after two quarters.

Mohammad Dilber then converted two penalty corners in quick succession with Mohammad Naveed completing NBP's scoring in the 43rd, three minutes before Qazi Anser grabbed a consolation for Customs.

KP Whites captain Zahidullah fired them into a 12th-minute lead, converting a penalty corner before Khairullah and Amjad Ali scored in the space of four minutes — the first a field goal and the second a penalty corner conversion — to put them 3-0 up by the 26th minute against Punjab Whites.

Further field goals by Shahbaz (39th) and Khairullah (54th) completed the rout.

Railways, meanwhile, were unlucky against Army as an implosion in the third and fourth quarters saw them crash out.

Captain Awais-ur-Rehman put them ahead in the second quarter but Army hit back in the 42nd through a beautiful field goal by Noman Ali before Jahangir Ali struck the winner a minute from time.

Dawn


---

Coaching courses to be held across Canada this weekend

Shaheed Devji




Field Hockey Canada, in collaboration with Field Hockey Ontario, Coaches Association of Ontario and the Coaching Association of Canada, will be hosting a Competition Development course at Appleby College in Oakville, Ontario March 11-13, 2016.

This course will be held in conjunction with the Ontario Field Hockey Coaching Conference, a conference designed for club coaches at all levels across the province.

Speakers for the conference and Competition Development will include master facilitator and Field Hockey Olympian, Sharon Creelman, Sport Psychology specialist and researcher, Dr. Shaunna Taylor, Sport Science Specialist from the Canadian Sport Institute – Ontario, Rob Rupf, as well as numerous Ontario-based field hockey experts in the areas of planning, program and technical development (Ann Doggett, Amy Agulay, Louis Mendonca).

Coaches will be in attendance from Alberta, Ontario and the Maritimes.

"This is the first Competition Development and Provincial coaching course amalgamation of its kind," says Dr. Taylor. "We look forward to building future partnerships as the National Coaching Certification Program (NCCP) begins delivery across Canada in the 2016-17 season."

Also taking place this upcoming weekend (March 11-13th) are a full suite of NCCP coaching seminars hosted by Field Hockey British Columbia at Burnaby Lake West – for more information about these courses, visit Field Hockey BC.

Further information, including a seminar recap and plans for future courses will be posted at fieldhockey.ca when information becomes available.

Field Hockey Canada media release


---

The women accelerating gender parity in hockey

Pledge your support for gender parity below...




March 8 marks International Women's Day, an annual event which aims to celebrate the social, economic, cultural and political achievement of women whilst also draw awareness to the fact that progress in gender equality has slowed. As a result, urgent action is needed to accelerate gender parity - something that the hockey world is working hard to achieve.

This year the FIH makes our #PledgeForParity as we call for gender balanced leadership. One of the areas we are targeting is top level coaching where we are introducing a Women in Elite Coaching Project, which will run during the Women's Hockey Champions Trophy in London, England in June this year.

The project's long-term aim is to increase the number of females coaching within the top 12 nations. This is a key part of the FIH's 10 year-year strategy - the Hockey Revolution, of which one key area of focus is to increase the degree of professionalism throughout all areas of the sport.

Whilst this aims to help others reach such levels, we heard from four women who already hold high profile positions within hockey and get their thoughts on why there aren't more females following their lead.

Great Britain's Karen Brown, Netherlands Janneke Schopman and Australian Alyson Annan are all Olympians who have successfully made the transition from elite player to elite coach within a top 10-ranked international team. While all three recognise there is gender disparity, their viewpoints about why and how to address it are very different.

As Assistant Coach to Great Britain and England, Brown's attitude is unbiased. She said: "Sport is slightly behind other industries when it comes to gender equality, but it is catching up. However, you have to be realistic - you cannot just flood the market with female coaches, they have to have the right qualities and the right skill sets."

Annan, who is Head Coach of world number one ranked Netherlands, has a slightly different opinion. She said: "I think there may be reasons to run women-only coaching courses, but there are already some very good female coaches out there in some of the lower-ranked national sides. A little support via FIH coaching courses will help to break down some barriers to female coaches."

Janneke Schopmann is now Assistant Coach to the USA national women's team. She said: "I can only reflect on my own experiences in the Netherlands and now working here in the US. I think it has to do with culture.

"In the USA there are a lot of female coaches, the majority of the D1 college coaches are female, you also see a lot of female coaches in the female sports. In the Netherlands, coaching is more male dominated and not just in hockey.

"Some players said to me they didn't want a female coach and when I asked 'why?' they just shrugged their shoulders and said that's what they were used to and how they liked it. I do think that is changing though.

"If I look at myself and think about the choices I have made too, I don't necessarily think that women want to pursue a coaching career full-time. Pursuing a career as a high level coach needs a full time commitment and comes with a lot of demands and responsibilities. In that respect I don't see many differences with women in high positions in business. Although the numbers are increasing, there aren't nearly as many women at that level as men."

Over in the UK, one woman who successfully challenges male dominance on a daily basis is Chief Executive Officer of England Hockey, Sally Munday. The highly driven CEO has been in post for more than 10 years and in that time has turned England Hockey into a professional, leading force.

FIH regard Great Britain, of which England Hockey is the responsible governing body, as a hockey role model in their Hockey Revolution strategy which aims to make hockey a global game that inspires the next generation.

As was demonstrated by the packed house at the final of the women's EuroHockey event last August, England Hockey, led by Munday, sees the women's game as having total parity with the men's.

"I am a strong believer in the best person for the job irrelevant of gender," says Munday. "In the UK at the moment there are a number of brilliant leaders in key positions – UK Sport and Sport England for example – that are women. We just need to get to a time where it is not necessary to point out that these brilliant leaders also happen to be women – why wouldn't they be women?"

Whilst those working behind the scenes are playing a hugely important role in improving gender parity, athletes are also key to shaping perceptions. Speaking exclusively to Australia Hockey, Hockeyroos star Anna Flanagan highlights the influence that athletes can have. She said: "Female sports people offer society positive role models for the next generation.

"We need girls to be in the media, sharing their healthy, happy, and positive lifestyle that sport has provided them with. I am lucky that hockey has the equality that some sports sorely lack, but females across all sports codes have a powerful message for young girls and this should be shared. I pledge for parity in female sport in the media, but know just how lucky I am as a hockey player in Australia." To read her full interview, click here.

The FIH are asking people to join them in pledging their support for gender parity. We've created an exclusive free hockey Twibbon to add to your social media profiles for the day which you can add easily. More info here.

You can also pledge your support for parity by heading over to the International Women's Day website.

FIH site


---

Celebrating the power of sport on International Women's Day

Shaheed Devji



Photo: Yan Huckendulber

As much of the world celebrates International Women's Day, today is a reminder of how much sport can do to empower women and enable them to live meaningful lives.

Simply through the involvement alone, sport – at any level – has the ability to develop key attributes for athletic, professional, and personal success.

"Sport promotes those characteristics of leadership and standing up for your teammates. I think that's what empowers us," says Canadian women's field hockey team captain Kate Gillis.

"That comes with our competition as well. Showing that we can play just as hard and have the same opportunities."

In addition to its demonstration that a woman can and should be treated equally, sport also often leads to off-field opportunities that enable woman to have a lasting impact on their peers and society at large.

"I think it's give me the confidence in myself to know that I can back myself. I can get in there and get involved," says veteran forward Thea Culley, who is a member of Field Hockey Canada's Board of Directors and also sits on the board for the national athlete advocacy group AthletesCAN.

"It starts when you're within your team and you start to take on leadership positions," Culley adds. "You learn to public speak, and speak your mind. From there it opens up opportunities."

Those opportunities can extend to the highest levels of the sporting world – and beyond – as evidenced by Canadian Mary Cicinelli, who was recently elected to the International Hockey Federation (FIH) Executive Board.

Cicinelli, who, professionally, is a Director of Human Resources and Corporate Services at the Institute for Work and Health in Ontario, has spent the better part of her life dedicated to field hockey.

Starting as a Team Manager before eventually becoming President of Field Hockey Canada, she went on to becoming on of the sport's most influential people.

"My involvement with field hockey has provided me with many opportunities to learn and work along side some very strong women leaders," she says. "There were many wonderful female mentors, that have paved the way for today's women leaders in field hockey, all who have encouraged and empower us to do better."

For many years, Cicinelli has been and continues to a mentor and role model to many inside and outside the Canadian field hockey community. And those who follow in her footsteps, like current Field Hockey Canada Board Member and business leader Anne McMullin, or current athletes – like Culley and Gillis – continue to prove that sport the perfect place for women to take center stage.

Join us celebrating International Women's Day by showing your support on social media. Tweet with the hashtags #IWD2016 and #PledgeForParity.

Field Hockey Canada media release


---

Crossing continents to hone her craft

Lauren Logush (Canada)

Sarah Juggins



Lauren Logush (Canada) - 2014 Commonwealth Games. Photo: Yan Huckendubler

Lauren Logush is a goalkeeper who wears many hats. Her club hockey is played for top Dutch side HDM den Haag, while she is also part of the Canadian women's senior side. However, for the next few weeks, all her focus will be on representing the Canadian Junior women's team as they travel to Trinidad and Tobago to take part in the Junior Women's Pan American Championship.

Here, Lauren opens her heart on what it feels like to stand arm in arm with your team mates, why hockey has expanded her horizons and how Justin Bieber even tops the charts in the Netherlands.

Question: At what age were you selected for the national junior squad?

Lauren Logush: I was first selected back in the summer of 2010 at the age of 15 when Field Hockey Canada was restarting the U21 program. I was still rather new to the sport and flew out to Vancouver for the tryout camp, it was my first time playing on water based turf.

Q: How did you feel the first time you pulled on the Canadian shirt?

LL: The first time I wore the Maple Leaf was spring 2011 in a four game series against the USA down in San Diego. I was pretty nervous, which probably goes without saying, but more than anything I just really wanted to prove that I belonged there.

Q: What are your stand-out memories of that first game?

LL: I remember teammate and good friend Natalie Sourisseau crying because we had lost. And I just thought whoa, I don't only want to play for Canada, I want to be successful with Canada.

Q: How has becoming an international player changed your life?

LL: Being an international player has completely changed the trajectory of my life. I moved from Toronto to Vancouver just after I turned 17 to be with the Canadian program, ultimately choosing to study at The University of British Columbia, where the team is centralized. This past summer I moved to The Netherlands to play club hockey as I believed it would be best for my hockey development. Without international hockey as a catalyst, there is no way I would become this weird West Coast/Dutch influenced girl. I have lived in and travelled to some vast places since becoming an international player.

Q: What are the positives and negatives of being part of the national team?

LL: There's no better feeling than representing Canada and standing on the podium arm in arm with your teammates. And of course, who wouldn't love to travel around the world, get a bunch of sweet clothes and a few extra Instagram followers! But, of course, it's not really about that, and if it is, you won't last long. I've come to realize that it's a very special thing to care so deeply and be so motivated for something in life, especially when you're sharing it with 25 or so other people. That being said, there are difficult elements of this lifestyle. There are no guarantees that you will be successful, a university degree takes longer, a full career is next to impossible, it's difficult to maintain relationships, the usual sort of things.

Q: How do you find a balance between hockey and studying or a social life?

LL: I think one of the most important things is to have a life and interests outside of hockey. Balance is everything. Online courses have been extremely helpful, and it's nice that a good chunk of my teammates are also in school. I've also been very fortunate to have some good friends outside of hockey as well as interests such as cycling, rock climbing, hiking, skiing and general outdoor activities along with intellectual pursuits like reading and writing. Being balanced avoids burnout, and I think you're ultimately able to contribute more on the pitch if you're a more fulfilled individual.

Q: What is a typical day for you in terms of training demands and how is this changing as the competition gets closer?

LL: I'm in a unique position as I'm living and playing in Holland, and typically have two types of days: training and non-training days. Let's take a Tuesday. I'd probably wake up around 9:30-10am, have breakfast, drink coffee and do some online coursework. Fast forward to 3:30pm and I'd cycle to my club and train from 4-6pm. We then go inside and have a snack, followed by keepers training with Simon Zijp, who is the goalkeepers coach of the Dutch National Program and an all-around great guy. That lasts an hour from 7-8pm. After that, it's another team session from 8-9:30pm. We shower while listening to a great Canadian artist known as Justin Bieber! Finally, we have dinner at the club and I either bike home, or get a ride with my teammate, Leonoor Schiphorst.

Thursdays are another double training day, Friday is a single and on Sunday we have a match. On a non-training day, I attempt some schoolwork or reading, go for a run, do some coaching or babysitting, go rock climbing, watch a documentary, or maybe go to the beach.

Q: What is your informal role within the squad?

LL: Well, I would be honoured if my teammates saw me as a leader, but I don't particularly think that is a question for me to answer. I try to be pretty direct and honest, so I hope that they see me as a good confidant and someone to give advice. At the end of the day, I'm just trying to live out the values I believe in, and hopefully that's a positive reflection for others to possibly follow or learn from.

Q: What is the reaction of your non-playing peers to your success on the sports field?

LL: They're always really supportive and generally quite confused as to where I am in the world, what I'm doing there, or which team I'm playing with. It's always really nice though, our lives are so often normalized that it's refreshing to get a new or different perspective.

Q: What are your aims/hopes/ambitions for the Junior Pan-Ams?

LL: We want to be playing in that final. Yes, it's an arduous task, but I don't think there's a point of going down unless we're gunning to qualify for the World Cup. The biggest match will be the semi-final. Either we do some very strong work in our pool play against the USA or we prepare for a match against Argentina. Either way, we know we will be facing a tough opponent, so it comes down to us preparing to play a strong defensive game and capitalize offensively when we get the chances.

Q: Do you have a pre-match ritual to overcome nerves and get ready?

LL: For sure, I try to keep my pre-match routine consistent. I like to eat three to four hours before game time, followed by some visualization before we leave the hotel. I try to gradually ramp up my emotional intensity, so chill music until I start warming up then I increase the tempo. I like to feel light and smooth during warm up, and most importantly I keep everything as rhythmic as possible, which should lead into a smooth transition to the beginning of the match.

Q: With about a month to go, how are you feeling?

LL: I'm feeling quite strong, I think I'm playing the best hockey I've ever played. It's going to be a long battle down there, and I'm confident that my preparation is going as well as I could have hoped.

Q: What is the difference between being part of the senior national squad and the junior squad?

LL: It can be very raw with the junior side, something I didn't really realize it until I rejoined the junior program (after the couple years in between cycles). Most players on the senior team know what to expect and are used to touring, whereas with the junior team, we've got some kids who only left the country for the first time last month when we went to Chile. It's cool to see that sort of appreciation and awe. The junior team also has a better taste in music!

Pan American Hockey federation media release


---

EHF Competitions Committee, Outdoor Members stand Shoulder to Shoulder with their retiring members



Norma Gartside   

A fitting story for International Women's Day and the International #PledgeforParity as the EHF said farewell at end of a wonderful evening to Norma Gartside and Wiert Doyer as both stepped down from the EHF Competitions Committee, Outdoor last weekend.

Wiert, already honoured at the EHF General Assembly last August as he became the latest Member of Honour for his exemplary services to European Hockey, decided to call it a day as Chair of the Competitions Committee, Outdoor and handed over the reins to Bjorn Isberg.

Wiert was once again thanked for his wise council, his calm thought process and complete dedication to the work of the EHF Competitions Committee, Outdoor especially in relation to his huge volume of work in the lead up to and during the launch of EHL.

Wiert is pictured with a personal gift from the EHF, which we all hope he enjoys using!



Wiert Doyer

The President, Marijke Fleuren then presented a Diploma of Merit award to Norma Gartside, who was also stepping down from the Committee.

Marijke said of Norma "Norma was and still is a stalwart and respected Member of Ards Ladies Hockey Club, one of Ulster' leading Clubs and she has held all their top positions. She has served on many Committees and Board of Ulster and Irish Hockey. Always willing and able to make strong arguments on matters which she believed in. Norma was Manager of the Irish Ladies Team for a number of years including 1994 when Ireland Ladies hosted the Women's World Cup in Dublin. A massively successful event which galvanised all members of the then Irish Ladies Hockey Union to support the event. The success of the event financially meant a real legacy for Women's hockey in Ireland.  Norma has been a Tournament Director and Technical Officer  on many occasions in Ulster Competitions and a Technical Officer and a Judge at many  Irish Competitions, going on with her career in Europe. She has been a great member of the EHF Competitions Committee, Outdoor over the past number of years. Norma, is a no nonsense straight talking woman, who with the full support of her family has devoted herself to hockey in Ireland. As a proud Ulsterwoman, she was able to see the 'bigger picture' at times when it wasn't always easy to negotiate both Ulster hockey to combine into one and indeed the possibly harder task of getting the Irish men and Women to amalgamate.  Her sense of humour and tendency to be in the heart of the singsong would not take away from her tenacity and frank arguments when necessary. It is my personal pleasure to honour Norma with this Diploma of Merit, a way of thanking her for her fantastic contribution to hockey and European hockey in particular."

On receiving her award Norma invited the members to join her in the Irish Hockey anthem – Ireland's Call and to stand Shoulder to Shoulder with her in her retirement.

EuroHockey media release