All the news for Monday 29 February 2016

SA women win series against Scotland

Despite an unexpected loss in the third test against Scotland the South African women's hockey team won the series against the visiting Scots. This series was part of the Private Property Summer Series.

Scotland won the test at Hartleyvale 1-0 after losing the first two tests. It was a big turn around from Saturday's 1-8 defeat they suffered. In the second test everything hit the back of the goal box for South Africa, but on Sunday the ball went everywhere expect the back of the box.

Robyn Collins scored the only goal of the match shortly after halftime. In the second quarter Scotland had five penalty corners in a row, but had to wait until the 32nd minute for only their second goal in the series.

It was a scrappy match in general. Such a contrast from the second test once again.

SA's coach Sheldon Rostron said: "We decided to pick our younger side today to give them an opportunity to gain some valuable international experience. We also experimented a bit in certain positions and it obviously did not work like we hoped. Some of the senior players were rested with our big focus now being the next two tests against Germany. With the first two tests against Scotland we set the standard so today we tried a few things. We lacked on the defence, but we did create opportunities."

The next matches in the series for the SA women's team are on Friday and Saturday against Germany at Bishops and in Stellenbosch respectively.

The SA men's team plays Germany tomorrow for the last time. Action starts at 18:00 at Hartleyvale.

SA Hockey Association media release


---

Death in Argentina prompts postponement of fourth Black Sticks hockey test



Kirsten Pearce won the third test against Argentina with her late goal. CHRIS BRUNSKILL/GETTY IMAGES

A death in Argentine hockey circles has led to the fourth test between the Black Sticks women and Argentina being postponed until Tuesday.

Game four of the tied series was due to be played at 11am on Monday (NZ time). It would now be played 24 hours later.

NZ Hockey said postponement was due to an "unexpected death" within the Argentinian hockey community.

Tuesday had been scheduled as a rest day.

On Sunday a last-minute goal from Kirsten Pearce gave the Black Sticks women a 3-2 victory over Argentina in Mar del Plata to level the six-match series at 1-1.

Coming off a draw in the series opener and a narrow 1-0 loss on Friday, the Kiwis produced an impressive team performance to outlast the hosts in humid conditions.

The game seemed destined for a draw but, with 37 seconds left on the clock, Pearce had the final say as she hammered home the winner from a deflection.

Stuff


---

Strong Black Sticks Men's squad named



Photo: www.photosport.nz

Black Sticks Men's head coach Colin Batch has named a strong 2016 National Squad in the lead up to this year's Rio Olympic Games.

The 25 man squad is highlighted by a combination of experience and exciting young talent, with all eight regions from around New Zealand represented.

Veterans Ryan Archibald (299 tests), Simon Child (245) and Shea McAleese (221) are the most experienced campaigners with 765 international caps between them.

Batch said selections for the national squad were extremely tough given the growing depth and quality of players within the wider group.

"The 25 players we have named in the national squad have the best opportunity to be selected for Rio, and we have seen a lot of pressure from within the group to further the development of each individual which is pleasing," he said.

"While we still look to leadership from the more experienced players like Ryan, Brad and Kyle, it's the younger group who are taking on more and more responsibility. That's a shift we're seeing within the squad right now in our evolution to building a sustainable level of experience."

Canterbury striker Dominic Newman is the only debutant named in the squad, and has been rewarded for an impressive 2015 season playing Under 21s and the Ford National Hockey League.

The 19-year-old said he was surprised to get the call-up but excited about the prospect of playing for his country at the highest level.

"I was stunned to get the call from Colin to make the big jump, but I'm really humbled and looking forward to doing my absolute best for the squad," he said.

"I'm really excited to be part of the group. There are guys in the team that have been there a long time and players like Ryan and Simon who I looked up to as a kid."

Veterans Phil Burrows, Andy Hayward and Steve Edwards were not selected for the squad, but have not signalled any intent to retire from international hockey and remain under consideration for future selection.

A further group of 10 players has been named in the Men's Development Squad, which is made up of some impressive players who will be supported in their future development.

The Black Sticks Women's 2016 National Squad will be named next week.

2016 MEN'S NATIONAL SQUAD
| | | | | |
| --- | --- | --- | --- | --- |
| PLAYER NAME | REGION | POSITION | AGE | CAPS |
| Ryan ARCHIBALD | Auckland | Midfielder | 35 | 299 |
| Cory BENNETT | North Harbour | Defender | 24 | 30 |
| Marcus CHILD | Auckland | Midfielder | 24 | 83 |
| Simon CHILD | Auckland | Striker | 27 | 245 |
| James COUGHLAN | North Harbour | Striker | 25 | 42 |
| Nick HAIG | Canterbury | Defender | 28 | 179 |
| Blair HILTON | Capital | Striker | 26 | 149 |
| Hugo INGLIS | Southern | Striker | 25 | 161 |
| Stephen JENNESS | Capital | Striker | 25 | 139 |
| Devon MANCHESTER | Auckland | Goalkeeper | 26 | 68 |
| Shea McALEESE | Central | Midfielder | 31 | 221 |
| George MUIR | North Harbour | Midfielder | 22 | 44 |
| Shay NEAL | Northland | Striker | 25 | 58 |
| Dominic NEWMAN | Canterbury | Striker | 19 | - |
| Arun PANCHIA | Auckland | Midfielder | 26 | 172 |
| Jared PANCHIA | Auckland | Striker | 22 | 47 |
| Kyle PONTIFEX | Capital | Goalkeeper | 36 | 163 |
| Nick ROSS | Southern | Midfielder | 25 | 27 |
| Kane RUSSELL | Southern | Defender | 23 | 60 |
| Alex SHAW | Capital | Defender | 26 | 70 |
| Brad SHAW | Canterbury | Defender | 33 | 168 |
| Jacob SMITH | Capital | Striker | 24 | 44 |
| Blair TARRANT | Southern | Defender | 25 | 140 |
| Nick WILSON | Central | Striker | 25 | 142 |
| Nic WOODS | Midlands | Midfielder | 20 | 33 |
2016 MEN'S DEVELOPMENT SQUAD      
| | | | | |
| --- | --- | --- | --- | --- |
| PLAYER NAME | REGION | POSITION | AGE | CAPS |
| David BRYDON | Canterbury | Defender | 19 | - |
| George ENERSEN | Canterbury | Goalkeeper | 24 | 13 |
| Joe HANKS | Central | Midfielder | 25 | - |
| Richard JOYCE | North Harbour | Goalkeeper | 23 | 2 |
| Kim KINGSTONE | Auckland | Striker | 21 | - |
| Leo MITAI-WELLS | Midlands | Striker | 20 | 4 |
| Harry MISKIMMIN | Capital | Defender | 21 | - |
| Hayden PHILLIPS | Central | Midfielder | 18 | - |
| Matt REES-GIBBS | Midlands | Striker | 24 | 3 |
| Brad READ | Capital | Defender | 21 | - |

Hockey New Zealand Media release


---

Canterbury striker Dominic Newman called up to Black Sticks men's national squad



Canterbury's Dominic Newman (R) has been rewarded for his strong form in the National Hockey League. KIRK HARGREAVES/FAIRFAX NZ

Canterbury striker Dominic Newman is the only new cap named in the Black Sticks men's national squad as coach Colin Batch sets his sights on this year's Olympic Games.

Newman has been rewarded for an impressive 2015 season playing Under 21s and the National Hockey League.

The 19-year-old was surprised to get the call-up but says he is relishing the prospect of representing his country at the highest level.

"I was stunned to get the call from Colin to make the big jump, but I'm really humbled and looking forward to doing my absolute best for the squad," Newman said.

"I'm really excited to be part of the group. There are guys in the team that have been there a long time and players like Ryan (Archibald) and Simon (Child) who I looked up to as a kid."

The 25-man squad is highlighted by a combination of experience and exciting young talent, with all eight regions from around New Zealand represented.

Veterans Archibald (299 tests), Child (245) and Shea McAleese (221) are the most experienced campaigners with 765 international caps between them.

But Batch says he wants to the more inexperienced players put their hands up in the run-in to Rio.

"The 25 players we have named in the national squad have the best opportunity to be selected for Rio, and we have seen a lot of pressure from within the group to further the development of each individual which is pleasing," the coach said.

"While we still look to leadership from the more experienced players like Ryan, Brad and Kyle, it's the younger group who are taking on more and more responsibility. That's a shift we're seeing within the squad right now in our evolution to building a sustainable level of experience."

Veterans Phil Burrows, Andy Hayward and Steve Edwards were not selected for the squad, but have not signalled any intent to retire from international hockey and remain under consideration for future selection.

A further group of 10 players have been named in the men's development squad.

The Black Sticks women's national squad will be named next week.

2016 Black Sticks Men's National Squad: Ryan Archibald,  Cory Bennett, Marcus Child, Simon Child, James Coughlan, Nick Haig, Blair Hilton, Hugo Inglis, Stephen Jenness, Devon Manchester, Shea McAleese, George Muir, Shay Neal, Dominic Newman, Arun Panchia, Jared Pachia, Kyle Pontifex, Nick Ross, Kane Russell, Alex Shaw, Brad Shaw, Jacob Smith, Blair Tarrant, Nick Wilson, Nic Woods

Stuff


---

Black Sticks men confirm 2016 squad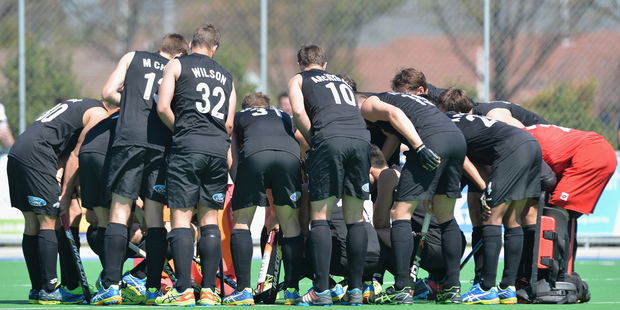 Black Sticks men build a circle ahead of the game against India. Photo / Getty Images

Black Sticks Men's head coach Colin Batch has named a strong 2016 squad in the lead up to this year's Rio Olympic Games.

The 25 man squad is highlighted by a combination of experience and exciting young talent, with all eight regions from around New Zealand represented.

Veterans Ryan Archibald (299 tests), Simon Child (245) and Shea McAleese (221) are the most experienced campaigners with 765 international caps between them.

Batch said selections for the national squad were extremely tough given the growing depth and quality of players within the wider group.

"The 25 players we have named in the national squad have the best opportunity to be selected for Rio, and we have seen a lot of pressure from within the group to further the development of each individual which is pleasing," he said.

"While we still look to leadership from the more experienced players like Ryan, Brad and Kyle, it's the younger group who are taking on more and more responsibility. That's a shift we're seeing within the squad right now in our evolution to building a sustainable level of experience."

Canterbury striker Dominic Newman is the only debutant named in the squad, and has been rewarded for an impressive 2015 season playing Under 21s and the Ford National Hockey League.

The 19-year-old said he was surprised to get the call-up but excited about the prospect of playing for his country at the highest level.

"I was stunned to get the call from Colin to make the big jump, but I'm really humbled and looking forward to doing my absolute best for the squad," he said.

"I'm really excited to be part of the group. There are guys in the team that have been there a long time and players like Ryan and Simon who I looked up to as a kid."

Veterans Phil Burrows, Andy Hayward and Steve Edwards were not selected for the squad, but have not signalled any intent to retire from international hockey and remain under consideration for future selection.

A further group of 10 players has been named in the Men's Development Squad, which is made up of some impressive players who will be supported in their future development.

The Black Sticks Women's 2016 National Squad will be named next week.

The New Zealand Herald


---

Kampong hit form against Amsterdam

It's all change at the top of the Dutch Hoofdklasse as Kampong returned to form to beat EHL rivals Amsterdam 4-2 while Oranje Zwart's 3-0 derby win over Den Bosch moved them top with the capital side.

It was a spectacular return after the winter break. In Utrecht, seventh placed Kampong are hoping for a strong second half to the season after injuries blighted their pre-Christmas campaign.

Constantijn Jonker's early goal was cancelled out by Mirco Pruyser for 1-1 at half-time. Shortly after the break, though, Robbert Kemperman put Kampong back in front before Martijn Havenga's corner made it 3-1.

With an hour on the clock, Robert Tigges brought the excitement back with his set piece goal but Havenge killed off the tie with the last goal. The result puts Kampong back in range of fourth placed Bloemendaal with just three points in the difference between fourth and seventh.

OZ moved up the rankings with their win over their Brabant neighbours. Jelle Galema and Mink van der Weerden – with his tenth goal of the season – put the Eindhoven side into a deserved lead and Rob van der Horst extended the advantage for their 3-0 win. They go top on goal difference ahead of Amsterdam.

HGC could not take full advantage of the Amsterdam loss as they fell 2-1 to sixth placed Rotterdam. HGC took the lead through Tom Hiebendaal who struck home after a slaloming run.

Mitch Darling levelled the game just before half-time and Timmo Kranstauber won it in the 43rd minute to keep up the port city's push for a playoff place.

SCHC beat Hurley 3-1 while Bloemendaal drew 1-1 with Pinoké. Schaerweijde beat Voordaan 1-0.

Euro Hockey League media release


---

Leuven stun Dragons to end winless run

KHC Leuven broke their shackles to produce one of their best performances of the season to beat the Belgian champions Dragons 5-3, Leuven's first win since October.

It was a deserved win for the University side with Pau Quemada in glorious form in his first game since being awarded the Golden Stick for 2015.

Dragons did lead twice thanks to Henri Raes and Arthur van Doren, both in the first ten minutes, but two goals from Quemada and one each from Renaud Pangrazio, pictured, and Tom Genestet  made it 4-2.

Florent van Aubel got one back but Pangrazio scored in the last minute to seal the win and the double-goalscorer said aftwerwards to Hockey Belgium of the wait for the win: "This has been a real issue for the group. We have anticipated this moment since October.I hope this will allow us to revive us and ensure we quickly confirm our place in the Division Honour."

For Dragons, Felix Denayersaid: "We started the game well but I admit that we were a little nervous this afternoon.They played well and deserved it. We have to blame only ourselves.We were a little too nonchalant."

Euro Hockey League media release


---

English playoff places still up for grabs

Holcombe and Surbiton drew 1-1 in the English Premier Division topper this weekend, a result that moves the former side a step closer to claiming top spot and an EHL place.

Samuel Ward had given them the lead but a Dave Beckett goal earned a share of the spoils for Surbiton.

Second placed Reading fell 3-1 to Hampstead and Westminster who clawed their way out of the relegation with their shock win.

Reading took an eighth minute lead through Simon Mantell, but Hampstead went into the break 2-1 up through goals from Iain Mackay and James Simpson. Andrew Murie wrapped up the points four minutes from time.

It was the second game in as many days for Hampstead, their game against East Grinstead on Saturday ended 0-0.

Bottom side Canterbury gave themselves a fighting chance of beating the drop with a 4-2 win over fellow strugglers Cannock. Craig Boyne, Tom Butt, Josh Pollard and Ross Gilham-Jones were on target for Canterbury with Tom Morris and Peter Jackson replying for Cannock. The result sees Cannock drop to ninth.

Brooklands Manchester University are just a point outside the play-off places after a 3-1 defeat of East Grinstead with goals from Peter Friend, Aidan Khares and Graeme Wolfenden. Robert Schilling hit the consolation for their opponents.

Wimbledon still hold on to fourth spot despite losing 1-0 to Beeston with Richard Lawrence hitting a late winner.

The upshot is Holcombe are certain to be involved in the English playoffs for the first time where they are likely to be joined by Reading and Surbiton. Wimbledon are fourth but face a big battle with Brooklands MU for the final spot.

Euro Hockey League media release


---

Hampstead show fighting spirit



Hampstead and Westminster's Stuart Loughrey evades a challenge. Credit Tim Reder

Hampstead and Westminster clawed their way out of the relegation zone in the Men's Hockey League Premier Division with a shock 3-1 defeat of second-placed Reading on Sunday.

Reading took an eighth minute lead through Simon Mantell, but Hampstead went into the break 2-1 up through goals from Iain Mackay and James Simpson. Andrew Murie wrapped up the points four minutes from time.

It was the second game in as many days for Hampstead, their game against East Grinstead on Saturday ended 0-0.

It was a missed chance for Reading to close the gap at the top after Holcombe drew 1-1 with Surbiton on Saturday. Samuel Ward had given them the lead but a Dave Beckett goal earned a share of the spoils for Surbiton.

Bottom side Canterbury gave themselves a fighting chance of beating the drop with a 4-2 win over fellow strugglers Cannock. Craig Boyne, Tom Butt, Josh Pollard and Ross Gilham-Jones were on target for Canterbury with Tom Morris and Peter Jackson replying for Cannock. The result sees Cannock drop to ninth.

Brooklands Manchester University are just a point outside the play-off places after a 3-1 defeat of East Grinstead with goals from Peter Friend, Aidan Khares and Graeme Wolfenden. Robert Schilling hit the consolation for their opponents.

Wimbledon still hold on to fourth spot despite losing 1-0 to Beeston with Richard Lawrence hitting a late winner.

Men's Conference West

Cardiff and Met were confirmed as champions of the Men's Conference West despite Cheltenham pulling off a shock 3-0 win them. Luke Cole, Tom Cole and Peter Duffy scored for Cheltenham.

If Team Bath Buccaneers had won then Cardiff would have had to wait until at least next week to take the title but they could only manage a 3-3 draw with the University of Birmingham.

The division has been very close this season and only seven points separates Team Bath in second and Cheltenham in seventh. University of Exeter remain third after a 4-3 win over Indian Gymkhana. Bottom side Chichester Priory Park lost 5-0 to third from bottom Isca, while second from bottom Guildford beat Fareham 2-1.

Men's Conference East

The title fight is going right to the wire in the Men's Conference East, and it took a late strike from Duncan Scott to keep Southgate at the top by a point as they beat Cambridge City 1-0.

Richmond are fighting all the way though, and beat Brighton and Hove 2-1. At the other end of the table, things became more clear as Harleston Magpies had their relegation confirmed after losing their do-or-die game against Teddington 5-3.

Second from bottom Bromley and Beckenham lost 4-3 to Oxted. Max Webster scored twice as West Herts beat Sevenoaks 5-1.

Men's Conference North

Loughborough Students took the Men's Conference North title with two games to spare after a 2-1 win over Olton and West Warwicks, courtesy of goals from Nick Page and Luke Taylor.

Bowdon miss out on the title, despite beating Sheffield Hallam 5-0. Wakefield took a small step towards safety with a 3-3 draw against Preston. The result lifts them up to eighth.

Lichfield are only two points off them at the bottom of the league after beating Doncaster 2-1. Rory Patterson hit a hat-trick for the University of Durham in a 6-3 win over Deeside Ramblers. Andrew Hayton also scored a treble but found himself on the losing side.

Men's Hockey League (Saturday, February 27 2016):

Men's Premier Division: Hampstead and Westminster 0, East Grinstead 0; Surbiton 1, Holcombe 1.

Men's Conference West: Cardiff and Met 1, Indian Gymkhana 0.

Men's Hockey League (Sunday, February 28 2016):

Men's Premier Division: Beeston 1, Wimbledon 0; Hampstead and Westminster 3, Reading 1; Cannock 2, Canterbury 4; Brooklands Manchester University 3, East Grinstead 1.

Men's Conference West: Isca 5, Chichester Priory Park 0; Cheltenham 3, Cardiff and Met 0; University of Birmingham 3, Team Bath Buccaneers 3; Guildford 2, Fareham 1; Indian Gymkhana 3, University of Exeter 4.

Men's Conference North: Sheffield Hallam 0, Bowdon 5; Lichfield 2, Doncaster 1; Preston 3, Wakefield 3; Loughborough Students 2, Olton and West Warwicks 1; University of Exeter 6, Deeside Ramblers 3.

Men's Conference East: Oxted 4, Bromley and Beckenham 3; Brighton and Hove 1, Richmond 2; Cambridge City 0, Southgate 1; Harleston Magpies 3, Teddington 5; West Herts 5, Sevenoaks 1.

England Hockey Board Media release


---

Ward praises Pinner

By Mike Haymonds

HOLCOMBE striker Sam Ward's goal in their 1-1 draw at Surbiton helped to stretch their lead in the men's Premier Division to six points with three games to play and maintained their unbeaten record. Holcombe were missing their trio of GB centralised squad players – Barry Middleton, Ashley Jackson and Iain Lewers – not used only four days after returning from playing in the Hockey India League.

Their GB colleague George Pinner, in the Holcombe goal, had a stunning game which Ward described as "the best goalkeeping performance I've seen." Amongst other heroics Pinner saved from five of Surbiton's seven penalty corners.

A highly entertaining encounter before around 450 spectators saw Surbiton captain David Beckett equalise in the 59th minute following Ward's 42nd minute opener. Second placed Reading missed the opportunity to reduce Holcombe's lead after losing 1-3 to Hampstead & Westminster while Surbiton stayed in third spot.

Holcombe are assured of a play-off place while Reading and Surbiton are virtually there with the fourth slot now contested by Wimbledon (who lost 0-1at Beeston) and Brooklands MU (who beat East Grinstead 3-1).

In the foot of the table clash Canterbury continued their attempted escape act with a 4-2 victory at Cannock to reduce their deficit to four points behind the Midlanders.

Surbiton women closed to within one point of the leaders University of Birmingham and maintained the only unbeaten record in the Investec Premier Division with a 2-0 win over East Grinstead, thanks to first half goals from Rebecca Middleton and Olivia Chilton.

A lone strike by 17-year-old Sophie Shakespeare gave Reading victory over the Students and eased their own relegation worries. Canterbury stayed in third place with a 2-0 win over Clifton and the top three are now guaranteed play-off places. East Grinstead and Holcombe are neck-and-neck for the final slot.

At the bottom Buckingham, after a 1-3 defeat by Holcombe, are four points adrift of Bowdon Hightown, who have a game in hand – a postponed meeting with Surbiton, to be played next weekend.

Daily Express


---

Irish Senior Cup Finals Line Ups Revealed



Photo Credit: Deryck Vincent

It was tale of penalty strokes and composed victories around the country that saw 4 teams advance to the men's and women's Irish senior cup finals.

There was an air of déjà vu in Jordanstown as Ulster Elks once again got the better of UCD. The Elks had secured a 3-1 victory over the Dublin students last week in the EYHL and another victory was on the cards on Saturday as Megan Frazer, Gemma Frazer and Chloe Mitchell were all on target to fire Elks into their second consecutive Irish Senior Cup Final. Meanwhile Ards produced the shock of the tournament so far by inflicting Hermes' first defeat of the season. Missed opportunities and determination were the order of the day in Booterstown as O'Flanagan's two goals were cancelled out by Benson and Brown. Ards ran out victors as Chloe Brown scored the winning penalty stroke to set up an all-Ulster final.



Credit: Rowland White/Press Eye

Over on the men's side Monkstown ran out comfortable winners in a 6-2 victory over Glenanne. Monkstown appeared to have gone up several gears since their defeat to Glenanne in December and were in imperious form as they booked their place in the final. Lisnagarvey had a tougher task as they came from 3-0 down to beat Three Rock on penalty strokes. When the two sides meet in the final there will be a plethora of Irish internationals on show, with potentially no fewer than 11 taking to the pitch.



Credit:Rowland White/Press Eye

The final for both the Men's and Women's Irish Senior Cup will take place in the National Hockey Stadium on 20/03/16.

Women's Irish Senior Cup, semi-finals:

Hermes 2 (A O'Flanagan 2) Ards 2 (A Benson, C Brown), Ards won 4-3 on strokes;

Ulster Elks 4 (M Frazer 2, C Mitchell, G Frazer) UCD 2 (K Lloyd, S Clarke)

Men's Irish Senior Cup, semi-finals: Lisnagarvey 3 (M Watt, N Glassey, M Nelson) Three Rock Rovers 3 (L Madeley, F Morris, C Empey) Lisnagarvey won 5-4 on strokes

Glenanne 2 (D Keogh, S Boucher) Monkstown 6 (G Cole 2, G Watkins, L Cole, K Smith, J Bruton)

Irish Hockey Association media release


---

TNB CUP: Easy draw for SSTMI Thunderbolts

By Jugjet Singh

DIVISION One League champions SSTMI Thunderbolts received a bonus draw when they were paired with Division Two's Perlis Young Lions in the TNB CUP quarter-finals on March 4.

Perlis is the weakest team in the knock-out stage, and they have been paired with the strongest side in the Junior Hockye League.

Yesterday, Perlis held Sabah Sports School to a 2-2 draw in the Division Two third-fourth play-off but lost out 3-1 in the penalty shoot out.

The other q-finals will see BJSS Thunderbolts play their brothers BJSS Juniors, while Division One runners-up SSP-MSP will meet Sabah Sports School. UniKL young Guns, third in Division One, have been paired with Anderson Thunderbolts.

Yesterday, Anderson Thunderbolts beat BJSS Juniors 1-0 in the Division Two play-off final.

On paper, all four Division One teams should proceed to the semi-finals barring upsets.

UniKL Young Guns, who last lifted the TNB Cup in 2010, aim for a home run this seaon.

"Even though Anderson (Thunderbolts) are from Division Two, we will still give them the respect all the other three Thunderbolts teams deserve. Tenaga Nasional would not have picked them to be under their programme if they were not strong in basics," said UniKL Young Guns coach I. Vickneswaran.

The interesting part of the draw is that UniKL, if they advance to the semis, will avoid SSTMI and SSP-MSP as they are drawn against the winners of BJSS Thunderbolts or BJSS Juniors.

"Yes, but it is also interesting to note that we beat SSTMI and SSP-MSP in the League but were beaten by BJSS. So, there are no easy matchesmin the knock-out stages," said Vickneswaran.

RESULTS -- JHL Division Two play-off: Final -- Anderson Thunderbolts 1 BJSS Juniors 0; Third-Fourth: Sabah Sports School 2 Perlis Young Lions Juniors 2 (Sabah win shoot-out 3-1).

March 4: TNB Cup q-finals First Leg: SSTMI Thunderbolts v Perlis Young Lions Juniors (to be decided), SSP-MSP Thunderbolts v Sabah Sports School (Bukit Jalil), UniKL Young Guns v Anderson Thunderbolts (Bukit Jalil), BJSS Thunderbolts v BJSS Juniors (Bukit Jalil).

March 6: TNB Cup q-finals Second Leg: Perlis Young Lions Juniors v SSTMI Thunderbolts (to be decided), Sabah Sports School v SSP-MSP Thunderbolts (Bukit Jalil), Anderson Thunderbolts v UniKL Young Guns (Bukit Jalil), BJSS Juniors v BJSS Thunderbolts (Bukit Jalil).

Jugjet's World of Field Hockey


---

Muhd Akram's goal give Anderson division two title

By K. Rajan

KUALA LUMPUR: Muhd Akram Hakkam Jamaluddin was the star of the day as he powered Anderson-Thunderbolt to the Malaysian Junior Hockey League (MJHL) Division Two title National Hockey Stadium in Bukit Jalil.

The 16-year-old scored a penalty corner goal in the 52nd minute to give Anderson a 1-0 win over Bukit Jalil Sports School (BJSS) Juniors in Sunday's final.

"It was my target to score as I wanted to help the team win the Division Two title," said the Tambun local.

"We should have scored more goals but we couldn't convert our chances. The hot weather also affected our performance so I'm glad to finally score the winning goal," he added.

For emerging champions, Anderson took home RM7,000. BJSS Juniors had to settle for RM4,000. Both Anderson and BJSS Juniors will play in Division One next season.

In the third placing playoff, Sabah Sports School (SSS) edged Perlis Young Lions Juniors 3-1 in a penalty shootout after both teams were tied 2-2 in regulation time.

Anderson, BJSS Juniors, SSS and Perlis Young Lions Juniors have all qualified for the quarter-finals of the overall championship, which begins on Friday.

Anderson will take on Division One outfit Universiti Kuala Lumpur (UniKL) Young Guns.

Akram now hopes to continue scoring for Anderson as their target is to finish among the top four.

"We reached our first target of winning the Division Two. We will now push to beat UniKL to reach the semi-finals," said Akram, who has netted five goals so far this season.

The Star of Malaysia


---

Expanded Masters participation bodes well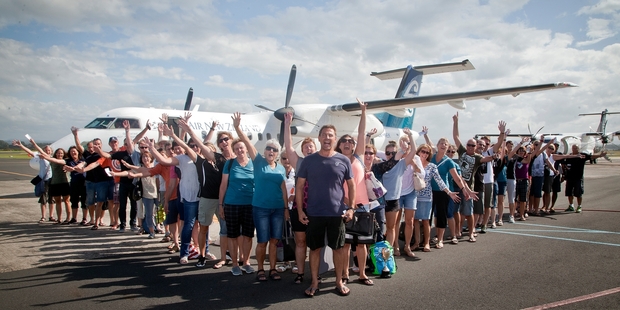 Players in the four Tauranga Masters teams about to board their chartered plane to the National Masters Hockey Tournament in Nelson on Saturday. Photo / Andrew Warner

It is not just in the junior age groups that hockey is booming in the Western Bay. The sight of four Masters age group teams at Tauranga Airport on Saturday en route to Nelson for the national tourney was indicative.

The week-long event, which began yesterday and runs through to Saturday, is the largest national tournament on the Hockey New Zealand calendar, involving 1000 players and 69 teams from ages 35-plus for women and 40-plus for men.

Tauranga has sent three women's teams and one men's team to Nelson.

Geoff Williamson from the Tauranga Masters committee said the rise in player numbers was very positive.

"Historically our older women's 55s team has won just about every year for the last 17 years. We have slowly developed more and more teams," he said.

"We started with a 45s side three years ago and then we had enough to make a 50s side so we have ended up with 40s, 45s and 50s women's sides and the newer teams are starting to get places. They are not beginners at it, they are getting solid and used to playing together.

"This is the first time we have pulled out a men's side in a number of years and we have quite a strong side but we don't know until we get there."

Williamson said the rising numbers in the older age groups was a good sign for the game.

"It is a case of getting more of the older people back who are getting involved with their experience, helping with training and the association. It is one of the few sports that is really growing in New Zealand.

"Now we have two very good water turfs and we are programmed to get another one in 2017. The amount we are growing we are struggling already to get enough turf time because they are always used.

"What we are trying to do is get the people who have played hockey to realise it is not the sport we used to have. You are on a fantastic surface and it is way safer and way faster, plus it is way more fun."

Bay of Plenty Times


---

Plans for hockey

Pravin Narain

THE Fiji Hockey Federation has big plans to mark 100 years of its existence in the country in December this year.

National coach Hector Smith has seen the sport grow over the past number of years.

Smith also played an important role in taking the sport to another level.

He said hockey being one of the minor sport had been neglected by many.

"We need to have the support of everyone to help this sport grow further," he said.

"During the world series in 2013 players had to pay $3500 from their pocket in order to make the trip.

"We urge the Fiji National Sports Commission, Fiji Sports Council and the Government to help hockey in the country."

Smith said Fiji was superior to all its Pacific Island neighbours.

"In the region we usually beat the Pacific countries by 25-30 goals which says that we have a lot of potential," he added.

"We are looking for more competitions this year and we might have a few overseas teams coming over for the tournament in December.

"Australia and New Zealand are standing in our way to the Olympics. We are confident that we will be able to beat them in the future and qualify."

The Fiji Times


---

Chile hockey plans to turn up the heat in Tacarigua

Coaches Alfredo Castro and Alejandro Gómez (Chile)

Sarah Juggins, for PAHF



Alfredo Castro and Alejandro Gomez (Chile)   

As the teams get ready for the Junior Pan American Championships taking place in Trinidad & Tobago and Toronto later this year, we catch up with two of the people who are involved in preparing their young players for the challenges ahead. And, as we discover after talking to the coaches of the Chile women's team, there is more than a hint of optimism in the air.

Alfredo Castro has held a number of roles within the Chile national squad structure. He was head coach across the entire national squad structure of Chile, taking charge of both the men's and women's senior sides in the 2015 Pan American Games. He will now be leading the Chile junior women into action in just a few weeks' time (29 March-9 April).

Chile is a hockey playing nation that is showing great ambition to move up the world rankings. The appointment of former Argentina coach Sergio Vigil to work alongside Castro and the other coaching staff is a clear signal of the Chile Hockey Federation's intent to make a serious mark on the sport on an international stage.

Vigil has been appointed Technical Director across the national squad structure with the stated aim of helping Chile qualify for the Tokyo Olympics in 2020. As he says, "It is not all about the senior team, it is about the juniors and the lower level players. We are making a whole new philosophy for Chile Hockey."

With this avowed level of support, Castro and his support team will move into the Pan Am Junior Championships with renewed confidence and vigour. Both Chile men and women have consistently performed well at junior level. The junior women's team are the only side to have defeated Argentina, when they beat them in the 2008 semi-finals. Chile then lost out to the USA in the final. The men have won silver on four occasions, along with three bronze medals.

Castro was Chile's head coach for that famous win over Argentina in 2008 although he left the country a year later to gain coaching experience in Argentina. He returned to his former role in 2014 in time to oversee Chile women progress to Round Two of the Hockey World League, where they finished third in their group behind host nation Ireland and Pan Am rivals Canada.

We caught up with Castro and his assistant coach Alejandro Gómez to find out just what they see as the vital qualities in young players.

"One of the greatest attributes is that ability to really understand the game," says Castro. "To make the right decisions, almost instinctively. Of course, it is also important that their technical ability is very good and the speed with which they execute their skills. This is what we train so hard for, to ensure that they have mastered the skills and can play at a very high tempo. The third attribute is to have a great attitude in the face of competition."

As everyone knows, the team to beat in both the men's and the women's competition is Argentina and Castro knows as well as anyone just how good the young Argentina players are. "The Argentinian teams are always the favourite to win the tournament, they have excellent players, and they are good individually and as a team. It is very difficult to beat them, but we have done so before…"

Castro also spoke a little about the coaching set up in Chile, explaining that the whole national coaching structure in Chile is very centrally-managed and, even before the arrival of Vigil, had a philosophy of cascading the training principles down from the national team to the junior levels "As a coaching team, we are working hard with our under-21, under-16 and under-14 players to put in place and support a national team structure. At the same time we use talent detection from under-12; both for male and female players.

"In Chile we are implementing a system of training and development that we expect will help the expansion of hockey as a popular sport. We have good coaches and good support from the schools.  Another aspect that we are working on is to improve the level of the national championship so that there is greater depth of quality in the sport."

Another former Argentine coach, Alejandro Gómez, is assistant coach to Castro. He was also happy to share his thoughts on what makes a great player. "I like players with good technique, that understands the game and are in good physical condition. In essence I look for a player who is smart on the field and can make good decisions during the game."

Gómez adds that players need to be totally competent with their individual technique, to have better tools for decision-making. The more skills a player can confidently call upon, he says, the more options he or she gives themself.

But for anyone thinking that Chile are a team of flair players, Gómez reiterates that physicality is also an important asset. "While we spend a lot of time developing individual technique, we are always working together to improve the physical condition of the players. We look for fast players who can choose the area of the field where he or she can use individual skills to the benefit of the team."

The final quality highlighted by Gómez is the importance of great passing and receiving. It is these basics, he says, that will raise the team to a higher level. For the junior women's team this means regular training matches against men's teams. "The best way of increasing the intensity of the game," he adds.

When it comes to the opposition, Gómez knows what his team will be up against. "We know that Argentina will be the toughest team at the tournament. They are used to playing this kind of tournament, and they dedicate a lot of time to hockey training and playing, much more than a Chilean player can.

"We are trying to change this here in Chile and we are getting good results, but it takes time. Don't get me wrong, this will not change so quickly that we are going to this tournament expecting to beat Argentina but we are training really hard to make that happen.

"We are convinced that if we play our game, stay focused and take advantage of the opportunities that we will inevitably have during the game, then we can beat them. We respect them but we don't fear them."

Pan American Hockey Federation media release