All the news for Wednesday 24 February 2016

Black Sticks draw with Argentina in opener



Photo: Hernan Pablo Barrios

The Black Sticks Women have drawn 2-2 with hosts Argentina in the first of six tests at Mar del Plata.

It was a swift start from the Kiwis who opened the scoring thanks to an Olivia Merry goal in the 10th minute.

Argentina responded three minutes later with Noel Barrionuevo finding the back of the net to level the score.

In her first international game since the 2014 Glasgow Commonwealth Games, Kayla Whitelock signalled her comeback with a solid performance.

Whitelock showed her class with a world class finish on her reverse stick to score New Zealand's second goal just before halftime.

Argentina equalised again in the 43rd minute, with neither side able to find a game winner in the fourth quarter.

Black Sticks assistant coach Sean Dancer said it was a pleasing effort in his side's first test of the year.

"We played pretty well today, both teams had chances to win the game but it's a good starting point for us going forward," he said.

"Both Kayla and Emily [Naylor] had solid hit-outs and it's very exciting to see them back in the black singlet."

Both teams meet again in the second test at 11:00am on Friday morning (NZ time).

The Argentina series is an important part of the team's build-up to the Hawke's Bay Cup in April, FIH Champions Trophy in June and Rio Olympic Games in August.

BLACK STICKS 2: (Olivia Merry, Kayla Whitelock)
ARGENTINA 2: (Noel Barrionuevo, Lucina von der Heyde)
Halftime: Black Sticks 2-1

CLICK HERE for more on the Argentina series

Hockey New Zealand Media release


---

Black Sticks draw first test in Argentina as six-match series gets underway



Returning midfielder Kayla Whitelock scored a goal in the Black Sticks draw with hosts Argentina in the first test. GETTY IMAGES

The Black Sticks women have drawn 2-2 with home side Argentina in the first of a six-match series in Mar del Plata.

Striker Olivia Merry and returning veteran midfielder Kayla Whitelock scored the goals for the world No 4 visitors against their second-ranked hosts on Thursday (NZ time).

It is the first time the teams have met since Argentina outclassed the Kiwis 5-1 in the World League Final title decider in front of a raucous home crowd in Rosario on December 14.

New Zealand got off to the ideal start, opening the scoring through Merry in the 10th minute.

But it took Argentina just three minutes to respond as Noel Barrionuevo found the back of the net to level the scores.

In her first international game since the 2014 Glasgow Commonwealth Games, Whitelock signalled her comeback with a solid performance. and showed her class with a world class reverse stick finish to score New Zealand's second goal just before halftime.

Argentina equalised again through Lucina von der Heyde in the 43rd minute, with neither side able to find a game winner in the fourth quarter.

Black Sticks assistant coach Sean Dancer said it was a pleasing effort in his side's first test of the year.

"We played pretty well today, both teams had chances to win the game but it's a good starting point for us going forward," he said.

"Both Kayla and Emily [Naylor] had solid hit-outs and it's very exciting to see them back in the black singlet."

Both teams meet again in the second test at 11am on Friday, with matches to follow on Sunday, Monday, Wednesday and Friday.

The Argentina series is an important part of the Black Sticks build-up to the Hawke's Bay Cup in April, FIH Champions Trophy in June and Rio Olympic Games in August.

New Zealand 2 (Olivia Merry, Kayla Whitelock) Argentina 2 (Noel Barrionuevo, Lucina von der Heyde) Halftime: NZ 2-1.

Stuff


---

Collective bargaining having no impact on Black Sticks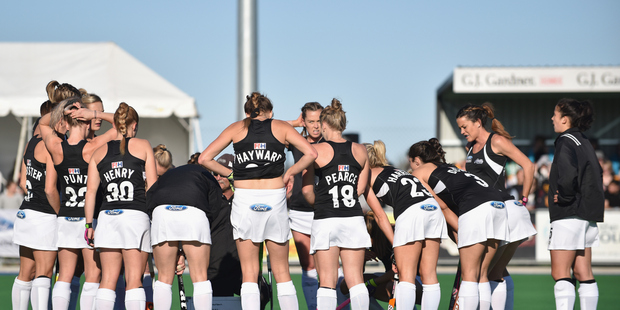 The Black Sticks talk over a break in the game. Photo / Getty Images

The women's Black Sticks insist the ongoing talks over hockey's collective bargaining agreement has had no impact on the side's preparations for this week's series against Argentina.

Hockey New Zealand and the players' association has been at loggerheads for the last couple of months, delaying the announcing of the national squads for 2016.

Veteran midfielder Kayla Whitelock says the agreement will be sorted soon.

She says she would just like to get it tidied up as soon as possible so they can focus forward for Rio.

The New Zealand Herald


---

Teams and Groups Announced for the FIH Masters World Cup

COLORADO SPRINGS, Colo. -  Preparations are well underway for the upcoming FIH Masters World Cup, to be held at the National Hockey Centre, Canberra, Australia from March 29 to April 6, 2016.

Over-50 Masters National Teams, aged from 40 to over 60 from 14 different countries, are taking part in this biennial international event: a tournament larger than either the Olympic Games or the Champions Trophy hockey competitions. Team USA is sending four Masters National Teams: Women's Over-40 and Over-45; and Men's Over-40 and Over-50.

Teams will initially play in either a group or league format, depending on the number of entries in each age category. Cross-over and classification games will then complete the tournament and determine the placings.

The U.S. Women's Over-40s will play in a single league against Australia, England, New Zealand and Wales, while the Over-45s will play against South Africa, Australia and New Zealand.

The U.S. Men's Over-40s will also play in a league format against Australia, England, New Zealand, Malaysia and Hong Kong. The Over-50s, hoping to improve on their 5th place finish at the previous Masters World Cup in Rotterdam, The Netherlands, are in the largest age group and will initially play in Group A against Germany, Malaysia, and New Zealand.

The match schedule is currently being finalized.

The Team USA athletes traveling to Canberra are:

Women's Over-40
Ana Berra (Doral, Fla.), Michelle Custer (Denver, PA), Silvia Days (Buenos Aires, Argentina), Beth Denmead (Netcong, N.J.), Anne Dillman (Lancaster, Pa.), Melissa Emery (Big Sky, Mont.), Colleen Faessinger (Stanhope, N.J.), Megan Fraser (Baltimore, Md.), Karina Greco (Cordoba, Argentina), Nancy Houghton (Wallingford, Vt.), Kari Johns (Darien, Conn.), Margaret Kelly (Needham, Mass.),  Florencia Manero (Key Biscayne, Fla.), Melissa Mertz (Elizabethtown, Pa.),  Kim Tolbert (Severn, Md.), Patti Webb (Monkton, Md.), Amber Wittell (Stroudsburg, Pa.)

Women's Over-45
Diane Angstadt (Middletown, Pa.), Toni Arner (Red Hill, Pa.), Deb Atkins (Quarryville, Pa.), Christine Couteau (San Jose, Calif.), Lisa Cropper (Franklin, Mass.), Meri Dembrow (Royal Oak, Mich.), Barbara Doran (New York, N.Y.), Susan Elliott (Downingtown, Pa.), Sophie Etienne (Paris, France), Nicky Hitchens (Wilmington, Del.), Anne Keating (New York, N.Y.), Maria Keesling (Downingtown, Pa.), Linda Kreiser (Middletown, Pa.), Georganne Nattress (Norwalk, Conn.), Janet Powers (Towson, Md.), Barb Wachowiak (Hamburg, N.Y.), Denise Zelenak (Wilmington, Del.)

Men's Over-40
Federico Baudini (Miami, Fla.), Sajid Chaudhary (Irvine, Calif.), Upadhyay Devesh (Canton, Mich.), Justin Elliott (Phoenix, Ariz.), Jeremy Gajkowski (Phoenixville, Pa.), Shamsher Johal (Phoenix, Ariz.), Ahyodha Kishna (Rocky River, Ohio), Harry Labana (Millwood, N.Y.),  Paul Lewis (Colorado Springs, Colo.), John McGraw (Mechanicsburg, Pa.), Dave Peel (Perry Hall, Md.), Whit Ryan (Denver, Colo.), Amanmeet Sandhu (Modesto, Calif.), Alan Scally (Thousand Oaks, Calif.), Charanjit Singh (Keller, Texas), Sumarjit Singh (Gilbert, Ariz.),  Vernon Vassou (Arlington, Va.), Walter Velasquez (Olney, Md.)

Men's Over-50
Fernando Diez de Onate (Key Biscayne, Fla.), Joost Douwes (Stanwood, Wash.), Jonathan Drucker (Coral Gables, Fla.),  Clement D'Souza (Powell, Ohio), Simon Gray (Sacramento, Calif.), Rob Groot (Potomac Falls, Va.), Peter Jones (Stamford, Conn.), Brijinder (Bob) Khosla (Phoenix, Ariz.), Jeff Lancaster (Buderim, Australia), Muzammal Malik (Westminster, Md.), Manuel Morales (Miami, Fla.), Steven Pany (Schnecksville, Pa.), Greg Pereira (Fulton, Md.), Warren Prestwich (Carney, Md.), Alexander Rooks (Belmont, Mass.), Ian Wagge (Scottsdale, Ariz.), Don Warner (Henrico, Va.), Amjad Zia (Nottingham, United Kingdom).

USFHA media release


---

Senior-junior friendly matches ahead of Azlan Shah Cup

ISLAMABAD: Pakistan Hockey Federation (PHF) secretary Shahbaz Ahmed on Wednesday said that warm-up matches would be held by the end of March between senior and junior outfits ahead of the upcoming Sultan Azlan Shah Cup.

The 25th Sultan Azlan Shah Cup will be held from April 6 to 16 in Ipoh, Malaysia.

Also, training camp of probables will commence on Wednesday in preparation for the event, here at the Naseer Bunda Hockey Stadium.

The PHF secretary said that around 130 probables would attend the camp under the supervision of coach Khawaja Junaid.

"The training camp will be held in two phases. In the first phase, the probables will be divided into teams to play matches against each other which will help us shortlist the best players for the Azlan Shah Cup in a week's time," he maintained.

"In the second phase, the shortlisted players will attend a two to three weeks long training camp," he said adding that the final line-up would be announced by March 15.

"The final outfit will play three to four friendly matches against Pakistan junior team in Lahore, Faisalabad and Bahawalpur," he stated.

Shahbaz expressed satisfaction over Pakistan Whites' performance at the recently-concluded South Asian Games (SAG) in India where they defeated traditional rivals India in the final to claim gold medal.

"They remained consistent throughout the event which is a positive sign for our hockey," he remarked.

Pakistan participated in all editions of the Sultan Azlan Shah Cup barring the last two ones due to financial crisis the previous PHF management was faced with.

Dawn


---

Sultan Azlan Shah Cup: PHF finalises players for hockey trials

By Nabil Tahir

KARACHI: The five-member selection committee of the Pakistan Hockey Federation shortlisted a group of 131 players for the upcoming Sultan Azlan Shah Cup at the conclusion of the first phase of the open trials held all over Pakistan.

The talent pool, selected by Olympians Abdul Rasheed Junior, Saeed Khan, Farhat Hassan Khan, Waseem Feroze and Qasim Khan, features 63 players of Punjab, 40 from Khyber-Pakhtunkhwa, Gilgit-Baltistan, Azad Jammu and Kashmir, Fata and Islamabad combined and a paltry 28 from Sindh and Balochistan.

When enquired about Punjab's abnormally large contribution to the group, Feroze pointed towards the province's strong hockey infrastructure at the grass-root level. "During the open trials we saw that the highest turnout was from Punjab which isn't surprising since it is where the most hockey tournaments at school and club level are organised."

Linking the rest of the country's lower representation with their flailing interest in hockey, Feroze explained, "We had an extra day's trial in Karachi, but the total turnout was 33 players, and in Peshawar around 52 players, while in Punjab around 80 players appeared, which is why a large number of players are named from that province."

It is pertinent to mention here that some participants from the Sindh and Balochistan region had complained that they had intentionally skipped the trials in Karachi as three of the five selectors were missing.

The five-day trials of the aforementioned 131 will begin from, at the end of which the pool's size will be trimmed to 40.

The Express Tribune


---

Hockey Gold at SAG - Morale Booster for Pakistan Hockey

By Ijaz Chaudhry

Winning the South Asian Games (SAG) gold in the Indian city of Guwahati is the second good news for Pakistan hockey in recent times.

A few months back, the national junior team had finished second at the Junior Asia Cup in Malaysia thus also qualifying for the next Junior World Cup to be held later this year.

At these games, it was a two horse race between Pakistan and India. The other sides, Bangladesh and Sri Lank, were never in contention.  The two mega sides met twice in the event, in the league and the final with Pakistan winning both the times with score lines of 2-1 and 1-0 respectively.

With this, the green shirts have also completed the hat trick of hockey golds at the SAG. Of the 12 editions of SAG, hockey has featured only four times. India were the winners in 1995, while Pakistan mounted the top of the podium in 2006 and 2010.

Both Pakistan and India had entered under strength teams.  Pakistan excluded quite a few seniors including the regular captain M.Imran and other senior players Rizwan Sr, Rashid, Shafqat  Rasool, among others. The squad included three uncapped players.

By default, Hockey India had to select quite an inexperienced side. Hockey India League (HIL), world's most lucrative hockey league was underway and all the big names of Indian hockey were engaged there. The Indian team at the SAG had just four players with any international experience.

Hence, Pakistan's win was always on the cards. But Indo/Pak duels always have special dynamics.  The on paper strengths sometimes don't translate on the field. When hockey figured in the SAG for the first time in 1995, in Chennai, Pakistan and India met in the last match of the league which was a decider; there being no final. Having a better goal average, Pakistan only required a draw.  They were the reigning World Champions and almost the same team, with stars like Shahbaz, Junaid,  Tahir Zaman and Mansoor, had figured in the World Cup  triumph,  a year before.  But the Indians surprised everyone with a resounding 5-2 victory. Exactly, one year later, the same two sides met again at the same venue. It was the crucial Champions Trophy tie; a virtual semi -final.  This time, Pakistan had fielded an experimental side with no less than six making their international debut. While the Indians, in their quest for a victory on the home soil, had selected the strongest possible team even recalling the veteran full back, the great Pargat Singh.  They had the added home support but Pakistan prevailed.

That pales into comparison with the results of two back to back 1982 ties. At the final of the Delhi Asian Games, in front of more than 50,000 Indian spectators, Pakistan had a record 7-1 victory over the hosts. It was 1 December. Only 10 days later, the two nations met again in the high profile Esanda Tournament in Melbourne with India upsetting the World and Asian Champions by two goals to one.

It would require the skills of a sports punter of Billy Walters' calibre to predict the result of a Pakistan/ India hockey tie- no matter the strength or form of the two sides.

The last time, the two nations met in a hockey match in India was the 2014 Champions Trophy semifinal.  After Pakistan's 4-3 victory, the celebrations of a couple of Pakistani players were deemed unsportsmanlike and they were banned for the final.  Considering all this, it was a correct decision by the PHF to include some mature and experienced players along with the younger boys to sustain the pressure atmosphere.

There were other problems as well. As per the Pakistan Sports Board's directive, only 16 players were selected by the PHF.  It was realized only after reaching Guwahati that other squads consisted of 18 members going by the tournament's rules, with 16 on the bench for every match. Then one player Samiuallah didn't accompany because his visa couldn't be arranged.  To make up the numbers, Rehan Butt, the assistant coach's name was included on the team sheets. The journey to Guwahati took 30 hours. Resultantly, Fareed Ahmad (vice-captain) and Rizwan fell sick on the eve of the opening match. Hasim Khan got injured during training. This compelled Rehan Butt, who is not active even on the domestic circuit, to take the field for some time, in a couple of matches.

The Indians had the backing of big crowds in both the games against their traditional rivals. They fought well despite the gulf in experience. Nevertheless Pakistanis held their nerves to win both the high octane encounters and come home with gold at a title tournament. 

Hockey's importance for the two countries can't be over emphasized especially when it comes to their legendary rivalry.

It is best epitomized by the reaction of Rajiv Yadav, sports secretary of the government of India. He was angry with the Hockey India for fielding a weakened Indian hockey team, "the money angle has become so important that the athletes have forgotten the Olympic spirit. India and Pakistan are two top teams in the region. It is an emotional match for the public. We had requested Hockey India to field a strong team but that did not happen." 

India humiliated all the other countries of the region at the 12th South Asian Games, winning a record number of 188 golds. Pakistan were a distant third with a shameful tally of 12. Yet, the secretary of sports openly expressed his disappointment over the hockey loss.

So this hockey gold should be savoured.  The PHF has done well to act quickly. The Prime Minister who is the patron in chief of the PHF has announced an award of Rs five hundred thousand for each member of the victorious team.  This is important because apart from cricket, there is not much financial incentive for this country's sports persons. The federation had also arranged a couple of All Pakistan tournaments during last few weeks which provided the vital match practice for the boys.

Is Pakistan hockey back on the track? It would be a false assumption that our hockey has turned a new leaf.  Victories over the FIH's seventh ranked side in a low profile sports event should only serve as a morale booster- no more than that. There is a very long way to go before even the signs of revival could appear on the horizon.

Ijaz Chaudhry writes on cricket and other sports. For more about him and his work, visit www.sportscorrespondent.info

Fieldhockey.com


---

PM approves Rs200m for promotion of hockey

By Nabil Tahir



According to the PHF official, the grant was approved because the PM is happy with the direction the new management is taking for the revival of hockey. PHOTO: FILE

KARACHI: The Pakistan Hockey Federation (PHF) has succeeded in convincing Prime Minister Nawaz Sharif to approve a Rs200 million grant for the promotion of hockey.

The grant is expected to be handed over on Wednesday at a ceremony arranged for rewarding the winners of the hockey final in the South Asian Games (SAG) — the PM had earlier announced Rs500,000 for every player and official who went to India and bagged gold.

The new management of the PHF, which was selected after the previous management failed to take hockey to the heights expected from it, was granted Rs350m earlier to clear its dues and hold national camps for future tournaments and a PHF official revealed that the new Rs200m grant was approved because the PM trusts the current management.

"The previous management had misused the funds provided to them, hence the PM was unwilling to sanction them more money," said the PHF official. "The current management, which oversaw the successful completion of the national championship and sent a team which managed to win gold at the Games, has earned the trust of the PM."

The official further revealed that the PHF has requested the PM to appoint an official to regularly provide updates on the usage of the fund so that no amount is spent on anything other than the development of hockey in the country.

Meanwhile, PHF secretary Shahbaz Ahmed Senior, who will be present at the ceremony along with PHF president Brig (retd) Khalid Sajjad Khokhar, said that the funds would lead to more international tours for the team.

"The grant will, first and foremost, be used to clear any previous dues to the players," Shahbaz told The Express Tribune. "After that we will try to organise as many international tours as possible for the senior and junior sides to give them the exposure they need before the Hockey World Cup qualifiers begin next year."

The Express Tribune


---

Volkswagen Commercial Vehicles announced as official sponsor



Photo Credit: Noel Hillis Photography

Volkswagen Commercial Vehicles was today announced as an official sponsor of Hockey Ireland. The deal will involve Volkswagen Commercial Vehicles providing Hockey Ireland with an Amarok and Caddy to assist with the continued successful development of hockey in Ireland.

Hockey Ireland is currently in an extremely exciting place with the senior men's team having secured qualification to the Olympic Games and will become the first Irish hockey team to compete at an Olympics since 1908 and the first team of any sport to represent Ireland at an Olympic Games since 1948.

Recent achievements also include the senior women's team beating America, ranked 5th in the world at the time, for the first time in Ireland's history and the team were also promoted to the top division in European hockey in 2015. Irish men's goalkeeper David Harte was announced as the FIH (International Hockey Federation) Goalkeeper of the Year as well as Irish head coach Craig Fulton named as the FIH Men's Coach of the Year.

Commenting on the partnership, Alan Bateson, Volkswagen Commercial Vehicles Director said "We are delighted to get on board with Hockey Ireland and become an official sponsor. The sport is going from strength to strength at the moment and we are thrilled to be involved and to supply Hockey Ireland with a Caddy which has been Ireland's bestselling compact van for the last 10 years and an award winning Amarok.   On behalf of Volkswagen Commercial Vehicles, I would like to wish the Hockey Ireland teams all the best for the year ahead and we look forward to supporting them and working together in the future."

Also speaking about the partnership, Hockey Ireland CEO Rob Johnson said "It is a very exciting time for hockey in Ireland, particularly with the Senior Men's squad going to the Olympics for the first time in 108 years. We are very excited to partner with a global brand such as Volkswagen Commercial Vehicles, and their sponsorship is a vote of confidence in Hockey Ireland as we continue to grow. This partnership will benefit all levels of our organisation and we are very much looking forward to building on this relationship going forward".



Photo Credit: Noel Hillis Photography

Irish Hockey Association media release


---

Tough period, but my priority remains hockey, says Sardar

Harpreet Kaur Lamba




It wasn't the easiest of times for India hockey skipper Sardar Singh. Just as the Hockey India League picked up earlier this month, the 29-year-old midfielder was accused of sexual assault by a Britain-based Indian origin woman.

Sardar, who turned out for Jaypee Punjab Warriors after three seasons with the Delhi Waveriders, was getting to know his new team mates and finding a way to gel with coaches Barry Dancer and Jagbir Singh as the news came in.

Those close to him indicate that it was a "tough period" for him and the team, but Sardar kept his focus. He led with confidence, which he backed by solid performance on the field.

On Sunday, Punjab broke their HIL jinx - it was their third consecutive final appearance - thrashing Kalinga Lancers 6-1 in the final. For Sardar, it was his second HIL crown having earlier led Delhi to the title in 2014. In a chat with this newspaper, he admits it did not come easy.

Excerpts:

On winning the HIL title: It was of course, very special. We had a lot of Australian and Indian players in the Punjab team and we usually play a similar kind of hockey, so it helped us gel well. When you have world class players like Mark Knowles and coaches like Barry Dancer and Jagbir, there is a lot of positive energy and that carried us through.

Ahead of the final, we had a meeting and discussed the last two finals that the team had lost. The boys were determined to not let it slip away this time.

On off-field distractions and their effect on his focus: Honestly, it was hard but for me, Hockey was and will always be my priority. The HIL was an event where the selectors were watching us and this will determine our Olympic chances. A player cannot let go of his focus whatever the circumstances. I had a responsibility towards my team and coaches and I did my best to take care of those.

On the gains from the HIL: For the India campers, it was a big opportunity to learn from the best. At this stage, everyone knows their hockey well but one can learn how the top players prepare for a match, spend time on recovery, target a particular player. These are things that help make a complete player.

Among the juniors, we saw players like Sumit from Ranchi Rays and Dipsan Tirkey of Kalinga Lancers. They are raw but can be groomed into better players.

On the road to Olympics and his role as a skipper: The national team will assemble in Bengaluru on March 6, while those undergoing rehabilitation will reach in advance.

As a team, we will follow the coach's programme and as a captain, I have earmarked a few areas besides training and matches. Communication will be key. There are occasions when a player might be playing full press while the plan is to go half court. These are things that a captain has to teach and imply and it begins from training sessions itself.

Handling pressure, not getting unnecessary cards, team unity, performing to win and not only to compete, fitness, these are the areas that I would like the team to follow.

Moreover, I have always believed in playing with a calm head despite the result. We cannot go over the top with celebrations or lose heart and get demotivated. It is important to maintain balance and not lose sight of the ultimate target.

On injuries: One of the biggest worry is midfielder Birendra Lakra (knee injury), who might go to the US for further treatment. This is the Olympic year and he is one of the most valuable players in the team. Besides, we are also hoping for a quick recovery to Devindar Walmiki (shoulder).

The Asian Age


---

Playing with Aussies a plus: Sardar Singh

Ritu Sejwal

NEW DELHI: He was the highest-paid player - at $78,000 (approx. Rs 54 lakh) - in the inaugural edition of the Hockey India League (HIL). Three years later, Sardar Singh was released by Delhi Waveriders and put up for auction.

The Jaypee Punjab Warriors showed interest and the Indian skipper was picked for $58,000 (approx. Rs 40 lakh). The change, however, did not trouble Sardar as he led the Warriors to their first title beating Kalinga Lancers 6-1 in the final of the fourth edition of the HIL on Sunday.

"Looking at the team's lineup, I was always confident of a good performance. The team has a good combination of Australian, English and Indian players. In the last two editions, Punjab had lost close matches in shootout. This time we are happy to have won by a good margin. Personally, getting to play with top Australian players before the Rio Olympics was a win-win situation," the Indian team skipper Sardar told TOI on Monday.

"There is so much to learn from players like Mark Knowles and Australian coach Barry Dancer. The Indian youngsters played good hockey - that's the feedback I got from international players. Playing with and against the best in the world for a month would definitely have motivated them," he added. The world body (FIH) had introduced a game-changing rule in the just concluded edition, awarding two goals for one field goal. Speaking on the impact of the new rule, Sardar said: "HIL is club level hockey and the rule change was interesting. Some teams tried to get more field goals but most did not take the risk. It is for the FIH to decide whether to implement this in other tournaments."

The players will get a two-week break before they assemble in Bangalore on March 6 for the camp. The team has Sultan Azlan Shah and Champions Trophy in the coming months as preparation tournaments for the Rio Games. "There is not much time left for Rio and we need to utilise it to stay fit and healthy," he said.

On the controversy before the start of HIL where he was accused of sexual harassment by a British girl, Sardar said hockey was his priority.

"Hockey is my life. The sport and my country come first. Our team is on the right track and there are a lot of expectations from us," he concluded, not wanting to be distracted by off-field controversies.

The Times of India


---

India can win hockey gold in Rio, if it has "Surprise Weapons".

Shane Sadanand

Well chronicled war has a history of 3675 years. Sports history says crude form of hockey played 4000 years ago in Egypt. There is a political objective behind every war. There is a regional or national interest in every hockey match. Four types of strategies are using in war. These are offensive, defensive, flanking and guerrilla warfare. Same strategies are adopting in hockey matches too.  There is a master brain behind every war, who controls the entire activities. He is Supreme Commander of forces. There is Chief Coach in hockey who controls a team. Military battles are invariably named after its geographical location.  Great victories of hockey matches are also named after the places. Thus there is close resemblance between war and hockey matches.
Nowadays hockey is all about outwitting, outflanking, and outplaying the opposite teams like any wars happened in this globe. Present day war is all about outnumbering, outpowering and outarming the enemy.

So we can take one or two leaves from war strategies, to be adopted in hockey planning. Hockey will be a war in Rio and we can see teams adopting offensive, defensive, flanking and guerrilla warfare in the field.  Modern day hockey is a strategic war with competition in a tournament is the enemy and winning the title is the objective of war.

Now we can discuss about the chances of India winning the Olympic gold in hockey. Group B consists of six teams including India. Other teams are Netherlands, Germany, Canada, Argentina, and Ireland. Each team will have to play five matches in league round. To reach Semi finals, Team India has to win minimum four matches there. Then there are quarter finals, semi finals and the finals. (For reducing confusions, leave all possible permutations and combinations that can happen in group matches.) Winning gold means winning seven matches. Thus to win the elusive ninth gold Indians need to do a lot in the coming months.

Media reports suggest India will go for a new mantra. Traditional Indian style of attack and European style of defence. If you put it in a player formation, we will get a 5-0-5-1 system. This system has advantages and disadvantages. Indians struggled with total hockey system of 10-0-10-1 at Antwerp. In Antwerp ten forwards attacked but managed to score fourteen goals, but ten defenders conceded twenty one goals. In war, the assembly of forces indicates an intention to attack or defend. In hockey, each formation should be based on player's strength and opposition's weakness. This proposed system could be a disaster in front of Australia, Argentina, Netherlands or even Ireland.

In Rio war India will have to win minimum seven battles from possible eight matches to climb to golden podium. That means thirty two sessions of fifteen minutes. You have to create thirty two tactical plans and eight strategic plans to win the gold. If India has to win seven matches, it must be ready to score one goal each in these sessions. Or twenty eight goals. (For the sceptics, please check previous Olympics records). Most confident coach in the world can win gold with seven goals as well. But no practical or logical coach can think about it.

 If you want to score twenty eight goals you need forty two surprise plans. Or minimum twenty eight well crafted surprise plans. Each forward should keep seven individual surprise weapons in his sleeve and seven combination plans between them. To win matches, you need to score goals. You can score goals in more than one way. When the forwards are equipped with forty two new methods of scoring goals, it creates confidence and motivation in their play. When the opposition knows they are going to face these unexposed surprise weapons, it cause confusion and degenerate the enthusiasm in their ranks.  If you have forty two different ways of scoring goals that the present world don't know, then you will be unbeatable.

What is a surprise weapon? In war, anything that gives real surprise to enemy or follows the theory of indirect approach will be considered as surprise weapon. In hockey, surprise weapon is anything that a successful team plays on the ways of least expectation to its opponents by using special skills. Surprise methods are also a tactic that can be used against opponent's special methods. It prolongs the ability to defend against all formidable opponents.

Let us see the surprise weapons used in the history of wars.

At Marathon, 490 B.C,the 15,000 Persians attacked the Athenians. Greeks had a surprise weapon, the Phalanx. This shield protected the holder and neighbour.6000 Persians fell as against 200 Greeks.

At Austerlitz, in 1805 AD,Napoleon tempted his opposition to attack his right flank. Then he moved his left flank to attack the centre of opposition consists of Russia and Austria. Rapidity of movement was the surprise material. Napoleon later told about the success. "I may lose a battle, but I shall never lose a minute." In hockey, you are not supposed to lose a second.

Trojan horse was a surprise weapon. In Kargil war Indians attacked from front side using Bofors guns, from the sky Indians bombarded Pakistan positions with Mirash planes. But decisive victory came from the behind the enemy line attack. Indian soldiers attacked from Pakistan side and created utmost confusion in Pakistan's rank and file.

Except for the last thirteen minutes of Hockey World League finals in Raipur, Team India plays to a predictable pattern nowadays. You don't have to be a hockey expert to realise that direct approach in a game plan leads to disaster .It saves rival coaches a lot of night time oil to think over Indian's strategy. To win war and hockey matches you need to keep surprises. Or you need to drop the predictable nature from games. For the past fives years, invariably all the Indian Chief Coaches gave emphasis in strengthening Indian's defence line. Every body worked as if there is no mid field or forward line in Indian team. It is visible in nowadays performance.  To score goals you need to depend PC conversions.

In Raipur Indians moved away from predictable pattern in two matches.  The victories against Great Britain in the quarter finals and Netherlands in third place play off.  They pulled out a real surprise weapon once in these two matches only.

Pushed Sardar Singh in the last quarter of the third place match to forward line and then raised the intensity of the match to a different level. And it paid dividends. Indians scored four goals in thirteen minutes. So designing twenty eight to forty two surprise plans and meticulous execution of these tools will be crucial for winning gold in Rio.

Look at Australia. They have sixteen all-rounders to form a team. This Australian team can be considered as monolithic structure. These players can play in any possible positions with same efficacy and intensity. They have a structure, system and strategy to play a game or a tournament. If a new player comes to that system, he may change the fixed structure of the team's game. That could be the only surprise element in the case of Australian hockey team. England and Netherlands are adopting a strategy of keeping their best players from overexposure in normal tournaments. They release these players as a surprise package in major tournaments like Olympics and World Cups. Indians are predictable in their game plans and strategic tools for the past five years. Any improvement from the present pattern of play itself is a surprise package.

Who is going to control these surprise weapons?  Since chief coach will be the chief strategist, he has to design, develop and implement these weapons. How can he create these tools? A war principle will give the clue for Indian Chief Coach.

Greatest war strategist Karl von Clausewitz described the battlefield like this. "It is from the character of our adversary's position that we can draw conclusions as to his designs and will therefore act in better manner". Indian chief coach should look in to the minds of other coaches who can be his adversaries at Rio.

Biologist Charles Darwin mentioned about the survival of the fittest. Had there been a hockey strategist likes Darwin, he would have emphasised the need to have fittest, skilful and strategically better teams to survive in modern era competition.

Disclosing these smart weapons is not part of this article, because it is going to be part of Indian hockey team's war strategy. Military devices leading to victory must not be divulged before hand. It is a hard-core war principle.

Fieldhockey.com


---

Life is one big balancing act

Denise Krimerman and Sophia Lahsen (Chile), Michael Barminski and Ajai Dhadwal (USA)

Sarah Juggins, for PAHF
Denise Krimerman (CHI)
Ajai Dhadwal (USA)
Photos: Yan Huckendubler

For the young players who will be participating in the Junior Pan American Championships in Trinidad & Tobago and Canada over the next few months, hockey will be at the forefront of their mind. However, as Sarah Juggins discovers, these young players face a real challenge when it comes to keeping a good balance between sport and study.

Denise Krimerman is a hockey player with the Chilean women's national squad and has already got a raft of senior team experience under her belt. She was part of the squad that narrowly lost out in the bronze medal match to host nations Canada in the 2015 Pan American Games. Prior to that, Denise and her team won two silver medals at the 2014 South American Games and the 2013 South American Championships. She also played a key role in Chile's third place finish in the 2015 World League Round Two event in Dublin, scoring three goals over the course of four games.

This year, the 21-year-old will be competing for the Chilean team in the Pan Am Junior Championship and hoping to improve on the fourth place finish of 2012. Chile has a good record at the games with one silver, two bronze and three fourth place finishes.

Besides her hockey training schedule, Denise is a student at Universidad del Desarrollo, in Concepcion. So how does she combine study and representing her country?

"It is difficult," she admits. "We must learn how to organize and manage our time during the day. However, it helps that our training sessions are usually in the afternoon and my university classes are in the morning. I use any free time – and there is not much admittedly - to catch up on studies."

So far, Denise has managed to organize her time effectively and she says she feels very confident that her university lecturers would be sympathetic and help if she asked them to be flexible, but you get the impression that this is a person with their feet firmly on the ground. "My family's support is crucial," she says. "I started playing because of their encouragement and they motivate me constantly to achieve my goals."

The fact that hockey remains an amateur game in Chile and is still very much a sport that is establishing itself demonstrates that the national squads at all levels are very much punching above their weight. Chile men and women are constantly runners-up to the hockey heavyweights in the Pan American region – Argentina, USA and Canada – and to maintain that level of consistency is no mean feat.

"We sacrifice a lot of things to play hockey in Chile," says Denise, but you sense from her lively enthusiasm that this is not a hardship.

Sophia Lahsen is another member of the Chile team. She has yet to make a breakthrough into the senior squad on a regular basis but she is a prolific goal scorer for the U21 team. Like Denise, Sophia goes to college in the mornings and early afternoon and then does hockey training in the evening. One of her biggest concerns is that she may overdo things and burn out or let something slip - either in her studies or her sport. "I think the key to achieving a balance lies in being organized, and make good use of the time," she says. "I need to take responsibility for myself and realize when I need to take a break or decrease the intensity of my training."

Sophia has learnt the hard way. "Many times in the past, I have collapsed because I haven't been able to take time out to study enough or simply just rest. Then I got frustrated and I didn't know how to sort out the situation."

Help came from family and friends. "I talked to my family and friends, and then I realized that I am very supported by them and that I have to learn how to control my anxiety and despair because it only make me feel down and it also affects my performance in hockey.

"The person that I most talk about it all with is my dad. He helps me very much, gives me a lot of very good advice and supports me in every decision that I make."

Sophia's parents really have proven a rock as pressures of balancing study and sport have taken their toll. "As I said, without them I wouldn't know how to sort out my problems. My parents give me a lot of support in terms of hockey so that encourages me to keep training and performing even when I'm full of pressure from tests and stuff at college."

Despite the obvious stress that Sophia sometimes feels under, the athlete is under no illusions that she is the only one. "I think it is something that happens to all athletes in their respective sports. We all make sacrifices. Like waking up earlier than everyone else to train before going to college, or not being able to go out with friends or going on vacations. But after all it's not an obligation, it's a decision that you take that, at the end, brings its own benefits."



Michael Barminski. Photo Yan Huckendubler

Michael Barminski is an athlete for the USA field hockey team. He took to field hockey early in his school life when the sport was introduced to him in an after-school program. With the encouragement and enthusiasm of his mother, a former player herself, Barminski competed in Cal Cup and was instantly hooked. He has since taken to the pitch on the international stage with both the USA Men's Junior National Team and senior national team, competing in World League Round One and Two, Junior Pan American Championship and Pan American Games.

Like both Denise and Sophia, Michael knows that the only way he can fit everything into his daily schedule is through a very careful balance of work and hockey. Michael has the added stress of holding down three jobs while training with the national squad and studying Earth Sciences at the University of California in San Diego.

He explains the pressure he is under to keep all aspects of his life under control: "Balancing school, field hockey and work is a difficult task for anyone because of the extensive time management and discipline that it requires. My typical day consists of training from 6am - 9:30am, class from10am - 2pm., topped off with several hours of work at one of my three jobs. That doesn't leave a lot of time for extra-curricular activities, but I just plan far enough ahead to get in some physical recovery and extra studying.

Michael has this tip for making the most of your time: "Those little 30 minute blocks of time when you find yourself on the bus or waiting in between classes, are vital to the productivity of your day. The task of juggling multiple agendas can be quite hectic at times, but I can assure you it is a very rewarding experience to make sacrifices in order to support a lifestyle that is Olympic caliber."

Michael's team mate in the USA Junior team is Ajai Dhadwal, a silky-skilled midfielder who has represented his country at junior and senior level. Ajai first picked up a stick when he was eight years old and hasn't looked back since.

These days the 22-year-old combines hockey with his studies at the John Hopkins University in California where he is studying cognitive science. For Ajai, achieving balance is all about attitude.

"Balancing work, studies and being on the national team is more about attitude than anything," he says.  "It is a difficult thing to do, but I enjoy being busy and doing things that I am genuinely interested in. Occasionally, one of the aspects of my life becomes hectic, but the other activities tend to help to restore balance.

"Playing hockey has always been a passion of mine so it is relaxing even though it is an intense elite lifestyle. The most important thing is to enjoy and to be mindful of what I am doing."

All four athletes will be ramping up the training as the Junior Pan Am Championships loom on the horizon and it will take all their organizational skills to ensure that they maintain a crucial life balance during the hectic months ahead.

Pan American Hockey Federation media release


---

Ottawa's Rowan Harris shines in field hockey after early end to soccer career

Martin Cleary, Ottawa



Ottawa field hockey player Rowan Harris. (Rich Lam, UBC Thunderbirds)

An athletic career can change in an instant. Rowan Harris can attest to that.

During an Ontario Youth Soccer League game in 2008 with the Cumberland Cobras girls' U14 team, she took repeated hits to the head. There was contact with the ball and on two or three occasions, she banged heads with opposing players. She kept playing.

By the next day, Harris was ill and couldn't play. A visit with a doctor determined she had a concussion. Harris had to withdraw from sports for the next 11 months.

In February, 2010, she made a comeback, attending a tryout session in hopes of transferring to the Capital United side. Understandably, she was worried about restarting her soccer career. "At that point soccer was my life; there was no doubt I'd go back," she said.

It was a short return, however. During that tryout, she collided heads with another player, which triggered her second concussion and she was out for another extended period.

So what does a young teenager with athletic talent and boundless energy do when she can't play the sport she loves, especially after being sidelined for 2½ years?

Enter her parents, Colin Harris and Janet Chow, who had backgrounds in field hockey in their youth along with three other family members. Rowan's uncle Douglas Harris and aunt Candy Thomson played for Canada at the 1988 and 1992 Summer Olympics respectively, while her cousin Thomson Harris is on the national junior men's team.

"I never thought of it," admitted Rowan Harris in a telephone interview. "Field hockey is not that big in Ottawa compared to soccer. It's not the obvious thing to go to.

"But my mom and dad together knew I needed to do something. When you play at a high level and play all the time, you need something. When they asked me about field hockey, I said I'd give it a shot."

Five and a half years later, she is a member of the Canadian senior women's field hockey team and preparing to travel to Auckland, New Zealand, April 2-10 for the eight-nation Hawke's Bay Cup. Harris will share the goalkeeping duties as Canada faces some of the best in the world — No. 3 Australia, No. 4 New Zealand, No. 5 China, No. 9 Korea, No. 10 Japan, No. 13 India and No. 15 Ireland. Canada is ranked No. 19.

Harris has become the latest addition to a select group of Ottawa players to earn national field hockey team status in the past 15 years, including Jocelyn Mitchell, Liam Manning, Braedon Muldoon, Rohan Chopra, Gurtej Dhaliwal, Shankar Premakathan, Pardeep Koonar and Harry Kant.

"I am extremely excited to be given another opportunity to play with the senior team against some of the top teams in the world," Harris wrote in an e-mail. "It can be tough sometimes as a goalie to have so many goals scored (against) throughout a tour (San Diego) so to know that I'm been given another opportunity to play at the international level is very motivating."

Harris only made her international debut earlier this month in a four-game tour in San Diego against the high-powered United States team, which is ranked seventh in the world.

Only three months ago, Harris, 19, was the starting goalkeeper for the University of British Columbia as a sophomore and helped the Thunderbirds win their fifth consecutive and 17th overall CIS women's championship.

Under the guidance of her father, a former UBC player/national junior team member and a teacher/varsity field hockey coach at Glebe Collegiate Institute, Rowan started her field hockey career in Grade 9. But she didn't feel comfortable as a field player.

So for her final three years at Glebe, coach Harris made field player Harris the goalkeeper, which was a safe position given her concussion history. Harris, who was well padded, including a helmet, didn't have to run much, and discovered she was good at the position. She was named the Gryphons' captain and MVP in her final two years.

By Grade 11, she had fully embraced field hockey, was playing for three club teams — Outaouais, Ottawa Capitals and Nepean Nighthawks. There was talk she had potential to make the provincial U18 team, which she did and went on to help Ontario win silver medals at the 2013 and 2014 national championships. She also was invited to her first Canadian junior women's camp in 2014 and played with the national team during a six-game tour against the United States in 2015.

"She is extremely driven and competitive and when she had to give up soccer due to concussions, she was hugely motivated to get back into a sport as athletics really defined her growing up," said Chow, who played one field hockey season at UBC. "She chose field hockey more because she was able to wear a helmet and protect her head as a goalkeeper."

Harris also benefited from high-level athletic training from Ottawa soccer coach Sanjeev Parmar.

In mid-January, she travelled to Santiago to play for the Canadian junior women's team in a seven-game tour against Chile, the host of the Junior World Cup in 2016. Canada posted a 3-4 record. She was planning to represent Canada at the Junior World Cup qualifying tournament March 20 to April 6 in Trinidad and Tobago, but will now wear Canadian colours in at the senior tournament in Auckland.

Harris joined the national senior women's team in early February and made her international debut against the United States, Canada lost all four games on the tour _ 8-1, 5-0, 2-0, and 8-0. Harris played in three games, half a game each time.

"Some goals were let in," Harris said. "It's hard to come in when the team has let in so many goals. But the focus is on playing and not worrying about the scoreboard.

"You don't focus on who you are playing. You go in to play your best and leave it all on the field. That's what you train for. You play the best you can."

The Ottawa Sun