All the news for Thursday 28 January 2016

FIH announces winners of Hockey Stars 2015 Umpire and Coach of the Year Awards




The International Hockey Federation (FIH) has announced the Hockey Stars 2015 Coach of the Year and Umpire of the Year awards.

Great Britain assistant coach Karen Brown won the women's Coach of the Year while Ireland's South African coach Craig Fulton picked up the men's Coach of the Year.

Gibraltar's Nathan Stagno is named men's Umpire of the Year while South Africa's Michelle Joubert was awarded the women's Umpire of the Year.

Women's Coach of the Year, England and Great Britain assistant coach Karen Brown, is Britain's most capped female hockey player of all time with 355 caps. She competed in three Olympic Games and won a bronze medal in 1992. Other playing highlights include a European gold medal, Commonwealth silver and numerous national titles with her club Slough.

Karen began coaching at Chelmsford in 2000 before moving into coaching positions with England U16, U18, U21 and the B programme. In 2005 she joined England Hockey as Junior Performance Manager, moving to assistant coach in 2006.

Since then, she has been part of the coaching team that has led England women to the EuroHockey Championships title in 2015 and bronze medals at the World Cup, Champions Trophy, two Commonwealth Games and three European Championships. With Great Britain, she was part of the coaching team that saw them win a bronze medal at the London 2012 Olympics, finish sixth at the Beijing Olympics in 2008 and win a silver medal at the Champions Trophy in February 2012.

Men's Coach of the Year - Craig Fulton gained widespread praise for leading Ireland to the Olympic Games for the first time in over 100 years. They qualified for Rio following their success at the FINTRO Hockey World League Semi-Final in Antwerp, Belgium last summer.

During his playing career, Fulton won 191 national caps for South Africa during which he competed at the 1996 Atlanta and 2004 Athens Olympic Games. Following his retirement he has taken on several coaching roles within club and international hockey.

In addition to roles as assistant coach for Ireland men and South Africa men and women, Fulton enjoyed a successful spell with Irish club Pembroke, where he guided them to the Irish Hockey League and Irish Senior Cup double as well as the EuroHockey Club Champions Trophy in 2009.

Craig's compatriot, Michelle Joubert, voted women's Umpire of the Year 2015, first picked up a whistle aged 22. Since then she has gone on to become only the second South African woman in history to achieve 100 senior international caps, recently receiving her FIH Golden Whistle at the Argentina Hockey World League Final in Rosario last December.

Michelle has officiated at two Hockey World Cups, in Rosario in 2010 and in The Hague in 2014, the London 2012 Olympic Games, plus one Commonwealth Games and two Champions Trophies.

Fellow umpire, Nathan Stagno, received the men's Umpire of the Year award having also recently received an FIH Golden Whistle. He became the first Gibraltarian to make 100 senior umpire appearances during the Hero Hockey World League Final in Raipur, India last year.

Stagno has officiated at some of the sport's biggest competitions, including the London 2012 Olympic Games, the Rabobank Hockey World Cup 2014 in the Hague, as well as two Champions Trophy events and a Commonwealth Games.

These awards are further recognition for both umpires who were selected by FIH to attend the Rio 2016 Olympic Games next summer.

Speaking about the Awards, FIH President, Leandro Negre, said: "Congratulations to Craig and Karen who have made a huge impact on the sport in 2015, both helping guide their teams to the Rio 2016 Olympic Games amongst some other key medal wins. Well done to our golden generation of umpires as well, which now includes Michelle and Nathan who have been rightfully recognised for their excellent performances on the field whilst officiating at our events last year."

He continued: "The ambition of the Hockey Revolution, our ten-year strategy for hockey, is to make it a global game that inspires the next generation. One of our 'big goals' is to increase the degree of professionalism throughout the sport. Coaching and officiating is crucial to achieving our aims. These awards showcase excellence in both areas and as a result I hope many others are inspired by these individuals' outstanding achievements."

This follows the news announced yesterday confirming the winners of the Player, Goalkeeper and Rising Star of the Year awards, which can be read here.

Athletes, Coaches and Umpires will be presented with their awards in their respective home countries over the coming weeks.

FIH site


---

Craig Fulton Named as FIH Coach of the Year




Green Machine head coach Craig Fulton has been named as FIH Coach of the Year! The news comes just 24 hours after David Harte was awarded FIH Goalkeeper of the Year. Fulton has been at the helm of the squad for almost 2 years and has overseen an historic period for the team. 2015 was a year of breaking records with an undefeated run through World League 2, an all time high of 5th place at World League 3, a first ever European bronze medal and of course securing that coveted Olympic spot.

Men's Coach of the Year - Craig Fulton gained widespread praise for leading Ireland to the Olympic Games for the first time in over 100 years. They qualified for Rio following their success at the FINTRO Hockey World League Semi-Final in Antwerp, Belgium last summer.

During his playing career, Fulton won 191 national caps for South Africa during which he competed at the 1996 Atlanta and 2004 Athens Olympic Games. Following his retirement he has taken on several coaching roles within club and international hockey.

In addition to roles as assistant coach for Ireland men and South Africa men and women, Fulton enjoyed a successful spell with Irish club Pembroke, where he guided them to the Irish Hockey League and Irish Senior Cup double as well as the EuroHockey Club Champions Trophy in 2009.

Speaking about the award, Fulton said, " It's an honor and a privilege to accept this award from the FIH and from my fellow coaching peers, it is much appreciated. To my family and the brilliant Irish Men's staff and players, this is our award for an unforgettable 2015".

Irish Hockey Association media release


---

Brown named FIH Female Coach of the Year.



Karen Brown

England and Great Britain Assistant Coach Karen Brown has been named as the FIH's Female Coach of the Year. Brown's award was announced alongside Ireland's Craig Fulton, who won the men's award and Nathan Stagno and Michelle Joubert who won the Umpire of the Year categories.

Brown is Great Britain's most capped female international player, amassing 355 caps in a storied and successful international career. She competed in three Olympic Games collecting a bronze medal in 1992 to add to a European Gold (1991) a Commonwealth Games silver and of course numerous medals in her club career with Slough.

She began her coaching journey at Chelmsford back in 2000 leading them to a European Cup Winners Cup silver medal and the national indoor title. She has worked with the England U16, U18 and U21 and B programmes. She was Head Coach of the England U21 women's team at the Junior World Cup in Chile in 2005 and joined England Hockey that same year as Junior Performance Manager, moving to Assistant Coach working alongside Danny Kerry in 2006.

Since then, she has been part of the coaching team that has led England to medals at the World Cup, Champions Trophy, Commonwealth Games and European Championships, including this summer's gold medal to add to the gold she won as a player in the same competition. With Great Britain, she coached the side that finished sixth at the Beijing Olympic Games and of course the bronze medal won at London 2012.

In recent years, Brown has participated in the prestigious UK Sport Elite Coach Programme and in 2011 completed a Postgraduate Diploma in Elite Coaching from the University of Central Lancashire, as well as gaining her Level 4 Coach Award qualification.

Speaking about her award she told England Hockey:

"I'm really taken aback and surprised to be given this award. I enjoy being in the background and see my role as being the glue that keeps everything together and makes other people look good. I'm usually under the radar so I'm flattered to be recognised by my peers."

Speaking about the Awards, FIH President, Leandro Negre, said: "Congratulations to Craig and Karen who have made a huge impact on the sport in 2016, both helping guide their teams to the Rio 2016 Olympic Games amongst some other key medal wins. Well done to our golden generation of umpires as well, which now includes Michelle and Nathan who have been rightfully recognised for their excellent performances on the field whilst officiating at our events last year."

He continued: "The ambition of the Hockey Revolution, our ten-year strategy for hockey, is to make it a global game that inspires the next generation. One of our 'big goals' is to increase the degree of professionalism throughout the sport. Coaching and officiating is crucial to achieving our aims. These awards showcase excellence in both areas and as a result I hope many others are inspired by these individuals' outstanding achievements."

This follows the news announced yesterday confirming the winners of the Player, Goalkeeper and Rising Star of the Year awards, with England and Great Britain's Lily Owsley picking up the Women's Rising Star Award.

Athletes, Coaches and Umpires will be presented with their awards in their respective home countries over the coming weeks.

England Hockey Board Media release


---

Stagno named men's Umpire of the Year

EHL-bound Nathan Stagno was named the men's Umpire of the Year for his efforts in 2015 having recently received an FIH Golden Whistle.

He became the first Gibraltarian to make 100 senior umpire appearances during the Hero Hockey World League Final in Raipur, India last year.

Stagno has officiated at some of the sport's biggest competitions, including the London 2012 Olympic Games, the Rabobank Hockey World Cup 2014 in the Hague, as well as two Champions Trophy events and a Commonwealth Games.

These awards are further recognition for both umpires who were selected by FIH to attend the Rio 2016 Olympic Games next summer. He is also included on the list of umpires to officiate at the EHL KO16 in Amsterdam.

South African Michelle Joubert was voted women's Umpire of the Year 2015. Since picking up a whistle aged 22, she has gone on to become only the second South African woman in history to achieve 100 senior international caps, recently receiving her FIH Golden Whistle at the Argentina Hockey World League Final in Rosario last December.

Joubert has officiated at two Hockey World Cups, in Rosario in 2010 and in The Hague in 2014, the London 2012 Olympic Games, plus one Commonwealth Games and two Champions Trophies.

Great Britain assistant coach Karen Brown won the women's Coach of the Year while Ireland's South African coach Craig Fulton picked up the men's Coach of the Year.

Fulton previously coached Pembroke in the Euro Hockey League.

Euro Hockey League media release


---

Huge line-up confirmed for Hawke's Bay Festival




The third annual Hawke's Bay Festival of Hockey will grow further in 2016, with at least 42 teams participating.

The Festival runs from the 2-10 April and this year includes four tournaments, an addition of one from the last two seasons. The major addition to the festival is FIH World League Round 1 which involves teams from Oceania.

The Hawke's Bay Cup continues to be the major attraction of the Festival with eight international teams confirmed for the tournament. The Affiliates Tournament has grown to 14 teams and the school girls Furnware Cup will again include eight teams from around the North Island.

"A stellar line-up of women's teams will again compete in this prestigious tournament. We are delighted that six of the eight teams that will come to Hawke's Bay have qualified for the Rio Olympics. Completing this year's line-up will be first timers at this tournament, Ireland and Canada," Hawke's Bay Sports Events and Education Consortium's (HBSEEC) Bruce Mactaggart said.

Tournament Director David Nancarrow is excited about the continuing growth of the festival.

"It is extremely gratifying that, in this Olympic year, Hawke's Bay has won the bid to hold the Oceania round of World League Round 1. This was secured following a competitive bidding process with Cairns and Port Moresby, who were both extremely keen to host the tournament," he said.

"World League Round 1 will add another dimension and extra colour and flavour to the festival. It is likely that six men's and six women's teams from throughout Oceania will be in Hawke's Bay to take part in this international competition."

The school girls Furnware Cup returns for the third year and will see young players from throughout the North Island rub shoulders with some of the finest players in the world. Four teams from Hawke's Bay will be joined by teams from the Waikato, Bay of Plenty and Gisborne in an eight team competition.

The 2016 Affiliates tournament has attracted 14 teams, an increase of five from last year. Players from throughout the country will be joined by teams from Australia and Hong Kong to complete a line-up that includes eight women's and six men's teams.

2016 HAWKE'S BAY CUP LINE-UP:

Australia (world ranking 3rd)
Black Sticks (4th)
China (5th)
Korea (9th)
Japan (10th)
India (13th)
Ireland (15th)
Canada (19th)

CLICK HERE for the Hawke's Bay Cup draw

Hockey New Zealand Media release


---

Green Army To Compete At Hawkes Bay Cup Against Top Nations




Ireland's Women's hockey team will travel to New Zealand to play in the highly competitive Hawkes Bay Cup from April 2nd-10th. The tournament will play host to 8 teams, 5 of whom are ranked in the top 10 in world hockey.  The tournament offers vital experience for Graham Shaw's young squad as they will come up against several sides they may otherwise not meet throughout the year.

The Green Army are drawn in Pool B alongside host New Zealand, China and India while Pool A is comprised of Australia, Korea, Japan and Canada.

Ireland's first match sees them pitted against China, the team who dealt them the cruellest of blows at World League 3 in Valencia last June; that penalty shoot-out will long live in the memory of anyone who witnessed it but Shaw is determined his team have learnt from that experience "There will obviously be emotion involved in that opening match but we will be 100% focused on each opponent and take one match at a time. There were plenty of lessons to take from Valencia and the China match in particular, I'm confident we've matured as a squad and will be as prepared as possible when we face the world number 5". True to tournament hockey, the Green Army will play again the following day against India, their closest ranked opponent before finishing up the pool games against world number 4 New Zealand.

Shaw has introduced several new caps since taking the helm of the Green Army, with two teenagers in his most recent squad that travelled to Spain for warm weather training "We set the team up with a lot of changes in personnel and I thought the younger players stepping up did very well. The results may not have gone our way but we got stronger as the week went on and it was great to get the group back together after a break from International hockey".

Shaw continued "We are delighted with the invitation to Hawkes Bay as the only European nation. This is a fantastic opportunity for the Green Army as the level of opposition we will face will provide a real test and give us a great insight to where we sit with the top nations in World Hockey".

World Rankings:

Australia 3
New Zealand 4
China 5
Korea 9
Japan 10
India 13
Ireland 15
Canada 19

Irish Hockey Association media release


---

Black Sticks get world class lineup at home to boost Olympics preparations



The Black Sticks women are happy to have a strong international tournament on their own shores as part of their preparations for the Rio Olympics. DEREK FLYNN

The Black Sticks women's Olympics buildup has been boosted by a strong international field assembled for April's Hawke's Bay festival of Hockey.

Six of the eight teams involved have all qualified for Rio 2016.

The festival has been boosted by being given FIH World League Round 1 status, meaning the leading teams from Oceania are all involved.

The women's lineup is headed by world No 3 Australia, followed by New Zealand (4), China (5), Korea (9), Japan (10), India (13), Ireland (15) and  Canada (19).

Ireland and Canada are new to the event which is being held for the third time.

Organisers believe the Oceania inclusion means the Black Sticks men will also benefit from a stronger field as they work on their Olympic preparations.

Tournament Director David Nancarrow is excited about the continuing growth of the festival.

 "It is extremely gratifying that, in this Olympic year, Hawke's Bay has won the bid to hold the Oceania round of World League Round 1. This was secured following a competitive bidding process with Cairns and Port Moresby, who were both extremely keen to host the tournament," he said.

"World League Round 1 will add another dimension and extra colour and flavour to the festival. It is likely that six men's and six women's teams from throughout Oceania will be in Hawke's Bay to take part in this international competition."

Stuff


---

Black Sticks grouped with China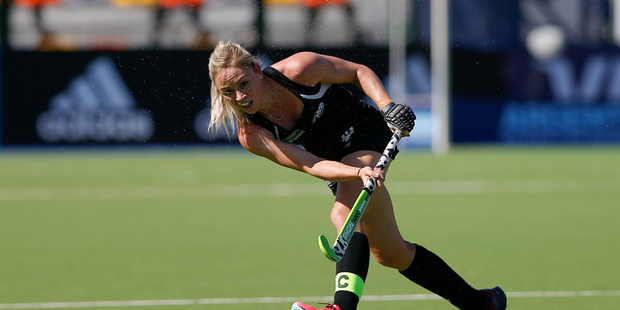 Anita Punt of New Zealand hits the ball. Photo / Getty Images

The New Zealand women's Black Sticks have been grouped with China, India and Ireland in its pool for April's Hawke's Bay Cup.

China is ranked just one place behind New Zealand in the world rankings, at fifth place.

The other pool features Australia, Korea, Japan and Canada.The tournament is in Hastings from April 2-10.

The New Zealand Herald


---

Women's National Team roster named for February series with U.S.

Shaheed Devji




Twenty-one athletes have been named to the Canadian women's field hockey team set to play in a four-game series with the United States February 8th-12th in San Diego, California.

The tour down south is the first trip of the year for the Women's National Team, which re-convened for training at its centralized training environment in Vancouver, British Columbia in January.

Led by active cap leader Thea Culley (Rossland, BC) and veterans Kate Gillis (Kingston, ON) and Abigail Raye (Kelowna, BC), the touring roster consists of all sixteen women who represented Canada and won bronze at the 2015 Pan American Games in Toronto last summer.

Three athletes – Alexis de Armond (Victoria, BC), Nikki Woodcroft (Waterloo, ON), and Rowan Harris (Ottawa, ON – will make their senior international debut in the series with the U.S.

The three are coming off a tour in Chile during which the Under-21 Women's National Team faced the Chileans seven times – winning three games – in preparation for the 2016 Junior Pan American Championships (a Junior World Cup qualifier) in March.

The Canadian women will arrive at the U.S. Olympic Training Centre in Chula Vista, California on Friday, February 5th and train for two days before playing matches on February 8th, 9th, 11th, and 12th.

Canada and the United States last met in the 2015 Pan Am Games semi-final when the Americans (ranked seventh in the world) narrowly defeated the host Canadians 3-0. The Americans went on to repeat as champion, while the Canadians beat Chile 1-0 in the bronze medal game, earning a medal at the Pan Ams for the first time since 1999.

Canadian Women's National Team Roster – 2016 U.S. Series
| | | |
| --- | --- | --- |
| Name | Position | Hometown |
| Abigail Raye | Defender | Kelowna, BC |
| Alex Thicke | Midfielder | Vancouver, BC |
| Alexis de Armond | Defender | Victoria, BC |
| Amanda Woodcroft | Midfielder | Waterloo, ON |
| Brienne Stairs | Forward | Kitchener, ON |
| Danielle Hennig | Defender | Kelowna, BC |
| Hannah Haughn | Forward | North Vancouver, BC |
| Holly Stewart | Forward | North Vancouver, BC |
| Kaitlyn Williams | Goalkeeper | White Rock, BC |
| Karli Johansen | Defender | North Vancouver, BC |
| Kate Gillis | Midfielder | Kingston, ON |
| Kathleen Leahy | Midfielder | Victoria, BC |
| Maddie Secco | Midfielder | Victoria, BC |
| Natalie Sourisseau | Midfielder | Kelowna, BC |
| Nikki Woodcroft | Midfielder | Waterloo, ON |
| Rosie Beale | Defender | Victoria, BC |
| Rowan Harris | Goalkeeper | Ottawa, ON |
| Sara McManus | Defender | Tsawwassen, BC |
| Shanlee Johnston | Defender | Vancouver, BC |
| Stephanie Norlander | Forward | North Vancouver, BC |
| Thea Culley | Forward | Rossland, BC |
 Canadian Women's National Team Staff – 2016 U.S. Series
Head Coach – Ian Rutledge
Assistant Coach – Steph Andrews
Manager / Video Analyst – Stef Sloboda
Physiotherapist – Elliott Usher
Field Hockey Canada media release


---

Defending champions Pakistan name hockey squad for South Asian Games

Mohmmad Irfan will be at the helm as the Pakistan hockey team looks to complete a hattrick of gold medals at the South Asian Games (SAG), the national federation announced on Wednesday.

The Pakistan Hockey Federation (PHF) on Wednesday named a 16-member Pakistan Whites squad for participation in the biennial Games which is set to be staged in the Indian city of Guwahati.

Pakistan is drawn in pool "A" with Afghanistan and Bangladesh with India, Nepal and Sri Lanka placed in group "B" in the regional sporting extravaganza which kicks off from February 6-16.

Experienced defender Irfan will lead the Pakistan side while Fareed Ahmed will be his deputy at the 12th edition of the Games which will feature athletes from eight different South Asian nations.

The coaching staff includes the experience of former stars Mohammad Saqlain and Rehan Butt.

Butt said the management had picked players after watching them in action at the training camp and during the trials.

"We have picked a balanced squad with an eye on gold," he said while announcing the team.

"Despite a strong challenge from hosts India, we would be battling for gold," the former spearhead said.

"We needed to boost the game and it cannot be done without winning a gold in India," he added.

The national squad for SAG '16 is a mix of youth and experience as the PHF looks to revive the national sport after the ignominy of missing out on the 2014 World Cup and next year's Rio Olympics.

Squad for SAG 2016

Mohammad Irfan (Capt), Syed Kashif Shah, Fareed Ahmad (Vice-Capt), Mohammad Aleem Bilal, Tasawar Abbas, Mohammad Rizwan, Mohammad Toseeq Arshad, Mohammad Umar Bhutta, Mohammad Kashif Ali Ali Shan, Mohammad Arslan Qadir , Abdul Haseem Khan, Taimoor Malik, Sami Ullah, Awais-ur-Rehman

Stand-byes: Ejaz Ahmed, Mazhar Abbas, Shehar Yar, Abdul Karim Khan, Ali Raza, Zohaib Ashraf

Officials: Shahid Pervez Bhandara (Team Manager), Pervez Aslam Kayani (Assistant Manager), Mohammad Saqlain (Head Coach), Rehan Butt (Coach), Nadeem Ahmad Khan (Assistant Coach), Dr. Atif Bashir (Team Doctor)

Dawn


---

South Asian Games: Only three new faces in hockey squad

KARACHI: Three new faces — Taimoor Khan, Samiullah and Awaisur Rehman — made the cut in the 16-member Pakistan Whites' — Pakistan hockey's A team — squad, who will travel to India to participate in the South Asian Games next month.

The selection of the squad, which includes 11 senior team players and one junior team member, seemingly adheres to commitment on the Pakistan Hockey Federation's (PHF) part to claim gold in the event in India.

However, it goes against the principles on which the hockey governing body of Pakistan had decided to send an A team; to give new players, who are left out of the senior side, a chance to impress and gain more game-time.

PHF secretary Shahbaz Ahmed Sr had claimed after the trials on Tuesday that the players who failed to make it to the senior and junior outfits will be given preference, and that 'only four-five senior players would be selected for the event in India'.

Come Wednesday, the official was left in an awkward position when the selection committee announced the squad with 11 senior team players.

"They [the selection committee] wanted to make a team that will not only have a chance to win gold, but will also be able to handle pressure of playing in India," explained Shahbaz when approached by The Express Tribune.

While the intent of the selection committee is commendable, it raises question marks on whether the PHF is committed to the development of young players as it claimed when the new management, led by president Brig (retd) Khalid Sajjad Khokhar, took over.

The Express Tribune


---

Bees, Surbiton and Harleston reign supreme in junior Super 6s



Harleston U18 boys 2016 winners capt

Beeston won both the U16 and U18 Girls Junior Super 6s.titles with Surbiton victorious in the U16 Boys tournament and Harleston taking the U18 Boys title.

In the U16 Girls competition at Aldersley Beeston flew through Pool A with four wins out of four. Behind them teams all took points off each other. Horsham ended on six points after losing their last game to Preston, who up to that stage hadn't won a game. A win for either Ipswich or Isca in the last pool match could have given them the runners up place but a 3-3 draw meant it was Horsham who finished second. In Pool B Surbiton came through on top despite drawing their first game with Leicester. Three wins after that put them on 10 points. One of these was against Harleston but they beat Leicester to end in second place on 9 points.

The Pool winners came out on top in the semis, Surbiton beating Horsham 6-1 and Beeston winning 3-1 against Harleston. The final saw Beeston run out winners 4-3 in a game where they were never behind. Hannah Davey (2), Fenella Scott and Nina Apoola were on target for Beeston, Izzy Petter, Sophie Rigg and Fifi Thompson replaying for the runners up.



Beeston U16 girls 2016 winners

Surbiton however went one better in the Boys U16s which was also held at Aldersley. They sailed through Pool B with a 100% record. Behind them all four teams remained in contention. A 3-3 draw between Thirsk and Cannock ultimately helped neither side and the last pool game saw Ashmoor take on Norwich with the winners to take second place. It was Devon team who achieved this with a 3-1 victory. Pool A saw Marlow top with four wins out of four and Leicester second three points back. The semis were both decided by the odd goal in seven, Surbiton beating Leicester and Marlow beating Ashmoor. Scott Jones gave Surbiton an early lead in the final and there were no more goals until the last four minutes when Harry Gough and Morgan Males (2) took the game out of Marlow's reach despite a consolation from Nick Winter.



Surbiton U16 boys 2016 winners

The Girls U18s at Whitgift saw Beeston retain their title but only after a very tight competition. In Pool A Beeston finished top on 9 points, one ahead of Clifton who beat them but drew with East Grinstead and City of York. Wakefield won Pool B with 9 points and beat Isca 2-1 in the last game to pip the Devon team to top spot. Isca finishing ahead of Stourport on goal difference. Beeston beat Ica 4-2 in the first semi but the Clifton-Wakefield game ended 3-3 to set up a penalty stroke competition which Clifton won 2-1. In the final Mimi Tarrant and Maddie Pearce put Beeston 2-0 up but they were pegged back by two Zoe Cullum corners, the last in the final minute, to set up another stroke competition. This time it was Beeston who proved victorious with Mimi Tarrant wining it in sudden death after the initial phase ended 1-1.



Beeston U18 Girls 2016

In the Boys U18s at Nottingham Trent University Harleston took the title for the first time. They topped Pool A winning all of their games with an impressive +15 goal difference, including a 5-3 defeat of second placed Surbiton. Pool B saw Beeston and City of Peterborough well clear of the rest. The teams were both unbeaten and drew 2-2 when they met, but another draw against Cheltenham meant Peterborough ended on two fewer points. The semis went to form with the Pool winners coming out on top. Beeston beat Surbiton 3-1 and Harleston defeated City of Peterborough 5-2. Harleston took a two goal half time lead in the final thanks to Zaman Ahkter (PS) and Toby Price. Ollie Rogerson pulled a goal back for Beeston from a corner but Ahkter made the game safe for Magpies with two minutes left securing a 3-1 win.

For further details of all the competitions click here.



Harleston U18 boys 2016 winners

England Hockey Board Media release


---

Politeknik come crashing down in junior hockey league

by Aftar Singh



Politeknik's Muhammad Fakhri Ardillah Saifullah (right) vying for the ball with Olak Tigers' Mohd Fitri Othman during the Malaysian Junior Hockey League Division One match at Tun Razak Stadium in Kuala Lumpur on Wednesday. - IZZRAFIQ ALIAS/ The STAR

KUALA LUMPUR: High-riding Politeknik Malaysia have been brought down to earth by Olak Tigers in the Malaysian Junior Hockey League (MJHL).

Politeknik, who stunned last year's runners-up Universiti Kuala Lumpur (UniKL) 1-0 last week, were hoping for full points in their Division One match against Olak. Instead, they suffered an embarrassing 3-2 loss – despite taking a 2-1 lead – at the Tun Razak Stadium in Jalan Duta on Wednesday.

With the defeat, Politeknik's hopes of finishing among the top four in Division One has suffered a big blow with four matches remaining.

Olak scored through Mahathir Rathuwan (eighth minute, pen), Muhammad Hameran Anuar (57th) and Mohd Badrul Amin Mat Jusoh (58th) while Politeknik replied through Mohd Asyraf Idris (31st) and Muhammad Fakhri Ardillah Saifullah (49th).

Politeknik team manager Mohd Rofi Solaiman was disappointed with his team's defensive errors.

"My boys paid the price for taking it easy against Olak. We were also let down by poor defending," he said.

Politeknik's remaining matches are against double champions SSTMI-Thunderbolt, Pahang Sports School, Bukit Jalil Sports School (BJSS) and Petaling Jaya City Council (MBPJ).

Olak coach S. Velappan was full of praise for his boys for their second win in five matches.
"We started as underdogs and trailed 2-1, but my boys fought back to collect full points," he said.

The Star of Malaysia