All the news for Monday 14 December 2015

Argentina hit high five against New Zealand to win Argentina HWL Final




Argentina are the 2015 Hockey World League champions after defeating New Zealand 5-1 in the final in front of a capacity crowd at the newly-named Luciana Aymar Stadium in Rosario, Argentina.

After two years of global hockey competitions, it all came down to one hour of thrilling, competitive hockey.

While it was Argentina who dominated and wowed with their sublime skills, New Zealand – competing in their first major final since 2010 – played their part in this intriguing and highly-skilled match.

Both teams play a free-flowing and speedy game, so the action was end to end. The difference in style between the two teams is in the way the ball is moved in attack, New Zealand play fast passes to beat defenders, while Argentina run at the defence and use quick stick work to ghost past the opposition.

The opening 10 minutes of the match were dominated by the host nation as they poured forward into New Zealand's Black Sticks circle. Carla Rebecchi came closest to breaking the deadlock from a well-taken penalty corner, but Sally Rutherford in the New Zealand goal was on fine form as she dived high to her left to make an incredible save.

This served as the motivation that New Zealand needed and they broke at speed through their captain Anita Punt. Punt's shot was hard and low and, like her Black Sticks counterpart, Belen Succi pulled off a tremendous save to prevent an opening goal.

Just 15 seconds had gone in the second half before Las Leonas opened their account. It was the player voted Young Player of the Argentina Hockey World League Final, Maria Granatto (16'), who scored after a clever run gave her the space she needed to slip the ball past New Zealand's Rutherford.

Delfina Merino nearly made it two, when she undercut the ball at goal. Her shot flew wide, but the signal was clear – Argentina's Las Leonas meant business.

Granatto continued to trouble the New Zealand players with her lightening stick skills, but as Petrea Webster and Anita Punt began to run at the Argentina defence, so there was a sense that New Zealand were getting to grips with the intensity of this final.

As Martina Cavallero dived full length to keep the ball from going off the side-line there was no doubting the commitment of both teams to this game. Where Argentina were playing deep defence and speedy breaks, so New Zealand were playing the ball around to create gaps they could exploit.

Maria Campoy, Rocio Sanchez and Agustina Albertarrio were all running riot in the middle of the field whenever they got hold of the ball but Brooke Neal was strong at the heart of the Black Sticks defence.

A second penalty corner was won by the skill of Florencia Habif. Noel Barriounuevo's shot was saved but Campoy (29') was on hand to hit the ball home.

New Zealand started the second half with renewed determination and Anita Punt (34') demonstrated just why she is recognised as a world class player when she put a penalty corner drag flick high into the corner of Succi's goal.

The two-goal cushion was restored when Campoy got her second goal. It was made by the skill of Delfina Merino, who drew Rutherford out of position before slipping it back to Campoy who fired home. Campoy was on the attack minutes later. A poor pass out of defence by New Zealand led to Campoy forcing a penalty corner. Noel Barriounuevo buried the ball deep into the goal to take the score to 4-1.

The last quarter saw New Zealand continue to seek ways back into the game. They pressed high and peppered the Argentina defence with balls in, but failed to get into scoring positions. At the other end, Las Leonas continued on their charge towards the winners' podium.

Merino topped a great performance with an outstanding goal to make it 5-1 with just 10 minutes left on the clock. New Zealand continued to push but there was a tiredness creeping into their game. By contrast, sensing victory, Argentina continued to run and attack with energy and imagination.

While Argentina were deserving champions, a 5-1 scoreline justified the exciting and competitive nature of this, the second Hockey World League Final following season 1.

A jubliant and tearful Carla Rebecchi said: "I am so proud to have won a final in Rosario in front of such an amazing crowd and with this team."

Meanwhile, Coach to New Zealand, Mark Hager, said: "I am very proud of my team, we didn't play our best today, not in any area of the game. We let Argentina run with the ball way too much, but, look, we were in our first final and we have to learn how to perform in finals."

#HWL2015 #MakeYourMark

FIH site


---

Germany go from bottom of the pool to third place in Argentina HWL Final



Photo: FIH/Getty Images

An exhilarating start by Germany got the team ranked ninth in the world off to a dream start in the contest between China and Germany at the Argentina Hockey World League Final on Sunday 13 December. Germany started strongly and never looked like being caught by China as they racked up a super-six goals to take third place in this season's HWL Final.

Pia-Sophie Oldhafer (8') opened the scoring with a smartly taken shot that caught goalkeeper Li Dongxiao off guard. Just a short few minutes later Eileen Hoffmann (9') made it 2-0 after a lovely interchange of passes with Anne Schroeder.

Li Dongxiao, who had an excellent tournament to that point, was unable to react to the change in direction. Julia Muller (13') got on the scoresheet with a cracking penalty corner strike to make it 3-0 and then Janne Muller-Weiland (15') added a fourth from another penalty corner just before the end of the first quarter.

China, who are ranked four places higher than their opponents, finally got an attack together and won a penalty corner after some tricky stick work by Zhang Jinrong. Wang Mengyu's shot was low and to the corner of the goal but Kristina Reynolds was on hand to divert it round the corner.

The China team continued to play with more energy and conviction and they were rewarded with another penalty corner. This time Wang (27') made no mistakes as she slotted the ball home under Reynolds.

The second half got underway with china changing the shape of their team slightly. Their top goal scorer Wang played ahead of her defence in order to pressure the German team higher up the field.

German coach Jamilon Mulders, speaking at half-time, said: "As we saw in the second quarter, you can never take your foot off the gas."

Peng Yang nearly brought her team right back into the game when she rattled a ball past Reynolds, but also just outside the post. The counter by the German team reaped its own reward as Lisa Schutze cracked the ball forwards and Marie Mavers was able to deflect it past Li to make it 5-1.

Proving Mulder's words true, Wang scored her second penalty corner, again a devastating strike that Reynolds had no chance of saving.

Lisa Altenburg made it 6-1 with just 3 minutes left in the third quarter. She was the recipient of a clever passing move through the midfield and, again, Li was caught out of position as the forward rocketed the ball home.

Still China continued to try to get back into this game. Yu Qian had a golden opportunity to put the ball into the net but scuffed her shot and Zhang Xiaoxue was also foiled in her attempt to reduce the deficit.

It was turning out to be one of those days for China. The usually impeccable Wang missed a gorgeously-weighted ball from Zhang which would have put her through on goal and despite China enjoying greater possession in the last six minutes of the game, they were unable to breach the German defence a further time.

The result means Germany take third place in this season's HWL Final and China finish fourth.

German captain Janne Muller-Wieland said: "We just started to score goals in the last few days. It just all went right today. We don't have a lot of preparation time before events, so we build as we play. But now we are looking forward to carrying this success into the next competition."

And her team-mate Eileen Hoffmann added: "We have improved hugely when it comes to our mental approach. We talk in sub-groups – defence, midfield, forwards – and that helps. We don't truing together all the time as some teams do, but for me that is not always a bad thing. I think if you think hockey all the time, it is not a good place to be. I go to work others study and it gives us a different focus.

#HWL2015 #MakeYourMark

FIH site


---

Argentina crowned Hockey World League Final champions after cruising past New Zealand

By Michael Pavitt



Argentina defeated New Zealand to win the second edition of the tournament ©Getty Images

Hosts Argentina were crowned as the winners of the second edition of the International Hockey Federation's (FIH) Women's World League Final after overcoming New Zealand 5-1 with an impressive display in Rosario.

The world number three ranked nation have finished on the podium at the past four Olympic Games, but will view their performances in front of their home crowd as an indicator that they can deliver the elusive gold at Rio 2016, having won silver twice and bronze on two other occasions.

With the opportunity to succeed The Netherlands as World League champions within their grasp, it was no surprise that both teams began cautiously, with the first quarter ending scoreless.

However, it quickly changed as Argentina seized the initiative from the restart with their star Maria Granatto bringing the ball down and dribbling past several challenges, en-route to finding the net with a powerful strike.

Maria Pilar Campoy added to the hosts' lead on the stroke of half-time but the match was quickly in the balance as New Zealand's Anita Punt pulled one back from a penalty corner.

Argentina though looked to put the match out of the Kiwis' sight as a well-worked move saw Carla Dupuy restore their two goal cushion, before an inventive penalty corner routine was converted by Noel Barrionuevo.

With New Zealand pushing more players forward in a desperate bid to gain a foothold in the game, the London 2012 silver medallists were able to hit them on the break with Delfina Merino finding the net in the final 10 minutes to complete the victory.



Germany earned bronze after a blistering start helped them overcome China ©Getty Images

Meanwhile, Germany bounced back from their narrow loss to New Zealand in yesterday's semi-final by cruising to victory over China in a high scoring third place play-off.

The European team began the match determined to make up for the disappointment of missing the final and stormed into a 4-0 lead by the end of the opening quarter, with Pia-Sophie Oldhafer, Eileen Hoffmann, Julia Müller and Janne Müller-Wieland finding the net.

A stunned China looked to respond but the damage was already done, with a brace from Mengyu Wang, either side of a strike from Germany's Marie Mävers, proving only consolation efforts.

Lisa Altenburg wrapped up a 6-2 victory for the Germans with a powerful effort in the third quarter.

Inside the Games


---

Black Sticks runners up at World League Final



Photo: Rodrigo Jaramillo

The Black Sticks Women have finished runners up at the FIH World League Final after being defeated 5-1 by hosts Argentina in the gold medal game.

New Zealand put together a brave performance in their first major FIH tournament final but were unable to stop the red hot Argentinians who were lifted by a capacity home crowd.

Down 2-0 at halftime, the Black Sticks sparked to life in the 34th minute with a goal from Anita Punt but Argentina went on to dominate the remainder of the game thanks to some lethal finishing in the attacking circle.

New Zealand's Stacey Michelsen, who was awarded Best Player of the Tournament, said there were mixed emotions within the team following the final.

"We are certainly disappointed in the way we played today but very proud that we made it to the final," she said.

"Hats off to Argentina, they were brilliant and the crowd was amazing. Up until today we've played some really good hockey so we'll take some lessons from this and come back stronger."

The first quarter was end to end hockey with both sides stretching their opposition on defence, while Argentina put together the more dangerous of chances.

Off the quarter time restart Argentina launched a swift attack and Maria Granatto was able to fire a shot through Sally Rutherford's legs to open the scoring.

New Zealand settled after the goal but gave away a penalty corner 90 seconds out from halftime, allowing Argentina to extend their lead after Maria Pilar Campoy capitalised on the deflection.

Down by two goals at halftime, the Black Sticks lifted after the break and pulled one back in the 34th minute when Anita Punt rocketed a penalty corner flick into the roof of the net.

Argentina responded and snatched the ascendancy throughout the remainder of the match with three unanswered goals from Carla Dupuy, Noel Barranuevo and Delfina Merino.

In the bronze medal game, Germany came through to take out third place at the tournament following an emphatic 6-2 win over China.

BLACK STICKS 1: (Anita Punt)
ARGENTINA 5: (Maria Granatto, Maria Pilar Campoy, Carla Dupuy, Noel Barranuevo, Delfina Merino)
Halftime: Argentina 2-0

Hockey New Zealand Media release


---

Black Sticks well beaten by hosts Argentina in gold medal match at World League

Clay Wilson



Maria Granatto celebrates scoring Argentina's first goal during their 5-1 win over New Zealand in the final. CHRIS BRUNSKILL/GETTY IMAGES

The Black Sticks women had to settle for silver at the World League Final after a 5-1 loss to hosts Argentina.

The pace and skill of Argentina in front of a raucous home crowd has proved a bridge too far for the Black Sticks in the gold medal match at the World League Final.

After confidence-boosting wins over Great Britain and Germany, the New Zealand women's hockey side were unable to match a brilliant display from the two-time World Cup winners as they romped to a 5-1 victory in Rosario on Monday morning (NZ time).

The Kiwis didn't produce their best performance of the tournament, but in part they were not afforded that opportunity by a Las Leonas outfit who had their foot on the gas and rode the support of a packed stadium throughout the 60 minutes.

The world No 4 Black Sticks had a brief period of hope when captain Anita Punt rifled a penalty corner flick high into the corner of the net to make it 2-1 early in the third quarter, but otherwise the match was dominated by the third-ranked Argentinians.

Two goals at either end of the second quarter were backed up by two more towards the end of the third, before a stunning fifth midway through the fourth and final put the icing on the cake.

Despite a disappointing final result, New Zealand took some important strides forward with the Rio Olympics less than eight months away.

The runners-up finish, matching the Black Sticks men's effort at the inaugural World League Final in 2013, is their first medal at a major tournament featuring all of the world's top sides since they won bronze at the 2011 Champions Trophy.

It may have been slightly deflating to come up one short of what they went to the tournament for, but in a broader sense the Kiwi team can look ahead to a big 2016 with positivity.

Midfielder Stacey Michelsen was also named player of the tournament, no mean feat at arguably the world's third biggest hockey event behind the Olympics and World Cup.

"Obviously it is a pretty amazing crowd to play in front of," Michelsen said.

"We are certainly disappointed in the way we played tonight. Proud of ourselves for making the final, but we will go away with a lot of lessons to learn after a game like that. You have to hand it to Argentina."

Bursting out the blocks, the hosts were only prevented from taking the lead in the first quarter by a combination of inaccurate shooting and some solid saves by New Zealand keeper Sally Rutherford.

The Black Sticks' one chance among a flood of Argentinian pressure was a good one, but Michelsen's reverse stick shot went straight at home team stopper Belen Succi.

Shortly after the start of the second quarter, though, Argentina finally went ahead when striker Maria Granatto brought down a high ball, evaded three Kiwi defenders and slotted the ball between Rutherford's feet.

A poor clearance from a Rutherford penalty corner save as the half drew to a close allowed Maria Pilar Campoy to make it 2-0.

Punt's superb flick four minutes after the resumption visibly lifted the Black Sticks, but that renewed confidence was soon to be extinguished.

Some sloppy marking in the circle saw Carla Dupuy restore Argentina's two-goal buffer, before a well-worked penalty corner goal for Noel Barrionuevo took them into the final quarter with an all but unassailable 4-1 lead.

With the home crowd in full voice, the two-time Olympic silver medallists came home strongly, with Delfina Merino slamming the ball into the roof of the net from an acute angle to sew up gold.

Punt was disappointed, but also knew there was cause for her side to be optimistic about the future.

"[Argentina] stepped up today and played amazing," she said. "Credit to our girls, we fought really hard right until the end, but unfortunately there were a few little errors there.

"It is a step in the right direction for us. It's not what we wanted at all, but I'm proud of the girls today and we will keep fighting from here."

AT A GLANCE

Argentina 5 (Maria Granatto 16, Maria Pilar Campoy 29 (PC), Carla Dupuy 41, Noel Barrionuevo 44 (PC), Delfina Merino 50) New Zealand 1 (Anita Punt 34 (PC). Q1: 0-0. Q2: 2-0. Q3: 4-1.

Stuff


---

Argentina hammer Black Sticks in final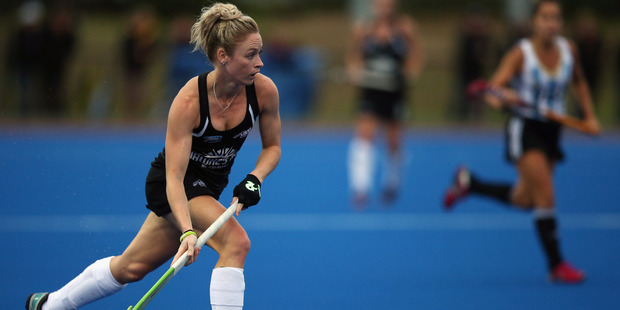 Anita Punt of New Zealand. Photo / Getty Images.

The Black Sticks bore the full brunt of a relentless performance from Argentina in the World League hockey final.

Argentina has hammered New Zealand 5-1 to win the gold medal in front of a capacity crowd at the newly-named Luciana Aymar Stadium in Rosario.

The home team scored twice in the second quarter with Maria Granatto opening Argentina's account shortly after the resumption, before Maria Campoy drilled in the second goal in the 29th minute off the back of a penalty corner.

Black Sticks skipper Anita Punt pulled one back for New Zealand with a stunning drag flick in the 34th minute.

But the home team soon restored their two-goal buffer with Campoy picking up her second goal, after Delfina Merino drew Rutherford out of position before slipping it back to Campoy who fired home.

The home team continued to hammer away at the New Zealand goal over the latter stages of the match, adding two more spectacular goals over the final 20 minutes.

Punt said while her side's showing in the gold medal match was disappointing, she was pleased the team's performance in the tournament.

The Black Sticks won their way through to the final with an impressive 2-1 win over Germany in Sunday's semifina to make it through to their first final of a major FIH event.It was the first time New Zealand had been in the final of the major FIH events.

"It's a step in the right direction for us, [the result] is not what we wanted at all but I'm proud of hte girls today and we'll just keep fighting from here," she said.

Black Sticks midfielder Stacey Michelson was named player of the tournament.

The New Zealand Herald


---

Voting open for FIH Hockey Stars 2015 – Player, Goalkeeper and Rising Star of the Year Awards




Online voting for FIH Hockey Stars 2015 – the Player, Goalkeeper and Rising Star of the Year Awards – is now open.

Five (5) male and five (5) female nominees have been selected for each award. These were selected by a panel consisting of the FIH Athletes' Committee, Continental Federation Presidents and FIH media personnel. All awards are based on performance at international events during the 2015 season, as well as the player's overall contribution to the sport.

Click here to vote.

Winners will be decided by the combined results of an online vote that is open to everyone and a peer vote from international athletes. Voting is open until 20 January 2016. Winners will be announced on 26 January  2016. Players will be presented with their awards in their respective home countries during the first quarter of 2016.

Speaking about the Awards, FIH President, Leandro Negre, said: "The ambition of the Hockey Revolution, our ten-year strategy for hockey, is to make it a global game that inspires the next generation. Our international players have a big role to play in making this ambition a reality. Hockey Stars allows the hockey community to celebrate these stars and provide recognition to the very best in international hockey. We invite our fans from around the world to vote on their Hockey Stars!"

Along with these three awards, the FIH will also be awarding a Coach of the Year and an Umpire of the Year Award as part of Hockey Stars 2015. These awards will be decided on by a peer vote and winners will be announced on 26 January as well.

The Umpire of the Year Award is new for 2015. It is also a result of the Hockey Revolution, as the increase in the degree of professionalism throughout hockey is a major goal of the strategy. Recognising the very best in international umpires is in-line with this goal.

The Coach of the Year Award for 2015 will see a slight change. Introduced in 2014, the Award was originally awarded to the best coach of a female or male international team. From now on, the Award will be given to the best female and male coach of an international team. Hockey is a very inclusive sport with equal numbers of male and female players and FIH is committed to ensuring this balance across all areas of the sport.

FIH site


---

David Harte and Shane O'Donoghue Nominated for FIH Awards

As a record breaking year for Irish hockey draws to a close David Harte and Shane O'Donoghue have been nominated for FIH Hockey Star Awards!

 The FIH Hockey Stars are the annual awards given to the best player, coach and umpire in a given calendar year. For the FIH Player awards there are 3 categories; Player of the Year, Goalkeeper of the Year and Rising Star of the Year.

 All the player awards are dependent on public vote so get behind the Green Machine and vote for Harte and O'Donoghue! The voting is open now and will close on January 20th.

David Harte, 3 time GK of the Tournament this year, has been nominated as GK of the Year. Harte, captain of the Green Machine, is in a category with Jaap Stockmann, David Carter, Andrew Charter and Nicolas Jacobi. Vote for David HERE!

Shane O'Donoghue, crowned player of the tournament  at WL2 in San Diego, has been nominated as Rising Star of the Year. O'Donoghue faces Christopher Ruhr, Blake Govers, Akashdeep Singh and Sukhi Panesar in the category which is devoted to the best international hockey player under the age of 23. Vote for Shane HERE!

All the player awards are dependent on public vote so get behind the Green Machine and vote for Harte and O'Donoghue! The voting is open now and will close on January 20th.

Irish Hockey Association media release


---

With method, India show steady rise

With madness at end, India beat the Dutch to win first medal at the world level in three decades

Indervir Grewal



The bronze medal at the HWL Final was a huge confidence-booster but it doesn't mean that India can yet be considered serious contenders at the Olympics or the World Cup. file photos

Chandigarh: For the second year in a row, the international hockey caravan made an unlikely city in India its final stop of the year.

While it was a 6000-capacity stadium in Bhubaneshwar last year (for the Champions Trophy), this time the site for the eight-team Hockey World League Final was a small 3000-capacity stadium in Raipur.

And for India the similarities didn't end there — this year too, Roelant Oltmans found himself at the helm of the host team after another unceremonious departure of a coach. Last year it was Australian Terry Walsh who had left, and this year it was Dutchman Paul van Ass.

As India's campaign in the tournament progressed, it seemed that the hosts were heading for a repeat of last year. After losing two of their three matches in the pool, just like last year, India managed to beat a higher-ranked European team in the quarterfinals, before falling in the semifinals. And, as India fell behind 0-2 against the Netherlands in the third-place match, it seemed that for the third time in 12 months they would miss out on the opportunity to win their first medal at the world level in three decades.

Last year, India reached the semifinals of the Champions Trophy, followed by a semifinals appearance at the HWL Semifinals earlier this year. The structure of these tournaments, in which all the teams reach the quarters, has helped India. However, the gradual progress of the team, which helped it rise to world No. 6, can't be ignored.

Consistency through structure

In the last two years, starting from before the 2014 World Cup, India have rarely lost to lower-ranked teams — the two losses to Pakistan, in the league stage of the Asian Games and the semifinals of the Champions Trophy are the only ones that come to mind. And they have been able to beat or hold higher-ranked teams — Australia, the Netherlands, Germany, Belgium, New Zealand — in FIH tournaments. And even in most of their losses, they have put up a decent fight.

Behind this change and performing at a higher level consistently has been the discipline and structure brought into the Indian game by the foreign coaches. The work done by the physical trainers brought from abroad can't be ignored as India is currently among the world's fittest teams. There have been set-backs, with the constant change of coaches, but the team has made steady progress.

This discipline helped them win the Asian Games gold; currently India is arguably the best team in Asia. They won the CWG silver after beating the Kiwis in the semis. What had eluded them was a medal at a world-level tournament.

India have become structurally sound enough to consistently beat weaker and equal teams. But they have not yet been able to replicate that success against the top teams. And it would be unfair to expect it from players who were brought up playing a completely different, obsolete, style. The Indians adopted the modern style only three to four years back and it is limited to only the national team; for over a decade before that, Indian hockey went through a lot of changes — coaches were changed too frequently and all of them experimented with the team. The players of the top hockey nations, however, grow up in a uniform system; they are almost regimented.

The Indian players are not tactically mature enough — a big example is that they don't know how to control the pace of the game; changing the pace helps disrupt the opposition's rhythm and structure, but every time India do it, they lose their own structure.

But what lets India down most is their inability to hold the defensive structure for the whole game and the top teams take advantage of this weakness much more easily than the lower-ranked teams. India's current defenders are physically, technically and tactically not up to the top international level. But they alone can't be blamed; the forwards and midfielders are guilty of often being found out of position, or getting beaten very easily, or giving away possession cheaply.

At the HWL Final, India played four pretty solid games — against Germany, the Netherlands, Britain and Belgium — but won one, drew one and lost two. In all the games they matched the Europeans in possession and attacks. But it was those few errors they made that that let them down. Against Belgium in the semis, it was just that one error early on. Afterwards, they had a very good game but couldn't find the equaliser. It seemed that they were, in a way, handicapped by playing the organised hockey, they couldn't truly open up, find that killer instinct, and in the end the loss seemed meek.

In the bronze medal playoff, the errors again put them behind. And for three quarters, India tried to tactically break the Dutch defence but failed. In the last quarter, India let loose, returning to the haphazard Indian hockey of old; and what followed has to be described as madness.

It will be convenient to say that it took India a bit of the old madness to break the jinx, and tempting to ask why India should not play that old style. But the fact is that it took India many failures before this success. And returning to the old ways, when India could beat any top team on their day and lose to a weaker side the next day, is not the way forward. The Netherlands win was a barrier broken and it took more heart than mind to achieve it.

But the medal doesn't mean that India can yet be considered serious contenders at the Olympics or the World Cup. This win, over the world No. 2 side, was a huge confidence-booster. India need to maintain this level of consistency, and the more they play — it is irrelevant if they lose, draw or win as long as they try to play tactically sound hockey — against the top teams, the more mature they will become and the more they will grow in confidence.

The Tribune


---

Fiji to bring top teams

Pravin Narain

THE Fiji Hockey Federation will be inviting the India and China hockey teams for a tournament next year to celebrate 100 years of hockey in the country.

Plans are being made for a big get together to mark the occasion.

National hockey coach Hector Smith said the sport had gone up to another level.

"We might have China or India also on our list coming for the tournament," he revealed.

"We'll be having a big celebration to mark the 100 years of hockey in the country. Australia Country is already coming. There are a lot of potential in hockey here."

The Fiji Times


---

Malaysian hockey to have a group of goalkeeping coaches

by S. Ramaguru

KUALA LUMPUR: Goalkeeping coaches will come in for special attention soon.

The Malaysian Hockey Confederation (MHC) coaching committee will set up a panel of coaches to take charge of goalkeepers at the national level.

The MHC have one goalkeeping coach in N. Nadarajah. Another former national goalkeeper, Mohd Nasihin Nubli, has been the coach of the women's senior team.

Both these coaches are expected to be part of the new panel. They are likely to be joined by the recently-retired Roslan Jamaluddin.

At the recent Junior Asia Cup, the goalkeeping was a letdown.

"I think the time has come for greater effort to further upgrade the goalkeepers. We will switch the coaches (goalkeeping) around and also provide courses for them," said MHC coaching committee chairman Datuk Ow Soon Kooi.

"We would also welcome other former national goalkeepers who want to take up coaching to join us."

MHC had previously brought in foreign coaches to conduct goalkeeping courses and also sent their goalkeepers abroad.

"We will still bring in other experts to help out. Not just to train the national goalkeepers but also educate and improve our goalkeeping coaches. They will be short stints ... we have to look for the next Kumar or Roslan," said Soo Koo, who added that goalkeepers, like the 33-year-old Kumar, will have a role to play once they retire.

The coaching committee hope that all the coaches for the various teams will be in place by Jan 1.

The Star of Malaysia


---

Hockey to have development squad running

by S. Ramaguru

KUALA LUMPUR: The Malaysian Hockey Confederation (MHC) will form a national development squad so that they'll have a larger pool of players for the national team.

MHC coaching committee chairman Datuk Ow Soon Kooi said that there are a lot of talented junior players coming through the ranks and "they needed a platform to continue training".

"So, the answer would be to form another squad to act as the feeder to the senior national team. The idea is not new ... we had a National B team before," he said.

"But what needs to be addressed is the type of programme and competition for this particular group of players. Only then will the concept work."

He said that the decision, made at the recent coaching committee meeting, would need to be endorsed by the MHC executive board, who are expected to meet on Dec 19.

"For example, the Project 2016 players need a platform to continue their training. Not all of them will be absorbed into the senior set-up. And there are some senior players who will be left out of the training squad once the Podium Programme is finalised," said Soon Kooi.

"So, having a development team with a similar programme as that of the senior team will be the answer."

Only six players from the recent Junior Asia Cup team (Project 2016) are expected to be called up to the senior training squad.

Soon Kooi said that the committee had also decided to have four main national teams.

"Besides the senior and development teams, there will also be the new Project 2020 team and the 1MAS team for the Under-16 age group. The women will have four teams also.

"Each will have a chief coach and an assistant. We're also looking at having attachment coaches for the teams. But we only want those who want to make coaching their career and be active at the state level."

He said that the coaching set-up at the national level is also being revamped for a uniformed structure at all levels.

The MHC had earlier this year hired Australian Terry Walsh as the technical director.

The coaching committee are also planning to start a database on the available coaches and categorise them according to their qualifications.

"It's high time we have a good coaching structure in place," he said.

The Star of Malaysia


---

Ghana Police hold Telkom Orange in Africa Club championship

By BRIAN YONGA



From left: Telkom Orange players Ruth Njoki, Flavian Mutiva and Lilian Aura leave the pitch after their national women's league match against Kenyatta University on May 23, 2015. PHOTO | MARTIN MUKANGU |   NATION MEDIA GROUP

Champions Telkom Orange on Sunday launched their Africa Club Hockey Championship title defence with a 3-3 draw against Ghana Police at the Olympic Development Center Stadium, Lusaka.

On-form veteran striker Jackline Mwangi continued with her fine scoring form bagging a hat-trick to give the African champions a point in the Pool 'A' encounter, the first meeting between the two sides.

Orange were unable to hold to the 3-2 lead they took to the break as the West African club hit a late equaliser to ensure they come out with a point in the thrilling encounter.

Orange coach Jos Openda admitted his side missed a lot of chances of winning the game, saying they need to improve in their next game if they intend to retain their title.

"We controlled the match for large spells and played well but defensive lapses allowed our opponents to get back into the game. At this level, we need maximum concentration that is something we need to work on going into the next match," Openda told Nation Sport on phone from Lusaka.

"The competition at this year's event is high. All teams here want to wrestle the title from us. We need to work harder and be more clinical in our next match," he added.

KENYA'S REPRESENTATIVE

Orange who are Kenya's sole representative in the annual event, will need to beat home team Lusaka Sharks in their next match tomorrow.

Coach Openda selected former Kenya number one Josephine Ataro ahead of current first-choice goalkeeper Ruth Njoki who was on the bench.

International Mwangi showed her class, sounding the boards three times in 25 minutes but the Ghanaians hit back with goals from international Nafisatu Umaru.

Umaru set up compatriot Linda Sasu for the third in the second half to deny Orange maximum points.

Omaido and Lilian Aura also missed glorious chances towards the end of the match.

The two teams top Pool 'A' with a single point each.

In other matches on Sunday, Ghana Revenue Authority women's team thrashed hosts D.E. Stars 6-0 in a Pool 'B' while Egypt's Sharkia beat Uganda's Weatherhead 9-2.

Men's matches saw Eastern Company of Egypt demolished D.E. Stars 10-1 in Pool A.

Daily Nation


---

Slow start for Telkom Orange

Coach Openda blames leaky defence as Ghana Police hold Africa champions

By Elizabeth Mburugu



National Women League at Citypark. Orange Telkom player Catherine Kimeu (l) fights for the ball with Simbarettes Farida Nabafu when they played National Women League at CityPark. Orange scored 10-0. ON 22/04/15 PHOTO; JENIPHER WACHIE

Women Africa Cup champions Orange Telkom were yesterday held to a 3-3 draw by Ghana Police in their opening match at the Olympic Youth Development Centre in Lusaka, Zambia. Veteran Jacqueline Jow starred for Orange bagging a hat-trick in the breathtaking encounter, while the Ghanaians' goals were slotted in by Martha Sarfoa, Nafisatu Umaru and Faustina Aggrey.

Orange head coach Jos Openda attributed the draw to wasted chances and lapses in defence.

"We had very many chances that if utilised would have made the difference. Our defence also failed us  by allowing easy goals," Openda said on phone from Lusaka.

"It was our opening encounter and these mistakes are bound to happen. All we can do is correct them. Even so this draw is an eye opener and it goes to show that it is not going to be easy and we have to fight to retain our trophy."

Jow opened the scores for Orange four minutes into play. But it took seven minutes before matters were levelled. Jow, however, converted a penalty corner in the 19th minute to put Orange in the lead. But Umaru restored parity for the Ghanaians in the 27th minute.

Jow made it 3-2 a minute to half time to give Orange the upper hand in the second half but lapses in their defence saw them concede easily as Aggrey's 55th minute forced them to settle for a point.

Ghana Revenue Authority (GRA) humiliated their hosts DE Stars of Zambia by clobbering them 6-0 in the women's Pool B tie. GRA left nothing to chance as they clearly made their intentions of improving on their third place finish last year. In another women's tie, Sharkia of Egypt began their campaign on a high note as they trounced Weatherhead of Uganda 9-2. The Egyptian girls showed tremendous improvement compared to their performance last year.

They seemed to have discovered the secret that has put their Sharkia brothers in control of the continental club hockey as they utilised and converted penalty corners to secure the huge victory.

Sharkia will today tackle home girls DE Stars in hunt for their second victory, while GRA will take on Weatherhead. DE Stars will capitalise on home support and bounce back from their loss to revive the hopes of their nation.

Egypt men's national league champions Eastern Company had no respect for their hosts DE Stars as they whipped them to launch their continental title battle with a resounding 10-1 victory.

DE Stars have a chance to redeem themselves as they face Nigeria's Niger Flickers in their second match today.

The Standard Online


---

More wins as Reading stay unbeaten



Canterbury vs Surbiton

Dramatic victories over Holcombe and Beeston helped Reading go top of the Men's Super Sixes Premier Division after day two of action at the Arena Leisure Village in Kettering on Sunday.

The day's opening match against Holcombe, Reading battled back from behind at half time to take a 5-4 win, with two goals each from Richard Mantell and Tom Carson, while Andy Watts scored the other.

Nick Bandurak scored twice for Holcombe and Richard Lane and Gareth Andrew also scored, but it wasn't enough.

Then later in the day Reading battled past Beeston, winning 7-5 with Andy Watts scoring a hat-trick, Tom Carson adding two and others from Mantell and Will Carter-Keall.

Last year's champions East Grinstead lie second and are unbeaten, following two strong victories on Sunday. They beat Canterbury 6-5 and Holcombe 8-4. Ben Allberry scored hat-tricks in each of their games.

Canterbury are third after losing to East Grinstead, but enjoyed a 6-4 win over Bowdon, who are second bottom after also losing 9-4 to Loughborough Students.

And Sevenoaks are fourth after beating Wimbledon 4-3 and drawing 6-6 for the second day running, this time with Loughborough Students.

And in the day's last match Wimbledon won 7-4 over bottom club Beeston, which leaves then sixth in the table after day two.

* For goalscorers and full competition details, including live updates click here - https://englandhockey.altiusrt.com/competitions/9

England Hockey Board Media release


---

Canterbury top after two more wins



Bowdon Hightown's Sally Walton looks for a way through the Canterbury defence, credit www.hockeyimages.co.uk

Canterbury are the only team left with a 100 per cent record after day two of the Women's Super Sixes Championship at the Phoenix Sport and Leisure Centre at Dawley, near Telford, on Sunday.

Victories over last season's runners-up East Grinstead and Leicester left Canterbury three points clear at the top.

In Sunday's second match they overcame East Grinstead 3-2. Anna Kolarova's 17-th minute strike was cancelled out by two from East Grinstead. But Kolarova hit back with a goal on 25 minutes to pull them back level, and then scored from another penalty corner in second half injury time to snatch the win.

Canterbury then went on to beat Leicester 5-4 with Kolarova scoring twice, while Sarah Kerly added two and Susie Rowe one.

Bowdon Hightown lie second after storming to victories over Leicester and Surbiton on Sunday. Sally Walton (pictured) scored five in their 7-8 win over Leicester, for whom Chloe Rogers also scored five.

And Walton then added another two in their 11-3 win over Surbiton to end the opening weekend as top scorer. Tina Cullen scored four against Surbiton, while Holly Hunt also scored twice.

After their defeat to Canterbury, East Grinstead bounced back with an 8-3 win over Reading, who also lost out 4-2 to the University of Birmingham.

Slough drew 5-5 with Surbiton, and then hammered Sutton Coldfield 7-1 with Alex Scott scoring four times. Sutton Coldfield also lost out 4-1 to the University of Birmingham.

* For goalscorers and full competition details, including live updates click here - https://englandhockey.altiusrt.com/competitions/8

England Hockey Board Media release


---

Drag race to Rio begins

Rohan Alvares

MUMBAI: His drag flicking skills first earned him prominence at the now defunct World Series Hockey, an event where he was crowned `player of the tournament' in 2012. It's been three-and-a half years since, but Gurjinder Singh's talent has evolved and he now has 28 international caps with seven goals to his name.

On Sunday morning, Indian Navy could consider themselves unfortunate to have run into the 21year-old Indian Oil full back at his ruthless best in a quarterfinal tie of the Dabang Mumbai - 50th All India Bombay Gold Cup. With his side trailing 1-2 at the MHAL-Mahindra Stadium here, Gurjinder inspired a remarkable turnaround, firing three consecutive penalty corners in the 50th, 55th and 58th min utes respectively which undoubtedly paved the way for Indian Oil to advance to Tuesday's semifinals.

Former India captain Dhanraj Pillay , while bemoaning the lack of a drag flick specialist in his Air India side who crashed out of the tournament later in the day, rates Gurjinder highly and says, "He is my favourite. Gurjinder is one of the best (drag flick specialists) in the country at the moment." The compliment was predictably well received by the young Sardar. "It feels very good when someone of Dhanraj's stature says something like this. It motivates me to practise even more," Gurjinder told TOI.

Given the busy schedule that India have for most part of the year, practising on his own often gets difficult. "I practise drag flicks an hour before the team's training session begins. If I get some time later, I practise more. But the schedule is usu ally pretty busy , so there isn't a lot of time for practice outside this," Gurjinder revealed, before elaborating on his daily penalty corner routine. "I do sets of 10 to 20 drag flicks at a time, starting with slow sets and then gradually increasing the speed. I practise with the stopper who hits 10 balls to me.Out of those at least seven must be well struck.(Roelant) Oltmans (India coach) makes note of every detail."

Gurjinder's absence in India's bronze medal showing at the recent Hockey World League Final showing at the recent Hockey World League Final caught Pillay by surprise, but the man himself said it was simply a matter of Oltmans wanting to test out every player within the 26-man probables picked for next year's Olympics. Despite Indian Oil teammate VR Raghunath and Rupinder Pal Singh being the two senior penalty corner experts in the national side, Gurjinder believes there is enough scope for him to convince Oltmans to take him to Rio.

"Raghunath and Rupinder Pal are two of our star players. The third full back is not a drag flick specialist. So my goal is to try and perform that role well enough so that Oltmans is keen to keep me in the team," said the soft-spoken defender.

Raghunath's assessment of his junior teammate's ability was just as positive as Pillay's. "If you give him a couple of years, he'll be a good threatening drag flicker in world hockey," stresses the 27year-old.

The Times of India


---

Big guns enter last four of Bombay Gold Cup hockey tournament

Amit Rohidas saw local outfit Western Railway trounce South Central Railway, Secundrabad, 5-1 to enter the semifinal of the Bombay Gold Cup hockey tournament in Mumbai on Sunday.

A hat-trick by penalty corner specialist Amit Rohidas saw local outfit Western Railway trounce South Central Railway, Secundrabad, 5-1 to enter the semifinal of the Bombay Gold Cup hockey tournament in Mumbai on Sunday.

Also through to the last four were star-studded Indian Oil from Bengaluru, who outplayed Indian Navy 6-3 by riding on a triple strike from penalty corner expert Gurjinder Singh and a double by former international Deepak Thakur.

Delhi's Comptroller and Audit General rallied to edge out local side Central Railway 2-1 in another quarterfinal tie at the MHA Stadium in Churchgate.

In the last quarterfinal match of the day, defending champions Bharat Petroleum Corporation Limited from Bengaluru edged out Air India, Delhi, 3-2 through a last-minute match-winner by Ravipal.

Indian star SV Sunil got the first goal for BPCL in the 25th minute before Air India's seasoned forward Sameer Dad scored the equaliser in the 30th minute. The airmen went on to grab the lead when Pawan Kumar scored after the BPCL defenders failed to clear the ball from the danger zone in the 51st. Thereafter, BPCL showed greater urgency by making a series of sorties towards the Air India citadel and they managed to get the equaliser when Sunil worked his magic down the left flank and from an acute angle squeezed the ball through, between the near post and goalkeeper Adrian D'Souza's pads. With time ticking away Ravi Pal with a last ditch effort slammed the ball past an halpless D'Souza much to the delight of his teammates. The match was dead-locked 1-1 at half time.

In the semifinal on December 15 Western meet CAG while Indian Oil would lock horns with BPCL.

After Rohidas fired Western in front scoring from their second short corner in the 23rd minute, the SCR managed to restore parity through Gurbhej Singh who also converted a short corner in the 33rd minutes as the first half finished on level terms at 1-all.

Thereafter Western came into their own and fired in four goals in the second period to run away with the match.

Rohidas scored from two more penalty corners in the 43rd and 53rd minutes before Stanley Minz (54th) and captain Vinod Kumar (65th) hammered in the final two goals.

Stopwatch: Indian Oil 6 (D Thakur 41, 63, G Singh 50, 55, 58, D Singh 69) bt Indian Navy 3 (R Pratap 12, J Majhi 42, J Singh 61), Western Railway 5 (A Rohidas 23, 43, 53, S Minz 54, V Kumar Singh 65) bt South Central Railway 1 (G Singh), CAG 2 (Darshan DS 48, 55) bt Central Railway 1 (D Walmiki 28), BPCL 3 (SV Sunil 25, 61, R Pal 69) bt Air India 2 (S Dad 30, P Kumar 51)

DNA


---

Memorial match for martyred children of Peshawar

Muhammad Yaqoob

Pak Hero and Mohammdon Hockey Club would play a memorial hockey match at the Johar Town Hockey Stadium on 16th December. The match which will start at 3pm is being played to remember the sacrifices of the Army Public School, Peshawar children who were martyred during a terrorist attack in December last.

Giving details of the memorial match International Mohammed Yaqoob said that former Olympian Afzal Manna and Maj. Gen (retd) Salahuddin Satti will be the chief guests of the memorial match. He added that Secretary General of Pakistan Hockey Federation Shahbaz Ahmed Senior, Chairman Harvest Group Major (retd) Gulraiz Akhtar Mir Malik, Pervaiz MNA and Malik Saiful Muluk MPA would also grace the occasion. International hockey player Azfar Yaqoob will lead Pak Hero Club while Mohammed Ijaz will lead Mohammedon Club. Haider Rasool, Dilawar Bhatti and Mian Ubaid-ur-Rehman will supervise the match.  Yaqoob added that Mohammed Ayub will be the Match Director while Shafiq Bhatti, Kashif Ali International and Aamir Sheikh will be the match officials.

Media release sent to Fieldhockey.com