All the news for Sunday 6 December 2015

Erratic India let themselves down

K. Arumugam

Honestly speaking, losing to Belgium by a solitary goal can neither be said unexpected nor categorized as upset. If it now appears so for large section of Indians it was because of huge attitude change we witnessed with India on the thunderous Thursday, against the British in the quarters.

India, in sync with its history, proved 48 hours that separated Thursday and Saturday is too long. We have seen two different Indian sides in the spell. In the former, it attacked from the word go. But on Saturday, where everything was at stake including a slice of history, India waited and wasted full 30 minutes before it felt the need to tune up its mind -- to go for attack.

India thus failed to plug the wonted inconsistency. However, credit to this Indian side that it kept the chances of even out the scoreline alive till the last seconds.

Like most of the Europeans in the 90s, Belgium struck a goal and could protect it for the next 55 minutes. The hockey thus was extremely boring, eventless, monotonous backpasses were repeated to a irritating regularity. This kind of hockey is enemy of this sport, and every rule was changed to change the trend but this brand won the day today. Australians demolished this brand at The Hague last year, but India could not.

It was not that the Red Lions did some thing extraordinary on Saturday to the semis of this year's most prestigious of FIH event, the HWL Finals. In turn, they did simple things perfectly, as a couple of other European powers are adept at it. The match in that respect looked like irritating 90s hockey where the spectators had nothing to cherish.

It was patience at its best from the Belgians. After an opportunistic early goal that went between the legs of Indian goalie, they were content in keeping ball possession with precise distribution often in the back of the court.

Eleven Belgium players had 100+ caps, two more than India's. 31 caps were the least experienced while its 6 for India. The more experienced side Belgium really showed maturity on the turf yesterday.

India totally fell into their trap. They imitated. They also indulged in backpasses but without the kind of precision the neopowers had.

India's erratic first half was followed by panic second half. Both did not help make history which was at stake.

Indian often came under their own pressure due to unforced errors – often blind passes.

India lost the plot in the first half. It played to the plot of Red Lions.

When it realized the futility of doing the same things that their rivals do, India was let down by its own erratic ball distribution and panic efforts even failing at trapping and the off ball running.

Under pressure nothing worked for the Indians. Players were here and there, losing positional play. It was pathetic to see players of such calibre as Sardar Singh and Brendra Lakra were so shaky that at crucial times their ball sense was pedestrian.

Some of Sardsar Singh's passes, which used to be his hallmarks and game changers, were so unimaginative and uncontrolled today that these spoilt the game's rhythm, and the Indian initiatives turned out to be rival's Belgium's.

Unlike the contest against the British, India did not put its young blood in the first eleven, instead the old ones. They failed to measure up.

Did India play under pressure?

Yes. Otherwise it would not have had problem in simple area of passing and trapping. India did not do simple things the simple way, but complicated with wayward approach. But their rivals, despite having a new coach on board, playing against full throat crowd, kept their cool and did simple things the way it should, and walked away with honours.

Stick2Hockey.com


---

India's wait for a major final continues

Uthra Ganesan



Cedric Charlier celebrates after scoring the lone goal of a scrappy match which put Belgium in the final. Getty Images

India's semifinal woes at major tournaments continued as the host went down to Belgium by a solitary goal in the Hockey World League Finals here in a scrappy encounter on Saturday, a game where two Indian teams turned up on the pitch.

The second paid the price for the mistakes of the first.

Belgium will now take on Australia in the title clash on Sunday while India has a tough battle for bronze against the Dutch, having already lost to them 1-3 in the league stage.

All of India's old demons came back to haunt the team — holding the ball too long, erratic trapping and passing and failing to spot a teammate ahead.

A fifth-minute reverse shot by Cedric Charlier through goalkeeper P.R. Sreejesh's legs after being put through by Jerome Truyens was enough for Belgium to book its maiden final spot in a world-level FIH event.

For the first two quarters, it was an unplanned, unstructured Indian team that ran all over the place haphazardly with not a single decent shot at the goal. India got a lone penalty corner in the match, in the 10th minute, and it was cancelled on referral by the Belgians.

Other than that, there was a lot of unfocused hard work by the host that produced little by way of results.

India's famed midfield was nowhere in the picture. Birendra Lakra had an off-day, failing to even trap or control the ball, let alone creating openings. Sardar Singh pumped in the balls but was not effective. Manpreet Singh failed to break past the defence.

The attack was all but absent.

The defence barely held up but, barring that one error, managed to thwart the Red Lions, else the margin could have been much higher.

Strategic coach Roger van Gent kept yelling at the Indians to pass and move on but the players were in their own zone. Coach Roelant Oltmans alternately had a look of anguish and astonishment but there was little he could do.

Post-break, India came out a different team. There were a lot more attacks, there was a semblance of structure and the team tried to get into the striking circle a lot more. In fact, the third quarter was all about Indian domination while the fourth saw a desperate India throw everything it had at the opposition including taking out Sreejesh to add an extra-man upfront.

The misfiring strikers were unable to convert those chances into goals as Belgium stuck deep in its own half to defend the thin lead. Credit must also go to its defenders who managed to avoid conceding penalty corners.

A day before the game, India had skipped field practice to work on gameplan. On Saturday, there was little by way of execution.

In the play off for the 7-8 spot, Germany finally won a match in the tournament, hammering Canada 8-3.

The result (semifinal): Belgium 1 (Cedric Charlier) bt India 0. 7-8 playoff: Germany 8 (Christopher Ruhr 2, Moritz Fuerste, Niklas Wellen, Martin Haner, Florian Fuchs, Oliver Korn, Constantin Staib) bt Canada 3 (Gordon Johnston, Matthew Guest, Scott Tupper).

The Hindu


---

Charlier breaks Indian hearts

Sam Chakraborty

It was a tale of two halves for the hosts as a stoic Belgium kept the desperate Indian attack at bay in the second half to register a 1-0 win in the second semifinal of the World League Finals here on Saturday . India will now play for the third place play-off against the Netherlands on Sunday while Belgium will lock horns against Australia for the final showdown.

It was not the best of start India were looking for as V Raghunath's mis-pass from the left flank put the India defence under pressure from the very first minute. Belgian Thomas Briels tried to made the most of the mistake but ended up committing a foul.

With the Indian defence hardly showing the spirit and resilience of their last-eight endeavor against Great Britain, John-John Doemen's side drew first blood via Cedric Charlier. Latching onto a cross from the left of the inner circle, the Belgian forward unleashed a powerful reverse flick as PR Sreejesh could do little to prevent the ball from smashing into the net. Down 0-1 and losing possession regularly , Roelant Oltmans' India found the going tough.

Belgium had a golden chance of doubling their lead soon after the second quarter as an aerial long ball from Simon Gougnard found Briels metres away from the Indian inner circle. With the Indian midfield and defence caught napping, Briels had only Sreejesh to beat before scoring his third goal of the tournament.

The Indian goalkeeper though pulled off a stunning save as he rushed forward to deny the Belgian any scope of taking a strike at the goal before the half-time break.With a place in the final up for grab, the break seemed to have done world of good for India as the hosts came out firing on all cylinders. SV Sunil teamed up with Akshdeep in front of the Belgian goal only to see the latter failing to beat Vincent Vanusch.

The Times of India


---

India lose 0-1 to Belgium in semi-final

RAIPUR: Inconsistency continued to haunt India as they conceded an early goal to lose 0-1 to Belgium and crash out of the title race of the Hockey World League Final on Saturday.

India conceded a soft goal in the fifth minute of the second semi-final encounter when Cedric Charlier scored from a field strike for Belgium, which eventually separated both the teams at the Sardar Vallabh Bhai Patel stadium.

The Indians were slow to get off the blocks as they hardly troubled the Belgian defence in the first two quarters. But the hosts came out with more purpose after the change of ends to create numerous scoring opportunities but their forwardline failed to finish off the moves.

After failing to register a single shot at the opposition goal in the first 30 minutes, India managed 11 tries in the last two quarters but failed to convert those into goals.

The Indians also enjoyed 59 per cent possession in the match as against their rivals' 41, while the hosts made 24 circle penetrations compared to Belgium's 16. Interestingly, both the teams failed to secure a single penalty corner in the entire match.

But things did not look good for India even before the resumption of the match as goalkeeper P R Sreejesh hurt himself above the knee in the warm-up session and did not take part in the mandatory national anthem ceremony, drawing fears that he might not start in the first eleven. However, he recovered in time and took the field.

As India's coach Roelant Oltmans said after their quarter-final duel, he could not guarantee a consistent performance from his wards in the next game, his words turned out to be true as the Indians looked out of sorts in all departments of the game in the opening two quarters.

After the inspired show against Great Britain in the quarter-finals, the Indians lacked purpose and seemed running out of ideas when the ball was in their possession, at least in the opening half.

Old habits did not die easily and India proved that saying right as mispassing and mistrapping were the order of the day for the hosts.

India's pathetic display can be gauged from the fact that they failed to have a single shot in the opposition goal in the first 30 minutes.

It took Belgium just five minutes to surge ahead, courtesy some sloppy defending from the Indians. Carlier scored with a reverse hit from the top of the circle through the legs of Indian custodian Sreejesh after receiving as assist from Jerome Truyens.

The Indians thought that they won a penalty corner minutes later but it was disallowed after Belgium called for the referral.

In the 11th minute, Belgium could have doubled their lead had it not been for Sreejesh who came out of his line to deny an unmarked Thomas Briels.

In the 16th minute Akashdeep Singh failed to get his sticks to S V Sunil's cross from the right. Barring this chance, the Indians failed to create any other opportunity in the second quarter.

Usually reliable and regarded as India's mainstay in the midfield, skipper Sardar Singh too was off colour today and was lucky as his mispass in the 29th minute did not double Belgium's lead as Tanguy Cosyns' reverse hit went over the bar.

But after the cross over, it was a completely different India as they dominated the proceedings and had their first real chance at the goal in the 37th minute when SV Sunil set it up for Akashdeep Singh but the striker took plenty of time to get his shot at the goal which was saved by Belgium custodian Vincent Vanasch.

Two minutes later it was Dharamvir Singh's turn to miss another opportunity when he shot over the bar with only the Belgian goalkeeper to beat.

Belgium had far and few chances in the last two quarters and one of them was wasted by Florent van Aubel when his reverse hit went over the bar in the 49th minute.

In the final 10 minutes of the game, it was India all over Belgium as they put relentless pressure on the opposition goal with consistent raids.

In the 57th minute, Sunil wasted a golden opportunity to draw level when Dharamvir's pass from the right found him unmarked inside the circle. But Sunil failed to get a good shot at the goal and his feeble hit was saved by Vanasch.

Belgium defence was put under a lot of pressure in the remaining minutes of the match but they somehow managed to keep their cool and deny India the equaliser.

The loss meant India also failed to avenge their 0-4 drubbing at the hands of Belgium earlier this year during the bronze medal match at the Hockey World League Semi-finals.

The Times of India


---

Clinical Belgium denies India its HWL moment

Belgium will play Australia in the Sunday final




Erratic India surrendered its historic moment – of not playing any elite FIH tournament final in the three decades – to Belgium which struck as early as fifth minute and hung on to it to till end to end the enormous enthusiasm the Indian entry into the semis have created.

Belgium displayed a clinical hockey with neat basics in place to overcome both the crowd and the eleven Indians on the turf.

Capitalizing on the early aggression, struck, the ball going between the legs of goalie PR Sreejesh, his closing legs a split second late.

Thereafter the Red Lions held on the concept of ball possession with impeccable degree of control. Indians on the other hand somehow lost the plot, often seen dispossessed and directionless in moves.

Indians came out strongly in the third and fourth quarter, but their attack lacked sharp. Belgium's fortified defence did not yield.

In the dying moments India almost struck in a scramble, the scene even leading to a referral by India, but after a long watch the neutral umpire did not heed for a penalty corner.

Capitalizing on a yellow card to Belgium, India pulled out goalie and played V. Raghunath. This ten men attack created at lest half a dozen penetration into circle, but the Belgium defenders were cool and showed extreme caution in clearing the situation.

Neither side got any penalty corners.

The semifinal did not measure up to spectators delight. A boring kind of hockey, as seen in the early 90s with off side on was witnessed, which it seemed is injustice to the full stands.

Stick2Hockey.com


---

It is time we cross the semi-final hurdle: Oltmans

RAIPUR: India lost 0-1 to Belgium in the semi-finals of the Hockey World League (HWL) Final and the home team's chief coach Roelant Oltmans said it is time the past masters of the game go beyond the last four stage of a major international tournament.

Asked whether he was satisfied with India's performance in the tournament, Oltmans said: "I am never satisfied. It's good to be in the semi-finals which means that we are close to no.4 but we can be more close.

"But we failed to cross the semi-finals in the last three major tournaments and that is what we have to cope with. The boys deserve to make that step," he said.

"It is quite an achievement to be in the semifinals of a major tournament but as a team we want to win it. We need to have that belief that we can win this sort of matches."

Inconsistency continued to haunt India as the hosts conceded an early goal to lose 0-1 to Belgium in the second semifinal at the Sardar Vallabh Bhai Patel Stadium.

India conceded a soft goal as early as in the fifth minute when Cedric Charlier scored from a field strike for Belgium.

The Indians were slow to get off the blocks as they hardly troubled the Belgian defence in the first two quarters. But the hosts came out with more purpose after the change of ends to create numerous scoring opportunities what the forwardline failed to finish off the moves.

After failing to register a single shot at the opposition goal in the first 30 minutes, India managed 11 tries in the last two quarters but failed to convert those into goals.

"The first two quarters were for Belgium but I think the next two quarters we played well and belonged to us. We did everything to score a goal. We created chances but sometimes luck is not in your side and that's part of the game," he said.

"We were close but just not good enough at the moment."

Oltmans, however, rued the fact that his wards failed to score enough goals in the tournament.

"The team played well. In the first two quarters they didn't take enough initiative but in the third and fourth quarter they definitely did. So I am pleased with the way they were able to change the game in the third and fourth quarter. But we need to score on our skills because throughout the tournament we didn't score enough goals. So far we scored only four goals five matches and that's not enough," he said.

Interestingly, it was one of the rare semifinal of an international tournament where the teams failed to secure a single penalty corner.

In search of a penalty corner in the dying moments of the game, India asked for a referral but the video umpire thought otherwise, a decision which did not go down well with Oltmans.

"It's always difficult to discus about decisions but I feel a tackle like this for sure should have been penalised. From my point of view the defender should have been penalised, he said.

India skipper Sardar Singh feels the team need to work on their decision making.

"Overall performance of the team was good but as the coach said we conceded a soft goal at the start. The third and fourth quarter completely belonged to us. We created plenty of chances but couldn't avail it.

"We need to work more on our decision making, our final pass," he said.

Belgium coach Shane McLeod lauded his backline for their gritty performance to keep India at bay.

"It was a very tight game. It worked in our favour that we got an early goal and for the rest of the game we were just holding on. India put us under a lot of pressure. Towards the end they were getting some ascendancy and it was difficult for us. But certainly I was very happy with our defence," he said.

"We had to do a lot of work on stopping their corners. With a weapon like that you have to be very careful. But again we were very clinical in our defence today."

Asked about his view on the penalty corner which India were asking for in the final minutes of the match, the Belgium coach said: "What I thought happened was the ball came from the keeper and it went high but there wasn't anyone close enough to influence the play. So from our perspective they got it right."

The Times of India


---

Canada ends World League Final with loss to Germany

Shaheed Devji



(Image credit: FIH/Getty Images)

Canada closed out the Hockey World League Final with an 8-3 loss to Germany in the seventh place match Saturday in Raipur, India.

With the loss, the Canadians – ranked fourteenth in the world – finish eighth in the tournament in which they were ranked eighth and went up against the top seven teams in the world.

Coming off an impressive performance in the quarterfinal, which resulted in a 2-0 loss to the second ranked Netherlands, the Canadians had high hopes for the final match against the Germans.

But Germany, which had won the last four meetings between the two – most recently a 9-0 win at World League Round 3 in Argentina in June – began the game on the offensive, with two goals from Christopher Rühr in the third and fourth minutes.

World-class dragflicker Moritz Fürste converted on a penalty corner shortly after and by the eighth minute Canada was down 3-0.

The Canadians struggled to create any offensive opportunities in the first quarter. While they were able to hold possession and gain circles entries, they could not get the ball towards the German goal.

In the second quarter, Germany added goals in the eighteenth and twenty-fourth minutes to go up 5-0 and the game looked out of reach. But Canada, as they showed earlier in the tournament in games against Great Britain, Belgium, and Australia, were not going to go down without swinging.

Late in the first half, Canada won a penalty corner after a video referral showed a German defender not giving Canada five yards on a free hit. That corner started a string of four straight corner attempts in the final minute of play.

It was the last attempt that paid dividend, as Gordon Johnston fired a low dragflick under German goalkeeper Andreas Späck for Canada's first goal.

The goal sparked the Canadians and in the second half they were able to notch the quarter's only goal when Ricahrd Hildreth made a hard cross to the face of the goal where Matthew Guest stood alone and deflected the ball past Späck in the forty-first minute.

Canada was suddenly only down by three at the end of the third quarter.

In the fourth quarter, Canada – much like it did against the Netherlands in the quarterfinal – began to press even further up the field. And while they strategy produced some chances against, it also resulted in another goal for.

In the forty-ninth minute, defender Adam Froese – all the way up the field – found himself all alone behind the German defense. Froese was tackled from behind and earned a penalty stroke.

It was captain Scott Tupper who stepped up to the spot and put it by Späck to bring Canada to within two.

Germany quickly added another but at 6-3, Canada had a glorious chance to cut the lead again to two goals when Germany pulled their goaltender for an extra attacker to try and seal the victory. They ended up surrendering a penalty corner and Tupper's flick was stopped on the line by a German defender.

It would be Canada's last chance as with the Canadians still pressing the Germans were able to score two more goals on the counter attack in the final ten minutes to go on to the 8-3 win.

Canada, as expected, finishes eighth in the tournament and ends a busy and successful 2015. Having qualified for the 2016 Olympic Games, the Hockey World League Final was the first of several tune-up tournaments aimed at closing the gap between the Canadians and the top teams in the world.

Field Hockey Canada media release


---

World League gold medal match

Kookaburras to face Belgium for gold in World League grand final



Photo credit: FIH/Getty Images

The Kookaburras will face Belgium in the grand final of the World League tonight after the Europeans overcame hosts India 1-0 in the second semi-final.

Cedric Charlier's solitary strike was enough to set up a rematch between Belgium and Australia with the two sides having met earlier in the pool phase when the Kookaburras came out 1-0 winners thanks to a Jamie Dwyer goal.

It will be the Kookaburras' first appearance in the gold medal match at the World League with the competition in only its second season. Australia's men finished fourth in the first edition, in January 2014. They won the Semi-Final tournament in Antwerp in July, however, medals are not awarded at that stage of the competition.

Belgium were Australia's opponents in that first-place match in Antwerp but tonight's gold medal contest represents their first appearance in the top two of a major world level event.

The match will be shown live at 2:15am AEDT (11:15pm AWST) on Fox Sports 2 following the bronze medal playoff between Netherlands and India (00:00am AEDT / 9:00pm AWST).
 
The bottom four classification positions have been determined over the past 48 hours. Argentina beat Great Britain 4-2 to claim fifth place, consigning the Brits to sixth. Germany overcame Canada 8-3 to finish seventh, ahead of the Canadians in eighth.

Hero World League Final - Medal Matches
 
Monday 7 December (AEDT)
** Both matches live on Fox Sports 2 **
Bronze medal: Netherlands v India (00:00am AEDT / 9:00pm AWST Sunday 6)
Gold medal: Kookaburras v Belgium (2:15am AEDT / 11:15pm AWST Sunday 6)

Hockey Australia media release


---

Bronze Match: Experience Vs Experimental

s2h Team



Dutch coach, Max Caldas

HWL 2015: bronze Match: India Vs Netherlands: Experience Vs Experimental side

The Netherlands's may not have performed to the image of being world's number two team here in Raipur, but it is one team that experiments fully here.

Coach Max Caldus, who succeeded Paul van Ass, has brought at least five players who are novices. His idea is to provide new comers a chance before finalizing his Olympic squad. He has also successful in persuading Netherlands players from taking part in the Hockey India League.

Bjorn Brinkman, Joep de Mol are making debut here while Roel Bovendeert has just had a single international cap before coming to Raipur.

Almost ten players have 20 or less caps.

Unlike Belgium, Argentina and India, the team has just four players who had one hundred or more caps. It all means that the Dutch are undefined the ones who brought inexperienced and new combination here, still they reached the semis, losing to Australia in the semis just by a goal margin. They too overcame Argentina in the quarters. They will now be facing India today in the medal match.

India is a full pledged team; experienced. It has double the collective caps than today's rival. Except Jaap Stockmann, who in his 30s is 120 caps veteran, the team can be beaten.

Netherlands has the benefit of taking a day break, the luxury that India did not have. India will have to show its fitness level also.

Stick2Hockey.com


---

Stats Speak:  Today is 100th match between India and Netherlands

By B.G.Joshi (India) in Raipur

India can win bronze medal after 33 years in FIH's tourney. In Amsterdam Champions Trophy (June 1982) India won the last bronze medal. India- Netherlands match will 100th match between them since inception in Amsterdam Olympics (1928).  India won last in Bhubaneswar Champions Trophy (December 2014) pool match by 3-2 after 18 years. Details are:
| | | | | | | |
| --- | --- | --- | --- | --- | --- | --- |
| Particulars | MP | W | D | L | GF | GA |
| Total | 99 | 31 | 12 | 46 | 201 | 222 |
| On Indian Soil | 27 | 8 | 12 | 7 | 51 | 41 |
| In 21st century | 27 | 1 | 6 | 20 | 46 | 80 |
 Fieldhockey.com


---

Argentina delight home crowd on opening day

Top seeds all record wins on day one in Rosario




The day started with a fantastic goal and a 100 cap celebration as the opening day of the Argentina Hockey World League Final burst into life with goals, drama and plenty of fast-flowing action.

An appearance by Luciana Aymar as the pitch was renamed in her honour was the icing on the cake for fans, who witnessed a demolition job by the Netherlands, solid wins for New Zealand and Oceania and a popular win for the host nation, Argentina.

The opening goal of Argentina HWL Final was a cracker from Pippa Hayward, who smashed the ball past Jang Soo Ji in the Korean goal to give the Black Sticks an early lead.

Kirsten-Leigh Pearce scored a second in the 37th minute and Gemma Flynn scored the third Black Sticks goal. Seo Jung Eun scored a consolation goal with two minutes left as she converted a penalty corner.

Australia were far from convincing in their 1-0 win against China in the first Pool B match of the competition. It was a superbly taken penalty corner from Georgina Morgan that provided the world number two side with their win, but China will count themselves unlucky not to have at least drawn the match.

The final match of the day was a tough, feisty encounter between the host nation Argentina and Great Britain.

Great Britain took the lead through a searching run by Susannah Townshend, which set up Lily Owsley with the perfect opportunity to score. The equaliser came from Maria Granatto 10 minutes later – a well-taken penalty corner, won after some mesmerising build-up play that left the Great Britain defence unable to avoid conceding a corner.

The winning goal was scored by Agustina Habif. The midfielder slapped home a ball that Maddie Hinch had cleared from an earlier penalty corner shot.

Day One Results:

Pool A

New Zealand v Korea 3-1 (1-0)
Netherlands v Germany 5-1 (2-1)

Pool B

Australia v China 1-0 (0-0)
Argentina v Great Britain 2-1 (1-1)

#HWL2015 #MakeYourMark

FIH site


---

GB women's hockey team lose to Argentina

By Nick Hope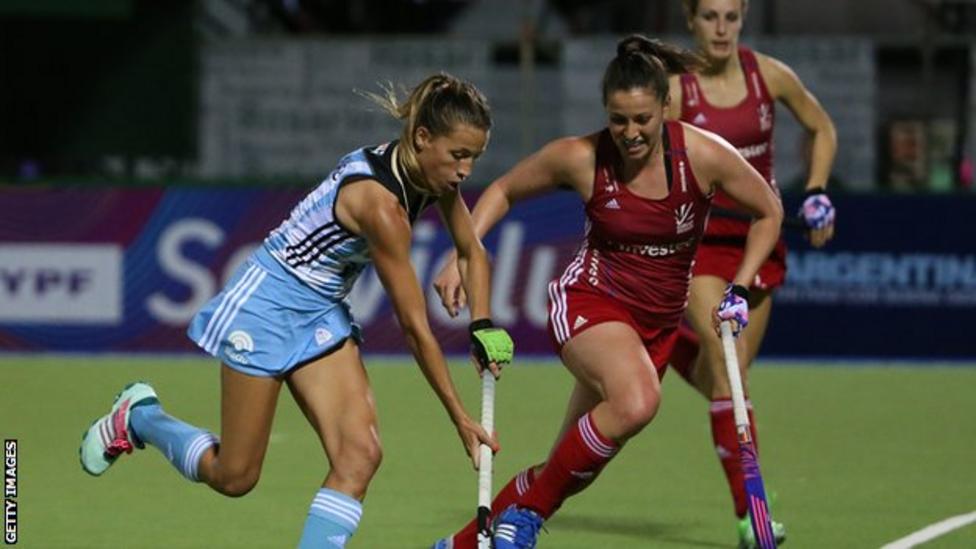 Argentina threaten the British goal in Rosario. GB took the lead after five minutes but Argentina were level after 15

Britain's women suffered a 2-1 loss to hosts Argentina in their opening Pool B fixture at the Hockey World League Final in Rosario.

Lily Owsley gave GB an early lead, but Maria Granatto drew the scores level at the end of the first quarter.

Agustina Habif then struck the winner in the third period.

In Pool A, world and Olympic champions the Netherlands looked in ominous form, thrashing Germany 5-1, while New Zealand beat South Korea 3-1.

Olympian Helen Richardson-Walsh collected her 100th GB cap in Britain's defeat.

"I'm joining an illustrious group of women and that's something I'm really proud of," she told BBC Sport.

"We've lost today which is really disappointing because it was a really big challenge for us, but we've won other big matches and we have the strength to come back."

Buoyed by the partisan crowd, Argentina began the stronger, but crafty wing play by Susannah Townsend allowed Owsley to poke home the opener with her first touch of the tournament.

Britain occasionally threatened to extend their lead, but the hosts maintained control for much of the match.

Argentina's second penalty corner brought the scores level and while GB were able to thwart four further efforts, a seventh proved too far with Habif firing in a rebound for the winner.

Australia share the lead of Pool B with the hosts after the opening round of fixtures, beating China 1-0 earlier in the day. GB will take on China on Sunday (21:45 GMT).

All four nations in the pool will make the quarter-finals, with group-stage results used to determine seedings in the first knock-out phase.

BBC Sport


---

Hockeyroos win opener

Georgina Morgan helps seal Australia a 1-0 victory over China in Rosario




A late on-target drag flick from Hockeyroos' Georgina Morgan sealed Australia a 1-0 victory over China in their opening match at the World League Final Sunday morning in Rosario.

Hockeyroos head coach Adam Commens was pleased to get the result against China in the opening pool match after facing them earlier in the year during a Sydney Test Series.

"China are improving all the time and we know they can be dangerous on the counterattack. Our team created a lot of chances today, they worked well in the lead up to the attacking 25, however, we obviously need to tidy up our execution and our attacking third of the pitch, which is something we have been and will continue to work on over the next few matches before the finals.

"I was really pleased with some of our younger players today, Gabrielle Nance and Mariah Williams had a solid performance as did Georgina Morgan who scored the outstanding goal for us today, really strong performances from younger players."

Despite a 30 minute delayed start due to power failure at the Estadio Mundialista de hockey stadium in Rosario, the Hockeyroos battled back after a slow first half to outrun a determined Chinese side.

Australia managed to create valuable chances in the first 30 minutes of play, however, it was their execution that ultimately failed them in their attacking circle. Chinese goalkeeper Dongxiao Li denied Australia's attacking front on multiple occasions, resulting is a nil all score heading into the halftime break.

Australia came back on the field firing after halftime, working two great opportunities in the circle, however, youngster Gabrielle Nance was unable to place the ball into the back of the net on both occasions.

At the 40th minute mark, Australia were awarded their first penalty corner of the match. Georgina Morgan stepped forward sweeping the ball only marginally wide of the goal and the score remained deadlocked 0-0.

Following four minutes later, Australia received a critical penalty corner off the back of a video referral. Standing tall alongside Jodie Kenny at the top of Australia's attacking battery, Georgina Morgan redeemed her previous penalty corner attempt by successfully hitting her target with a low drag flick to the bottom left, handing Australia a 1-0 lead.

With 17 minutes remaining on the clock, Australia's defence managed to hold out China's attacking opportunities, which meant Morgan's earlier strike was enough to secure the Hockeyroos a 1-0 victory on the final siren. 

Hockeyroos' 2015 Player of the Year and Top Goal Scorer Jodie Kenny played her 150th game for the Hockeyroos. Since debuting in 2011, Kenny has played a key role in the Hockeyroos' defence.

Speaking about Australia's second pool match against world number three Argentina on Monday, Commens added, "Argentina are a really high class team with a lot of attacking ability while showcasing some outstanding athletes in their side. They're always difficult to beat at home, so we will be doing our homework and making sure that we take a step forward from today's match and I'm pretty confident if we can do that well then it will be good enough to get the result tomorrow."

The Hockeyroos face Argentina in their second pool match on Monday morning (11:00am AEDT). Australia last played Argentina in the quarter final at the Hawkes Bay Cup in New Zealand earlier this year, where Australia defeated Las Leonas 1-0.

HOCKEYROOS: 1 (0)
Georgina Morgan 43 (PC)

CHINA: 0 (0)

Pool A
1. Netherlands (3 points)
2. New Zealand (3 points)
3. Korea (0 points)
4. Germany (0 points)

Pool B
1. Australia (3 points)
2. Argentina (3 points)
3. China (0 points)
4. Great Britain (0 points)

Hockeyroos' squad v China
Started
Madonna Blyth (Brisbane, QLD) 312/68
Jane Claxton (Adelaide, SA) 74/6
Kirstin Dwyer (Mackay, QLD) 86/8
Jodie Kenny (Wamuran, QLD) 150/92
Rachael Lynch (Warrandyte, VIC) 131/0
Karri McMahon (Berri, SA) 81/8
Georgina Morgan (Armidale, NSW) 17/2
Georgia Nanscawen (Melbourne, VIC) 164/32
Kathryn Slattery (South Stirling, WA) 29/8
Emily Smith (Crookwell, NSW) 131/56
Mariah Williams (Parkes, NSW) 25/4                                                                                                        

Used Substitute
Edwina Bone (Evatt, ACT) 85/2
Madison Fitzpatrick (Cabarita Beach, NSW) [QAS athlete] 7/3
Gabrielle Nance (Kingscliff, NSW) [SASI athlete] 12/1
Ashleigh Nelson (Wagin, WA) 187/66
Brooke Peris (Darwin, NT) 66/12
Ashlee Wells (Moe, VIC) 59/0       

Did Not Play   
Renee Taylor (Everton Park, QLD) 5/0         
                                                                                            
Remaining Hockeyroos fixtures
Monday 7 December: 11:00am AEDT: Hockeyroos v Argentina
Wednesday 9 December: 4:15am AEDT: Hockeyroos v Great Britain
Friday 11 December:  tbc: Quarter final
Sunday 13 December:  tbc: Semi final / 5-8 playoffs
Monday 14 December:  tbc: Medal matches

Hockey Australia media release


---

Black Sticks Women win opener 3-1



Black Stick goalkeeper Sally Rutherford. Credit: photosport.co.nz

The Black Sticks have had the perfect start to the FIH World League Final in Argentina, winning 3-1 against Korea this morning.

An early goal from Pippa Hayward was backed up by goals from Kirsten Pearce and Gemma Flynn in the second half.  In hot conditions, it was a dominant performance from the Kiwis who had 17 goal shots compared with Korea's five.

It was also a big day for goalkeeper Sally Rutherford, who was in fine form playing her 100th international test.

"It's always important to get the three points – particularly in the first game, it gives you confidence going into the next couple. It's ideal to come out with a win on day one," said Rutherford

The Kiwis came out firing in the first quarter and it was Hayward who got the Black Sticks on the scoreboard in the fourth minute. She calmly took a reverse stick shot from the top of the circle which went high to the keeper's right.

Haywards's goal was backed up by opportunities from Flynn and Olivia Merry, who were both given a chance to extend the lead, but it wasn't to be.

The second quarter wasn't as compelling for the Kiwis, New Zealand were called on to defend Korea's quick counter-attack, Rutherford superbly saved a penalty corner, and Korea's best chance was unlucky to ricochet off the goal post.

In the third quarter the Black Sticks were back in the game, Kirsten Pearce was all smiles when she received a pass from Olivia Merry and low to the ground she pushed it over the line to double the Kiwi's lead.

In the final spell, the Kiwis executed a clinical penalty corner - captain Anita Punt flicked to Flynn who was waiting on the post to deflect it in and give her side a 3-0 lead.  

Korea's Jung Eun Seo scored a field goal with two minutes left to play.

The Black Sticks Women play their next game against the Netherlands at 8.30am tomorrow, with the game LIVE on Sky Sport 2. There will be a replay of today's game on Sky Sport 2 at 1.30pm this afternoon.

RESULTS
Full time: 3-1 (Black Sticks win)
Half time: 1-0 (Black Sticks lead)
NZ goal scorers: Pippa Hayward, Kirsten Pearce, Gemma Flynn
Korea goal scorers: Jung Eun Seo

Hockey New Zealand Media release


---

Black Sticks beat Korea 3-1 in World Hockey League opener in Argentina

Tony Smith



New Zealand's Gemma Flynn is congratulated by her team-mates after scoring her side's third goal against Korea.
CHRIS BRUNSKILL/GETTY IMAGES

The New Zealand Black Sticks women's team are looking forward to meeting highly-ranked Holland after a confidence boosting 3-1 win over South Korea in their first pool game at the World Hockey League finals in Argentina.

Goals to Pippa Hayward, Kirsten-Leigh Pearce and Gemma Flynn gave New Zealand a comfortable win in Pool A at Rosario on Sunday morning.

It was a fitting way for Black Sticks goalkeeper Sally Rutherford to mark her 100th cap.



Black Sticks goalkeeper Sally Rutherford is presented with a memento to mark her 100th cap for her country. CHRIS BRUNSKILL/GETTY IMAGES

"It's always important to get the three points, particularly in the first game," Rutherford said. "It gives you confidence going into the next couple. Quarter finals or not, you need to do that. It's ideal to come out with a win on day one."

Rutherford was beaten just once, after a penalty corner two minutes from fulltime when the Black Sticks already had an unassailable 3-0 lead. But the 34-year-old had to make two good early saves.

Hayward gave the Black Sticks a great start in fourth minute, with the Canterbury captain firing a back-hand rocket shot into the top corner of the Korean net from just inside the edge of the circle.

The Black Sticks dominated the first half but only had one goal to show for their efforts, leaving coach Mark Hager aware of the need to turn possession into goals against a fit Korea side.New Zealand doubled their lead with a superb counter attack goal in the third quarter. Defender Belinda Smith launched the move with a swift, long pass, Olivia Merry controlled the ball and zipped it across the area for Pearce to tuck in near the far post in the 37th minute.

The Black Sticks had a goal disallowed when Merry fed Sophie Cocks, who had a strong game on attack. Cocks shot and scored but was pulled up for a foul.

Flynn reacted swiftly to steer the ball home from short-range after fine approach work from Ella Gunson and Anita Punt after a penalty corner early in the final quarter.New Zealand now face the Netherlands, the top ranked team in the world, on Monday morning (NZ Time).

The Black Sticks have lost twice to the Dutch this year, but the Europeans are without a few of their leading players.
Ad Feedback

"It's about time we beat them," Rutherford quipped in an interview on the World Hockey League website. "We've been very close each we've played them, now is our chance.

"Irrespective of people who are here, we always fancy our chances."

AT A GLANCE

New Zealand 3 (Pippa Hayward, Kirsten-Leigh Pearce, Gemma Flynn) South Korea 1 (Seo Jung Eun). HT: 1-0.

Stuff


---

Watton in World League squad



Ellie Watton against Australia 2014

Ellie Watton has replaced Sophie Bray in the Great Britain squad for the World League final in Rosario, Argentina.

Bray withdrew from the squad after failing to overcome injury in time and Watton, who scored in the recent test series against Argentina will come in to the group instead. 

The former Beeston forward, who now plays her club hockey for Saint Albans made her international debut in February 2013 has competed at the World Cup and the Commonwealth Games, wining silver at the latter. She has won 42 international caps and scored eight goals in that time.

Great Britain Hockey media release


---

One game at a time for goalkeeper Hinch



Maddie Hinch marshals the defence

It is fair to say that Maddie Hinch has enjoyed her rise through the ranks to becoming one of the best goalkeepers in world hockey. Having taken over the No1 shirt in the wake of Beth Storry and Abi Walker's retirements post London 2012, the Holcombe stopper has won plenty of medals and plenty of individual accolades in the last three years. Now having played her part in England's stunning European Championship victory in the summer, Hinch is ready and waiting to get going in Rosario for the World League final.

As with many of her teammates, she has experienced the feeling of playing in front of the incredible crowds that hockey in Argentina draws, something she is relishing the prospect of:

"I'm excited. Argentina is a fantastic place to play. They always get good crowds in and they're so noisy and so passionate. It's a fantastic feeling competing in that sort of atmosphere. I can't wait."

The goalkeeper has missed some action this season after injuring her knee in the shootout at the European Championship final. With her rehabilitation now complete, the old sharpness and desire is better than ever:

"Physically I actually feel better than before which shows how good my rehab has been. It's now a case of getting my sharpness back which I've done during club matches and the tests in Tucumán. I was a bit tentative but I'm more relaxed now and starting to get my head around training and matches like I was pre-injury. Once I get going it'll be like I've never been away."



Maddie Hinch celebrates Euros success

The World League Final brings the best teams around together to pit their wits against each other. Although Great Britain's long undefeated streak has come to an end in their three test warm up series against the hosts, Hinch is confident they can continue their good form from recent competitive tournaments. As clichéd as it may seem, the team's approach will not deviate from their usual "one game at a time" strategy which has served them so well so far:

"We'll go out with the same mentality we've had all year. Take it game by game, stick the processes we always do and see if that pays off. If it doesn't then we'll reflect on it but we're going out to do the best we can and we have a lot of confidence going in."

Great Britain Hockey media release


---

Great Britain fall to opening defeat against hosts



Susannah Townsend in action against Argentina

Great Britain slipped to a defeat in their opening World League Final match against hosts Argentina. Despite taking the lead through Lily Owsley's fourth minute goal, penalty corner strikes from Maria Granatto and Agustina Habif ensured Las Leonas took the three points.

Argentina's high press forced a penalty corner in the opening moments of the match but Carla Rebecchi's shot hit the defender and was deemed dangerous, resulting in a free hit to Great Britain.

With four minutes gone Great Britain silenced the home crowd by taking the lead. Susannah Townsend showed a terrific turn of pace to get round the back on the right. She cut the ball back to Owsley who slotted home despite the attentions of the defender on the line. Argentina attacked immediately after falling behind but Ashleigh Ball was on the spot to clear the danger off the line to preserve the lead. The respite was short lived however as Argentina won a penalty corner right on the stroke of quarter time. This time Granatto deflected in Noel Barrionuevo's pass to level it up.

At the start of the second quarter Great Britain failed to clear their lines and Granatto drew a strong block from Maddie Hinch. Argentina put Great Britain under immense pressure, getting into the circle a number of times and a series of last-ditch tackles were needed to keep it 1-1 at half time.

At the start of the second half Great Britain won a penalty corner after an excellent strong, driving run from Townsend. Laura Unsworth played the ball in looking for a deflection but Argentina cleared the danger. Jimena Cedres had a gilt-edged opportunity for the hosts when a loose ball fell to her inside the circle but she could not bring it under control and the chance went begging. Las Leonas were awarded a penalty corner and although Barrionuevo's shot was well saved by Helen Richardson-Walsh on the line Agustina Habif followed in and reacted well to put away the rebound to give her side the lead. Moments later Argentina won another penalty corner. This time Rebecchi took the shot but Hinch made a good save to keep the ball out.

Great Britain fought hard to try and find an equaliser in the fourth quarter but Argentina defended well and the clear chance just would not come. At the other end Carla Dupuy flashed a snapshot over bar with three minutes remaining. Despite another strong break by Townsend, Danny Kerry's side were unable to fashion a clear sight of goal and Argentina took the win.

Great Britain are next in action Sunday 6 December against China at 21:45 UK time, live on BT Sport.

Danny Kerry, Great Britain Head Coach:

"Overall I found it very frustrating; I would say I am profoundly disappointed. We were too nice. We were cheap with the ball. We need to be stronger."

Kate Richardson-Walsh, Great Britain Captain:

"It's a great challenge to play against a side like Argentina and the crowd were as noisy as they always are. We didn't play at our best and we'll need to step up in the next game.

Argentina are a wise, experienced side. We had some chances but we need to be better at taking them next time."

Great Britain 1 (1)
Lily Owsley 4 (FG)

Argentina 2 (1)
Maria Granatto 15 (PC)
Agustina Habif 41 (PC)

Great Britain Hockey media release


---

Anti-doping message heard loud and clear in Hockey



Photo: FIH/Getty Images

Hockey has long had a reputation as a sport with a very healthy anti-doping record, and ensuring that athletes are educated in this area is something that the International Hockey Federation (FIH), the Continental Federations and the National Associations take very seriously. 

The drive to keep the sport clean remains at the very heart of the FIH's core values, an objective which reflects the World Anti-Doping Agency's (WADA) mission to lead a collaborative worldwide movement for doping free sport.

WADA's vision is a world where all athletes can compete in a doping free sporting environment, using the "Play True" tagline which is a guiding principle for all athletes at every level of competition. 

At the Hero Hockey World League Final 2015, currently taking place in Raipur, India, we asked the captains of Canada and the Netherlands - two sides that will be in action at the Rio 2016 Olympic Games - about importance of athlete education on anti-doping.

"Obviously it is important to educate athletes, not just in hockey but in any sport", said Canada captain Scott Tupper, 28. "Hockey is sport which has a clean reputation, with only one or two infractions in its history and it is important that we maintain that record and we have athletes coming through who are competing clean. We certainly feel very well informed about it. Everyone wants to compete on a level playing field, and we want to keep that going forward. Hockey is advancing in terms of the physiological aspects, so the sport needs to make sure that as fitness levels are getting pushed higher and higher that everyone is staying in line with how they go about reaching their peak performance."

Like his Canadian counterpart, Netherlands captain Robert van der Horst also felt both informed and empowered by the anti-doping message. "I believe that we are very well informed, not just from WADA but also our National Association, which provides us with a lot of information", said the 31-year-old European champion. "As Scott said, it is very important. The younger you start getting the information about 'playing true' the better. It is really important to keep our sport clean, and for the the past few years it has been completely clean."

Regarding hockey's excellent record on anti-doping, Van der Horst said: "It is something that we should be proud of because we are playing a fair sport. We all have the common responsibility to make sure our sport stays clean, and we must keep it that way. It is important that experienced players like myself, that have been in the team for a long time, are selling that message to our younger players. We need to have a lot information to ensure that people in hockey do not even think about using drugs to be a better athlete. To be a better athlete and to improve, you need to develop yourself in the gym, not in the lab, and that is an important message."

For more information about WADA, visit their website by clicking here.

FIH site


---

Did Indian hockey die that day ?

It has been 33 years since we lost 1-7 to Pakistan in the Asian Games' final. It has been a downhill slide for the Indian hockey since

Sundeep Misra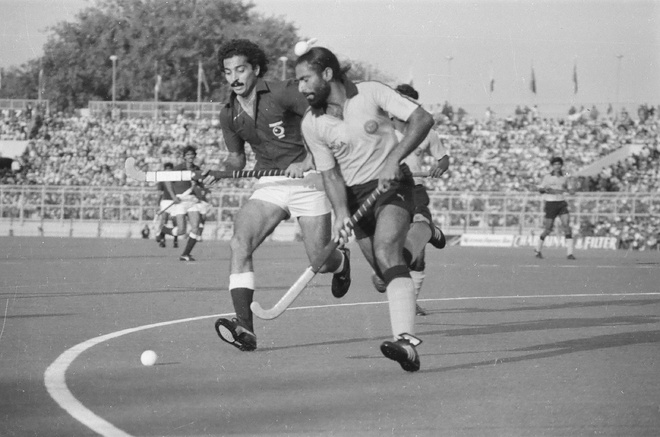 Rajinder Singh senior (R) defends against Hasan Sardar. Rajinder had not played a single match during the Games yet he played the final with a ligament injury, which, he admits in the retrospect, was a mistake

It was a spectacle from start to finish. Let's not worry about the result at the moment — it's been 33 years and some may even have forgotten. History doesn't let us do that in a hurry, though. For the Indian hockey fans, it anyway, would remain embedded in our souls. It was that kind of an afternoon.

Yet, it was a perfect December 1st afternoon — thousands of Indian supporters, waving flags, eager-beavers wanting to witness the magical run of Zafar Iqbal, the weaving of the ball around a dozen sticks by Mohammed Shahid, almost like the threading of a needle, the invisible, subtle skills of Mervyn Fernandez. In simple terms, the fans came hungry, ravenous, for an Indian win.

On the other side of the newly laid astro-turf at the National Stadium was Pakistan. In the run-up, hype, excitement and in the frequent 'we will win gold' Games village cheering-up visits by Rajiv Gandhi, Buta Singh and Amitabh Bachchan to the Indian hockey team, a plot that was completely forgotten was Pakistan had as good a side as India if not better. The unbiased do point out that Pakistan had talent, skill and a certain class.

Tamil Nadu's Chief Minister MGR had come in early. He wanted a vantage position. Rajiv Gandhi and Buta Singh didn't need to do that. There was nervous tension too. Prime Minister Indira Gandhi was the chief guest.

Kaleemullah, Hanif Khan, Manzoor Jr and Hasan Sardar looked relaxed. Of course, they would as they were part of a team that had virtually won everything since winning the 1978 World Cup in Buenos Aires. Both teams, even now, love to play in each other's backyards but also understand the pressures of doing so. Former Pakistan captain, Akhtar Rasool, once said, "We know fans and supporters are delighted when we beat India in India or vice versa. But if we lose, they do understand that playing in the host's backyard has its own pressure points."

That afternoon had its sub-plots. On radios and brand-new colour television sets, the nation wanted to hear and see India win. But when a match becomes a nation's obsession, it does lead to a strange kind of delusion. That arrived in the form of Rajinder Singh Sr. Down with a knee injury, the Indian full-back and penalty corner convertor hadn't played a single match in the Games. Yet, he warmed up for the final. Maybe, the manager Balbir Singh senior and coach Col Balbir Singh thought he was the ace. Aim for penalty corners and Rajinder would whack them in. More than three decades later, Rajinder Singh senior says in retrospect, "I was taking injections for a ligament rupture. In the trials I was fine. But, yes, when I look back, maybe, playing the final was a mistake. But it was the coaches' decision."

Balbir Singh Sr, in an interview, a few years back, did say the momentum of the first half decided the match. "We couldn't fill the gaps between the midfield and the defence. It led to tremendous pressure on the goalkeeper Mir Ranjan Negi."

The first roar of the fans was for India. Zafar and Shahid decimated the Pakistan defence and the Pakistan goalkeeper Shahid Ali Khan had to hack down the forwards. Clark, the New Zealander umpire, pointed for a penalty stroke. Zafar, easily, converted as India led 1-0. Some recall that the roar of the crowd was heard across Janpath and even reached Connaught Place.

Seeing the widening gap between the midfield and the defence, Pakistan sensed their opportunity. Rajinder may have played with painkillers but the meds had dulled his speed too. Like bees whiz to honey, Hanif Khan, Manzoor Jr and Kaleemullah tore apart the Indian defence. As Indira Gandhi watched with some dismay, the score-line at the break was 3-1 in Pakistan's favour. Hanif scored the fourth after the break. Hasan Sardar had taken the ball, pushing the Indian defence into the right corner and then with a turn-around, he slid it to Hanif on top of the circle. Negi couldn't do a thing as Hanif ensured the fourth goal. Mrs Gandhi walked off. India played on. The Indian fans stayed hoping for a miracle.

At 1-4 down, India had a penalty stroke but Zafar Iqbal who had scored the opening goal, shot out. The door had been slammed shut. Miracle was Pakistan's buddy.

Pakistan was irrepressible. Their clutch of fans had become boisterous. Yet, you could feel the deadening silence that now enveloped the stadium. Slowly, the Indian fans started leaving. There was shock. The delusion was wearing off.

Those who remained kept watching the clock, willing it to move faster as Manzoor junior and Hanif scored the sixth and seventh. Almost 20,000 fans had trooped out, unable to watch the medals being presented. Outside the stadium, it was like a funeral as people walked around in a daze unable to comprehend, to believe what they had seen. A few pockets or groups of people started raising slogans against the goalkeeper Mir Ranjan Negi who they saw as the culprit.

Romeo James, who played the semi-finals against Japan ,which India won 7-2 as the goalkeeper, says, "It was wrong to blame Negi. It wasn't his fault. It was a massive momentum shift. We missed chances. Our defence gave away too many gaps. Pakistan was too good in exploiting that."

Six months before the Asian Games final, India played Pakistan in the Champions Trophy in Amstelveen and beat them 5-4. Romeo was the goalkeeper while Rajinder Singh scored a hat-trick. It's too late to say whether Romeo playing the Asian Games final would have altered the result or the score-line.

A few weeks after the Asian Games final, India beat Pakistan 2-1 in the opener of the Esanda tournament in Australia. But that was no solace as the scars have remained. An entire generation of fans and players remain affected by that afternoon at the National Stadium in New Delhi. "Those scars will remain," says Romeo.

Rajinder Singh senior is a little more fortunate. He was the coach of the national team in 2003 when they beat Pakistan 7-4 in a league game at the Champions Trophy in Amstelveen. At a point in the match, they were losing 1-4. Though, after the game, he said, "No, winning 7-4 is no consolation. It will be difficult to wipe out the humiliation of the 1982 defeat. It was our ground, our conditions, our Asian Games."

POSTSCRIPT

After the 1-7 debacle, it has been a downhill journey for the Indian hockey team. Since then, it has never reached the semi-finals of either the Olympics or the World Cup. Victories have been sporadic at best. They won the 1998 Asian Games gold in Bangkok and repeated the feat at Incheon in 2014. Under Rajinder Singh Sr, they won the Junior World Cup in 2001 and the 2003 Asia Cup beating Pakistan 4-2 in Kuala Lumpur. In fact, the impact of a victory in the New Delhi Asian Games would have been far reaching as the final was telecast live across the nation for the first time in colour. Ironically, India's best period in hockey didn't have the advantage of live TV. India's slide in world hockey coincided with sport going live in India. There was no television when India won the hockey World Cup in 1975. Most cricket fans saw the match live on TV when the cricket team won the 1983 World Cup. The rest, as they say, is history.

The Tribune


---

Malacca and Perak to clash in Razak Cup final

by Aftar Singh



Perak (yellow) and Kuala Lumpur hockey player tussle for the ball in the Razak Cup semi-final on Saturday. - AZHAR MAHFOF/ The STAR

KUALA LUMPUR: Malacca, despite parading a young team, played their hearts out to beat Johor 4-3 to qualify for the final of the Razak Cup hockey tournament.

Malacca, who won the tournament in 2005 and 2013, will face Perak at the National Hockey Stadium in Bukit Jalil on Sunday.

Perak, who are the defending champions, edged Kuala Lumpur 3-2 in the other semi-final match.

Amirullah Zainol was the toast for Malacca with a brace in the 24th and 38th minute. Hafoz Selema (32nd) and Firdaus Omar (39th) netted the other goals while Zulhamizan Awang (third minute), Nor Aqmal Gaffar (55th) and Azammi Adabi (57th) replied for Johor.

Malacca coach S. Velappan was delighted with the fighting spirit shown by his players.

"My boys made use of the chances well to take a comfortable 4-1 lead but gave away two late goals in the last quarter.

"But overall it was a bonus for us to reach the final as we were using the tournament to expose them for next year's Sukma (Malaysia Games)."

The silver state went on the offence from the start to take a 3-0 lead in the first 26 minutes.

National forward Muhd Haizaq Samsul gave Perak the lead in the third minute from open play.

And former international Hafifihafiz Hanafi doubled the score in the 19th minute from close range.

Seven minutes later, Kuala Lumpur goalkeeper Shahrul Azaddin Auskarzie was beaten for the third time with another field goal by skipper Azlan Misron.

But Kuala Lumpur managed to reduce the deficit with a field goal by Mohd Syamim Mohd Yusof in the 29th minute.

In the 54th minute, Kuala Lumpur scored their second through Mohd Ramadan Rosli to make it 2-3.

Perak are eyeing their third consecutive title.

The Star of Malaysia


---

Ow Soon Kooi: Wait for EB to endorse

By Jugjet Singh

THE Malaysian Hockey Confederation (MHC) coaching committee met Saturday, and have decided on the futuree of coaches at all levels to be endorsed by the Executive Board on Dec 19.

MHC vice-president and coaching chairman Datuk Ow Soon Kooi said they can't reveal the names until the EB endorses their proposals.

To be fair to all the coaches that we have named for positions in the men's, women's, boys and girls national team will not be revealed today (yesterday) because its only right that we wait for the EB to endorse first.

"In case the EB has its own candidate and reject our proposal(s) it would be painful for some," said Soon Kooi, who was a former national skipper.

Currently, Stephen van Huizen is the national seniors coach, while Arul Selvaraj coached the juniors in the Junior Asia Cup, where the goalkeeping department was a big let-down.

"Knowing well that we don't have a good pool of goalkeepers, which is a very vital department, we have named three coaches to train them at the senior, women's and development teams," said Soon Kooi.

The coaching committee also came up with various suggestions to register and train more coaches at all levels, and there will be a systematic approach to develop this section.

"We are looking for all our suggestions to be in place by Jan 1, so that we can start as early as possible to develop the coaching sector systematically," said Soon Kooi.

Jugjet's World of Field Hockey


---

Presidents go down fighting in hockey

Pravin Narain



Kyle Kava of Fiji Warriors hockey team in action against New Zealand Presidents XI during their Fiji Invitational Series 2015 match.Picture:JOVESA NAISUA

FIJI Presidents men's hockey team is looking forward to bounce back in the Fiji Invitation Series 2015 after losing 5-1 to Australia Country in their first match at the National Hockey Centre in Suva yesterday.

Fiji Presidents is the national senior men's team while Fiji Warriors is the national under-21 side.

Team captain Hector Smith said it was a wake- up call for the team.

"The loss has still disheartened us yet. It is a setback for us but we are looking forward to the second game," he said.

"We will try to improve on our mistakes and come out strongly tomorrow (today).

"It is a challenge to play the other teams in the competition but we are taking one game at a time. We need to pull up our socks and it is a young team with about six players who are making their debut for the team.

Australia manager Michael Nelson said the defence was much stronger.

"It was a very good game from Australia's perspective. It was our first game and we played as a team. We really combined well," he said.

"We managed to convert all our opportunities in the game. Our defence was very strong for Fiji but if we meet again in the week it will be a different story."

Results- NZ Presidents 8-0 Fiji Warriors (M), Fiji Presidents 1-5 Australia Country (M), NZ Presidents 10-0 Fiji Presidents (W)

The Fiji Times