All the news for Saturday 21 November 2015

SA Hockey Association Media Release

The South African Hockey Association has with regret received the news that the South African Hockey national teams will not be permitted to compete at the Rio 2016 Olympic Games as per the letter received from SASCOC today.

The SA National hockey teams both qualified earlier this month for the Olympic Games after being crowned the African champions at the Greenfields African Hockey Championships that took place in Randburg, Johannesburg.

Both teams having met the qualification criteria as set out by the International Hockey Federation and the International Olympic Committee had not met SASCOC's preferred qualification route.

SASCOC had taken a hard line with SA Hockey and insisted that the national hockey team qualify via the Hockey World League Round 3 event and would not consider the additional option available to the team of qualifying via the continental competition.

In all discussions SA Hockey continuously presented the argument that the criteria proposed was unachievable due to a number of factors, and that the criteria in fact would be an automatic exclusion of the two national hockey teams should the criteria remain.

The final set criteria presented for signatory remained unchanged in spite of the contestations made by SA Hockey and remained non-negotiable. SA Hockey signed this agreement as a 'fait accompli'.

It remains our view that whether we signed the agreement or not the terms remained in force as the National Olympic Committee of every country has the final say when entering athletes for the Olympic Games.

We note the growing impatience and frustration amongst the hockey community around why the qualification criteria discussion took place so late and note that some of this timing was out of our hands.

We further acknowledge that up until the conclusion of the African Championships there was no qualification at all to speak of, as SA had not as yet met any elements of the FIH/IOC qualification criteria.

The decision taken by SASCOC is crippling and will have long lasting negative ramifications for the sport of hockey, the decision taken is by no measure in the interest of the sport.

We whole heartedly apologise to the hockey community for failing to ensure that the SA Hockey teams remain on SA's Olympic campaign.

We would like to thank our athletes who have gone beyond the call of duty to represent South Africa, they have given their best in trying times, they have contributed financially, time and time again to represent our great nation, and they have taken many hours off work and their studies to fulfil their dreams and aspirations of representing South Africa.

We are proud of every effort made and every success gained over the years, it is because of these very sacrifices, that South Africa has remained in the top 15 nations in World Hockey.

In the interest of transparency to the hockey community we have decided to share a copy of the contents of a letter sent to SASCOC when requesting them to review the decision pertaining to hockey.

Please see below the arguments put to SASCOC for consideration at their 18 November Board Meeting.

In spite of the facts, SASCOC has opted to stick to the agreement that was signed, we have opted to "demystify'' the said agreement.

SA Hockey will now explore any other possible avenues that may be available to us to further advance the possibility of entry for the Rio Olympic Games.

***********************

Mr Tubby Reddy                                17 November 2015
CEO: SASCOC

Dear Tubby,

RE: SA Hockey Olympic Qualification Criteria
We would like to appeal to the SASCOC Executive Board to review the qualification criteria for SA Hockey. We would appreciate due consideration to this request as a matter of urgency.

It is imperative to highlight that as SAHA we reiterate that the criteria set is an automatic exclusion of hockey in SASCOC's 2016 Olympic campaign. We have contested this in the criteria discussions and subsequent requests for meetings prior to us signing the agreement. It is our view that signing the agreement was a mere formality and that refusal to sign would have put SAHA in a position of conflict and disagreement with SASCOC even before any qualification process had started, this being counter-productive to the objectives of SAHA and SASCOC to work together for the good of Hockey and South African sport as a whole.  Our contributions to the discussions as per the criteria positioned to us on 04 December 2014, were not in our opinion considered. The final criteria presented to us on 23 March (stating qualification via World League top 3 finish) and subsequent correction on 13 June (stating qualification "directly" through World League) continued to ignore SA Hockey's input in the said criteria negotiation.

We must also categorically state that it is our view that the criteria was in fact not even negotiable. The agreement presented to SA Hockey was in fact a final decision and this is clearly demonstrated in all correspondence between the International Hockey Federation (FIH) and the office of the SASCOC CEO. All such correspondence from March to June advising the FIH of SASCOC's criteria was all prior to SA Hockey signing the agreement. The intention of SASCOC to not negotiate the criteria was clear and in good faith it is also correct to say that whether we signed the agreement or not, it was merely a formality and in fact has turned out to be a mistake on our part as we simply accepted the 'fait accompli'. It is our view that had the agreement not been signed it did not matter as the terms of the agreement were already in force and advised to our principals already 3 months prior to any signatures.

We respectfully request the SASCOC Board in considering this letter to set aside the stance that SA Hockey must stand behind the terms of the agreement duly signed by both presidents of SASCOC and SAHA.   We request that the board review the decision around the hockey teams attending the Rio Olympic Games.

The SA Men and SA Womens hockey teams have both won their respective Africa Olympic qualifying events. They have both met the FIH/IOC set criteria and as such have qualified for the Rio games. The decision on whether to include hockey in TEAM SA is now in your hands, it should be a decision taken in the best interest of the sport as a whole bearing in mind that the decision will have a bearing not only on the final 32 athletes selected but a bearing on the entire code and it's international rankings.

The ramifications of not going to the Olympics for the code are too grave to ignore. Whilst there has been an ongoing discussion about the true value of ranking points and as an indicator for consideration for qualification in various events nothing has transpired in this regard. For hockey world ranking points remain critical to assessing where we are within world hockey and most importantly where they compete ultimately.

SA Hockey has already limited opportunities of accumulating ranking points to help facilitate:
 1) Current world standing
2) Current competition structure
3) The possibility of breaking into the top 10 of world hockey and
4) Promoting of athletes playing in top international club leagues.

The FIH competition structure accommodates our teams based on current rankings and performance in the following events:
Olympic Games – up to 750 points on offer
World Cup  - up to 750 points on offer
Africa Cup – up to 525 points on offer
World League  Round 2 and 3 – up to 400 points on offer

Events that we currently don't qualify for and get no ranking points for – World League Finals (top 8 nations post Rounds, 1-3) and Champions Trophy (Top 8 nations) with 400 points and 200 points respectively. So in summary the FIH offers us up to 7 ranking opportunities of which the Olympics and the World Cup carry the highest possible ranking points. We are aiming to break into the top 10 countries in world hockey and cannot do that if participation opportunities become increasingly limited due to finance or other decisions such as whether to send or not send teams to the Olympic Games.

We have looked at our current positions and can confirm that should the teams not be allowed to compete at the Olympic Games, then both teams will drop down by 4-5 ranking points, leaving the SA Women at 15th and the SA Men at 19th. This drop in rankings will be a direct result of not competing in Rio and not a direct result of the teams form or potential performance – this is the bare fact. Unlike individual athletes the knock on effect is not on an individual athlete, but rather on a country position in world rankings. No matter how good the next generation of players are, they will walk into a team with a ranking outside of the top 10.  These facts must be taken into consideration in the best interest of the sport.

The SA women in Rio would simply have to win 2 matches to move higher in rankings to top 10. The SA men have a real chance of breaking into the top 9 as in their competition they have for the first time collectively countries like Brazil, Canada, Ireland and India whom they have consistently beaten in the last 4 years.  They have also previously beaten Great Britain and drew the match NZL at the London Olympic Games in 2012.  The exclusion of hockey powerhouses, the likes of Pakistan and New Zealand means that the men will finish higher than they have ever before.

The two national hockey teams as SA Olympic team sports are ranked in the top 3 with only Rugby 7's men being ahead.  – Rugby 7's (men ranked 3rd), Hockey women (ranked 11th) and Hockey men (ranked 15th). With regards to performance the SA women finished 4th /10 at the Glasgow Commonwealth Games and the SA Men finished 5th/10.

There has been much discussion about the strength of the African qualification route. In fact there has been discussion about it being SASCOC policy of not looking at African qualification, we have checked our records and cannot find a time when this matter was tabled or adopted by Olympic codes as set out by clause 18.15 of the SASCOC constitution.  Whilst it may have been spoken about broadly at the 2012 General Meeting and the Presidents Council this in no way constituted a decision on behalf of Olympic codes.

As SAHA we are looking at medalling at Durban 2022, everything we do from hereon in is with this vision in mind #roadtoDurban2022. Hockey high performance experts seem to agree on the philosophy that it takes 8 years to build a team so we are already in the phase of preparation for Durban2022.  In order to succeed in Durban, we have to be given every opportunity to excel, every opportunity to grow our athletes, every opportunity to expose them to playing the best teams in the world as regularly as possible.

We have noted the comments that not sending the teams to RIO is not about the money, as taking teams to the Olympics is one of the cheapest events from a team delivery perspective. So effectively we have a decision that's being taken, which is not in the interest of the sport, nor is it a decision that is taken to cut costs, nor is it a decision to not take hockey as they will not return a medal as this is a known fact, so the question that begs answering then is why are we as SASCOC stopping the participation of athletes at the Olympic games when olympism is what we are promoting as an organisation.

We would like to urge the board to review the criteria for the Hockey teams, to bear in mind the ramifications for the code, to consider the complexity of team sports vs individual athletes and to put the interest of the game first.
We trust that your will find the above in order.
Kind regards,

Marissa Langeni
CEO: SA Hockey

SA Hockey Association media release


---

Sascoc won't let SA hockey team play in Rio Olympics

David Isaacson

The South African men's and women's teams are officially out of the 2016 Olympics' the SA Hockey Association (Saha) said in a statement on Friday.

The SA Sports Confederation and Olympic Committee (Sascoc) had insisted that the teams qualify for the Rio Games by achieving the international qualifying standards' which involved making the top six in the World Hockey League. Both teams failed' but they did earn a secondary qualification by winning the African championships in Johannesburg last month.

Sascoc' however' refuses to accept continental qualification for any codes' with the sole exception of football' which has no international option.

"The South African Hockey Association has with regret received the news that the South African hockey national teams will not be permitted to compete at the Rio 2016 Olympic Games as per the letter received from Sascoc today'" Saha said.

Sascoc had initially wanted to impose stricter conditions on both soccer and the men's road cycling teams' but backed down after being persuaded by the two federations.

Both had refused to sign sanctioning agreements with Sascoc until the matter had been sorted. Saha' however' signed.

"In all discussions SA Hockey continuously presented the argument that the criteria proposed was unachievable due to a number of factors' and that the criteria in fact would be an automatic exclusion of the two national hockey teams should the criteria remain.

"The final set criteria presented for signatory remained unchanged in spite of the contestations made by SA Hockey and remained non-negotiable. SA Hockey signed this agreement as a 'fait accompli'.

"It remains our view that whether we signed the agreement or not the terms remained in force as the National Olympic Committee of every country has the final say when entering athletes for the Olympic Games."

Times Live


---

No SA hockey at Rio Games

by Nazli Hamilton




After months of back and forth between the SA Hockey Association (Saha) and the South African Sports Confederation and Olympic Committee (Sascoc) the saga has come to an end – the SA men's and women's hockey sides will not compete at the Rio Olympic Games next year.

In June this year Saha President Mike du Plessis signed an agreement with Sascoc, stating that the men's and women's teams will have to qualifying through finishing in the top six of the World Hockey League by July 5, and that continental qualification would not be considered.

The International Olympic Committee (IOC), however, only requires continental qualification so the South African sides would have earned their spots in Rio, but the IOC leaves the final say to the local Olympic committee.

The men's side failed to make the semifinals of the World Hockey League and the women narrowly missed out on making the finals. Both teams won their respective competitions at the Africa Hockey Championships hosted in Randburg, Johannesburg in October. Sascoc, however, remained firm on their agreement.

"The Sascoc Board firmly believes that the qualification criteria, which have been agreed between the international sporting federations and the International Olympic Committee and based on World Olympic Qualification, is in line with Sascoc's policy of producing world class athletes who will compete at the highest levels," Sascoc CEO Tubby Reddy said in a statement in October.

Saha, though, tried to drum up support through the South African public and from key players around the world. Last week, a petition containing over 13 000 signatures was handed to Sascoc in a bid to get them to reconsider their position. SA Hockey also wrote to Sascoc to plead their case.

"It is imperative to highlight that as Saha we reiterate that the criteria set is an automatic exclusion of hockey in Sascoc's 2016 Olympic campaign. We have contested this in the criteria discussions and subsequent requests for meetings prior to us signing the agreement. It is our view that signing the agreement was a mere formality and that refusal to sign would have put Saha in a position of conflict and disagreement with Sascoc even before any qualification process had started," Saha CEO Marissa Langeni wrote in the letter.

On Friday, however, Sascoc replied to Saha to reaffirm the position they had taken earlier this year. Sascoc would not reconsider and considered the matter closed.

Saha issued a final press release on the matter expressing their disappointment.

"The decision taken by Sascoc is crippling and will have long lasting negative ramifications for the sport of hockey, the decision taken is by no measure in the interest of the sport," the statement said.

"We wholeheartedly apologise to the hockey community for failing to ensure that the SA Hockey teams remain on SA's Olympic campaign.

"We would like to thank our athletes who have gone beyond the call of duty to represent South Africa, they have given their best in trying times, they have contributed financially, time and time again to represent our great nation, and they have taken many hours off work and their studies to fulfill their dreams and aspirations of representing South Africa.

"We are proud of every effort made and every success gained over the years (and) it is because of these very sacrifices, that South Africa has remained in the top 15 nations in world hockey."

The Olympic Games will take place in Rio between August 5-21 next year.

Supersport


---

SA hockey teams will not compete in Rio 2016 Olympics

Sascoc has informed SA hockey that both the male & female teams will not be permitted to compete.

JOHANNESBURG – The South African Sports Confederation and Olympic Committee (Sascoc) has made a final decision today, announcing that both the men's and women's teams will not travel to Rio.

Today, the South African Hockey Association received a letter from Sascoc in which it stated the decision that the national teams will not be permitted to compete at the Rio 2016 Olympic Games.

Both teams qualified earlier this month for the Olympic Games after being crowned the African champions at the Greenfields African Hockey Championships that took place in Randburg.

In a statement to the media, the SA Hockey Association said Sascoc had taken a hard line with it and insisted that the national hockey team qualify via the Hockey World League round three event and would not consider the additional option available to the team of qualifying via the continental competition.

The association said in all discussions it continuously presented the argument that the criteria proposed was unachievable due to a number of factors, and that the criteria in fact would be an automatic exclusion of the two national hockey teams should the criteria remain.

The final set criteria presented for signatory remained unchanged in spite of the contestations made by SA Hockey and remained non-negotiable. SA Hockey signed this agreement as a 'fait accompli'.

SA Hokey has apologised the hockey community for "failing to ensure that the SA Hockey teams remain on SA's Olympic campaign".

Eye Witness News


---

Fortuitous Olympic invite set for hockey's Black Sticks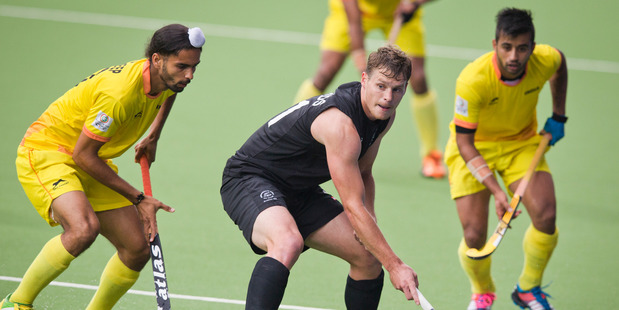 New Zealand's Steve Edwards. Photo / Greg Bowker.

The New Zealand men's hockey team's Olympic dream appears closer through a last-chance convoluted route.

The South African Olympic Committee has decided it won't be sending a men's or women's team to next year's Games, as revealed as a possibility by the Herald on Sunday last month.

The New Zealand women's side have already qualified but this decision paves the way for the men's Black Sticks to replace the South Africans in Rio as the next highest ranked team.

They still need ratification from the international governing body, the FIH, but a process is now expected to begin where they will formally ask the New Zealand Olympic Committee to invite a team.

New Zealand competed in two qualifying tournaments this year but failed to earn a place at Rio.

Their last opportunity saw them lose the Oceania Cup final to Australia.

Hockey South Africa says the "crippling" decision from their Olympic Committee to stop its teams from going to Rio and will have a long lasting negative impact on the sport in South Africa.

Hockey South Africa has apologised to the athletes.

Had this decision not been made, the New Zealand men faced temporary sporting oblivion. A loss of personnel, many of whom balance jobs with international careers, seemed inevitable.

"Our athletes train full-time while incorporating work and family life, which places tough demands on them," HNZ high performance manager Terry Evans said last month.

"We effectively do that on a shoe-string, smell-of-an-oily-rag [budget]."

Hockey NZ received funding of $750,000 for the men's team and $1.3 million for the women's team in this year's High Performance Sport New Zealand budget.

The women are guaranteed another $1.3 million next year. There are no such promises for a men's side who last missed the Games in 2000. Decisions from High Performance Sport New Zealand on next year's funding are due before Christmas.

The women are on discretionary performance enhancement grants but need to get a top-three finish in December's World League 4 to guarantee that funding in 2016. The men are already out of contention.

"We need to find a mechanism by which our athletes can commit," Evans said. "In the current environment that's difficult, because we're working to make the whole operation sustainable.

HPSNZ chief executive Alex Baumann acknowledged the desire to support hockey as a key part of New Zealand's sporting fabric, but says sports still need to meet agreed standards.

"Team sports can impact a broad range of people and therefore be important for the country, but we can't shy away from actual performance. We understand team sports cost more and our hockey teams probably receive less investment relative to some of the stronger countries.

"However, as our system has evolved, the bar has been raised. We would love to invest more but this is the reality."

The New Zealand Herald


---

A closer look at Canada's World League Final opponents

One week to go before the tournament begins in India

Shaheed Devji



Canada's goalkeeper David Carter and defender David Jameson fend off a Dutch defender at the 2015 World League Semifinal in Argentina this past June. (Photo: FIH)   

Canada's men's field hockey team is off to India today with only one week to go before the start of the final competition of the year.

The 2015 International Hockey Federation World League Final takes place in Rajpur from November 27 to December 6, with Canada – ranked thirteenth – competing against seven of the top eight ranked teams in the world.

In Pool A, Canada will face off Great Britain, Belgium, Australia in pool play before taking on a Pool B opponent in the quarterfinal.

Here is a look at Canada's competition...

Game 1 – Great Britain – November 28, 2015

Canada faces the tournament and world's fifth ranked team, Great Britain, in its first match. The British side finished fourth at the last Olympic games in 2012, which was a home games for them. They will be looking to improve on that finish at the upcoming games in Rio and add to their total of five Olympic medals (two gold, one silver, and two bronze).

The Brits also have three Champions Trophy medal to their name; one silver and two bronze. The last time they won a medal at a major international games was silver at the Champions Trophy event in 1985.

Great Britain booked its ticket to the Hockey World League Final by finishing third at the World League Semi-Final in Antwerp.

Canada and Great Britain last met at the 2008 Olympic Games in Beijing, China and played to a 1-1 draw.

Game 2 – Belgium – November 29, 2015

Next up for Canada is Belgium. The Belgian men have been on the rise for the better part of the last decade. Ranked seventh in the world, they are now often looked at as having one of the most vaunted offenses in the game.

Coming off a best-ever finish (fourth) at last year's World Cup, the team from the World League Semi-Final this year consisted of ten players with one hundred international caps or more.

Belgium finished second at the World League Semi-Final in Antwerp to earn their way to India's final and the 2016 Olympic GAmes. They followed that up with a fifth place finish at the 2015 EuroHockey Championships. Belgium's major medal finishes include bronze at the 1920 Olympics and silver (2013) and bronze (2007) at the Euro Championships.

Canada last faced Belgium and lost 5-2 at World League Round 2 in Saint-Germain, France in May 2013.

Game 3 – Australia – December 1, 2015

Canada's toughest test will come in its final pool match when it faces World No. 1 and defending World Cup (2014) and Commonwealth Games (2014) champions, and Olympic bronze medalist (2012) Australia.

The Kookaburras have long been one of the best field hockey nations and many judge them to be the best team in the history of the sport and the standard by which to measure success. Recent form has them once again at the top of the table.

Australia won its continental qualifier, the Oceania Cup, this year and also placed first at the World League Semi-Final in Antwerp, earning double qualification into the 2016 Rio Olympic Games.

Canada and Australia, both Commonwealth countries, are familiar with each other, having last played at the 2015 Azlan Shah Cup in Ipoh, Malaysia. In that match in April, the Aussies won 7-0 against a Canadian team that was depleted due to injury.

The Rest

Canada will face one of Argentina, India, Germany, or the Netherlands in the crossover quarterfinal match. The Canadians have recent history with all four teams, having played each of them at least once this calendar year.

Off all the teams at the World League Final, Canada is most familiar with its Pan American Rival Argentina. Two teams have met in the last eleven Pan Am Games gold medal matches, with the Argentines winning the last two – most recently in Toronto this past July. They also met twice at World League Round 3 in Argentina in June.

Canada played against both Germany (World No. 3) and the Netherlands (World No. 2) at World League 3, with the international powerhouses both defeating Canada convincingly.

The Canadians faced the Indians at the 2015 Azlan Shah in Malaysia, narrowly losing out 5-3.

Field Hockey Canada media release


---

No pressure for teams in Junior Asia Cup semis

by S. Ramaguru

KUANTAN: An India-Pakistan final looms in the Junior Asia Cup hockey tournament.

Standing in the way of the all-South Asia final are Japan and South Korea.

India will play South Korea while Pakistan take on Japan in Saturday's semi-finals at the Wisma Belia Hockey Stadium.

India, Pakistan and South Korea have won the Junior Asia Cup. Japan's best effort is a third placing in the 1996 edition. That year, Malaysia also failed to qualify for the Junior World Cup.

Since all four teams have already achieved their target – qualify for the Junior World Cup in New Delhi next year – there is no pressure on them in the semi-finals.

Japan coach Takahiko Yamabori said that having achieved their initial target of making the semi-finals – and qualifying for the Junior World Cup – their next target is to make history.

"We only lost 2-1 to India in the group phase. We have a chance to beat them. We have never made the final ... we must make good use of this chance," he said.

The Japanese are well motivated to win as Yamabori and 10 of his players will not feature in the Junior World Cup next year.

"I will be reassigned to take over the senior team and 10 of my players here will be overaged for the Finals. So, this is a chance to win something before we move on," he said.

India are the clear favourites to win their third title after their great run.

But the 2004 and 2008 winners are not taking Japan for granted.

"Japan are good and play with speed. No team is easy meat here ... if there's one lesson to be learnt from the South Korea-Malaysia tie is that nobody can take it easy until the final whistle is blown," said India coach Herendra Singh.

"Two minutes is a long time in hockey and that has been proven time and again. We are here to win the title."

The Pakistan-South Korea game will be just as interesting. Pakistan beat South Korea 3-0 in the group phase and will fancy their chances.

Pakistan coach Tahir Zaman said that there's no reason to let up, although they've reached their target.

"I'm sure the Koreans want to make the final too. We expect a tough time and South Korea have shown that they are not a weak team. The pressure is off my players and we will look at making the most of this opportunity," he said.

In the fifth-eighth classification matches, Malaysia will play China and Oman will meet Bangladesh.

The Star of Malaysia


---

Last minute slip-ups still a bane for Malaysian hockey

by S. Ramaguru




KUANTAN: The deed is done. The finger-pointing has begun.

Yet, will there be any solutions offered on how to overcome Malaysian hockey's perennial malady – losing games by conceding late goals?

On Thursday, in the quarter-finals of the Junior Asia Cup, Malaysia were leading South Korea 3-1 until the 63rd minute.

A place in the Junior World Cup in New Delhi, India, next year was within their grasp.

Then the inevitable happened. South Korea scored two goals in the last two minutes to tie the score at 3-3 before going on to win the penalty shootout 4-1.

This is a malady which afflicts the senior team as well – the World Hockey League Semi-Finals in Belgium comes to mind.

Leading 2-1 against India, Malaysia capitulated in the last 15 minutes of the match. India went on to win 3-2 to reach the semi-finals. Had Malaysia beaten India to reach the semi-finals, they would have qualified for next year's Rio de Janeiro Olympics.

Instead, both our senior and junior hockey teams are left to rue their missed chances.

But what rankles most fans is that the coaches – for both the senior and junior teams – have said that they've always prepared their teams on how to play in the last five minutes.

Yet, the same mistakes – giving away last-minute penalty corners – continue to be a bane to our teams.

To be fair to A. Arulselvaraj, who has taken responsibility for the National Juniors' defeat, the main culprits are the players and the Malaysian Hockey Confederation (MHC).

"Frankly, we're at a loss for words. How did we fail to defend a two-goal lead in the last two minutes?," said Arulselvaraj.

"I'm baffled ... we had spoken to the players about this and told them what to do."

Even team manager Mirnawan Nawawi agreed that the blame lies with the players.

"What more can we do?" he asked.

"You can tell and give all the instructions, but at end of the day they need to follow them. We have failed and that has set us back quite a bit. Let's focus on our next two (classification) matches and worry about the future after that."

The future looks bleak and the MHC need to start searching for answers – quickly.

The National Juniors were formed in April 2014 and in that 18 months, they've had just three overseas stints – twice to Australia and once to South Korea.

Only recently, in October, did the coach get his full complement of players.

Even a request for the team to play in the Malaysia Hockey League (MHL) was rejected.

The National Juniors clearly lacked exposure. And to think that as late as October the players were still undergoing physical workouts. The number of players who came down with hamstring injuries tells a damning story.

All these have to be revisited by the MHC if they are to look for answers and to start a new 2020 programme.

It is likely that the team management will see a change.

The MHC, while looking for a new programme, should also see how to keep these players and groom them further for the senior team. It would be a shame to let them drift away.

"There is a lot of talent in this team. Let this defeat be a lesson and let's learn from it. They can only get better. I think that there should be a programme for them too," said Arulselvaraj.

On his future Arulselvaraj said that he will only think about that after the tournament.

"There is no hurry and we have two more matches to go. We need to worry about that. My position can be decided later and it is up to the MHC," he said.

The Star of Malaysia


---

Confident India face Japan in semis

KUANTAN (Malaysia): Unbeaten so far in the tournament, a confident India would look to carry on their winning momentum and book a place in the summit clash when they take on Japan in the first semi-final of the eighth junior men's Asia Cup hockey tournament, here on Saturday.

Going into the semifinal, the Indian colts would also be bolstered by their 2-1 win over Japan in their opening pool match of the tournament at the at Wisma Belia Hockey Stadium.

The win in the pool meeting will definitely give a psychological advantage to India over their opponents.

The Indian team has been unbeaten in the tournament so far with wins over Japan, Malaysia, China and Oman.

Drag-flicker Harmanpreet Singh has been in rollicking form scoring nine goals in the tournament so far. Besides the Indian forwardline has also shown promise.

On the other hand, Japan's performance has also picked up in the past two matches with wins over China in their last group stage match and Bangladesh in the quarter-finals.

And come tomorrow Japan would be looking to end India's unbeaten run in the tournament.

Speaking about Saturday's encounter, Indian men's hockey team's chief coach Harendra Singh said: "We have faced Japan earlier in the pool stage. We are familiar with their game which gives us confidence. The rest day has given us enough time to figure out the flaws from the first match against Japan and we have ardently worked on rectifying them.

"Semi-final is a different ball game all together and we will have to concentrate on playing our natural game without being too cautious. We will be hoping for a good team performance."

The Times of India


---

Argentinean hockey team to visit Pakistan next week?

Kashif Abbasi

ISLAMABAD: Argentinean hockey team is likely to visit Pakistan next week to play two test matches, it was learnt here.

President of Pakistan Hockey Federation (PHF) retd Brig Khalid Khokar told Dawn that Argentina, which is slated to participate in a mega hockey event in India, is likely to visit Pakistan for two test matches enroute to India.

Argentina has recently requested Pakistan to host two tests and the PHF responded positively.

"At the moment, I'm not sure whether Argentinean team will visit Pakistan prior to start of hockey league in India or not," said Khalid while talking to media here. "They requested us to host two tests and we agreed. Let's hope they make the visit."

The PHF chief added if the Argentina does visit Pakistan, the government as well as the federation will provide full security to them.

Hero Hockey World League is slated to be held in India from Nov 27 to Dec 6 in which eight teams are featuring that include hosts India, Australia, Argentina, Germany, Netherlands, Canada, Belgium and Australia.

Meanwhile, a former Olympian while speaking to Dawn on condition of anonymity, said since Argentina is going to play its first match against hosts India on Nov 27, there is little time left in between and the chances of them stopping over in Pakistan are slim.

"Now, only seven days are left in the commencement of Hockey League in India and the Argentinean authorities didn't inform anything about the arrival of their team which means they are not interested to playing test matches before the start of the mega event," the Olympian said.

Dawn


---

Scotland midfielder Nikki Kidd announces retirement from international hockey




Scotland midfielder Nikki Kidd has announced her retirement from international hockey.

The former Grove Menzieshill star made her debut for the senior national side in 2005 and went on to amass a hugely impressive 170 caps for her country, scoring a total of 64 goals.

Commenting on her decision to retire, Kidd said, "I have decided after eleven brilliant years in the senior squad that it is time for me to move onto other things. I have had a fantastic international career and I feel hugely honoured to have represented Scotland 170 times and, laterally, having the opportunity to captain my country.

"I want to express my gratitude to all the players, coaches and support staff for giving me these fantastic opportunities and allowing me to be part of something which will always be very special to me. I have always given absolutely everything I have out on the pitch, in training and in the gym. I have lived every day for the past eleven years to be the best athlete I can possibly be."

"I have loved every minute of representing Scotland; the teamwork, successes, the tough training. I feel hugely honoured to have been a part of the amazing steps we have taken as a national squad over the past few years. I will always think fondly of my time in the national squad and I wish everyone and the squad all the very best for the future."




The 28 year-old featured in three Commonwealth Games for Scotland, including the 2006, 2010 and 2014 hockey competitions, and was also included in the pool of players selected for the Great Britain performance programme in 2014.

Her presence in the national side was keenly felt as a penalty corner expert and indefatigable midfielder, scoring crucial goals for the Scots in international competitions, including the 2013 and 2015 EuroHockey Nations Championships where her performances were vital to the team retaining their place for consecutive continental campaigns.

In domestic hockey, Kidd played for Ellon Ladies, Bon Accord MBC, Grove Menzieshill and Edinburgh University. She will continue to play for German side Mannheimer HC in the Women's Bundesliga.

Reflecting on her decision to retire, Scotland Senior Women Head Coach Gordon Shepherd said, "Nikki has been an exceptional player for Scotland, a regular scorer of goals and an important member of the squad for three Commonwealth Games. She has served her country well, demonstrating the highest standards and setting an example to players about the right attitude to training and preparation. Overall, she has been a fantastic role model for the players and she leaves with both my and the squad's best wishes for the future."

Photo credits: Ady Kerry, Duncan Gray

Scottish Hockey Union media release


---

Fustagueras says pressure is on Polo

Club Egara captain Guillem Fustagueras  believes his KO16 opponents Real Club de Polo will be the "ones who feel the pressure" following Wednesday's draw that saw the two Spanish giants paired against each other.

It will be a repeat of the last two Spanish league finals in a game that is one of the classic encounters in the country. Egara won their latest meeting last Sunday with a 4-2 success at Polo with Guillem Fustagueras scoring twice in the victory.

"Polo players are the ones who will feel the pressure," said the ratllat player of the draw. "They are a very strong team, but we know them better now.

"We are a young team, with less experience in Europe, but playing against an opponent we know well could balance the game. We know Polo will demand us a lot, but with modesty and effort and we will fight to be at KO8."

Reflecting on the draw, Egara coach Patricio Keenan said, however, that he would have preferred a different opponent.

"I will not lie, I would rather to play a European opponent from another league. A rival that we do not know that much" the coach said after the draw.

"The EHL is a very special competition that allows you to play against foreign teams, another way of understanding hockey that makes you live new experiences in this sport.

"But, well, the draw has match us up so we will have to face the game with our highest ambition, as we always do". 

Euro Hockey League media release


---

Improving Buckingham face Surbiton



Univ of Birmingham's Vanessa Hawkins, right, in action against Buckingham's Amie Hone, Oct 10 2015, Credit Andy Smith

Bottom club Buckingham came within just a few seconds of drawing with high-flying Holcombe in the Investec Women's Hockey League Premier Division last weekend, and on Saturday they will be gunning for another big name scalp in Surbiton.

A goal in the final few seconds saw Holcombe clinch a 3-2 win, but not before Buckingham had taken the lead earlier in a hard-fought match.

"We're really looking forward to the challenge," said Buckingham head coach Zak Jones. "It's always good to measure yourself against the best teams in the country.

"The last few weeks we've been playing a bit better but struggled to get over the finish line. Surbiton beat us comfortably at their place earlier in the season, and we didn't feel we did ourselves justice in the first half.

"It's going to be a tough ask, but we've lost four of our games by just one goal so we don't feel that we're too far away from being competitive."

In other top flight action on Saturday leaders the University of Birmingham go to Leicester as they bid to preserve their unbeaten stretch, and Bowdon Hightown are playing Clifton.

With both teams being in the top four, the Canterbury versus Holcombe match on Sunday should prove a tense affair, while Reading host East Grinstead at the same time with East Grinstead looking to move back into the top four should Holcombe slip up.

Having beaten leaders Slough last weekend, Harleston Magpies have a home match against higher-placed Hampstead and Westminster in the Investec Conference East on Saturday. Meanwhile, Slough go to second-placed Cambridge City as they bid to get back to winning ways.

Leaders Wakefield struggled to beat bottom club Liverpool Sefton last weekend, and will be looking for a better result when they go to Ben Rhydding on Saturday. Meanwhile, the University of Durham lie second and are at home against Springfields.

Stourport moved up to second in the Investec Conference West following their win over Trojans last weekend, and they take on leaders Sutton Coldfield on Saturday.

In other action, Gloucester City go to Olton and West Warwicks as they aim to build on the form which has seen them win four of their last five league matches.

Investec Women's Hockey League (Saturday, November 21 2015):

Investec Premier Division
Buckingham v Surbiton 12:00
Bowdon Hightown v Clifton 13:45
Leicester v Univ of Birmingham 14:00

Investec Conference East
Cambridge City v Slough 12:30
Maidenhead v St Albans 13:30
Wimbledon v Sevenoaks 14:00
Harleston Magpies v Hampstead and Westminster 14:00
Ipswich v Chelmsford 14:00

Investec Conference North
Brooklands Poynton v Whitley Bay and Tynemouth 11:45
Univ of Durham v Springfields 12:00
Beeston v Belper 12:00
Liverpool Sefton v Loughborough Students 12:30
Ben Rhydding v Wakefield 13:30

Investec Conference West
Olton and West Warwicks v Gloucester City 12:00
Bristol Firebrands v Trojans 15:00
Isca v Oxford Hawks 12:30
Univ of Bristol v Swansea City 13:00
Sutton Coldfield v Stourport 14:00

Investec Women's Hockey League (Sunday, November 22 2015):

Investec Premier Division
Canterbury v Holcombe 12:30
Reading v East Grinstead 12:30

England Hockey Board Media release


---

Telkom Orange out to tighten grip on top spot

By BRIAN YONGA



Caroline Guchu of Telkom Orange (left) vies with Strathmore University's Yvonne Wanjiku during the women's final match in the Vaisakhi tournament at City Park Hockey Stadium on April 26, 2015. PHOTO | MARTIN MUKANGU |   NATION MEDIA GROUP

Champions Telkom Orange will be looking to maintain their eight-point lead atop of the Kenya Hockey Union (KHU) women's national league when they take on Vikings on Sunday at the City Park Stadium.

The match is one of 11 league encounters lined up for this weekend in Nairobi and Mombasa.

Orange, who are chasing an unprecedented 18th league title, are in ominous form, wining all their 10 league matches so far and only conceding once.

They have scored an astonishing 82 league goals so far and top the standings with 30 points. Orange coach Jos Openda believes every match they play is a build up to the Africa Club Championship which gets underway next month in Zambia where his team are also the defending champions.

"Our target is retaining the club championship next month. We are in a good position in the league but that does not mean we get complacent, we play to win every match," the coach told Nation Sport on Friday.

The reverse fixture ended 6-0 in favour of the champions but Vikings, who are fifth in the standings, have vowed to give Orange a run for their money.

"They (Orange) are definitely the favourites but we will not be intimidated. We just have to be on top of our game and ensure we don't make any mistakes," Vikings coach Clyde Mmbaha said.

Second-placed Strathmore University Scorpions take on third-placed Sliders tomorrow in what promises to be a thrilling encounter. The university side leads their opponents on goal difference and will be out to claim all points as they seek to maintain their title bid.

Scorpions won the first leg encounter 1-0 courtesy of a goal from Kenya international Yvonne Karanja and Sunday's encounter promises to be another cracking affair.

SIKH FACE WAZALENDO

In the men's premier league, 2012 champions Sikh Union Nairobi will move to third place with a win over Wazalendo at the City Park Stadium.

The former champions have blown hot and cold this term and will miss the services of international Allan Iningu, who is out with a broken arm.

Wazalendo on the other hand will look to bounce back from last weekend's 3-0 loss to Kenya Police.

Two-time league champions Strathmore Gladiators welcome Parkroad at the City Park Saturday evening as they seek their first win in three matches in another premier league encounter.

In the men's second-tier league, Jomo Kenyatta University of Agriculture and Technology (JKUAT) take on Technical University of Kenya (Tuk) while Daystar University tackle Thika Rovers as the race for promotion gains momentum.

FIXTURES (All matches at City Park Stadium unless stated)

Saturday

National men: JKUAT v Tuk- (12pm), Daystar v Thika Rovers (2pm), Chase Sailors v Karate Axiom (4pm)

National women: Mombasa Sports Club v USIU (4pm) – Mombasa

Premier men: Strathmore v Parkroad (6pm)

Sunday

National women: MKU v Daystar – (9am), Orange v Vikings (11am), Strathmore v Sliders (1pm)

Premier men: Sikh Union v Wazalendo (3pm), MSC v Mvita XI (3pm)- Mombasa

National men : TUK v Kimathi (5pm)

Daily Nation


---

Syracuse field hockey beats UConn to reach national championship game

Courtesy of Syracuse Athletics

Twenty-one games later and the No. 2 Syracuse field hockey team (20-1) is back to the NCAA title game for the second-straight season after defeating No. 3 UConn (22-1) 3-1 in the NCAA Semifinal on Friday.

Led by a pair of early goals, the Orange dispatched the two-time defending national champion Huskies, ending their 38-game win streak.

Syracuse's second-straight title game appearance is just the second NCAA championship game in program history.

'Cuse's early goal came at the hands of Alma Fenne, who after a broken corner attempt, collected the ball and brought it into the circle, ripping a low shot into the corner of the net for the score just two minutes into play. The goal was the earliest tally of the season for Syracuse.

Emma Russell then opened it up for the Orange by driving baseline 18 minutes later where she beat the defender and carried the ball towards the cage and around UConn goalkeeper Nina Klein for the score.

The Huskies upped the pressure late in the first half and were rewarded with a penalty stroke after 'Cuse goalkeeper Jess Jecko slid into the Huskies ball carrier to prevent the score.

Casey Umstead delivered the penalty stroke goal with 3:35 remaining in the half, but it was the only blemish on the day for Jecko and the Orange defense, who allowed a season-low six shots for UConn.

With 9:58 remaining in regulation, Fenne delivered the dagger for the Orange, after taking a touch pass from Russell, Fenne faked out Klein and scored on the open net after she was drawn out of the cage.

Syracuse will now take North Carolina, a winner over Duke in the other semifinal, in Sunday's NCAA championship game at 1 p.m. North Carolina was the only team to beat Syracuse this season.

Syracuse.com


---

Merrimack field hockey reaches Division 2 national title game

Courtesy of Merrimack College



The Merrimack College field hockey team celebrates after beating Stonehill 1-0 in the NCAA Division 2 national semifinal. Merrimack will face East Stroudsburg in the national championship game on Sunday at 1:30 p.m.

BLOOMSBURG, Pa. -- The No. 6 Merrimack field hockey team beat No. 4 Stonehill 1-0 in Friday's Division 2 semifinal to become the first Merrimack team to advance to an NCAA championship game in any sport since the 1994 national champion softball team.

Merrimack (16-5) scored the game's only goal midway through the second half after Mary McNeil took a penalty corner and sent it up into the box to Taylor Simpson. Under pressure, McNeil sent the ball over to Nicole Bradley, who ripped a shot from the left to score.

The goal was the breakthrough Merrimack had been waiting for, as the Warriors had been in control for much of the game but had been continuously frustrated by Stonehill (14-7) goalie Sara Freedman. Freedman made five saves in the first half and Stonehill's defense as a whole defended eight penalty corners in the first half.

Once Merrimack had the lead, however, it fell on the defense to shut the door. Stonehill began applying some pressure of its own, and the Warriors had their work cut out for them trying to defend Erika Kelly, the all-time leading scorer in Northeast-10 Conference history.

One of Kelly's shots hit the crossbar, but that was ultimately as close as Stonehill would get to tying the store, as Merrimack goalie Madison Davis made four saves in the last 15 minutes -- and seven overall -- to help preserve the shutout win.

Merrimack will face No. 1 East Stroudsburg in the final on Sunday at 1:30 p.m. at Bloomsburg University in Pennsylvania. East Stroudsburg advanced after beating West Chester University 6-2 in Friday's other semifinal.

This will be Merrimack field hockey's first appearance in the national championship game. The program has reached the NCAA Tournament four times in program history, all coming within the last five years, and in the last three tries the Warriors reached the Final Four only to lose in the semifinals.

Eagle Tribune


---

Hockey pitches for Rio 2016 Olympic Games are unveiled



Rio mayor Eduardo Paes joined players from the Brazilian national teams at the unveiling Photo: Rio 2016/Alexandre Loureiro

Venue in Deodoro Olympic Park will host test event next week and remain as legacy post-Games

The hockey venue for the Rio 2016 Olympic Games was unveiled on Friday (20 November) – and it has a distinctively Brazilian flavour. When combined, the blue pitch, green border, white lines and yellow ball make up the colours of the host nation's flag.

"This is the best surface that exists for playing hockey, the most modern in the world," said Claudio Rocha, the coach of Brazil's men's team, one of 11 sides already confirmed for the 12-team Olympic tournament next year. "It's very important for our sport in Brazil to have a facility of this level," said Brazil's goalkeeper Thiago Bonfim, who helped the team confirm their place at Rio 2016 by finishing in the top six at this year's Pan-Am Games.

The Olympic Hockey Centre in Deodoro Olympic Park was presented by the Rio City Government, which has been responsible for its construction using Federal Government funding, ahead of the test event that starts next week.

Teams from seven countries, featuring 144 players, will take part in the Aquece Rio Internatioal Hockey Championship from 24 to 28 November.

The venue has three pitches made of artificial grass – two match pitches of 91.4m x 55m and one warm-up field of 45.7m x 55m. The high contrast of the yellow ball against the blue surface makes it easier for fans to follow the games, both in the stadium and on television.

The venue was built for the 2007 Pan-Am Games and is being adapted to meet Olympic standards. The main pitch will have seats for 8,000 people (2,500 being permanent) while 5,000 temporary seats will be installed alongside the the second field.

After the Games, the hockey venue will host top-level teams, including the national team, as well as social projects. "The structure we have today, with the floodlights and the warm-up pitch, is how it will be after the Games. It will be a legacy for the sport and the city," said Luciano Elias, the Rio 2016 hockey venue manager.

"Today hockey may not be such a well-known sport in Brazil, but after the Rio 2016 Games, this Olympic Centre can be a turning point for the sport in the country," said Rio mayor Eduardo Paes.

Hockey will be the fourth test-event at the Deodoro Olympic Park, where the equestrian, BMX and mountain bike tests have already been staged this year.

After the Games, the venues that already existed in Deodoro – the Olympic Shooting Centre, Olympic Equestrian Centre, Olympic Hockey Centre and Deodoro Aquatics Centre (for modern pentathlon) – will remain under the responsibility of the Brazilian Army, along with the new Youth Arena (basketball, modern pentathlon and wheelchair fencing). However, they will not be limited to use by the military, but will also host high-performance Brazilian teams and major competitions.

FIH site


---

Luxembourg: Small country, big ambition



Hockey is developing well in Luxembourg Photo: Hockey Club Luxembourg

Luxembourg might be a small European state in terms of size – it is the 179th largest country in the world and has a population of 563,000 – but it is certainly aiming to punch above its weight when it comes to hockey development.

Lee Godfrey, of the Luxembourg Hockey Federation, explains that, while hockey is not a sport that is traditionally played in schools in Luxembourg, getting more young people involved in the sport, either through schools or clubs, is a top priority of the Federation in the next few months.

The Federation has just made a giant step forward in hockey provision with the opening of a new artificial pitch in the Cessange area, which lies at the southerly end of Luxembourg City.

The new pitch will be available for schools and clubs to use and, although Luxembourg does not have a national team at the moment, an exciting initiative with local embassies means the pitch will definitely be seeing some international action.

"We are hosting a Nations Cup, which will cater for both adult and youth players," says Godfrey. "We do not have the final list but expect at least the Austrian, Belgium, Netherlands, British, German and French embassies to participate. We will have a mixed adult event on the Saturday and a youth tournament on the Sunday."

The Dutch embassy has offered to take a lead in organising and running the event and, if it goes well this year, then it will become an annual event.

Additionally, the Federation has partnered with two international players – ex Argentinian player and coach Adel Fuentes and the young Spanish star Ignacio Mesones. Fuentes will be offering strategic guidance and coaching advice while Mesones will be employed as a hands-on coach to work with the numerous youngsters who are interested in taking up the sport.

There are also plans for these two experienced hockey players to use their contacts and knowledge to attract international matches to the country, as a way of inspiring people to get involved.

Already the work is paying off. The Federation has been working with the international school in Luxembourg, St Georges, and a number of pupils have already joined in club sessions at the new pitch.

One of Mesones' main roles will be running coaching clinics for both young players and aspiring coaches. Not only will the youngsters receive coaching from a top player, but the coaches will receive hands-on, practical coaching tips.

This initiative, which will help develop a sustainable hockey structure for the future, is supported by the European Hockey Federation. The clinics will start their work in earnest in 2016, as the hockey scene has moved indoors for the next two months. Lee is hopeful that between 30-40 players will attend each session.

For more information about hockey in Luxembourg, click here.

FIH site


---

How hockey helps children develop: Universal Children's Day



Argentina's Gonzalo Peillat inspiring the next generation Photo: FIH/Frank Uijlenbroek

On Universal Children's Day FIH wants to highlight the important part that sport in general, and hockey in particular, can play in improving the lives of children around the world.

Across the globe, teachers and hockey enthusiasts are working to spread their love and enthusiasm for the game. Whether it is the hard work of Martial Kouadio who, after attending an FIH Targeted Assistance Programme (TAP) training course, has started a hockey project for more than 100 5-17-year old children in the Cote D'Ivoire; the Shahbad Academy in India which introduces young girls to the sport, or the work of the FreFlyerz in England, which works with young disabled hockey players.

All across the world, dedicated people are working, often in difficult circumstances, to introduce children to hockey.

Why is this important?
Hockey offers a healthy, active lifestyle. It is one of the best cardiovascular games you can play.

It involves running, sprinting, changing direction and large amounts of strength, power and flexibility.

For children, this form of exercise is great for developing muscles and bone strength, as well as coordination and balance.

The movements involved in hockey develop gross motor skills, such as the ability to sprint down the pitch, as well as the fine motor skills that come from intricate stick work.

The next important element of hockey is the social impact that playing a team game can have on a child's development.

Through playing as part of a team, children discover the value of working with others. In addition, friendships made on the hockey pitch can be life-long.

Through being part of a team, the youngsters learn how to communicate with their teammates; they figure out trust and cooperation and they learn responsibility, as they take roles within the team.

The lessons learnt on the hockey field transfer to skills they will need later in life – this includes the ability to win and lose.

Playing as part of a team can also have a huge impact upon the mental health of a child. They develop a sense of positive self-esteem and pride in achievements. These are all important for helping a child develop a balanced outlook on life as well as helping a child learn how to cope with stressful situations.

Finally, hockey can help develop mental agility. It is a fast sport with constantly changing situations. Through playing this type of game a child can learn how to think quickly, make decisions and adapt to changing circumstances.

Being part of a team game will also develop a child's powers of concentration – mastering a skill or completing an intricate practice calls on high levels of focus.

Hockey is also a sport of strategy. By understanding how one event can lead to, or create another outcome is an awareness that can be carried through into all other areas of life.

By introducing children to hockey from an early age, you are helping them develop and grow as well as providing them with a healthy, social activity with which they can engage throughout their lives.

To find out how you or your children can get involved in hockey, visit your national hockey association. Contact details can be found by clicking here.

FIH site


---

FIH Executive Board delighted with Hockey Revolution progress one year on



The FIH female Executive Board Members Photo: FIH

Following the conclusion of International Hockey Federation (FIH) Executive Board meetings in Lausanne, Switzerland last weekend, a number of key developments have been agreed highlighting the progress of the Hockey Revolution one year after launch.

During the meetings, two organisations were granted provisional membership of FIH – Bolivia (Federacion Boliviana De Hockey Sobre Cesped) and Ivory Coast (The Association Ivoirienne de Hockey).

These countries will now work towards gaining full membership at the FIH Congress to be held in Dubai, United Arab Emirates, on 12 November 2016.

In addition to that confirmation, the FIH Executive Board Members were presented with updates on the five major initiatives identified to reach the four big goals of the FIH 10 year strategy – the Hockey Revolution.

One of the major projects currently being undertaken by FIH is a review of the Event Portfolio. This has seen the Federation take a revolutionary approach to reviewing its current structure of events against some key objectives, which could lead to a significant change in the make-up of FIH events.

Following the latest presentations, a final decision on the new Event Portfolio will be made at the next FIH Executive Board meeting in April 2016. The aim is to introduce the new Event Portfolio at the beginning of 2019.

Governance was another key topic of discussion, particularly relevant in light of recent issues raised in the sports industry over recent months.

As part of the process of being an effective Board, FIH decided that an Executive Board evaluation would be undertaken every two years to assess how it was functioning and identify any issues that need addressing.

The second Executive Board evaluation took place earlier this year, with the findings presented to the Board revealing competent and transparent governance throughout all areas of the organisation.

It was also confirmed that a working group, led by FIH Board Member and International Olympic Committee Women In Sport Commission member Marijke Fleuren, will be set up to develop recommendations to improve gender equity at all levels of hockey.

This group will be tasked with ensuring the current 50-50 split of hockey athletes should be matched in all areas of the sport. Currently the FIH Executive Board has six female Members in addition to eight male Members.

Progress regarding the Foundation Board and the collaboration with The Hockey Museum was also presented along with an update on the Rio 2016 Olympic Games. This included details about the venue construction, which is progressing well ahead of the test event due to take place there between 24-28 November.

Prior to the Board meetings, Continental Federations were invited to meet with FIH between 12-13 November. They received updates on the Hockey Revolution and delivered their annual progress reports to the FIH Executive Board.

Overall, progress was seen across all five major initiatives underpinning the Hockey Revolution, which provided evidence of FIH's strong commitment to good governance.

Speaking of these meetings, FIH President Leandro Negre said: "With our 10 year strategy aimed at making hockey a global game that inspires the next generation launched just over a year ago, the FIH Executive Board is very excited to see just how far the sport has come in such a short space of time."

He continued: "FIH is leading the way in many areas, particularly in terms of good governance and gender equality. Everyone involved in our sport should therefore be incredibly inspired by what we have achieved so far and determined to continue building upon the great work already undertaken as part of the Hockey Revolution."

For more information about FIH's 10 year strategy, the Hockey Revolution, click here.

FIH site


---

Hockey confederation get RM20mil boost from TNB

by Aftar Singh



Datuk Wira Roslan (third left) and Datuk Subahan shaking hands after the sponsorship agreement between TNB and MHC at TNB headquarters in Bangsar.

KUALA LUMPUR: The Malaysian Hockey Confederation (MHC) have received a whopping RM20mil sponsorship boost from Tenaga Nasional Berhad (TNB) for five years – from 2015-2019.

This is the biggest sponsorship ever received by the MHC since they were formed on Aug 15, 1953.

MHC will receive RM4mil a year for the next five years from TNB, who have forged a relationship with MHC since 2006.

TNB had provided sponsorships worth a total of RM15mil from 2006 until 2014.

A Memorandum of Understanding (MoU) was signed by MHC president Datuk Seri Subahan Kamal and TNB chief corporate officer Datuk Wira Roslan Abdul Rahman at the TNB headquarters in Bangsar.

Subahan, who became the MHC president in May, expressed gratitude to TNB for its generous sponsorship.

"This is a huge step for us in the MHC ... to run things well for the next five years," he said.

"Since taking over the MHC management in May, we've had to settle million of dollars in debts. We also need the money for junior development, hiring the best coaches for the national teams and exposing players in international matches and tournaments.

"We launched our blueprint two months ago and it focused on four main aspects – awareness of hockey in Malaysia, good governance to settle our debts, the national and junior teams' performances and the administration and coaching staff of MHC."

Subahan said that RM1.9mil would be allocated for the national men's and women's teams and the Malaysia Hockey League (MHL).

"TNB will be the main sponsors for the MHL and they will also, for the first time, be the main sponsors for the Malaysian Junior Hockey League (MJHL) from next year in January, for which we have allocated RM700,000," he said.

"The rest will be for grassroots development, which is important to churn out quality players."

Roslan said that TNB are glad to sponsor MHC to help them bring back hockey's glory days.

"Hockey is the number one sports in Malaysia and we are also proud that 30 of our staff have represented Malaysia in national senior tournaments since 2000," he said.

"A few of our employees are part of the national team, like goalkeeper S. Kumar and forward Shahril Saabah.

"We hope to continue sponsoring the MHC after our five-year term ends in 2019."

The Star of Malaysia


---

Hockey president puts his job on the line for 2020 Olympic qualification

by Aftar Singh




KUALA LUMPUR: Malaysian hockey has suffered two massive body blows.

First, the senior team failed to qualify for the 2016 Rio de Janeiro Olympics.

Then, on Thursday, the National Juniors failed to win a place in next year's Junior World Cup.

This has prompted Malaysian Hockey Confederation (MHC) president Datuk Seri Subahan Kamal to boldly promise: "I will leave the MHC if we don't qualify for the 2020 Olympics!"

The National Juniors were two minutes away from securing a place in the Junior World Cup, to be held in New Delhi, India.

They were leading 3-1 against South Korea in their Junior Asia Cup quarter-final match in Kuantan on Thursday when they suffered a late collapse, allowing the South Koreans to score two goals in the last two minutes for a 3-3 draw – and force the game into a penalty shootout.

South Korea won the shootout 4-1.

A win would have secured Malaysia a place in the Junior World Cup.

"I'm heartbroken and very sad ... the whole MHC administration is saddened by the team's failure," said Subahan.

"We take responsibility for the team's failure ... we had high hopes of the team after they had defeated the likes of Australia, Pakistan and Argentina in the Sultan of Johor Cup (last month).

"I met the players before the match against Korea and told them that we had to win to qualify for the Junior World Cup.

"We had a 3-1 lead, but we gave away two goals.

"There's something seriously wrong with the team ... to give the match away with two minutes left on the clock.

"This is one aspect we will have to seriously look into ... we cannot continue making the same defensive errors in crucial moments and lose.

"We're not going to make any decisions yet on the team and the coaches.

"After the tournament, the coaching committee will sit down to conduct a post-mortem on not only the coaches but the players as well ... to see what went wrong.

"We will ask National Juniors coach A. Arulselvaraj to submit his report."

The Star of Malaysia


---

Irish U18 Girls Squad




From the two recent weekends of trials, following the 2015 Interpro series in Dublin, the U18 the squad has been reduced to the players listed below as preparations continue for the EuroHockey U18 Championship in Cork from 24-30 July 2016

The U18 Coach Steven Arbuthnot said "I would like to congratulate and thank all the girls for their exemplary efforts during the trials and would commend them all on training to such a high standard in difficult conditions over recent weeks.  The new training squad below will be in action in the upcoming two Sundays (29th November and the 6th December) with training and competing in the U21 interpro series being held in Dublin. Players selected within this new training squad below will be contacted with arrangements via email in due course."

We are delighted to announce Leah Spillane has just come on board as Team Manager and joins Head Coach Steven Arbuthnot and Keith Crawford as the Assistant Coach.
| | | |
| --- | --- | --- |
| 1 | Elizabeth Murphy (GK) | St Killians / Hermes |
| 2 | Ellen Curran | Loreto Foxrock /Hermes |
| 3 | Michelle Carey | Colaiste Iosagain / Railway Union |
| 4 | Ava Beatty | Alexandra College / Old Alex |
| 4 | Suzie Kelly | Mt Anville / Hermes |
| 6 | Hannah McLoughlin | Loreto Foxrock /Loreto |
| 7 | Sarah Torrans | Loreto St Stephens Green / Corinthian |
| 8 | Niamh Carey | Colaiste Iosagain / Railway Union |
| 9 | Freya McDermott | Alexandra College / Old Alex |
| 10 | Issy Delamer | Alexandra College / Suttonians |
| 11 | Grace McLoughlin | Loreto Beaufort / Railway Union |
| 12 | Sophie Roopnarinesingh | Alexandra College / Old Alex |
| 13 | Susie Osborne | Ursuline Thurles / Carlow |
| 14 | Emma Buckley (GK) | Mount Mercy / Cork Harlequins |
| 15 | Kathryn Buckely (GK) | Villiers / Fermoy HC |
| 16 | Michelle Barry | Ashton HC |
| 17 | Roisin Begley | Laurel Hill Colaiste / Catholic Institute |
| 18 | Jenny Clien |  Crescent Comp/ Catholic Institute |
| 19 | Megan Todd (GK) | Belfast High School / Pegasus |
| 20 | Erin Getty | Belfast Royal Academy / Randalstown |
| 21 | Kerrie Burns | Portadown College / Lurgan |
| 22 | Kathryn Edgar | Lurgan College / Lurgan |
| 23 | Alana Doyle | Royal School Armagh / Ards |
| 24 | Hannah Irwin | Royal School Armagh / Ulster Elks |
| 25 | Jane Kilpatrick | Wallace High School / Lisnagarvey |
| 26 | Jessica McMaster | Belfast High School / Ulster Elks |
| 27 | Rosie Henderson | Friends / Pegasus |
| 28 | Rachel Burns | Rainey Endowed / Rainey |
Irish Hockey Association media release


---

Qualification Procedure for Pan American Games 2019

The Pan American Hockey Federation (PAHF) is keeping the premise that all its member countries should have the opportunity to qualify for the Pan American Games through a regional tournament held during the two years immediately preceding the Pan American Games year.

The following is the official qualification procedure for the men and women's hockey tournaments at the XVIII Pan American Games to be held in Lima, Peru from July 26 to August 11, 2019:

1. Host country (Peru);

2. The two (2) countries ranked at first and second places at the X South American Games 2018 - Cochabamba, Bolivia;

3. The two (2) countries ranked at first and second places at the XXIII Central American and Caribbean Games 2018 – Barranquilla, Colombia;

4. The next two (2) countries not already qualified under paragraphs 1 - 3 above, based on final rankings at the V Pan American Cup 2017;

5. For both men and women tournaments, if United States and/or Canada are not already qualified under paragraphs 1 to 4 above, they will be engaged in a play-off competition between themselves and a third team not yet qualified based on final rankings at the V Pan American Cup 2017. The date and site for this competition will be determined by the PAHF.

6. The two (2) reserve teams will be the losers of the playoff competition referred in the paragraph 5 above. If United States and Canada are already qualified, the next better positions country in the V Pan American Cup 2017/Pan American Challenge 2015 will be named as reserve(s).

Notes:

(a)  If there are less than four participants in either the X South American Games 2018 or the XXIII Central American and Caribbean Games 2018, an additional country will qualify based on the final rankings of the V Pan American Cups 2017.

(b)  If USA and CAN are qualified under paragraphs 1 – 4, the eighth qualified team will be the next placed country of the V Pan American Cups 2017.

(c)  If the play-off competition referred at paragraph 5 above eventually happen, all costs for participating in the same are to be borne by the respective National Associations. The PAHF will be responsible for covering the cost of neutral officials for such competition.

Pan American Hockey Federation media release


---

Hockey Ireland Seeks Sponsorship & Communications Agency

Hockey Ireland has enjoyed a record breaking year with the senior men's squad qualifying for the Olympic Games for the first time in 108 years. The so-called "green machine" also won a European Championship bronze medal for the first time in history. "This is an exciting time for hockey in Ireland and Hockey Ireland is looking for an agency partner to assist in tapping into the sponsorship potential the senior men's team hold, and further increase its communication reach," according to a spokesperson.

The team will be the first Irish hockey team to compete at an Olympics since 1908 and the first team of any sport to represent Ireland at an Olympic Games since 1948.

Ireland will join teams from Brazil, India, Germany, Canada, Spain, Belgium, Great Britain, Argentina, Netherlands and Australia in the Olympics, which start on August 5th 2016.

Agencies interested in pitching for the account should click here

Irish Hockey Association media release