All the news for Friday 6 November 2015

SASCOC – Olympic Dream Killers




Another impressive African Hockey Championship for the SA Hockey teams – another let down by the South African Sports Confederation and Olympic Committee.

Last weekend, both the SA men and ladies Hockey teams became champions of Africa by winning the African Hockey Championships with relative ease. According to the IOC (International Olympic Committee) this means they have qualified for the Rio2016 Olympics and will be invited to the showpiece event. Great news, right?

Enter SASCOC.

Like Dementors in the night, stealing happiness from anyone who comes close, SASCOC came in and announced that African Qualification will not be enough to send our men and ladies to Rio. The will decline the IOC's invitation. Years of hard work to qualify and BOOM, just like that, their dreams are crushed. Most of our Hockey players dedicate their lives to the sport, working 9-to-5 jobs and then still training to qualify for tournaments like the Olympics where they face professional teams – teams who's JOB it is to play Hockey.

How much do SASCOC care about the hard work and broken dreams of these players? Zero. Nothing.

What grinds me the most is this: Hockey is one of the biggest growing sports in the world. In South Africa, interest in the sport grew from 18% in 2013 to 28% this year – that's quite a jump. Kids all over SA are picking up sticks and falling in love with the game – what sort of message are we sending to these kids? "Don't bother, we won't send you to major tournaments one day, might as well give up now"?

Are we really ok with that?

Whether you like Hockey or not, you should do South African Hockey a favour and sign the petition below, to #SendHockeyToRio – let's make a statement as a sport-loving country that we won't stand idle and watch SASCOC's Dementors crush sport stars' dreams.

Sign the petition – click here.

To further spread the word, share this post or simply paste this into your social media statuses: SASCOC – Olympic Dream Killers. Help us to #SendHockeyToRio – read more here: www.thepundits.co.za/sascoc-olympic-dream-killers

Even if this petition does not work – at least we know we tried. And more importantly, at least we showed the SA Hockey men and ladies and all future players that the South African public appreciates what they do.

The Pundits


---

Petition pleads Olympics case for hockey teams

by David Isaacson

A TEACHER at Diocesan College in Cape Town has authored a petition aimed at asking the SA Sports Confederation and Olympic Committee (Sascoc) to reconsider its decision not to select national men's and women's hockey teams for next year's Olympic Games.

By Thursday morning the online petition, which was created on Tuesday, had more than 5,600 supporters, well on its way to the 10,000 signatures Cape Town-based Campbell Smith wants before submitting it to the national Olympic committee.

The teams won the African championships, which double as the qualifier for the Rio Games next year, but Sascoc's policy is not to accept qualifying routes through Africa for any codes.

"The SA hockey men and women have made incredible personal and financial sacrifices to get where they are and this is a massive slap in the face for these elite athletes," wrote Smith, the brother of national player Austin Smith, in the petition. Economics teacher Smith is a former provincial player himself who coaches.

"The guys I coach — the Olympics is the pinnacle of hockey. That's what they aspire to," he said.

Smith believes not sending teams to the Games will hurt a sport that is experiencing huge growth at school level.

In the petition, he cites a statistic that interest in hockey in SA has grown from 18% in 2013 to 28% this year.

He hopes the petition will be handed over to Sascoc in Johannesburg by early next week.

The petition, entitled, "Send the SA hockey teams to Rio 2016", can be found on www.change.org.

It is, however, unlikely that Sascoc will change its mind, especially after issuing a media statement last week reiterating its stringent selection policy.

Business Day


---

Indian Hockey Team has to learn quickly: Sardar

Reveals the team will soon be working with a sports psychologist.

With nine months left for the Olympic Games, Sardar Singh believes that India has to learn quickly if it is to find success in Rio de Janiero.

"We don't have a lot of time left. The boys are improving day by day in training sessions. But everyone has to be aware of his responsibilities in the team," he said at the National camp at the Sports Authority of India here.

India will face Australia in a three-match Test series later this month, ahead of the Hockey World League Final in Raipur. "The result of the Australia series will have no impact on us," Sardar said.

"We don't have much time. We have 20-25 matches left before the Games against quality opponents. We'll have to play each match like we're already playing in the Olympics. We need to do well in the HWL. It will help us recognise our mistakes now, nine months before the Olympics."

Defence not a worry

The Indian captain stated that the team's defence did not worry him. "Defence is not just about the back four. People think our defence is weak. It is a team game and the defence starts from the front. The furthest man forward is the first line of defence. Our defence will work well if all the forwards and midfielders support them and communicate well," he said.

Although pleased with victory in the New Zealand series, Sardar felt sterner tests would be a truer indication of the team's standing. "If want to win a medal (at the Games), we have to beat good teams like Australia, the Netherlands and Germany," he said.

"The coach is concentrating on balancing defence and attack. We also have meetings after each session. We are learning our responsibilities in certain situations — how to attack when we are one man less and how to overwhelm the opponent when they are one man down."

The 29-year-old revealed that the team would soon be working with a sports psychologist, something that has been tried previously.

"It was thought that we needed a psychologist," he said. "Hockey India said they would provide one. We had a couple of meetings and I understand that the SAI psychologist will soon work with us on a trial basis."

The Hindu


---

Surjit Hockey: Railways asserts its supremacy

s2h Team




Jalandhar: Reigning National Champions Indian Railways asserted their contemporary domestic supremacy again by winning their maiden top honours in the the 32nd Indian Oil Surjit Cup played with much fanfare this week at Jalandhar, Punjab.

Indian Oil, the defending champions, fought well, but went down 3-4 in a game witnessed by full stands.

Malak Singh of Indian Railways got Mohinder Singh Tut Memorial Cash Award of Rs.25000 having been adjudged the Best Player of tournament.

The Winners bagged Rs 5 Lakhs and Winners Trophy and Runners up get Rs 2.50 Lakh Cash and Runners Up Trophy.

Both teams played defensively beginning. In 13th minute Indian Oil captain Deepak Thakur sounded the board from pass of Inderjit Chadha (1-0). in the next fifth minute, Indian Railways' captain Vinod Kumar equalized (1-1). A minute before the lemon break, Malak Singh put Railmen ahead with penalty corner conversion (2-1).

In second half's Indian Railways struck two goals in a row. In 43rd minute Malak Singh and 45th minute Affan Yusuf scored the field goals (4-1). In 55th minute Indian Oil bounce back their Sunil Yadav netted the ball from the pass of Inderjit Chadha (2-4). In 63rd minute Indian Oil's Captain Deepak Thakur scored the field goal to reduce the margin (3-4).

Stick2Hockey.com


---

Railways run away with title

Beat defending champions Indian Oil 4-3 to win maiden title

Rachna Khaira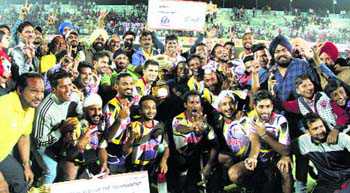 Railways' players celebrate after winning the title on Thursday. Tribune Photo: Sarabjit Singh

Jalandhar: Railways defeated defending champions Indian Oil 4-3 in a thrilling final to win the Surjit Hockey Tournament played at the Olympian Surjit Hockey Stadium here on Thursday.

Playing for the first time in the tournament, Railways became instant crowd-favourites and outplayed most of the teams on their way to the title win.

The winners pocketed a cash award of Rs 5 lakh. Malak Singh, who scored a brace in the final, was adjudged the Man of the Tournament for his consistent show.

It was Indian Oil who took the lead through Olympian Deepak Thakur in the 13th minute. However, four consecutive goals by Railways broke the back of the defending champions. Railways captain Vinod Kumar equalised in the 18th minute before Malak gave them the lead in the 34th minute.

In the second half, Railways struck two quick goals, through Malak (43rd) and Affan Yusuf (45th), to take a huge lead.
 
Indian Oil tried their best but could not match the fast pace of the Railways players. Sunil Yadav reduced the deficit in the 55th minute and Thakur brought the team back in the game with his second goal in the 63rd minute.
 
But Railways managed to hold on to pip the four-time winners. Indian Oil had to be content with the runners-up trophy for the sixth time and Rs 2.5 lakh. A grant of Rs 10 lakh has been given to the Surjit Hockey Society for successfully running the tournament for the last 32 years.

The Tribune


---

Players of the Year announced

Jodie Kenny & Eddie Ockenden take top honours at awards night




Jodie Kenny and Eddie Ockenden were the big winners at Hockey Australia's glamorous Hall of Fame and Awards in Perth on Thursday evening, scooping the women's and men's Australian Player of the Year titles.

Penalty corner ace Kenny (pictured above) was a double award winner on the night as she picked up the Hockeyroos' top goal scorer award courtesy of her 22 goal tally, while three-time Olympian Jamie Dwyer was crowned the Kookaburras' top goal scorer with 16 goals.

Three legends of the game - Don Prior, Michael York and Nikki Hudson (née Mott) - were inducted into the Hockey Australia Hall of Fame, joining just 35 former players and officials who have gone before them. 

One such former player and coach, Ric Charlesworth, was made a Life Member of Hockey Australia for his lengthy and ongoing commitment to the sport. Charlesworth was one of the inaugural members of the Hall of Fame inducted in 2008.   
One of the Hockeyroos' most consistent performers, Kenny took top honours on the back of a hugely successful 12 months that have seen her help lead the Australian women to Olympic Games qualification and reach the gold medal finals of the Champions Trophy, Hawke's Bay Cup and Oceania Cup.

Her ten goal haul at the World League Semi Final in Antwerp, the Olympic qualifier, included four in one game against India and saw her crowned as the tournament's top scorer. Just six months earlier she took the same accolade at the Champions Trophy in Argentina where the Hockeyroos lost in the final to the hosts on a shoot-out.

Speaking about Kenny, Hockeyroos Head Coach Adam Commens said, "Jodie is one of the most outstanding central defenders in world hockey at the moment. Her ability to defend well and make tackles, coupled with her highly effective distribution of the ball makes her a complete player.

"Her specialty skill of the penalty corner drag flick is a very valuable part of our team's armoury and with her goals this year she is someone who has proved her value to the team on many occasions. She has been incredibly consistent and that is down to her hard work behind the scenes. She has shown real diligence in making sure she has improved that part of her game, not just this year but over the past three years."

No stranger to success, Tasmanian Eddie Ockenden has enjoyed another stellar year with the Kookaburras. At the end of 2014 he was named on a five-man shortlist for World Player of the Year, a title he narrowly missed out on to teammate Mark Knowles.

Since then he has been an ever present leader at the heart of a continually developing Kookaburras team, helping Australia's men to qualify for next year's Olympic Games courtesy of a first place finish at the World League Semi Final, and most recently, winning another gold medal at the Oceania Cup.

For top scorer Jamie Dwyer, 2015 marked a highly successful return to the Kookaburras team. He became Australia's outright most capped player ever when he played his 322nd career international in April, against Canada at the Sultan Azlan Shah Cup.

His eight goals in the tournament marked a return to form for the 36 year-old forward and earned him the tournament's top scorer award. In June he finished amongst the highest scorers at the World League Semi Final where his tally of four goals was bettered by only three players.

Congratulating Eddie Ockenden (pictured below), Kookaburras Head Coach Graham Reid said, "He reads the game as well as anyone I've seen. He has such good all round skills, he's world class. He's someone who is reliable and calm, but some of the things he can do with the ball are incredible. From a point of view of just watching him play, the players enjoy his skill level and that ability to change a game.




"He's got a great engine, too. He can run all day so he gets through a lot of miles. That's another aspect of why he's so good, he can be all over the pitch. You mix his ability to read the play with his ability to get there and I think that's one of the key parts of his game. As a runner-up last year in the international player of the year awards, it just shows you the consistency he's playing with as he's getting older. He's always threatened to do that and I love seeing it."

On top scorer Jamie Dwyer, Reid added, "Jamie has scored some great goals this year. It's been a good period over these last 12 months. Jamie and I had a good discussion after the Commonwealth Games, working out what he is really trying to achieve, what I need from him and what the team needs, and I think we're in a good place where we both understand each other.

"We talked about him treating it more like he was a 19 year-old than a 36 year-old and that passion and him needing to play well and be up and about, but having the experienced head on his shoulders. He's going along nicely, there's still ten months to go [to the Olympic Games] and selection is still up in the air so the important part is we don't get ahead of ourselves, and he's not getting ahead of himself."

There was also recognition on the night for those athletes that made milestone appearances with the presentation of pockets to those making their international debuts and those reaching 50, 100, 150, 200, 250 and 300 appearances for Australia.

There were special tributes to retired athletes Jayde Taylor and Russell Ford, who left the Hockeyroos' and Kookaburras' programs during the year, and to a number of former staff who departed Hockey Australia in the past 12 months.

HALL OF FAME INDUCTEES

Donald Prior
Donald (Don) Prior is the best credentialled umpire produced by Australian hockey. In a career spanning 18 years at the international level, Don officiated at four World Cups from 1986-1998 and four Olympic Games from 1988-2000. Four of these major tournaments saw him in charge of gold medal matches. He was simply the best, and continues to assist with developing our umpires.

Michael York
Michael York played 281 games for his country in a career spanning four Olympiads from 1988-2000. He won a silver (1992) and two bronze medals (1996, 2000) at the highest level. A quiet and unassuming man, he had consummate and easily expressed skills, especially his brilliant tackling and accurate passing. A more than worthy member of the Hall of Fame.

Nicole Hudson (Née Mott)
Nicole (Nikki) Hudson first played for Australia in 1993 and enjoyed a career spanning 303 games before her retirement in 2009. While the pinnacle of her achievements was undoubtedly a gold medal win at the Sydney Olympics in 2000, she won gold medals in a World Cup (1998), three Champions Trophies (1995, 1997, 1999) and two Commonwealth Games (1998, 2006). A fast and elusive attacking player who scored 99 times, she is clearly one of the most exciting players from an era of dominance for Australia's Hockeyroos.

LIFE MEMBER INDUCTEE

Dr Richard Charlesworth
The contribution made by Dr Richard (Ric) Charlesworth to Australian hockey is simply unique. As a player, coach and mentor, his career is unparalleled in our sport. It is hard to conceive that we will see his like again. As a player he was selected for five Olympic Games, winning silver in 1976; he won World Cup gold (1986) and two bronze medals (1978, 1982) and was the Best Player at the 1986 World Cup.  As a coach he led the Hockeyroos to two Olympic gold medals (1996, 2000), two World Cup golds (1994, 1998) and a Commonwealth Games gold (1998), amongst others. As Kookaburras coach he led the team to Olympic bronze (2012), back-to-back World Cup wins (2010, 2014) and a Commonwealth Games gold (2010).

FULL LIST OF AWARD RECIPIENTS

Hall of Fame inductee: Nicole Hudson (nee Mott)

Hall of Fame inductee: Donald Prior

Hall of Fame inductee: Michael York

Life Member: Dr Richard Charlesworth

Hockeyroos Player of the Year 2015: Jodie Kenny

Hockeyroos Top Goal Scorer 2015: Jodie Kenny (22 goals)

Kookaburras Player of the Year 2015: Eddie Ockenden

Kookaburras Top Goal Scorer 2015: Jamie Dwyer (16 goals)

Hockeyroos debutants: Laura Barden, Kate Hanna, Madison Fitzpatrick, Savannah Fitzpatrick, Stephanie Kershaw, Renee Taylor

Hockeyroos 50 games: Brooke Peris, Ashlee Wells

Hockeyroos 150 games: Anna Flanagan, Georgia Nanscawen

Hockeyroos 200 games: Teneal Attard

Hockeyroos 300 games: Madonna Blyth

Hockeyroos retirements: Jayde Taylor

Kookaburras debutants: Joshua Beltz, Tom Craig, Tim Cross, Matthew Dawson, Blake Govers, Leon Hayward, Flynn Ogilvie, Dylan Wotherspoon

Kookaburras 50 games: Daniel Beale, Tyler Lovell, Trent Mitton, Tristan White, Aran Zalewski

Kookaburras 100 games: Joel Carroll, Tim Deavin, Matt Gohdes, Kieran Govers, Glenn Simpson, Matthew Swann, Glenn Turner

Kookaburras 150 games: Kiel Brown, Chris Ciriello, Simon Orchard

Kookaburras 200 games: Fergus Kavanagh

Kookaburras 250 games: Mark Knowles, Eddie Ockenden

Kookaburras 300 games: Jamie Dwyer (reached 300 games in 2014 but acknowledged in 2015 awards as unable to attend in 2014)

Kookaburras retirements: Russell Ford

Hockey Australia media release


---

Stairs named CIS field hockey Player of the Year

National program athletes well-represented in year-end awards

Shaheed Devji

Canadian Women's National Program member and Ktichener, Ontario native Tegan Stairs has been named the 2015 Canadian Interuniversity Sport (CIS) field hockey player of the year.

Stairs, the University of Toronto Varsity Blues forward, follows in the footsteps of her sister Brienne, who also won the Liz Hoffman Award for CIS Player of the Year as a Guelph Gryphon in 2009 and 2010. Stairs' win also makes it back-to-back winners from Toronto's Varsity Blues as her teammates and fellow Canadian Senior Development Squad (SDS) member Amanda Woodcroft was the winner last year.

In winning the award, Stairs puts the cap on one of the most decorated careers in CIS field hockey history. A former Guelph Grypon of two years before joining the Varisty Blues won rookie of the year honours in her first season, is a four-time All-Canadian and has been an OUA all-star in every season she has played.

This season, in 10 regular seasons games, Stairs led the Blues with 13 goals and helped them to an 11-1 record en route to taking part in the Championship tournament this week.

UBC's Hannah Haughn, a member of the Canadian Women's National Team, was the Canada West nominee for CIS most valuable player.

The winners of all the 2015 CIS women's field hockey awards were announced at the All-Canadian Banquet held at the Harbour Towers Hotel in Victoria ahead of the 2015 Women's Field Hockey Championship, set to take place in Victoria from November 5-8.

READ: National Team talent on display at CIS Women's Field Hockey Championship

Canadian SDS and University of Victoria Vikes defender Kathleen Leahy has also been recognized. For her outstanding contribution on and off the field, Leahy wins the Gail Wilson Award.

Denise Pelletier, who represented Canada when umpiring at the 2015 Pan American Games in Toronto this past summer, was named the CIS Field Hockey Official of the Year.

Stairs, Leahy, and Pelletier are joined by Victoria head coach Lynne Beecroft, who receives the Marina van der Merwe Award for coach of the year, and Calgary midfield Sabrina Wong who takes home the Joyce Slipp Award for rookie of the year.

The all-Canadian team was also announced on Wednesday

Joining Stairs, Haughn and Leahy, as All-Canadians were three more Canadian National Program athletes. Calgary keeper Beckett Frisch, Waterloo midfielder Stephanie Snyder, and Toronto midfielder Amanda Woodcroft, all members of the canadian Senior Development Squad, join defender Jessica Britton and midfielder/forward Janelle Rice of Calgary, midfielder Erin Houle and forward Allison Chute of Guelph, midfielder Kylie Nabata of McGill on the 11-member unit.

Like Stairs, Woodcroft (2011-2012, 2014-2015) and Haughn (2012-2015) became four-time all-Canadians. For their part, Frisch (2014, 2015), Snyder (2014, 2015), Chutte (2014, 2015), Houle (2013, 2015) and Leahy (2013, 2015) were all honoured at the national level for the second time.

The 2015 CIS - Field Hockey Canada championship gets underway Thursday at the University of Victoria and culminates Sunday at 3 p.m. Pacific Time with the gold-medal final. All eight matches from the four-team tournament will be webcast live on CIS-SIC.tv.

Field Hockey Canada media release


---

Canterbury face rivals East Grinstead



Canterbury in defensive action against Clifton during the 2015-16 season. Credit Peter Smith

Third-placed Canterbury overtook East Grinstead after the last round of matches in the Investec Women's Hockey League Premier Division, and the two sides face each other this Saturday.

Losing play-off finalists last season, the Kent side won 3-1 a fortnight ago while East Grinstead lost by the same margin and slipped to fourth. With Holcombe hot on their heels, both sides will be desperate for points to maintain their place in the top four.

"We know it's going to be a tough game," said Canterbury coach Jen Wilson. "East Grinstead are new to the Premier Division but they have been very successful, so we know it's going to be a hard test.

"We're not focusing on the table too much, but it's interesting to see that some of the teams that have normally been mid-table have done well, and others who might've expected to be towards the top are not, so it's shaping up to be an interesting season.

"I'm content with where we are at. We're in a strong position, but we want to make sure we power on into Christmas and keep it going.

"We haven't had a full strength squad so far this season, but it has given a great opportunity to other players to show what they can do."

In other top-flight action, leaders the University of Birmingham play host to Clifton, while second-placed Surbiton will want to keep pace with Birmingham when they go to Holcombe.

In their search for a first win, Reading are on the road at Bowdon Hightown, while Leicester head to Buckingham who are bidding to climb away from the bottom end of the table.

In the Investec Conference East, leaders Slough take on Chelmsford at Upton Court Road as they aim to get back to winning ways after dropping their first points last time out. And second-placed Cambridge City host Harleston Magpies.

Despite losing their first match a fortnight ago, Wakefield still lead the Investec Conference North. They visit Belper, while the University of Durham will want to preserve second spot when they take on third-placed Loughborough Students in Leicestershire.

New leaders Sutton Coldfield host Gloucester City in the Investec Conference West, while former leaders Swansea City are also at home, against Bristol Firebrands.

Investec Women's Hockey League (Saturday, November 7 2015):

Investec Premier Division
Buckingham v Leicester 12:00
Holcombe v Surbiton 12:00
Univ of Birmingham v Clifton 12:30
East Grinstead v Canterbury 13:30
Bowdon Hightown v Reading 13:45

Investec Conference East
Sevenoaks v Maidenhead 17:00
Cambridge City v Harleston Magpies 12:30
St Albans v Hampstead and Westminster 13:00
Slough v Chelmsford 13:00
Ipswich v Wimbledon 14:30

Investec Conference North
Belper v Wakefield 12:00
Loughborough Students v Univ of Durham 12:30
Beeston v Brooklands Poynton 12:00
Liverpool Sefton v Ben Rhydding 12:30
Springfields v Whitley Bay Tynemouth 14:00

Investec Conference West
Swansea City v Bristol Firebrands 12:00
Trojans v Isca 12:00
Olton and West Warwicks v Oxford Hawks 12:00
Univ of Bristol v Stourport 13:00
Sutton Coldfield v Gloucester City 14:00

England Hockey Board Media release


---

Crucial clash in Men's Premier Division



Surbiton's Michael Watt and Lewis Prosser in action against Cannock in the 2015-16 season. Credit Tim Reder

Leaders Surbiton travel to second-placed Holcombe in what could prove to be a crucial match to both side's title hopes in the Men's Hockey League Premier Division on Sunday.

The two sides are both unbeaten, but with Surbiton having won all seven of their league matches so far they will start as slight favourites.

Surbiton Head Coach Todd Williams said: "It's great to be top of the league, but that wasn't part of the grand plan for us at this stage. We're aiming to be playing our best hockey at the end of the season so we're strong in the play-offs.

"It's good to be top of the table, but we haven't played Holcombe or Wimbledon yet. There are so many strong teams in this league - Hampstead have great depth and East Grinstead are getting stronger every week – so we're just taking it match by match."

There is also an important match at Kings College School in New Malden, where last season's champions Wimbledon host Reading. Third and fourth respectively, the two sides are separated by just one point.

Cannock are on the road to Brooklands Manchester University, while Hampstead and Westminster take on Beeston at Paddington Rec. And in the day's other Premier Division match, East Grinstead are at home against Canterbury.

Conference East leaders Richmond go to Oxted as they aim to keep their unbeaten record intact, while second-placed Sevenoaks visit Brighton and Hove.

In the Conference North, Loughborough Students go in search of their seventh win in eight games at Preston, while the University of Durham – who climbed to second following their win over Doncaster two weeks ago – head to Wakefield.

And table-topping Cardiff and Met travel to third-placed Indian Gymkhana in the Conference West, while Cheltenham will aim to preserve second spot with a home game against the University of Birmingham.

Men's Hockey League (Sunday, November 8, 2015):

Men's Premier Division
Brooklands Manchester Univ v Cannock 14:00
Wimbledon v Reading 14:00
Hampstead and Westminster v Beeston 14:00
Holcombe v Surbiton 14:30
East Grinstead v Canterbury 14:45

Men's Conference West
Univ of Exeter v Fareham 12:30
Indian Gymkhana v Cardiff & Met 14:00
Cheltenham v Univ of Birmingham 12:30
Chichester Priory Park v Isca 13:30
Guildford v Team Bath Buccaneers 14:00

Men's Conference North
Olton and West Warwicks v Doncaster 13:30
Deeside Ramblers v Bowdon 13:30
Sheffield Hallam v Lichfield 13:30
Preston v Loughborough Students 14:00
Wakefield v Univ of Durham 14:00

Men's Conference East
Teddington v Bromley and Beckenham 12:30
Oxted v Richmond 12:45
Brighton and Hove v Sevenoaks 13:00
Cambridge City v West Herts 13:00
Harleston Magpies v Southgate 14:00

England Hockey Board Media release


---

Double Delight for Hockey Coach Russell



Wendy Russell in coaching action

With awards season in full swing nominations are coming in left, right and centre for various categories and various prizes soon to be handed out. Wendy Russell, a hockey coach from Brighton could be one of those people who need to make some room in her trophy cabinet very soon.

She has been nominated for not one, but two awards. The first is for the Community Award at the prestigious SportsWomen of the Year Awards, whilst the second is Disability Coach of the Year in the UK Sport Coach Awards.

For those unfamiliar with her work, Wendy Russell has revolutionised the way deaf or hard of hearing young people take part in hockey. Prior to the start of her work there were no clubs running sessions for deaf or hard of hearing people. When the sessions began, they were the only ones of their kind in the whole of Great Britain. Russell explains the reasoning behind getting the sessions off the ground:

"In Sussex the only deaf only sports groups were football, cricket and multi-sports groups. If deaf people wanted to take part in any other sports they have to go to hearing clubs. For many deaf young people interacting with hearing players by attending hearing clubs can be intimidating and so deaf only clubs are a great way to encourage people to be more active." she adds "I decided that I wanted to develop hockey sessions for deaf only players. I applied for Sportivate Funding and started Hove Hockey Hot Stars; sessions specifically for deaf players, their friends and family."

With funding in place and armed with her knowledge as a qualified England Hockey Coach, she seemed well set to get the sessions started, however the absence of any British Sign Language (BSL) signs specific to hockey she encountered a problem that would definitely need to be overcome:

"I searched the internet to see whether there were any existing signs language to support the delivery of hockey and found that the only sign which existed was for the word hockey its self. I decided that to be able to communicate with players we needed to develop some specific sign language."

"I worked with a deaf media company; local deaf and sensory units and local schools to create over 40 hockey specific signs to enable club volunteers to use during sessions. Although I am partially deaf, before starting these sessions I had little knowledge of sign language. I found that the signs created were simple to learn and use as many mimic the action of the skill its self plus I learnt a lot from the players themselves."

The hockey specific sign language is now being rolled out by UK deaf sport, National Deaf Children's Society (NDCS) and England Hockey, and will be used across the country. Teachers, coaches and participants now have access to hockey terminology across the UK, and are now in a position to facilitate other deaf or hard of hearing people to play hockey.

Despite the huge strides made thanks to the work Russell has undertaken, she remains typically humble and understated. When asked about her nominations she seems almost embarrassed:

"I was shocked when I had heard about the nominations. I love working with this group of players, we have such fun I hope these nominations encourage more clubs to start deaf hockey sections as we would love to play against other deaf teams."

The first of the awards, the Community Award will be announced this Friday at the SportsWomen Awards whilst the UK Sport Coach Award follows on Tuesday 1 December.

Whether she wins these prestigious prizes or not, the work Wendy has done, and continues to do is something she and all of the hockey family can be immensely proud of.

England Hockey Board Media release


---

Elks, Railway and Hermes look to maintain perfect Hockey League start

Champions Pegasus in danger of falling well off the pace as they face Cork Harlequins

Mary Hannigan
   


Ulster Elks' Gemma Frazer: made her senior international debut for Ireland against Scotland: Photograph: Rowland White/Presseye/Inpho

After a month long break the EY Hockey League resumes tomorrow with Ulster Elks, Railway Union and Hermes all looking to make it four wins out of four after their perfect starts to the campaign.

Hermes will be the most confident of the trio, their opponents at Booterstown Greenfields, the Connacht champions who they beat 12-0 in the Irish Senior Cup last weekend. Elks and Railway, though, have more testing tasks, away to UCD (fifth) and Ards (fourth), respectively.

The top three in the 10 team league will qualify for the end-of-season Champions Trophy, and if one of them also wins the Irish Senior Cup, fourth would be good enough to make it through to the semi-finals.

With 15 matches still to go, Pegasus, last season's club champions, will hardly be panicking just yet.

But with only one point from their opening three games, leaving them second from bottom of the table, they could do with getting back on the winning track. Cork Harlequins, their hosts tomorrow, will be intent on ensuring that doesn't happen just yet.

For 15 of the Irish squad the Hockey League games will complete a testing week, one that saw them take on Scotland in three internationals in Glasgow.

The series ended all square, a win each after the first game ended in a draw. Gemma Frazer (Ulster Elks) and Elena Tice (Loreto) both made their senior debuts in the series. Hockey League – Saturday: Cork Harlequins v Pegasus, Farmers Cross, 1.30; Ards v Railway Union, Ards Leisure Centre, 2.30; Hermes v Greenfields, Booterstown, 2.30; UCC v Pembroke Wanderers, The Mardyke, 3.0; UCD v Ulster Elks, Belfield, 3.45.

Irish Times


---

Retro training inspiring Atlètic results




Atlètic Terrassa are riding high in the Spanish Divisió d'Honor thanks to five victories from the first five matches, alongside with Polo who they meet in a classic match-up next Saturday.

It is a repeat of last season's Spanish Cup final, which Atlètic won, and will lay down a marked for both teams as to who will be the favourite for this year's honours.

Indeed, Roger Pallarols' boys will be facing the toughest month of their regular league season, with Polo, Júnior, Egara and Club de Campo as their next rivals. But their team spirit is at the top for those exciting matches.

To this end, Atlètic have been training with Vallès, their reserve team, in innovative style including some fun retro-hockey training sessions, where all the players wore vintage hockey clothes and sticks.

Training sessions with Vallès are forming an important in this season with all the players in Atlètic squad are Catalan and most of them come from Atlètic's B-team.

Also, this season has already seen a bunch of Vallès players playing their first match for Atlètic in high-competitive Divisió d'Honor matches.

Young players like Nil Escudé, Lluís Fernàndez Melé, Lu Vila, Marc Vila and Quimet Malgosa have made their dream debut with great performances.

Euro Hockey League media release


---

Lewis treble keeps Paragon women perfect

Nigel Simon

Team captain Alanna Lewis scored a hat-trick to lead defending champions Paragon to an 8-5 come-from-behind triumph over Georgetown Cricket Club (GCC) in the T&T Hockey Board Indoor Championship Women's Open Division at the Woodbrook Youth Centre, Hamilton-Holder Street, Woodbrook on Saturday.

Lewis, also the co-captain of the senior national women's team netted in the 18th, 33rd and 35th minutes while national midfielder Avion Ashton (eighth & 15th) and Keima Gardiner (13th & 23rd) added two goals each, and T&T forward, Kristin Thompson, the other in the 20th minute.

For, GCC, Gabriella Xavier had a beaver trick, first getting the opening goal of the match in the third minute, and the added items in the 16th, 29th, and 39th while Aaliyah Gordon also scored in the tenth.

With the win, Paragon improved to maximum nine points and certain of a semifinal spot, while Ventures and Harvard Checkers are next with six points each with a match left for each of the top three clubs.

Ventures' got back in the title hunt with back-to-back wins over winless Courts Malvern, 4-3 and then Harvard Checkers 3-2 while the latter edged GCC 1-0 in the other women's matches.

...Dames hand Paragon men first loss

Kieth De Peza scored with a minute left on the clock as Notre Dame inflicted the first defeat on Paragon, 4-3 in the Men's Open Division, also on Saturday.

Paragon, which won its first three matches before dropping its first points in a 4-4 draw with Courts Malvern, looked set to rebound when Australia-based Akim Toussaint fired in a fifth minute opener only for De Peza to get the Dames even three minutes later.

Paragon then stamped its authority on the contest with goals from Toussaint (12th) and Syl Sinnette (19th) for a 3-1 lead.

However, instead of folding, the Dames mounted a stunning comeback with Aidan De Gannes (24th) and Chad Pedro (34th) getting their team on level terms, before De Peza's second item seal all three points.

Despite the loss, Paragon still lead the seven-team table with ten points from five matches, one ahead of Petrotrin which has a match in hand, and two more than the Dames, who also have played a match less.

The Dames also drew 7-7 with Defence Force on Saturday, while reigning champions, Queen's Park had a 6-2 win over Fatima and a 4-4 draw with Malvern to stay in the chase for a semifinal place with five points.

And in Saturday's other match, Defence Force trounced Malvern 9-1 led by a Roger Daniel beaver trick.

Saturday's T&THB National Indoor results:

Men's Open:

Notre Dame 7 vs Defence Force 7 (Shane Legerton 8th, 9th, Roger Daniel 23rd, 28th, Nicholas Wren 36th, 38th, Marcus James 21st) vs Notre Dame 7 (Shaquille Daniel 6th, 32nd, Aidan De Gannes 10th, 14th, Joshua Olton 16th, 26th, Darren Cowie 40th)

QPCC 6 (Kadeem Fortune 7th, 38th, Nicholas Camcho 21st, 29th, Dominic Young 11th, Jerry Bell 36th) vs Fatima 2 (Che Modeste 23rd, Jeremy Nieves 32nd)

Malvern 4 (Kristien Emmanuel 12th, Leary Inglesbirth 13th, Kieron Emmanuel 18th, Anthony Marcano 40th) vs QPCC 4 (Dominic Young 5th, 39th, Jerry Bell 24th, Kadeem Fortune 26th)

Defence Force 9 (Marcus James 12th, 26th, 31st, Roger Daniel 13th, 32nd, 33rd, 37th, Mickel Pierre 9th, Nicholas Wren 24th) vs Malvern 1 (Kieron Emmeanuel 33rd)

Notre Dame 4 (Keith De Peiza 8th, 39th, Aidan De Gannes 24th, Chad Pedro 34th) vs Paragon 3 (Akim Toussaint 5th, 12th, Syl Sinnette 19th)

Women's Open:

Paragon 8 (Alanna Lewis 18th, 33rd, 35th, Avion Ashton 8th, 15th, Keima Gardiner 13th, 23rd, Kristin Thompson 20th) vs GCC 5 (Gabriella Xavier 3rd, 16th, 29th, 39th, Aaliyah Gordon 10th)

Harvard Checkers 1 (Patricia Wright-Alexis 12th) vs GCC 0

Ventures 3 (Amanda George 27th, Arielle Cowie 35th, Gian Sealy 40th) vs Harvard Checkers 2 (Kwylan Jaggassar 17th, Patrice Padmore 39th)

Ventures 4 (Jade Piper 7th, 21st, Amanda George 10th, Ornella Schneider 3rd) vs Malvern 3 (Krizia Layne 10th, 38th, Sherlan Cabralis 6th)

Current T&T Hockey Board Indoor standings:

Women's Open Division:

Teams*P*W*D*L*F*A*Pts
Paragon*3*3*0*0*15*8*9
Ventures*3*2*0*1*8*5*6
Harvard Checkers*3*2*0*1*9*7*6
Malvern*3*0*0*3*9*15*0
GCC*2*0*0*2*5*9*0

Men's Open Division:

Paragon*5*3*1*1*24*17*10
Petrotrin*4*3*0*1*19*14*9
Notre Dame*4*2*2*0*19*18*8
QPCC*4*1*2*1*15*15*5
Defence Force*4*1*1*2*22*17*4
Fatima*4*1*0*3*14*20*3
Malvern*5*0*2*3*12*25*2

The Trinidad Guardian


---

PIA, Customs showdown today

LAHORE: PIA and Customs Lahore set date for the final after winning their hard-fought semi-finals on penalty-shoots in the PT Yaqoob Memorial Hockey Tournament in Gojra on Thursday.

The final will be played on Friday.

Customs Lahore which appeared in any domestic tournament after a long layoff managed to successfully take up the challenge from a rather strong Wapda team by winning the semi-final 6-5 on penalty shoot-out.

This kind of performance from Customs, which was used to be a giant force at the national level, may pave the way for the development of the game of hockey.

Having played a goalless first half, Customs and Wapda scored one each before the final whistle with the two teams being awarded five penalty-shoots each at the end of the regulation time.

Customs cashed in on all five penalties while Wapda missed out on one to make exit from the event. For Customs, Asif scored a field goal in the 33rd minute which was equalized by Wapda's Rana Umair in the 59th.

Customs Ali Shan (2), Bilal Qadir, Asad and Sultan Ashraf converted the penalty-strokes while Wapda's Shahbaz, Mohsin Bilal, Ejaz and Zubair capitalized on the penalty-strokes.

In the other semi-final, PIA edged out Sui Southern Gas Company 6-4 on penalty-shoots with the stipulated time ending at 2-2. Both the teams were 1-1 at the end of the first half.

For PIA's Mohammad Zubair and Kashif Ali scored one goal each during the regulation time while SSGC's Saleem Khalid and Arslan scored for their team.

Dawn


---

Colts geared up for Asia Cup

The Pakistan junior hockey team, led by newly appointed skipper Ammad Butt, is ready to put on a good show at the Asia Cup, scheduled to begin on November 14 in Malaysia. The event also serves as the qualifying round for next year's Junior Hockey World Cup.

Ammad was made captain in Dilber Hussain's place, under whom the team fared poorly at Sultan of Johor Cup.

According to team member Mubashir Ali, the colts were optimistic about their chances in Malaysia. "Ammad led well during the training camp," Mubashir Ali told The Express Tribune. "Dilber is an excellent player, but Ammad is leading the team better."

Meanwhile, vice-captain Dilber said it had been difficult leading a new and young team, but believed Ammad's bond with the youngsters would help the new captain on the upcoming assignment.

The Express Tribune


---

Shakeel tasked to take Pakistan's hockey back to glory days

by S. Ramaguru

KUALA LUMPUR: Ahmad Shakeel Butt has been tasked to revive Pakistan's fortunes in world hockey.

The defender will skipper the side as Pakistan bid to win the title for the fourth time at the Junior Asia Cup in Kuantan from Nov 14-22. They were champions in 1987, 1992 and 1996 but have since struggled at junior as well as senior level.

Ahmad Shakeel, a member of their senior team, missed the recent Sultan of Johor Cup where Pakistan finished last in the six-team competition without a win. Then, Pakistan were captained by Mohamed Dilber.

Mohamed, also a member of the senior team, is now the vice-captain.

Ahmad Shakeel is no stranger to Malaysian fans, having helped Terengganu win the double in this season's Malaysia Hockey League (MHL).

Pakistan are in Group B with South Korea, Oman and Bangladesh. Hosts Malaysia are in Group A with China, India and Japan.

The Junior Asia Cup is a qualifier for next year's Junior World Cup Finals in New Delhi. Only the top four teams qualify for the Finals and Pakistan are hoping they are one of them.

Said Pakistan coach Tahir Zaman: "We have two targets in Kuantan. The first is to qualify for the Junior World Cup. Anything else is a major disaster for us. Secondly, it's our hope to regain the Junior Asia Cup."

The Star of Malaysia


---

Arul banking on regulars for Junior Asia Cup hockey meet

By S. Ramaguru

KUALA LUMPUR: There were no major surprises when coach A. Arulselvaraj named the National Juniors squad for the Junior Asia Cup in Kuantan from Nov 14-22.

Defender Mohamed Sufi Ismat and forward Rafizul Ezry have been recalled to join the 19-player squad. The duo were excluded from the team at last month's Sultan of Johor Cup due to hamstring injuries.

But two regulars – defender Mohamed Aminuddin Zain and midfielder Nor Azrul Rahman – failed to make the team after failing to recover from hamstring injuries.

Defender Mohamed Najib Abu Hassan has been named the captain. Three members of the senior team – Mohamed Shahril Saabah, Meor Mohamed Azuan Hasan and Mohamed Haziq Samsul – have also been included.

"We have an experienced squad. I have 19 players now but I will drop one on Monday as we can only register 18 players for the Junior Asia Cup," said Arulselvaraj.

"The move is to make sure that the players returning from injuries have recovered sufficiently to play in the tournament. We will give then a few extra days to prove themselves. We will play a match with the senior team on Monday. After that, one player will be excluded," he added.

The Junior Asia Cup is a qualifier for the Junior World Cup Finals in New Delhi next year. The top four teams will qualify for the Finals.

"We have a strong team and I'm sure the players will get the job done. We won the Junior Asia Cup in 2012 and we want to retain the title," said Arulselvaraj, who is taking the team for a motivational camp in Port Dickson this weekend.

Malaysia are in Group A with China, India and Japan. Group B consists of Pakistan, South Korea, Oman and Bangladesh.

THE TEAM

Goalkeepers: Mohamed Ridzwan Azmi, Mohamed Adi Fazri.

Defenders: Mohd Najib Abu Hassan, Mohamed Sufi Ismat, Mohd Najimi Farizal Jazlan, Mohd Amirol Aideed Mohd Arshad, Ahmad Ashraf Alias.

Midfielders: Meor Mohamed Azuan Hasan, Mohamed Firdaus Omar, Abdul Khaliq Hamirin, Norsyafiq Sumantri, Mohamed Azwar Rahman.

Forwards: Mohamed Shahril Saabah, Mohd Ashran Hamsani, Zulpidaus Mizun, Syed Mohd Syafiq Syed Cholan, Mohamed Haziq Samsul, Nik Mohd Aiman, Rafizul Ezry.

The Star of Malaysia


---

Selangor, Kuala Lumpur win second round matches in Under-14 hockey meet

by Percy D'Cruz

MALACCA: Selangor and Kuala Lumpur easily won the girls' opening second-round matches of the MHC-1MAS-Milo National Under-14 hockey tournament.

Selangor strolled to a 5-2 win over Penang in Group X while KL downed Sabah 2-0 at the Bukit Serendit Malacca City Council Stadium on Thursday.

Only the winners of the two three-team groups qualify for the final.

Skipper B. Sarveswary gave KL the lead in the 16th minute before Hasya Syahida Saifuddin doubled the score two minutes later. All KL need is a win against hosts Malacca on Friday to enter the final.

Nurhidayah Samsudi starred for Selangor, firing a hat-trick (38th, 49th, 62nd) to sink Penang. Nur Insyirah Effarizal (17th) and Dayang Nuramirah Abang Mahadini (25th) contributed the other goals. Penang replied through

Nurmaisatul Hanim Syafi (10th) and Siti Nur Arfah Mohd Nor (42nd).

The Star of Malaysia


---

What does Hockey in wales look like?

Hockey is on the up in Wales and following #Hocktober, the national campaign by Hockey Wales to promote participation and inclusion, the organisation has provided an insight into the progress of the sport across the country with an infographic that reveals some promising trends for the game.

 


The infographic offers facts and figures from a number of areas within the sport, such as club participation, coaching and umpiring, as well as an overview of some of the successful new initiatives and new partnerships forged in 2014-2015.

It also reflects on some positive trends for the sport, such as a rise in male participation, and recognises the achievements by the Welsh men and women's Senior International Squads, who for the first time since 1998, both represented Wales at the 2014 Commonwealth Games in Glasgow.

David Phenis, Interim CEO of Hockey Wales said: "On any journey it's important to take stock and to look back at where you've come from. The end of #Hocktober provided us with the ideal opportunity to reflect and show our members the many positives already achieved on our journey towards Vision2020."

Vision 2020 is the strategic vision and driving force of Hockey Wales as it moves towards the year 2020. While the infographic is not exhaustive representation of all the successes from the past year, its hopes to demonstrate to its members the progress the sport has made on route to Vision 2020. David added:

"The organisation has seen a number of changes to its staffing structure in recent months and I believe we are in a really strong position to continue to build on what is shown here.  Hockey in Wales has never been in a better position; we have more members than ever and more people enjoying quality hockey experiences. Everyone involved in the sport has played a part in what is shown here and I'd like to thank the many that have helped to grow the game."

In an effort to continue to improve access opportunities and the hockey experience, Hockey Wales will now be asking for member feedback. An anonymous Equality Survey and a Member Survey will go live from tomorrow (6th October) and more details will be available then, here.

To download a high resolution version of the infographic, click here, or for more information on Hockey Wales, please visit www.hockeywales.org.uk.

Hockey Wales Media release


---

DI: Weekend College Games

With post-season conference tournaments taking place, USA Field Hockey is highlighting each conference in Division I, II and III.

DIVISION I CONFERENCE TOURNAMENTS:

Atlantic Coast Conference (ACC)

Syracuse
Wake Forest
UNC
Virginia
Duke
Louisville
Boston College

The ACC Field Hockey Championship is underway this Thursday in Charlottesville, Va. beginning with Quarterfinals. Only three teams have ever won an ACC Championship: Wake Forest (4 titles), Maryland (10 titles) and North Carolina (18 titles). Last year's defending champions are the Wake Forest Demon Deacons. This year the Deacons are the No. 2 seed in the tournament and Syracuse heads into the tournament as the undefeated regular season champions. The ACC is considered one of the toughest field hockey conferences in Division I, which is supported by the 17 NCAA Championships that the ACC has claimed. The last NCAA Championship final where the ACC was not represented was in 1998.

Thursday, November 5 - Quarterfinals

11:00 a.m. EST        No. 4 Virginia vs. No. 5 Duke
1:30 p.m. EST        No. 2 Wake Forest vs. No. 7 Boston
4:00 p.m. EST        No. 3 North Carolina vs. No. 6 Louisville

Friday, November 6 - Semifinals

1:00 p.m. EST        No.4/No. 5 Winner vs. No. 1 Syracuse
3:30 p.m. EST        No. 3/No. 6 Winner vs. No. 2/No. 7 Winner

Sunday, November 7 - Final

1:00 p.m. EST        Semifinal Winners

All games will be streamed on RSN/ESPN3.

Big Ten

Maryland
Michigan
Indiana
Ohio State
Northwestern
Penn State
Iowa
Michigan State
Rutgers

The Big Ten Field Hockey Tournament starts Thursday at Indiana University in Bloomington, Ind. Heading into the tournament, Maryland is the favorite with an undefeated record in Big Ten conference games. Maryland maintains their dominance after claiming their first regular season title in 2014. Northwestern is the defending Big Ten Tournament Champion. The Big Ten has only won two NCAA Tournament Championships (1986 Iowa and 2001 Michigan). Iowa, Maryland and Penn State have had the most NCAA Tournament Appearances with 22, 27 and 30 respectively. Penn State has the most Big Ten Tournament Titles with six, followed by Iowa and Michigan with five each.

Thursday, November 5 - Quarterfinals

10:00 a.m. EST        No. 4 Northwestern vs. No. 5 Ohio State
12:30 p.m. EST        No. 1 Maryland vs. No. 8 Michigan State
3:00 p.m. EST        No. 2 Michigan vs. No. 7 Iowa
5:30 p.m. EST        No. 3 Indiana vs. No. 6 Penn State

Friday, November 6 - Semifinals

1:30 p.m. EST         No. 4/No. 5 Winner vs. No. 1/No. 8 Winner
4:00 p.m. EST        No. 2/No. 7 Winner vs. No. 3/No. 6 Winner

Sunday, November 7 - Final

12:00 p.m. EST    Semifinal Winners

All games will be streamed on BTN or BTN2Go.

Atlantic 10 (A10)

Richmond
Massachusetts
Davidson
Saint Francis (PA)
Saint Joseph's
Lock Haven
La Salle
Virginia Common Wealth|
Saint Louis

The A10 Championship jumps into action this Friday, November 6 in Philadelphia at the Ellen Ryan Field. The Richmond Spiders are the season favorites heading into the game and are also the defending champions. Massachusetts holds 14 A10 Tournament Championships while Richmond claims eight. Saint Joseph's is the only other school who is currently an A10 member who has won an A10 Championship.

Friday, November 6 - Semifinals

11:00 a.m. EST        No. 2 Massachusetts vs. No. 3 Saint Joseph's
2:00 p.m. EST        No. 1 Richmond vs. No. 4 Davidson

Saturday, November 7 - Final

2:00 p.m. EST        No. 2 / No. 3 Winner vs. No. 1 / No. 4 Winner

All games will be streamed on the A10 Network.

America East

Albany
Maine
New Hampshire
Vermont
UMass Lowell
Stanford
University of the Pacific
California
UC Davis

Albany University is the favorite for this year's America East Tournament Championship and will host the tournament. Last year Albany claimed the regular season and tournament title before heading to the NCAA Tournament where they continued to the Semifinals before falling 0-1 to the eventual NCAA Champions, UConn. In current history, New Hampshire and Albany are the annual contenders for the league championships.

Thursday, November 5

2:00 p.m. EST        East No.1 Albany vs. West No. 4 UC Davis
4:30 p.m. EST        West No. 1 Stanford vs. East No. 4 Vermont

Friday, November 6

2:00 p.m. EST        West No. 2 Pacific vs. East No. 3 New Hampshire
4:30 p.m. EST        East No. 2 vs. West No. 3 California

Saturday, November 7

12:00 p.m. EST        Game 1 Winner vs. Game 3 Winner
2:30 p.m. EST        Game 2 Winner vs. Game 4 Winner

Sunday, November 8

12:00 p.m. EST        Game 5 Winner vs Game 6 Winner

The Quarterfinals and Semifinals will be streamed for free at AmericaEast.TV. For the first time in league history, the championship game will be shown live on ESPN3 and WatchESPN apps.

Big East

UConn
Old Dominion
Temple
Providence
Villanova
Georgetown

The Big East Tournament will take place in Norfolk, Va. at Old Dominion University this week. As the back-to-back defending NCAA Tournament Champions, UConn is the favorite for the Big East Tournament. The last time another team won the Big East Championship was in 2011 when Syracuse claimed the title. Providence and Villanova are the only other schools out of the current members to have won a Big East Tournament Championship (1991 and 1989 respectively).

Friday, November 6 - Semifinals

2:00 p.m. EST        No. 1 UConn vs. No. 4 Old Dominion
4:30 p.m. EST        No. 2 Temple vs. No. 3 Villanova

Sunday, November 8 - Final

1:00 p.m. EST        No. 1 / No. 4 Winner vs. No. 2 / No. 3 Winner

All games will be streamed on the BIG EAST Digital Network (BEDN). 

Colonial Athletic Conference (CAA)

James Madison University
Delaware
Hofstra
Drexel
Northeastern
William & Mary
Towson

The CAA Tournament will get underway on Friday, November 6 at James Madison University in Harrisonburg, Va. After going 6-0 in conference, James Madison will host the tournament. Delaware are the back-to-back defending CAA Tournament Champions. The most prominent CAA Team in history was Old Dominion, who has since left the conference. Aside from ODU, the only other CAA team to have won a NCAA Tournament Championship Title was JMU in 1994.

Friday, November 6 - Semifinals

3:00 p.m. EST        No. 4 Drexel vs. No. 1 James Madison
5:45 p.m. EST        No. 2 Delaware vs. No. 3 Hofstra

Sunday, November 8 - Final

2:00 p.m. EST        No. 4/No. 1 Winner vs. No. 2/No. 3 Winner

All games will be streamed on CAA.TV.

Metro Atlantic Athletic Conference (MAAC)

Monmouth
Quinnipiac
Rider
Fairfield
Siena
Bryant
Sacred Heart

Monmouth, the defending MAAC Tournament Champions, will host the 2015 MAAC Tournament in Long Branch, N.J. The MACC has only existed since 2013 and both Quinnipiac and Monmouth both hold one title each.

Friday, November 6 - Semifinals

11:00 a.m. EST        No. 1 Monmouth vs. No. 4 Fairfield
2:00 p.m.    EST        No. 2 Quinnipiac vs. No. 3 Rider

Sunday, November 8 - Final

11:00 a.m. EST        No. 1/No. 4 Winner vs. No. 2/No. 3 Winner

All games will be streamed on MAAC.TV.

Mid-American Conference (MAC)

Miami of Ohio
Kent State
Ohio University
Longwood University
Missouri State
Central Michigan
Ball State

The MAC Tournament will take place in Mount Pleasant, Mich. at Central Michigan. Kent State is the defending MAC Tournament Champions. However, Miami of Ohio won back-to-back titles in 2012 and 2013. Longwood and Missouri State are the only two schools in the conference to have never won a MAC Tournament Championship.

Friday, November 6 - Semifinals

11:30 p.m. EST        No. 1 Kent State vs. No. 4 Ohio University
2:30 p.m. EST        No. 2 Miami (Ohio) vs. No. 3 Missouri State

Saturday, November 7 - Final

2:00 p.m. EST        No 1/No. 4 Winner vs. No. 2/No. 3 Winner

All games will be streamed on CSN Digital.

Patriot League

Boston University
American University
Lafayette
Bucknell
Holy Cross
Lehigh
Colgate

The Patriot League Tournament will be hosted by Boston University this weekend. Boston claimed the regular season title and is also last years defending champion. American Head Coach Steve Jennings holds the most championship titles in the Patriot League. Bucknell is the only school in the conference to have never won a Patriot League Tournament Championship although they have made it to the Final five times.

Friday, November 6 - Semifinals

11:00 a.m. EST        No. 4 Bucknell vs. No. 1 Boston University
2:00 p.m. EST        No. 3 Lafayette vs, No. 2 American University

Saturday, November 7 - Final

2:00 p.m. EST        No. 4 / No. 1 Winner vs. No. 3 / No. 4 Winner

All games will be streamed on the Patriot League Network.

USFHA media release