All the news for Monday 2 November 2015

Men's World League squad named

Kookaburras name strong senior squad for World League Final later this month




Kookaburras coach Graham Reid will showcase a strong senior squad at the upcoming Fintro World League Final in Raipur, India later this month after welcoming back players from injury and scheduled recoveries.
 
Having already qualified for the 2016 Rio de Janeiro Olympic Games at the World League Semi Final in Belgium earlier this year, the Australian 18-man-squad will face the world's best teams for the World League title, automatic qualification for the 2016 Champions Trophy and international ranking points.
 
Wollongong brothers Blake and Kieran Govers will play side-by-side each other in the Kookaburras' kit for the second time this year. Eyes will be on 19 year-old Blake after he had a phenomenal first major international tournament at the Olympic qualifier - the World League Semi Final - where he was named the tournament's Top scorer and Best Junior Player after netting seven goals.  
 
The World League squad features 12 athletes from the recent Oceania Cup winning group. These athletes had consistent performances throughout the tournament, including Western Australia's Trent Mitton who scored the winning goal for the Kookaburras in the Oceania Cup final.
 
Andrew Charter, Jeremy Hayward and Jake Whetton return from injury while senior players Daniel Beale, Kieran Govers and Matthew Swann re-join the group following a break after the World League Semi Final.
 
Showcasing an intimidating senior squad, New South Wales' Matthew Dawson will join Blake Govers as the Kookaburras' only two junior players selected to tour Raipur. Dawson debuted for the Kookaburras at the Perth Indian test series last November, and since his debut Dawson has played a crucial role in the Kookaburras defence.
 
Explaining the selections, Kookaburras coach Graham Reid said, "It's a pretty experienced squad and unfortunately we don't get enough opportunities to play the European teams, making it difficult for us to experiment at these types of tournaments due to the amount of good competition. We selected our World League squad with an eye on the upcoming 2016 Rio Olympic Games.
 
"There will be opportunities for two of our younger players and players returning from injury at the World League. I think the selected group showcases a good mix of players, however, we will also be giving our whole squad an opportunity during the Indian tests prior to the tournament, allowing everyone the chance to put their foot forward for Olympic squad selection."
 
In Pool A, Australia's men will line up against Belgium (world ranking #4), Great Britain (#5) and Canada (#13) and could possibly face Pool B opponents the Netherlands (#2), who are 2014 defending champions, Germany (#3) Argentina (#6) and hosts India (#8) in the later stages of the competition.
 
The Kookaburras will be looking to redeem themselves after going down to Great Britain 2-1 in the 2014 World League Final in New Delhi during the bronze medal final. Australia - world number one - will go head-to-head with Great Britain on day three of the competition. 
 
Discussing the Kookaburras' 2015 opponents, Reid added, "The important thing to remember is that there are phases to this tournament. The first phase is your initial pool, however, you also need to keep track on what's happening in the other pool, because that's going to be your crossover later on in the competition.
 
"All teams will be a challenge this year, however, the Netherlands have had a very good European Championship and need to be considered in the top favourites. Belgium will be under a new head coach and will be looking to impress, while India will be resting their Hockey India League players, however, their next crop coming through will be just as competitive."
 
Two athletes could be in line for milestone appearances with Australian goalkeeper Andrew Charter and forward Jake Whetton approaching 100 career matches.
 
An expanded Kookaburras squad - featuring 23 athletes - will head to India on 13 November to play three test matches against India prior to the World League Final in Raipur.
 
Midfielder Simon Orchard will return to the squad alongside teammates Joshua Beltz, Kiel Brown, Joel Carroll, Tristan Clemons, Chris Ciriello, Tom Craig, Leon Hayward, Tristan White, Flynn Ogilvie, Glenn Simpson and Dylan Wotherspoon who will compete in the Indian tests, however, will not compete at the World League Final.
 
The Fintro Hockey World League Final will start in Raipur, India on 27 November 2015 with the Kookaburras facing Belgium in their first pool match on Saturday 28 November.

Kookaburras Squad for Fintro Hockey World League Final

Raipur, India

Athlete (Hometown, State)

Daniel Beale (Brisbane, QLD) 64/12
Andrew Charter (Canberra, ACT) 98/0
Matthew Dawson (Central Coast, NSW) 24/3
Tim Deavin (Launceston, TAS) 117/6
Jamie Dwyer (Rockhampton, QLD) 345/232
Matt Gohdes (Rockhampton, QLD) 135/45
Blake Govers (Wollongong, NSW) 17/16
Kieran Govers (Wollongong, NSW) 108/56
Jeremy Hayward (Darwin, NT) 37/13
Fergus Kavanagh (Geraldton, WA) 210/16
Mark Knowles (Rockhampton, QLD) 269/22
Tyler Lovell (Perth, WA) 54/0
Trent Mitton (Perth, WA) 77/32
Eddie Ockenden (Hobart, TAS) 256/63
Matthew Swann (Mackay, QLD) 122/6
Glenn Turner (Goulburn, NSW) 118/88  
Jake Whetton (Brisbane, QLD) 97/41
Aran Zalewski (Margaret River, WA) 70/8              

Kookaburras Squad for Indian Test Series
Raipur, India

Athlete (Hometown, State)

Daniel Beale (Brisbane, QLD) 64/12
Joshua Beltz (Hobart, TAS) 4/2
Kiel Brown (Toowoomba, QLD) 168/6
Joel Carroll (Darwin, NT) 102/2
Tristan Clemons (Bunbury, WA) 25/0
Tom Craig (Lane Cove, NSW) 13/5
Chris Ciriello (Melbourne, VIC) 174/113
Matthew Dawson (Central Coast, NSW) 24/3
Tim Deavin (Launceston, TAS) 117/6
Matt Gohdes (Rockhampton, QLD) 135/45
Blake Govers (Wollongong, NSW) 17/16
Kieran Govers (Wollongong, NSW) 108/56
Jeremy Hayward (Darwin, NT) 37/13
Leon Hayward (GK) (Darwin, NT) 10/0
Trent Mitton (Perth, WA) 77/32
Flynn Ogilvie (Wollongong, NSW) 11/5  
Simon Orchard (Maitland, NSW) 178/54
Glenn Simpson (Melbourne, VIC) 127/23
Matthew Swann (Mackay, QLD) 122/6
Jake Whetton (Brisbane, QLD) 97/41
Tristan White (Wollongong, NSW) 63/3    
Dylan Wotherspoon (Murwillumbah, NSW^) 14/3
Aran Zalewski (Margaret River, WA) 70/8              

^Dylan Wotherspoon is an athlete at the Queensland Academy of Sport and is classified as a QLD athlete but grew up in Mulwillumbah, NSW.

Kookaburras Fixtures

Date - Time (AEST) - Fixture

Saturday 28 November – 22:00 AEST - Kookaburras v Belgium
Monday 30 November – 02:00 AEST – Kookaburras v Great Britain
Wednesday 2 December – 00:00 AEST – Kookaburras v Canada
Thursday 3 December – TBC – Quarter Finals
Friday 4 December – TBC – Quarter Finals
Saturday 5 December – TBC – Semi Finals
Sunday 5 December – TBC – Semi Finals
Monday 7 December – TBC – Finals

Broadcast Information

Fox Sports will broadcast Australian matches at the World League Final on Foxtel. More information regarding broadcast at the World League Final will be updated via our watch page once confirmed by the International Hockey Federation.

Hockey Australia media release


---

PAHF announces 2015 Pan American Elite Teams

Lucas Vila and Scott Tupper selected a record fourth time



Lucas Vila and Lauren Crandall. Photo Yan Huckendubler

The Pan American Hockey Federation is pleased to announce the 2015 Pan American Elite Teams.

Since 2007, Pan American Elite Teams have been named every two years to recognize the top players in the Pan American competitions. Hockey specialists present at the 2015 Pan American Games in Toronto, Canada, and at the 2015 Pan American Challenge in Chiclayo, Peru, were consulted for the selection of this year's Elite Teams.

The 2015 Men's Pan American Elite Team is led by Argentinian Lucas VILA and Canadian defender Scott TUPPER, who are both selected a record fourth time to the PAHF Elite Team, while eight players make their first appearance on the Elite roster, including Cuban veteran Yoandi BLANCO (36 years old) and Chilean youngster Nicolas RENZ (20 years old).

Pan American Games finalists Argentina and Canada have the strongest representation with four players each, including Canadian David CARTER with the nod for the goal-keeping position. The achievements of Brazil, semi-finalists in Toronto, winner of the Pan American Challenge and qualified for the Olympic Games in Rio, are rewarded with the nomination of two players (Stephane VERLE-SMITH and Matheus BORGES).

Altogether, with the inclusion of Venezuelan José OROPEZA, Player of the Tournament of the Pan American Challenge, the 2015 Men's Pan American Elite Team is made up of players from eight different countries: Argentina (4), Canada (4), Brazil (2), Chile (2), USA (2), Cuba, Trinidad & Tobago and Venezuela (1). The average age is 26.3 years old.

The 2015 Women's Pan American Elite Team is headed by USA Captain Lauren CRANDALL, who led her team to a second Pan American Games Gold Medal. She is closely followed in the voting by Argentinian stalwarts Florencia HABIF and Delfina MERINO, both selected for the first time, and by impressive Canadian striker Brienne STAIRS, making her second Elite appearance after 2011.

Pan American Games Champions USA dominated the voting, with four players selected (CRANDALL, Kelsey KOLOJEJCHICK, Katie O'DONNELL and Paige SELENSKI). Silver medalists Argentina also have four players on the roster (HABIF, MERINO, Agustina ALBERTARRIO and Pilar ROMANG), while Canada's return to the Pan American Games podium for the first time since 1999 was rewarded with the selection of three players (Karli JOHANSEN, Abigail RAYE and STAIRS).

Chilean Camilla CARAM, the only player selected three times, is joined on the 2015 Elite roster by her sister Daniela, while Mexican goal-keeper Jesus CASTILLO regained the position she already earned in 2011. Brazilian Tatiana NORONHA MACHADO, Player of the Tournament of the Pan American Challenge, also earned a spot on the Elite roster.

Altogether, seven countries are represented on the 2015 Women's Pan American Elite Team: USA (4), Argentina (4), Canada (3), Chile (2), Brazil, Mexico and Uruguay (1). The average age is just over 25.

2015 Pan American Elite Teams
| | | | | |
| --- | --- | --- | --- | --- |
| Men |   |   | Women |   |
| Yoandy Blanco | CUB |   | Agustina Albertarrio | ARG |
| Matheus Borges | BRA |   | Camila Caram | CHI |
| David Carter (GK) | CAN |   | Daniela Caram | CHI |
| Adam Froese | CAN |   | Jesus Castillo (GK) | MEX |
| Gabriel Ho-Garcia | CAN |   | Lauren Crandall | USA |
| Will Holt | USA |   | Florencia Habif | ARG |
| José Oropeza | VEN |   | Karli Johansen | CAN |
| Matias Paredes | ARG |   | Kelsey Kolojejchick | USA |
| Gonzalo Peillat | ARG |   | Delfina Merino | ARG |
| Nicolas Renz | CHI |   | Sofia Mora | URU |
| Matias Rey | ARG |   | Tatiana Noronha Machado | BRA |
| Sven Richter | CHI |   | Katie O'Donnell | USA |
| Akim Toussaint | TTO |   | Abigail Raye | CAN |
| Scott Tupper | CAN |   | Pilar Romang | ARG |
| Stephane Vehrle-Smith | BRA |   | Paige Selenski | USA |
| Lucas Vila | ARG |   | Brienne Stairs | CAN |
Pan American Hockey Federation media release


---

Canada with strong presence on 2015 Pan American Elite Teams

Four men, three women selected alongside 25 other athletes

Shaheed Devji



Adam Froese' (CAN) ability to score under pressure ensured his place

Canada's field hockey teams are well represented in the 2015 Pan American Elite Teams as seven players – four men and three women – cracked the all-star squads.

On the men's side, Canadian captain Scott Tupper, goalkeeper David Carter, defender Adam Froese, and forward Gabriel Ho-Garcia were named to the sixteen-man Elite Team, giving Canada four players on the team, which is tied for the most with World Number six Argentina.

Tupper, the twenty-eight year-old from Vancouver, was named to the Elite Team for a record fourth time in five years since the Pan American Hockey Federation began naming Elite Teams in 2007. In 2015, he captained the Canadian Men's National Team to qualification for the Olympic Games (2016 in Brazil) for the first time since 2008.

Helping Tupper in that cause were fellow Elite Team nominees, Carter, Froese, and Ho-Garcia.

Carter had a career season highlighted by an outstanding, all-word performance at the World League Semi-Final in Buenos Aires, Argentina, where Canada finished fourth and secured their 2016 Olympic berth. Carter was named Most Valuable Player and Goalkeeper of the Tournament, which is a first for a Canadian player.

Adam Froese's year was highlighted by two dramatic shootout-winning goals in games that will go down as two of the most important in Canada's field hockey history.

At the World League Semi-Final in Argentina, a lengthy shootout against seventh ranked New Zealand ended when Froese was able to find the back of the net, sending Canada to the tournament semifinal and all but assuring them an Olympic spot.

Froese followed that up by once again scoring the shootout winner – this time on home soil – when Canada beat Brazil at the 2015 Pan American Games in Toronto, Ontario. The goal and win officially landed Canada a spot at the 2016 Olympics.

Gabriel Ho-Garcia is quickly becoming one of Canada's most feared strikers. The twenty-two year-old from Burnaby, British Columbia, was electric in 2015 scoring in bunches, including a hat-trick against host Malaysia at the 2015 Sultan Azlan Shah Cup, a game in which he was named Man of the Match.

Ho-Garcia also had a game to remember at the 2015 Pan Am Games in Toronto, when he scored four goals in an 8-1 win over Mexico.



Briennne Stairs (CAN) named for the second time

On the women's side, Canada's Women's National Team is also well represented, with three players on the sixteen-woman Elite Team.

Only the Pan American Games gold and silver medalists, the United States and Argentina - ranked eighth and third in the world respectively – have more players named to the team with four.

Kitchener, Ontario's Brienne Stairs is named to the Elite Team for the second time, after making the cut in 2011. Stairs, along with the two other Canadian Elite Team members, played in all twenty-four matches in 2015, scoring six goals, none more important than the winning goal in the 2015 Pan American Games bronze medal match against Chile.

The goal and win gave the Canadian women their first podium finish at the Pan Am Games since 1999 in Winnipeg, where they also won bronze.

This year saw North Vancouver's Karli Johansen break out as an offensive force. In addition to her solid and consistent work on the backline, the defender also scored six goals in 2015, many coming from her vaunted drag-flick. Johansen had four goals at the 2015 Pan Am Games in Toronto.

Rounding out the Elite three, Kelowna's Abigail Raye continued to impress in 2015, playing up and down the lineup and giving the Canadian women a steady, experienced presence in every match.

The Canadian women were also celebrated throughout the year when Hannah Haughn and Kaitlyn Williams were named Junior Player and Goalkeeper of the tournament respectively at World League Round 2 in Dublin, Ireland.

Canada had six athletes – Tupper, Haughn, Mark Pearson, Matthew Guest, Kate Gillis, and Danielle Hennig – named to the Pan American Elite Team in 2013.

Field Hockey Canada media release


---

Greenfields African Hockey Championship 2015 Day 10

South Africa men win African Hockey Championship 2015

Men's African Hockey Championship 2015: Final Roundup

South Africa women win African Hockey Championship 2015

Women's African Hockey Championship 2015: Final Roundup

SA hockey men and women win Africa championship

Ghana lose out on Rio Olympics


---

Black Sticks given Olympics glimmer of hope

By David Leggat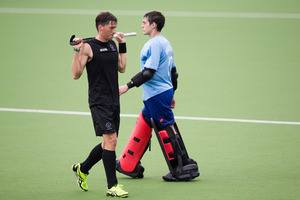 Black Sticks captain Simon Child was left disappointed after missing out on an Olympic berth. Photo / Greg Bowker

New Zealand have a nervous wait to see if they get a late, unexpected call into the men's Rio Olympics hockey tournament next year.

The Black Sticks, ranked seventh in the world, lost their last chance for automatic qualification when beaten 3-2 by world No 1 Australia in Stratford a week ago.

However there is a glimmer of hope after South Africa won the African continental qualifying tournament in Johannesburg early today.

The 4-2 win over Egypt means South Africa - and their women's team who also won their title 3-0 over Ghana earlier in the day - are eligible for a place in the Rio Games.

However the South African Olympic Committee (Sascoc) has previously indicated it will not support either team competing in Rio, as they had not qualified through the World League tournament. It has stated that continental qualification will not be backed.

Sascoc has stated it believes the qualification criteria, laid down last May, ''is in line with Sascoc's policy of producing world class athletes who will compete at the highest level'', it's ceo Tubby Reddy said.

The International Hockey Federation procedure is it will notify South African officials within 14 days that quota places awaits them in Rio, and in turn the country has another 14 days to respond.

The FIH did not indicate today who will fill the gaps should Sascoc remain steadfast in rejecting the places.

However New Zealand are the highest ranked country not already in the men's Games field.

It's understood if the African winners turn down the opportunity it does not automatically pass to the runners up, In that case the Black Sticks will be front runners.

The women's Black Sticks, world No 4, have already qualified for Rio.

The New Zealand Herald


---

Four-star Monkstown defeat Pembroke



Picture: Adrian Boehm

Reigning Irish champions Monkstown ran up a hugely impressive 4-0 win against EY Hockey League title rivals Pembroke at the first game at their new Merrion Fleet Arena home.

Gareth Watkins deflected in an effort from Stephen Cole's shot from a corner to make it 1-0 at half-time. Some aerial dexterity via Lee Cole and Jonny Bruton opened the door for Kyle Good to volley in number two.

Andrew Ward's simple deflection made it 3-0 and Gareth Watkins potted a penalty stroke for the fourth goal.

Pembroke's best shot in anger came from South African Matt Brown – on his second game since returning to Dublin – who pinged the bar when his side were two down but Monkstown were well clear and move into a share of top spot in the division with Cork C of I.

It was the only game in the league, a refix because of Monkstown's appearance in Hamburg in the EHL Round 1. The rest of the clubs were focussed on the first round of the Irish Senior Cup.

Euro Hockey League media release


---

Bloemendaal up to fourth place

Bloemendaal's resurgence in the Dutch Hoofdklasse continues apace as they recorded their third win in a row to rise from eighth place into fourth since Laurence Docherty took the reins.

Rogier Hofman was the game-breaker with both goals in their latest win, a 2-1 success against injury-hit SV Kampong. His first was a brilliant counter-attack effort, racing away from the cover defence before slipping home a calm shot in the 11th minute past Bram Ouendag.

Bjorn Kellerman equalised 20 minutes later from a corner switch but Hofman won it two minutes into the second half when Tim Jenniskens hit the ball to the top of the circle. Hofman controlled before escaping a couple of defenders and shooting in on his backhand. Kampong drop to seventh place after back-to-back defeats.

Amsterdam stay top thanks to their 3-2 win over Hurley but were made to work by their up and coming neighbours. Max Sweering and Mirco Pruyser had both given Amsterdam the lead but Rogier Rombouts and Victor Plat had the game level at 2-2 before Kenny Bain won it against his former club.

HGC beat Pinoké  in another close-run thing with Rik van Kan grabbing the winner in the final minute for a 3-2 success. Oranje Zwart are within touching distance in third place thanks to their 5-3 win over SCHC with Jelle Galema scoring twice.

Seve van Ass and Timmo Kranstauber scored the goals in a 2-0 win for Rotterdam over Schaerweijde. Voordaan drew 2-2 with Den Bosch.

Euro Hockey League media release


---

Mannheim the German team of the moment

Mannheim remain the team of the moment in the German league after they recorded their eighth and ninth wins of the season to lead the way, just about, from Rot Weiss Köln.

The leaders started the weekend well with Timm Haase scoring twice in the first 12 minutes of a 4-2 win over Club an der Alster on Saturday. Constantin Staib got one back but later goals from Tomas Procházka and Frederik Hillmann kept them out of reach.

They were made to work hard on Sunday by bottom placed SW Neuss before prevailing 3-2. Sibtain Raza gave Neuss an early lead while Sebastian Draguhn's penalty stroke levelled matters at 2-2.

Haase's third goal of the weekend in the 35th minute, however, was enough to win it for Mannheim who bounce up to 28 points from their 11 games so far.

MHC coach Sören Beßler said of his side's efforts so far: "For us, the look of the table is of course a pleasant one shortly before the winter break. This has been earned by the achievements the team.

"It was certainly not expected. Therefore, we are of course very pleased with the development that has taken place in the team in recent weeks."

Rot Weiss are the only side in touch with Mannheim at this stage. They are two points back but with a game in hand following their pair of wins over the weekend, beating Nürnberger HTC 7-2 and Uhlenhorst Mülheim 3-1.

Harvestehuder lost ground with a 2-2 draw against Berliner on Sunday while Krefeld move up to fourth place with wins over Mülheim and Nürnberger.

UHC Hamburg are back into the to five as they beat Berliner 3-2 thanks to Möritz Fuerste's 66th minute penalty stroke before beating Blau Weiss Berling 6-3 with doubles from Fuerste and Florian Fuchs.

Euro Hockey League media release


---

Futures Cup day 4 Round up



Futures Cup Day 4

On the final day of the Futures Cup, the Under 18 Mercia Lynx girls and Saxon Tigers boys were crowned champions.

Mercia Lynx U18 girls overcame Saxon Tigers 3-1 in the final. The Tigers took the early lead in the eighth minute, thanks to a brilliant strike from Beth Giddings. However, the Lynx came back stronger. Goals from Alice Huddlestone, Jodie Beddow and Bethany Peers ensured back-to-back victories against the Tigers.

The Lynx Captain Lucy Millington said: "We all individually played so well and we put our heart and soul into it. It feels such an honour, I am so proud of the whole team.

"The level of hockey is so high this year, it's amazing. I don't think there's much between the teams at all."

In the other girls' match, the Pennine Pumas defeated the Wessex Leopards. Sophie Shakespeare put the Leopards ahead but Pumas' Ester Stronach and Katherine Birch found the net to give Pumas a 2-1 victory.

In the Under 18 boys final, the impressive Tigers beat the Leopards 3-0. Jack Knight opened the scoring before Sam Barrett bagged the other two goals to wrap up a brilliant day.

Tom Crowson, the Tigers captain said: "It's a fantastic achievement. Well done to the lads, they really worked hard and delivered a performance.

"All the work that went in paid off and we just couldn't be happier."

In the battle for third spot, the Lynx came out comfortable 6-0 winners. Christopher Sullivan, Jack Whelan, Harry Bennett, James Taylor and Sam Apoola found the net to make sure their side ended the campaign on a high.

The spectators were treated to four excellent days of hockey and possibly an early glimpse of some of the stars of the future. 

England Hockey Board Media release


---

U14: Champions Sabah off to great start

NATIONAL Under-14 Girls' champions Sabah got of to a roaring start when they hammered Selangor 4-0 in Malacca Sunday.

Sabah upset Kuala Lumpur 2-1 in last year's final and look good to defend their title.

Sufiamira Basri started the rout with a 12th minute field goal, while Syunita Manap (21st), Kersimah Kauran (22nd) and Aina Ruzana Azlan (68th).

RESULTS: BOYS': Group A: Johor 2 Pahang 0, Perak x Kedah x; Group B: Negri 4 Penang 0, Selangor 8 Kelantan 1; Group C: Perlis 0 Sabah 7, Malacca x Singapore x.

GIRLS': Group A: Perak 5 Kedah 0, Sabah 4 Selangor 0; Group B: Terengganu 1 K Lumpur 7, Johor 2 Negri 3; Group C: Perlis 1 Singapore 1, Malacca 3 Pahang 2.

MONDAY: BOYS': Group A: Terengganu v Johor (MBMB Pitch I, 4.45pm), Pahang v Perak (MBMB Pitch II, 4.45pm); Group B: K Lumpur v Negri (MBMB Pitch I, 6.30pm), Penang v Selangor (MBMB Pitch II, 8.15pm).

GIRLS': Group A: Selangor v Perak (MBMB Pitch I, 7.30am), Kedah v Sabah (MBMB Pitch II, 7.30am); Group B: Terengganu v Negri (STM, 9.15am), Penang v K Lumpur (MBMB Pitch II, 9.15am); Group C: Perlis v Pahang (STM, 7.30am), Singapore v Malacca (MBMB Pitch I, 9.15am).

Note: All matches in Malacca.

Jugjet's World of Field Hockey


---

Sabah show clear intention to win junior hockey tournament

By Percy D'Cruz

MALACCA: Sabah installed themselves as favourites for the boys' and girls' title when they chalked up impressive wins at the MHC-1MAS-Milo National Under-15 hockey tournament.

The East Malaysian boys, who had whitewashed newcomers Singapore 7-0 in the opening day on Saturday, recorded a similar score in their win over Perlis at the Bukit Serindit City Council Stadium.

Their female counterparts, who are the defending champions, blanked Selangor 4-0.

Perlis adopted a defensive game plan and restricted Sabah to a single goal before the break through Aiman Iryani Kamaluddin (5th).

However, the Sabahans came out charging after the breather to score six goals to send the northerners reeling. Muhammad Salmon Sudirman (9th, 40th) and Jallister West Ranggie (50th, 59th) both bagged a brace while the other scorers were Grason Noel Goden (49th) and Nasrul Syahkir Sadiukul (59th).

Tournament's dark horse Selangor, after a nail-biting 4-3 win over Negri Sembilan on Saturday, also made their intentions known when they outplayed Kelantan 8-1.

In another girls' division match, last year's runners-up Kuala Lumpur thrashed Terengganu 8-1.

The Star of Malaysia


---

Peter Wright desires to blow whistle again at World's biggest stadium

By Ijaz Chaudhry



Peter Wright at his favourite National Stadium watching Dar HA's training session

It was exactly ten years back when the South African umpire Peter Wright made his international debut at Lahore's National Hockey Stadium.

"It was a junior international tournament involving four teams; still there were big crowds. The final between Pakistan and India attracted around ten thousand fans. That made me a bit nervous at the start of the match but after a while I got adjusted to the roar of the spectators".

Ten years on, Peter is now a well-established umpire. He has blown in the last two Commonwealth Games, the last two Junior World Cups as well as in a couple of Champions Trophies. He is presently in the World Development Panel, a notch below the World Panel, FIH's top most tier.

And Peter Wright is confident to make into the World Panel soon.

He was in Lahore for a business related visit. Peter works for a very popular Pakistani hockey stick brand as its South African rep. He visited the National Hockey stadium and also watched a training session of Dar Hockey Academy.

"It is very disappointing that Pakistan is not getting any international hockey for last many years. In my opinion that has also been a contributory factor in the decline of country's performance in the international arena. "

Appreciating the efforts of the Dar HA, Peter remarked, "It is wonderful to know that a private academy, without any help from the government, has managed to become a big source of young hockey talent for the Pakistan's national sides."

He is hopeful that with the law and order situation improving in the country, international hockey events would return to Pakistan in near future.

"It is my personal desire as well.  I want to whistle again at world's largest hockey stadium".                                                                                        
 
Ijaz Chaudhry writes on hockey & other sports. For more about him and his work, visit www.sportscorrespondent.info

Field hockey.com