All the news for Saturday 24 October 2015

Australia and New Zealand men and women to contest Oceania Cup finals



Photo: Courtesy of Planet Hockey Magazine | Planet Hockey Magazine Facebook

Its a double header between New Zealand and Australia as the men's and women's teams will both face off in the Oceania Cup finals tomorrow in Stratford, New Zealand.

Men
For New Zealand men, it is a must-win game as nothing less means they will not be going to Rio for the 2016 Olympics.

Coach Colin Batch said: "We are clear - we just need to forget the occasion and go out and play. We have a lot to gain from the game and that is how we will approach it."

Australia top the table going into the finals after a 36-0 win against Samoa in their final pool game. Six goals apiece for Jamie Dwyer and Matt Ghodes, with four goals for Trent Mitton and hat tricks for Flynn Ogilvie, Glenn Turner and Tom Craig ensured that Australia finished unbeaten at the top of the group.

Looking ahead to Australia's clash with New Zealand, coach Paul Gaudoin said: "The important thing tomorrow is that we try to make sure we play a high intensity match and put them under a lot of pressure."

New Zealand's Black Sticks also eased their way into the final with a 12-0 victory over Fiji. Although Fiji have been on the end of high scoring defeats in this tournament, they are a side that is making rapid improvement.

The Black Sticks were held to a 2-0 lead in the first quarter. Ryan Archibald scored from open play in the first minute, and Simon Child added to the scoreline with a penalty corner, but Fiji defended effectively in those opening stages.

It was in the third quarter that the damage was done. The score at half-time had been 5-0, but a further five goals in an 11 minute frenzy consigned Fiji to a double figures loss. There were hat tricks for Hugo Inglis and Kane Russell, with Archibald and Child both adding to their tally and Stephen Jenness finding the net.

Samoa and Fiji men will now battle it out for bronze on Sunday.

Women
The scene is set for the final between rivals New Zealand and Australia in the women's competition as the two teams met in the last pool game and came away with a hard-fought 2-2 draw.

Kat Slattery gave Australia's Hockeyroos the lead just before the end of the first quarter. This lead was wiped out in the 17th minute when Kirsten-Leigh Pearce managed to evade her marker and shoot past Ashlee Wells. The Australian 'keeper had only just come on the pitch after Rachel Lynch went off.

It was then New Zealand's turn to enjoy the lead, Olivia Merry scoring from a penalty corner in the 39th minute. New Zealand's Black Sticks defended their lead right until the final few minutes of the game, but a drag flick penalty corner from Jodie Kenny with just four minutes remaining was as accurate and reliable as ever to score one goal and end the game 2-2.

The result means New Zealand top the group by virtue of a better goal difference. Although both teams have qualified for Rio, expect the final to be a fierce competition to establish continental bragging rights.

RESULTS
Men: Australia 36, Samoa 0; Fiji 0, New Zealand 12.

Women: New Zealand 2, Australia 2.

FIH site


---

Black Sticks poised ahead of big finals day




There is a real sense of anticipation ahead of the Black Sticks Men's and Women's trans-Tasman Oceania Cup finals being held in Stratford tomorrow afternoon.

The Black Sticks Women will face the Hockeyroos at 1.40pm and the Black Sticks Men will take on the Kookaburras at 4pm. It's the Black Sticks Men's last chance to automatically qualify for the 2016 Rio Olympics.

Both games will be LIVE on Sky with gate sales still available.

"This is Taranaki's chance to help our Kiwi teams get two great wins and help our Black Sticks Men get to Rio. The louder and more supportive the crowd, the better!" said Hockey New Zealand chief executive Malcolm Harris.

In today's games, the Black Sticks Women drew 2-2 with Australia, while in the earlier tests the Black Sticks Men won 12-0 against Fiji, and Australia ran away with a 36-0 victory against Samoa. 

It was an entertaining women's game with New Zealand leading 2-1 late in the game until Australia's Jodie Kenny executed a superb penalty corner with four minutes to play.

Australia was the first to score through Kathryn Slattery in the 14th minute and it was just three minutes later that Black Stick Kirsten Pearce took a reverse stick shot from the top of the goal to equalise.

Canterbury's Olivia Merry got a great deflection from a penalty corner in the 39th minute, and although the Black Sticks worked hard to hold on and get the win, it was Kenny who tied it up.

Black Sticks Women's head coach Mark Hager said he was pleased with the overall performance.

"I think we should have been up by a couple more goals by the last quarter, but credit to Australia, they defended well and made some good saves," said Hager.

"I'm pretty pleased at how we defended for the majority of the game. The key is finishing it off, they are two tight close teams and if you don't put away your chances then you are not going to win these games," said Hager.

The Black Sticks Men faced Fiji in their final pool game today and it was Kane Russell who led the scoring with two penalty corners and a field goal. Ryan Archibald, Simon Child and Hugo Inglis got doubles with Stephen Jenness, Nic Woods and Hugo Inglis also getting on the card.
There was lots happening off the field today in sunny Stratford, with entertainers taking to the stage throughout the day, kids playing Renegade hockey,  and NZ Post activities for the children and their parents. The festivities continue for finals day with Taranaki's Seaside Markets relocating to Stratford for the day.

The bronze medal games tomorrow will be live-streamed on www.hockeynz.co.nz. The men's and women's finals are LIVE on Sky. 

RESULTS
New Zealand Women vs Australia
Full time: 2-2
Half time: 1-1
NZ goal scorers: Kirsten Pearce, Olivia Merry
Australia goal scorers: Kathryn Slattery

New Zealand Men vs Fiji
Full time: 12-0
Half time: 5-0
NZ goal scorers: Ryan Archibald x2, Simon Child x2, Stephen Jenness, Hugo Inglis x2, Kane Russell x3, Nic Woods, Hugo Inglis  

Australia Men vs Samoa
Full time: 36-0
Half time: 15-0
Australia goal scorers: Jamie Dwyer x6, Tom Craig x3, Glenn Turner x3, Chris Ciriello, Matthew Dawson, Joshua Beltz, Eddie Ockenden, Blake Govers x2, Joel Carroll, Matt Gohdes x6, Aran Zalewski x2, Tim Deavin, Flynn Ogilvie x3, Trent Mitton x4, Fergus Kavanagh

Hockey New Zealand Media release


---

Kookas through to final

Kookaburras to face Black Sticks in Oceania Cup gold medal final Sunday



                                                                                                                        
The Kookaburras completed their final pool match at the Oceania Cup with a 36-0 victory over Samoa in Stratford on Saturday morning. The Kookaburras will now face Trans-Tasman rivals and hosts the New Zealand Black Sticks in Sunday's gold medal final at 14:00 AEDT / 11:00 AWST. 

Looking ahead to the Kookaburras' clash against the New Zealand Black Sticks tomorrow, coach Paul Gaudoin said, "The most important thing tomorrow is that we try to make sure we play a high intensity match and put them under a lot of pressure. We want an evenness to our group, so we will be sharing the load with both our senior and junior players."

The Kookaburras' World League Final squad will be selected off the back of the Oceania Cup, which will be played in Raipur, India in December.

"You will see a mix of both senior and junior players in our World League Final squad. We have a number of young guys pressing for selection and some guys who are having to maintain a place, it's that healthy competition that we have always had in our squad, so there will be no real difference in the selection process."

Forwards Jamie Dwyer and Matt Gohdes led the way for the Kookaburras with six goals apiece, followed by four strikes from Western Australia's Trent Mitton.

Australia also found the back of the net, thanks to strikes from Joshua Beltz, Joel Carroll, Chris Ciriello (2), Tom Craig (3), Tim Deavin, Blake Govers (2), Fergus Kavanagh, Flynn Ogilvie (3), Glenn Turner (3), Aran Zalewski (2) and Matthew Dawson who found the target at the 60th minute mark to complete the tally for Australia.

The Kookaburras met the Black Sticks earlier in the tournament, defeating their friendly foes with a 3-1 victory. It will be an important clash for the Black Sticks, who will be looking to seal the Oceania Cup gold medal in order to secure their ticket to the 2016 Rio de Janeiro Olympic Games.

The Oceania Cup gold medal match between the Kookaburras and New Zealand Black Sticks will be played on Sunday at the TET Multi-Sport Centre in Stratford at 14:00 AEDT / 11:00 AWST. This match will be shown on Fox Sports 1 on-delay on Monday 26 October at 05:00 AEDT. 
                     
KOOKABURRAS: 36 (15)
Eddie Ockenden 2 (FG)
Chris Ciriello 4 (PS)
Tom Craig 7, 19, 37 (FG) (FG) (FG)
Flynn Ogilvie 9, 20, 32 (FG) (FG) (PC)
Tim Deavin 12 (FG)
Jamie Dwyer 12, 28, 36, 44, 45, 54 (PS) (FG) (FG) (FG) (FG) (FG)
Trent Mitton 17, 17, 50 (PC) (FG) (FG)
Glenn Turner 19, 31, 41 (PC) (PC) (FG)
Aran Zalewski 22, 38 (FG) (FG)
Matt Gohdes 26, 29, 39, 51, 59, 60  (FG) (FG) (FG) (FG) (FG) (FG)
Fergus Kavanagh 32, 38 (PC) (FG)
Blake Govers 33, 51 (PC) (FG)
Joel Carroll 43 (PC)
Joshua Beltz 53 (FG)
Matthew Dawson 60 (FG)

SAMOA: 0 (0)

Kookaburras Squad
Athlete (Hometown, State) caps/goals
Started
Joshua Beltz (Hobart, TAS) 3/2
Joel Carroll (Darwin, NT) 101/2
Chris Ciriello (Melbourne, VIC) 173/113
Matthew Dawson (Central Coast, NSW) 23/3
Tim Deavin (Launceston, TAS) 116/6
Blake Govers (Wollongong, NSW) 16/16
Tyler Lovell (Perth, WA) 53/0
Eddie Ockenden (Hobart, TAS) 255/63
Flynn Ogilvie (Wollongong, NSW) 10/5  
Trent Mitton (Perth, WA) 71/26
Glenn Turner (Goulburn, NSW) 117/87           
                                                                                                      
Used Substitute
Tristan Clemons (Bunbury, WA) 24/0
Tom Craig (Lane Cove, NSW) 12/5
Jamie Dwyer (Rockhampton, QLD) 344/231
Fergus Kavanagh (Geraldton, WA) 209/16
Matt Gohdes (Rockhampton, QLD) 134/45
Mark Knowles (Rockhampton, QLD) 268/22
Aran Zalewski (Margaret River, WA) 69/8                                                                  
                                                                     
Kookaburras' Oceania Cup Fixtures
25 October: Gold Medal - Kookaburras v New Zealand Black Sticks - 14:00 AEDT / 11:00 AWST.

Hockey Australia media release


---

Hockeyroos face Black Sticks for gold

Hockeyroos to face New Zealand Black Sticks in Oceania Cup final




The Hockeyroos will face the New Zealand Black Sticks in Sunday's Oceania Cup gold medal final after drawing with Trans-Tasman rivals 2-2 in their final pool match Saturday afternoon.

Hockeyroos head coach Adam Commens said, "You can see that the Black Sticks have been playing some hard international hockey. We were a little rusty in the first half, however, our second half was significantly better. We made steps forward and it's going to set up an intriguing encounter tomorrow. 

"This tournament is an important part of our selection for World League. We have players that are not here that are well in contention and players here that have an opportunity to show what they are capable of, it's going to be a difficult task to select our final team.

"We also have some young players that are inexperienced here, which is an opportunity for them and a moment where we are able to trial some of these younger players coming through. I have been really pleased with all of the young ones that played today."

Western Australian forward Kathryn Slattery opened the scoring for Australia with an impressive back stick tomahawk in the 14th minute. Sending the ball to the top right of the net, Black Sticks goalkeeper Sully Rutherford was unable to deny Australia access, giving the Hockeyroos a 1-0 lead.

With the match intensity stepping up in the second quarter, the Black Sticks quickly fought back. At the 17th minute mark, New Zealand's forward Kirsten-Leigh Pearce deadlocked the scores 1-1, after sending a reverse stick strike from the top of the circle past Australia's goalkeeper Ashlee Wells.

Coming back onto the field after halftime, scores remained even. It was at the 39th minute that the Black Sticks managed to work themselves a penalty corner opportunity by pushing the ball onto an Australian foot. The Hockeyroos' defence looked strong, however, Olivia Merry's deflection was enough to break down their defensive barrier on this occasion, setting the score at 2-1 New Zealand's way.

Renowned for creating valuable opportunities in the dying minutes, the Hockeyroos won themselves a critical penalty corner with four minutes remaining on the clock. Queensland's Jodie Kenny stood tall at the top of Australia's battery, firing a powerful drag flick into the net and securing the Hockeyroos a 2-2 draw on the final siren.

Having both already qualified for the 2016 Rio de Janeiro Olympic Games, the Hockeyroos will go head-to-head with the New Zealand Black Sticks again tomorrow for the 2015 Oceania Cup title - 11:45 AEDT / 08:45 AWST - at the TET Multi-Sport Centre in Stratford. This match will be shown on Fox Sports 1 on-delay on Monday 26 October from 05:00 AEDT. 

HOCKEYROOS: 2 (1)
Kathryn Slattery 14 (FG)
Jodie Kenny 56 (PC) 

NEW ZEALAND BLACK STICKS: 2 (1)
Kirsten-Leigh Pearce 17 (FG)
Olivia Merry 39 (PC)                 

Hockeyroos Squad
Athlete (Hometown, State) caps/goals
Started
Madonna Blyth (Brisbane, QLD) 310/68
Jane Claxton (Adelaide, SA) 72/6
Kirstin Dwyer (Mackay, QLD) 83/8
Anna Flanagan (Canberra, ACT) 153/35
Jodie Kenny (Wamuran, QLD) 148/92
Stephanie Kershaw (Townsville, QLD) 5/2
Rachael Lynch (Warrandyte, VIC) 128/0
Karri McMahon (Berri, SA) 75/8
Brooke Peris (Darwin, NT) 64/12
Kathryn Slattery (South Stirling, WA) 27/8
Emily Smith (Crookwell, NSW) 129/56
                                                                                       
Used Substitute
Laura Barden (Kew, VIC) 5/2
Edwina Bone (Evatt, ACT) 83/2
Madison Fitzpatrick (Cabarita Beach, NSW)* 5/3
Georgina Morgan (Armidale, NSW) 16/1
Ashleigh Nelson (Wagin, WA) 184/66
Mariah Williams (Parkes, NSW) 23/4
Ashlee Wells (Moe, VIC) 56/0
       
*Madison Fitzpatrick is a scholarship holder at the Queensland Academy of Sport.
        
Hockeyroos' Oceania Cup Fixtures
25 October: Gold Medal Final - Hockeyroos v New Zealand Black Sticks - 11:45 AEDT / 08:45 AWST.

Hockey Australia media release


---

Black Sticks men rally for last shot at Rio

By David Leggat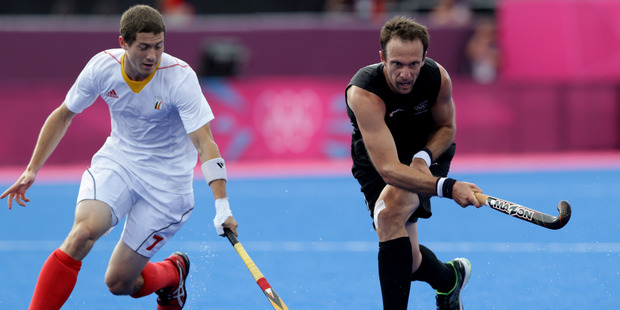 Ryan Archibald of the Black Sticks. Photo / Brett Phibbs

The indicators are grim but New Zealand are confident they can secure an Olympic spot with their last chance in Stratford tomorrow.

The world No7 Black Sticks must beat Australia, the world's top ranked team, to win the Oceania Cup, and nail a spot in the field for Rio next year.

True, they have beaten Australia this year, in a shootout to win the Azlan Shah Cup in Malaysia in April, but set aside the overall win-loss record against Australia and just focus on the post-London Olympic period from 2012.

That's the only win in seven internationals between the transtasman rivals.

They have a final preparatory game against Fiji today before the final. Australia won a tight round robin game 3-1 on Thursday, three of the four goals coming in the last nine minutes.

"We have a lot to gain from the game and that's how we will approach it," coach Colin Batch said of today's game, but he might just as well have been talking about the final.

New Zealand last missed an Olympics in Sydney in 2000.

Classy midfielder Ryan Archibald is the only survivor from that campaign and on his final Olympic trail this weekend.

A New Zealand loss tomorrow "would be a real setback for men's hockey," he said.

"A lot of that comes down to funding that will be missed.

"If you don't have funding you can't play games or do tours and develop talent."

That said, he rates the current squad as having the most depth of any squad he's been involved in since his debut in 1997.

The women's Black Sticks play Australia, a clash between the fourth and second-ranked teams, both today and again in the final tomorrow.

Those teams have qualified for Rio so essentially the weekend amounts to a couple of high calibre clashes, with important ranking points to be secured, which will go into the planning mixer for Rio.

New Zealand's men can only wish they had that luxury tomorrow.

Transtasman tally

• New Zealand v Australia since 1922
• Played 123, Won 18, Drawn 20, Lost 85

The New Zealand Herald


---

Black Sticks women concede late goal to draw with Australia, men score big win



The Black Sticks men had a decent hit out before Sunday's Olympic qualifier showdown with Australia with a comfortable 12-0 win over Fiji. PHOTOSPORT

They might not have the pressure of Olympic qualification to deal with but Blacks Sticks coach Mark Hager believes Sunday's Oceania Cup final is equally important to his team.

Hager was left slightly frustrated after Saturday's 2-2 draw with Australia after the Black Sticks women created plenty of chances but failed to convert as many as they should.

They then conceded a late goal to deny themselves what would have been a deserved victory in their last pool match of the tournament.

"It was pleasing that we did create so many chances but we just have to be better inside the circle," he said.

"We have to come out the same way [on Sunday] and hopefully we take those chances because if you don't you are going to be put under pressure."

Australia opened the scoring with just a couple of minutes left in the first quarter after the Black Sticks lost possession on halfway and Kathryn Slatttery powered her way up the field before firing her shot high into the right hand corner of Sally Rutherford's goal.

The Black Sticks did create some chances in the opening quarter, including a decent shot from Charlotte Harrison in the first minute that just went over the bar.

They started the second quarter with equal enthusiasm and drew level when replacement Kirsten-Leigh Pearce got a slight deflection off her reverse stick shot to sneak the ball past Australia keeper Rachael Lynch.

The Black Sticks continued to create the better chances without quite being ruthless enough in front of goal.

That theme continued through a scrappy third period before the deadlock was broken late in the period after a penalty corner was deflected in by Jordan Grant to give the Black Sticks a 2-1 lead.

However, they gave up their lead with less than five minutes left after they conceded their first penalty corner which was converted rather easily by Jodie Kenny.

While Sunday's final will give the Black Sticks an opportunity to reverse their 2013 Oceania Cup loss to Australia, they will collectively know they have to learn to take advantage of the opportunities they create.

"We haven't won a final for a while and Australia have beaten us in the last couple," Hager added. "I think it's really important we learn how to win the big games."

Earlier, the Black Sticks men had a decent hit out before Sunday's Olympic qualifier showdown with Australia with a comfortable 12-0 win over Fiji.

Veteran Ryan Archibald opened the scoring in the first minute before Simon Child added a second in the 10th but Fiji managed to frustrate the New Zealanders for a long period.

Things loosened up in the second quarter as the Black Sticks became more ruthless in front of goal to add three more just before the break.

They kept the pressure on early in the third quarter and their superior conditioning saw them round the match off with several successful penalty corners.

Hugo Inglis and Kane Russell ended the match with a hat-trick of goals each.

The first match of the day raised further questions about Samoa's future participation in the Oceania Cup after they were thrashed 36-0 by Australia's men's team.

Ahead 6-0 after the first quarter, Australian added a further nine goals before halftime. Their complete domination continued in the second half, even though they barely got out of second gear.

Samoa ended pool play with a goal differential of -93 over three games.

SCOREBOARD:

Black Sticks men 12 (Kane Russell 3, Hugo Inglis 3, Ryan Archibald 2, Simon Child 2, Stephen Jenness, Nicholas Woods goals) Fiji 0.

Black Sticks women 2 (Kathryn Henry, Kirsten-Leigh Pearce goals) Australia 2 (Kathryn Slattery, Jodie Kenny goals).

Stuff


---

Stats Speak: Top 6 wins in International Hockey since inception

By B.G.Joshi (India)

Novices' teams have faced humiliated defeats in international Hockey. In Stratford-New Zealand, Samoa lost heavily to giants Australia and New Zealand. Below complete list is given, it is the first time that these stats are being published for Hockey enthusiasts of the World.
A: Men- Top 6 victories in International Hockey 

Score

Year

Venue

Tournament

Winner

Loser

39-0

2007

Buderim

Oceania Cup

New Zealand

Papua New Guinea

37-0

2015

Stratford

Oceania Cup

New Zealand

Samoa

36-0

2015

Stratford

Oceania Cup

Australia

Samoa

35-0

2007

Buderim

Oceania Cup

Australia

Papua New Guinea

32-0

2013

Stratford

Oceania Cup

Australia

Samoa

30-0

2003

Santo Domingo

Pan Am Games

Argentina

Dominican Republic 

B: Women- Top 6 victories in International Hockey 

Score

Year

Venue

Tournament

Winner

Loser

34-0

2014

Guadalajara

World League R 1

Canada

Guatemala

31-0

2015

Stratford

Oceania Cup

New Zealand

Samoa

31-1

2015

Port Moresby

Pacific Games

Fiji

Tonga

26-0

2013

Stratford

Oceania Cup

New Zealand

Samoa

26-0

2013

Stratford

Oceania Cup

Australia

Papua New Guinea

26-0

2003

Santiago

South Am Games

Argentina

Peru
Fieldhockey.com


---

Green Machine Olympic Dream Could Come True On Sunday




This Sunday, October 25th, could be the day that the dreams of the Green Machine become a reality. The Oceania Cup will take place from October 21st-25th in New Zealand and will see Australia, New Zealand, Fiji and Samoa competing in the men's tournament. If Australia wins the Oceania Cup then Ireland will qualify for the Rio 2016 Olympics.

Australia has already booked their place in Rio via World League where they claimed first spot in Antwerp. As such, if they win the Oceania Cup, they won't be utilising that route to Olympic qualification and the next team in line, Ireland, would qualify for the 2016 Olympics.
 
If the Irish men's hockey team qualify for the Rio Olympics they will be the first hockey team from Ireland to compete at an Olympics games for over 100 years and the first team of any sport to represent Ireland at an Olympic games since 1948.
 
Coach Craig Fulton said "There is nothing more we can do to qualify for Rio2016. As Australia has already qualified, we're relying on them to beat New Zealand in the Oceania Cup final. If they can't beat them then all credit to New Zealand on the day for their victory. We will be watching in the early hours of Sunday morning hoping the result goes our way".
 
The final will take place at 3am Irish time. Links to live streams of the matches can be found here

Irish Hockey Association media release


---

Greenfield Africa Hockey Challenge 2015

When it was announced that the African Olympic Qualifier event had been moved from Egypt to Randburg and called the Greenfields Africa Hockey Challenge 2015, I was thrilled as the Randburg stadium is just down the road from me and I thought I was going to be able to provide up to the minute coverage. Sadly the reality of the situation is very different.

SA Hockey retained the services of a "professional" sports media company Frontiers SA, who are affiliated to TransAfrica Media to handle the media requirements of the Event. The first I heard of them was being invited to the media launch of the event. I suppose alarm bells should have started ringing when you are told to use a certain entrance to the stadium which was chained shut when we arrived there. Not good planning.

At the media launch we were introduced to the company and their credentials which all seemed impressive and I was looking forward to the tournament, But then as a Hockey geek I would anyway. A decision was made by the chairperson of the Local Organising Committee (LOC) that Frontiers SA as the hired media liaison company should be entirely responsible for providing internet access.

As I had installed a WiFi unit that covered the entire stadium precinct and some, which has subsequently gone off line, I knew that this should be a pretty simple process to re-invigorate it (I suspect the internet password had been changed and it was no longer connecting which is why it died). I gave Frontiers SA all the details of the company the unit had been purchased from including all the details of the unit and suggested they got a technician in to get the system to work as this would be quicker than tinkering themselves.

On Thursday, along with the SAHA Media Officer we went to the stadium to check the media facilities and possibly chat to any teams hanging around the venue. We were a bit surprised to find nothing in place and no WiFi connections available. We queried this and were assured that they would all put in place in the morning due the high risk of theft at the stadium, which can be a big problem.

On Friday morning we arrived at the tournament to find the three tables set out below with the extension cord to be the only media facilities available. No Internet and nothing else. Over 15 media people were accredited at that time.




Now, in the 19 years I have been running Fieldhockey.com I have attended many major hockey events all over the World. Normally there would be around 20 - 30 seats with a table to put a laptop on and then a quiet area away from pitch side where you can collect your thoughts and write copy for your media outlet. There there will also be at a minimum tea, coffee and biscuits, but this has in some events been extended to sandwiches, lunches and even full bar facilities depending on the budget. Both have internet access from at the beginning originally dial-up to the now much easier WiFi. This quiet area is not available to the media here.

On asking Frontiers SA where the Internet connect was we were told they were working on it and the idea of issuing dongles was mentioned. I pointed out that this would be fine for laptops but not tablets that many people rely on because of the extended battery life, and certainly what I use to tweet live commentary of the games - something I have been doing since the 2008 Sultan Azlan Shah Cup.

We asked if we would be getting match team sheets before the game and if a revised schedule of the matches could be made available since we had heard that the Botswana men had arrived late and had been eliminated from the tournament as per FIH Rules. We were assured this would be provided.

15 minutes before the game these were provided and we were told that only the fixtures for the day were correct and that a revised fixture list would be provided later in the day. That fixture list had the first game being played on pitch 2 and 4 games over the rest of the day on pitch 1.

After the second game there was an extended break with the Namibian men milling around on the pitch in front of us and no opposition which according to the schedule should have been Botswana. Rumours started circulating as to what was happening, but nobody was on hand to confirm anything. No media release, no team sheets, no media officer - nothing. All of a sudden the national anthems of Ghana and Nigeria started playing which is when we found out by default that there were two matches being played on Pitch 2 and with nothing happing on pitch 1 a game was starting on pitch 2. There are absolutely no media facilities on Pitch 2 and the media I think are expected to stand in the blazing sun with no table to work on, no electricity and no internet access. On asking if there were team sheets we were told the printer was offline and nothing could be printed.

At that point I left the stadium in disgust planning to return to watch the South African men play Zimbabwe later. When I returned nothing had changed except that the Frontiers SA media liaison person was sitting in the stands playing with her phone. She certainly wasn't tweeting anything on the game as her tweets are reflected on her company website and there is very little there on the tournament from her. I tackled her about the lack of internet, expressed my opinion that the facilities were a disgrace and not having team sheets made the journalist's job impossible. I was fed up with having to put up with substandard media facilities and very grumpy indeed after standing in the sun most of the afternoon trying to get something about the game on Pitch 2.

A member of the LOC came over and sat two seats away from me and whispered to another journalist to pass on the message that if I caused any more disruption I would be barred from the stadium. It angered me that she couldn't talk to me in person.

After the game I tried to get some answers as to when the media facilities would be fully working, but was told I needed to apologise to both the LOC member and the Media Liaison officer before they would talk to me.

I am sorry, but what am I supposed to apologise for? Pointing out that a retained specialist Sports Media company has utterly failed to carry out their duties? Am I supposed to apologise for being threatened with eviction from the stadium for pointing this out? Am I supposed to apologise for the fact that at the end of the day's play nobody had any idea of what the schedule of events for the next day was or for the rest of the tournament?

I have turned in my accreditation and as far as this site is concerned this tournament is a non-event. I will not be reporting on it - no point really as there is no internet access, but with respect to the sponsors of the tournament coverage will provided in the format below. By clicking on the article title you will be taken to the site originally reporting on the event.

One last point on the tournament, one has to wonder who was the genius to schedule an SA Ladies game at the same time as the local rugby team the Golden Lions is playing in the Currie Cup Final hoping to finish the season unbeaten and win the Cup and then to schedule the SA Men's game at the same time as the Rugby World Cup semi-final where SA will play the All Blacks for a place in the final. Just how many people do they really think are going to go and watch hockey with those two games on TV?

South Africa men make strong start at African Hockey Championships

Namibia 0-2 Kenya: Aura and Omaido strikes give Jos Openda's charges win

Zimbabwe, Kenya & Ghana women bag wins on opening day

High hopes for Namibia at African Hockey Championships

Can history repeat itself for Zimbabwe?


---

Goals galore as Great Britain win final test



Barry Middleton scored his 100th international goal against Argentina.

Two goals from Scotland's Chris Grassick helped Great Britain to a 5-3 win in the final test of the three match series against Argentina. The Scotland star grabbed two open play goals to add to strikes from Barry Middleton – his 100th international goal, Ashley Jackson and Sam Ward. Argentina struck back through Juan Gilardi, Lucas Rossi and Gonzalo Peillat but it was not enough to stop Bobby Crutchley's team taking the series 2-1.

Great Britain started brightly and it didn't take long for them to go into the lead. Iain Lewers played a lovely pass forwards to Ward, who found Adam Dixon on the baseline. His cross was expertly slammed home by Middleton for his 100th goal in international hockey. Argentina hit back but George Pinner was equal to the task of denying Peillat from a penalty corner. Ward went close with a snapshot and then set up Simon Mantell who drew a good save out of Julian Sabaz and it remained 1-0 at the end of the first quarter.

The second period was a physical contest with both sides refusing to give an inch in the middle of the pitch. Alastair Brogdon won a penalty corner but Ian Sloan's drag flick was saved and then Middleton almost grabbed his second with a deflection from a Dan Fox pass.

The third quarter was where the game really came to life. Grassick was first to strike, showing superb strength and determination to hold off the defender before firing a backhand shot through the goalkeeper's legs to make it 2-0.

Jackson added his name to the score sheet on 40 minutes with a lovely low penalty corner that gave the goalkeeper no chance. Just three minutes later, Los Leones gave themselves a flicker of hope as Gilardi converted a penalty stroke. Undeterred, Great Britain restored their three-goal cushion before the end of the quarter with another strike from Grassick. The Surbiton man showed a cool head to beat the goalkeeper one-on-one with another backhand finish.

A minute into the final quarter and it was 5-1. Michael Hoare played the ball into the circle where it popped up off a defender's stick; Ward was the quickest to react, beating the goalkeeper with an outrageous behind the back deflection to add to his goal tally.

Despite their healthy lead, Great Britain allowed Argentina back into the contest, conceding a series of penalty corners. Rossi and Peillat both converted chances in the 49th and 54th minutes to make the last five minutes a little less comfortable for the hosts. Despite their late rally, there was not enough time for Argentina to complete their comeback and Great Britain took the win and the series.

Bobby Crutchley, Great Britain Head Coach

"We were very good in parts but I was also frustrated with elements of the way we played. Some of our individual defending could have been better. We allowed them to win corners which they have a big threat from. I don't feel we made them work hard for the corners that led to the goals, so I'm disappointed with that. We have to be satisfied overall however because we scored some good goals, played some nice hockey and got a good win against a good team. It's been a long couple of weeks but physically the team are in good shape and that's pleasing. There's plenty to work on but plenty to be pleased about. We created more chances today than we had previously. We want to be an attacking threat and it was great to see Chris Grassick score a couple of goals. We're playing him a bit further forward than he's used to, so it's nice to see him settling into that role.

My philosophy around World League selection is to give us an idea of what players can do as we look towards the Olympics. We'll probably use a different squad than we have previously. We're not just doing it for the sake of giving people a go, however. It's because we believe these players are good enough and we'd like to see what they can do."

Great Britain 5 (1)
Barry Middleton 2 (FG)
Chris Grassick 36, 45 (FG, FG)
Ashley Jackson 40 (PC)
Sam Ward 46 (FG)

Argentina 3 (0)
Juan Gilardi 43 (PS)
Lucas Rossi 49 (PC)
Gonzalo Peillat 54 (PC)

England Hockey Board Media release


---

USWNT Draws First Test Match against Great Britain

MARLOW, United Kingdom - The U.S .Women's National Team drew their first test series match against Great Britain with a final score of 2-2. The fast paced match saw two rookies make their debut with the team and an impact.

The U.S. Women's National Team and the Great Britain Women's National Team were scoreless in the first quarter. Fighting to capitalize on shots on cage, Team USA earned a penalty corner in the second quarter. Converting on the opportunity and putting the USWNT up 1-0 was Loren Shealy (Charlotte, N.C.), who made her debut with the team after being added to the roster in July. The halftime score stood at USA 1, Great Britain 0.

Adding to the score-sheet in the third quarter off a penalty corner for Team USA was Ali Froede (Burke, Va.), who also made her debut with the team today. Great Britain hit the backboard twice off two open play deflections in the fourth quarter to equalize the scoring at 2-2 before the final whistle.

"This was a solid start to the series," said Craig Parnham, U.S. Women's National Team Head Coach. "It was nice to see the new players coming in to the group and performing well, with both getting on the  score sheet. We are looking forward to Sunday's game in which we will continue to develop the group."

The U.S. Women's National Team is back in action for their second game of the test series on Sunday, October 25 at 10:30 a.m. EST. Follow usafieldhockey.com for more information regarding the test series as the matches will not be broadcasted.

USFHA media release


---

Spotlight on: Great Britain men




Following their fourth place finish at the London 2012 Olympics, Great Britain (FIH World Ranking based as England: 5) have set their sights firmly on winning a medal at Rio 2016. Looking at their recent history, you certainly wouldn't bet against them.

There has been a steady improvement since their disappointing ninth place finish at the Athens 2004 Games, with the team taking fifth at Beijing 2008 before losing the Bronze medal match at London 2012 against Australia's Kookaburras.

The team coached by ex-England & GB striker Bobby Crutchley sealed tickets to Rio and Raipur - the host city of the Hero Hockey World League (HWL) Final - with a third place finish at the FINTRO HWL Semi-Final in Antwerp, Belgium, with Ali Brogdon, Chris Griffiths, Ashley Jackson, Adam Dixon and Barry Middleton all on target as Brits claimed a 5-1 win over India.

Although many see midfield ace Jackson as Great Britain's star player, there are numerous other top class internationals in the current group to keep a close eye on.

Middleton, the team's captain and attacking focal point, has over 350 combined England and GB caps under his belt and is a hugely influential figure both on and off the field.

Having represented Great Britain at the Athens 2004, Beijing 2008 and London 2012 Olympics, Middleton's vast experience is crucially important as the team builds towards Rio 2016.

Defender Iain Lewers was a star player at the FINTRO HWL Semi-Final in Antwerp, while Adam Dixon and Nick Catlin are both consistently excellent performers on the international stage.

Key player: Ashley Jackson. Alongside Middleton, this 28-year-old midfielder is one of Great Britain's most gifted hockey players. He possesses fantastic stick skills, a terrific eye for a pass and is one of the finest penalty corner drag-flickers in the game. As always, Jackson is expected to be one of the stars of the show in Raipur.

Notable honours
2x Olympic Gold medallists (1920, 1988)
Olympic Silver medallists (1948)
2x Olympic Bronze medallists (1952, 1984)
FIH Champions Trophy Silver medallists (1985)
2x FIH Champions Trophy Bronze medallists (1978, 1984)
3rd place – FINTRO Hockey World League Semi-Final, Antwerp (2015)

Additional information: Great Britain's athletes are up there with the fittest sportspeople around. Typically, members of both the men's and women's squads are put through their paces on the hockey pitch at Bisham Abbey National Sports Centre (approx. 30 miles / 48 kilomtres west of London) for at least 12 hours a week. This is supported by a minimum of two gym sessions a week in the athletes' gym, a top facility run by the English Institute of Sport (EIS) and accessible only to elite athletes. On top of these team training sessions, GB hockey athletes also undertake individual training on the hockey pitch and in the gym almost every day.

FIH site


---

Hockey India gets official partner for HWL



Hockey India president Narinder Batra.   

Hockey India on Friday secured an official partner in Coal India Limited/South Eastern Coalfields Limited (SECL) for the Hockey World League Final 2015 to be held in Raipur in November-December.

The HWL Final is organised by the International Hockey Federation (FIH) and this year will be played at the Raipur International Hockey Stadium November 27 to December 6.

India, along with Argentina, Great Britain, Canada, Belgium, Australia, Germany and Netherlands, will vie for top honours at this global event.

An elated Hockey India president Narinder Dhruv Batra said, "We are delighted to see Coal India Limited/South Eastern Coalfields Limited come on board as the official partners for World League Final. It reinforces my faith in the fact that the sport is not going unnoticed in India and both the private and public bodies are equally keen to help the growth of Hockey in the country."

"CIL/SECL is happy to partner with the Hockey World League final. We have been actively involved with grass-root sports talent development in the past and this partnership is just an extension of our long standing commitment to sports in India. We are glad to be associated with our national game, Hockey and wish all the very best to the participating teams," said Om Prakash, CMD of SECL.

The Hindu


---

Cutting costs: PHF to call junior team back from Malaysia

Federation shifts training camp for Asia Cup to Pakistan.

By Nabil Tahir

KARACHI: In a bid to cut costs, the Pakistan Hockey Federation (PHF) has decided to shift the junior team's training camp back to Pakistan instead of letting them stay on in Malaysia until the commencement of the Junior Men's Asia Cup next month.

The PHF had earlier planned to organise a training camp for the players in Malaysia after their participation in the Sultan of Johor Junior Hockey Cup to get acclimatised to the weather conditions.

However, they decided to call the team back after the Pakistan International Airlines offered them a 90% discount on all traveling expenses if they opt to return to Pakistan and then go for the Asia Cup, which was more affordable for the PHF rather than financing the youngsters' prolonged stay in Malaysia.

"The earlier proposed 26-day stay was costing the PHF more than another trip after training at home," chief coach Tahir Zaman told The Express Tribune. "So the federation will hold a month-long camp in Pakistan instead and will send the team to Malaysia again four days prior to the competition."

He added that training at home has its advantages as a good number of players are being invited to the camp including those from the senior team.

"The PHF has invited around 56 players to the camp, including 14 players from the senior side who will play some practice matches," he said. "The juniors will benefit greatly by playing against the seniors."

The Asia Cup will also serve as a qualifying round for the Junior World Cup to be held in India in November next year, with the top three teams earning their respective berths for the mega event.

The Express Tribune


---

Dragons make it seven wins from seven




Dragons made it seven wins from seven in the Belgian league on Thursday evening to continue their dominance over the division, seeing off Herakles 6-0.

They led from the fourth minute via Florent van Aubel and did not struggle from there on. Manu Stockbroekx added two more while Alexander Hendrickx and Thomas Briels added to another goal from van Aubel.

They play against Waterloo Ducks on Sunday in what should be a stronger test of their mettle. Currently, Dragons hold a four-point lead over the chasing pack.

Royal Leopold snuck past Beerschot to move into fourth place in the division with a 1-0 success at Kontich. Max Plennevaux's 24th minute goal was the key moment while Elliot van Strydonck made a last minute save to deny Jerome Saeys from snatching a share of the spoils.

Racing Club de Bruxelles were 4-1 winners over La Gantoise to maintain their second place in the table. The WatDucks beat Braxgata 5-3 with second half goals from Alex de Paeuw and Gauthier Boccard pulling the Ducks clear and into third place.

KHC Leuven moved into seventh with their third win of the campaign, a 3-1 away success against Antwerp. Pau Quemada scored twice while Renaud Pangrazio got the other to cancel out Bas van Valburg's goal.

Royal Daring stayed in touch with the leaders thanks to a 5-1 win over Pingouin.

Euro Hockey League media release


---

Penang Juniors give walk over

By Jugjet Singh

PENANG Juniors gave a walk over to ATM Pernama in the Malaysia Hockey League women's third-fourth placing match scheduled for Saturday at the National Hockey Stadium in Bukit Jalil.

Penang, who lost 7-3 to ATM in the group stage, cited examinations as an excuse.

The match was earlier postponed due to haze on Oct 3, and the new date clashes with examination preparations.

"The Penang Juniors and ATM Pernama match will not be held, as most of the Penang players are students who are preparing for major examinations.

"The bronze will be awarded to ATM Pernama. However, the final between SSTMI Thunderbolts and PKS-KPM will go ahead as scheduled at 6pm Saturday," said Malaysian Hockey Confederation (MHC) competitions secretary Hashim Yusoff.

In the group stages PKS KPM, led by national players and league top-scorers Fatin Naimah (nine goals) and Nuraini Rashid (eight goals) beat Thunderbolts 3-1.

SATURDAY: Final: SSTMI Thunderbolts v PKS-KPM (6pm, National Hockey Stadium, Pitch II ).

Jugjet's World of Field Hockey


---

Thunderbolt hoping to be third time lucky

Aftar Singh

KUALA LUMPUR: Will it be a case of third time lucky for Tunku Mahkota Ismail Sports School (SSTMI)-Thunderbolt?

The Johor sports school will face debutants Sports Excellence Centre-Higher Education Ministry (PKS-KPT) in the final of the Women's League on Saturday at the National Hockey Stadium in Bukit Jalil.

The hockey final was initially scheduled for Oct 3, but was postponed due to the haze.

SSTMI have lost twice to PKS-KPT – 4-0 and 3-1 – in the league.

PKS-KPT have not lost a single match in 11 outings, but SSTMI coach Azlizam Abdul Shukor is in buoyant mood after watching his side thrash defending champions Armed Forces 4-1 in the semi-finals last month.

"Although we will start as underdogs in the final, we've proven that we can upset any team in the league," said Azlizam, who will not have the services of midfielder Surizan Awang, who injured her knee in the semi-final win over Forces.

PKS-KPT coach Izzwan Mohamed Salleh is proud of his bunch of university students, for staying unbeaten in 11 matches in their debut season.

"We're well prepared for the final ... we won't take SSTMI for granted," vowed Izzwan, who expects Fatim Nainah, who has scored nine goals in 11 matches, to continue doing what she does best.

Meanwhile, Penang Juniors have given Armed Forces a walkover in the third-placing playoff, which was scheduled to be held on Saturday.

The Penang team's Form Four and Form Five players will be sitting for their schools' and the Sijil Pelajaran Malaysia (SPM) examinations. 

The Star of Malaysia


---

Hampstead hoping for Surbiton scalp



Hampstead and Westminster Matt Botha, Credit Simon Parker

After making one of their best starts for several seasons, Hampstead and Westminster are relishing the challenge of playing Surbiton in the Men's Hockey League Premier Division on Sunday.

Currently fifth, Hampstead's only defeat came narrowly at Reading and they are making a realistic challenge for a top four spot.

"We've had a really good start to the season," said Hampstead team manager Thea Hitchcock. "It's great to see us doing so well before Christmas, we're definitely a better team this year and are only getting stronger. We have a lot of experienced players here who have gelled very well."

Surbiton have former Hampstead coach Todd Williams, while Andy Hayward was with Hampstead last season and is now among the ranks at Sugden Road.

"It will be a cracking game, what with the history of players and Todd being there now," added Hitchcock. "Surbiton have made a very good start but we're doing very well too and we seem to pull a few results out of the bag when we play away, so who knows what will happen?"

Elsewhere, Brooklands Manchester University have a challenging match ahead as they prepare to host Holcombe at Georges Road, while last season's champions Wimbledon go to bottom of the table Canterbury.

Reading and Beeston will meet on Sunday too, while Saturday's only top flight match sees East Grinstead go to Cannock for an evening clash.

In the Men's Conference West, the University of Exeter are preparing for a tough match away at leaders Cardiff and Met, while second-placed Indian Gymkhana go to Team Bath Buccaneers.

Leaders Loughborough Students are at home against unbeaten Bowdon as the top two clash in the Conference North, while third-placed Deeside Ramblers head to Sheffield Hallam.

Richmond battled to a dramatic 4-3 away win at Cambridge City last weekend, and they are back in Conference East action on Sunday against Brighton and Hove at the Quintin Hogg Memorial Ground.

Oxted and Southgate both moved up the table to second and third respectively after victories last weekend, and they meet each other this Saturday. The team that Southgate beat, Sevenoaks host West Herts.

Men's Hockey League (Saturday, October 24, 2015):

Men's Premier Division
Cannock v East Grinstead 18:00

Men's Conference West
Fareham v Chichester Priory Park 17:30
Isca v Cheltenham 12:30

Men's Conference North
Loughborough Students v Bowdon 18:00
Wakefield v Lichfield 13:30

Men's Conference East
Teddington v Harleston Magpies 12:30
Southgate v Oxted 14:00
Bromley and Beckenham v Cambridge City 16:30
Sevenoaks v West Herts 17:00

Men's Hockey League (Sunday, October 25, 2015):

Men's Premier Division
Reading v Beeston 14:30
Canterbury v Wimbledon 12:45
Surbiton v Hampstead and Westminster 14:00
Brooklands Manchester Univ v Holcombe 14:00

Men's Conference West
Cardiff & Met v Univ of Exeter 12:30
Team Bath Buccaneers v Indian Gymkhana 13:00
Guildford v Univ of Birmingham 14:00

Men's Conference North
Sheffield Hallam v Deeside Ramblers 13:30
Univ of Durham v Doncaster 14:00
Preston v Olton and West Warwicks 14:00

Men's Conference East
Richmond v Brighton and Hove 14:30

England Hockey Board Media release


---

Hockey Heroes helping inspire the next generation




Shelley Russell, or Shells Bells as she is known to her thousands of followers on social media, is a South African icon.

With more than 200 caps to her name, the athletic midfielder is one of the best known sports women in South Africa. This week she is taking part in the African Hockey Championships.

While that fixture is now very much at the forefront of the 28-year-old's mind, she has spent much of the year spearheading an initiative to raise the level of aspiration and performance among female hockey players.

"I feel that it is important to be out there, taking part in outdoor exercise, from a health and general well-being perspective," says the double Olympian. "There are so many life lessons to be learned from the discipline of sport, especially fitting into a team dynamic. If we can instil love for sport within the youth, that would be a first prize."

Russell was speaking at the launch of the Investec Hockey Academy, a country-wide training initiative aimed at improving the performance of female hockey players. The scheme involves former and current players sharing their knowledge, expertise and passion for the game through a series of camps run across South Africa.

So far, four camps have taken place, one in Stellenbosch, two in Johannesburg and the most recent camp in Durban, where pupils from 15 schools joined together to improve their hockey skills and gain inspiration from the coaching team of international hockey stars.

When not playing hockey, Russell is a sports scientist, as well as a coach, and she will be bringing all her knowledge to the table when it comes to the Academy.

"The courses we offer work on creating well-rounded athletes," she says. "Very important aspects such as mental toughness, functional ability, vision training, fitness, nutrition, recovery techniques and athlete education in general are addressed at the academy."

Russell is just one of a number of hockey stars who are all bringing a high level of professionalism to coaching academies and clinics across the globe.

Tom Boon, the Belgium men's sharp-shooting forward has lent his name and his coaching ability to Tom Boon's Hockey Camps, where he is joined by sister Jill – also an international player – and other members of the men's and women's national squads.

Meanwhile, in Argentina, Campus Lucha, the coaching clinic run by hockey legend and eight times FIH Player of the Year Luciana Aymar, is proving a huge draw to youngsters.

Aymar, who is arguably the best known female hockey player on the planet, may have retired from international duty, but her cache as an inspiration remains undiminished.

Also drawing on his star-player status is Australia's Jamie Dwyer. Like Aymar, Dwyer has picked up the FIH Player of the Year award on multiple occasions and is considered as one of the best players of all time.

The Jamie Dwyer Hockey Academy attracts young players from all over Australia, and Dwyer is always on hand to lead the coaching sessions.

Russell, and the other hockey players turned coaches, are at the forefront of a move to bring a high level of professionalism to the coaching arena. But what they also bring is something equally important, star quality.

For a young player who sees his or her hero on the pitch, doing the skills and running the session – well what could be more inspirational than that?

For more information on the Investec Hockey Academy, click here.

FIH site


---

ASHWINI KUMAR (1920-2015):

An Administrator, loved, feared and respected

BY S. THYAGARAJAN

The sports fraternity in the country is deprived of the presence of a charismatic personality in the death of Ashwini Kumar, former Vice-President of the International Hockey Federation and International Olympic Committee (IOC) on Friday. He was 94.

Few sports administrators in the country possessed the erudition that combined the best of aesthetics like Ashwini. He fulfilled the definition of what is popularly perceived as a multi-faced person. A born aristocrat with a taste and mastery in fine arts, Ashwini, enjoyed power that reflected authority to the point of being viewed as arrogance by his detractors.

It is a pity that Indian media did not pay enough attention or focus over the demise of an administrator who was not only a sportsmen but a connoisseur of arts. Said to be a good painter, music lover, skilled horsemen, and a swimmer, who once rescued his driver after the jeep they were travelling fell into the river near a culvert, Ashwini led a life that was exciting, exhilarating and exotically eventful.

Born on December 23, 1920, at Jalandar (Punjab), Ashwini obtained a degree in literature at the Government College at Lahore. He distinguished himself in every aspect. He won the college colors in hockey, athletics and rowing apart from academic excellence. He topped the list in the competitive examination for the selection of IPS in 1942.

Ashwini's career as a police officer is now part of folklore in Punjab. He had the unique distinction of heading the Punjab Police and the Border Security Forces simultaneously in the early 70s. His exploits included the chase and arrest of Sucha Singh involved in the murder of the then Chief Minister, Pratap Singh Kairon.

It was as a sports administrator that Ashwini cornered the national attention. As President of the Indian Hockey Federation from 1958 for 16 years he dominated the scene inviting a mixed bag of appreciation and criticism. Accused for his proclivity towards Punjab and its players, Ashwini's tenure witnessed the first Olympic reverser in hockey in 1960 at Rome. Interestingly, he was the Chef-de-Mission of the Indian contingent. Even as early as 1954, he led the Indian squad for the Empire Games at Vancouver and was the Deputy Chef-de-Mission for the 1956 Olympics at Melbourne where India regained the hockey gold.

Ashwini's diplomacy, dialogue and dynamism won the admiration and respect many an official in the international sports hierarchy. He gravitated into the International Hockey Federation as Vice-President and remained in that position for a decade and half. His impeccable communication skills and expertise in security related issues paved the way to the highly influential EB within the IOC from 1973. He was connected with so many committees related to the IOC, which no sports administrator in the country can even dream of to day. His rapport with the IOC boss, Samaranch, was phenomenal.

Apart from hockey, Ashwini was also involved as an official in Athletics, Boxing, Basketball and a stint as Secretary of the Indian Olympic Association.

Married to the niece of Guru Dutt Sondhi, a renowned official and founder of the Asian Games Federation, Ashwini's love for sport was transparent when he named his only daughter as " Hockey."

Beyond the realm of sport, Ashwini knowledge of fine arts, especially music, reflected in the conduct of the Harbalabh Festival every year under his patronage.

Quite understandably, tributes to Ashwini poured from all corners of the globe of the Olympic and sports families.

The IOC President, Thomas Bach, observed, "
Ashwini Kumar had a real passion for sport and spent his whole career promoting its values at the highest level of Indian sports administration, "It was always a pleasure working with him over so many years. His good advice and contributions were greatly valued and his high integrity was hugely appreciated," he added.

The FIH President, Leandro Negre said,
"Ashwini Kumar will be a huge loss to the hockey world. Our sport will always have a special place in his heart having been involved in the game for so many years, both as a player and behind the scenes."

"Ashwini played a significant role in the development of the sport both within India and around the world and it would certainly not be where it is today without his determination and energy. The hockey family will miss this great man and on behalf of everyone at FIH and all of our National Associations, I would like to offer our deepest sympathy to his family and close friends at this difficult time."

The life and times of Ashwini Kumar is a glorious chapter of achievements that needs to be portrayed in a well-researched biography for the benefit of the posterity.

Author's Facebook pages


---

Mr Hockey Ashwini Kumar: Doyen of Indian sports

K. Arumugam




Mr. Hockey Ashwini Kumar,93, who died recently, is one of the finest gentlemen I interacted with in my journalistic career. Between 2003 and 2007, I met him routinely at least twice a week to pen his biography, each day a lesson for me personally and professionally. No doubt he was an encylopaedia of many fields such as Music, Cinema, Sports, Indian and Imperial

Police era, Olympic Movement etc. But his first love is hockey. He often used to call servants to tell something or other to Hockey Memsaab, his daughter. yes, he named his daughter 'hockey'. When India lost the 1958 Asian Games gold and then Rome Olympics gold, he organized at least 12 test series in India to boot the moral of the sport in India and among the players. India went on to win next Olympics and Asian Games, former without conceding a single goal. He wrote beautifully. But his role in IOC is commendable: while Raja Bhailendra Singh, his contemporary IOC member drew his position being a royal, Ashwini rose from ranks and presented a scholarly erudition.

Two personal incidents I cannot forget: Firstly, when I showed the first draft of his biography Mr. Hockey Mr Olympics, his comment: No villification, No glorification. I told him journalism cannot survive without these two, he retorted: World can still survive. He was a career policemen and had many encounters with press. Secondly, he asked me whether I had read former president of India's book 'Indian Philosophy'. I said No. He could not bear it, and just threw on my face whatever he had. I now feel this is the mildest encounter with career cop. I really miss him. He has undergone heart surgery four times; and had seen all Olympics from 1948 to 2012 including the winter ones.

MY ARTICLE IN THE HINDUSTAN TIMES TODAY

The present generation might not know Ashwini Kumar, who breathed his last on Sunday at age 93. But at one time he was one of the most accomplished administrators the country has seen.

Be it sports administration or tackling major security issues, Kumar, who was the International Olympic Committee (IOC) member for more than three decades, carved out a niche for himself.

From gunning down dreaded dacoits like Bhupat in Gujarat to chasing killers of the chief minister of undivided Punjab, Partap Singh Kairon, Kumar, then a young DIG in Punjab Police who later went on to head the Border Security Force, was always in the forefront.

But it was sports that gave him enduring identity. He took charge of hockey from Naval Tata when the sport was in decline, losing the pedestal to Pakistan at the 1958 Asian Games and then the Rome Olympics. He ruled Indian hockey for 15 years, helping it regain lost pride, but as years rolled by controversies surrounded him. The sidelining of such greats like Balbir Singh of Western Railway and Inam-ur-Rahman and his long-standing feud with Prithipal Singh, did affect his popularity. But he remained obsessed with hockey, so much so that he named his elder daughter 'Hockey'! It goes to his credit that the Indian hockey team never returned without a returned as long as he was IHF chief.

But Kumar's worth as a sports administrator with immense talent came to the fore when he left hockey and moved to the IOC as its Indian representative in 1973. Those were turbulent times for the Olympic Movement. Cold War, apartheid and athletes seeking asylum in Olympic host countries weakened the movement.

When the United States was contemplating boycotting the 1980 Moscow Olympics, Kumar delivered a memorable speech --- he said, 'Let us boycott all boycotts' at the IOC Congress, ironically held in the US, at Lake Placid. "I was noticed in the Olympic fraternity with that speech," Kumar said later.

It was Kumar who dealt a blow to Julian Roosevelt's --- younger brother of US President Theodore Roosevelt --- aspirations in the IOC vice-presidential election, even though the 1984 Olympics were being held in Los Angeles. Kumar got 49 votes to Roosevelt's 24.

During his stint with the IOC, he had several meetings with the North Korean dictator-president to ensure the 1988 Seoul Olympics went off peacefully. "I spent hours sitting with the Korean dictator, just listening. Those meetings were meant to buy time," he used to say. The IOC supremo, Juan Antonio Samaranch, soon made him the first Member Security. "He (Samaranch) invented the post for me," he said.

It was Kumar's cool but temperamental genius that earned a name for us in the Olympic Movement.

Stick2Hockey.com