All the news for Thursday 22 October 2015

Black Sticks Men positive ahead of weekend



 
The Black Sticks Men have faced Australia for the first time at the Oceania Cup in Stratford and despite a 1-3 loss the team are positive about their performance.

Head coach Colin Batch is optimistic ahead of the weekend's games and says it comes down to the finishing touches.

"We wanted to test ourselves, a lot of things went well for us tonight and it was just good to get on the turf and play against Australia and trial a few different things," said Batch.

The Kookaburra's were first to score with Jamie Dwyer finding the net in the first 30 seconds.

"My message to the players is we still need to turn up and start the game well, for whatever reason we don't always seem to do that. We redeemed ourselves very quickly and got a goal shot and then a penalty corner soon after, but the starts are something we need to improve," said Batch.

After Dwyer's goal, it remained 0-1 till the 51st minute when Thomas Craig made it 2-0.  The Black Sticks responded with Hugo Inglis firing it in from a tight angle on the baseline. 

The Kiwis sniffed a chance and continued to work in the last five minutes of the game, but it was Glenn Turner who sealed it with a diving goal in the 57th minute to end it 3-1.

Although the Black Sticks Men are still to face Fiji on Saturday, they are eyeing the final game of the tournament which will be played at 4pm this Sunday. A tournament win would book the Black Sticks Men a spot at the 2016 Rio Olympics.

"We are clear that we just need to forget the occasion and go out and play – we have a lot to gain from the game and that's how we will approach it," said Batch.

In the earlier games, Fiji Men walloped Samoa 20-0 and Australia Women stormed to a 25-0 win against Samoa in their opening game of the tournament.

Tomorrow is a rest day for all teams. The Black Sticks Women face Australia at 2pm on Saturday and the Black Sticks Men play Fiji at midday on Saturday.

Click here for more information on the 2015 Oceania Cup. Tickets are cheaper to purchase online than at the gate.
 
The final men's and women's games are live on Sky, with all other games livestreamed.

RESULTS
Black Sticks Men vs Australia
Full time: 1-3 (Australia win)
Half time: 0-1
NZ goal scorers: Hugo Inglis

Australia goal scorers: Jamie Dwyer, Thomas Craig, Glenn Turner

Fiji Men vs Samoa
Full time: 20-0 (Fiji win)
Half time: 13-0

Fiji goal scorers: Amenatave Veitamana, Adrian Smith, Alsace Smith, James Saqacala x2, Adrian Smith x2, Martin Fong x2, Leevan Dutta x8, Adrian Smith, Jerome Edwards x2

Australia Women vs Samoa
Full time: 25-0 (Australia win)
Half time: 18-0
Australia goal scorers: Jodie Kenny x3, Ashleigh Nelson x3, Laura Barden x2, Stephanie Kershaw, Emily Smith x4, Jane-Anne Claxton x2, Anna Flanagan, Brooke Peris x3, Madonna Blyth, Karri McMahon, Georgina Morgan, Madison Fitzpatrick x2, Mariah Williams                                   

Hockey New Zealand Media release


---

Two from Two

Kookaburras seal a 3-1 victory over Black Sticks at Oceania Cup




Jamie Dwyer's early strike helped seal the Kookaburras a 3-1 victory in their second pool match of the Oceania Cup against Trans-Tasman rivals the New Zealand Black Sticks in Stratford, New Zealand on Thursday.

Kookaburras coach Paul Gaudoin said, "This is the first part of two important matches for us here and we tried to focus on getting ourselves a solid game. I was pleased with our efforts, our ball handling was better and we improved on a few technical areas today.

"I think our younger guys performed reasonably well and our senior guys led by example. I'm not satisfied with our performance yet, as I think there's still areas we want to continue to improve on, however, getting two quality matches is important and I think they are relishing that opportunity."

Queensland's Jamie Dwyer put the Kookaburras on the scoreboard 20 seconds after the starting whistle, slotting a quick field goal behind the Black Sticks goalkeeper, Kyle Pontifex, pushing Australia in front with a 1-0 lead.

Featuring fast pace and world class skills, the Kookaburras - world number one – and the Black Sticks - world number seven - brought international hockey to Stratford for the third time.

The action started to heat up in the second half, when the Kookaburras managed to penetrate their attacking circle on numerous occasions, however, couldn't seem to break through the Black Sticks rock-solid defence.

It was at the 45th minute mark that the Kookaburras worked themselves a critical penalty corner opportunity to break away from the Kiwis. Standing at the top of the Australian battery, Blake Govers' drag flick slipped only marginally wide of the goal.

At the 51st minute, New South Wales' Tom Craig found himself in the right place at the right time, getting a last minute deflection into the back of the net, 2-0.

It was five minutes out from the final siren that New Zealand's forward Hugo Inglis netted a quick on-target field goal, helping to half the deficit with Australia 2-1.

Two minutes later, the spotlight quickly turned to Glenn Turner after he eliminated Simon Child and flicked the ball into the bottom left of the goal, sealing the Kookaburras a 3-1 win.

It was a key milestone match for Darwin's Joel Carroll, who celebrated his 100th match playing in the Kookaburras' kit. Joel joined the Kookaburras in 2009 and was part of the 2012 London Olympic Games squad.

The Kookaburras will meet Samoa on Saturday in their final pool match of the Oceania Cup before finals on Sunday at 08:00am AEDT / 04:00am AWST. The match will be streamed live back home in Australia via hockeynz.co.nz/video.

KOOKABURRAS: 3 (1)
Jamie Dwyer 1 (FG)
Tom Craig 51 (FG)
Glenn Turner 57 (FG)

NEW ZEALAND BLACK STICKS: 1 (0)
Hugo Inglis 55 (FG)                 
                                                   
WATCH THE REPLAY OF KOOKABURRAS V BLACK STICKS MATCH HERE.
 
Kookaburras Squad
Athlete (Hometown, State) caps/goals
Started
Joel Carroll (Darwin, NT) 100/2
Tristan Clemons (Bunbury, WA) 23/0
Chris Ciriello (Melbourne, VIC) 172/112
Tom Craig (Lane Cove, NSW) 11/2
Tim Deavin (Launceston, TAS) 115/5
Jamie Dwyer (Rockhampton, QLD) 343/225
Matt Gohdes (Rockhampton, QLD) 133/39
Fergus Kavanagh (Geraldton, WA) 208/14
Mark Knowles (Rockhampton, QLD) 267/22
Trent Mitton (Perth, WA) 70/23
Aran Zalewski (Margaret River, WA) 68/6
                                                                          
Used Substitute
Joshua Beltz (Hobart, TAS) 2/1
Matthew Dawson (Central Coast, NSW) 22/2
Blake Govers (Wollongong, NSW) 15/14
Tyler Lovell (Perth, WA) 52/0
Eddie Ockenden (Hobart, TAS) 254/62
Flynn Ogilvie (Wollongong, NSW) 9/2  
Glenn Turner (Goulburn, NSW) 116/84                                                                                 
                                         
Kookaburras' Oceania Cup Fixtures
24 October: Kookaburras v Samoa (08:00 AEDT)
25 October: Medal Matches – Gold Medal (14:00 AEDT) / Bronze Medal (09:30 AEDT)

Hockey Australia media release


---

Hockeyroos lead the way

Hockeyroos secure a 25-0 win over Samoa in first Oceania Cup pool match




The Hockeyroos sealed a convincing 25-0 victory over Samoa in their first pool match of the Oceania Cup - the Continental Championships - in Stratford, New Zealand Thursday morning.

Hockeyroos head coach Adam Commens said, "It's always difficult to play against an opponent like Samoa in terms of trying to play the way you want and trying to be respectful at the same time, which I thought our girls did really well today."

Looking ahead to the Hockeyroos' match against the New Zealand Black Sticks on Saturday, Commens added, "We know New Zealand very well, they are a high quality side and ranked number four in the world for a reason. It will be important that we execute our game plan against them and bring the intensity that we know we can play."

The Hockeyroos' firepower Jodie Kenny opened the match for Australia, scoring off the back of a penalty corner opportunity with a powerful drag flick four minutes after the starting whistle.

The ninth minute featured three strikes from Ashleigh Nelson, Laura Barden and Stephanie Kershaw, followed by a strike from forward Emily Smith one minute later, setting the score at 5-0.

Jane Claxton, Anna Flanagan, Brooke Peris, Jodie Kenny and Ashleigh Nelson sealed additional first half strikes, which had the Hockeyroos leading 10-0 coming into the halftime break.

The second half of the match showcased a hat-trick from New South Wales' Emily Smith, doubles from Brooke Peris and Madison Fitzpatrick and individual strikes from Jodie Kenny, Laura Barden, Madonna Blyth, Karri McMahon, Georgie Morgan, Ashleigh Nelson, Jane Claxton and Mariah Williams.

It was a special match for Queenslanders Madison Fitzpatrick and Stephanie Kershaw and Victorian Laura Barden, who played their first major international tournament since debuting for the Hockeyroos at the September Perth series. Laura Barden netted her first international goal wearing the green and gold at the ninth minute.

The Hockeyroos will meet their friendly foes the New Zealand Black Sticks on Saturday at 12:00pm AEDT / 09:00 AWST. The match will be streamed live back home in Australia via hockeynz.co.nz/video.

HOCKEYROOS: 25 (10)
Jodie Kenny 5, 18, 34 (PC) (PS) (PC)
Ashleigh Nelson 9, 29, 54 (FG) (FG) (FG)
Laura Barden 9, 35 (FG) (FG)
Stephanie Kershaw 9 (FG)
Emily Smith 10, 31, 49, 55 (FG) (FG) (FG) (FG)
Jane Claxton 13, 56 (FG) (FG)
Anna Flanagan 14 (PC)
Brooke Peris 26, 37, 54 (FG) (FG) (FG)
Madonna Blyth 34 (PC)
Karri McMahon 39 (FG)
Georgie Morgan 43 (PC)
Madison Fitzpatrick 44, 50 (PC) (PC)
Mariah Williams 57 (FG)

SAMOA: 0 (0)

WATCH THE REPLAY OF HOCKEYROOS V SAMOA MATCH HERE.

Hockeyroos Squad
Athlete (Hometown, State) caps/goals
Started
Madonna Blyth (Brisbane, QLD) 309/68
Jane Claxton (Adelaide, SA) 71/6
Kirstin Dwyer (Mackay, QLD) 82/8
Anna Flanagan (Canberra, ACT) 152/35
Jodie Kenny (Wamuran, QLD) 147/91
Stephanie Kershaw (Townsville, QLD) 4/2
Karri McMahon (Berri, SA) 74/8
Brooke Peris (Darwin, NT) 63/12
Kathryn Slattery (South Stirling, WA) 26/8
Emily Smith (Crookwell, NSW) 128/56
Ashlee Wells (Moe, VIC) 55/0
                                                                                
Used Substitute
Laura Barden (Kew, VIC) 4/2
Edwina Bone (Evatt, ACT) 82/2
Madison Fitzpatrick (Cabarita Beach, NSW)* 4/3
Rachael Lynch (Warrandyte, VIC) 127/0
Georgina Morgan (Armidale, NSW) 15/1
Ashleigh Nelson (Wagin, WA) 183/66
Mariah Williams (Parkes, NSW) 22/4
 
*Madison Fitzpatrick is a scholarship holder at the Queensland Academy of Sport.
 
Hockeyroos' Oceania Cup Fixtures
24 October: Hockeyroos v New Zealand (12:00 AEDT)
25 October: Medal Matches – Gold Medal (11:45 AEDT) / Bronze Medal (07:15 AEDT)

Hockey Australia media release


---

Black Sticks require quick turnaround

By David Leggat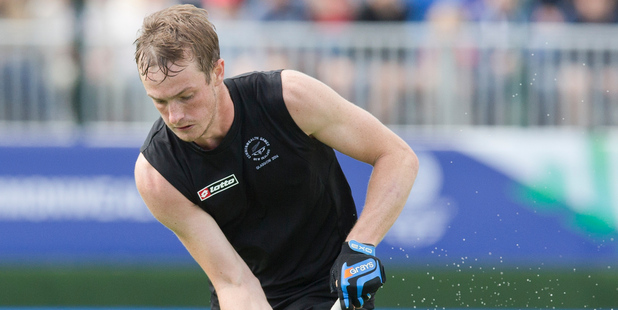 Striker Hugo Inglis pulled a goal back for the Black Sticks against Australia. Photo / Greg Bowker

Australia won the early skirmish, but New Zealand's eyes are on the main event at hockey's Oceania Cup.

The world No 1 Australians beat the Black Sticks 3-1 in their men's round robin clash in Stratford today but there wasn't much in it.

The teams will meet again on Sunday afternoon in a match the world No 7 New Zealand must win to advance to next year's Rio Olympic Games.

Lose, and it'll be the first Olympics they have missed since 2000, and likely cost a large chunk of funding too.

There wasn't much in today's match. Australia got off to a rollicking start with a goal inside the first minute by veteran striker Jamie Dwyer.

It was pretty even from then on. It was not until nine minutes from the end that Tom Craig increased the lead with an overhead deflection.

Striker Hugo Inglis closed the gap with a goal from a sharp angle five minutes from the end before Glenn Turner's late goal regained the two-goal margin.

Nick Wilson and Ryan Archibald both went close for the Black Sticks, who felt it had been a good hit out.

New Zealand certainly held some cards up their sleeve ahead of Sunday's match but believed they had gained much from the match.

Fiji thumped Samoa 20-0 in the other men's game, while Australia's women belted their Samoan opponents 25-0.

The women's Black Sticks, ranked fourth in the world, had a day off today as they prepare for back-to-back games against second-ranked Australia on Saturday and Sunday. Both those sides have qualified for Rio, so their matches will be more about pride than absolute necessity.

The New Zealand Herald


---

Black Sticks face uphill battle to qualify for Rio Olympics

Murray Hills



Black Sticks men's player Nick Ross stretches to control the ball during the Oceania Cup hockey tournament in Stratford.
ANDY JACKSON/Fairfax NZ

The Black Sticks road to Rio just got a little steeper.

Beaten 3-1 by world No 1s Australia in pool play at the Oceania Cup tournament in Stratford on Thursday night, the Black Sticks must now turn things around in Sunday's final against the same opponents if they are to book their tickets for the Olympics.

The Kiwis have to win, simple as that.

Australia were the first to strike, with their most capped player - Jamie Dwyer - scoring a field goal in the first minute. Despite both sides creating a number of chances in the first half, both defensive lines held firm and Australia went to the break 1-0 up.

The goal drought broke in the final quarter with both sides finding the back of the net.

Australia were first to score with Craig Thomas making it 2-0 four minutes into the final spell. Hugo Inglis pulled one back for the Kiwis four minutes later, but any thoughts of a Kiwi comeback were squashed when Glenn Turner scored for the Aussies to make it 3-1.

Earlier in the day, it was the Australian women who ran up a big score when they outclassed Samoa 25-0.

After sitting out the first day of the competition, the Australians brushed off the cobwebs and hit their straps to lead 7-0 after the first quarter. By halftime, they had added another three goals, with eight coming in the third quarter and seven more in the final period.

Emily Smith led the scoring for the Australians with four goals, with three players - Brooke Peris, Jodie Kenny and Ashleigh Nelson - all scoring three. Laura Barden, Madison Fitzpatrick and Jane-Anne Claxton all bagged two, with the other goals going to Anna Flanagan, Marri McMahon, captain Madonna Blyth, Stephanie Kershaw, Georgina Morgan and Mariah Williams.

It was the second drubbing for the Samoans after losing their first game 31-0 to New Zealand.

The news for the Samoan men's team was no better - they were beaten 22-0 by Fiji.

Five goals in the final quarter by Leevan Dutta giving him eight for the match and a double by Jerome Edwards saw the score balloon out from 15-0 to 22-0. Adrian Smith finished with four goals with James Saqacala and Martin Fong both scoring two. The other scorers were Amenatava Veitamana and Alsace Smith.

Friday is a rest day, with the feature match on Saturday being the transtasman women's clash between the Black Sticks and Australia. Finals day is on Sunday, with the Black Sticks men facing a must-win showdown with Australia is they are to qualify for the Rio Olympics in 2016.

Stuff


---

Goals galore in opening day of Oceania Cup



Photo: Courtesy of Planet Hockey Magazine  Planet Hockey Magazine Facebook

It was goals galore on the opening day of the Oceania Cup being played in Stratford, New Zealand as the Black Sticks women slotted 31 goals past Samoa, then watched as the men's team put 37 past their Samoan opponents. Australia's men also got into their stride quickly with a 17-0 win over Fiji.

Women
In the first women's game of the competition, New Zealand's Black Sticks laid their marker down as they defeated Samoa 31-0 in their opening day game in the Oceania Cup.

Kirsten-Leigh Pearce netted six goals, with Charlotte Harrison and Anita Punt scoring five apiece, and seven other Black Sticks players getting on the score sheet. This scoreline beats the 26-0 that New Zealand recorded against Samoa in the 2013 edition of the Oceania Cup.

Speaking after the game, New Zealand captain Anita Punt said: "Saturday [against Australia] will be a wake-up call for us. We'll have to be on the ball straight away otherwise we will find ourselves two or three goals down. We will review today, we tried to play to our structures and worked on things we had been doing at training. We must aim everything towards Australia."

Men
The difference in rankings showed as world number one side Australia attacked Fiji, ranked 64th, from the opening whistle.

Within four minutes on the clock, Australia's Kookaburras earned a penalty stroke, which Blake Govers put away for the first of a hat trick.

Glenn Turner found the net four times, three field goals and penalty corner conversion, while Trent Mitton showed his drag-flicking ability with a hat trick of penalty corner strikes.

Kookaburra debutant Joshua Beltz also found the score-sheet when he slotted home a penalty stroke in the 57th minute.

Kookaburras coach Paul Gaudoin said: "It was great to start with a strong win, however we didn't play as well as we would have liked. It was great to see Josh play his first game and score, but now we are looking ahead to tomorrow against a strong New Zealand team."

New Zealand's Black Sticks men eclipsed Australia's win as they hit 37 goals past a Samoa.

The Black Sticks, who are aiming to win this event and secure one of the last spots in the Rio 2016 Olympic Games, scored 16 goals in the first half, with Nichlas Wilson scoring four of his seven goals in the first quarter.

Stephen Jenness also racked up seven goals past Samoa's Taumaloto Tuiuli on a day the goalkeeper will probably want to forget.

RESULTS
Women: Samoa 0, New Zealand 31.
Men: Australia 17, Fiji 0; Samoa 0, New Zealand 37.

FIH site


---

Wins for Black Sticks at Oceania Cup



Debutant Leo Mitai-Wells in action today. Planet Hockey

There were some sizeable score lines during the opening day of the 2015 Oceania Cup in Stratford with Australia, New Zealand, Fiji and Samoa all taking to the field.

The Black Sticks Women recorded their biggest ever test win after a 31-0 victory over Samoa following a 16-0 half time lead. Kirsten Pearce topped the tally with a total of six goals while Charlotte Harrison and Anita Punt scored five each.

In the later game, it was a similar story for the Black Sticks Men with Nick Wilson scoring seven field goals and James Coughlan striking five times to give the Kiwis a 37-0 win over Samoa in the final game of the day.

Debutant Black Stick Leo Mitai-Wells described it as the perfect first game to put on the black shirt, and he was pleased to get on the scorecard twice in the first half to help calm the nerves. 

"The boys coached me well during the game and gave me some real direction – which was great."

"But it was exciting, I'm just happy to get on the turf and play with the boys as I've been training with them a while now," said Mitai-Wells, who was part of the Under-23 NZ team that competed at the Sultan of Johor Cup.

Mitai-Wells is eager for his side to now take on World No.1 Australia tomorrow night (5.30pm) and says the team will be preparing for a much more aggressive game against the trans-Tasman rivals.

Australia's debutant Joshua Beltz was noted as the highlight of the Kookaburras 17-0 win against Fiji earlier in the day.

New South Wales' Blake Govers opened the floodgates for the Kookaburras, scoring from a penalty stroke four minutes after the starting whistle. Additional strikes from Matthew Dawson, Blake Govers, Trent Mitton and Flynn Ogilvie, coupled with doubles from Chris Ciriello and Glenn Turner, pushed the Kookaburras in front with a comfortable 9-0 lead coming into halftime.

Click here for more information on the 2015 Oceania Cup. Tickets are cheaper to purchase online than at the gate. 

The final men's and women's games are live on Sky, with all other games livestreamed on www.hockeynz.co.nz 

The Oceania Cup is an Olympic Qualifying event for the Black Sticks Men with a tournament win securing them a spot at next year's Rio Olympics. The Black Sticks Women have already qualified are playing for valuable ranking points.

RESULTS
Australia Men vs Fiji
Full time: 17-0 (Australia win)
Half time: 9-0 
Australia goal scorers: Blake Govers x3, Matthew Dawson, Chris Ciriello x2, Trent Mitton x3, Glenn Turner x4, Flynn Ogilvie, Jamie Dwyer x2, Joshua Beltz

Black Sticks Women vs Samoa
Full time: 31-0 (NZ win)
Half time: 16-0
New Zealand goal scorers: Anita Punt x5, Charlotte Harrison x5, Petrea Webster x2, Sophie Cocks x2, Pippa Hayward x3, Kirsten Pearce x6, Brooke Neal, Ella Gunson, Liz Thompson x4, Olivia Merry x2.

Black Sticks Men vs Samoa
Full time: 37-0 (NZ win)
Half time: 16-0
New Zealand goal scorers: Kane Russell x3, Nick Wilson x7, Leo Mitai-Wells x2, James Coughlan x5, Hugo Inglis x4, Nic Woods, Simon Child x3, James Coughlan, Nick Haig, Stephen Jenness x6, Ryan Archibald, George Muir, Steve Edwards x2.

Hockey New Zealand Media release


---

Great Britain's grandstand finish downs Argentina



Tom Carson got his name on the scoresheet for Great Britain against Argentina. Credit Ravi Ghowry

Two goals in the last five minutes for Great Britain handed them a 2-1 win in the second test against Argentina. Having fallen behind to Gonzalo Peillat's 47th minute penalty corner, it took late strikes from Tom Carson and Ian Sloan's first goal for Great Britain to overhaul the deficit and level the series.

Bobby Crutchley made six changes to the side who took part in the first test with Simon Mantell making his first appearance in a Great Britain shirt in almost a year after recovering from concussion. The other players to come in were Harry Martin, Alastair Brogdon, Dan Fox, Ian Sloan and Hampstead and Westminster goalkeeper Harry Gibson, who made his debut. The players rested from the first test were James Bailey, Ashley Jackson, Sam Ward, Mark Gleghorne, Barry Middleton and Iain Lewers.

The first quarter was a cagey affair with both teams sizing each other up and grappling for control of the midfield. The visitors had the better of the chances with Juan Gilardi coming closest, fizzing an upright backhand strike wide of the far post.

The pattern remained the same in the second quarter with both sides content to keep possession and wait for an opening to present itself. Paddy Smith was called into action to keep out a snap shot from Lucas Vila and then the East Grinstead goalkeeper pushed Manuel Brunet's shot onto the post to keep it level at the half time interval.

Great Britain forced a penalty corner early in the third period but Carson's drag flick was well saved by Julian Sabaz in the Argentina goal. Mantell went close with a shot on the turn that almost crept inside the near post but despite brighter attacking intent from the hosts it remained goalless with 15 minutes left on the clock.

The fourth quarter sparked into life in the 47th minute. Peillat beat Gibson with a precise penalty corner to finally break the deadlock. Los Leones' No2 had another penalty corner effort moments later but this time Gibson made a terrific save, turning the ball round the post with his stick, high to his right.

With five minutes remaining Carson drew the sides level with an emphatic finish off a penalty corner rebound and then, with seconds left to spare, it was 2-1 to GB. Sloan's penalty corner was too powerful for the goalkeeper and despite a strong touch from Sabaz, the ball crossed the line to give Bobby Crutchley's side the win.

Bobby Crutchley, Great Britain Head Coach

"I'm pleased with a lot of what we did today. We had an inexperienced team compared with Monday, we lost a great deal of caps with the players we left out, but that's the challenge I was setting the group. I wanted to see how people step up to the mark which these players did very well. There are technical aspects we need to improve and be better at and they caused us some problems but overall I'm pleased we stuck at it and got a win in a tight game."

"Tom Carson scoring is a real positive and Ian Sloan's first goal for us is a highlight. Harry Gibson winning his first cap is pleasing and of course, we're absolutely delighted to see Simon Mantell back on the pitch after a nightmare year for him. There are lots of plus points and lots to work on but we're happy overall."

"The depth of the squad is something we've worked on for a while. It's great we've improved it to some degree but there is still a way to go. We tried it against Australia here and got a bit of a drubbing but we're learning fast. We have to know that if we lose any of our experienced players we can still cope. You never know what might happen so developing our strength in depth is important and we've taken another step forward today.

We want to play better in the third game. Some of our technical ability wasn't as we'd like and we need better execution in key areas. Our deep defence was good today but we need to keep improving."

Great Britain 2 (0)
Tom Carson 55 (PC)
Ian Sloan 60 (PC)

Argentina 1 (0)
Gonzalo Peillat 47 (PC)

England Hockey Board Media release


---

All to play for at African Hockey Championships




Excitement is building ahead of the African Hockey Championships which get under way on 23 October in Johannesburg, South Africa.

While there is always an edge to any continental championship, this year the sense of anticipation is all the more as there is a qualification place for the 2016 Rio Olympics at stake for both the men and the women.

South Africa men's and women's teams have won all the previous African Continental Championships since 1993 but, despite this dominance, other teams are now beginning to feel they have a chance at securing top spot.

In the men's competition there is a record number of entries, with nine teams taking part. This contrasts with 2013, when only four teams competed.

This year, the host nation, South Africa – ranked 15th in the FIH World Rankings – are joined by Egypt, Ghana, Kenya, Nigeria, Tanzania, Namibia, Botswana and Zimbabwe.

Egypt, ranked 20th in the world, will be hoping to emulate their performance in the FIH Hockey World League Round Two event in Cape Town, South Africa, where they beat South Africa on shoot-out.

In the meantime, Kenya has ambitions to reverse a 2-1 loss to Egypt suffered in Round One of the Hockey World League in their homeland in the city of Nairobi. Kenya last appeared at an Olympic Games in Seoul 1988, but has ambitions to rise up the international standings once more.

In the women's competition, seven teams are competing. These are: host nation and world number 11 team, South Africa, Ghana, Kenya, Namibia, Tanzania, Nigeria and Zimbabwe.

While the men's competition format will comprise two pools and crossover semi-finals and a final, the women's competition will be a round-robin event, with three points awarded per win and one per draw.

Despite the huge ranking points difference between South Africa women and the remainder of the group, both Kenya and Ghana are harbouring dreams of Olympic glory.

Ghana, the next highest ranked team at 31, have recently undertaken some intensive training under the guidance of coaches working on the FIH Targeted Assistance Programme (TAP). In addition, a fortnight spent training at the facilities of Great Britain and England have helped their preparations for this year's Championship.

For Kenya, ranked 37th in the world, inclusion in the Hockey World League Round One competition in their capital city, Nairobi, has provided some invaluable international experience against sides they would not normally face.

Kenya Coach, Jos Openda, said: "We have trained very well and our main objective is to snatch the bragging rights and qualify for the Olympics. The team played international test matches recently, we were in Uruguay where we played tougher opposition and the girls have gained a lot of experience."

Among the players to watch in the men's competition are Hamada Atef, the sharp-shooter from Egypt, who was the north African nation's top scorer in the Hockey World League series and South Africa's Lloyd Norris-Jones, who is always on hand when it comes to scoring goals.

In the women's event, Dirkie Chamberlain will be seeking to resume the form and energy she displayed at the Hockey World League Semi-Finals in Valencia earlier in the year for South Africa, while Ghana's captain Georgina Sam will be using her experience to guide a young but hugely ambitious Ghana team to success.

The action in the women's competition starts at 12:15 local time, when Ghana take on Nigeria, while the men get under way with a clash between Namibia and Botswana at 16:45pm.

FIH site


---

SA men's hockey team named for Randburg

JONATHAN COOK

The South African men's hockey selectors have named two goalkeepers, five defenders, five midfielders and six strikers to do battle in the Greenfields Africa Hockey Championships, which take place from this Friday to Sunday, November 1 at Randburg Hockey Stadium.

The 18 players were named Wednesday after the SA men's squad concluded a training camp in Johannesburg.

SA men's selection convenor Allistar Fredericks said it was always sad to have to leave players out.

"We have gone for experience in the main so a number of talented youngsters can consider themselves unfortunate in some respects," said the Atlanta 1996 Olympian.

"We have also been faced with a situation where a number of our players who ply their trade with overseas clubs were not released for contractual reasons."

The selection head said the most important thing was for the SA men to get over the Africa hurdle - and that would be achieved by retaining the continental title in this Rio 2016 Olympic Games qualifier event.

Fredericks believes the selectors have succeeded in putting together a nicely balanced team.

"We have a superb group of forwards, a solid and creative midfield as well as arguably the strongest group of defenders we have had for some time

"I am excited to see what the team can produce."

The SA men kick off their Africa campaign against Zimbabwe at 7pm Friday on the Randburg Hockey Stadium turf.

The SA women's opening match is on Saturday. The SA women's team was named a fortnight ago.

SA TEAM
Goalkeepers: Rassie Pieterse (Southern Gauteng); Jacques le Roux (Western Province)
Defenders: Daniel Bell, Rhett Halkett, Dylan Swanepoel (WP); Matt Guise-Brown (Northern Blues); Jethro Eustice (SG)
Midfielders: Dan Sibbald, Jonty Robinson (KZN Coastal Raiders); Miguel da Graca (SG); Wade Paton, Tim Drummond (WP)
Forwards: Julian Hykes, Brandon Panther (SG); Natius Malgraff (Eastern Province); Richard Pautz (NB); Pierre de Voux, Lloyd Norris-Jones (WP)
Non-travelling reserves
Goalkeeper: Gowan Jones (KZR)
Defenders: Mohammed Mea (KZR), Gareth Heyns (SG)
Midfielders: Charlie Bowren (WP Peninsula), Reza Rosenberg (SG)
Forwards: Stephen Cant (NB), Damian Kimfley (KZN Inland)

SA MEN'S AND WOMEN'S MATCHES
Randburg Hockey Stadium
Fri, Oct 23: SA men vs Zimbabwe (7pm)
Sat, Oct 24: SA women vs Nigeria (2.30pm); SA men vs Botswana (4.45pm)
Mon, Oct 26: SA women vs Namibia (7pm)
Tues, Oct 27: SA women vs Zimbabwe (4.45pm); SA men vs Ghana (7pm)
Thurs, Oct 29: SA women vs Kenya (4.45pm); SA men vs Namibia (7pm)
Fri, Oct 30: SA women vs Tanzania (7pm)
Sat, Oct 31: Men's semi-finals 2pm and 4pm
Sun, Nov 1: SA women vs Ghana (11.30am); Men's 3rd/4th place (2pm); Men's Final (4.30pm)

To see the full match schedule go to http://www.fih.ch/events/african-championships

SA Hockey Association media release


---

Men's National Team named for Hockey World League Final

Roster features eleven players from Pan Am Games silver medal team

Shaheed Devji

Canada's Men's National Program has named the roster of eighteen athletes who will compete at the International Hockey Federation (FIH) World League Final November 27–December 6 in Rajpur, India.

After a successful summer which saw the Canadian Men's Field Hockey Team qualify for the 2016 Olympic Games, Canada will close out 2015 in a tournament chock-full of Olympic teams.

The Canadian Men's National Team features eleven athletes – including captain Scott Tupper (Vancouver, BC) and goalkeeper David Carter (Vancouver, BC) – who competed at the 2015 Pan American Games in Toronto, Ontario and won silver, officially qualifying for the 2016 Olympics in Rio de Janeiro, Brazil next August.

The World League Final will also see the return of several veterans to Canada's competition roster as Philip Wright (Vancouver, BC) and Richard Hildreth (Vancouver, BC) return to action. Ajax, Ontario's Keegan Pereira also gets back to playing after sitting out a lengthy period of time due to injury.

Canada will open the tournament on November 28 against Great Britain. It will then face Belgium (November 29) and Australia (December 1) to close out the round robin.

The tournament consists of seven of the top eight ranked teams in the world and Canada, which is now ranked 13th.
Team Canada Roster – 2015 Hockey World League Final
| | | | |
| --- | --- | --- | --- |
| Name | Position | Hometown | Caps |
| Adam Froese | Defender | Abbotsford, BC | 119 |
| Antoni Kindler | Goalkeeper | Vancouver, BC | 52 |
| Brenden Bissett | Forward | New Westminster, BC | 35 |
| David Carter | Goalkeeper | Vancouver, BC | 117 |
| Devohn Noronha-Teixeira | Forward | Mississauga, ON | 54 |
| Gabriel Ho-Garcia | Forward | Burnaby, BC | 62 |
| Gordon Johnston | Defender | Vancouver, BC | 73 |
| Jagdish Gill | Midfield | Toronto, ON | 41 |
| James Kirkpatrick | Forward | Victoria, BC | 28 |
| John Smythe | Forward | Vancouver, BC | 29 |
| Keegan Pereira | Forward | Ajax, ON | 83 |
| Mark Pearson | Midfield | Tsawwassen, BC | 182 |
| Matthew Guest | Forward | Calgary, AB | 102 |
| Paul Wharton | Midfield | Vancouver, BC | 53 |
| Philip Wright | Forward | Vancouver, BC | 143 |
| Richard Hildreth | Defender | Vancouver, BC | 132 |
| Scott Tupper* | Defender | Vancouver, BC | 215 |
| Sukhi Panesar | Midfield | Surrey, BC | 51 |
*Team Captain
 Team Canada Staff –  2015 Hockey World League Final
 Head Coach – Anthony Farry
Assistant Coach – Paul Bundy
Physiotherapist – Josh Ferguson
Video Analysts – Paul Mounter, Moabi Maleby
Team Manager – Celia Plottel
Field Hockey Canada media release


---

Emma Gray Retires From International Hockey




Emma Gray, an ever constant figure between the posts for the Green Army for the last 7 years, has announced her retirement from international hockey. Gray, with 118 caps to her name, is the most capped female goal keeper in Irish hockey history.

Emma made her debut in 2008, along with current captain Megan Frazer, in the Celtic Cup against France and has expressed her gratitude to the management teams who have entrusted her with the number 1 jersey "I would like to thank Gene Muller and his management team, in particular, Rudi Wortmann, for giving me my first opportunity to play for Ireland. I must also thank Darren Smith and his team including Graham Shaw, Arlene Boyles, Nigel Henderson and all the support staff who have played such important roles behind the scenes.

It's also important to recognise the support of the Irish Sports Council and Sport Northern Ireland, without whom none of this would have been possible".

While the "heart break" of WL3 in Valencia will heal and fade "the five weeks the squad spent together in May/June, in preparation for and during the WL3 were special.  I will never forget the team spirit, comradery and work ethic within the group. 

To Graham, Arlene, Megan, all the squad and management I wish you the very best for the future. It has been a privilege to play with all of you and there is little doubt in my mind that this squad will continue to progress and achieve great things".

Graham Shaw, Ireland women's national coach, praised the contribution Gray has had on the Green Army "Emma has been the backbone of the Green Army defence for several years. She led by example on and off the pitch throughout her international career. Her composure and dedication will be sorely missed. We all wish her the best in her retirement".

Emma, who is currently pursuing her PhD, pays thanks to her family "for their endless support, encouragement and loyalty. Without them, I'd have never been in this position I find myself today".

She will continue to play club hockey for Hermes and is grateful "to everyone at Hermes HC for always offering the support and guidance that has enabled me to play at the highest level".

 All at Hockey Ireland thank Emma for her steadfast commitment to Irish hockey and wish her the very best for the future.

Irish Hockey Association media release


---

Miscomm causes national hockey duo to cut short German stint

Aftar Singh



Faiz Jali Helmi (left) of Malaysia in action against New Zealand in a friendly hockey match at Bukit Jalil in April.

KUALA LUMPUR: A new ruling by the German Hockey Federation (German HF) has resulted in two national players' stint in the German League abruptly cut short after just five matches.

Forward Mohd Rashid Baharom and defender Faiz Jali Helmi left for Germany on Sept 22 to feature for Division One club Schwarz Weiss. They returned home on Tuesday.

The new ruling states that those who played in a foreign league after Sept 19 are not allowed to feature in the German League.

Rashid, of Kuala Lumpur Hockey Club (KLHC), and Faiz, of Sapura, featured in the Malaysia Hockey League (MHL), which ended on Sept 20.

"No one informed us about the ruling. It was the first time we (Rashid and I) were featuring in a foreign league ... we were happy playing alongside and against some world-class players," said Faiz.

"But after playing five matches, we were told by the German HF that we couldn't play in the league because of the ruling. It's quite frustrating to return home after just five matches due to the miscommunication between MHC (Malaysian Hockey Confederation) and the German HF," said Faiz.

It seems it wasn't just the duo who didn't know of the ruling.

Even the Malaysian Hockey Confederation (MHC) were not aware of it.

"They (German HF) never informed us about the new ruling when we sent the two players there last month," said MHC chief executive officer K. Logan Raj.

"We have written to the German HF to enquire about the ruling. The duo played well for the German club ... it's sad that they had to come back after playing just five matches.

"They were sent to Germany to gain experience and knowledge so that they can become better players, instead they have to return because of the new ruling."

Logan added that Faiz and Rashid have been advised to report for national team training in the next few days.

The Star of Malaysia


---

Tahir holds lack of preparation, previous management responsible

LAHORE: While admitting that the Pakistan junior team performed poorly in the six-nation junior hockey tournament in Malaysia by finishing last, head coach Olympian Tahir Zaman said they had only one month to prepare the team for the said event.

In a press conference at the National Hockey Stadium here on Tuesday, Tahir held the previous management of the PHF equally responsible for the fiasco.

It may be mentioned here that Tahir was also part of PHF's previous management as he was the coach of the Pakistan youth team which took part in the 2014 Youth Olympics.

He said the lot which he coached for the six-nation event was inexperienced and the players committed a number of mistakes as they were weak in almost all departments of the game.

To a question if the country would qualify for the World Cup 2016 by performing well in next month's Asia Cup, Tahir said he was confident that Pakistan would qualify.

When asked that a good number of players were selected from Gojra and most of them from the same club, he said, "Around six of them had played junior events last year so it will be wrong to sack them abruptly."

The Asia Cup is being held in Kuantan, Malaysia from Nov 14 to 22. Pakistan is placed in Pool 'B' along with

South Korea, Oman and Bangladesh. India, Japan, China and Malaysia are in Pool 'A'.

Three top teams of the Asia Cup will qualify for the World Cup to be held in India in November next year.

And if India occupies a place among top three teams at the Asia Cup, then the fourth team will also qualify for the World Cup as India is the host of the mega event.

Meanwhile, Tahir asked why the academies, which had been run by the PHF for the last eight years, did not produce players. It was surprising to note that he was totally ignorant of the fact that the academies were not functional.

In fact, those academies functioned for only three years in Asif Bajwa's tenure as Rana Mujahid could not run them because of lack of funds.

To a question, Tahir rejected the impression that several players of the current junior team would be overage by next year's World Cup and said only two players would cross the age limit.

He said a training camp for the Asia Cup will be held at Johar Town Stadium here from Oct 25 and the team will depart for Malaysia on Nov 9.

Dawn


---

FIH launches new Quality Programme for Hockey Turf

Programme aims to ensure quality hockey fields are built for all levels of play




The International Hockey Federation (FIH) has launched a Quality Programme for Hockey Turf aimed at ensuring good quality hockey fields are built for all levels of play, from elite level competition to community development, around the world.

This internationally recognised quality-assurance programme provides consistent and dependable industry standards for the performance, construction and durability of hockey turf installations worldwide and ensures the appropriate quality for the intended level of play. As a result, it will help inspire more people to play hockey, promote player welfare and protect the investment of those funding hockey facilities.

Categories of certification include Global, National and Multi-Sport, which are awarded to Hockey Turf products and installed fields after independent testing by FIH Accredited Test Institutes.

The programme also includes Certified Manufacturers, Certified Field Builders and Preferred Suppliers (global companies that manufacture and build hockey fields) meaning that investors in hockey fields can now specify they require a FIH Approved Hockey Product laid on a field built by a recognised specialist contractor.

The programme is an integral part of the FIH's Hockey Revolution, a 10-year strategy that aims to make hockey a global game that inspires the next generation. As part of the overall strategy, a major initiative was launched to increase the degree of professionalism in hockey. The new Quality Programme is one of the first results of this initiative.

The programme is also in-line with the International Olympic Committee's (IOC) Olympic Agenda 2020 recommendations to improve sustainability, not only in relation to the Olympic Games (Recommendation 4) but also to Recommendation 5 in reference to Olympic Movement stakeholders and the integration of sustainability within organisations and operations.

Speaking of this programme, FIH President Leandro Negre said: "We believe that the long-term success of our sport lies in the quality of hockey facilities around the world. As part of the Hockey Revolution we want to create international standards ensuring the sustainability, affordability and accessibility of hockey fields worldwide."

He continued: "As a result, we have launched the FIH Quality Programme for Hockey Turf, developed with the best interest of hockey players at its heart. This programme will have a significant impact on the next generation of hockey players, the future of our sport, who will be able to learn and develop their hockey skills in safe and reliable environments."

Alastair Cox, FIH Facilities Manager, added: "This is a fantastic opportunity for suppliers, manufacturers, field builders and field owners to become part of an official quality-assurance programme. In doing so they can be confident that their field performs correctly, is safe, built to specification and maintains performance. As a result this will improve the sustainability, affordability and accessibility of hockey turf fields around the world, which is key to the long term development of hockey."

The programme will be officially launched at the International Trade Fair for Amenity Areas, Sports and Pool Facilities (FSB) in Cologne, Germany between 27-30 October 2015, where FIH will be exhibiting in Halle 10.2, stand B12 / C15, alongside FIFA and World Rugby.

For more information about this programme, visit the new Hockey Turf section of FIH website by visiting fih.ch/hockeyturf.

More information about the FSB Trade Fair can be found by clicking here.

FIH site