All the news for Thursday 15 October 2015

Argentina Edge Irish Series Opener with 2-1 Win

It was always going to be a competitive fixture when Argentina rolled into town and match 1 of this 3 match series did not disappoint. Argentina, the world number 6 side, edged the encounter in a 2-1 victory but both sides had missed opportunities that suggest the final 2 matches of the series will see an even higher tempo.

Ireland earned a penalty corner within the first 60 seconds, and though the drag shot went wide the men in green dominated the opening minutes of the encounter. Both sides played it relatively safe in the opening quarter but the pace increased as the match progressed and a rasping shot from an Argentinian PC was well saved by David Harte. The opening goal came courtesy of a blistering shot by Argentina's Peillat at the top of the circle from a PC. But it didn't take long for the Green Machine to draw level. Lee Cole stole the ball on the base line and showed great composure to score to level the game going into half time.

The second half saw more chances for Ireland as Kyle Good made two darting runs in quick succession and Robson and Cole forced saves from Santiago. Eugene Magee earned himself a green card before the end of the quarter for breaking down the play but both defences were disciplined throughout with just 1 card per team, a green for Brunet in the 33rd minute. Argentina took the lead in the 54th minute when David Harte was drawn from his goal to make the save but the umpire deemed it to be a foul and awarded the penalty stroke, which Gilardi converted after sending Harte the wrong way. The final chance of the match went to Ireland when Kyle Good and Neal Glassey linked up well but there was nobody on the post to deflect home the ball as it was fired across the face of the goal.

Ireland next meet Argentina on Friday (16th) evening at 7:45pm in Pembroke Wanderers Hockey Club.

Ireland 1 (Cole)
Argentina 2 (Peillat, Gilardi)

Ireland Squad

Shirt No., Family Name, First Name

1, HARTE (GK), DAVID
5, COLE, LEE
8, CARGO, CHRISTOPHER
9, McCANDLESS, BRUCE
10, SOTHERN, ALAN
12, MAGEE, EUGENE
13, CARUTH, PETER
14, GLASSEY, NEAL
16, O DONOGHUE, SHANE
17, MAGEE, OWEN
18, BELL, MATTHEW
19, CARLISLE, DREW
22, ROBSON, MICHAEL
23, FITZGERALD (GK), DAVID
24, GOOD, KYLE
26, GLEGHORNE, PAUL
27, HARTE, CONOR
30, LOUGHREY, STUART

Argentina Squad

Shirt No., Family Name, First Name

2, PEILLAT, GONZALO
4, GILARDI, JUAN IGNACIO
5, IBARRA, PEDRO
8, REY, LUCAS
10, PAREDES (C), MATIAS
11, MENINI, JOAQUIN
12, VILA, LUCAS
13, SABAZ, JULIAN
15, PAZ, DIEGO
16, ORTIZ, IGNACIO
17, LOPEZ, JUAN MARTIN
21, OLEASTRO, FELIPE
22, REY, MATIAS
24, BRUNET, MANUEL
26, MAZZILLI, AGUSTIN
27, ROSSI, LUCAS
29, SANTIAGO (GK), TOMAS

Irish Hockey Association media release


---

Famous win for Malaysia

By Jugjet Singh

MALAYSIA played like men possessed to beat Australia 3-2 in the Sultan of Johor Cup at the Taman Daya Stadium in Johor Baru yesterday.

Australia won 10 penalty corners and tried every trick in the book, even removing their goalkeeper and relaying on a kicking back four minutes to end, but Malaysia held on for this famous victory.

Playing in-front of a capacity crowd, standing and sitting shoulder-to-shoulder, Malaysia took the match to the Australian circle and scored off their first penalty corner of the match in the fifth minute.

Shahril Saabah, who has experience playing with the senior team, almost tore the netting with a powerful drive.

Malaysia mounted a series of attacks after that, but failed to increase the lead. Australia won seven penalty corners in the first half, but failed all while Malaysia trooped into the dressing room with 100 per cent penalty corner conversion.

And it was a dream start in the second half, as Norsyafiq Sumantri pounced on a rebound to claim Malaysia's second goal in the 38th minute.

But Australia finally got penalty corner number eight right in the 43rd minute when Frazer Gerrard beat goalkeeper Ridzwan Azmi with a low drive.

Australia started to play robust hockey after that, and two players were yellow carded. Malaysia pinned them in the semi-circle and won their second penalty corner in the 55th, and Najmi Jazlan's low drive made it 3-1.

Max Hendry made it 2-3 in the 63rd minute, and with four minutes left on the clock, Australia took out goalkeeper Matthew Finn and relied on a kicking back but there was no denying Malaysia their glorious win.

Man-of-the Match went to goalkeeper Ridzwan Azmi, who had two earlier bad games, but was on fire against the Aussies.

The next two matches are vital for Malaysia, as they meet Junior Asia Cup opponents India today and Pakistan on Saturday.

Coach Arul Selvaraj's charges must show that they can beat, or match, both the teams heading into the Junior World Cup qualifier in Kuantan next month.

"We are indebted go the fans who came out in force and believed in us. Today's (yesterday's) game was on how to maintain a hold after taking a lead, and also ingraine a winning mentality in the team," said Arul.

As for India, our next opponents: "We need to check on our anger in the next two games as we received two yellow and three green cards and men were out at crucial momenents.

"India are in the same pool with us in the Junior Asia Cup, while we might meet Pakistan in the crossover so both the matches are actually the most important 'assignments' in the SOJC."

Defending champions India were made to sweat buckets before they overcame a stubborn Argentina. The India goals were scored by Armaan Quereshi (third), Gurjant Singh (11th) and Nilakanta Sharma (50th). Argentina got their goals off Maico Casella (39th) and Nicolas Keenan (54th).

Pakistan played their best game of the tournament, yet, to hold table toppers Australia to a 0-0 draw.

RESULTS: Britain 0 Pakistan 0, Argentina 2 India 3, Mlaysia 3 Australia 2.

TODAY: Pakistan v Argentina (4.35pm), Britain v Australia (6.35pm), India v Malaysia (8.35pm).

STANDINGS

               P  W  D  L  F  A  Pts
BRITAIN        3  2  1  0  8  5  7
INDIA          3  2  0  1  11 7  6
ARGENTINA      3  1  1  1  5  5  4
MALAYSIA       3  1  1  1  7  8  4
AUSTRALIA      3  1  0  2  8  6  3
PAKISTAN       3  0  1  2  3  11 1

Jugjet's World of Field Hockey


---

Attack-minded Malaysia stun Australia 3-2 for first win

by S. Ramaguru



Malaysia's Mohd Najmi Jazlan (center) and Khaliq Hamirin (right) tussles for the ball with Australia's Hayden Beltz during the Sultan of Johor Cup match at Taman Daya Stadium, Johor Baru. – ABDUL RAHMAN EMBONG / The Star.

JOHOR BARU: Malaysia went on the attack against Australia and it paid off big time.

Coach A. Arulselvaraj's decision to take the game to the Aussies saw the Malaysians record an exciting 3-2 win in their Sultan of Johor Cup at the Taman Daya Hockey Stadium.

Malaysia got their goals through Mohd Shahril Saabah (fifth minute), Norshafiq Sumantri (38th) and Mohd Najmi Jazlan (54th) while Australia replied through Fraser Gerard (43rd) and Max Hendry (63rd).

Malaysia, who lost 2-4 to Britain and drew 2-2 with Argentina, have four points and moved into fourth spot in the Under-21 six-team standings.

Arulselvaraj was pleased to see his players rising to the occasion to show that they have the ability to play good hockey.

"It was a very good effort. I'm glad the players stuck to the game plan," he said.

The game began with Malaysia keeping faith with goalkeeper Mohd Ridzwan Azmi. And the custodian repaid the coaches' faith in him by stopping seven penalty corner attempts in the first half.

The Aussies had a total of 11 penalty corners, but scored from only one.

Ridzwan was happy that the team officials kept faith in him.

"I want to thank the coaches for letting me play today despite my earlier mistakes. It was good effort from all ... I'm happy I played my part in the win," he said.

Malaysia's offensive style caught Australia off guard and it resulted in a fifth-minute goal – with Shahril scoring from their only penalty corner in the first half.

The Malaysians then withstood a barrage of Australian attack until the break.

Malaysia stunned Australia just three minutes in the second half when Norshafiq made it 2-0 with a field goal.

The Australians fought back and reduced the deficit in the 43rd minute off their eighth penalty corner, with Gerard's direct flick beating Ridzwan.

Australia were forced to play with nine men from the 52nd minute onwards when Mathew Bird and Joshua Simmonds were yellow-carded.

Malaysia made their numerical advantage count just two minutes later when Najmi scored with a direct flick off a penalty corner set piece.

But the Aussies never gave up. A defensive blunder allowed Hendry to score a field goal in the 63rd minute.

Luckily, the Malaysians managed to hang on for victory.

Earlier, India survived a late fightback by Argentina to win 3-2.

Armaan Quereshi (third minute), Gurjant Singh (11th) and Nilakanta Sharma (50th) were on target for India while Argentina replied through Maico Casellas (39th) and Nicholas Keenan (54th).

In another match, Pakistan held leaders Britain to a 0-0 draw.

The Star of Malaysia


---

India overcome stiff Argentina

s2h Team

Indian juniors overcame stiff resistance from Argentina in their third match to collect full three points in the fifth Sultan of Johor Cup being played at Johor Bahru, Malaysia.

The junior world cup finalists of 2001 proved their mettle dishing out an exciting hockey, with each side marking good moves.

India struck early in the 3rd minute, with Arman Qureshi bemusing Argentinean goal-keeper Emiliano Bosso (1-0)

Indian colts got their second success in the 11th minute when forward Gurjant Singh received a pass and he hit the ball hard into the nets (2-0). Indians continued to press, got a penalty corner too but could not convert.

In the 39th minute, the Argentina earned a penalty corner and their captain Maico Casella converted (1-2).

Indian midfielders Santa Singh, Manpreet, Simranjeet Singh and skipper Harjeet Singh held the midfield with their quick passes and tried to create more opportunities for the forwards. In the 50th minute, India through a penalty corner opportunity scored their third goal coming from the stick Nilakanta Sharma (3-1).

Argentineans charged back from the right flank and in the 54th minute, Nicolas Keenan perfectly deflected a pass into the nets for their second goal. But it was too late for Argentina to come back into the game and India won by 3-2.

India will face the hosts Malaysia in their fourth match at 6:05 pm on 15th October 2015.

Stick2Hockey.com


---

India beat Argentina 3-2 in Johor Cup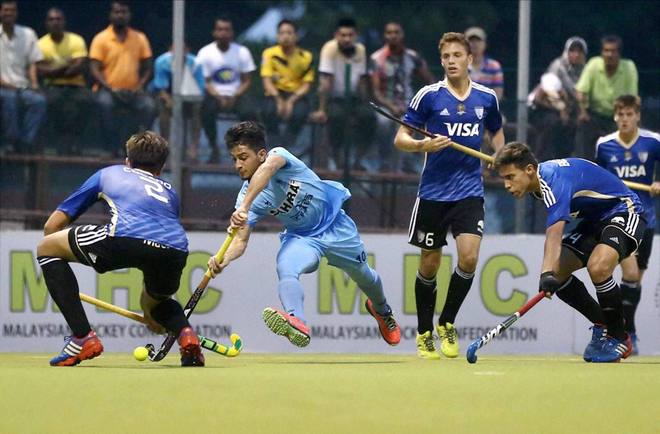 An Indian player trying to move past the Argentine defenders during their match in Johor Bahru on Wednesday. PTI

Johor Bahru: India bounced back from their 3-4 defeat to Britain in the last game to beat Argentina 3-2 in the 5th Sultan of Johor Cup here today. With the win, India have greatly improved their chances of making their third successive final here. The defending champions have climbed up to the second spot with six points.

"I was happy with our performance in the first half but we had some issues in the second half," said India coach Harendra Singh. "Overall it was a good game; both the teams played well and it was a great contest."

India started fast and it took them just three minutes to find the first goal through Arman Qureshi. India doubled their lead in the 11th minute through Gurjant Singh. India maintained the pressure on the opponents. After a series of attacks, the Indians received a penalty corner in the 34th minute but failed to convert it.

In the second half, Argentina tightened their defence. In the 39th minute, Argentina earned their first penalty corner and captain Maico Casella converted. However, India regained their two goal advantage when Nilakanta Sharma scored off a rebound from a penalty corner attempt in the 50th minute.

Argentina refused to give up and found their second goal in the 54th minute through a Nicolas Keenan deflection. But India managed to hold on.

"India played a great first half and are tough opponents," said Argentina coach Mariano Ronconi. India will face hosts Malaysia tomorrow.

The Tribune


---

India beat Argentina 3-2 in Sultan of Johor Cup

JOHOR BAHRU (Malaysia): India junior men's team came back strongly in the 5th Sultan of Johor Cup after beating Argentina 3-2 in the league match on Wednesday. Indian colts maintained their positive result against the Latin Americans and defeated them in all aspects of the game.

The game commenced with aggressive attack from the Indian forward-line who charged on the opponent's semi-circle from the very first minute. Surprised by the initial attack by the Indians, Argentina didn't get enough time to react and failed to mark the Indian forwards.

In the 3rd minute Arman Qureshi received a pass from the left-winger and after outplaying Argentinean goal-keeper Emiliano Bosso, he sent the ball into the net.

With this brilliant goal, India started dominating the game with their continuous charges and ball possession. Indian colts got their second success in the 11th minute when forward Gurjant Singh received a pass and he hit the ball hard into the nets for the second goal. Leading by two goals, spirited India maintained the pressure on the opponents from all sides.

Arman and Gurjant led the attack with their fellow forwards Sumit Kumar and Parvinder Singh which helped put the Latin Americans on the back-foot. After a series of attacks, the Indians received a penalty corner in the 34th minute but failed to convert it and the first half finished at 2-0 in favour of India.

The second half started with an intense battle from both the sides and this time, Argentina put pressure on India. They managed to keep the ball in their possessions and looked for opportunities to open their account. In the 39th minute, the Argentina earned a penalty corner and their captain Maico Casella converted their first goal to reduce the margin to 1-2.

After conceding the goal the Indians counter-attacked from all sides and fought hard to control the ball. Santa Singh, Manpreet, Simranjeet Singh and skipper Harjeet Singh held the midfield with their quick passes and tried to create more opportunities for the forwards. In the 50th minute, India through a penalty corner opportunity scored their third goal coming from the stick of Nilakanta Sharma, taking the scoreline to 3-1.

However, after conceding the third goal, the Argentineans charged back from the right flank and in the 54th minute, Nicolas Keenan perfectly deflected a pass into the nets for their second goal. But it was too late for Argentina to come back into the game and India won by 3-2.

India will face the host nation Malaysia in their fourth match of the 5th Sultan of Johor Cup on October 15.

The Times of India


---

U21s held by Pakistan



Jon Bleby

Great Britain remain undefeated in the Sultan of Johor Cup in Malaysia but were forced to settle for a draw against Pakistan at the Taman Daya Hockey Stadium.

Having won their opening two games Jon Bleby's were in confident mood but despite some periods of dominance and some chances on goal they were indebted to goalkeeper Chris Wyver who scooped the man of the match award.

Pakistan had better of the opening exchanges but Wyver stood firm and Muhammad Bilal Qadir's effort hit the post and went out.

Great Britain's best chance came from a Luke Taylor penalty corner but his effort was well saved by goalkeeper, Muhammad Khalid. In the 32nd minute with Sam French went close but it was still goalless at the break.

Muhammad DIlber and Muhammad Naveed missed golden opportunities in the 49th and 52nd minutes respectively when and Khalid was called upon to deny Taylor another penalty corner goal as the teams played out an entertaining draw.

Great Britain coach Jon Bleby was disappointed with the result, saying: "We have to give credit where it's due, Pakistan played really well and improved vastly from their first two performances."

"We played very poorly but I'm proud that we managed to keep fighting on throughout the match and at least added a point to our total."

Great Britain face Australia at the Taman Daya Hockey Stadium on Thursday.

England Hockey Board Media release


---

Pakistan draw 0-0 against Great Britain

By Nabil Tahir

KARACHI: The Pakistan junior hockey team managed to avoid a third successive defeat by playing out a stalemate with Great Britain — the strongest side in the event so far —in their third fixture of the Sultan of Johor Cup at Johor Bahru, Malaysia on Wednesday.

The colts played an attacking game while their defence stayed strong as well as both sides failed to score.

Pakistan received just one penalty corner and Great Britain were given two, but both teams failed to capitalise on the opportunities.

Pakistan skipper Muhammad Dilber says the team, after finally adjusting to the conditions, bounced back well from the first two defeats and showed their true potential.

"Great Britain defeated Malaysia 4-2 and defending champions India 4-3 in their first two games so it's an honour for me and the team to play out a draw against the strongest side in the competition so far," Dilber told The Express Tribune.

"As the only senior player in the team, I have a huge responsibility of guiding them in this tournament," he said. "The way all the players played today was a perfect example of team work. We all played like a unit."

The captain added that with their confidence restored, they were hoping to do better than last year's sixth-place finish.

Meanwhile, Great Britain coach Jon Bleby said, "This match really showcased the different playing styles between Asia and Europe, which was very exciting to see."

The Express Tribune


---

Pakistan hockey team denied request to train in KL

by S. Ramaguru

JOHOR BARU: "We'll look into it." That was the reply Pakistan got from the Malaysian Hockey Confederation (MHC) when asked if they could stay back and prepare for next month's Junior Asia Cup.

So, the Pakistan team will now fly home for their final phase of training after the on-going Sultan of Johor Cup here and return a week before the Junior Asia Cup begins in Kuantan from Nov 14-22.

Pakistan coach Tahir Zaman said that they had planned to stay back in Kuala Lumpur and play matches with the club sides and the national team as part of their preparations for the Kuantan tournament.

"We felt that we could get enough matches here and it would be more beneficial to stay on. But we did not a proper response from the Malaysians. So, we will go back after this tournament and come back a week before the Junior Asia Cup," said Tahir, who added that their emphasis is to do well in Kuantan and qualify for the Junior World Cup (to be held in India next year).

"We have the core of the players here in Johor Baru. We came with 24 players hoping that we could stay on for the final phase," said Tahir.

"The Sultan of Johor Cup offers quality matches and we actually asked the organisers if we could change the 18 players for each match. They denied our request."

Tahir said that he only took over the team about two months ago and "we are still in the process of team-rebuilding".

"I hope to have the team ready by the time the Junior Asia Cup gets under way. Once we have qualified for the Finals, then we'll have a bit more time to fine-tune the structure," he said.

Pakistan have suffered two big losses in the Sultan of Johor Cup – beaten 5-1 by India and 6-2 by Australia.

They face table-toppers Britain on Thursday and Argentina the next day.

The Star of Malaysia


---

Black Sticks poised for final crack at Rio



Photo: www.photosport.co.nz

The Black Sticks Men are embracing their biggest challenge in recent years after head coach Colin Batch named his team for the Oceania Cup next week.

It's the last chance at automatic qualification for the 2016 Olympic Games with the Black Sticks needing to beat world champions Australia and win the tournament to book a ticket to Rio.

Batch has named a talented group for the Oceania Cup, which runs from 21-25 October and sees the Black Sticks Men and Women take on Australia, Fiji and Samoa in Stratford, Taranaki.

Headlining the announcement is the selection of debutant Midlands striker Leo Mitai-Wells who is expected to add a spark up front for the men in black.

The 20-year-old impressed during the recent Ford National Hockey League and has been training with the Black Sticks squad all year.

"Leo is a physically strong and very hard working player who will give us a point of difference in the attacking half," Batch said.

"He has been training with us all year and while it's his first opportunity to play for New Zealand, he certainly understands every part of our game plan and won't be fazed by the occasion."

Capital striker Stephen Jenness has also earned a recall after missing out during the recent South Island Tour against India, and will add another scoring threat for the Kiwis.

It's a strong goalkeeping unit with in-form veteran Kyle Pontifex joined by Devon Manchester.

The Black Sticks lost the four test series against India with a record of one win, two losses and a draw, but improved every game and put on show their best team effort in the final test.

Batch knows the stakes are high, but believes his team is ready to face up to the most important fixture under his coaching reign.

"We're not fearing the importance of this event – we need to embrace it and aim to achieve our best performance of the year.

"We are looking forward to the challenge and are confident we have what it takes as a group to pull this off."

While the men battle for a place in Rio, the Black Sticks Women will be playing for valuable world ranking points having already qualified for the Olympics earlier this year.

All games during the week will be streamed on the Hockey New Zealand website (hockeynz.co.nz), with the men's and women's finals broadcast LIVE on SKY Sport on Sunday 25 October.

CLICK HERE for more on the Oceania Cup, including full draw

CLICK HERE to buy tickets
BLACK STICKS MEN
Oceania Cup, 21-25 October


| | | | | | |
| --- | --- | --- | --- | --- | --- |
| SHIRT # | PLAYER NAME | REGION | POSITION | AGE | CAPS |
| 10 | Ryan ARCHIBALD | Auckland | Midfielder | 35 | 295 |
| 6 | Simon CHILD | Auckland | Midfielder | 27 | 241 |
| 1 | James COUGHLAN | North Harbour | Striker | 25 | 38 |
| 31 | Steve EDWARDS | North Harbour | Striker | 29 | 203 |
| 4 | Nick HAIG | Canterbury | Defender | 28 | 175 |
| 29 | Hugo INGLIS | Southern | Striker | 24 | 157 |
| 27 | Stephen JENNESS | Capital | Striker | 25 | 135 |
| 20 | Devon MANCHESTER | Auckland | Goalkeeper | 25 | 65 |
| 26 | Leo MITAI-WELLS | Midlands | Striker | 20 | - |
| 30 | George MUIR | North Harbour | Midfielder | 21 | 40 |
| 24 | Arun PANCHIA | Auckland | Midfielder | 26 | 168 |
| 3 | Kyle PONTIFEX | Capital | Goalkeeper | 35 | 159 |
| 7 | Nick ROSS | Southern | Midfielder | 25 | 23 |
| 21 | Kane RUSSELL | Southern | Defender | 23 | 56 |
| 12 | Brad SHAW | Canterbury | Defender | 32 | 164 |
| 22 | Blair TARRANT | Southern | Defender | 25 | 146 |
| 32 | Nick WILSON | Central | Striker | 25 | 138 |
| 17 | Nic WOODS | Midlands | Defender | 20 | 29 |

Hockey New Zealand Media release


---

Surprise pick for Black Sticks squad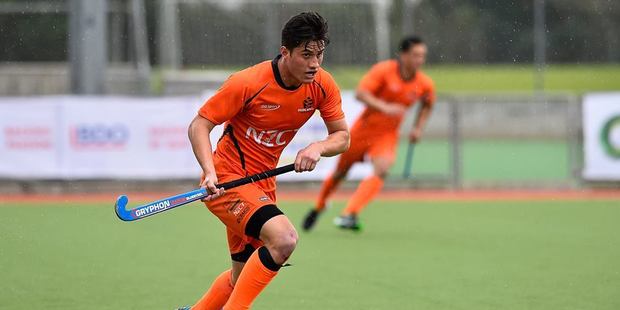 Leo Mitai-Wells playing for Midlands in the National Hockey League. Photo / Ned Dawson

Uncapped Midlands striker Leo Mitai-Wells is the surprise pick in the New Zealand men's hockey team for the vital Oceania Cup series starting in Stratford on October 21.

Mitai-Wells is the only new face in the squad of 18, who must beat world No 1 Australia if they are to advance to the Rio Olympics.

"Leo is a physically strong and very hard working player who will give us a point of difference in the attacking half," coach Colin Batch said today.

The squad will be led by world class striker Simon Child. Among those
missing from the enlarged squad who lost a four-game series against India 2-1 this month are Auckland attackers Marcus Child and Jared Panchia, who has been troubled by a hamstring injury.

The other teams in the cup are Fiji and Samoa, but they are essentially making up the numbers in terms of winning the cup.

Batch knows the stakes could not be higher but believes his team are ready for the challenge.

"We're not fearing the importance of this event. We need to embrace it and aim to achieve our best performance of the year. We are confident we have what it takes as a group to pull this off," he said.

New Zealand men's squad for the Oceania Cup:

Simon Child (c), Ryan Archibald, Devon Manchester, Arun Panchia (Auckland), James Coughlan, Steve Edwards, George Muir (North Harbour), Nick Haig, Brad Shaw (Canterbury), Hugo Inglis, Nick Ross, Kane Russell, Blair Tarrant (Southern), Stephen Jenness, Kyle Pontifex (Capital), Leo Mitai-Wells, Nic Woods (Midlands), Nick Wilson (Central).

The New Zealand Herald


---

Black Sticks call up 20-year-old Leo Mitai-Wells for Oceania Cup

Clay Wilson



Simon Child and the Black Sticks have a final chance to qualify for the Olympics next week. PHOTOSPORT

Young Midlands striker Leo Mitai-Wells has earned a call-up to the Black Sticks for the all-important Oceania Cup tournament in Stratford next week.

New Zealand must win the Oceania Cup, which starts on Wednesday, to avoid missing out on a berth in Rio next year. That almost certainly means they will have to knock over world No 1 side Australia in Sunday's final, after getting past Samoa and Fiji.

New Zealand coach Colin Batch said Mitai-Wells, 20, impressed during the National Hockey League and was expected to add a spark up front.



Black Sticks drag-flick exponent Andy Hayward is not available for the Oceania Cup. LAWRENCE SMITH/FAIRFAX NZ

"Leo is a physically strong and very hard-working player who will give us a point of difference in the attacking half," Batch said.

"He has been training with us all year and while it's his first opportunity to play for New Zealand, he certainly understands every part of our game plan and won't be fazed by the occasion."

The other news of note in the 18-strong squad is the recall of Capital striker Stephen Jenness and the absence of three experienced figures in veteran striker Phil Burrows, defender/midfielder Shea McAleese and defender Andy Hayward.

The trio, who have 771 tests experience between them, have opted to remain in Europe playing club hockey and did not play in the series with India which finished on Sunday.

Burrows (343) is the only player to appear in over 300 games for New Zealand, while McAleese (221) and drag-flick exponent Hayward (197) also have vast experience at international level.

Although he will be without three influential figures, Batch was optimistic his team were ready for the biggest challenge during his tenure in charge.

"We're not fearing the importance of this event – we need to embrace it and aim to achieve our best performance of the year," he said.

"We are looking forward to the challenge and are confident we have what it takes as a group to pull this off."

Incumbent Devon Manchester will come under pressure for the starting goalkeeper's berth from recalled veteran Kyle Pontifex, who led Capital to the national league title.

The Black Sticks lost the four-test series against India with a record of one win, two losses and a draw, but improved every game.

All games during the Oceania Cup will be streamed on the Hockey New Zealand website (hockeynz.co.nz), with the men's and women's finals live on Sky Sport onOctober 25.

Black Sticks men: Ryan Archibald, Simon Child, James Coughlan, Steve Edwards, Nick Haig, Hugo Inglis, Stephen Jenness, Devon Manchester, Leo Mitai-Wells, George Muir, Arun Panchia, Kyle Pontifex, Nick Ross, Kane Russell, Brad Shaw, Blair Tarrant, Nick Wilson, Nic Woods.

Stuff


---

Black Sticks women have plenty of incentives to beat Australia

By David Leggat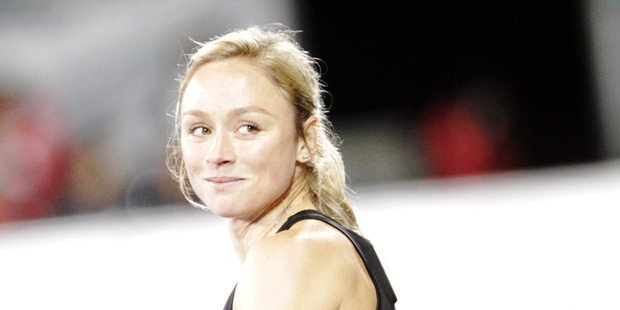 Anita Punt. Photo / NZME.

New Zealand and Australia have qualified for next year's Rio Olympics.

But it would be wrong for the Black Sticks to take the view that there's no essential need to win the Oceania Cup title in Stratford this month.

There are at least two compelling reasons the world No 4-ranked team will want to topple their second-ranked neighbours.

First, there are important events coming up and not all the players named yesterday will be going to Rio.

Among those not in the 18 going to Stratford are the country's most-capped player, defender Emily Naylor, in-form attacker Gemma Flynn and outstanding midfielder and regular captain Kayla Whitelock.

Naylor has a hamstring injury, Flynn is unavailable for personal reasons and Whitelock is making her way back to full fitness after taking a year out for the birth of her first child.

All three, health permitting, are all-but-certain starters for the Olympic squad, therefore players in the Oceania tournament have massive incentives to prove they should be in the frame for Rio.

There's also the World League final in Rosario, Argentina, in December, an eight-team tournament at which eight of the world's nine highest-ranked teams are competing. It will provide an ideal lead-in for Rio preparations.

The return of influential midfielder Stacey Michelsen, senior goalkeeper Sally Rutherford and national league MVP Brooke Neal, having missed the four-game series against Argentina this month, helps offset the absentees.

"We've named the strongest team we have based on form and availability, with all these players having performed well in the national league and Argentina series," coach Mark Hager said. "It's a great opportunity for us to view players on the international stage in preparation for the world league final."

Samoa are the third nation competing in the Oceania Cup.

The men's Black Sticks squad is named today, but they must beat world No 1 Australia to get to Rio.

NZ women's team for the Oceania Cup

Anita Punt (c, Capital), Amelia Gibson, Charlotte Harrison, Julie King, Liz Thompson (Auckland), Sam Charlton, Rose Keddell, Sally Rutherford (Midlands), Jordan Grant, Pippa Hayward, Sophie Cocks, Olivia Merry (Canterbury), Ella Gunson, Stacey Michelsen, Brooke Neal (Northland), Petrea Webster, Kat Henry, Kirsten Pearce (North Harbour).

The New Zealand Herald


---

Timely boost for hockey team

Shalveen Chand

THE Fiji men's hockey team will be going to the Oceania Cup 2015 after the New Zealand and Australian hockey federations stepped up to fund the team's participation in Stratford in New Zealand.

The Oceania Cup is an opportunity for the men to qualify to the Olympic Games in Rio next year.

Fiji Hockey Federation president Dr Robin Mitchell said the funding allowed for only one team and to ensure that funds took them through the duration of the competition, the team would be staying in a caravan park near the venue.

He said Fiji had withdrawn from the competition because of financial woes.

"We are being provided with $65,000 that was once all the frills were trimmed and that includes everything," Dr Mitchell said.

"So we are staying close to the competition site, a caravan park area as part of the low cost housing accommodation so we focus our funding mainly on preparing the team."

Fiji national coach Hector Smith said Fiji was grateful to be given a chance to play in the competition.

"We have been fortunate enough that after our withdrawal, NZ Hockey contacted president of Fiji Hockey and offered to help us with accommodation and the meals there while we are in New Zealand," Smith said.

"This helped us reduce the load on the players, give them the best competition possible."

Smith said they had been in touch with the Fijian community in New Zealand who were willing to help with meals as well.

Fiji will start their Oceania Cup campaign against world number one Australia next Wednesday.

Right now the team is awaiting their visas from the New Zealand Immigration and the team is set to leave this Sunday.

The Fiji Times


---

Oceania Cup schedule confirmed




Oceania Hockey Federation has confirmed the draw for the 2015 Oceania Cup being held in Stratford, New Zealand from 21-25 October.

Following the withdrawal of Fiji women, the revised draw creates a great weekend for spectators with New Zealand women now facing Australia at 14:00 (local time) on Saturday 24 October ahead of the finals on Sunday 25 October.

"To have the women play a trans-Tasman game is always a drawcard – and for this to now be on a Saturday when we have some fantastic live entertainment scheduled, is good news," said Hockey New Zealand Chief Executive Malcolm Harris.

He continued: "It's really unfortunate to have Fiji women out of the tournament and it's always tricky managing the change of schedule so close to the start of the event, but we believe in this case there is a real silver lining to what has eventuated".

Fiji will be replaced by a New Zealand invitational women's team and will face Samoa on Saturday 24 October and play again on finals day on Sunday 25 October.

As a result, Australia, Fiji, New Zealand and Samoa will contest the men's competition, while Australia, New Zealand, a New Zealand invitational select and Samoa will contest the women's event.

The Oceania Cup is an Olympic qualification event with the winners of each tournament qualifying for the Rio 2016 Games as Oceania Continental Champions.

New Zealand and Australia women along with Australia men have already qualified for Rio due to their final standings at the Hockey World League Semi-Finals in Antwerp, Belgium.

Ticket Update:
Due to the New Zealand women's game being rescheduled, there will now be a VIP ticket on offer for Saturday 24 October which includes a two course buffet meal, two complimentary drinks, priority stadium access, reserved premium seating and indoor viewing if preferred. There are still VIP tickets available for Thursday 22 October.

Ticketholders who have purchased a ticket for Wednesday 21 October can exchange their ticket for either Thursday 22 October or Saturday 24 October. Similarly, ticketholders that have purchased a ticket for Thursday 22 October can exchange their ticket for either Wednesday 21 October or Saturday 24 October.

To exchange your ticket please email This email address is being protected from spambots. You need JavaScript enabled to view it. or call 0800 484 2538 Monday to Friday 9-5pm.

Click here for more information and to buy tickets for the 2015 Oceania Cup.

To see the full men's match schedule, click here.
To see the full women's match schedule, click here.

FIH site


---

Kenyan skipper Zack Aura dreams of Rio Olympics

By BRIAN YONGA



Zack Aura of Butali Sugar Warriors (top) and Samuel Oungo of Kenya Police during the final of the Kenya Hockey Union league at City Park stadium on December 7, 2014. PHOTO | MARTIN MUKANGU |   NATION MEDIA GROUP

National men's hockey team captain Zack Aura is looking to inspire Kenya's to its first Olympics appearance since 1988.

The men's side alongside the female counterparts are preparing for the African Olympics qualifiers set to be held in South Africa from October 23 – November 1. Aura was named the team's skipper on Sunday evening replacing Kenya Police's Richard Birir, who has captained Kenya since 2013.

The Butali Sugar Warriors striker, who is arguably one of Kenya's finest hockey players of his generation, believes he will never really be considered as a great player if he does not play in the Olympics.

"I grew up watching the likes of Inderjit Matharu who played for Kenya at the Olympics. Having been lucky to have played alongside him, I want to emulate him by also playing at the Olympics," Aura told Daily Nation Sport on Wednesday.

Aura, one of the veterans of the Kenyan team is back in the squad after a three year absence. He last played for Kenya in 2012 and missed out on the Africa Cup of Nations in 2013 as well as last year's World League Series due to job commitments.

"I love playing for my country and I am excited by the prospects of donning the national colours one more time," he said.

FAVOURITES

Aura and his team mates will be up against 10 other teams including African champions and hosts South Africa who alongside Egypt and Ghana are among the favourites.

The 33-year-old marked his return to hockey last year by helping Butali Sugar Warriors lift the men's premier league title after beating rivals Kenya Police 2-1. During the match, Aura scored both goals with the second a master-class of an effort.

SEVEN APPEARANCES

The two Kenyan teams, which are currently training at the City Park Stadium, are scheduled to leave the country on October 19 ahead of the week-long event that will be played at the Randburg Hockey Stadium, Johannesburg.

Kenya failed to qualify for Olympics through the World League Series and the continental qualifiers present both teams with a final shot. The men's team has graced the Olympic Games seven times while the women's team has never made it to the event.

The men's and women's winner of the event will represent the continent at next year's Olympic Games in Rio de Janeiro, Brazil. The qualifiers were initially set to be held in Ismailia, Egypt from October 17-27 but the Africa Hockey Federation (AHF) shifted the venue due to security concerns in the North African nation.

Daily Nation


---

Golden Sticks prepare for Olympic qualifiers

The Ghanaian senior national hockey team, the Golden Sticks, is currently camping at the Theodosia Okoh National Hockey Stadium, ahead of the Africa Hockey Olympics qualifiers, in South Africa.

The competition billed to start on October 23 to November 3, will see Ghana competing against eight other African countries including the host nation.

The countries expected to participate include, Nigeria, Tanzania, Zimbabwe, Namibia, Zambia, Kenya and Uganda where the champion of the tournament qualifies for the 2016 Olympic Games in Rio, Brazil, and the second-placed competes in the next Commonwealth Games in Australia.

The team manager of the female national hockey team, Madam Rosemary Lamptey, told the GNA Sports that, she is confident the team will beat off competition from their opponent to qualify for the Olympic Games.

She said "definitely they will qualify for the Rio Olympics and I believe with determination and focus they will make it. They are motivated after the training tour in the United Kingdom (UK) and they should be able to qualify for the major tournaments so that the executives won't regret their input.

"The girls are in good shape after the UK tour and have psyched themselves up adequately for the South Africa tournament. They are focused and they want to bring something home and definitely we will pull surprises in South Africa.

"I don't think we have any serious challenge. The team is in camp. Everything is in order and we just waiting for the big game."

The Black Sticks played a 1-1 drawn game with the Citizens in a friendly game as part of preparations towards the tourney.

GhanaWeb


---

Every game has a meaning in Raipur




The eight men's teams taking part in the Hero Hockey World League Final will be represented by the best players in the world - hockey heroes and rising stars.

With all of the teams taking part in Raipur already qualified for the Rio 2016 Olympic Games, competition will be intense.

Every single game has its own history, with rivals going head to head throughout the competition as each and every one of them strive to win the coveted Hockey World League title.

The opening day will play host to one of the hottest rivalries in world hockey. A rerun of the London 2012 Olympic Games gold medal game will see Germany take on defending Hockey World League champions Netherlands.

Germany, winners of the Olympic gold medal back in 2012 and the Champions Trophy in 2014, will be looking for revenge against the Netherlands, who beat them 6-1 in the EuroHockey Championships final in London, England back in August.

A rerun of the 2014 Hockey World Cup final between Australia and the Netherlands is also possible. Whilst they will not meet in the Pools, they could meet in the latter stages of the tournament.

The Dutch will be looking to avenge their heavy 6-1 loss in the World Cup final to the Australian's, a particularly memorable loss as it happened in front of thousands of their home fans in The Hague.

Whilst many rivalries will be renewed, there will be a number extra incentives for teams taking part in Raipur.

In addition to winning the Hockey World League title, the winners will receive an automatic qualification spot for the Champions Trophy taking place next June in Argentina.

FIH World Ranking points will also be awarded depending on the teams final standings in Raipur, which will effect each team's World Ranking position. This could prove crucial when it comes to qualification for forthcoming international hockey events.

It will also be one of the last opportunities for teams to compete against one another before they meet again in Rio next August. Not only will it give teams a chance to discover their opponents strengths and weaknesses, it also provides athletes with another opportunity to showcase their skills to their own coaches who will monitoring player performances ahead of Olympic squad selections over the coming months.

With so many great rivalries and so much on the line, fans can expect to experience displays of exceptional skill and outstanding physical fitness, with non-stop action and plenty of goals.

It is certainly shaping up to be a fantastic event and the world is invited. Tickets are now on sale and can be purchased by clicking here.

FIH site


---

Bangaluru Cup: ONGC edge out star-studded Air India 4-3

Bengaluru: ONGC edged out star-studded Air India 4-3 in the men's league matches of the 2nd Bengaluru Cup hockey tournament at the Bangalore Hockey Stadium turf under lights here on Tuesday.

ONGC took a 4-1 lead with goals from Diwakar Ram (Penalty corner - 5th min), Harpal Singh (Penalty stroke – 21st min), Gurwinder Singh Chandi (43rd min) and Tyron Pereira (46th min). For Air India, Pawan Kumar (10th min), Prabodh Tirkey (PC-56th min) and Nitesh Kiro (60th min) reduced the margin but fell short of a draw.

In a fast-paced match, ONGC began with an early penalty corner conversion by Diwakar Ram in the 5th minute but Air India levelled the scores by 10th minute with Pawan Kumar scoring a superb goal off a fast diagonal cross from Shesha Gowda BM. After receiving the ball, Pawan turned around near the left backline and sent in a stinging back-hander from zero angle and the ball zoomed into the boards leaving rival goalie Navin stranded.

However, ONGC raised the tempo and came into their own scoring three goals to take a 4-1 lead against the last-year finalists. With a goal-bound ball hitting a defender's leg, a penalty stroke was awarded to ONGC in the 21st min and Harpal Singh drew the goalkeeper to the wrong side before finding the net (2-1). Gurwinder Singh Chandi's powerful reverse hit off a pass from Preetinder Singh from top of the circle made it 3-1 in the 43rd minute and within three minutes Tyron Pereira deflected a Mandeep Antil shot into the goal to take ONGC 4-1 up.

Later on, Air India switched up gears and played aggressive hockey but could only reduce the margin through a Prabodh Tirkey direct hit off a short corner in the 56th minute and a field goal by Nitesh Karo in the 60th minute. Thereafter, they tried hard but could not find the equaliser.

Bengaluru Cup Day 5 – Women
MP Academy girls drub Karnataka XI 3-0

Bengaluru, 14 Oct 2015: Defending champions MP Academy defeated Karnataka XI 3-0 in the women's league matches of the 2nd Bengaluru Cup hockey tournament at the Bangalore Hockey Stadium here on Wednesday.

Skipper Shivani put MP Academy in the lead in the 23rd minute and Sidhi Singh struck in the 31st minute to make it 2-0 at the break. In the second half, MP girls rounded off the tally 3-0 when Reena Khokhar converted a short corner in the 62nd minute.

Karnataka XI and MP Academy had even share of exchanges in the first 20 minutes before the local girls missed after a good move which saw Rashmy PP deflect from a long cross from Komala but the ball missed the target by inches. Within two minutes, MP Academy opened their account with skipper Shivani scoring into an open goal from close quarters after Sidhi drew Karnataka goalkeeper Sandhya out and returned a short pass into the goalmouth (1-0).

Thereafter, MP Academy never looked back with Sidhi Singh in action once again in the 31st match. Following a defensive lapse by Anitha Kumari B of Karnataka, Sidhi stepped in and sent a stinging reverse hit to the boards (2-0). Later in the 61st minute, Reena Khokhar's direct hit from the team's second penalty corner saw the visitors earn full points. BANGALORE CUP DAY IV:

Army XI rally to hold defending champs IOCL

Bengaluru, 13 Oct 2015: Army XI rallied brilliantly to hold defending champions Indian Oil Corporation Limited to a 3-3 draw in the men's league matches of the 2nd Bengaluru Cup hockey tournament at the Bangalore Hockey Stadium turf here on Tuesday.

Yuvaraj Walmiki (16th minute), Inderjit Singh (24th min) and Prabhjot Singh (50th min) scored for IOCL while Biraj Ekka (14th min), Vishwa Thakur (54th min) and Chandan Aind (63rd min) were successful for Army XI.

Army XI drew the first blood in the 14th minute with a field goal from Biraj Ekka but the experienced IOCL drew parity in the very next minute when their striker Yuvaraj Walmiki struck a field goal. IOCL took the lead in the 24th minute through skipper Inderjit Singh in the 24th minute to take the break at 2-1.

After the cross-over, Oilmen increased the lead in the 50th minute with veteran Prabhjot Singh making it 3-1 scoring off a long diagonal cross from Yuvraj.

Thereafter, Army XI came into their own to put pressure on the rivals and reduced the margin when Biraj Ekka set it up for nicely for Vishwa Thakur, who banged into the boards (2-3). With seven minutes to go, Army XI raised visions of an upset, making it 3-3 when Chandan Aind struck the equaliser with a diving deflection in the 63rd minute and Army XI earned a last-minute short corner too but IOCL defended well to share a point each.

Second Match

Bengaluru, 13 Oct 2015: ONGC and Karnataka XI played a 2-2 draw in the men's league matches of the 2nd Bengaluru Cup hockey tournament at the Bangalore Hockey Stadium turf under lights here on Tuesday.

After a barren first half, Karnataka shot into the lead in the 58th minute with Poonacha MG but ONGC struck back in the 62nd minute through a penalty corner conversion by Diwakar Ram. Then ONGC went ahead 2-1 when Harsahiv Singh Shammi scored in the 64th minute. However, MD Raheel scored the equaliser for Karnataka in the 68th minute as the teams split the points.

In the slow-paced match, both the teams made repeated raids but lacked sting upfront in the first 40 minutes. Harsahiv missed a couple of chances for ONGC with Karnataka defenders Darshan and Dung Dung playing well. Home team's Pradhan Somanna too moved back to assist the defence.

Pradhan also set up the first goal for Poonacha in the 58th minute forcing ONGC to increase the pace. Diwakar Ram flicked low in to the boards from the team's sixth penalty corner and then Harsahiv scored off a fast cross from Sumit to make it 2-1 in favour of ONGC.

But the Karnataka team managed to restore parity two minutes before the hooter. Off a raid from the right flank, Nitin Thimmaiah sent in a stinger but the rival goalkeeper padded it off. Then Raheel picked the rebound and shot home as the crowd erupted into loud cheers.

MP Academy beat Central Railway 3-2

Bengaluru, 13 Oct 2015: MP Academy defeated Central Railway 3-2 in a women's league match of the 2nd Bengaluru Cup hockey tournament at the Bangalore Hockey Stadium here on Tuesday.

MP Academy scored two goals in the first five minutes through skipper Shivani Singh (2nd min) and Manmeet Kaur (5th min) and struck the match-winner through R Ramnugaihzuali in the 65th minute. Central Railway rallied to make it 2-0 in the second half with field goals from Ponnamma Mallamada in the 43rd minute and Kavita Vidyarthi in the 53rd minute.

Shivani surprised the rival defence with a quick goal to hoist the lead for MP Academy in the 2nd minute and within three minutes the MP girls earned their first penalty corner. Despite a bad stop Vineeta pushed the ball to the left and Manmeet Kaur sent a reverse hit to sound the boards (2-0).

After trailing 2-0 for better part of the game, Central Railways pulled one back with Ponnamma scoring off a cross from Kavita Vidyarthi in in the 43rd minute. Ten minutes later Kavita scored one herself after former India star and skipper Soundary Yendala dribbled down the right backline dodging past two defenders and gave a short reverse pass to Kavita, who tapped into the goalmouth.

The equaliser brought some energy into the game but MP Academy sealed the issue with a match-winner five minutes from time with a goal from Ramnugaihzuali following a move from the left flank.

BANGALORE CUP 2015 DAY III

MEN: Air India beat BPCL

Bengaluru, 12 Oct 2015: A brilliant brace including a late goal by Joga Singh put paid to the hopes of Bharath Petroleum Corporation Limited and helped Air India earn full points with a 2-1 victory in the men's matches of the 2nd Bengaluru Cup hockey tournament at the Bangalore Hockey Stadium turf here on Monday.

In an evenly-contested match, Air India took the lead in first half with a brilliant goal in the 22nd minute. Off a raid from the right flank, Prabodh Tirkey sent in a stinging hit from outside the circle and Joga Singh managed to find a subtle deflection into the goal but the BPCL players contested the decision. The umpires consulted each other and ruled in favour of Air India.

After the cross-over, Air India continued its raids but found BPCL earn their first penalty corner after a sudden counter attack in the 45th minute. Gurpreeth Singh took a powerful but low drag flick which was blocked by Air India goalkeeper but international Hari Prasad converted the rebound in a giffy to leave no room for the custodian the second time around.

Three minutes from time, Joga Singh was in his elements once again scoring the match winner through a field goal from a goal-mouth melee.

Earlier, star-studded Haryana XI defeated Karnataka XI 4-2 in the women's matches. After a Pinki Balhara brace, Monica Dahiya scored a field goal while Devika Sen converted a short corner for Haryana while BM Komala and Hima George scored two penalty corners for Karnataka.

WOMEN: Haryana overcomes Karnataka

Bengaluru, 12 Oct 2015: Haryana XI defeated Karnataka XI 4-2 in the women's section of the Second Bengaluru Cup hockey tournament at the Bangalore Hockey Stadium here on Monday.

Star-studded Haryana, with three Indian players in their ranks, began aggressively forcing three penalty corners in the first seven minutes, and took a 2-0 lead with Pinki Balhara scoring a double in the space of two minutes. In the 15th minute, she hoisted the lead following a defensive lapse and in the very next minute she moved into the goal area from the left and sent a short pass to Preeti, who returned it, as Pinki moved into the goalmouth and slapped in to beat the goalkeeper from close quarters.

Karnataka shot back with a penalty corner goal in the 21st minute, a direct hit by BM Komala to make it 2-1 and kept the hosts in the hunt.

However, Haryana women increased the lead in the 24th minute through a field goal from Indian player Monica Dahiya, who slapped in a cross from the right to stun the Karnataka goalkeeper Sandhya to make it 3-1.

After the breather, Haryana women raided the rival citadel repeatedly forcing four short-corners in succession and succeeded in converting the last set-piece goal in the 45th minute to make it 4-1 when Devika Sen found the target.

Within five minutes, Karnataka converted their second penalty corner through Hima George to pull one back (4-2) but Haryana put paid to their hopes forcing another two futile penalty corners. Haryana converted one out of the ten penalty corners while Karnataka converted both their short corners.

Stick2Hockey.com


---

Paragon, Shape top Trinity qualifiers

Nigel Simon



Stephanie Mc Kenzie, left, of Petrotrin tries to dribble past Genneil Pope of Paragon in their T&T Hockey Board National Indoor Championships Girls Under-19 Division match at the Woodbrook Youth Facility, Hamilton-Holder Street, Woodbrook on October 3. Paragon won 3-1. Photo: Anthony Harris

Paragon women and Shape men will enter their T&T Hockey Board National Indoor Championship semifinal phase on October 31 at the Jean Pierre Complex, Mucurapo as top qualifiers in their respective categories.

This after the two clubs ended as round-robin winners of their division at the Woodbrook Youth Facility on Hamilton-Holder Street on Saturday.

In the four-team women's competition, Paragon led by Danielle Thompson's five goals won matches against Police (4-1) and Harvard Checkers (2-0) after a 1-1 draw with Shandy Carib Magnolias in its opener.

Paragon ended with seven points from its three matches, the same as Magnolias which registered similar 3-1 victories over Checkers and Police in their remaining fixtures.

However, Paragon had a better goal-difference of plus-five to Magnolias' plus-four and will face cellar-placed Checkers in the first semifinal from 9 am, while Magnolias meets Police, which blanked Checkers 2-0 in its other match for third spot.

Shape was also unbeaten in the Trinity Men, drawing its opener 3-3 with Carib, followed by hard fought wins against Paragon (3-2), Notre Dame (4-2) and Queen's Park (2-1), to end with ten points from its four matches, three ahead of Paragon and a semifinal date with Carib.

Paragon dropped Notre Dame (11-3), edged QPCC 4-3 and drew 1-1 with Carib in its other matches and will face Queen's Park in the semifinals after the latter defeated Notre Dame 3-1 and Carib 2-1 in their other matches.

In the Mixed Veterans, defending champion Queen's Park is third on the six-team table with four points from two matches, two behind joint leaders Notre Dame and Defence Force, which have won both their matches, with three matches left for each six clubs.

At the end of the Mixed Veterans round-robin the top four will advance to the semifinals on October 31, ahead of the final playoffs the following day.

Results:

Trinity Division round-robin

Men:

Paragon 11 (Joel Daniel 10th, 11th, 13th, 24th, Salim Clapham 9th, 9th 17th,  Atiba Cooper 2nd, Gerron Frank 18th, Tarrell Singh 23rd, Tariq Singh 26th) vs Notre Dame 3 (Akil Nancoo 21st, 29th,  Sean Olton 25th)

QPCC 2 (Mahinder Mali 21st, Jordi O'Brien 28th) vs Carib 1 (Kern Ramsammy 28th)

Shape 3 (Lyndell Byer 1st, 28th, Sheldon D Lisle 18th) vs Paragon 2 (Gerron Frank 4th, Isaiah Scott 21st)

Shape 4 (Ghardel Elcock 9th, 13th, Lyndell Byer 16th, Sheldon De Lisle 23rd) vs Notre Dame 2 (Justin Beharry 22nd, 26th)

Paragon 1 (Isaiah Scott 13th) vs Carib 1 (Edwin Christmas 4th)

Shape 2 (Ghardel Elcock 2nd,  Leroy Sookdeo 28th) vs QPCC 1 (Jordi O'Brien 5th)

Carib 4 (Samuel Carty 4th, 8th, Randel Ramsammy 11th, Kern Ramsammy 19th) vs Notre Dame 1 (Jeshurun Drayton 2nd)

Paragon 4 (Salim Clapham 17th, 18th, 27th, Gerron Frank 29th) vs QPCC 3 (Michael Durity 8th, 18th, Mahinder Mali 21st)

Carib 3 vs Shape 3

QPCC 3 vs Notre Dame 1

Women:

Paragon 1 (Danielle Thompson 19th) vs SC Magnolias 1 (Sade Mohammed 13th)

SC Magnolias 3 (Kimberly Wellington 1st, Natalie Nieves 15th,  Lauryn  Pounder 28th) vs Harvard Checkers 1 (Christabella George-Forde 20th)

Paragon 4 (Danielle Thompson 14th, 20th, 23rd, Lisa Smith 28th) vs Police 1 (Tineil Garcia 19th)

SC Magnolias 3 (Alexandria Yearwood 2nd, 17th, 28th) vs Police 1 (Suzette Pierre 3rd)

Paragon 2 (Danielle Thompson 22nd, Naomi Sampson 27th) vs Harvard Checkers 0 

Police 2 vs Harvard Checkers 0

Semifinals matches (Oct 31)

Men:

Shape vs Carib, 11 am

Paragon vs QPCC , 12 noon

Women:

Paragon vs Harvard Checkers, 9 am

SC Magnolias vs Police, 10 am

Mixed Veterans:

Notre Dame 5 (Carol Whiteman 5th, 9th, 19th, Cheryl John 14th) vs Fatima 2 (Cristina Abreu 20th, Shawn Tang 29th)

Defence Force 5 (Nicholas Wren 7th, 17th, 23rd, Anthony Morales 14th, Gary Griffith 16th) vs Police 3 (Fernando Beatrice 21st, 25th, Glennon Foncette 6th)

Malvern 4 (Damian Gordon 13th, 25th, Cecile Wren 16th, 19th) vs QPCC 4 (Raphael Govia 3rd, 12th, Jerry Bell 15th, 24th)

QPCC 5 (Raphael Govia 5th, 23rd, Gary Chin 14th, Jerry Bell 22nd,  Andre Attale 29th) vs Fatima 3 (Neil Pichery 11th, 30th, Brian Garcia 9th)

Defence Force 6 (Nicholas Wren 14th, 15th, 23rd, 29th, Anthony Morales 4th, Gary Griffith 15th) vs Malvern 4 (Anthony Marcano 13th, 17th, Darius Nathaniel 12th, Deryck Alexander 19th)

Notre Dame 7 (Keith De Peza 6th, 9th, Selwyn King 12th, 30th, Carol Whiteman 11th,  Akil Nancoo 22nd, Sean Olton 29th) vs Police 2 (Roger Chin 10th, 28th)

The Trinidad Guardian


---

Canterbury set for Birmingham clash



Canterbury's Susannah Townsend (left) in action against Clifton. Credit: Peter Smith.

Beaten finalists last season, Canterbury travel to early league leaders the University of Birmingham for a tough clash in the Investec Women's Hockey League Premier Division on Saturday.

Currently fourth, Canterbury could move up to second and within two points of the leaders if they take victory and other results go in their favour, but Jen Wilson isn't looking at the table just yet.

"We're not a team that focuses on the table until much later in the season," she said. "There are good teams throughout the table, and through the season things will change.

"Birmingham have been playing really well and getting good results. Their goal difference is one that any coach would be happy with, and we expect them to be a tough prospect. But these are the types of games that we relish."

Meanwhile, East Grinstead are on the road to Holcombe as they bid to maintain their great unbeaten start to life in the top flight. Last weekend Holcombe picked up a 1-0 win over Reading who go to third-placed Surbiton on Saturday.

Clifton play host to Buckingham with both sides needing points to move up the table, while Leicester are at home against Bowdon Hightown in the day's other Premier Division match.

Third plays second in the Investec Women's Conference West, with Stourport at home against Sutton Coldfield. Meanwhile, leaders Swansea City will be aiming to make it six out of six as they go to Olton and West Warwicks.

It's a similar situation in the Investec Conference East, with second-placed Cambridge playing host to third-placed St Albans. Leaders Slough take their 100 per cent record to Ipswich.

Wakefield face a tough challenge to their lead in the Investec Conference North as third-placed Ben Rhydding come to College Grove. Second-placed Loughborough Students entertain Whitley Bay and Tynemouth.

Investec Women's Hockey League (Saturday, October 17 2015):

Investec Premier Division
Clifton v Buckingham 13:00
Holcombe v East Grinstead 16:00
Leicester v Bowdon Hightown 14:00
Univ of Birmingham v Canterbury 14:15
Surbiton v Reading 15:30

Investec Conference East
Cambridge City v St Albans 12:30
Maidenhead v Chelmsford 13:30
Ipswich v Slough 14:00
Wimbledon v Hampstead and Westminster 14:00
Harleston Magpies v Sevenoaks 14:00

Investec Conference North
Belper v Beeston 12:00
Loughborough Students v Whitley Bay and Tynemouth 12:30
Liverpool Sefton v Brooklands Poynton 13:30
Wakefield v Ben Rhydding 13:30
Springfields v Univ of Durham 14:00

Investec Conference West
Oxford Hawks v Univ of Bristol 12:00
Trojans v Bristol Firebrands 12:00
Olton and West Warwicks v Swansea City 12:00
Isca v Gloucester City 12:30
Stourport v Sutton Coldfield 18:00

England Hockey Board Media release


---

Reading target Surbiton scalp



Matt Daly of Surbiton and Richard Mantell battle it out. Credit Tim Reder

READING manager Chris Davey has tipped his side to give early Premier Division leaders Surbiton a tough match when the two teams meet on Saturday evening in the Men's Hockey League.

Currently fourth, Reading felt they missed out on a chance of victory when they drew with Holcombe last weekend, and will be out to prove a point at Sugden Road.

"The Holcombe game was a good benchmark because we had a slightly easier start to the season than some teams, and it was our first game against quality opposition," he said.

"We should've won the game as we had the chances, and it gives us confidence to go forward and give Surbiton a run for their money this weekend. Games at Sugden Road are always fast and furious, but we will want to play our own game."

After drawing 2-2 with Reading last weekend, Holcombe play host to East Grinstead on Saturday evening and will be aiming to keep their unbeaten record intact at the expense of a side who have won just one match so far this season.

On Sunday, last season's champions Wimbledon head to Hampstead and Westminster as they bid to keep within touching distance of the top two.

Canterbury are at home against Cannock in a match between two sides who had hoped to be higher up the table at this stage of the season, while Beeston entertain Brooklands Manchester University in the other top flight game.

In the Men's Conference West, second-placed Indian Gymkhana are at home against Isca as they bid to maintain the pressure on leaders Cardiff and Met, who head to Chichester Priory Park on Sunday.

Team Bath Buccaneers moved up to third on the back of their win over the University of Birmingham last weekend, and they face the University of Exeter this weekend.

Loughborough Students and Deeside Ramblers were both three-nil winners in the Conference North last weekend, and the two sides meet up on Sunday at Tarporley.

Elsewhere, second-placed Bowdon are at home against Preston, and the University of Durham visit Lichfield.

Four-nil ahead with 25 minutes left, Conference East leaders Richmond had to settle for a point from a dramatic 4-4 draw with West Herts last weekend. But they will want to maintain their unbeaten form when they go to Cambridge City on Sunday.

Sevenoaks are also on the road, to Southgate, while Saturday's match sees West Herts host Bromley and Beckenham.

Men's Hockey League (Saturday, October 17 2015):

Men's Premier Division
Surbiton v Reading 18:00
Holcombe v East Grinstead 18:15

Men's Conference East
West Herts v Bromley and Beckenham 14:00

Men's Hockey League (Sunday, October 18 2015):

Men's Premier Division
Canterbury v Cannock 12:45
Hampstead and Westminster v Wimbledon 14:00
Beeston v Brooklands Manchester University 14:00

Men's Conference West
University of Exeter v Team Bath Buccaneers 12:30
Cheltenham v Guildford 12:30
University of Cheltenham v Fareham 12:30
Chichester Priory Park v Cardiff and Met 13:30
Indian Gymkhana v Isca 14:00

Men's Conference North
Olton and West Warwicks v Wakefield 13:30
Lichfield v University of Durham 13:30
Doncaster v Sheffield Hallam 14:00
Deeside Ramblers v Loughborough Students 14:00
Bowdon v Preston 14:30

Men's Conference East
Oxted v Harleston Magpies 12:45
Brighton and Hove v Teddington 13:00
Cambridge City v Richmond 13:00
Southgate v Sevenoaks 14:30

England Hockey Board Media release


---

Tough lessons learned but indelible memories

While the EHL Round 1 saw just four teams from 12, some of the sides that were eliminated will still hold indelible memories from Hamburg for many years.

For HC Wien, just qualifying for the competition was a fairytale, ending a 22-year wait to win the Austrian national title with a shoot-out victory.

Fast forward to Hamburg and they picked up an opening 0-0 draw against Grange before meeting the mighty hosts, Harvestehuder THC. After an initially impressive defensive display, they ultimately fell 6-1 but Wien's Andreas Wellan said: "This was a great event for us. We didn't expect to play so well!

"The first game for all of us guys in a European competition on Saturday ended with a good draw. I think we played well and then had about 25 minutes against HTHC before they broke through."

Wien were one of the best supported visiting sides and this made for an incredible atmosphere on Sunday evening for the HTHC game.

"From Vienna, about 60 or 70 people came. It was like a home game for us and they were amazing, singing all the way through.

"It's unbelievable to play in this atmosphere. Also playing on tv! This is quite different to the Austrian league; we have about 20 spectators. It's amazing for us."

As for his side being undone by a fellow Austria in the form of Michael Korper and his four goals for HTHC, Wellan said he can't be too mad at a man he played with in the national team.

"We know him very well. He's a good guy and him scoring the goals against us, that's how life is!"

SG Amsicora were the other side to make their first appearance in the EHL. The lowest ranked side going into the competition, they were undone 6-1 by Dinamo Elektrostal before playing out a lively 9-3 defeat to Royal Leopold.

Luca Lixi drew the positives from the Cagliari-based club's maiden performance in the competition.

"It was a great opportunity for us. We come from Italy where obviously hockey is not at the same level as the teams we played here. The Russians are professional and the Belgians are top quality.

"We came to grow, build on our strengths and perform our best on a global level. At times, we saw it – the third quarter against Elektrostal and some points, we posed some questions to Leopold.

"In the end, experience, strength and fitness added up in the scoresheets which weren't too favourable to us but it's been a great experience. It's what we have seen on tv since we were kids – to play in it, is amazing."

And he believes this will have a big impact on how Amsicora perform when they return to the Italian league.

"When you play at a certain level of hockey, you will always take that with you. We saw that between Friday and Saturday. It's a big change from the Italian league and the first quarter really hit us hard but we will be able to take this forward and improve."

Euro Hockey League media release


---

UNDER 12 HOCKEY- Yet another Great Venture of Dar Hockey Academy

By Ijaz Chaudhry




Dar Hockey Academy is a well-established conveyer belt of hockey talent with continuous supply of players to Pakistan's national teams of all tiers, for many years now. Talented players are scouted from across the length and breadth of the country, and given high quality training.  Usually, boys aged 14-15 are chosen and nurtured at the academy.
 
Recently, the Dar HA has come out with another venture: 'Under 12 Hockey'.  For this, training sessions are scheduled on Sundays on the blue turf of Lahore's National Hockey Stadium.

It has the potential to serve many purposes.

Nowadays, hockey is rarely visible in Pakistan. Lack of success of the national teams in the international arena plus the popularity of cricket and soccer has led to a virtual disappearance of country's national game in the media.  One of the ramifications is dwindling interest among the children. Very few take up the game. Even sons of former hockey greats show little inclination.

It is said, "Your first love is unforgettable". Going by this notion, "Why not make hockey, kids' first love? Sunday has been selected.  Hence, the kids can come accompanied by the parents. Weekend is usually a family fun day. So enjoy hockey and have fun, with parents watching their wards from the sideline.

Moreover, child obesity is on the rise. Addiction to computer, video games, etc. has made the kids couch potatoes. Scribe has come across so many people who desire their children go out door.  Playing a fast paced sport like hockey provides a very good physical exercise.

Dar HA's 'Under 12 Hockey' has received a very encouraging response; the number increasing all the time.  Kids from the age of six to 11 are seen playing and learning hockey with great enthusiasm at the Under 12 Sunday Sessions.  Even people from outside Lahore have expressed interest to send their kids to Lahore on Sundays.

During the glory days, hockey was played by boys from all the strata of the society. Pakistan's national teams often included players who had learnt the basics of the game during their student days at the private schools.

Unfortunately, for quite some time, hockey at private schools has become almost extinct. The talent is only coming from the low income groups. Hence, it is heartening that lads from prominent private schools such as Beaconhouse and Lahore Grammar School are also attending the Under 12 Hockey Sessions.

Hockey used to be a family game in this country especially among those of the stalwarts. It was almost an aberration if the off spring of an international star didn't pick up the stick. But the gloom engulfing the sport in this country has devoured that trend as well. Therefore, it was a pleasant surprise that Pakistan's former captain Rehan Butt came with his two sons.  

Dar HA officials are hopeful that many among the participants of Under 12 Hockey would take up the game seriously and graduate to the Dar Hockey Academy proper.

Thus the Under 12 Hockey adds to the Dar HA pipeline, making it deeper and stronger, which in turn means more and more quality players for Pakistan hockey; from more diverse back grounds as well.

Ijaz Chaudhry writes on hockey and other sports. For more about him and his work, visit: www.sportscorrespondent.info

Fieldhockey.com


---

Halliday Lighting becomes Official Supplier of England Hockey



Halliday Lighting

England Hockey is delighted to announce that sports lighting specialist Halliday Lighting has become the Official Lighting Supplier of England Hockey.

The one-year partnership will provide hockey clubs, and other hockey facility owners, with insight, information and support in order for them to maintain and enhance their lighting provision. Halliday Lighting will make educational resources available for clubs, run seminars with club leaders and provide discounted services. Clubs affiliated to England Hockey will immediately be able to benefit from reduced price LUX lighting checks.

For over 55 years Halliday Lighting has worked with thousands of sports clubs and clients to provide excellent lighting solutions at every level. Halliday Lighting is a committed supporter of hockey in the UK and aims to work in a collaborative way with England Hockey and its 850 clubs across the country.

Chief Executive of England Hockey, Sally Munday, said "we're delighted to join forces with Halliday Lighting, an expert in its field. Quality lighting provision is crucial at all levels of our game and their team's expertise and experience will be of great benefit to hockey clubs.  We look forward to a successful partnership."

Halliday Lighting's Sales Director, Alex Talton added, "At a time when hockey participation in England is increasing and the national teams are performing to such a high standard it is both an honour and a privilege to be the Official Lighting supplier of England Hockey. We are extremely excited about giving something back to the sport in helping educate all affiliated clubs on new lighting technologies and maintenance procedures. We are committed to increasing pitch safety, reducing energy costs and extending the hours of pitch usage to promote a further increase in participation."

More information on Halliday Lighting's website: http://www.halliday-lighting.co.uk/Blog/Official-Floodlighting-Supplier-of-England-Hockey/132

Halliday Lighting is currently offering a special rate for England Hockey affiliated clubs for lux light level checks – enquiries can be made on its website and the checks cover the following:
• Full certificate and report issued.
• Ensure your club meets its annual health and safety requirem ent.
• All inspections carried out by qualified lighting engineers.
• Free estimates on all repair and maintenance work.
• Supported and recommended by England Hockey.

England Hockey Board Media release