All the news for Thursday 1 October 2015

New players eye slots in team for Rio qualifiers

By BRIAN YONGA



Strathmore Scorpions striker Gilly Okumu (left) vies with Anita Agunda of Sliders their national hockey women's league match at City Park Stadium. PHOTO | MARTIN MUKANGU |   NATION MEDIA GROUP

Seven new players training with the national women's hockey team that is preparing for this month's Rio 2016 Olympics qualifiers are keen to make the final list that will travel to South Africa for the continental event.

Strathmore Scorpions striker Gilly Okumu is one of the seven looking to make their senior level debut.

Other new faces in the squad of 27 include USIU Spartans goal keeper Laurette Osaso, Strathmore defender Angela Mayaka, Mercy Cheptoo (Vikings), Irene Rise (Kenyatta University) and the Telkom Orange trio of Maureen Okumu, Anne Juma and Jane Ofula.

CONFIDENT

Okumu, the top scorer in the women's league last season, is relishing the opportunity of facing the continent's best and believes that the country has quality players who can guide it to its first ever Olympics appearance.

"The women's team has never qualified for the Olympics and I would love to be in the squad that will go to Rio. I am excited to be training in the national team and it will be an honour if I am chosen to represent my country," the lanky forward told Daily Nation Sport.

The team, which is training at the City Park Stadium, has a final shot at making it to next year's Olympics but will have to win the sole ticket reserved for Africa alongside their male counterparts.

Strathmore defender Mayaka, who has previously featured for the junior team, believes the time is ripe for Kenya to overcome favourites and African champions South Africa.

"We have played second fiddle to them (South Africa) for a very long time but we now have to find a way of defeating them and show the world we are Africa's best," Mayaka said.

Kenya will come up against Morocco, Nigeria, Ghana, Zambia, Uganda, Zimbabwe, Libya, Namibia, Tanzania, Egypt as well hosts South Africa.

Team coach Jos Openda is expected to name a final list of 18 players next week as he looks to make history during the event which runs from October 24- 31.

World league one top scorer Pauline Naise misses out of the squad after suffering a horrendous broken leg.

SQUAD

Goalkeepers: Ruth Njoki (Orange), Shelly Liavuli (MKU), Laurette Osaso (USIU)

Defenders: Terry Juma, Betsy Ommala, Flavia Mutiva (all Orange), Carolyn Njoki, Angela Mayaka, Elizabeth Ngombo (Strathmore), Lorraine Nondi (USIU)

Midfielders: Rachel Ousa (Strathmore), Mercy Cheptoo (Vikings), Irene Rise (KU), Beatrice Mbugua, Rachael Wangui (USIU), Caroline Guchu, Glen Namasake, Tracy Karanja, Lilian Aura (Orange)

Strikers: Maureen Okumu, Jane Ofula, Anne Juma, Jacky Mwangi, Audrey Omaido, Hellen Chemtai (Orange), Yvonne Wanjiku, Gilly Okumu (Strathmore)

Daily Nation


---

Reid-Ross to fulfill EHL dream

South Africa record-breaker Justin Reid-Ross is looking forward to fulfilling another "dream" next week when he lines out for Amsterdam in Round 1 of the Euro Hockey League.

The devastating  drag-flicker admits he is "incredibly excited" about the competition in Hamburg where his Dutch club will meet KS Pomorzanin Torun and France's Saint Germain.

Speaking to the EHL website about the upcoming competition, Reid-Ross said: "Playing in the EHL has been a dream of mine for a long time and the first round in Hamburg will be a special moment for me.

"For Amsterdam it is a good time to return to the European top after a few years away."

Last season, his 34 Hoofdklasse goals were a critical factor in qualifying for the EHL, passing 100 goals in the Netherlands in speedy time. And, already this season, Reid-Ross has been a key figure at the Wagener Stadium, crucially firing home three times in a big win over Kampong last Friday evening.

He says that playing in big games like those in elite European club competitions has been a big factor in the evolution of his game.

"I've been lucky enough to play in both the Belgian and Dutch top competitions. European club hockey is played at an incredibly high level and being exposed to it has definitely helped to shape and refine my game.

"The club competitions provide players from around the world a great opportunity to play at the highest level and to be exposed to many different styles of European hockey."

He says it is a very different environment to what he grew up with in his homeland where the top level of the game was usually focused on inter-provincial tournaments.

"In South Africa the club competitions are played within the provinces, so there is no national competition. That is the major difference at the top level.

"I am also a huge fan of the European style club system where kids play their sport away from school, there is a chance to be exposed to top level senior club games on weekends as well as becoming part of a great community of people."

Looking at his Amsterdam team, the side has undergone a couple of changes and looks to be highly competitive once again with the Dutch Euro gold winning trio Mirco Pruyser, Valentin Verga and Billy Bakker a key force while Kenny Bain has added to their strike force.

Reid-Ross says the side has "great balance within the group. Last season was still a period of transition for many of us in the team but we seem to have found a nice groove so far this season. We want to see how far we can go in both the Hoofdklasse and EHL!"

Euro Hockey League media release


---

#Hocktober campaign kicks off across Wales

Hockey Wales launches its national #Hocktober campaign aimed at promoting participation and inclusion in the sport. Starting tomorrow, Thursday 1st October, and running throughout October, #Hocktober will showcase the very best of what hockey in Wales has to offer.

Hockey Wales has worked with international athletes, clubs and key stakeholders to promote important partnerships, run competitions, announce new initiatives and deliver social media campaigns to celebrate all hockey in Wales has to offer, as well as reach new audiences.

Pioneering the campaign is Richard Jones, Regional Delivery Manager at Hockey Wales. He said:

"The aim of Hocktober is to grow our hockey family and to try to help improve access to quality hockey opportunities, regardless of ability, age or background. Hocktober isn't just about getting people to play hockey either, it will cover all aspects of the sport from coaching to umpiring to volunteering and officiating, as well as hopefully reaching people who may not have considered hockey before because they've not realise their options."

The concept of Hocktober originated from Sport RCT Commonwealth Games Legacy and was primarily to inspire the next generation following the Glasgow Games. Last year, with the help of international hockey stars such as Ria Male, clubs in South Wales organised Hocktober events to engage members and attract new members.

This will be the first year that Hocktober has been rolled out across Wales, and unlike last year, one of the key campaign focuses will be on inclusion. Jones, who is also the Lead on Equality for Hockey Wales, said:

"Not everyone has the opportunity to try hockey growing up or they don't think it's possible. We hope Hocktober will open the door for these people to get into hockey in some capacity. By working with organisations such as LGB&T Sport Cymru and Disability Sport Wales, we have some exciting sub-campaigns and features on how we are making hockey more accessible."

In addition to this Hockey Wales is working with clubs and Hockey Agents, who provide professional support to hockey clubs, to run regional events at various locations across Wales, as well as promoting the hockey opportunities with established hockey programmes, such as Back2Hockey and Rush Hockey.

The month will culminate with the annual Hockey Wales Awards on Saturday 24th October, which recognises the member's own 'Hockey Heroes' as voted by them, at a black tie event held at the Vale Resort.

Keep up with #Hocktober on Hockey Wales' Twitter, Facebook and Instagram, or visit the website at www.hockeywales.org.uk.

For more information on the Hockey Wales Awards, or details of who has been nominated, please visit www.hockeywalesawards.org.uk.

Hockey Wales media release


---

A Stani experience for aspiring Indian goalies

s2h Team




Three- third of the World Cup turf was buzzing with six set of goalkeepers. After a set of activities are over, one group moves to other. If one group is first doing 'closing down' the other start doing penalty corner defence and alike.

Each set consists of both men and women goalkeepers.

Dave Staniforth, who runs a goalkeeper institute back home in South Africa, juggles each set of goal posts. Bahut Achha (very good), aur karo (do more), idar aao (come here), idar dekho (see here) and like commands flow with regular rhythm.

Trainees, all buzzing with energy and enthusiasm, enjoy his Hindi.

Staniforth, along with India's well known former goalie Romeo James, are training not only prospective goalies of India – about 40, men and women included – but also a set of goalkeeper coaches, like Katharu Srinivas and PT Rao, who donned India colours not long ago.

"This is a welcome addition to various kinds of training being imparted to Indian players. Focussing on goalkeeping is very much needed, and it is here right now", Romeo James rationalizes the ongoing first-ever goalkeeping group training.

"I am happy. I thought the goalies may not last such a long training on account of fitness. But am happy all could sustain rigorous routine in the past three weeks. Yes, there are many potential prospects here. They need to be update, and constantly on training", Staniforth opined.

Helen Mary, Arjuna award winning women hockey player, was seen scooping, hitting and throwing a dozen balls across three goalies who jump together, and leave the ball to be tackled by the lone goalie positioned below the cage on right corner of the turf. The exercise obviously help sharpen the reflex of the goalie in the cage, getting to react short distance balls.




It seems for a while she should have played as a forward rather than a goalie, such was her accuracy in deceiving the lot of goalies at her training.

Every now and then Staniforth assemble the trainees and demonstrate, say, how to lie down and get up, without losing focus on the ball.

A rectangular form is brought to the centre where Staniforth demonstrate various positions.

"This looks very simple, but may take even six months to perfect:, he cautions.

Katharu. PT Rao or Prince Piyush Dubey translate Staniforth's instructions. Almost after each gathering and lecture, a celebration of sort occurs; players enjoy with a variety of jumping, diving, lying etc.

The goalies are lodged in RK Khanna facilities and commute to National Stadium on both morning and evening sessions.

28th September is the last working session for them.

The massive exercise was the joint venture of Hockey India and Sports Authority of India.

Since a set of coaches are also being trained, HI may have plans to continue the effort in near future.

Stick2Hockey.com


---

Gurbaj takes Hockey India to court

Sabi Hussain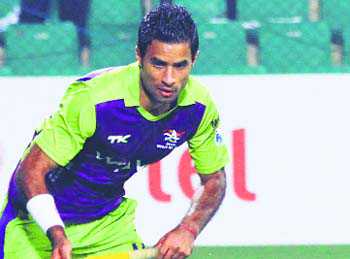 Gurbaj Singh

New Delhi: Suspended India mid-fielder Gurbaj Singh has dragged Hockey India (HI) into court after its four-member disciplinary committee decided to continue his nine-month ban on charges of "misbehaviour" and "groupism" in the team.

The Punjab player filed a 'civil writ petition' in the Punjab and Haryana High Court on Wednesday against HI president Narinder Batra, HI secretary general Mohd Mushtaque Ahmad, disciplinary committee members – Batra, HI CEO Elena Norman, Olympians Harbinder Singh and R P Singh – and former assistant coach Jude Felix.

The court issued notices to HI and the other concerned parties and set October 6 as the next date of hearing. The court has asked HI's disciplinary committee to reply to the notices till Tuesday, explaining on what ground was the ban imposed on Gurbaj.

Gurbaj's lawyer, senior advocate Puran Singh Hundal, said that they had asked the court to quash the order issued by HI and instruct the sport's governing body to reinstate the mid-fielder into the team.

"The ban is not provided in HI's code of conduct governing the players and officials. The ban is wrong," Hundal said.

Later, speaking to The Tribune, Gurbaj said that he had full faith in the judiciary and would abide by the court's verdict.

"I want to fight HI for the injustice. They banned me for no fault of mine. How could they rely on a report of just one person (Felix), who was later shown the door by HI itself, when all the other coaching staff and players are supporting me. I followed the due procedure by appealing against the ban, but HI and its disciplinary committee were hell bent on continuing my ban. They were not ready to listen to my side of the story. It looks like HI wants to finish off my career," Gurbaj said.

"I have full faith in our judicial system and I hope that justice will prevail," added Gurbaj, who has already served two months of his ban.

Gurbaj was suspended by the disciplinary committee, headed by Harbinder, after Felix levelled serious charges of "groupism and misbehaviour" against him in his report submitted after the Hockey World League (HWL) Semifinals in Antwerp, Belgium. After the Semifinals, Felix quit, citing personal reasons.

Due to the ban, Gurbaj will miss the FIH Hockey World League Final in December and the 2016 Hockey India League (HIL). Even the chances of his participation in the 2016 Rio Olympics seem bleak because of his long absence from the national team.

The Tribune


---

Super Fives Hockey is Coming to Cape Town




Super Fives Hockey is a new format of field hockey, with four outfield players and one goalkeeper. Emulating Rugby 7's and T20 Cricket, creating a shorter, quicker format for hockey with sideboards and backboards to keep the ball in play all the time. This will look to broaden hockey's popularity by delivering the game to more territories across the globe and offer players the opportunity to play this format as a summer sport.

At Super Fives we are excited to take this opportunity to offer this new exciting format of the game to South Africa. Our first tournament is being played over the October school holidays at Western Province Cricket Club, with you being able to catch plenty of action at the field or on our Facebook and Instagram pages.

Win some fantastic prizes from Adidas Hockey, so be sure to get involved by posting your pictures of the event and tagging us at:

Facebook: Super Fives SA
Instagram: @SuperFivesSA
#SuperFives

Tag @adidasza and #AdidasHockey to stand a chance to win with Adidas South Africa.

With 20 teams competing, this new format of the game is set to take South Africa by storm and we are excited to deliver such a fantastic format of the game.

See you at Western Province Cricket Club from the 3rd October – 8th October for all the action!

The Pundits


---

Tasty Pot helping fuel the Black Sticks



From the left Sam Charlton, Julia King, Liz Thompson, Kirsten Pearce and Anita Punt try out the new sponsor's product.

Hockey New Zealand is excited to announce our new partnership with Tasty Pot Co, who are helping fuel the Black Sticks Men and Women for the next year.

It's a delicious way to help our teams prepare for action, with the women hosting Argentina in Blenheim this weekend and the men all set for four tests against India.

See the YouTube video https://www.youtube.com/watch?t=29&v=8Nme_e_Mmis

Hockey New Zealand Media release