All the news for Friday 25 September 2015

Whitelock, Naylor, Harrison back in black



Photo: www.photosport.co.nz

The 2015 Black Sticks Women's National Squad, announced by head coach Mark Hager today, is one of the most experienced New Zealand squads ever named.

The inclusion of former captain Kayla Whitelock, world-class defender Emily Naylor and star striker Charlotte Harrison bring a total of 668 international test caps back to the side.

All 24 players named, along with 12 named in the 2015 National Development Squad will be put to the test by the national coaches over the next three months ahead of a 2016 Olympic Squad being named late December.

The Ford National Hockey League held in Whangarei last week was a key national selection event.

"It's probably the most difficult selection process we have had to go through due to the quality of players we had – but we now have 36 players vying for Olympic selection. The level at the National Hockey League was high – the teams were close, and there was some exceptional play," said Hager.

Charlotte Harrison, aged 26, has 183 test caps and since her debut in 2005 has scored 50 international goals – making her one of the top five New Zealand goal scorers of all time.

"She has the capability to score goals, she has great game knowledge, she reads the game well and overall she adds real strength to our forward line," said Hager.

Harrison says she is looking forward to being in the team environment again and working hard to cement a place in the squad leading into Rio.

"It's pretty special to be named after having a couple of years off, it made me miss it – it's great to be back and playing alongside some really good friends," said Harrison.

Harrison was in the Auckland side that last Sunday won the K Cup at the Ford National Hockey League.

"I've still got some work to do on my fitness to get back to that international level, but I really enjoyed playing last week and I think that fitness helped my performance."

The schedule for the next few months will give national selectors a chance to see players in action.

First up, the Black Sticks Women face Argentina in four games during the South Island Tour (3-11 October - Blenheim, Nelson, Chch). They then head to Stratford for the 2015 Oceania Cup before taking on the world's best at the FIH World League Final, (December, 2015 - Argentina). 

"We have given some new players an opportunity to see how they go against Argentina - one of the best teams in the world – it's a home series so we do have the opportunity to give other players a chance," said Hager.

Eighteen-year old Auckland defender Maddie Dowe and Capital's midfielder Kelsey Smith have been given the call up.

"Both these players are very quick, and have great athleticism. Maddie could add some speed to our defensive line and Kelsey impressed in the midfield and has the ability to score goals. They have the chance to be in Rio, so we will see how they go against Argentina," said Hager.

When not on tour, the majority of players will be based in Auckland and training under the guidance of Mark Hager and assistant coach Sean Dancer.

The national selectors are Mark Hager, Sean Dancer and Di Te Awa.

Other notes

- Four of New Zealand's top five goal scorers have been named in this squad (Gemma Flynn, Katie Glynn, Anita Punt, Charlotte Harrison. The exception is Krystal Forgesson who has retired)

- Kathryn Henry (North Harbour) is the newest recruit, only debuting last year and currently on 21 caps.

- Goalkeeper Sally Rutherford is playing in the Australian National Hockey League starting in the next week.

- Maddie Dowe is in her final year at Auckland's Diocesan School

- Average test caps per player is 109

- Average age per player is 23

- Tickets for the South Island Tour and the Oceania Cup can be purchased at www.dashtickets.co.nz

2015 Black Sticks Women's National Squad


| | | | | | |
| --- | --- | --- | --- | --- | --- |
| SHIRT # | PLAYER NAME | NHL TEAM | POSITION | AGE | CAPS |
| 21 | Georgia BARNETT | Central | Goalkeeper | 21 | 16 |
| 13 | Sam CHARLTON | Midlands | Defender/Midfielder | 23 | 140 |
| 17 | Sophie COCKS | Canterbury | Striker/Midfielder | 21 | 69 |
| 20 | Natasha FITZSIMONS | Midlands | Defender | 26 | 46 |
| 22 | Gemma FLYNN | Midlands | Midfielder/Striker | 25 | 211 |
| 10 | Amelia GIBSON | Auckland | Goalkeeper | 24 | 39 |
| 27 | Jordan GRANT | Canterbury | Midfielder/Striker | 24 | 55 |
| 5 | Katie GLYNN | Auckland | Striker | 26 | 134 |
| 12 | Ella GUNSON | Northland | Midfielder/Defender | 26 | 121 |
| 26 | Pippa HAYWARD | Canterbury | Defender/Midfielder | 25 | 74 |
| | Charlotte HARRISON | Auckland | Striker | 26 | 183 |
| 30 | Kat HENRY | North Harbour | Defender | 24 | 21 |
| 24 | Rose KEDDELL | Midland | Defender/Midfielder | 21 | 91 |
| 15 | Julia KING | Auckland | Midfielder/Striker | 22 | 86 |
| 4 | Olivia MERRY | Canterbury | Striker | 23 | 97 |
| 31 | Stacey MICHELSEN | Northland | Midfielder/Defender | 24 | 180 |
| 2 | Emily NAYLOR | Central | Defender | 29 | 256 |
| 9 | Brooke NEAL | Northland | Defender | 23 | 56 |
| 18 | Kirsten PEARCE | North Harbour | Striker | 24 | 21 |
| 32 | Anita PUNT | Capital | Midfielder | 27 | 209 |
| 8 | Sally RUTHERFORD | Midlands | Goalkeeper | 34 | 96 |
| 16 | Liz THOMPSON | Auckland | Defender | 20 | 79 |
| 6 | Petrea WEBSTER | North Harbour | Striker/Midfielder | 27 | 116 |
| 1 | Kayla WHITELOCK | Central | Midfielder/Striker | 29 | 229 |
2015 Black Sticks Women's Development Squad


| | | | | | |
| --- | --- | --- | --- | --- | --- |
| SHIRT # | PLAYER NAME | NHL TEAM | POSITION | AGE | CAPS |
| 14 | Michaela CURTIS | Central | Striker | 21 | 36 |
| | Stephanie DICKINS | North Harbour | Midfielder | 20 | |
| | Maddie DOWE | Auckland | Midfielder | 18 | |
| 28 | Shiloh GLOYN | Midlands | Midfielder/Striker | 25 | 18 |
| 3 | Erin GOAD | North Harbour | Defender/Midfielder | 22 | 3 |
| | Tessa JOPP | Southern | Midfielder | 20 | |
| | Tyler LENCH | Auckland | Striker | 18 | |
| 11 | Rachel McCANN | Canterbury | Midfielder | 22 | 9 |
| 7 | Aniwaka ROBERTS | Capital | Defender/Midfielder | 26 | 67 |
| | Kelsey SMITH | Capital | Midfielder/Striker | 21 | |
| 29 | Jenny STOREY | Canterbury | Defender | 23 | 9 |
| 25 | Danielle SUTHERLAND | Auckland | Midfielder | 20 | 1 |
2015 Black Sticks Women vs Argentina, South Island Tour (3-11 October)


| | | | | | |
| --- | --- | --- | --- | --- | --- |
| SHIRT # | PLAYER NAME | NHL TEAM | POSITION | AGE | CAPS |
| 21 | Georgia BARNETT | Central | Goalkeeper | 21 | 16 |
| 13 | Sam CHARLTON | Midlands | Defender/Midfielder | 23 | 140 |
| 17 | Sophie COCKS | Canterbury | Striker/Midfielder | 21 | 69 |
| | Maddie DOWE | Auckland | Defender | 18 | - |
| 20 | Natasha FITZSIMONS | Midlands | Defender | 26 | 46 |
| 22 | Gemma FLYNN | Midlands | Midfielder/Striker | 25 | 211 |
| 10 | Amelia GIBSON | Auckland | Goalkeeper | 24 | 39 |
| 28 | Shiloh GLOYN | Midlands | Midfielder/Striker | 25 | 18 |
| 26 | Pippa HAYWARD | Canterbury | Defender/Midfielder | 25 | 74 |
| | Charlotte HARRISON | Auckland | Striker | 26 | 183 |
| 30 | Kat HENRY | North Harbour | Defender | 24 | 21 |
| 24 | Rose KEDDELL | Midland | Defender/Midfielder | 21 | 91 |
| 11 | Rachel McCANN | Canterbury | Midfielder | 22 | 9 |
| 4 | Olivia MERRY | Canterbury | Striker | 23 | 97 |
| 2 | Emily NAYLOR | Central | Defender | 29 | 256 |
| 18 | Kirsten PEARCE | North Harbour | Striker | 24 | 21 |
| 32 | Anita PUNT | Capital | Midfielder | 27 | 209 |
| | Kelsey SMITH | Capital | Midfielder/Striker | 22 | - |
| 16 | Liz THOMPSON | Auckland | Defender | 20 | 79 |
| 6 | Petrea WEBSTER | North Harbour | Striker/Midfielder | 27 | 116 |

Hockey New Zealand Media release


---

Striker Charlotte Harrison back as Black Sticks add experience for Olympics hockey buildup



Experienced striker Charlotte Harrison is back in favour with the New Zealand hockey selectors. REUTERS

Experienced striker Charlotte Harrison is back in favour with the New Zealand hockey selectors.

Striker Charlotte Harrison is among a trio of stars who have had their Olympics chances boosted by being recalled to the Black Sticks women's squad.

She is joined by former captain Kayla Whitelock and experienced defender Emily Naylor in the 24-player squad named by coach Mark Hager.

Those three players inject 668 caps into an already experienced squad for a hectic playing schedule through to December. Hager will then select an Olympic squad.

"It's probably the most difficult selection process we have had to go through due to the quality of players we had. The level was high, the teams were close, and there was some exceptional play," Hager said as he gauged form from the just-completed national league.

The 26-year-old Harrison capped a good campaign, helping Auckland defend the title.

She has 183 caps and scored 50 goals since debuting in 2005, though she had fallen out of favour in recent times. But Harrison won back the confidence of Hager.

"She has the capability to score goals, she has great game knowledge, she reads the game well and overall she adds real strength to our forward line," Hager said.

Harrison is thrilled with her recall and the chance to push for another Olympics appearance.

"It's pretty special to be named after having a couple of years off, it made me miss it. It's great to be back and playing alongside some really good friends," Harrison said.
Ad Feedback

"I've still got some work to do on my fitness to get back to that international level, but I really enjoyed playing last week and I think that fitness helped my performance."

The Black Sticks face Argentina in four games during a South Island tour that takes in games in Blenheim, Nelson and Christchurch. They then head to Stratford for the 2015 Oceania Cup before taking on the world's best at the FIH World League Final in Argentina in December.

"We have given some new players an opportunity to see how they go against Argentina - one of the best teams in the world – it's a home series so we do have the opportunity to give other players a chance," Hager said.

Eighteen-year old Auckland defender Maddie Dowe and Capital's midfielder Kelsey Smith have been included for the Argentina series.

"Both these players are very quick, and have great athleticism. Maddie could add some speed to our defensive line and Kelsey impressed in the midfield and has the ability to score goals. They have the chance to be in Rio, so we will see how they go against Argentina," Hager said.

Black Sticks squad:

Goalkeepers: Georgia Barnett, Amelia Gibson, Sally Rutherford.

Defenders: Sam Charlton, Natasha Fitzsimons, Pippa Hayward, Kat Henry, Rose Keddell, Emily Naylor, Brooke Neal, Liz Thompson.

Midfielders: Gemma Flynn, Jordan Grant, Ella Gunson, Julia King, Stacey Michelsen, Anita Punt, Kayla Whitelock.

Strikers: Sophie Cocks, Katie Glynn, Charlotte Harrison, Olivia Merry, Kirsten Pearce, Petrea Webster.

Stuff


---

Veterans return for Black Sticks

By David Leggat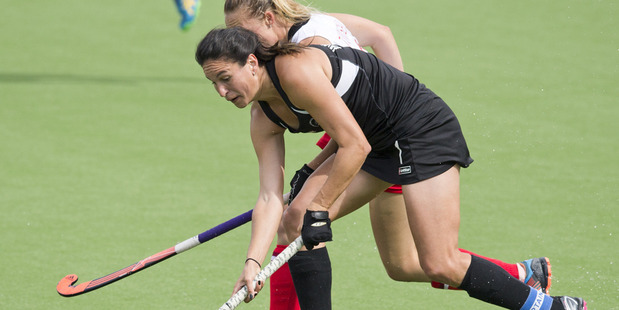 Kayla Whitelock in action at the Commonwealth Games. Photo / Greg Bowker

A group averaging 109 caps per player, and including four of the alltime five leading goalscorers, are features of the New Zealand women's squad named today.

There are no debutants in the group of 24 players who have first dibs on winning spots in the Olympic training squad in December.

However coach Mark Hager has opted to include two uncapped players, 18-year-old Auckland Diocesan student Maddie Dowe and Capital attacker Kelsey Smith, in a separate squad of 20 to face world No 2 Argentina on their four-game visit next month.
"We've had our eye on them for a while now," Hager said.

"Both have speed. Kelsey has the capability to score goals but has the uncanny ability to be on top of people and win balls you don't think she's going to get.

"Maddie is very raw, but has good speed, is a good tackler and we thought she'd add something to our defensive group."

A squad to contest the Oceania Cup in Stratford later in October will be chosen after the Argentine series - with players from a national development group also in the frame for that - then there's the World League final in December in Argentina on the horizon.

The least experienced player in the national squad is Central goalkeeper Georgia Barnett, with 16 international appearances. The average age of the players is 23.

She'll get plenty of game time against Argentina as senior keeper Sally Rutherford is playing in the Australian league.

Former captain Kayla Whitelock and New Zealand's most capped international, defender Emily Naylor, are predictably recalled after taking a year off since the Commonwealth Games.

Hager was delighted with Naylor's form during last week's national league in Whangarei but will take his time getting Whitelock back on the field.

"Kayla showed some signs, but is a little way off yet. We didn't want to risk her and may not for rest of the year," Hager said.

He expects Whitelock will return to the captaincy once back in action, rating her a top class leader whom the other players respect.

The fourth-ranked Black Sticks will face world No 2 Australia at the Oceania Cup and Hager said the door is open for selection from within the development group as well.

"We haven't closed the door (on anyone outside) the 24. We're picking it from the whole group," Hager said.

He was delighted with the standard of hockey in the national league.

"It's one of the best tournaments I've seen. Most games were very competitive and there were some very good performances."

New Zealand will play Argentina in Blenheim, Nelson and Christchurch from October 3-11.

New Zealand women's hockey squad:
Goalkeepers: Georgia Barnett (Central), Amelia Gibson (Auckland), Sally Rutherford (Midlands)
Defenders: Natasha Fitzsimons, Rose Keddell (Midlands), Pippa Hayward (Canterbury), Kathryn Henry (North Harbour), Emily Naylor (Central), Brooke Neal (Northland), Liz Thompson (Auckland), .
Midfielders: Sam Charlton, Gemma Flynn (Midlands), Jordan Grant (Canterbury), Ella Gunson, Stacey Michelsen (Northland), Julia King (Auckland), Anita Punt (Capital), Kayla Whitelock (Central), Petrea Webster (North Harbour).
Attackers: Sophie Cocks, Olivia Merry (Canterbury), Katie Glynn, Charlotte Harrison (Auckland), Kirsten Pearce (North Harbour).

Squad to play Argentina: Barnett, Charlton, Cocks, Maddie Dowe (Auckland), Fitzsimons, Flynn, Gibson, Shiloh Gloyn (Midlands), Hayward, Harrison, Henry, Keddell, Rachel McCann (Canterbury), Merry, Naylor, Pearce, Punt, Kelsey Smith (Capital), Thompson, Webster.

The New Zealand Herald


---

Argentina women target hockey breakthrough in Rio

RIO DE JANEIRO - Argentina women's hockey captain Carla Rebecchi said Thursday that only hard work would allow the team to break their Olympic gold medal duck.

Las Leonas have taken home medals at the last four Olympic Games and are determined to win gold for the first time in Rio next year.

"Our goal is always to make the podium and, obviously, another goal is to win the gold medal, which is what's missing in Argentinean hockey," Rebecchi told Rio2016.com.

Last year's retirement of long-time captain Luciana Aymar has coincided with a rebuilding phase in Argentinean hockey and Rebecchi does not expect instant miracles.

"(Consolidating a team) takes time, work and above all training," the 31-year-old said.

"You have to give 100 percent to training so that the younger ones build up experience. International matches and tours also help get the team as strong as possible."

Argentina are one of 10 teams to have qualified so far for the women's hockey tournament in Rio. The others are New Zealand, South Korea, Britain, China, Germany, Australia, the United States, the Netherlands and India.

Xinhuanet


---

Pakistan hockey juniors need to pull up socks for tough days ahead

Anwar Zuberi

Pakistan junior hockey team is set to participate in three major international events — Sultan of Johar invitational tournament, the junior Asia Cup and the Junior World Cup — in a span of 14 months from now. However, it will not come as a surprise if the juniors also follow in the footsteps of their seniors.

Pakistan's participation in the Junior World Cup is subject to them finishing among the top three nations in the Junior Asia Cup later this year. India has already qualified for the event as hosts.

After a lull, the national junior hockey team will fly to Malaysia next month to compete in the fifth Sultan of Johar junior hockey tournament being played at Johar Bahru from Oct 11-18.

After finishing at the bottom in the same event participated by six-nations last year, the Pakistan juniors have no international exposure. At home, the players had featured in national junior hockey championship and a couple of domestic tournaments.

Record shows that Pakistan had won inaugural events of many international hockey competitions including the junior World Cup held at Versilles, France in 1979 under the captaincy of Manzoor Hussain Junior.

Then, there was much focus on juniors which can be gauged from the fact that Pakistan finished on the victory podium five times – (I-I-3) in-a-row since inception of the junior World Cup.

Former international the late Sami Khan and former Olympian Jehangir Butt are known to have raised a formidable junior team which remained unbeaten in 27 international matches from April 1986 to Jan 1988 winning 25 and drawing two games.

Pakistan, according to record, had scored 175 goals and conceded 27 in the aforementioned matches. The tally also includes mammoth 55 goals that Pakistan scored against low-ranked Macau in the inaugural junior Asia Cup held at the Hockey Club of Pakistan Stadium during Dec 1987 and Jan 1988.

Similarly, Pakistan hockey team that won the gold medal at the Los Angeles Olympics in 1984 includes 10 players from PIA including eight of the colts scheme. The eight players were Qasim Zia, Saleem Sherwani, Shahid Ali Khan, Ayaz Mahmood, Naeem Akhtar, Ishtiaq Ahmed, Nasir Ali and Khalid Hameed.

Meanwhile, the newly installed PHF has announced a 21-member squad for the coming Malaysian tour. Dilber Hussain has been named captain while Azfar Yaqoob will be deputy.

Both were members of the Pakistan team that won back-to-back silver medals at the Incheon Asian Games and Bhubaneswar Champions Trophy last year.

It would be wise that once a player steps into the senior team he should not be considered for selection in the juniors squad to make room for others.

Pakistan should learn lesson from China which is known for producing the world champions in different disciplines at the age of 14 and 15.

The new-look junior outfit faces a gigantic task in the coming international assignments and it is time to treat them at par with seniors in order to regain the glorious past.

Dawn


---

India to play Pakistan in opening match of Sultan of Johor Cup

NEW DELHI: Two-time defending champions India will open their campaign against arch-rivals Pakistan on the inaugural day of the fifth Sultan of Johor Cup junior hockey tournament to be held in Johor Bahru, Malaysia from October 11 to 18.

Beside India, who are the title holders for the last two editions of the Sultan of Johor, the six-team tournament will also feature Pakistan, Great Britain, Argentina, Australia and hosts Malaysia.

After the high-voltage clash against Pakistan, India will face Great Britain on October 12, Argentina (October 14), Malaysia (October 15) and Australia (October 17).

Speaking on the upcoming tournament, Hockey India secretary general Mohd Mushtaque Ahmad said: "It's a very important tournament for us for two reasons -- firstly, because we are aiming at continuing our winning streak and defending the title which the team has successfully done for the last two editions and secondly, the win here will boost the team for the upcoming eighth men's Junior Asia Cup.

"This team is very ambitious and I am sure they go all out to achieve it. I am confident they will live up to their own expectations and come back victorious."

The Times of India


---

Sultan of Johor Cup Schedule

s2h team

The Indian Junior Team will participate in the 5th Sultan of Johor Cup to be played in Malaysia

Being organised by Malaysian Hockey Confederation the tournament will see its 5th edition being played this year at Taman Daya Stadium in Johor Bahru, Malaysia and will have six teams fighting it out for the trophy.

Slated to be played from 11-18 October 2015 the tournament will witness India, Australia, Great Britain, Argentina, Pakistan and Malaysia and will be played in Round Robin format. While the inaugural match will be played against Argentina and Australia, India will be seen clashing against Pakistan in the next match and it will be interesting to see who thrives under pressure to win the match.

This tournament will be preparation for Asian Teams for the Junior Asia Cup (Men) to be held from 14-22 November this year and is an important tournament for Junior World Cup 2016 qualifications. With India being the hosts, they automatically qualify for the Jr. World Cup which is from 1-11 Dec, 2016 in New Delhi.

The Indian Junior team have been the title champions for the last two editions and the win this year will mark a hat-trick for the team. The team which is undergoing training under Coach Harendra Singh at Delhi, are working on team structure, coordination, passes and conversions.

Match Schedule

Sunday, 11 October 2015
01   16:35   Argentina v Australia
02   18:35   India v Pakistan
03   20:35   Malaysia v Great Britain

Monday, 12 October 2015
04   16:35   Australia v Pakistan
05   18:35   Great Britain v India
06   20:35   Malaysia v Argentina

Wednesday, 14 October
07   16:35   Great Britain v Pakistan
08   18:35   Argentina v India
09   20:35   Australia v Malaysia

Thursday, 15 October 2015
10   16:35   Pakistan v Argentina
11   18:35   Great Britain v Australia
12   20:35   India v Malaysia

Saturday, 17 October 2015
13   16:35   Argentina v Great Britain
14   18:35   Australia v India
15   20:35   Pakistan v Malaysia

Sunday, 18 October 2015
16   15:05   5/6th place: Pool 5th v Pool 6th
17   17:35   3/4th place: Pool 3rd v Pool 4th
18   20:05   Final: Pool 1st v Pool 2nd

Stick2Hockey.com


---

Maharaja Ranjit Cup to start on Sunday




The ninth edition of the revived Maharaja Ranjit Cup to start on Sunday at the city's Shivaji Stadium, the organizers Maharaja Ranjit Singh Trust announced today in a press meet.

Defending Champions Oil and Natural Gas Commission, Indian Air Force, Punjab & Sind Bank, Army XI, Namdhari XI, Northern Railway, Indian Navy, Border Security Force, Central Reserve Polife Force, ASC centre, Bangalore, Bihar regimental Centre, Danapur, Food Corporation of India and BSES will take part in the nine-day tournament.

Organizing Secretary of the event HJS Chimni, 1975 gold winning team member, said: The tournament offers a great opportunity for country's top teams to showcase their talent, and for the city fans a chance to witness intense rivalry".

He invited citizen of the state to come and witness rich fare waiting to happen.

"This is a season opener. Other than Nehru Series of tournaments, ours is the best scope for fans to enjoy our national game in full flow", he added.

KS Bains, chairman of the trust highlighted the achievements of the Society so far which started the event in 1969 in Amritsar, and was restarted in Delhi in 2005.

Stick2Hockey.com


---

Meet HC Wien, Austria's latest EHL club




HC Wien are one of three newcomers to the Euro Hockey League for Round 1 in Hamburg and they are looking forward to one of the biggest moments in the club's history.

Founded in 1922, the club of around 200 members comes from modest means, not owning their own pitch, but are anticipating over 75 of their fans will make the trip to Harvestehuder where they will look to upset the odds and beat the hosts as well as Scottish side Grange.

Their route to the Austrian title was a topsy-turvy one, leading the league after five games before falling back in the second half of the season with just six points from their last five outings.

Nonetheless, they qualified for the playoffs to meet WAC. The form guide was against them, however, as they had lost to the same opposition a week before 1-0 in the Austrian Cup final but managed to prevail via a shoot-out after normal time ended 2-2.

It meant a first final performance since the introduction of the Final 4 in Austria – HC Wien's last title was 22 years ago – and it brought with it a guaranteed European place.

Andreas Wellen said this fact was "a big booster" for the team and allowed HC Wien to play with freedom in the final against SV Arminen, the ground-breaking club in the country who became the first side to reach the EHL KO16.

"We delivered an outstanding performance in the final game," Wellen told the EHL website. "Right from the beginning, the whole team was focused and willing to win.

"We all knew, that the SV Arminen team – with 11 Austrian national team players – was tired from a long season with a lot of journeys with the national team. So, after 1-1 in regular and extra-time we also went to the shoot-out."

There, they did not concede once and grabbed the overall victory.

"The celebration and feelings were unbelievable. A lot of the players from the team which secured the last title 22 years ago watched the game and celebrated with us on the pitch. That day was a historic day for the whole club. The players, the staff, and the whole HC Wien family will never forget it."

Since winning the title, the squad has undergone a bit of minor surgery with Leszek Specjal taking over as coach from Bartosz Szmidt – one of their key players, too, last season – who has moved to a new challenge in Frankfurt in the German second league.

Specjal has been part of HC Wien since 2004, coaching many of the current panel at Under-16 and 18 level as well as the second team.

Sebastian Wladysiak arrives from Post SV to bolster the panel and has previous European experience with KS Pocztowiec Poznan. He is one of four Polish players in the panel.

Another is star goalkeeper Michal Zdrojewski who Wellan describes as "a big influence in winning the national title".

In Leon Thörnblom and striker Franz Lindengrün, they have good young players making their way in an improving national team but Wellan adds that the side "won't survive as individuals, we will rather persist as a team".

Wellan is one of the few players who have played at this level before, lining out for Arminen in the EHL two years ago, something which he describes as "one of my greatest experiences" and is hoping for another memorable rendez-vous with the competition.

"From the start of the EHL event in the 2007/08 season, it was one of my dreams to play there because, in my opinion, it is the world's biggest competition in club hockey.

"In 2013, my dream came true and playing in the Olympic stadium in Barcelona was a great adventure.The competition itself went bad for us, we lost 5-0 against Surbiton from England and 3-1 against Real Club de Polo from Barcelona.

"We learned a lot from being there and playing against European top teams. I was very disappointed after losing those games, but that's life.But this tremendous feeling on the pitch to play against the best club teams and knowing that all your friends and hockey fans from all over the world can watch you live on TV and on the internet, will never go by.

"I'm excited for this year's competition and I can't wait to start playing against Grange and, especially, against Harvestehuder HTC with two Austrians and one of the world's best hockey players, Tobias Hauke, in their squad."

Euro Hockey League media release


---

Bowdon prepare to tackle leaders Univ of Birmingham



Bowdon Hightown's Sally Walton celebrating a goal. Photo: Peter Smith.

AFTER battling to a draw with champions Surbiton, Bowdon Hightown are preparing to face early leaders the University of Birmingham in the Investec Women's Hockey League Premier Division on Saturday.

Sally Walton's late goal clinched Bowdon's first point of the new campaign last weekend, and they will be hoping to add to their tally further at Edgbaston.

"It's going to be an interesting game, both for the club and for me personally," said Bowdon Hightown's manager Roger Hunt, whose daughter Holly Hunt will be playing for the University of Birmingham on Saturday, while his younger daughter Lauren is in Bowdon's first team squad.

"The University of Birmingham have a lot of young talented players who have gelled very quickly so it will be a challenge for us. But we're buoyed by our result against Surbiton last weekend and we have a good mix of youth and experience, with Sally Walton inspiring our younger players and Tina Cullen on the sidelines as assistant coach."

If the University of Birmingham fall to Bowdon Hightown, Canterbury and East Grinstead are poised to take over top spot. Canterbury are at home against Reading, while East Grinstead take on Leicester at Saint Hill.

Beaten by Leicester last weekend, Holcombe take on Clifton in Rochester, while Surbiton play host to Buckingham in the weekend's other top flight match.

In the Investec Conference East, leaders Slough face fellow unbeaten outfit Cambridge City, who lie second in the early table on goal difference only.

Meanwhile, the only other team with a 100 per cent record are Hampstead and Westminster who travel to Sevenoaks.

Table-topping Wakefield are at home against Springfields in the Investec Conference North, while Loughborough Students will be aiming to preserve their 100 per cent start to the season when they entertain Brooklands Poynton.

With 11 goals from their opening two matches, leaders Sutton Coldfield will be aiming to add further to their tally when they play at bottom club University of Bristol in the Investec Conference West.

Elsewhere, second-placed Swansea City are at home against Trojans, while Oxford Hawks are on the road at Gloucester City.

Investec Women's Hockey League (Saturday, September 26 2015)

Investec Premier Division
Holcombe v Clifton 12:00
Univ of Birmingham v Bowdon Hightown 12:30
East Grinstead v Leicester 13:30
Surbiton v Buckingham 14:00
Canterbury v Reading 16:00

Investec Conference East
Chelmsford v Wimbledon 12:00
Sevenoaks v Hampstead & Westminster 13:30
St Albans v Maidenhead 13:00
Slough v Cambridge City 13:00
Ipswich v Harleston Magpies 14:30

Investec Conference North
Loughborough Students v Brooklands Poynton 12:30
Whitley Bay and Tynemouth v Univ of Durham 12:30
Liverpool Sefton v Beeston 12:30
Ben Rhydding v Belper 13:30
Wakefield v Springfields 13:30

Investec Conference West
Swansea City v Trojans 12:00
Gloucester City v Oxford Hawks 12:00
Olton and West Warwicks v Stourport 12:00
Univ of Bristol v Sutton Coldfield 13:00
Isca v Bristol Firebrands 14:00

England Hockey Board Media release


---

Beeston target leaders Surbiton



Beeston lining up for a penalty corner. Credit: Simon Parker.

After beating hosts East Grinstead in the Men's Hockey League Premier Division last weekend, Beeston have rivals Surbiton in their sights in a repeat of their clash at Finals Weekend back in April.

New first team manager Steve Musson said: "We're looking forward to the Surbiton match having done so well against East Grinstead last weekend.

"We're close to being back at full strength which is great, but we will still be without Adam Dixon and Harry Martin for Saturday.

"We've trained three times this week and we've done a lot of video work and research, so we know what we're facing. And having lost to Cannock in the first week we have done a lot of work on our shape and the way we play."

Elsewhere, Holcombe will be looking to maintain their 100 per cent start to the season with a home game against Cannock on Saturday, while Reading are also unbeaten and entertain Brooklands Manchester University.

Last season's champions Wimbledon are also at home against East Grinstead, while Hampstead and Westminster travel to Canterbury with both sides still looking for their first win.

Two teams with 100 per cent records face each other in the Conference West, with University of Birmingham travelling to Cardiff and Met. Meanwhile, leaders Cheltenham go to Chichester Priory Park.

The top two in the Conference North, Loughborough Students host Sheffield Hallam on Saturday. Meanwhile, third-placed Bowdon entertain Wakefield.

Sevenoaks will go top of the Conference East table if they win at Harleston Magpies on Saturday, with current leaders Richmond not playing until Sunday when they are at Bromley and Beckenham.

Men's Hockey League (Saturday, September 26 2015)

Premier Division
Canterbury v Hampstead and Westminster 14:00
Reading v Brooklands Manchester Univ 15:00
Holcombe v Cannock 18:00
Wimbledon v East Grinstead 18:00
Beeston v Surbiton 18:00

Conference West
Univ of Exeter v Isca 12:00
Cardiff & Met v Univ of Birmingham 13:00
Chichester Priory Park v Cheltenham 13:30
Fareham v Team Bath Buccaneers 13:30
Guildford v Indian Gymkhana 14:00

Conference North
Bowdon v Wakefield 11:45
Lichfield v Olton and West Warwicks 13:30
Loughborough Students v Sheffield Hallam 18:00
Preston v Doncaster 14:00

Conference East
Teddington v West Herts 13:45
Brighton and Hove v Southgate 14:00
Harleston Magpies v Sevenoaks 14:00
Oxted v Cambridge City 15:30

Men's Hockey League (Sunday, September 27 2015)

Conference North
Deeside Ramblers v Univ of Durham 13:30

Conference East
Bromley and Beckenham v Richmond 13:00

England Hockey Board Media release


---

The first step on the Road to Lee Valley



Reading celebrate lifting the 2015 EH Cup

The Road to Lee Valley begins again this weekend with the first round of the men's cup taking place this Sunday.

There are plenty of intriguing ties taking place with 2014 Cup Winners Cannock flying the flag for the Men's Hockey League Premier Division. The Nockers are the only top flight team to feature in round one and take their good early season form to South Regional Premier outfit Oxford Hawks.

In one of the all-England Hockey League ties Chichester legend and former England star Ben Barnes welcomes his former club to current side Fareham as the two Conference West sides lock horns.

Sevenoaks, who have made a great start to life back in the England Hockey League with two wins from two travel down to Brighton and Hove, the side who has a draw and a defeat in the same dvision as their cup opponents.

Bowdon, who reached the final in 2008 have a difficult visit to one of the West Conference's early form sides as they go to University of Birmingham.

In all there are 26 ties across the competition this weekend with every team hoping to take their first step on the Road to Lee Valley .

Holders Reading have a bye into the next round.

For all the ties in the competition click here.

England Hockey Board Media release


---

Ireland to host Eurohockey U18 Championships

Hockey Ireland has been awarded the right to host both the U18 Girls and U18 Boys Eurohockey Championships! The tournament will take place in Cork from Sunday 24th till Saturday 30th July 2016. Both the Irish U18 Boys and U18 Girls squads will take part in the tournament that will see the best young players from around Europe competing against each other. This year the Irish U18 Girls stormed to victory in Mori at the Eurohockey Championships II to earn themselves promotion to the top division, while the U18 boys had an equally impressive run and finished in 5th place in Santander.

The awarding of this tournament means that Ireland will host a major international hockey tournament for 3 consecutive years; Women's World League 2 March 2015, U18 Eurohockey Championships 2016, and Men's World League 2 in 2017. Such an achievement is a testament to the success of our national squads, at all ages, as well as the growth of our sport all across the country. It is also a vote of confidence in Hockey Ireland's ability to host an international tournament to the highest standard.

Hockey Ireland CEO Mike Heskin said "This is a great achievement for Hockey Ireland to be awarded another international tournament. It is testament to the product we deliver and I thank all the staff and volunteers who are key to that delivery. We're very much looking forward to hosting the tournament in Cork and showcasing the highest level of youth hockey, many of these players will be the stars of the future".

The participating teams for the boy's tournament are:

 Group A                                                              Group B

Germany                                                             Netherlands  

Belgium                                                                Spain

 Ireland                                                                 England

 Czech Republic                                                   Italy

The participating teams for the girl's tournament are:

 Group A                                                               Group B

Netherlands                                                           Germany

Belgium                                                                England

Spain                                                                     Russia

Poland                                                                    Ireland

Irish Hockey Association media release


---

Scottish Hockey to host 2016 EuroHockey U18 Championship II




Scottish Hockey is delighted to announce that is has secured hosting rights from the European Hockey Federation (EHF) Executive Board to host the 2016 EuroHockey Youth Championship II (U18 Boys & Girls) competition in Glasgow.

The tournament will take place at the Glasgow National Hockey Centre from 17-23 July 2016.

The participating teams for the boys tournament are Scotland, Wales, France and Ukraine in Pool A and Russia, Switzerland, Austria and Poland in Pool B.

The participating teams for the girls tournament in Pool A are France, Ukraine, Lithuania and Belarus, while Pool B will include Scotland, Italy, Czech Republic and Austria.

David Sweetman, Scottish Hockey Chief Executive, said, "This the first EuroHockey Nations tournament we have hosted at any age group since 2007 and it is great that we have the opportunity to host another international competition at the Glasgow National Hockey Centre.

"It is a fantastic opportunity to give our U18 international squads the chance to play at home in front of friends and family as they look to secure promotion back to the Championship division.

"The competition will also offer great opportunities for volunteers, including coaches, officials, ball patrol team member and event assistants.

"Scottish Hockey now has a really good reputation for hosting events, and this gives us a further opportunity to show what we can do."

The match schedule for the tournament will be released in 2016 following consultation with the EHF.




Scottish Hockey Union media release


---

US Weekend College Games

This weekend marks the fourth weekend of field hockey in Division I, II and III Field Hockey. As we head into the weekend and upcoming week of games, below is a little shout out to the teams who remain undefeated so far.

Division I            
Delaware (8-0)          
Syracuse (7-0)          
UConn (7-0)    
Virginia (8-0)

Division II
Millersville (6-0)
Saint Anselm (6-0)

Division III
Babson (8-0)
Bowdoin (5-0)
Kean (10-0)
Lynchburg (7-0)
Middlebury (4-0)
Salisbury (6-0)
Scranton (7-0)
Sewanee (4-0)
TCNJ (5-0)
Wellesley (5-0)
William Smith (7-0)

USA Field Hockey highlights some of the top college games in Division I, II and III each week.

FRIDAY, SEPTEMBER 25

DI: No. 4 Virginia vs No. 2 Syracuse
Without a doubt the game between Virginia and Syracuse will be one of the top games this season. Thus far, both teams remain undefeated heading into week four of Division I Field Hockey. During the season, Virginia has downed the notable opponents of Penn State, Princeton, Louisville and Duke. Syracuse is no stranger to challenging top opponents either, having beaten Stanford, UMass, UNC and Boston College. The winner of this game will either maintain their spot at the top or be bumped up on the rankings next week.

DII: Newberry vs Dowling
Both Newberry and Dowling entered their inaugural field hockey season in 2013. As relatively new field hockey programs, the match-up will demonstrate how each team has developed. Newberry is one of two field hockey programs located in South Carolina, while Dowling is located in New York. So far, Newberry has won the first two meetings between the schools. Could this be the year Dowling gets their first win against Newberry?

SATURDAY, SEPTEMBER 26

DI: Holy Cross vs American
The game between these two Patriot League teams should be a great competition as both squads enter the game with a 5-3 record. This year, Holy Cross has already improved on their 2014 season under the new leadership of Lindsay Jackson. American's season is highlighted with a win against Old Dominion University who is currently ranked No. 15. The game should give us a good idea of how each team will do in their conference this season.

DII: No. 5 Kutztown vs Mercyhurst
Kutztown jumps up the poll this week from No. 6 to No. 5 after beating conference opponent, Indiana University of Pennsylvania. Mercyhurst has gained a little momentum with two back-to-back win but begins conference play this weekend. The conference game will be great to see if Kutztown will be seen in the playoffs and NCAA Division II Tournament.

DIII: No. 3 Salisbury vs No. 1 TCNJ
If you want to check out Division III Field Hockey, this game is the game to watch. So far this season, both Salisbury and The College of New Jersey (TCNJ) remain undefeated. Earlier in the season, both teams played Messiah College, who was then ranked No. 17 on the coaches' poll. Salisbury knocked off Messiah 1-0 in regulation time while TCNJ ended the game with a 1-0 win in overtime. Going off of those games, the game should be a close one, willed with lots of excitement.

SUNDAY, SEPTEMBER 27

DI: Northwestern vs. Indiana
After the start of conference play in the Big Ten, both teams will be looking to secure a win. Northwestern is the favorite for the game, having tied for second place in the 2014 Big Ten regular season and winning the 2014 Big Ten Tournament. Both teams have faced off against Ball State University coming out on top. Northwestern beat Ball State 3-1 while Indiana edged out Ball State 4-2. The game should be a good Big Ten game to watch this season.

DIII: Bay Path vs. Daniel Webster
The game between Bay Path and Daniel Webster will be a conference (New England Collegiate Conference) match-up for both teams. So far this season Bay Path has already faced one conference opponent while this game will mark Daniel Webster's first conference game. The game should be a close one for both teams.

MONDAY, SEPTEMBER 28

DI: Lafayette vs Drexel
The in-state game between Lafayette and Drexel should be a great game to catch for anyone in Pennsylvania. So far this season Lafayette has only lost to Liberty, Boston College and UConn, allowing them to maintain a winning season. Drexel has been no stranger to tough opponents having faced Virginia, UNC and Northwestern. Both teams will be looking for a win to take them into their conference games.

TUESDAY, SEPTEMBER 29
DII: No. 9 Saint Anselm vs Assumption
The match-up between these two schools will be the second game this season. However, this time the game will count toward the conference record. In the first meeting, Saint Anselm came out on top with a 3-2 win. Although Saint Anselm got the victory last time, Assumption has gained momentum with a 3-1 win over No. 10 Franklin Pierce University. Could the tides turn in this game?

DIII: UMass-Dartmouth vs Worcester State
The game between these two schools will be a Little East Conference match-up. So far this season, UMass-Dartmouth has only dropped one game against MIT and has secured two conference wins. Worcester State has been just as successful, dropping only two games, one to conference opponent Keene State. The game could give us a good idea of if UMass-Dartmouth will give conference favorite, Keene State a run for their money this season.

WEDNESDAY, SEPTEMBER 30

DIII:Oswego vs Keuka
The in-state match-up between these two New York schools could be a great game for the weekend. Oswego has faced tough competition including William Smith (currently ranked No. 5) and Hamilton College. Keuka has earned their first win as a Division III Field Hockey School. Keuka is one of the many new faces to college field hockey this year. Keuka is led by Tarah Christenson, who is no stranger to developing new programs. Prior to Keuka, Christenson helped develop the St. John Fisher field hockey program that is now a winning program. Will Christenson lead Keuka to another victory this season?

USFHA media release


---

Debra Barnett inducted into University of Alberta Sports Wall of Fame

Former Women's National Team member competed in two Olympic Games

Shaheed Devji




Former Canadian Women's National Team member Debra Barnett (née Covey) has been inducted into the University of Alberta Sports Wall of Fame. Her induction will be commemorated at the Alumni Awards ceremony on Thursday, September 24th in Edmonton.

Barnett has devoted a large portion of her life to field hockey in Canada.

After serving as the captain of the University of Alberta Pandas volleyball team, she joined the Pandas field hockey team and began an illustrious career.

Barnett's career with Canada spanned from 1984 to1994 and resulted her playing an astounding 109 international matches, which puts her in a select group of women who have played 100 matches or more.

She competed on the Women's National Team when it was at its peak, taking part in two Olympic Games (1998 in Seoul, and 1992 in Barcelona) and winning a bronze medal at the 1984 World Cup of Hockey. She also won two medals at the Pan American Games (bronze in 1987 and silver in 1991).

After her playing career, she went on to coach field hockey. She was at the helm of the University of Calgary before her travels took her to the United States, New Zealand, and Australia, where she now coaches the Newtown City Hockey Club in Geelong.

At the university level, Barnett was once named the University's Female Athelte of the Year. An all-round athelte, she played volleyball, field hockey, and was an exceptional ice hockey goaltender.

In 1999, Barnett was inducted into the Alberta Sports Hall of Fame and on Thursday will be honoured for her induction into the University of Alberta's Sports Wall of Fame.

On behalf of the Canadidan field hockey community, Field Hockey Canada congratulates Debra for all her success and her tireless work to grow the game of field hockey in our country.

Field Hockey Canada media release