All the news for Sunday 6 September 2015

Jr Asia Cup W: Rani 5 in India 13

s2h Team

Changzhou (China): Captain Rani Rampal struck five goals in India thrashing DPR Korea by 13-0 in the 7th Women's Junior Asia Cup that kickstarted today.

Preeti Dubey drew first blood and slammed the ball past the goalkeeper in the 11th minute to open the score card by 1-0.

Jaspreet Kaur surged ahead and successfully converted a penalty corner in the 20th minute to take the lead to 2-0.

India kept on its attacking spree and struck the third goal through the field efforts of Navneet Kaur (24th min.)

Captain Rani entered her name in the 28th minute.

Indian girls did not stop here as Lily penetrated the opponents defence and smacked the fifth goal in the 31st minute which was closely followed by another field goal by Punam Barla. The first half of the game ended in favour of India who took the lead over DPR Korea by 6-0.

The second half continued with the same momentum as Indian eves dominated the match and maintained constant pressure on their rival.

Rani brilliantly struck a hat-trick through a beautiful series of field goals in the 43rd, 44th and 46th minutes and took the team's score line to 9-0.

The Indian girls were seen in more action and energy as they efficiently managed to score the tenth goal in the 51st minute through brilliant stick work of Lilima Minz. DPR Korea made clever attempts to enter India's inner circle but failed to open their score card and Indian eves added three more goals to their account in the 52nd, 64th and 70th minute respectively and defeated DPR Korea taking winning scores to 13-0.

The 7th Women's Junior Asia Cup 2015 is a qualification tournament for the FIH Junior World Cup (Women) 2016. India's next clash will be against Singapore on 6th September at 02.30 pm IST.

Stick2Hockey.com


---

India crushes DPR Korea in 7th Women's Junior Asia Cup



Indian Junior women hockey team captain Rani Rampal (Right) celebrates wiith a teammate. Rani Rampal scored four goals including hat-trick as India started their campaign at the seventh women's Junior Asia Cup on a resounding note by humiliating DPR Korea by 13-0 in Changzhou on Saturday.

The Indians continued in the same vein in the second half and pumped in as many as seven more goals.

India started their campaign at the seventh women's Junior Asia Cup on a resounding note by humiliating DPR Korea by 13-0 in Changzhou on Saturday.

Without wasting much time, India's Preeti Dubey opened the scoring in the 11th minute before Jaspreet Kaur successfully converted a penalty corner in the 20th minute to take a 2—0 lead.

India kept up the pressure and scored the third goal through a field effort from Navneet Kaur in the 24th minute.

Captain Rani Rampal then scored a field goal in the 28th to make the scoreline 4-0 in favour of the Indians.

Lily penetrated the opponents defence and smacked the fifth goal for India in the 31st minute followed by another field goal by Punam Barla as India went into halftime with a comfortable 6-0 lead.

The Indians continued in the same vein in the second half and pumped in as many as seven more goals.

Rani scored three more field goals in the 43rd, 44th and 46th minutes to register a hat-trick and hand India a 9-0 lead.

Lilima Minz scored a brilliant field goal in the 51st minute before the Indians added three more goals to their account in the 52nd, 64th and 70th minutes respectively.

The ongoing tournament is a qualification event for the FIH Junior World Cup (Women) 2016. India will next play Singapore on Sunday.

The Hindu


---

Indian women's junior hockey team hammer Korea 13-0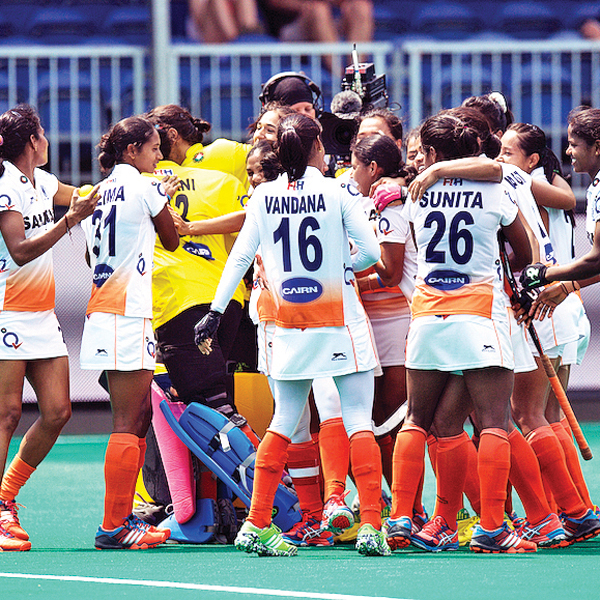 The Indian women's junior hockey team got off to a sensational start in the 7th Asia Cup as they hammered Democratic People's Republic of Korea (DPRK) 13-0 in their opening match at Changzhou on Saturday.

Captain Rani produced a scintillating performance as she struck five times, including three ferocious goals within a space of three minutes after half time.

Striker Navneet Kaur and midfielder Preeti Dubey scored a brace each, while Jaspreet Kaur, Lily Mayengbam, Punam Barla and Lilima Minz shared four goals between themselves.

India will next take on Singapore at the same venue on Sunday.

DNA


---

Junior Asia Cup: Malaysia beat Singapore 2-0

By Jugjet Singh

THE Malaysian women's hockey team got off to a good start in the Junior Asia Cup when they beat Singapore 2-0 in Changzhou, China, yesterday.

Two goals in each half from Hanis Onn and Nurul Safiqah Isa, was enough for three points. The women next play China, and it will be uphill all the way.

Yesterday India, who are also in Malaysia's group, hammered North Korea 13-0.

Three teams from Changzhou qualify for the Junior World Cup.

Group A: China, India, Malaysia, Singapore, North Korea.
Group B: South Korea, Japan, Thailand, Taiwan.

MONDAY: Malaysia v China; Wednesday: Malaysia v North Korea; Thursday: Malaysia v India.

Jugjet's World of Field Hockey


---
WP win SA men's national hockey title

JONATHAN COOK in Pretoria



Lloyd Norris-Jones celebrates scoring a hat-trick

The final of the South African Men's Interprovincial Hockey Tournament (IPT) was won 3-1 by Tuffy Western Province after the Capetonians led 3-0 at half-time at Tuks Astro in Pretoria Saturday but Southern Gauteng will reflect on a host of missed chances.

The difference was essentially the brilliant finishing of WP striker Lloyd Norris-Jones who stunned the big hockey crowd with three breath-taking first-half goals.

Norris-Jones opened the scoring in the sixth minute off a penalty corner variation.

In the 15th minute the fleet-footed marksman took advantage of a counter-attack after concerted Southerns pressure to make it 2-0 with a world-class strike.

Southerns then had six chances to WP's three during the remainder of the second quarter but once again it was Norris-Jones who delivered a lesson in lethal finishing on the cusp of half-time (30th minute) for a memorable hat-trick.

Southerns keeper Rassie Pieterse made two top saves soon after half-time to match WP shot-stopper Jacques le Roux's outstanding work in the first half.

Southerns then had a purple patch for the rest of the third quarter but couldn't breach the WP defence.

The goal finally came for Southerns in the 50th minute, with 10 minutes left, after the pacey Julian Hykes earned a penalty corner. Lance Louw delivered the corner injection, Gonsalves effected the trap at the top of the strike zone and Miguel da Graca sent the ball soaring into the net.

Southerns got in two direct shots in the last 10 minutes, while Pieterse made a fine save from Pierre de Voux but Southerns' dominance in the dying minutes could not be converted into the goals they so desperately needed.

The title match - umpired by South Africa's John Wright and Deon Nel - was in good hands. Wright has officiated in 198 Test matches and Nel 105. Both are recipients of the prestigious FIH Golden Whistle. Wright has umpired in an Olympic Games final and three World Cup finals.

The playoff for third and fourth positions saw Northern Blues beat South Africa U21 2-0 after the host province had led 1-0 at Half-time.

Tim Guise-Brown opened the scoring for Northern Blues with a PC in the 16th minute. SA U21 had a great chance to equalise in the 27th but Ryan Crowe's effort from the penalty spot cannoned into the crossbar and stayed out.

Blues had a gilt-edged opportunity in the 39th but despite numerous shots from a PC the SA U21 lads defended well.

SA U21 keeper Rob McKinley blocked Hendy Seerane soon after. And 12 minutes from time Nick Berichon – with a superb run along the right baseline - set up a golden opportunity for Blues, but a combination of the outstanding SA juniors keeper McKinley, and inept finishing, ensured the scoreline remained the same.

McKinley made another top save to deny the skilful Richard Pautz but the goal had to come and appropriately it was the wonderful skill of Stephen Cant that delivered the goods, young Dario Lourenco getting the tap-in four minutes from the end (56th minute).

KZN Raiders won the battle for fifth place 3-2 over Eastern Province after the Durban lads led 2-1 at the changeover.

Raiders opened the scoring in the fourth minute when Dan Sibbald surged through the right channel and crossed for Jarryd Jones to tap in.

EP drew level in the seventh minute when Cerezo Comerasammy netted at the far post. Raiders regained the lead in the 19th when Jones coolly flicked in the rebound off the keeper at a penalty corner.

This exciting encounter, which featured some fine individual skills at times, was again level-all after 40 minutes when EP captain Lyall Meyer slipped the ball left off a PC for Dalan Phillips to finish clinically.

In the earlier matches, the first round of playoffs for ninth to 12th positions was a goal fest. Raiders' winning goal came 10 minutes from the end (50th) when the consistent Greg Last scored from a PC.

The tussle for seventh place saw South Gauteng Wits score some great goals in beating Western Province Peninsula – last year's champions – 6-2 after being ahead 3-1 at the break.

Kyle Marks in particular netted a stunning goal, Wits' fourth, in the 36th minute, with the Gautengers' other goals going to Alridge Louw, Dean Symons (2), Thabang Modise and Gerald Mpopo. Pens found the net via the sticks of Ben Wiley and Warren McEwan.

Free State finished ninth after beating KZN Inland 4-2 after a goalless first half. A rousing affair between two well-matched sides it was not without controversy.

Prolific striker Kurt Hensberg bagged a brace for the Bloemfontein boys, the other goals going to captain Brett Walraven and Michael Baiden. Dave Gerrard and Damian Kimfley – with a spectacular goal-shot - scored for Inland.

KZN Mynahs beat North West 4-2 to finish 11th.

The second-tier B Section was won by Northerns B.

FINAL CLASSIFICATION
A Section (11th/12th) KZN Mynahs 4 North West 2; (9th/10) Free State 4 KZN Inland 2; (7th/8th) SG Wits 6 WP Peninsula 2; (5th/6th) KZN Raiders 3 EP 2; (3rd/4th) Northern Blues 2 SA U21 0; (Final) WP 3 Southern Gauteng 1.
B Section results: SA Country Districts 4 Northern Cape 2; Northerns B 5 Eastern Gauteng 1.
B Section final log (goal difference, points): 1 Northerns B 9GD 10pts; 2 SACD 1GD 9pts; 3 Namibia 2GD 7pts; 4 Eastern Gauteng -2GD 3pts; 5 Northern Cape -6GD 0pts.

SA Hockey Association media release


---

SA men's hockey squad announced

JONATHAN COOK in Pretoria

The SA men's hockey squad was announced Saturday at the conclusion of the Interprovincial Tournament at Tuks Astro in Pretoria.

The players will attend a training camp in Johannesburg from October 17 to 21.

SA MEN'S SQUAD
Goalkeepers: Rassie Pieterse (Southern Gauteng), Gowan Jones (KZN Raiders), Jacques le Roux (Western Province)
Defenders: Daniel Bell, Rhett Halkett, Brad Logan (all WP), Francois Pretorius (Northern Blues), Mohammed Mea (KZN Raiders), Gareth Heyns (Southern Gauteng)
Midfielders: Dan Sibbald, Jonty Robinson (both KZN Raiders), Marc Fourie, Wade Paton (both WP), Charlie Bowren (WP Peninsula), Ryan Julius (SA U21), Reza Rosenberg (Southern Gauteng)
Forwards: Julian Hykes (Southern Gauteng), Natius Malgraff (Eastern Province), Damian Kimfley (KZN Inland), Tevin Kok (SA U21), Richard Pautz, Stephen Cant (both Northern Blues), Pierre de Voux (WP)

SA Hockey Association media release


---

Points tables take shape after Round 2



Photo: www.photosport.co.nz

Round 2 of the Ford National Hockey League has given the men's and women's points tables a shake-up heading into finals week in Whangarei.

The Canterbury Cats and North Harbour are sitting pretty on the women's table with a maximum eight points from two games, while North Harbour and Auckland are also undefeated on top of the men's standings.

In Round 2 women's games, Northland rebounded from a loss last weekend to secure a big 3-0 win over Auckland thanks to a double from Anna Thorpe and another from Carli Michelsen.

Midlands were convincing winners over the Central Mysticks with goals from Kim Tanner, Gemma Flynn and Amy Robinson. The lone Central goal came from Kayla Whitelock.

Canterbury Cats continued their dominance in this year's Ford NHL so far with a 4-0 rout over the Southern Storm. Georgie Blackwood, Sian Fremaux, Jenny Storey and Phoebe Steele all found the back of the net to put the Cats on top of the table with a handy +8 goal differential.

North Harbour rounded out the day with comfortable 5-1 result against Capital with Black Sticks striker Kirsten Pearce scoring a brace while Kat Henry, Erin Goad and Katy Symons also found the net. Southern's goal came from Polly Inglis,

In men's results, Auckland made their intentions clear with a 4-1 victory over Northland thanks to goals from Dwayne Rowsell, Jonty Keaney, Marcus Child and Joe Crooks.

North Harbour made it two wins from two games when they edged a strong Southern Dogs side 2-1 with goals from Nick Elder and James Coughlan.

It was another quality game in Wellington where the Canterbury Cavaliers sunk hosts Capital Cobras 3-2 through a Richard Bain double and a third goal from Sam Lane. Rowan Yeo and Stephen Jenness netted for the Cobras.

The Midlands Men recorded their opening win of the tournament with a 2-1 win over Central Mavericks with Matt Rees-Gibbs finding the back of the goal twice.

With the opening two rounds now concluded, all teams are set to converge on the Whangarei ITM Hockey Centre for finals week from 12-20 September.

The Ford National Hockey League is proudly supported by the Whangarei District Council and Trillian Trust.

CLICK HERE for more on the 2015 Ford NHL
MEN'S RESULTS – ROUND 2


WOMEN'S RESULTS – ROUND 2




Auckland vs Northland, Lloyd Elsmore Park
Auckland won 4-1
Auckland goal scorers: Dwayne Rowsell, Jonty Keaney, Marcus Child, Joe Crooks
Northland goal scorer: Cameron Hellier


Midlands vs Central, Taupo
Midlands won 2-1
Midlands goal scorers: Matt Rees-Gibbs 2
Central goal scorer: Jake Blanks

Capital vs Canterbury, Wellington
Canterbury won 3-2
Canterbury goal scorers: Richard Bain 2, Sam Lane
Capital goal scorers: Rowan Yeo, Stephen Jenness

Southern vs North Harbour, Dunedin
North Harbour won 2-1
North Harbour goal scorers: Nick Elder, James Coughlan
Southern goal scorer: Kieran O'Connor



Auckland vs Northland, Lloyd Elsmore Park
Northland won 3-0
Northland goal scorers: Anna Thorpe 2, Carli Michelsen


Midlands vs Central, Taupo
Midlands won 3-1
Midlands goal scorers: Kim Tanner, Gemma Flynn, Amy Robinson
Central goal scorer: Kayla Whitelock

Capital vs Canterbury, Wellington
Canterbury won 4-0
Canterbury goal scorers: Georgie Blackwood, Sian Fremaux, Jenny Storey, Phoebe Steele

Southern vs North Harbour, Dunedin
North Harbour won 5-1
North Harbour goal scorers: Kirsten Pearce 2, Kat Henry, Erin Goad, Katy Symons
Southern goal scorer: Polly Inglis
Hockey New Zealand Media release


---

Tenaga the Premier Division spark

By Jugjeet Singh



Faizal Saari top of the world after helping THT win the Premier Division title.

THE Malaysia Hockey League (MHL) Premier Division was again a two-horse race, as four other teams were left in the shadows early in the season.

From the start till the end, 10 home-and-away matches each, Terengganu Hockey Team (THT) and Kuala Lumpur Hockey Club (KLHC) were the sprinters, while Sapura, Tenaga Nasional, Maybank and UniKL were left gasping for breath.

The fact that third-placed Sapura were 10 points off champions THT paints the picture of the MHL.

THT, with four Argentines and a Pakistani, outplayed KLHC 5-4 at their home turf at Batu Buruk -- witnessed by about 3,500 fans in a stadium which can only seat 2,000.

KLHC, with six Pakistan players, were actually undone by Sapura, whom then drew 4-4 and 3-3 earlier.

However, even in the shadows, there is a story to be told by title sponsors Tenaga Nasional.

Tenaga were the only team who opted out of buying foreign players, not because they can't afford it, because they believed in developing youth.

Six Project 2016 players powered Tenaga to finish fourth, with five wins and five narrow defeats.

Comparatively, the bottom two teams Maybank and UniKL had foreign signings. UniKL also had 10 Project 2016 players, but they did not shine as bright as Tenaga's six Project boys.

The Premier Division enters its knock-out stage, with THT and KLHC seeded and await the bottom four teams play in a home-and-away 'quarter-finals' on Sept 11 and 13.

But its predictable that the TNB Cup will again be a toss between KLHC and THT.

PREMIER DIVISION
FINAL STANDINGS

                P       W       D       L       F       A       Pts

TERENGGANU HT 10 9 0 1 35 17 27
KLHC                        10 7 2 1 32 19 23
SAPURA                10 5 2 3 22 22 17
TENAGA               10 5 0 5 17 22 15
MAYBANK             10 1 1 8 17 28 4
UNIKL                     10 0 1 9 17 31 1

TODAY: Division One Group A: TNB Thunderbolts v MSN-THT (SSTMI, 5pm), MSSP-YP-SSP v Masum-USM (Kuantan, 5pm).

Group B: Politeknik v UniKL Young Guns (Taman Daya, 5pm), SSTMI v UiTM (SSTMI, 7pm), Nur Insafi v ATM Airod (Sungai Petani, 5pm).

Women's Group A: The Cops v ATM Pernama (Pitch I, 7pm).

Jugjet's World of Field Hockey


---

Terengganu want more after retaining MHL league title

By S. Ramaguru

KUALA LUMPUR: Retaining the Premier Division title has whetted Terengganu's appetite to win more trophies in the Malaysia Hockey League (MHL).

On Friday, they edged Kuala Lumpur Hockey Club (KLHC) 5-4 in their last fixture to win the MHL title.

Next on their agenda is the overall title – which they also won last season.

The battle for the overall title, played over a two-leg knockout format, begins on Friday.

Terengganu skipper Mohd Shahrun Nabil said on Saturday that their focus now is to retain the overall crown.

"Although we've won the league title a second time, I believe that the knockout stage will be more difficult. Teams have a good idea of our capabilities and some will fancy their chances against us.

"I believe that KLHC will again be the main stumbling block to our title hopes," said Shahrun.

Terengganu completed their league fixtures with 27 points – four ahead of second-placed KLHC.

They lost only once – 6-2 to KLHC – in their opening match in the MHL.

Terengganu, who failed to make an impact in 2013, hired five South Korean players last year and duly won the double.

This season, they have four Argentines and one Pakistan player in their fold.

"Our aim is to be the best team in the MHL. There are still a few areas where we can improve ... one is our defensive play," said Shahrun.

"But we have a potent forward line ... and that kept us at the top."

For the quarter-final knockout stage, Terengganu and KLHC will be seeded and will move straight into the semi-finals.

The Star of Malaysia


---

Seven Malaysian hockey players set for Euro stint

By S. Ramaguru



Malaysia hockey player Mohd Izad Hakimi in action against Pakistan at the Sultan of Johor Cup in 2013. - Filepic

KUALA LUMPUR: Seven players from the Malaysia Hockey League (MHL) Premier Division are set to play in the Italian and German leagues.

The seven are Faiz Helmi, Mohd Marhan Jalil and Mohd Izad Hakimi of Sapura; Baljit Singh and S. Selvaraju of Universiti Kuala Lumpur (UniKL); and Rashid Baharom and Kevin Lim of Kuala Lumpur Hockey Club (KLHC). Selvaraju and Kevin are former internationals while the rest are national players.

MHL chief executive officer K. Logan Raj said on Saturday that all seven players have been issued release letters by the national body (Malaysian Hockey Confederation).

Selvaraju will play in the Italian League while the rest will feature for teams in the German League.

"Only Marhan and Izad are awaiting a release from their club Sapura.

"All seven are expected to play in Europe after the MHL ends on Sept 20 and we've only set one condition for their release: that they'll answer the national call-up if selected," he said.

MHC have also released four others to play in the Hockey Indian League (HIL) next January.

Goalkeeper S. Kumar, Mohd Razie Rahim, Kevin and Faizal Saari have been given the go-ahead to vie for places in the HIL. The four, together with 142 other foreign players, will be up for auction on Sept 17, with the six franchise teams bidding for their services.

The Star of Malaysia


---

England's Philip Kimberley receives FIH President's Award



England Hockey's Philip Kimberley received the FIH President's Award in London

The FIH is pleased to announce that England Hockey Chairman Philip Kimberley has been awarded the FIH President's Award.

The award recognises individuals or FIH National Associations who have excelled with initiatives, projects or programmes that have contributed over a long period of time to the enrichment of hockey at international level.

He was presented the award by President of the European Hockey Federation, Marijke Fleuren, on behalf of FIH President Leandro Negre during the Unibet EuroHockey Championships 2015 which are taking place in London.

Back in 2002, Philip was tasked with the job of restructuring England Hockey when the organisation was facing serious financial instability.

Taking up the position of Executive Chairman, he undertook an extensive review and reorganisation process with a view to rebuilding the national governing body in England on the basis of a stronger, accountable and sustainable business model.

Since then he has turned England Hockey around, helping the sport become one of the fastest growing team sports in England and celebrating its first Olympic medal in 20 years at the London 2012 Olympics.

After receiving this award, Philip said: "I was extremely surprised and delighted to be awarded the FIH President's Award. In Leandro's absence, Marijke Fleuren, President of The EHF, read out a letter from Leandro and I was both touched and moved by his kind comments. I have thoroughly enjoyed my time leading the rebuilding of England Hockey and it was all the more poignant when our women took the gold medal on Sunday afternoon. I leave the organisation in excellent health both on and off the field of play and I am extremely confident that it will continue to go from strength to strength."

Speaking about this award, FIH President Leandro Negre said: "Philip took on this formidable challenge with great enthusiasm and relentless drive. Not only did he bring a wealth of personal business experience, Philip, an ex-player, is passionate about hockey and was determined that England should regain, develop and maintain its place as a world leader in the sport. He not only concentrated on reorganising the association on a better business foundation but also focused on the sport itself, determined to make the teams, clubs and supporting infrastructure stronger."

He continued: "Philip's determination has catapulted a traditionally managed national association to take the position of a world leader in every aspect of the sport. This award goes some way to recognising the outstanding contribution he has made to the sport of hockey over the years during his transformation of England Hockey."

England Hockey Chief Executive, Sally Munday, added her words of support for Philip as well. She said: "This is well deserved recognition for Philip who has done an outstanding job over the last 12 years. He has been an exceptional Chairman and it is not surprising that he has received this prestigious award from our International Federation for the tremendous work he has done for our sport."

As well as the reorganisation of England Hockey, Philip took on the difficult challenge of finding and agreeing a sustainable model for the participation of Great Britain in the Olympic Games and FIH World Level Events.

The issue of Great Britain is a complex one in that it brings together the National Associations of England, Scotland and Wales, once every four years. His leadership and vision resulted in a model that the world of hockey has accepted and should endure for many years to come.

As the current Chairman of England Hockey, Philip announced he will stand down from the position later this year after 12 years in the post. Whilst he will remain a passionate hockey fan, he will be remembered for saving England Hockey during some of its darkest days.

For more information about FIH Awards, click here.

FIH site


---

We have to make hockey visible: Khalid Khokhar

Khalid Hussain



Brig Khalid Sajjad Khokhar (right).

Pakistan's new hockey chief is of the view that only a long term, mammoth campaign can revive Pakistan hockey and believes that he and his team are up to the task

Seldom has Pakistan hockey benefitted from good leadership since the golden reign of the legendary Nur Khan. Over the years, a number of men — ranging from former Olympians and military officials, to politicians and corporate bigwigs — have called the shots in Pakistan hockey. But as Pakistan Hockey Federation (PHF) presidents, they were unable to do much to stop the decline of our country's national sport.

So will Brigadier Khalid Sajjad Khokhar prove to be any different?

Khokhar has recently replaced former Olympian Akkhtar Rasool as the PHF chief. His appointment was made possible by the intervention of Prime Minister Nawaz Sharif, who also happens to be the patron-in-chief of the PHF. While some have hailed Khokhar's arrival on the national hockey scene, others have criticised it by suggesting that he has been handpicked by the premier because Khokhar is a relative of a powerful minister in Sharif's cabinet.

But such divisive views were always expected. The Pakistan hockey fraternity has over the years been reduced into a highly fragmented lot because of constant infighting among the various stake-holders.

As a result, Pakistan hockey has become mired in defeat and disappointment. Things have gone from bad to worse in recent times with the national team even failing to qualify for World Cup 2014 and next year's Olympic Games in Rio de Janeiro.

So can Khokhar and Co bring about a turnaround in the fortunes of Pakistan hockey?

Pakistan's new hockey chief is of the view that only a long term, mammoth campaign can revive Pakistan hockey and believes that he and his team are up to the task.

"First of all we will have to admit that our hockey is nowhere at the moment," he told 'The News on Sunday' in an interview.

"And when I say nowhere I'm not just talking about our standing at the international level. I'm primarily talking about hockey's presence in our own country," he says.

"Hockey has been eliminated from the grassroots level in our country. Apart from a few pockets here and there you won't see any youngsters playing hockey in the grounds, parks or streets like they used to do in the past," adds Khokhar, who captained Pakistan Army's hockey team and almost made it to the national side back in his youth.

"In those days our education minister who also held the portfolio of sports would make sure that schools and colleges all over the country will form their hockey teams and will play regularly," he reminisces.

"But today there is no emphasis on holding sports at the school and college level. I don't think that we can achieve much in hockey if this situation doesn't change. We will have to make sure that as many educational institutions as possible are made active in hockey. With the support of the government, Pakistan Hockey Federation will go all out to launch a campaign to make sure that we revive our hockey at the grassroots level.

"This cannot be one off. I mean sport has to be a continuous process which is why we will come out with a feasible and lasting plan for the revival of our hockey at the school and college level," he says.

Khokhar believes that PHF also needs to focus on uplifting the game at the local level.

"Many of our districts claim that they are running hockey at grassroots levels. But even if they are trying to do that we are not getting any worthwhile results.

"The problem with hockey at the districts level is that it's almost unmanageable. There are too many districts and for PHF, which is already spreading thin, it is almost impossible to manage things.

"We have to divide provinces into regions. They will be more manageable. We will be able to facilitate them and they will in return help us in raising our pool of players."

Khokhar believes that the Pakistan hockey fraternity should show more faith in nurseries like Gojra in Punjab and Hanif Khan's academy in Karachi.

"Our biggest flaw is that over the years we have ignored nurseries like Gojra. We have under-estimated people like Hanif Khan who gives time in Karachi and helps raise good hockey players.

"The only problem with players coming out of such academies is insufficient education and lack of grooming. We at the PHF need to devise ways and means to polish the young players who are produced by such nurseries.

"In the past PHF established various academies but the problem was lack of quality. We cannot run after quantity at the expense of quality."

Khokhar believes that former Olympians like Hanif Khan and Islahuddin Siddiqui can play a vital role in reviving the fortunes of Pakistan hockey.

"We have to make hockey visible in Pakistan," he says. "That's our greatest goal and I believe that all our former stalwarts can make a great contribution in achieving that target.

"I know all of them want to do something for the betterment of Pakistan hockey which is why I see them as PHF's greatest strength.

"They can start by contributing in their own areas and the PHF will support them as much as possible. They can give us ideas, advise and also help us in sniffing out young blood."

Khokhar is planning to form a think-tank, which would primarily include former Olympians. He also wants to take steps to make PHF's executive board more effective.

Within the PHF, Khokhar's right-man will be the legendary Shahbaz Ahmed, the former Pakistan captain who was recently installed as PHF's secretary.

"Shahbaz has great potential to be a competent secretary. He can make great contribution towards the promotion of Pakistan hockey both at home and abroad. Internationally, we can utilise him a lot because he enjoys a great rapport in the world of hockey.

"We are both on the same wavelength. It has to be team work. We will have to involve all stake-holders to make sure that hockey is back on track. We know that on our way to doing all those things we will have to face criticism. I do pray that the criticism is positive and constructive because that will help us in achieving our goals."

One regarded among the superpowers in the hockey world, Pakistan's status at international level has taken a serious hit. Pakistan gave international hockey the World Cup and the Champions Trophy. But today, the country is lagging behind in every aspect of the game.

"It is not just in hockey that we have experienced a major downfall," says Khokhar, who has served as Pakistan hockey team's manager in the past.



Shahbaz Ahmed

"Overall, our reputation in the world of sports has gone down. I believe that is our own fault. We have had too many vested interest elements in our sports. They never looked beyond their own agendas and today we are suffering the consequences.

"We will have to sit down and take a long, hard look at what went wrong. We will reach out to the world hockey family and let them know that Pakistan is still alive and kicking and can still contribute greatly towards the promotion of the sport at the international level."

In the past, PHF has made and discarded plans to launch a full-fledged professional hockey league. It did take off several years ago under the command of Tariq Kirmani, when he was PHF president. But the project crashed soon afterwards.

Khokhar is all for reviving it.

"This is an immediate aspect which we need to look into. We have to launch our international league within the next two years. Our first priority will be to hold it at home but we will keep our options open" he says.

The PHF president wants to make all out efforts to ensure resumption of international matches in Pakistan.

"Though some things (security issues) are beyond our control, the PHF will make best possible efforts to hold international matches in Pakistan in the near future."

He also believes that revival of bilateral hockey ties with India will boost the sport in the two countries.

"It will be great for hockey in Pakistan and India if the two countries resume playing hockey matches on a home-and-away basis. In fact, I believe that such matches will provide a big boost to Asian hockey.

"But once again, that will only happen if the relations between the two countries improve. If there is a thaw then we will certainly try to line up matches with India."

Khokhar believes that over the years, Pakistan hockey chiefs have ignored the women's game.

"We haven't worked on women's hockey in the past. But I'm thinking of making covered indoor grounds for seven-a-side hockey where our ladies can play. Such facilities can also be utilised by our men's teams."

Though Khokhar's focus is on developing hockey at the grassroots level, he won't be ignoring the seniors either.

"At the senior level, we are out of the World Cup and Olympics. But all is not lost. We will make a comprehensive plan to provide a boost to our national team.

"The first step we plan to take is upgrade our national senior championship and turn it into a major sporting event of our country. We have to make it high-profile."

One of the reasons behind hockey's slump in Pakistan is that the PHF is almost always looking towards the government for financial support.

"This will have to change. We will have to become self-reliant. It will be tough but I think Pakistan hockey has great potential. We will soon form a marketing team which will package Pakistan hockey into sellable product."

But Khokhar knows that it is easier said than done.

Such has been the dismal state of Pakistan hockey that a kid who wants to try out this sport will have trouble even in buying a hockey stick, because they aren't easily available anymore.

"The thing is that we will have to achieve international titles to lift the image of Pakistan hockey. To achieve results we will have to form a world-class team and for that we will need a broader pool of players. To do that we will need more and more kids to take up hockey.

"It sounds tough and I know it is. But somehow we will have to achieve it. We will begin with baby steps and I believe that local associations will have to play a vital role. They will have to provide us with fresh blood and also the former Olympians and their academies.

"To provide a boost at the junior level we will soon launch a development programme and will go to schools all over the country with equipment and training expertise.

"We will do all that is possible and involve each and every person who can contribute towards the betterment of Pakistan hockey. We believe that this is a national service and hopefully with a team effort we will succeed."

The News International