All the news for Sunday 30 August 2015

Netherlands men storm to Unibet EuroHockey Championship title




The Netherlands produced a staggering display of attacking hockey to power to a 6-1 victory over 2013 champions Germany and win the men's title at the Unibet EuroHockey Championships 2015 in London.

Mink van der Weerden scored two penalty corners with Billy Bakker, Jeroen Hertzberger and Rogier Hofman also on target to give the dazzling Dutch a 5-0 lead at half time, with Mirco Pruijser making it 6-0 in the final quarter before Germany's Christopher Rühr bagged a consolation goal for the reigning Olympic champions with ten minutes of the match remaining.

The result gives the Dutch their fourth European title, adding to the trophies collected at the 1983, 1987 and 2007 competitions and, with the Netherlands women competing in tomorrow's final against England, sets up the possibility of a double success for Oranje.

Earlier in the day, Ireland men claimed their first ever major international medal with victory over host nation England in the Bronze medal match.

Gold: Netherlands 6-1 Germany
The Netherlands produced a truly sensational first half display to win the Unibet EuroHockey Championships final, claiming their first title since 2007 – the last time the competition was played in England.

It was their fourth continental championship and also the biggest ever victory in the final match as they tore through the German defences in an uncharacteristically one-sided contest.

Each goal before the break was a thing of beauty as Billy Bakker's sixth minute opener set the tone before a pair of Mink van der Weerden corner strikes were augmented by pitch-length counter-attack moves completed by Jeroen Hertzberger and Rogier Hofman. Possibly the best was left until last when Mirco Pruijser ran the length of the pitch and crashed his shot past Jacobi.

The game drew to a close with both teams looking dead on their feet through exhaustion. A six match winning streak came to an end and the Netherlands can justifiably call themselves the champions of Europe.

Bronze: Ireland 4-2 England
History was made as the Irish team won the Bronze medal at the Unibet EuroHockey Championships after a battling last quarter which saw all 11 men camped in their own half protecting a 3-2 lead against England. A breakaway run in the final 30 seconds saw the Green Machine put the game to bed and win their first major international medal.

The final action saw Shane O'Donoghue slot home a penalty stroke past stand-in 'keeper Mark Gleghorne, after the Ireland team had broken free from the England press around their circle. O'Donoghue's goal was his second of the game, as Ireland produced another sparkling performance to fight back from 1-0 and 2-1 down before eventually getting their noses ahead in the 39th minute, when Eugene Magee fired home a penalty corner. For all their possession, England could not find a way past remarkable Ireland shot-stopper Davey Harte, who played a hugely influential role throughout the competition to help his team make history in London.

Speaking after the game, Ireland's John Jackson said: "We have achieved something that will be very hard to replicate – a medal at the European Championships. England are a quality side, so we knew we had to stop them attacking down the central channels. Everyone worked so hard."

Belgium 11-4 Russia
Belgium's Tom Boon raced to the top of the Unibet EuroHockey Championship goal-scoring charts by scoring seven goals in an 11-4 win over Russia. The Red Lions, who are ranked fifth in the world, have had a disappointing campaign at the Championships, as they failed to reach the semi-finals after finishing third in Pool B but their comfortable win over Russia guarantees a fifth place finish, meanwhile Russia are consigned to relegation and will be playing in EuroHockey Championship II.

Speaking on the win and scoring seven goals, Boon said: "I'm happy with today's win. We had to come back from a disappointing week. It's nice to be top scorer but at the end of the day, it's the team performance that counts. We are not happy with how we have performed at this tournament, but obviously for me,  it's always nice to score."

Spain 4-3 France
Spain scraped through in a thrilling finale, winning 4-3 in a hugely important encounter to maintain their place in the top tier. Defeat for the French condemned them into EuroHockey Championship II, whilst Spain was rewarded with another campaign in the top flight in 2017. Xavi Lleonart scored twice for the Red Sticks, although it was Salvador Piera's 57th minute strike which proved decisive.

Spain's Alejandro de Frutos Gomez said, "We were good at the start but suffered a lot late on but the most important thing is we survived the drop. We are scoring plenty of goals but importantly from now on, we must work on our defence as we are conceding too many goals."

Keep up to date with all of the action on www.eurohockey.org and www.eurohockey2015.co.uk. Information about TV scheduling and live streaming can be found by clicking here.

Individual Awards:
Top goal scorer Tom Boon (BEL) 10 goals
Goalkeeper of the Tournament: David Harte (IRL)
Player of the Tournament: Florian Fuchs (GER)

FIH site


---

Van der Horst reflects on "best result ever"




After a number of painful final defeats against Germany, Dutch captain Rob van der Horst described the 6-1 win in the final of the Unibet EuroHockey Championships as "best result ever in my career".

The nature of the victory – building a five-goal lead in the first half – made for a unique experience and van der Horst said that being so far ahead so early allowed him to savour the special moments.

"When the score is like that, you start to enjoy it a little bit more," he said. "You see things on the big screen that make you smile, people cheering, guys on the bench crying. You get that time to really enjoy it and the emotions. Normally, you play until the end and its like 'oh shit, we won!'. Now, this was very different!

"Obviously, this is the best result ever for me in my career. It was a little bit more comfortable because you are so dominant. You win some and lose some but this one we really, really won."

Talking about the key components to the game, the sweeper said that while the nature of the match was very different to the 1-0 semi-final win over Ireland, there was not a large difference in tactical set-up between the two games.

"We played with a lot of structure and discipline which is actually the story of the whole tournament where we don't give away many chances and only one goal at the end of the game when it wasn't important. It's really delightful.

"We didn't change that much from the other games. Germany is willing to come out and play a bit more. Other teams are playing more defensively so its harder to create as many chances. I believe that was key today.

"Normally, when you score against Germany you know they are going to come back and, even at 4-0, you know the game isn't over and they can make life difficult. But we kept our focus and when it got to six, only then did you feel like they might give up."

Robbert Kemperman, meanwhile, said the key phase was the opening quarter when the tone was set.

"Incredible final, we said we had to be awake in the first 15 minutes and I think we killed it from the moment we started the game. We were in fighting mode!

"It was so quick; 1-0, 2-0, 3-0 – from there, we can control the game and it was really good. We've lost several finals against the Germans so finally we got there and are really happy."

German talisman Moritz Fuerste also pin-pointed the opening 15 minutes as the key battle which his side did not get a handle on.

"We started the game with the ball quite well and the first quarter could have ended with a 2-2 draw if things were different. But they out-countered us and it felt like it wasn't meant to be. We had a few good opportunities but off the ball we were not good enough today and made too many mistakes.

"Today they are deserved winners. We've no explanations of the moment. Overall, it was a good tournament, we played quite good hockey. We struggled in the semi-finals against a good English side but still won.

"After all, we can be happy. We lost against a strong Dutch side. What can I say; sometimes you win, sometimes you don't."

Euro Hockey League media release


---

Green Machine beat England to Win Bronze Medal!



Photo Credit: Eleni Henry

To call this an historic day would be no exaggeration, Ireland have beaten England, 5th in the world, and won a bronze medal at the Eurohockey Championships for the first time ever! The win also means Ireland finish 3 places above their seeded position in a tournament that has 4 of the worlds top 5 teams. Anytime Ireland face England, in any sport, it is always a passion-filled battle and today in London was to be no different.

It was England who got off to the better start and Harte was called into action early on. Martin got the score board ticking in the 11th minute as he was unmarked in front of Harte and flicked the ball goalward. But the Green Machine used the skill, discipline and passion that has been on display the entire tournament to get themselves back into the match. O'Donoghue, a constant threat, drag flicked Ireland back to 1-1 2 minutes later.

England used their numbers advantage, after a Caruth yellow card, to earn themselves a penalty corner in the 23rd minute. Jackson dragged it low and hard, and the waiting Dixon deflected it on goal to make it 2-1. But again maturity and commitment came to the forefront for the men in green as they defended stoically. Just before the half a creative PC routine saw Magee spin around the defender and set Southern up to dink the ball past Pinner. 2-2 and game on at half time.

It was the ever-present figure of Magee that fired Ireland into the lead. His drag flick went straight through the number one runner and left Pinner with no chance. Ireland's defense came under waves of attack, no fewer than 29 circle entries by the English, but every member of the Green Machine put their body on the line to keep the ball out of Harte's goal. Throughout the tournament the Irish attack has been clinical and today was no different. After holding out another English attempt on goal, Shimmins broke free but was barged off the ball by Lewers and won a penalty stroke. Goalie Pinner had already been taken off as England attempted to draw the match so Mark Gleghorne, brother to Irish man of the match Paul, was the stand in goalie and could only watch as O'Donoghue's pin point shot went in.

The match finished 4-2 to Ireland, an accurate reflection of the passion, commitment and hard work this Irish team has displayed, not just today, but for quite some time. Speaking after the final whistle Fulton said " A great result today for the performance we have put in this past week. To all the management team and players…we made history, well done! I know there is more to come".

Ireland arrive into Dublin airport Terminal 1 tomorrow, Sunday, at approx. 7:25pm.

Unibet Eurohockey Championship Bronze Medal Match

Ireland 4 (O'Donoghue 2, Sothern, Magee)
England 2 (Martin, Dixon)

Team: Harte (Captain), Jackson, Gormley, Magee, Shimmins, O'Donoghue, Darling, Good, Burton, Gleghorne, Harte.

Bench: Cargo, Sothern, Caruth, Robson, Watt, Bell, Fitzgerald.

Irish Hockey Association media release


---

Ireland make history as they beat England to claim bronze medal

Brilliant year for men's team continues as they claim first medal at elite level

Stephen Findlater in London



Ireland players and staff celebrate after they beat England 4-2 to win the bronze medal at the EuroHockey Nations Championship at the Lee Valley Centre in London London. Photograph: Simon Cooper/PA

Ireland 4 England 2

Making history, the recurring mantra of the Irish senior men's team. An incredible year for the team was capped with the biggest moment yet in London on Saturday, winning Ireland's first ever medal at an elite level competition with a breathless 4-2 win over host England.

Craig Fulton's belief that his team would win was unshakeable before the tie. So much so, he conducted an interview with himself before the game, practicing what he would say when, not if, his side got the better of the world number five side.

"It's just reward for the performances from the guys," Fulton added. "It's no flash in the pan."

It was all the sweeter that England featured three former Irish players who have taken three years out from international hockey to declare for the opposition to enhance their medal prospects.

Ranked 14, Ireland had never previously gone better than fifth in the 45-year history of the competition where four of the world's top five teams lock horns.

The penalty corner machine worked a dream, netting a perfect three goals from three attempts. The first from Shane O'Donoghue cancelled out Harry Martin's opening goal after a rickety opening phase for the green machine.

Adam Dixon restored England's advantage from a clever corner deflection. Ireland rocked and rolled with John Jackson and David Harte making some incredible goal-line clearances.

In attack, though, Ireland were clinical. Alan Sothern made it 2-2 at half-time with a wonderful piece of innovation to deceive Mark Gleghorne's dive and wrong-foot George Pinner.

Eugene Magee then rifled into the top corner early in the second half to allow Ireland a glimpse of glory. Pinned back for long periods, Paul Gleghorne – playing against his older brother, one of those to switch sides – threw his body into every tackle, every interception.

Later, he revealed he was playing with a grade two tear in his shoulder sustained against the Dutch in the semi-final. Fulton said his man of the match performance was emblematic of his side's performance.

"There was nothing that could stop him from playing; I couldn't pull him off the field. When you have that belief and commitment in the group, you can do amazing things."

On a knife-edge until the final seconds, O'Donoghue added an extra gloss three seconds from time when Iain Lewers hauled down Kirk Shimmins for a penalty stroke.

It confirmed the medal and concluded the playing side of things for Ireland's best ever year. They now wait on October 25th when they will find out if they qualify for the Olympic Games, dependent on the result of the Oceania Cup and African Cup of Nations.

It would be no less than Ireland deserve.

IRELAND: D Harte, J Jackson, M Watt, C Cargo, A Sothern, P Caruth, K Shimmins, S O'Donoghue, M Bell, P Gleghorne, C Harte

Subs: R Gormley, E Magee, M Darling, M Robson, K Good, J Bruton.

Irish Times


---

England downed by Ireland in bronze medal match



England vs Ireland

England slipped to a 4-2 defeat in the bronze medal match at the Unibet EuroHockey Championships. A double from Shane O'Donoghue and penalty corner goals from Alan Sothern and Eugene Magee did the damage as Ireland made history, winning their first-ever European medal. England hit back through Harry Martin and Adam Dixon but in a hectic encounter, Bobby Crutchley's team could not find the goals to turn the tide.

England started strongly. Dan Fox broke into the circle and found Sam Ward whose cross-shot was half cleared by David Harte. It fell to Nick Catlin who shot on the turn but Harte was there again with a good save.

Barry Middleton and Ashley Jackson linked up well and started to cause Ireland problems but the final pass didn't quite come off. With 11 minutes gone it was Jackson who produced a telling intervention. He won the ball high up the field and fed it into Middleton. He found Harry Martin and the No9 applied the finish from close range to give England the lead.

Ireland leveled the scores from a well-taken penalty corner by Shane O'Donoghue just two minutes later, ensuring it was 1-1 at the quarter time break.

In the second quarter Chris Griffiths' industry was rewarded with a chance. The No25 robbed the defender and cut in from the right. Harte rushed from his goal and smothered well to keep the scores level. Jackson won England a penalty corner with nine minutes to go to half time. With everyone expecting the No7 to take the shot on, instead Sam Ward took the honours. His effort thudded into Harte's body with the rebound flashing over the bar from Griffiths.

England forced another corner from the next passage of play for an off the ball foul by Peter Caruth, for which the Ireland man was shown a yellow card. Jackson took the shot this time with the ball crashing against the post and Davey Harte somehow scrambling the rebound away. The pressure mounted and England won another corner and this time they got the goal they had threatened. Jackson's pass was deflected in beautifully by Dixon to make it 2-1.

Ireland earned themselves a penalty corner in the dying embers of the first half after good work by John Jackson. They ran a different routine with Eugene Magee setting up Alan Sothern who squeezed the ball through George Pinner to make it 2-2 at the half way stage.

Ireland had the first clear chance of the second half. Magee stepped up from another set piece to give them the lead with a precise flick into the top corner. England hit back with a quickly taken free hit teeing up David Condon but his shot on the turn went wide. The hosts squandered a penalty corner opportunity with a minute left in the quarter and so went into the final 15 minutes trailing 3-2.

England were camped inside the Irish half for the majority of the final 15 minutes but some brave last-ditch defending kept the home side at bay. England won a penalty corner with six minutes remaining. Jackson went for goal and it clipped a defender on the way in, deceiving Harte and finding the net. Umpire Marcello Servetto disallowed the goal and England were still behind. Bobby Crutchley took off Pinner with three minutes left as a last throw of the dice. Ward won them a penalty corner with 90 seconds remaining. Jackson shot but Harte got a glove on it. Ireland broke free in the dying seconds and with no goalkeeper a desperate lunge resulted in a penalty stroke for a foul on Kirk Shimmins. Mark Gleghorne went in goal for it and faced O'Donoghue but the Ireland man scored to make it 4-2 and seal the win.

The tournament comes to its conclusion tomorrow as England's women take on Netherlands in the final of the Unibet EuroHockey Championships live on BBC 2, Sunday 30 August at 16:00.

Quotes – Dan Fox, England

"Whatever I say about us, we cannot take credit away from the Ireland side. They've done brilliantly this tournament. We're so disappointed because we gave them corners too easily and we didn't defend them well enough. On a given day, sometimes your corners fire but ours didn't today. We had a lot of possession we couldn't make it pay off in the final third. We're really gutted how it's gone today. It's a difficult part of tournament hockey, playing in bronze medal matches when you were so close to playing for gold. We want to play our best hockey every game and we were set up to do that today, we just didn't quite execute our skills in the final third.

We have 11 months till Rio and this will drive us on. We're not far off as we showed against Germany but we need to improve and hopefully this will motivate us to do that."

England 2 (2)
Harry Martin 11 (FG)
Adam Dixon 23 (PC)

Ireland 4 (2)
Shane O'Donoghue 13, 60 (PC, PS)
Alan Sothern 29 (PC)
Eugene Magee 39 (PC)

England Hockey Board Media release


---

England women left standing for gold as men miss out on bronze against gallant Ireland

Ireland produce stunning upset to secure first ever bronze at European Championships, leaving England women to fight it out for gold against Holland on Sunday

By Rod Gilmour, Olympic Park
           

   
Twice denied: England men lost their last matches to finish fourth Photo: KOEN SUYK

A match of relentless pace from start to finish saw Ireland men produce a stunning 4-2 upset over England to win their first European Championship medal on Saturday.

The bronze medal match - Holland, with a peerless display, routed Germany in the final 6-1 to win gold - at a packed Lee Valley had extra needle over England's inclusion of three former Irishmen, but Ireland kept their emotions superbly in check to survive an endless wave of attacks in the final quarter.

At one point there were a pair of balls and two passages of play on the pitch such was the intensity, but once order had been restored Ireland secured victory when Iain Lewers, the Irish-born Englishman, was yellow carded and Shane O'Donoghue slotted home the penalty stroke.

"We're gutted and there is a lot of frustration and anger," said Bobby Crutchley, the England coach. "There were some poor decisions, but that's no excuse."

Indeed, England had nearly 70 per cent possession in all, in their pursuit of the equaliser. But in a match of such frenecity, it was Barry Middleton's men who were ultimately left on their knees for the second time in three days as O'Donoghue flicked past Mark Gleghorne, the defender who was forced to wear the helmet after George Pinner was taken off in the closing stages.

There were still three seconds left on the clock, but the damage had been done - Ireland's four goals coming from just five on target - as pockets of green-shirted players celebrated with each other across the outfield.

Harry Martin had earlier finished a fine three-way interchange with Ashley Jackson and captain Middleton to open the scoring in the 11th minute. Ireland leveled with their first shot on goal as O'Donoghue rifled in from a penalty corner.

The second quarter proved an open, physical affair, with Jackson becoming an increasingly more vocal and stick presence. Adam Dixon then put England back in front from Jackson's initial penalty corner strike.

But Ireland, who have yet to secure Olympic qualification for Rio 2016, scored as the hooter loomed when a tame Alan Sothern shot passed through Pinner's legs.

Ireland had the momentum now and another penalty corner saw Eugene Magee, a former hurler, whip in a wonderfully directed drag flick past Pinner, deservedly taking the lead for the first time.

"Some of the best teams in the world are here, so to finish with a bronze is simply fantastic," said Paul Gleghorne, the player of the match. He will now dust himself down to honour best man duties at his brother's - defender, Mark - wedding next week.

So it is left to England's women to go for gold on Sunday afternoon against Holland, the world and Olympic champions, as the women's final culminates these Championships for the first time.



Alex Danson, left, and Lily Owsley will lead forward lines against Holland

England haven't beaten the fearsome Dutch for 13 games in a run stretching back to 2003 when Kate Richardson-Walsh scored the winner. The stalwart captain will lead England out on Sunday and will aim to scupper Holland's attack-minded policy to keep up their own unbeaten run (14 and counting in 2015).

Holland can amass goals from all areas, as summed up with seven of their players hogging the top 10 of tournament scorers (from 23 goals in four games).

However, they had 15 chances in their 1-0 semi-final win over Germany, the defending champions, and left the pitch with their heads down.

So can England pose any problems for Holland? "They have a lot of variation," said Sjoerd Marijne, their coach. "We haven't really played them since we lost in the European Cup last time and the stadium will be full. It will be great."

Danny Kerry, the England women's coach, expects an open game, though his side will have to negate "five out and out world-class players, where most other teams have two".

Two of those include fearsome penalty corner strikers Maartje Paumen, their captain, and Caia Van Maasakker.

However there is doubt over Paumen's fitness after she was taken to hospital after the Germany game with a wrist problem and didn't partake in training on Saturday.

Women's final: England v Holland, live BBC2, 4:30pm

The Telegraph


---

Twigg looks forward to "rocking" Lee Valley



Georgie Twigg slots home a penalty stroke

Georgie Twigg is looking forward to a "rocking" Lee Valley stadium on Sunday when home favourites take on England in the final of the Unibet EuroHockey Championships.

Her side edged past Spain 2-1 on Friday evening in front a boisterous crowd to reach the continental final for the second successive competition and the Surbiton star is hoping for more of the same when her side meet the Netherlands at 4pm.

Speaking to reporter Sophie Randle, Twigg said the noise generated by the public so far has been an inspiring factor in England's success so far.

"This venue here at Lee Valley is a fantastic for us. Its brilliant that so many people have come out to support us," she said. "It's definitely our 12th man and as we attack, the crowd starts to build and it really is having them behind us that spurs us on and I hope on Sunday, the stadium is packed and rocking."

Reflecting on the semi-final win, Twigg admits it was scrappy at times but the most important thing at this stage in the competition is always the result.

"Firstly, we are absolutely thrilled to make it into the final. We didn't make it easy on ourselves at times but Spain are always a notoriously tricky side to play against.

"We've played them quite a few times over the summer and we did know what to expect but are absolutely delighted today and looking forward to the final on Sunday.

"The next 24 hours are key. We'll do all of our recovery and preparation for the Dutch. We know they are the best side in the world at the moment and we will look forward to that challenge. We haven't played the Dutch very often recently and we will thrive on this setting."

"They have very good individual skills and break down the play very easily. You know they are dangerous when they get into the D with good lifted skills and some nippy players."

The tournament comes to its conclusion tomorrow as England's women take on Netherlands in the final of the Unibet EuroHockey Championships live on BBC 2, Sunday 30 August at 16:00.

England Hockey Board Media release


---

Will England women's team triumph after 24 years?

B.G.Joshi (in London)

Eight times European Cup Champions Netherlands ladies will lock horns with hosts England in the final today (Aug 30). England had won the Euro Cup in Brussels (1991) beating Germany 2-1. 28 years ago, England also played the final in London versus Netherlands; most 355 caps British player Karen Brown scored the brace, but England lost in tie break.

Head to head of Netherlands-England are:
| | | | | | | |
| --- | --- | --- | --- | --- | --- | --- |
| Category | Played | Won | Drawn | Lost | Goals For | Goals Against |
| Total includes Great Britain | 116 | 59 | 25 | 32 | 240 | 157 |
| In Final | 1 | 1* | 0 | 0 | 2 | 2 |
*Netherlands won in tie breaker.
Details of The Finals of Euro Cup are
The Finals
Year

Venue

Teams

Score

Scorers

1984

Lillie

Netherlands-USSR

2-0

 

Laurieg Gales Willemse, Sophie van Weiler

1987

London

Netherlands-England

2-2 tb 3-1

Lisanne Lejeune, Maryse Abeerdanon/Karen Brown (2).

!991

Brussels

England-Germany

2-1

Jane Sixsmith(2)/F.Hentschel

!995

Amsterdam

Netherlands-Spain

2-2tb

4-1

Wietske de Ruiter,Nicole Koolen/ Maider Telleria, Natalia Dorade

1999

Cologne

Netherlands-Germany

2-1

Donners Mijntje, Dillianne van den Boogaardt/Britta Backer

2003

Barcelona

Netherlands-Spain

5-0

Donners Mijntje, Ageeth Boomgaardt

2005

Dublin

Netherlands-Germany

2-1

Ellen Hogg(2)/Natascha Keller

2007

Manchester

Germany-Netherlands

2-0

Janine Beerman(2)

2009

Amsterdam

Netherlands-Germany

3-2

Lidewij Welton, Marilyn Agliotti(2)/ M.Stockel, N.Hasselmann

2011

M'gladbach

Netherlands-Germany

3-0

Lidewij Welton, Marilyn Agliotti,Ellen Hoog

2013

Boom

Germany-England

4-4,tb2-0

Eileen Hoffman,Tina Bachmann(2),Hannah Kruger/Georgie Twigg,Kate Walsh,Helen Richardson,Susie Gilbert
Fieldhockey.com


---

Nikki Symmons inducted into EHF Hall of Fame




A huge congratulations to Nikki Symmons who has been inducted into the European Hockey Federation Hall of Fame! Nikki was capped an incredible 208 times and scored 31 goals for the Green Army. Nikki won her first senior cap in 2001 against Wales and was the first player to reach the achievement of 200 international caps, a testament to her hard-work and dedication.

Nikki's career off the field is equally impressive. While playing hockey for Ireland she was also a coach and special needs assistant at St Andrew's College. She moved to Lausanne to study for the distinguished Masters in Sports Administration and Technology at the International Academy of Sports Science and Technology (AISTS) and is now the Digital Coordinator for FIH.

She was also nominated for the SportAccord Sports Hero award, 'an honour bestowed upon an individual connected to sports who has inspired youths through his/hers achievements, actions or words'. Nikki is widely admired for being 'an active champion of the LGBT community, using her position as a national icon to raise awareness about gay people in sports and their rights'.

The EHF Hall of Fame is a way of honouring and highlighting some of the most significant figures in European Hockey. The inaugural inductees into the EHF Hall of Fame are all International Senior players, have all consistently displayed high levels of sportsmanship, and have had a deep and meaningful impact in hockey on and off the pitch.  Congratulations Nikki on joining your fellow inductees and becoming 1 of only 5 members in the EHF Hall of Fame.

Speaking about the honour Nikki Symmons said "I am extremely honoured to be inducted into the EuroHockey Hall of Fame. It is very exciting news for not only myself but my family, friends and Irish hockey. While I am still in a transition stage from being an athlete this has given me a huge boost and confidence as I further my career into the business side of sport.  It shows that all the commitment and hard work over the years has paid off, continuing into my next career. I am incredibly proud to be on this list of athletes following legends of the game Santi Frexa, Teun de Nooijer and Natasha Keller. I would like to extend a big thank you to everyone who has helped me through this journey not only in the most recent years but throughout my athletic career".

Irish Hockey Association media release


---

Indian Women make it after 36 years

BY S.THYAGARAJAN

There could have been nothing more precious to hear on hockey on the birth anniversary of the incomparable stick artiste Dhyan Chand than the confirmation of a place for the Indian women in the next Olympics at Rio.

A cornucopia of commendation goes to the gallant girls who made it possible by their dint of hard work and consistency for the last two years.

If anything it is a fitting tribute to their grit and determination to make it to the big league. The challenges, which were many, were confronted with composure to etch a new history for women's hockey after a gap of 35 years.

In terms merit the spot at Rio is far worthier than the one that India secured in 1980 at Moscow Olympics when major teams, especially in hockey, joined the US led boycott. That a team like Zimbabwe won the gold reflected the quality that was available at that time. India finished fourth.

Much water has flowed down the Ganges in these decades with qualification becoming more and more difficult and complex. India has to contend with a handful of Asian powers like South Korea, China and Japan. The striking progress by China however was the shining development in the region with the team even winning the Champions Trophy.

Korea and Japan had a far more professional set up than India where factionalism and dissidence destroyed a phased growth. All the advantages secured out of the gold medal won at the Asian Games in 1982 at Delhi,where the event came on board, were frittered away by the conflicts within the national federation. India lost the gold in the next edition at Seoul and from there it was a struggle to forge ahead.

Never short of talent, especially in the Adivasi segment, women's hockey suffered for want proper guidance and professionalism in administration. Only after the takeover by Hockey India merging both men and women under one umbrella that things began to move in the right direction. The appointment of foreign coaches ensured a sea change and under the supervision of the dedicated Aussie, Neil Hawgood, the Indians won a bronze at the last Asian Games in Incheon. (South Korea). It is a pity that Neil had to make his exit. But the good work by coaches like Tamil Nadu's C.R.Kumar has kept the Indian girls in competitive trim.

Hockey India too deserves the compliments of the fraternity for giving the women excellent exposure to high-level competitions and tours abroad. The Indians earned plaudits for their displays in New Zealand, Japan and Australia, apart from the consistent shows in the continental and World Hockey League.

The efficiency levels of players like Rani Ramphal, Rani, Vandana Kataria, Sarita Lakra and Jaswinder Kaur came up praise from critics. Some names were even shortlisted by the FIH for senior and junior awards.

When India finished fifth at the semi-finals of HWL in Antwerp, the chances of making it to Rio were bright and the current Euro Hockey in London confirmed that spot after Spain went down in the semi-final. There can be no two opinions that this was our women hockey's finest hour.

India joins the nine teams already qualified for Rio 2016 - Korea as Asian Games champions, Argentina as Pan Am Games champions and Great Britain, China, Germany, Netherlands, Australia, New Zealand and the USA through the Hockey World League Semi-Finals.

The remaining two Olympic places (women) will not be finalized until after the Continental Championships, the Oceania Cup and the Africa Cup for Nations, which finish in November this year.

Judged against the background, India's place in the Olympics deserves the spontaneous approbation of one and all.

Fieldhockey.com


---

Indian Women Hockey OQ: Light at the end of tunnel

K Arumugam




It's a moment waiting to happen and it did: Indian women hockey team will be in the Olympics. Nothing can be sweeter info than the FIH' flash news that came yesterday during crucial stage Euro Championship for the followers of much struggling women hockey.

Its befitting the news came on India's Sports Day, which is birth anniversary of legend Dhyan Chand.

Indian women hockey, whose history and heritage is as good as their men's sans Olympic participation, can count among those who count only with Olympic label.

In the past, our women – who are among the first six teams to play the first Olympics --came close to getting qualified for subsequent editions many times, but all turned out to be slip between lip and cup cases.

Only 8 teams allowed in 1984 and 1988, India had no chance to be at top

Indian government refused to send women team to 1991 Olympic Qualifier and the 1992 edition was thus missed out without even trying.

1996 was also similar case.

Asia Cup winning would have given the girls direct entry for the 2000 number but the girls lost the final to Korea in the golden goal.

India did not qualify even for the Olympic Qualifier for the Athens edition due to faulty calendar and wrong choice of tournaments; though the field has since been enlarged to 12.

In 2008 when a new qualification format was introduced, India could only finish third at Kazan OQ when the outright winning was the requirement.

India just needed to push South Africa in the Delhi Qualifier three years ago, but could not keep the pace of scoring high, and lost out, not even in the final.

All these past were now only for academics as the team led by Shahbad's Ritu Rani did what three generation of women hockey players could not.

They will soon be Olympians.

Now, another new format came into being with the introduction of Hockey World League; and India which won Round 2 at Delhi qualified for the HWL Semifinals held at Antwerp and finished fifth, beating Japan in the crucial tie.

It's a rare occasion now for both and men and women Indian hockey, which did not figure in any category in the 2008 Olympics, to be in the Rio.

Sports Authority of India, which spends a fortune on them, Indian Railways which keeps the wheels of women hockey move on and the Hockey India, which among other things, held R2 in Delhi which enabled India to move R3 at Antwerp owe every bit of appreciation for the feat.

Indian women will now get formidable rivals to practice, play and improve. Need not travel to New Zealand to get exposure.

Hope SAI and HI go all out to prepare the team for the Rio. Only a good performance there can give respectability to Indian girls; mere participation, however historic it is, won't cut much ice with the new generation.

Stick2Hockey.com


---

Balbir Singh Sr, Pargat Singh congratulate women hockey team

CHANDIGARH: Indian hockey legend Balbir Singh Sr and another former captain Pargat Singh congratulated women's team, who will return to the Olympics after a long gap of 36 years, during next year's Rio Games.

"It is great news that our women hockey team has directly qualified for Rio Olympics. My heartiest congratulations to the entire squad. My message for the young players is simple and straight forward- Live your dream! work hard, prepare well and believe in yourself. Aim for nothing less than gold," the 91-year-old triple Olympic gold medallist said.

Balbir Sr said that his best wishes are that both our teams boys and girls, bring home double Olympic Gold "and give me a chance to celebrate your victory with all of India".

"At 91, it will be my dream come true during my life time," said Balbir Sr, who in 2012 London Olympics, was honoured as being the only Indian amongst 16 chosen Olympic legends across of modern Olympic history.

His world record for most goals scored by an individual in the men's hockey final of Olympics, still remains unbeaten. Balbir Sr scored five goals in India's 6-1 victory over the Netherlands in the gold medal game of the 1952 Games.

Commenting on women team qualifying for Olympics, Pargat Singh said,"I am delighted that after such long time, the girls have qualified. I congratulate the team and I am sure it will serve as morale booster for our women's hockey."

The hockey player-turned politician further said that qualifying for the sporting event will motivate the team to do even better in future.

"Definitely, it will motivate the whole team. The development also augurs well for Indian hockey in general including the men's hockey. As far as the women's team is concerned, it will help them overcome the mental block that they were are not qualifying earlier. Now, they can set their sight for the medal," Pargat Singh said.

Indian women's hockey team last featured in an Olympics in the 1980 Moscow Games, where they finished at a respectable fourth position.

The Times of India


---

Women hockey team's Olympics entry tribute to Dhyan Chand: MP CM

BHOPAL: Delighted over the Indian women's hockey team qualifying for the Olympics after a gap of 36 years, Madhya Pradesh chief minister Shivraj Singh Chouhan on Saturday termed it as true tribute to hockey wizard Major Dhyan Chand.

"Best wishes to India's women hockey team as they bag historic Olympic berth on National Sports Day. A true tribute to Major Dhyan Chand," Chouhan tweeted.

Chouhan, who is promoting hockey in its nursery, Bhopal also said in another tweet "Sports has the power to unite the world and bridge divides, remembering Major Dhyan Chand on National Sports Day."

The Indian women's hockey team will return to the Olympics after a long gap of 36 years as it qualified on Saturday for next year's Rio Games, courtesy England making it to the final of the ongoing EuroHockey Championships in London.

India took the quota place on the basis of its fifth-place finish in the women's Hockey World League Semifinals in Antwerp, Belgium last month.

International Hockey Federation (FIH) confirmed that Indian women's team has qualified for the Rio Games.

The Times of India


---

Women's hockey team end Olympics wait

India were on the brink of qualifying after they finished fifth in Hockey World League Semi-Finals in July.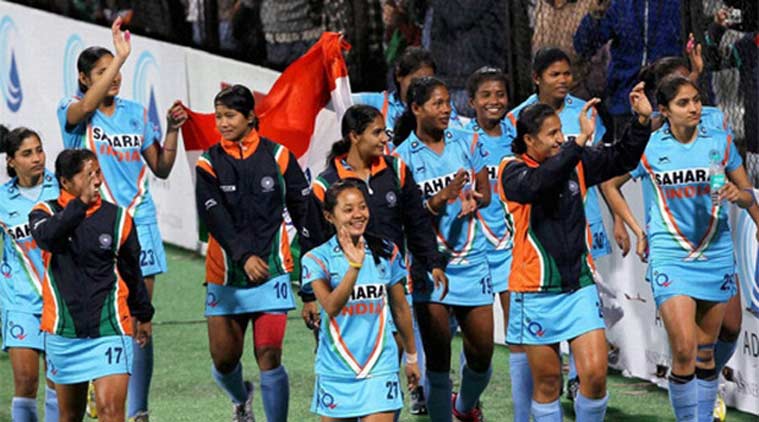 This will be Indian eves' only second Olympic appearance after their maiden participation in the event way back in 1980 where they ensured a fourth-place finish. (Source: PTI)

Thirty-six years after they last competed, the Indian women's hockey team will return to the Olympics next year after their qualification was confirmed by the International Hockey Federation (FIH) on Saturday.

The fifth-place finish at the Hockey World League semi-finals earlier in July this year was enough for India to clinch an Olympic berth as a place opened up after the Netherlands and England reached the final of the EuroHockey Championships in London.

India's only previous appearance for the Games was in 1980, when they finished fourth. The Indian women's team, which had been waiting for the confirmation since the World League semifinal concluded, required two of the already-qualified teams to reach the final of the European Championships in order to confirm their place.

England's semifinal victory over Spain on Friday, coming after the Netherlands' win over Germany in the other semifinal of the European Championships, freed one quota place as both the finalists have already qualified for the Olympics.

"India qualified after England defeated Spain in the semi-finals of the EuroHockey Championships in London, which ensured that the only teams who can now win the event have already qualified for Rio through the Hockey World League Semi-Finals — Netherlands and England (as Great Britain)," the FIH said on its website. "The winner of the EuroHockey Championships will qualify for the 2016 Olympics as European continental champions, opening up a further qualification spot which India secure as the team who ranked highest at the Hockey World League Semi-Finals not already qualified," it added.



Rani played a crucial role in India making the Olympics after 36 years. (Source: Express Photo)

A memorable achievement

India women join the nine teams already qualified for the Rio Games — Korea as Asian Games champions, USA as Pan Am Games champions and Great Britain, China, Germany, Netherlands, Argentina, Australia, New Zealand and the USA through the Hockey World League semifinals.

The remaining two Olympic places will not be finalised until after the last two continental championships, the Oceania Cup and the Africa Cup of Nations, which conclude in November this year.

Hockey India president Narinder Batra said the achievement is the most memorable in recent times. "We have been waiting for this for the last 36 years and this achievement is the sweetest and the most memorable among all our previous feats in recent times. I congratulate all the players and coaching staff who made this dream real and this achievement also shows their commitment toward their responsibilities. I am sure the girls will make us proud at the Olympics," Batra said a statement.

Indian Express


---

Need to have a plan now: Women's hockey team coach

Ritu Sejwal

NEW DELHI: "We are not surprised," said Mathias Ahrens - who has been in charge of the women's hockey team since April - after his girls earned the ticket to Rio Olympics. "I was really looking forward to this day. We had worked hard, especially in our match against Japan in Antwerp," coach Ahrens told TOI on Saturday.

"Now it will be easy to get more support from the sports ministry. We must put together a plan to ensure we perform well in Rio," he said. Mathias admitted that there will be high expectations but the team will set realistic targets.

Skipper Ritu Rani echoed Mathias' views and said qualification has reduced the pressure. "It's a big achievement for us to actually qualify. We haven't celebrated as yet but there will be one. It takes away the pressure from us," she said.

Goalkeeper PR Sreejesh, who was bestowed the Arjuna Award on Saturday, congratulated the women's team and said they deserved it.

The Times of India
 
---

Southern Gauteng beat WP in SA Women's IPT hockey final

JONATHAN COOK in Potchefstroom




Southern Gauteng won the final of the SA Women's Interprovincial Hockey Tournament 5-2 against Western Province after leading 3-0 at half-time at North-West University in Potchefstroom Saturday.

In the 12th minute Toni Marks coolly slotted the opening goal, the Southerns striker finding space and time to pick her spot (1-0).

Southerns' dominance continued in the second quarter and in the 17th minute Taryn Mallett showed composure to make it 2-0.

Four minutes from half-time (26th) Lisa Hawker shovelled the ball in to put Southerns 3-0 up. WP disputed the decision but the ruling stood.

Turning around three goals down, WP had a mountain to climb. The first half had seen no lack of effort or skill but the disciplined Southerns defence was unyielding. Western Province's Taryn Bright, who had to fly back to her club in Australia after the semi-finals, was sorely missed.

WP had two penalty corner opportunities early in the second half before a PC came and went for Southerns, while in the 34th minute Candice Manuel had a delicate lob at goal brilliantly pulled away from danger by Southerns defender Carmen Smith.

To compound the woes of the Capetonians, Southerns immediately scored at the other end through captain Bernie Coston for a 4-0 scoreline after 35 minutes.

Manuel got her reward in the 37th with a stunning strike to pull one back for WP (4-1).

Going into the fourth and final quarter of 15 minutes WP had a lot to do but Southerns went 5-1 up soon after the re-start (47th minute) when it was Coston once again who breached the goalline.

Southerns brought on number two keeper Chloe Keeping for Sanani Mangisa with eight minutes left. WP continued to strive mightily in a bid to narrow the margin and with five minutes left (55th) striker Tarryn Glasby scored a superb goal to make it 5-2.

Southerns had three more chances at the end but the final was in the bag anyway and the score remained 5-2 to the Johannesburg girls.

The playoff for third place and the bronze medal also saw plenty of thrills and spills, leading into a sudden-death penalty shootout. Last year's champions Northern Blues eventually won 4-3 in the shootout against Free State after the scores were 1-1 at full-time.

Blues opened the scoring in regulation time via a Jacinta Jubb field goal in the fifth minute. Play swung from goalmouth to goalmouth with drama aplenty, and it was Free State's Shevaun Botha who stepped up to send the match into the shootout when she netted the equaliser for 1-1 in the 45th minute.

The scores were deadlocked 3-3 after the regulation five penalty shootout opportunities before striker Dirkie Chamberlain was adjudged to have been fouled in Blues' sudden-death shootout attempt, and the Blues player put away the resulting penalty stroke for a 4-3 lead.

Tanya Britz stepped up for Free State's attempt to equalise in sudden death and she did well to crack the ball into the goals after her initial effort was blocked, but the ball failed to cross the line before the eight-second window was up, and after consultation the umpires ruled "no goal" and Blues were assured of the bronze medal.

The clash for fifth and sixth places saw North West and Spar KZN Raiders locked 2-2 at full-time after the teams were 1-1 at the break, and North West won an agonising penalty shootout 3-2 on sudden death.

Sinalo Jafta opened the scoring for North West in the first minute and Tegan Fourie scored the equaliser in the 21st. Raiders appeared to have the game in hand when Cardeux Nel put them 2-1 up with five minutes left (55th) but Steph Baxter nailed down the equaliser one minute from time (59th).

And it was Baxter who rescued North West with the penalty shootout equaliser for 2-2 before netting the sudden-death winner moments later, for the final shootout scoreline to read 3-2 to the host province.

South Gauteng Wits accounted for Border 3-0 in the playoff for seventh and eighth positions after leading 1-0 at half-time through a Jessica Britz field goal in the 28th minute.

Wits added two more goals after the changeover, Cheneal Raubenheimer (35th minute) and Luche Klaasen (52nd) getting on the scoresheet.

After the final presentation, Nicole Walraven (Free State) was named SA U21 Players' Player of the Year and Lisa Deetlefs (Southern Gauteng) the senior SA Players' Player of the Year.

Anelle van Deventer (North West) was named Top IPT Goalkeeper, Top IPT Goalscorer was Cardeux Nel (Spar KZN Raiders), the Greg Beling Memorial Trophy for Junior Player of IPT was awarded to Carmen Smith (Southern Gauteng), and Southern Gauteng star Shelley Russell was named the Top Player of IPT 2015.

The second-tier B Section, a nine-team tournament played in a round-robin format with no semi-finals or final was a close race for first place between Namibia and WP Peninsula, and it was Peninsula who emerged victorious.

A SECTION CLASSIFICATION RESULTS
(7th/8th placings) SG Wits 3 Border 0; (5th/6th) North West 2 Spar KZN Raiders 2 (NW win sudden-death penalty shootout 3-2); (3rd/4th) Northern Blues 1 Free State 1 (Blues win sudden-death penalty shootout 4-3); (Final) Southern Gauteng 5 WP 2.
* No B Section results were available at the time of this release.

SA Hockey Association media release


---

Ford NHL off to flying start in Round 1



Photo: www.photosport.co.nz

The opening round of the Ford National Hockey League has seen some exciting results at various venues around the country.

On the women's side of the draw, the Central Mysticks were buoyed by the return of Black Sticks legends Kayla Whitelock and Emily Naylor as they edged Capital Women 3-2. Caryn Paewai scored a double while Casey-Mae Waddell also found the back of the net.

The Canterbury Cats had an emphatic 4-0 win over the Southern Storm with Charlotte Symes, Phoebe Steele and Bridget Kiddle all scoring on debut to help the Cats take maximum points.

Defending champions Auckland Women were pushed hard by Midlands in Pukekohe, but were guided to a 3-2 result thanks to Julia King, Charlotte Harrison and Monique Wilson.

On the North Shore, the North Harbour Women managed to edge a spirited Northland Women's side 2-1.

The Men's Round 1 games were highlighted by the Capital Cobras, who came away with four points following a 5-0 rout over the Central Mavericks. Black Sticks striker Stephen Jenness scored twice, with other goals from Nick Finalyson, Harry Miskimmin and Benedict van Woerkom.

Defending champions Auckland Men scratched through with a 1-0 result over Midlands thanks to the game's only goal from Marcus Child.

The Canterbury Cavaliers and Southern Dogs played out a thrilling 2-2 draw in regulation time, with the Cavaliers managing to secure a 5-4 win in the shoot-out.

North Harbour rounded out the day with a comfortable 6-3 victory over Northland.

With the opening week now wrapped up, Round 2 will be played on Sunday 6 September in various locations around the country before all teams converge on the Whangarei ITM Hockey Centre for finals week from 12-20 September.

The Ford National Hockey League is proudly supported by the Whangarei District Council and Trillian Trust.

MEN'S ROUND 1 RESULTS

North Harbour vs Northland, North Harbour
North Harbour won 6-3
Midlands vs Auckland, Pukekohe
Auckland won 1-0
Central Mavericks vs Capital Cobras, Palmerston North
Capital won 5-0
Canterbury Cavaliers vs Southern Dogs, Christchurch
Canterbury won shoot-out 5-4 (2-2 draw at fulltime)

WOMEN'S ROUND 1 RESULTS

North Harbour vs Northland, North Harbour
North Harbour won 2-1
Midlands vs Auckland, Pukekohe
Auckland won 3-2
Central Mysticks vs Capital, Palmerston North
Central won 3-2
Canterbury Cats vs Southern Storm, Christchurch
Canterbury won 4-0

Hockey New Zealand Media release


---

Alarm bells for Project 2016

By Jugjet Singh

UNIVERSITI Kuala Lumpur (UniKL) have yet to win a single point in the Premier Division of the Malaysia Hockey League (MHL), and the alarm bells have started to ring loud and clear for coach Arul Selvaraj.

For, Arul who is also the Project 2016 coach, has 12 national juniors under him in UniKL and time the Junior Asia Cup is just around the corner.

Kuantan will host the Junior World Cup Qualifier on Nov 14-22 and Malaysia need to make the semi-finals to play in India in 2016.

Arul admitted that his players still lack confidence in themselves, and he is being helped by Technical Director Terry Walsh to chart their path towards Kuantan,

"My players (12 Project boys) still lack confidence in themselves and we do have a psychologist to take care of that department, but we have yet to overcome this problem," said Arul after UniKL lost 4-1 to Kuala Lumpur Hockey Club on Friday.

UniKL held KLHC 1-1 until the fourth quarter, but they crumbled and let in three more goals: "We lost because the players did not believe in themselves," said Arul.

The Projec 2016 boys will face the challenge of their lives when they play in the Sultan of Johor Cup (SOJC) on Oct 11-18. But Arul is not looking for results from the tournament which will feature some of the best juniors in the world.

Defending champions India, Australia, Argentina, Britain and Pakistan have confirmed for the SOJC.

"I will not be looking for results in the SOJC as during that period, we will be looking at moving their stamina to a higher level. I am being helped by Walsh to chart their plan towards the Junior Asia Cup, and I believe we will be ready for the Kuantan challenge," said Arul.

UniKL will play Tenaga Sunday, and it will be an interesting match for Arul, as Tenaga have six 2016 Project players.

In the First Round, Tenaga beat UniKL 3-2, and then, Arul had said that his six players in Tenaga played much better than the 12 in UniKL.

RESULT: Division One: Group B: PKS-KPM x UniKL Young Guns x.

SUNDAY: Premier Division -- Sapura v KLHC (6pm, Pitch II), Terengganu v Maybank (Batu Buruk, 6pm), UniKL v Tenaga (8pm, Pitch II).

Division One: Group A: MSP-YPSSP v BJSS (Kuantan, 5pm), MBI v MSNT-THT (Azlan Shah, 5pm); Group B: UiTM v UniKL Young Guns (5pm, Pitch I), Nur Insafi v SSTMI (Sg Petani, 5pm), ATM Airod v Politeknik (Tun Razak, 5pm).

Note: National Stadium in Bukit Jalil unless stated.

Jugjet's World of Field Hockey


---

KLHC coach believes MHL title will be decided on Sunday

By S. Ramaguru



KLHC player Havinder Singh goes for the ball with a Maybank player in their MHL match last week. - DARRAN TAN/ The STAR

KUALA LUMPUR: An optimistic KLHC coach K. Dharmaraj believes the Malaysia Hockey League (MHL) title chase will be decided on Sunday.

As it stands, the tussle is down to two teams, two matches and two decisive match days to decide the Premier Division champions.

Kuala Lumpur Hockey Club (KLHC) are the leaders with 22 points while defending champions Terengganu are second just a point behind after eight matches played.

The two title contenders will know after the results of Sunday's ties whether their clash on the final day of the league on Sept 4 will be of any significance.

"Our 4-1 win over UniKL on Friday has put the pressure on Terengganu. They have to win or draw the match with Maybank," said a confident Dharmaraj.

One thing is for sure – neither can afford to lose their penultimate league match on Sunday. KLHC take on third placed Sapura while Terengganu are down to play Maybank at home.

If leaders KLHC win and Terengganu lose, the title chase is over for the latter. But if KLHC lose and Terengganu beat Maybank, the advantage is with the east coast side as they can lift the title with just a draw on their home ground on the last day of the league.

And if both win or lose on Sunday, then KLHC can afford a draw with Terengganu on Sept 4 to lift the league title.

Last year, on the final day of the league, KLHC relinquished their title after going down to Terengganu.

"I do not want to see it happening again. But we know Terengganu have a team good enough to win the title.

"Basically it is in our hands to regain the title," he added.

To date, Terengganu have scored 27 goals against 12 conceded while KLHC have scored 24 and conceded 10. But Dharmaraj feels the title will be decided by an outright winner.

"I do not see the title being decided by goal difference. I believe it will be decided by points.

"Getting a point or three against Sapura will be crucial for us. It will give us the edge when we play Terengganu in our last tie."

The Star of Malaysia


---

Namdhari Hockey XI falter against Chandigarh Academy in final

Local side register 5-4 win in penalty shootout



Players of the Chandigarh Hockey Academy in a jubilant mood after winning the ONGC SN Vohra Memorial Sub-Junior Hockey Tournament at the Phase IX hockey stadium in Mohali on Saturday. Tribune photo: Vicky Gharu

Chandigarh: The Chandigarh Hockey Academy proved their mettle against Namdhari Hockey XI and bagged the 14th ONGC SN Vohra Memorial Sub-Junior Hockey Tournament. The match was played at the international hockey stadium, Mohali, today.

The title winners registered an exciting 5-4 win after playing a 1-1 draw in 70 minutes of the play. In an exciting match, both teams played a goalless first half. After the lemon break, Namdhari XI drew the first blood through a penalty corner strike. Abhijeet Singh scored the goal.

The Chandigarh side levelled the score through a goal by Gaurav Shahi. After the 1-1 draw in stipulated  70 minutes,  the match's fate  was decided in a penalty shootout. For the winning side, Pardeep Singh, Angadbir Singh, Gaurav Shahi and Sumit scored a goal each while for Namdhari XI, Abhijeet Singh, Karam Singh and Jaskaran  Singh were the contributors.  Abhijeet Singh and Maninder Singh failed to convert their chances into goals for Namdhari XI.  The Chandigarh Hockey Academy was awarded a case prize of Rs 45,000 while the runners-up were given a cash prize of Rs 35,000. 

The Tribune
 
---

WA Thundersticks Team Selected

18 athlete Thundersticks team selected for the 2015 Australian Hockey League




The WA Thundersticks have announced their final 18 with a youthful look about it in what is being touted as the start of the next generation.

Boyanup youngsters 16 year old Coby Green and 17 year old Jake Harvie will make their debuts on the back of impressive performances in this year's Melville Toyota League and in the recent Balcatta Storage All Stars Series. National U21 silver medallists Simon Benetti, Tim Geers and Frazer Gerrard, along with young guns Matthew Lim and Frank Main (who have recently returned from a playing stint in Belgium) have also been selected.

In all, the team has eight Thundersticks debutants.

After the recent retirements of a number of senior athletes, former Kookaburra and Olympic Gold medallist Grant Schubert also announced his retirement to the team after failing to get through the All Stars match on Wednesday night.

"We have some exciting young talent coming through our system and this year is the first step in bringing our next generation through. We have had a big focus on the new athletes coming into the team understanding the expectations around playing for the Thundersticks and a number of young guys have shown strong signs that they can do their jobs at this level at the standard we expect.

"The next two years are really important for this team's future, we know we have lots to do and lots to learn but it is an exciting time for men's hockey in Western Australia." Head Coach - Jason Butcher

The 2015 Australian Hockey League will take place in Darwin, NT from 25th September – 2 October.

Hockey WA congratulates everyone on their selections and thanks all of the athletes involved for their investment in the program.

WA Thundersticks – 18 athlete team
Kiel Brown (Captain)
Chris Bausor (VC)
Aran Zalewski (VC)
James Richardson (GK)
Tyler Lovell (GK)
Ian Burcher
Fergus Kavanagh
Frazer Gerrard
Jake Harvie
Matthew Lim
Coby Green
Alistair Park
Tim Bates
Simon Benetti
Tim Geers
Trent Mitton
Tom Wickham
Frank Main

Train ons
Alex Wenn
Ross Hall
Marshall Roberts
Andre Di Filippo
Tristan Clemons*

* Denotes playing for Tasmania as part of his National Program development plan.

Hockey Australia media release