All the news for Sunday 23 August 2015

Germany and Ireland get off to winning starts in Pool B




MEN'S POOL B

Ireland 4, France 3

Ireland opened their Unibet EuroHockey Championship account with a hard fought 4-3 win against France on Saturday morning at the Lee Valley Tennis and Hockey Centre in Queen Elizabeth Olympic Park in London.

The game opened with a solo effort from Ireland's Kyle Good after only one minute of play. However, with four minutes of the first half remaining, Frenchman Jean-Laurent Keiffer turned the game on its head when he scored the equaliser after 27 minutes. A sharply hit ball into the circle was turned into the goal by Keiffer, wrong-footing Ireland goalkeeper David Harte.

France then took the lead as Gaspard Baumgarten's strike went flying into the Irish goal after 33 minutes. Ireland then drew level again as Peter Caruth pounced on the rebound from his original shot after 36 minutes.

Ireland then required goal-line technology to confirm their third goal as they took the lead through Jonathan Bruton after 45 minutes. Ireland then went further ahead through a penalty corner strike, their first of the game, thanks to Shane O'Donoghue after 47 minutes.

A third goal for France, scored by Simon Brissac Martin made the last few minutes nervous for Ireland as France pushed for an equaliser which never came.

Following their win, Ireland goalkeeper David Harte said: "Scoring in the first 20 seconds was almost to our detriment. We were glad to get to half-time and regroup. the problem was that our off-ball movement slipped and we gave France the chance to get into the game and, as we saw in the Hockey World League Semi-Final, they are a dangerous side."

For more information on this game, visit the match page by clicking here

Germany 4, Belgium 0

Reigning champions Germany got off to the perfect start as they defeated Belgium 4-0 in their opening game of Pool B on Saturday afternoon.

Germany, ranked number two in the FIH world rankings, did however find it tough going against world number four ranked Belgium.

Their opponents enjoyed much of the attacking possession early on and thought they had went ahead after a pass by Belgium's Cedric Charlier found Tom Boon unmarked in the circle who then slotted home, only for a video referral to rule that the striker had not touched the ball in the circle.

It was however Germany who took advantage after 42 minutes when Niklas Wellen scored with a shot that flew over the head of Belgium goalkeeper Jeremy Gucassoff.

This signalled a period of German domination which resulted in their second goal, as Constantin Staib got on the end of a ball fired in by Linus Butt to deflect the ball past the Belgium goalkeeper after 48 minutes.

Wellen got his second and Germany's third when he scored again in the 51st minute before the game was put out of Belgium's reach when Florian Fuchs scored after a quick German interchange of passes after 58 minutes.

The result was Germany's biggest win over Belgium since 2007. After the game, Germany's Linus Butt said: "Belgium always put us under high pressure. They press well and we found it very hard to both stop them scoring and making any chances ourselves. The turning point for us came after Tom Boon's goal was disallowed, and John-John Dohmen received a yellow card. That gave us the impetus and we built from there."

For more information on this game, visit the match page by clicking here

FIH site


---

Netherlands score 9 as Germany and England also pick up wins




WOMEN'S POOL A

Belgium 0, Spain 0

The opening game of the women's Unibet EuroHockey Championship 2015, being held at Lee Valley hockey and Tennis Centre in Queen Elizabeth Olympic Park in London, saw Belgium and Spain end 0-0.

Two ranking points separate the two teams with Belgium sitting 12th in the FIH world rankings and Spain two places lower on 14. The similarity in playing style meant both teams really contained each other and stifled any creativity.

For Belgium defender Anouk Raes, it was a particularly disappointing start to the competition as she picked up two yellow cards during the match meaning she will miss their next pool game against Poland.

Following the game, Spanish captain Rocio Ybarra said: "I am so disappointed that we didn't bring our best game today. We found that tough, Belgium play a very similar game to us so we tended to balance each other out. For example, when we were attacking, they pressed high; when they attacked we pressed well. We just couldn't find a way in."

Belgium's Lieselotte van Lindt agreed with her Spanish opponent. She said: "That was really tough. We knew that they have improved a lot since the last European Cup and it was really a must win game for us, but it was so close and at the end we were with 10 so it was too difficult to win the game."

For more information on this game, visit the match page by clicking here

Netherlands 9, Poland 0

Reigning world champions and current world number one ranked Netherlands opened their EuroHockey Championship campaign with a comprehensive 9-0 win against Poland which saw Ellen Hoog celebrate her 200th cap with a hat trick.

Kelly Jonker opened the scoring for Netherlands with a simple tap-in after after 13 minutes. Seconds later, Eva de Goede's shot left 'keeper Marta Kucharska without a hope of making a save to make it 2-0.

The third goal was scored by Carlien Dirkse van den Heuvel after 20 minutes as the energetic midfielder picked up a pass from Naomi van As, before slotting the ball home.

A steal by Valerie Magis just in front of the Polish circle released the ball to Ellen Hoog who made the most of the opportunity as she scored the first of her hat-trick after 25 minutes of play.

Seconds before half time, Ginelle Zerbo found Hoog in space at the top of the circle and the striker had no hesitation in shooting the ball in the top of the net.

The second half continued much the same as Margot van Geffen fed the ball into Jonker: the striker scored her second, this time a beautifully taken deflection.

Captain Maartje Paumen scored a trade-mark penalty corner after 40 minutes to make it 7-0, but even then the Netherlands were not finished. Hoog scored again after 53 minutes, then Marloes Keetels a minute later.

After the game, Netherlands Eva de Goede said: "That was the way we wanted to play. Sometimes we pass, pass, pass; we over think it, this was just good, attacking hockey.

Following their loss, Poland's Natalia Wisniewska said: "We knew they were going to be tough, but we have learnt some valuable lessons."

For more information on this game, visit the match page by clicking here

Pool B

England 2, Scotland 1

The game between England and Scotland went the way of the host nation in the opening game of women's Pool B.

In the match between world number seven ranked England and 17th ranked Scotland, it was the team from north of the border who took the first advantage.

The Scottish team's efforts in the early minutes were repaid when they won the first penalty corner of the game within two minutes of the game starting. Kareena Marshall made the most of the opportunity when she deflected Sarah Robertson's shot into the goal past Maddie Hinch.

England's first penalty corner came when Aileen Davis was judged to have fouled Alex Danson. The subsequent penalty corner was saved, but the host nation were quickly back on the attack. Kate Richardson-Walsh made no mistake as she fired home from their second penalty corner after 10 minutes of play.

The second quarter saw England move into the ascendency before they took the lead when Lily Owsley drove through the Scotland defence and found Helen Richardson-Walsh with her pass. The midfielder found the goal with a precise shot that left Amy Gibson stranded with 20 minutes on the clock.

Following their win, England coach Danny Kerry said: "The challenge is for the players to expect and cope with expectation. If we want to be up there with the best, we have to learn to cope with pressure. We looked really sluggish, although there were brief periods of sparkle. I think the players were tense, largely because of the scoreline and we were way off our best."

For more information on this game, visit the match page by clicking here

Germany 4, Italy

Reigning European champions Germany began their title defence with a 4-0 win against Italy in the final game of Saturday's play at the EuroHockey Championships 2015.

Germany's Lisa Altenburg got the first goal with a well-taken strike just two minutes into the game. The lead was doubled after 22 minutes when Hannah Kruger fired a penalty stroke past the Italian goalkeeper Martina Chirico.

The final quarter saw Germany extend their lead in the 46th minute through Lydia Haase; the forward was able to pounce on a loose ball after the initial save by Chirico was not cleared. The final goal was scored by Marie Mavers who connected with a cross to make it 4-0.

For more information on this game, visit the match page by clicking here

FIH site


---

England see off stubborn Scotland in tournament opener



Kate Richardson Walsh celebrates Euro's goal

Goals from Kate Richardson-Walsh and Helen Richardson-Walsh gave England a hard fought 2-1 win over Scotland in front of a packed house at the Lee Valley Hockey and Tennis Centre. Scotland had opened the scoring through a beautifully worked penalty corner from Kareena Marshall but England hit back with two goals before half time to come out on top in a typically tenacious encounter between the two traditional rivals.

Scotland started brightly and took the lead on three minutes from a superb set piece. Nikki Kidd played the ball to Sarah Robertson who fired it across for Kareena Marshall to divert the ball into the net.

England hit back and Kate Richardson-Walsh's raking pass found Alex Danson inside the circle but her backhand strike went just wide. With nine minutes gone England won their first penalty corner. The pass was slapped at goal by Laura Unsworth but Amy Gibson made the save low to her right. The hosts forced another penalty corner with 5 minutes left in the quarter and this time Kate Richardson-Walsh's shot found a way through Gibson's legs and levelled the scores.

England had another penalty corner chance at the start of the second quarter but Gibson excelled again and made a good save from Giselle Ansley's shot. However, ten minutes before the break England took the lead. A splendid run from Lily Owsley left the defence trailing in her wake and she teed up Helen Richardson-Walsh who supplied a calm finish. Scotland rallied and Vikki Bunce went close, but her rocket shot was well saved by the body of Maddie Hinch

In the third quarter Sophie Bray almost scored an incredible individual goal. Her lovely run from half way put her clear of three defenders but Gibson, not for the first time, did well to make the block. The Scotland goalkeeper was at it again moments later, saving brilliantly from Sam Quek to keep Gordon Shepherd's side in the contest going into the last 15 minutes.

The final quarter was a tense one with both sides throwing bodies forwards in search of the crucial next goal. Owsley broke free inside the circle and her cross shot was touched just wide by Danson at full stretch but in a frantic final quarter further chances proved hard to come by. Gordon Shepherd's side withdrew their goalkeeper as a last throw of the dice but England saw the game out for the win.

England's next match is against Italy on Monday 24 August at 19:30 live on the BBC Red Button and the BBC Sport Website

Quotes – Georgie Twigg

"It's always a feisty game with Scotland. The last time we played them was at the Commonwealth Games in Glasgow and it was a similar type of match. We ground it out, and that's what's important. We'll take the points and move on to the next game.

They didn't have too many chances, which shows we were quite solid defensively but we need to work on being more patient and converting our chances when we get them. We have plenty of time to prepare for Italy who will be a similarly tough side to Scotland but the confidence we get from today should stand us in good stead."

England 2 (2)
Kate Richardson-Walsh, 10 (PC)
Helen Richardson-Walsh, 20 (FG)

Scotland 1 (1)
Kareena Marshall, 3 (PC)

England Hockey Board Media release


---

Richardson-Walsh's give England victory

By Mike Haymonds

GOALS from Kate and Helen Richardson Walsh gave England a 2-1 victory over Scotland in their opening game at the Unibet EuroHockey Championship in the Olympic Park.

It was England's 101st win in 114 games between the two with Scotland having won only six. It was also the fourth England 2-1 success in the last four meetings.

England had to come back from conceding a goal in the third minute by scoring twice by half-time. Although they had the majority of possession they struggled to create chances against a resolute Scottish defence and battling opponents.

Kareena Marshall gave Scotland an early lead from a cleverly worked penalty corner but Kate Richardson-Walsh equalised on 10 minutes, drilling home her side's second corner.

 Helen Richardson-Walsh scored what proved to be the winner after 20 minutes after a splendid run by Lily Owsley set up the chance.

Thanks largely to both goalkeepers – England's Maddie Hinch and Scotland's Amy Gibson – there was no further score and, when Gibson was withdrawn with three minutes to go, England held on for victory.

England's Georgie Twigg said: "It's always a feisty game with Scotland. We ground it out and that's what's important. We'll take the points and move on to the next game.

"They didn't have too many chances, which shows we were quite solid defensively, but we need to work on being more patient and converting our chances when we get them.

"We have plenty of time to prepare for Italy who will be a similarly tough side to Scotland but the confidence we get from today should stand us in good stead."

Daily Express


---

Hard luck story as Scotland lose opening EuroHockey 2015 match against England



Scotland's Kareena Marshall is delighted with the opening goal. Photo Credit; Ady Kerry

It was a case of history repeating itself as Scotland Senior Women were once again narrowly defeated 2-1 by hosts England in the opening Pool B match of the EuroHockey Nations Championship in London this evening.

The Scots had powered into an early third minute lead when Kareena Marshall finished off a brilliant Scottish penalty corner set-play. However, first half goals from Kate and Helen Richardson-Walsh ensured that the home side claimed the maximum three points.

The stats will say that England dominated possession but Scotland more than matched their opponents on the night, registering an equal number of shots on target and earning only one less penalty corner opportunity.

Similar efforts in their remaining matches will hopefully bring better fortune.

"Obviously disappointed with the result but not with the performance", said Scotland Senior Women Head Coach Gordon Shepherd following the match.

"I can't fault the girls' commitment to try and win that game and sometimes you have to stand back and take reflection on how close we came to beating a team that has qualified for the Olympics and just won seven out of seven in World League 3. They are the in-form team in the world. It is a credit to every single player in the squad that we're able to compete with teams like this."

"We planned that first corner, we knew we'd score from it. The end of the second period and start of the third quarter caused us concern in terms of how we were dealing with how they were playing but the rest of the game was a much more even affair."

"It won't be a problem to pick ourselves up from this. We knew coming into this tournament that beating England and Germany would be difficult. The third game [against Italy] was our target game. The girls played well, they competed well. There will be no problem getting up for the game against Germany on Monday."

Scotland started the encounter in the best possible fashion with the opening goal in the third minute.

A penalty corner set-play was expertly executed when Nikki Kidd returned the ball to injector Sarah Robertson to fire a dangerous cross across the face of goal where Kareena Marshall dived in at the near post to divert the ball past England goalkeeper Maddie Hinch.



Sarah Roberston sends over the cross that led to Scotland's goal. Photo Credit: Ady Kerry

England responded in typically effusive fashion, forward Alex Danson producing the home side's first attempt on goal with a reverse stick attempt in the seventh minute, while the defensive combination of Scotland captain Leigh Fawcett and Ali Howie prevented Lily Owsley from picking out an attacking colleague in the scoring circle after she found a dangerous position to cross from the baseline.

Shortly after, Scotland goalkeeper Amy Gibson was called into action to block a penalty corner attempt as England began to assert their authority on the proceedings.

The home support were not left waiting for a goal for much longer following a penalty corner award in the 10th minute. Captain Kate Richardson-Walsh underlined her prowess from the set-play, dispatching a fierce low drive through Gibson's legs to net the equalising goal.

With England searching for a second goal, Gibson came to Scotland's rescue again at the start of second quarter, diving low to her right to save Owsley's penalty corner.

But the shot-stopper could do nothing to prevent the Scots going behind in the 20th minute when Owsley mesmerised the away side's defence with a mazy run to reach the baseline and cut the ball back for Helen Richardson-Walsh to score from a couple of yards out.

On the occasion of her 200th international match, forward Vikki Bunce almost had cause for further celebration when she threatened to find an equaliser but Hinch was alert to repel attempts on goal from the Dundee Wanderers' star shortly before half-time.

Helen Richardson-Walsh came close to a third English goal right on half-time but the ball narrowly missed the right-hand upright to the relief of the Scots.



Scotland Goalkeeper Amy Gibson repels another England attack. Photo Credit: Ady Kerry

A goalless but fiery third period featured efforts from England forward Sophie Bray, before Nikki Lloyd was muscled out by two English defenders as she tried to execute her shot on goal. Gibson was on hand to beat Sam Quek's penalty corner shot to safety shortly before the end of the quarter.

As the match entered its final stages, Danson almost connected with Owsley's shot on goal but chances in front of goal were limited as legs tired towards the end of an intense battle.

With the final hooter sounding another narrow loss for the Scots, attention now turns to the second pool match against Germany on Monday.

Commenting on Vikki Bunce's 200th international cap, coach Shepherd said, "An amazing player who is able to produce brilliant performances. Anyone who reaches their 200th international cap, and not counting her indoor and Great Britain caps, it is an amazing achievement and without doubt one of the best players who has ever pulled on the jersey for Scotland."



Scotland Vikki Bunce is presented wth a momento for her 200th cap. Photo Credit: Ady Kerry

Unibet EuroHockey Championships 2015 (W)

Pool B Result

England (Kate Richardson Walsh 10', Helen Richardson-Walsh 20') 2 – 1 Scotland (Kareena Marshall 3')

Scotland Senior Women: Amy Brodie, Leigh Fawcett, captain (both Grove Menzieshill), Fiona Bruce, Ali Howie, Susan McGilveray, Nicki Skrastin (all Clydesdale Western), Louise Campbell, Nikki Cochrane, Becky Merchant (all Edinburgh University), Vikki Bunce, Becky Ward (both Dundee Wanderers), Aileen Davis (Clifton), Amy Gibson (Slough), Nikki Kidd (Mannheimer), Nikki Lloyd (Wimbledon), Emily Maguire (Reading), Kareena Marshall (Western Wildcats), Sarah Robertson (Holcolme)

Scottish Hockey Union media release


---

Green Machine beat France 4-3 in Eurohockey Opener  
 


Photo Credit: Eleni Henry
 
Ireland's opening Eurohockey Championship match was always going to be a tight contest and the fixture didn't disappoint. The Green Machine beat France 4-3 in an even game that seesawed between the two sides. France, ranked 17 in the world, are a young squad but on the rise as a large amount of the extended squad were part of the French Under-21 team that reached the Junior World Cup in 2013 so the Irish did well to grind out a victory.

Kyle Good got the men in green off to the perfect start with a terrific solo run before chipping the ball over the goalkeeper in the opening minute. Ireland looked the better team throughout the first quarter and controlled possession but France showed their talent in the second quarter and into the second half. 2 goals for France gave them the lead and they were possibly helped by a lack of concentration by the men in green.

Peter Caruth levelled the game in the 36th minute, Magee wound up for the shot but Caruth pipped him to it, his initial shot saved before he slotted the rebound past the keeper. Bruton's goal, awarded after a video referral, came as the result of dogged determination and excellent positioning as he forced the ball under the goalie and over the line.

O'Donoghue made it 4-2 with his trademark penalty corner power shot, he fired the ball down the centre and through the legs of the goalkeeper. That score-line didn't quite do the French justice and they riffled the ball into the bottom right corner in the 52nd minute to make it a nervy finish. 5 yellow cards, 2 for Ireland, (Robson and O'Donoghue), throughout the match reflects the intensity of the game and maybe a lack of discipline that cost both sides at stages during the contest.

Nonetheless the win is the start Craig Fulton and his side were looking for as they face stiffer opponents in their remaining 2 group games, world number 3 Germany and 4 Belgium await. After the match Fulton said " it was a good win today and we played well in phases. France are a very attacking team and scored some good goals. The result today was important for us. But we need to improve in every game and we're keen to do that".

Ireland play Germany tomorrow at 8:30pm.

Unibet Eurohockey Championships

Ireland 4 (Good, Caruth, Bruton, O'Donoghue)

France 3 (Kieffer, Baumgarten, Martin-Brisac)

Team: Harte (Captain), Jackson, Gormley, Magee, Shimmins, O'Donoghue, Darling, Good, Burton, Gleghorne, Harte.

Bench: Cargo, Sothern, Caruth, Robson, Fitzgerald, Watt.

Irish Hockey Association media release


---

Danny Kerry: One game at a time



Danny Kerry gives his team talk

The Queen Elizabeth Olympic Park is a happy hunting ground for Danny Kerry. The England Women's Head Coach was in charge when Great Britain captured the Olympic bronze here in 2012 and now he's back to the legacy venue to lead his England team in the Unibet EuroHockey Championships.

A veteran of around ten years in the England hot seat, Kerry has seen it all before, but his reaction to the surroundings at the Lee Valley Hockey and Tennis Centre is one of excitement:

"I've been doing this job for a long time now and we've gone from playing in civic venues with temporary stands to having our own venue, permanant stands, a video screen, two wonderful pitches and the transformation is amazing. I'm really looking forward to playing in front of a full stadium. We tend to play our best in front of a big crowd so with home fans behind us it should be really exciting. What's not to the look forward to?"

With a partisan home crowd expected, there may be a suggestion that players could become overawed. Kerry however is adamant that would not be the case:

"I don't believe they'll be overawed. We try to play a brand of hockey that doesn't allow you to feel overwhelmed by what's going on outside the pitch. We play with high intensity and tempo, so international hockey doesn't leave you much time to think about the crowd. You have to get on and your job."

Kerry's side come into the competition off the back of a successful World League campaign, where their attacking flair was married with defensively solidity. The latter is something Kerry and his squad have put a lot of time and effort into:

"One of the main areas of work over the last year has been getting the team to realise how alert they have to be to what's happening around them. They had to learn to problem solve on the pitch and defend in a way to close the opposition's options whilst allowing us to counterattack and cause teams problems. We only conceded two goals at the World League in Spain and it's testament to how hard they have worked and how they've embraced the understanding of how to defend as a team."

The European Championships are considered as one of the hardest tournaments to win, with some of the top sides around battling it out for glory. Kerry cites the Netherlands as "red hot favourites" but also concedes as many as seven teams could make the semi-finals. The Coach refused to be drawn on England's chances, however saying, with a wry smile:

"The number one thing is to make sure we're really diligent about taking it one game at a time and although it's the biggest cliché there is, that's what we'll do."

England Hockey Board Media release


---

 Dr Hannah Macleod: England's hockey women work hard – but it's worth it

The 2012 bronze medallist, back at Queen Elizabeth Park playing in the European championships, has had to make a lot of sacrifices but doesn't regret them at all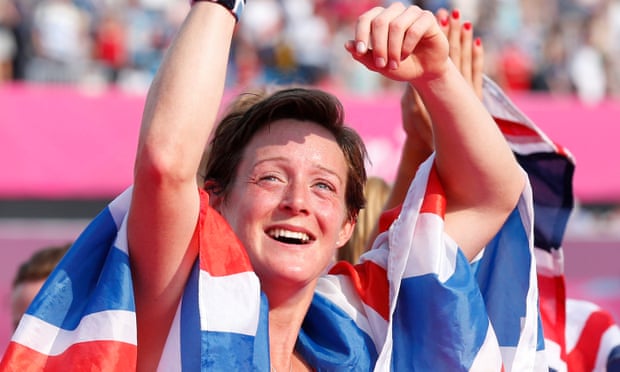 Dr Hannah Macleod celebrates Great Britain winning the London 2012 Olympic Games bronze medal. Photograph: Jonathan Brady/EPA/Corbis

I am a strong and athletic woman, which for some reason gives people the right to cast stereotypical judgements as I walk down the street. They don't know me, what I do or how hard I work. I am world-class. I am an Olympian. To see that as arrogance would be a misjudgment. I am just resilient, hard working, respectful and damn right driven.

Having played hockey for England and Great Britain since the age of 19, I am now 31 and preparing for my second Olympic Games in Rio next year. Playing hockey is my full-time occupation. In 2009 hockey received funding from UK Sport and in 2011 Investec began sponsoring women's hockey from grass roots through to the GB team. The funding supported 31 female players full-time in the buildup to London 2012.

When the announcement of a full‑time programme was made, I was 24, a qualified doctor in exercise physiology and gearing up for a life in academia. In the same week that I was applying for my first lecturing job, the Great Britain coach called offering a contract to join the newly formed full-time Great Britain programme. There was no decision to be made. This would be the only opportunity to see if I was good enough to be part of a team that would challenge for Olympic glory. You just can't walk away from that.

Looking back to try to figure out how on I have got to this point in my life, I would probably admit I'm not very normal. Quiet and unassuming as a child, nothing special or out of the ordinary, but I had a drive and steely determination to achieve. I didn't fit into any of the typical groups in the playground – the cool gang, the geeks, or the rebels. I just wanted to play sport and play it better every day.

Hockey wasn't my first love, football was but girls weren't allowed to play at my school. At 14, my PE teacher encouraged me to join a hockey club – a place where I fitted in. In a sports team, judgments move away from how popular you are and what you look like to how hard you are willing to work and how much you contribute. This was my "gang" and a supportive environment to help develop confidence and self-worth.

I sometimes wonder what might have been had I taken the lecturing job. I suspect my parents think the same. However, sport is like a drug, conjuring emotions few surely experience during their day job. I have been to some dark places but am mentally strong. I have to be. But the highs are incredible and live long after the moment has gone. I have shared some experiences like no other, and even now, they bring a tear of joy to my eye as I recall them.

In 2012, sitting in the changing room before the bronze medal match waiting for the coach to come in and deliver his final team talk, I looked around the room and into the eyes of my team-mates. Days, weeks, months, years of hard work reflected back. It is impossible to articulate how incredible that moment was – absolute, unwavering respect and faith in one another. We would have beaten any team that day. At that moment I knew we would go and win Olympic bronze that day. That moment drives me forward. I hope one day to find another team that makes me feel like that again. I fear it may never come in the day job that awaits upon retirement.

Life in elite sport is brutal. Every day we are judged on our performances. Everyday, someone is trying to get selected ahead of you. My body hurts in the morning. There are times when I am so tired, I can't even follow the plot line of EastEnders. We don't get days off, we miss family weddings, holidays and graduations.

A large part of life is on hold. But who really wants to be normal? Sure, I'm well behind on the accumulation of partners I've had over the years, my LinkedIn page has significant gaps in the employment section, my Facebook profile is not filled with pictures of my children.

All I want is to be the best in the world at what I do. I want to be able to say I helped inspire women and girls to play sport, be confident and be the best they can be because it is that which makes life truly fulfilling. There is always more than one way to live your life. I choose this way.

The Guardian


---

Age no barrier to excellence as Masters Hockey returns

Old rivalries resumed, new contests born, it's Masters Hockey time in London.




Teams from across Europe are coming together for the European Masters hockey tournament, running alongside the Unibet EuroHockey Championships 2015.

Germany, Netherlands, Italy, Spain, France and all the British home nations have representative teams across a range of age-group events – both cup competitions and trophies.

While much of the hockey world has its eyes on Queen Elizabeth Olympic Park and the EuroHockey Championships, a programme of exciting and high quality matches are also being played at venues across London, Essex and Hertfordshire, with some of the age-group finals taking place at the EuroHockey Championships venue - Lee Valley Hockey and Tennis Centre.

Following an eventful opening day at the Eurohockey Championships, the Masters Championships kicks off today and will feature 92 teams across a number of competitions.

The wide-ranging programme of events includes the Women's Masters 40+, 45+, 50 + and 55+, the Women's Grand Masters, the Men's Masters 40+, 45+, 50+ and 55+, the  Men's Grand Masters 60+, 65+, 70+, 75+ and the Men's Grand Masters 60+, 65+, 70+ tournament trophies.

All of the tournaments are run in association with the International Masters Hockey Association, IMHA (Over 40s to Over 55s) and World Grand Masters Hockey Association, WGMA (Over 60s to Over 75s).

The tournaments are being run at three separate venues with the Men's Over 40's to Over 55's at Oaklands College home of St Albans Hockey Club, the Men's Over 60's to Over 75's at Southgate Hockey Club and Women's Over 40's to Over 60's at Old Loughtians Hockey Club.

On Monday 24 August, fans have the chance to watch three Masters matches at the world class hockey centre at Lee Valley in Queen Elizabeth Olympic Park. These include:

10:00 – Mens Over 60's, England v Belgium
12:00- Mens Over 55's, England v Wales
14:00 – Women's Over 40's, England v Wales.

Many of the teams will field players who have played at international level and the play is guaranteed to be competitive and high quality.

Bronze medal-winning Olympian and Great Britain and England international Kath Johnson, who is playing in the over 45 age group said: "I am really excited about playing for England again. I regard it as a honour. Looking at our opponents, we had a tough game against Ireland in the Home Countries and any game against the Dutch will be tough."

And Welsh international Eirian Fox added: "The team is awesome to play alongside, whatever the result. We came second at the home nations to England and have been training hard to go one better against them. We played the Dutch in the World Cup last year and we are definitely looking forward to resuming that rivalry."

The match schedule and results for all age groups can be viewed on https://masters.altiusrt.com/#competitions_previous and you can get regular updates by following @Euro_Masters on Twitter.

Whilst all of this is taking place, eight men's and eight women's national teams will be battling it out for the European titles at Lee Valley Hockey and Tennis Centre in Queen Elizabeth Olympic Park. The winners of both competitions will also guarantee qualification for the Rio 2016 Olympic Games.

FIH site


---

Can our hockey bounce back?

Khalid Hussain



Brig Khalid Sajjad Khokhar

Pakistan's hockey community is hoping that the incoming PHF President Khalid Khokhar will succeed where men like Qasim Zia and Akhtar Rasool failed

It was difficult to miss the sycophantic tone of the Pakistan Hockey Federation (PHF) secretary Rana Mujahid in a statement issued last week about the nomination of Brigadier Khalid Sajjad Khokhar as the new PHF president.

Rana minced no words when he talked about Khokhar's "celebrated hockey career" and concluded that his appointment as PHF president was a "ray of hope" for Pakistan hockey.

Over the years, I have seen many PHF chiefs falling in the trap of such servile behaviour. Men like Qasim Zia and Akhtar Rasool – two of Khokhar's most recent predecessors – were among them. Qasim Zia's stint as PHF president was ruined by Asif Bajwa, the former Olympian who was then serving as the PHF secretary. Though Akhtar Rasool managed to dig his own grave but Rana Mujahid was always there, standing in servitude and helped him dig a bigger, deeper hole where Pakistan hockey currently lays buried.

I know Khokhar won't fall for this trap. He has been around for far too long and is well aware of the fact that it is top PHF officials like Rana, who are directly responsible for the fall of Pakistan hockey. And I hope that I'm not wrong because if Khokhar is somehow lured to follow in the footsteps of Qasim and Akhtar then Pakistan hockey is doomed. There won't be any ray of hope for a game that was once the national pastime of Pakistan and is still the country's national sport.

Khokhar must be fully aware that he hasn't been nominated as PHF president by Prime Minister Nawaz Sharif because of his "celebrated hockey career". There is no doubt that he was once a good hockey player and captained the Pakistan Army team during his younger days. But his hockey exploits pale when you compare them with the likes of Akhtar and Qasim, both counted among the legends of Pakistan hockey. If a celebrated hockey career were the only yardstick then the premier could have chosen any former Olympian from a long list of ex-stalwarts, who would happily assume the responsibility of PHF president if given a chance.

Khokhar's hockey background must have certainly helped his cause but it's his experience as an administrator and a hard task master which must have convinced the higher authorities to opt for him ahead of many other contenders for the coveted post of PHF president.

There shouldn't be any doubt in his mind that putting Pakistan hockey back on track is a gigantic task, to say the least. When Khokhar was an active hockey player, things were completely different for Pakistan. The national team was by far the most successful side in world hockey. That was a time when Pakistan would ride roughshod over its rivals, winning major titles with an enviable ease.

But times have really changed.

Today, Pakistan are out of the world hockey elite after their failure to qualify for World Cup 2014 in Holland and more recently next year's Olympic Games in Rio de Janeiro. Today, the PHF which was once counted among the richest sports bodies in the country has to literally beg for money to fulfill the national team's international commitments. Today, the federation is notorious because of the controversial track record of some of its officials, both past and present. Today, there are calls from all quarters to carry out a transparent audit of the PHF as there is widespread suspicion that some top officials are guilty of corruption.

It won't be an overstatement to suggest that the PHF needs an operation clean-up. Once the new set-up takes over its first task should be to flush out the various vested-interest elements in the federation. I know that it's easier said than done but that's one step which Khokhar and his team, once he forms one, will have to take for the future of Pakistan hockey. That's because till the time all those parasites are there, it is highly unlikely that the PHF will be able to achieve any of the important targets like the promotion of Pakistan hockey and transforming our under-achieving team into a world class side.

Once the parasites are out of the picture, the real work towards the betterment of Pakistan hockey can begin. Khokhar can start by summoning a national hockey conference in which all stake-holders get a chance to voice their opinions about what can be done to revive our hockey. The idea should be to form a comprehensive blue-print that can lead us to a better tomorrow for our hockey. Once that's achieve, PHF can start implementing it with the support of both the public and private sectors.

This year has been nothing short of an annus horribilis for Pakistan hockey and so was 2014 and some of the preceding years. This will have to change. Pakistan didn't qualify for the last World Cup and they are now out of next year's Olympic Games as well. If things continue in that direction then there will be no hope for Pakistan hockey. Khokhar and his team should be fully aware that their tenure could be the last chance for our hockey to bounce back. Each and every step they take starting next week should be aimed at bringing a positive change. It would be a national service if they manage to do that and I really hope that they won't disappoint because Pakistan hockey might not be able to survive yet another setback.

News on Sunday


---

Dharmaraj prefers women




FORMER National coach K. Dharmaraj has had enough with the men, and if granted, he now wishes to train the women instead.

Dharmaraj, who was elevated to the senior men's coach after taking his charges to a fourth spot in the Junior World Cup, does not want to re-visit the scheming and plotting which saw him unceremoniously dumped after a disastrous senior World Cup outing at the Hague, Netherlands.

"I would rather coach the women now, as I've had a bad experience with a group of senior players who got together and plotted my exit. There was just too much of unnecessary stress and I also believe if I'm placed back with the men, many players will prematurely retire and I don't wan't that on my shoulders," said the present Kuala Lumpur Hockey Club and National Sports Council (NSC) development coach.

The Malaysian Hockey Confederation (MHC) has hired Australian Terry Walsh as Technical Director, and together with the coaching committee, Walsh is expected to announce the various national team coaches for the men and women in two weeks time.

Dharmaraj also feels its up to the MHC and their selectors to kick out dead-wood, and trouble makers from the senior side.

"I believe the MHC know everything and it is up to them, the scouts, as well as the new coach to select who they want and kick out who they feel would cause further trouble in the team.

As for me, I believe the women have potential and with 16 teams in the Junior World Cup, there is a great possibility of qualifying for the tournament if effort is placed," said Dharmaraj.

On another note, KLHC will play Tenaga in the second round of the Premier Division Sunday, and the three points slant towards Dharmaraj and his men.

In round one, KLHC beat Tenaga 3-1.

RESULTS:

Division One: Group A: BJSS 4 Masum-USM 1; Group B: PKS-KPM 3 ATM Airod  4, UiTM x Nur Insafi x.

Women -- Group B: KL-Sukma x PKS-KPM  x.

SUNDAY: Divison One (Second Round): Maybank v UniKL (Pitch I, 8pm), Sapura v Terengganu HT (Pitch II, 6pm), Tenaga v KLHC (Pitch II, 8pm).

Division One -- Group A: MSN-THT v MSP-YP-SSP (batu Buruk, 6pm), Masun-USM v MBI (KLHA, 5pm); Group B: UniKL Young Guns v Nur Insafi (Pitch I, 6pm), SSTMI v Politeknik (SSTMI, 5pm).

Women -- Group A: Politeknik v Penang Juniors (Malacca, 5pm), MSN-PHT v The Cops (Batu Buruk, 4pm); Group B: MSN-Kedah v SSTMI (Padang Serai, 5pm), PKS-KPM v UiTM Lions (Pitch I, 4pm).

NOTE: National Hockey Stadium unless stated.

Jugjet's World of Field Hockey


---

Tenaga energised for part two of hockey league

By S. Ramaguru

KUALA LUMPUR: Former champions Tenaga Nasional are hoping for a reversal of fortune after ending their losing streak.

They are now gunning for a five-match winning run after suffering three successive defeats.

On Friday, they started their second round in the Premier Division with a 2-1 win over Sapura. They hope to end up winners against table-toppers Kuala Lumpur Hockey Club (KLHC) on Sunday.

In the first round, they lost to KLHC (1-3), Terengganu (0-5) and Sapura (1-2 ) and beat Maybank 2-1 and UniKL 3-2.

Tenaga are fourth after six matches and a point behind Sapura. KLHC lead with 16 points while Terengganu are second on 15.

Tenaga, who are fielding a young squad this year, hope to retain the third spot they achieved last season.

Assistant team manager Adam Izamry Idrus said that ending their losing streak was a huge relief.

"There are another four matches to go and we want to try and win them all. The players are shaping up well and we now have renewed confidence to bag full points from these matches," he said.

Youngster Mohamed Aminuddin Zain is turning into a reliable penalty corner flicker with three goals. Veteran flicker Mohamed Amin Rahim has scored twice while Mohamed Shahril Saabah, another junior player, also has three goals.

Tenaga are known to be slow starters and whether they can keep up their winning ways will largely depend on their defence.

"I believe there's overall improvement and better understanding among the players.

"The players are also more confident after their win over Sapura. But we are not going to underestimate any team," he added.

The Star of Malaysia


---

QPCC II makes it 4 straight wins

Nigel Simon



Dominic Jaikaransingh, left, of Coal Pot and Dominic Young of Don't Trust Us battle for the ball during their Mixed Division encounter on Monday's of Queen's Park Cricket Club Carnival Hockey Festival at the Queen's Park Oval Ground, Tragarete Road. The match ended 2-2. Photo: Anthony Harris

Jarryon Paul fired in two goals as Queen's Park II crushed Petrotrin 5-1 in  clash of unbeaten teams to make it four wins from as many matches in the inaugural Queen's Park Cricket Club Hockey Festival on Thursday night.

In addition to Paul, Mark Ayen, Jordan Reynos and Marcus Pascal added a goal each for QPCC II while Shaquille Daniel got Petrotrin's lone reply at the Queen's Park Oval, Tragarete Road.

With the win, Queen's Park II improved to maximum 12 points from four matches, three ahead of the Oilmen and Queen's Park I, which spanked Courts Malvern, 4-1 led by a double from Dominic Young.

Jerazano Bell and Nicholas Camacho also found the target for QPCC I, to cancel out Teague Marcano's consolation strike for Malvern.

In the other men's match, Fatima led by a hat trick from Jordan Vieira blasted Paragon 6-3.

However, in the women's Open, Paragon continued its 100 per cent winning record, blanking Magtastic 2-0 with Gabrielle Thompson and Alanna Lewis the scorers, for a third straight win, and certain of a place in today's semifinal ahead of last night's final round of preliminary matches.

Pink also cemented a semifinal spot with a similar 2-0 defeat of Guyana's Hikers for their third win as well thanks to goals from Mika Ella Tang and Brittney Hingh.

In the mixed division, Petrotrin edged Paragon 2-1 to end its three-match Pool A series with six points the same as Drinks United, but with an inferior goal difference of plus-two to its rivals, plus-three and must hope that Malvern which has three points and a failed to beat winless Paragon, by a big margin to edge into the semis.

And in Pool B, Hikers also won 2-1, over Coal Pot to lead with six points, two more than its opponent with a match left against Don't Trust Us (one point) for each team.

And in the veterans, Shiraz Ali scored three goals to lead Fatima to a 5-0  drubbing of Carib and a semifinal meeting with Queen's Park.

On Wednesday, Nicholas Wren with two goals and Nicole Aming combined to lead Courts Malvern to a 3-1 defeat of Carib for a third straight win (nine points) to enter today's semifinals as the top seeds.

Queen's Park ended second with six points followed by Fatima (three) and Carib, which failed to pick up a point. The tournament concludes today.

Thursday's QPCC Carnival Hockey Festival

Men's Open Division:

QPCC II  5 (Jarryon Paul 2, Mark Ayen, Jordan Reynos, Marcus Pascal) vs Petrotrin 1 (Shaquille Daniel)

QPCC I  4 (Dominic Young 2, Jerazano Bell, Nicholas Camacho) vs Malvern 1 (Teague Marcano)

Fatima 6 (Jordan Vieira 3, Che Modeste 2, Andrew Vieira) vs Paragon 3 (Kiel Murray 3)

Women's Open Division:

Pink 2 (Mika Ella-Tang , Brittney Hingh) vs Hikers 0      

Paragon 2 (Gabrielle Thompson, Alanna Lewis) vs Magtastic  0

Mixed Division: 

Hikers 2 (Devin Munroe 2) vs Coal Pot 1 (Che Modeste )

Petrotrin 2 (Patrice Padmore, Kwylan Jaggasar) vs Paragon 1 (Kiel Murray)

Veterans Division: 

Fatima 5 (Shiraz Ali - 3, Roger Daniel, Lawrence Mc Master ) vs Carib 0

The Trinidad Guardian


---

Winning start for hockey champion

Zanzeer Singh



Lautoka's Harry Johanson in control against Nadi during the Presidents Cup competition at Nadovu Parks in Lautoka yesterday. Picture: BALJEET SINGH

DEFENDING champions Suva made a bright start during the Fiji Hockey Federation Presidents Cup at the Nadovu Park in Lautoka yesterday.

The Suva side won both its opening round robin matches in the men's and women's categories.

In the women's category, Suva with the likes of national reps to the recent Pacific Games in Papua New Guinea, Catherine Fabiano, Lala Ravatu, Tallah Ah Yuk and Tessa Harman defeated Nadi 3-0.

The Suva A team was on fire in the men's category hammering Lautoka B 7-0.

One of the tournament organisers Marcel Hicks said the standard of hockey was high.

Hicks said the players from the Southern Division adapted well to the grass turf.

"Suva started the tournament on a high note," he said.

"The fine weather played a big part as the players displayed fine skills to produce quality matches."

The semi-finals will start at 9am today.

Results: Women's: Lautoka won by default from Nadi, Suva 3 Nadi 0; Men's: Lauoka A 4 Nadi 4, Suva A 7 Lautoka B 0, Lautoka A 3 Lautoka B 0, Suva A 1 Nadi A 0.

The Fiji Times