All the news for Saturday 25 July 2015

United States win second Pan American games in a row over Argentina; Canada wins bronze



2015 Pan American Games - Final - Argentina vs. USA. Photo: Yan Huckendubler

Together, Briggs in goal and penalty corners were the keys for the United States gold medal win. Stairs goal leads Canada to Bronze medal over Chile.

1st /2nd place: Argentina vs. United States: 1-2 (ht: 0-0)

The gold medal match was between Argentina and United States. Both teams have yet to be scored upon. The match started with Argentina on the attack and earning two penalty corners in the third minute of the match. Both were blocked by the United States' defense led by keeper Jackie Briggs. For the next five minutes, both teams kept battling for possession. In the 9th minute, the United States' Alyssa Manley had one of the next shots of the match go high. A minute later the United States attacking pressure resulted in their first penalty corner of the match that led immediately to another corner. United States' Lauren Crandall's hard shot went just wide of the goal cage to keep the match scoreless.  Both teams again kept battling and in the 14th minute, Katie Reinprecht looked to have some good shot opportunities, but Argentina's defense recovered the ball each time. With both teams playing a close match, the score remained Argentina 0, United States 0 at the end of the first quarter.

The second quarter began with big cheers for both Argentina and United States, respectively. In the 19th minute, Delfina Merino looked to score, but Crandall made an incredible tackle to keep Merino from getting a shot off. Argentina continued to pressure on attack. Merino again had a shot denied by the United States' defense, as Julia Reinprecht came up with the ball. The United States went down into their attacking circle, but could not get a shot off.  Argentina earned a penalty corner in the 25th minute, but the shot was saved by Briggs. The crowd then started cheering loudly for the United States. Both teams kept trading possession while running fast in the midfield. In the final minutes of the second quarter, the United States worked hard to pressure on attack, but Argentina's defense prevented the United States from getting a shot off. In the 30th minute, Merino again looked to score down the left side and United States' Stefanie Fee came up with the ball to keep the match scoreless at the halftime break.

The third quarter started with the United States on attack and earning a penalty corner in the 34th minute. The shot was blocked by the Argentina defense. The United States got another penalty corner and beautifully executed it such that Succi dove and the United States' Katie Reinprecht pushed the ball into the open net to give the United States the one goal lead and Argentina's first goal against. The crowd then started cheering loudly for Argentina. Argentina immediately earned a penalty corner in the 35th minute and the United States defense blocked up the shot. The match started to have an even more intense energy with both teams being physical, loud and sending multiple players to each ball. In the 40th minute the United States earned another penalty corner and Michelle Vittese hit a hard shot into the corner of the goal. The crowd erupted into cheers for United States as the score became Argentina 0, United States 2. Argentina rushed back on attack and earned a penalty corner in the 43rd minute. Briggs stopped the shot and both teams kept fighting each other for possession. The score at the end of the third quarter remained Argentina 0, United States 2.

The fourth quarter looked like it was going to be an incredibly intense battle for possession. The United States earned the first penalty corner of the quarter in the 50th minute, but the shot was blocked by multiple Argentine defenders. Yet after the United States penalty corner, the United States continued to dominate possession and successfully tackle the Argentineans to prevent them from holding possession for any significant amount of time to generate a play. In the 57th minute, the crowd again erupted into cheers for the United States, but Argentina showed more energy and earned a penalty corner. The United States team defense blocked up the penalty corner, but Argentina immediately got two more penalty corners. Briggs stopped the two more penalty corner shots, but Argentina immediately got another penalty corner.  As a result in the 58th minute, Florencia Habif's penalty corner goal made the score Argentina 1, United States 2. With the United States holding off any more Argentina attack the United States came away with the gold medal and Argentina the silver.


3rd/4th place: Chile vs. Canada: 0-1 (ht: 0-0)

The bronze medal match was between Chile and Canada. In the first five minutes of the first quarter, play was mostly in Chile's attacking half. Chile's Francisca Vidaurre kept working hard on attack that resulted in the first penalty corner of the match in the 7th minute. The penalty corner shot by Sofia Walbuam went wide, but Chile regained possession and went back on attack. Canada's defense played well to keep Chile from penetrating their attacking circle. In the 12th minute, Canada's Hannah Haughn had a breakaway on attack, but Chile's keeper Claudia Schuler came far out to make the save right from Haughn. Soon after, in the 14th minute, Canada earned their first penalty corner of the match. The shot by Danielle Hennig was blocked and Canada earned a second penalty corner right after, but could not execute. Canada continued to pressure on attack, but could not get another shot off before the end of the first quarter. Thus, the score remained Chile 0, Canada 0.

In the first minute of the second quarter, Chile's Daniela Caram found Agustina Vengas whose shot on goal was saved by Canada's keeper Kaitlyn Williams. Canada regained possession and had possession near their attacking circle, but had trouble getting a shot off. In the 19th minute, Daniela Caram had another break away on attack, but lost the ball off the endline. Both teams kept battling for possession and in the 23rd minute Brienne Stairs had a run on attack, but turned the ball over. Canada's Captain Kate Gillis and Stephanie Norlander kept trying to attack on Canada's right side and their hard work helped lead to a penalty corner in the 25th minute. The shot by Karli Johansen went wide and Norlander kept trying to attack. A shot by Abi Raye went wide and Chile ran down near their attacking circle. Canada regained possession and Thea Culley ran fast on attack. Yet, with both teams able to capitalize off possession near their attacking circle in the final minutes the score at halftime remained Chile 0, Canada 0.

In the opening minutes of the third quarter, Canada was pressuring on attack. Both Stairs and Natalie Sourisseau looked to take shots for Canada, but Chile's defense came up with the ball. In the 34th minute, Venegas had a shot stopped by Williams. Cheers for both Canada and Chile were heard from the stands. For the next five minutes, Chile had the majority of the possession, but Canada's defense prevented Chile from entering their attacking circle. In the 38th minute, Culley had another run on attack and found Haughn, but Walbaum was there to take the ball from Haughn. Chile continued to have the ball near their attacking circle, but Chile's Josefa Villalabeitia could not find an opening to pass the ball into the circle. In the 41st minute, Canada regained possession and in the 43rd minute Daniela Caram received a yellow card. Canada then earned a penalty corner in the 44th minute, but could not capitalize. Canada continued to pressure on attack, but Chile's defense held strong despite a yellow card to Daniela Caram keep the score Chile 0, Canada 0 at the end of the third quarter.

The fourth quarter started with Canada pressuring on attack. Both Karli Johansen and Hannah Haughn tried to attack near Canada's left side of their attacking circle, but kept losing the ball. Chile's Manuela Urroz then got a yellow card in the 49th minute. Canada was able to take advantage and earned a penalty corner in the 51st minute. Canada's Stairs put in the penalty corner goal past Chile's keeper Schuler to make the score Chile 0, Canada 1. In the 55th minute, Chile earned a penalty corner, but the shot by Daniela Caram went wide. A minute later, Chile had another penalty corner, but Carolina Garcia's shot was saved by Williams. In the 58th minute, Chile had another penalty corner, but the injected pass hit a Chile foot. In the 59th minute, Chile pulled Schuler for an extra field player. In the final seconds of the match, Williams blocked a shot by Chile's Carolina Garcia to preserve the win for Canada. With the score Chile 0, Canada 1 Canada came away with the bronze medal in front of a roaring crowd. Chile placed fourth.

5th/6th place: Mexico vs. Uruguay: 1-1 (ht: 1-0) SO: 2-3

The match to decide fifth and sixth place of the women's competition of the 2015 Pan American Games was between Mexico and Uruguay, respectively.  From the start, Uruguay dominated possession and earned the first penalty corner of the match in the 6th minute. Mexico's keeper Jesus Castillo saved the shot by Matilde Kliche; and then another penalty corner shot by Uruguay's Manuela Vilar was saved by Castillo. Two minutes later, Uruguay earned another penalty corner and again Vilar's shot was blocked by Castillo. Mexico's Jessica Sanchez then defended another Vilar hit off a penalty corner to keep the score Mexico 0, Uruguay 0. Uruguay kept pressuring on attack and quickly earned another penalty corner, but Vilar's shot went wide. In the 13th minute, Castillo came out to make a big save to keep Uruguay from scoring. With Mexico's defense preventing another shot by Uruguay the match remained scoreless at the end of the first quarter.

During the second quarter, Mexico played strong team defense throughout the field to prevent Uruguay from entering their attacking circle during the first eight minutes of the second quarter. In the 24th minute, Mexico's Marlet Correa made the most of one of Mexico's only attacking opportunities by slamming a ball at the top of the circle past Uruguay's keeper Rosanna Paselle. Marlet Correa's goal broke open the scoreless match and made the score Mexico 1, Uruguay 0.

The third quarter started with Uruguay on the attack that led to a penalty corner in the 32nd minute. The shot by Agustina Nieto looked like it was going to go into goal, but it hit the bar at the top of the goal and bounced out. Mexico then earned a penalty corner in the 34th minute, but the shot went wide. For the next five minutes, both teams battled for possession in the midfield. Uruguay got a corner in the 40th minute, the initial shot by Constanza Barrandeguy was blocked by Mexico's defense and Sofia Mora came up with it, but Mora's follow-up shot was blocked by keeper Castillo to preserve her team's lead. Uruguay got another penalty corner in the 42nd minute, but Mexico came up with the ball. Also in the 42nd minute, Mexico's Karen Orozco and Uruguay's Florencia Norbis each received yellow cards. Two minutes later, Uruguay had two more penalty corners and Uruguay's Cecilia Casarotti penalty corner goal tied the match Mexico 1, Uruguay 1 that would remain at the end of the third quarter.

In the fourth quarter, play was more in Mexico's attacking half. Mexico's Captain Jennifer Valdes ran through the middle of Mexico's attacking circle in the 52nd minute and earned a penalty corner, but the shot was blocked by Uruguay's defense. In the 54th minute, Marlet Correa and Valdes continued to pressure on attack for Mexico. Mexico earned another penalty corner in the 57th minute, but Uruguay's defense blocked up the shot. Mexico, regained possession, however, and Michel Navarro looked to attack. With Uruguay's defense holding off the Mexico attack in the final minutes the match remained tied Mexico 1, Uruguay 1 at the end of regulation. Thus, the match went into a penalty shoot out to decide the winner and who would take fifth place in the tournament.

Karen Orozco went first for Mexico in the shoot out and lifted the ball wide of the goal cage. Manuela Vilar then went for Uruguay and, with Castillo beat, put the ball in just as time expired. Maria Correa then went for Mexico and had her shot saved by Paselle. Norbis then went for Uruguay and her shoot out play resulted in a stroke that she took for the goal. Marlet Correa then went for Mexico and she pushed the ball past Paselle. Lucia Lamberti then earned a stroke on her play and Norbis went to take the stroke and she put it in again. Fernanda Oveido then lifted in the ball past Paselle. Soledad Villar then went for Uruguay, but did not get the shot off in time. Finally, Michel Navarro went for Mexico, but also could not get a shot off before the end of the eight seconds. Thus, Uruguay won the shoot out 3-2 over Mexico and finished in fifth place; Mexico finished in sixth place.

7th/8th place: Cuba vs. Dominican Republic: 1-2 (ht: 0-1)

In the match for seventh place Cuba and the Dominican Republic played. Cuba started the match with nine players including keeper Heidy Gonzalez. For the first half of the first quarter both teams battled for possession. In the 6th minute, the Dominican Republic's Magalys Ortega had a shot saved by Cuba's keeper Heidy Gonzalez. Despite being down players, Cuba was able to largely keep possession for the next seven minutes. Cuba's Brirzaida Ramos had a shot go wide in the 13th minute and then Cuba's Yunia Milanes also had a shot go wide. With Gonzalez coming far out of goal to hold off the last minute Dominican Republic attack, the match remained scoreless at the end of the first quarter.

The second quarter started with the Dominican Republic on attack. In the 18th minute, the Dominican Republic's Agustina Birocho got the ball past Cuba defender Sunaylis Nikle to Ortega for the hard shot past Gonzalez. Ortega's goal in the 19th minute gave Dominican Republic the lead. Cuba immediately went back on attack and earned the first penalty corner of the match in the 19th minute. The penalty corner shot by Yaniuska Paso went wide and Dominican Republic went back fast into their attacking circle. The Dominican Republic continued to try to attack, but Cuba's Captain Mileysi Argentel and Ramos played good defense to keep the Dominican Republic from many more shots off in the second quarter. In the 29th minute, the Dominican Republic had their first penalty corner of the match.  The penalty corner drag flick by Lucia Navamuel went wide. Cuba went back fast on attack and Milanes had two shots blocked by Dominican Republic's keeper Cindy De La Rosa that ended the second quarter with the score still Cuba 0, Dominican Republic 1.

The third quarter started with Cuba on attack and earning two penalty corners. Both of Cuba's penalty corner shots were blocked by the De La Rosa and the Dominican Republic defense. Dominican Republic went back on attack and Cecilia Oflaherti put in hard goal past Gonzalez to make the score Cuba 0, Dominican Republic 2 in the 34th minute. In the 41st minute, Cuba had a penalty corner, but Paso's shot was blocked by De La Rosa. In the 44th minute, Cuba's Yuraima Vera Rojas had a shot blocked by De La Rosa. With either team unable to get another shot off in the final minute, the score at the end of the third quarter remained Cuba 0, Dominican Republic 2.

The fourth quarter also began with Cuba continuing to attack and earning two penalty corners a few minutes into the fourth quarter. Both shots by Paso were blocked by the Dominican Republic defense. Cuba had a third penalty corner in the 50th minute, but could not get the shot off as the ball was not stopped and the Dominican Republic regained possession. The Dominican Republic could not get a shot off and Cuba then earned another penalty corner in the 54th minute, again the hard shot by Paso was blocked by De La Rosa. A minute later Cuba had another penalty corner, but failed to execute the play. In the 56th minute, Cuba had yet another penalty corner. Argentel passed to Milanes whose shot was blocked by De La Rosa. The Dominican Republic then earned a penalty corner, but could not capitalize. Cuba ran fast back on attack and after Vera Rojas' shot just missed a fairly open goal, Vera Rojas regained possession and pushed the ball past De La Rosa. The goal by Vera Rojas in the 59th minute made the score Cuba 1, Dominican Republic 2. The Dominican Republic defended well in the final minute to maintain their lead to earn the victory over Cuba and the seventh place finish. Cuba finished in eighth place.

1st place: United States
2nd place: Argentina
3rd place: Canada
4th place: Chile
5th place: Uruguay
6th place: Mexico
7th place: Dominican Republic
8th place: Cuba

Pan American Hockey Federation media release


---

USA retain title at expense of Argentina; home team win bronze




Team USA are celebrating after a fabulous win over their south American rivals Argentina means they retain the title they won in 2011. The Women's  Hockey competition at the Pan American Games has come to its conclusion with USA taking gold, Las Leonas silver, while the home crowd were given plenty to cheer as Canada took bronze after a close encounter with Chile.

In the earlier sessions, Uruguay fought back from a goal down to force a shoot-out before defeating Mexico to claim 5th place, while Dominican Republic edged their way past Cuba to finish in 7th place.

More details on all the matches can be found below.

7-8 classification match: Cuba 1-2 Dominican Republic
Dominican Republic finished their 2015 Pan American Games competition on a high by defeating Cuba to take 7th place in Toronto. The Cubans put up a brave fight before going down 2-1, ending the tournament in 8th position. Dominican Republic took the lead in the 19th minute when Magalys Ortega netted from open play, with Cecilia Oflaherti doubling the advantage four minutes after half time. Cuba scored a consolation goal in the final minute of the match, with Yuraima Vera Rojas bagging her second goal of the competition ahead of full time.

5-6 classification match: Mexico 1-1 Uruguay (2-3 SO)
Uruguay claimed 5th place at the Pan American Games in Toronto courtesy of a shoot-out victory over Mexico, who finished the competition in 6th position. The two sides played out a hugely entertaining, drama-filled contest, with Mexico taking the lead midway through the second quarter through Marlet Correa, although the most dramatic moments arrived in the third period. In the 42nd minute, Mexico's Karen Orozco and Florencia Norbis of Uruguay were both shown yellow cards, a situation which proved to be more beneficial to the Uruguayans who dragged themselves level two minutes later thank to a penalty corner from Cecilia Casarotti. In the shoot-out, Mexico only managed to convert two of their five efforts, with Uruguay netting three of their four attempts to seal the win without needing their full shoot-out quota of five.

Bronze medal match: Canada 1-0 Chile

The medal might not have been the colour they had dreamed of, but Canada were able to give the home fans a podium place to cheer after they defeated Chile in a hard-fought bronze medal match.

The opening minutes of the match suggested that Chile might produce an upset as Francisca Vidaurre and Sofia Walbuam spearheaded a lively Chilean attack. The momentum began to turn the way of the North American team as they soaked up the pressure and then began to make chances of their own but the Chilean defence was resolute and the score at half-time remained 0-0.

Both sides ramped up the pressure as the game ticked towards its conclusion. The quality of defending by both teams suggested that one goal would probably be enough and so it proved. In the 51st minute, Brienne Stairs finally managed to find a way past Claudia Shuler in the Chilean goal, a well-placed shot from a penalty corner. Both Schuler and Kaitlyn Williams in the Canadian goal had been outstanding throughout the match, and it was williams who saved from Caroline Garcia in the final minute of the game to preserve the lead and take the medal.

Gold medal match: USA 2-1 Argentina

A stirling performance by Jackie Briggs in goal and two well-executed penalty corners were enough for the USA to retain the title of Pan-Am Champions at the expense of Argentina. This was always going to be a tightly-contested match; neither team had conceded a goal throughout the entire tournament and had scored at will during earlier games. For USA this was a sweet revenge for the defeat in the Hockey World League Semi-Finals at the hands of their South American neighbours – a result that had put Craig Parnham's team in some doubt over qualifying for Rio 2016.

The match itself was a see-saw affair, with both teams creating pressure. Argentina got off to the better start, winning two penalty corners in quick succession in the opening minutes. Briggs was equal to the challenge and the momentum changed, with Lauren Crandall and Katie Reinprecht both coming close for USA. Crandall also performed her defensive duties well, on one occasion stopping an almost certain goal from Delfina Merino.

At half-time it was still goalless, and it took a beautifully worked penalty corner to break the deadlock – Belen Succi was drawn out of position by the swift interchange of passes leaving Katie Reinprecht (34') with an empty goal to slot home. This advantage was doubled five minutes later through a penalty corner shot whipped home by Michelle Vittese. Las Leonas reduced the deficit in the 57th minute when Florenica Habif scored from a penalty corner. A flurry of attacks from the blue and white team put the USA defence under enormous pressure, but Briggs in particular was in imperious form and at the final whistle it was USA who celebrated.

Keep up with all of the action on www.panamhockey.org.

#PAGhockey15
#TO2015 #RoadToRio

FIH site


---

USWNT Defeats Argentina to Defend Pan American Games Gold Championship Title



Photo: Paul Winstanley

TORONTO, Canada – July 24, 2015 – The U.S. Women's National Team defended their 2011 Pan American Games Gold Championship Title by defeating 3rd FIH World Ranked Argentina with a first place finish at the 2015 Pan American Games in Toronto. With the 2-1 win at their continental qualifier, Team USA confirmed their direct invitation to the 2016 Rio de Janeiro Olympic Games.

"In a game like, this against a great team like Argentina, they're going to have moments where they control the match," said U.S. Men's Head Coach Craig Parnham. "It's important for us to stay disciplined and part of the game is defending. I think we did a great job with that tonight. It shows a great deal of mental resilience, belief and toughness. It's very pleasing to see the team continue to do all of this while under pressure."

In the starting minutes, Argentina wasted no time and drove into Team USA's defensive circle and earned a penalty corner on a foot foul. With the drag flick going wide of the goal, Argentina was awarded another penalty corner off a hard foul outside of the circle. The second opportunity was saved by the glove of USA's goalkeeper Jackie Briggs (Robesonia, Pa.).

Holding together as a defensive unit, the USWNT contained possible threats and worked the ball up the field. In the 8th minute, Alyssa Manley (Litiz, Pa.) recorded USA's first strike on cage but the attempt was tipped away by an Argentinean defender. Just a minute later, Team USA earned their first penalty corner of the game. Michelle Kasold's (Chapel Hill, N.C.) sweep was saved and cleared wide but not before hitting an Argentina foot, giving the USWNT another penalty corner. On the second chance, Lauren Crandall's (Doylestown, Pa.) strike went just right of the post keeping the score at 0-0.

With ball possession being evenly held between both teams in the second quarter, Team USA pressed high and obtained control earning several circle entries and shots that were unsuccessful. Argentina gained control in the 24th minute and earned a penalty corner opportunity which was saved off the pads of USA's goalkeeper Briggs. A defensive stick save by Stefanie Fee (Virginia Beach, Va.) ruined an Argentinean threat allowing Team USA to regain control but time would expire to halftime keeping the game scoreless.

During the second half, Melissa Gonzalez (Mohegan Lake, N.Y.) continued to apply consistent pressure to force an Argentina turnover and eventually win Team USA a penalty corner chance. Kasold's powerful sweep was hit right at Argentina's goalkeeper but Kelsey Kolojejchick (Larksville, Pa.) picked up the rebound and fired a shot and earned another penalty corner. Off the third penalty corner opportunity, Michelle Vittese (Cherry Hill, N.J.) dished a fast ball to the left baseline to Katie Reinprecht (Perkasie, Pa.) who ripped a ball into the cage to give Team USA a 1-0 lead.

Argentina was quick to react and maneuvered the ball into their own attacking circle and earned a penalty corner. Off of the defensive corner unit, Gonzalez's stick on the fly redirected the ball out of danger. In the 38th minute, Jill Witmer (Lancaster, Pa.) picked up a loose ball and passed it to Paige Selenski (Shavertown, Pa.) who was unable to get a shot off. Chances kept coming as just a minute later Kolojejchick delivered a hard cross but the opportunity hit a USA foot.  A minute after that, Witmer sent a cross into the circle that hit an Argentinean's foot resulting in a penalty corner. The opportunity was converted off the corner, as hard sweep by Vittese found the back of the cage to extend the lead to USA 2, Argentina 0.

Remaining composed, Team USA's goalkeeper Briggs kept absorbing Argentina's multiple shots on cage and even eliminated a threatening 1v1 situation. Relentless forward movement by Argentina opened opportunities and found an intense goalmouth scramble but the chance was unsuccessful. With back-to-back penalty corner awarded to Argentina, a goal translated in the 58th minute when Florencia Habif's drag flick hit the net changing the score to USA 2, Argentina 1.

Team USA held defensively strong to secure the 2-1 win over Argentina to claim the gold and defend the 2011 Pan American Games Gold Championship Title.

"It's an important moment for the program," said Parnham. "It was important for us to perform well and try to win this tournament and qualify for the Olympics out right. It has been a great few weeks for us here. The girls have done a terrific staying disciplined through their time in Toronto which can be difficult. We're delighted to get the result tonight."

Prior to the gold medal match, Team USA hit the backboard a total of 37 times during the Pan American Games. Even more impressive, the red, white and blue were able to hold Uruguay, Chile, Cuba, Dominican Republic and Canada scoreless, not conceding a single goal during the accumulative 300 minutes of Pan American Games play before meeting Argentina in the finals.

"I attribute this to our team defense," said Briggs. "We don't try to think about stats too much. We just try to stay in the moment and do our best. We play team defense and everyone contributes to that from our forward's press all the way in the back to Crandall and me."

"The journey we've been on the last four years has been amazing," adds Briggs. "A lot has changed within our program but the feeling of winning hasn't changed. I love this feeling. We're so happy we could keep the gold. Argentina is a great team and gave us a good fight. We did everything we could to win. There's no feeling like this."

"There are a huge number of people to thank from sponsors to stakeholders and supporters and the USOC of course," said Parnham. "There really is a team behind the team. The staff who work tirelessly everyday to drive this team forward. This is a great moment for them as well."

"I think this creates a big statement for us," said Manley. "We connected really well in the circle and had a strong defensive presence throughout the tournament. It feels really good to hold this medal."

USFHA media release


---

USA Field Hockey golden at Pan Am Games

Team USA edges Argentina 2-1 to win gold

By DIANA PUGLIESE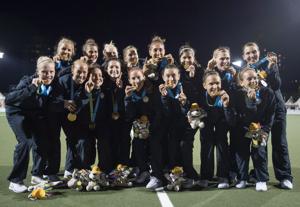 Members of Team USA pose with their gold medals after defeating Argentina 2-1 at the 2015 Pan Am Games in Toronto on Friday, July 24, 2015.

Whenever the United States women's field hockey team meets Argentina, it's always a close contest.

So with Team USA up by one with just over 20 minutes to play in the Pan American Games final Friday, the Americans made sure to add an extra goal just in case.

Coming off of a corner in the third quarter, Michelle Vittese drained what became the game-winning goal from the top of the circle before the U.S. closed out a 2-1 win over Las Leonas to claim the Americans' second consecutive Pan Am gold.

Team USA stunned Argentina 4-2 at the 2011 games in Guadalajara to win the program's first-ever title and hand Las Leonas their first loss in the games since 1987.

Bringing home the gold isn't the only prize for the Americans, who also qualified for the 2016 Olympics in Rio de Janeiro, Brazil.

"It's an important moment for the program," coach Craig Parnham said in a USA Field Hockey release. "It was important for us to perform well and try to win this tournament and qualify for the Olympics out right."

"It has been a great few weeks for us here," he added. "The girls have done terrific staying disciplined through their time in Toronto, which can be difficult. We're delighted to get the result tonight."

While both teams showed their offensive firepower over the course of this year's tournament in Toronto, the final was much more of a defensive struggle. The only two teams to not allow a goal through the first five games, Argentina and the U.S. both had opportunities early, but battled through a scoreless first half.

Argentina went on the attack first with Florencia Habif, Noel Barrionuevo and Pilar Romang firing off shots but finding nothing but U.S. defenders and Jaclyn Briggs putting up a wall in goal. Las Leonas earned their third penalty corner in the game's 24th minute, but Briggs was there yet again to make a big pad save against Barrionuevo, who was held scoreless in the game despite entering with a team-high 10 goals for Argentina.

The Americans had the same problem when they took over in the second, but managed to capitalize coming out of halftime.

Vittese, who finished with a goal and an assist, worked her way down the left baseline before finding Katie Reinprecht in the middle of the circle for the game's first score. Minutes later, Vittese earned a green card, but came back to push the U.S. lead to two.

After Paige Selenski could not get a clear shot off, former Penn Manor player Jill Witmer grabbed the loose ball and earned Team USA's fifth penalty corner of the game. Vittese took the sweep from the top to make it a 2-0 USA game.

The lead looked safe heading into the fourth quarter as Reinprecht's tackle stopped Argentina's attack and Briggs made yet another pair of big saves, including a one on one face off against Martina Cavallero.

"I attribute this to our team defense," Briggs said in the release. "We don't try to think about stats too much. We just try to stay in the moment and do our best. We play team defense and everyone contributes to that from our forward's press all the way in the back to Crandall and me."

Las Leonas finally cracked the scoreboard on a corner of their own as Habif sent a drag flick into the back of the net to cut the lead to one. The goal came with just two minutes remaining, however, crushing Argentina's chances for a seventh Pan Am gold.

Lancaster Online


---

Canada beats Chile 1-0 to win women's bronze at Pan Am Games

Fifty-first minute goal from Brienne Stairs the difference



Photo: Yan Huckendubler

There was not a lot to choose from between Canada and Chile in the women's bronze medal match at the 2015 Pan American Games.

The two teams were ranked within two spots of each other in the world rankings, Canada twentieth and Chile twenty-second. They both lost to Argentina and the United States and they both only let in nine goals prior to the final match.

But only one team was playing on home soil, and in the end that was the difference. Hometown girl - Kitchener's Brienne Stairs - scored the game winner, giving Canada the 1-0 win and the Pan American Bronze medal.

It's the first time Canada has medaled at the Pan Am Games since 1999 in Winnipeg when it also won bronze.

The game was evenly matched throughout, with both teams having spurts of possession and multiple chances to score.

The teams traded penalty corners in the first quarter, with neither ablet to convert.

It was much of the same in the second quarter, with both teams pressuring the other's defense and getting the ball around each other's goal but no real prime scoring chances to claim.

Canada was able to earn mutiple penalty corners, but the Chilean defense did well to get in front of flicks from Dani Hennig and Karli Johansen.

On the Chilean side, Daniela Caram had two solo dashes behind the Canadian defense but both times the rushes failed to produce a shot on goal.

At the start of the second half, however, Chile had a good chance to score and forced Canadian keeper Kaitlyn Williams to make a great save.

Agustina Venegas snuck behind the Canadian defense and had a breakaway, but Williams - calm and collected - stood tall and took away the angle, and ended up kicking out the shot.

That seemed to give the Canadians confidence, who shut the door from that point on and began to press forward.

Canada was able to get forward through great work in the midfield from Stairs and Natalie Sourisseau who fought through the tough tackles from the Chileans.

Canada ended up earning the man advantage through those battles and it was during that time they were able to notch the game's lone goal.

On a penalty corner, Canada faked the flick, moved the ball to Sara McManus who's hard sweeping hit was deflected high into the top corner by Stairs.

Despite three late penalty corners from Chile - which were defended well by Canada - the goal would stand as the winner and lead Canada to the win.

Field Hockey Canada media release


---

Canadian women continue progression with bronze medal at Pan Am Games

Shaheed Devji

For the first time since 1999, the Canadian women's field hockey team is taking home a medal at the Pan American Games.

Canada defeated Chile 1-0 Friday in Toronto to take third place and write a new chapter of success in its Pan Am Games history.

"That what we wanted," says team captain Kate Gillis,  who is one of three players from Ontario on the bronze medal roster. "Even though it's not quite the colour that we wanted, that was our goal to get a medal and contribute to this amazing run that Canada's had with the medal count."

Canada was disappointed not to be playing in the Pan Am final after a 3-0 loss to the United States in the semifinal, but as the third ranked team in the tournament, its finish is right on par with outside expectations.

"I think we played a really good tournament," adds Gillis. "A tough game against the U.S., and Chile always plays well, especially against us.

"We're trying to gain more experience as a team and I think it's slowly and surely coming."

The performance is a validation of sorts for the Canadian side which has slightly risen in the world rankings to twentieth in the world, but has had sustained growth in its level of play for the better part of two years.

"The goal was to put our best performance on the pitch and improve from a very good performance in the semifinal," says Canadian head coach Ian Rutledge, who has led the Canadians through this transformative period.

After the 2011 Pan American Games in Guadalajara, Mexico, where Canada lost 3-0 to Chile in the bronze medal match, many of the Canadian veterans left the team.  It was handing over the reigns to the young group that led Canada to a bronze at this year in Toronto.

One of those players was Brienne Stairs, who as a 21 year-old in the 2011 tournament scored six goals, and this year scored the bronze medal-clinching goal in the fifty-first minute on a Canadian penalty corner.

"We were obviously disappointed that we didn't make the gold medal game," says Stairs, now 25. "But to come away with a win in this game is very important to us and we're very ecstatic."

Important because the goal has always been more than just the Pan Am Games and Rio 2016 Olympic qualification (which the women narrowly missed out on).

"We've been talking about an eight year plan towards Tokyo (Olympics)," adds coach Rutledge. "We wanted to get to Rio and be desperate to get to Rio and that didn't come. We're already three years into an eight-year plan. We have a world cup to prepare for in 2018, and the girls effectively were talking about starting our Tokyo program in this game."

The average age of the bronze medal winning squad is just twenty-three, and with that the future is bright for Canadian women's field hockey. Four more years of experience would bring the Canadians to an age where many of the top teams in the world sit.

For now, they savour in the rare feat of winning a medal at the Pan Am Games, and even rarer, doing it on home soil.

Field Hockey Canada media release


---

Canada holds off Chile for women's field hockey bronze

Brienne Stairs scored the game's lone goal off a corner to give the Canadians their first medal since earning a bronze in Winnipeg in 1999.

By Dan Ralph



Members of Canada's women's field hockey team celebrate Brienne Stairs' goal against Chile. Darren Calabrese / THE CANADIAN PRESS

Brienne Stairs made sure the Canadian women's field hockey team didn't leave the Pan Am Games empty-handed.

Stairs, a native of Kitchener, Ont., scored off a corner at 5:02 of the fourth period as Canada edged Chile 1-0 in the bronze medal game Friday night at the St. George Campus of the University of Toronto. The victory wasn't enough to secure the Canadians a berth at next year's Summer Games in Rio — they had to win this event to qualify — but Stairs said it was important to come away with a medal before a loud, boisterous home crowd.

"We're obviously disappointed we didn't make the gold medal game but this is still awesome for us," the 25-year-old Stairs said. "It's absolutely incredible having all the fans behind us.

"It's amazing."

Many of the victorious Canadians celebrated after the game by throwing frisbees into the stands. When they were done, players and team officials gathered with family and friends in the corner of the main stands.

Canada and Chile were relegated to the bronze medal game after losing their respective semifinals. The Canadians dropped a 3-0 decision to the United States, while the Chileans lost 5-0 to Argentina.

"It's always a little tough (to play after semifinal loss)," Stairs said. "But we knew we had another real important game coming up and we knew we wanted to be on the podium, so we moved forward and focused in and came out with the result we wanted."

However, it came with some anxious final moments as Chile had three penalty corner attempts over the final five minutes, forcing Canadian goalie Kaitlyn Williams, 25, of White Rock, B.C., to come up with some big saves to preserve the narrow lead.

"We work so much on our penalty corner defence, there was a good feeling the girls were going to do their jobs and they did," Canadian team head coach Ian Rutledge said. "Kaitlyn made some big saves when it really mattered and that was really positive for the group.

"Our girls maintained their nerve and justified all their good work for the previous 55 minutes."

Stairs credited Williams with securing Canada its victory.

"Our goalie played absolutely amazing," Stairs said. "She made some very clutch saves, so without her I don't think we would've got the win.

"Well, it was a little bit scary having those short corners against us but everyone was going to put their body on the line ... everyone just did their role."

The medal was Canada's first in women's field hockey since winning bronze in Winnipeg in 1999. Rutledge said ending that drought on home soil is invaluable for the youthful Canadians, who finished the tournament with a 4-2 overall record.

"We're the youngest group … and one of the least experienced," Rutledge said. "We've been making progress the last two years, so to be able to come away with a good performance backed up by a good result and something tangible like a medal is really positive for all of the girls and a just reward.

"This will be a lifetime memory for this group of athletes."

The Toronto Star


---

Poland and Austria into Euro final



Picture: EuroHockey

Poland and Austria have reclaimed a place in the top tier of European Championships hockey with narrow wins over the Czech Republic and Scotland, respectively, this afternoon in Prague.

Grunwald Poznan duo Mateusz Poltaszewski and Karol Majchrzak gave the Poles a 2-0 advantage before a series of three yellow cards opened the door for the Czechs. They got one back via Michal Barta to make an exciting last ten minutes but Poland held on for a 2-1 win.

Austria, meanwhile, went all the way to a shoot-out to beat Scotland after normal time ended 1-1. Alexander Bele – bound for Royal Daring from SV Arminen for next season – gave Austria the advantage only for Amsterdam striker Kenny Bain to level the game up.

But shoot-out efforts from Benjamin Stanzl, Pit Rudofsky and Leon Thornblom saw them win out 3-1 and assure themselves a promotion place.

Poland and Austria, in addition to playing in the A division in 2017, they will meet in the final on Sunday at 3.15pm (CET) on Sunday.

Euro Hockey League media release


---

Scotland's European promotion dream ended in penalty shoot-out

Craig Madden, Photo Credits Petr Toman



Striker Kenny Bain fires Scotland level against Austria

Scotland's European promotion dream was ended in dramatic fashion against Austria today, the Scots on the receiving end of a 3-1 reversal in a penalty-shoot after a 1-1 draw at the end of regulation time in the semi-final of the EuroHockey Nations Championship II.

This was an extremely disappointing denouement for coach Derek Forsyth as the Scots were the better team throughout the game and gave the Austrians, a side five places above them in the world rankings, a real run for their money.

The Scots were always under pressure in the penalty shoot-out as both Gordon McIntyre and Kenny Bain put their opening efforts wide of the target, a blink of hope emerged when captain Chris Grassick scored then goalkeeper Jamie Cachie made a great block to deny the Austrians. But it was not to be Scotland`s day as teenager Hamish Imrie also missed the target, leaving Derek Forsyth`s charges crestfallen.



A dejected Jamie Cachia can only ponder what might have been after Austria's winning penalty

"I`m very proud of the boys, they put in a great effort over the whole, but we didn`t get the rub of the green and our promotion dream vanished," said a very disappointed Derek Forsyth.

Luck was certainly not on the Scots side as two early incidents had an impact on the proceedings.  Firstly, defender and penalty corner expert Dan Coultas had to leave the field following an ankle injury after only two minutes, this required some tactical adjustments so early in the contest.

Then the Scots had the ball in the net, Imrie`s lifted cross eluded the entire Austrian defence and Wei Adams batted the ball into the unguarded net only for the umpire to mysteriously disallow the strike after consultation with his colleague.



Wei Adams had a seemingly good goal ruled out by the two umpires at the end of the first half

Forsyth`s charges were the more adventurous side in the opening exchanges and could easily have taken the lead.   In a succession of chances Grassick fired straight at the goalkeeper, Adams` penalty corner effort was blocked by a defender, Imrie had a couple of half-chances and a solo run by Alan Forsyth ended with a snap shot that sailed over the bar.

The Austrians then came more into the contest, Cachia had to make a couple of crucial saves while Scotland conceded two penalty corners which fortunately came to nothing, and the first half finished goalless.

Within two minutes of the restart Austria took the lead at a penalty corner, the initial shot was blocked but Alexander Bele forced the ball home.

The Austrians now seemed content to sit back on their slender lead allowing the Scots to take control of proceedings.    The Scots did not help their cause by wasting a couple of penalty corner opportunities.

But midway through the half Scotland deservedly levelled the game at another penalty corner, this time Bain sent in a fierce drag flick which left the Austrian goalkeeper rooted to the spot.

The Scots now pressed for the winner they certainly merited, they were awarded two late set pieces but this time the goalkeeper blocked Bain`s goalbound efforts.

Scottish Hockey Union media release


---

Breda 6N: India and England match ends in a 1-1 draw

Breda (Netherlands): India U-21 Men Team looking at adding a win against England witnessed exhilarating hockey here today at Breda, Netherlands as both the teams gave a tough time to each other. With the first half yielding a goal each for both the teams, the second half proved to be a dry run resulting in the match closing at 1-1 draw.

While India maintained a good attack the same was brilliantly complemented by the defence as they ensured that the opponents do not get away with an easy goal. It was England who finally broke the Indian defence in the 11th minute of the match as Luke Taylor smashed the ball into the nets ensuring that the penalty corner opportunity was well utilised.

Undeterred by the goal, Indians paid back the same minute as Nilakanta Sharma's brilliant field goal which helped them equalise the game at 1-1. Post the initial goal by both the sides the rest of the session witnessed some great saves and the first half ended at 1-1 on the scoreboard.

The second half saw India up the ante of its attack as they successfully earned crucial penalty corners. But unfortunately for India they were unable to find the nets as the England defence cleared the danger on each occasion. Unable to add any further goals in the second half, the match ended with a 1-1 draw.

Stick2Hockey.com


---

Breda 6N: Indian eves register their first win defeating New Zealand by 6-1

Breda (The Netherlands): Indian eves defeated the girls of New Zealand by 6-1 and secured their first win in the ongoing Volvo Invitational U-21 (Women) Tournament.

Both the teams in their bid to not allow easy goals to each other ensured that their defence was strong, restricting the forwards to capitalise on the opportunities. It was the commendable performance from the Captain Rani who scored a hat-trick and took India to the winning score of 6-1 against New Zealand.

It was India's Rani who drew the first blood and slammed the ball past the goalkeeper in the fifth minute to open the score card by 1-0. Without wasting much time, Navneet Kaur scored the second goal for India with a field effort in the ninth minute and took the lead in the game by 2-0. New Zealand was constantly looking to pierce the defence of the opponents and earned a penalty corner but failed to materialize it.

India kept on its attacking spree and struck the third field goal through the energetic efforts of Rani in the 30th minute. However, New Zealand made clever attempts to enter the India's inner circle but failed to open their score card and the scores stood 3-0 in favour of India before the second half.

The second half continued with the same momentum as Indian eves dominated the match and maintained a constant pressure on the New Zealand girls. India's Rani brilliantly converted a penalty corner and struck a hat trick in the 40th minute to take the scores further at 4-0.

As India was awarded with penalty corners on couple of occasions, it was a field goal coming from the stick of Anupa Barla who stood tall to slam the ball into the nets in the 46th minute and escalated the lead to 5-0. While, India continued to produce a series of goals on regular intervals, New Zealand was not able to find any gaps and failed to convert the penalty corner opportunity as it was brilliantly saved by India's goalie Inderpreet Kaur.

New Zealand girls dug deep into their stamina and finally broke the shackles to score their first goal of the match as Pippa Norman penetrated the Indian defence through a penalty corner conversion in the 53rd minute to reduce the margin by 1-5. New Zealand's joy was short- lived as India's Lily Mayengbam scored the sixth goal in the 70th minute to take the tally to 6-1 resulting in India winning the match by 6-1.

India U-21 Women team will now clash against England U-21 team on 25th July 2015 at 16:45 IST at Breda, The Netherlands.

Stick2Hockey.com


---

India thrash New Zealand 6-1 in U-21 hockey tourney

BREDA (The Netherlands): An upbeat Indian women's team thrashed New Zealand 6-1 to secure its first win in the ongoing Volvo Invitational U-21 Hockey Tournament on Friday.

It was a commendable performance from captain Rani who scored a hat-trick.

Rani drew the first blood by slamming the ball past the opposition goalkeeper in the fifth minute.

Soon, Navneet Kaur scored the second goal for India with a field effort in the ninth minute.

Looking to pierce the Indian defence, New Zealand earned a penalty corner but failed to materialise it.

India kept playing an attacking game and struck the third field goal through Rani in the 30th minute.

At half time, India led 3-0.

The second half continued in the same vein as Indian women dominated proceedings. Rani brilliantly converted a penalty corner in the 40th minute for her third goal.

A field goal by Anupa Barla in the 46th minute made it 5-0.

New Zealand finally got one back when Pippa Norman scored through a penalty corner in the 53rd minute.

India's Lily Mayengbam completed the rout by scoring in the 70th minute.

The Times of India


---

England U23 Men draw with India

England Under-23 Men fought out a thrilling 1-1 draw with India in their penultimate match of the Six Nations Tournament in Breda, The Netherlands, on Friday afternoon.

Luke Taylor smashed home England's goal on 11 minutes to put them into the lead, pouncing on a rebound at a penalty corner which was given after an Indian foot touched the ball in the circle.

But just a few seconds later India pulled themselves level with Nilakanta Sharma scoring from open play to negate England's goal.

"It was a really exciting game from first to last whistle and a much improved performance from the New Zealand game," said Head Coach Jon Bleby. "Overall it was a strong team performance with some excellent individual performances too.

"For periods of the game we looked indomitable but huge credit to India, they really pushed us hard. As with our previous games we will reflect on the key lessons learned to take home and improve on.

"Our focus now turns 100 per cent towards tomorrow's game when we will come out fighting hard again."

England take on India again in the 3rd versus fourth match on Saturday, starting at 2.15pm (GMT).

England (1) 1
Luke Taylor – 11 (PC)

India (1) 1
Nilakanta Sharma – 11 (FG)

England Hockey Board Media release


---

England U23 Women downed by China

DESPITE having a high number of penalty corners, England Under-23 Women struggled to convert their chances and went down 3-0 to a clinical China side in the Six Nations Tournament in Breda, The Netherlands, on Friday.

China took the lead after 16 minutes from open play through Qui Guo, and then doubled their lead on 23 minutes, Zengyu Cong scoring this time.

England continued to enjoyed periods of good play and domination but again they couldn't convert them, and instead China extended their lead with Bingseng Gu scoring another open play goal on 54 minutes.

"It's a very disappointing scoreline after such a positive performance," said Head Coach Craig Keegan. "We controlled the match for long periods with quality possession creating numerous corners and open play chances, only to be let down by small lapses in concentration when their direct counter-attacking style of play got the better of us.

"We are now very much looking forward to India tomorrow after such a positive performance."

India provide the opposition for England Under-23 Women in their next match on Saturday, starting at 12.15pm (GMT).

England (0) 0

China (2) 3
Qui Guo – 16 (FG)
Zengyu Cong – 23 (FG)
Bingsneg Gu – 54 (FG)

England Hockey Board Media release


---

Mixed fortunes for Scotland U18 sides against Russia

Scotland U18 Men and Women continued their EuroHockey U18 Nations Championship campaign today as the crossover stage got underway in Santander.

Scotland U18 Men produced a winning 3-2 scoreline against Russia to set up a relegation decider against England tomorrow (11.00 BST).

Aedan McQuade, Rob Harwood and Patrick Christie looked to have put the Scots out of sight with three quarters of the match played.

However, two late goals inside a minute from Russia's Georgii Arusiia set up a nervy finish that Scotland managed to survive to claim their first victory of the tournament.

Unfortunately, Scotland U18 Women's 6-2 loss to Russia leaves them as favourites to finish last in the competition.

The Russians stormed into a 4-0 half-time lead courtesy of a Valeriia Bosinova hat-trick and a Victoria Karandshova goal.

Nevertheless, a Leia MacKinnon field goal registered Scotland's first goal of the tournament, only for Victoria Zelenova and Bosinova to put the Russians 6-1 up midway through the second period.

With seven minutes left, Millie Steiger secured the Scots' second goal.

Spain are their final opponents tomorrow at 08.30 BST.

Scottish Hockey Union media release


---

England U18 Boys lose out to Ireland

England Under-18 Boys take on Scotland in their final match of the EuroHockey Youth Championship in Santander, Spain, with their top-flight status hanging in the balance.

They lost out 2-1 to Ireland in their penultimate match on Friday afternoon, meaning they must now beat Scotland to preserve their place in the top Division of the EuroHockey Championship.

Head Coach Jody Paul said: "I'm intensely disappointed with our performance against Ireland today. Territorially Ireland had the better of the game and also in terms of attempts on goal. If it hadn't been for our goalkeeper George Oyebode the score could've been a lot higher."

Ireland took the lead in the third minute with Matthew Nelson scoring after flicking the ball over Oyebode. But England hit back in the 17th minute with Elliot Hibell breaking down the right, passing inside, and then finishing it off himself.

But England looked lacklustre apart from a few chances, and Ireland re-took the lead on 51 minutes from a penalty corner melee, David Nolan scoring on the rebound after Oyebode had made a couple of saves.

The final ten minutes of the game saw some improvement, but Ireland defended well enough and held England at bay despite three penalty corners in the closing stages while Ireland were down to nine men.

England take on Scotland in the final placement match of the EuroHockey Youth Championships on Saturday, 25 July, at 11am (GMT).

England (1) 1
Elliot Hibell – 17 (FG)

Ireland (1) 2
Matthew Nelson – 3 (FG)
David Nolan – 51 (PC)

England Hockey Board Media release


---

England U18 Girls target bronze

England Under-18 Girls will battle for bronze in their final match of the EuroHockey Youth Championships after losing out to the Netherlands in their semi final clash on Friday.

The squad are now preparing to take on Belgium in their final match on Saturday (1pm GMT) after drawing praise from Head Coach Sarah Kelleher for the way they played against the Dutch.

"There was a lot of good stuff in the game against The Netherlands which gives us a lot to build on for tomorrow's match against Belgium," she said. "It's hard to put this defeat in context for the girls, but they did play some very good hockey. It shouldn't have been six-nil, but the Dutch are very good at taking their chances.

"We've come on so much as a team, so we're going for the bronze tomorrow with realistic hopes. We've beaten the Belgians twice this year already, and while we're not taking anything for granted, we are really up for it."

The Netherlands opened their account after just two minutes through Pien Sanders, and a penalty corner on 19 minutes resulted in their second goal after their first shot had been saved.

A drag flick on 29 minutes from Michelle Fillet resulted in their third goal, and she scored in similar style on 52 minutes to put her side 4-0 ahead.

Minout Mink's 58th minute goal and a 69th minute effort from Maud Renders completed the scoring.

England now play Belgium in the bronze medal match on Saturday, 25 July, at 1pm (GMT).

Netherlands (3) 6
Pien Sanders – 2 (FG)
Hester van der Veld – 19 (PC)
Michelle Fillet – 29 52 (PC, PC)
Minout Mink – 58 (PC)
Maud Renders – 69 (FG)

England (0) 0

England Hockey Board Media release


---

England Under-16 Boys overcome Ireland challenge

England Under-16 Boys rounded off their Six Nations Tournament in Breda, The Netherlands, by beating rivals Ireland 3-1 on Friday afternoon.

Goals from Wycombe's Harry Bennett, Ben Stevenson of Taunton Vale and Marlow ace Imre Gerrits proved enough for a well-deserved victory.

Their performances have got stronger as the week in the Netherlands has progressed, and Head Coach Jerome Goudie was please his his side's work ethic and learning curve.

"The lads all played better than they have done so far this week," he said. "It's pleasing to score some open play goals by sticking to the game plan. This win is just reward for the effort the group have put in, not just this week but across the programme and I thank them for their efforts."

Bennett opened the scoring after seven minutes with a deflection into the side netting after good early pressure led to a break down the left.

Ireland pulled level right on the stroke of half time when Peter Lynch scored after a goalmouth melee.

But ten minutes into the second half England were back in front with Stevenson scoring at a penalty corner after dribbling round a couple of onrushing defenders before blasting the ball high into the net.

Finally, the third goal came from a deflection by Gerrits on 67 minutes after the Irish had pushed too many men forward. The counter-attack led to a reverse stick cross which Gerrits calmly deflected in.

England (1) 3
Harry Bennett – 7 (FG)
Ben Stevenson - 45 (PC)
Imre Gerrits – 67 (FG)

Ireland (1) 1
Peter Lynch – 35 (FG)

England Hockey Board Media release


---

Vikings seek redemption in Mombasa

By BRIAN YONGA



Vikings' Susan Muchai controls the ball during their National Women's league match against Telkom Orange at City Park Stadium on April 19, 2015. PHOTO | MARTIN MUKANGU |   NATION MEDIA GROUP

Only two Kenya Hockey Union (KHU) league matches will played this weekend with eight others that were to be played in Nairobi postponed due to the travel difficulties expected with the arrival of US President Barack Obama.

Vikings will be away to Mombasa Sports Club (MSC) in a women's national league match on Saturday while Kabarak University will host Chase Sailors at the Kabarak grounds in the men's national league on Sunday.

A win for sixth-placed Vikings will see them move into fourth place, two points off third-placed United States International University Africa (USIU–A) Spartans on the log. Vikings will be looking to bounce back from last weekend's 3-0 loss to the Spartans.

Vikings coach Clyde Mbaha said the team has worked on the mistakes that led to their thrashing last week noting that his charges are out to make amends by winning Saturday's match.

"Playing away from home is always a challenge but we have prepared well to go out and win the match," Mbaha told Nation Sport. The team will however have to do so without the services of influential captain Benazir Omotto who is on honey moon after tying the knot earlier this month.

HOME ADVANTAGE

Hosts MSC will bank on home advantage to upset their opponents as they chase their second win of the season.

"Playing at home gives us the confidence that we can take the three points and give our fans something to smile about. We have prepared well and come Saturday, we will do our talking on the pitch," said team captain Brenda Wangila.

High-flying Chase Sailors will look to extend their unbeaten run in Kabarak. The Bankers have won four matches so far this season and are favourites to extend their 100 percent record.

Chase captain George Mutira has however warned his teammates against writing off "dangerous" Kabarak who could wreck their hopes of securing promotion to the premier league.

"We need to keep playing like we have done so far this season and I'm sure the results will go our way," Mutira said.

FIXTURES
Saturday: National women - MSC v Vikings (9am) - Mombasa Sports Club

Sunday: National men: Kabarak v Chase – 11am – Kabarak

Daily Nation


---

PSB will be the team to beat

It will fancy its chances when it takes on defending champion Indian Oil Corporation (IOC) on Saturday in the semifinals

K. Keerthivasan

Leading 3-1 against IOB the other day, and already assured of a place in the semifinals of the 89th All-India MCC Murugappa Gold Cup hockey tournament here, Punjab & Sind Bank (PSB) didn't let complacency seep into its system, one that could happen to any top team.

Roughly four minutes remained for the hooter, when India player and skipper of PSB Sarvanjit Singh picked up a sudden burst of pace from near the centre-line and entered the 25-yard line to pass it to Ramandeep Singh that eventually set up the team's fourth goal. That initiative from Sarvanjit probably summed up PSB's intensity and sense of purpose.

In all its four matches in the league, PSB has shown enough evidence that it is playing as a unit.

With Sarvanjit, Ramandeep upfront and Prabheep Singh as left back, the team has always played an attacking game, while guarding its territory quite well.

PSB has been the best team in the tournament and it would fancy its chances when it takes on defending champion Indian Oil Corporation (IOC) on Saturday in the last four clash.

Great concern

IOC, on the other hand, has relied too much on former India star forward Deepak Thakur.

It is a matter of great concern that others haven't been even as half good as Deepak.

Didar Singh and Sunil Yadav, whose skills in penalty corners the team banked on, have been off-colour to say the least. IOC will have to raise its game a notch higher if it harbours visions of a victory.

The other team that has been very sturdy in defence and displayed flair in attack is Army XI. Binoy Bhengra, A.P. Siraju and Chandan Aind have impressed in attack. Defence has withstood the best of attack in the league.

But when it plays a team that is as consistent as Comptroller and Auditor General of India (CAG), Army has to be wary.

CAG's strength has been its defence. With Bundela (can be handy in penalty corners) and Chandan Singh at the back, CAG can breathe easy. Naemuddin and Imran Khan have maintained a good pace upfront, which means CAG has the ammunition to turn the tables on Army XI.

Of course, the tournament has lost a lot of sheen with many junior and senior India players not taking part in the tournament as they are held up in the National camps.

But it has to be said that the tournament has witnessed a fair share of thrills and high-octane action, and over the next two days, there will be no dearth of quality hockey.

The Hindu


---

Van Ass reveals Oltmans' communication, says do not want to leave with reputation tarnished

Harpreet Kaur Lamba

It is official. With just 12 months and 11 days to go for the Rio Olympic Games, the Indian hockey team are left without a coach. The nine-member organising committee of Hockey India that met here on the day to take a call on Paul van Ass' future, decided against "retaining him".

The news was expected, following days of intense speculation and blame game that involved van Ass and HI president Narinder Batra.

The Dutchman revealed last week that he had been "fired", while the federation blamed the coach for "having gone missing without any information".

On the day though, van Ass made his stand clear sharing all the e-mails exchanged between him and high performance director Roelant Oltmans - who had first informed van Ass that his services were not needed by HI - saying he did not want to leave "with his reputation tarnished".

In a mail dated July 13 that is with this paper, Oltmans wrote to van Ass, "Very regrettable that the adventure has to end so quickly...

"The dismissal procedure as in the Netherlands is not as per the first of the month but until one month after cancel date. If you arrive in India on July 18, the SAI may ask you to carry out activities till August 18.

"If you decide not to come back, then you get paid up to and including July 17. Don't  blame the messenger."

In a series of mails between the two, it becomes clear that Oltmans had indeed communicated to van Ass about his sacking by Hockey India, refuting Batra's claims of the coach "not returning to the camp on his own will".

There is, however, no offical word from either HI or van Ass' employers SAI.
In another mail dated July 16, Oltmans writes, "Batra has now asked me whether I wish to fulfill a dual function (both coach and high performance director). I will not take a call unless things are completed with you.

"Once again very annoying that it happened. That was not what I had in mind when we started a few months ago."

The mails also reveal that van Ass, if he had arrived in India on July 17, would have to spend time at the SAI office to complete his notice period and would not have been given permission to travel to the national camp in Shilaroo.
The nine-member committee though maintained that there was no question of van Ass' return as coach.

Said committee head Harbinder Singh, "He has not submitted his tournament report nor is he available for an interaction, so we don't think he is interested (in the job). We have not recommended his name to Hockey India.

"We have finalised another coach's name and have given our suggestions to HI."

The day's development, yet again, highlighted the sorry state of affairs in Indian hockey, with van Ass becoming the fourth coach in five years to leave the shores following a clash with the authorities.

The 52-year-old Dutchman, who had told Batra to leave the pitch when the HI boss criticised the players following their 3-2 win over Malaysia in Belgium, maintained that he had been sacked.

Said van Ass from Holland, "The decision doesn't surprise me. Batra was finding ways to fire me and he has done it. But I wouldn't let them tarnish my image.

"I always said that I am willing to continue. It is they who have sacked me."
Oltmans is likely to take charge till the 2016 Olympics, with HI likely to make a final announcement soon.

Oltmans and Batra, it is learnt, will have a final meeting on Saturday.

Gurbaj dropped for disciplinary issues

Midfielder Gurbaj Singh has been dropped for the upcoming Europe tour, following reports of indiscipline. Gurbaj, who competed in his 200th international during the Belgium event, is among the senior-most players in the team.

Said Harbinder, "The support staff, in their tournament reports, have accused him of indiscipline and showing disrespect to the Indian coaches. There are also reports that he refuses to play in a different position if a need arises, and that is why the committee has decided to open an inquiry.

"As a senior member, he has to take up more responsibility and not create problems among the team."

It is learnt that the midfielder - who will continue to be a member of the core group - will be called for a hearing ahead of the next camp in September, following which a final call will be taken.

The Asian Age


---

van Ass sacking saga: The blame game continues

Key figure Roelant Oltmans maintains studied silence.

Uthra Ganesan



The special committee of Hockey India, constituted to decide on the issue, has indicated that the Paul van Ass is unlikely to resume his services.

Paul van Ass would not be returning to take charge of the Indian men's hockey team but the last word has not been heard on the week-long saga with both parties continuing the blame game on Friday. And the key figure in the entire drama remains High Performance Director Roelant Oltmans, who has maintained a studied silence.

The special committee of Hockey India, constituted to decide on the issue, expectedly, indicated that the Dutchman was unlikely to resume his services.

"Bilkul nahi ayega wapas, respond hi nahi kar raha (Absolutely won't return, he is not responding at all). When we talk of discipline for the boys, it has to be there for the staff also," committee chairman Harbinder Singh said.

"The coach was very much discussed in the meeting. van Ass did not send his report or make any submission to us. He is not willing to talk or respond to the federation so there is no point in our trying to talk to him. We have given our recommendations to Hockey India on the issue and it is up to them to take a call," he added.

Series of mails

However, hours later the Dutchman released a series of mails, in possession of The Hindu, exchanged with Oltmans and SAI, during July 13-22 to prove that he never quit but was sacked by the federation.

"On Friday July 10th Roelant Oltmans had a meeting with Dr. Batra from Hockey India where he was told to tell me that I was not welcome anymore," van Ass's mail on July 21 to SAI ED (TEAMS) Sudhir Setia read.

"On Tuesday July 14 Roelant Oltmans had a meeting with Elena Norman, CEO of Hockey India, where they discussed my dismissal. The mail from Oltmans to me says that if I come to India, I have to sit at SAI office for a month... to fulfil my month notice.

"It was clear that I was not supposed to be the trainer of the camp in Shilaroo... Roelant also mentioned that contact has been made between Hockey India and SAI, and that a formal letter of resignation will be sent to me in the coming days," the mail said.

"I have many more mails concerning the matter that Oltmans had to let me officially know by Mr. Batra, that I was fired! He certainly would not do that on his own," van Ass wrote in his reminder to Setia on July 22.

Interestingly, the very first mail from van Ass to Oltmans, dated July 13, only mentions a telephonic communication about his dismissal but no details. The mails also indicate that Oltmans was his only contact in HI and van Ass had assumed all communiqué from his compatriot was official HI information.

Hockey India president Narinder Batra had earlier admitted that Oltmans had told him the 54-year old van Ass did not appear too keen on continuing with the team but insisted that he wanted the coach to return to India before taking a final decision. The fact that Van Ass had been sent his travel tickets, something initially denied by the Dutchman before accepting, adds another dimension to the entire drama.

Friday's committee meeting, meanwhile, discussed the team's performance at the Hockey World League semifinals in Antwerp — where the entire HI-van Ass face-off began — and Harbinder said the recommendations would be passed on to the federation to decide the future course of action.

Asked if Oltmans was questioned about the mails sent by him on the issue, Harbinder said it was outside the committee's agenda. Batra is expected to meet SAI officials on Saturday accompanied by Oltmans to further discuss the entire issue.

Jude Felix, part of the coaching staff, has also put in his papers. "I have my 86-year-old mother that I need to take care of. I always felt guilty leaving her alone. Also, my hockey academy for underprivileged children is very short-staffed and they need me," Jude told The Hindu. Sources also said Jude was fed up of the ongoing tussle in the federation and wanted to get away from it all.

Disciplinary action

Senior midfielder Gurbaj Singh would not be picked for the team's upcoming tour of Spain and France as a penalty for indiscipline. One of the members of the committee said that the team manager and other coaches' reports mention his misbehaviour with the staff and attempts to create rift within the team at Antwerp.

The Hindu


---

Hockey India panel recommends ouster of Paul van Ass

Biswajyoti Brahma

NEW DELHI: With just a year to go for the Olympic Games in Rio, Indian hockey is facing another familiar mess. A nine-member committee set by Hockey India deliberated for over three hours in the Capital on Friday, and came up with the proposal that Dutchman Paul van Ass need not return to resume his charge as the men's team's chief coach. In the end, all nine members unanimously voted for van Ass to go.

The recommendation will be forwarded to Sports Authority of India (SAI) by HI. And when - not if, it now seems - the final decision on his ouster is taken, van Ass would become the fourth foreign coach to be shown the door since Hockey India took control of the administration of the game in 2009.

The point that went against the Dutch coach was that the committee did not take too kindly to van Ass not submitting his report on the World Hockey Semi-Finals and preferring to stay put at home in the Netherlands instead of joining the ongoing national camp in Shilaroo, Himachal Pradesh that began on July 16. Simply put, the dug-out spat and the subsequent ego battle between van Ass and HI president, Narinder Batra, has left India searching for a new coach before the Olympics in August next. It has been learnt that High Performance Director Roelant Oltmans, a fellow Dutchman and himself a coach of repute, will now double up as coach till Rio.

"Discipline is something that is applicable to players as well as coaches," HI committee chief Harbinder Singh, a former Olympian, told TOI after the meeting. He added: "If he had some problem or difficulty in doing his job as a coach, he should have told us. Instead, he preferred not to return to India. He also decided not to attend the camp. This went against him.

"Looking into the recent developments, we have given our recommendation and the Hockey India and SAI will take the final decision," Harbinder gave the official line, and contrary to specula line, and contrary to speculation, declined that the decision to remove van Ass was already taken before the meeting. "We examined all the details before taking the decision, which was a unanimous one. All members agreed that this is the only way out," he said. None of the other members of the committee - BP Govinda, V Baskaran, AB Subbaiah, Thoiba Singh, RP Singh, Asunta Lakra and Jasjeet Kaur - voted contrary to the final recommendation.

Committee member and former Olympian V Baskaran said that the recent developments showed that van Ass was not interested in continuing in his job. "I have been a coach in the past. As a professional coach, be it the national team or a club team, it's your primary duty to submit your report once the tournament gets over. He has not done that so far for the Hockey World League Semi-Finals. He was supposed to join the national camp on July 16 but he did not join. He's not taking phone calls either. This shows that he's not interested in continuing as chief coach of the nation al team," Baskaran deduced.

"It is not proper on his "It is not proper on his part to run away after part to run away after such a silly incident. If that incident was the reason, he would have left immediately after the semifinals against Malaysia. Why wait till the competition to get over? He's a coward. If he was a professional coach, he would have come back," Baskaran added. Baskaran, a former national coach, had himself been sacked on a couple of occasions during the erstwhile IHF regime, and seemed unperturbed by the idea of a reputed - and highly paid -coach being sacked at such a critical juncture.

If sacked, he joins a select club of axed foreign coaches by the hockey administration. Jose Brasa of Spain, Michael Nobbs of Australia and compatriot Terry Walsh have all faced the music earlier.

The Times of India


---

Van Ass axed, Oltmans in

High Performance Director all set to double up as the new chief coach of India team

Sabi Hussain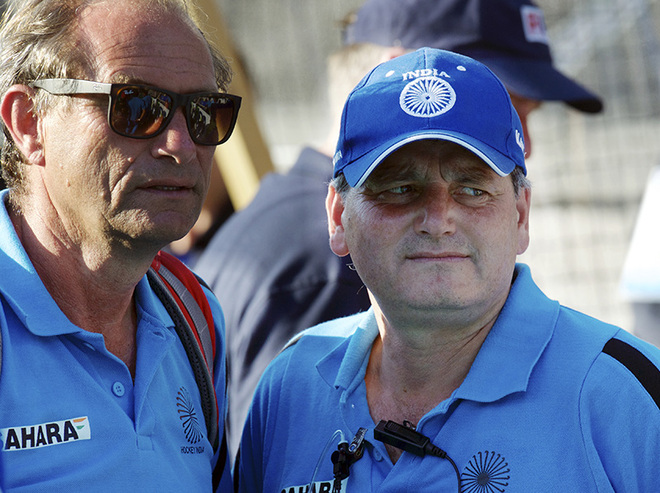 Roelant Oltmans and Paul van Ass. FILE PHOTO

New Delhi: The word is finally out. Paul Van Ass is no longer the chief coach of the Indian national hockey team. Roelant Oltmans, India's High Performance Director, looks all set to step in as the new head coach.

The nine-member special committee, constituted by Hockey India (HI) to decide on the matter, has recommended the 54-year-old Dutchman's ouster for failing to submit his report on the team's performance at the Hockey World League (HWL) Semifinals in Antwerp, Belgium. The unofficial reason, though more pertinent, for his ouster is his public altercation with Hockey India (HI) president Narinder Batra after the quarterfinal win against Malaysia in the HWL.

"We are not considering Van Ass since he is not responding to our calls and emails. He has not yet submitted his report on HWL Semifinals. So, there is no question of him returning," said Harbinder Singh, the chairman of the committee.

"We have given our recommendations to Hockey India and it's for them to decide now. He's not coming for sure," said Harbinder, after a four-hour long marathon meeting.

However, when The Tribune contacted Van Ass in Rotterdam, the Dutchman said he had not been contacted by any of the Sports Authority of India (SAI) or HI official till date. "There has been no contact till date. They don't want me back. I knew about the decision. It (sacking) has been done to please one man's (Batra) ego," he said.

Even as this war of words continues between the Van Ass and the Hockey India and the SAI, HI's High Performance Director Roelant Oltmans is almost certain to take over as the new head coach.

Harbinder wouldn't disclose it, but another committee member revealed that Oltmans has already been sounded by Batra to take charge of the team.

The members felt that with just a year to go for the Rio Games, it would be difficult to find a new coach at such a short notice. "Also, it would be difficult for both the coach and the players to understand each other. Oltmans would be the right choice as he has successfully coached the team on two occasions previously," said the committee member.

Oltmans has been with the team for nearly three years after his appointment in early 2013. He understands the requirements of the team, having worked with the players closely. He was the interim coach during the Champions Trophy last December after Australian Terry Walsh's unceremonious exit. India finished a commendable fourth in the tournament.

The 61-year-old former head coach of the Dutch men's and women's team worked as India's interim coach during the 2013 Asia Cup at Ipoh where the team finished runners-up.

The Tribune spoke to some of the current players, and they felt Oltmans should be given the additional charge instead of looking for a new candidate. Some even welcomed HI's decision to sack Van Ass, albeit off the record.

"Oltmans is the best coach and HI has taken a right decision. We could never relate to Van Ass' style of coaching, but Oltmans is technically and tactically stronger. He knows Indian hockey in and out, having spend close to three years with us. We are sure that we will perform well at the Olympics under him," said midfielder Gurbaj Singh.

Oltmans is currently in Shilaroo, Himachal Pradesh, conducting the national camp. He is expected to meet Batra on Saturday. Later, they are scheduled to meet Sports Authority of India (SAI) Director General Injeti Srinivas.

Former captain Ajit Pal Singh said this would be the real test of Oltmans' skills. "I still fail to understand what Oltmans has done as the High Performance Director all these years. What's his exact role with the team? Let Oltmans take the charge of the Indian team, let him face the heat too."

The Tribune


---

'Autocratic' Batra was just finding ways to fire me: Paul van Ass

NEW DELHI: The special committee's recommendation to remove him as India's hockey coach did not come as a surprise to Paul van Ass, who said an "autocratic" Hockey India president Narinder Batra was just finding ways to officially sack him after the onfield spat in Antwerp.

The nine-member committee headed by Harbinder Singh, formed to decide on his future, on Friday recommended that Van Ass, who had claimed that he has been fired following his altercation with Batra, should not be continued.

When contacted, Van Ass rued the weakness of the Indian system and said Batra owes him an apology for tarnishing his reputation.

"I knew the decision already. I am not surprised. He (Batra) was just finding ways to fire me and he did it. He should apologise for it (tarnishing my reputation)," Van Ass said from his home in Rotterdam.

"I won't call him a dictator but he is an autocratic person. How can he single-handedly take all the decisions? How can he single-handedly fire me to please his ego?

"No one from the Sports Authority of India has tried to contact me. I don't blame any individual, it is the weakness of the system," he said.

As per the procedure, it is now for Hockey India to make a formal announcement about Van Ass' future with Indian hockey. Van Ass had taken over as the coach from Terry Walsh, incidentally also sacked after a spat with Batra, just five months ago.

The development leaves India without a coach with barely a year to go for the Rio Olympics for which the team has already qualified by virtue of their gold medal in last year's Asian Games.

The committee's decision also puts an end to days of uncertainty over the future of the Dutchman, who had gone on record to say that he was willing to come back as coach provided there was no interference.

While recommending his removal, the special committee noted that the Dutchman didn't even bother to submit his report of India's performance in the World League Semi-Final.

But Van Ass argued that he was not bound to submit the report as he was already conveyed about his ouster as India coach.

"That's not my problem. They (HI) are now questioning me but they should be honest about the fact that they fired me just one week after the tournament.

"I want to make it clear that I wasn't required to submit the report, I wasn't in India because Batra fired me on July 10 and on July 13 I got a mail from Roelant (Oltmans) confirming my sacking," Vas Ass said.

Asked whether he was disappointed with countrymate Oltmans for not backing him in this entire episode, Van Ass said: "He will support me. Just wait for the right time."

Van Ass has become the fourth foreign coach to be shown the door unceremoniously ever since Hockey India took over the reins of the game in 2009.

Van Ass's predecessors Jose Brasa, Michael Nobbs and Terry Walsh -- all of whom were hired by Sports Authority of India on the recommendations of HI at hefty salaries -- also left the country on an unceremonious note.

The Times of India


---

Paul van Ass writes to SAI - 'Oltmans was told to tell me I was not welcome anymore'

NEW DELHI: Paul van Ass reportedly made his position clear to the Sports Authority of India (SAI) in a communication dated July 21 - three days before HI's nine-member committee met to discuss his future - on why he was not present at the Shilaroo national camp (on since July 16).

While HI has maintained that Van Ass could not be contacted despite repeated attempts, the Rotterdam-based coach wrote to Sudhir Setia, ED Teams, SAI, saying that he was not in India since he had been fired by Hockey India. "On Friday (July 10), Roelant Oltmans had a meeting with Dr Batra from Hockey India where he was told to tell me that I was not welcome any more," he says in the mail.

If true, then the mail reveals two things. One that SAI was in the know of the Dutchman's position even as HI repeatedly claimed he could not be contacted. Clearly, Van Ass chose to communicate with SAI and not engage with the HI mandarins. "I did not quit the team... I was fired," he had insisted.

Secondly, the decision to fire Van Ass had already been taken as early as July 10, and Friday's three-hour meeting by its nine-member committee was merely an eyewash.

On Friday, panel chief Harbinder Singh denied that the decision to remove van Ass had already been taken before the meeting. "We examined the details before the decision, which was a unanimous one," he told TOI. In the mail to SAI, van Ass says that in a July 14 communication, High Performance Director Oltmans had told him that he would be receiving a formal letter soon.

Van Ass further says: "Roelant Oltmans had a meeting with Elena Norman, CEO of Hockey India, where they discussed my dismissal. The mail from Oltmans to me says that if I come to India, I have to sit at SAI office for a month. This if I want to fulfill my month's notice. It was clear that I was not supposed to be the trainer of the camp in Shilaroo. Roelant Oltmans had already been asked to fill in my place."

The Times of India


---

Assistant coach Felix puts in his papers too

Sabi Hussain

New Delhi: Close on the heels of Paul Van Ass' ouster, Jude Felix, an assistant coach with the men's national squad, has put in his papers, too, citing "personal reasons".

"Yes, I have resigned from the job," Felix told The Tribune from Shilaroo, Himachal Pradesh, where the national camp is currently underway.

"I have an ailing mother to look after. Also, I run a hockey academy that needs my attention. So, I am going back," he added.

However, sources privy to the development offered a different reason for Felix's departure, just a year before the 2016 Rio Olympics.

"He was fed up with the coaching mess. Every time a new coach comes in, he brings his own style of functioning. Felix was finding it difficult to adjust to the styles of different individuals. He needed stability in the coaching department," a source told The Tribune.

"Besides, Felix did not want his name to figure in any kind of controversy. He has an academy in Bangalore where about 150 kids train free of cost. He arranges for their kits and sponsors. He thought it would be better to concentrate there," said the source.

Felix, who was appointed assistant coach in March last year, is an Arjuna Awardee (1995) and was the captain of the Indian team from 1993-95. He also led India in the 1993 World Cup and in the Asian Games in 1994 at Hiroshima.

Gurbaj in trouble

Meanwhile, in another development, midfielder Gurbaj Singh finds himself in trouble after the Hockey India's special committee recommended a disciplinary action against him for "misbehaviour and creating divide within the team".

According to the report submitted by the coaching staff and the team manger, who accompanied the side to the HWL semifinals in Belgium, Gurbaj was found indulging in groupism and misbehaving with coaches.

The committee, headed by Olympian Harbinder Singh, has recommended disciplinary action against Gurbaj. "I don't know about any such report. Let them (HI) seek an explanation first," said Gurbaj.

Gurbaj faced similar charges during the 2012 London Olympics.

The Tribune


---

Van Ass's deputy Felix too resigns

BENGALURU: On a day when Hockey India formally recommended the sacking of Paul van Ass as the chief coach of the men's team, assistant coach Jude Felix too called it quits.

The double whammy will hit the team, which was preparing for the European tour, hard. Without van Ass and former India captain Felix, the onus is now on high performance director Roelant Oltmans and the other assistant coach Sandeep Sangwan to run the national camp at Shilaroo, Himachal Pradesh, till HI hires new personnel.

In his letter addressed to HI president Narendra Batra, Felix has cited personal reasons for his resignation. "I have an 85-year-old mother who is ill and needs medical attention. My Hockey Academy (Jude Felix Hockey Academy) is presently understaffed and therefore my need to be there is crucial," he said.

Thanking HI for giving him the opportunity to coach the men's team, Felix said the "team achieved the most after a long period."

The Times of India


---

Indian Hockey Player Gurbaj Singh Faces Disciplinary Action for Misbehaviour

According to a source privy to the report submitted by the nine-member panel, headed by Olympian Harbinder Singh, to HI president Narinder Batra today, serious question marks were raised on Gurbaj's behaviour with the coaching staff.



File photo of Gurbaj Singh.

Senior India player Gurbaj Singh is in serious trouble as the Special Committee of Hockey India (HI) has recommended disciplinary action against him for "misbehaviour and creating disharmony within the team."

According to a source privy to the report submitted by the nine-member panel, headed by Olympian Harbinder Singh, to HI president Narinder Batra today, serious question marks were raised on Gurbaj's behaviour with the coaching staff. (Why did you sack me?: Paul Van Ass asks Hockey India)

The report also accused Gurbaj of creating rifts within the team. "The committee has recommended disciplinary action against Gurbaj based on the reports submitted by the coaches and manager. He is accused of misbehaving with the coaches. In the past as well, such charges were brought against him during the 2012 London Olympics," the HI source told PTI. (Amid Van Ass crisis, assistant coach Jude Felix quits)

"Serious questions were raised on Gurbaj's attitude. He is also accused of groupism," he said.

The special committee today held a marathon four hour-long meeting where they recommended removal of Paul van Ass as Indian men's team coach following altercation with Hockey India President Narinder Batra during the World League Semifinals in Antwerp, Belgium.

The committee, headed by Olympian Harbinder Singh, also has B P Govinda, V Bhaskaran, Thoiba Singh, R P Singh, A B Subbaiah, Asunta Lakra, Jasjeet Kaur and Hockey India CEO Elena Norman as members.

NDTV Sports


---

Bhai-bhai hockey

Hartman de souza

India's talented players can benefit from a good, no-nonsense Pakistani coach

With a topic that's bound to get everyone's knickers in a twist, I willingly admit a different take on sports andonly because I am as far from the Shiv Sena as Pluto is from earth.

When it comes to cricket, I always support the West Indies. If they lose, as they do these days, I shift to Sri Lanka. If they lose too, I root for Bangladesh. In fact, given the skulduggery now surrounding cricket — more than 10 years of watching cricketers run from genuine success to greater fame and even greater wealth; and then with more speed hurtling towards arrogance and even greed — I now support all nations playing cricket against India, including the Faroe Islands, Mauritania and Malta.

With football, I am open. I will support Brazil through thick and thin, except if they ever play against India — and that allegiance too, given only if there's at least one player from Goa in the team. If Brazil get knocked out, as they often do these days, I shift to any African country left in the tournament. When each of them loses, I stop following that tournament.

With hockey, which is the subject of this essay, it's a lot more complicated.

I was 10, in Mombasa, Kenya, when I knew a grown man could cry over his team losing the final of a match. The year was 1960, and the place, Rome, and India, after winning gold at six successive Olympic Games, had just lost the medal to Pakistan by a solitary goal. With his ear stuck to the radio, my father wept.

I was sad too, but only because I knew two of the players. When the Indian team went to Rome, they broke journey by ship in Mombasa to play practice games against Kenyan teams. The team's stay in Mombasa was hosted by the Indian community, so two of the players, JV Peter and Erman Bastian, were given my bedroom.

But by 1962, the Pakistani hockey team started visiting Kenya and playing matches, while the Indian team, for reasons best known to the administrators of that time, did not. As in Bombay in colonial times, Kenya had sports clubs that were community based. When it came to hockey, in Nairobi this meant the Sikh Union Sports Club, the Goan Institute, and the Sir Ali Bin Salim Sports Club. While there was a fierce rivalry between the clubs at the annual MR Souza Gold Cup, all the bloodied noses and swollen eyes were forgotten when it came to playing Pakistan. Everyone became Kenyan. In fact, till 1971, when Kenya played their first Black player under a Sikh captain and finished fourth in the World Cup (losing 1-2 to India) their hockey team was made up in equal measure of Sikhs, Goans and Pakistani and Indian Muslims.

One can argue that between the ages of say 10-16, one is more focused on the sport being played than the country that played it. What I do know is that from 1962 onwards, I changed allegiance.

By the time the 1964 Olympics came around in Tokyo, I supported Pakistan. All it took was watching a tall centre-forward called Tariq Niazi who just tapped the ball from side to side as he cut through rival players as easily as a hot knife through butter.

In 1964, in spite of Tariq Niazi, India took back the gold, and I who wept with my ear to the radio. In 1968, I exulted with Pakistan on the podium while my father endured the ignominy of India finishing with the bronze. In 1971, Pakistan took the top spot at the World Cup, India finished third.

Look at the facts too. Pakistan won the World Cup in hockey four times, more than any other team. India won it once, so long back no one remembers.

One moment alone captures the argument that Pakistani hockey can be magic. The World Cup finals in Mumbai's Wankhede Stadium in 1982, when Pakistan beat West Germany 3-1 — and when India, incidentally, finished fifth, perhaps even sixth:

The Germans opened the scoring and apart from their team bench and their small band of supporters waving their flag, the rest of the stadium echoed with murmurs of disbelief magnified many times over. Then, the magic: Hassan Sardar, another dashing Pakistani forward receiving the ball just inside the German half, then feinting, darting, and moving like water past four Germans even as the stands began to rise as one. He breezed past the goalkeeper's flailing stick, and scooped the ball into the goal with a reverse flick as neat as you can wish for. A packed Wankhede Stadium was on its feet, the collective roar of approval fierce and palpable.

It is that collective euphoria I summon in these troubled times.

Can it get any worse for both these nations of immaculate hockey pedigree? India just lost 0-4 to Belgium! In the same tournament, Pakistan lost to Ireland! Ireland, for God's sake! India has had four European and Australian coaches in the last five years; and 21 in as many years! Pakistan, for all I know, changes its coaches every six months — when they do have a coach, that is. Hockey India is led by a capable administrator but like his cricket counterparts, a man who wants to do everything, including being coach.

In 1982, a young, silky smooth Pakistani team mauled India 7-1 at the National Stadium in Delhi. By the end of the match, Indian supporters were cheering them. It remains perhaps till date the best exhibition of the 'Asian' style of play that negates the largely hit and run methodologies favoured today. It was the game that won that day in New Delhi and we should accept that as graciously as those thousands who cheered for 'our' style of hockey to prevail. It is Pakistan that wears that mantle.

We need a radical shift in our thinking. We should search for a good, no-nonsense Pakistani coach and bring him in with his own coaching staff. Hand him our immensely talented players and then see what happens to hockey on both sides of the border.

Could we also use the game to enhance cordiality and trust between India and Pakistan? You tell me.

The author is a writer and theatre director currently working with Koothu-P-Pattarai, a Chennai-based theatre group

DNA


---

Jharkhand sports dept to pay hockey stadium's maintenance

Prabhash C Jha



A representative photo of a hockey stadium. (HT Photo)

Budding hockey players in Jharkhand's Simdega district, considered the state's sports nursery, will no longer have to beg and seek donations to water and maintain the Astroturf stadium built and gifted to them by the state's sports department barely two months back.

The department after taking cognizance of the HT report dated July 16 that highlighted the deplorable condition of players compelled to seek donation to water the Astro Turf grass has announced to allot Rs 4.32 lakh annually for its maintenance. "The department has decided to earmark and allocate Rs 4.32 lakh per annum to maintain the newly costructed ground and also facilitate its regular use by promising players," sports director Anil Kumar Singh said.

He said the allocated budget would be handed over to the Simdega deputy commissioner and he would release the funds according to the necessity of the maintenance work. "Steps are being taken to reach out electricity supply to the Astroturf stadium so that watering process can be done easily and regularly," the director added.

The stadium built at a cost of Rs 5 crore is not a comfort or luxury but necessity for Simdega as the state has for long produced the best of sports persons who went on to represent the country at various national and international meets and won laurels. There are various hockey players from Simdega who have played for country, including Michel Kindo (Olympian), Silbanus Dungdung (Olympian), Kanti Baa, Masira Surin, Sumrai Tete, Justin Kerketta, Vimal Lakra, Virendra Lakra, Edlin Kerketta, Asunta Lakra, Alma Guria, Puspa Topno, Sunita, James Kerketta, and Ashrita Lakra.
 
However, once completed, the department turned its back to the stadium leaving it on to the Simdega District Hockey Association (SDHA) and the players to manage funds for its upkeep. Since the stadium has no power, watering the ground remained the most expensive affair. 

According to SDHA officials, besides other miscellaneous expenses, they required Rs 10,000 to Rs 12,000 per month on watering the ground.

"For the poor players, who could hardly manage nutritious food to sustain their rigorous practice, the amount was big asking. Hence, we began seeking donation from local businessmen and also put up a donation box on the ground seeking voluntary donations," SDHA president and former Olympian Asuntha Lakra said.

HT was the first newspaper to travel to Simdega and report about the players plight. The report did move the authorities concerned in the sports department and forced them to act.

Welcoming the department's decision to allocate funds for the stadium's upkeep, Lakra said the department has for a change saved the players from further disgrace and embarrassment. "It's a welcome step. By begging for donation, we never intended to put the department to shame. It was in the overall interest of the hockey and budding players. We would be happy to remove the donation box from the stadium now."

Hindustan Times


---

So-called Olympians destroyed hockey: Sami

Mohsin Ali

ISLAMABAD - Olympian Samiullah has said that immature Olympians are behind debacle of Pakistan hockey and they are totally responsible for hockey decline in the country.

Talking to The Nation, Samiullah said: "I fear for Pakistan hockey, if these incompetent persons are given more time, the day is not far when green shirts may have to play qualifying round even for the Asian Games and other low-profile events.

I am astonished that incompetent persons are sitting at the helm of affairs, who doesn't have any knowledge of hockey and they clearly lack direction."

"Junior Hockey World Cup is just round the corner and instead of preparing junior team for the mega event in India next year, the federation is sleeping and busy in hushing up their failures.

All the other top teams of the world have been giving top priority to the Junior Hockey World Cup, which is considered as nursery and perfect platform from where national teams get fresh pool of players for the senior level, but surprisingly no heed has been paid on this highly-significant event.

"It clearly shows the people sitting in the federation are least bothered about revival of the national game.

They don't have any vision or plan to streamline fast declining fortunes of hockey.

I am surprised that these so-called masterminds of the federation had brought so much pain and agony for hockey and the nation had to face huge embarrassment, the masses suffer badly.

The countries, who learnt hockey from us, had climbed new heights, while we are going down and down with each passing day.

These incompetent persons failed in saving the sinking ship of Pakistan hockey so they must accept their responsibility and tender resignations.

But unfortunately, the federation officials are busy in playing blame game and using every trick to save their skins," he added.

Samiullah said: "Being PHF patron, it was prime duty of the prime minister to show the entire management door and appoint persons, who have know how of hockey.

I am amazed why the PM taking so much time to act, why IPC-appointed hockey probe committee taking so much time? They had promised to submit report within one week but why they are giving so much liberty, time and space to guilty persons? On what grounds and reasons these flopped persons should be given more time?"

"I hope PM Nawaz Sharif will act in the best interest of hockey and issue strict directives.

For the past four years or so, these persons have taken Pakistan hockey to brink.

I, on behalf of Olympians, request the PM to have mercy on hockey and instead of waiting for probe committee report, send these whole-sole responsible persons home.

Pakistan hockey can't bear such persons anymore, who have destroyed national sport," Samiullah concluded.

The Nation


---

Making friends across continents




"There are times when sport can become a tool through which we discover a new world, a new environment, new people, behaviours and lifestyle." This is one of the objectives of a project that has been running in Tanzania for more than a year now, seeking to use sport as a means to improving the life chances and self-confidence of girls and women in one of Africa's remotest and poorest areas.

The Italian non-governmental organisation (NGO) CO.PE has been working with local school children of all ages to promote hockey in East Africa, so the Jambo Hockey tournament was an ideal opportunity to put skills into action.
And if you wanted to learn about hockey from the experts, who better to invite than some players from the country ranked number one in the world when it comes to women's hockey, the Netherlands. This particular project started as part of a football programme called Clublinking, which is run by the Dutch Football Association, but was extended to hockey through a collaboration with CO.P.E.

CO.P.E. is run by Italian hockey player Valentina Quaranta.  While the project aims to develop hockey from the grass-roots level upwards, Valentina came to Tanzania with a second ambition – she pledged to re-form the Tanzanian women's national hockey team. Among the challenges she faced as she began re-forming the national side were limited funds and equipment, and a lack of opposition. The fact that Tanzania women's team competed in the 2014 Hockey World League Round One event is testimony to the enormous strides CO.P.E. with the Tanzania Hockey Association has made in the past 12 months. The Clublinking project promises to continue to assist with the challenges – in particular equipment and teams to play against – the Jambo Hockey adventure was not a one-off, Clublinking will continue to support the project in the future.

Valentina and her team's vision has been given a boost through the excellent support of the Tanzania Hockey Association and the players and their families from the Rijwiske Hockey Club (RHC) from the Netherlands, who threw themselves whole-heartedly into the Clublinking programme.

Over a 10-day period, the visiting Dutch team ran training sessions for more than 300 pupils in schools in the area; held friendly matches against the Tanzanian women's side, Twende; ran a school hockey tournament involving 100 youngsters from five primary schools from the capital city Dar-Es-Salaam; and played a match against the national U16 team from neighbouring Kenya. Over the course of the programme, the RHC players and members of Twende mixed together to run coaching, lead teams and generally ensure that the players all had a meaningful and enjoyable experience – all centred around hockey.

The RHC team also brought with them a large amount of equipment that was donated to the local players. Sticks, shoes, balls and goalkeeping equipment was distributed throughout primary and secondary schools in the area.

In return, the Dutch players were welcomed into the houses of the Tanzanian team, where they experienced cooking and eating local food and saw just how their new hockey-playing colleagues lived and the daily challenges they faced.

FIH site