All the news for Tuesday 21 July 2015

Women's semifinals of the 2015 Pan American Games set



2015 Pan American Games - QF - Canada vs. Uruguay. Photo: Yan Hckendubler

In the matches to decide who plays in fifth through eighth place matches will be between Cuba and Mexico; and the Dominican Republic and Uruguay. The biggest win of the day was the United States 15-0 win over the Dominican Republic. While Canada faced tough defense to come away with the narrow 2-0 win over Uruguay.

Canada vs. Uruguay: 2-0 (ht: 0-0)

In the final women's quarterfinal match host Canada met Uruguay. Uruguay rushed on attack first and earned the first penalty corner of the match in the fifth minute, but the shot was blocked by Canada's keeper Kaitlyn Williams. Uruguay continued to attack, but Williams and the rest of Canada's defense was able to recover the ball. For the next five minutes, Canada held possession. Uruguay defended extremely well to prevent Canada from getting anywhere near its attacking circle. With either team unable to get into their attacking circle at the end of the quarter, the match remained scoreless going into the second quarter.

The second quarter started with Canada on the attack; and Captain Kate Gillis found Hannah Haughn running towards goal, but Haughn was unable to finish. In the 17th minute Canada earned a penalty corner, but the shot was saved by Uruguay's keeper Rosanna Paselle. Two minutes later Canada had another penalty corner opportunity, but could not execute the play. Canada continued to attack, but Paselle again made big saves to keep the match scoreless. With Uruguay doing an excellent job of forcing Canada's possession in the midfield the halftime score remained Canada 0, Uruguay 0.

The third quarter also started with Canada controlling the possession, but with Uruguay still maintaining great positioning to keep Canada from entering its attacking circle. When Canada looked to enter its circle a few minutes into the quarter, Uruguay's Manuela Vilar was there to break up the play. Canada continued to look to attack and a Maddie Secco shot stopped by Cecilia Casarotti led to a penalty corner. Canada's Abi Raye perfectly finished the penalty corner play by lifting the ball around Paselle to break the scoreless match and give Canada the lead in the 37th minute.  Canada continued to pressure on attack and earned a couple more penalty corners that were again well defended by Uruguay to keep Canada from scoring further.  Paselle made one more big save and the score remained Canada 1, Uruguay 0 at the end of the third quarter.

The fourth quarter continued with Uruguay playing extremely strong defense against an attacking Canadian side. Canada earned their first penalty corner of the fourth quarter in the 50th minute. Canada's Karli Johansen sent a beautiful high drag flick into the top right corner of the goal to give her team a two goal lead over Uruguay with nine minutes remaining in the match. A few minutes later Uruguay had the ball in their attacking half, but could not manage to get a shot off and the ball went over the endline, such that Canada regained possession. Canada was immediately back on attack with a penalty corner opportunity in the 57th, but could not capitalize. While Uruguay continued to hold off Canada, Canada also made sure that Uruguay could not get a scoring opportunity late in the match. Thus, the final result was Canada 2, Uruguay 0. With the win, Canada advances to the other semifinal and will face United States.

United States vs. Dominican Republic: 15-0 (ht: 6-0)

The third women's quarterfinal was between United States and the Dominican Republic. The match started with the United States pressuring heavily on attack. The United States earned the first penalty corner of the match in the fifth minute, but did not execute the penalty corner play. Cindy De La Rosa, the Dominican Republic keeper, made big saves to keep the United States off the scoreboard. Paige Selenski broke through in the ninth minute as she just barely pushed the ball into goal on the post to make the score United States 1, Dominican Republic 0. The United States kept pressuring on attack, but De La Rosa kept leading her defense to hold off the United States. In the 15th minute the United States was able to earn another penalty corner. De La Rosa saved the initial shot, but Michelle Kasold was there for the rebound and immediately scored to put the United States two goals ahead of the Dominican Republic to close out the first quarter.

As the second quarter started, the United States kept up their scoring momentum as Kelsey Kolojejchick scored off a hard hit in the 18th minute to make the score United States 3, Dominican Republic 0. Off the restart, Agustina Birocho had the ball down in the Dominican Republic's attacking end very briefly as the United States quickly regained possession and ran on attack. Jill Witmer pushed the ball right past De La Rosa making it United States 4, Dominican Republic 0 by the 20th minute. The United States kept possession in their attacking half and in the 26th minute Katie O'Donnell scored to put her team ahead by five goals. Then Kolojejchick beat De La Rosa on the goal post to make the score United States 6, Dominican Republic 0 in the 28th minute. The United States earned two penalty corners in the 30th minute, but De La Rosa saved both shots to keep the score at halftime United States 6, Dominican Republic 0.

Following the halftime break, the United States immediately went on attack and Kolojejchick scored her third goal of the match off a penalty corner in the 32nd minute. A minute later, Katie Reinprecht then put in a hard shot to make the score United States 8, Dominican Republic 0. Two minutes later, Rachel Dawson's drag flick off a penalty corner put her team ahead by nine goals. Kolojejchick then had her fourth goal of the match in the 36th minute to make the score United States 10, Dominican Republic 0. Play continued in the United States attacking area and Stefanie Fee hit a hard shot off a penalty corner in the 40th minute to make it United States 11, Dominican Republic 0. After De La Rosa blocked a couple more United States' penalty corner shot, Melissa Gonzalez got a penalty corner shot past De La Rosa to make the score United States 12, Dominican Republic 0 that remained until the end of the third quarter.

The United States continued their rapid scoring in the fourth quarter when Katelyn Falgowski put one in for the United States in the 46th minute. In the 51st minute the Dominican Republic was able to get the ball down in their attacking end, but could not get into their attacking circle to get a shot off. Witmer then scored off a penalty corner after the initial shot hit the goal post to make the score United States 14, Dominican Republic 0 in the 55th minute.  A hard goal by O'Donnell in the 60th minute made the final score United States 15, Dominican Republic 0.

Chile vs. Mexico: 7-0 (ht: 3-0)

The second women's quarter final match was between Chile and Mexico. From the opening whistle, Chile was really fast on the attack taking the lead in the first minute off a goal by Carolina Garcia. Chile continued to pressure on attack, but could not manage many shots past Mexico. In the 10th minute, Chile had the first penalty corner of the match, but the shot went wide. A minute later, Javiera Villagra found a pretty open net to make the score Chile 2, Mexico 0. With Mexico continuing to play hard defense, Chile kept their two goal lead going into the second quarter.

Throughout the second quarter, Chile continued to dominate possession and play was mostly in Chile's attacking half of the pitch. Mexico prevented Chile from obtaining penalty corner opportunities from their attack for nearly all of the second quarter. Yet, Chile's Manuela Urroz capitalized off her team's attacking pressure by hitting a hard shot past Mexico's keeper Jesus Castillo in the 24th minute making the score Chile 3, Mexico 0. And in the 30th minute Chile earned a penalty corner, but again the hard penalty corner shot went wide. Thus, the score at halftime remained Chile 3, Mexico, 0.

Chile started the third quarter just like they did the begging of the match with a very quick goal. Urroz scored her second goal of the match of a deflection from a well executed penalty corner play to make the score Chile 4, Mexico 0 in the 33rd minute. Chile immediately earned another penalty corner, but Castillo saved the shot. Mexico then had their first attacking opportunity of the match and immediately earned a penalty corner in the 34th minute. Chile played good team defense to block up the penalty corner to regain possession. Chile was fast back on the attack and Francisca Tala found Francisca Vidaurre who put her team ahead of Mexico by five goals in the 37th minute. Less than a minute later, Chile had three more penalty corners, but Castillo continued to make big saves. Yet, Chile's Agustina Venegas then made the score Chile 6, Mexico 0 when she deflected a great ball past Castillo in the 40th minute. A minute later, Chile had a penalty corner, but the shot was too high. Chile kept up their attacking intensity and earned two more penalty corners in the 44th minute. Chile's offenders then put together a beautiful passing combination to find Urroz on the post to tap the ball in to make it Chile 7, Mexico 0; that remained the score as the third quarter ended.

In the fourth quarter, Chile continued to have the majority of possession. Mexico, however, played very strong defense to prevent Chile from taking many shots or having many penalty corners in the fourth quarter. In the 51st minute, Chile's Camila Caram received a green card, but Mexico was unable to take advantage. Mexico continued to play good team defense to prevent Chile from penetrating their attacking circle for nearly the rest of the quarter. With Chile unable to get a shot off in the final minute the final score remained Chile 7, Mexico 0.

Argentina vs. Cuba: 10-0 (ht: 7-0)

The first quarter-final match of the Pan American Games women was between Argentina and Cuba. Argentina immediately pressured on attack from the start and earned their first penalty corner of the match in the 5th minute. Rocio Sanchez collected the ball on the penalty corner play and pushed the ball far past Cuba's keeper Heidy Gonzalez. Argentina continued to maintain possession. Yailyn Abrahan and Captain Mileysi Argentel did a good job on defense, especially in the midfield, to hold off the Argentina attack; including another penalty corner by Argentina in the 9th minute. As a result, Cuba had their first scoring opportunity of the match in the 10th minute with a shot by Marisbel Sierra that went wide. Argentina earned three more penalty corner in the 15th minute, but Sierra and keeper Gonzalez broke up the first two plays. Argentina's Barrionuevo converted the third penalty corner of the minute to put her team ahead by two goals to end the first quarter of the match.

Argentina kept up their attacking intensity in the second quarter. Sanchez converted another penalty corner opportunity in the 17th minute to make the score Argentina 3, Cuba 0. Pilar Romag quickly gave her team a four goal lead with a reverse shot in the 20th minute. Two minutes later, Barrionuevo and Florencia Habif, respectively, scored back-to-back penalty corner goals to make the score Argentina 6, Cuba 0 by the 24th minute. After these two penalty corner goals, Cuba substituted their keeper Gonzalez for reserve keeper  Yusnaidy Bentacourt. Argentina's Luciana Molina quickly got past Bentacourt to make the score Argentina 7, Cuba 0.

To start the third quarter, play was in Argentina's attacking circle. Bentacourt made a number of big saves and with Captain Argentel Cuba played strong defense to prevent Argentina from increasing their lead for much of the third quarter. In the 43rd minute, Barrionuevo scored another penalty corner goal making the score Argentina 8, Cuba 0. Cuba's defense prevented Argentina from scoring further in the third quarter to keep the score Argentina 8, Cuba 0.

The fourth quarter featured constant penalty corners for Argentina. Again, Bentacourt kept making saves and Cuba's Brirzaida Ramos also made some defensive saves on corners to prevent Argentina from capitalizing off many of their penalty corners in the fourth quarter. Barrionuevo and Sanchez each converted corners in the 51st and 52nd minutes to make the score Argentina 10, Cuba 0. Roseli Harrys also played strong defense for Cuba that helped Cuba to continue to keep Argentina from capitalizing off many penalty corners in the rest of the match. Behind four goals from Barrionuevo and three from Sanchez, respectively, Argentina came away with the 10-0 win over Cuba.

The semifinal and cross-over matches will take place on 22 July with game times being modified to 9:00, 11:30, 17:00 and 19:30 to allow for the possibility of shoot outs.

Pan American Hockey Federation media release


---

Goals galore in quarter-finals

Semi-finals have north/south split as Chile face Las Leonas and USA take on host nation Canada




High scores were the order of the day at the Pan-Am Games as the women's quarter-finals were played out in front of an enthusiastic crowd. Argentina and Chile both put 10 goals past their opponents, Cuba and Mexico, while the USA hit an imperious 15 goals past the Dominican Republic. The home side, Canada, had a tougher encounter against Uruguay but came through 2-0 winners.

The semi-finals, which will take place on 22 July, take on a north-south split, with Argentina facing Chile while north American rivals Canada will play the USA.

Argentina v Cuba 10-0

The first quarter-final match of the day was between Argentina and Cuba. Las Leonas wasted no time in making their intentions clear as Rocio Sanchez opened the scoring in the fifth minute through a well-taken penalty corner. Cuba's keeper Heidy Gonzalez showed her ability between the posts as she denied Argentina several more scoring opportunities in those opening minutes, but Noel Barrionuevo (15') was on hand to double her team's score before the end of the first quarter.

The second quarter was no less intense as Argentina kept up the barrage on the Cuban goal. Sanchez converted another penalty corner opportunity in the 17th minute and Pilar Romang followed up with a reverse stick rocket three minutes later. Barrionuevo (22') and Florencia Habif (24') scored back-to-back penalty corner goals and Luciana Molina (25') made it 7-0 when she scored past Cuba's replacement 'keeper Yusnaidy Bentacourt. It was Bentacourt and captain Mileysi Argentel who kept Las Leonas at bay for much of the third quarter, but even their valiant efforts couldn't prevent Barrionuevo (43') scoring her third, again from a penalty corner.

The fourth quarter saw Argentina camped in the Cuba circle. The final nails in the Cuban coffin went to the prolific Barrionuevo (51') and hat-trick-scoring Sanchez (52').

Chile v Mexico 7-0

If Argentina got off to a quick start, Chile were blisteringly hot as they marched into the lead in the opening minute of the game through Carolina Garcia. Javiera Villagra followed up in the 11th minute and Mexico were left reeling.

The second quarter was saw Chile piling on more pressure, but Mexico battened down the defensive hatches and kept them out for the majority of the quarter. Manuela Urroz (24') added Chile's third goal and her first of the match when a penalty corner finally made it past the resilient defence and 'keeper Jesus Castillo.

After the half-time break, Chile came out with fresh intent and four goals in the quarter put paid to the Mexican resistance. Like clockwork Urroz scored every 10 minutes, her 24th minute opener was followed by goals at 34 and 44 minutes. Francesca Vidaurre popped up with a goal on 37 minutes and Agustina Venegas (40') also got on the scoresheet.

The fourth quarter was goalless, but by then Chile had sealed the match and secured their place in the semi-finals.

USA v Dominican Republic 15-0

The USA were in rampant mood as they took on the Dominican Republic in the third quarter-final of the day. Despite the heavy scoreline, which had USA scoring an average of a goal every four minutes, the match was goalless until the ninth minute as a brave Dominican Republic defence kept the USA at bay.

It was Paige Selenski who opened the scoring with a shot that defeated the 'keeper, Cindy de La Rosa, through placement rather than pace. Michelle Kasold doubled the lead in the 15th minute from a rebounded shot. Kelsey Kolojejchick scored twice (18') and (28') in the second quarter and she was joined on the scoreboard by Jill Witmer (20') and Katie O'Donnell (26') and, although Dominican Republic made a couple of excursions into the USA circle, particularly through the hard-working Agustina Birocho, it was really one-way traffic.

Kolojejchick's (32') third came from a penalty corner and just a minute later Katie Reinprecht fired a rocket to score USA's eighth. Rachel Dawson (35') found her drag-flick form and put the ball past de La Rosa and Kolojejchick helped herself to her fourth of the game. Stefanie Fee (40') and Melissa Gonzalez rounded off a tremendous 15 minutes of attacking action for USA.

Still the Dominican Republic's agony continued, with Katelyn Falgowski scoring in the 46th minute, Witmer scored her second and O'Donnell wrapped things up in the last minute to make it 15-0.

Canada v Uruguay 2-0

The final quarter-final of the day was a much closer affair, with the host nation Canada running out 2-0 winners over Uruguay. Kaitlyn Williams was the first 'keeper to be called into action as pressure from the Uruguay attack kept the Canadians in their defending circle for the early minutes of the game. A goalless first quarter saw action and possession swinging from team to team.

In the second quarter Canada had the better of the chances, but Uruguay's Rosanna Paselle was equal to the challenge and again the quarter ended goalless.

Abigail Raye broke the deadlock in the 37th minute when she lifted the ball over Paselle from a penalty corner. This swung the momentum of the game and for the remainder of the quarter, Canada were in the ascendancy. The game was put beyond doubt by Karli Johansen (50') when she fired a penalty corner high into the Uruguay goal. Although Urugauy came back strongly, this was a lead that the home side were not going to relinquish.

Keep up with all the action on www.panamhockey.org

#PAGhockey15 #TO2015 #RoadToRio

FIH site


---

Canadian women advance to Pan Am semifinal with win over Uruguay

Raye and Johansen score on penalty corners in 2-0 win

Shaheed Devji



Photo: Yan Huckendubler

The Canadian women's field hockey team is moving on to the Pan American Games semifinal after a 2-0 win over Uruguay Monday at the Pan Am Fields in Toronto.

With the win, Canada will face its North American rival, the United States, on Wednesday evening at 4:30pm PT/7:30pm ET.

Abigail Raye and Karli Johansen both scored second half goals on penalty corners to lead Canada to the quarterfinal victory over Uruguay, which Canada recently faced and beat at the World League Semifina in Valencia, Spain.

"It's nice to get a solid finish against them," says North Vancouver's Johansen, who was playing in her fifieth international match for Canada. "Same score as the last time we played them so we know what we were coming up against, we knew what it was going to be like. No surprises."

Johansen's goal should come as no surprise either, as the twenty-three year old netted her fourth of the tournament - and her second on the penalty corner - in the fifteith minute of play.

"We've actually had a lot of corners this tournament," adds Johansen. "It's getting easier to slow it down."

The game began with a good chance for Uruguay, which was given an early penalty corner. Kaitlyn Williams made a glove save to keep the game scoreless. From there, Canada controlled Canada possession and played the majority of the game in the Uruguayan end.

Despite the tilted pitch, the game remained scoreless at half-time.

Eventually, both of Canada's goals would come on penalty corners, a play on which they have proven to be very successful to this point in the tournament.

"We just put a lot time into it," says Canadian head coach Ian Rutledge about the Canada's success on the short corners. "We invest a lot of time and effort with both our drag flickers (Johansen and Danielle Hennig) and they've both produced during the tournament.

"It's great to have a two pronged attack where it's difficult for the first runner to pick. They're two young girls and they're developing really well"

Canada will hope the trend continues when it faces the United States, which is the tournament's second ranked team and are ranked fifth in the world.

Wednesday's semifinal match is scheduled to be played at 7:30pm ET. The winner of the Canada-U.S. match will go on to the tournament final on Friday against the winner of the Argentina-Chile game.

Field Hockey Canada media release


---

USWNT Advances to Pan American Semifinals with Win Over Dominican Republic



Photo: Paul Winstanley

TORONTO, Canada – The U.S. Women's National Team defeated Dominican Republic by a score of 15-0 in Quarterfinal playoffs to advance to the 2015 Pan American Games Semifinals. Today's contest saw 10 different goal scorers, which included three athletes tallying multiple successful shots into the cage. Team USA has yet to concede any goals in the Pan American Games while earning an impressive total of 34 goals at the event. The red, white and blue will take on the winner of the Canada versus Uruguay match on Wednesday, July 22 at 7 p.m. EST.

"It's important for us to keep working and playing our game," said U.S. Women's National Team Head Coach Craig Parnham. "We like to create a lot of chances and this time we were able to score on some of them. It's nice to be defensively tight as well. We work hard on that. It requires discipline to stay switched on in some of these moments and credit to the players, they've done a terrific job staying diligent and being professional."

Eager to make a stamp on the game early, Team USA earned their first penalty corner in the 4th minute. Though the ball was missed trapped at the top of the circle, Michelle Kasold (Chapel Hill, N.C.) managed to get a shot off that was deflected over the endline. The USWNT continued to have dominant possession in their offensive 25 and in the 9th minute of play, Paige Selenski (Shavertown, Pa.) navigated the left baseline and slipped one in past Dominican Republic's goalkeeper to give Team USA a 1-0 lead.

Team USA continued to keep pressure on Dominican Republic's defense as Emily Wold (Freehold, N.J.) ripped a shot on cage that went just right of the post. Resilience paid off in the 15th minute when Team USA earned their second penalty corner of the game. Kasold's initial shot on target was blocked, but she found the rebound and with a backhand shot sent the ball into the goal to make the score USA 2, Dominican Republic 0.

Wasting no time after the two minute break between quarters, Team USA sped down the field into the offensive end where Kelsey Kolojejchick (Larksville, Pa.) crossed the ball into the circle but a USA stick wasn't able to send it into the back of the net. Determined to keep their aggressive attack tempo alive, another effort by Kolojejchick resulted in a blast from the top of the circle and into the goal to give Team USA a 3-0 advantage.

The scoring continued in the 20th minute when Katelyn Falgowski (Landenberg, Pa.) fired a ball to Jill Witmer (Lancaster, Pa.) on the far post who deflected it into the cage changing the score to USA 4, Dominican Republic 0. Holding possession in the offensive end, a fiery field goal sent by Katie O'Donnell (Blue Bell, Pa.) at the center of the circle in the 26th minute lifted USA to 5-0.

Two minutes before halftime, Kolojejchick tallied her second goal of the game on a tip from a goalmouth scramble giving USA a 6-0 lead. Team USA earned their third penalty corner of the game with one minute remaining. Lauren Crandall's (Doylestown, Pa.) powerful shot hit a Dominican Republic foot on the way to the goal for another Team USA penalty corner. The second opportunity was turned away by Dominican Republic's goalkeeper.

"It has been a long time coming," said U.S. Women's National Team defender Stefanie Fee (Virginia Beach, Va.). "We just stick to what we're used to by using the width to stretch up the field and then when we have the opportunities in the circle we're fighting hard to put it away."

Coming out of halftime, the USWNT broke into attack mode quickly as Katie Reinprecht (Perkasie, Pa.) created a stick foul situation that resulted in a Team USA penalty corner. Capitalizing on the opportunity, Kasold swept a ball to Kolojejchick on the far post who scored an open-net goal giving USA a 7-0 lead. Just one minute later, O'Donnell fired a shot on cage that was stopped on the goal line by a Dominican Republican defender but Katie Reinprecht was there to put in the rebound making the score 8-0.

Continuing the scoring, Rachel Dawson (Berlin, N.J.) buried a low ball off the corner into the right panel of the backboard. Quickly following this play, Kasold located Kolojejchick in the circle who tallied her fourth goal of the game. After a flurry of shots from back-to-back corners, Fee grabbed a rebound and fired the ball into the cage extending the margin to 11-0. Consistently strong Team USA defense cutoff Dominican Republic's fast runs at the midfield line to support and feed the ball to the U.S. forwards to generate more chances.

"We just keep our head in the fridge and stay diligent the entire time," said Fee. "So if the ball is back there we make sure we have the presence of mind to keep it controlled, keeping the tempo and then attack when we want to."

At the 43rd minute mark, Melissa Gonzalez (Mohegan Lake, N.Y.) drove the left baseline and lifted the ball into the right corner of the net to give USA a 12-0 lead.

Team USA continued to make the most of their scoring opportunities and in the 46th minute Falgowski fired a ball through the Dominican Republic defense changing the score to 13-0.

Off a penalty corner in the 54th minute, Witmer found a ball that came off the post to one-time it into the net. In the final minute to finish out the scoring, O'Donnell turned and fired one in, to the make the final score USA 15, Dominican Republic 0.

The U.S. Women's National Team will advance to the Semifinals on Wednesday, July 22 against the winner of Canada and Uruguay.

USFHA media release


---

Host Canada and Argentina top pools entering men's quarter-finals



2015 Pan American Games - Argentina vs. Cuba. Photo: Yan Hckendubler

In Toronto, Canada following three days of men's pool-play competition at the Pan American Games, the quarter-final brackets are set. Pool leaders host Canada and Argentina will cross-over with Trinidad and Tobago and Mexico, respectively. For the other two cross-over matches, Chile will face Cuba and United States will face Brazil. The men's quarter-final round will take place on 21 July with game times being modified to 9:00, 11:30, 17:00 and 19:30 to allow for the possibility of shoot outs.

Men's quarter-final matches begin on 21 July and semifinals continue 23 July. Finals are set for 25 July. All classification games will go straight to penalty shootouts if it is a draw after regulation time.

Argentina (1st Pool A) vs. Mexico (4th Pool B) – 21 July at 9:00

Following a 3-0 record in pool play, world ranked No. 6 Argentina enter the classification round the favorites. Argentina leads all men's teams in scoring with 22 goals. Yet, a close 5-4 win over Cuba proves that Argentina is not unstoppable. Argentina has benefited from the talents of penalty corner specialist Gonzalo Peillat who leads the tournament with 7 goals. Mexico lost all three of their matches in pool play, but did open the tournament with a close 2-3 loss to Chile.  Mexico's Alexis Campillo has two of Mexico's three total tournament goals.

Chile (2nd Pool B) vs. Cuba (3rd Pool A) – 21 July at 11:00

It will be a tight match between Chile and Cuba for a spot in the semifinals. Chile were 2-1 in pool play and proved their experience in their game against host Canada. On the offensive,  Sven Richter and Martin Rodriguez each have two goals for Chile. While Chile's defenders, Nicolas Renz , Andres Fuenzalida and keeper Adrian Henriquez will have to face a Cuba squad that efficiently converts penalty corners. Cuba's Yoandy Blanco is second on the goal scorers list with five goals, four of which came from taking advantage of penalty corner opportunities.

United States (2nd Pool A) vs. Brazil (3rd Pool B) – 21 July at 17:00

With a close 2-1 win over Trinidad and Tobago on the final day of pool play the United States emerged with second place in pool A. Will Holt has two goals for the United States, while Matheus Borges has two goals for Brazil. Brazil needs to have at least a 6th place finish in the competition to have an opportunity to qualify for the 2016 Rio Olympics.

Canada (1st Pool B) vs. Trinidad and Tobago (4th Pool A) – 21 July at 19:30

Hosts Canada had a perfect record in pool play after a 9-1 win over Brazil, a close 1-0 win over Chile and a 8-1 win to Mexico. Gabriel Ho-Garcia had four goals in Canada's win over Mexico, but Canada has a number of players who have scored multiple goals in the competition; including Matt Guest with three goals; and Mark Pearson, Matthew Sarmento and Scott Tupper each with two goals. Trinidad and Tobago has had three different players each score one goal apiece: Ishmael Campbell, Solomon Eccles and Akim Toussaint. Trinidad and Tobago will rely on keeper Andrey Rocke who earned his 100th cap during the competition.

Pan American Hockey Federation media release


---

Field hockey team savours success at home

By Neil Davidson

TORONTO — The Canadian men's field hockey team is making the most of a rare chance to put on a show at home.

Coach Anthony Farry's squad won all three Pool B games, outscoring Brazil, Chile and Mexico 18-2. The Canadian men, ranked 15th in the world, take on No. 29 Trinidad and Tobago in quarter-final action Tuesday with the winner facing either the U.S. or Brazil.

Farry, while celebrating both the wins and a potent offence at the tournament, sees beyond the victories.

"One of the main things is being able to showcase (field) hockey to the Canadian public," said Farry, an Australian. "Because obviously ice hockey is the big one in this country. And field hockey is a real distant cousin, I would suggest.

"One of the big things is we that give the crowd something to enjoy. And along the way, we're playing well too, so that's a double bonus for us."

Added captain Scott Tupper: "It's always nice to have 'Go Canada' rather than maybe some other country when you're playing."

The last home tournament was the Pan American Cup in Brampton, Ont., in August 2013, which drew little domestic attention.

Canada and Trinidad and Tobago have played three times in the last two years, with Canada winning all three meetings. Trinidad is missing injured star player Kwan Browne here.

"They're a reasonable side but if we play well I think I'm pretty confident with where are at the moment," said Farry.

Canada's ultimate goal is Olympic qualification. No. 6 Argentina, which won Pool A while outscoring the opposition 22-4, is one of seven men's teams to have already booked its ticket to Rio de Janeiro.

The Pan Am winner qualifies automatically. But because of Canada's fourth-place finish in the Argentina Hockey World League semifinal in June — the top three qualified — the Canadians have moved close to Olympic qualification.

Since Argentina is already going to Rio by virtue of its second-place finish at the World League, Canada would qualify even if it lost to the South Americans in the Pan Am final. If Argentina wins the gold, Canada qualifies for Rio even if it doesn't make the final.

If Canada faces another team in the final, it would have to win to go to the Olympics. And if Argentina lost the final to another country, the winner would qualify.

"We're in a good position in the moment," said Farry.

The Canadian men last made it to the Olympics in 2008 at Beijing. Vancouver's Tupper and Mark Pearson of Tsawwassen, B.C., are the lone holdovers from that squad.

While the Americans are often Canada's biggest sporting rival, Argentina looms largest for Canada in field hockey. The South Americans are always in Canada's way.

Canada and Argentina have met in the last 10 Pan Am finals. Argentina has won six of those meetings, including a 3-1 victory four years ago in Guadalajara.

"Without a doubt in Canadian field hockey, the biggest rival would be Argentina," said the 28-year-old Tupper, who has won more than 200 caps.

Canada lost 3-0 to Argentina in the World League semifinals and 3-0 to the Netherlands in the bronze medal match. The Argentines also beat Canada 2-1 in pool play at that tournament.

Tupper was 20, the youngest on the team, in 2007 when Canada last qualified for the Olympics.

"When it happens your first go-round, you kind of feel like 'Oh it's probably just going to go this way every time.' And that's why you kind of have a bit of a realization and it really hurts when it doesn't go the way you want it to four years later."

Watching the Olympics at home "hits pretty hard," he added.

"You start to realize you can't take it for granted and the opportunities can be fleeting. Certainly with the preparation over the last two or three years, it's been a huge driving force for some of the older players."

The veterans have tried to instill that mentality in the younger players, helping them understand that hard work is needed to succeed.

"You don't want to be on the outside looking in basically," Tupper said.

The Canadian women, ranked 20th, defeated No. 29 Uruguay 2-0 in a quarter-final match Monday. The women will play the defending champion United States on Wednesday.

The Norfolk News


---

Forsyth four goal haul proves too much for Croatia

Craig Madden, Photo Credits Petr Toman



Scotland striker Alan Forsyth bagged four goals against Croatia

Scotland`s promotion aspirations are still in tact after a 6-0 crushing of Croatia in the second pool match at the European Nations Championship II in Prague earlier today.

The positive note was a four goal haul by Surbiton striker Alan Forsyth, but Scotland head coach Derek Forsyth was far from pleased by a sluggish performance against a side well below the Scots in the world rankings.

The post-match interview with Forsyth proved curt and what was left unsaid perhaps reflected his real thoughts on the occasion,

"All I want to say about today`s match against Croatia is that we won 6-0," was his short summary of the match as he watched his charges struggle to find any real form against a very poor side.

However the Scots moved into second spot on goal difference after Poland beat Ukraine 3-0 in the other pool match. The national side must now beat, or at worst share the points, against the latter in Wednesday`s final pool match to reach the crucial semi-final stages.

The Scots go off to the best of starts with a goal in only two minutes, made and finished by Alan Forsyth, he waltzed along the bye-line and craftily slipped the ball past the goalkeeper.

The next 20 minutes were tedious, as the Scots struggled to break down a packed Croatian defence and the expected goal avalanche failed to happen.

The drinks break seemed to refresh the Blue Sticks with two goals inside three minutes, the first was created by Hamish Imrie who fed the ball on to Forsyth who turned and fired a low shot past the goalkeeper.   The next came from a penalty corner which was swept home by Canterbury's Wei Adams.



Wei to go! Wei Adams and Callum Duke celebrate the former's penalty corner strike

Further chances fell to Gavin Byers, Michael Bremner and Forsyth who launched his effort well over the bar, but it remained 3-0 at the interval.

Scotland made a slow start to the second half with a half chance to Nicky Parkes and a wasted penalty corner.  But the fourth goal finally came through the tenacity of Byers, the Grove Menzieshill player robbed a defender and fed the ball on to an unmarked Forsyth whose shot went in off the goalkeeper for his hat-trick.

It was now all Scotland but the tally did not reflect their total domination until Bremner beat three defenders to win another penalty corner, Dan Coultas finding the net with a low drag flick.    There were further opportunities to Kenny Bain and Forsyth but both sailed well over the bar.



Dan Coultas lines up his penalty corner strike

Quick thinking by Callum Duke provided the sixth, his free hit went directly to Forsyth and the striker found the far corner of the net with a fierce low shot.

A final chance emerged with six minutes left, a Coultas set piece shot rebounded off the goalkeeper but Imrie`s second phase effort went wide of the target.

Scottish Hockey Union media release


---

Going tough for Scotland U18 sides in Santander

Both Scotland U18 Men and Women experienced defeats on what was a difficult second day of competition at the EuroHockey U18 Nations Championship in Santander, Spain.

Following yesterday's narrow loss to France, the challenge facing Scotland U18 Women in Pool A didn't get any easier with Belgium inflicting a 5-0 defeat on the young Scots earlier today.

Three goals conceded inside three minutes midway through the first half proved to be their undoing; Mathilde Raymakers gave Belgium the lead in the 17th minute, driving forward into the circle to crash the ball into the net, before Carolien Jakus struck a penalty corner shot low into the left corner of the goal sixty second later. Shaunda Ikegwuonu was then on hand almost immediately after to turn the ball into the net at the back post following another Belgian penalty corner set-play.

The Scots regrouped at half-time to rally in the second half, but goalmouth chances were limited.

Six minutes from full-time, Lissa Vanmechelen made it 4-0 with a swivel and reverse stick shot in front of goal, which was followed by a superb individual effort from Ikegwuonu, beating Scotland's defence with a mazy run and finish.

Scotland's final pool match is against the Netherlands on Wednesday, but they are already resigned to the relegation pool starting on Friday.

Scotland U18 Men were left to rue missed opportunities as they lost three late goals against Ireland in Pool B.

Following a goalless three quarters of the match, Irish forward Fred Morris seized on a Scottish defensive lapse in concentration to strike an excellent reverse stick shot low into the opposite corner from the right of the circle.

Seven minutes from time, Ireland registered the first of two penalty corner strikes, Julian Dale firing an unstoppable drag flick high into the net, followed by Keith O'Hare striking the ball low and hard into the goal to round off the scoring.

Scotland's final pool match is against the Netherlands on Wednesday.

Scottish Hockey Union media release


---

Belgium feat for Junior men today




After savouring success against two top teams, Indian colts are brimming with confidence to engage Belgium in their third match today here.

India will now face Belgium, who stunned the hosts The Netherlands with a 3-3 draw in their previous match. The European team comprise of some talented players who have the ability to turn the match at their side. With local atmosphere, the Belgian players may stun the Indians with their surprise counter-attacks. On the other side, India, who hasn't conceded a single goal in the tournament, will fight harder to restrict the attacks and create maximum chances to score goals.

Captain Harjeet Singh says: "We are very happy with our performance till now and winning against Germany and New Zealand is really an inspiring factor for our team and we will take this confidence to our next match also. We have seen Belgium team's matches and they are very good in a few areas. They have some good players and we have to restrict their moves. The players are confident and we will play for the win tomorrow."

Coach Harendra Singh says: "We are satisfied with our efforts and results of the team till now. The boys are playing very well and implementing strategies in a good manner. But we still need to work on few areas and improve our game for the upcoming matches. We can't take any team lightly and we will play against Belgium with the same intensity as we have in the previous matches. We would like to continue our winning streak and boys are ready for the next battle." India Vs Belgium will be played at 20:30 IST on 21st July 2015 at Breda, The Netherlands.

Stick2Hockey.com


---

Indian eves to meet Germany at the Volvo Event 2015




Breda (The Netherlands), 20 July 2015: The Indian Junior girls will meet Germany today, as action resumes after a rest day at Breda in the Volva invitational U-21 cup.

The Indians who lost narrowly to The Netherlands in their opening tie, will be looking at registering a win today.

The German team lost their first match against China 1-3 which means they too will step on the field with the same intent of opening their account in the tournament.

Chief Coach Mathias Ahrens says: "The tournament has just started and the loss against The Netherlands will not deter the girls determination to go up the points ladder. Our defence is strong which we proved in the last match. What is now needed is converting the chances that we create in their D. The key I think will be to get the penalty corners in our name and converting them. We are confident of a win tomorrow against Germany."

Captain Rani Ramphal adds: "We were very strong yesterday and this needs to continue in our game against Germany. We have to ensure good ball possession and keep the pressure on them. Our breaking their defence chain and creating scoring opportunities will be important and if we stick to plan we have a good chance for a win"

The Volvo Invitational U-21 Tournament 2015 is being played at Breda, The Netherlands and will go on till 26 July 2015. India Vs Germany today 20:45 IST.

Stick2Hockey.com


---

Indian Railways has to dig deep to hold SAIL

K. Keerthivasan



Members of the SAIL team celebrate a goal against Indian Railways in Chennai on Monday.Photo: B. Jothi Ramalingam   

Defending champion IOC scraped to a 2-1 win over Mumbai in an unimaginative Pool A contest while National champion Indian Railways had to really dig deep to hold SAIL 3-3 in a Pool B tie in the 89th all-India MCC-Murugappa Gold Cup hockey tournament here on Monday.

While, the draw was certainly a setback for Railways, one wondered whether this was the same SAIL team, which was drubbed 5-0 by IOB the other day. Both teams played an uninspiring first half, which saw them score a goal each.

SAIL picked up steam after scoring its second. It was a wonderful piece of co-ordination and intent. Sensing that Bheem Yadav was running at full speed from the right, Ashok Lakra put the stick down and set it up for the former to slot home.

SAIL surprised Railways again with its third goal. In a counter-attack, Meet Singh passed it to Bheem Yadav at the circle, who in turn gave it to Francis Toppo, who pushed it home in a melee with only two minutes remaining for the hooter.

Taken aback, Railways came hard at SAIL forcing two penalty corners at the death. Amit Rohi Das silenced the SAIL camp with a neatly executed drag flick that found the middle of the net. With four points from three matches, Railways is still unsure of qualifying for the knockout phase.

It is crystal clear that IOC relies too much on Deepak Thakur, and that could spell trouble for the team later on.

On Monday, it struggled against a novice like Mumbai. Miss-passes, poor co-ordination and elementary errors marked its play throughout the match.

After Deepak opened the account for IOC, Mumbai didn't panic and attacked from the wings at regular intervals. In one such raid, Victo Singh equalised with a stunning backhander from the left off a difficult angle that took the defence and goalkeeper Baljith Singh by surprise.

Dider Singh, who is also acting as the team's coach, bailed IOC out with a perfect strike off a penalty corner. IOC has seven points from three matches, and is most likely to qualify from its Pool.

The results: Pool A: IOC 2 (Deepak Thakur 5, Dider Singh 29) bt Mumbai 1 (Victo Singh 26). Pool B: Indian Railways 3 (Sanjay Bir 8, Niyaz 44, Amit Rohi Das 70+) drew with SAIL 3 (R. Sandeep 3, Bheem Yadav 51, Francis Toppo 68).

The Hindu


---

Power games on as Paul van Ass shown door

Harpreet Kaur Lamba

The mystery over India hockey coach Paul van Ass' absence from the national camp under way in Shilaroo, cleared on Monday with the Dutchman claiming that he "had been fired" by the federation a week ago.In an email to this newspaper, van Ass -- who had taken over in April -- wrote, "I was fired one week after the tournament in Belgium by Hockey India. I am waiting more than a week on a final and official letter of dismissal.

"I was not invited to lead the camp in Shilaroo. The Sports Authority of India did not sent me a ticket. (High performance director) Roelant Oltmans was asked to replace me."

The 52-year-old added that he was yet to get an official letter from either HI or employers SAI, and the news was communicated to him through Oltmans.
van Ass' disclosure puts a question mark on the conduct of HI and its president Narinder Batra, who had been claiming that the coach "had abandoned the team and had not notified them of a delay in his arrival".

HI chief executive Elena Norman even told this paper a few days ago that "Paul must have taken a flight to India on July 16", denying any knowledge of his sacking.

Said van Ass, "I don't complain (about being fired), but at least take the responsibility that you don't want me there. I did not step down. I am ready to continue."

The development highlights the power games and larger than life egotism rampant in Indian hockey, and the fact that it has come with just over 12 months to go for the Olympics further underlines the chaos.

van Ass, who led Holland to an Olympic and World Cup silver, thus becomes the fourth coach in the span of four years to be shown the door.

Spain's Jose Brasa, under whom India played their best hockey in over a decade, was not given an extension despite the coach and the players being keen on it. Michael Nobbs followed and Terry Walsh -- India became the first team to qualify for the 2016 Olympics under him - also ran into trouble when he demanded more power and a bigger pay cheque.

All of them had found it difficult to adjust to the Batra-led administration citing "too much interference" and "unreasonable demands".

Ego games?

It is common knowledge that van Ass and Batra were involved in a "tiff" after India's 3-2 win over Malaysia on July 1 at the World League semi-finals tournament in Antwerp, Belgium.

On the day, van Ass confirmed the incident saying he was "well within his rights to ask Batra to leave the pitch" as only a coach is allowed to talk to the players immediately after a game.

Asked what he felt was the reason behind his sacking, van Ass said perhaps this incident "hurt" Batra.

"The players had finished the game just moments ago when Batra began talking to them in Hindi. He was criticising them and I think he had no right to do that.

"The field is my area of work and I shooed him away (from the pitch). If he wanted, he could have spoke to them closed doors. It is unfair to criticise the players after a game they had won," the coach said.

Batra, it is learnt, even linked the players' poor overall performance to lack of sponsors in the Hockey India League, evoking a strong reply from the coach.

On Monday, Batra was quoted as saying on a channel that van Ass "had not been officially sacked". His claims that the coach had not submitted an official report after India's fourth-place finish in Belgium were also refuted by the Dutchman.

"I did not submit my report on the tournament because I was already fired... I did not want to react before I got an official letter. But now I feel my silence will be used against me," he said.

Interestingly, Batra had initially denied that any incident took place in Belgium and now even claims that "van Ass is a good man manager but not a good coach", raising further questions.

If sacked, why was van Ass not been informed officially? Has he been sacked for merely telling the HI boss to leave the pitch?

If the HI head believes van Ass is not a good coach, why did he not check this before the latter's appointment?

van Ass' credentials speak for themselves. The coach has a medal each in the World Cup and the Olympics with the world's number 2 team, the Netherlands, in the last two years. In fact, he is known for taking bold and fair decisions despite reputations, be they of players or administrators.

The Asian Age


---

Been fired says van Ass; HI refutes claim

Uthra Ganesan

Two coaches dismissed within a year, both distinguished names in world hockey — Indian hockey is back in news for all the wrong reasons. Five months into the job, chief men's coach Paul van Ass on Monday confirmed that he had been sacked by Hockey India.

"I was sacked one week after the (Hockey World League Semifinals) tournament in Belgium. I am still waiting for an official confirmation from Hockey India or the SAI," the Dutchman told The Hindu from the Netherlands.

Speculation on van Ass's future with the team began after he failed to return to India as scheduled last week. HI president Narinder Batra had said that the federation had no information on the coach's location and claimed it was unprofessional of him to neither inform nor send his report in the team's performance. But van Ass insisted he was fired even before he could submit his report.

"I was not invited to join the camp at Shilaru. I have not submitted the report because I was already fired. Roelant Oltmans was asked to lead the camp in Shilaru. Roelant is the spokesman from HI to me, he confirmed my dismissal," van Ass said.

He added that he has been waiting for the last one week for anything from HI — his travel tickets, an official and formal confirmation of his sacking and reasons for the same, though he confirmed he did have an argument with Batra at Antwerp (after the quarterfinal win against Malaysia) and that could be an explanation. The tournament got over on July 5 with India finishing fourth.

Batra counters claim

Batra countered van Ass's claims, claiming the 54-year old, who led the Netherlands to a silver at the London Olympics, had neither been sacked nor denied any travel documents.

"He has not been sacked. He has not been told anything by HI. Does he have any official communique from us or the SAI? His communication with Oltmans is up to him, it has nothing to do with HI," Batra said, adding that the travel tickets had been sent way back on June 9.

An official decision is likely to be taken by the federation only after its special committee meet on July 24 to evaluate the teams' performances.

Interestingly, the official contract of employment for a foreign coach is signed with the Sports Authority of India but SAI officials are tight-lipped about the development. "We have no information on Paul van Ass from him or HI. We have to wait for an official communication from them," is all SAI officials are willing to say.
Players take the hit

In the middle of all this, it is the players who are suffering. With just a year to go for the Rio Olympics, the early qualification advantage for the Indian team has all but dissipated.

"When we left Antwerp, van Ass had said he would join the team after a week in Shilaru. None of us had any clue of what was happening. All this is so sudden and distracting, we do not know what is up next," a senior player said from Shilaru, where a short rehabilitation camp is currently on. Oltmans is in charge of the camp that would continue till August 3.

The confusion is prevalent throughout the team. "Frequent change of coaches doesn't help. It takes time for both the coach and players to adjust and understand each other. Frequent changes affects the team's preparations," another said.

van Ass took over after Australian Terry Walsh was sacked in December last year. The Azlan Shah Cup earlier this year was his first tournament in charge of the team but the HWL Semifinal in Belgium was the first big challenge in an FIH event.

It isn't the first time this has happened, though, and it doesn't seem to be the last. During the erstwhile IHF regime, 17 coaches got the boot in KPS Gill's tenure of 14 years, from 1994 to 2008. Since 2010, when Hockey India came into existence, four coaches have been kicked out.

The Hindu


---

There goes another hockey coach?

Van Ass claims he has been fired by Batra following a tiff between the two at WHL Semifinals; Batra remains evasive

Sabi Hussain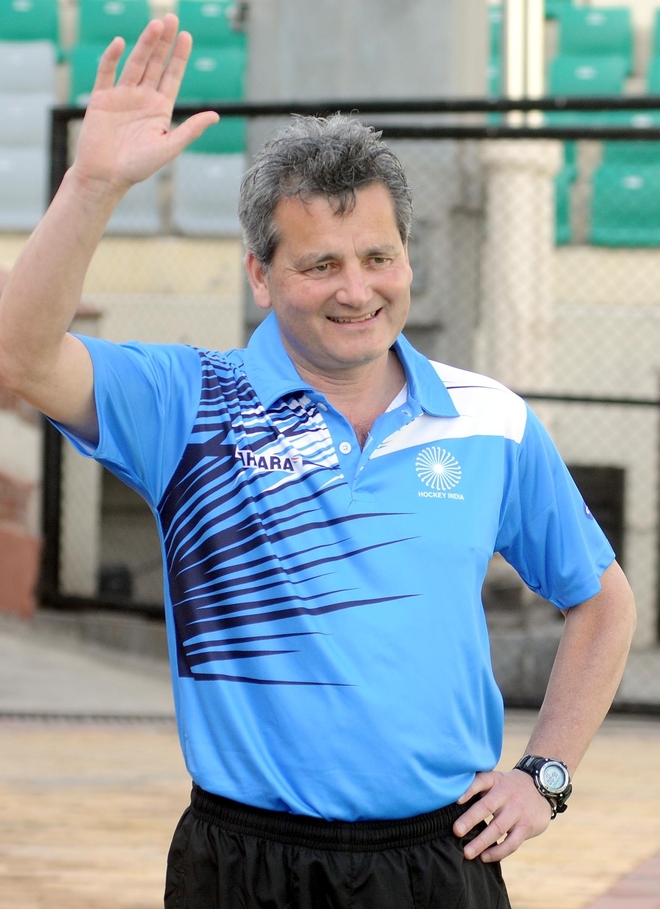 Paul van Ass will be the fourth foreign coach to leave midway in the last five years.

New Delhi: In a major blow to India's preparation for the 2016 Rio Olympics, the men's hockey chief coach Paul van Ass has claimed that he has been "fired" by Hockey India (HI) for his public spat with HI president Narinder Batra during the World Hockey League Semifinals in Antwerp, Belgium. Van Ass' sacking has come barely five months after he took charge of the side. The Dutchman confirmed that he has been informed by the HI that his services are no longer required and that he can look for other employment options.

"I have been fired by HI after the World League Semifinals. Roelant Oltmans (HI's High Performance Director) told me that the federation doesn't require my services anymore. He told me Batra doesn't want me as the coach. I have only been informed about it verbally. I am yet to get any written confirmation from HI," van Ass told The Tribune from Rotterdam.

Asked why he did not turn up for the national camp at Shilaroo, Himachal Pradesh, on July 17 and the reason behind his failure to submit the report on the team's performance in Belgium, van Ass shot back: "I was waiting for my return ticket from The Netherlands to India when I was informed about my sacking. They did not send me flight tickets which clearly meant they don't need me. Also, when they don't require my services, what's the point in filing the performance report?"

Tiff in Antwerp

When van Ass was asked about his altercation with Batra in Antwerp after the quarterfinal match against Malaysia, the 54-year-old confirmed that he had a verbal duel with the HI chief, but added he never thought it would lead to his ouster.

"After our win over Malaysia, Batra entered the field of play and started interacting with the boys. Team-talking is my department. I told him that they have just returned from the game and need some mental and physical conditioning. Batra left the pitch and we went ahead with our routine. I did not read much into the situation," he informed.

Van Ass did not go into the details of his spat with Batra, but a senior player, who was part of the Indian contingent to Belgium, revealed that Batra was actually criticising the players for their 6-2 defeat against Australia in the previous match. After winning the match against Malaysia, India went on to lose their final two matches against Belgium (4-0) and Great Britain (5-1) by heavy margins. India finished fourth in the tournament. "Van Ass' intervention did not go down well with Batra. He seemed visibly annoyed," said the player.

However, Batra has denied sacking van Ass. "There has been no termination. HI has been in touch with the Sports Authority of India over the issue. A special HI committee will meet on Friday after which their decision will be made public on Saturday. The committee will evaluate the performance of not just the men's but the women's team too."

It has been learnt that Oltmans has been asked to double up as chief coach and High Performance Director till the Rio Olympics.

Perennial problem

Van Ass' ouster has again highlighted a perennial problem in Indian hockey. The Dutchman will become the fourth coach in five years and second in less than a year to leave their job midway. Van Ass' predecessors —Ric Charlesworth, Jose Brasa, Michael Nobbs and Terry Walsh — had also been involved in a verbal duel with Batra at some stage of their tenure, which may have played some part in their leaving the job midway.

Walsh had cited "sporting bureaucracy" as the primary reason behind his quitting the job midway.

"Batra has a long association with controversies. Who can forget the Walsh saga when he accused the coach of financial bungling? Ever since he has come into power in 2009 with the inception of HI, he has not allowed a single coach to complete his term," said a former hockey player.

The biggest losers in this fight, as always, remain the players, who have to frequently adapt to the new coaches.

Foreigners who left midway before Van Ass

Gerhard Rach (Germany)

August 2004-January 2005
Rach was the first foreign coach of the national hockey team. Under him, the team finished a poor seventh at Athens Olympics and fourth at Champions Trophy in Pakistan the same year. Rach's appointment raised eyebrows because the German had served a jail term for fraud and tax evasion. He was sacked in January 2005.
 
Ric Charlesworth (Australia)
 
October 2007-July 2008
He was appointed technical adviser to the men's and women's teams. Annoyed at the ambiguity over his assignment, he resigned after an unhappy 10 months in July 2008.
 
Jose Brasa (Spain)
 
May 2009-November 2010
Brasa was appointed at a time when the Indian hockey team was at its lowest after having failed to qualify for the 2008 Beijing Olympics. The Spaniard helped the team win silver medal in the 2010 Commonwealth Games held in New Delhi and the bronze medal in the Asian Games held in Guangzhou, China, the same year. In spite of the results, he was sacked in November 2010.
 
Michael Nobbs (Australia)
 
June 2011-July 2013
Nobbs was offered a five-year contract but his association with Indian hockey lasted merely two years and finally ended on a bitter note. Nobbs was sacked for non-performance after India finished last at the 2012 London Olympics. The Australian, however, said he willingly resigned from the job owing to his deteriorating health condition.
 
Terry Walsh (Australia)
 
November 2013-November 2014
Under Walsh, India won silver in the 2014 CWG and gold in the 2014 Asian Games. The Asiad gold meant India qualified for the Rio Olympics. He, however, quit after his contractual talks with Hockey India and SAI broke down. Walsh's demands for a greater say in team decisions and hand-picked support staff were turned down. Also, HI president Narinder Batra had alleged that Walsh had indulged in "financial fraud" during his stint with USA Hockey.
 
SAI blasts Batra
The Sports Authority of India (SAI) and Hockey India (HI) are heading for another round of showdown over the ouster of Paul van Ass. The SAI has made it clear that van Ass is employed by them, not HI, and as per the contract offered to foreign coaches, either party needs to serve a one-month notice before quitting the job. "We are yet to get into the details of this mess created by Batra. Who is HI to decide whether he will continue or not? Van Ass is employed by us, we pay him the salary. We have contracted him till 2018. HI can't remove him by keeping us in the dark," a senior SAI official told The Tribune.
 
They say...
 
As far I know I was fired one week after the Hockey World League Semifinals. Roelant Oltmans was asked to replace me. I was told on July 13 that Batra doesn't want me any more. Roelant called and informed me about this. I am yet to get official confirmation but I expect it to get it by the end of this week. — Paul van Ass
 
There has been no termination. HI has been in touch with the SAI over the same. A special HI committee will meet on Friday and its decision will be made public on Saturday. The committee will evaluate the performance of not just the men's but the women's team too. — Narendra Batra
 
No doubt our Olympic preparation is in jeopardy after this development. People have egos and can't tolerate criticism. I feel Hockey India needs to believe in the coach, not put a question mark over him. There is not much time left for the Olympics. — Ashok Kumar

The Tribune


---

Hockey India has fired me: Paul van Ass

Manuja Veerappa

BENGALURU: "It can happen in sport that your cycle suddenly becomes shorter than it was to be." It was a rather philosophical statement from Paul van Ass on the day he took over as the national chief coach in March this year. Back then, even the Dutchman wouldn't have dreamt that the 'short' spell of coaching with the Indian men's hockey team would last only four months.

READ ALSO: Indian hockey - beaten again by bruised administrative egos

In a move which is sure to hit Indian hockey hard, the 54-year-old told TOI on Monday that he has been fired by Hockey India.

Van Ass, who was to join the national camp, currently under way at the Sports Authority of India (SAI) centre in Shilaroo, HP, on July 17, is currently in his hometown Rotterdam. "It is not about me coming back to India, I was fired by Hockey India on July 13. Therefore I don't understand why I am being asked if I am coming back to India," he said.

Narrating the sequence of events, Van Ass said he got the marching orders through high performance director Roelant Oltmans.

"Oltmans told me on July 13 that I was fired. It was confirmed through email on July 14. There was a Hockey India meeting on the day. After the meeting, I was told that they will contact SAI and I would get an official letter of dismissal. But I haven't received it till date."

HI chief Narinder Batra denied that the coach had been sacked. "Hockey India has not sacked him. He should have been at the camp on July 17. He has been telling people that tickets have not been sent, but they were sent on July 9. I don't know why he is lying."

According to sources, the reason behind the rift with Van Ass who led the Netherlands men's team to a podium finish at the 2012 Olympics, is an ego clash between him and Hockey India chief Narinder Batra following an argument between the two after India's quarterfinal win against Malaysia in the World Hockey League Semifinals in Antwerp, Belgium earlier this month.

Van Ass said: "After the match, Mr. Batra started giving a speech to the players on where they were going wrong. This was after the win and when the players were cooling down. I felt the need to protect my players. So I told Mr. Batra not to address the players and let me do it.

"He was very angry when I said that. But I'm not sure if this is the reason, but it can be the reason because everything is very emotional in Hockey India."

Van Ass's stint as coach may well be over, but he is willing to come back if SAI brokers peace. "I never said I wanted to quit. I have no problem in coming back, but we have to sort out a lot of things," he asserted.

Ironically, Van Ass has failed to realize that he cannot be 'fired' by Hockey India as he is an employee of SAI. Curiously, however, the Dutchman has not briefed SAI - who hired him for the job at a monthly pay of $12,500 - about the developments.

SAI refused to comment on the issue till it received an official report.

The Times of India


---

Indian hockey coach Paul van Ass sacked

NEW DELHI: Barely five months into the job, Indian hockey chief coach Paul van Ass has been sacked. The Hockey India disclosed no reason for removing the Dutchman.

Van Ass's future with the Indian team was in serious doubt after he failed to report on time for the national team's camp that began at the scenic Sports Authority of India (SAI) centre in Shilaroo, Himachal Pradesh on Sunday.

The theory that the Dutchman won't be continuing as the coach gathered further steam when he failed to submit his report on India's performance at the recently concluded Hockey World League Semi-Finals in Antwerp, Belgium.

According to media reports, temperamental Van Ass had a public spat with Hockey India president Narinder Batra after the quarter-final match against Malaysia at the World League semifinals.

The reports said that after the match Batra entered the field of play and had a word with the players, at which Van Ass intervened and asked him to leave the field, which did not go down well with the HI president.

The Times of India


---

Indian Hockey coach Paul van Ass sacked?

s2h team

In bizarre circumstances just a year away from the Rio Olympics, men's team coach Paul van Ass claims that he has been 'fired'.

He was appointed in January this year. Van Ass took over the reigns as the national coach after the controversial ouster of Australian Terry Walsh just after guiding India to gold medal at the Incheon Asian Games last year.

Van Ass's future with the Indian team was in serious doubt after he failed to report on time for the national team's camp that began at the scenic Sports Authority of India (SAI) centre in Shilaroo, Himachal Pradesh on Sunday.

The theory that the Dutchman won't be continuing as the coach gathered further steam when he failed to submit his report on India's performance at the recently concluded Hockey World League Semi-Finals in Antwerp, Belgium.

It is widely reported that Paul van Ass had a public spat with Hockey India president Narinder Batra after the quarter-final match against Malaysia at the World League semifinals, Antwerp, Belgium.

The unconfirmed reports said that after the match Batra entered the field of play and had a word with the players. Van Ass however intervened and asked him to leave the field, which did not go down well with the HI president.

Van Ass's predecessor Walsh had quit last November after Sports Authority of India failed to meet his financial and other demands.

Jose Brasa, Michael Nobbs had also left the country on an unceremonious note.

In his two assignments, India won bronze at Sultan Azlan Shah Cup and finished fourth at Hockey World League Semifinals in Antwerp.

Stick2Hockey.com


---

I have been fired as Indian hockey coach, claims Paul Van Ass

NEW DELHI: Indian men's hockey team chief coach Paul van Ass on Monday claimed that he has been fired by Hockey India following his alleged public altercation with federation president Narinder Batra.

"As far I know I was fired one week after the Hockey World League Semi-finals in Antwerp, Belgium. Roelant Oltmans (High Performance Director) was asked to replace me," Van Ass told PTI from The Netherlands.

"I have been told on January 13 that Dr. Batra doesn't want me to be the coach any more. Roelant called me and informed me about this," he said.

"I am yet to get official confirmation but I expect it to get it by the end of this week. That is precisely the reason why I didn't turn up for the camp," the Dutchman said.

Van Ass's future with the Indian team was in serious doubt after he failed to report on time for the national team's camp that began at the scenic Sports Authority of India (SAI) centre in Shilaroo, Himachal Pradesh on Sunday.

The theory that the Dutchman won't be continuing as the coach gathered further steam when he failed to submit his report on India's performance at the recently concluded World Hockey League semi-finals in Antwerp, Belgium.

According to media reports, Van Ass had a public spat with HI president Narinder Batra after the quarter-final match against Malaysia at the World League semifinals.

Asked Van Ass about the possible reason behind his unceremonious ouster, he said: "There is no reason, they will find a reason now."

Van Ass confirmed that the public spat with Batra during the World League Semi-finals was the main reason for his ouster.

"After our win over Malaysia Dr. Batra came on the pitch and spoke to players in Hindi. I thought he was commending the players but instead it turned out he was criticising the players," he said.

"Then I jumped and because pitch is my area and I need to protect my players. Also I felt we played quite well in that match and won it."

The Times of India


---

Paul van has not been sacked yet, says HI boss Batra

K Arumugam

Contrary to Paul van Ass' statement that he has been 'fired' from the chief coach of Indian national hockey team, Hockey India president Narinder Batra says that he has not been sacked yet. According to him, decision to appoint Paul was not taken by him alone, it's a collective one with Sports Authority of India, Executive Board of HI and High Performance Director on board.

"Paul was appointed by Sports Authority of India after discussion and recommendation from Hockey India and Performance Director Roelant Oltmans. Its collective one. How I can alone sack him as a some seems to believe?", asks Batra.

"As far as Hockey India is concerned, he is still on duty. That's why he has been asked to submit report for discussion in the 20th July meeting", he added.

"He has not been sacked yet", he asserts.

"An expert committee with Olympian Harbinder Singh in the chair has been formed. They will discuss the issue on 24th. I will go by whatever the decisions of the committee".

"I will not even attend the meeting. If they ask me to bring back Paul van Ass, Hockey India will do. If they ask me to bring him on first class flight, Hockey India will do", Batra adds.

Dutchman Paul van Ass was appointed coach of the Indian national team six months ago, after Australian Terry Walsh's contract had been terminated midway through his contract.

A post match advice / admonition / talk between victorious Indian team in the HWL SF quarterfinal and HI president seemed to have kicked off a tussle with Paul van Ass.

Breaking his silence, Paul van Ass today told Indian media that he has been informed by High Performance Director Roelant Oltmans that he has been fired.

Reacting to this, Batra told www.stick2hockey.com exclusively that what transpired between Oltamans and Paul is between them. They only need to explain. As far as I am concerned, I asked Paul to meet me after my talk with Indian team on that day.

"He is yet to meet me", said Batra.

He also clarified that return ticket for Paul has been sent long back.

The Times of India


---

No communication yet on Van Ass' sacking: Sports Ministry

NEW DELHI: Sports Ministry officials on Monday clarified that they are yet to receive any form of communication on Indian men's hockey team coach Paul van Ass, who claims to have been sacked by Hockey India.

"We have received no communication from Hockey India on this," said Sports Secretary Ajit Sharan when asked about Van Ass.

"We have no knowledge of his sacking," another Ministry official added.

SAI pays Van Ass' salary but no senior official from the Ministry's nodal agency was available for comments on yet another controversy hitting Indian hockey.

Earlier today, Van Ass created a flutter by claiming that he has been fired by Hockey India following his alleged public altercation with federation president Narinder Batra.

After days of intense speculation over his fate, the outspoken Dutchman came out in the open to clear his position and said that he was conveyed that his services were no longer required.

"As far I know I was fired one week after the Hockey World League Semi-finals in Antwerp, Belgium. Roelant Oltmans (High Performance Director) was asked to replace me," Van Ass told PTI from The Netherlands.

The Times of India


---

Hockey coach Paul van Ass saga leaves current and former Olympians shocked

NEW DELHI: Barely five months into the job, uncertainty looms large over Paul van Ass' continuing as Indian men's hockey team's chief coach with current and former India players feeling that Dutchman's absence could prove to be detrimental to their preparation for the 2016 Olympics.

Van Ass's future with the Indian team is in serious doubt after he failed to report on time for the national team's camp that began at the scenic Sports Authority of India (SAI) centre in Shilaroo, Himachal Pradesh on Sunday.

The theory that the Dutchman won't be continuing as the coach gathered further steam when he failed to submit his report on India's performance at the recently concluded World Hockey League semi-finals in Antwerp, Belgium.

According to media reports, temperamental Van Ass had a public spat with Hockey India president Narinder Batra after the quarter-final match against Malaysia at the World League semifinals.

The reports said that after the match Batra entered the field of play and had a word with the players, at which Van Ass intervened and asked him to leave the field, which did not go down well with the HI president.

With Van Ass's future in doubt, a senior member of the national team said at the end of the day it is the players who suffer the most in the frequent change of coaches.

"It (Change of coaches) definitely affects us. It affects our training, our performance, our preparation (for Rio Olympics). It takes time for players to build rapport with a coach. It takes time to understand and then adapt to a coach's style. So, if the chief coach is changed frequently every other day it is bound to affect our performance," a senior member of the national team said.

"Under Terry Walsh we had trained for nearly one-and-half years. He got settled and got used to his style of hockey, our performance started to get better. We also qualified for the Olympics under Walsh but then he suddenly left (for some reasons). Then Van Ass came on board and we started training under him. It's been hardly 4-5 months now there are talks that Van Ass' is not coming and we are back to square again.

"The Olympics is just a year away and this sort of uncertainty is only going to hamper our preparation," he said.

The player said Van Ass has not communicated anything either to the coaching staff or the players.

"He (Van Ass) has not communicated to us. We are in total dark about him. This is a short camp so it won't be a major problem but we need to think about the long run," he said.

The ongoing camp at Shimla will continue till July 3.

Former international hockey player and son of legendary Dhyan Chand, Ashok Kumar said it is an unfortunate situation which the national team find itself now but feels Hockey India needs to believe in a coach.

"Not doubt our Olympic preparation is in jeopardy after this development. People now have big egos in hockey and can tolerate criticism. Now-a-days we don't debate on our performance in public forum which was there earlier. So people can't take criticism," he said.

"What I feel is that HI needs to believe in a coach and not put question mark. There is short time left for the Olympics, we must believe in the coach," said Kumar, a member of India's bronze medal winning side in 1972 Munich Olympics.

Captain of India's 1975 World Cup winning side in Kuala Lumpur, Ajit Pal Singh, however, feels Van Ass's is accountable to his employers and can't just keep things in uncertainty.

Ajit Pal said Van Ass's has contractual obligations and must inform his employers whether he is joining back or not.

"It (coach) should be a continuous process. After Walsh Van Ass took charge of the team. If we keen changing the horse frequently in between it will definitely affect us," he said.

"Van Ass's has signed a contract, he is not in India for holiday so he just can't sit without informing anyone. He has to reply to Sports Authority of India or HI whether he is joining or not."

Ajit Pal said if Van Ass quits, High Performance Director Roelant Oltmans should be given the charge of the team till the Olympics instead of appointing another chief coach.

"Time is very short and to my opinion the team should be handed over to Oltmans if Van Ass doesn't continue. Oltmans has been in India for a long time and he has good knowledge of Indian hockey," he said.

Incidentally, if and when that happens it will not be the first time that a foreign coach of the Indian men's hockey team will leave the country on a sour note.

Van Ass's predecessors Jose Brasa, Michael Nobbs and Terry Walsh, all of whom were hired by SAI on the recommendations of HI at hefty salaries, left the country on an unceremonious note.

The World League semifinals in Antwerp, earlier this month, was Van Ass's only second assignment with the team.

The Times of India


---

Paul Van Ass sacking: While Batra and coaches battle, Indian hockey is losing out

by Pulasta Dhar

Current Manchester United manager Louis van Gaal would sit on a chair when Ajax manager Ronald Koeman would put his team through the paces. Not once or twice, but for a whole week. Van Gaal was technical director of Ajax then. In one instance, he also asked Zlatan Ibrahimovic to position himself in a particular area — and the striker scored. All this was a complete disrespect of the manager's authority.

Koeman may have won that battle with Van Gaal [he used the media to force the latter out] — but another Dutch coach — in another sport, hockey, has lost his job.

Paul Van Ass claimed today that he was sacked by Hockey India (SAI and Batra have claimed otherwise -- so this is still a subject of some debate). This is after Hockey India chief Narinder Batra gave a post-match team talk to the side after the 3-2 win over Malaysia in the Hockey World League semifinals in Belgium. Van Ass, rightly, asked Batra to leave the field — team talks were his department — and while the HI chief left the pitch, he made sure Van Ass knew that his behaviour was not acceptable.

The coach/manager has on-field authority: tactics, training sessions and in most cases, transfers. As soon as an administrator interferes in this territory — trouble is not far away.

Twenty days later after the HWL, Batra is still HI chief — and the man who led The Netherlands to a silver medal at the 2012 Olympics, is gone.

"They can sack me, it's in their power. But don't blame me -- they asked me not to be there [at national camp in Himachal Pradesh] and they didn't send me a ticket. The reason I'm not there is because they didn't want me to be there [after the HWL]. You have to ask Batra [on the spat]. I cannot handle that [interfering]," Van Ass told NDTV.

Van Ass made it very clear that he was asked to step down against his wishes: "I don't complain [about being fired], but at least take the responsibility that they don't want me there. I didn't step down, I didn't say I don't want to come back. I was fired exactly a week after Belgium. I'm still waiting for official documents in the mean time."

This is the second sacking in less than a year. Terry Walsh, under whom India won the Asian Games gold medal -- thus guaranteeing Rio 2016 qualification -- was sacked just 47 days after the achievement. The reason given was 'beurocratic intervention'. That eerily sounds similar to what Van Ass — who lasted for less than six months — went through.

In fact, Van Ass's predecessors Jose Brasa, Michael Nobbs (and Walsh) — all of whom were hired by SAI on the recommendations of HI at hefty salaries — left their jobs on unceremonious notes.

But this is hardly surprising. Batra's reputation is that he wants the credit when the hockey team does well and doesn't like it when the coaches get all the praise. This is not the first time he has courted controversy either — during the standoff with Walsh, he dug up old dirt between the coach and USA Hockey.

"I can't have anyone working with us who has been accused of financial impropriety. I am willing to keep him but first this issue needs to be resolved, otherwise we can't have him. My fundamentals are very clear. If govt wants to keep a tainted person, I am willing to quit in the morning. Let the government and Terry Walsh take hockey forward I am ready to quit. I will not have any tainted person in Hockey India," he told The Indian Express in November 2014, to which Walsh said: "It surprises me that he (Batra) would raise this issue without speaking to me first."

There's also the well-documented court case he fought for KPS Gill's ouster from the Indian Hockey Federation. But the stick2hockey article says this about the case: "Batra joined the Indian Olympic Association lobby against whom he filed the case. He was short-sighted, greedy and could not wait more for getting posts. Very unfortunately, he switched sides and started hobnobbing with the same people against whom he fought in the court."

All this points to one fact: Batra cannot be trusted, he picks fights with anyone who gets in the way, and more importantly: he gets rid of them. No one has been able to stand in the way of his wishes.

"In a short span of time Batra has achieved so much of clout that he has started to believe he is the man destined to run Indian sport. He has an opinion on every sports controversy, keeping his secretariat busy dashing off mails to all and sundry," a Sportskeeda profile reads.

Under Van Ass, the team looked fitter, fought harder and employed a quick counter-attacking method. The HWL, which was mainly a competitive experiment for the side, was used as an opportunity for Van Ass to use younger, faster and more creative players like Harmanpreet Singh, Gurmail Singh and Jasjit Singh (who scored the two penalty corners in India's win over Malaysia).

Even against Pakistan in the same tournament, India gave up a 1-0 lead to go down 1-2, before fighting back to 2-2. In numerous interviews, Van Ass would talk about making India mentally a stronger team — and tightening the gaps in defence. His boldest decision was to drop a not-fully-fit drag-flicker Rupinder Pal Singh for sake of 'trying variations'.

On midfielder SK Uthappa's ouster from the side before the HWL semis, he said: "It's not over for the boys, they are not gone. I think he (Uthappa) doesn't play the way he is supposed to. He is a big athelete, his body is very big but he doesn't use it too much. I asked him to do that more and he can comeback again. During team selections you have to be your best and also you have to fit in the tactical plan of coach."

Van Ass, with moderate success, shook up the team a bit — there was a feeling that no one's position, however high-profile a name, was guaranteed.

However, all these experiments and changes will never be realised. This group of players will have to adjust to someone else's demands now — a new coach, new ideas, new tactics and new methods — all because an administrator decided to give a post-match team talk — which, he is not supposed to do.

Not the best way to prepare for the Olympics (India were the first nation to qualify for the 2016 event) but someone should trying telling Batra that.

Firrstpost


---

Players want Roelant Oltmans as coach if Paul van Ass is gone

Manuja Veerappa

BENGALURU: With 382 days to go for the 2016 Rio Olympics, the Indian men's hockey campers began training at the SAI high altitude training centre in Shilaroo, Himachal Pradesh, on Monday without their chief coach Paul van Ass.

With the Dutchman, who is in Rotterdam, contending that Hockey India has sacked him, the players realized they would have to endure the uncertainty until the next coach arrives. However, they had a solution to the current crisis: appoint high performance director Roelant Oltmans as the coach until the Olympics.

"We are used to having Oltmans around for the past couple of years. He is respected by the players and shares a good rapport. Ideally he should be our coach now until the Olympics. Otherwise it is going to be tough for us to get used to another new coach," a player said.

At the same time, the campers, raring to go after a sedate outing at the Hockey World League semifinals in Belgium, were left searching for answers to their question, "Humari galati kya hai?" Since the 2010 Commonwealth Games, the national senior squad has played under four foreign coaches - a Spaniard, two Australians and a Dutch. Each time they adapt to a certain style of hockey, another coach is ready to experiment with a variant.

"It is a disturbing trend. With less than a year to go, we are still wondering who is going to coach us at the Olympics. It is going to be difficult to adapt to another coach. We were getting along fine with Paul and now we hear he is not coming back," expressed a senior member of the side.

Another senior, who did not want to be named, said the junior players would be adversely affected. "Most of the seniors have been moulded into playing in a certain style and we don't make many changes to our game when a new coach comes in. But the juniors learn new skills especially from foreign coaches. This kind of change in coaches leaves them confused and is not good for the future of the game in our country."

Times View

As the players are very correctly pointing out, frequent changes of the coach are the worst possible thing when a team is in the process of rebuilding. Indian hockey is far below the lofty standards it once enjoyed. If it is to reclaim those dizzy heights or even come close to doing so, all those involved in running the sport need to pull together. Allowing petty egos to interfere in the process is just not on. At this rate, it will soon become impossible to get any self-respecting coach (and the best ones will have a high degree of self-respect) to take on the assignment.

The Times of India


---

Indian hockey – beaten again by bruised egos

Rajesh Kalra

Just when you think Indian hockey is on the road to regain its former glory, something hits it, and hard! Barely five months into his assignment, the chief coach of the men's team, Paul Van Ass has been sacked (although the Hockey India honcho, Narinder Batra says he has not). The Dutchman, who was a top player of his time and also a successful coach for his nation's own national team, came in to take control of the Indian team that has been on the ascendance.

What could be the reason for this bolt from the blue, even more so when the Olympics are just a year away? As always, the reason seems to be trivial, perhaps even the fragile ego of the ruling deity of Hockey India, Narinder Batra. Apparently after the game against Malaysia at the FINTRO World Hockey League Semi-Final at Antwerp on July 1, where India barely managed to win, Batra entered the field to speak to the players. And this is where the versions vary.

One version is that Batra entered the field and started addressing the players, to which the chief coach objected. If that is the case, the coach had every right to object. The other version is that Batra took permission from Van Ass to enter the field and also to address the players, in Hindi, as that is the language most are comfortable in. Fair enough. But apparently after a while, Van Ass asked Batra to leave the players as he had to make them do the mandatory stretching as part of the drill. At this point, the bossman of Hockey India threw his weight around and there was a slanging match between the two.

Irrespective of which version is true, the coach is supreme and Batra had absolutely no need to get into a spat with him in front of all, including players who look up to a coach as their family elder. And imagine the timing of this showdown – just a year from what is easily going to be the biggest test for a team that takes justifiable pride in having beaten all the top teams in recent times, including a series win against the redoubtable Aussies, at their home.

How can we allow whims of egoistic administrators to ride roughshod over national interest? And this isn't the first time either. Indian hockey's ascendance owes in no uncertain terms to the Aussie coach Terry Walsh. He brought discipline and organisation into the team that was missing. He worked on the players' strengths, built their fitness levels and gave them the mental strength to take on the best. It was during his period that you saw Indian players play top teams and not get overawed, play them as equals. It was he who took the team to the Asian games gold in Incheon, the all-important gold that clinched us an automatic berth in the Rio Olympics, ahead of most others.

But instead of continuing with his services, Hockey India sacked him because Walsh had a mind of his own. Even hectic efforts by some of the former players on the administrators to let Walsh continue, for the good of the game in the country, failed. Clearly, the administrator's egos trumped national interest.

Hockey lovers would also remember January 2010, when several players refused to join hockey camp as they were not paid their due for long. Even then, the bungling babus made it seem as if these players were being anti-national by demanding money for playing, while they were only demanding what was not promised to them. I had raised it then in this piece – Hockey players need money, dignity and immunity from bungling babus:
(Hockey players need money, dignity and immunity from bungling babus)

Of course, the same man was also responsible for humiliating a former hockey great of the country, Balbir singh, over a perceived criticism by those gathered at a dinner. It was to Balbir's credit that he did not let this man play with his dignity. I had raised this too in a post in September, 2011 – Wrong hands wield the hockey stick:
(Wrong hands wield the hockey stick)

Hockey is our national sport. After a long time we have players that the world respects, even fears. In Sreejesh, the goalkeeper, or Sardara Singh, the brilliant pivot, or SV Sunil, perhaps the speediest winger in the world, and so many others, we again have a nucleus of a team that can take on the best. What they need at this time is the services of a top coach and not bruised egos of power hungry administrators.

TOI Blogs


---

AHF appoints 3 HI members in its committee

NEW DELHI: The Asian Hockey Federation (AHF) has appointed Hockey India's Mariamma Koshy, R P Singh and Elena Norman as its new committee members.

Koshy was selected as member women in Hockey Committee, while R P Singh represents member Athlete Committee and Norman has been appointed as member of Competition Committee for a period of three years.

"Hockey India is immensely elated as we have three more representatives from India as committee members of the Asian Hockey Federation," HI secretary general Mohd Mushtaque Ahmad said in a statement.

"The objective of the federation is to take Asian hockey to the next level and I am sure that the members will live up to this expectation and make us proud. I, on behalf of Hockey India, congratulate them and look forward to their successful term at the Asian Hockey Federation."

A former state level hockey player, Koshy, is currently the senior vice-president at HI and was president of the organisation until October 2014.

R P Singh, athlete representative, HI is one of the national selectors and is a former international player who represented the country during the 1986 and 1990 World Cups.

Norman is the chief executive office of HI and has been associated with the body for more than four years.

The Times of India


---

HA signs Singapore MOU

Singaporean teams in Australian Champs, Hookin2Hockey in Singapore & more



Photo Credit: Chun Zheng / Singapore Hockey Federation Facebook

Hockey Australia and Singapore Hockey today signed a Memorandum of Understanding (MOU) that will see a united approach to the development of the game in both countries.

The arrangement, which runs until 31 December 2018, will see:
    Hookin2Hockey, Hockey Australia's national grassroots junior development program, licensed to the Singapore Hockey Federation (SHF) and implemented into SHF's coach education program
    Singapore national teams enter into Hockey Australia's Australian Championships from 2016-2018
    Umpire, official and coach exchanges between the two countries
Hockey Australia Chief Executive Cam Vale was in Singapore for the official signing, which comes just three weeks after he joined members of the Australian Government to launch the Australian Sports Diplomacy Strategy 2015-2018.

Vale believes the arrangement will be of great benefit to hockey in both countries and will allow Hockey Australia to leverage its world-leading programs and knowledge to strengthen links in the region.

He said, "This is a terrific opportunity for us to continue to develop hockey in Australia while helping another nation to strengthen its grassroots activity for the good of the game. It is another example of our work to support the global efforts of the International Hockey Federation to grow the sport.

"The agreement opens the door for us to send umpires, officials and coaches overseas to take part in competitions hosted by Singapore Hockey, complementing the opportunities those individuals receive in Australia to become the best at what they do.

"By inviting Singapore to send national teams to compete at our Australian Championships we provide our state teams playing in the Championships with greater exposure to a different style of hockey.

"And by licensing the use of Hookin2Hockey, our junior development program, we are strengthening the brand's position in the marketplace."

Singapore Hockey Federation President, Mr Mathavan Devadas, said, "We are very grateful for the opportunity to work with HA and are sure that we will benefit greatly from a country with such strong pedigree in the game."

The MOU is the third bi-lateral agreement announced by Hockey Australia this year following high performance arrangements with Hockey India and Hockey New Zealand that focus on senior national team competition.

It further strengthens Australian hockey's ties to the city-state after Singapore-based The Project Group became a Major Partner of the Kookaburras and Hockeyroos in April 2015.

Hockey Australia media release


---

Aussie boost for Singapore hockey

By Shanjayan Muniappan



World Hockey League 2015 match between Singapore (red) and Malaysia (yellow) at the Sengkang Sports Complex.

SINGAPORE — At the recent SEA Games held here, Team Singapore's men's hockey team went toe to toe against the top-seeded Malaysians (under-20 side), holding their Causeway rivals to a 2-2 draw before losing 4-3 on penalties.

The plan is for the Singaporeans to take the fight to the reigning gold medallists when the Games are held in Malaysia in 2017, and the Republic's ambitions have been given a huge boost with the signing of the Memorandum of Understanding (MOU) between the Singapore Hockey Federation (SHF) and Hockey Australia today (July 20).

While SHF president Mathavan Devadas said the target is for the men's and women's teams to win a silver medal each in 2017, they are also hopeful of giving the world No 12 Malaysians a run for their money.

"I think silver is definitely achievable for the men, we want to win back the silver for the women — the previous time we won the silver was in 1997," said Mathavan. "We will try to close the gap in 2017, even though it will be very tough as it is in their home ground. I am sure they (Malaysia) have realised how close they were to losing this year. They will be better prepared."

Singapore are currently ranked 38th in the world, and Mathavan is confident that the MOU with Australia, which boasts the world No 1 men's team, will help in the development of hockey here. The partnership will see Singapore's national teams competing in Hockey Australia's national championships from 2016 to 2018, and its "Hooking2hockey" programme will be implemented into the SHF coach education programme and coaching. Umpire and coach exchanges will also be conducted between both associations.

"I see only positives from this. We have not had this opportunity before. It's a wide spectrum of activites — officiating, coaching and youth development and high performance," added Mathavan.

Cam Vale, chief executive officer of Hockey Australia, is happy to help in the sport's development here, as he said: "If you look towards Asia, you certainly see Singapore a natural fit and there is no doubt Singapore is strong in the areas of government, tourism and education, but then you look at hockey, it's probably where they need more support at this point of time. It's a natural fit and this is a country where we can have an impact."

Today Online