All the news for Monday 22 June 2015

Magnificent seven – Great Britain win Hockey World League Semi-Final in style

China and Germany join Great Britain on road to Rio




Final
Great Britain v China 2-0 (1-0)

3rd place
Germany v Argentina 1-1 (0-1) (3-1 after shoot-out)

A delighted Danny Kerry saw his team take first place and book a berth at the Olympics following an unbeaten seven matches at the Hockey World League Semi-Final.

A goal in each half and a sixth clean sheet in seven games saw Great Britain claim first place at the Hockey World League Semi-Final to go with the Olympic spot they landed a day earlier, seeing off China 2-0 in the final in Valencia.

Hollie Webb scored the only goal of a tight-knit, tactical battle in the first half. It came from the first corner in the 25th minute, thundering home with a hit from the top of the circle.

Earlier on, GB got precious little room from the Chinese defence who kept things close and sought to hit the front quickly with their long balls to eager runners.

Sophie Bray stung Li Dongxiao's pads with one early sighter before Peng Yang's diving reverse-stick shot did likewise to Maddie Hinch's inside knee after a superb jinking run from right to left. Defending in numbers, China were holding GB at bay for the most part but they were caught by the first corner, meaning it was 1-0 going into half-time.

It took another set piece to double the lead as Alex Danson – one of the stars of the competition – won a corner. It was reset a couple of times before Kate Richardson-Walsh applied the power and a diving Danson got the touch to change the direction, wrong-footing Li and finding the left corner.

China thought they had one back 10 minutes from the end when Wang Mengyu netted from a corner via the back of Lily Owsley. On a video referral, the shot was deemed dangerous and the goal was disallowed. Hinch made one last save from Liang Meiyu to ensure an incredible sixth clean sheet of the competition as Great Britain closed out a superb competition.

Coach Kerry said: "We've only conceded two goals in the entire tournament, and we won all seven games. Even yesterday, when people wrote about backs to the wall performance, it was only the last five minutes. Otherwise, we had all the chances to beat Germany by a few goals. I'm thoroughly delighted. Tactically, we have been the best side here; executed that and deserved our win.

"What I would pay tribute to is the hard work the girls put in back at Bisham Abbey (the headquarters of England Hockey). We drive them very hard, it's not for the faint-hearted and that has paid dividends here."

Cui Quixia, who enjoyed a great tournament in the China defence, said: "We achieved our goal to qualify for Rio. That's the most important thing; after that, this final was a bonus. My whole team has played superbly, doing what they have been trained. I think we have done really well and I am satisfied with the whole tournament."

In the third place match Germany pulled off another incredible escape act to secure their Olympic ticket ahead of Argentina, winning in a shoot-out after yet another late goal – this time from Anissa Korth – snatched a 1-1 draw in normal time. Kristina Reynolds then produced a string of great stops in the shoot-out to Germany a 3-1 success, keeping out three Argentine efforts before Jana Teschke netted the winner.

Earlier on, Carla Rebecchi was in ominous form for much of the opening half, buzzing in the forward line and leading the press to nick plenty of ball in dangerous territory. She and Agustina Habif drew brilliant stops from Kristina Reynolds in the first five minutes and, after constant Argentine pressure, Rebecchi got her side on the board in the 16th minute. It was a lovely move, taking the ball with her back to goal, spinning on to her open side and crashing home.

Her side rode out a yellow card suspension for Martina Cavallero in decent fashion, winning a couple of corners, one of which Noel Barrionuevo fired inches wide. Strong corner running from Eileen Hoffmann kept out another couple of set pieces in the second half before Germany launched their latest counter-strike.

Lea Stockel almost surprised Belen Succi with a near post effort while Charlotte Stapenhorst deflected over the bar before Anissa Korth was credited with a dramatic equaliser. She worked her way to the right baseline before attempting to cross. It popped up dangerously and, while taking evasive action, Noel Barrionuevo was unfortunate to deflect the ball into her own net. It meant a carbon copy of Germany's quarter-final win over Spain and they held their nerve once more in the shoot-out to finish third overall and confirm their place at Rio 2016.

Hero of the hour, goalkeeper Kristina Reynolds said: "It was just amazing team spirit. We wanted that ticket and everyone fought until the end.

"I don't enjoy the shoot-outs at all. My legs go weak and everything but I know I have to stop the ball for my team. They are very good in the shoot-out and make me feel safe. Going to Rio was the most important thing and we did it! It's just a great feeling."

German coach Jamilon Mülders said: "Obviously Kristina [Reynolds] was incredible. But I have to pay tribute to everybody. It's something to do with belief. Argentina caused us a lot of problems in the first and second quarters but we came up with better solutions in the second half and created some chances – not as good as theirs but still chances.

"It's a myth, German style. Twice we have done it here but it's not just here. In the Europeans twice and in the last World League, winning several matches in a shoot-out. Always, we have had great goalies.

"Mentality; it's in the training! I can tell you how I train it when I retire! It's about believing and trust and the point of view you have in the match."

Santi Capurro, Argentina's coach said: "We played better than them most of the game. I am incredibly proud of my team. Hey, its sport, these things happen. Of course we will go to the Pan-Ams wanting to win, but not because of this. Argentina always wants to win."

FIH site


---

Germany beat Argentina in shoot-out after last minute drama

Germany win third automatic Olympic ticket after Reynold's shoot-out heroics




Germany pulled off another incredible escape act to secure their Olympic ticket ahead of Argentina, winning in a shoot-out after yet another late goal – this time from Anissa Korth – snatched a 1-1 draw in normal time.

Goalkeeper Kristina Reynolds then produced a string of great stops in the shoot-out giving Germany the platform to produce a 3-1 success. Reynolds kept out three Argentine efforts before Jana Teschke netted the winner.

Earlier on, Argentina's Carla Rebecchi was in ominous form for much of the opening half, buzzing in the forward line and leading the press to nick plenty of ball in dangerous territory. She and Agustina Habif drew brilliant stops from Reynolds in the first five minutes and, after constant Argentine pressure, Rebecchi got her side on the board in the 16th minute.

It was a lovely move, taking the ball with her back to goal, spinning on to her open side and crashing home. Her side rode out a yellow card suspension for Martina Cavallero in decent fashion, winning a couple of corners, one of which Noel Barrionuevo fired inches wide.

Strong corner running from Eileen Hoffmann kept out another couple of set pieces in the second half before Germany launched their latest counter-strike. Lea Stockel almost surprised Belen Succi with a near post effort while Charlotte Stapenhorst deflected over the bar before Anissa Korth was credited with a dramatic equaliser.

She worked her way to the right baseline before attempting to cross. It popped up dangerously and, while taking evasive action, Noel Barrionuevo was unfortunate to deflect the ball into her own net. It meant a carbon copy of Germany's quarter-final win over Spain and they held their nerve once more in the shoot-out to finish third overall and confirm their place at Rio 2016.

Hero of the hour, goalkeeper Kristina Reynolds said: "It was just amazing team spirit. We wanted that ticket and everyone fought until the end.

"I don't enjoy the shoot-outs at all. My legs go weak and everything but I know I have to stop the ball for my team. They are very good in the shoot-out and make me feel safe. Going to Rio was the most important thing and we did it! It's just a great feeling."

German coach Jamilon Mülders said: "Obviously Kristina [Reynolds] was incredible. But I have to pay tribute to everybody. It's something to do with belief. Argentina caused us a lot of problems in the first and second quarters but we came up with better solutions in the second half and created some chances – not as good as theirs but still chances.

"It's a myth, German style. Twice we have done it here but it's not just here. In the Europeans twice and in the last World League, winning several matches in a shoot-out. Always, we have had great goalies."

Santi Capurro, Argentina's coach said: "We played better than them most of the game. I am incredibly proud of my team. Hey, its sport, these things happen. Of course we will go to the Pan-Ams wanting to win, but not because of this. Argentina always wants to win."

"Mentality; it's in the training! I can tell you how I train it when I retire! It's about believing and trust and the point of view you have in the match."

FIH site


---

Oliva takes honours in Valencia



Georgina Oliva voted Player of the Tournament

Spanish coach Adrian Lock paid tribute to Hockey World League Semi-Final Player of the Tournament Georgina Oliva, saying she is "without any shadow of doubt one of the best players in the world at the moment".

Lock's side finished the competition in sixth place and now face a waiting game until October to see if it is enough for Spain to reach the 2016 Olympic Games. It was not for want of effort as his side produced some sterling hockey, beating China, drawing with world number three side Argentina and coming within seconds of a semi-final spot before Germany snatched a late draw and shoot-out win.

Oliva was an integral part throughout and Lock said she was a deserving winner of the Player of the Tournament title.

"On her current level of performance, she is one of the best players in the world at the moment. People who haven't seen her play before have been surprised by her level of performance.

"She got into the national team very young; went through a difficult time when she wasn't so happy and motivated in the national team.

"But, in the last two years, she has trained really hard, the same as the rest of the team. Her performance level has increased enormously along with the team.

"She's a top quality player who gives us huge stability in our defence and an outlet at any stage and any circumstance from the back. And she leads on the pitch along with Rocio [Ybarra] as vice-captain. It's a huge asset for us to have to have a star quality player along with a group of high quality players."

Lock was also effusive when talking about the support his side had in preparing for the tournament to enable his side to optimise their performance compared to previous years.

"We have had a bit more funding available to prepare properly for the tournament. In 2013, for Round 3, we had virtually no preparation. We didn't go to the World Cup so we tried to take advantage of the time we did have together. This year, we have had a lot more time together to practice on this pitch.

"We know the ins and outs of the facilities and how everything works. To have the home crowd behind us obviously makes everyone run that little bit more. That's maybe helped us push through the more difficult situations we have faced in the game."

Maddie Hinch of Great Britain picked up the award for goalkeeper of the tournament. She conceded just two goals in the entire competition, and was praised by her teammate Sophie Bray for her consistency between the sticks.

Bray herself shared top goal-scoring honours with Argentina's Carla Rebecchi – both players picking up five goals apiece.

Young player of the tournament was Charlotte Stapenhorst, a young midfielder who produced a string of strong performances to guide Germany to third place and an automatic Olympic qualification spot.

FIH site


---

USA contain Spanish flair, while 'shattered' Ireland fall to South Africa




5th/6th Spain 1-3 USA
7th/8th South Africa 4-0 Ireland

USA improved their chances of qualifying for the Olympic Games as they fought off hosts Spain 3-1 in the Hockey World League Semi-Finals in Valencia, earning them fifth place while the Spaniards ended sixth. In the 7th/8th classification match, South Africa rediscovered their scoring touch to defeat a shattered Irish team. In a high octane battle for fifth spot, spurred on by the local crowd, Spain were the first to make inroads and were rewarded for their endeavour just before the quarter-time hooter. Bea Perez was the one to provide the spectacular finish, volleying home first time after a Xantal Gine ball to the head of the D bounced off a USA defender and also off Roccio Ybarra.

The lead was short-lived, though, as the USA got back on terms just a couple of minutes into the second quarter. Their corners – something they struggled with earlier in the tournament – had helped pave the way against Ireland a day earlier and they again found a sweet move.
Lauren Crandall gave the pace and Katie Reinprecht dove full length to redirect the ball out of reach of Maria Lopez de Eguilaz. The goalkeeper was busy soon after to keep the USA out while the immaculate Gigi Oliva also made some key interventions before Rachel Dawson's low push clipped the outside of the post. It kept the gap at the minimum going into half-time and Spain were inches from an equaliser when Alicia Magaz, Ybarra and Berta Bonastre played pinball in front of Alesha Widdall but the ball somehow stayed out.

USA, though, were starting to find the baseline with increasing frequency as time wore on and it was via this route Kat Sharkey broke through. Her powerful run looked set to be followed by a pull-back but she spotted a near post gap and flicked home for 2-1.
Again, Spain replied. Corners came and went with Lola Riera denied by Widdall before USA killed off the game with five minutes left. Melissa Gonzalez's cross got a touch from Michelle Vittese toward goal where Maria Lopez could do little to stop the ball bouncing into the goal.

Both Gonzalez and captain Crandall spoke of the importance of "containing" Spain in this must-win game. "It was our last game, in front of a big home crowd, and we knew Spain would be quick and skilful – today was about collective tackling," said Gonzalez.
Crandall added that the USA must take a "duality" to the Pan-American Games. "We know we can play attacking hockey, we must also know when to contain the opposition," she said.

In the earlier match South Africa defeated Ireland to take seventh place. "It all clicked for us today, we were all singing from the same sheet," said South Africa's Shelley Russell. Goals from Candace Manuel, Lisa Marie Deetlefs and a screamer from Lillian du Plessis knocked the fight out of Ireland, before Kelly Madsen applied the coup de grace shortly before the final whistle. This was revenge for the 4-1 defeat South Africa suffered at the hands of the same opposition, earlier in the competition. A shattered Megan Frazer spoke after the game of the learning curve her team had experienced. "We made a good start to the tournament, but to be honest, we ran out of steam. The result against China in the quarter-finals rocked us and we finished with only two substitutes fit or able to play." For Russell, the frustration was clear to see. South Africa played with a determination and intensity that had been missing from their earlier games. Her bigger frustration however, lies with the uncertainty about South Africa's participation in Rio 2016. "We do not get the support that we need to compete at this level, but the point is, despite the disadvantages we have to battle against, we do compete with the top ranked teams." Russell also spoke of the three hour meeting the team had held to discuss what had gone wrong in their earlier games. "We were honest and everyone stood up and was accountable. That worked, today we played as a team."

FIH site


---

Golden Great Britain complete magnificent seven



GB women celebrate qualifying for Rio 2016

Two penalty corner goals from Great Britain ensured they maintained their fantastic run in the World League Semi-Final as a 2-0 win over China made it seven wins from seven.

With Olympic qualification secured in yesterday's semi-final, goals from Hollie Webb and Alex Danson ensured GB collected the gold medal to cap a superb tournament for Danny Kerry's side.

As was the case in the pool match between the sides, it was a cagey opening quarter with chances hard to come by. Sophie Bray had the first sight of goal in the match when the ball broke to her in the circle and she fired in an instant backhand shot which Dongxiao Li saved well.

China soon forced Maddie Hinch into action at the other end. Yang Peng did brilliantly to manufacture a shot at full stretch as she fell only for the GB No1 to block and clear the danger.

The second quarter was shaping up to be a stalemate as both sides seemed content to sit back and wait for an opening to present itself. However with six minutes left in the half, Nicola White did well to win a penalty corner, the first of the game. Hollie Webb stepped up and broke the deadlock with a rocket strike into the corner for her first of the competition. Lily Owsley forced a save from Li after a strong run and fierce shot but then Great Britain won another penalty corner with seconds to the break. China referred but the decision was upheld and the corner remained. Kate Richardson-Walsh broke out to the left to fire the ball across but Li made a good block with Helen Richardson-Walsh closing in and it remained 1-0 at the break.

Within five minutes of the restart a driving run from Alex Danson earned Danny Kerry's side a penalty corner. Webb's shot was saved by Li but another corner was awarded. This time Kate Richardson-Walsh's pass was deflected in by a diving Alex Danson for Great Britain's second of the match and the No15's fourth of the tournament.

With ten minutes to play China won their first penalty corner. Mengyu Wang stepped up and scored via a deflection off Lily Owsley's body. Great Britain referred claiming the shot was dangerous. Their appeal was upheld and the goal was disallowed, preserving the lead. With time running out Xiaoxue Zhang slapped a shot goalwards but Hinch extended a right foot to make a good save to clear the danger. Great Britain saw the game out and picked up the gold medal.

Quotes – Great Britain Captain Kate Richardson-Walsh

"It was an amazing performance in this tournament. We said at the beginning that we'd take one game at a time and build momentum, and that's what we've done. It wasn't our most stellar performance today but we dug in and took our chances when they came. I've played with Alex a long time and it's really sweet to link up and see that corner come off.

We're here as a squad of 18 but we have a squad of 31 and we really want to build for the year ahead. We've got the Unibet EuroHockey Championships in August, it's always nice to play as a home nation against Scotland it's a really good rivalry and I can't wait!"

Great Britain 2 (1)
Hollie Webb 25 (PC)
Alex Danson 35 (PC)

China 0 (0)

Great Britain Hockey media release


---

Team GB ladies seal road to Rio in style with 2-0 win over China

By Graham Wilson



Hollie Webb opened the scoring for team GB

GREAT BRITAIN'S road to Rio was completed in emphatic style with a 2-0 victory over China in the final of the World League in Valencia.

Hollie Webb's penalty corner pile-driver in the 25th minute and an Alex Danson deflection from a corner in the second half gave Great Britain a clean sweep of seven straight wins in the event. They had already qualified for the 2016 Olympics by edging out Germany 1-0 in a tense semi-final on Saturday.

Danny Kerry's squad have scored 15 goals and conceded only two on the way to the gold medal in Spain. Webb's first goal of the tournament came as a surprise change in corner routine which left the Chinese defence with no chance as her straight strike rattled into the backboards.

GB kept China on the back foot for most of the match and as Kate Richardson-Walsh slapped another penalty corner into the area in the 35th minute Danson stole in for a superb deflection straight in front of goal that wrong-footed the goalkeeper.

China started to press forward towards the end but GB goalkeeper Maddie Hinch was always solid. Even when she was beaten from a corner which deflected off first runner Lily Owsley, the strike was adjudged too high and dangerous.

Captain Richardson-Walsh said: "It was an amazing performance. I am really proud of squad."

East Grinstead's Sophie Bray finished joint top scorer on five goals while Danson had four goals to her credit.



Hollie Webb celebrates her spectacular goal against China. GETTY

The countries finishing in the top three in the event qualified for the Olympics and GB had done that with a nerve-jangling 1-0 win over Germany the previous day. University of Birmingham striker Owsley scored the only goal after seven minutes.

Susannah Townsend and Bray had good chances to wrap up the game but Germany would not give up. Hannah Macleod was superb in covering and as first runner in corner defence. Whenever the defence were beaten goalkeeper Hinch was there to pad or glove away.

Germany took third place and a guaranteed Rio spot after coming back to draw 1-1 against Argentina and winning 3-1 in a shoot-out .

With memories of England's 11th place in last year's World Cup left far behind for the majority of GB's players here, the England squad can now look forward to enjoying themselves at the Unibet European Championship at the Olympic Park in August.

Daily Express


---

Great Britain women sail away with record success and Rio jigs in Valencia

Two penalty corner goals prove enough to see off China, secure major title success and Olympic qualification in Valencia
           
By Rod Gilmour, Valencia



Delight: Kate Richardson-Walsh celebrates with Hollie Webb in Sunday's final Photo: STANISLAS BROCHIER

Having already secured Olympic qualification, Great Britain's valedictory sojourn in Valencia was capped off in fine fashion on Sunday night when two penalty corner goals – a rare occurrence in their recent tournaments – saw the women's side beat China 2-0 to lift the World League title.

A fierce Hollie Webb strike in the first half was followed up by a diving deflection from Alex Danson in the third quarter as Great Britain also recorded a notable achievement: a first ever tournament success by winning all their (seven) matches.

"Qualifying for the Olympics was one thing, but to go on and win all our matches at this level is pretty much unheard of," said Kate Richardson-Walsh, their stalwart captain since 2003. "It probably wasn't one of our most stellar of performances, but we took our chances when they came.

"We were here as a squad of 18, but we have a squad of 31 and we really want to build for the next year ahead."

This marked a seismic turnaround in fortunes for a side which limped out of last summer's World Cup in 11th place. Twelve months on, Great Britain were playing the final of the World League semi-final – they have already qualified for December's finals in Argentina – the event doubling up as Olympic qualifying.



Great Britain women won all seven matches for first time in a tournament

The naming conventions of the tournament may have been complex, but Great Britain simplified matters by playing some electrifying hockey throughout. Their Olympic berth was accomplished after a thrilling semi-final win over Germany. Success over China represented their 10th consecutive win this year. With 15 goals on the coast here, the 18-strong squad simply sailed away with the World League trophy.

It wasn't quite a stroll in the final though. Great Britain were made to work against a stout Chinese defence, perhaps wary that their coach may ask an under-performing player to apologise to every squad member, a scenario which happened to the world No 7 side in the pool stages.

Great Britain's night was also made easier in the final quarter when Richardson-Walsh successfully appealed for a dangerous strike from China's first penalty corner of the game. It initially hit a turning Lily Owsley, the number one runner, in the ribs before the deflection wrong-footed Hinch. It was the closest China got.

In all, Danny Kerry's side turned out some exceptional performances. Their world-class goalkeeper, Hinch, leaked only two goals, while her defence, Laura Unsworth in particular, was resolute. Susannah Townsend and Hannah Macleod shone in midfield, while the indefatigable Danson led by example up front, throwing herself into stick tackles and diving for deflections at every opportunity. On Sunday, it was the turn of Nicola White to put in a shift. The instinctive Sophie Bray, meanwhile, finished as the tournament's equal top scorer, with five.

These all-round performances underlined why this gutsy, "work for each other" squad do not have the need for that one player to rely on and win games. "We've got some very classy players, and we have a blend of everything, but I don't think we have stand out players," admitted Richardson-Walsh.

"If you do have an Ashley Jackson or Barry Middleton then you can build your team around it, but we don't."

And as the captain then left the field moments after topping the winners' rostrum, with her team-mates shaking their hips Copacabana-style, she told The Telegraph: "I don't think we have played our best hockey by far. That's the scary thing."

Meanwhile, in the men's Olympic qualifying, Great Britain drew with hosts Belgium 2-2 in their opening game in Antwerp. Close range strikes from captain Middleton and Alastair Brogdon were cancelled out by John-John Dohmen and Sebastien Dockier.

Clewlow in the know

Two-time Olympian Mel Clewlow, commentating for the host broadcaster, said that "bombing" at last year's World Cup would now hold them in good stead. "To turn things round in 12 months is a phenomenal achievement," she said.

The Telegraph


---

Team USA Deflects Host Nation's Opposition for Token Fifth Placement

VALENCIA, Spain – The most sought-after souvenir at the Valencia FIH Women's Hockey World League Semifinals didn't come in the form of an ornament or knickknack but rather a ticket to the 2016 Olympic Games in Rio de Janeiro. By challenging and upsetting the event's host nation during the fifth and sixth place contention round, the U.S. Women's National Field Hockey Team has better aligned themselves to earn an invitation to the five famous rings. Team USA secured a necessary fifth place finish with a score of USA 3, Spain 1.

"Throughout the tournament, I was pleased with how we set ourselves up," said Craig Parnham, U.S. Women's National Team Head Coach. "We created consistent chances. The only difference with the earlier part of the tournament is we didn't take those chances. In the second part of the tournament we were able to convert chances making the results more helpful for us."

A clear, cloudless summer sky accompanied the final day of competition play. With heat radiating off the Estadio de Hockey de Valencia pitch, the United States took on 15th World Ranked Spain to determine a crucial fifth and sixth spot. Spain came off the starting line with tangible intensity driving into their attacking 25 yard line in relentless waves. United States defenders Rachel Dawson (Berlin, N.J.), Lauren Crandall (Doylestown, Pa.), Julia Reinprecht (Perkasie, Pa.) and Stefanie Fee (Virginia Beach, Va.) overseen by goalkeeper Alesha Widdall (Whitney Point, N.Y.) withstood the high volume of Spain's attack pressure with numerous double team, block tackles. During the early match minutes, Spain carried the ball into the circle with the tremendous opportunity of an open cage to transform the score but a fast thinking Crandall denied the chance with a defensive save.

Spain's relentless offensive momentum proved fruitful when Beatriz Perez wound up from the top left portion of their attack circle to mark the backboard in the 15th minute. Two minutes into the second period, off their first penalty corner of the match, Crandall cranked a direct shot from the stick stop to goal where Katie Reinprecht (Perkasie, Pa.) tipped the ball past the Spain's keeper Maria Lopez. A low flick courtesy of USA's Dawson, from a corner, precisely struck the left post, threatening to change the halftime score of USA 1, ESP 1.

Offensive energy was transferred to the red, white and blue's attacking end in the second half. USA's Kat Sharkey (Moosic, Pa.) boldly took the entire right baseline with electric speed and minimal angle to hit the left goal board. The equalizer was broken in the 40th minute with a new score of USA 2, Spain 1. Continuing that surge, Team USA took multiple dives into that attack zone looking to strike again.  Melissa Gonzalez (Mohegan Lake, N.Y.) zipped a ball into the circle from the right side of the pitch to find the reverse stick of Michelle Vittese (Cherry Hill, N.J.) to redirect the pass into the goal in the 56th minute. The final match report stood USA 3, Spain 1.

"The fact that we finished fifth is important and we'll look to see what happens as far as Olympic qualification goes," said Parnham. "We look forward to the Pan American Games following this event."

The start of the tournament began with a 2-0 win over Uruguay as well as a 4-1 victory over South Africa. Team USA and Germany left the pitch with 2-2 tie. The squad fell to Ireland 0-2 and Pan American rivals Argentina 0-3. USA rose against Ireland 6-1. Continue to follow @USAFieldHockey on Twitter for all national team news as we continue our quest to the 2016 Olympic Games at the Pan American Games from July 10-26. #UN1TED

USFHA media release


---

SA hockey women finish in style

JONATHAN COOK

The South Africa women's hockey team were outstanding in defeating Ireland 4-0 after leading 1-0 at half-time at the World League Semi-Final tournament in Valencia, Spain Sunday to finish in seventh position.

SA opened the scoring when a Lisa Deetlefs penalty corner strike (PC) was deflected with pinpoint precision high into the net by Candice Manuel. The South Africans, capitalising on turnovers, earned six shots at goal to Ireland's one in the first half.

Ireland coach Darren Smith said SA had improved with every game, borne out by the fact they had lost 4-1 to the Irish on the opening day.

SA were stronger physically than Ireland on a very hot day and head coach Sheldon Rostron's half-time wish for a repeat performance in the second half came true.

The Irish won their first PC four minutes after half-time and Jade Mayne made a crucial save on the goalline from captain Megan Fraser's drag-flick.

Soon after, in-form Ireland keeper Ayeisha McFerran did well to keep out Dirkie Chamberlain and Mayne. At the other end, SA keeper Sanani Mangisa was excellent in saving from Katie Mullan.

As the match wore on, Bernie Coston made a number of incise breaks down the left and right flanks that put the Irish defence under enormous pressure. Coston earned SA's fourth PC and Deetlefs' sizzling slap shot curved away from the keeper into the backboard for the team to go 2-0 up in the 43rd minute.

SA continued to transfer pressure onto the Irish defence in the fourth and final quarter of 15 minutes and Line Malan combined to great effect with Coston down the right to set up a Chamberlain shot. At the other end, Mangisa produced a top save from Anna O'Flanagan's effort.

After SA had won yet another turnover, striker Lilian du Plessis made the game safe in the 62nd minute with one of the goals of the tournament, a flashing reverse-stick shot into the top corner from the edge of the strike zone.

Four minutes from full-time (56th) the dazzling stickwork and layoff of Tanya Britz set up another goalscoring opportunity and Kelly Madsen, under considerable pressure from the Irish defence, was superb in steering the ball over the goalline for the 4-0 final score.

South Africa's outside chance of qualifying for the Rio 2016 Olympic Games through the World League route was dealt a blow when they lost 2-0 to Spain on Saturday. The defeat came in the weekend's first round of playoffs to determine fifth to eighth positions.

After their 2-0 quarter-final defeat to Great Britain on Thursday dashed South Africa's chances of a semi-final berth, as well as a possible top three finish and automatic qualification for Rio 2016, a fifth place finish in Valencia would have given SA a glimmer of hope, depending on the outcome of the various continental championships later this year.

The South African Sports Congress and Olympic Committee (SASCOC) had indicated that qualifying through the Africa continent was not of a sufficient standard to justify their sending the girls in green and gold to Rio.

Against Spain, goals from Alicia Magaz in the fourth minute and Lola Riera in the 11th proved the difference, while SA weren't able to finish off some very good opportunities in a dominant second half.

SA Hockey Association media release


---

Ireland defeated 4-0 by South Africa



Photo Credit: Stanislas Brochier

Ireland's World League Round 3 campaign came to an end on a low-key note as they fell 4-0 to South Africa in the seventh place playoff, meaning the side finished eighth overall in Valencia.
 
The side was unable to lift themselves for a tie with solely world ranking points on the table and a more energetic South Africa took advantage, exacting some revenge for their opening day 4-1 defeat to the same opposition.
 
Candace Manuel's first half deflection from a corner gave them the early advantage. Lisa-Marie Deetlefs slapped home a second after the big break before Lilian du Plessis fired a rasping shot to the top corner and Kelly Madsen scrambled home the fourth to complete a strong win.
 
It was a rough ending for the green army who came within the width of the post of a semi-final berth and Olympic qualification last Thursday against China.
 
Coach Darren Smith, in his last match in charge, said that the heartache at the hands of the world number seven side was probably still in evidence.
 
"That game – 4-0 – is not a reflection of this tournament or the girls," he said.
 
To that end, Ireland showed they can match teams in the world's top ten in this competition, beating world number five side USA 2-0, number 11s South Africa 4-1 as well as Uruguay while also drawing with China in normal time.
 
With that in mind, Smith said he believes that while this tournament ended on a low note, there is plenty of scope for Ireland to qualify for the World Cup in two years time, especially with the competition increased to 16 sides.
 
"The girls have better hockey in front of them than what they have behind them – our captain's 23 and has been one of the best players in the tournament. I would love to see us at the World Cup, not only being there but finishing in the top ten. One of my huge desires was to change the way we play the game, to have a more physical style and to play the game with more skill. "

World League Round 3, seventh place playoff
Ireland 0 South Africa 4 (C Manuel, L-M Deetlefs, L du Plessis, K Madsen)
 
Ireland: A McFerran, C Sargent, E Smyth, K Mullan, M Frazer, A Connery, L Colvin, N Daly, H Matthews, A O'Flanagan, A Meeke
Subs: Y O'Byrne, N Evans, G Pinder, K Dillon, E Gray
 
South Africa: S Mangisa, C Evans, N Walraven, I Davids, S Russell, D Chamberlain, L-M Deetlefs, L du Plessis, N Terblanche, B Coston, J Mayne
 
Subs: T Britz, K Madsen, L Malan, E Hunter, C Manuel, Q Bobbs, A van Deventer

Irish Hockey Association media release


---

HWL2015 Antwerp (M): Malaysia & Australia triumph on Day 2




On day 2 of the men's competition at the FINTRO Hockey World League Semi-Finals, 31st ranked China fell to a narrow defeat against Malaysia while Belgium's Red Lions and Great Britain played out an entertaining draw in front of massive crowd in Pool B. In Pool A, Australia's Kookaburras sent out a warning to all opponents in Antwerp that they are in sensational form with a big victory over France. More details about the matches can be found below.

Pool B
China 2-3 Malaysia
World number 12 Malaysia overcame a strong challenge from 31 ranked China to emerge 3-2 winners as both nations opened their Pool B campaigns in Antwerp.

Two second quarter goals gave Malaysia a firm grip on the contest, with a Faizal Saari rocket finding the roof of the net before Muhammad Shamsul added a second on the stroke of half time. Guo Xiaoping pulled a goal back for China but Malaysia's Razie Rahim restored the two goal advantage. Again, China came back with a Zhang Zhixuan strike setting up a fascinating final few minutes, but Malaysia kept their Asian rivals at bay.

"We were nervous in the game as it is a really big tournament", said China captain Sun Tianjun. "We didn't play our best, but we know that we can do better in the coming matches."

The players of both teams were wearing black armbands in respect to goalkeeper S Kumar, who recently returned home to Malaysia following the tragic death of his son.

Great Britain 2-2 Belgium
The fans turned out in their thousands to watch Belgium's Red Lions open their FINTRO Hockey World League Semi-Finals account with a 2-2 draw against Pool B rivals Great Britain. The match was a milestone for Belgium's Felix Denayer, who was playing his 200th senior international.

A brilliantly angled deflection from team captain John-John Dohmen put Belgium ahead before GB's own captain Barry Middleton finished off a second phase penalty corner to level the scores. A terrific solo goal from Alastair Brogdon quietened down the home supporters in the third quarter, but they were back on their feet cheering when Sebastien Dockier completed the match scoring with a penalty corner follow-up.

"They are a good side, but I think we'll feel a frustrated that we didn't play better", said Great Britain's Dan Fox after the match. "Playing the hosts in the first match is the best way to start, really, as it gets you right into the tournament and it is great playing here in Belgium."

Pool A
Australia 10-0 France
Reigning world champions Australia sent out a clear statement of intent in their first match of the competition, surging to a 10-0 triumph over Pool A opponents France. Striker siblings Kieran and Blake Govers both scored twice in the rout, with Chris Ciriello, Jamie Dwyer, Matt Gohdes, Simon Orchard, Jacob Whetton and Eddie Ockenden also contributing.

The pick of the goals came from Gohdes, who started and finished a slick passing move with an audacious chip that sailed over the head of onrushing goalkeeper Martin Zylbermann and just under the crossbar.

It was a typically impressive display from Australia and was the perfect way to mark one of their player milestones, with Fergus Kavanagh enjoying that familiar winning feeling on the occasion of his 200th international appearance.

Australia's Matthew Swann was upbeat about his teams display, saying: "It was a really great way to start. We felt that we'd put in a lot of hard training sessions and I think physically we are very well prepared for the tournament."

Just as Australia's women did earlier in the day, the Kookaburras wore black armbands as a mark of respect for Jackson Tudhope, a talented young hockey player from South Australia who tragically lost his life in a car accident last week.

More information about the competition including video clips, imagery and official tournament information can be found on the event website.

#HWL2015 #RoadToRio

FIH site


---

HWL2015 Antwerp (W): Aussies, Dutch & Japan bag Day 2 victories




Australia's Hockeyroos produced a rampant display in their Pool B opener at the FINTRO Hockey World League Semi-Finals, while Netherlands and Japan were winners in Pool A at the crucial HWL Final and Rio 2016 Olympic Games qualification event in Antwerp.

Pool B
Australia 9-0 Poland
Jodie Kenny produced a goal-scoring masterclass to ensure that Australia's Hockeyroos started their campaign in the best way possible, netting four goals in her team's 9-0 triumph over Poland on the first match of Day 2.

The result put the World Cup Silver medallists level on three points with New Zealand and Belgium at the top of Pool B.

The Hockeyroos were in sparkling form against their European opponents, with Kenny scoring three penalty blistering corners and a penalty stroke, with strikes also coming from Georgie Parker, Emily Smith, Kathryn Slattery, Georgia Nanscawen and team captain Madonna Blyth.

"It was a really convincing win for the team and it was nice to slot some goals as well", said four-goal heroine Jodie Kenny after the match. "I went for 'round the world' with my flicks but I missed, but I'm really happy to get the majority on target and working well."

The Australian women were wearing black armbands during the match as a mark of respect for Jackson Tudhope, a talented young hockey player from South Australia who tragically lost his life in a car accident last week.

Pool A
Korea 1-2 Netherlands
Maria Vershoor bagged the winner as the Netherlands made it two wins from two Pool A matches in Antwerp.

The Netherlands were certainly the better team in the opening stages and it came as no surprise when Eva de Goede slapped into an open goal before Park Seunga levelled the scores at 1-1 with a penalty corner.

The two sides were evenly matched in the second and third quarters, but Netherlands' Gisela Zerbo capitalised on a defensive mistake and set up Vershoor's winning goal.

Netherlands Head Coach Sjoerd Marijne said: "We played well in the first and fourth quarters but not so great in the second and third where we made too many individual mistakes, but of course I am pleased that we came good in the end."

On the occasion of her 200th international match, Korea's Kim Jongeun said: "It is a really good feeling to have played so many games. I'm sad about the result, but life as a hockey player is perfect."

France 1-6 Japan
Japan made a winning start to their campaign by defeating France 6-1 in the final match of Day 2 in Antwerp. Shihori Oikawa netted a hat-trick for the team from Asia, with Akane Shibata, Yuri Nagai and Hazuki Nagai also registering.

The result meant that France remain bottom of the pool with zero points, although it was certainly not all doom and gloom for the side that came into the competition as late replacements for Azerbaijan.

The world number 24 rallied hard against the 10th ranked Japanese team, and eventually got their reward when Elyse Lecas found the target from close range with two minutes of the match remaining.

It was a sweet moment for the girls who only a few days ago had no idea that they would be competing on this incredible stage, with the crowd also enjoying the goal.

More information about the competition including video clips, imagery and official tournament information can be found on the event website.

#HWL2015 #RoadToRio

FIH site


---

Govers double trouble

Kieran & Blake Govers net doubles as Kookaburras overwhelm France 10-0




A devastating spell that featured five goals in ten minutes saw the Kookaburras hit the ground running in their quest for Olympic qualification at the Hockey World League in Antwerp on Sunday.

The tone was set for the 10-0 victory over 18th-ranked France when the World Champions opened the scoring in just the third minute through Kieran Govers.

A seven minute hiatus followed before the Australian men struck gold with five goals in ten minutes, including a second for Govers and an audacious lob from Matt Gohdes that looped over the goalkeeper and dropped under the crossbar.

And in a second half that saw Australia add a further four goals, it ultimately proved to be Govers double trouble with Kieran and younger brother Blake each bagging a brace.
 
The result puts the Kookaburras on top of Pool A after the first full round of matches, ahead of India and Pakistan on goal difference in the race for quarter final places.

Head Coach Graham Reid was pleased with how his side began the tournament.

He said, "Given how good that French team can be I couldn't be happier as far as the result's concerned. We tried again to cement some of the things we've been working on over the last couple of weeks and it's pleasing to see that some of those are starting to show in the way that we're playing.

"One of our KPIs is that we should be able to look at the first minute of the game and the 60th minute and they should be the same. I think if we look at the video today it would have shown that. That's what we're chasing and that's what we need to do, continuously, to be a threat."

Kieran Govers opened the scoring in just the third minute with a simple deflection on Chris Ciriello's low cross-shot before Ciriello himself turned from provider to scorer for Australia's second, bagging a rare open play goal with a deflection of his own.

With that the floodgates opened. Jamie Dwyer showed why at the age of 36 he is still rated amongst the best in the modern game with a reverse stick strike on the run from the most acute of angles. And a minute later Dwyer's cousin, Matt Gohdes, had the crowd marveling at the audacity of his slapped lob shot that looped over the onrushing goalkeeper and under the crossbar.

Simon Orchard became the Kookaburras' fifth goal scorer with a simple slap shot from the middle of the circle before Kieran Govers bagged his second, Australia's sixth, with a penalty corner flick into the right side of the net.

Moments later, the elder Govers brother was brought down by French goalkeeper Martin Zylbermann while through on goal, earning a penalty stroke. Ciriello stepped up to the spot but was denied by the powerful right leg of the French stopper.

Jake Whetton made it 7-0 shortly after half time with a typical back post deflection after good work down the left hand side by Simon Orchard. There then followed a series of penalty corners, all well kept out by substitute goalkeeper Corentin Saunier, before Blake Govers' shot on the turn found the bottom corner. It was the younger Govers brother's fifth goal in six appearances since coming into the Kookaburras team in early May and his first at a major international tournament.

Eddie Ockenden made it nine from the centre of the French circle before Blake Govers showed his penalty corner prowess to take it to double figures with a lightning quick flick that kept low and found the net just above the backboard.

Two-time Olympian and double World Cup winner Fergus Kavanagh celebrated his 200th appearance for the Kookaburras, who wore black armbands as a mark of remembrance for South Australian hockey junior Jackson Tudhope, who was tragically killed in a car accident returning from the State Championships earlier in the month.

Speaking afterwards to Hockey.org.au about playing his 200th game, Fergus Kavanagh said, "It was a really nice evening. Good crowd, good result. Great to be with the guys and a real honour to play 200 games with the Kookaburras."

And asked whether he might one day catch Jamie Dwyer's record, the West Australian added, "No way, he's miles ahead! Eddie's [Ockenden] miles ahead and he'll be going for much longer than me so I'll be happy with 200."

Explaining his goal, Matt Gohdes said afterwards, "It's one of those ones where you back your instincts, I guess.  I saw him coming out and thought there has to be space in behind him so gave the lob a crack."

Next up, the Kookaburras are likely to face a stern test from tenth-ranked Pakistan on Wednesday (04:00am AEST, Thursday), who narrowly overcame Poland 2-1 in their opening match on Saturday.

Hockey World League Antwerp, Belgium

Pool A, Match 1

KOOKABURRAS: 10 (6)
Kieran Govers 3, 20 (FG, PC)
Chris Ciriello 10 (FG)
Jamie Dwyer 12 (FG)
Matt Gohdes 13 (FG)
Simon Orchard 19 (FG)
Jake Whetton 34 (FG)
Blake Govers 45, 54 (FG, PC)
Eddie Ockenden 53 (FG)
 
FRANCE: 0 (0)
-

Kookaburras squad v France
Name (Hometown/State) Caps/Goals
Started       
Kiel Brown (Toowoomba, QLD) 162/6
Andrew Charter (Canberra, ACT) 92/0
Chris Ciriello (Melbourne, VIC) 164/106
Jamie Dwyer (Rockhampton, QLD) 335/219
Kieran Govers (Wollongong, NSW) 102/54
Fergus Kavanagh (Geraldton, WA) 200/14
Mark Knowles (Rockhampton, QLD) 259/22
Simon Orchard (Maitland, NSW) 172/52
Matthew Swann (Mackay, QLD) 116/5
Jake Whetton (Brisbane, QLD) 91/38
Aran Zalewski (Margaret River, WA) 60/5     
                                 
Used Substitutes
Daniel Beale (Brisbane, QLD) 58/10
Tim Deavin (Launceston, TAS) 109/5
Matt Gohdes (Rockhampton, QLD) 125/38
Blake Govers (Wollongong, NSW) 6/6
Tyler Lovell (Perth, WA) 44/0
Eddie Ockenden (Hobart, TAS) 246/62
Tristan White (Wollongong, NSW) 57/3    
                              
Match Schedule - Kookaburras (dates and times all AEST)          
25 June - Kookaburras v Pakistan - 04:00hrs AEST
27 June - Kookaburras v Poland - 04:00hrs AEST
29 June - Kookaburras v India - 00:00hrs AEST
1 July - TBC - Quarter Final
3 July - TBC - Semi Final / Classification
5 July - TBC - Medal Matches / Classification

Hockey Australia media release


---

Roos up and running

Jodie Kenny nets four in World League victory over Poland




Jodie Kenny showed she hasn't missed a beat since last year's medal successes at the World Cup, Commonwealth Games and Champions Trophy, firing four goals in the Hockeyroo's 9-0 opening salvo at the Hockey World League in Antwerp.

The Queenslander's three penalty corners and a penalty stroke against Poland were the foundations to the Australian women's strong start to the competition in which a top three finish will guarantee Olympic qualification.

Georgie Parker, Emily Smith, Kathryn Slattery, Georgia Nanscawen and Madonna Blyth all struck in a match that the Australian women controlled from start to finish.

Head Coach Adam Commens was pleased with the way in which his side had gone about their task and singled out their success rate from penalty corners as particularly pleasing.

He said, "We thought that Poland were an opponent that would compete quite hard but probably not bother us in terms of a result.

"We were hoping to make sure we could execute an effective game plan and I thought the girls did that really well. We made some adjustments to that game plan as the match went on and I thought they were able to implement those changes well, as well.

"The execution of our penalty corners was particularly pleasing. We've got a potent penalty corner battery and one of our aims was to be effective in the attacking circle, whether that's a goal shot or gaining a penalty corner. I thought we did that really well."

South Australian Georgie Parker's emphatic rebound shot for 2-0 came following Kenny's first quarter opener, a trademark pin-point flick into the top right corner.

Kenny's second, low into the bottom left corner was her 80th for her country in this her 138th appearance and she completed her hat-trick midway through the third quarter, this time low to the right.

In between, Emily Smith knocked home a loose ball from close range for 4-0 and it was six when Slattery converted with composure in front of goal from a Karri McMahon penalty corner.

When Mariah Williams was fouled in the act of shooting Kenny stepped up to convert from the penalty spot for 7-0.

Another close range follow-up, this time from Nanscawen, made it eight before captain Blyth scooped in following excellent work by Casey Sablowski, whose endeavours to keep the ball in play following a save by the Polish goalkeeper paid off.

Madonna Blyth said, "We probably didn't start quite how we wanted but the first game's always important just to set the platform for how you want to play for the rest of the tournament. I think we're pretty happy with that.

"Sometimes it can be difficult to play against an 11 man defence just to stick to your strategies, just to make sure you can get results when they've crowded the defence. For us it's good practice, there are a few teams that do that and it's set us up well for the tournament."

The Hockeyroos face the hosts Belgium on Wednesday in their second match. The Belgians beat India 1-0 on Saturday in their opening match.

The team wore black armbands as a mark of remembrance for Jackson Tudhope, the young South Australian hockey player tragically killed in a car crash on his return from the state championships in Adelaide earlier this month.

Hockey World League Antwerp, Belgium

Pool A, Match 1

HOCKEYROOS 9 (4)
Jodie Kenny 9, 22, 35, 44 (PC, PC, PC, PS)
Georgie Parker 20 (FG)
Emily Smith 25 (FG)
Kathryn Slattery 42 (PC)
Georgia Nanscawen 54 (FG)
Madonna Blyth 57 (PC)

POLAND 0 (0)
-

Hockeyroos squad v Poland
Name (Hometown/State) Caps/Goals
Started       
Madonna Blyth (Brisbane, QLD) 302/67
Kirstin Dwyer (Mackay, QLD) 74/2
Anna Flanagan (Canberra, ACT) 144/33
Jodie Kenny (Wamuran, QLD) 138/82
Karri McMahon (Berri, SA) 64/6
Ashleigh Nelson (Wagin, WA) 176/63
Georgie Parker (Berri, SA) 78/25
Casey Sablowski (South Coast, NSW) 223/44
Kathryn Slattery (South Stirling, WA) 16/5
Emily Smith (Crookwell, NSW) 118/49
Ashlee Wells (Morwell, VIC) 49/0
                                                
Used Substitutes
Teneal Attard (Mackay, QLD) 207/10
Edwina Bone (Evatt, ACT) 72/2
Jane Claxton (Adelaide, SA) 61/5 
Georgia Nanscawen (Melbourne, VIC) 156/31
Brooke Peris (Darwin, NT) 54/9
Mariah Williams (Parkes, NSW) 15/2

Unused Substitutes
Rachael Lynch (Warrandyte, VIC) 121/0
                                                                                                         
Match Schedule - Hockeyroos' Fixtures (dates and times all AEST)
25 June – Hockeyroos v Belgium – 02:00 AEST
26 June – Hockeyroos v New Zealand – 04:00 AEST
28 June – Hockeyroos v India – 02:00 AEST
30 June – TBC - Quarter Final
2 July – TBC - Semi Final / Classification
4 July – TBC - Medal Matches / Classification

Hockey Australia media release


---

Honours even in opener between Great Britain and Belgium



Alastair Brogdon in action v Belgium

Great Britain got their World League Semi-Final campaign off and running with a hard-fought point against hosts Belgium in their opening match. The Red Lions took the lead through captain John-John Dohmen but his strike was cancelled out by Barry Middleton's penalty corner goal four minutes later. Alastair Brogdon gave GB the lead at the start of the second half, but they were unable to hold on and Sebastien Dockier equalised with 12 minutes remaining, ensuring the points were shared.

In front of a partisan home crowd Belgium forced an early penalty corner. Felix Denayer's effort was saved by George Pinner who reacted brilliantly to keep out the follow up from Florent Van Aubel. The Belgian No8 almost opened the scoring moments later, somehow intercepting Michael Hoare's aerial pass and thumping the ball into the pads of the onrushing Pinner. Great Britain appeared tentative but Ashley Jackson grew in influence as the quarter wore on. Chris Griffiths had the first attempt on goal when his shot was blocked by Vincent Vanasch at the near post. With both sides keen not to concede first it was 0-0 at the end of the first quarter.

Belgium took the lead in the second quarter. Simon Gougnard took a quick free hit and fired the ball in for John-John Dohmen to apply the finish with a deft deflection giving Pinner no chance. Gougnard was shown a yellow card with 22 minutes on the clock and a minute later Belgium were punished when Great Britain won a penalty corner thanks to some good work from David Condon. Ashley Jackson recognised he didn't have a clear shot, so beat the runner with a body swerve before teeing up Nick Catlin. Although Catlin's effort was saved, Iain Lewers played the rebound across for Barry Middleton to stab home. Belgium responded and forced another penalty corner but Mark Gleghorne was out quickly to deflect the ball wide of the post.

Within two minutes of the restart Bobby Crutchley's side got their noses in front. A lovely run from Alastair Brogdon down the left side caused Belgium problems and the Wimbledon man slotted the ball past Vanasch from a tight angle to silence the home crowd. Van Aubel had a gilt-edged opportunity to level the scores after some excellent approach play from Jerome Truyens but his shot flew wide of the target from near the penalty spot and the lead was intact going into the final quarter.

A strong run from Lewers forced a penalty corner in the opening minute of the final quarter but Truyens charged out to deflect the shot away. Belgium hit back and won a penalty corner which was upheld despite Great Britain's referral. Pinner saved the first effort from Loick Luypaert but the ball fell loose to Dockier who forced in the rebound to level it up. Great Britain pushed Belgium back in the final five minutes, stepping higher in search of the winning goal but The Red Lions were able to hold them off and the spoils were shared.

Quotes – Great Britain Forward – Alastair Brogdon

It's always a tough game against Belgium and today showed that. We went a goal down and managed to get back to 2-1 but they've got a lot of fight and levelled it up. We knew coming in it would be tough but we're up and running now and we're looking forward to the next match.

It's always nice to get on the scoreboard but ultimately we wanted to get the win. I'd have liked to get another late on to give us the points.

It's a fantastic atmosphere here. It was hard to communicate with your teammates some times because of the noise but this is the sort of atmosphere you play sport for.

Great Britain Head Coach – Bobby Crutchley

It was a typical game against Belgium. I thought we were cagey in the first quarter but then came into it more in the second quarter and had some good chances. I was pleased with Alastair Brogdon's goal. It shows we have players with flair in the team who can create chances for us. Obviously we wanted to get the win but overall I'm satisfied with the performance for a first game of the tournament.

Great Britain 2 (1)
Barry Middleton 23 (PC)
Alastair Brogdon 32 (FG)

Belgium 2 (1)
John-John Dohmen 19 (FG)
Sebastien Dockier 48 (PC)

Great Britain Hockey media release


---

Skipper Barry Middleton helps Team GB to a draw with Belgium in Olympic qualifier

By Mike Haymonds



Barry Middleton helped England team GB to a draw with Belgium. GETTY

GOALS from skipper Barry Middleton and Alastair Brogdon helped GB's men to a 2-2 draw with hosts Belgium in their opening game of the World League semi-final, also an Olympic qualifier, in Antwerp.

GB withstood prolonged pressure in the first quarter and fell behind after 19 minutes when Belgian captain John-John Dhomen deflected in a cross but Middleton levelled four minutes later from second phase at GB's first penalty corner.

A solo goal by Brogdon on 23 minutes gave his side the lead before Sebastian Dockier equalised in the 48th minute.

GB coach Bobby Crutchley said:"It was a typical cagey game against Belgium .I thought we were cagey in the first quarter but then came into it more in the second quarter and had some good chances.

"I was pleased with Alastair Brogdon's goal. It shows we have players with flair in the team who can create chances for us.

"We wanted to get the win but overall I'm satisfied with the performance for a first game of the tournament."

Alastair Brogdon said: "It's always a tough game against Belgium and today showed that. We went a goal down and managed to get back to 2-1 but they've got a lot of fight and levelled it up.

"We knew coming in it would be tough but we're up and running now and looking forward to the next match.

"It's always nice to get onto the scoreboard but ultimately we wanted the win. I'd have liked to get another late on to give us the points..

"It's a fantastic atmosphere here. It was hard to communicate with your teammates some times because of the noise but this is the sort of atmosphere you play sport for."

Daily Express


---

Malaysia edge China 3-2

By Jugjet Singh Randhawa

MALAYSIA barely kept their nose above water when they edged China 3-2 in the Hockey World League Semi-finals in Antwerp, Belgium.

Three super goals were cancelled by sloppy defending, and Malaysia can't afford to play like they did today against their next opponents Ireland.

The World League Semi-finals is an Olympic Qualifier, and only the last four will make the cut to Rio de Janeiro next year.

Malaysia's goals were scored by Faizal Saari (18th), Haziq Shamsul (30th) and Razie Rahim (54th) while China got their goals off Guo Xioping (37th) and Zhang Zhixuan (55th).

China, 31 in the world, outplayed their rankings and looked on par with 12th ranked Malaysia on many fronts.

Coach Tai Beng Hai said the team were jittery as it was their first match, but acknowledged that they need to play much better against Ireland on June 25.

New Straits Times


---

Malaysia pushed to the limit before prevailing against China

By S. Ramaguru

ANTWERP (Belgium): Malaysia flirted with danger before grinding out a 3-2 win over China in the World Hockey League Semi-final in Belgium.

It was not smooth sailing for Malaysia as they lived dangerously in the later stages of the Group B match at the KHC Dragons Stadium.

National coach Tai Beng Hai was generally pleased with his boys despite the nervous start.

"It is good to get off with a win in an opening match. This will help relieve the pressure on the players. I have to admit that we could have made it less dramatic.

"We held the upper hand for most part of the match. I am sure the players will learn from this and not repeat it," said Beng Hai.

Before the match got underway a one-minute silence was observed in respect of goalkeeper S. Kumar who lost his son on Thursday.

In the 14th minute, Malaysia had their first penalty corner but Faizal Saari's flick was saved by goalkeeper Yan Rongyao.

Four minutes later, Malaysia took the lead when Faizal blasted the ball in from close range.

And just as the second quarter (30th minute) came to an end the Malaysians scored their second goal when national junior Mohamed Haziq Shamsul connected Meor Mohamed Azuan's free hit into the D.

In the third quarter, Malaysia's decision to ease on their foray upfront backfired when China scored to reduce the deficit in the 37th minute through Guo Xiaoping.

In the 41st minute, China were awarded a penalty stroke for a stick check but the Malaysians asked for a video referral and the decision was over-ruled.

Then Mohamed Razie Rahim converted from the third penalty corner in the 53rd minute to given Malaysia a 3-1 lead.

But Zhang Zhixuan scored China's second a minute later which forced the Malaysians to defend in numbers to safeguard their advantage.

Razie said they made it hard on themselves.

"We made silly errors as we had the game in our hands. I'm sure the players will realise that we cannot afford to let our guards down at any time."

Malaysia will take on Ireland on Thursday.

The Star of Malaysia


---

Belgium rally to hold Great Britain 2-2; Malaysia win

ANTWERP: Belgium scored a fourth-quarter equalizer to hold Great Britain to a 2-2 draw in men's hockey World League Semifinals on Sunday.

Belgium, whose world No 4 ranking is one spot ahead of the rivals, failed to make an impression on the sound British defence in the Group B encounter.

The hosts were relieved to see Sebastian Dockier's conversion from a penalty corner rebound in the 49th minute to equalize 2-2.

The Belgians took the initial lead in the 19th minute when Simon Gougnard's diagonal pass into the circle was deflected in by captain John-John Dohmen.

Britain drew parity on a deft flick into the goal by Simon Griffiths in scoring zone action following their first penalty corner in the 23rd minute.

They went a goal ahead on an outstanding field goal by Alastair Brogdon, who capped his run down the left flank with a first shot into the net in the 32nd minute.

Malaysia began their Pool B campaign by overcoming a gritty Chinese outfit 3-2 in an all-Asian contest. World No 12 Malaysia took charge of the contest with two goals in the second quarter as Faizal Saari sent a stinging shot into the net from a narrow angle in the 18th minute and Muhammad Shamsul duly converted a penalty stroke on the stroke of half-time.

Both teams observed a minute of silence before the start of the match and wore black armbands as a mark of respect to Malaysian goalkeeper Kumar Subramaniam, who left Antwerp to return home following the tragic death of his three-year-old son. China came back into the contest through a 38th-minute field goal from Guo Xiaoping. The Chinese could have equalized soon after but their penalty stroke was overturned after a Malaysian appeal.

Malaysia stretched the lead in the 53rd minute on a penalty corner goal by captain Razie Rahim, but China were back in the contest by pulling one back in the last minute through a Zhang Zhixuan's fine deflection. Chinese effort to force an equalizer in the closing stages were thwarted by the Malaysian defence.

The Times of India


---

Dutch women beat South Korea 2-1 in Hockey World League

ANTWERP: World and Olympic champions The Netherlands and world No 2 Australia posted contrasting victories in the women's hockey World League Semifinals on Sunday.

World Cup holders The Netherlands were made to work hard for their 2-1 victory by the robust South Korean defence, while Australia thrashed Poland 9-0.

The Dutch women clinched their second successive win in Pool -A due to a defensive error by South Korean defender Oh Sun-soon in the last quarter.

Oh's clearance was intercepted by Ginella Zerbo, who darted into the scoring zone and sent a fine ball for Maria Vershoor to score the match-winner in the 47th minute.

The Dutch had taken the initial lead in the fifth minute when Eva de Goede shot into a open goal to finish off a risk counter-attack.

The Dutch lead did not last long as Park Seun-ga converted a penalty corner for South Korea four minutes later. Four goals by Jodie Kenny spurred World Cup silver medallists Australia, while five other players made one entry each on the score-sheet.

Starting with Australia's first goal in the ninth minute, Kenny converted three penalty corners and then duly slotted in a penalty stroke for her four-goal feat.

The Times of India


---

Narrow wins for India and Pakistan in World Hockey League

By S. Ramaguru

ANTWERP: Asian rivals India and Pakistan survived tough opening Group A ties at the KHC Dragon Stadium.

India scored a last minute goal through Ramandeep Singh to beat France 3-2 while Pakistan edged a battling Poland 2-1 in an absorbing contest.

India, ranked ninth in the FIH rankings, were stunned when France took a surprise 1-0 lead thanks to a fine strike from Olivier Sanchez in the third minute off a field attempt.

But India hit back with two quick goals with Manpreet Singh and Devindar Walmiki finishing off their moves in the 27th and 29th minutes.

France equalised through Simon Martin-Brisac's field goal in the 43rd minute but India had the last say when Ramandeep scored the winner in the 59th minute.

Pakistan dominated the early stages of the match and took a deserved lead when Muhammad Irfan scored from a penalty corner drag-flick in the fourth minute.

In the 51st minute, Poland's Pawel Bratkowski equalised when he slammed home a penalty corner.

But Pakistan were not to be denied three minutes later when Mohamed Waqas scored from close range.

The Star of Malaysia


---

After win, Van Ass points out the gray areas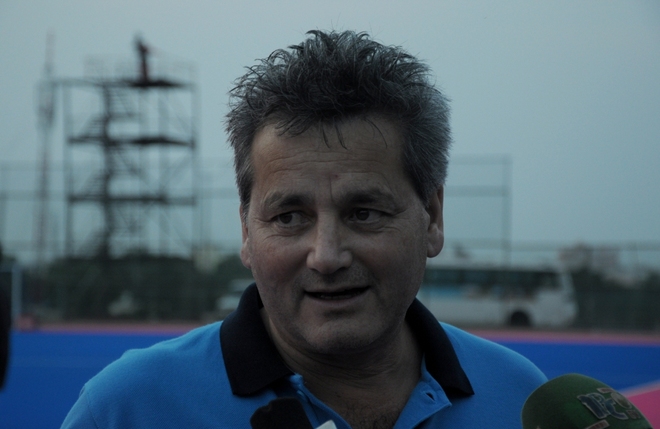 Paul van Ass feels India need to work harder on a few areas.

Antwerp (Belgium) - Having eked out a narrow 3-2 win over France in their opening match of the Hockey World League Semifinals, India coach Paul van Ass has admitted his team needs to improve its space management while falling back to defend its citadel.

With the match-winner coming just two minutes from the hooter, India managed to pull off a win but not before their defence was given a harrowing time by the fast overlapping French strikers, who capitalised on counters to twice stun them.

"We should have been better in managing space," said van Ass, adding, "It was always difficult to fall back and catch up when mounting an attack".

India allowed plenty of space in their own territory to France, placed nine spots behind them in the world rankings, and the coach felt that the French strikers were quite fast and built up the counter-attacks briskly.

"Maybe we were not quick enough to close the angles when falling back. It is a learning process and does take time.

"They came in really fast. It is not easy to close in so quickly, but I would like to see that happen," insisted van Ass.

He, however, heaved a sigh of relief at the late goal by Ramandeep Singh, which secured India full three points from their first fixture. "We are working on a few things and I am happy at the way things are going," said van Ass.

Van Ass said he never expected the campaign opener to be an easy outing as opening matches are always tricky and produce surprise results. "There is always some unpredictability at the start of any tournament. Winning the first match is important. What was significant was not that we allowed the rivals too much space inside our territory, but the fact that we managed to score the third goal and earn full points," he said.

The French, meanwhile, were shattered at conceding the late match-winner to India and striker Brisac said it was a massive disappointment for his side.

"We were confident and we played a good game, but there is no consolation for conceding the goal so late in the match," said Brisac.

The Tribune


---

Defence structure needs to be strengthened: Birendra Lakra

ANTWERP (Belgium): The Indian men's hockey team might have come up with a brilliant performance in the first match of the ongoing FIH World League Semi-Final 2015, but defender Birendra Lakra feels the side needs to work harder on its defence.

India beat France 3-2 in their opening match here last night, but the Asian Games champions' defence was given a harrowing time by the fast overlapping French strikers, who capitalised on counters to stun them twice.

"It's a good start for our team, winning the first match, but we need to work on our defence structure and it has to be improved," said Lakra.

"We kept the ball possession in our side and dominated the match in the last three quarters but we conceded two goals, which is unfortunate for our team. As the tournament gets tougher with each match we will have to fill up gaps in our defence chain and strengthen the defence structure," he insisted.

Lakra said that his team will have to take its game a notch higher as far as the defence is concerned.

"Our new strategy is working in our favour, now we have to take it a notch higher in terms of defence," said Lakra.

Meanwhile, the Indian women's team vice-captain Deepika also said that the girls will have to raise their level in the upcoming games.

The Indian eves failed to capitalise on several openings and suffered a 0-1 loss to hosts Belgium in their opening match yesterday.

"The first match was a closely-fought clash and we came close to scoring goals on a few occasions. We have learnt a few things from the match and we will use the experience in coming matches. In the upcoming games, we will have to raise our level and be in better shape to face the challenges.

"We need to work on our ball possession as we failed to keep the ball in our side in the last match. We are satisfied with our performance and we will come back strongly in the next match," she said.

The India men's team will face Poland in its second match on June 23, while the women's team will take on New Zealand on the same day.

The Times of India


---

India's lack of aggression leaves Belgian coach surprised

ANTWERP: India women's team's reluctance to launch an all-out attack despite trailing in the opening encounter against the home team has left Belgian coach Pascal Kina surprised.

Belgian captain Lieselotte van Lindt scored the lone goal of the match in the 35th minute to help the hosts clinched a 1-0 win against the Indian eves on Saturday.

"I would have expected India to go all out into the attack in the last quarter as they had a lot to lose in this match, but it did not happen," said Kina.

"I must say I was surprised by India not throwing everything into the attack. They were a goal down and would not have gained anything by the score-line staying that way," he added.

Belgium were a bit jittery ahead of the encounter, which was considered key to securing a spot in the 2016 Rio Olympics that will feature 12 teams.

A day after the winning the opening game against India, Belgium were still in celebration mood, aware that this win could go a long way in securing an entry into the Olympic Games.

Impressed by the skills of a few Indian players, Kina said Belgium played better as a unit.

"India have some very skillful players, and their captain Ritu Rani played an outstanding game. But collectively we played much better," said Kina.

Belgium's winning start should help them finish in the top three in Pool B, and thereby avert The Netherlands in the quarterfinals.

The race to the Olympic Games could whet down to the contest between India, placed No. 13 in the world rankings, and Belgium, who are one spot ahead at No. 12.

The preliminary group also features Australia (world No. 2) and New Zealand (world No. 4) and only a shock win against one of them could lift India's fortunes.

Three teams from each of the World League Semifinals are assured an entry to the Olympics, but some teams outside the semifinals could also qualify for the Olympics. The crucial factor in the World League is to secure an easy quarterfinal, and India have not helped their cause by losing the first match yesterday.

Kina seemed relieved that India allowed the Belgian defence to breathe easy in the closing stages, despite nearly equalising in the 36th minute, but a goal-line save by keeper Stephanie de Groof denied captain Ritu Rani.

Ritu's goal-bound flick on a penalty corner rebound from Belgium goalkeeper Aisling D'Hooghe, was saved by a diving attempt from De Groof, but India could not produce any other goal bearing move in the last quarter.

After a shaky first session, the Indian eves' game improved in the second half, and they managed to force a penalty corner in the 42nd minute also, but the set-piece was not executed well.

The Times of India


---

Case of missing Azerbaijan and Malaysia's missed chance

THE Malaysian women's hockey team missed a chance of a lifetime to play in the World League Semifinals in Belgium after Azerbaijan went missing on transit at Turkey.

Their non arival in Belgium made the International Hockey Federation press the panic button to call up reserve teams from the World League Round Two and the Malaysian women were among the five teams offered as replacements on Friday 7am.

The Malaysian women had finished third in the WL Round Two in New Delhi and are ranked 21st in the world, but declined due to time constrain. They had recently won gold at the Sea Games but travelling and recovering from jet lag at the 11th hour invitation was the reason Malaysia had to give up a chance to play in Belgium.

France, ranked 24th, took up the offer and crossed over the border in two hours  to replace Azerbaijan. France will now have the opportunity to play for one of the three guaranteed tickets to the Rio 2016 Olympic Games available in Belgium

Meanwhile, in the men's Group A matches played late Saturday, Asian giants India and Pakistan could only scrape past lower ranked European teams.

India struggled to beat France 2-1 while Pakistan posted the same score against Poland

Jugjet's World of Field Hockey


---

Women's hockey team skip opportunity to play in Belgium

By S. Ramaguru



Malaysian hockey team celebrating after winning the gold medal at the recent Singapore SEA Games.

ANTWERP (Belgium): The Malaysian women's hockey team could have played in the World Hockey League Semi-Finals as they were offered a spot.

But the Malaysians did not take up the offer as they felt it was too short a time to get a team ready for the tournament.

Azerbaijan withdrew from the meet at the last minute. An International Hockey Confederation (FIH) official confirmed that they had offered five countries the chance to replace Azerbaijan and the 21st ranked Malaysia was one of them.

The decision to call up a replacement was taken by tournament director David Collier after the Azerbaijan team failed to arrive in Belgium as scheduled on Wednesday.

France, ranked 24th, took up the offer and played their first match on Saturday where they were beaten by Holland 11-0.

Malaysia, who won the SEA Games gold medal, would have benefited by playing against the world's top ranked teams.

They played in the World Hockey League Round Two in New Delhi and finished third behind India and Poland. 

The Star of Malaysia


---

Scotland seal series with hard fought win over Wales



Hamish Imrie scored Scotland's opening goal. Photo Credit: Duncan Gray

Goals from Hamish Imrie, William Marshall and Kenny Bain gave Scotland Senior Men a 3-2 win over Wales in the third and final international match at the Glasgow National Hockey Centre today.

As a result, the Scots recorded a 2-0 series win over their Welsh visitors, who were competitive throughout all three matches and provided Head Coach Derek Forsyth and his players with plenty to pore over before they play Czech Republic in three home internationals next weekend (26-28 June).

There was little to report in the opening stages of today's encounter with both sides finding goal-scoring opportunities difficult to come by.

However, Scotland were given a penalty corner opportunity in the 19th minute, only for Wei Adams' drag-flick to sail high and wide of the right hand upright.

Wales were afforded a similar chance six minutes later but Gareth Furlong's penalty corner attempt fizzed wide of the left hand post.

With the first half in danger of being a goal-less affair, it was Welsh midfielder Owain Dolan-Gray who finally broke the stalemate in the 28th minute, collecting Rupert Shipperley's pass on the right of the circle and rounding Scotland goalkeeper David Forrester to slot the ball into the net.

Wales continued to display their attacking intent early in the second half, Furlong forcing a vital block from replacement goalkeeper Gavin Sommerville in the 42nd minute before Stephen Kelly flashed a shot across the face of goal sixty seconds later.

The visitors were left to rue their missed opportunities shortly after when Scotland found an equalising goal; Gordon McIntyre found Adams in space on the left touchline and his cross was diverted into the path of Hamish Imrie, who made no mistake to level the scores at 1-1.

The home side stole a march on the Welsh in the 54th minute when William Marshall's drag-flick left goalkeeper David Kettle with no chance of stopping the ball putting the Scots 2-1 up.



Scotland defender William Marshall put his side in the lead with a penalty corner. Photo Credit: Duncan Gray

Imrie almost grabbed his second of the match four minutes later, but his shot flashed wide of the left hand post, before Adams slid in to connect with McIntyre's pass but Kettle was quick from his goal-line to block the attempt.

The national side made sure of the win with a third goal two minutes from full-time though, Lee Morton crashing a shot on goal that Kettle could only divert into the path of Kenny Bain, who lashed a fierce reverse stick effort into the corner of the net.



Striker Kenny Bain was again on the scoresheet for Scotland against Wales. Photo Credit: Duncan Gray

There was still time for one last Welsh hurrah, Shipperley finishing off a penalty corner set-play right on the final hooter.

Scotland U16 Boys Development lost narrowly to Ulster in Glasgow today; Jonathan Hawley, Andrew McConnell and Fraser Calder the goalscorers.

Scotland U16 Girls Development drew 5-5 with Ulster, four goals from Millie Merry and a PC from Lucy Hogarth



Photo Credit: Duncan Gray

Scottish Hockey Union media release


---

Schedule for Under-21 series vs. USA

Canadian junior men begin four-game series on Tuesday

The Canadian Junior Men's National Team is set to face the United States in a four-game Under-21 series this week in the lower mainland of British Columbia.

The series is in preparation for the 2016 Junior World Cup qualification process, which comes to a head next May in Toronto at the Junior Pan American Championships, where the top two finishers gain entry to the World Cup.

The series schedule is as follows:

        Tuesday, June 23rd at 7:45pm - Tamanawis Field - Surrey, BC
        Wednesday, June 24th at 5:45pm - Rutledge Field - West Vancouver, BC
        Friday, June 26 at 10:00am - Tamanawis Field - Surrey, BC
        Saturday, June 27 at 10:00am - Tamanawis Field - Surrey, BC

Family, friends, and fans are encouraged to come watch and cheer!

Field Hockey Canada media release


---

US Men's U-21 National Team Gains International Experience in Canada

The U-21 Men's National Team traveled to Canada for a week-long competition against top-tier international squads. USA Head Coaches Paul Lewis, Ben Howarth and Mike Whitehead have led the team through four matches thus far and look to compete for third place in their next match. Get a better insight of the first four matches from the player blog posts below!

Arriving in Surrey a day late after some rough travels the team was pretty tired yet eager to start the tournament.

Match One: USA vs Ontario
Having only had one quick training session the night before the game, we started off a little unorganized and overwhelmed by the opponent. After struggling to get the feet underneath us in the first half we held Ontario to a scoreless half.
As they come flying out of the break, they were able to capitalize on an early chance of the second half. Throughout the game they kept us to a very limited number of chances and the game looked to be lost.
With less than a minute to go Casey Walker tied the game with a great flick in the bottom right corner.
After our slow start and unorganized play we managed to hold Ontario to only one goal and showed great resilience in scoring a buzzer beater to get a point out of that game.
USA Match MVP - Kai Kokolakis, Captain-Doug Allison

Match Two: USA vs British Columbia Blue
Following a quick transition from our tied first game two hours beforehand, the United States stepped on to the field heavy legged and lethargic. The game commenced with shots on goal by both teams.  British Columbia Blue scored a quick goal on a rebound on a quick counter attack. United States quickly turned the tides with increasing the match pace and ball control. Then the United States received a short corner where Doug Allison scored a decisive goal off a drag flick to the right side net. The game continued play with possession switching from both teams.  Then with three minutes left in the second half a British Columbia Blue player crossed the ball in our circle to score a goal off a deflection. The buzzer rang with British Columbia 2 to United States 1.
USA Match MVP -  Nathan O'lari, Captain-Kai Kokolakis
 
Match Three: USA vs Red Devils
The third match took place on Saturday, June 20th, against the Red Devils. After coming out strong the US team scored on a short corner with Khai flicking it past the goalie. The Red Devils equalized with the half ending 1-1. In the next half, we led the match 3-2 for most of the half. Christian scored on a broken up short corner play and Amar scored after dribbling down the base line and past the goal keeper. In the last 45 seconds of the match, the Red Devils tied the game 3-3 on a short corner hit. Despite tying, we showed tremendous improvement from the day before - our outlets were faster, our forward transitions more consistent, and our midfielders were more disciplined. Having come very close to 3 points in Game 3, we were determined on securing a win later that day.
USA Match MVP - Walter Pfaff, Captain-Nathan O'lari

Game Four: USA vs BC White Caps
Saturday, June 20 at 4:00 p.m., the USA U-20 Team beat the BC White Caps 1-0 in their fourth game of the tournament. The USA got off to a quick lead with a short corner goal scored by Kai Kokolakis. The rest of the game was a battle of defenses. The USA faced immense pressure from the White Caps push for an equalizing goal.  The last twenty minutes of the second halve was where the USA was bent but didn't break having to overcome four short corners and the ball mainly staying in their halve. With a few key saves by goalkeeper Nate O'Lari the USA was able to keep the ball out of the back of their net. Although frantic at the end this was a key victory for the USA to stay alive in the tournament.  The man of the match was Casey Walker. This victory was able to secure the USA a place in the bronze medal match at 3:00 p.m. on Sunday June 21.
USA Match MVP - USA Casey Walker, Captain Walter Pfaff

USFHA media release


---

Steele, Grant put Oilmen on title brink

Nigel Simon

Alex Steele and Nicholas Grant scored two goals each as Petrotrin crushed Defence Force 5–2 to move a step closer to claiming the T&T Hockey Board Men's Championship Division at the National Hockey Centre, Tacarigua, on Friday night.

The Oilmen entered the match, coming off a 2-1 loss to Queen's Park on Thursday, its first of the campaign, but were quickly in their stride with the prolific Wayne Legerton scoring in the 11th minute for a 1-0 lead followed by Steele's quick double, in the 14th and 18th minute for a 3-0 cushion and well on course for all three points, early in the second quarter.

However, the "Teteron Stickmen" got themselves back into the contest with two goals of their own, first through Shane Legerton in the 21st minute and eight minutes later via Nicholas Wren to trail 2-3 at the half. The third period failed to live up to the hype of the first two periods, but in the final quarter, Nicholas Grant made certain of victory for Petrotrin, with goals in the 46th and 56th minute to extend the lead to 5-2 and beyond Defence Force's reach.

With the win, Petrotrin improved to 28 points from 11 matches and three left to play, seven clear of defending champions Notre Dame which also has three matches left to play while Queen's Park is third with 19 from 12 matches. Paragon is fourth with 13 points from nine matches, while Defence Force has 12 from 11 matches in fifth spot.

At the top of the Women's Championship Division standing is Georgetown Cricket Club of Guyana which ended its 12-match campaign with 20 points while the trio of defending champion Paragon, Harvard Checkers and Shandy Carib Magnolias, are all on 13 points. However, Magnolias has five matches to play while Paragon and Notre Dame has four and Checkers three to complete their campaigns.

Results & matches
Friday:
Men's Championship Division:
Petrotrin 5 (Alex Steele 14th, 18th, Nicholas Grant 46th, 56th, Wayne Legerton 11th) vs Defence Force 2 (Shane Legerton 21st, Nicholas Wren 29th)
 
Today (Sunday)
Men's Championship: Courts Malvern vs Paradise, 12.30pm; Petrotrin vs Notre Dame, 6.30 pm
Women's Championship: Ventures vs Courts Malvern, 2pm; Harvard Checkers vs Notre Dame, 5 pm

Standings
Men's Championship:
Teams    P    W    D    L    F    A    Pts
Petrotrin    11    9    1    1    41    16    28
Notre Dame    11    6    3    2    29    16    21
QPCC    12    5    4    3    29    21     19
Paragon    9    4    1    4    22    23    13
Defence Force    12    2    6    4    24    26    12
Malvern    11    2    4    5    16    21    10
Fatima    11    2    3    6    16    30    9
Paradise    9    2    0    7    16    41    6

Women's Championship:
GCC    12    6    2    4    22    20    20
SC Magnolias    7    4    1    2    20    8    13
Paragon    7    3    4    0    17    7    13
Checkers    8    3    4    1    8    4    13
Notre Dame    7    3    1     3    12    13    10
Malvern    6    1    2    3    7    13    5
Ventures    7    0    0    7    1    22    0

The Trinidad Guardian


---

Former Indian women hockey captain Shashi Bala killed in road accident

NAWANSHAHR: Former Indian women hockey team captain, Shashi Bala, was among the three persons killed in a car accident on Sunday near Kahma village here.

The incident occurred when the car in which 47-year-old Bala was travelling with her son, daughter and a driver, collided head on with another vehicle coming from an opposite direction near Kahma village here, police said.

The other two deceased persons were identified as Bala's son Agrim (14) and car driver Attar Singh (35), they said.

Bala's daughter Varnika (20) was too critically injured in the accident and was rushed to a local hospital here, they said.

Shashi Bala was a former captain for Indian hockey team for women and was presently posted as hockey coach for RCF Kapurthala.

Shashi Bala along with her son and daughter were going from Kapurthala to Chandigarh.

The mishap took place when their car collided with a light commercial vehicle coming from an opposite direction near Kahma village here, Nawanshahr SP (D) Gagan Ajit Singh said.

Singh, who is also a former hockey player, said Shashi Bala had remained captain for Indian hockey team for women.

In the accident nine persons, who were in another vehicle, also sustained injuries and they were rushed to local hospital for treatment, police said.

The Times of India


---

Tribute to Shashi Bala on her untimely death

s2h team

Former India Women Team captain Shashi Bala and her 15-year-old son Agrim Thakur, met with an unfortunate accident at Ropar-Nawanshahr-Phagwara area today.The entire Indian Hockey fraternity expresses its grief on losing a prominent personality who was known for her immense contribution towards Indian Hockey.

Speaking on the sad demise, Dr. Narinder Dhruv Batra, President, Hockey India said. "Hockey India would like to express its condolence for the unfortunate demise of Shashi Bala and her son with great grief and sorrow. It's a sad day for Indian hockey fraternity. May her soul Rest in Peace".

45-year-old Shashi Bala made her international debut in 1987 and was a member of the national team in the 1998 FIH Women World Cup in the Netherlands. She was captain of the national team during the 1997 FIH Women World Cup Qualifier held in Harare, Zimbabwe. After her playing career, she coached India Railways' hockey teams and later became a selector of Hockey Punjab.

Stick2Hockey.com