All the news for Monday 25 May 2015

Ireland wins 1-0 to pull even with Canada in Toronto series

Third game of series is Tuesday at 6pm/ET at Pan Am Fields

Shaheed Devji



Photo: Yan Huckendubler

After a 2-1 victory on Saturday, the Canadian Women's National Field Hockey Team fell short 1-0 to Ireland Sunday at the new Pan Am Fields in Toronto.

Having given up the first goal of the match just five minutes in on Saturday, Ireland started the game strong, keeping possession early on. Canada withstood the pressure, however, and began to level the run of play.

The game remained scoreless at the end of the first half, but that was not for a lack of opportunities for both teams.

Late in the second quarter, former University of Toronto Varsity Blue Kaelan Watson - playing at her alma mater - put a shot just wide of the Irish goal, narrowly missing breaking the deadlock.

Shortly after, Ireland earned a penalty corner but Canada's Natalie Sourisseau came up with a big stop at the top of the circle.

The first goal of the match didn't come until late in the match.

After Canadian keeper Beckett Frisch made a couple of stops to keep the game scoreless, Ireland final broke through when Nicole Daly put one by Frisch in the forty-eighth minute, giving the visitors the important first goal and 1-0 lead.

Late in the fourth quarter, Canada pressed to try and find the equalizer but couldn't convert on a flurry of chances.

With Ireland's win, the four-game test series is even with each team winning one game.

The series' final two matches will take place on Tuesday and Wednesday at 6pm/ET at the new Pan Am Fields at the University of Toronto.

Complete scores and schedule for the series vs. Ireland can be found here.

Field Hockey Canada media release


---

Canada 0-1 Ireland (Women)




The green army got off to a strong start, looking to right the wrongs from game 1 of the series. Ireland dominated possession with accurate passing and intuitive play. The first quarter saw few real chances for either side as both teams looked to settle into the game.

The second quarter started in a similar vain with both teams trading chances and looking to create the opening goal. The Canadians created the first real scoring chance but the experienced Irish defence dealt with the danger. Ireland came close a minute later with a shot going wide off the post and earned a penalty corner moments later with another attacking effort. The Canadian defence defended the threat and counter attacked, earning a penalty corner of their own. The tight half came to a close with a big defensive effort by Ireland to keep the Canadians at bay.  0-0

Canada looked the stronger side in the opening exchanges of the second half before Ireland regained control with a close scoring opportunity. The green army won another penalty corner that hit the post and was saved well by the Canadian keeper on the rebound. The play from both sides started to lose some composure and Lizzie Colvin was issued with a green card. Ireland didn't let their numbers disadvantage faze them and enjoyed the last chance of the quarter before the horn sounded. 0-0

Both sides maintained the intensity that had been on show throughout the previous quarters and it was Ireland that broke the deadlock with a goal by Nicci Daly in the 48th minute. Emma Gray then came to Ireland's rescue with a stunning save from a well-worked Canadian penalty corner. The game came to a close with Ireland having the last of the chances and securing the victory.

Speaking after the match, Coach Darren Smith said "We played with much better tempo and intent against a well organised Canadian team. Nicci Daly took the only goal very well in the 4th quarter from a midfield turnover and counter. It has been two hard fought matches, which is perfect for our preparation leading into World League 3 next month. We're looking forward to the next 2 matches in the series".

Final Score: Canada 0-1 Ireland (Daly)

The teams next meet on Tuesday 26th at 6pm (Toronto time) in match 3 of the 4 match series.

Squad:

Emma Gray
Cliodhna Sargent
Yvonne O'Byrne
Shirley McCay
Lizzie Colvin
Megan Frazer (Captain)
Gillian Pinder
Nicci Daly
Nikki Evans
Anna O'Flanagan
Katie Mullan
Ayeisha McFerran
Hannah Matthews
Ali Meeke
Aine Connery
Chloe Brown

Irish Hockey Association media release


---

France 3 vs 3 Ireland (Men)




The second match in the series marked a big milestone for Eugene Magee who earned his 200th cap for Ireland. Magee first took to the pitch for Ireland back in 2005 against Belgium and fast became a stalwart of the team. Congratulations to Eugene on a fantastic achievement.

After a frustrating loss in match 1 of the series, the green machine began match 2 with a blistering pace. They earned 3 penalty corners in the first 10 minutes, all of which the French defence dealt with. The green machine looked confident and composed as they created a further 3 chances in the opening quarter. 0-0

The second quarter began with another chance for the men in green which the French defence cleared, but only as far as a waiting green shirt. The Irish increased the pressure once more and earned another penalty corner. This time the green machine converted and took the lead 1-0 thanks to a superb strike from Shane O'Donoghue. France quickly responded and put together some fluid passes to take their first shot on goal of the contest. They enjoyed a period of possession and tested the Irish defence with another shot on goal, that was routinely saved by Harte. Harte was again called into action as the French side seemed to find their rhythm as the half ticked down. 1-0

France started the second half in the same manner in which they finished the first and quickly forced Harte to make 2 strong saves. The French side earned 3 penalty corners and drew the match level with a goal on their third attempt at the end of the period. 1-1

5 minutes into the final quarter Harte made a terrific save but couldn't prevent a goal a minute later. 2-1 to France. Another penalty corner for France led to their third goal with just 5 minutes left in the game. 3-1. The green machine responded immediately with a goal of their own less than a minute later thanks to Kyle Good, 3-2.  2 minutes later, Kyle Good struck again with a blistering shot and brought the match to 3-3, and that's how the tie finished up.

 Speaking after the match, Coach Craig Fulton said "A fantastic milestone was achieved today with Eugene Magee receiving his 200th cap. There was a much improved performance from yesterday. The team played some good phases and we will be looking to build on this in our final preparations for World League 3".

Final score 3-3 (O'Donoghue, Good x2)

Squad:

David Harte
Conor Harte
Johnny Bell
Paul Gleghorne
Stuart Loughrey
John Jackson
Ronan Gormley
Michael Robson
Eugene Magee
Kirk Shimmins
Shane O'Donoghue
Michael Watt
Drew Carlisle
Kyle Good
Stephen Dowds
Timmy Cockram
Peter Caruth

Irish Hockey Association media release


---

LA Tigers and Bulldogs in men's Cal Cup final while Mexico to face Dragon Ballaz for women's title

By Jawwad Qamar




Moorpark, CA: In a 5 – 1 shocker, LA Tigers took sweet revenge of their pool play defeat by Montauk Sharks yesterday. Ranvir Kundi started the onslaught by scoring first of his two goals at the seven minute mark when he took a fine pass from Balraj Panesar and drew the Sharks goalkeeper out to put the ball inside the far post for a 1-0 lead.



Ranvir Kundi scoring his first of two goals as umpire Neil Smith and the rest look on - photo by Jag Reyatt

Ranjot Sangha followed six minutes later with his brilliant run, leaving behind three Sharks with the likes of Aussies Liam de Young and Luke Doerner for a reverse stick tally. The backbreaker came just three minutes later on a beauty of goal, when Jesse Paredes threaded the ball through the middle to a streaking Tyler Sundeen for his chip shot over an on rushing Sharks' keeper and the New Yorkers found themselves down three goals in a matter of minutes.

Kundi was not done yet as he wasted no time netting his second goal two minutes into the second half to increase the lead to 4-0. Doerner finally put the Sharks on board on the teams' second penalty corner but it was as they say, too little, too late. Amrit Beatty showed no mercy adding one more for the Tigers in the closing seconds for a 5-1 finish.

Earlier in the day, the Tigers had to qualify for the semifinals by getting past Mexico in a crossover match that was decided in the seventh round of a shootout after a 1-1 tie in regulation.



Ranjot Sangha after getting past three Sharks swings for the back of the net - photo by Jag Reyatt

In the second semifinal, home crowd favorites, the Bulldogs edged out the defending champions San Jose Khalsa 1-0 on a goal by Troy Sutherland in the 41st minute and goalkeeper Andrew Zayac did his bid when called upon to preserve the narrow lead.



Bulldogs goalkeeper Andrew Zayac sending the ball high on San Jose Khalsa's penalty corner attempt - photo by Jag Reyatt

LA Tigers will face the Bulldogs on Memorial Day for men's championship and the $7,500 winner's prize.

In the Women's Super Division, defending champions Mexico will face Dragon Ballz on Monday for the women's crown and the $7,500 pay day. While the Mexicans qualified for the final yesterday as pool A play was completed, pool B competition was completed this afternoon. Caliwood and Jolie Pitt played to a 1-1 tie in first match and Dragon Ballaz followed with a 1-0 win over the Olympic Club to finish on top of pool B and qualify for the championship.

Monday's finals in both divisions should be very entertaining for the fans to watch and a large crowd is expected at the wonderful hockey venue here at Moorpark College.

Monday's championship match schedule is as follows:

Women's Final 1:30 PM:

Mexico vs Dragon Ballaz

Men's Final 2:45 PM:

Bulldogs vs LA Tigers

For all results, schedule and directions to the hockey venues, please visit www.calcup.com.

Fieldhockey.com Exclusive


---

2015 Junior World Cup squads announced




Hockey New Zealand has announced a wider group of players who have been identified as currently in contention for selection to compete at the 2016 Junior World Cup.

The squads, which will receive extra support, consist of 38 women and 36 men who have been selected from a combination of the Development, Future, Junior and Pathway to Podium groups.

Teams will be announced closer to the Junior World Cup Qualifiers which are still to be confirmed, with all players within and outside the squads considered.

Next year Junior World Cup squads will be confirmed from which teams will be selected to compete at the Men's Junior World Cup in New Delhi 1-11 December and Women's Junior World Cup in Chile from 23 November - 2 December.

Bryce Collins is the men's national junior coach while the women are coached by Sean Dancer.

All players named in the squads are under the age of 21 as at 31 December 2015, and are therefore eligible to compete at the Junior World Cup.

2015 JUNIOR WORLD CUP WOMEN'S SQUAD
PLAYER NAME



REGION



AGE




STRIKERS

Tyler LENCH

Auckland

17

Courtney WINTERBOTTOM

North Harbour

19

Phoebe STEELE

Canterbury

18

Deanna RITCHIE

Auckland

19

Amy ROBINSON

Midlands

19

Nicola McDONNELL

Auckland

19

Samantha POLOVNIKOFF

Northland

17

Josie ACKROYD

North Harbour

19


MIDFIELDERS

Catherine TINNING

Canterbury

19

Su Arn KWEK

Auckland

19

Alia JACQUES

Midlands

20

Acacia KELSEN

Midlands

18

Polly INGLIS

Auckland

18

Freya HAWES

Capital

19

Tessa JOPP

Southern

19

Charlotte SYMES

Canterbury

18

Casey-Mae WADDELL

Central

18

Lulu TUILOTOLAVA

Auckland

18

Sarah WALCOTT

Canterbury

20

Frances DAVIES

Midlands

18


DEFENDERS

Maddison DOWE

Auckland

18

Tarryn DAVEY

Midlands

19

Kate SELLAR

North Harbour

20

Bridget KIDDLE

Canterbury

18

Ella HYATT-BROWN

North Harbour

17

Maddi McLEAN

Southern

19

Johanna AVERY

Central

18

Alex LUKIN

Midlands

16

Pippa NORMAN

Central

19

Stephanie DICKINS

North Harbour

19

Megan HULL

Midlands

19

Siobhan NUZUM

Midlands

19

Tayla WHITE

Auckland

18


GOALKEEPERS

Brooke ROBERTS

North Harbour

20

Ginny WILSON

Southern

20

Tegan MURAAHI

Central

18

Kirsten NATION

Canterbury

19

Isla BINT

Auckland

17
 2015 JUNIOR WORLD CUP MEN'S SQUAD
PLAYER NAME



REGION



AGE




STRIKERS

Sam LANE

Canterbury

18

Jonty KEANEY

Auckland

19

Richmond LUM

Auckland

19

Mac WILCOX

Central

18

Dylan THOMAS

Central

19

Joseph ROBERTSON

Capital

18

Kaylan JERAM

Auckland

17

Joseph LYONS

Midlands

19

Robbie CAPIZZI

North Harbour

18

Leo MITAI-WELLS

Midlands

19

Daniel HARRIS

Capital

18


MIDFIELDERS

Zander FRASER

Auckland

16

Hayden PHILLIPS

Central

17

Mitchell OTTOW

North Harbour

17

Alex HANHAM

North Harbour

19

Aidan SARIKAYA

Midlands

18

Nic WOODS

Midlands

19

Dominic NEWMAN

Canterbury

18


DEFENDERS

Cameron GIBBONS

Auckland

20

Ollie LOGAN

Capital

20

Bradley READ

Capital

20

Mitchell MURRAY

Auckland

18

Sam JIMMIESON

Auckland

20

Benji EDWARDS

North Harbour

17

Jonny THORN

Southern

19

Te HIRAKA CHASE

Midlands

18

Hugh HENDRICKSON

Capital

18

David BRYDON

Canterbury

18

Ethan MARTIN

Midlands

17

Ari BARROW

Canterbury

19


GOALKEEPERS

Ruan BEZUIDENHOUT

Auckland

20

Thomas MALLON

Southern

19

Jack WADDELL

Southern

19

William ZHOU

Capital

19

Dominic DIXON

Central

18

Bryan SCHOFIELD

Canterbury

19
Hockey New Zealand Media release


---

Browne has hopes for last hurrah

Celebrated T&T men's hockey player Kwandwane Browne has his eyes set on fulfilling a lifelong dream of qualifying for the Rio de Janeiro 2016 Olympic Games. And with the upcoming Pan American Games, being his last chance to do so Browne who has played more than 300 times for T&T, is ever optimistic about his team's chances.

At the Pan American Games to be held in Canada in July, the "Calypso Stickmen" ranked 29th in the world will compete in a very tough Pool A with Argentina, Cuba and USA while Pool B comprises Brazil, Canada, Chile and Mexico. It will be the first tournament for T&T since it participated in the FIH World League Round Two qualifiers in San Diego, California in March.

At that tournament, the "Calypso stickmen" who were without some of their top players due to injury and work commitments were beaten in all six matches they contested. T&T went under to Russia (6-1), USA (7-1) and Canada (3-0) in Pool B round-robin player before losing to Ireland (12-2) in the quarterfinal, 2-1 to Italy in the fifth to eighth semifinal, and 5-3 to USA in the seventh place playoff.

But despite the tough draw, Browne through his own hockey pedigree and coaching excellence having a huge influence on his team, believes there is no doubt that T&T will be mixing it with the bigger teams right to the final whistle. Currently, the England Under-21 assistant coach and coach for National League Premier Division's Canterbury, Browne in 2012/13 won the award for England Hockey High Performance Coach of the season.

He has also been the mainstay of the national team for more than 18 years, playing in four Commonwealth Games as well as four Pan American Games and three Pan American Cup competitions and this year's event in Canada, will no doubt be his last.

However, his coaching commitments in the United Kingdom has meant he needs to plan his time carefully between representing his club and country.

"Because our international tournaments are normally in the summer, it doesn't regularly affect my club commitments, but the last year has been challenging as I have been working as the assistant coach for England U-21 Men and the England Senior Men Development squad and we have quite a few camps and tournaments during the year. Early planning has been crucial so I will arrange to go back to T&T where possible and do intensive camps over ten days."

The fact that Browne is working with another national team has had added benefits for the T&T team as Browne explains: "I am able to keep up to date with the new developments and when we have the intensive camps I am able to pass on the things I have learnt. "Occasionally the T&T national coach will come over to England for three to four months and spend time looking at the Premier League and gathering information from some of the coaches."

The biggest hurdle that T&T faces is the inconsistency of government funding, which makes it difficult to do any long term planning. "When we had consistent funding our ranking jumped to 18th, we were doing really well and were hoping to get into the top 15. With funding, players can receive a stipend and have some of their travelling expenses covered. While the players did not earn money, this was enough to play and train hard," says Browne.

"However, now that the funding is a bit ad hoc, players are forced to get full time jobs, so getting time off is a massive problem. We haven't got thousands of players to choose from, so if a few key players are missing from a tournament it has a massive impact on our quality. "The Pan Am Games in July will be the first time in about eight years we will have all our players available, so we are all quite excited." ended Browne, who is expected to return to T&T next week to conduct a ten-day camp.

The Trinidad Guardian


---

Luces earns Checkers a point

Nigel Simon



Tiffany Solomon, left, Georgetown Cricket Club and Paragon's Zene Henry battle for the ball in their T&T Hockey Board Women's Championship Division match at the National Hockey Centre, Tacarigua, on Saturday. The match ended 3-3. Photo: Anthony Harris

Former national forward Yesenia Luces earned Harvard Checkers a share of the points when she netted in a 1-1 draw with Shandy Carib Magnolias in the T&T Hockey Board Women's Championship Division at the National Hockey Centre, Tacarigua, on Friday night. Magnolias had taken a 1-0 lead in the first quarter through ex-national captain Stacey Siu Butt which it managed to hold onto until Luces, in her first season with Checkers after transfering from Ventures, converted the equaliser.

With the drawn result, Checkers, remained unbeaten and improved to nine points from five matches, four behind leaders Georgetown Cricket Club while defending champion Paragon is second with 11. Magnolias is fourth with seven points, one ahead of Notre Dame followed by Courts Malvern with four.

And in the Men's Championship Division, another former national captain Nicholas Wren got both goals to help Defence Force to a 2-2 draw with Queen's Park Cricket Club. Damion Bright and Raphael Govia were on target for the Parkites but Wren came to his team's rescue each time. The draw left Defence Force third with nine points, six behind unbeaten leaders Petrotrin while  Notre Dame is second with 11 points from seven matches and Queen's Park, fourth with eight.

Results
Friday
Women's Championship
SC Magnolias 1 vs Harvard Checkers 1

Men's Championship
QPCC 2 (Damion Bright, Raphael Govia) vs Defence Force 2 (Nicholas Wren 2)

Wednesday
Mixed Veterans
Carib 2 (Narda Coker 2nd, Kevin Adams 41st) vs Fatima 2 (Brian Garcia 44th, 51st)

Monday
Mixed Veterans
Courts Malvern 4 (Peter Edwards 37th, 46th, Shaun Alexander 6th, Damian Gordon 69th) vs Police 0

Today's matches
Trinity Women: Paragon vs Raiders, 11 am
Under-19 Boys: Raiders vs Paragon, 12.30 pm
Men's Championship: Paradise vs Defence Force, 2 pm
Women's Championship: SC Magnolias vs Ventures, 3.30 pm
Trinity Men: Paradise vs Carib, 5 pm
Trinity Men: Notre Dame vs Courts Malvern, 6.30 pm

The Trinidad Guardian


---

SECR derail Athletic Club in VHA Senior Division Hockey League

Suhas Nayse

NAGPUR: South East Central Railway (SECR) derailed Athletic Club 3-0 to notch up their second successive victory in the Baidyanath VHA Senior Division Hockey League at the VHA ground here on Sunday.

The railmen, who trounced Ambedkar College Sports Academy in their first match a couple of days ago, totally dominated the match against Athletic Club.

Rajhans Singh opened the account for SECR in the 11th minute. SECR's veteran player Rajesh Bihari made it 2-0 in the 29th minute.

The third and final goal for the SECR came just a minute ago before the final hooter, courtesy Kuldeep Singh.

On Monday, Kamptee United will meet Central Railway at 5 pm.

The Times of India


---

Huge routs expose lack of depth in Nationals

Hockey India presiding over faulty pooling system, ill-timed and meaningless matches

Gaurav Kanthwal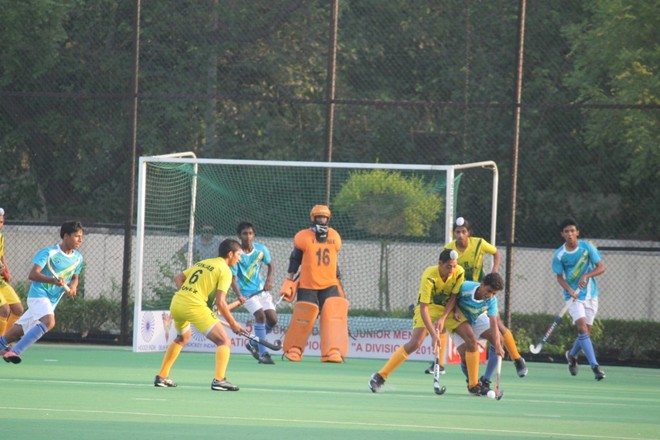 Punjab boys take on Tamil Nadu in the Hockey India Nationals. Hockey India

Chandigarh - The ongoing sub-junior and junior National Hockey Championships in New Delhi and Ranchi are throwing up startling results. A sizeable majority of the matches in the men's and women's category end up being ridiculously one-sided. The margin of victory in some matches verges toward outrageous. For instance, Hockey Punjab beat Hockey Chhattisgarh 31-0 in a sub-junior men's A Division match, meaning a goal was scored every two minutes in the 60-min contest.

Earlier this month, in the women's junior National Championship in Rajnandgaon, 16 teams (divided into four pools) played 36 matches, and 17 (47.22%) matches saw one team dominating completely. In 18 matches, the losing team failed to score even a single goal. Chhattisgarh and Rajasthan failed to score a single goal in the tournament. The two semifinals and the final match were also heavily one-sided.

In the women's sub-junior category B Division in Ranchi, 17 teams (divided into four pools) played 28 matches, and 18 matches (64.28%) were mis-matches.

In the men's junior National Championship in Mysore, 16 teams (divided into four pools) played 28 matches, and 11 (39.28%) matches were completely one-sided. In the sub-junior men's Nationals in New Delhi, 16 teams (divided into four pools) played 28 matches till now, and 17 (60.71%) were a drab affair.

Clearly, the age group championships organised by Hockey India (HI) have failed to provide any thrilling action.

Even coaches admit that there are just eight to ten teams that are competitive, the rest just make up numbers in the premier hockey championship of the country. A lot of players who represent a sub-junior (under-14) team are the same who play in the junior (under-19) category. Similarly, a large number of junior category players also play in the senior category. In a nutshell, there is a dearth of good players and most of the teams lack depth.

Former India coach Rajinder Singh minces no words in criticising Hockey India's organisational skills. "You can not botch up a national championships in a better way," he says. "Look at the pooling system… A team that comes third one year is relegated into the B Division next year. The preparation for the championships begins when most of the children in the country are facing final examinations. 17 yr-old kids are playing in the sub-junior category (U-14). The organisers are making sure that hockey gets ruined in India."

Admitting that there are serious flaws in the championship, a senior Hockey India official said, "It would make sense if we follow the zonal system, so only the best teams would progress further. The umpiring standard will also rise. You cannot expect an umpire to be on the ball if 30 goals are being scored in a match."

A veteran Punjab-based coach said, "HI seriously needs to change the timing of the tournaments… This is off-season and you cannot expect players to be in top form. Otherwise the standard of hockey will go down further."

Hockey India continues to be a mute spectator to the alarming situation.

Beat it

Sub-junior (Women B Division)
Chandigarh bt J&K     27-0
Patiala bt Puducherry     19-0
Mizoram bt Vidarbha     16-0

Sub-junior (Men A Division)
Punjab bt Chhattisgarh     31-0
Gangpur bt Tamil Nadu     17-0
Odisha bt SAI     9-0

Junior (Women A Division)
Haryana bt Kerala     20-0
Bhopal bt Rajasthan     16-0
Punjab bt Chhattisgarh     15-0

Junior (Men A Division)
Punjab bt Maharashtra     15-0
Jharkhand bt Chhattisgarh     12-3
Jharkhand bt SAI     10-2

The Tribune