All the news for Friday 8 May 2015

Gohdes at the double

Matt Gohdes' PC double helps Kookaburras to 5-0 win over Korea




A controlled performance earned the Kookaburras a 5-0 win over Korea in their fourth match of the week in Hobart. Blake Govers' early goal, a Matt Gohdes double and strikes by Chris Ciriello and Daniel Beale did the damage for Australia, who were rarely troubled at the back.

In icy temperatures, Govers' seventh minute strike showed there would be no freezing in front of goal as the hosts broke the deadlock. Matt Gohdes' brace of penalty corner rebound goals either side of quarter time took his tally for the week to four and put the Kookaburras in the driving seat against a Korean side that leaked seven when the two teams met last Sunday.

Chris Ciriello chalked up a trademark penalty corner drag flick goal for 4-0 shortly before half time. It wasn't all one-way traffic however, with the Kookaburras weathering a couple of Korean corners before the hooter, the first going wide and the second kept out by goalkeeper Tyler Lovell.

Flynn Ogilvie and Dylan Wotherspoon almost combined early in the third quarter but it was Wotherspoon's fellow Queenslander, Daniel Beale, who struck the fifth, converting from close range after Jamie Dwyer's initial effort had been blocked.

Home town favourite and captain for the night, Eddie Ockenden was shown a yellow card late on but Korea failed to capitalise on the numerical advantage.

Kookaburras Head Coach Graham Reid said afterwards he was pleased with the performance but admitted there's work still to be done.

"I'm happy with a clean net; zero goals against, again, which was positive," he said.

"The second half was good from a defensive concern. Apart from there was a two minute period at the end of the first half where we made a few rash decisions in defence."

Australia were well in control throughout but Reid believes his side struggled at times to break down the defensively-structured Koreans.  

"We just need to get better at playing against teams that play with ten men in defence. We need to get better at drawing teams out and moving the ball around more efficiently."

Looking ahead to making his selection for the forthcoming Olympic qualifying tournament, the FIH World League Semi Final, he added, "The guys are making it really difficult for selection coming up so that's all we can ask for."

In the night's other contest, New Zealand's Blacksticks bounced back from their 3-0 defeat to the Kookaburras on Tuesday by overcoming Pakistan 4-2. The Kiwis had found themselves 2-0 down early on to goals from Muhammad Umar Bhutta and Shafqat Rasool but strikes from Andy Hayward, Jared Panchia, Phil Burrows and Marcus Child turned the match around.

The Kookaburras meet New Zealand again at 6pm on Saturday.
             
The Hobart International Challenge is supported by the Tasmanian Government through Communities, Sport and Recreation Tasmania.
                   
Please note - There will be no live streaming of the matches at the men's Hobart International Challenge. We apologise for any inconvenience that this may have caused.

Hobart International Challenge
Match Four

KOOKABURRAS: 5 (4)
Blake Govers 7 (FG)
Matt Gohdes 11, 23 (PC, PC)
Chris Ciriello 26 (PC)
Daniel Beale 41 (FG)  

KOREA: 0 (0)
-                                                      

Kookaburras squad v Korea
Name (Hometown/State) Caps/Goals
Started                        
Kiel Brown (Toowoomba, QLD) 157/6
Christopher Ciriello (Melbourne, VIC) 159/101
Tim Deavin (Launceston, TAS) 104/4
Jamie Dwyer (Rockhampton, QLD) 331/215
Jeremy Hayward (Darwin, NT) 36/13
Leon Hayward (GK) (Darwin, NT) 7/0
Eddie Ockenden (C) (Hobart, TAS) 241/60
Simon Orchard (Maitland, NSW) 167/50
Jake Whetton (Brisbane, QLD) 88/37         
Dylan Wotherspoon (Murwillumbah, NSW^) 13/3
Aran Zalewski (Margaret River, WA) 55/4
                                                                 
Used Substitutes
Daniel Beale (Brisbane, QLD) 53/10
Nick Budgeon (Hobart, TAS) 36/12
Matthew Dawson (Central Coast, NSW) 19/1
Matt Gohdes (Rockhampton, QLD) 120/37
Blake Govers (Wollongong, NSW) 2/1
Tyler Lovell (GK) (Perth, WA) 40/0
Flynn Ogilvie (Wollongong, NSW) 12/3
                            
^Dylan Wotherspoon is an athlete at the Queensland Academy of Sport and is classified as a QLD athlete but grew up in Mulwillumbah, NSW.
                                                       
Match Results - Thursday 7 May
New Zealand 4-2 Pakistan
Kookaburras 5-0 Korea

The Hobart International Challenge comprises 12 individual matches between Australia, Korea, New Zealand and Pakistan, each individually sanctioned by the International Hockey Federation. As such, there is no champion and no ladder.

Hockey Australia media release


---

Black Sticks run rampant over Pakistan



Blair Hilton congratulates Andy Hayward on scoring.

The Black Sticks Men have mounted a spirited comeback to overcome Pakistan 4-2 at the International Challenge in Tasmania.

After a frenetic opening quarter led to a two goal deficit, the Kiwis flipped the contest around and scored four unanswered goals to secure the result.

With snow on neighbouring Mount Wellington in Hobart, the game was a chilly affair as the temperature dropped to around six degrees.

The win was retribution a long time in the making for the Black Sticks, having last played Pakistan more than two years ago at the 2013 Sultan Azlan Shah Cup where they were beaten 4-3.

Head coach Colin Batch said it was pleasing to respond so strongly after going down by two goals.

"I thought we played ok in the first quarter, although we did come up with a few errors in defence and that saw them take the lead," Batch said.

"The pleasing thing was we maintained our belief and knew we could be successful and eventually the goals came.

"The second half was good for us, especially the third quarter, and I thought Jared [Panchia] put together the best game he's played for the Black Sticks which really helped us up front.

"We need to do some fine tuning but are looking forward to having another crack at Australia to see how much we have developed since or first game against them."

Pakistan were off to a fast start and grabbed the lead after just two minutes with a field goal from Muhammad Umar Bhutta. Ten minutes later they doubled their advantage with Shafqat Rasool putting his side's second shot into goal.

Midway through the second quarter the Black Sticks pulled one back after Andy Hayward made the most of a penalty stroke which was awarded from a penalty corner deflection.

Skilful striker Jared Panchia then equalised with a terrific field goal 30 seconds out from halftime to ensure the second half would start on level terms.

New Zealand then found the lead for the first time in the 39th minute when veteran Phil Burrows found the goal from a well-worked penalty corner variation.

Marcus Child put the result beyond doubt with just over 10 minutes remaining after scoring his side's fourth goal.

The Black Sticks have a day off the turf on Friday before a rematch against Australia at 8pm on Saturday night (NZ time).

The International Challenge is important preparation for the World League Semi-Final in Argentina next month, where the Black Sticks have an opportunity to qualify for the 2016 Rio Olympics.

New Zealand 4: (Andy Hayward, Jared Panchia, Phil Burrows, Marcus Child)
Pakistan 2: (Muhammad Umar Bhutta, Shafqat Rasool)
Halftime: 2-2

Hockey New Zealand Media release


---

Pakistan lose fourth match to New Zealand

By Nabil Tahir

KARACHI: The Pakistan hockey team lost its fourth match of the Four-Nation Hobart International Challenge, surrendering a two-goal lead to lose 4-2 to world number seven New Zealand at the Tasmanian Hockey Centre in Hobart, Australia on Thursday.

Pakistan started the contest well and took a two-goal lead as Muhammad Umar Bhutta drew first blood just two minutes into the game, while Shafqat Rasool doubled the advantage 10 minutes later to end the first quarter at 2-0.

However, the Greenshirts failed to capitalise on their advantage and allowed too much space to New Zealand, who were quick to pounce on the opportunity and halved the deficit through Andy Hayward in the 23rd minute as the 29-year-old scored from a penalty corner.

Forward Jared Panchia equalised 30 seconds into stoppage time to ensure that both teams start the third quarter on level terms.

In the 39th minute, Pakistan conceded a penalty corner and Phil Burrows successfully converted to give his side the lead before Marcus Child added another, nine minutes later, to take the contest out of reach for the Greenshirts.

Citing the inexperience of younger players as the major factor leading to the defeat, skipper Muhammad Imran insisted that the Greenshirts have improved since they entered the tournament, and the rematch against Korea would serve as the best platform to judge their performance.

"The young players who are on their first or second international tour were unable to handle the pressure," Imran told The Express Tribune from Hobart. "We do need some fine-tuning but are looking forward to having another crack at Korea to see how much we have developed since our first game against them."

Pakistan have a day's rest on Friday before a rematch against Korea on Saturday.

The Express Tribune


---

India edge past Japan 2-1 to seal the series




Bhubanewsar: VR Raghunath and Akashdeep Singh shone as India beat their Asian counter-parts Japan 2-1 in a thrilling third test of the series in Bhubneswar.

With this laborious win, the hosts sealed the series with one more test to go. The Sardar Singh & Co were right on their mission from the start of the first quarter. For Japan they have their chances but couldn't capitalize much, after a tough fight Japan's Hirotaka Wakari scored the lone goal for his team.

In the first quarter of the match, it was Japan who attacked first from the left flank and pressurised the Indian players. They continued with their long passes and kept the Indian players busy through-out the quarter. But they faced a tough defence from Birendra Lakra, K Chinglensana and VR Raghunath, who foiled Japanese attacks. Very soon Indian players charged back on the Japanese side led by Sardar Singh and with the help of their short passes, they manage to sneak into Japanese D in few occasions. However, they could not give perfect finishes to their passes and by the end of the quarter, the score-line was 0-0.

In the 2nd quarter, both the teams came on the field with more aggression and fought harder to create chances. In the 19th minute, Japan's Tomonori Ono ran through the left flank where the captain found his fellow team-mate Hiroki Sakamoto in the circle, who took a reverse shot but that was nicely blocked stand-in-keeper Harjot SIngh. India charged back with series of counter attacks with the help of VR Raghunath and young Yuvraj Walmiki and kept the ball in the Japan's half. In the last minute, Japan made a counter-attack and they entered in the Indian circle but Lakra again thwarted their attack again. In the 30th minute, India earned their first penalty corner after a quick attack. Dharamvir Singh pushed the ball in and Raghunath dragged it on the right of the Japanese goalie Suguru Shimmoto, who tried to stop it with his right hand but the ball reflected and went into the net. With this brilliant conversion, India took the early lead of 1-0 by the end of 2nd quarter.

In the 3rd quarter, India stepped on the field with more aggression and played an attacking game from the very first minute. On the other hand, Japanese played with a plan of marking each player. For India, Sardar Singh played very deep today and co-ordinating with the defenders and midfielders through-out the match. In the 36th minute, Akashdeep Singh ran with the ball, dribbling past the Japanese defenders and hit the ball towards the bar, which beat the Japanese keeper for the second goal for India. It was spectacular goal from Akashdeep who single-handedly scored the goal and extended the lead to 2-0. However, the joy was short-lived as Japanese counter-attacked on Indian side and managed to earn a penalty corner in the 44th minute, which was perfectly converted by Hirotaka Wakari. With this crucial goal, Japan reduced the margin by 1-2 by the end of the 3rd quarter.




In the fourth quarter, Japanese charged back on the Indian side with long passes and pushed the Indian players back to their half. Japan continued their attack and managed to reach near the Indian circle but Lakra was defending his area like a wall. In the 50th minute, India earned a penalty corner after a counter-attack. Sardar pushed in and young Harmanpreet dragged a powerful shot but it was saved by the Japanese goalie. Both the team fought neck-to-neck and tried harder to create more chances in the dying minutes. India took the ball near the goal-mouth in many occasions but they faced a stiff Japanese defence. Both the teams battled hard till the last minute but failed to convert opportunities in goals. The match was eventually finished with 2-1 score-line and India won the series with 2-0 with a match to spare.

Stick2Hockey.com


---

India claim series with win against Japan

Arnab Lall Seal

BHUBANESWAR: Newly-appointed coach of the Indian hockey team Paul van Ass will be a happy man after Thursday. Not only did his team beat Japan 2-1 but with this victory they also won the four-match series 2-0 with a match to spare.

After both the teams failed to score in the first quarter, VR Raghunath put India ahead in the dying minutes of the second quarter at Kalinga Stadium here on Thursday. Six minutes after restart, the home team struck again as Akashdeep Singh scored his first of the series.However, Japan didn't go down without a fight and it was Hirotaka Wakari who reduced the lead towards the end of the third quarter.

It was another good performance by the Indian team where they dominated the game for most of the sixty minutes. India created a lot of chances but, like the last match, they failed to convert them. The strikers were also a letdown as far as winning penalty corners are concerned. But on the whole, things look a lot better than what it was during the first match of the series. If they can carry on this form, the Indian fans can hope for some good results during the World League Semifinals.

Earlier in the match, Japan went on the offensive from the very word go. But the Indian defenders continued with their good show and kept the Japanese strikers at bay . Birendra Lakra and Jasjit Singh Kular kept their cool and made some excellent clearances.

India didn't sit back quietly though and made their first move six minutes into the match. Sardar played the ball to Akashdeep, who made a run into the D and passed it to SV Sunil. He made a wonderful turn near the goal but couldn't hold onto the ball as it was cleared by the Japanese defence. India made two more attacks but were unsuccessful in sounding the board.

They carried on the momentum in the second quarter also but it was the world No. 16 team who had the first shot on goal four minutes into the restart.

Japan skipper Tomonori Ono ran down the right flank and played the ball to Hiroki Sakamoto. He slapped the ball hard but it went straight to goalkeeper Harjot Singh.The visitors had another chance towards the end the quarter but they failed to capitalize.

The Times of India


---

India beat Japan 2-1 to win hockey series

BHUBANESWAR: Indian team beat Japan 2-1 in the 3rd 'Hockey Test' to take an unassailable 2-0 lead in the four-match series on Thursday.

Drag-flicker VR Raghunath scored one while Akashdeep Singh displayed brilliant stick-work to score the second goal for his team. Japan's Hirotaka Wakari pulled one back for the visitors.

In the first quarter of the match, it was Japan, who put pressure on the Indian defence with their long passes. But Birendra Lakra, K Chinglensana and Raghunath foiled Japanese raids with a lot of confidence.

Led by skipper Sardar Singh, India went on counter with the help of their short passes.

In the second quarter, both the teams showed positive intent to create more chances. In the 19th minute, Japan's Tomonori Ono ran down the left flank where he found his teammate Hiroki Sakamoto in the circle, who took a reverse shot but that was nicely blocked custodian Harjot SIngh.

In the 30th minute, India earned their first penalty corner after a quick attack. Dharamvir Singh pushed the ball in and Raghunath dragged it on the right of the Japanese goalie Suguru Shimmoto, who tried to stop it with his right hand but the ball deflected before crashing into the back of the net.

In the 36th minute of the third quarter, Akashdeep Singh dribbled past a host of Japanese defenders before slotting it past a hapless goalie.

However, the joy was short-lived as Japan managed to earn a penalty corner in the 44th minute, which was perfectly converted by Wakari. However India defended their slender lead to clinch the series with the fourth match turned out to be inconsequential.

The Times of India


---

India beat Japan 2-1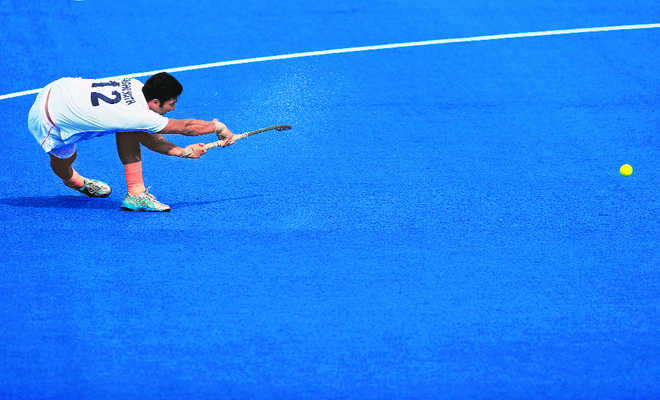 Drag-flicker VR Raghunath scored the first goal for India. File photo

Bhubaneswar: India beat Japan 2-1 in the third hockey Test to take an unassailable 2-0 lead in the four-match series.

Drag-flicker VR Raghunath scored from a penalty corner while Akashdeep Singh displayed brilliant stick-work to score the second goal for his team.

Japan's Hirotaka Wakari pulled one back for the visitors. In the first quarter of the match, it was Japan who put pressure on the Indian defence with their long passes.

But Birendra Lakra, K Chinglensana and Raghunath foiled the Japanese raids with a lot of confidence. In the second quarter, both the teams showed positive intent to create more chances. In the 19th minute, Japan's Tomonori Ono ran down the left flank where he found his teammate Hiroki Sakamoto in the circle. Sakamoto's reverse shot was nicely blocked by custodian Harjot Singh. In the 30th minute, India earned their first penalty corner after a quick attack. Raghunath's effort went in off Japanese goalkeeper Suguru Shimmoto's glove.

In the 36th minute, Akashdeep dribbled past a host of Japanese defenders before slotting the ball past a hapless goalie.However, the joy was short-lived as Japan managed to earn a penalty corner in the 44th minute, which was perfectly converted by Wakari.

The Tribune


---

Ahrens backs India to do well at the HWL in Belgium



Mathias Ahrens. - Photo: Shiv Kumar Pushpakar

Mathias Ahrens has just about five weeks to try and ensure the Indian women's hockey team qualifies for the Rio Olympics and is keen to hit the ground running. His immediate target is to get the women into attack mode.

"This is a fantastic team from what I saw of them at the Hawkes Bay Cup and its strength clearly is defence. I was very surprised and my focus now will be to work on the attack," Ahrens said in his first interaction with the media here on Thursday.

The 51-year-old German admitted it would be tough but was confident of causing an upset at the upcoming Hockey World League Round 3, which would also be the qualifying event for the 2016 Olympics.

"We have the best teams in the world, Australia and New Zealand, in our group. Belgium will be our big competitor and they will be playing a lot of games in the coming days. But we will go out and give them a very hard and fair challenge and I am confident we can produce a small wonder and go forward," Ahrens said.

Only Korea has qualified so far by virtue of winning the Incheon Asian Games and Ahrens felt it was not impossible for India to make the grade.

The Indian women's team has participated only once at the Olympics — 1980, when it was first included.

Early wins must

"We have to win our first three games to reach the semifinals. If you see the recent tournament in Hastings, scoring is an issue. Theoretically, there are 11 spots up for grabs since Brazil has failed to fulfill FIH conditions for automatic qualifications. The girls are keen and hungry for success, the team dynamics are good, they have responded incredibly well and I am happy," Ahrens said.

A concern

However, organisational issues are a concern, though Ahrens refrained from saying so.

The team is without a full-time doctor and trainer. Ahrens said Matthew Eyles, currently with the men's team in Bhubaneswar, would double up on return and that getting a doctor in Delhi won't be difficult if needed but what he left unsaid was the clearly secondary importance being accorded to the women's team despite

Hockey India's repeated assertions to the contrary.

What he did express dissatisfaction about was the absence of players from training for various promotional events.

While a large number had to attend a Railways felicitation function on Wednesday, captain Ritu Rani and Rani Rampal had to miss training on Thursday for another promotional event. "As a coach, I am not happy giving players away for receptions etc. Everything else, including the weather, is a lesser problem," he insisted.

The Hindu


---

New women's hockey coach Ahrens eyes top 4 finish in HWL semis

NEW DELHI: He has just little over a month's time to prepare for the crucial Hockey World Semifinals but Indian women team's new chief coach Mathias Ahrens is eyeing a top-four finish in the event to clinch a historic maiden Olympic ticket for the eves.

Ranked 13th in the world, Indian eves will compete alongside top teams like Netherlands (1), Australia (2) and New Zealand (4) among others in the Antwerp leg of Hockey World League (HWL) Semifinal to be held from June 20 to July 5.

India are placed in a tough Pool B along with Australia, New Zealand, hosts Belgium (12) and Poland (23) while Pool A consists of Netherlands, Korea, Japan, Italy and Azerbaijan.

"It is going to be a tough challenge because in our group there are pretty much the best teams in the world. There is Australia and New Zealand who are No. 2 and 4 in the world. But we are eager to give them tough times. May be we can produce a small wonder," Ahrens said during his first interaction with the media at the Major Dhyan Chand National Stadium here.

"There are 11 places up for grabs. Korea is the only team that has qualified (for 2016 Rio Olympics). Though they are the host, Brazil did not qualify as per FIH's requirements.

"From theory it means from both the Hockey World League Semifinals the top five teams will qualify plus another. And we hope to reach the last four stage which will be an absolutely outstanding performance. If we fail there is a second chance but we will do everything to achieve our target," said the Canadian, who took over the charge on Tuesday.

Ahrens took over the reins of the team from Australian Neil Hawgood, who resigned from the post last November.

It has only been three days since he took charge, but Ahrens had already identified the areas to work upon.

"It is a fantastic team. The strength is the defence at the moment so our focus will be on the attacking," he said.

"If you look at the number of goals scored in Hastings (during the recent Hawkes' Bay Cup) this is really an issue. And going into the World League Round 3 (Semifinal), we need to get results in the first three games and if we do that we go into the semifinals. But you can get results only if you score."

The Indians are currently training at the hot and humid conditions here for the upcoming tournament to be held in much cooler climes of Belgium, but Ahrens refused to consider weather as an hindrance.

"Conditions will not be an excuse. We practice very early in the morning and late in the evening. So I don't think this is going to be a problem," he said.

The Indian eves are presently without a physical trainer and a doctor but the coach said Hockey India is working towards solving the problems.

"We will have scientific support from the men's side in the tournament. If there is a need we will also find out a doctor very quickly. What is already done is that Matthew Eyles (men's team scientific advisor) has sent us all the plans about what to work on," he signed off.

The Times of India


---

Gormley set to reach 200 International Caps




Ronan Gormley is set to become the first Irish man to reach 200 international caps when he lines out for the national team against the Olympic champions, Germany, next Monday in Krefeld.

It will be the first of two ties against the Germans as Ireland, coached by Craig Fulton, ramp up their preparations for World League 3, the key event in the Olympic qualifying process which takes place in late June in Antwerp.

Gormley, 32, made his international debut in August 2004 against India in Leverkusen and has gone on to captain the side over 50 times having taken on the role from Paddy Brown in 2008 until 2013.

Speaking ahead of the tie, the Clonskeagh man said he is "very proud" to be on the cusp of this major milestone.

"It is truly great to be this close to reaching 200 caps," he said. "Number of caps is far from the primary goal of a player, and I am no different. However it is a super milestone to reach and I will very much enjoy the moment when it comes."

Fittingly, Gormley will hit the 200-mark at his adopted home club. He was initially at secondary school in England before returning to Ireland where he won a schools senior league title with Sandford Park while also linking up with Pembroke Wanderers.

With the Dublin 4 club, he won every title on the Irish calendar before furthering his career on mainland Europe, first with Club de Campo in Spain and then, for the past three seasons with Krefeld in Germany – the venue for Monday's match.

"It is fantastic to have the opportunity to play number 200 at Krefeld. It is a family club that has really looked after me since I arrived and I am delighted to be able to share it with the Irish squad.

"Special mention must go to the club President ​Dirk Wellen who has not only supported me but also the Irish Men's team - Dirk's company Rondo Food was a key contributor prior to the Champions Challenge in Argentina in 2012."

He sees the tie as a particularly important one in the build-up to June's all-important World League 3. It is Ireland's first fixture since winning World League 2 in San Diego and marks the start of their preparations in earnest after the conclusion of the club season for the majority of the squad.

"This series is very important to kick start our preparations. The German​​squad have played a number of matches against GB and Argentina so they are hitting their peak before they travel to their own World League 3 tournament in Argentina. ​

"Four days away together against this standard of opposition is ideal for us to connect again quickly and make strong progress as a team.

"We are in good condition going by last weekend's training in Dublin and with foreign based players - involved in key league, cup and play-off matches​​- coming back in we will be powerful as a group."

Coach Fulton agrees with Gormley about the importance of the upcoming series while also paying to tribute to a player he coached both at Pembroke and, in the past 18 months, as Irish boss.

"This will be a good test of where we are at as a squad and playing the current Olympic and Champions Trophy winners is always a good challenge.  
 

"It is also a fitting occasion that Ronan Gormley will reach his 200th International cap against Germany. It is a tribute to his commitment and longevity playing at the highest level and he continues to get better as a leader and an Irish senior player of which we are all really proud of. Here is to his next 50 caps!"

Gormley, meanwhile, concluded by paying tribute to the support he received from his nearest and dearest for helping reach this point while also said that the coaching received over his career has been a massive factor in developing his game.

"My father instilled in me a need to be persistent in everything I want achieve and my mother, sister and girlfriend have been ever present on the sidelines supporting me.

"I am lucky to have had a number of brilliant coaches - the late Tony Smith, my first school coach in England, and Paul Revington were both truly world class.

"Craig has coached me at club and country and his passion and energy are infectious - it is an environment that makes you want to continue!"

The first tie against Germany will also see Gormley's former Pembroke club mate Alan Sothern will hit the 100-cap mark, the 29th Irish player to do so.

The team travel on Saturday and return on Tuesday evening. Ireland will have a further training weekend on May 15th to 17th in Dublin after which coach Fulton will name his squad for a series against France for May 22nd to 24th. Following this, the selection will be made for World League 3.

Ireland senior men's panel (to travel to Krefeld, Germany from May 9-12):

1. Jonny Bell (Lisnagarvey)
2. Jonny Bruton (TRR)
3. Drew Carlisle (Banbridge)
4. Peter Caruth (Monkstown)
5. Chris Cargo (Racing Club de Bruxelles)
6. Timmy Cockram (Lisnagarvey)
7. Mitch Darling (TRR)
8. Stephen Dowds (Banbridge)
9. David Fitzgerald (Monkstown)
10. Paul Gleghorne (Instonians)
11. Ronan Gormley (Krefeld)
12. Conor Harte (Racing Club de Bruxelles)
13. John Jackson (Reading)
14. Stuart Loughrey (Cannock)
15. Eugene Magee (Banbridge)
16. Shane O'Donoghue (Dragons)
17. Michael Robson (Annadale)
18. Kirk Shimmins (UCD)
19. Alan Sothern (Racing Club de Bruxelles)
20. Stephen West (TRR)

Schedule

Monday, May 11th: Germany vs Ireland, 6.30pm, Krefeld
Tuesday, May 12th: Germany vs Ireland, 3.30pm, Krefeld

Irish Hockey Association media release


---

Central set up key match at NZ U21 Tournament



Photo courtesy Masanori Udagawa

The Central Women's side have moved one step closer to the final after a tense shoot-out win over Midlands in Thursday's action at the National U21 Tournament.

Both sides came into the game needing to win to keep their hopes in the tournament alive, and the first half showed the closeness of the two teams, with chances at both ends failing to be converted.

It wasn't until late in the second half when the goal scoring action started – Central's Casey-Mae Waddell starting things off with a field goal after a brilliant solo run through the Midlands defence. It looked as though this goal would be enough for Central, until Midlands equalised one minute from time through a well taken penalty corner by Megan Hull.

This led to a shoot-out, and with Midlands failing to convert their first three, it was left to Central captain Pippa Norman to calmly slot the winning shot to give her side a vital two points.

Norman was understandably pleased her side was still alive in the tournament.

"That was a stressful game! We were lucky that over on the other turf North Harbour were able to beat Auckland so that keeps our hope alive."

Norman is aware of the importance of Friday's game against Auckland.

"We are pumped for tomorrow – it is always a big game against Auckland. I don't know what it is about playing those girls but it always gets us country Central girls pumped up."

Midlands player Michelle Prendiville was aware her team had enough chances to take the win but couldn't convert.

"We are proud of our performance, unfortunately we couldn't convert as many goals as we wanted too."

Fellow Midlands player Amy Robinson said the side was already focusing on tomorrow's game against North Harbour.

"We played them through the warm up campaign twice and it would be good to get the upper hand on them."

In earlier games in the women's competition, Canterbury beat Capital 4-1, Southern defeated the Barbarians 4-2, and North Harbour guaranteed their spot in the final with a 2-1 victory over Auckland.

In the men's competition, Canterbury defeated Midlands 5-3, Southern registered their first win against Central 3-1, Auckland snuck a 2-1 win over North Harbour and Capital defeated the Barbarians 5-2 sending them through to the final on Saturday.

CLICK HERE for Men's results and standings

CLICK HERE for Women's results and standings

Hockey New Zealand Media release


---

Snapchat a growing success




There has been a new phenomenon at this year's New Zealand National Under-21 Tournament – Snapchat.

Players, officials and fans at the premier age-group tournament hosted at Wellington Hockey Association this week, have been entertained and informed by posts that Hockey New Zealand have been uploading to the social media platform.

Approximately, 200 Snapchats of videos and images of player action and interviews have been posted throughout the week.

"It has been incredible, it is a great tool to use at a tournament like this. It has allowed us to showcase players in action and highlight some of the lighter moments throughout the week," said Hockey New Zealand domestic tournaments administrator Aidan O'Connor.

But it's not just Hockey New Zealand that are using Snapchat, the Southern Junior Dogs have also been getting into some Snapchat action.

"We started an account a couple of weeks before the tournament, and haven been mainly updating it during tournament," said Southern Dogs Snapchatter Kieran O'Connor.

The Southern Junior Dogs have been giving their fans some insight into team life, with action both on and off the turf including snapping team mate Andrew Ross' playing shirt in various locations around Wellington.

"I went to see my parents for a couple of hours, came back, looked at Snapchat and realised the boys had given my shirt to random people to try on – the most unusual one being someone in the yoghurt section in New World," said Ross.

The team name Southern Dogs started a few years back at the Ford National Hockey League and has since turned into a cult-brand within hockey circles, with the Under-21 team subsequently being called the Junior Dogs.

The team believe it's a pretty unique name for a sports team but get the feeling that increasingly "everyone in Southern wants to be a dog."

Follow:
blacksticks – Hockey NZ
southerndoggies – Southern Men
southern21w – Southern Women
harbourgirls – North Harbour Women
harbourboys – North Harbour Men
canterburylads – Canterbury Men
centralrams – Central Men
capitalcobras – Capital Men

Hockey New Zealand Media release


---

Tough round of Varsity Hockey waits top teams



Photo: SASPA

Varsity Hockey will resume on Friday, with UP-Tuks sitting pretty at the top of the table. They went unbeaten in Potchefstroom, racking up 18 goals and conceding just five, winning four out of four games.

Tarryn Moses was integral to their success and believes that the team is well on track to secure a home final.

"The vibe in the team is really good and we are all overjoyed about the results we achieved. We have now put ourselves in a good position for the upcoming weekend but we will not be getting ahead of ourselves as we know it is going to be a tough weekend.

"Our aim now is to build on the foundation we have set and maintain our positive frame of mind as we look to remain on top of the log. We know every team will be stepping up their performance in Johannesburg because they now have an idea of where their games are at, so we are looking forward to a weekend of hard matches," she said.

Moses was part of the inaugural edition back in 2013, but says that the competition has gotten much tougher since then.

"Varsity Hockey is an important tournament in that it exposes the game to a broad audience. The people of Potchefstroom came out in their numbers to support all the teams and they created an electric vibe. The exposure that Varsity Hockey is giving us is not only helping to attract more people to hockey but it is also helping in the development of the game.

"The level of competition was a lot higher than back in 2013 and I think that comes down to the teams putting in extra work during pre-season and that showed in the performance levels," she added.

Bronwyn Kretzman, a midfielder for defending champions Maties, agrees and adds that the innovations of Varsity Hockey adds an extra challenge.

"Hockey at university is always tough but the level is a lot higher this year. Teams know that Varsity Hockey is a big competition and they need to maintain a very high standard in order to compete and stake a claim for top honours.

"The new rules and the addition of the Powerplay has brought a new dynamic to the game and I think that has helped to raise the bar in terms of performance for all the teams. There are no easy games in this tournament and we expect that to continue this weekend in Johannesburg," she explained.

Aside from the talent on the pitch, there are some big names propping up the support staff of the teams. South African women's hockey legend Pietie Coetzee-Turner coaches Wits and reckons her chargers are on track to reach their goal of a top four finish.

Wits have lost twice, drawn one game and beat UCT and currently sit fifth on the log.

"Our goal is actually not to reach the top four, it is actually to remain in fifth position because that is what we feel is realistically possible for us," Coetzee-Turner said.

"We need to continue picking up points against some extremely good teams coming up this weekend. If we can pick up a few points then we have a chance of finishing in that fifth or sixth position."

"I think my players performed really well. There are certain things that they were outstanding with especially in challenging the bigger teams, sticking to team structures and then of course getting a win against UCT and a draw against NMMU, which was very crucial for us.

"That win against UCT was extremely important because that obviously meant that we got valuable points on the board. They were a team we targeted and thought we needed to beat and we did so," she said.

Coetzee-Turner, who holds the World Record for most international goals by a female player says switching from player to coach has been rewarding.

"I do find it challenging at times, but very rewarding most of the time. My long term goal for Wits is to become one of the top two universities in hockey in South Africa.

"I think my team is very young, I think they are enthusiastic and I think they are eager to do well and to develop as hockey players," she added.

Supersport


---

IPC, PSB decide to give PHF funds for Europe, Korea tours

Kashif Abbasi

ISLAMABAD: Officials of the Pakistan Hockey Federation (PHF) must be heaving a sigh of relief in that the Ministry of Inter-provincial Coordination (IPC) and Pakistan Sports Board (PSB) on Thursday decided to provide funds to the country's hockey governing body for the upcoming tours of Europe and Korea.

The decision to this effect was taken here at the 80th meeting of the PSB executive committee which was attended among others by IPC secretary Ejaz Chaudhary, PSB directory general technical Akhtar Ganjera, Pakistan Athletic Federation president retired General Akram Sahi, squash federation secretary Amir Nawaz and Rana Mujahid.

IPC Minister Riaz Hussain Prizada told reporters after presiding over the meeting of the executive committee that the meeting unanimously agreed that the PHF should be provided with funds in order to help it send the national team to Korea and Belgium for playing Olympic qualifying round.

"Actually, we have asked the PHF to send their proposal and after getting it I would take up the matter with the government for releasing immediate funds for the national team," said the IPC minister who, however, didn't clarify as to how much fund the government will release for the cash-strapped PHF.

The minister said that the Pakistan Olympian Association (POA) will also help the PHF in connection with the expenses to be incurred on the upcoming important tours.

Earlier, PHF secretary Rana Mujahid requested the IPC minister during the meeting to ask the government for at least Rs35 million for the Europe tour.

"If we are not provided with the required funds we won't be able to participate in the qualifying rounds for the upcoming Olympics," Rana Mujahid said while talking to Dawn.

The PHF secretary, however, expressed satisfaction with the IPC minister's assurance.

Meanwhile, the IPC minister said that the executive committee also approved Rs1 million for tennis player Sara Mahboob and Rs500,000 for the Pakistan Tennis Federation in connection with the upcoming Davis Cup.

Although the former national ladies champion Sara succeeded in getting Rs1 million from the government, she did not represent Pakistan in the Fed Cup despite the fact that she promised to be available for the event.

On the other hand, Aamir Atlas Khan who was promised a plot by the prime minister is still waiting for his turn.

Commenting on these two issues, the IPC minister said that the PSB would give Rs1 million to Sara but she would also be asked to submit a surety bound guaranteeing that she would represent Pakistan whenever she would be asked to represent the country.

Talking about the promised plot for the squash player Aamir, the minster stated that Aamir should also be given a plot soon.

Also, the executive committee approved new cash award policy besides approving summary of several contractual employees for making their jobs permanent.

Dawn


---

De Paeuw returns to the Ducks




Alex de Paeuw confirmed that he will return to Waterloo Ducks from Club Egara following a season with the Catalan club, helping them reach the Spanish final.

The 26-year-old said he enjoyed his year in Spain but his pursuit of playing in the Olympics with Belgium proved a guiding factor in his decision.

"I spent a wonderful year in Spain in an extraordinary club. I discovered a new family with exceptional people. Nothing says I will not return one day to Egara," he told hockeybelgium.lesoir.be.

"It's sporting ambition that guided my choice. I want to be able to focus 100% on my Olympic preparation and I will dedicate myself only to hockey for the coming year. The Belgian federation has made significant financial efforts to make this possible."

The Ducks relinquished their title last weekend after three seasons as champions but de Paeuw says that they can build on the 2014/15 season which was always going to be a transitional phase.

"Our goal with the Watducks will naturally be the title next season. Despite the departure of five senior players last summer, the club still produded a crazy championship.

"We can rightly be ambitious for the next season. We will not play EHL? It's not a drama because the calendar that looks extremely busy in 2015-2016."

Euro Hockey League media release


---

English hockey 2014/15: unstoppable Surbiton, Ashley Jackson's record and those elusive European dreams

By Rod Gilmour



Champions: Wimbledon signalled a shift at the top of the men's domestic game by lifting title Photo: SIMON PARKER

Men: Wimbledon signal title shift

Just as it looked as if East Grinstead would threaten to dominate – taking both league and Championship honours – up popped Wimbledon to secure their first ever title in imperious fashion. Slipping down the London leagues and bottom of the South League's Hampshire and Surrey Division some seven years ago, the club rallied thanks to key personnel at both board and coaching level. But no one would have predicted the way they dismantled East Grinstead in a memorable 8-5 rout. One for the history books.

Women: Surbiton - simply unstoppable

Was there a more dominant side than Surbiton? Canterbury posed a threat with their defensive tactics in the play-off final, but under Brett Garrard's stewardship, his classy women's side prevailed in a defence of their title. The Telegraph first tagged Surbiton as the 'invincibles' – and rightly so. Unbeaten both indoors and out, a goal difference of +37 and a side riddled with youthful talent across the pitch, there should be more to come next season.



Surbiton beat Canterbury at Lee Valley in the play-off finals

Reading turn Cup corner

A meagre season by Reading men's standards was enriched during their Knockout Cup win over Surbiton, a 5-1 triumph which swung their way after Richard Mantell's penalty corner strike. At 1-1, Surbiton were caught off guard thanks to an inventive, but simple corner routine, as Mantell was handed the ball from an angle before striking perfectly against a defence, which wilted thereafter.

England lacking in Europe

A season to forget on the continent - Reading men remain the last English side to win the European title, in 2003 - and one ending with a succession of penalty shootout defeats for three English sides. Belgium's Royal Daring beat Beeston 4-2 in the men's EuroHockey League last 16, while Surbiton and Canterbury, who didn't practice shoot outs prior to travelling, went the same way in the women's EuroHockey Club Champions Cup at Bilthoven.

Performance of the season

A November clash saw Brooklands Manchester University 4-0 down against Reading inside 15 minutes. "Here we go again," thought Mark Bateman, the Brooklands coach, before joking that he then implemented a "tactical masterclass". Sure enough. the hosts rallied to 4-3 before the break. Peter Flanagan then struck the killer blow 10 minutes from time, with a penalty stroke to complete a superb comeback.

International performance

Not many debutants can admit to a brace on their debut against the might of Australia. But Sam Ward, below, having overcome injury and finally given a starting berth by England, produced a stunning brace in their opening Champions Trophy game in India.




Schools - Repton a class apart

All six of Repton Schools' hockey squads - girls' U14, U16 and U18 and boys' U14, U16 and U18 – won through to the six England Hockey National Schools Championship 2014/15 finals. The boys' under-18 title success, beating Exeter in the final, meant that Repton School has now won a record 26 national hockey titles.

What England Hockey said...

"The stand out for me this year is simply the fact that for the fourth year running our clubs have grown junior participation again - a total of 40 per cent growth of young people as members of our clubs since 2011. It shows hockey truly is building a legacy from London 2012. Proud!"
Sally Munday, England Hockey chief executive

A summer paved with gold?

Both Great Britain men's and women's sides are on the road to Rio this summer. They play in the World League semi-finals in Antwerp and Valencia respectively, which essentially act as Olympic qualifiers. Some nations are even playing World League matches in another venue over in Argentina. This correspondent is lost in even trying to work out the permutations of who could actually make it to Rio by the time the EuroHockey Championships are staged in London this August. It could be that either GB side might need to win the Euros to claim an Olympic berth, suggesting that the World Leagues are actually quite pivotal in a less-than-straighforward format.



Ashley Jackson: another standout season on domestic and international scene

Numbers' game - 111

Ashley Jackson was already level with Calum Giles' previous record of 110 goals - garnered in a five-year spell in England and Great Britain colours between 1995 and 2000 - but the East Grinstead midfielder's late penalty corner meant he overtook England's previous short corner specialist during the Champions Trophy tournament. There are plenty of seasons left for this midfield maestro to set a mark which will be hard to touch.

The Telegraph


---

Lewis leads Paragon to third straight win

Nigel Simon

Senior national captain Alana Lewis bagged a double as reigning champions Paragon crushed Georgetown CC 5-2 for a third straight win from as many matches in the T&T Hockey Board Women's Championship Division at the National Hockey Centre, Tacarigua on Saturday. The trio of Felicia King, Zene Henry and Naomi Sampson chipped in with a goal each for Paragon, now with maximum nine points at the top of the table.

It was the second defeat of the day for GCC after it was edged out 2-1 by Shandy Carib Magnolias in their first match of the day. For Magnolias, former national captain and standout Stacey Siu Butt scored a double in the 35th, and 50th minutes, either side of Kerensa Fernandes' 45th equaliser for GCC.

A day later, GCC feared slightly better as Shabiki Baptiste (6th & 15th) with two goals and Feranndes (30th), the other, were on target in a 3-2 win over former champions Notre Dame which got both its goals from national forward Blair Wynne, as early as the fourth and 17th minutes. However, in their second match on Sunday, GCC could not repeat its morning showing and went under to Harvard Checkers, 1-0 with former national captain, Cristina Abreu on target.

T&THB results

April 28:
Trinity Men
QPCC 5 (Damion Bright 1st, 34th, Nicholas Camacho 6th, 19th, Mahinder Mali 29th) vs Notre Dame 2 (Ishmael Campbell 57th, Nigel Providence 68th)

April 29:
Carib 3 (Richard Ramsammy 53rd, Kurt Blackman 67th, Narda Coker 69th) vs Police 0

May 1:
Mixed Veterans:
QPCC 9 (Gary Chin 3, Robert Mouttet 2,  Raphael Govia 2, Ryan Mouttet, Andre Attale) vs Fatima 1 (Wayne Nieves)

 May 2:
Championship Women:
SC Magnolias 2 (Stacey Siu Butt 35th, 50th) vs GCC 1 (Kerensa Fernandes 45th)
Paragon 5 (Alana Lewis 2, Felicia King, Zene Henry, Naomi Sampson) vs GCC  2

Championship Men:
Defence Force 4 (Brian Burrowes 4th, Anthony Morales 20th, Marcus James 34th, Mickell Pierre 43rd) vs Paragon 2 (Akim Toussaint 9th, Kiel Murray 42nd)
Courts Malvern 3 (Tariq Marcano 2, Christopher Lazar) vs Paradise 0
Petrotrin 4 (Wayne Legerton 3, Solomon Eccles) vs Fatima 1 (David Lee)

Under-19 Girls:
Petrotrin 2 (Anella Mc Millan 47th, Kyra Creighton 47th) vs Raiders 1 (Ameriall Sahadeo 9th)
SC Magnolias 4 (Brianna Govia 24th, 32nd, Samantha Olton 36th, 52nd) vs Paragon 1 (Gabrielle Thompson 49th)

Under-19 Boys:
Courts Malvern 6 (Kristien Emmanuel 2,Teague Maracno 2, Aiden Marcano, Jesse Drayton) vs Paradise 0
QPCC 5 (Jordy O;Brien 22nd, 32nd, Marcus Pascal 25th, 56th, 67th) vs Notre Dame 2 (Nicholas Whiteman 50th, 63rd)

Trinity Men:
Paradise 2 (Desmond Archer, Omari Brathwaite) vs Courts Malvern 1 (Jovan Wren)

May 3:
Championship Women:
GCC 3 (Shabiki Baptiste 6th, 15th, Kerensa Feranndes 30th) vs Notre Dame 2 (Blair Wynne 4th, 17th)
Harvard Checkers 1 (Cristina Abreu) vs GCC 0

Championship Men:
Petrotrin 2 (Nicholas Grant 36th, 54th) vs QPCC 1 (Jordan Reynos 47th)

Mixed Veterans:
Notre Dame 3 (Selwyn King 7th, Akil Nancoo 55th, Leon Ramdeen 56th) vs Fatima 1 (Phillip Fernandes 56th)

Under-19 Girls:
Harvard Checkers 3 vs Raiders 0 - by default

Trinity Women:
SC Magnolias 9 (Stacey Siu Butt 2nd, 14th, 43rd, Savannah De Freitas 47th, 58th, 63rd, Shaniah De Freitas 23rd, Kimberly Fraser 32nd, Alexandra Yearwood 38th) vs Paragon 0.

The Trinidad Guardian


---

Reynos, Roach cop top school hockey awards



Top Players: Jordan Reynos of Queen's Royal College, left, and Tamia Roach of St Joseph's Convent Port-od-Spain show off their Schools Boys and Girls "Players of the Year" awards won respectively when the T&T Hockey Board Schools and Youth Division held its awards function at the Eastern Regional Indoor Sports Arena, Tacarigua on Sunday. Photo: Courtesy T&HB.

Jordan Reynos of Queen's Royal College and Tamia Roach of St Joseph's Convent Port-od-Spain were named as the Schools Male and Female "Players of the Year" respectively when the T&T Hockey Board Schools and Youth Division held its awards function at the Eastern Regional Indoor Sports Arena, Tacarigua on Sunday.

Other big winners in Primary and Secondary Schools included Fatima College, Providence Girls, St Joseph's Convent PoS, SAGHS, North Gate, Eshe's Learning Centre, Lower Morvant Primary, Arima Centenary and Diego Martin Boys RC. Next on the agenda will be Primary and Secondary Schools Skills testing to be held on 28th and 29th May, 2015 at the National Hockey Centre.

T&THB schools and youth awards honour roll

Primary school: Girls:
1. Eshe's Learning Centre;
2. Diego Martin Girls RC 'A';
3. Diego Martin Girls RC 'B'.
Most Goals: N'janella Duncan & Seraiah Nesbitt (Eshe's)—4
MVP: N'janella Duncan (Eshe's)

Boys:
1. Lower Morvant Government; 2. Eshe's Learning Centre;
3. Vos Government
Most Goals: Daniel Mc Kie (Eshe's)—9 goals
MVP: Daniel Mc Kie (Eshe's)

Zonal Primary School Tournaments:
North/West: Girls:
1. Mucurapo Girls RC;
2. Holy Rosary Preparatory;
3. Eshe's Learning Centre
Most Goals: Amoraya Sahadeo (Mucurapo Girls) & Hayley Gopaul (Mucurapo Girls)—4 goals

Boys:
1. Lower Morvant Gov't;
2. Diego Martin RC;
3. Eshe's Learning Centre
Most Goals: Tyrese Benjamin (Diego Martin RC) & Isaiah Merrit (Diego Martin RC)
MVP: Dimitri Francis (Lower Morvant Gov't)

East Zone: Girls:
1. Arima Centenary;
2. St Xavier's Private;
3. St Mary's Anglican
Most Goals: Tahira Wynne (Arima Centenary) & Shaniah Garcia (Arima Centenary) - 7 goals
MVP: Tahira Wynne (Arima Centenary)

Boys:
1. Arima Centenary;
2. D'Abadie Gov't;
3. Tunapuna Anglican
Most Goals: Leumas Neptune (D'Abadie Gov't) & Akiel Matthew (Tunapuna Anglican)—10 goals
MVP: Leumas Neptune (D'Abadie Gov't)

Secondary Schools Indoor:
Under-15: Girls:
1. Providence Girls;
2. Holy Name Convent;
3. St Joseph Convent (PoS)
Best Kicking Back: Celeste Chin (Holy Name Convent)
Most Goals: Samantha Olton (Providence Girls)—15 goals
MVP: Saarah Olton (Holy Name Convent)

Boys:
1. Fatima College;
2. Trinity College;
3. Queen's Royal College
Best Kicking Back: Mattias  Sylvester (Queen's Royal College)
Most Goals: Teague Marcano (Fatima College)—14 goals
MVP: Teague Marcano (Fatima College)

Under-20 Division: Girls:
1. Providence Girls;
2. St Joseph Convent (PoS);
3. Holy Name Convent
Best Goalkeeper: Kayla-Marie Escayg—St Joseph Convent (PoS)
Most Goals: Tamia Roach—St Joseph Convent (PoS) MVP: Tamia Roach—St Joseph Convent (PoS)

Boys:
1. Queen's Royal College,
2. Fatima College;
3. South East Port-of-Spain
Best Goalkeeper: Jadel Poon-Lewis (Queen's Royal College)
Most Goals: Teague Marcano (Fatima College) & Kelon Skerrit (SEPoS)—10 goals
MVP: Tariq Marcano (Fatima College)

Secondary Schools Outdoor League:
Championship Division:
North Girls:
1. Corpus Christi;
2. Bishop Anstey 'A';
3. Bishop Anstey 'B'
Best Goalkeeper: Chelsea Vespry (Bishop Anstey)
Most Promising: Stephanie Mc Kenzie (Bishop Anstey)
Most Goals: Stephanie Mc Kenzie (Bishop Anstey) - 5 goals
MVP: Victoria Pierre (Corpus Christi)

North Boys:
1. St Anthony's College; 2. Trinity College; 3. Diego Martin Central
Best Goalkeeper: Liam Devenne (St Anthony's)
Most Promising: Isaac Khellawan (St George's)
Most Goals: Justin Beharry (Trinity College)
MVP: Jovan Wren (St Anthony's)

East Zone:
Girls:
1. St Augustine Girls High; 2. Bishops East; 3. St Augustine Sec
Best Goalkeeper: Tsyan Lucas (St Augustine Girls High)
Most Promising: Selena Hodge (St Augustine Girls High)
Most Goals: Shania Gajadhar (St Augustine Girls High) - 13 goals
MVP: Chelsea Dey (Bishop East (guest player) )

Boys:
1. North Gate College; 2. Tunapuna Sec; 3. El Dorado East
Best Goalkeeper: Cheon Steele (Tunapuna Sec)
Most Promising: Mikiel Nurse (St Joseph College)
Most Goals: Daniel Byer (North Gate) - 8 goals
MVP: Che Modeste (North Gate(

South:
Boys:
1. Pleasantville Sec; 2. Marabella North Sec; 3. Naparima College
Best Goalkeeper: Joshua Khan (Naparima)
Most Promising: Kadesh Goorcharan (Marabella North)
Most Goals: Devante Stewart (Pleasantville)
MVP: Devante Stewart (Pleasantville)

Premier Division:
Girls:
1. St Joseph's Convent (PoS); 2. Providence; 3. Holy Name Convent
Best Goalkeeper: Sarah Thomas (St Joseph Convent)
Most Promising: Zhara Bruce (Woodbrook Sec)
Most Goals: Shuntelle Baptiste (Porvidence) & Kaitlyn Olton (Holy Name) - 3 goals
MVP: Tamia Roach (St Joseph Convent)

Boys:
1. Fatima College; 2. St Mary's College; 3. South East Port-of-Spain
Best Goalkeeper: Jadel Poon-Lewis (QRC)
Most Promising: Jeremy Nieves (Fatima)
Most Goals: Jarryon Paul (St Mary's) - 6 goals
MVP: Marcus Pascal (Fatima)

Promoted teams to 2016 Premier Division:
Girls: South East Port-of-Spain, St Augustine Girls High
Boys: QRC, North Gate

Easter Youth Invitational
Under-13:
Boys: 1. Diego Martin RC; 2. Courts Malvern
Most Goals: Tyrese Benjamin (D/Mrtin RC) - 5 goals
MVP: Tyrese Benjamin (D/Martin RC)

Under-16:
Girls:
1. SC Magnolias; 2. Paragon; 3. Harvard Checkers
Most Goals: Samantha Olton (SC Magnolias) - 7 goals
MVP: Tsyan Lucas (St Augustine Girls High)

Boys:
1. Paragon A; 2. Paragon B; 3. Courts Malvern
Most Goals: Teague Marcano (Courts Malvern) - 5 goals
MVP: Tariq Singh (Paragon A)

Under-21:
Girls:
1. Shandy Carib Magnolias; 2. Paragon; 3. East Caost Field
Most Goals: Brianna Govia (SC Magnolias) & Naomi Samson (Paragon) - 3 goals
MVP: Amie Olton (SC Magnolias)

Boys:
1. Courts Malvern; 2. Queen's Park; 3. Fatima
Most Goals: Jordan Vieira (Fatima) - 6 goals
MVP: Jordan Reynos (Queen's Park)

Special awards:
Top Five School Girls "Players of the Year":
Amie Olton (Holy Name), Chelsea Dey (Bishops East), Felicia King (South East PoS), Sarah Thomas (St Joseph's Convent), Tamia Roach (St Joseph's Convent)

School Girls Player of the Year: Tamia Raoch (St Joseph Convent)

Top Five School Boys "Players of the Year":
Che Modeste (North Gate), Jordan Reynos (QRC), Kelon Skerrit (South East), Marcus Pascal (Fatima), Zachary Clarke (St Mary's)

School Boys "Player of the Year": Jordan Reynos (QRC)
Fair Play award: Lakshmi Girls & St George's College

The Trinidad Guardian