All the news for Wednesday 29 April 2015

Scottish Great Grand Masters win Celtic Cup



Grand Masters Celtic Cup

Scotland's Over 65 side won the Great Grand Masters Celtic Cup in Bangor, Northern Ireland over the weekend of 24-26 April with a 1-0 victory over Wales in the second and deciding match of the event.

In a close-fought match, a goal by colin Gallacher was enough to secure victory for the Scots, who had fought back the previous day with a goal from a Roy Crichton penalty corner to level the scores against the Welsh.

The Grand Masters Celtic Cup was won for the first time by Ireland. Scotland Over 60s began with a flourish, beating France 7-1, but faltered slightly in the second match against Wales, a scrappy encounter which ended 0-0.

A draw against Ireland in the final match of the tournament was all that was needed to retain the trophy, but Ireland proved too strong, winning the match 3-1 and with it the Celtic Cup.

Scottish Hockey Union media release


---

Helen Richardson-Walsh is back in the old routine with Team GB

THE spine that ran through the Great Britain bronze medal squad at London 2012 is back – and harmony is restored.

By Graham Wilson



Danny Kerry has restored harmony to the team. GETTY

The team, under the same coach Danny Kerry, returned to the Olympic Park for the first time at hockey's new legacy stadium at Lee Valley to play Japan.

They delivered a 2-1 victory on Sunday and, in front of 3,000 school pupils, a 5-1 win yesterday.

It was a morale-boosting send-off for GB's qualifying hopes in Valencia in June.

After a nightmare year with a back injury and missing selection for England's poor World Cup, Helen Richardson-Walsh was in midfield to earn a 250th cap on Sunday – and she capped that with a goal yesterday. Her partner and GB captain Kate was also there for her in defence and their Reading club-mate Alex Danson was also back in fine form up front.

She scored two goals in the first clash and converted two penalty strokes in the second. Laura Unsworth, from a corner, and Sophie Bray, with a fine reverse shot, were the other scorers.

"I had doubted if I would ever get back," said Helen. "I have been waiting to move off 249 caps for so long, 444 days, and to have done that back on the Olympic Park in front of all my family makes it extra special.

"It signifies the end of what has been a challenging 14 months. If I am there in Valencia, that will be brilliant."

Daily Express


---

Black Sticks women feel the pressure ahead of Olympic qualifying



The Black Sticks celebrate Olivia Merry's goal against Australia in the final of the 2015 Hawkes Bay Cup. Photosport

If the Black Sticks women want an Olympic gold medal around their necks in Rio they must first get over their nerves and pull off a solid qualifying campaign in June.

Having finished as top scorer at the Hawkes Bay Cup, Canterbury striker Olivia Merry said the close nature of that tournament had put pressure on the team to perform later in 2015.

"It's pretty nerve wracking considering we are playing some of those teams we played at the Hawkes Bay Cup and anyone, on any given day could have won the game" said Merry.

"There were some tight results so I guess it's pretty nerve wracking going into it and there's quite a lot of pressure on it"

Merry has established herself as a prolific scorer for the Black Sticks, and the striker hoped that once they had secured qualification they could think about medals in Brazil.

"Our big goal is to get gold at Rio or a medal, and there's definitely belief within the team and I think after the performance at Hawkes Bay, the belief's been a little bit stronger.

"It's still a wee way away, but definitely steps in the right direction I think."

They certainly need to move on from their disappointing loss against Australia in the final of the Hawkes Bay Cup, a defeat which Merry found hard to take.

"It's heartbreaking and we need to play in finals to learn how to win them you know. You can't win them all but it was very, very disappointing."

The 23-year-old said she had hoped to score goals in that tournament, but hadn't expected to come out as top scorer.

"We've had a lot of focus over the last six weeks on structure and how we play against different oppositions leading up to our Olympic qualification tournament in June.

"We know how to play against different teams and what they throw at us. It's been a real work on and I think that paid off at Hawkes Bay Cup."

Merry said she would have to "wait and see" if she was selected for the Olympics, but felt joining the squad in Auckland full-time had paid dividends in terms of settling in and not getting left behind.

"You have goals when you're growing up, and it's definitely one of my goals to go to the Olympic games so yeah, [being selected] would mean the world to me."

All that's left for Merry to do is continue to score goals, and do everything she can to get on the plane to Rio.

Stuff


---

Cash-strapped PHF enters kits deal with local firm

Mohammad Yaqoob

LAHORE: A Sialkot-based kit manufacturing company on Tuesday signed a four-year contract with the cash-starved Pakistan Hockey Federation (PHF) which despite being beset by all financial problems sent players to Australia to participate in the four-nation tournament starting from May 2.

PHF secretary Rana Mujahid and Malik Zulfiqar of Malik Sports signed the contract just a couple of hours before the team's departure for Hobart from here via Karachi. On the occasion, head coach Shahnaz Sheikh was also in attendance.

Malik Zulfiqar who is also ex- president of the Sialkot Cricket Association said his firm signed the agreement at a time when the PHF was really in need of support from the public sector.

His firm, he said, would provide kits of international standard to the country's hockey governing body in the first phase, adding that the PHF would also be provided with funds after some time.

Talking about financial support to the PHF, Malik Zulfiqar who while claiming that the kits provided to the PHF matched up to the international brands said every member of Pakistan team would get four kits in different colours, two for matches and as many for practice sessions.

Also, one tracksuit would be given to players with kits which were also approved at the contract signing ceremony by the head coach who after thanking the PHF and sponsors departed with the national team for Hobart.

Meanwhile, the PHF secretary while answering a question dispelled the impression that team members were annoyed after being unable to get daily allowances during the almost one month long training camp.

"The boys are quite happy and they are cooperating with the PHF which has been faced with paucity of funds," Rana said before stating: "Players are full of passion to play hockey for their country irrespective of getting monetary benefits."

The secretary, however, said the PHF had paid players daily allowances, adding that the federation would hopefully get grant soon from the prime minister from which, he stated, players would be paid handsomely.

It may be mentioned here that Prime Minister Nawaz Sharif who is patron of the PHF received reports from different quarters that the PHF in the past had misused the funds it got from the federal government due to which the federal government wants to conduct audit of the PHF before releasing funds.

However, the federal government is yet to appoint any auditor with the hockey federation having no funds at its disposal to make do with its routine tasks.

It is imperative to note that had Punjab Chief Minister Shahbaz Sharif not released a grant of Rs100 million during this period, the PHF would have faced more financial miseries.

Dawn


---

South African Junior Squads named


The SA U21 men's camp squad has been named.

Goalkeepers

Robert McKinley (WP)
Matthew Martins (SG)
Siya Nolutshungu (KZN Coastals)

Defenders

Devon Clarke (EP)
Jacques Bleekers (WP)
Bjorn Sorenson (WP)
Kyle Lion-Cachet (SG)
Tyson Dlungwana (KZN Inland)
Courtney Hallé (KZN Inland)
Onke Letuka (KZN Inland)
Jayson Reed (KZN Coastals)
Dillan Langeveld (EP)

Midfielders

Cody van Wyk (EP)
Ryan Julius (WP)
Matthew de Sousa (WP)
Charles Bowren (WP)
Alex Stewart (WP)
Kamal Ramburuth-Hurt (SG)
Ndoduzo Lembethe (KZN Inland)
Tylo Remke (KZN Coastals)
Ryan Wallace (KZN Coastals)
Christopher Hawkridge (WP)

Strikers

Khumo Mokale (NG)
Ryan Crowe (WP)
Nqobile Ntuli (WP)
Walter Pfaff (SG)
Brandon James (SG)
Tevin Kok (KZN Inland)
Steven McManus (KZN Coastals)
Amkelwa Letuka (KZN Inland)


The SA U21 ladies squad selected at U21 IPT 2015 is as follows:

Goalkeepers:

Sulize de Klerk (NG)
Claire Hill (KZN Coastals)
Chloe Keeping (SG)

Defenders:

Natalie Esteves (NG)
Jaqui Ras (FS)
Carmen Smith (SG)
Hayley Kilfoil (SG)
Zimasa  Donywa (EP)
Erin Prince (WP)
Amy Etherington (NG)
Shindre-Lee Simmons (FS)
Marissa Poolman (NG)

Midfield:

Anneke Beukman (NG)
Claire Gibbings (NG)
Kristen Paton (SG)
Marizen Marais (SG)
Tegen Fourie (KZN Coastals)
Alegra Dijkstra (WP)
Elmien Marais (NW)
Priscilla Esterhuyze (FS)
Demi Harmse (SG)

Strikers:

Nomnikelo Veto (EP)
Gretchin Davids (WP)
Tarryn Glasby (WP)
Marguerite van Wyk (NG)
Antoinette Louw (FS)
Cheneal Raubenheimer (SG)
Charne Martell (NG)
Donna Small (KZN Coastals)

SA Hockey Association media release


---

Ayanna McClean's success story

Trinidad & Tobago "whistle-blower" goes after FIH record



2011 Pan American Games, Guadalajara - Match Mexico vs. Cuba Umpires Kelly Hudson (NZL) and Ayanna McClean (TTO)(Photo: © Yan Huckendubler)

The disappointment of being one of the last three players to be eliminated from a T&T national under-21 training squad is one of the biggest motivating events in the life of Ayanna Mc Clean. It is all she needs to remind her that failure is not an option in her life. She makes decisions on her future based on the careful determination of the objective and the easy path is never the first hurdle. Now, when the disappointments come, she brushes them aside and resolves to work harder to achieve her goals.

Ayanna is well on her way to becoming the first female (International Hockey Federation's (FIH) World Cup/Olympic List Umpire in the Caribbean. When, not if, according to her, she succeeds, she will be only the second umpire in the Caribbean to have achieved that status. T&T's Roger St Rose, now retired, was the first.

"Consider it done!!!.. Just kidding," joked Ayanna. "It is a very competitive field, and there is definitely an additional pressure of not being from one of the powerhouse field hockey countries. But the goal of being the first female representing not only Trinidad and Tobago but also the Caribbean in field hockey at the World Cup or Olympics is a goal that I plan on achieving."

The six-feet-in-socks young woman could have chosen the field of athletics or basketball as her favourite sport, even football. But it was towards field hockey that she was drawn. Naturally, because her mother was an avid hockey enthusiast so the little one had very little choice but to let the hockey field become her playpen.

A member of Ventures Hockey Club, the women of the oldest all women club in T&T became her babysitters in her early years and her mentors later in life, women like Terry Young Sing, Florrie Kelshall, Ellen Kuei Tung and Jennifer Lander. Ever heard of parent/child rivalry? The former national player has eclipsed her mother Cherill Mc Clean by becoming only the second FIH Grade 1 female umpire in T&T. Cherill was the first.

Ayanna has been very active over the past few years, not only at international competition but in the USA and has several appointments this year. She was one of six umpires to carry the whistle at the NCAA Championships in 2014, held at the University of Maryland Field Hockey and Lacrosse Complex. She spent six years in the NCAA system, after starting in grad school to make extra money.

"Last year I was appointed to the Final Four Championship tournament. I did the semifinal with Amy Hassick, the USA's only current FIH World Panel umpire. This came after a long season from August (Labour Day weekend) to November (Thanksgiving)," she said. "I umpired three to four matches a week, 30 minutes to 12 hours driving away. Did matches in the top conferences (ACC conference, Big Ten) and umpired the top teams UCONN, UNC, Maryland, Syracuse, Duke, etc. A fun and exhausting season, but I'm looking forward to another great one in 2015."

She has been equally busy on the international scene over the past few years. She was appointed to umpire at the Junior Olympic Games in Singapore in 2010, Pan American Games in Guadalajara, Mexico, in 2011, Junior World Cup in Monchengladbach, Germany, in 2013, as well as Commonwealth Games in Glasgow, Scotland, in 2014.

"I have been the neutral umpire at the South American Championships in Santiago, Chile, in 2013 and 2014, the FIH World League here at home (T&T) in 2012 and Rio de Janeiro, Brazil, in 2013." Ayanna is a member of the FIH Development Panel of approximately 35 High Potential Umpires. This is a group of female umpires from all over the world from which the FIH will identify and develop a minimum of 17 World Panel Qualified Umpires for the Olympic Games 2016 in Rio de Janeiro, Brazil, and beyond.

"This year I am off to the World League  semifinal as the video umpire in Valencia, Spain, in June, the Pan American Games as a neutral umpire in Toronto, Canada, in July, and World League Final in Rosario, Argentina, in December."

But the field of hockey is not her only major achieve­ment. Having graduated from Hofstra University with a bachelor's degree in International Business and a minor in Economics, followed by a master's degree in Business Administration (MBA), with a marketing concentration, the former South-East Port-of-Spain Secondary School student now holds the position of Business Development District Sales Manager with Coca Cola Refreshments in Manhattan, New York.

Her responsibilities include leading the team responsible for acquiring all the new business and marketing opportunities in the city of Manhattan.

How does she find the time to do it all? "Well there is 24 hours in the day, why not use them all." On the hockey field she is a professional. In her office she is a professional but there is yet another side to the Ventures Hockey Club member. She loves a good party and lime. She has a "Trini to the bone" attitude towards the two.

Long Island, New York, is now her home but she always takes the opportunity to return to T&T and her old stomping ground, Belmont. Her last visit was for Carnival 2015 where she and two Hofstra schoolmates Brit Blankmeyer of the US and Zimbabwean Amy Lee Levy had a blast in the band Tribe. She plans to return with several more schoolmates and friends next year.

The less than a week whirlwind visit for the two included a trip to Maracas, a couple of fetes, bake and shark, doubles, roti, the Avenue, J'Ouvert and, of course, the two days on the road for Carnival. It was the very first visit to T&T for Blankmeyer and Levy and they have vowed that it is not their last.

As to the future for Ayanna, juggling hockey and her job takes up most of her time. Partying and meeting new friends the rest. She does plan to have a family and soon but right now, time does not permit. That FIH World Panel Umpire goal is her main focus.

Source: The Trinidad Guardian

Pan American Hockey Federation media release


---

Railways crowned national champs

Beat Uttar Pradesh 5-3 in a one-sided hockey final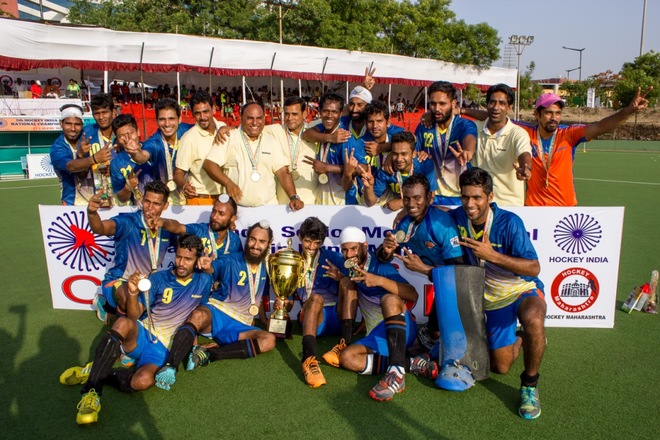 The Railways team poses with the trophy after winning the final in Pune on Tuesday. Hockey India

Pune - Railways Sports Promotion Board rode on Amit Rohidas's hat-trick to beat Uttar Pradesh 5-3 in the title match of the senior men's hockey National Championship (Division-A) here today.

Talwinder Singh and Affan Yusuf were the other scorers for the champions, while Sunil Yadav, who scored a brace, and Amir Khan led the UP fightback.

In the third-place match, Air India Sports Promotion Board outplayed Hockey Gangpur-Odisha 5-3 to finish on the podium for four years in the running. Air India won the previous two editions and were the finalists the year before that.

In the final, Railways got off to a perfect start, getting a penalty stroke in the ninth minute, which Rohidas converted.

Railways then sped away with two quick goals, first through Talwinder in the 17th minute and then through Rohidas three minutes later.

UP got one back in the 25th minute as Sunil Yadav converted a penalty corner.

Railways, however, fired in two more goals — Yusuf (27th minute), Rohidas (29th) — in quick succession to get a firm grip on the trophy. Though UP fought back with two goals in two minutes, Railways held on to win the title for the first time since Hockey India starting organising the event.

Individual awards

    Best Goalkeeper:Arpit Choudhary (Jharkhand)
    Best Defender:Amit Rohidas (Railways)
    Best Mid-fielder:Jasjit Singh (Railways)
    Best Forward:Lali Upadhyay (Uttar Pradesh)
    Promising player:Vikramjit Singh (Punjab)

The Tribune


---

Scotland's top clubs compete in Grand Finals & Play-Offs



It's Kelburne v Grange for the Title

The finale of the Scottish Hockey National League Division 1 season takes place this weekend at the Glasgow National Hockey Centre, and you can be part of the drama and excitement!

On 2 & 3 May, the National Champions Trophy & highest ranked European qualification spot are up for grabs in the Men's and Women's Grand Finals, while Division 1 status is on the line in the Promotion/Relegation Play-Offs.

And what's more, Scottish Hockey is making this event FREE to all spectators so that supporters can come along and give their club maximum support.
Grand Finals

In the Men's National League Division 1 Grand Final, Bromac Kelburne and Grange go head-to-head to determine the winners of the National Champions Trophy and qualification for the European Hockey League (EHL) in 2015/16.

Both sides already have silverware in the bag this season, with Bromac Kelburne making it 11 titles on the trot in the league, while Grange have the Scottish Cup to show for their efforts this season.

Grove Menzieshill have the challenge of halting the Edinburgh University machine as it rolls into the Women's National League Division 1 Grand Final unbeaten and with a 100% record in all league and play-off fixtures.

However, the Taysiders inflicted a Scottish Cup semi-final defeat on the students last month so a tight contest may well be in the offing as both teams battle it out for the National Champions Trophy and the highest European qualification spot.




Promotion/Relegation Play-Offs

Keeping a place in Men's National League Division 1 is the objective both Inverleith and Dundee Wanderers have as their primary concern going into the Relegation Play-Off this weekend.

The Purple Robes have to pick themselves up from the disappointment of losing to Uddingston in last weekend's semi-final, and with Wanderers having previous for upsetting the odds in last season's play-off decider, the tension will be mounting going into this weekend's matches.




Kelburne Ladies will be looking to deny Inverleith Ladies a place in Division 1 next season by winning the Women's Promotion/Relegation Play-Off and retaining their top level status.

Both sides were narrowly edged out in last weekend's semi-finals so a hard-fought dual may well be on the cards.




Format & Schedule

Each match will take place over two legs (2 & 3 May) at the Glasgow National Hockey Centre.

The team with the highest aggregate score over two legs in the Grand Final will win the National Champions Trophy and highest ranked European qualification spot.

Should the winners of the National Champions Trophy also be the winners of Division 1 (i.e. Kelburne and Edinburgh University), then the runners-up of the National Champions Trophy will receive the second ranked European qualification spot.

The team with the lowest aggregate score over two legs in the Promotion/Relegation Play-Offs will play in Division 2 in season 2015/16.

Saturday 2 May

11.00 Inverleith Ladies v Kelburne Ladies
13.00 Dundee Wanderers v Inverleith
15.00 Grove Menzieshill v Edinburgh University
17.00 Grange v Bromac Kelburne

Sunday 3 May

11.00 Kelburne Ladies v Inverleith Ladies
13.00 Inverleith v Dundee Wanderers
15.00 Edinburgh University v Grove Menzieshill
17.00 Bromac Kelburne v Grange

Scottish Hockey Union media release


---

Grange and Kelburne battle for Scottish title




Grange and Bromac Kelburne will battle it out for the Scottish men's national title in Glasgow next weekend after they made it through the semi-finals of the playoffs last weekend.

Kelburne topped the regular season table from Grange by seven points, losing just once, but that loss did come against their final opponents in February, 3-2.

The Paisley side reached the final with a 3-2 win in the first leg of their semi-final against Gordonians before running up a 5-1 win last Sunday in the second leg with Dougie Simpson scoring twice while Michael Christie, Jack McKenzie and Mark Ralph were also on the mark.

Grange beat Western 2-1 in their semi-final, first leg at Auchenhowie before recording a 5-2 win the second leg for a 7-3 aggregate victory.

The two sides meet on Saturday and Sunday at 5pm in their two-legged final.

Euro Hockey League media release


---

Subahan Kamal is the new MHC president

By Aftar Singh

KUALA LUMPUR: Datuk Seri Subahan Kamal is the new Malaysian Hockey Confederation (MHC) president.

The Selangor Hockey Association (SHA) president won the seat unchallenged when nominations closed on Tuesday.

The 49-year-old businessman will be taking over from Tengku Abdullah Sultan Ahmad Shah, who is not seeking re-election at the annual general meeting on May 13.

Said Subahan: "I am honoured to be the sixth MHC president. I thank the affiliates for having the trust and confidence in me.

"I would also like to thank Tengku Abdullah for his support and guidance, too. I hope the delegates will elect candidates who are willing to work hard and contribute towards the growth of hockey in Malaysia."

For the men's deputy president post, former Kuala Lumpur HA president George Koshy will challenge incumbent vice-president Datuk Nur Azmi Ahmad.

Incumbent women's deputy president Puan Sri Raja Noora Ashikin is not seeking re-election. It will be a straight fight between incumbent vice-president S. Shamala taking on K. Maheswari.

There were seven nominations – Datuk Abdul Rahim Mohd Ariff, Majid Manjit Abdullah, Datuk Wan Ahmad Nizam, Datuk Ow Soon Kooi, Datuk N. Radhakrishnan, G. Sathis Kumar and A. Vijayshankar – for the five men's vice-president posts.

Juriah Abdul Wahab, Nik Zarah Kadir and S. Nagula will be contesting for the two women's vice-president posts.

All the nominees have until May 9 to withdraw from the election.

The Star of Malaysia


---

George Koshy v Nur Azmi

By Jugjet Singh

AS expected, Datuk Seri Subahan Kamal became the sixth Malaysian Hockey Confederation (MHC) presdient when nominations closed at noon Tuesday.

Subahan took over the hot-seat unchallenged, but both the men's and women's deputy presidents posts will be two-cornered fights in the May 13 elections.

Incumbent vice-president Datuk Nur Azmi Ahmad will battle with former Kuala Lumpur HA president George Koshy for the men's deputy president's post.

While for the women's deputy president post, incumbent vice-presidents S. Shamala and K. Maheswari will lock horns.

There were seven nominations for the men's veeep positions with Datuk Rahim Ariff and Manjit Majid Abdullah seeking re-election. MHC adviser and Penang HA president Datuk Ow Soon Kooi is also seeeking to become a vice-president, and so if former MHC treasurer Datuk N. Radhakrishnan

Sathis Kumar, Kedah HA president, A. Vijayshankar and Datuk Wan Ahmad Nizam are the other hopefuls for the five men's veep positions.

The women's vice-presidents, two posts, will see a three-cornered fight among Juriah Abdul Wahab, Nik Zarah KAdir and S. Nagula.

Koshy, team manager for the last 16 years, was also the man behind the success of Malaysia Hockey League team that transformed from Arthur Anderson, Ernst And Young to Kuala Lumpur Hockey Club.

His challenger Nur Azmi is the current vice-president as well as team manager to the national seniors.

"I have been involved with hockey for a long time, from my school days, until the MHL right up to managing the national team. I know I can contribute in the administration side of the MHC, and thats why I decided to stand for election," said Koshy.

Jugjet's World of Field Hockey