All the news for Monday 20 April 2015

Hockeyroos claim gold

Kenny's late goal claimed Hockeyroos a 3-2 victory over Black Sticks



Image: Masanori Udagawa

A late penalty corner drag flick from Jodie Kenny claimed the Hockeyroos a 3-2 victory at the 2015 Hawke's Bay Cup after being deadlocked with Trans-Tasman rivals the New Zealand Black Sticks in the final minutes of the match on Sunday night.

Speaking after the match Hockeyroos Head Coach Adam Commens said, "It wasn't our prettiest performance tonight, however, ultimately it was a victory. I think tonight we learnt a lot about our team and where we need to be if we want to be consistently winning tournaments. A gold medal is what we came here for and we are satisfied with the final result tonight."

There was no holding back for the Black Sticks during the start of the semi final, taking an early 1-0 lead after Kiwi Gemma Flynn found herself space running into their attacking circle, netting a quick on target goal one minute after the starting whistle.
   
After a steady second quarter, the Hockeyroos opened the flood gates 10 minutes after the halftime break. Awarded a penalty corner at the 40th minute mark, Georgina Morgan's drag flick was quickly deflected past Kiwi goalkeeper Amelia Gibson and into the net by Hockeyroos forward Emily Smith, equalising with the Black Sticks, 1-1.

Four minutes after Smith's goal, Brooke Peris was able to break down the 1-1 deadlock after Smith fed a fast paced ball onto Peris' stick, pushing them in front with the lead, 2-1.
   
Fighting back, the Black Sticks turned the score around within 60 seconds of Peris' goal. Olivia Merry, showing her skill, worked the ball around Hockeyroos' goalkeeper Ashlee Wells in the 44th minute and once again deadlocked the score with Australia, 2-2.

With robust defensive structures across both team's, the Hockeyroos manage to successfully hold out the Black Sticks coming into the final 15 minutes of play.
   
Seconds remained on the clock and the match looked like it was heading towards a shootout scenario, however, the Hockeyroos still had more to give. Awarded a final chance to break the 2-2 tie with their opponents, the Hockeyroos received what would be a final opportunity at a penalty corner. Setting up a strong battery, world class drag flicker Jodie Kenny stepped forward, dragging the ball into the top of the net and securing the Hockeyroos a 3-2 victory and the 2015 Hawke's Bay Cup title.

With the World League Semi Finals commencing in Antwerp in just over two months' time, Commens gave insight into the type of squad his looking to select ahead of the Olympic qualifying event in June.
   
"It will be a similar line up to tonight. We have Anna Flanagan and Casey Sablowski to come back in and they are two world class players. They will hopefully strengthen our squad alongside developing our group that we have brought here to New Zealand, as well as some of our other players that have contributed throughout the tests against China to ultimately put forward our best 18 players."

The Hockeyroos will depart for Perth Monday morning, 9:30am AEST / 7:30am AWST, to continue their preparation for the Olympic qualifying event - the World League Semi Finals - held in Antwerp, Belgium from June 20 to July 5. As part of Pool B, the Hockeyroos will face Belgium, India, New Zealand and Poland in the hope to guarantee their place at the 2016 Rio Olympic Games.           

Final - Hawke's Bay Cup

Hockeyroos: 3 (0)
Emily Smith 40 (PC)
Brooke Peris 43 (FG)
Jodie Kenny 60 (PC) 

New Zealand: 2 (1)
Gemma Flynn 1 (FG)
Olivia Merry 44 (FG) 

Hockeyroos Squad
Athlete (Hometown, State) caps/goals
Started
Teneal Attard (Mackay, QLD) 206/10
Madonna Blyth (Brisbane, QLD) 301/67
Edwina Bone (Evatt, ACT) 71/2
Kate Jenner (Tamworth, NSW) 115/1
Jodie Kenny (Wamuran, QLD) 137/78
Karri McMahon (Berri, SA) 67/6
Georgia Nanscawen (Melbourne, VIC) 155/30
Ashleigh Nelson (Wagin, WA) 175/63
Kathryn Slattery (South Stirling, WA) 15/4
Emily Smith (Crookwell, NSW) 117/48
Ashlee Wells (Morwell, VIC) 48/0
                                                                      
Used Substitute
Jane Claxton (Adelaide, SA) 60/5
Kirstin Dwyer (Mackay, QLD) 73/2
Georgina Morgan (Armidale, NSW) 12/0
Georgie Parker (Berri, SA) 77/24
Brooke Peris (Darwin, NT) 53/9
Mariah Williams (Parkes, NSW) 14/2
                                 
Unused Substitute
Rachael Lynch (Melbourne, VIC) 122/0
                 
Official tournament website - hockeyfestival.nz
                 
Hawke's Bay Cup Final Results & Fixtures
Japan 2-3 India
Argentina 0-3 USA
Korea 2-3 China
New Zealand 2-3 Australia

Hawke's Bay Cup Final Standings
1. Australia (Gold medal)
2. New Zealand (Silver medal)
3. China (Bronze medal) 
4. Korea
5. USA
6. Argentina
7. India
8. Japan

Hawke's Bay Cup Competing Teams and Rankings
Australia (World ranking #2)
Argentina (#3)
New Zealand (#4)
China (#5)
USA (#8)
Korea (#9)
Japan (#10)
India (#13)

Hockey Australia media release


---

Black Sticks take silver at Hawke's Bay Cup




A goal in the dying seconds has given Australia a 3-2 win over the Black Sticks Women to take out the Hawke's Bay Cup in Hastings.

The lead swapped constantly during the match and the result was sealed in the 60th minute when Australia scored after the Black Sticks defence failed to clear a penalty corner.

Black Sticks striker Gemma Flynn brought the large crowd to their feet in just the first minute of the match when she slotted home from the field.

The game came alight in the third quarter when three goals were scored in the space of three minutes.

Emily Smith brought Australia level when she scored from a penalty corner and shortly after Australia hit the front for the first time when Brooke Peris found herself unmarked in front of goal and made no mistake from two metres out.

The Black Sticks mounted a number of promising runs and Olivia Merry brought the match level again when she smashed the ball home from a goal mouth scramble.

The game was decided with less than a minute left on the clock when Jodie Kenny scored from a penalty corner.

Black Sticks head coach Mark Hager was extremely disappointed with the result but proud of his side's effort.

"We got a goal up early and I think we were on top for the majority of the match. We created plenty of scoring opportunities but we must learn to be tougher defensively," he said.

"To let Australia score on the stroke of fulltime is absolutely heartbreaking for the girls. They have worked so hard over the last few weeks and this is not the way we wanted to end the tournament."

Tonight's game was captain Anita Punt's 200th test for New Zealand.

For results of all games at the Hawke's Bay Cup tournament go to www.hockeyfestival.nz

BLACK STICKS 2: (Gemma Flynn, Olivia Merry)
AUSTRALIA 3: (Emily Smith, Brooke Peris, Jodie Kenny)
Halftime: Black Sticks 1-0

Final positions at the 2015 Hawke's Bay Cup:

1. Australia
2. New Zealand
3. China
4. Korea
5. USA
6. Argentina
7. India
8. Japan

Hockey New Zealand Media release


---

Oz grab gold at the death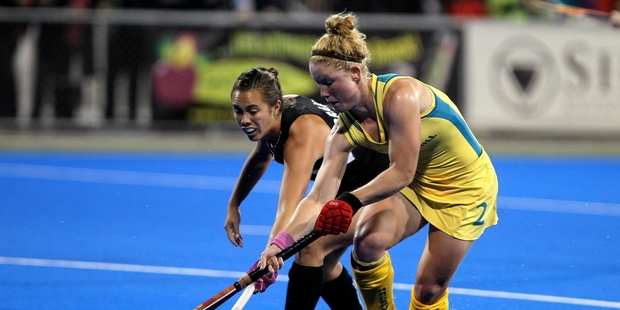 Black Stick Jordan Grant and Hockeyroo Georgia Nanscawen battle for possession in the final. Photo / NZME.

The Black Sticks women have lost 2-3 to Australia in the final of the Hawkes Bay Cup hockey tournament last night.

The Anita Punt-captained hosts led 1-0 at the half-time mark, with Australia scoring two quick fire goals in the third quarter before New Zealand equalised 2-2 with one minute remaining in the quarter. Australia scored the winning goal with just 30 seconds left.

Black Sticks striker Gemma Flynn brought the large crowd to their feet in just the first minute of the match when she slotted home from the field.

The game came alight in the third quarter when three goals were scored in the space of three minutes. Emily Smith brought Australia level when she scored from a penalty corner and shortly after Australia hit the front for the first time when Brooke Peris found herself unmarked in front of goal.

Black Sticks coach Mark Hager was extremely disappointed with the result.

"We got a goal up early and I think we were on top for the majority of the match.

We created plenty of scoring opportunities but we must learn to be tougher defensively.

"To let Australia score on the stroke of fulltime is absolutely heartbreaking for the girls," he said. "They have worked so hard over the last few weeks and this is not the way we wanted to end the tournament."

Australia 3 (Emily Smith 40, Brooke Peris 43, Jodie Kenny 60).
Black Sticks 2 (Gemma Flynn 1, Olivia Merry 44).

The New Zealand Herald


---

Australia beat Black Sticks women with last-gasp effort to claim Hawke's Bay Cup



New Zealand's Kathryn Henry drives forward during her side's 3-2 loss to Australia in the Hawke's Bay Cup final. Photosport

New Zealand couldn't capitalise on an early lead as Australia held their nerve to take home the Hawke's Bay Cup 3-2 thanks to a last-minute goal on Sunday night.

New Zealand's Gemma Flynn opened the scoring early on, using a counter attack off an Australian chance within the first minute to power down the right wing and fire the ball into the back of the net.

Australia struggled find a rhythm early on and convert their chances into goals. Youngster Kathryn Slattery hit the post late in the second half and they also had to contend with Black Stick Sam Charlton doing excellent work in the left-half position.

Stacey Michelsen, who had been having issues with her back during the tournament, seemed to have made a full recovery after she produced a stunning run down the centre to the right which began an onslaught of attacking play from New Zealand. It was a great finish to Michelsen's tournament as she provided much of the impetus from the midfield.

With Anita Punt, Flynn and Michelsen all substituted half way through, the pressure from the Kiwi attack eased slightly and Australia capitalised to dominate possession and grab a brace of penalty corners with Emily Smith scoring with a deflected hit from Georgina Morgan at the top of the circle.

It was Smith again who was involved in Australia taking the lead late on in the third quarter, tipping the ball to Brooke Peris who slotted it home to put the Hockeyroos ahead with two minutes left in the quarter.

They didn't stay ahead for long though, Canterbury's Olivia Merry responding instantly after Australia failed to clear the ball out of the circle. The left winger shot home from around the penalty spot to get the Black Sticks back level with 15 minutes to play.

The final quarter was a frenzy of attacks from both sides. Punt made a dash down the left wing in a counter attack, linking up with Michelsen to force two penalty corners, neither of which were converted by Punt, who would have liked a goal to mark her 200th Test for the Black Sticks.

Kiwi goalkeeper Amelia Gibson made a brilliant save with 50 seconds left on the clock to hold off an Australian onslaught, but it was in vain as the visitors capitalised on their sustained pressure when Jodie Kenny scored from a penalty in the final minute to take the match 3-2.

"I thought we blew it. We were the ones who conceded two soft goals" said Black Sticks coach Mark Hager after the match.

"It's just disappointing that the girls fought so hard and played so well but didn't come away with the prize."

Stuff


---

Indian women finish seventh in Hawke's Bay Cup hockey

HASTINGS (New Zealand): The Indian women's hockey team defeated Japan 3-2 in the seventh-eighth position classification match to secure the seventh spot in the Hawke's Bay Cup tournament here on Sunday.

It was the team's second consecutive win against Japan, after beating them in a bronze medal match at the 17th Asian Games last year.

India overturned a 0-2 goal deficit to clinch the victory on Sunday.

Japan were quicker off the mark and took the lead after only four minutes through a field goal by Mie Nakashima and went into the first quarter with a 1-0 lead.

Yukari Yamamoto converted a penalty corner in the second quarter to double Japan's advantage but India reduced the margin in the 28th minute through Sushila Pukhrambam.

But Japan maintained their ascendancy to lead 2-1 at half time. India continued to apply pressure in the third quarter but had to wait till the fourth quarter to restore parity.

Deepika levelled the scores six minutes from time through a field goal and Rani secured victory three minutes later with a opportunistic strike.

The Times of India


---

Charlton wins inaugural best and fairest award




Black Sticks defender Sam Charlton has been named the inaugural winner of the Robyn Mactaggart Medal at the 2015 Hawke's Bay Cup.

The award recognises the player who is judged the best and fairest over the 24 match tournament.

The judging was done a panel of three independent people and to be eligible for the award, players must not receive more than two yellow cards or a red card during the tournament.

"I am honoured and humble to be recognised with this award. The Black Sticks really appreciate the support that has come from Hawke's Bay during the past few years and I am a little overwhelmed that I have been honoured with the inaugural Robyn Mactaggart medal," Charlton said.

The medal has been named in honour of Robyn Mactaggart who had an immense involvement in Hockey as a player, coach, parent and supporter of the game. She passed away after a long illness in November 2012 at the age of 44.

The Robyn Mactaggart medal has been hand crafted in sterling silver from a design by Monique Therese in Havelock North.

Points tally after 24 matches:

1. Sam Charlton (Black Sticks) 26
2. Lauren Crandall (USA) 21
3. Mayumi Ono (Japan) 18
4. Yang Peng (China) 17
5= Jodie Kenny (Australia) 15
5= Madonna Blythe (Australia) 15 - 2 yellow cards so ineligible
5= Carla Rebeechi (Argentina) 15

Hockey New Zealand Media release


---

Match 3: Ireland 3-3 Italy

Trailing by 3-0 in the final quarter Ireland scored three goals in 10m to draw their final test match against Italy. The game played at the Ulster University, Jordanstown and where Loreto's Nicola Daly joined the 100th club of tests played for her country.

Ireland had made the brighter start, Brown with the first chance of the game, but her shot flew over.  Italy took the lead in the 11m from second phase play, from their 1st PC, Rossisvilli with the finish. Italy upped the tempo and extended their lead from open play in the 26m scored by Braconi and were further ahead 2m later this time Ruggieri was on target.  HT Italy 3-0 Ireland

Ireland had decent possession in the 3rd quarter but failed to impact on the score sheet. 

It was all out attack in the final quarter by Ireland and in the 49m Garraffo was given a yellow card and a PC awarded to Ireland. Harvey supplied the finish from the resulting PC to give Ireland hope with 10m to go.  Ireland withdrew their GK McFerran, with McCay given the duties of kicking back. In the 53m from another PC Ireland were right back in the game this time Chloe Brown with the goal.  The teams were level with 2m to go, Dukes volley off a rebound from the Italian keepers pads. Great comeback by Ireland as the finished Ireland 3-3 Italy

Ireland 3 ( Deirdre Duke, Michelle Harvey, Chloe Brown)
Italy  3 (Ruggieri, Braconi, Rossisvilli)

Ireland
Stella Davis (GK), Michelle Harvey, Cliodhna Sargent, Emma Smyth, Chloe Brown, Shirley McCay, Megan Frazer, Naomi Carroll, Hayley Mulcahy, Ayeisha McFerran (C), Nicola Daly, Hannah Matthews, Deirdre Duke, Kate Dillon, Ali Meeke, Yvonne O Byrne, Emily Beatty

Italy
Natalia Leonoir, Celina Traverso, Marta De Guiro, Constanza Aguirre, Valentina Braconi, Macarena Ronsisvalli, Eugenia Garaffo, Dalila Mirabella, Martina Chirico (GK), Giulia Galligani, Elisabetta Pacella, Maria Mercedes Socino, Martina Lecchini, Chiara Tiddi, Aldana Lovagnini, Agata Wybieralska, Giuliana Ruggieri, Marcela Casale.

Umpires: Alison Keogh & Fiona Davitt

Irish Hockey Association media release


---

Ireland pair David Ames and Ian Sloan still awaiting clearance to compete for Great Britain

Former Irishman David Ames was due to make GB debut against Germany last week but England Hockey still awaiting green light
           
By Rod Gilmour, Lee Valley



Centre of attention: Beeston players celebrate with club team-mate David Ames Photo: JOSH DIXON

England Hockey, the national governing body, is still awaiting clearance for Irish pair David Ames and Ian Sloan, who both qualified to play for Great Britain on April 11.

Ames, who plays for Beeston, was in line to make his debut for his new country against Germany in the Nations Cup last week and was seen as a key addition to national coach Bobby Crutchley's squad ahead of June's Olympic qualifiers.

However, England Hockey spokesperson said on Sunday: "The two players in question are currently awaiting clearance for their England and Great Britain status.

"We have submitted the request and are awaiting a response."

The pair, both highly-rated, have waited patiently since deciding to further their international careers having both played for Ireland.

Under International Hockey Federation (FIH) rules, the pair had been unable to play international hockey for three years from the date of their last match for Ireland in April 2011, meaning they had only 28 months to serve.

Crutchey told Telegraph Sport recently that Aymes was a "strong contender" for the Great Britain squad for this summer's World Leage semi-finals, which act as the Olympic qualifying competition.

While Sloan, 21, is seen as a future prospect, Ames is set to give Crutchley's options in midfield considerable impetus when he is finally given clearance by the FIH.

England Hockey admitted to Telegraph Sport that the Cookstown duo will also not affect squad numbers ahead of Rio 2016.

"There can be up to 32 places in the squad, and it is down to Bobby's discretion how he uses those spaces over the course of the Olympic cycle." the spokesperson said.

"The squad is not currently at full capacity and therefore there is no requirement to remove anyone to make space."

Crutchley is optimistic over Great Britain's and England's campaigns on the continent this summer, despite losing 2-1 to Germany in the Nations Cup at Lee Valley.

"Where we are now is that we're going into tournaments with hope," he said. "I wouldn't say we're better than Holland and Germany, I think we are in a position to say we can win those matches more often."

At the 2013 European Championships, England finished fourth behind Belgium, Germany and Holland, but Crutchley says that the 2015 edition, held on the Olympic Park in August, would be a different proposition.

"We were the fourth-best team by some distance [in 2013] and lost narrowly to Holland in the third-fourth but I don't think that is the case now," said Crutchley. "The Europeans looks to be an incredibly exciting tournament, with the likes of Spain and Ireland improving."

Meanwhile, midfielder Nick Catlin is expected to return to the international fold after overcoming injury.

The Telegraph


---

Surbiton retain title with Canterbury win



Surbiton celebrate winning the Investec Women's Title 2015

Surbiton capped a terrific domestic campaign with a 2-1 win over Canterbury in the Investec Women's Hockey Championship final. In doing so they remained undefeated for the whole season. Goals from Julia King and Abi Robinson steered them to the title but they were pushed all the way by an excellent display from the Kent side.

The first quarter was played at a terrific pace with both sides displaying their abundance of attacking talent. Sarah Page darted into the circle for the first clear chance but Helen Fagg in the Canterbury goal made a superb block. From the first penalty corner Fagg was called upon once again but she was up to the task and saved well. Surbiton didn't have it all their own way and after some slick attacking play by Dirkie Chamberlain and Susannah Townsend, Lizzie Neal couldn't quite connect cleanly allowing Abi Walker to make the save.

In the second quarter Surbiton took the lead. A penalty corner struck the player on the line and a penalty stroke was awarded. Julia King stepped up and found the roof of the net to make it 1-0. Five minutes later Canterbury were level thanks to a trademark Mel Clewlow strike which rattled the backboard at searing pace.

The third quarter was end to end as the teams grappled for control of the midfield. With 48 minutes on the clock Surbiton edged into the lead. A lovely move down the right was well finished off by Abi Robinson with a precise strike into the corner. King went close with a backhand strike that fizzed wide and then Jo Hunter teed up Jenna Woolven who was denied by an incredible stick save by Fagg.

The Canterbury goalkeeper was involved again in the final quarter making two excellent saves from Sarah Haycroft as the game began to open up. With time running out and Canterbury pressing for an equaliser the Kent side had their big chance to level it up. Clewlow's incredible long pass out of defence put Eliza Brett in the clear but Walker made a superb save to deny the No8, allowing Surbiton to hang on for the win.

Haycroft was also full of praise for Player of the Match Julia King who scored two penalty strokes and also found the target in the shoot-out yesterday against Reading: "Canterbury came out hard, they fought us right until the end, and we had to dig deep. We were so keen to get the win for the second year in a row, and that's what carried us through."

Haycroft was also full of praise for Player of the Match Julia King: "She's so composed and her technical ability is fantastic. We've got plenty of players like that in the team, our strength-in-depth is good and has helped us to come away as champions. We've got the cup final next weekend, and we always look to build on our last performance, so today was all about the culmination of a whole season undefeated. We'll enjoy the celebration now and plan for next year - hopefully to do the treble!"

SURBITON 2 (1)
Julia King 23 (PS)
Abi Robinson 48 (F)

CANTERBURY 1 (0)
Mel Clewlow 48 (PC)

England Hockey Board Media release


---

Reading snatch third with win over Clifton



Helen Richardson-Walsh shoots for goal

Reading snatched the win in the 3rd-4th place playoff with an impressive display to see off a determined Clifton side at the Lee Valley Hockey and Tennis Centre. Clifton had taken the lead from Liz Sinton's penalty corner but goals from Emma Thomas, Ellie Cockburn and Helen Richardson-Walsh turned the tide and gave the Sonning Lane outfit a 3-1 win.

The first quarter was notable for some excellent goalkeeping by Clifton's Caitlin Jeffries. Reading forced a series of penalty corners, allowing them to go through what seemed to be their entire repertoire but Jeffries stood firm to ensure it remained scoreless.

The second quarter was much more even as Clifton found their way back into the game, breaking the deadlock on 26 minutes. Liz Sinton forced home from close range after Sarah Ellis had made the initial save from a penalty corner. In the process of making the save, Ellis was injured and left the field to be replaced by Grace Lawes. The No2's first action was to force a rampaging Els Mansell wide ensuring the shot was off target and the score remained 1-0.

Reading forced yet more penalty corners but Kate Richardson-Walsh's flick was saved by Jeffries with Aileen Davis producing a splendid goalline clearance from Emma Thomas' follow-up, keeping it at 1-0 going into half time.

Reading restored parity shortly after the break thanks to an Emma Thomas penalty stroke and then Elen Barnes went close with another penalty corner as Clifton's defence was put under intense pressure. There was plenty of industry and endeavour from both sides but it wasn't until the fourth quarter that Reading took the lead. A beautiful move down the right set up Cockburn and the former Scotland star made no mistake, firing home to make it 2-1. Jeffries made another outstanding block after Wiz Hunt's pace and cross almost set up Becky Halle sliding in but then with seven minutes remaining, Reading got their reward. A neat exchange of passes just outside the circle let in Helen Richardson-Walsh, who finished well to make it 3-1 and secure the win.

Reading captain Emma Thomas told England Hockey afterwards:

"Yesterday was really disappointing, but to come back from 2-0 down to get to shootout was a real achievement for us. The end of the season has gone really well and we had a lot of momentum coming into this finals weekend, so it was disappointing to not be in the final today. We knew we wanted to finish our season on a high, we scored three fantastic goals and are really pleased with the performance. It's a great foothold for us going into next season."

Reading 3 (0)
Emma Thomas 39 (PS)
Ellie Cockburn 59 (F)
Helen Richardson-Walsh 63 (F)

Clifton 1 (1)
Liz Sinton 26 (PC)

England Hockey Board Media release


---

Buckingham and East Grinstead in playoff delight



Buckingham's Beth Stainsby slots home the penalty stroke against Slough

In the final round of the Investec Women's Hockey League Play-Offs, it was the Buckingham and East Grinstead who came out on top and secured Premier Division Hockey for next season. East Grinstead, the East Conference Champions overcame Wakefield in a close game to ensure they finished in a promotion place, whilst Buckingham's draw with Slough was enough to maintain their top flight status for another year.

Both Buckingham and Slough began nervously, with a series of defensive mistakes showing the pressure that this match brought. Buckingham started making attacking chances, but were met with a well-organised and determined Slough defence - Kat McGonigle, Dilly Newton and Jess Ecott putting in commanding performances. Slough soon built confidence and took control of the half, and with ten minutes gone forced a mistake from Buckingham as a pass across the face of goal was latched onto by Mel Ball, who slid to deflect the ball into the back of the net. Slough continued to have the better of the possession and chances throughout the first half, including Mel Ball and Kelly Morgan coming close, but went into the break with a slender 1-0 lead.

The second period saw Amy Sheehan for Slough causing all sorts of problems to Buckingham, breaking down play in midfield and being at the centre of the Berkshire side's attacks. But this was not a one-sided affair, Buckingham's defence never looking anything but composed and controlled. In particular, Chloe Hobson and Zoe Shipperley put in some crucial tackles, the latter also finding her range with some fine passes. Buckingham's composure paid off in the end, as Amie Hone won the Premier Division side a penalty flick. Beth Stainsby stepped up to take it, putting it wide of Amy Gibson in goal and bringing the scores to 1-1. And so it remained as the final whistle sounded, giving Buckingham the vital point they needed to retain their Premier Division status.

SLOUGH 1 (1)
Mel Ball 12 (F)

BUCKINGHAM 1 (0)
Beth Stainsby 59 (PS)

Wakefield had good early pressure however, following a quick break, it was East Grinstead who found the back of the net first courtesy of a backhand shot from Sophie Bray. East Grinstead then doubled their lead within the first 10 minutes through Lucy Brown. Wakefield rallied and forced several good saves from Mackay in the East Grinstead goal however Gwen Smith's deflection from a penalty corner was too much and brought the score to 2-1. East Grinstead restored their two goal lead with 10 minutes to half time, Heather Batten driving down the left and her cross found Bray in the circle. Cat Horn showed her pace for Wakefield, driving in to the circle and finding Sally Walton who calmly slotted the ball in to bring the score back to 3-2 with two minutes to half time.

Tensions were high after the break with both sides creating chances, Ruth Gordon's goal for East Grinstead was disallowed after hitting an attackers foot in the circle. Wakefield worked their way back in to the circle with excellent passing between Walton and Horn but Walton's shot was just wide of the post. Bara Kavanova was adjudged to have deliberately broken down play in front of goal and Wakefield were awarded a penalty stroke which Walton calmly slotted home to level the score at 3-3. It was Batten again who found a way in to the Wakefield circle and earned a penalty corner. A well worked corner from East Grinstead meant Pippa Rabey was free to fire to ball in to the roof of the net from close range bringing the score to 4-3 with 7 minutes remaining. Despite Wakefield opting to use a kicking back for the final 3 minutes there was no way back in to the game and the final score was 4-3 meaning East Grinstead have earned a place in the Investec Premier Division for 2015-16.

Beth Stainsby gave her thoughts on Buckingham's performance after retaining their place in the top flight next season: "We always knew it was going to be really tough game, Slough are local rivals and when we've played them in the past it's always been a battle. Luckily, we came into the match with a bit of leeway and we knew if we played to our game plan and did the right things then we'd get the result we needed."

Speaking after the game East Grinstead Captain Jo-Jo Davis gave her thoughts on the performance and her delight at gaining promotion to the Investec Premier Division: "It wasn't our best performance, but it was a brilliant team effort and we managed to grind out the result today. I'm so delighted for the club, we've been on such a long journey to get to where we are and it's credit to the whole team and the work that's gone in to getting us here."

Thoughts on star striker Sophie Bray who is top scorer and player of the season for the Investec East Conference and has scored five goals here this weekend: "She's just a phenomenal player. The things she does sometimes and you just say "wow, how did she get the ball there and how did she score that goal?" People do sometimes just see her as a goal scorer, but she's a lot more than that, especially when you look at the amount of goals she's assisted and set-up this season; that's why she's player of the season."

WAKEFIELD 3 (2)
Gwen Smith 19 (PC)
Sally Walton 31, 51 (F, PS)

EAST GRINSTEAD 4 (3)
Sophie Bray 3, 25 (F, F)
Lucy Brown 10 (F)
Pippa Rabey 65 (PC)

England Hockey Board Media release


---

Surbiton women show grit to defend title as Canterbury fall short

Investec Women's Hockey Premier Division title champions for second year running, Surbiton held off challenge from rivals Canterbury at Lee Valley
           
By Rod Gilmour, Lee Valley



Double delight: Surbiton retained their title with gritty 2-1 win over Canterbury at Olympic Park Photo: RAVI GHOWRY

Brett Garrard, the Surbiton women's coach, wants to "crack" the top four spot in Europe after his squad maintained their brilliant form on play-off weekend to defend their title and remain unbeaten over the season.

In a repeat of last year's final, Surbiton underlined their 'Invincibles' tag in holding off a defensively-minded Canterbury to prevail 2-1.

Abi Robinson's shot on the turn in the 40th minute proved the difference after Julia King, the New Zealander, had given Surbiton the lead and stalwart Mel Clewlow had levelled for Canterbury.

"We have been on a long journey," said Garrard. "There is more to come and next season will pose new challenges.



Canterbury, in red, couldn't find the equaliser to take final to shoot out (SIMON PARKER)

"For us, it was never going to be about going unbeaten over the season."

After an opening quarter with few opportunities and wayward passes – Surbiton were, however, looking deadly with long-range passes up field – the deadlock was broken when King slotted home an 18th minute penalty stroke.

Five minutes later, Dirkie Chamberlain's strength inside the circle won a penalty corner. But with Grace Balsdon looking to shoot, the ball was tapped to Clewlow, who shot low and clinically straight.

Robinson was gifted space early in the second-half and her reverse stick shot then handed Surbiton the initiative. King shot just wide moments later, while Becca Smith's fine save from Jenna Woolven kept Canterbury in the game.

Missing Sarah Kerly up front, Canterbury did lack attacking options, but the final's dying minutes proved the best entertainment as the Kent side went for broke.

Sarah Haycroft, the captain, said: "We're absolutely delighted to be crowned champions two years in a row. It's a great platform for Europe next season."

Bray lifts East Grinstead to new heights

The quality may not have been the highest, but the outcome of the promotion-relegation play-offs was dramatic enough as Buckingham retained their top flight status while East Grinstead will play premier division hockey for the first time next season.

Buckingham drew 1-1 with Slough in their final group game. Meanwhile, East Grinstead held off a Sally Walton-inspired Wakefield 4-3, as Pippa Rabey lifted high into the net from a well-worked penalty corner with six minutes' left.

"It was a massive relief," admitted Sophie Bray, the East Grinstead and GB forward.

Bray, who spent three years with Dutch side MOP before moving back to England, admitted that she would have stayed in Sussex whatever had happened this weekend. "It is a family club and one with ambition," she added.

Having lifted East Grinstead's side to top flight hockey alongside the men, Bray, who scored a hat-trick on Saturday, now turns her attentions to the international scene. GB women play Japan on Sunday at Lee Valley, a venue which already holds a "special place" for Bray.

"It's going to crank up now," she said. "The Japan game will be important, but this venue seems to bring the best out of me."

Moment of the day

Seeing Helen Richardson-Walsh back to some way near her best. The 33-year-old midfielder, who missed last year's World Cup, has overcome two back surgeries and has been in full-time training since January.

She helped Reading to seal third place on Sunday, scoring in a 3-1 win over Clifton.

"I am confident in my body and it's now all about proving to the selectors that I am robust enough," she said.

With the World League semi-finals beckoning in June, Richardson-Walsh admits that regaining her squad place may come too soon. "But there are still things beyond that," she said. By that she means Rio 2016.



Slough and Buckingham, left, walk out for their clash on Sunday (RAVI GHOWRY)

Glory days fall short for Slough

Slough, a former powerhouse in European club hockey, were left in tears as they failed to overturn Buckingham and regain promotion after two years in the Conference West.

Defeated just once in the regular season and needing to win by three clear goals, Slough found themselves 1-0 up through Mel Ball's 12th minute strike.

But Beth Stainsby's penalty stroke with 11 minutes remaining scuppered their hopes, leaving Kali Takher, the Slough coach, to reflect on what might have been.

Missing Ashleigh Ball to a long-term injury and the goal prowess of rising GB international Shona McCallin, Takher said: "It's been a tough season."

The Telegraph


---

OZ and Kampong nail down playoff places

Oranje Zwart and Kampong both confirmed their places in the Dutch Hoofdklasse playoffs over the weekend with a pair of wins each on Friday and Saturday.

OZ won out 3-2 on Friday at Schaerweijde with Mink van der Weerden shooting the winner in the 59th minute. The corner expert then scored an incredible six times in Sunday's 8-3 win over HGC, a result that eliminated the Hague side from the chase for the playoffs. It brings van der Weerden's total to 30 goals for the season.

Kampong were 3-0 winners over Pinoke on Friday with goals from Loick Luypaert, Martijn Havenga and Constantijn Jonker.

The Utrecht side then snatched a thrilling 6-4 win over Den Bosch. Kieran Govers and Milan van Baal gave the Brabant side an early 2-0 lead before Quirijn Caspers and Philip Meulenbroek tied things up at half-time.

After half-time, Constantijn Jonker and Thierry Brinkman edged Kampong ahead only for Robbert van der Peppel and Govers to level at 3-3 and 4-4.

But Luypaert's 60th minute corner and a late Jonker goal won it for Kampong late in the game, moving them up to 51 points, one behind OZ.

Behind the top two, it looks set to be a thrilling final day in the race for the next two playoff places. Amsterdam's 7-1  win over Den Bosch – featuring hat tricks from Billy Bakker and Mirco Pruyser – was followed by another victory by the same scoreline on Sunday against Push.

Pruyser brought his total to six for the weekend in that game while Justin Reid-Ross also netted three times, bringing his total to 34 goals this season. Amsterdam need a point from their final game  against Rotterdam to attain a playoff berth but a loss could open them up to being overtaken.

Three points back, Bloemendaal sit fourth on 42 points after wins over Tilburg (2-0) and Schaerweijde (8-1). Rotterdam are also on 42 thanks to a 7-0 win over Push and 6-0 against Tilburg.

Euro Hockey League media release


---

Leuven claim first EHL spot from Belgian league

KHC Leuven confirmed their return to the Euro Hockey League as they finally pinned down first place in the regular season standings in Belgium's Audi league with a 3-2 win over Daring.

The result provided another twist in the race for the playoffs with Daring dropping out of the top four with Royal Leopold and Dragons leap-frogging the EHL semi-finalists.

Alexandre Kerstens put the Brussels side ahead at only for Pau Quemada to equalise. Alex van Linthout did likewise to give Daring a 2-1 lead but Quemada's 32nd goal of the season made it 2-2 before Willy Garcia won it for the University side.

Quemada and Sergi Enrique both were shown red cards in the closing stages but Leuven held on to top the table which brings the first EHL ticket.

Waterloo Ducks landed the second playoff place with a 5-0 win over already relegated Wellington thanks to goals from Quentin van Lierde, Victor Lockwood, Gauthier Boccard and Gilles Jacob.

Royal Leopold jumped up to third thanks to their 3-1 win over Racing Club de Bruxelles. They came from a goal down – trailing to Chris Cargo's opener – thanks to a double from Tanguy Zimmer and one from Julien Plennevaux.

They are ahead of Dragons on games won. They beat Beerschot 6-2 with Florent van Aubel netting a hat trick.

Who gets the third and fourth playoff place, though, remains up for decision. Leopold face Leuven and Dragons face Braxgata with victory ensuring they finish in the top four.

But, if they drop points, Daring are just one back and a win over Herakles could see them bounce back into the top four.

Euro Hockey League media release


---

District and Reserve Cup and Plate finals round-up



Photo Credit: Duncan Gray

An action packed day of hockey at the Glasgow National Hockey Centre saw six winners decided in the District & Reserve Cup / Plate finals today.

Men's District Cup Final

Thomson's Cycles Kelburne II were crowned the winners of the Men's District Cup after a dramatic penalty shoot-out against PSL Team Sport Clydesdale II.



Kelburne II won the Men's District Cup on penalties. Photo Credit: Duncan Gray

Antony Small gave Clydesdale a 1-0 lead in the 22nd minute, slipping the ball past Fergus Barrows in the Kelburne goal.

Nevertheless, Fraser Hutchison levelled for the Paisley side seven minutes after the half-time break, scoring the goal from a short corner.

With neither team able to snatch the winning goal in regulation time, Scott Sutherland, Matt McGinlay and Fraser Scott kept their composure to seal the cup win for Kelburne.



The winning penalty shot from Fraser Scott. Photo Credit: Duncan Gray

Men's District Plate Final

In the Men's District Plate Final, Western Wildcats II were comfortable 4-1 winners over Perthshire II.



Western Wildcats were winners in the Men's District Plate Final. Photo Credit: Duncan Gray

However, it was Perthshire who broke the deadlock in the 15th minute, captain Mark Gorrie giving the Midland side a 1-0 advantage.

Two goals from Graeme Watson swung the balance, however, both goals coming from penalty flicks in the 31st and 34th minute.

A tight second half ensued, but it was the Wildcats who finally released the shackles in the final four minutes of the match, a double from Neil Galloway sealing the win.

Women's District Cup Final

The Women's District Cup Final produced eight goals, with Inverleith Ladies II running out 6-2 winners over Edinburgh University IV.



Inverleith celebrate winning the Women's District Cup. Photo Credit: Duncan Gray

Amanda Huston opened the scoring for Inverleith in the seventh minute, only for Louise McPhillips to equalise for the students three minutes later.

Nevertheless, Inverleith were back in front in the 11th minute, Felicity McCarthy scoring from open play before Sarah McKay increased the lead to 3-1 in the 26th minute.

University pulled one back five minutes before half-time, Kirsty Forgio making it 3-2.

Shortly after the break, McKay grabbed her second goal to put Inverleith 4-2 up.



Sarah McKay celebrates the first of two goals for Inverleith. Photo Credit: Duncan Gray

The scoreline remained that way until late in the second half, Sophie Cooper adding a fifth goal in the 62nd minute and Leanne Orr scoring a super solo effort two minutes from full-time to round off the scoring at 6-2.
Women's District Plate Final

CALA Edinburgh III overcame the challenge of AAM Merlins Gordonians II in a penalty shoot-out to win the Women's District Plate.



CALA Edinburgh III won the Women's District Plate on penalties. Photo Credit: Duncan Gray

With neither side able to trouble the scorers in the first half, it was CALA who stormed into a 2-0 lead early in the second period. In the 44th minute, Georgia Moran opened the scoring from a penalty corner, before Heather Croll doubled her side's advantage two minutes later.

However, the Aberdonians struck back in the 50th minute, Rachel Middleton pulling her side within one goal from open play.

Six minutes from full-time, Middleton grabbed the equalising goal, beating CALA 'keeper Liz Pryke.

With both sides unable to secure a winning goal before full-time, the subsequent shoot-out ended with a 4-3 scoreline in CALA's favour.

Men's Reserve Cup Final

Grange III were the victors in the Men's Reserve Cup Final, a 2-0 win over PSL Team Sport Clydesdale III enough to seal the cup for the Edinburgh side.



Hands up for the cup! Grange III celebrate winning the Men's Reserve Cup. Photo Credit: Duncan Gray

Martin Constable was on hand to score from a penalty corner set-play in the 24th minute, a lead the Stags held until half-time.

In the 54th minute, Andrew Devine sealed the cup for Grange, scoring from a penalty corner for a 2-0 final scoreline.



Grange got the better of PSL Team Sport Clydesdale in the Men's Reserve Cup. Photo Credit: Duncan Gray

Men's Reserve Plate Final

Grange V made it a 'Reserve' double success for the club, beating Hillhead IV 5-1 in the Men's Reserve Plate.



Grange win the Men's Reserve Plate with a 5-1 win. Photo Credit: Duncan Gray

It was Hillhead who opened the scoring though, David Johnson registering on the scoresheet in the 18th minute.

However, two field goals from Tom Foulds in the 22nd and 32nd minute gave Grange the lead at half-time.

Ross Taylor extended the Stags' lead to 3-1 in the 42nd minute, before Gregor Maiden grabbed a fourth in the 55th minute from a penalty corner.

The scoring was rounded off by Mark Campbell a minute from full-time, leaving the final score 5-1.

Scottish Hockey Union media release


---

Telkom get off to flying start

By BRIAN YONGA



National women's hockey league champions, Orange Telkom, got their title defence underway with an emphatic 6-0 win over Vikings in a match played at the City Park Stadium Sunday.

Kenyan international Jacqueline Jow Mwangi scored four times to give the champions a winning start as they chase their 18th league crown this season. Veteran striker Hellen Chemtai and debutant Maureen Okoth also scored for Orange in their first match of the season.

Chemtai gave the reigning African Club champions the lead in the 12th minute after finishing off a cross from Audrey Omaido from the left before Mwangi got her first of the match at the quarter hour mark to give her team a 2-0 lead.

Seven minutes later, Mwangi made it three for Orange scoring her second of the game with a brilliant shot that beat Brenda Nandwa in the Vikings goal. There was still time for Okoth to score her first goal after been promoted to the senior team to give the African queens a 4-0 lead after a dominant first half.

Mwangi stole the show in the second-half with two more strikes in the 39th and 43rd minutes to put the result beyond doubt. Vikings rarely troubled Orange goalkeeper Ruth Njoki. The win saw Orange move level on three points with rivals Strathmore Scorpions who thrashed Daystar Falcons 8-0 on Saturday.

HAPPY WITH PLAYERS

Orange head coach Jos Openda was happy with his players: "We are still not 100 per cent efficient and we need to put in more work so that we can hit top gear as we aim to achieve our targets of the season which will be very long and tough," Openda said.

The seven time African club champions will defend their continental crown in Egpyt later this year.

In the men's premier league, 2013 champions Kenya Police beat Kenya College of Accountancy - University (KCA-U) 2-1 to make it two wins out of two in a hard fought victory.

International Brian Saina converted a Marvin Kuru penalty corner in the 13th minute to give Police the lead. Newcomer Robert Masibo scored via a backhand a minute later to double Police's lead, while Arnold Marango scored KCAU's consolation in the 63rd minute.

Earlier, Parkroad had beaten Strathmore University 1-0 with Paul Gumbe scoring the winner four minutes to the end.

Daily Nation


---

SSGC stun PIA as quarter-final line-up decided in junior hockey

Anwar Zuberi



KARACHI: SSGC forward scores a goal against PIA in the 34th National Hockey Championship at Hockey Club of Pakistan Stadium on Sunday.—Anis Hamdani/White Star

KARACHI: Sui Southern Gas Company (SSGC) humbled formidable PIA 3-1 to become group "B" leaders as quarter-final line-up was drawn in the 34th National Junior Hockey Championship at the Hockey Club of Pakistan Stadium on Sunday.

However, despite the defeat, the airlines made it to the last eight by virtue of finishing second in the pool. Former champions Wapda and Sindh attained first and second slots from pool "C" so did Punjab "A" and Khyber Pakhtunkhwa from pool "D".

Reigning champions National Bank of Pakistan and Railways have already stepped into the quarters by completing their league engagements on Saturday.

Two penalty corner conversions in a span of five minutes in the last quarter enabled SSGC thump PIA and sent shock waves. Zeeshan Bokhari drew blood for the SSGC by converting team's first penalty corner in the seventh minute. The lead remained intact until 40th minute when Owais-ur-Rehman, who had the honour of scoring double hat-trick against Punjab "B", brought the teams on even terms.

Zubair forged SSGA ahead (2-1) in the 50th minute while Mohammad Rizwan completed the rout in 55th minute.

Earlier, the quartet of Junaid Manzoor, Shahbaz, Bilal Mahmood and Hamza Sajjad shared eight goals amongst themselves as Wapda outplayed Gilgit-Baltistan 9-0. Mateen scored once.

In another match, Punjab "A" trounced Khyber Pakhtunkhwa 4-2 to register second win in the group. M. Ahad (PC), Mudassir, Asif Ali and M. Asif netted a goal apiece for winners while Fahad and Samiullah (PC) scored once for losers.

Hosts Sindh brushed aside Pak Board 2-1 to seize a place in quarter-finals. Obaidullah and Anas Siddiqui scored one goal apiece for winners in 17th and 55th minutes after M. Murtaza had opened the account for Pak Board in the 15th minute.

Monday's fixtures:

Quarter-finals: National Bank of Pakistan v Sindh at 3pm; Punjab "A" v PIA at 5pm.

Dawn


---

Malaysia to send the 'kids' for SEA Games hockey

By S. Ramaguru

KUALA LUMPUR: Malaysia are likely to field their National Juniors at the Singapore SEA Games in June.

Although there was discussion of having a mixed team of senior and juniors for the Games, National Juniors coach A. Arulselvaraj believes the plan is not feasible.

Malaysia cannot field their senior team as their priority is the World Hockey League Semi-Final, an Olympic qualifier, in Belgium from June 20-July 5. The SEA Games is slated for June 5-16.

"Right now, I think the National Juniors will play at the Games. We have been training hard the last few months and we will be ready for the challenge. If the senior team management make an early selection, we may include some of the drop-outs in our Games squad," said Arulselvaraj.

Arulselvaraj's squad are preparing for the Junior Asia Cup in Kuantan from Nov 14-22. The tournament is a qualifier for the 2016 Junior World Cup.

They are now in Perth for a five-match series with the Western Australia Institute of Sport (WAIS).

The Malaysians won 4-0 in the opening match on Friday and 3-1 on Saturday.

The third match will be played on Monday.

Arulselvaraj said the team would go for two more tours before the Games.

"We will play four to six matches with the Singapore national senior team from May 4-14. The matches will be at the Sengkang Hockey Complex where the Games event will be held," he added.

Only four team will compete at the Games. Besides Malaysia and Singapore, the others are Myanmar and Thailand. Malaysia only lost the gold once in the Games history – to Singapore in 1973.

"We have also been invited by India for a five-matches series with their juniors in Bangalore from May 20-30. We have accepted the invitation. These matches will be part of the run-up to the Games," said Arulselvaraj.

The Star of Malaysia


---

Former journo Johnson Fernandez new KLHA president..

By Jugjet Singh




FORMER journalist Johnson Fernandez (pic) was given the mandate to become the new president of Kuala Lumpur Hockey Association (KLHA).

KLHA is the most active association in the country, and Johnson had no challengers to the hot seat.

In fact, all the office bearers were unopposed, with V. Rajamanickam
returned as secretary.. a post he has held for the last 22 years.

Abu Huraira Yazid is still deputy president while the vice-presidents are Mej (rtd) Raj Kumar, Faithal Hassan, S. Samson and James Andrew. Daljit Singh remained as treasurer.

Founded in 1981, KLHA has many divisions in their league, as well as a handful of development programmes running simultaneously. There's never a dull moment at their field at Jalan Pantai.

Johnson, during his journalism days, was a hard-hitting columnist who had hockey closest to his heart.

"It's a honour to be the fourth president of KLHA, and I have many plans for the association, but I can't say much until I have a discussion with my council members at a later date," said Johnson.

Rajamanickam said the priority would be fund-raising as they have a full calender every season.

"We are a very active association but money is short after our president George Koshy left us. He use to fund many of our programmes, but now we will have to look for sponsors and that's our first priority now," said Rajamanickam.

The 'new' KLHA council then nominated Koshy for president and deputy president at the May 13 Malaysian Hockey Confederation (MHC) elections.

If Koshy gets two more nominations, he will be eligible to stand for presdient and the challenger would be Selangor HA president Datuk Seri Subahan Kamal.

"We have nominated George for president as well as deputy president for the MHC elections, while former KLHA vice-president K. Maheswari has been nominated for the women deputy president's post," said Rajamanickam.

S. Shamala, current MHC vice-president, will also stand for the women's deputy presdient elections. In the men's section, Datuk Nur Azmi Ahmad will be challenging Koshy and any other nominees.

"KLHA feel Shamala is wearing too many hats as she is also a council member of AHF (Asian Hockey Federation), in the FIH committee as well as vice-president of the Selangor HA.

"That's why we nominated former player Maheswari as she would be more available in MHC matters," said Rajamanickam.

However, Koshy and Maheswari were not consulted on their nominations, which close on April 28. They have until May 9 to withdraw from the race.

Koshy has repeatedly said that he does not want to stand for the MHC president's post and efforts to contact him were not returned.

Jugjet's World of Field Hockey


---

The three roads to Rio for PanAm hopefuls

World League, Continental Championships + special path for Brazil

Sarah Juggins, for PAHF




With less than 500 days to go until the Rio 2016 Olympics burst into life, more than 50 teams are still competing to book their places at one of hockey's most prestigious events. With 11 places in both the men's and women's competitions still up for grabs, any chance to book a slot at the Games will be fiercely contested, but just how does a nation achieve an Olympic qualifying slot?

India men and Korea women can relax and prepare over the next few months as these two teams have already booked their places courtesy of wins in the Asian continental qualifier, the Asian Games 2014. India beat Pakistan after a penalty shoot-out in the final of the men's competition, while Korea women recorded a surprise win over China.

For the Pan American teams, a win at the Pan American Games in Toronto this July will be enough to secure a spot at the Olympics, but competition in both the men's and the women's events is getting fiercer by the year.

In the women's competition, the favorites will be Argentina, but with a young and exciting Canadian team that was bubbling with confidence at the recent Hockey World League (HWL) Round 2 event also in their pool, Las Leonas must beware complacency in the early rounds of the competition. Great performances by Canada and Uruguay to secure places at the Hockey World League Semi Finals will see them accrue world ranking points that will significantly affect their place in the global standings. This Olympic cycle might have come too early for Uruguay, Mexico and Chile, but all three teams are heading in the right direction when it comes to moving up the international rankings.

Of course, one team in the women's event who will on tapping at the door to qualification will be the ever-improving USA. They are now ranked fifth in the world, moving ahead of both China and Germany. The recent four-test series against Argentina, where three games were drawn and the USA took all the points in the final game, is an indication of how far Craig Parnham's team has come in a very short space of time.

In the men's event Argentina are the highest ranked team, the bronze medal they won at the Hockey World Cup demonstrating the improvement that Carlos Retegui's side has made in recent months, but Canada will want to put on a great show in front of a home crowd and, like the Canadian women, they are a group of players who have garnered confidence from recent HWL R2 successes.

One team more than capable of causing upset in the men's pools will be Trinidad and Tobago. Driving force and veteran of the team, Kwan Browne, says that this is the first time the entire first choice team has been available for a major competition and there is a real hunger to qualify for the Olympics.

However, by the time the Pan American Games takes off in July, some of the teams involved might already have booked their slot to Rio 2016. A top three finish in one of the Hockey World League Semi-Finals guarantees a team a berth at the Olympics.

For those uninitiated in hockey competition, a quick word about the Hockey World League Semi-Finals. For many sports fans, the semi-final is the precursor to the grand finals. It is usually the round of play that consigns one team to the lesser medals and propels the winner to a shot at the top spot. Well, yes, in many competitions that is exactly what a semi-final is, but for the Hockey World League Semi-Final, this could be one of the most important competitions that a national team plays in.

This is because the Hockey World League Semi Finals offers a route to Olympic qualification, with the top placed teams in this year's four semi-final events (two men's and two women's) all guaranteed a berth for Rio 2016. The Hockey World League was introduced after 2012, with the aim of increasing opportunities for developing teams to progress. Teams ranked lower than 20 in the FIH World Rankings compete in HWL Round 1 competitions, with those that do well qualifying for Round 2. At this point, teams with a ranking from 12 to 19 enter the competition. The top two teams at each Round 2 event win through to compete in the Semi-Finals. At this stage the top 11 ranked teams enter the fray.

With Argentina, Canada, the USA and Uruguay all competing in the women's Semi Final in Valencia there is a very good chance that at least two Pan American women's teams will have qualified for Rio by the end of June.

In the men's Semi-Finals, which will be played in Buenos Aires, Argentina and Canada find themselves in the same pool as Germany, Spain and Austria. If the American contingent win through to the quarter finals, their most likely opponents are the highly-ranked Netherlands or New Zealand. South Korea, Japan and Egypt make up the teams participating in Buenos Aires, and all are capable of springing a surprise.

Brazil's route to Rio 2016 is a special case. As the host nation, Brazil's men's and women's teams were offered an alternative route to qualification. If either team had obtained a world ranking of 30 or higher (men) or 40 or higher (women) they would have been offered a qualification place. As neither team has achieved that, the other route is via a certain finishing position at the Pan-Am Games. The men's team can still qualify for the Olympics if it finishes sixth or higher in July's Pan American Games. The Brazilian women's team hasn't qualified for the Pan Am Games, so its Olympic dreams are over.

While Rio 2016 is a glittering target on the horizon, the next few months will provide hockey fans everywhere with some scintillating and fascinating competition, with teams fighting for their place at the top table of hockey. For the players and coaches it is a tense, nervy, potentially heart-breaking time: for the spectators and fans it is high drama and sport at its absorbing best.

Pan American Hockey Federation media release