All the news for Wednesday 15 April 2015

Black Sticks Women win 2-1 and take top spot



Mark Hager with Gemma Flynn at the presentation of her 200th international test. Credit: Hamish Burson

A goal from Gemma Flynn in her 200th international test has helped the Black Sticks Women secure a 2-1 win against Korea at the Hawke's Bay Cup in Hastings tonight. 

The win means the Kiwis finish top of Pool B and will face India in the quarter-final at 6pm this Thursday.

Black Sticks head coach Mark Hager says although there are still improvements to be made, he is pleased with the win and can see the progress the team is making.  

"I don't think we are playing at our best yet. I imagine the statistics were probably pretty even for both teams, so I'm just really pleased we hung in there and converted enough chances to get us over the line," said Hager.
          
"As a team, one of the things we spoke about was having to win these close games, and we have won two in a row now. Both those games have been tight and hard fought, and we have come out on the right side."

In cold conditions in Hastings tonight, Canterbury's Olivia Merry was the first to score from a penalty corner in the 17th minute with Flynn doubling the lead in the last quarter with a field goal. Flynn had a number of other opportunities in her milestone game, but couldn't quite convert.

"Gemma's game was really pleasing, I thought she was unlucky not to get another couple of goals. She is starting to hit some real form again and is giving us some good energy and go-forward up front."

Korea's Eunbi Cheon pegged one back in the 55th minute and the tempo increased as Korea pushed forward to try and find the equaliser, but New Zealand held on for the win.

In the earlier games today, Argentina won 2-1 against Japan thanks to first half goals from Carla Rebecchi and Florencia Habif. In the second game of the day, China upset the USA with a 2-1 win which gives them top spot in Pool A and a quarter-final game against Japan on Thursday.

In tonight's final game, India held world number two Australia to a nil-all draw with Australia finishing third in Pool A.

For all results, pool table, ticketing info and live streaming of all games go to www.hockeyfestival.nz

RESULTS

Game four: Australia vs India
Full time: 0-0

Game three: Black Sticks vs Korea
Full time: 2-1
Black Sticks goal scorers: Olivia Merry, Gemma Flynn
Korea goal scorers: Eunbi Cheon

Game two: USA vs China
Full time: 2-1 (China win)
China goal scorers: XU Xiaoxu, Meiyu Liang
USA goal scorers: Katie O'Donnell

Game one: Argentina vs Japan
Full time: 2-1 (Argentina win)
Argentina goal scorers: Carla Rebecchi, Florencia Habif
Japan goal scorers: Mie Nakashima

Hockey New Zealand Media release


---

China defeats Team USA in Final Minute, Quarterfinal Matches Set

The final pool match between the U.S. Women's National Team and China was vitally important in determining who they would meet in the quarterfinals of the Hawke's Bay Cup Women's Hockey tournament in Hastings, New Zealand.

Both teams had recorded a win and a draw so far in the tournament with the USA heading Pool A in points on goal differential.

The USA had a wealth of possession in the first quarter but were guilty of giving the ball away as China pressed hard in defense.

China opened the scoring in the 20th minute when Xiaoxu Xu capitalized on poor USA defense inside the circle and crashed the ball into the back of the net.

Just 7 minutes later, the USA tied the match when Katie O'Donnell (Blue Bell, Pa.) trapped the ball around 15 meters out and ran at the defense. The Chinese let her run and take a shot from close range to score when the ball deflected into the goal off a defenders stick.

China continued to make things difficult for the USA with strong tackling and a high work rate which resulted in a large number of turnovers and interceptions.

Both teams were creating chances on attack but it was China that broke the deadlock with just a minute remaining when Meiyu Liang scored.

Team USA finished second in Pool A with a win, a draw and a loss. They will meet Korea, who finished third in Pool B, on Thursday at 4:15 A.M. EST. ** Watch the game streamed live by clicking here. **

Hawke's Bay Festival of Hockey

USFHA media release


---

Roos to face Argentina

Hockeyroos to face ARG in quarter-final after drawing with India 0-0




The Hockeyroos will face 2014 Champions Trophy gold medallists Argentina in the Hawke's Bay Cup quarter-finals on Thursday, after the girls in green and gold were unable to find the back of the net Tuesday night, resulting in a 0-0 draw with India, in their final pool match of the tournament.

Pleased with the Hockeyroos' energy throughout the match, Head Coach Adam Commens said afterwards, "One of the things we tried to do after our last match was to have some fluidity through the pitch, and I think we had that tonight as well as creating ourselves some good opportunities. We're having difficulties in scoring and I'm unsure of why that is. We are training well and we certainly have a range of shots that we can use to finish off with.

"India scrambled really well tonight. Our penalty corner attacks are going to have to be a lot better executed in our next match against Argentina. I give all credit to India tonight, they defended well in our attacking circle."
   
The quarter-final on Thursday will reunite the Hockeyroos and Argentinians together, having not played each other since the 2014 Champions Trophy in Mendoza, where the Hockeyroos went down to Argentina in the gold medal final 3-1 on a shoot-out.

Discussing the team's preparation for their match against Argentina, Commens commented on how they would prepare for what will be a tough quarter-final on Thursday.

"We need to do the same as we did tonight with high energy levels, good pressure and good patience in moving the ball from one side to the other. If we can do this well, we will hopefully open up critical plays in the circle and create ourselves more opportunities against Argentina in the quarter-final."

The Hockeyroos started the match off well dominating their attacking circle and controlling the majority of the ball possession, however, it was ultimately their execution in the circle that failed them against a robust Indian defence.

India's chance to lead the way came at the 17th minute mark, after a penalty stroke was called against Australia. Cool, calm and collected, Hockeyroos' goalkeeper Rachael Lynch quickly denied India of their opportunity, and the score remained 0-0.

The Hockeyroos received two critical chances to make their comeback and to break the match deadlock in a five minute period. With 10 seconds remaining on the clock before the halftime siren and 30 seconds after the halftime break, Jodie Kenny and her prowess drag flick stepped up to the top of the circle, however, couldn't find the target on these occasions.

Unable to convert their attacking opportunities throughout the 60 minutes of play, Australia and India settled with a 0-0 deadlock on the final siren.

At the other end of the spectrum, the Hockeyroos welcomed back South Australian forward Georgie Parker, who missed out on their second match against China due to an ankle strain during their first pool match of the Hawke's Bay Cup.

Tonight's match was a special milestone for Commonwealth Games gold medallist Brooke Peris, who made her 50th appearance in the Hockeyroos' bodysuit after debuting for the Australian women in April 2013.

The Hockeyroos will face Argentina in the Hawke's Bay Cup quarter-final on Thursday. The final takes place at 1:45pm AEST / 11:45am AWST and will be available to watch live online via the Hawke's Bay Festival official website.

Hockeyroos, Events, FIH News
Match Three - Hawke's Bay Cup

Hockeyroos: 0 (0)
 
India: 0 (0)
              
Hockeyroos Squad
Athlete (Hometown, State) caps/goals
Started
Teneal Attard (Mackay, QLD) 203/10
Madonna Blyth (Brisbane, QLD) 298/66
Edwina Bone (Evatt, ACT) 68/2
Kate Jenner (Tamworth, NSW) 112/1
Jodie Kenny (Wamuran, QLD) 134/76
Rachael Lynch (Melbourne, VIC) 121/0
Karri McMahon (Berri, SA) 64/6
Georgia Nanscawen (Melbourne, VIC) 152/30
Ashleigh Nelson (Wagin, WA) 172/63
Kathryn Slattery (South Stirling, WA) 12/3
Emily Smith (Crookwell, NSW) 114/47
                                    
Used Substitute
Jane Claxton (Adelaide, SA) 57/5
Kirstin Dwyer (Mackay, QLD) 70/2
Georgina Morgan (Armidale, NSW) 9/0
Georgie Parker (Berri, SA) 74/23
Brooke Peris (Darwin, NT) 50/8
Mariah Williams (Parkes, NSW) 11/2
  
Unused Substitute
Ashlee Wells (Morwell, VIC) 46/0

Hawke's Bay Cup Standings
Pool A
1. China (7 points, 3 games)
2. USA (4 points, 3 games)
3. Australia (3 points, 3 games)
4. India (1 points, 3 games)
  
Pool B
1. New Zealand (7 points, 3 games)
2. Argentina (6 points, 3 games)
3. Korea (3 points, 3 games)
4. Japan (1 point, 3 games

Hawke's Bay Festival, 11-19 April 2015
Hawke's Bay, New Zealand
Thursday 16 April, Hockeyroos v Argentina, 1:45pm AEST / 11:45am AWST [Quarter-Final]
Saturday 18 April, Semi Finals
Sunday 19 April, Finals and classification matches

Hawke's Bay Festival Competing Teams and Rankings
Australia (World ranking #2)
Argentina (#3)
New Zealand (#4)
China (#5)
USA (#8)
Korea (#9)
Japan (#10)
India (#13)

Hockey Australia media release


---

Indian women hold mighty Australians to 0-0 draw in Hawke's Bay Cup

Hastings (New Zealand): After two consecutive defeats, India women's hockey team put up a much-improved show to hold world No. 2 Australia to a goalless draw in their third match of the Hawke's Bay Cup, here on Tuesday.

By virtue of this result, the Indian eves opened their account in the points table of the tournament while Australia registered their third consecutive draw.

World No. 13 India had earlier lost 1-2 to China before going down 2-4 against USA.

But the Indian team looked a motivated lot on Tuesday as their backline defended stoutly to deny a goal to the mighty Hockeyroos.

Indian goalkeeper Savita starred under the bar pulling off numerous saves to leave Australians frustrated.

The Indians defended stoutly from the word go to keep Australia at bay in the first quarter.

The Hockeyroos had two penalty corners in the opening 15 minutes but on both occasion, the Indian custodian Savita saved her side with brilliant saves.

The Indians continued to play in the same vein in the second quarter and defended in numbers to deny Australia.

In the second quarter, India wasted a great chance to surge ahead when they were awarded a penalty stroke after Anuradha Thockchom was brought down inside the circle but the opportunity went in vain.

After halftime, India secured their first penalty corner but wasted the opportunity.

In the fourth and final quarter, Australia went on the offensive and attacked in numbers but Indian goalkeeper Savita made a goal line save to keep a clean slate for her team.

India will next play hosts New Zealand on April 16.

The Times of India


---

The Wall of China stands strong

China and New Zealand top pools as Australia fail to break deadlock




With a major year of Olympic qualification ahead of them, the eight teams competing at the Hawkes Bay Festival of Hockey in New Zealand are all seeking the opportunity to try new strategies, integrate new players and assess the opposition, ahead of the all-important Hockey World League Semi-Finals in June.

And it has been an intriguing set of pool matches as the Asian contingent of China, Japan and India have all sent out strong defensive sides and sought to break down the more attacking styles of the other five teams. The two outstanding results of the pool matches have been New Zealand's 3-2 victory over Argentina - a result that delighted the home fans; and the sight of a staunch India defence holding the world's number two team Australia to a 0-0 scoreline.

In the quarter-finals, taking place on Thursday, Asian rivals China and Japan will face each other for the first time since the Asian Games where China won silver and Japan finished fourth; world number three side Argentina take on Australia in a re-run of the 2014 Champions Trophy final; home side New Zealand will play India and the USA will face Korea – the only team to have booked its place at Rio 2016.

At the Hawkes Bay Festival of Hockey, it is not just about international hockey, although the chance to see 64 matches of top class action is a huge draw in its own right. Hockey fans visiting the fantastic facility will also be able to see the stars of the future take to the field in the competitive local secondary school invitational hockey tournament.

Meanwhile, over at Park Island, Hockey New Zealand's Affiliates Tournament will feature men's and women's representative sides from Australian Country, New Zealand Maori, New Zealand Indians, New Zealand Masters, New Zealand Senior XI and Hawkes Bay representative sides.

While the eight nations tournament will give an idea of the form of the top teams as they prepare for the Hockey World League Semi-Finals, the Hawkes Bay Festival is also a fantastic showcase for the enduring and wide appeal of our sport.

FIH site


---

Scots duo in Great Britain squad to face Germany



Chris Grassick in action for club side Surbiton

Scotland internationals Chris Grassick and Gordon McIntyre have been included in the Great Britain squad to face Germany in London.

Great Britain Men's Head Coach Bobby Crutchley has named a squad of 20 athletes ahead of the showdown with final 18 athletes will be selected today to face the world number three side as both teams head back to Queen Elizabeth Olympic Park for the first time since London 2012 where Germany won Gold.

Speaking ahead of the game tomorrow night Head Coach Bobby Crutchley said: "It's a great opportunity to play against Germany in front of a sell-out home crowd on [Queen Elizabeth] Olympic Park as we continue our preparations for the World League Semi Final in June.

"We played Germany last month in Mannheim and that game finished in a draw [2-2] and I'm sure this will be another close encounter against a quality opponent. Both teams [Great Britain and Germany] have a really busy summer ahead and for Germany I think they will be looking forward to the chance to play at Lee Valley [Hockey and Tennis Centre] ahead of the EuroHockey Championships in August."

"It's so important to play these one off internationals in front of crowds as we head into a summer of big tournaments; it's great experience for the younger members of the squad and it's really exciting for the whole team to see these one off internationals proving to be so popular with the public. We'll have a real home advantage with 3000 fans cheering us on."



Gordon McIntyre

The Great Britain squad contains four athletes who competed at the 2012 Olympic Games; defender Iain Lewers and midfield maestros Harry Martin, Ashley Jackson and skipper Barry Middleton. Dan Fox and Nick Catlin, who were also members of the London 2012 team, which finished fourth, are sidelined through injury, along with Phil Roper.

Richard Smith and Simon Mantell are also not in contention at this time as they continue to recover from long term injuries. 16 of the 20 athletes named by Crutchley were part of the team who played out a 2-2 draw when the sides met in Mannheim last month.

Barry Middleton and David Condon netted for Great Britain on that occasion with Tobias Matania and Pilt Arnold on target for the Germans. Scotland duo Chris Grassick and Gordon McIntyre made that trip and bring a significant amount of experience to the squad having represented their home nation 80 and 63 times respectively.

The squad Germany have brought for the Nations Cup contains seven members of the London 2012 Olympic Gold medal winning side, Moritz Furste, Tobias Hauke, Jan Philipp Rabente, Christopher Zeller, Florian Fuchs, Christopher Wesley and Oskar Deecke. Nicolas Jacobi and Linus Butt were the two reserves. Keep an eye out for Number 14 Rabente, who scored both goals in the final. The squad also contains two former FIH World Players of the Year (Furste and Hauke) and four former FIH World Young Players of the Year (Ruhr, Fuchs, Hauke and Zeller.)

Scottish Hockey Union media release


---

Great Britain downed by clinical Germans



Barry Middleton Great Britain vs Germany

In a closely fought encounter Germany triumphed as they beat Great Britain by two goals to one in front of a sell out crowd at the Lee Valley Hockey and Tennis Centre. The hosts took the lead in the 19th minute through Wimbledon's Alastair Brogdon, but in the third quarter two goals in the space of a minute from Mats Grambusch and Christopher Wesley were enough to see the current Olympic and European Champions home. 

With both sides comfortable in possession, the opening 15 minutes was a well balanced affair. Germany forced the first save of the night when Niklas Wellen shot on his reverse but George Pinner was on hand to make a save low to his left, in a quarter of few goal scoring chances.

The deadlock was broken in the second period when Great Britain's Alastair Brogdon found the net. Cutting in from the left, the number 11 bulldozed his way through a crowded German circle, dodging tackles and calmly lifting the ball over Nicolas Jacobi between the posts at the second attempt.
As the World No3 side searched for an equaliser it wasn't long before Pinner was called into action again, firstly tipping onto the post from Christopher Zeller and then pushing over the bar from a fierce Wesley strike. The Great Britain defence held firm though and went into the break with a one-goal advantage.

The home side controlled the opening stages of the third quarter, threatening from penalty corners and hassling their opponents on the ball. However, it was Germany who turned the tie on its head in the 41st minute scoring twice within 60 seconds. Firstly, Grambusch volleyed home from close range following a penalty corner before Wesley doubled their lead. The German forward pounced on a loose pass in the middle of the field and drove through the heart of the defence, lifting the ball over a helpless Pinner.

Bobby Crutchley's men pressed for an equaliser in the final 15 minutes, substituting Pinner for an extra outfield player. Iain Lewers, bursting out from defence, found an unmarked Barry Middleton in the German circle. However, the England and Great Britain captain fired his reverse stick effort just wide of Jacobi's far post and the Germans held on to run out 2 – 1 winners.

German Captain Tobias Hauke was pleased with Germany's performance:
"I think that was a really tough game against GB, like always. Today we had a great atmosphere and it was good for us. It was our first time playing in this stadium and we are looking forward to coming back in August to play in the European Championships.

Great Britain goal scorer Alastair Brogdon [Wimbledon] spoke to us after the game: "In the first half we played some really good hockey. It was a tight match. We had a disappointing three or four minutes where they snatched two quick goals and that cost us the game. We'll take some positives out of it and look at the things we can do moving forward from here. It was nice getting the first goal. It was a nice little run and finish but it was disappointing that didn't lead to a victory for us."

Speaking after the game on his team's performance, Great Britain Head Coach Bobby Crutchley commented: ""It was a frustrating night I think. We defended well in the first quarter and started to play some good hockey, but unfortunately we gifted them a couple of goals with two basic errors and it was always going to be difficult to come back when you're playing against a side like Germany." He added "We only showed glimpses of what we are capable of tonight and that's the bit which is frustrating. We could have snuck a draw near the end when we had a good chance, but it didn't come off for us tonight."

Great Britain 1 (1)
Alastair Brogdon 19 (FG)

Germany 2 (0)
Mats Grambusch 41 (PC)
Christopher Wesley 42 (FG)

Looking ahead to the match against Australia on June 13th: "It will be another great game for us to get ourselves up to speed. These are the games that we want to play as we want to set our standards at the very best. That's why we invite these teams here and that's why they want to come."

The next international clash at Lee Valley Hockey and Tennis Centre sees Great Britain women return to the scene of their bronze medal triumph on Sunday 26th April. Your next opportunity to see GB men in action is on Saturday 13th June when they take on World Champions Australia. Advanced tickets for both events are available to purchase here.

England Hockey Board Media release


---

Who will reign in Spain?

Valencia is all set to serve up some tasty fare, on and off the pitch




Valencia is on the stretch of Spanish coastline known as 'The Orange Blossom Coast' and while it was under Muslim rule, more than 1,900 years ago, it was known as the 'City of Joy.'

Whether the 10 teams who will be competing in the Spanish city in one of the two women's Hockey World League Semi-Finals taking place in June will find joy in the city will depend upon results, but for the fans visiting the area, there is much to see and enjoy.

The Mediterranean city enjoys a warm climate, with temperatures in June sitting around 27 degrees celsius, and rainfall will be low to non-existent. For the hockey players, there are two prizes at stake during this tournament. The top four teams in each Semi-Final will earn the right to play a glittering showcase HWL Final at the end of the year –in India for the men and Argentina for the women. This is the culmination of a two-year cycle of HWL events, and will establish teams at the top of the hockey tree, with all important ranking points at stake.

Also at stake are three places at the Olympic Games in Rio 2016. The top three placed teams from the HWL Semi-Finals will win a spot at one of hockey's premier events, so it is easy to see why the teams are viewing Valencia with a mixture of trepidation and excitement.

For the fans it is an amazing line-up of hockey talent. Joining host nation Spain will be the high ranking Argentinians (ranked 3 in the world), China, Germany, Great Britain, South Africa and the United States –all of whom have a top 12 ranking and will be hoping to secure their passage to the Olympics. And this year they will be joined by lower-ranked teams Canada, Ireland and Uruguay, who all qualified for this event courtesy of great performances in the HWL Round 2 events.

While all the players' thoughts will be on events on the pitch, the fans will have time to visit some of the cultural and entertainment offerings of Spain's third largest city. The jewel in the cultural crown is the City of Arts and Sciences, a futuristic complex of cinemas, theatres, galleries and exhibitions.

From here, a visit to the Museo de Belle Artes should also be on the radar, here visitors can get up close and personal with some of the greatest artists to have emerged from Spain –El Greco, Goya, Velazquez and Murillo –you don't have to be an art enthusiast to recognise the enormity of these artists' talent.

For a combination of architecture and local food delights, the Mercado Central caters for both. Walk around the edge of the market admiring the fabulous architecture, then dive into the smells and atmosphere of a frenetic swirl of colour, spice and culinary magic.

One final word on Valencia. It is the home of the paella, and with the sea just a stone's throw from the city centre, fans can try Valencia's signature dish.

FIH site


---

No television coverage or streaming for hockey competitions at Pan Am Games in Toronto…

Legal and financial constraints prevent PAHF from streaming




The Pan American Games are now less than 100 days away, and anticipation is building for all involved. The Organizing Committee has moved into top gear, the athletes are well into their preparation and the spectators are making plans to see the action. Those lucky enough to have the possibility to be in Toronto have bought their tickets (or should do so quickly at http://www.toronto2015.org/tickets !) and those further away are checking the TV and streaming programs to make sure they can catch as much action as possible.

Unfortunately however, and sadly for hockey fans all over the Americas (and elsewhere in the world), the field hockey competitions will not be broadcast or streamed on-line…

This deeply disappointing news has started to spread in the last few weeks and has triggered surprised and angry comments from the field hockey community. Fans are now used to following international competitions from around the world, sometimes on TV, more often on their computer (who has not discreetly watched a match in class or in the office?). How is it possible that our continental quadrennial flagship competition, a direct Olympic Qualifier, will neither be broadcast, nor even streamed?

In the Pan American Games, PAHF only controls the technical aspect of the competition, just like the FIH only controls the field-of-play at the Olympic Games. Everything else is dictated by the "Franchise Holder" (IOC for the Olympics, PASO for the Pan American Games) and by the Organizing Committee (TO2015 for the Games in Toronto). Everything else, including the broadcast rights…

PASO (Pan American Sport Organization) contracted the CBC (Canadian Broadcasting Corporation) to be the "Host Broadcaster", meaning they are in charge of producing the raw TV feed from the various venues. These feeds are in turn sold to broadcasting companies having paid the broadcast rights.

Most reasonable people understand that, if there is a TV feed produced, it is up to the national broadcasters to pick it up and that it is fair to prevent other type of broadcast (or streaming) to protect the investment of those having paid for the rights.

Regrettably, the agreement between PASO and CBC did not include all sports and no TV feed will be produced for the hockey competitions…

Many continental sport organizations, including PAHF, immediately assumed that they could fill this void, produce their own feed and stream it on their web site. An expensive endeavour but certainly worth it to satisfy the many "fans back home".

Not so simple, unfortunately, since all the broadcast rights have been sold to a third party, giving them the latitude to resell them to broadcasters across the Americas. This company has no real interest in the Games themselves, in the competitions or in the sports fans; they are a financial institution needing a return on their investment and they categorically refused to let the continental sport organizations stream the competitions not covered by TV, unless they purchase the broadcast rights for every single country where the stream would be accessible…

In other terms, they prefer to protect their rights to nothing (since there is no feed produced) rather than cooperate with the continental sport organizations in the interest of sport and sports fans…

PAHF has tried for months to resolve the situation. Meetings were held with the Organizing Committee, the matter was brought to the attention of the PASO assembly, PAHF President Alberto "Coco" Budeisky has tried to meet with the company holding the rights. The PAHF Board had accepted on principle the budget to contract a streaming company (an expensive proposition for a 48-game competition spanning 12 days) but purchasing the broadcast rights for the Americas is of course well beyond the financial resources of our organization.

In the end, PAHF had to accept that there are too many financial and legal obstacles, and no possible reconciliation between our desire to showcase our sport and the interests of TO2015, PASO and the rights holding company.

PAHF deeply regrets this situation. We are however still working at finding a compromise that could satisfy all parties, with a series of meeting scheduled in the coming weeks to try and find a solution in the best interest of the hockey community.

We have also lined-up an extended Communications team on-site in Toronto (three experienced media officers, two local volunteers and a dedicated photographer) in an effort to cover the hockey competitions on the PAHF web site and social media channels as much as possible, given the constraints of a multisport event such as the Pan American Games.

Pan American Hockey federation media release


---

The team surprised me: Van Ass

Chief coach Paul van Ass said that he was surprised with the way the Indian team came back to win the bronze medal at the recently concluded 24th Sultan Azlan Shah Cup.

India did not start well at the tournament, drawing 2-2 with South Korea and losing to New Zealand (1-2) and hosts Malaysia (2-3).

However, they made an incredible turnaround to beat Canada (5-3) and reigning world champions Australia 4-2 to qualify for the bronze medal match where they beat South Korea in the penalty shootout on Sunday.

"We started with not so good results but our boys recovered well. Beating Australia boosted the confidence of our boys and we got positive results from our new strategies and team combinations," said van Ass. "They have surprised me with their high-level performance against Australia. It is good to see India in the semifinal of the tournament and I expect better performance in upcoming competitions."

India captain Sardar Singh said that forward Nikkin Thimmaiah and goalkeeper PR Sreejesh raised their game which led to their bronze medal winning performance. "Our team started slow in the tournament as we have given opportunities to some young players. But the best part is that these young boys recovered quickly from the early jolts," said Sardar.

"Though we came under pressure after disappointing results in the first few matches, we maintained the same target to give the best in every match and our boys did the same. Sreejesh and Nikkin played brilliantly and they have raised their levels in the tournament."

The Tribune


---

Sreejesh, Nikkin have raised their levels: Sardar

NEW DELHI: Indian hockey team captain Sardar Singh has said that forward Nikkin Thimmaiah and goalkeeper PR Sreejesh raised their game-levels which led to their bronze medal winning performance at the recently concluded 24th Sultan Azlan Shah Cup in Malaysia.

India did not start well at the invitational tournament in Ipoh following their 2-2 draw against South Korea and two consecutive losses to New Zealand (1-2) and hosts Malaysia (2-3).

However, they made an incredible turnaround to beat Canada (5-3) and reigning World Champions Australia (4-2) and qualify for the bronze medal match, in which they beat South Korea in the penalty shootout on Sunday to grab the metal.

"Our team started slow in the tournament as we have given opportunities to some young players. But the best part is that these young boys recovered quickly from the early jolts," said Sardar.

"Though we came under pressure after disappointing results in the first few matches, we maintained the same target to give the best in every match and our boys did the same. Sreejesh and Nikkin played brilliantly and they have raised their levels in the tournament."

This tournament was the first one under new chief coach Paul van Ass and the playmaker said that it was a good experience playing under the Dutchman.

"This is also our first tournament under coach Paul van Ass and it was a good experience with him. We tried some new strategies and team combinations which worked positively. The experience in the tournament will surely help us for our upcoming Hockey World League," said the skipper.

The Times of India


---

Nikkin Thimmaiah living his dream with hat-trick against Aussies

Rutvick Mehta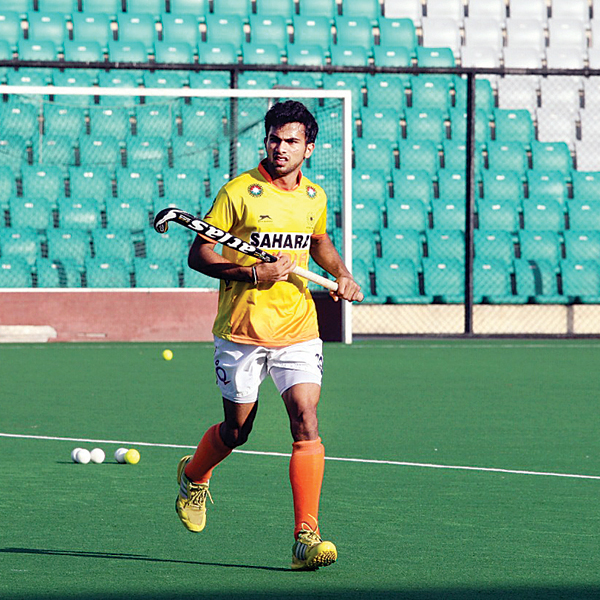 Nikkin Thimmaiah says India played fearless hockey against Australia

Nikkin Thimmaiah is still struggling to digest what he did four days ago. Scoring a goal against Australia – the world's best hockey team – is a task in itself, let alone a hat-trick. The 24-year-old did just that to record a famous win for India at the recently-concluded Sultan Azlan Shah Cup in Malaysia.

Nikkin Thimmaiah is still struggling to digest what he did four days ago. Scoring a goal against Australia – the world's best hockey team – is a task in itself, let alone a hat-trick. The 24-year-old did just that to record a famous win for India at the recently-concluded Sultan Azlan Shah Cup in Malaysia.

The 4-2 win meant India qualified for the third-fourth place playoff against Korea, and came back with a bronze medal after three years. Thimmaiah played his part in that game too, scoring a goal in regulation time before India won 4-1 on penalty shootout.

But it's the hat-trick that is still fresh in his mind, and the youngster found it hard to put his thoughts into words.

"It was a totally different feeling," Thimmaiah told dna from Bengaluru on Tuesday, a day after the team returned from Malaysia. "I never expected that I will score a hat-trick against such a great team, the World No. 1 team. I was living my dream. It came true for me, thankfully."

Not only did that hat-trick come in front of Thimmaiah's childhood idol, Australia's Jamie Dwyer, it also gave the team its first solid win in the tournament after a string of poor results. According to Thimmaiah, they played fearless hockey against the world champions.

"We didn't have any pressure in that match, we just wanted to win. We had won the 'Test' series in Australia earlier (in November 2014), so we just wanted to give our best. We did give our best. Everyone played fearlessly. I guess it was just my day. I got lucky," he said.

He earned praise from skipper Sardar Singh, who said Thimmaiah raised his level in the tournament.

It was India's first tournament under their new coach Paul Van Ass, and Thimmaiah said it was important for the boys to get a hang of his coaching style.

"This was a big tournament, our first under a new coach, and it was totally different for us. We've been playing under different foreign coaches, where we don't get much time to get used to their coaching styles. But we just listened to whatever he told us, and gave our best on the field. Overall, it went very well under him," Thimmaiah, who also scored in India's opening game against Korea, said.

And like the Dutchman, Thimmaiah too felt that the team played just one bad game in the tournament, a 2-3 loss to Malaysia.

"Honestly, I think we played really well in the first two games. We played better against New Zealand, had more circle penetrations, but the results didn't favour us that day (1-2). We lost against the hosts, and then we really wanted to win the remaining matches. We got really hungry," he said.

Thimmaiah felt that this squad has it in it to beat the top teams consistently, but added that they need to improve on converting scoring opportunities.

"We have a lot of time to prepare for the 2016 Olympics, and we played this tournament without some experienced players like SV Sunil (injured). So once we play our full strength, we can do really great things with this team," he said.

DNA


---

Change in strategy helped us at Azlan Shah: Nikkin Thimmaiah

Ritu Sejwal

NEW DELHI: It was young Indian forward Nikkin Thimmaiah's hat-trick against defending champions Australia that brought a struggling India back into reckoning for the bronze medal in the Sultan Azlan Shah Cup hockey tournament.

The modest Bangalore lad, however, preferred to give credit to "team effort". Talking about the team's new coach Paul van Ass' contribution, Nikkin said the Dutch took every result in a positive stride.

"We barely had two weeks of training under our new coach. Given that, I think we did pretty well. After our first two matches we started playing better, listened to the coach and played without pressure," Nikkin told TOI on Tuesday.

"There are ups and downs in matches and we accepted our mistakes. The coach (Van Ass) did not put any pressure on us and handled our defeats with a cool mind. He made sure we improved with every match. He has been good to us and his strategies are helping our game," he added.

Following a draw against South Korea (2-2) and two consecutive defeats against New Zealand (1-2) and Malaysia (2-3), the Indians raised their game to beat Canada (5-3) and Australia (4-2) and went on to blank the Koreans 4-1 in the fight for the bronze medal.

"We missed goal scoring opportunities against New Zealand and Korea in the league stage and failed to put pressure on the opponents. The coach tweaked our strategy a bit - he pushed the forwards a bit more and even the midfielders played a little higher. It worked for us," Nikkin explained.

On their encounter with Australia, who went on to clinch a silver, Nikkin said: "We had beaten Australia earlier in the 'test' series, so we entered the match with confidence and concentrated on our game plan. We analysed the videos of our past matches and learned from them. We wanted to do our best and picked pace from the first minute when Raghunath converted the penalty corner."

India had registered a 3-1 victory over Australia in the 'test' series last year. The team will now prepare for the series in Japan to be played in May and the World League Finals slated for December.

The Times of India


---

Patiala set up final clash with Namdhari XI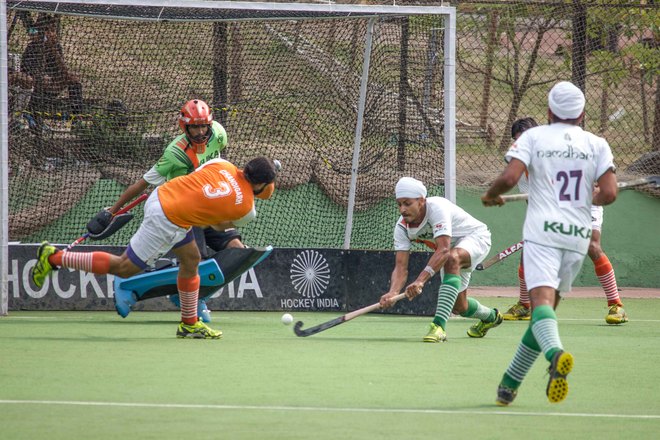 Chandigarh (orange) and Namdhari XI players in action during the senior Nationals. Hockey India

Pune, - Hockey Patiala will face Namdhari XI in the final of the fifth edition of the senior men's National Championship (Division B) after registering a 4-1 win over Hockey Himachal.

Namdhari XI beat Chandigarh Olympic Association 3-1.

In the first semifinal, Hockey Patiala scored through Manjinder Singh (10th minute), Harwinder Singh (16th), Amritpal Singh (29th and Ajay Kumar (30th) to get the better of the Himachal side, whose lone goal was scored by Hardeep Singh in the 47th minute via a penalty stroke.

Later in the day, Gagandeep Singh struck twice (4th, 44th) for the Namdhari XI while Kuldeep Singh (29th) scored the other to prevail over Chandigarh Olympic Association, whose only goal came from the stick of Lovedeep Singh in the 52nd minute.

Mysore: Hockey Punjab outclassed Madhya Pradesh Hockey Academy 9-1, Services Sports Control Board beat Hockey Maharashtra 5-1 and Hockey Odisha beat Hockey Bhopal 4-1 on the first day of the fifth edition of the junior men's National Championship (Division A) in Mysore.

In the other match of the day, Hockey Karnataka held Manipur Hockey 2-2.

Hockey Punjab's Ajit Pandit scored two goals (20, 21 min) to give the initial lead. Harmanpreet Singh (29 min) dexterously scored the third goal through a penalty corner.

Madhya Pradesh Hockey Academy opened their account in the 30th minute through Shahbaz Uddin's field effort. Ajit Pandit scored two more field goals (33, 43 min) to make it 5-1. The Punjab outfit scored four more field goals — through Ajmer Singh (44th, 49th and 69th min) and Sukhjeet Singh (58 min) — to finally make it 9-1.

The Tribune


---

2015 Cal Cup Participants Invited to Tour the Presidential Library and Museum

MOORPARK, Calif. – The Ronald Reagan Presidential Library invites 2015 Cal Cup participants to tour the Presidential Library and Museum during May 19-26, 2015.

Enjoy discounted admission, meals and transportation for teams, managers, umpires and spectators all attending the Cal Cup.
    $3 off adult/senior admission - $1 off youth/child admission
    10% off food purchases in the café.  Discount does not apply to alcohol, is not in conjunction with other discounts or offers, valid only for the dates mentioned and the person with the café coupon (located at the bottom of the flyer) must pay for their group with one transaction.
    10% off transportation. Call Roadrunner Shuttle at 800-247-7919 and say "Reagan Library" to receive the discount.
The library features exhibits on Air Force One, Presidential Oval Office, Berlin Wall and much more.

Be sure to download the flyer and present it to the Admission Desk for discounts.

About Cal Cup:

Cal Cup is a United States elite field hockey tournament featuring the highest level of competition for national and international clubs and teams held annually over the Memorial Day weekend. Competitors include teams, players and umpires from Argentina, Australia, Canada, England, Germany, Holland, India, Ireland, Mexico, Spain, Trinidad Tobago, USA and Taiwan amongst others. For more information, click here.

USFHA media release


---

Wapda win Nishan-e-Haider Hockey trophy

LAHORE - Pakistan Wapda beat Pakistan International Airlines (Whites) 5-4 in a closely-contested final of the 10th Nishan-e-Haider Hockey Tournament which was decided in the sudden death stage of penalty shoots at the Dring Stadium on Tuesday.

According to Pakistan Hockey Federation (PHF) spokesman, the final, as expected, was full of thrill and entertainment which was highly enjoyed by the pack to capacity crowd.

The final started at a high pace during which both the teams launched a series of attacks against each other.

The ball kept rolling between the two halves.

Both the contestants had skilled and experienced forwards in their ranks who demonstrated brilliant stick work, however, both the teams failed to open their accounts in the first two quarts.

Soon after the match started in the third quart, Imran, Irfan and Adnan made a productive move and got a penalty corner for Wapda.

Zubair Riaz successfully deflected the ball on rebound in the 33rd minute to give lead to his team.

PIA (Whites) came back in the match in the last quart amid an enthralling move made by Zubair and Amir Shehzad which created a penalty corner.
Waseem Akram converted in the 46th minute.

After leveling the score, both the teams pressed hard, particularly PIA made some ferocious attacks but failed to make any dent into the sturdy defense of Wapda.

The match ended 1-1 draw in the stipulated time.

In the penalty shoots stage, both the teams scored three goals each and in the sudden death stage, PIA's Zubair failed to dodge the goalkeeper but Wapda's Irfan netted it cleanly to give his team a well-deserving victory.

Wapda was awarded a cash prize of Rs 100,000 while PIA walked away with Rs 50,000.

District Coordination Officer (DCO) Bahawalpur Imran Skindar Baloch was the chief guest who awarded the winning trophy to Wapda's captain.

The Nation


---

Dar asks AGP to conduct five-year audit of PHF

Kashif Abbasi

ISLAMABAD: The federal government in a major development on Tuesday decided to conduct a five-year audit of the Pakistan Hockey Federation (PHF).

Finance Minister Ishaq Dar has asked the Auditor General of Pakistan (AGP) through an official letter to urgently conduct audit of the PHF from 2009 to 2014, according to an official handout released by the Press Information Department.

The finance minister while speaking to reporters last Saturday hinted that the government would not release funds for the PHF without holding its audit. "We have sufficient funds and there is no issue for the government to release funds for the PHF but there are audit and transparency issues," he had said.

On the other hand, Minister for Information and Broadcasting Pervaiz Rashid had also said that sufficient funds had been provided to the PHF in the past years than any other sports federation but the grants were not utilised properly.

An official at the Ministry of Inter Provincial Coordination (IPC) told Dawn on condition of anonymity that the government was reluctant to release funds before the audit. "We have special plan to revive hockey and we have no qualms in releasing the required funds for the PHF but there is the issue of audit, for we fear that once again the funds might be wasted," the official said while stating that large amounts were not utilised for the revival of the national game in the past.

However, it is also a reality that the country's hockey governing body at the moment is faced with acute shortage of funds forcing it to relocate a training camp from the federal capital to Lahore. The PHF was finally able to restart the training camp after a lapse of 10 days in Lahore, for the federation succeeded in getting financial assistance from Punjab Chief Minister Shahbaz Sharif and the Punjab Sports Board.

It is also instructive to note that the cash-strapped PHF has been striving to get a chance to meet Prime Minister Nawaz Sharif who happens to be the PHF patron. However, the prime minister has so far been failed to spare time for the meeting from his busy schedule with four scheduled meetings between the prime minister and PHF officials being postponed so far.

The PHF officials were expecting that through meeting with the prime minister they would be able to get the required funds released to start preparation for the upcoming international events. However, all went in vain.

Also, the PHF had last year moved a summary to the prime minister for the release of a bailout package of Rs500 million but the matter remained unattended either in the IPC Ministry or the Prime Minister's Office. However, later on in a major breakthrough the IPC recommended Rs 350 million after rejecting the PHF request for granting it Rs500 million.

On the other hand, , no special funds were released for the PHF during the tenure of the incumbent government further crippling the country's hockey governing body financially as a result of which Hockey India jumped into the matter by offering special funds for to the PHF.

But it did not prove a boon for the PHF, for the sources said that the financial offer extended by the Indian board annoyed the federal government which decided to release funds for PHF but after conducting its audit.

Speaking to Dawn, PHF secretary Rana Mujahid said that the federation would fully cooperate with the government auditors. "We welcome this move. We are ready for audit," maintained Mujahid who also stated that incumbent government never released a single penny in shape of special grant. "We are just getting Rs3.5 million annually from the PSB," he further said.

When asked about over Rs1 billion released by the PPP government to the PHF, Mujahid, who also requested the government to release special funds for the survival of the national game, said that audit of that amount had already been conducted and "we will present that audit reports to the auditors."

"We have no issue with the audit. This is a positive step but at the same time we request the government to release funds as we have to participate in several international competitions including Olympic qualifying round," said the PHF secretary.

Dawn


---

Ishaq Dar orders PHF audit from 2008-13 before releasing funds

ISLAMABAD - Federal Finance Minister Ishaq Dar has ordered Auditor General Pakistan (AGP) to conduct audit of Pakistan Hockey Federation (PHF) from 2008 to 2013.

The highly-placed sources inside Finance Ministry and Auditor General of Pakistan Tuesday told The Nation that Federal Finance Minister had passed on instruction to carry the audit of the hockey federation as he had promised two days ago that there was no issue of funds and the PHF would be issued funds after audit and other documentation work.

It is pertinent to mention here that Dar, while talking to the reporters on polo final, has assured that the government has enough funds on disposal and they don't need any other countries' help in this regard.

He also promised that the national game, in which the country had won a number of international titles, would not be left in the cold and he ensured their all needs would be met.

"We will send them for international series and Olympic Qualifiers."

Earlier, when Hockey India's email saga surfaced a few days back, Information Minister Pervaiz Rasheed had told about the government's reservations about the misuse of funds during the previous regime of the PHF saying Rs 1b had been given to the federation in last five years.

Prime Minister Mian Muhammad Nawaz Sharif latter had agreed to give Rs 350 millions grant to the PHF in his meeting with PHF president Chudhary Akhtar Rasool.

The government had also formed a committee to probe the usage of funds that also included PHF secretary Rana Mujahid and some former Olympians had raised doubts about this probe committee's impartiality.

It is hoped that the audit would be completed within due course of time and funds would be released so that the national team could embark on four-nation hockey tournament in Hobart, Australia starting early next month, five-match series against South Korea in South Korea and the most important Olympic qualifiers in June.

Pakistan have already missed Azlan Shah Cup due to lack of funds.

Pakistan hocke camp is currently underway in Lahore, where players are only provided with meals and accomodation without any othe financial benefits.

The Nation