All the news for Monday 13 April 2014

Black Sticks win Sultan Azlan Shah Cup




The Black Sticks Men have won the 2015 Sultan Azlan Shah Cup in thrilling style with a 3-1 shoot-out victory over Australia.

The final few minutes of the game were heart stopping with the Black Sticks taking a 2-1 lead with a penalty corner goal from Andy Hayward, only for Australia to tie the game again with 29 seconds remaining.

With the game locked up 2-2 at fulltime, goalkeeper Devon Manchester proved the hero in the shoot-out with three saves as the Kiwis romped to the title.

It was the first time in the tournament's history that the winner has been decided in a shoot-out, and also the first time the final has been an all-Oceania affair.

Drag flick maestro Andy Hayward took out man of the match for his two goals against the Kookaburras while Manchester won goalkeeper of the tournament.

Head coach Colin Batch was thrilled that his side were able to close out the game under the intense pressure of a shoot-out.

"We're all very excited right now and pleased with our performance not only in the final but throughout the tournament. The guys should be very proud of themselves," he said.

"We had some good moments in the first half and then continued to create opportunities in the second half, even after they levelled the score.

"I thought Devon had an outstanding game in goal, some of the saves he made gave the rest of the team a lot of confidence and we kept fighting right to the finish."

Australia put the hammer down from the opening whistle and won two early penalty corners, but goalkeeper Manchester and the Kiwi defence were up to the challenge.

The Black Sticks swung the momentum with some great attacking play of their own and grabbed the lead from their first penalty corner of the game, with Andy Hayward flicking low and into the back of the net.

The Kookaburras had the majority of possession throughout the first half but couldn't find a way past Manchester, who was forced to make some critical saves.

After the break New Zealand's exemplary defence continued as they kept Australia off the scoreboard for yet another quarter.

Australia delivered the equaliser with just over 10 minutes to play when Jamie Dwyer got a deflection on a hard crash ball into the circle.

The Black Sticks looked destined to secure the win with less than three minutes remaining when Hayward flicked home his second penalty corner goal of the game.

But Australia put pressure on at the other end and earned a penalty stroke, with captain Mark Knowles obliging to level the score 2-2 at fulltime.

CLICK HERE to watch match highlights

BLACK STICKS 2: (Andy Hayward x2)
AUSTRALIA 2: (Jamie Dwyer, Mark Knowles)
The Black Sticks won shoot-out 3-1

Hockey New Zealand Media release


---

New Zealand lift Sultan Azlan Shah Cup

By S. Ramaguru




IPOH: New Zealand won the Sultan Azlan Shah Cup hockey tournament for the second time when they defeated Australia in the an all-Oceania final at the Azlan Shah Stadium.

The Kiwis won the penalty shootout 3-1 after the final ended 2-2 in regulation time.

It was a tremendous effort from the Kiwis as they took the fight to the world champions and shocked them with the early goal. In the shootout, the Kiwis scored through Hugo Inglis, Blair Hilton and Ryan Archibald while only Jacob Whetton converted the Australian attempt.

Australia were champions in 1983, 1996, 2004, 2005, 2007, 2011, 2013 and 2014 and were going for their ninth title.

New Zealand's only other final appearance was in 2012, which they won after beating Argentina 1-0 in the final.

The Kiwis took the lead in the fifth minute through their first penalty corner of the match. Andy Hayward gave goalkeeper Tristan Clemons no chance with his direct drag flick.

The Australians had three penalty corners in the first two quarters, but they were executed poorly.

But in the 50th minute, the Australians managed to draw level with a Jacob Whetton field goal.

The last five minutes, however, turned out to be a thriller.

Hayward scored his second goal of the night in the 58th minute and the Kiwis seemed headed for the title.

But with just seconds left on the clock, Australia scored the equaliser when they awarded a penalty stroke. Mark Knowles converted the flick to send the match into a shootout. It was the third match to be decided by a shootout yesterday.

Earlier, Asian Games gold medallist India clinched third place when they beat South Korea 4-1 after a penalty shootout. The match ended 2-2 in regulation time.

In the fifth placing playoff, Canada beat Malaysia 3-1 in a penalty shootout after the match was tied at 4-4.

The Star of Malaysia


---

Kiwi keeper's heroics spark win

Three heroic saves from goalkeeper Devon Manchester steered the Black Sticks to a 3-1 shootout victory over world No.1 Australia at the Sultan Azlan Shah Cup men's hockey final in Malaysia.

Two penalty corner goals from Andy Hayward against a 50th minute goal from Australia's Jacob Whetton gave the New Zealanders a 2-1 lead as fulltime loomed.

But they conceded a contested penalty stroke in the last minute.

Captain Mark Knowles beat Manchester from the spot to send the match into a shootout with just 29 seconds remaining.

In the shootout, Australia's sole conversion was by Whetton. Daniel Beale missed the first attempt while Eddie Ockenden and Aran Zalewski missed the third and fourth attempts.

Hugo Inglis, Blair Hilton and Ryan Archibald all converted the Kiwis' first three attempts while captain Simon Child missed his attempt.

Coach Colin Batch was pleased with the way his side were able to close out the game under the intense pressure of a shootout.

"I thought Devon had an outstanding game in goal - some of the saves he made gave the rest of the team a lot of confidence, and we kept fighting right to the finish," said Batch, who made 175 appearances for Australia between 1979 and 1990.

He said the Kiwis, whose only tournament title came in 2012 when they beat Argentina, had performed consistently over the last week, despite losing 3-1 to eight-time champions Australia in pool play.

"We're all very excited right now and pleased with our performance not only in the final but throughout the tournament. The guys should be very proud of themselves," Batch said.

"We had some good moments in the first half and then continued to create opportunities in the second half, even after they levelled the score."

Yahoo Sport, New Zealand


---

Black Sticks win Sultan Azlan Shah Cup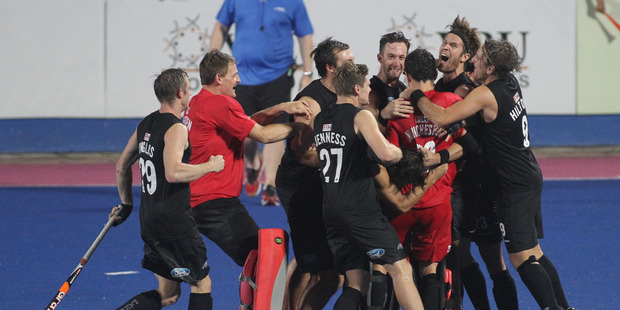 The Black Sticks celebrate winning a penalty shootout against Australia.

The Black Sticks Men have won the 2015 Sultan Azlan Shah Cup in thrilling style with a 3-1 shoot-out victory over Australia.

The final few minutes of the game were heart stopping with the Black Sticks taking a 2-1 lead with a penalty corner goal from Andy Hayward, only for Australia to tie the game again with 29 seconds remaining.

With the game locked up 2-2 at fulltime, goalkeeper Devon Manchester proved the hero in the shoot-out with three saves as the Kiwis romped to the title.

It was the first time in the tournament's history that the winner has been decided in a shoot-out, and also the first time the final has been an all-Oceania affair.

Drag flick maestro Andy Hayward took out man of the match for his two goals against the Kookaburras while Manchester won goalkeeper of the tournament.

Head coach Colin Batch was thrilled that his side were able to close out the game under the intense pressure of a shoot-out.

"We're all very excited right now and pleased with our performance not only in the final but throughout the tournament. The guys should be very proud of themselves," he said.

"We had some good moments in the first half and then continued to create opportunities in the second half, even after they levelled the score.

"I thought Devon had an outstanding game in goal, some of the saves he made gave the rest of the team a lot of confidence and we kept fighting right to the finish."

Australia put the hammer down from the opening whistle and won two early penalty corners, but goalkeeper Manchester and the Kiwi defence were up to the challenge.

The Black Sticks swung the momentum with some great attacking play of their own and grabbed the lead from their first penalty corner of the game, with Andy Hayward flicking low and into the back of the net.

The Kookaburras had the majority of possession throughout the first half but couldn't find a way past Manchester, who was forced to make some critical saves.

After the break New Zealand's exemplary defence continued as they kept Australia off the scoreboard for yet another quarter.

Australia delivered the equaliser with just over 10 minutes to play when Jamie Dwyer got a deflection on a hard crash ball into the circle.

The Black Sticks looked destined to secure the win with less than three minutes remaining when Hayward flicked home his second penalty corner goal of the game.

But Australia put pressure on at the other end and earned a penalty stroke, with captain Mark Knowles obliging to level the score 2-2 at fulltime.

The New Zealand Herald


---

Black Sticks men beat Australia to win hockey's Sultan Azlan Shah Cup



Black Sticks drag-flick king Andy Hayward won man of the match in the final for his two goals. Lawrence Smith/ Fairfax NZ

New Zealand men's hockey is celebrating a major international success with a penalty shoot-out win over Australia to claim the 2015 Sultan Azlan Shah Cup in Malaysia.

Goalkeeper Devon Manchester proved the hero with three saves in the shoot-out as the Black Sticks won 3-1.

It was a deserved result from an impressive performance by the Black Sticks, particularly in the defensive areas.



New Zealand goalkeeper Devon Manchester was the hero as the Black Sticks beat Australia in a penalty shoot-out to win the Sultan Azlan Shah Cup in Malaysia. Fairfax NZ

They led 2-1 with just 29 seconds remaining in ordinary time before they conceded an equaliser to the Kookaburras. But New Zealand kept their cool to dominate the shoot-out.

It was the first time in the tournament's history that the winner has been decided in a shoot-out, and also the first time the final has been an all-Oceania affair.

The tournament has been held since 1983 with New Zealand's only other success coming in 2012. Australia are eight-time champions.

Drag flick king Andy Hayward took out man of the match for his two goals while Manchester won the goalkeeper of the tournament award.

New Zealand coach Colin Batch was thrilled that his side were able to close out the game under the intense pressure of a shoot-out.

"We're all very excited right now and pleased with our performance not only in the final but throughout the tournament. The guys should be very proud of themselves," he said.

"We had some good moments in the first half and then continued to create opportunities in the second half, even after they levelled the score.

"I thought Devon had an outstanding game in goal, some of the saves he made gave the rest of the team a lot of confidence and we kept fighting right to the finish."

Australia dominated the early exchanges and quickly won two penalty corners, but goalkeeper Manchester and the Kiwi defence were up to the challenge.

The Black Sticks swung the momentum to grab the lead from their first penalty corner of the game, with Hayward flicking low and into the back of the net.

The Kookaburras had the majority of possession throughout the first half but couldn't find a way past Manchester, who was forced to make some critical saves.

After the break New Zealand's exemplary defence continued as they kept Australia off the scoreboard for yet another quarter.

Australia delivered the equaliser with just over 10 minutes to play when Jamie Dwyer got a deflection on a hard crash ball into the circle. The Black Sticks looked destined to secure the win with less than three minutes remaining when Hayward flicked home his second penalty corner goal of the game.

But Australia put pressure on at the other end and earned a penalty stroke, with captain Mark Knowles obliging to level the score 2-2 sending the final to the shoot-out.

Stuff


---

Shoot-out sinks Kookaburras

Dramatic final ten minutes seals 2-2 draw before shoot-out defeat to NZ



Photo credit: Sportsmediagroup.com.au

Mark Knowles' dramatic last minute equaliser from the penalty spot was ultimately not enough as the Kookaburras went down 3-1 to New Zealand in a shoot-out after the Sultan Azlan Shah Cup final ended 2-2 in regulation time.

While the Black Sticks successfully converted three of their four attempts, Jake Whetton was the Kookaburras' only shoot-out scorer as Daniel Beale was denied by a superb double save and Eddie Ockenden and Aran Zalewski narrowly missed.

It was a typically even trans-Tasman clash that finished in nail-biting fashion. Trailing to Andy Hayward's early penalty corner goal, Jamie Dwyer levelled for the Kookaburras with ten minutes remaining only for Hayward to strike again two minutes from full time. But as Australia threw everything at the Black Sticks' circle, Dylan Wotherspoon's goal-bound shot was blocked on the line by the body of a New Zealand defender and Knowles coolly slipped the resulting penalty stroke inside the post to force the shoot-out.

Kookaburas coach Graham Reid said afterwards, "I thought we pressed very well but at the end of the day they got a corner, a soft corner. We had lots of opportunities but we didn't put them away. That's what hockey's about – capitalizing on those opportunities. We didn't do that today."

Acknowledging the work still to be done as the team builds towards the Rio 2016 Olympic Games qualifying campaign, Reid added, "It's a marathon, not a sprint but we need to take all those lessons on board. We just need to work harder and harder back in Perth."

Paying tribute to New Zealand and the role of all three goalkeepers in the match, he added, "That's standard New Zealand. Their goalkeeper played really well. We hit him, of course, but he also had some saves. Our goalies did pretty well as well. It was one of those games."

The Kookaburras found themselves up against an immovable object in the form of New Zealand goalkeeper Devon Manchester, who pulled off a string of saves during the contest to deny Australia time and time again. Glenn Simpson saw a penalty corner tipped round the post while Wotherspoon and Dwyer were both thwarted in the third quarter. Even Dwyer's goal – deflected in the middle of the circle - was almost kept out but for a bounce off Manchester's pads, albeit with Jake Whetton in close attendance ready for the rebound.

The goal was Dwyer's eighth of the tournament, earning him the tournament top scorer award at the end of the week in which he became Australia's outright most capped hockey player ever.

At the other end, both Leon Hayward and Tristan Clemons, rotating in goal for the Kookaburras, were called upon on several occasions as New Zealand matched Australia's high tempo attacking flair.

Dwyer's goal had the match heading for a shoot-out before Hayward looked to have secured the title for New Zealand with a dragflick that flew inside the right-hand post.

With nothing to lose the Kookaburras replaced goalkeeper Clemons with a kicking-back, Mark Knowles accepting the flouro bib and goalkeeping privileges. But it was at the other end where he would make his impact, successfully beating Manchester from the spot after Wotherspoon's shot was blocked.

Playing in his 50th game for Australia, Daniel Beale saw Manchester deny him twice within the eight seconds of the shoot-out, first with his left glove, then his left foot, after Hugo Inglis had scored for New Zealand. Blair Hilton then scored before Jake Whetton got the Kookaburras going. Ryan Archibald threaded his shot down the middle but Eddie Ockenden failed to hit the target after being forced wide. Tristan Clemons gave Australia hope as he dived to steal the ball from Simon Child but Aran Zalewski then hit the side netting.

Tristan White also made his 50th appearance for the Kookaburras in the match.

The two sides will meet again in early May in Hobart as the Kookaburras host New Zealand, Pakistan and Korea in a series of matches to prepare for June's Olympic Games qualifying tournament, the World League Semi Final.

Sultan Azlan Shah Cup Final v New Zealand

KOOKABURRAS: 2 (0)
Jamie Dwyer 50 (FG)
Mark Knowles 60 (PS)

NEW ZEALAND BLACK STICKS: 2* (1)
Andy Hayward 5, 58 (PC, PC)

*New Zealand Black Sticks win 3-1 on shoot-out

Kookaburras squad v New Zealand
Name (Hometown/State) Caps/Goals
Started
Daniel Beale (Brisbane, QLD) 50/9
Nick Budgeon (Hobart, TAS) 34/12
Matthew Dawson (Central Coast, NSW) 16/0
Jamie Dwyer (Rockhampton, QLD) 327/214
Jeremy Hayward (Darwin, NT) 33/11
Leon Hayward (GK) (Darwin, NT) 6/0
Mark Knowles (C) (Rockhampton, QLD) 251/22
Trent Mitton (Perth, WA) 68/20
Eddie Ockenden (Hobart, TAS) 237/60
Jake Whetton (Brisbane, QLD) 84/34
Aran Zalewski (Margaret River, WA) 52/4

Used Substitute
Tristan Clemons (GK) (Ferndale, WA) 16/0
Tim Cross (Eaglemont, VIC) 6/1
Matt Gohdes (Rockhampton, QLD) 116/33
Glenn Simpson (Melbourne, VIC) 124/22
Tristan White (Wollongong, NSW) 50/3
Dylan Wotherspoon (Murwillumbah, QLD) 10/3

Did Not Play
Glenn Turner (Goulburn, NSW) 114/79 (injured)

Sultan Azlan Shah Cup Final Standings
1. New Zealand - Won 3-1 on shoot-out over Australia after 2-2 draw
2. Australia - Lost 3-1 on shoot-out to New Zealand after 2-2 draw
3. India - Won 4-1 on shoot-out over Korea after 2-2 draw
4. Korea - Lost 4-1 on shoot-out to India after 2-2 draw
5. Canada - Won 3-1 on shoot-out over Malaysia after 4-4 draw
6. Malaysia - Lost 3-1 on shoot-out to Canada after 4-4 draw

Awards
Player of the Tournament: Mark Knowles (Australia)
Top Scorer: Jamie Dwyer (8)

Sultan Azlan Shah competing teams
Australia (World ranking #1)
Canada (#15)
Korea (#8)
India (#9)
Malaysia (#12)
New Zealand (#7)

Hockey Australia media release


---

New Zealand stop Australian juggernaut to win 2nd Azlan Shah title

IPOH (Malaysia): A gritty New Zealand surprised world champions Australia 3-1 in the penalty shoot-out in a keenly-contested summit clash to claim their second Sultan Azlan Shah Cup hockey title here on Sunday.

Goalkeeper Devon Manchester starred for the Black Sticks under the woodwork to secure the hard-earned win in the shoot-out against defending champions Australia after both the teams were tied 2-2 in regulation 60 minutes.

Drag-flicker Andy Hayward (5th minute, 58th) scored New Zealand's both goals while Australia struck late through Jacob Whetton (50th) and Nicholas Budgeon (60th) to take the match into the shoot-out.

It was a high intensity affair between the Trans-Tasman rivals and at one time New Zealand nearly sealed the match when Hayward converted a penalty corner just two minutes from the hooter.

But the Kookaburras did not give up without a fight and mounted continuous attacks on the New Zealand goal and in the process secured a penalty stroke just a few seconds from the final hooter. Budgeon stepped up and made no mistake to prolong the game further.

In the shoot-out, only Whetton scored for Australia as Daniel Beale, Eddie Ocekden and Aran Zalewski faltered to hand New Zealand their second Azlan Shah title after 2012.

New Zealand's victory also snapped Australia's winning streak here as they stopped the Kookaburras winning their third consecutive triumph at the Azlan Shah Cup.

For the records, Australia have won the Azlan Shah Cup for a record eight times since the tournament's inception in 1983.

India finished third by overcoming Korea 4-1 in the penalty shoot-out after both the teams were locked at 2-2 at regulation time.

Surprisingly, all the three classification matches in this edition of the tournament were decided by shoot-out.

Meanwhile in the first match of the day, lower-ranked Canada sprang a surprise and defeated hosts Malaysia 3-1 in the penalty shoot-out to secure the fifth spot and avoid the wooden spoon.

It was a high-scoring fifth-sixth place classification match as both Canada and Malaysia scored four goals apiece in the regulation time to take the match into shoot-out.

Malaysia scored their goals through skipper Razie Rahim (2nd minute), Faizal Saari (19th, 37th) and Firhan Ashari (23rd).

For Canada, Gabriel Ho-Garcia (16th, 26th, 33rd) scored a hat-trick while Matthew Sarmento (49th) was the other goal-getter.

In the shoot-out, only Saari scored for Malaysia whereas Sukhi Panesar, Jagdish Gill and Devohn Noronha Teixeira converted their attempts to hand Canada a memorable victory, their first in the tournament.

By virtue of this win, Canada have managed to avenge their 1-4 defeat against the host nation in their last league match on Saturday.

The Times of India


---

Kookaburras chasing revenge over Black Sticks in Hobart after losing Sultan Azlan Shah Cup to New Zealand

The Kookaburras are looking forward to exacting revenge on New Zealand's Black Sticks when the rivals meet in Hobart next month.

The Black Sticks took out the Sultan Azlan Shah Cup in Malaysia beating the Kookaburras 3-1 in a shootout after the final ended 2-2 in regulation time on Sunday night.

New Zealand successfully converted three of its four attempts, while Jake Whetton was the Kookaburras' only shootout scorer as Daniel Beale was denied by a double save by outstanding Black Sticks goalkeeper Devon Manchester.

New Zealand struck first in the final when Andy Hayward scored after five minutes. Jamie Dwyer levelled for the Kookaburras with ten minutes remaining in the match only for Hayward to strike again two minutes from full-time.

Player of the tournament Mark Knowles scored a last minute equaliser from the penalty spot to force the game into a shootout.

Dwyer's goal was his eighth of the tournament, earning him the tournament top scorer award at the end of the week in which he became Australia's most capped hockey player.

The Kookaburras host New Zealand, Pakistan and Korea in Hobart next month a series of matches to prepare for June's Olympic Games qualifying matches.

Kookaburras coach Graham Reid said his side did not capitalise on their opportunities against New Zealand and have some work to do to prepare for Rio in 2016.

"We had lots of opportunities but we didn't put them away," Reid said.

"It's a marathon, not a sprint but we need to take all those lessons on board."

Yahoo Sport, Australia


---

India finish Azlan Shah with a bronze

s2h team

India's custodian in the nets, goalkeeper P.R. Sreejesh once again proved his mettle as India ended their Sultan Azlan Shah Cup tournament in style by winning a bronze medal in the match which went to the penalty-shootouts.

In full confidence after beating defending champions Australia in their last match, India once again looked hungry for a win as they went on to attack from the first minute. Nikkin Thimmaiah, who scored the hat-trick against Australia in the last match yesterday, rose to the occasion once more and netted the first goal for India in the 10th minute, a sweep off S.K. Uthappa's cross from the right flank.

South Korea soon got their equalizer in the 19th minute after Hyosik You scored off the rebound shot that came his way in the penalty corner. The first attempt by Korea was saved by Sreejesh.

Two minutes later, India once again took the lead, after Satbir Singh ran a good length to pass the ball to Dharamvir, who playing his 100th international cap, gave it back to Satbir, who flicked it to the top right of the net.

The lead was not a long-lived one as South Korea found the equalizer soon after, in the 28th minute, which comes off another penalty corner, this time scored by Hyunwoo Nam. Korea in all received seven penalty corners and converted two while India earned nil. The match remained evenly placed till the final hooter went off to take the match into the penalty shoot-outs.

For India, Akashdeep emerged at first, who after confusing the goalkeeper a bit, flicked it towards the left. For Korea, Jonghyun Jang easily equalized soon after. Skipper Sardar Singh came in next, displaying brilliance dribbled inside the D and hit it from the top giving India the lead in the shoot-out.

For Korea, Kihoon Kim came next, but Sreejesh completely blocked his angle to stop him from scoring. Rupinderpal Singh scored the third goal for India in the shoot-outs and he did itin style, turning around and then sweeping the ball 180 degrees into the nets. The next attempt for Korea was taken by Juhun Kim, who missed it yet again after Sreejesh dived to clear the ball.

With this the onus on win was on Birendra Lakra, who had to succeed to give India its bronze after three years. And he did exactly that, confidently ran in front of the goalkeeper and gave him ample time to dive before releasing the ball into the nets.

Goalkeeper P.R. Sreejesh was accorded the Man of the Match for his brilliant saves. It is India's first medal in the Azlan Shah after the 2012 edition, where they also won the bronze by beating Great Britain.

India's title win had come last in 2010, when India and South Korea were declared joint winners after rain played spoilsport.

Stick2Hockey.com


---

India beat Korea on penalties to win bronze medal in Sultan Azlan Shah Cup

IPOH (Malaysia): India produced a spirited performance to beat Korea 4-1 in the penalty shoot-out after both the teams were locked at 2-2 at regulation time, to finish a creditable third in the 24th Sultan Azlan Shah Cup hockey tournament on Sunday.

The win is sure to act as a morale booster for the Indian team, which is witnessing a transition phase after new chief coach Paul van Ass took over from Terry Walsh barely a month ago.

The third place finish also marks a relatively good beginning for Van Ass, who was in his maiden assignment with the Indian team.

For India, who had earlier drawn 2-2 with Korea in the league stages, the victory came on the back of a stunning 4-2 win over world champions Australia on Saturday at the Azlan Shah Stadium.

India scored both their goals though field strikes from last match's hat-trick man Nikkin Thimmaiah (10th minute) and Satbir Singh (22nd), while Korea scored from penalty corners converted by You Hyosik (20th) and Nam Hyunwoo (29th).

India's vice-captain and goalkeeper PR Sreejesh had a fantastic day under the bar as he not only made numerous saves in the entire 60 minutes, but also turned out to be India's hero in the shoot-out, denying two Korean efforts to help his side register the much-needed victory.

The only blemish for India on Sunday was penalty corners. The Sardar Singh-led side failed to secure a single set piece but their backline as usual crumbled under pressure and gave away seven short corners.

Both the teams were slow to get off the block and were sloppy in the initial few minutes.

It was India who had the first shy at the goal in the sixth minute but Akashdeep Singh shot wide after a scramble inside the circle.

Three minutes later, Korea secured their first penalty corner but Nam Hyunwoo's effort couldn't get past the defence of an agile Indian goalkeeper, Sreejesh.

The Indians took the lead in the next minute through last match's hero Nikkin. Dharamvir Singh started the move and passed the ball to SK Uthappa, who beat a few Malaysian defenders to enter the circle from the right flank and then neatly pushed the ball towards Nikkin and he made no mistake in slapping the ball home from close range. After a relatively sedate start, the Indians started to get into the groove as time passed by.

Five minutes into the second quarter Korea got their second penalty corner and You Hyosik scored from a rebound with a reverse shot after Jang Jonghyun's dragflick was well saved by Sreejesh.

India restored their lead two minutes later through Satbir's fine field effort. After stealing the ball at the midline, Satbir played a delightful one two with Dharmvir Singh before tapping in the ball pass Korean keeper Hong Doo Pyo.

But an unnecessary foul by Ramandeep Singh reduced India to 10-man in the last two minutes of the second quarter and that cost them dearly.

With India one man short, the Koreans piled on the pressure and managed to earn three penalty corners in succession, the last of which was converted by Hyunwoo with a powerful flick that beat Sreejesh all ends up as both the teams went into halfway break locked a 2-2.

After the change of ends, Korea had the first shot at the goal but Hyosik's reverse hit sailed over the bar.

Then Satbir was denied in the 39th minute when his reverse hit was blocked by the Korean goalkeeper.

Korea went on the offensive in the fourth and final quarter and earned two more penalty corners but India custodian Sreejesh was up to the task.

In the 50th minute, Satbir once again came close to ensuring the lead for his side but his gentle touch from Birendra Lakra's cross was well anticipated by the Korean goalkeeper.

It was nerve-wrecking final three minutes as Korea went all out in search of the winner, but the Indian defence did enough to hold the rampaging Koreans and take the match into shoot-out.

In the shoot-out, the Indians were clinical as Akashdeep Singh, skipper Sardar Singh, Rupinder Pal Singh and Birendra Lakra converted their tries with consummate ease.

But credit should go to Sreejesh as he pulled off two brilliant saves to deny Kim Kihoon and Kim Juhun, and secure the third place finish for India.

The Times of India


---

Dharamvir Singh completes his 100th International Cap




New Delhi - In the ongoing Sultan Azlan Shah Cup 2015 in Ipoh, Malaysia, another achievement was added to Indian midfielder Dharamvir Singh who played his 100th international match on 9th April 2015 against Canada. Dharamvir, who made his international debut in 2009 against Canada in the Test Series, is a regular member of national hockey team and has been part of the team in various international tournaments.

Congratulating Dharamvir Singh on his celebratory achievement, Hockey India's Secretary General Md. Mushtaque Ahmad said, "Hockey India is extremely delighted for Dharmvir Singh's achievement of 100 international matches. The midfielder has been an integral part of Indian team and always gives his best performance in matches of all levels. His journey from a young talent in the Junior National Team to an experienced Senior member, has seen many successes where he has played a vital role for the team's midfield. Hockey India takes utmost pride in congratulating Dharamvir on his accomplishment of 100 International Caps. We wish him all the best for the upcoming tournaments and hope to see him bringing more achievements for Team India."

Playing as midfielder, the 24-year-old Dharamvir Singh is one of the key players in the national team. Hailing from Ropar (Punjab), Dharamvir is a product of Chandigarh Hockey Academy. He has participated in all international tournaments since his debut in 2009. In 2014, he participated in the Hero Hockey World League Final 2014, FIH Hockey World Cup 2014, 20th Commonwealth Games in Glasgow, 17th Asian Games in Incheon and Hero Men's Champions Trophy 2014.

Stick2Hockey.com


---

Hockey midfielder Dharamvir reaches 100-international cap milestone

IPOH (Malaysia): Indian midfielder Dharamvir Singh has achieved the distinction of playing his 100th international hockey match for his country.

He achieved the milestone during India's 4-2 win against Australia in a Sultan Azlan Shah Cup league match here on Saturday, a Hockey India (HI) release said on Sunday.

The win helped India finish fourth in the league phase of the 24th edition of the tournament played at the Azlan Shah Stadium.

Dharamvir made his international debut in 2009 against Canada in a Test Series. Since then he has been a regular member of the national hockey team.

"Hockey India is extremely delighted for Dharmvir Singh's achievement of 100 international matches. The midfielder has been an integral part of Indian team and always gives his best performance in matches of all levels," Md. Mushtaque Ahmad, HI's secretary general, said in a release on Sunday.

"Hockey India takes utmost pride in congratulating Dharamvir on his accomplishment of 100 international caps. We wish him all the best for the upcoming tournaments and hope to see him bringing more achievements for Team India," he added.

The 24-year-old midfielder hails from Ropar, Punjab, and is a product of the Chandigarh Hockey Academy.

The Times of India


---

India beat S. Korea to clinch bronze in Azlan Shah hockey



India's Sardar Singh in action during the match against Australia at 24th Sultan Azlan Shah Cup 2015 at Ipoh, Malaysia on Saturday.

Akashdeep Singh, Sardar Singh, Rupinderpal Singh and Birender Lakra scored. Goalkeeper P.R. Sreejesh saved three in the penalty shoot-out.

India defeated South Korea 4-1 (6-3) on penalties to win the bronze medal in the 24th Sultan Azlan Shah Cup hockey tournament here on Sunday.

The bronze-medal playoff match ended 2-2 after regulation time at the Azlan Shah Stadium. Goalkeeper P.R. Sreejesh was India's hero effecting three saves in the penalty shoot-out.

For India, Akashdeep Singh, Sardar Singh, Rupinderpal Singh and Birender Lakra scored in the shootout.

Striker Nikkin Thimmaiah, scorer of a fine hat-trick against Australia on Saturday, gave India the lead in the 10th minute.

But attacker Hyosik You converted a penalty corner to level the scores nine minutes later.

India again surged ahead in the 22nd minute through forward Satbir Singh in the 22nd minute.

But forward Hyunwoo Nam (28th) equalised again to stretch the match into penalties.

India stunned reigning world hockey champions Australia 4-2 on Saturday. They lost to lower-ranked Malaysia and New Zealand, while edging past minnows Canada 5-3 and playing a 2-2 draw against South Korea to qualify for the bronze-medal play-off.

The Hindu


---

PR Sreejesh, the Wall of Indian Hockey Team

Despite India's poor show in tournaments like the Hockey World League and the 2014 World Cup, goal-keeper Sreejesh's performance has been India's biggest positive.

The Indian Hockey team has finished 3rd in the 2015 Sultan Azlan Shah tournament and once again the man who stood firm under pressure was Indian goalkeeper and vice captain PR Sreejesh.

Sreejesh did not just saved five penalty corners out of seven that went South Korea's way, but was also rock-solid in the penalty shootout. Despite lapses by the defenders, Sreejesh was terrific.

After regulation time, the score was level at 2-2 and a penalty shootout beckoned. The onus was once again on India's Vice-captain to deliver and the Kerala lad saved 2 out off 3 attempts made by the Koreans.

On the other hand, the Indian players scored in all the 4 attempts helping India finish 3rd in the competition played in Ipoh, Malaysia.

This is not the first time the 26-year-old has delivered for India under immense pressure and expectations. In the inaugural edition of 2011 Asian Champions Trophy final, he was the man who made the difference as India went on to beat arch-rivals Pakistan to clinch the title.

Despite India's poor show in tournaments like the Hockey World League and the 2014 World Cup, goalkeeper Sreejesh's performance has been India's biggest positive.

The ultimate moment of glory for the Keralite goalie came in the 2014 Asian Games final against Pakistan where he saved 2 out 4 attempts made by the arch-rivals to help India clinch the gold medal after 16 long years and directly qualify for the 2016 Rio Olympics.

And now at the Sultan Azlan Shah classification match against South Korea for the 3rd and 4th position, PR Sreejesh once again came to the party and helped India win Bronze.

NDTV Sports


---

We have learnt six good lessons says coach

Tazeen Qureshy

This is coach Paul van ass' moment. Ever since he took over as the coach of the Indian hockey, he was under pressure to deliver in his very first assignment—the Sultan Azlan Shah cup. And it is indeed his moment now as the team clinched the bronze medal by beating South Korea.

And the coach feels this has been a good tournament and a lot of lessons learnt.

"My target is to learn lessons. In life, you can learn lessons every day. And we learnt six good lessons in the tournament. It is a good start for us. It is a high performance sport. We have seen a lot and learnt a lot," the coach said after the bronze medal win.

Unlike the previous match against Australia, India did not dominate the first match. India took lead twice, thanks to the goals scored by Nikkin Thimmaiah and Satbir Singh, but Korea managed an equalizer on both occasions. After a 2-2 draw, the match went to the shoot-outs, in which Sreejesh did wonders to make India win.

"The shoot-out was of high quality. But the match was not of a very high quality. We started slow, but we got the game in the second quarter. The second goal for korea came off the penalty corner. I think it was an unnecessary corner. That should not have happened. But, we hung in fortunately," he said.

Stick2Hockey.com


---

We learnt lessons in Azlan Shah Cup, says coach Van Ass

IPOH (Malaysia): For Paul van Ass, the third-place finish in his maiden assignment as India's new hockey chief coach was undoubtedly a creditable performance and the Dutchman on Sunday said that he has managed to achieve his target in the tournament by learning "six beautiful lessons".

From the very beginning, Van Ass said that the 24th Azlan Shah Cup was a platform to gather knowledge about the team and the past one week has been a great leaning curve for the boys.

"My target was very simple, to learn lessons everyday and in this tournament we had six beautiful lessons," he said after India defeated Korea in the shoot-out to secure the third place in the prestigious six-nation tournament at the Azlan Shah Stadium.

"From day one I said 'let us learn lessons and whatever happens let them happen'. It is a high performance sport. You also saw me changing a few players' positions during this tournament. So we have learned a lot and we can take it from here," he added.

Elaborating on the specifics, the Dutchman said, "We have to be careful that we do not go out of the tournament early and play for nothing that is one lesson we have learnt. And the second lesson was to get the defence right under pressure and we succeeded partly in that."

India produced a spirited performance to beat Korea 4-1 in the penalty shoot-out in the third-fourth place play-off match after both the teams were locked 2-2 at regulation time.

India scored both their goals though field strikes from last match hat-trick man Nikkin Thimmaiah (10th minute) and Satbir Singh (22nd), while Korea scored from penalty corners converted by You Hyosik (20th) and Nam Hyunwoo (29th).

In the shoot-out the Indians were clinical as Akashdeep Singh, skipper Sardar Singh, Rupinder Pal Singh and Birendra Lakra converted their tries with consummate ease as against Korea's one.

Van Ass was full of praise for the way his players executed their attempts in the shoot-out but felt the match was not upto the mark.

"The shoot-out was very good. That was of high quality but I feel the match was not of very high quality. We were a little bit slippery to start with. From the moment Korea scored the second goal we started to slip a bit. That was an unnecessary corner and that should not have happened," he said.

"But fortunately we hung in and I am glad that we could win in the shoot-out. I was very surprised with the quality of our shoot-out I must say," said the Dutchman.

Van Ass said barring a few blemishes, he was satisfied with the way his wards played in the tournament.

"I think apart from the Malaysia game and partly tonight, especially after Korea's second goal, I am happy with the performance," the India coach said.

India today failed to secure a single penalty corner in the entire 60 minutes but Van Ass said he was happy as long as his strikers are getting goals.

"Now-a-days it is difficult to score from penalty corners. The penalty corner defence has become much stronger now. Now-a-days you cannot always rely 100 per cent on penalty corners. Of course, it is always a danger. You do not need one if you score field goals," he signed off.

The Times of India


---

Azlan Shah Hockey Taught India to Expect the Unexpected, says PR Sreejesh

India suffered a shock defeat to Malaysia but stunned the mighty Australian side to finish with a bronze medal.

By Tazeen Qureshy



India hockey team won the bronze medal in Azlan Shah hockey tournament.

Ipoh, Malaysia: India's goal custodian P.R. Sreejesh has always been a reliable player, displaying his brilliance in crucial matches.

He once again gave a clinical performance as India defeated South Korea to clinch the bronze medal in the 24th edition of the Sultan Azlan Shah Cup. After the 2-2 till the final hooter, the match went on to the penalty-shootouts, in which Sreejesh stood like a wall, guarding India's net.

"I think from this tournament we learnt to expect the unexpected. We never expected we will lose against Malaysia and nobody thought we would beat Australia. But we showed a team spirit and won the last two important matches. So, it shows if we are good in our basics, we can do anything," said the goalkeeper after saving two crucial goals during the shoot-outs, besides saving several others, throughout the tournament. (PR Sreejesh, the Wall of Indian hockey)

Sreejesh isn't new to taking responsibilities of the game on him. He proved his mettle even during the Incheon Asian Games final last year, in which India defeated Pakistan in the shoot-outs, thereby winning the Asian Games gold as well as securing a berth for the 2016 Rio Olympics.

"In both the Asian Games as well as the shoot-outs against Korea today, there is a lot of difference. When you are beating Pakistan in the final, there is a total change in the atmosphere.

And in today's match, I didn't feel any pressure on me. I just did the basic thing the coach always tells us, which is to do your task confidently. Also my team-mates did not miss any goal. So, we won a straight game."

Sultan Azlan Shah Cup is India's first tournament in the 2015 season. They will play their first major game in World League to be held in December.

"Starting a season with a medal is always a good thing. But, we are looking for the big matches like the World League to know where we stand in the world level," he added.

NDTV Sports


---

The Shy Boy: Kothajit Singh

Tazeen Qureshy

There are many who believe in doing their job with utmost dedication and remaining silent about it. Kothajit Singh is one such player, who has helped the team with many goal assists, giving good cross to his team mates and developing good moves for the team.

But, he has often remained out of limelight choosing to speak only occasionally and he says more than anything it is his habit to remain quiet.

"I believe in giving 100 per cent in ground, concentrating on my game and that's all. I am this way since my childhood; it has become a habit now. Though I am the youngest among my five siblings, but I have always remained a shy boy," says Kothajit, opening a bit.

"In fact, even when my mother asks if I want to have food or not, I don't reply to her. She tells me to at least reply to her queries," he laughs.

A Manipur lad, he doesn't always remain in a shell, but goes out with people he is close to.

"I share a special bond with my brothers. They are like my friends. We got out together, dine together and also party. From the team, I am close to Biru (Birendra Lakra) and Danish (Danish Mujtaba)," he reveals.

On the Azlan Shah, he says India bounced back well after a not-so-good run in the tournament.

"We had a weak scoring power against Korea in the first match, New Zealand and Malaysia. In the match against Australia, we gave our full effort and played well. Against Korea also, we wanted to show that we are a good team and we can also win. So, we gave our efforts accordingly," he says.

"When the match went to the shoot-outs, we had the confidence that Sree bhai (Sreejesh) will at least save two to three shots. We are of course happy with our performance in the last two games."

Stick2Hockey.com


---

Canada defeats Malaysia in shootout, takes fifth at Azlan Shah Cup

Shaheed Devji

The Canadian Men's National Field Hockey Team saved its best performance for last as they defeated tournament host Malaysia 3-1 in a shootout to take fifth place at the Sultan Azlan Shah Cup Sunday in Ipoh, Malaysia.

After going winless during the round robin against many of the world's top field hockey teams, the Canadians - who were competing shorthanded with to veterans Scott Tupper, Mark Pearson, and Matthew Guest missing due to club duty and injury - were determined to put in a good showing against Malaysia.

The two teams met on Saturday in the final round robin match, with Malaysia coming out on top 4-1. But Canada, which has developed a rivlary with Malaysia over the years, had a chance to finish strong and take fifth place from the host nation on Sunday.

Malaysia began the match strong, grabbing the game's first goal in the second minute. Canada's Gabriel Ho-Garcia responded to tie the game in the sixteenth minute.

The back and forth was a sign of things to come.

Malaysia once again took the lead with two quick goals before the thirtieth minute, but it was once against Burnaby's Ho-Garcia who notched two more of his own to tie the game and net the hat trick.

Malaysia's Faizal Saari, who scored earlier in the match, got his second of the game four minutes later in the thirty-fourth minute to give Malaysia its third lead of the night. But Canada, while they bent, did not break and showed great resolve tying the game for the third time.

It was a goal from Vancouver's Matthew Sarmento in the forty-ninth which leveled the score and sent the game to a shootout.

Canada, which had been in this position before coming back from a deficit against Malaysia and sending the game to the shootout in the 2014 Champions Challenge semifinal, was full of confidence and it showed in the tiebreaker.

After missing their first shot, the Canadians scored three straight. Sukhi Panesar, Jagdish Gill, and Devohn Noronha-Teixeira all converted on their opportunities and goalkeeper David Carter made three saves on four shots to lead Canada to victory.

NOTES: With his hat trick, Ho-Garcia was named the Man of the Match. Canada was awarded the Team Fair Play award for the tournament.

The Canadian men will now head back to Vancouver to train before they take their first of two shots at 2016 Olympic qualification at the World League Semi-Finals in Buenos Aires, Argentina beginning on June 3.

Field Hockey Canada media release


---

Silver medallists Malaysia ended as wooden spoonists

By Jugjet Singh Randhawa

SILVER medallists Malaysia ended as wooden spoonists when they were beaten 3-1 By Canada in a penalty shoot-out in the 24th Edition of the Azlan Shah Cup today.

World champions Australia were taken also taken to a shoot out by gritty New Zealand after the match ended 2-2, before the Kiwis could lay their hands on the totle.

India and South Korea also went into penalty shoot out after the match ended 2-2.

Australia's goals were scored by Jamie Dwyer in the 50th and Mark Knowles in the 60th, while the NZ goals were scored by Andy Hayward in the fifth and 58th minutes.

In the shoot out, the Kiwis won 3-1 to deny Australia their ninth title. It was New Zealand's second title in 24 Editions.

While in the earlier shoot-out, India claimed the bronze 4-1.

Malaysia's match ended 4-4 and had to be decided by shoot-out. And from back-to-back silver medals in 2014 and 2015, Malaysia ended last.

In the shoot-out, Firhan Ashaari, Haziq Samsul and Nabil Fiqri missed their attempts, with the only goal coming from Faizal Saari.

Malaysia played under pouring rain, but still, the stadium was half-filled when the match started at 3.40pm.

Razie Rahim ignited the fire with a second minute penalty corner, but Canada equalised via Gabriel Ho-Garcia off a field attempt in the 16th minute.

But three minutes later, Faizal Saari perfected a penalty corner to give Malaysia the lead again, and Firhan Ashaari made it 3-1 in the 23rd minute when he slotted home a field goal.

It continued raining, but a determined Canada kept pushing forward and were rewarded when Ho-Garcia slotted home his second and the score stood at 3-2 at half-time.

And three minutes into the half-time, 33rd minute, Ho-Garcia scored another field goal for a hat-trick and Malaysia looked like they might lose it.

Faizal then got his brace in the 37th minute, and Malaysia were back in command at 4-3. But Matthew Sarmento again gave Canada a life-line in the 49th with a field attempt to make it 4-4.

Malaysia had beaten Canada 4-1 in their last pool match on Saturday.

RESULTS: Final -- Australia 2 New Zealand 2 (NZ win shoot out 3-1); Third-Fourth: India 2 South Korea 2 (India win shoot-out 4-1); Fifth-Sixth: Malaysia 4 Canada 4 (Canada win shoot-out 3-1)

New Straits Times


---

A pathetic end for Malaysia in Sultan Azlan Shah Cup

By S. Ramaguru



Joy and despair. Canada hockey team celebrates as they win 3-1 on penalty shootout over Malaysia (in background) to finish fifth in the Sultan Azlan Shah Cup in Ipoh. Malaysia finish last in the six-team tournament. - Bernama

IPOH: Malaysia's campaign in the Sultan Azlan Shah Cup came to an embarrassing end – they finished last in the six-nation hockey tournament.

Sunday's fifth placing playoff match against Canada at the Azlan Shah Stadium ended 4-4 in regulation time. Canada then prevailed 3-1 in the penalty shootout.

Only Faizal Saari converted for Malaysia in the shootout while Mohamed Firhan Azhaari, Nabil Fiqri Mohamed Nor and Haziq Mohamed Shamsul failed in their attempts.

The Canadians converted through Sukhi Panessar, Jagdish Gill and John Smythe while Brendan Bisset missed with the first attempt.

Malaysia, runners-up in the last two years, had won comfortably by 4-1 against Canada in the final group match on Saturday. The homesters were expected to have another easy win. But they put up an insipid performance and let their advantage slip four times for a 4-4 draw in regulation time.

In their previous five group matches, the Canadians only managed five goals. But they hit four past the porous Malaysian defence on Sunday.

National team manager Datuk Nur Azmi Ahmad, who stood in for coach Tai Beng Hai at the post match press conference, said it was a big lesson for the Malaysians not to take any team for granted.

"We can play good hockey, but at times the players just failed to come to grips with the high demands of the game. This is a real good lesson for us. Our preparations may be for the World Hockey League Semi-Finals (in Belgium in June), but they should take these matches seriously.

"I am not sure why they allowed such silly goals to go in and failed to do better when they had the advantage," said Nur Azmi.

The Malaysians looked well on the way to victory with skipper Mohamed Razie Rahim scoring a penalty corner after just two minutes.

But the Canadians were on level terms in the 16th minute when Gabriel Ho Garcia dribbled past five defenders to score the equaliser.

Malaysia then pulled away to a 3-1 lead with Faizal converting a penalty corner in the 19th minute and Mohamed Firhan Azhaari scoring a field goal in the 23rd minute.

But Garcia was on target twice in the 26th and 33rd minutes as he completed his hat-trick to put the score at 3-3.

Faizal then scored his second goal in the 37th minute, but the Canadians drew level again in the 41st minute through Matthew Sarmento to send the match into a penalty shootout. Then came Malaysia's meltdown.

The Star of Malaysia


---

... take note Beng Hai

By Jugjet Singh



PIC: TAI BENG HAI

MALAYSIA were a disappointing lot in the Azlan Shah Cup, as they slid all the way to the bottom, even lower than Canada just eight weeks before the Olympic Qualifier in Belgium.

After beating Canada 4-1, 15th in the world, the No 12 Malaysia collapsed in the fifth-sixth classification when they were held to a 4-4 draw, and then beaten 3-1 in the shoot-out.

Sixty minutes of play, with four quarters, is here to stay and it looks like coach Tai Beng Hai's team have yet to master the art of plying consistent hockey in all four quarters, which have two, 10 and then another two minutes break.

Malaysia blew hot-and-cold in every quarter, and the record will show that Beng Hai's men went down 0-2 to New Zealand but fought gallantly to level at 2-2, before collapsing 4-2.

And against world champions Australia, after a gallant fight, Malaysia lost 3-2 in a match which they dominated.

India were shocked 3-2, but the national players gave South Korea 2-0 lead, then fought back to level the score only to lose 3-2.

Azlan Shah Cup was the last avenue for Beng Hai to test his charges, and they failed the consistency test, something they can't afford in the World League Semi-finals in Antwerp, Belgium, on June 20 to July 5.

Australia lost back-to-back matches against India and then New Zealand, and were denied a whopping ninth title, but coach Graham Reid's parting words are worth their weight in gold -- especially for Malaysia.

"It's a marathon, not a sprint (towards the Belgium qualifier and then Rio de Janeiro) but we will need to take all those Azlan Shah Cup lessons on board. We just need to work harder and harder in Perth," said Reid.

He also praised the Kiwi goalkeeper: "We hit and hit him hard, but he stopped us many times. That's standard New Zealand, their goalkeeper (Devon Manchester) played really well."

The Kookaburras will host New Zealand, Pakistan and South Korea in early May, in their final warm-up before heading for Antwerp where they are the favourites to qualify for the Olympics.

Malaysia must learn from the Australian defeat, it was because of sturdy goalkeeping from Manchester, and Malaysia had S. Kumar and we almost pulled off a point against the Kookas, but a bungling forward-like shattered that dream... take note Beng Hai.

Malaysia are involved in that same marathon with Australia, and still have time to work harder and harder in Kuala Lumpur... jot that down Beng Hai.

In Belgium, three tickets will be made available to the 2016 Olympics, but with double qualification, even the fifth placed team has a chance to play in Brazil... so you need to motivate the team to fight till the last match Beng Hai.

Playing in Group B, Malaysia will face Belgium, Great Britain, Ireland and China. In Group A are Australia, India, Pakistan, Poland and France.

Azlan Shah bronze medallists India have qualified for the Olympics by winning the Asian Games gold, while Malaysia have a daunting task of beating China and Ireland in their group to avoid the wooden spoonist title in Belgium which in all probability pair them against Australia in the cross-over quarter-finals.

And judging by current form, Belgium and Great Britain are out of Beng Hai and his men's league -- unless they take Reid's advise and re-start their marathon by working harder and harder in Kuala Lumpur.

Also, there is no more room for players who want to go on a long vacation, skipping training, using studies as excuse, using money as excuse, or using politics as an issue to stay away from camp.

The marathon has started, and Malaysia need to keep pace with Australia, and be ready to sprint past India and Pakistan in Group A of the World League Semi-finals if they want to be known as Olympians.

... the last entry into Beng Hai's Azlan Shah Cup diary should be: "In future, I will face the Press win, lose or draw. And not send manager Datuk Nur Azmi Ahmad to face the media bricks..."

(Note: Beng Hai attended all other post match Press Conferences, but left the Azlan Shah Stadium in a huff after losing the fifth spot to Canada).

Jugjet's World of Field Hockey


---

Black Sticks claim 3-2 win against Argentina




The Black Sticks Women have bounced back to beat third-ranked Argentina 3-2 in their second game at the Hawke's Bay Cup in Hastings.

The win is a big turn-around after Mark Hager's side had mixed results against the South Americans – a 1-0 win, and a 1-7 loss – in Gisborne earlier this week.

Hager was full of praise for his team, giving special mention to keeper Amelia Gibson who was unflappable in goal.

"The defensive unit worked well and Amelia was outstanding. Argentina threw everything at us and she put her body on the line and was equal to everything they tried," said Hager.

"The score line could have been very different as both teams had many chances to score, but in the end the result is what matters. I am very happy with our performance and banking the points from the match."

Play swept from end to end for the whole 60 minutes and both keepers were called into action, pulling off world-class saves.

Argentina opened the scoring in the seventh minute when Augustina Habif converted a penalty corner. The Black Sticks responded in the 14th minute when Kirsten Pearce found the net after a breakdown from a penalty corner.

In the second quarter, Carla Rebecchi who scored four goals for Argentina in the previous encounter, had two good opportunities but her shots went wide both times.

The Black Sticks took the lead when Anita Punt scored from a penalty corner in the 23rd minute and then right on halftime Olivia Merry made it 3–1.

Delfina Merino gave Argentina renewed hope when she scored in the 38th minute, but the Black Sticks were gritty in defence, running hard and putting pressure on Las Leonas at every pass.

Despite the Black Sticks trying to slow the game in the final two minutes, Argentina got one last chance when they gained possession and ripped down the field only for it to be blocked by Brooke Neal. The Kiwis then attempted a similar last minute goal, but a cross from Merry into the circle couldn't quite connect with a diving Punt and the final hooter sounded.

In the earlier Pool A games, the USA went ahead to beat India 4-2 after it was all tied up 1-1 in the third quarter. China held world number two Australia to a 2-2 draw, securing the equaliser in the third quarter. In the later Pool B game, a goal in the last minute gave Korea a 2-1 win over Japan.

Tomorrow is a rest day for all teams, with the Black Sticks due to play their final round robin match against Korea on Tuesday at 5.30pm.

For all results, pool table, ticketing info and live streaming of all games go to www.hockeyfestival.nz

RESULTS

Game four: Korea vs Japan
Full time: 2-1 (Korea win)
Korean goal scorers: Jongeun Kim x2
Japanese goal scorers: Shihori Oikawa

Game three: Black Sticks vs Argentina
Full time: 3-2 (Black Sticks win)
New Zealand goal scorers: Kirsten Pearce, Anita Punt, Olivia Merry
Argentina goal scorers: Augustina Habif, Delfina Merino

Game two: Australia vs China
Full time: 2-2
Australian goal scorers: Madonna Blyth, Jodie Kenny
China goal scorers: Yang Peng, Xiayun Xi

Game one: USA vs India
Full time: 4-2 (USA win)
USA goal scorers: Jill Witmer, Kathleen Sharkey, Julia Reinprecht
India goal scorers: Anuradha Thokchom

Hockey New Zealand Media release


---

Roos draw with China

Blyth and Kenny earn Hockeyroos their second draw at Hawke's Bay




A goal four minutes after the starting whistle by Hockeyroos captain Madonna Blyth and another by Jodie Kenny seconds before the halftime siren helped the Australian women to a 2-2 draw with China in their second pool match of the Hawke's Bay Cup.

The Hockeyroos opened up the scoring in four minutes of the starting whistle. Teamwork paid dividends for Crookwell's Emily Smith and skipper Madonna Blyth. Picking up the ball at the top of the circle, Smith took a quick shot on goal with Blyth getting the last touch, setting the lead up, 1-0.

Yang Peng scored the equaliser for China at the 26th minute mark after netting her drag flick off the back of a penalty corner. Hockeyroos goalkeeper Ashlee Wells was unable to deny Peng's on-target flick, resulting in China locking the score 1-1.

Seconds before the halftime siren, the Hockeyroos worked themselves a critical penalty corner opportunity to break away from China. A strong battery setup, Jodie Kenny pulled off her famous world-class drag flick to the top left of the net, pushing the Hockeyroos in front, 2-1.

After a quick turnaround, Xiayun XI took advantage of an opportunity in a one-on-one situation with the Australian goalkeeper after the Hockeyroos were caught off guard in the 35th minute. XI netted China's second goal and once again deadlocked the score 2-2.

In the final 10 minutes of play, the Hockeyroos looked to convert their attacking opportunities to break the deadlock with China, however, were unsuccessful in penetrating the Chinese's robust defence, settling for their second draw of the tournament and a final score of 2-2.

South Australian, Georgie Parker missed today's match after obtaining an ankle strain in their first match against the USA on Saturday. Parker is expected to return to the field later this week for finals.

Hockeyroos Head Coach Adam Commens said, "I thought it was a really disappointing performance today and I think we didn't take a step forward, we took a step back. Our ball handling through the middle and the front was poor. We definitely need to be a lot better as we progress through the tournament if we want to be successful."

Looking ahead to the Hockeyroos' match on Tuesday night against India, Commens added, "India are a tricky opponent, we saw today that they gave the USA a good contest and we will need to be right on top of our game plan and move the ball well to hopefully have a better performance than today."

The Hockeyroos' third and final pool match of the Hawke's Bay Cup will be against India on Tuesday 14 April, 5:30pm AEST / 3:30pm AWST. The match will be live streamed online via the official Hawke's Bay Festival website from 5:30pm AEST / 3:30pm AWST.

Match Two - Hawke's Bay Cup

Hockeyroos: 2 (2)
Madonna Blyth 4 (FG)
Jodie Kenny 30 (PC)

China: 2 (1)
Yang Peng 26 (PC)
Xiayun XI 35 (FG)

Hockeyroos Squad
Athlete (Hometown, State) caps/goals
Started
Teneal Attard (Mackay, QLD) 202/10
Madonna Blyth (Brisbane, QLD) 297/66
Edwina Bone (Evatt, ACT) 67/2
Kate Jenner (Tamworth, NSW) 111/1
Jodie Kenny (Wamuran, QLD) 133/76
Karri McMahon (Berri, SA) 63/6
Georgia Nanscawen (Melbourne, VIC) 151/30
Ashleigh Nelson (Wagin, WA) 171/63
Kathryn Slattery (South Stirling, WA) 11/3
Emily Smith (Crookwell, NSW) 113/47
Ashlee Wells (Morwell, VIC) 46/0

Used Substitute
Jane Claxton (Adelaide, SA) 56/5
Kirstin Dwyer (Mackay, QLD) 69/2
Georgina Morgan (Armidale, NSW) 8/0
Brooke Peris (Darwin, NT) 49/8
Mariah Williams (Parkes, NSW) 10/2

Unused Substitute
Rachael Lynch (Melbourne, VIC) 120/0
Georgie Parker (Berri, SA) 73/23

Hawke's Bay Cup Standings
Pool A
1. USA (4 points, 2 games)
2. China (4 points, 2 games)
3. Australia (2 points, 2 games)
4. India (0 points, 2 games)

Pool B
1. Argentina (3 points, 1 game)
2. Japan (1 point, 1 game)
3. New Zealand (1 point, 1 game)
4. Korea (0 points, 1 game)

Hawke's Bay Festival, 11-19 April 2015
Hawke's Bay, New Zealand
Tuesday 14 April, 5:30pm AEST – Hockeyroos v India
Thursday 16 April, Quarter Finals
Saturday 18 April, Semi Finals
Sunday 19 April, Finals and classification matches

Hawke's Bay Festival Competing Teams and Rankings
Australia (World ranking #2)
Argentina (#3)
New Zealand (#4)
China (#5)
USA (#8)
Korea (#9)
Japan (#10)
India (#13)

Hockey Australia media release


---

USWNT Propels Past India, Dawson earns 250th Cap




India were first on the score sheet in their Pool A match at the Hawke's Bay Cup women's hockey tournament against the USA but couldn't sustain the effort, finally going down 4 - 2.

It's the first time that both teams have attended the Cup tournament and the USA went into this match on the back of a 1-1 draw with Australia in their opening match while China had come out on the top of a 2-1 scoreline against India.

India had the better of the early exchanges in the match and was rewarded in the 6th minute of play when striker Anuradha Thokchom scored her second goal of the tournament

It took a further 13 minutes before the USA were able to equalize when Jill Witmer (Lancaster, Pa.) found the back of the net on a perfect deflection sitting on the far post.

The teams remained locked together at 1-1 all into the third quarter but the USA were gradually getting more possession and territory and India keeper Rajani Etimapu was being called on to make an increasing number of saves.

The USA finally broke the deadlock when Kat Sharkey (Moosic, Pa.) netted from close range and just a minute later put Team USA on the board again moving the USA to an unassailable 3-1 lead.

India were not done and on the stroke of three quarter time a shot hit the post and rebounded to Thokchom who batted it into the net.

The final quarter began with a 3-2 scoreline and the action was frantic as both teams looked for more goals. The USA finally put the result beyond doubt when Julia Reinprecht (Perkasie, Pa.) scored with a cleanly hit shot that was too hot for the Indian keeper to handle.

This game marked the 250th cap for Rachel Dawson (Berlin, N.J.). An incredible achievement representing Team USA for a player who holds immaculate pitch presence.

India had shown plenty of commitment and determination but finally the skill of the USA shone through for a 4-2 USA victory.

Today is a rest day, then Team USA will play their final Pool A match against China on Monday at 11:30 P.M. EST. ** Watch the game streamed live by clicking here. **

Hawke's Bay Festival of Hockey

USFHA media release


---

Indian women lose to USA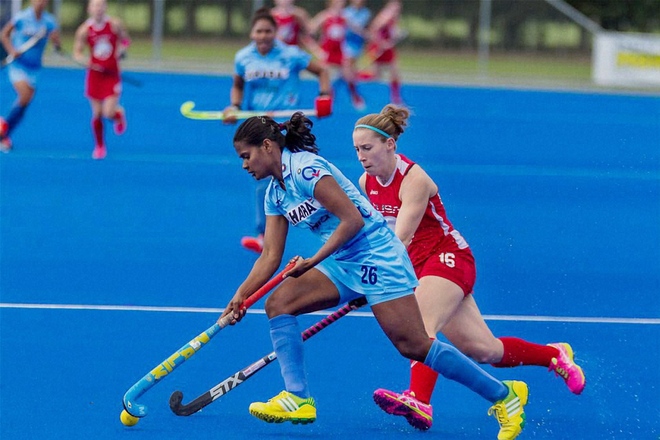 The Indian and the USA players vie for the ball during the second match of the Hawke's Bay Cup at Hastings Sports Park, New Zealand, on Sunday. India lost the match 2-4. PTI

Hastings (New Zealand) - The Indian women's hockey team let slip an early advantage to go down 2-4 against USA in its second match of the Hawke's Bay Cup at the Hastings Sports Park here today. From the very first minute, both the teams played a calculated game and struggled hard to keep the possession of the ball. Both the teams did not allow each other to take advantage of any scoring prospects.

It was India who took the lead through Anuradha Thokchom in the sixth minute of the match. India managed to keep the lead until the end of the first quarter but the USA drew parity four minutes into the second quarter. In the dying minutes of the third quarter, USA's Kathleen Sharkey finally broke into the 'D' twice and scored back-to-back goals in the 42nd and the 43rd minute for her team, taking the lead to 3-1. Anuradha scored the second goal for India in the 44th minute through a penalty corner conversion.

In the last quarter of the game, USA scored in the 47th minute to complete the tally.

The Tribune


---

Ireland's David Ames set for Great Britain men's hockey debut against Germany in Nations Cup

Beeston player in line to become latest Irishman to declare intentions to play for Great Britain and England, alongside compatriot Ian Sloan

By Rod Gilmour



Centre of attention: Beeston players celebrate with club team-mate David Ames Photo: JOSH DIXON

David Ames, Beeston's highly-rated midfielder, is set to make his Great Britain debut against Germany on Tuesday and will become the third Irishman to switch allegiances in the process, Telegraph Sport can reveal.

Ames, 25, became the latest Ulsterman to qualify for England and GB when his three-year exclusionary period ended on Saturday, while 21-year-old fellow Irishman, Ian Sloan, also became eligible.



David Ames, left, has waited three years to play for Great Britain

Ames will join Mark Gleghorne and Iain Lewers in Bobby Crutchley's squad, the latter two having made 178 caps between them since the pair switched allegiances from Ireland. Both have been a consistent presence under Crutchley.

Crutchley admitted that he is also a "strong contender" for the GB squad ahead of this summer's Olympic qualifiers. He described Ames, voted as the players' player of the year, as a "really high-level player" and will give GB versatility in midfield alongside Ashley Jackson.

"He is solid defensively, neat and tidy in with the ball, without being flash," said Crutchley. "He might not be the type of player who will really stand out, but playing in our kind of midfield it might suit us with Ashley [Jackson] and Barry [Middleton] around."

Ames's inclusion as a centrally-contracted player first surfaced when his name appeared on the England Hockey website as an international player last month. He had travelled with the GB squad for two friendly games against Germany and an official Test against the Olympic champions, although he was ineligible to play in the latter.




Crutchley added: "In training he looks very comfortable at this level which is really pleasing. It gives us another player who we feel could strengthen the squad."

Crutchley also holds Sloan in high regard, though the 21-year-old is slightly behind his development as an international player after a foot injury saw him sidelined for a year when he arrived at Loughborough University.

"Ian is a very talented player and we are really keen on him for the long term," said Crutchley.

Ames, who has been described as a "young Glenn Kirkham" in hockey circles, and Sloane have not been funded since they made their decision to qualify for Great Britain.

Ames has been coaching at Nottingham University, who won the university title, and has been helped by Matt Taylor, the Beeston coach.

"He is very dedicated and knowledgeable about his personal development," added Crutchley. "But like a lot of the guys you aren't going to make a big commitment like this without really pushing yourself."

Ames and Sloan had previously represented Ireland at the Olympic qualifiers in Dublin three years ago before London 2012.

England Hockey's latest recruits mean that there will be extra spice ahead of Great Britain's Olympic qualifier against Ireland, the two set to meet each other in a World League Semi-Final pool game in Antwerp in June.

The Telegraph


---

Superb Wimbledon stun East Grinstead to win title



Wimbledon Phill Ball celebrates

In a 13 goal thriller, eighteen year old Blake Govers netted five times as Wimbledon were crowned Champions of the NOW: Pensions Men's Premier Division. They overcame Sussex side East Grinstead, 8 - 5 in an action packed, end to end final. Despite a hat-trick from England and Great Britain's Ashley Jackson it wasn't enough as further goals from Jack Waller, Alastair Brogdon and Phil Ball added to the London side's tally.

The goals started flowing from the off, as Ashley Jackson popped up at the back post to put away a loose ball in the Wimbledon circle on three minutes. The 1-0 advantage didn't last long, as Blake Govers equalised for the London side; his drag flick initially being saved by Paddy Smith in Grinstead's goal, but the rebound fell to the Aussie who made no mistake second time round.

With the score level at 1-1, both teams continued to create chances. East Grinstead won a flurry of penalty corners but failed to beat James Bailey, who was on fine form in the Wimbledon goal. They made their opponents pay for failing to capitalise, when Govers netted his second from a penalty corner and then Jack Waller neatly deflected a Ben Hawes long-ball to give Wimbledon a two goal lead. It was turning into a thriller of a final and East Grinstead came right back into it before half time; firstly Tony Wilson finished off some good work by Rhys Smith, then a little bit of Jackson magic created a chance for Mark Pearn, who scored in his final game for East Grinstead. As the sides went in for the break it was neck and neck at three goals apiece.

The third and fourth quarters proved decisive for the London side as they turned on the style with five goals in 14 minutes to put the game beyond East Grinstead. Govers netted his hat-trick from yet another penalty corner, then Alastair Brogdon scored a brilliant solo effort with a trademark run finished off with a strong strike. Govers scored his fourth and fifth goals either side of an excellent Phil Ball goal, which was created by Captain Ben Hawes sending a 60-metre pass up to his team-mate to take the score to 3-8. The Sussex side refused to give up, as Jackson grabbed himself a hat-trick before the final whistle, but the game was already out of reach and Wimbledon celebrated their first Championship title.

East Grinstead 5 (3)
Ashley Jackson 3, 64, 66 (FG, PC, PC)
Tony Wilson 23 (FG)
Mark Pearn 33 (FG)

Wimbledon 8 (3)
Blake Govers 6, 17, 44, 52, 58 (PC, PC, PC, PC, FG)
Jack Waller 20 (FG)
Alastair Brogdon 51 (FG)
Phil Ball 54 (FG)

Assistant coach and defender Ben Marsden spoke with us after the game about Wimbledon's historic victory: "I still can't quite believe it - it's been such a long time coming and such hard work by so many people. Amazing day, amazing result and some amazing goals! It's been a seven year plan and a huge effort from so many volunteers and people at the club so a huge thank you to them – we couldn't have done it without them. The supporters were amazing – I think we topped it both on and off the pitch and I can't wait to go and celebrate with everyone."

On team-mate Blake Govers' five star performance: "He's a hero! He's got a great drag flicking ability and a big future ahead of him."

Man of the match Blake Govers gave us his thoughts on the performance: "It was very good - we got a couple of early goals and then we kept going from it. It was an end to end match and but we managed to run away with it in the third quarter. They came back into it towards the end but we were able to hold on."

On his first season playing over in England – "It's been very good, obviously there are different styles of hockey wherever you go but it's been a great eye opener."

England Hockey Board Media release


---

Fearless Wimbledon secure first Championship title as European hockey beckons

Play-off weekend at the Olympic Park's Lee Valley saw one of world hockey's oldest club sides produce searing performance to win first title under captain Ben Hawes

By Rod Gilmour, Lee Valley



New chapter: Wimbledon celebrate first-ever Championship success Photo: JOSH DIXON

Seven years ago, Wimbledon, one of the world's oldest hockey clubs, were plying their trade in the South League's Hampshire and Surrey Division. On Sunday, they broke new ground when they lifted their first Championship title after a staggering 8-5 victory over favourites East Grinstead.

Blake Govers, the Australian under-21 international, proved the match-winner as the 18-year-old, who joined the club mid-season, struck five goals, including four penalty corners, in a thrilling denouement to the season.



East Grinstead's Ashley Jackson scored hat-trick in losing cause

It was, though, frantic from the off. Ashley Jackson, who bagged what he will no doubt describe as a forgettable hat-trick, scored in the third minute. He then set up East Grinstead's equaliser at 3-3 before the break when he looked to run towards the corner before finding Mark Pearn, with a fine inside pass.

But the final turned in the third quarter as Wimbledon scored three quick goals. The Sussex side were rattled. Wimbledon were rampant. Ali Brogdon, the GB forward, was at the heart of Wimbledon's breaks, James Bailey's goalstopping pivotal to the Londoner's lead.

East Grinstead had already qualified for Europe after finishing top in the regular season, so few hockey observers would have denied Wimbledon's day as a low strike from Phil Ball and a shot on the turn from Goves, to make it 8-3, put the game to bed.

An emotional Ben Hawes, their captain, admitted later that Wimbledon "had more to lose" with a place in the Euro Hockey League up for grabs.



Founded in 1883, Wimbledon had never previously won Championship title (SIMON PARKER)

"Second year in the league and now we're in Europe – it's unbelievable," said 34-year-old Hawes, returning to the Olympic Park for the first time since GB men finished outside of the medals.

"I didn't have a good experience the last time I was here. Now we have to use this as another starting point."

They've begun in gentlemanly fashion, too. After photographs were taken of the team in front of the scoreboard, they later requested for the celebrations to be toned down, less they were seen mocking East Grinstead.

This scoreline, though, will stay in the memory for a while yet.

Experience comes out on top

Liam Sanford, the GB under-21 player, showed his potential despite spending most of Team Bath Buccaneers' defeat to Holcombe in the sin bin.

Left-sided Sanford was carded three times over 70 minutes and came off second best in his vocal and tackling tussles with GB captain Barry Middleton.

Sanford is now set to choose to either stay in hockey or join the Royal Air Force as a career.



Holcombe men secured top flight hockey for first time (SIMON PARKER)

Emotional South realises Holcombe dream

David South, Holcombe's wealthy chairman, admitted that he would look to further strengthen the squad next season – their first in the top flight.

Holcombe overcame Team Bath Buccaneers 5-1 to seal promotion after missing out on the play-offs by one point last season.

James Stedman started and finished a powerful performance by Holcombe, led by GB captain Barry Middleton in midfield.

On continuing the recruitment process which has seen the likes of George Pinner, Nick Catlin and Dan Fox join the Medway club, South said: "We have several irons in the fire already."

Canterbury kept their top flight status after beating Bowdon 4-2.

Williams heartened despite missing Europe

It remains to be seen whether the third-fourth play-off has any resonance when the European Hockey Federation releases its rankings ahead of next season's European competitions.

Beeston and East Grinstead's early defeats in the men's Euro Hockey League leaves the possibility of only two berths in Europe's elite tournament for English clubs. It means that Surbiton, who beat Beeston 2-1 to finish third, will likely miss out.

Todd Williams, the Surbiton men's coach, was far from disheartened though, despite missing league top-scorer Matt Daly.

His 25 goals propelled Surbiton to a play-off spot, but was unavailable this weekend due to work obligations where cricket coaching duties with Kingston Grammar School saw him undertake a tour to Sri Lanka, instead of plundering in short corners.

"He might have changed the result, but not the performance," said Williams, after his young Surbiton side were beaten by Wimbledon in the semi-final.

"But this is all a learning experience for us."

The Telegraph


---

Blake Govers' high five underpins incredible Wimbledon win




Eighteen-year-old Blake Govers netted five times as Wimbledon won the English NOW: Pensions Men's Premier Division with an incredible 8-5 win over East Grinstead in the final.

Ashley Jackson grabbed a hat trick for EG, starting the scoring in the third minute, but it proved in vain as Govers netted his first soon after. The Australian's second and another from Jack Waller made it 3-1 inside 20 minutes before Tony Wilson pulled one back.

Mark Pearn tied things up at half-time at 3-3 but Wimbledon went goal crazy soon after. They added five more without reply between the 44th and 58th minute with Govers adding three more while Ali Brogdon and Phil Ball also weighed in.

Jackson got two corners but too late to affect the outcome as Wimbledon won their first ever title in amazing fashion.

Assistant coach and defender Ben Marsden said after the game that he"can't quite believe it - it's been such a long time coming and such hard work by so many people.

"Amazing day, amazing result and some amazing goals! It's been a seven year plan and a huge effort from so many volunteers and people at the club so a huge thank you to them – we couldn't have done it without them. The supporters were amazing – I think we topped it both on and off the pitch and I can't wait to go and celebrate with everyone."

Man of the match Blake Govers added:"It was very good - we got a couple of early goals and then we kept going from it. It was an end to end match and but we managed to run away with it in the third quarter. They came back into it towards the end but we were able to hold on."

It means both Wimbledon and East Grinstead look set to represent England in the Euro Hockey League in 2015/16.

Euro Hockey League media release


---

Forsyth fires Surbiton to third



Alan Forsyth Surbiton

Alan Forsyth's brace was enough to give Surbiton a 2-1 win over Beeston in the 3rd and 4th place playoff. The Scotland striker fired home the opener right at the end of the first quarter before adding a second in the 43rd minute, after James Blackwell had levelled the scores in between.

With both sides aiming to forget the disappointment of their semi-final defeats the previous day the game started at a fast pace. Beeston employed a high energy pressing game which seemed to pay dividends as they enjoyed the better of the opening salvos. David Kettle did well to keep out Tim Whiteman and Sam Ward before Forsyth drew an excellent block from international teammate Jamie Cachia at the other end. With just 38 seconds remaining in the quarter Surbiton broke the deadlock. Forsyth raced away into the D and hit a backhand strike underneath the goalkeeper for 1-0.

Beeston replied in the 20th minute. Harry Martin engineered some space inside the D and fed Sam Ward, whose first time pass set up Blackwell to slot home via the goalkeeper's pads.

Kettle helped preserve Surbiton's lead going into half time saving from both Ward and Ben Arnold.

At the start of the third quarter Forsyth went close to adding to his tally as he crashed a shot off the post and then, was denied by a splendid save from Cachia, tipping the No17's fierce shot onto the bar. He was not to be denied minutes later, however as he showed his poacher's instinct to fire home a loose ball from close range.

As Beeston pressed for an equaliser in the fourth quarter Surbiton sat deeper in their own half, aiming to catch their opponents on the break. David Beckett's invention almost allowed Geoff McCabe to score but he flashed his shot wide of the far post.

Kettle was involved once more, getting down sharply to his right to beat away a Ward penalty corner but despite a late onslaught, Beeston could not find the equaliser and Surbiton took the spoils.

The two-goal hero told England Hockey afterwards:

"Yesterday we just didn't show up and it was one of those days. It's tough to get up for a game after that disappointment. Beeston is always going to be a hard test and it was nice to face them at a different venue even though it wasn't the game we wanted to be playing." he added "I feel we controlled the game, maybe not on the ball, but off it. When we had to win it, we won it, and that's how we played, and it came off today."

Beeston 1 (0)
James Blackwell 20 (FG)

Surbiton 2 (0)
Alan Forsyth 18, 43 (FG, FG)

England Hockey Board Media release


---

Kent duo secure Premier Division hockey



Holcombe Gareth Andrew celebrate

In the final round of the NOW: Pensions Men's Hockey League Play-Offs, it was the teams from Kent who came out on top in the battle for Promotion. Holcombe, having played in the Conference East league this season, comfortably overturned Team Bath Buccaneers, winning 5 – 1, with goal scorers including a brace from James Steadman. Their local rivals Canterbury managed to maintain their Premier Division status as they ran out 4 – 2 winners against Bowdon, with clinical Australian Craig Boyne on target for Kwan Browne's side.

Team Bath Buccaneers 1 (0)
Ben Stone 53 (FG)

Holcombe 5 (2)
James Steadman 15, 65 (PC, FG)
David Appleton 35 (FG)
Stephane Vehrle-Smith 42 (FG)
Gareth Andrew 53 (FG)

Holcombe controlled the game from the start, dominating possession and threatening in attack. The deadlock was broken in the 15th minute as James Steadman touched home from close range following a penalty corner. On the stroke of half time, the Kent side doubled their lead as David Appleton lifted calmly on his reverse over Tom Skinner in the Buccaneers goal.

After the break, Holcombe continued as they had left off with Stephane Vehrle-Smith adding to the tally. Team Bath Buccaneers gave themselves hope, replying instantaneously through Ben Stone, as the number seven deflected Liam Sanford's fiery cross past George Pinner. However, with England and Great Britain's Iain Lewers distributing pin-point aerials from defence, Holcombe ran out comfortable winners in the end. Firstly Gareth Andrew fired an unstoppable shot past Skinner and then the scorer turned provider, setting up Steadman for his second and a 5 – 1 win for the Conference East Champions.

Holcombe's Captain Richard Lane spoke to us after the game:
On gaining promotion to the Premier Division: "It's been a long three or four seasons of hard work; we've missed out by one point, then one game and finally one goal, so it's great to finally have made it into the Premier Division."
On the performance today against Team Bath Buccaneers: "We played well. Bath were a lot tougher than we thought they would be coming into the weekend. They put in a great performance yesterday to beat Bowdon and they've got some strong midfielders and quick forwards. Tim Davenport's been really strong for them this season, but we executed our game plan in stopping them from getting corners."

Bowdon (1) 2
David Egerton 27 (PC)
Lee Parry 51 (PC)

Canterbury (2) 4
Wei Adams 19 (FG)
Matt Burton-Bowen 29 (FG)
Michael Farrer 41 (FG)
Craig Boyne 68 (FG)

Bowdon came out of the blocks much sharper than Canterbury with a string of chances in the first 10 minutes. However, they were unable to get past the staunch Canterbury defence, and soon the Kent side were exerting pressure of their own. It was no surprise when Wei Adams gave Canterbury the lead, deflecting a wayward shot down into the Bowdon goal.

The lead did not last long, and Bowdon eventually got just rewards for their work, Dave Egerton linking up with his brother Simon in a wonderfully worked penalty corner routine to level the scores. The celebrations were short lived though, as Matt Burton-Bowen put away a loose ball from close range, reasserting Canterbury's single goal advantage.

When Mike Farrar netted from a wonderful strike early in the second half, Canterbury looked as though they were on course to retain their Premier Division status. Bowdon, playing purely for pride, kept the pressure on, Lee Parry putting away a penalty corner and keeping his team in the battle. But this was always going to be Canterbury's day, and Craig Boyne settled the result with a fine finish late on to leave his side with a 4 - 2 victory.

After the game, Canterbury Captain Tom Richford spoke to us about consolidating their place in the Premier Division: "We were really happy with our performance today. The game was quite scrappy at times, but we kept focussed on our game plan and that paid dividends towards the end of the 70 minutes. We managed to get the goals we needed whilst restricting their chances, so we're pleased with the overall result."

On looking ahead to next season: "We had some tidy signings come in at Christmas, some of which were pre-planned, and looking ahead to the new season it will be about strengthening and consolidating the squad we've built in the second half of the season. If we continue to play in the way we have been recently then I think we've got every chance of being at the opposite end of the table and in the Championship Play-Offs this time next year."

England Hockey Board Media release


---

Mens IHL Final

Stephen Findlater

Richard Sykes' penalty corner double saw Monkstown win their third successive Irish Hockey League title, inflicting Banbridge's first defeat in all competitions this season at Grange Road.

The south Dublin outfit were on the back foot for much of the tie, soaking up huge pressure from a Eugene Magee-inspired Bann, but their devastating set piece proved the difference.

Sykes struck four minutes in with a rocket to the roof of the net. His second effort ricocheted off the crossbar soon after as Town made a great start.

Bann, though, were forcing the issue for the most part with David Fitzgerald making a string of saves, primarily from Stephen Dowds. One was particularly impressive from point blank range while he also slid out to keep his Irish international colleague Dowds at bay to maintain a slender 1-0 lead into half-time.

The Co Down side, though, did get back on terms in the 42nd minute as the irrepressible Dowds tore down the right wing and fired across goal. The cross made it all the way to Jamie Wright at the back post who managed to scramble home at the second attempt despite Fitzgerald's diving lunge.

And they looked the more likely to snatch a second but Matthew Bell miscued a drag-flick while Dane Ward deflected a Magee pass but Fitzgerald moved quickly to his right to tip away.

Monkstown rolled with the punches, however, and they won their first corner of the second half which Sykes planted into the unguarded bottom right hand corner.

It proved the crucial strike as Bann could not break through a teak-tough defence with Lee Cole and Fabian Wullschleger putting in big tackles. Magee once again produced some top skills for their last major chance. His shot at goal took a big deflection with Banbridge appealing vehemently for a penalty stroke, claiming it hit a defensive body en route to goal.

A consultation between the two umpires, though, only yielded a long corner. Jonny McKee won a last ditch corner for Bann but it also went awry and Monkstown had their three in-a-row.

Men's Irish Hockey League final
Monkstown 2 (R Sykes 2) Banbridge 1 (E Magee)

Banbridge: G Lennox, K Marshall, J McKee, P Brown, M Bell, S Dowds, F Mills, R Beattie, D Carlisle, H McShane, E Magee
Subs: S Forbes, S Farson, N Gilmore, D Ward, O Magee, J Wright

Monkstown: D Fitzgerald, L Cole, N Dee, G Groves, A Ward, G Watkins, D Cole, P Caruth, S Cole, R Sykes, F Wullschleger
Subs: J Beirne, I Horsfield, D Carson, G Cole, E Delobelle, J Henry

Umpires: R Donaldson, M Coombes

Irish Hockey Association media release


---

Women's Irish Hockey League

Stephen Findlater

Pegasus landed their second Irish Hockey League title with a smash and grab effort, getting the better of Loreto 4-2 in a shoot-out after normal time had ended 1-1 at Grange Road.

The Dubliners made most of the running throughout but were unable to make the most of their chances while Pegs' central defensive duo of Natalie Pinkerton and Hannah Grieve, along with goalkeeper of the tournament Ayeisha McFerran, were pillars of strength.

Loreto had taken the lead in the third quarter via Ali Meeke's superb deflection into the roof of the net from Hannah Matthews's swept penalty corner shot.

But Pegasus netted in the 62nd minute to tie things up, the experienced Suzanne Ferris popping home from close range from Vanessa Surgeoner's baseline cross.

After that, Loreto had a couple of penalty corners in the final minute of normal time and then again in extra time but Pegasus held on to parity. It led to the shoot-out in which the Ulster side had the advantage from the start as Niamh Small rolled wide.

Pegasus scored all four of their shoot-outs to eventually win back the title they last won in 2011. For Loreto – who could have become the first IHL champion not to qualify for the next year's edition of the marquee competition – they will look back on their untaken opportunities.

Hannah Matthews saw an early penalty stroke tipped onto the post by McFerran. Nicci Daly and Hayley Mulcahy's pace was proving a constant source of danger while Lizzie Colvin and Nikki McConnell also went within inches of creating an opening goal.

In reply, Pegasus best chance of the first half fell to Leah Paul but Ruth Murphy got down low to deny the chance, leaving it scoreless at half-time.

Loreto took the lead three minutes into the second half and looked the more likely to build on it as another Matthews sweep was just inches out of McConnell's reach with 12 minutes left. But Pegasus kept their wits about them to nab their big chance, sending the game into extra time and prevailing in the shoot-out.

Pegasus 1 (S Ferris) Loreto 1 (A Meeke); Pegasus win 4-2 on a shoot-out

Pegasus: A McFerran, H Grieve, N Graham, R Maguire, N Pinkerton, S Ferris, K McConnell, A Speers, G Irwin, S Quinn, V Surgeoner

Subs: T Doherty, R Chambers, R Campbell, A Jones, L Paul, K Harvey

Loreto: R Murphy, A Meeke, S McGirr, H Mulcahy, N McConnell, N Daly, L Tice, J McGirr, N Small, L Colvin, H Matthews

Subs: S O'Loughlin, S Evans, C Baker, L O'Leary, B Biggam, L Delany

Umpires: C Metchette, A Keogh

Irish Hockey Association media release


---

No-nonsense Warriors leave hosts Greensharks in ruins

By BRIAN YONGA



George Mutira (left) of Chase challenges Derrick Ouma of the University of Nairobi during their men's Hockey Premier League match at City Park Stadium on April 12, 2015. PHOTO | MARTIN MUKANGU | NATION MEDIA GROUP

Kenya Hockey Union (KHU) men's premier league defending champions Butali Sugar Warriors kicked off their campaign with an emphatic 3-0 win over Greensharks at the City Park Stadium on Sunday.

New signings Seth Oburu and Barnabas Odhiambo scored for their new club to add to Joeren Stoel's first-half strike, giving the champions a perfect start.

The game was closely-contested in the opening minutes, with defences of both teams standing out.

However the champions took the lead with their first real chance of the game when Stoel beat his marker to divert Oburu's cross home, stunning the home side.

Sharks went in search of the equalizer but were thwarted by Warriors' strong defence marshalled by skipper Ken Nyongesa. Butali went into the break a goal up as Sharks struggled.

Oburu, signed by Warriors from Strathmore Gladiators, proved his worth with a brilliant second goal in the 48th minute following a well-taken shot.

The goal took Greensharks by surprise as they threatened briefly but were let down by poor finishing.

Things got worse when another debutant in Odhaimbo finished off a penalty corner to secure the points for the champions.

Warriors coach Cliffe Okello was disappointed that his team did not win by a wider margin, having created lots of chances throughout the match.

"We had so many short corners but did not utilise them. It was important to get the win as it allows us to see where we need to improve on going forward. We can only get better as the season progresses," Okello said.

In another match, two-time champions Strathmore University Gladiators came from a goal down to beat Wazalendo 3-2. Fidhelis Kimanzi put Wazalendo ahead two minutes before half-time but Clayson Luvanda restored parity through a penalty stroke in the 43rd minute.

Festus Onyango scored a brace in the 45th and 59th minutes to give the Gladiators the lead while Kennedy Munialo scored in the 67th minute for Wazalendo but the university side hang on for the win in a match that saw Gladiators coach Meshack Senge play.

Daily Nation


---

Is hockey's dire need of a financial 'scoop' justified?

By Emmad Hameed



Pakistan hockey has suffered from a lack of funds in recent years, which has affected the team's morale and left the sport in the country with an uncertain future. PHOTO: FILE

Let's cut to the chase, hockey is simply no more a money churning sport in Pakistan. We like to call it the 'national' sport, our 'pride' and the 'sport that gave the country an 'identity', when perhaps there was nothing but the collective failure of the administrators, and the plummeting standard of play has left the sport gasping for air.

With the cricket World Cup gripping the nation last month, the Pakistan Hockey Federation (PHF) cried hoarse for the umpteenth time, claiming that they had no funds to organise even a training camp for the three-time Olympic champions ahead of this year's qualifiers for the 2016 Rio Olympics.

The camp was set up in Lahore and then pulled-up midway since the national federation ran out of funds — the empty coffers couldn't even bear the expense of players' daily allowances, which stands at a paltry Rs800 for the players and Rs1,000 for the officials.

The Indian counterparts then offered Pakistan a 'bail-out' package amid the ruckus but the PHF flatly refused to accept the offer, or that is what we have been made to believe by the hockey administrators.

After a much sought-after audience with the prime minister, the federation received an assurance of a grant of Rs350 million — exactly half the amount they had initially desired.

But there's another twist in the tale, Finance Minister Ishaq Dar has now asked for an audit report of the expenditures made by the PHF under the previous government and unless the federation succeeds in justifying the use and allocation of the funds, the new grant might not be released.

The prevailing situation is causing grief and disappointment to the hockey fraternity and players. The national players didn't get any financial compensation or encouragement despite their miraculous silver medal effort in the Champions Trophy last December.

Now the players are forced to grapple for their daily allowances too and the apparent incompetence of the federation amid the stubborn stance of the government is clearly jeopardising their future.

The Greenshirts lost some competent players to the lack of funds in the recent past, a prime example being drag-flick specialist Imran Warsi, and the talented crop of youngsters like Haseem Khan, Muhammad Touseeq, Imran Butt, Muhammad Waqar, Ammad Butt and Arsalan Qadir might soon turn to Europe or the richly-rewarding Indian Hockey League.

Two national players — half-back Rashid Mahmood and forward Muhammad Rizwan — are already plying their trade in the Dutch League and turned their backs on Pakistan despite repeated pleas from the PHF.

Not sure one can blame them either, since professional sportsmen must not be asked to compromise on their livelihood.

While the federation can't be in any way exonerated for the ruckus that they find themselves in, the fact is that recent governments have woefully neglected all sports sans cricket —the biggest revenue earner.

The high-handedness of the officialdom must end at the earliest, else hockey would surely join the ever-increasing list of sports of no interest in Pakistan.

Despite the odd spurts of brilliance, the national team has struggled to even come close to emulating the glory-laden days of the past and now finds itself on the proverbial 'deathbed'.

Perhaps a major win can prove to be a shot in the arm for the game in the country, but then again without financial support, an Olympic or a world title remains a mere pipe dream.

A catch-22 seems to prevail at present — to achieve a major win, the team needs sustained finances but for sustained finances, they need to raise the profile of the sport in the country, which cannot be done without a major win — a terrible spiral from which there seems to be no way out for the hockey team.

All in all, there's one tricky situation to deal with.

The Express Tribune


---

Steels Mills scratched from Nishan-e-Haider Hockey

LAHORE - Pakistan Steels Mills has been scratched from the ongoing 10th Nishan-e-Haider Hockey Tournament in view of their terrible behaviour during the league match against Pakistan Railways at the Dring Stadium on Sunday.

According to the tournament jury's unanimous decision, Railways will play the first semifinal against Pakistan International Airlines (Whites) while the second semifinal will be played between Wapda and Asia Ghee Mills.

For Steelmen, the last match was a do-or-die issue as they were behind Railways on goal average. They badly needed victory to remain in the tournament while for Railways, a mere draw was enough to reach the semis. Both the teams fought hard to outclass each other and initiated fierce attacks that won applauds from a large number of crowd gathered to witness a thrilling contest under floodlights. Sultan scored the first goal for Steelmen in the fifth minute. Malik and Zubair scored goals in the 45th and 59th minutes respectively. Waji-ul-Hasan (43rd min) and Qasim Ahmed (56th min) scored for Railways.

In the last quart, field umpire awarded a penalty corner to Railways which the Steelmen protested violently, particularly their goalkeeper Farhan used abusive language. He was shown yellow card followed by a red card after he snatched cards from the field umpire.

The tournament jury took a strong exception of the ugly incident which, according to them, was an attempt to spoil the grace of a well-organised event. After the completion of the match, the jury unanimously decided to scratch the Steel Mills.

Earlier, PIA (Whites) defeated Bahawalpur 3-1 in their last match. The airliners started the match with a cautious approach and didn't play their natural game to save their energy for the important semifinal. PIA captain M Zubair scored the first goal in the ninth minute. Amir Shehzad and Ammad Butt successfully converted penalty corners in the 13th and 28th minutes respectively.

Bahawalpur lads demonstrated some guts amid ample crowd support who applauded their every effort. Zohaib scored the lone field goal for Bahawalpur in the 32nd minute.

Today (Sunday)'s semifinals: Pakistan Railways vs PIA (Whites), Wapda vs Asia Ghee Mills.

The Nation


---

How low can Pakistan fall?

Imagine the state of mind of the players amidst all of this. Why would you want to play hockey at all?

Saqlain Umar

When Pakistan finished below Canada at the 2010 hockey World Cup, many former greats cried out in anguish.

Fans wondered whether it could possibly get any worse for the 'Kings of Hockey' before the 'great overhaul' came. Finishing at the bottom in the 12-team hockey show-piece had to be the moment when it all changed, surely.

Pakistan, who won the World Cup in 1971, 1978, 1982 and 1994, had finished 11th at the 1986 tournament in London. 2010 was their worst-ever showing. The television screens sounded the death knell, ex-captains called press conferences, review committees were made and a couple of individuals lost their jobs.

Eight months later, Pakistan defeated Malaysia to win gold at the 2010 Asian Games in Guangzhou, China, but anyone who followed the game closely, knew nothing had really changed from the ignominy of Delhi 2010.

Pakistan qualified for the 2012 Olympics courtesy the Asian Games win, but they were still scraping the barrel in the months preceding the London event. And as expected, a combination of poor planning and tired legs meant that the Greenshirts ended their Olympics campaign at the 7th spot.

The last of the greats, Sohail Abbas, faded away after that event, the bridge between his side and the rest of the world stretched further.

Did anyone in the top administration care? The circus was out again; déjà vu.

Nothing changed.

Like a battered prize fighter, the national game stood up off the mat once again. But this time it met with the greatest blow and the inaction of the previous years meant Pakistan had to suffer the humiliation of August 30, 2013. It was more of a tragedy; Pakistan hockey's 'darkest day'.

Former Olympians and fans mourned it as the worst blotch on the nation's sporting history as the former field hockey titans failed to qualify for the World Cup for the first time since the tournament's inception in 1971.

"I really feel disgusted that Pakistan which launched and pioneered the World Cup competition has today failed to make the event," former captain Islahuddin said after that defeat to South Korea in the Asia Cup.

"The failure of the team has been brought due to the poor policies of the Pakistan Hockey Federation (PHF) which has been fooling people by making excuses and by setting false goals of 'new competitions' after every defeat."

A couple months elapsed and Pakistan faced further shame, this time paying the price for a split in the Pakistan Olympic Association and being unable to send a team at the 2014 Commonwealth Games. This was the first such instance as well.

Fresh 'elections' a few months later, saw Olympian Akhtar Rasool and Rana Mujahid come into power unopposed as president and secretary respectively of the PHF for a term of four years.

It has been a practice of the ruling governments to install their own men in top positions during their terms, merit and acumen is hardly a criteria. Various prominent former Olympians like Islahuddin Siddiqui, Shahnaz Sheikh, Samiullah Khan along with others termed those elections bogus, the result of which is for everyone to see.

Fast forward to April 2015, and the PHF wraps up a training camp for the 2016 Rio Olympics Qualifiers because of a shortage of funds. Days later the Indian federation offers to bail out their Pakistan counterparts.

The government is unmoved.

When it finally responds, Federal Minister for Information Pervez Rasheed, alleges that the PHF had used the funds allotted to them on "other things".

"The government has released around USD 12 million to the PHF as special funds in the last few years so it is not as if the government is not supporting hockey but the PHF needs to get its house in order and tell us where this money was spent because we have been told more than the players, it was spent on other things."

Imagine the state of mind of the players amidst all of this. Why would you want to play hockey at all?

It seemed there was some development in the sorry affair, as the Sports Board Punjab finally stepped in to lend PHF a hand last week. But that move was followed by a declaration by Finance Minister Ishaq Dar that the government would not release funds for hockey without holding its audit.

Sorry, sorry reading.

But why is it that despite being the most successful team in the history of hockey, Pakistan is still surviving on hand outs? Where is the corporate structure which would allow it to generate its own revenue? What really is the role of the federation? And when will the government finally disconnect itself from sports boards and federations?

Australia is one of the most successful hockey teams in recent times. Although the Australian Sports Commission is Hockey Australia's principal partner, the federation Down Under works just like a corporation of which the players are the brand. In their 2014-2018 plan, a strategy to generate 50 per cent non-Government revenue is a major goal.

"Stronger business model by sustained profits through diversified revenue," the objective reads. They currently have eight commercial sponsors of the team. Eight!

The Australian federation also aims to be a 'top three ranked national sporting organisation in Australia' by winning 12 medals from 14 'benchmark' events. Furthermore, their objective will be to have at least 250,000 registered hockey participant in the four-year period.

National sports federations in Pakistan, on the other hand, are the epitome of the malaise affecting government institutions. The rot within them is amplified because they are directly linked to the fortunes of the various national teams on the international stage. It makes for great fodder for the media, which beats the drums and plays emotional Bollywood tunes to images of dejected players.

There is no discourse, no solutions for that 'angle' just doesn't sell.

Where are the analysts offering governance models inspired by the likes of Australia or even the Netherlands?

One former Pakistani player recently said that the pool of quality players had shrunk to 30 over the past decade and it is hardly a surprise. Passion does not put food on the table.

Hockey needs Pakistan as much as the country needs the game. It is part of its identity.

In an interview with Times of India Australia's most decorated player Jamie Dwyer said:

"When India and Pakistan are good there is nothing better for the game. The game becomes so exciting because the amount of following in those countries is huge. I want hockey in those countries to do really well."

What will it take to finally address the collapse of the giants? How long will we keep beating the astroturf for our demise? Even it has turned blue now.

Dawn


---

Gangpur-Odisha wins national title



The Gangpur-Odisha team which won the junior men's National champpionship. Photo: M.A. Sriram

Gangpur-Odisha emerged as the 'B' division champions in the 5th Hockey India junior men's National championship 2015, when it beat Bengal 4-2 in the final played at the Chamundivihar stadium here on Sunday.

Gangpur-Odisha's forward Sibren Lakra hogged the limelight by scoring a hat-trick. The Gangpur outfit controlled proceedings in the early part of the first half, but Bengal came back strongly and went into the lead in the 10th minute, when Gurpreet Singh scored off a penalty corner conversion.

Gangpur-Odisha equalised in the 19th, when a good move initiated from the right flank saw Sibren Lakra intercept Pratap Lakra's cross to the centre and deflect it into the goal. At half-time the teams were level 1-1.

Early in the second half, both teams earned a penalty corner each but could not convert. Gangpur-Odisha then started another move from the right flank and the resultant pass to the centre was again converted by Sibren (40th minute).

Sibren completed his hat-trick in the 54th minute.

Bengal raised hopes of a fightback when Nitish Nuepane converted a penalty corner in the 55th minute. However, Gangpur's Sanjay Xalxo scuttled any such hopes with a clean strike in the 66th minute.

Both Gangpur-Odisha and Bengal were promoted to the 'A' division to be played next season.

Earlier, in the play-off for the third place, Mumbai beat Puducherry 3-1.

After a day's rest, the 'A' division matches for this season get off to a start on April 14.

The results: Final: Gangpur-Odisha 4 (Sibren Lakra 19, 40, 54, Sanjay Xalxo 66) bt Bengal 2 (Gurpreet Singh 10, Nitish Neupane 55).

Third Place: Mumbai 3 (Vinay Valmiki 5, 44, Nitesh Kamble 18) bt Puducherry 1 (P. Thiru Murugan 30).

The Hindu


---

The New 23m (Corner) Restart - Field Hockey

Jon Royce




With the New Rules already in play in the Southern Hemisphere and Euro League, we ask senior coach Jon Royce for his initial thoughts on training and playing with the change of rules.