All the news for Wednesday 8 April 2015

Black Sticks outgun Argentina in Gisborne



Kathryn Henry (l) and Petrea Webster congratulate Olivia Merry on scoring. Photo courtesy www.photosport.co.nz

The Black Sticks Women have celebrated Gisborne's first ever hockey international in style with a 1-0 win over Argentina at the Harry Barker Reserve.

It was a hard fought battle with most of the game tied 0-0 before Olivia Merry broke the deadlock in the 47th minute after deflecting a crash ball from Petrea Webster into goal.

Both sides started slowly, but the Black Sticks gained momentum as time wore on and controlled the second quarter earning two penalty corners.

The second half belonged to the Kiwis, who created plenty of chances on attack while starving Argentina of any chances inside the Black Sticks red zone.

Head coach Mark Hager said the result was pleasing but there is still plenty to improve on as a team.

"We had a lot more goal scoring opportunities than them today but we couldn't put them away, and that's something we need to do better with," he said.

"We're looking to improve as we go forward towards the Hawke's Bay Cup and then of course World League Round 3 which is the most important one for us."



Petrea Webster played her 100th game for New Zealand on Tuesday. Heath Johnson/Photosport

Playing in her 100th test for New Zealand, Webster said the result was a great way to bring up her milestone.

"It's really great to bring up my 100 with a win and hopefully I still have plenty more games to go," she said.

"We were quite aggressive and went forward with the ball, they had very few chances and a clean sheet for us is awesome. It's helpful to be hitting form now and hopefully we can build on it."

The Black Sticks face a rematch against Argentina at 3:30pm tomorrow in Gisborne with the game streamed live at www.hockeynz.co.nz/video

Both sides then head south to Hastings to compete at the Hawke's Bay Cup which starts this weekend. For more information go to www.hockeyfestival.nz

BLACK STICKS 1: (Olivia Merry)
ARGENTINA 0
Halftime: 0-0

Hockey New Zealand Media release


---

Black Sticks unable to stop red hot Argentina



Stacey Michelsen in action at the Harry Barker Reserve. Image courtesy www.photosport.co.nz

The Black Sticks Women have suffered a heavy 7-1 defeat at the hands of a rampant Argentina side in the second test at the Harry Barker Reserve in Gisborne.

After being beaten 1-0 by the Black Sticks yesterday, world number three Argentina looked a completely different team with a marked improvement on both sides of the ball.

Carla Rebecchi played a starring role up front, scoring four of her side's goals while the Kiwis could muster just one of their own through Kirsten Pearce.

Head coach Mark Hager said his side need to make huge improvements to be a threat at the upcoming Hawke's Bay Cup.

"They stepped it up today and we were terrible. To be blunt we were woeful. We made a lot of bad errors, weren't disciplined in our structure and I think we had some players who gave up in the second half," he said.

"We couldn't hold the ball or get it off them and were turning the ball over way too often.

"In the fourth quarter we had a go and started to create some opportunities but before then we were poor, we just didn't fight."

It was a frenetic first half with Argentina full of running in the opening 10 minutes. In the sixth minute the visitors took the lead when Rebecchi put a reverse stick shot into the back of the goal.

The Black Sticks were swift to respond and put together a nice phase down the right wing before Kirsten Pearce smashed home the equaliser from the top of the circle.

Rebecchi rounded out a successful quarter for Argentina, scoring her second goal of the match off the back of an error at the back from New Zealand.

The second half belonged to Argentina, who poured on five more goals with two more from Rebecchi as well as Delfina Merino, Martina Cavallero and Gisele Yuarez.

New Zealand showed some fight in the final 10 minutes but it was far too late to affect the final result.

The Black Sticks now head south to Hastings tomorrow in preparation for the Hawke's Bay Cup which starts this weekend.

New Zealand are joined by Argentina, Australia, China, USA, Korea, Japan and India at the tournament and open their campaign against Japan at 7:30pm on Saturday night.

For more information, ticket sales and live match coverage go to www.hockeyfestival.nz

BLACK STICKS 1: (Kirsten Pearce)
ARGENTINA 7: (Carla Rebecchi x4, Delfina Merino, Martina Cavallero, Gisele Yuarez)
Halftime: Argentina 2-1

Hockey New Zealand Media release


---

Malaysia desperate for win in Sultan Azlan Shah Cup

By S. Ramaguru



Malaysia hockey team goalkeeper S. Kumar attempts to stop Australia from scoring during their Sultan Azlan Shah Cup match in Ipoh on Tuesday. Australia won 3-2. - SAIFUL BAHRI/ The STAR

IPOH: Two matches, two losses.

Malaysia are desperate for a win when they take on India in the Sultan Azlan Shah Cup hockey tournament at the Azlan Shah Stadium on Wednesday.

Coach Tai Beng Hai's team are fifth in the standings of the six-nation tournament. Malaysia started off dismally, losing 4-2 to New Zealand in their opening match on Sunday. They put up a much better performance against world champions Australia, but let their guard down to lost 3-2 on Monday.

Beng Hai has called on his players to be more consistent, which has been a bane in recent years.

"We want to beat India and we stand a good chance if the players can reproduce the form they showed against Australia.

"It was a good effort all round, but we lost out because we could not sustain the pressure. We have to make sure we fight until the end. That's what we need to strive for," he said.

Like Malaysia, India have yet to win a match. The Asian Games gold medallists drew 2-2 with South Korea and then went down 2-1 to New Zealand.

Said Beng Hai: "India have an experienced line-up. They play a typical Asian style but with new Dutch coach Paul van Ass in charge, they are slowly changing their system of play.

"Like us, they will also be playing in Belgium (in the Olympic-qualifying World Hockey League Semi-Finals in June) and this will be a good test against them.

"We have a good knowledge of their players, but that does not mean we can beat them. We need to up our game and make sure we cut down our errors. We must also take the opportunities that come our way."

The Star of Malaysia


---

Demoralised India look to bounce back against Malaysia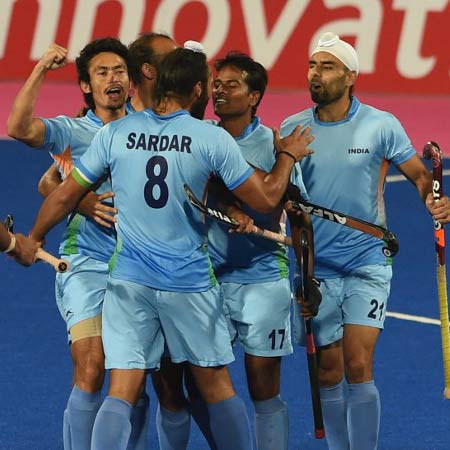 Still winless after two outings, a demoralised India would be desperate to get their Azlan Shah Cup hockey campaign back on track with a positive result against a spirited Malaysia in their third league match, here tomorrow.

Still winless after two outings, a demoralised India would be desperate to get their Azlan Shah Cup hockey campaign back on track with a positive result against a spirited Malaysia in their third league match, here tomorrow.

Under new chief coach Paul van Ass, India are still searching for their first win in the tournament following a 1-1 draw against Korea in their opener and then a 1-2 loss at the hands of New Zealand yesterday at the Azlan Shah Stadium.

But Malaysia, who are three ranks below India (9) in the world rankings, have shown in their 2-3 loss against world champions Australia that they are a tough nut to crack.

To add to it, Malaysia will have the home support behind them and it remains to be seen how the Indian sticks cope up with the pressure.

It is not that India played badly in the last two matches. In fact, they dominated the possession and were more creative on the turf but what did them in was their forwards inability to convert chances into goals and the fragile backline, which succumbed under pressure.

The Indians created plenty of scoring opportunities in the last two games but the strikers, especially Ramandeep Singh failed to deliver results.

With one goal apiece, Akashdeep and Nikkin's performance can be termed as satisfactory but Ramandeep has been a complete let down as he missed easy chances in both the matches.

India's problems have been compounded by the injury to young striker Mandeep Singh, who twisted his ankle against Korea and sat out of yesterday's game. He has swelling in his ankle and might take a few more days to recover.

The backline continues to be a bane for India and it yet again came to the fore when they conceded a late goal, courtesy some sloppy defending to hand New Zealand a win yesterday.

Despite enjoying better possession and ball control, India paid the price for letting their guard down when put under under the pump.

The Indians also need to work on their penalty corner conversation rate, which is their strong point in the presence of two high quality drag flickers in VR Raghunath and Rupinder Pal Singh.

Coach Van Ass was candid enough to admit that his wards need to reduce their mistakes on the turf to get results.

"It is unfortunate but there is nothing wrong with the way we are playing hockey. The level of play has been very good we are not getting the results. May be that will come with time. But I feel our mistakes should reduce," he had said after the New Zealand match.

Malaysia, on the other hand, would be gunning for a win to please the home crowd.

The hosts might have lost both their opening two matches, but against defending champions Australia they showed that they can't be taken lightly.

The Malaysians came up with a spirited display to make Australia toil hard for the win. They frustrated the Kookaburras for nearly 43 minutes for the first goal and surprised their opponents with goals from counter-attacks.

So understandably, the Indians can only take Malaysia lightly at their own peril.

"They (Malaysia) surprised me with their performances (against New Zealand and Australia). So I am expecting a very high standard match. The atmosphere is going to be electric," Van Ass said about the upcoming game.
India cannot afford to slip up tomorrow as only a win can keep their final hopes alive.

DNA


---

India vs Malaysia – A Must Win Game for Paul van Ass

By Ashim Sunam

The Indian hockey team have not registered a single victory in the ongoing 24th Sultan Azlan Shah Cup 2015 in Malaysia after drawing level in the first game of the tournament against Korea 2-2 and losing to New Zealand in the second match as well, 2-1.
India needs to be clinical in front of goal to defeat MalaysiaHockey India

This is not the start, which India chief coach Paul van Ass was expecting from his players. But, Ass would want India to win their tough match on Wednesday against the hosts, Malaysia, who have also not been in top form, as they lost both their matches against New Zealand and Australia with the score reading, 4-2 and 3-2 respectively.

The game would be crucial for both the sides, as they would be eager to register their first win.

The Indians were never expected to go winless in their first two matches considering, a strong squad fielded by India. Though, they might have played some decent matches in the competition, they have not been able to find the back of the net easily.

The Indian team have been creative in the centre of the park along with some good possession, but it is their game in the final third, which might raise concerns.

India could take inspiration from their last victory against the Malaysian side during the World Cup last year with the game finishing 3-2 in favour of the Indians.

But, not everything is lost for India, as they can still progress and play for first-second place if they win all their matches, which also includes against Australia and Canada.

"We are not allowing the result of yesterday's match (defeat against New Zealand) to affect us. We played tough in the entire match, they played better than us in the last five minutes," IANS quoted India captain Sardar Singh as saying.

But, Malaysia will be backed very strongly by their supporters as they are playing at home. The Indian team needs to come up with their best game if they are to defeat the Malaysian side.

"We will come back stronger tomorrow (today) and in the rest of the matches and aim for wins as it will help us for the top slot. Though Malaysia will have the home advantage but the fact that we outwitted them in our last clashes will give us the added boost."

International Business Times


---

Its all in the stars says Paul van Ass

Tazeen Qureshy

India might be looked as a potential winner in the 24th Azlan Shah tournament. But coach Paul van Ass is not looking so far away.

So, when he was asked that did he have the same India vs Australia prediction for the final as many people in the stadium are hoping for, he quickly retorted, "They can look very far away."

Elaborating on India's chances to make it to the final he said, "It is good that people want to see India in the final".

"That's a good news for us. But, it is all in the stars. You don't know and I don't know it."

So, where does the coach exactly see his team in the tournament?

"I don't know.

After the spontaneous jerk, he continues:

"All I know is we had a rest day and then we are up for matches against Malaysia, followed by Canada and Australia. Right now, we are looking at India's match against Malaysia which would be the most intense game in the stadium since there are many India supporters here as well."

India is yet to register a win under his coaching despite having played two matches this week.

India conceded a late goal - a chronic problem surfacing again - to Korea to tie the match 2-2 and then lost to New Zealand again conceding a late goal.

With all win record Australia is leading the points table

Stick2Hockey.com


---

Raghunath: if it is my day it will be good

Tazeen Qureshy




Penalty corner is one of the areas where the India team lacks consistency. On Monday, in their second match against New Zealand, the same inconsistency was revealed after India failed to capitalize on penalty corner opportunities.

India, who earned three penalty corners could convert only one as the other two went amiss due to wrong injection. The one converted also came off the rebound shot of V.R Raghunath.

If India has to better its chances in the tournament, it needs to get over such mistakes, especially against Malaysia in their next match on April 8.

Speaking on the forthcoming match, Senior member of the team V.R. Raghunath feels its Malaysian defence that concerns India.

"Malaysian defense is very good, especially their penalty corner defense. They have been doing a good job over last few years. It will be a tough and healthy competition when we meet them tomorrow," said, one of the two drag-flickers in the team.

Quoting the poor conversion rate and owning responsibility to score, he said, "We made mistakes. But tomorrow is a new day. As a drag-flicker, it is my responsibility to score goals. I always put my 100 per cent. In the next matches too, I will be giving my best. If its my day, it will be good."

Raghunath really had his day in the first match when his late goal helped India salvage a point against South Korea.

India relies on man of many battles Raghu to post first win tomorrow

Stick2Hockey.com


---

Scoring against Malaysia is Raghunath's specialty

By S. Ramaguru



India's V. R. Raghunath trying to evade two New Zealand hockey players during their Sultan Azlan Shah clash in Ipoh on Tuesday. - SAIFUL BAHRI/ The STAR

IPOH: Penalty corner specialist V. R. Raghunath has a knack of scoring goals whenever India play Malaysia.

And he hopes to keep the streak going when the two teams clash in the Sultan Azlan Shah Cup hockey tournament at the Azlan Stadium Stadium on Wednesday.

"I have scored some important goals against Malaysia. So, I want to score tomorrow (today) as well.

"It is my job to get the goals since I am one of the penalty corner flickers in the team.

"But it is never easy playing Malaysia and I am sure they will be ready for us, too. I really do not worry who scores as long as we win the match," said Raghunath.

The 26-year-old made his debut for India in the junior side in 2003.

Two years later, he made his senior debut during the bilateral series against Pakistan as a replacement for injured Sandeep Singh.

Raghunath was a member of the team who won the bronze medal in the 2007 Sultan Azlan Shah Cup and then a silver the following year.

With 182 caps, he is one of the more experienced players in the team.

For India's newly-appointed Dutch coach Paul van Ass, he is expecting an intense match against Malaysia.

"Malaysia have the edge as they have home support. And they have played some good hockey in the two matches.

"We expect a tough time. To win, we must not make too many mistakes in the game," he said.

Van Ass took over as India coach just three weeks ago, and he has yet to secure a win.

Asian Games champions India drew 2-2 with South Korea in their opening match on Sunday, but lost 2-1 to New Zealand on Monday.

But Van Ass is unfazed by the lack of results.

"It is unfortunate (the results) but there is nothing wrong with the way we played. The level of play was very good, we just didn't get the results. May be that will come with time," he said.

"From the creative part, I think we were more fun to watch but that doesn't count because in the end it is the result which matters."

The Star of Malaysia


---

Stats speak: India-Malaysia

By B.G.Joshi

Sehore-Bhopal, India - Today's clash between India and Malaysia is important for both the teams; winning team will stay in contention for the medal. Will India make platinum jubilee win versus Malaysia or hosts prevail over India.

Head to head (India vs. Malaysia)
| | | | | | | |
| --- | --- | --- | --- | --- | --- | --- |
| Particulars | MP | W | D | L | GF | GA |
| Total | 106 | 74 | 18 | 14 | 302 | 139 |
| In Azlan Shah Cup | 21 | 14 | 4 | 3 | 58 | 36 |
| In Ipoh | 17 | 14 | 1 | 2 | 49 | 24 |
| On Malaysian Soil | 48 | 31 | 9 | 8 | 142 | 75 |
| Last 5 matches | 5 | 3 | 1 | 1 | 14 | 12 |
Last played: Hague World Cup, June 2014, India wins 3-2.   

Fieldhockey.com


---

Australia struggling with PCs in Azlan Shah Cup

by S. Ramaguru

IPOH: World champions Australia's lack of bite in penalty corners has been glaring at the Sultan Azlan Shah Cup hockey tournament.

But coach Graham Reid is unperturbed that they failed to convert any of their 15 attempts so far.

"Yes, we have been ineffective. But we will get better at it.

"Right now, we are trying out new ideas with four or five players taking the flicks. So, the players taking the attempts keep changing.

"Having said that, we need to be sharper and try to be more accurate with the attempts," said Reid.

Among the penalty corner takers are Jeremy Hayward, Matt Ghodes, Glenn Simpson and Mark Knowles.

The Australians have scored 10 goals – nine field goals and a penalty stroke – in their opening two matches. They whipped world No. 14 Canada 7-0 on Sunday and 12th-ranked Malaysia 3-2 the next day to top the standings in the six-team tournament.

The Kookaburras play against South Korea on Wednesday followed by matches against New Zealand and India.

Said Reid: "This tournament offers us a variety of teams and styles and it certainly is a good place to be at. The tournament is of good standard. With the teams preparing hard for the World Hockey League Semi-Finals in June, the quality is there for us to make use of."

The Star of Malaysia


---

'India among top five fittest teams in current world hockey'



Indian men''s Field Hockey team players warm up during a training session at The Major Dhyan Chand National Stadium in New Delhi on April 1, 2015. AFP

Ipoh (Malaysia) - Fitness is key to any team's success in fast-paced modern-day hockey and the Indian men's national team can be rated among the top five fittest sides in the world currently, said the country's Australian physical trainer Matthew Eyles.

Eyles, who took over as India's scientific advisor (strength and conditioning) 18 months ago from countrymate Jason Conrath, feels even though there is still room for improvement, India can now match the fitness levels of teams like Australia and New Zealand on the turf.

"Physically they (Indian players) have improved a lot.

When I got here 18 months ago, they were good, lot of them were very good natural athletes but now they have developed a good base. I think any strength and conditioning coach can't feel content, they always want more from their athletes," Eyles told PTI in an interview on the sidelines of the ongoing 24th Sultan Azlan Shah Cup here.

"Their speed is good, endurance in good. They are looking really sharp at the moment. So I am happy with them."    

Asked where India currently stands in the world map in terms of fitness, Eyles said: "I don't think we are the fittest side at the moment. It's hard to compare. Australia and New Zealand are always physically good sides. But I think we can definitely match any team now.

"In my opinion definitely we can consider India among top five nations on fitness front in world hockey."      But the transformation really started four years back when Michael Nobbs was appointed as India coach and soon after taking charge he roped in fellow Australian David John as the team's trainer.

Eyles said since joining the team he did not do anything magical but just focused on the basics.

"When I arrived here I first assessed the fitness level of the players and then followed standard process. I just tried to develop their base and then build them up from there.

"I did just progressive things. We built a good base early on and then managed to just keep topping that up. We focused more on the speed and agility, and that got better and better. We have done a lot of work on the pitch and they are getting stronger. They have got a decent strength base.

"There is always room for improvement but currently we are in a very good place," he said. 

Skipper Sardar Singh, who is considered one of the fittest players in the team, has been playing non-stop hockey for the last three to four years, but Eyles feels he has been managed well and there is no need to give him a break before next year's Rio Olympics.

"Rating players is hard but he (Sardar) is one of the better players on fitness front. There will only be a few who can be best. He has a lot of match fitness, considering the amount of hockey he plays. He is just about managing and pushing hard when he can and backing him when he needs to be," Eyles said.

"I don't think we need to rest him now because I think we have managed him pretty well. At the same time he hasn't played any more than others. They have all basically played the same amount of hockey," the trainer added.

Eyles feels striker Dharamvir Singh is presently the fittest player in the Indian team.

"If I have to put a name, Dharamvir is probably one of the best fitness wise. There are also players like Manpreet (Singh), Kothajit (Singh) and Akashdeep (Singh) who have great pace on the turf," he said.

"Generally, I am happy with all the players. I am happy with their averages, with our testing results."

The Tribune


---

Forwardline needs to be more responsible, says Sardar Singh

IPOH (Malaysia): Missed chances were the order of the day for India in its opening two games of the ongoing 24th Sultan Azlan Shah Cup hockey tournament and national captain Sardar Singh minced no words when he said that the team's forwardline will have to play more responsibly to give themselves any chance of reaching the final here.

Under new chief coach Paul van Ass, India is still searching for their first win in the tournament following a 1-1 draw against Korea in their opener and then a 1-2 loss at the hands of New Zealand yesterday at the Azlan Shah Stadium.

The Indians created plenty of scoring opportunities in the two games but the strikers, especially Ramandeep Singh failed to deliver. With one goal apiece, Akashdeep Singh and Nikkin Thimmaiah's performance can be termed as satisfactory but Ramandeep has been a complete let down.

"We have seen in the last two matches finishing has been a problem for us. The strikers need to play more responsibly because every single ball has value. We need to be sharper inside the 25 metre circle. We are also witnessing some problems in trapping the ball," Sardar said ahead of India's next fixture against hosts Malaysia on Wednesday.

"In any tournament every participating team's target is to reach the final. If we timely avail our chances in the coming matches we will get positive results," he said in an optimistic note.

The Azlan Shah Cup is not only Dutchman Van Ass' first international assignment with the team but also kick starts India's preparation for next year's Rio Olympics.

"This tournament is our first preparation for Rio Olympics. We are working on various things here. We are working on how to play under pressure, how to lift our morale after a loss. It is a learning process for us.

"But as a team we need to back each other," Sardar said.

Sardar did not hide his disappointment with the results of the opening two games but said India's main target in this tournament is to play well and grow as a team, which he feels they are doing.

"Yes we are little disappointed with results because we have played better than our opponents. All the players have been playing well since last year so they have high expectations," the India skipper said.

"Our target in this tournament is to play well. At the end of the day we should be satisfied that we are growing as a team. We also need to look at the mistakes which we are committing here and learn from them.

"We are trying a few new things in the midfield and forwardline. The new coach (Van Ass) is teaching us plenty of tactical things but it will take some time," he said.

"The good thing is that we are getting the chance to play competitive, pressure games here," Sardar signed off.

The Times of India


---

India's old habits die hard

by Mihir Vasavda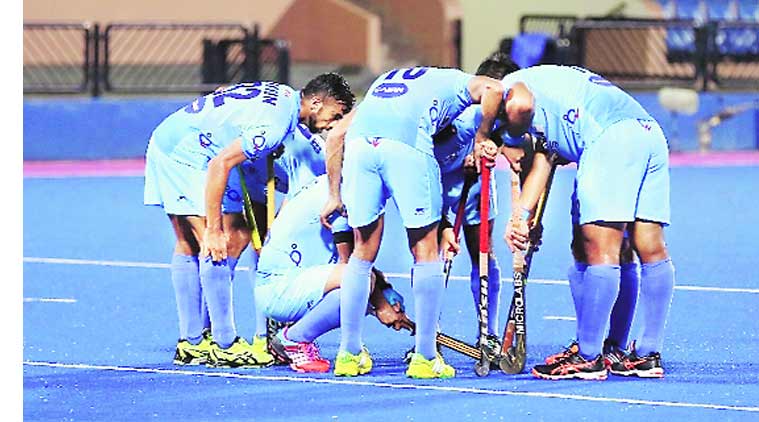 The Indian team during a practice session at Ipoh.

It is a new beginning for India under coach Paul van Ass but old failures continue to haunt them as they look for their first win in the Azlan Shah Cup. India will take on hosts Malaysia in Ipoh on Wednesday and, just two matches into his reign, Van Ass has his plate full.

A string of decent results papered over the cracks for a major part of last year. However, like in the opening two matches, lack of sharpness in the attacking third coupled with defensive lapses at crucial junctures have been India's bane for quite some time.

Having already qualified for next year's Rio Olympics, much of India's focus will be on finding the right team combination and tactics for the Games.

Van Ass believes India have been the better team in both their matches but 'silly errors', especially in the striking circle, have cost them wins.

For quite some time, India have lacked a goal-poacher who can pose threat to the opposition defence merely with his presence inside the 'D'. Young Mandeep Singh has struggled to live up to his early promise and has been injury prone. He hurt his ankle in the opening match against South Korea and his availability for the remainder of the tournament remains doubtful.

His strike-partner Ramandeep Singh too has not been scoring consistently enough. He is liked by the coaching staff for the 'number of opportunities he creates' but he has often let down the team in fulfilling his primary responsibility – scoring goals. Both in international games as well as the Hockey India League.

Akashdeep Singh and Nikkin Thimmaiah have been impressive, but in patches. "We have seen in the last two matches finishing has been a problem for us. The strikers need to play more responsibly because every single ball has value. We need to be sharper inside the 25-metre circle. We are also witnessing some problems in trapping the ball," skipper Sardar Singh was quoted as saying by Press Trust of India on Tuesday.

Defensively, too, India have been disappointing, conceding soft goals at critical stages. In the opening match against Korea, Seongkyu Kim and Jun Jung Lee managed to score despite the presence of four Indian players inside the 'D'.
Against New Zealand, too, lapses in concentration resulted in the team conceding goals despite dominating almost every other aspect of play.

Though favourites, India can ill-afford to take Malaysia lightly in Wednesday's encounter. The hosts have had a tendency to trouble India in their recent encounters and would be gunning for a win in front of home crowd. They have lost both their matches but put up a spirited fight against Australia, a match they narrowly lost.

Van Ass has not had the time to tinker with India's playing style during his short stay with the team before the Azlan Shah Cup. He has liked what he has seen so far but has urged the team to reduce the errors. He, after all, knows that its the results that matter in the end.

"In the creative part, we were more fun to watch but in the end it doesn't count. It is the result that you take with you. And we need to start working on converting good play into results," he said.

Indian Express


---

Canada pleased with performance through two matches at Azlan Shah Cup

Shaheed Devji

When it comes to the scoreboard, the Canadian Men's National Field Hockey Team hasn't come out on the winning end through the first two matches at the 2015 Sultan Azlan Shah Cup. But what hasn't come through in goals and wins has certainly been evident in the way the team is playing on the field.

"Our work rate and our ethic around working hard in the match is fantastic," says Canadians Men's National Team head coach Anthony Farry. "And that's all we can ask at this stage."

Canada's men are in tough at the tournament, which boats four of the top ten teams in the world. But despite that – and other obstacles – Canada, ranked fifteenth, is seeing progress and consistency in its play. And that is a big positive as it works toward its shot at 2016 Olympic qualification this summer.

With up to seven regulars out of the lineup for various reasons, including injury and club duty, this edition of the Azlan Shah Cup is a way for others to experience a high level of play and push for selection for the World League Semi-Finals in June.

Canada's first game this past weekend was against the world's top team, Australia. Despite the 7-0 loss, there were encouraging signs.

"For 52 minutes we were much better than we were last year," Farry says. "It was a tough start but a necessary one for a lot of these guys who haven't played much or any international hockey, especially against a side like Australia."

"It was good to see what it's like to play that sort of side, but also good to get it out of the way."

The second match was another step in the right direction for Canada. In facing Korea, Canada took on a team they lost to in the final of the 2014 Champions Challenge in Kuantan, Malaysia.

Canada started the match on the right foot when veteran Richard Hildreth scored the first goal of the match in the eleventh minute.

"We had a good start; a good fifteen minutes," Farry adds. "It was a relatively even match. Korea had some opportunities but so did we. On another day, we could have got some points out of it. We gave ourselves an opportunity to do that."

While Korea came back to defeat the Canadians 3-1, the Canadians believe progress is being made and hope to continue to improve on a day-to-day and game-to-game basis throughout the tournament.

"We've got some really good sides to play. It's going to be about building on this performance now so we're able to build some consistency with what we do."

Canada faces New Zealand, the world's seventh ranked team, Wednesday at 1:10am PT/4:10am ET. They finish the round robin against India on Thursday and the host Malaysians on Saturday.

Field Hockey Canada media release


---

Sultan Azlan Shah Cup to be shown live on internet

NEW DELHI: The Sultan Azlan Shah Cup tournament, where the Indian hockey team is playing, will be shown live on http://www.layarku.tv/khasv2/arena.html.

The 24th edition of the invitational tournament is underway in Ipoh, Malaysia, from April 5 to 12.

India drew their first match against South Korea 2-2 which was followed by a 1-2 loss to New Zealand on Monday. They next take on hosts Malaysia on Wednesday.

The Times of India


---

Van der Horst hails "unbelievable thriller"




Rob van der Horst called it an "unbelievable thriller" as his Oranje Zwart side eventually prevailed in the most memorable shoot-out in the Euro Hockey League history.

Less than a day later, the Facebook views of the 22 one-on-ones has passed 150,000 views and the video – condensed from 30 minutes down to 12 – has been watched in all corners of the globe.

In normal time, OZ captain Van der Horst was one of the key players with a supreme performance at sweeper as the beating heart of the Dutch champions.

His display was matched by his UHC Hamburg counterpart Moritz Fuerste, the ultimate competitor, with both men putting in wonderful tackles and setting attacks in motion with incredible vision.

Once normal time could not separate the side, goalkeepers Vincent Vanasch and Nicolas Jacobi took over, producing save after dextrous save as the shoot-out advanced via a series of heart-stopping swings in fortune before OZ eventually nicked the result via Bob de Voogd.

Speaking afterwards, van der Horst told the EHL website it was an incredible spectacle that played havoc with his nerves: "There were a few times I thought it was over and a few times I thought we had won it. It was an unbelievable thriller.

"It was an amazing final. We were there last year and we lost in the shoot-outs and this time we won twice. You can win them, you can lose them, I don't know what to say.

"But it's amazing we kept on fighting the whole match, even after the disappointment of 1-1. Hamburg did a great job and were amazingly competitive. We needed to bring our 'A' game and thankfully we did."

The captain was not involved in the shoot-out directly and had to watch a number of the shoot-outs through his hands. As such, he admitted he may only recall some moments with any great clarity as the days go by but Vanasch's performance will live in his memory.

"Tomorrow, I probably won't remember maybe 18 of the shoot-outs! Our goalie was amazing. He did it in the semi-final and today, bringing us the cup. He is an unbelievably good guy who is one of the top keepers in the world and deserves all of this."

As for Vanasch, it is a huge victory for him in his first season since joining OZ from the Waterloo Ducks. He graciously paid tribute to his goalkeeping colleague Nicolas Jacobi before saying he was able to focus all the time on his own job.

 "I think Jacobi did a great job also," he said. "I was alone in the corner and tried to stay quiet and then try and stop the ball – that's my job! After that, Bob de Voogd got the winner.

"It's good to be alone. Goalkeepers are always a little bit apart from the team so I was just in the corner, focussing. But I know the guys are there for me and I am always there for them so it was nice.

"We do practice the shoot-outs a lot and normally we are better at striking but today I was there also so it was good; such a good team."

Asked how this ranked as a moment in his career, he added: "Of course this is my biggest moment, European champion! It's my first year with Oranje Zwart so I want to enjoy this moment and take steps forward. This is one of those big steps."

Euro Hockey League media release


---

English teams finish with victories in Europe

In the final day of the EuroHockey Club Champions Cup Surbiton were playing for a fifth place finish and Canterbury seventh. Both teams came away with important victories as the overall results of the tournament count towards the final ranking points on offer for all teams.

Source: European Hockey Federation - click here for more tournament information.

7th/8th Place – IZMAYLOVO v CANTERBURY

IZMAYLOVO 1
VASILEVA Daria 44 (PC)

CANTERBURY 5
LLOYD Nikki 3 (FG)
CHAMBERLAIN Dirkie 19 (FG)
BAKER Anna 20, 32 (FG,FG)
CLEWLOW Mel 47 (PS)

In the opening half Canterbury, still reeling from their shock defeat to UCD yesterday, came out determined to overturn yesterday's result and at least finish off the bottom ranked place.

They opened the scoring via number 19 Nikki Lloyd in the opening minutes. With much of the possession Canterbury were unlucky not to be further ahead in the first quarter, but made up for that with 3 goals on the second quarter  all from play, Dirke Chamberlain, and two from Anna Baker.

With a strong first half, Canterbury sat back at the start of the second half, allowing Imaylovo into the game sufficiently to earn a PC and goal vis Daria Vasileva, but they took control again and added a penalty stroke in the 47th minute, converted by Mel Clewlow.

The final quarter, both teams battled it out, but the result was clear as Canterbury never allowed the Russians' game to flow. The Final score of 1-5 in favour of Canterbury and a 7th place finish, Izmaylovo finish 8th.

5th/6th place – Surbiton HC v UCD Ladies HC

SURBITON 4
HERBERT Rebecca 22 (FG)
TWIGG Georgie 41 (PS)
KING Julia 55 (PC)
HUNTER Jo 59 (FG)

UCD LADIES HC 1
MULLAN Katie 52 (PC)

The second game of the day was between Surbiton and Ireland's UCD; with a smattering of International players it was billed to be a good game. Surbiton tested the UCD defence early in the game with a Jo Hunter went on a darting run down the right flank, but ultimately to no avail. The Irish team lost their International star Anna O Flanagan in the 13th minute to injury, this was a huge loss and perhaps a game clanger. Rebecca Herbert was first on the score sheet for Surbiton with a strike that zipped past the UCD's keepers head.

A high tempo start to the second half saw a wave of attacks from Surbiton. A foul by UCD deemed deliberate in the circle in 41st minute allowed Georgie Twigg to step up to the penalty spot and double Surbiton's lead. UCD did claw one back via a deflected corner from Katie Mullen. With all to play for it as Surbiton who, possibly with the more experienced players in their squad pilled on the pressure in the final quarter, a sublime shot in the 55th minute from  a  Julia King direct strike at a PC put the game beyond the grasp of UCD, and a final goal from Jo Hunter who had threatened all day in the 59th minute finished the scoring and the game at 4-1.

The overall positions from this year's EHCCC will count towards the EHF's points and rankings for the 2016 EuroHockey Club Tournaments. The final rankings and make up of the divisions for next year will be announced after the EuroHockey Trophy and Challenges at Whitsun.

England Hockey Board Media release


---

Holcombe men 'under pressure' to perform at hockey play-off finals

With Holcombe women falling short of play-off berth by one point, the men's side will be aiming to secure premier division place for first time in club's history this weekend

By Rod Gilmour



Free-flowing: Holcombe's goal have been catalyst to play-off position Photo: HOCKEYIMAGES.CO.UK

David South, Holcombe's millionaire chairman, believes that the men's side will have a "fair bit of pressure" to secure promotion to the premier division for the first time after the women's 1st XI narrowly failed to make it to Lee Valley.

Holcombe men missed out on the play-off weekend last season by a solitary point, while the women's side managed to do the same two weeks ago, albeit in their first season in the top flight.

South admitted to a "tinge of disappointment" after Holcombe – whose squad of 16 saw only five players with previous premier division experience – were pipped by Reading to a play-off berth at Lee Valley.



Dan Fox is one of number of star names for Holcombe men

"The top three teams are clearly in front and whoever was in fourth was going to be distant to be frank," said South.

"There is disappointment having got so close, but there was a lack of experience and we have drawn too many teams."

Holcombe men, meanwhile, won the Conference East division in leisurely mode: undefeated in 18 games, 110 goals scored and a goal difference of 89 (the next best goal difference was +3).

Goalkeeper George Pinner, defender Iain Lewers and midfielder Nick Catlin all joined captain Barry Middleton, their signature signing, last summer to boost the men's side, meaning that Medway supporters have been treated to 12 home international players featured across both teams.

"They supposedly have a team of superstars and the club are desperate to get both into the premier division," said South of the men's team.

Their title win ensured a play-off finals' weekend against Bowdon, Team Bath Bucaneers and Canterbury, who finished in the relegation play-off berth in the top flight.

Last weekend, Holcombe played their first play-off match (before the final two are played at Lee Valley) where they edged Bowdon 4-3.

"It has been our target for the last 12 years to reach there," South added. "But it will be tough and there will be a fair bit of pressure on them.

"Canterbury are on a run and have some form, while the other won their leagues. It is just four strong teams."

The Telegraph


---

PM agrees to give PHF Rs 350m in couple of days

Mohsin Ali

ISLAMABAD - President Pakistan Hockey Federation (PHF) Chaudhry Akhtar Rasool met with Prime Minister Mian Nawaz Sharif outside the Parliament House soon after the joint session on Tuesday and discuss in detail about the difficulties and problems being faced by the federation in running day-to-day affairs and also about international commitments.

Akhtar also met with Federal Information Minister Senator Pervaiz Rasheed and IPC Minister Riaz Hussain Pirzada.

While talking exclusively with The Nation Tuesday Akhtar described his meeting with PM as highly fruitful and looked completely relaxed.

"I traveled all the way from Lahore on early Tuesday morning just to meet PM, who is also the patron of the federation, and as soon as the joint session of the parliament concluded, I went straight to PM and apprised him about the actual situation and about four major events in which national team and junior teams would represent country.

These include Australian tour, Korean tour, Olympic Qualifiers and Junior team's tour of Europe.
I informed him in detail about the funds situation."

He said he also informed the PM about the factual position of the funds.

"The matter of the fact we didn't receive any special grant from the federal government since taking over.

All the funds were received by the former management.

The PM was very cooperative and listened to each and every word of mine with great interest.
He promised to release the grant in a day or two.

We had requested Rs 500 million but IPC Ministry had sanctioned Rs 350 million.

I hope the said amount would be released in next 48 hours as promised by the honourable Prime Minister.

I am very hopeful PM will definitely fulfill his promise as I know him very well.

He is a sportsman and always helped federation in the past too."

When asked about whether it was a planned meeting or invited by the PM, Akhtar said it was not a planned meeting neither PM invited him.

"The matter of the fact is I decided to travel to Islamabad and try to meet with the PM.
I am very grateful that PM didn't disappoint me and without schedule and giving appointment, he gave me so much time.

I can understand the PM is very busy in internal and external issues of grave importance."

When asked about his meeting with Federal Information Minister Senator Pervaiz Rasheed and whether he asked about Indian Hockey Federation email, Akhtar termed his meeting with Information Minister as highly productive.

"Yes I informed him about the email and we had already categorically declined Indian Hockey Federation offer.

I had informed Indian counterparts that Pakistani government in the past had always supported the PHF and players and same would continue in the future too.

Senator Perviaz promised that government would oversee the financial issues of the federation and would not leave federation and players alone.

He asked me to carry on the good work and initiatives we had taken in the short span of time.
I informed him in detail about our future plans and the measures we are taking to take Pakistan hockey back to old glory days.

We have a solid plan and we are slowly and steadily working on that agenda."

When asked about his meeting with IPC Minister Mian Riaz Hussain Pirzada, Akhtar was full of praise for Pirzada.

"He not only lauded Pakistan hockey teams recent performances but fully endorsed them and termed that the results speaks itself.

He was very happy with the progress being made by the federation and players and assured would go all out to help federation just like the past and would try to resolve all problems within a short span of time."

"Now I am quite relaxed and fully focused on task ahead.

We would soon award not only central contracts to players, coaches and selectors but also clear all their outstanding dues as well.

I am quite sure the special grant would be released in a day or two, which would all but end all the problems and players would get a new lease of life and their on and off field performances would start to come thick and fast," Akhtar concluded.

The Nation


---

Bilateral series: Pakistan ask India to play against them if they want to help

By Nabil Tahir



The team has not played an international match since after the Champions Trophy final in December last year, and has also missed out on the Sultan Azlan Shah Cup that commenced on Sunday. PHOTO: FILE

KARACHI: After turning down India's offer of financial assistance to alleviate the problem of lack of funds that has been plaguing Pakistan Hockey, officials have said that they want Hockey India to pay a bilateral series with Pakistan, which will help the players and the team prepare for the upcoming assignments.

"The Pakistan Hockey Federation (PHF) has been asking Hockey India to play a bilateral series with Pakistan on a neutral venue for the past one year and also to include Pakistani players in the Indian Hockey League but they never agreed," said PHF secretary Rana Mujahid.

Last year during the Champions Trophy in India, PHF officials including Rana, president Akhtar Rasool and coach Shahnaz Sheikh asked Hockey India to play with Pakistan. This was initially agreed upon but a controversial semi-final clash and the subsequent fallout meant the proposal was suspended.

"We have once again replied with the same demand instead of financial support as our country will support us soon when it comes to finances," he said. "The PHF is trying its best to give international matches to the players for their preparation and is making all the arrangements for the tours."

The team has not played an international match since after the Champions Trophy final in December last year, and has also missed out on the Sultan Azlan Shah Cup that commenced on Sunday.

Meanwhile, the coach also added that, while training camps are being organised, the team is in dire need of international matches. "Playing with India will allow the players to improve their skills and address their weaker areas," said Sheikh. "India can also organise a series with Pakistan and bear all the expenses like Korea is doing for the upcoming series in May. Participation in the Indian Hockey League will help our players improve their skills and support them financially as well."

The Express Tribune


---

The assassination of Pakistan hockey

By Khawaja Manzar Amin

Pakistan hockey lies mortally wounded and apparently in the last throes of what has been a slow, lingering and agonizing death spread over the past decade before the indifferent gaze of an entire nation. It would require a eulogy on the lines of Mark Anthony's funeral oration for the assassinated Julius Caesar to define the tragic tale of the fall of Pakistan's national game, the latter label an honour bestowed on it by Quaid-e-Azam Muhammad Ali Jinnah himself. In this dire situation comes the not only absurd but ironic 'Trojan Horse' offer by the eastern nemesis of a financial bailout of the Pakistan Hockey Federation (PHF) by Hockey India (HI), couched in loving words about both arch-rivals not missing out in the Rio Olympiad next year. Rubbing salt in the wound, or as the ancient saying goes, do not trust the Greeks even if they come bearing gifts.

The exaggerated reaction of Hockey India and the Indian spectators in Bhubaneswar after the shock 3-4 loss to the greenshirts on December 13, 2014 in the Champions Trophy semi-final and then pressurising the International Hockey Federation into banning two key Pakistan players for the final was the flash that lit up the reality of their 'good' intentions better than anything else! It is still etched in public memory. In yet another sign of its' continuing trek towards extinction, the greenshirts contingent was missing (for the second straight year) from the prestigious Sultan Azlan Shah Cup which started on April 5 and was once its happy medals hunting ground. What a pang one felt after the competition commenced and the first results of the matches started coming in, minus our national outfit.

This lack of participation is unacceptable and constitutes an almost criminal neglect of the national game by the government. Such international events are essential for keeping the players sharp, focused and competitive at the highest level. About twenty to thirty matches of international grade in a year are necessary to keep the players in top form and fighting fit. It is amazing that the government can spend billions on the dubious 'Guinness Book' record stunts which are telecast live on state television, on equally spurious Youth Festivals and the like, while ignoring the just demands of hockey for inclusion in what is an important international event.

The 'thin upper crust' and the elite have a 'money grows on tress' attitude when it comes to their own comforts and junkets at home and abroad. Then all financial caution is thrown to the winds, and the National Treasury (if it can be termed as such now) emptied of millions and billions of hastily printed paper money, but the plutocratic leaders throw up their arms in a gesture of helplessness when it comes to keeping the national game (or for that matter the national interests) on the global grid. A shameful situation for which no penalty or reprimand can suffice.

Pakistan is an enforced pariah in cricket where formerly mothers-in-law were preferably to be sent, but now no touring side ever visits, and in hockey we have become voluntary outcasts, victims of the same petty attitudes, vindictive egoism and lack of vision that are our bane when it comes to the wider national horizon. In both cricket and hockey, the patron in chief is the same political personage who unfortunately dispenses just that: patronage to cronies, hangers-on and the utterly undeserving. So if policies fail, or the money given to the PHF (or to the PCB for that matter) 'vanishes' without a trace because its army of officials are politically well connected, who is to blame in the final analysis?

As has been suggested, a committee of retired hockey legends of well-deserved national and international repute can be formed to ensure that all government funds to the PHF are spent in a transparent manner primarily for the players grooming and meeting their rightful financial needs, as well as the development of the game and its facilities, and not just on free joyrides for the officials.

The desired funds must be squeezed out of the air if necessary by the financial wizard ruling the roost. The training camp prematurely shut down on the 'penny wise, pound foolish' principle must be restarted without any further delay and ample funds provided to the PHF for their crucial preparations leading up to the 2016 Rio Olympics, especially the Belgium qualifiers in July in which they would be facing stiff competition. By beating India in its lair in the 2014 Champions Trophy and winning silver, as well as being runners up in the Asian Games, the greenshirts have proved that they have what it takes to overcome the best in a high pressure game even before a raucously hostile crowd as in Bhubaneswar.

The latest absence from the Azlan Shah meet, the wrapping up of the one-month training camp ahead of time (inviting the Hockey India salvo), the political battles being waged publicly by the former Olympian greats and disciplinary matters involving the players, have all turned Pakistan hockey into an object of ridicule at the international level and tarnished its image. Please do not form a committee, a judicial commission or a joint investigating team to look into the matter!. Just do it. Let this be the last time Pakistan hockey, its mystique and spirit, is forced to quit the Azlan Shah or any other event for so-called financial constraints when the country's reputation and image is at stake.

The Daily Times


---

Ex-greats call for promoting sports culture in Pakistan



Pakistan's sporting greats attend a function arranged by the Pakistan Olympic Association (POA) to celebrate the International Day of Sport for Development and Peace.

LAHORE: A number of renowned international players attended a grand function arranged by the Pakistan Olympic Association (POA) to celebrate the International Day of Sport for Development and Peace at a local hotel on Monday night where they urged the need to promote sporting culture in the country.

Hockey Olympians Tariq Aziz, Akhtar Rasool Chaudhary, Col Mudassar Asghar, Manzoor-ul-Hasan Senior, Mohammad Usman and squash legend Jehangir Khan were amongst the prominent former players who delivered speeches with presidents and secretaries of various national sports federations also in attendance.

More importantly, the distance between the government and the POA seemed to be reduced further as two government officials including Ijaz Chaudry, the federal sports ministry secretary, and Director General Punjab Sports Board (SBP) Usman Anwar also present.

The conflict-like situation between the government and the POA had brought Pakistan on the brink of the IOC suspension last year. However, the government took a step back to avoid IOC suspension, just three days before when the international game's governing body was all set to suspend Pakistan's membership.

The speakers also called upon the government could play a pivotal role in helping Pakistan regain its former sporting glory.

Col Mudassar and Tariq urged the government to help out the sports federations in attracting maximum youth towards the sporting activities as it was the lone way to end the terrorism from the country.

"Sports in Pakistan needs financial backing to return to professional ways," Tariq added.

Pakistan Hockey Federation (PHF) president Akhtar Rasool, meanwhile, said: "Hockey has brought notable laurels for the country in the past and it needs maximum patronage of the government to revive Pakistan's past glories."

Jahangir echoed Rasool's view. "Pakistan should be focus on regaining the foothold it enjoyed in international sport," said the squash great. "Sport is a very effective medium to promote peace in the society."

Federal sports secretary Ijaz said Pakistan should take a leaf from South Korea's book who had cut its health budget to divert major part of it to sporting activities believing that when people are healthy they are at a lesser risk to disease.

"The national federations should also a culture of self-accountability in their units," he added.

DG Punjab Sports Usman urged sports federations to introduce scientific methods to accelerate the country's sporting growth with Pakistan Volleyball Federation (PVF) Chaudhry Mohammad Yaqoob reading out the address of the POA president Lt Gen (r) Arif Hasan, who is out of the country, due to a personal assignment.

Dawn