All the news for Thursday 26 March 2015

FIH releases latest World rankings

After the completion of Hockey World League Round 2 the FIH has released their latest World Ranking lists.
| | | | | | | | | |
| --- | --- | --- | --- | --- | --- | --- | --- | --- |
| Rk. | Country - Men's | CF | Pts. |   | Rk. | Country- Women's | CF | Pts. |
| 1 | Australia | OCE | 1933 |   | 1 | Netherlands | EUR | 1938 |
| 2 | Netherlands | EUR | 1800 |   | 2 | Australia | OCE | 1848 |
| 3 | Germany | EUR  | 1673 |   | 3 | Argentina | PAN | 1818 |
| 4 | Belgium | EUR  | 1535 |   | 4 | New Zealand | OCE | 1575 |
| 5  | England | EUR  | 1508 |   | 5 | United States | PAN | 1440 |
| 6  | Argentina | PAN | 1454 |   | 6 | Germany | EUR | 1438 |
| 7 | New Zealand | OCE | 1421 |   | 7 | China | ASI | 1433 |
| 8  | Korea | ASI | 1358 |   | 8 | England | EUR | 1412 |
| 9 | India | ASI | 1339 |   | 9 | Korea | ASI | 1369 |
| 10  | Pakistan | ASI | 1150 |   | 10 | Japan | ASI | 1345 |
| 11  | Spain | EUR | 1088 |   | 11 | South Africa | AFR | 1121 |
| 12  | Malaysia | ASI | 1031 |   | 12 | Belgium | EUR | 1094 |
| 13  | South Africa | AFR | 934 |   | 13 | India | ASI | 949 |
| 14  | Ireland | EUR | 870 |   | 14 | Ireland | EUR | 855 |
| 15  | Canada | PAN | 868 |   | 15 | Spain | EUR | 844 |
| 16  | Japan | ASI | 835 |   | 16 | Italy | EUR | 653 |
| 17  | Poland | EUR  | 703 |   | 17 | Scotland | EUR | 620 |
| 18  | France | EUR | 695 |   | 18 | Belarus | EUR | 619 |
| 19  | Russia | EUR  | 636 |   | 19 | Azerbaijan | EUR | 591 |
| 20 | Egypt | AFR | 588 |   | 20 | Canada | PAN | 553 |
---

U.S. Women's National Team Summits Historical Milestone with New World Ranking

LANCASTER, Pa. – The U.S. Women's National Team has achieved a new record high of 5th on the International Hockey Federation's (FIH) World Ranking system. At a rapid clip during the past two years, Team USA leapt from 10th to 8th and now clinches the 5th spot, fresh territory for the program. Since the introduction of Craig Parnham and his coaching staff and the rebasing of the team to the Home of Hockey in Lancaster, Pa. in 2013, the team's consistent hard work has resulted in strong performances in international competition recognized by opponents and fans alike.
| | | |
| --- | --- | --- |
| RANK | COUNTRY | POINTS |
| 1 | Netherlands | 1938 |
| 2 | Australia | 1848 |
| 3 | Argentina | 1818 |
| 4 | New Zealand | 1575 |
| 5 | United States | 1440 |
| 6 | Germany | 1438 |
| 7 | China | 1433 |
| 8 | England | 1412 |
| 9 | Korea | 1369 |
| 10 | Japan | 1345 |

"The progress during the last two years is testament to the commitment and dedication to the program from both athletes and staff," said Parnham. "From the outset, as a group we established our vision and mission and what that looks like in action every day. Our performances are underpinned by robust processes, lots of hard work and a belief in what what we are doing. It is also important to acknowledge that our program could not exist without the support of a number of stakeholders."

A set of accomplished performances in FIH tournaments has resulted in the accumulation of world ranking points. The summer of 2014 brought gold from the Champions Challenge in Scotland as well as another landmark statement when Team USA advanced to the semifinal round for the first time in 20 years at the Rabobank Hockey World Cup in Holland, with an end result of 4th place. In other international competition the red, white and blue marched on with successful series in the spring against Canada, the fall in New Zealand and in early 2015 against Argentina.

"It's pleasing for everyone who has committed to this journey to see that what we are doing is taking us in the right direction, but our work is still very much in progress," said Parnham.

The next opportunity to be part of the U.S. Women's National Team's journey to contend at the 2016 Rio de Janeiro Olympic Games in the U.S. is marked for mid-May at the Home of Hockey's Spooky Nook Sports in Lancaster, Pa. International threat Ireland, with an FIH World Ranking of 14, will meet the red, white and blue for three test matches.  This International Series serves as the final round of preparation matches for the United States before they make their way to Valencia for World League Round 3, the first opportunity for the USWNT to qualify for the Olympic Games.

USFHA media release


---

Coach Beng Hai wants hockey boys to defy odds

By Aftar Singh



The national hockey team won the World League Round Two tournament in Singapore in January, beating Poland 8-0 in the final. - BERNAMA

KUALA LUMPUR: Malaysia have been drawn in Group B with two big guns – world No. 4 Britain and No. 5 Belgium – in the World League Semi-finals in Antwerp, Belgium from June 20-July 5.

Minnows Ireland and China are the other teams in Group B in this Olympic hockey qualifying tournament.

Group A consists of world No. 1 Australia, India, Pakistan, France and Poland.

After the group matches, the top four teams from each group will proceed to the knockout quarter-final stage.

Only the top four at the end of the tournament qualify for next year's Olympic Games in Rio de Janeiro.

National coach Tai Beng Hai admitted it was a tough draw.

"The challenge now is for us to defy the odds and qualify for the Olympics," said Beng Hai.

"I hope the team will finish in a good position in the group to qualify for the knockout stage.

"The crucial match is the quarter-finals as a win will confirm our place in the Olympics," he added.

Malaysia last reached the Olympics in Sydney in 2000.

In preparation for the World League, Malaysia will be going on a six-match playing tour in Europe.

The team are now preparing for the six-nation Sultan Azlan Shah Cup, which begins in Ipoh on April 5.

The other participating teams are title-holders Australia, New Zealand, South Korea, India and Canada.

The Star of Malaysia


---

Sardar Singh to lead India at Azlan Shah Cup

s2h Team

New Delhi,: Indian ace Sardar SIngh will shoulder the responsibility of leading India at the forthcoming Azlan Shah CUp for which Hockey India announced squad today

The 24th Sultan Azlan Shah Cup is scheduled to take place from 5th till 12th April 2015, in Ipoh, Malaysia.

This is of course first time the tournament will be held without the presence of its mentor Azlan Shah, who expired last year.

Coming April 5th, 2015 will see the 18 hand-picked players for the Indian Men National Hockey Team taking on Australia, New Zealand, Korea, Malaysian and Canada in the impending 24th Sultan Alzan Shah Cup in order to claim the title of Sultan. The core probables were seen sweating it out on the field during rigorous training session in preparation of the tournament. Where Sardar Singh will be leading the team as the Captain, the Indian star-goalkeeper PR Sreejesh will be seen supporting him as the Vice-Captain.

Training under Coach Paul van Ass, the Indian Men are undergoing serious training sessions with a mindset of outclassing the opponents in the upcoming tournament.

Speaking on the team announcement, Captain for the team, Sardar Singh said, "The team composition is almost the same as Champions Trophy, though we have three new inclusions Chinglensana Singh Kangujam, Satbir Singh and Mandeep Singh. All three will help boost our options for attack. I think their contribution for their respective teams in HHIL 2015 helped them make a comeback into the National squad".

Speaking on the team, Chief Coach Paul van Ass of the Indian Men Hockey Team said, "The Sultan Azlan Shah Cup will be my first tournament as the Coach of this team and I look forward to a positive start by doing well in this tournament. The players and I are still getting to know each other both, professionally as well as on the personal front. By the intensity and efforts put in by theses players on the field, during the preparations, gives me much confidence in this team and a hope to have a great start as one unit. I have seen them play in Champions Trophy last year and they are turning into a formidable line-up who are keen to take on new challenges."

The 24th Sultan Azlan Shah Cup at Malaysia will be played from 5 – 12 April 2015 and six teams will be seen fighting it out for the title. India will play their first match against Korea at 15.40 IST on 5 April 2015.

List of Players:
GOALKEEPERS
1. Parattu Raveendran Sreejesh
2. Harjot Singh

DEFENDERS
3. Gurbaj Singh
4. Rupinder Pal Singh
5. Birendra Lakra
6. Kothajit Singh
7. VR Raghunath

MIDFIELDERS
8. Manpreet Singh
9. Sardar Singh
10. Dharamvir Singh
11. Chinglensana Singh Kangujam
12. S. K. Uthappa

FORWARDS
13. Ramandeep Singh
14. S. V. Sunil
15. Akashdeep Singh
16. Nikkin Thimmaiah
17. Satbir Singh
18. Mandeep Singh

Stick2Hockey.com


---

Strong squad for Azlan Shah



Mandeep Singh

Newly-appointed India hockey coach Paul van Ass has decided to field a full strength squad for the 24th Sultan Azlan Shah Cup to be held in Ipoh, Malaysia, from April 5 to 12.

The 18-member group has just three changes from the Champions Trophy squad in Bhubaneswar last December. Midfielder Danish Mujtaba, striker Lalit Upadhyay and defender Gurjinder Singh will miss out. They have been replaced by Chinglensana Singh, Satbir Singh and Mandeep Singh.

While Sardar Singh will captain the side, goalkeeper P.R. Sreejesh will continue to be his deputy.

Besides two goalkeepers — Sreejesh and Harjot Singh — the squad will have five defenders in Gurbaj Singh, Rupinderpal Singh, Birendra Lakra, Kothajit Singh and V.R. Raghunath.

In the midfield, Sardar will be assisted by Manpreet Singh, Dharamvir Singh, Chinglensana and S.K. Uthappa. Ramadeep Singh, S.V. Sunil, Akashdeep Singh, Nikkin Thimmaiah, Satbir and Mandeep will form India's forwardline. "The players and I are still trying to know each other. But the intensity during the preparations gives me much confidence in this team and a hope to have a great start as one unit," van Ass said.

Besides India and hosts Malaysia, the other participating nations are Australia, New Zealand, Korea and Canada.

Squad: Goalkeepers: P.R. Sreejesh, Harjot Singh

Defenders: Gurbaj Singh, Rupinderpal Singh, Birendra Lakra, Kothajit Singh, V.R. Raghunath

Midfielders: Manpreet Singh, Sardar Singh, Dharamvir Singh, Chinglensana Singh, S.K. Uthappa

Forwards: Ramandeep Singh, S.V. Sunil, Akashdeep Singh, Nikkin Thimmaiah, Satbir Singh, Mandeep Singh.

The Asian Age


---

Kookaburras star Jamie Dwyer's hockey comeback faces baby dilemma

Athens 2004 gold medallist seeks 4th Olympics appearance. Kookaburra great chases record 321st cap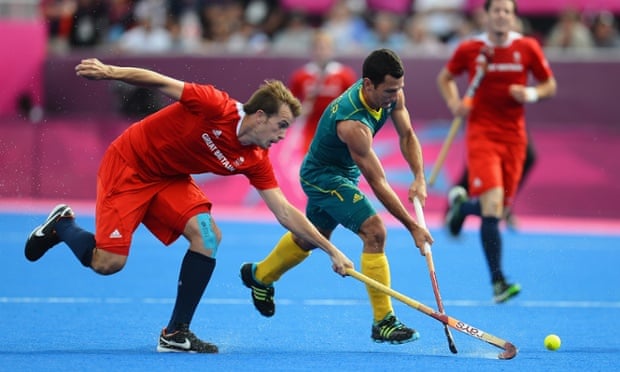 Jamie Dwyer is challenged by Matthew Daly of Great Britain during the Men's Hockey bronze medal match at the London 2012 Olympic Games. Photograph: Lars Baron/Getty Images

Kookaburras great Jamie Dwyer endured days of uncertainty before deciding to shelve retirement plans and vie for a record-equalling fourth Olympic hockey campaign at Rio.

But that pales in comparison to the dilemma Dwyer is now facing as he prepares to launch his international comeback.

The 36-year-old says he may have to rethink leaving with the first Kookaburras squad he has made since last June as he awaits the birth of his third child.

Dwyer looked set to overtake Jay Stacy (321 games) and become the most capped Kookaburra after being included in the 18-man squad for the upcoming six-nation Sultan Azlan Shah Cup tournament in Malaysia.

He is also committed to pushing for a Rio berth and joining the Kookaburras' elite four Olympics club after reaching a career crossroads last October.

But the five-time World Player of the Year admits right now family may have to come first.

"The baby was due last week," Dwyer told AAP.

"I am hoping the child arrives soon otherwise I think my wife will be asking why I am leaving.

"If it comes in the next few days, I will be right to go away.

"If it doesn't, I will have to reassess the situation.

"Hopefully it doesn't come to that."

Dwyer is due to fly out next Thursday in his first Kookaburras squad since starring in their 2014 World Cup winning campaign.
Advertisement

The future looked grim for Dwyer when he was controversially overlooked for the Glasgow Commonwealth Games and missed the Champions Trophy last December due to a four month foot injury.

However, days of soul searching in October and an encouraging chat with new Kookaburras coach Graham Reid in December convinced him to bid for a fourth Olympics.

"It wasn't a hard road to get back into the squad once I decided that I was not going to retire," Dwyer said.

"I thought about it for a number of days in October, then I later had a chat with the coach and said 'I want to go for it'."

Asked if Rio was the goal, Dwyer said: "Yes, otherwise I would have stopped playing - after that I will call it quits.

"I think I have a good chance to get there if I stay fit - I will give it everything I got."

Dwyer is chuffed to have the outright games record in sight but looks forward to simply donning the green and gold again.

"For me it is not about breaking the record, it's about team success," Dwyer said.

"Just getting to wear the green and gold again after such a long time will be special.

"I think my record will be broken one day by Eddie Ockenden (231 games by age 27).

"But to hold it for a while will be a great honour."

The Guardian


---

RCF win key battle against Saint Germain




Racing Club de France moved back into a share of the lead in the Top Six as they got the better of previous incumbents Saint Germain last weekend as the league returned to action after its winter break.

The win means RCF are now level at the head of the table with St Germain as well as Lille on 10 points with five games to go this season.

Racing welcomed German player Patrick Hablawetz to the fold and they got off to flying start when Simon and Nicolas Martin-Brisac combined,

They raced into a 2-0 lead with Olivier Sanchez and Antoine Ferec combining for the second. St Germain pulled one back before the tie became scrappy with lots of cards around the half-time whistle.

But RCF clinched the tie when Jean-David Koch scored from his side's only corner of the game. They play Wattignies – who were beaten 1-0 by Lille – next on Sunday while St Germain host Le Touquet in their last game before the Euro Hockey League.

Euro Hockey League media release


---

Boon back in black as a Racing Rat

Tom Boon announced his return to Racing Club de Bruxelles for next season following two years with HC Bloemendaal, citing preparation for the 2016 Olympic Games as the key reason.

The 25-year-old announced the decision on Tuesday morning in front of a large group of Belgian and Dutch journalists, saying he needed to limit the level of travel he would have to undertake if commuting back and forth from north Holland.

"I want to prepare optimally for the Olympics. Starting in September, we will train from Monday to Thursday with the national team. It was not an easy decision but it was necessary to manage the rest of my career. I actually spent two wonderful years in the Netherlands in one of the best clubs in the world."

He hopes that he can also land a title with Racing after a number of near misses in his last spell with the club.

"I played four seasons with Racing and I played three playoff finals without winning anything. It's time to remedy that. We want to win a title. It is a club where I feel good and I have many friends. Racing was always my first choice."

Euro Hockey League media release


---

Get set for Scottish Cup & Plate semi-finals in Glasgow

Scottish Hockey's Scottish Cup and Plate competitions reach their semi-final stage this weekend, with 8 semi-final encounters being staged at the Glasgow National Hockey Centre on Sunday 29 March.

Men's Scottish Cup Semi-Finals (4pm)

Newly crowned National League Division 2 champions Grove Menzieshill have already disposed of Division 1 champions Bromac Kelburne in the quarter-finals and will be looking to renact a similar scenario when they take on captial outfit Grange.

The Stags sit second in Division 1 and may be considered narrow favourites to reach the final, butwith the Dundonians in such electrifying form in front of goal this season, don't be surprised if another upset is on the cards.

AAM Gordonians entertain Edinburgh University in the other last four contest. With the Aberdonians having secured a top four European play-off spot last weekend having dispatched of Western Wildcats in the quarter finals, confidence will be high. However the students have had an equally promising season so expect a close fought match.

Men's Scottish Plate Semi-Finals (2.15pm)

Falkirk GHG and Aberdeen Grammar School FP face up to each other in the Men's Scottish Plate Semi-Finals.

The former pupils required a penalty shoot-out in their quarter-final against Alpha Data Carnegie to ensure progress to Sunday's match, while Falkirk had a slightly less stressful route to the final four, cruising past FMGM Monarchs with a 6-0 win.

Division 1 side PSL Team Sport Clydesdale will be considered favourites for the plate competition, but Granite City Wanderers stand in their way. The Titwood outfit made light work of Harris Academy FP in the last round, while Wanderers defeated Dundee University 3-1.

Women's Scottish Cup Semi-Finals (12.15pm)

The top two in Women's National League Division 1 go head-to-head in Sunday's semi-final, with a clash between champions Edinburgh University and Grove Menzieshill.

The students have been in sizzling form this season, including a 100% win record in the league to date.

The last league encounter saw University beating the Taysiders 2-0 at Peffermill, but with several current and former Scotland internationals in their side, do not count out Grove Menzieshill.

Second division side Erskine Stewart's Melville are the semi-final surprise package having knocked out Western Wildcats in the quarter-finals.

The Edinburgh side take on Milne Craig Clydesdale Western, who knocked out local rivals GHL Ladies on the way to the last four.

Women's Scottish Plate Semi-Finals (10.30am)

Dundee Wanderers look favorites among the teams left in the Women's Scottish Plate competition and will be aiming to reach the final when they take on Grange EL on Sunday.

Championship side Stirling Wanderers face up to the challenge from Edinburgh University III in the second plate semi-final.

Entry to Glasgow National Hockey Centre is free for all spectators

Scottish Hockey Union media release


---

Over 125 Back to Hockey clubs and growing!



Wimbledon Back to Hockey

Over 125 clubs have already signed up to be part of England Hockey's spring Back to Hockey campaign. It launches on the 11th May and there's still time for more clubs to be involved. Simply speak to your Relationship Manager to find out more.

That's exactly what Wimbledon HC did last year and has since generated approximately £1,500 for the club. Julie Quester, the clubs Back to Hockey organiser tells us how.

"In liaison with our England Hockey Relationship Manager, we decided to introduce Back to Hockey in April 2014 for three main reasons. First of all we wanted to offer parents of juniors a chance to play and gain a better understanding of how the game has changed since they played it last. We saw it as a great opportunity to increase the number of players particularly in the lower teams at the club. Finally the club saw the sessions as a great way to raise additional funds.

The sessions were promoted to our junior parents via email and we also spoke to parents to increase interest. Not stopping there we also utilised Facebook and Twitter to advertise the sessions.

Our sessions for both men and women were held initially in the sports hall, before moving outside during the summer. This season we have held both and indoor and outdoor sessions and have had a real mix of players come along. Players ranged from people picking up a stick for the first time to those who were returning to the game after having children or having taken a break from the sport.

Several of the players now play regularly for our ladies 3rd team, with other players continuing to take part in Back to Hockey sessions. We've raised approximately £1,500 from hosting Back to Hockey sessions this season and have managed this through sharing the pitch with the men's 5th /6th team training and the coaches giving their time voluntarily."

What would you say to clubs thinking of running Back to Hockey sessions?

"Go for it. If you don't try you won't know how successful you can be. I would recommend starting with one session a week and really build the number of players attending. Ask regular players to attend and join in the sessions. You can then gauge when the Back to Hockey players are ready to take the step to Saturday league matches."

If Back to Hockey sessions could help your club and you would like to take part, speak to your local Relationship Manager to find out more.

England Hockey Board Media release


---

Tired Pahang lose in U-16 hockey meet

By Aftar Singh

KUALA LUMPUR: Playing five matches in five straight days has taken its toll on Pahang.

They were beaten 2-4 by Kelantan in the boys' Group B match of the 1MAS-Milo National Under-16 tournament at the National Hockey Stadium in Bukit Jalil on Wednesday.

But Pahang are through to the semi-finals with 12 points from four wins. They play their last group match against Negri Sembilan on Thursday.

Mohd Adam Daniel (16th), Darwish Ashran (39th), Mohd Sapiri Ameer (55th) and Mohd Hafishudin (69th) scored for Kelantan while Mohd Idris Mohamed (17th and 37th) netted a brace for Pahang.

Pahang team manager Wan Mazlan Wan Isa said his players were too exhausted to give their best against Kelantan.

"And we will play our sixth match in a row tomorrow. But I am glad we have qualified for the semi-finals," said Wan Mazlan.

In Group A, Malacca beat Terengganu 3-0 for their third win to edge closer to the semi-finals.

Malacca have nine points from four matches and will wrap up their fixtures against title-holders Selangor on Thursday.

The Star of Malaysia


---

A tribute to Peter Darke

by Steve Jaspan

Only a small segment of South Africa's hockey community will have noted the passing of Peter Darke last month.

However, this soft-spoken and charming gentleman had a major influence on hockey in South Africa and the careers of thousands of our top hockey players.

In the late 1970s and early 80s, Peter served on the South African Men's Hockey Association (SAMHA) and the SA Hockey Union (SAHU), the umbrella body with the SA Women's Hockey Association (SAWHA) when mini hockey was introduced into South Africa.

(SAHU was later replaced by the SA Hockey Association (SAHA) in the early 1990s following unity talks).

In the late 1970s SAMHA - then under the leadership of John Marquard (who preceded me as President) - had resolved to establish mini hockey in this country to strengthen and broaden the base of the game.

Under Peter Darke's supervision, Cees Tania, the top Dutch coach, considered by many as the father of mini hockey, relocated to South Africa to help implement the roll out of the programme.

The efforts of Peter and Cees were immeasurable and top  players who went on to play superb international hockey such as Gregg Clark, Craig Jackson, Greg Nicol and many others learnt the basics of the game via mini hockey.

It also set the launching pad for South Africa to hold its own when  readmitted to world hockey competitions in the early 1990s.

Peter will be deeply missed. He was one of those quiet but determined people who did a magnificent job without fuss.

A team man, whom I knew could be thoroughly depended upon, he graced the South African Hockey Executive for close to 10 years.

We won't easily forget his dry sense of humour nor his massive contribution to the game in South Africa.

Our thoughts and condolences go to Greg and the Darke family.

SA Hockey Association media release