All the news for Tuesday 17 March 2015
India ahead, but a long way to go

By S.Thyagarajan

The consummate ease with which India won the Round 2 of the Women's World Hockey League in New Delhi on Sunday is another confirmation of the stature acquired by the national team.

The 3-0 win against Poland in the final takes India to the next stage and the final round is to be held in December at Rosario (Argentina).

The progress of the women's team in international competitions and tours abroad recently has been striking. This is largely due to the substantial improvement in physical fitness and skills, not to forget in polishing up new strategies.

The Aussie coach, Neil Hawgood, contributed immensely in this direction and played a leading role in taking India to a bronze medal at the last Asian Games in Incheon last September.

In New Delhi, India started the campaign in a rather labored way beating Poland 2-0 but tightened up in the subsequent matches to rope home winners in style. The attack remained persistent thanks to the good work of Rani in the midfield and Rani Ramphal in the frontline. However, it was the opportunism displayed by the seasoned Vandana Kataria that brought goals to the team. She emerged as the top scorer in the event with a tally of 11 goals.

The exit of Neil Hawgood did not materially affect the squad. Under the expert supervision of the Dutch stalwart, Roelant Oltmans, the team waded its way to a comfortable triumph.

Women's hockey in the country has always stayed in focus notwithstanding a good deal of infighting and factionalism in the administration until it was brought under the control of Hockey India on the direction of The International Hockey Federation.

Admittedly, these negative elements blunted the progress that was achieved by other Asian countries, like China, Korea and Japan. Not many today are aware of the fact that India was a semi-finalist in the first World Cup in 1974 at Mandelieu (France). India was also the Gold Medal winner at the Asian Games in Delhi in 1982 when women's hockey came on board.

But the best years to build up the basic structure were frittered away in factional feuds. Today, India faces a Herculean task to compete against the world powers like the Netherlands, Australia, New Zealand and Argentina.

The journey, of course, has begun, but we have to go a long way even to gain the top spot in Asia. That is the reality now.

FACTS AND FIGURES OF WHWL: NEW DELHI.

Round-2

The results: Pool A: India beat Poland 2-0; beat Thailand 6-0; beat Ghana 13-0, Poland beat Thailand 4-1; beat Ghana 4-0, Thailand beat Ghana 3-1.

Pool B: Malaysia beat Kazakhstan 8-0; beat Russia 3-0; beat Singapore 5-0, Kazakhstan beat Russia 3-2; beat Singapore 4-0, Russia beat Singapore 7-0.

Quarter Finals: Malaysia beat Ghana 2-0, Poland beat Russia 4-2, Thailand beat Kazakhstan 4-3, India beat Singapore 10-0.

Classification Matches: Kazakhstan beat Singapore 2-1, Russia beat Ghana 7-1, Russia beat Kazakhstan 9-0, Ghana beat Singapore 2-1.

Semi Finals: Poland beat Malaysia 1-0, India beat Thailand 5-0.

Bronze Medal: Malaysia beat Thailand 3-0.

Gold Medal: India beat Poland 3-1.

Top Scorer: Vandana Kataria (India)-11 goals.

Final Standings


| | | | | | | | |
| --- | --- | --- | --- | --- | --- | --- | --- |
| Rank | Team | P | W | D | L | GF | GA |
| 1 | India | 6 | 6 |   | 0 | 39 | 1 |
| 2 | Poland | 6 | 4 | 0 | 2 | 14 | 8 |
| 3 | Malaysia | 6 | 5 | 0 | 1 | 21 | 1 |
| 4 | Thailand | 6 | 2 | 0 | 4 | 8 | 22 |
| 5 | Russia | 6 | 3 | 0 | 3 | 27 | 11 |
| 6 | Kazakhstan | 6 | 3 | 0 | 3 | 12 | 24 |
| 7 | Ghana | 6 | 1 | 0 | 5 | 4 | 30 |
| 8 | Singapore | 6 | 0 | 0 | 6 | 2 | 30 |

Fieldhockey.com exclusive


---
Black Sticks Women set to play in Auckland



Rose Keddell in action. Photo courtesy www.photosport.co.nz

The Black Sticks Women have been confirmed to play one-off tests against Korea and Japan in Auckland next month as part of their build-up to the Hawke's Bay Cup in Hastings.

The two games combine for an Easter weekend double-header with the Black Sticks up against Korea on Saturday 4th April and then Japan the following day.

Both tests will be played at the Auckland Grammar Hockey Turf at 3.00pm with tickets going on sale this Friday. New Zealand A will also play Korea and Japan as part of the short series.

Following the weekend the Black Sticks hit the road for two further tests at the Harry Barker Reserve in Gisborne on Tuesday 7th and Wednesday 8th April against world number three Argentina.

With a new turf recently laid, it will be the first time an international test has been played in the region.

The Auckland and Gisborne tests are part of the Black Sticks' preparations for the Hawke's Bay Festival of Hockey which runs from 11-19 April with eight of the world's top women's sides battling it out for the title.

All four games will be streamed live on the Hockey New Zealand website (www.hockeynz.co.nz).

The Black Sticks teams for these tests as well as for the Hawke's Bay Cup will be released tomorrow.

CLICK HERE for more on the Hawke's Bay Festival of Hockey

CLICK HERE for more on the Gisborne tests

BLACK STICKS WOMEN vs KOREA and JAPAN MATCH SCHEDULE
All games at Auckland Grammar Hockey Turf

Saturday 4th April
Black Sticks vs Korea, 3:00pm- also streamed live

Sunday 5th April
New Zealand A vs Korea, 1:00pm
Black Sticks vs Japan, 3:00pm - also streamed live

Monday 6th April
New Zealand A vs Japan, 1:00pm

Hockey New Zealand Media release


---

Black Sticks women announce two Auckland tests against Korea and Japan



GOAL THREAT: Anita Punt will be looking to continue her goalscoring form against Korea and Japan. Warwick Smith/Fairfax NZ

The Black Sticks women will play one-off test matches against Korea and Japan in Auckland next month.

New Zealand will play the two Asian nations as part of their build-up to the Hawke's Bay Cup in Hastings which runs from April 11-19.

Both matches combine for an Easter weekend double-header, with the Black Sticks playing Korea on April 4 and Japan the following day.

Both tests will be played at Auckland Grammar Hockey Turf at 3pm, with tickets going on sale on Friday.

The New Zealand A team will also be playing Korea and Japan as part of the short series.

Following Easter weekend, the Black Sticks will hit the road for a further two tests at Harry Barker Reserve in Gisborne, playing world No 3 ranked Argentina.

They will be the first international test matches played at the new turf.

All games will be streamed live online.

The Black Sticks squad for the Hawke's Bay Cup will be released on Wednesday.

Stuff


---

The nitty-gritty of the Olympics' qualification round

By Nabil Tahir



Three top teams from each group — apart from India, who have already qualified courtesy of their Asian Games win — will finally go for the Olympics. PHOTO: APP/FILE

KARACHI: The semi-final round of the World Hockey League, which also serves as the qualifying round for the 2016 Rio Olympics, is all set to start in June as the final line-up of teams has been completed.

Termed the 'Road to Rio', the tournament will feature 20 teams competing in two different events for the final seven berths of the final, which will be played from November 28 to December 6 in Mohali, India.

Eleven teams ranked from first to 11th in the current FIH World Rankings — including Pakistan — automatically qualified for the semi-final round. Meanwhile, the remaining nine teams — Malaysia, Poland, Japan, Ireland, Austria, Canada, France, China and Egypt — qualified from the recently concluded World Hockey League's second round.

The 20 teams have been divided into two groups evenly, and the first one will play at Buenos Aires, Argentina, from June 3 to 14. The Netherlands, New Zealand, South Korea, Germany, Argentina, Spain, China, Ireland, Poland and Egypt make up the group.

The second group, which will play at Braaschaat, Belgium from June 20 to July 5, comprises of Pakistan, India, Australia, Great Britain, Belgium, Malaysia, France, Austria, Canada and Japan.

Both groups will be divided into two pools each. Pakistan, currently ranked 10th in the world, are placed in Pool A with top-ranked Australia, ninth-ranked India, 18th-ranked France and 22nd-ranked Austria.

Pool B contains fourth-ranked England, fifth-ranked Belgium, 12th-ranked Malaysia, 14th-ranked Canada and 16th-ranked Japan.

Three top teams from each group — apart from India, who have already qualified courtesy of their Asian Games win — will finally go for the Olympics.

Pakistan will have to go through a tough qualification round as their opponents are in practice and have been touring different countries for matches, while the Greenshirts just started their training camp on Monday and have not played any bilateral series since 2011, taking part only in tournaments.

According to head coach Shahnaz Sheikh, the players would have to practice day and night if they want to book their berth at the Olympics. "We already missed the World Cup last year for the first time in history, we can't let that happen with the Olympics," said Sheikh.

The Express Tribune


---

27 hockey players report for training camp

ISLAMABAD - As many as 27 players out of 33 reported to head coach Shahnaz Sheikh for one-month long training camp to be held here at Naseer Bunda Hockey Stadium, Pakistan Sports Complex from today (Tuesday).

Talking to The Nation, Shahnaz said: "In all, 27 boys reported me at day time, while Nasir Ali, Shafqat Abu Zarr, Dr Abid and physical trainer Sajid reported me on late Monday night, while Olympian Sameer Hussain, who was also expected to report as coach, requested for relief as he has some domestic issues ad will join the camp soon. Three players, Irfan, who is in London, Rashid and Rizwan Senior, who are in Netherlands, will report in the camp by March 20." "We will start training from today (Tuesday) as the first session will start at 6:30am. The main aim of the camp is to prepare boys for the upcoming international matches in Australia and the most significant one in Belgium, the all-important Olympic qualifiers from June 20 to July 5. I will emphasize on both mental and physical toughness of the players and try to help them regain their lost form," Shahnaz concluded.

The Nation


---

Junior Can-Am Indoor Test Series Set for March 20-22

COLORADO SPRINGS, Colo. – The U.S. Junior Men's and Junior Women's Indoor National Teams are set to host Canada in a three-game test series the weekend of March 20-22, 2015.

The Can-Am Indoor Test Series is an annual high performance indoor competition started three years ago between the United States and Canada. In an effort to keep competition costs down, the self-funded programs took to help each other in a friendly international preparation series.

"This annual Can-Am Test series is a very important part of the training and development for both nation's indoor programs," said Nigel Traverso, USA Field Hockey Indoor Manager. "Because of the high cost associated with travel to Europe, South America or anywhere else in the world in order to train and compete, we are pleased to know that we have friendly neighbors who we can call upon at least once a year or at any time."

With both Canada's Indoor Senior National Teams recently participating in the 2015 FIH Indoor World Cup, both programs agreed to make this year's competition a Junior Test Series, for boys and girls under the age of 20 years old.

The U.S. Junior Men's and Junior Women's Indoor National Teams recently participated in the 2015 Big Apple International Indoor Championship Tournament, held March 6-8, as a final preparation for the Can-Am Indoor Test Series. Players for the USA Junior Men's Team were selected from East Coast High Performance and will be coached by Andrew Thornton, the Men's National Indoor Coach. Players for the USA Junior Women's Team were selected from the Junior Indoor Squad by the Junior Women's Indoor Head Coach, Rennie Milne. The Canadian Juniors will be represented by players based mostly in the Ontario region of Canada.

All four teams will have a practice on Friday, March 20, before the competition starts on Saturday, March 21. Starting at 8 a.m., the U.S. Junior Men's Indoor Team will take on the Canada Junior Men's Indoor Team. Following the conclusion of the game, the U.S. Junior Women's Indoor Team will take on the Canada Junior Women's Indoor Team at 9:30 a.m. Play will resume with the junior men playing again at 3 p.m. and the junior women at 4:30 p.m. A final game will be played on Sunday, March 22, with the junior women at 9 a.m. and the junior men at 10:30 a.m.

"We have established a very good relationship with our northern friends over the years and this Can-Am Series helps to strengthen that bond," added Traverso.

The Can-Am Indoor Test Series will give another opportunity for both junior teams to highlight the indoor programs' preparation as well as expose the athletes to a top-competing indoor program.

Team USA's Junior Men's Roster:

Sam Brady
Hayden Clay
Christian DeAngelis
Sam Goodwin
Stuart Kentwell
Nate O'Lari
Kenny Patrone
Keeling Pilaro
Dean Schiller
Galvin Smith

Head Coach: Andrew Thornton
Assistant Coach: Joey Civico
Team Manager: Chris Pothier

Team USA's Junior Women's Roster:

Lexi Davidson
Ashley Dykema
Selena Garzio
Cassidy Goodwin
Chloe Johnson
Sammy Popper
Ava Rosati
Meredith Sholder
Brigid Wood
Thalia Williamson

Head Coach: Rennie Milne
Assistant Coach: Erik Enters
Team Manager: Matthew Jobson

The test series will take play at The Training Center (88 Wells Road, Spring City, Pa. 19475). Admission is free of cost, so be sure to support the U.S. Junior Men's and Women's Indoor Teams at the Can-Am Indoor Test Series. Follow usafieldhockey.com for more updates on the Can-Am Indoor Test Series and the U.S. Indoor National Teams.

USFHA media release


---

National League title successes for Kelburne, Edinburgh Uni & Grove Menzieshill



Grove Menzieshill seal Division 2 and promotion back to Division 1. Photo Credit: Martin Boag

A number of Scottish hockey's National League Division title issues were settled this weekend, with three outcomes determined in Men's Division 1 and 2, and in Women's Division 1.

Bromac Kelburne extended their extraordinary consecutive run of Men's National League Division 1 title successes to eleven after a fantastic 15-0 win over Inverleith at the Glasgow National Hockey Centre clinched the league championship.

The Paisley side reached their latest milestone with fifteen wins and only the one loss.



Bromac Kelburne celebrate 11 titles on the bounce. Photo Credit: Raymond Robertson

At Peffermill, Edinburgh University sealed their maiden Women's National League Division 1 league championship with a 2-0 win over closest rivals Grove Menzieshill.

Following on from their first ever Scottish Cup success last season, the university side has an impressive 100% win record to date with sixteen victories. Away trips to Watsonians and Dundee Wanderers stand in their way of completely unbeaten season but Head Coach Sam Judge and her players will be confident of reaching this target.



Edinburgh University squad with their first ever Women's National League Division 1 title. Photo Credit: Angus Laing

Grove Menzieshill make a swift return to Men's National League Division 1 after winning promotion back to the top flight with confirmation of the Division 2 title this weekend.

With a 100% win record, the Taysiders have dominated the division, including an unprecedented and hugely impressive 181 goals scored so far.

With three matches left to play, a double century of goals may be on the cards given their form in front of goal.

Scottish Hockey Union media release


---

Southgate suffer relegation from Premier Division as Canterbury beat the drop

By Graham Wilson



Darren Cheesman in the red and black of Southgate against Canterbury. Simon Parker

DARREN CHEESMAN will be a long time hurting with the fall of Southgate from the NOW: Pensions elite division.

Cheesman jetted in from New Delhi on the day the north London club were held to a goal-less draw against Hampstead and Westminster and then lost 2-1 against Canterbury in a nerve-wrangling last-day relegation battle.

FIH and England coach Cheesman had been coaching the Ghana women's team in the World League in India all week. Now he has vowed to stay at Southgate to get the famous old club back to where he says it belongs.

During his international career, Cheesman has played his role in numerous clubs around the country. Now his coaching career is taking off too.

 "We are gutted," said Cheesman, who missed the start of the season with a hip injury.

 "Southgate are a great bunch of guys. The strength of the squad was good enough but we were missing key players, for instance, like our South African specialist corner strikers in these key games. I scored a goal against Canterbury with a few minutes to go and then we missed a corner in the last minute.

"I have no intention of leaving. Holcombe will win the play-offs and Canterbury are the next best team so they will probably stay up. We will be in a strong position to come straight back again."

East Grinstead finished at the top of the table as Chris Griffiths blew Reading away with a hat-trick in a 4-1 victory. Alan Forsyth also ran up a hat-trick for second-placed Surbiton in their win over Brooklands Manchester University 6-3, with Brooklands surviving by a point above Canterbury and Sam Ward was another hat-trick man in Beeston's 3-1 win over Cannock. Play-off bound Wimbledon drew 1-1 with Hampstead.

The women's Investec League reaches its conclusion on Saturday with champions Surbiton hosting top-four play-off rivals Holcombe while Reading are still in with a chance against Leicester and contenders University of Birmingham have an easier game Buckingham.

Double Olympian Mel Clewlow earned Canterbury the points against Holcombe with the only goal after converting an 18th-minute penalty corner.

That moved them into second place and on Saturday they host third-placed Clifton, who were held to a 1-1 draw by Birmingham.  Aileen Davis had given the Bristol side the lead after 22 minutes, but Hannah Martin struck in the 47th minute for Birmingham. Kate Richardson-Walsh was again on target as Reading stayed in the hunt with 2-0 win over Buckingham.

Emily Atkinson scored two goals as leaders Surbiton beat Bowdon Hightown 4-2. Holly Hunt scored in the 55th and 67th minutes for Bowdon.

Daily Express


---

Canterbury men survive relegation battle, Holcombe set for play-off finale

By Rod Gilmour



Head to head: Holcombe go on the attack but Canterbury had final word Photo: HOCKEYIMAGES.CO.UK

Surbiton will attempt to become only the third women's side to remain unbeaten all season, as they head into the final weekend.

Emily Atkinson bagged a brace as Surbiton won 4-2 on the road at Bowdon Hightown, who tried to keep in the game thanks to Holly Hunt's second-half double.

Leicester were the last side to go unbeaten in the regular season, in 2009/10, and have done so twice previously, along with Slough.



The Kent derby loss for Holcombe means their play-off berth is far from secure (HOCKEYIMAGES.CO.UK)

Surbiton's win also confirmed their European place for next year. "We've achieved one of our goals for the season but we still have plenty to go," said Sarah Haycroft, their skipper.

Holcombe lead Reading by one point in the race for the final play off spot after losing at Canterbury. However Holcombe face Surbiton away on Saturday knowing that defeat will let in Reading, who host Leicester.

Mel Clewlow's first-half penalty corner goal proved enough to give Canterbury the win and move them up to second.

Reading kept their bid alive with a 2-0 win at Buckingham, thanks to strikes from Georgie Blackwood and Kate Richardson-Walsh.

The University of Birmingham are also still in with a chance of fourth after drawing 1-1 with Clifton. Aileen Davis gave the Bristol side the lead in the 22nd minute, before Hannah Martin levelled for the visitors. Relegated Beeston beat Leicester 3-2.

In the men's Premier Division, Canterbury staved off relegation in a final day battle of the bottom two with a 2-1 victory, as Southgate were condemned to conference hockey.

Wei Adams gave Canterbury a first-half lead before Mexican Francisco Montoya, the only player from the Americas in the top flight, doubled their advantage after the break.

It was far from easy though. Southgate's Darren Cheesman halved the deficit with 17 minutes remaining and were then awarded a penalty corner in the last minute, which they failed to convert.



Down to the wire: Canterbury survived with 2-1 win at Southgate (SIMON PARKER)

Canterbury, who won four of their final five matches, will now go into a play-off next month at Lee Valley with the top three from the Conference leagues.

Meanwhile, Surbiton needed to overturn a goal difference deficit of four to pip East Grinstead to top spot and earn a place by right in next season's EuroHockey League.

But East Grinstead's goalscoring feats continued - they finished with 77 goals from 18 games - as Chris Griffiths, the Great Britain forward, netted a fine hat-trick in a 4-1 win over Reading.

Surbiton duly beat Brooklands Manchester University 6-3. Alan Forsyth scored a hat-trick to finish on 18 goals for the season, seven behind team-mate Matt Daly.

The Telegraph


---

Paul takes charge of Indian hockey

Sabi Hussain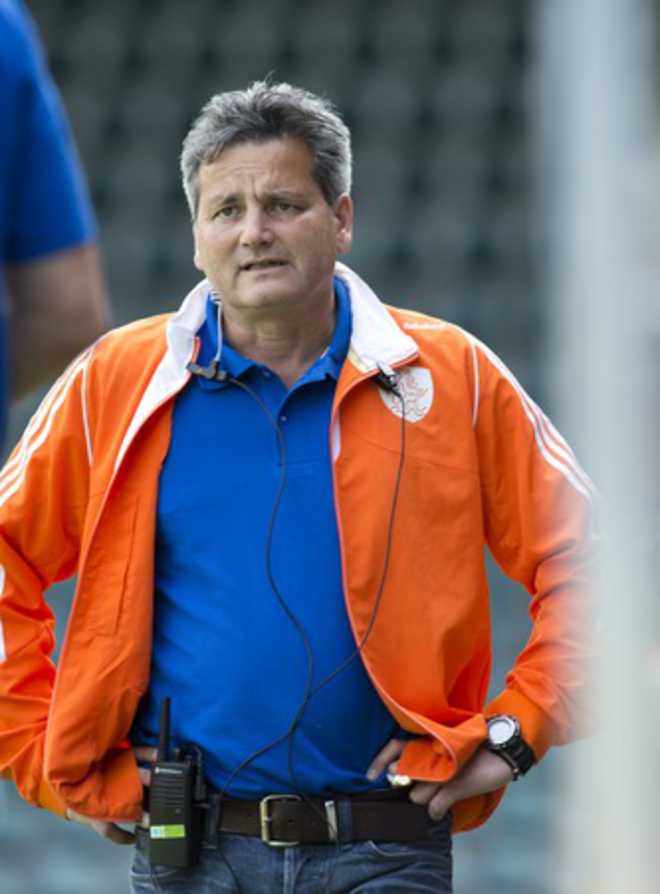 Paul Van Ass

New Delhi - Paul Van Ass, the Dutch hockey coach, has taken the charge of Indian team today.

Paul succeeds Australian Terry Walsh as the coach of the team. The High Performance Director Roelant Oltmans was guiding the boys but the absence of a foreign coach was having its impact on the performance of the team, which showed in the fourth-place finish at the Champions Trophy.

Players were eagerly awaiting for the announcement of a new coach to put their Olympic preparation back on track. And when The Netherlands' Paul Van Ass was selected as the men's team chief coach, one of the happiest faces around were that of captain Sardar Singh and experienced mid-fielder Gurbaj Singh. The two veterans knew the importance of having Paul attached with the team before the Sultan Azlan Shah Cup in April to start the new season on a winning note. The Dutchman arrived at the Major Dhyan Chand National Stadium on Monday. The captain and the senior player couldn't wait to start training under him.

"We are excited to have him around as he is a good coach and I have seen him work as coach of the Dutch national team for the past two-three years. It's important to have him before the Azlan Shah Cup in Ipoh as this would be our first major tournament under him," Sardar told The Tribune. "We had a two-hour long light training session where Paul focused on scoring drills and examining our fitness level. Later, the team was divided into two groups and we played a friendly match," he said.

Gurbaj said that Paul emphasised more on the technical aspect of the game. "It was good to have him around. He spoke to each one of us individually and tried to know our game. From Tuesday onwards, we would be having two full-fledged training sessions."

The 54-year-old Paul had been handed a contract till the 2018 World Cup by the Sports Authority of India (SAI).

The Tribune


---

With Paul at helm, Indian hockey off to a fresh start
 
Written by Mihir Vasavda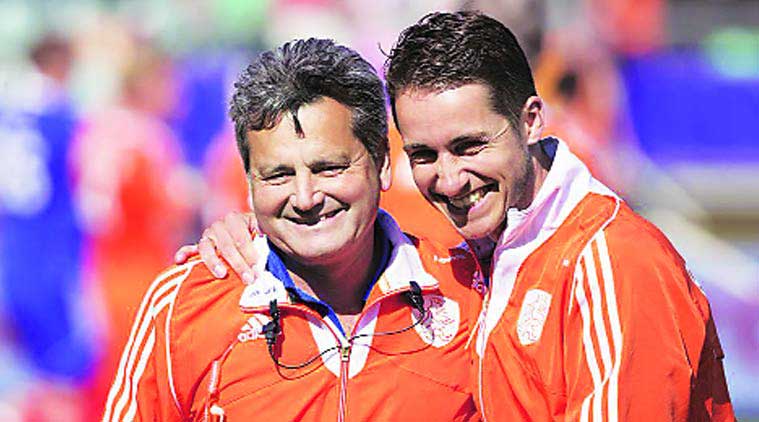 The new coach's first priority will be the Sultan Azlan Shah Cup in Malaysia in early April. (Source: PTI)

Having spoken to his peers and observed Indian hockey from a distance, Paul van Ass knows managing the team isn't restricted to the dressing room alone. The Dutchman arrived in India on the weekend armed with a book on the country's sociological demographics, which he hopes will help him understand the players better.

And he was on the job on Monday morning, supervising a two-hour session that kicked off the national camp at the Major Dhyan Chand Stadium in New Delhi. Van Ass, who inherits a strong team from the Terry Walsh era along with a cameo coaching role by Roelant Oltmans, was introduced to the players during breakfast where he is believed to have told them to 'aim for a podium finish at the Rio Games and target nothing less than that.'

India is so far the only country to qualify for next year's Olympic Games and Van Ass's first major assignment will be the Sultan Azlan Shah Cup in Malaysia from April 5 to 12. The selection trials for the tournament — which will feature teams like Australia, New Zealand, South Korea, Canada and hosts Malaysia — will be held on March 20.

Hockey India high performance director Oltmans, who was the interim coach before Van Ass was appointed, said there will not be much change in the style of play India has adopted. Over the last 12 months, India had improved defensively and there was more structure to the way the team played, apart from being effective on counterattacks.

Oltmans said he expects his compatriot to bring more details into the process that began two years ago. "We started a process two years ago and we will continue the progress we have made. Paul will bring his own details into the programme. Terry (Walsh) had done that, (Michael) Nobbs had done it, I had done that as well. Now it's Paul's turn. The perspective remains the same. We will look into what happens when we are in possession and not in possession, during turnover movements, etc. These are the details we will focus on but overall, I don't think things will change much," Oltmans said.

India had a light intensity training session on Monday, with 32 players reporting for the camp. Gurwinder Singh Chandi is recovering from an injury and won't join the camp at the moment. "The selection trials will be held on Friday. We had our first training session under Paul today," Oltmans said.

'Not a saviour'

Before his departure for India, Van Ass told a Dutch website in an interview that the India job was something he found 'really cool' to do. "I really need to look more deeply into the culture. Hockey is almost an afterthought. It is difficult to fathom how the country fits together sociologically. A friend has given me a beautiful book about it," he was quoted as saying.

As coach of the Dutch team, whom he helped win a silver medal at London Games, Van Ass was praised for his man-management skills more than his tactical approach. to fathom how the country fits together sociologically. A friend has given me a beautiful book about it," he was quoted as saying.

As coach of the Dutch team, whom he helped win a silver medal at London Games, Van Ass was praised for his man-management skills more than his tactical approach. The focus is likely to remain the same in India as well. "I need to understand how they look at a lot of things and how the ratios are in the team," he said. However, he said he is yet to determine if it's realistic to expect a podium finish in Rio. "I'm going to give them signals that I am not the only saviour. We haven't spoken about an Olympic medal yet. But in the end, I will try to see if it is realistic to be a medal contender in Rio," he said

Indian Express


---

India's New Hockey Coach Paul van Ass Takes Charge

Paul van Ass officially joined his new job on Sunday but the 54-year-old Dutchman took charge of the team today, supervising a two-hour long practice session of 30 players held in preparation for the Sultan Azlan Shah Cup to be held in Ipoh, Malaysia from April 5-12.



A file photo of the Indian hockey team. © AP

New Delhi: The Netherlands' Paul van Ass on Monday resumed duties as Indian men's hockey team's chief coach as the eight-time Olympic champions underwent their first practice session under the Dutchman at the Major Dhyan Chand National Stadium here.

Van Ass officially joined his new job on Sunday but the 54-year-old Dutchman took charge of the team today, supervising a two-hour long practice session of 30 players held in preparation for the Sultan Azlan Shah Cup to be held in Ipoh, Malaysia from April 5-12.

According to a team official, Van Ass was officially introduced to the players during breakfast this morning.

"It was a light intensity training today as it was Paul's (van Ass) first outing with the players. Today, he was focused on observing all the players and getting a fair bit of idea about their strengths and weaknesses," the official told PTI.

"In his first training session, Paul's emphasis was more on the technical aspect of the game. The players also underwent drills on scoring goals."

Apart from Van Ass, coaches Jude Felix and Sandeep Sangwan and Indian hockey's High Performance Director Roelant Oltmans were also present during the training session.

Van Ass, known for his outspoken and controversial nature, had replaced Australian Terry Walsh under whom India won the Incheon Asian Games to qualify for the 2016 Rio Olympics.

Van Ass had been handed a contract till the 2018 World Cup by his new employer, the Sports Authority of India.

As a player, Van Ass had limited international experience but as a coach he led the Netherlands men's team to an Olympic silver medal in the 2012 London Olympics after being given the charge of the Dutch team in 2010. He also served as the head coach of the Dutch Under-21 team.

Van Ass never played international hockey for the Netherlands but his rapid rise as a coach made him one of the best in the business.

At the club level, Van Ass not just resurrected the fortunes of the Dutch Club HC Gazellen-Combinatie, he even took them to the Euro Hockey League final in 2007.

NDTV Sports


---

Status of Indian women's hockey: Overflowing goals, empty stands

Abhimanyu Kulkarni



Empty stands. (Photo: Abhimanyu Kulkarni)

Team India of the Indian Women's hockey team beat 5 teams with exceptional scores, before they reached the finals against Poland at Delhi's Major Dhyan Chand Stadium.

Come 8 pm, the scheduled time for the final, and the stadium has more Polish supporters than Indians and there were a total of 11 Polish supporters.

Unfortunately this is the state of our national game where nobody seems to care even when the women's team is earning us laurels and marking their spot on the world platform.



[source: imgur.com]
 
The tickets for the match were priced at Rs 20 (General) and Rs 100 (VIP Pass). As the match progressed, fans streamed in. By Halftime, there were about a hundred people in the VIP enclosure, but the general stands wore a deserted look.

Tickets seemed to be the least of the worries for the organisers as hardly anybody bothered to check them. One could walk into the general stand without a ticket.
 
During the post match presentation ceremony, India skipper Ritu Rani said "I hope after watching us win on the home turf more girls will get attracted to the sport,"



[source: imgur.com]
 
But the question is, whose fault is it? Are the fans responsible for not paying enough attention to the sport? Or are the organisers not giving enough perks to entice people? Or is the bureaucracy to be blamed for not promoting the sport at the grassroot level?
 
"We had come for a couple of HIL (Hockey India League) matches and my 4 year old son enjoyed the experience. There was music, cheerleaders, announcements. Why is all that missing today?," says Arpit Taneja, who had come to cheer for India with his wife and 4-year old son Vardaan.
 
(People often credit the rise of popularity of cricket in India to the 1983 World Cup victory. In the past one year Indian hockey has earned glory at Commonwealth Games, Asian Games, Champions Glory and now the World League. Yet, these athletes are still searching for the fame they deserve.)
 
With 2 mins to go on the buzzer, fans who had flown all the way for Poland were strumming plastic bottles (to the beat of/ chanting) "Polski Polski". It's time that we lend similar support to sports other than cricket. 

Hindustan Times

---

Hockey India Annual Awards on March 28

NEW DELHI: The first-ever Hockey India (HI) Annual Awards will be held at a city hotel on March 28, where the best players from the country will be felicitated for their contribution towards the game.

The annual awards, initiated by HI, is an effort towards recognizing the hard work put in by the players, coaches, support staff and administrators on the field both nationally as well as internationally.

The awards ceremony will also witness HI felicitating the teams and individuals who made the country proud with their brilliant performances in the year gone by.

A total of Rs 2.6 crore will be presented to players, former players and coaches across all categories during the ceremony.

HI has also introduced the 'Major Dhyan Chand Lifetime Achievement Award' which carries a purse of Rs 30,00,000

Besides, the most outstanding player in both men and women's category will receive the Dhruv Batra Award for Player of the Year respectively, carrying a prize money of Rs 25,00,000 each.

The Jaman Lal Sharma Award for Invaluable Contribution (for coaches and support staff) and the Hockey India President Award for Outstanding Achievement, which carries a cash purse of Rs 5,00,000 each will also be given to exceptional awardees.

Besides, six awards have been named after players who have represented India in the past including, the Jugraj Singh Award for Upcoming Player of the Year (Men, Under-21), Asunta Lakra Award for Upcoming Player of the Year (Women, Under 21), Baljit Singh Award for Goalkeeper of the Year, Pargat Singh Award for Defender of the Year, Ajit Pal Singh Award for Midfielder of the Year and Dhanraj Pillay Award for Forward of the Year.

"We announced the Hockey India Annual Awards last year and this 28th March will witness the first awards ceremony in New Delhi. In recent times, HI has taken various steps towards uplifting the sport in the country and this is one such initiative to ensure that the players receive the recognition that they so rightly deserve," HI president Narinder Dhruv Batra said in a statement.

"Also what gives each one of us immense pleasure is the support that hockey is receiving from our various stakeholders which motivates us to take the game to the next level.

"We take the Hockey India Annual Awards as a platform to felicitate the teams for their performances in the last one year," he added.

The Times of India


---

Georgina, grand old woman of Ghana hockey

By Chandan Kumar



Sam Georgina

New Delhi - Sam Georgina, 40, is a single mother of two boys working in state prison service, but being the captain of the country's hockey team is something that primarily makes her a popular figure in Ghana. Georgina has spent nearly 16 years with the national team and is currently seen in Delhi leading the side in the ongoing Hero Hockey World League round 2. "I perform general duties in the prison , which essentially includes taking care of the inmates" says Georgina.

Georgina's first love was basketball though, but a short stint at a hockey game motivated her to pick up a hockey stick instead. "I used to play basketball and when I first saw the game (hockey), I said wow lets give it a try," says Sam recalling her shift to hockey from Basketball at the age of 20. "I was about to write my ordinary level certificate examination when I started playing hockey," she adds.

Since then hockey became everything for her and her commitment to the game got her selected in the National squad she now leads. Undoubtedly, it has been Georgina's hard work and her commitment that has led her to remain in the squad for nearly 16 years. "When I first saw the game, I told myself to do it (play and perform) to the highest," says Georgina, speaking about her motivation which has sustained her so far in the sport.

A strong drive is required to continue playing hockey in a country like Ghana especially when there is absolutely no support from the government, either in the form of money or infrastructure. "We get no funding from the government, we solely rely on the sponsors for the money," Georgina explains.

Apart from money, infrastructure is another big problem. "We just have one stadium in Accra, so we are forced to practice in sandy parks, which makes the training more difficult. Another thing that adds to our woes while shifting pitches is the speed of the ball, while it comes quickly on turf, it's speed decreases on sand," she adds.

The stadium in Accra was constructed recently in 2009 when Ghana hosted the Cup of Nations hockey tournament. "It was like a flash and made hockey popular in Ghana,"says Georgina. This popularity urged more people to take up hockey professionally but a job in the services remains the main attraction. Currently 15 out of the 18 members of the women hockey squad are employed in the services. "Our jobs allow us to continue playing even after all the problems," says Georgina.

Having seen her shouldering the responsibility almost single-handedly over the years, Georgina is also a source of motivation for most of the younger memebers of the team. "She is very disciplined and dedicated and that is what we try to learn from her," says Opoku Elizabeth, one of the younger members of the team. Georgina, being a penalty corner specialist, Opoku feels  the team will miss her during such situations. "She is the one who takes penalty corners, for the team so when she leaves it would be difficult to find someone for her position".

Now that Georgina has made up her mind to finally hang her boots by the end of this year, she would still want to remain associated with the sport. "After retiring, I'll do something in hockey but I don't know yet." Georgina says.

Indian Express


---

Thundering clap for JHL clubs..

By Jugjet Singh

A RECORD 30 teams competed in the just concluded MHC-Milo-NSC Junior Hockey League, and Tenaga Nasional are already planning to add two more next season.

JHL, since its inception in 1995 by the then National Sports Council director general Datuk Mazlan Ahmad and the late secretary of the now defunct Malaysian Hockey Confederation S. Satgunam, is the most successful junior development programme in the country.

There were only 11 teams in 1995, and it has seen tremendous growth with clubs clamouring to prepare teams and scouting for next season players in mid-season itself.

Thunderbolts, a product of Tenaga Nasional, fielded two teams this season and both entered the semi-finals of the Milo Cup. SSTMI Thunderbolts became the double champions for the fourth consecutive season, while their sister club SSP-MSP Thunderbolts finished fourth.

Former national skipper and now in charge of the Thunderbolts development programmes, Nor Saiful Zaini is planning to field two more Thunderbolts next season.

"You can see the progress made by both the Thunderbolts and we are in the midst of planning for two more for the next season because there are so many good players out there who are in need of support to shine," said Nor Saiful.

The other successful club is UniKL Young Guns, who have a sound development programme but have been unlucky at the final hurdle for five seasons.

UniKL ropes in national players and coaches every weekend to train, at least a hundred youth below 16, every weekend at the National Stadium in Bukit Jalil under collaboration with the Malaysian Hockey Confederation (MHC).

No fees are charged, and everyone is welcome to attend. There is even a goalkeepers' clinic conducted by national goalkeepers coach M. Nadarajan, who uses the latest techniques to teach children as young as 12.

Formed in 2010, UniKL have surprisingly played in six JHL finals todate because of the tiring efforts of a group of dedicated coaches and support staff led by their general manager Amir Azhar Ibrahim.

Petaling Jaya City Council (PJCC) are another solid example of dedicated coaches like Azlan Saufi Ahmad and and team manager Zainal Abidin who keep pushing their players to new levels, but were unlucky to finish third in League and Milo Cup.

The JHL will not be complete without the mention of Olak-PKT, a team which has only missed one season because they lacked financial support, but team manager Joseph de Silva passed the hat around and found a loyal supporter in  PKT Logistics Group Sdn Bhd.

The funding force behind Olak is PKT CEO Datuk Michael B.Y. Tio: "With his support we have managed to secure some good players this season, but have bigger plans for next year as PKT also provides study scholarships for our players," said De Silva who is planning to rope in players from Division Two outfits Nur-Insafi PHA and Tunku Besar Secondary School, for next season.

The man who started the JHL Datuk Mazlan is proud that his legacy is now the talk of town: ""I think JHL is continuously serving it's purpose. One simple reason is that it attracts more teams. It's very encouraging to see junior teams, states, and schools expose their players at this platform."

"Competition, not just training, is an important ingredient in development. Fortunately JHL has very loyal sponsors who believe in youth. It made aspirations possible.

MILO have been the title sponsor of the JHL since its inception, and their commitment towards the tournament has increased over the years with significant funding made available not only for the JHL but also other age group tournaments such as the National Under-14 and Under-16 for boys' and girls'.

"JHL is an important component in grassroot development. There are always new faces who shine every season, and it offers a chance to Primary School children to watch competitive matches and aspire a bigger group to take up the sport," said Ng Ping Loong, Sports Sponsorship Manager of Nestle Products.

From the organisational aspects MHC did a great job as the JHL ran without hitches.

"We are grateful to the Technical Committee led by Jusvir Singh and Secretariat managed by Hashim Yusof for managing the tournament well," said MHC Competitions Committee Chairman M. Gobinathan.

Jugjet's World of Field Hockey


---

All too predictable in this year's junior hockey league

By S. Ramaguru



Five-time national junior hockey league champions SSTMI-Thunderbolt celebrate their latest triumph this year.

KUALA LUMPUR: Quantity does not equal quality.

Over the last six years, the MHC-Milo-NSC Malaysia Junior Hockey League (MJHL) have seen an increase in the number of participating teams.

Despite 30 teams in the fray, the tournament which began since 2010 has been dominated by just two teams – SSTMI-Thunderbolt and Universiti Kuala Lumpur (UniKL).

Thus the scenario at the tail-end of the tournament has become predictable.

This year, UniKL put up a gallant fight for the league and overall titles. Petaling Jaya City Council (MBPJ) were also in the title mix but in the end Thunderbolt were too strong as they retained both titles for the fourth successive year.

The Division Two teams were unfortunately no match for the top tier sides as they went down to double-digit goal margins in most matches.

States need to put in greater effort to assemble a team to make matches more competitive and the fight for the two titles keener.

SSTMI team manager Adam Izamry Idrus said the league have been a good development platform to unearth new talents.

"Teams are making every effort to play in this meet and there is no doubt new talents will be identified every year," said Adam.

"The combined efforts of the hockey associations, clubs, states and corporate bodies have made this an important event in the hockey calendar."

Some states are also using the tournament to select players for their Sukma (Malaysia Games) challenge in Sarawak next year.

As to whether there have been any promising players this year, it will only be known when the Project 2016 selectors name the training squad later this week.

The Star of Malaysia


---

Secret Umpire: hockey rule changes are leaving players and officials in a quandary

The Secret Umpire continues to dissect world hockey's latest rule changes and says the repercussions will be widespread if enforced throughout all leagues
           
By The Secret Umpire



Wide open: lower leagues await feedback on England Hockey survey on rule changes Photo: ADY KERRY

It will not be long before hockey players and coaches' thoughts turn to end of season parties and bank holiday tours, if they have not gone that way already.

Many teams are stuck in mid-table obscurity with the fight for promotion a long distant memory; the last gasp battle for relegation avoided for another season.

So where does that leave us, the custodian of the whistle?



Will lower leagues feel same impact as international game? (KOEN SUYK)

Do we load our umpiring teams with colleagues from a higher grade we have never seen on our circuit before, at the expense of those who have been doing it all season. Or do we slip into umpiring ambivalence in games that have no real significance.

Whilst I am sure clubs in those promotion-relegation scenarios will want the best players and the best umpires at their disposal, I for one would not want to be the umpire who has been good enough all season, but is suddenly deemed surplus to requirements for the so called 'pressure' games.

I am eagerly awaiting the feedback from the recent rules consultation and some guidance as to what rules, and with whom, we are going to be playing next season. England Hockey say that they are still to make a decision after requesting feedback from a recent survey.

The aerial ball remains one of the most contentious areas of hockey umpiring, with many players having little or no idea of the actual rules and many umpires not being able to apply them properly or for that matter and more importantly consistently.

Can players cope better with poor yet consistent decisions for both teams - as opposed to never knowing what an umpire is going to do next?



Secret Umpire is awaiting guidance from England Hockey on rule changes (ADY KERRY)

This is why the new proposed rules for the playing of the ball above the head still concern me greatly. And clearly many others, too.

That much was realised in the aftermath of last month's column, which caused fervent debate on England Hockey's Facebook page. I've cherry-picked four comments from the International Hockey Federation's latest set of rule changes and offered a Secret Umpire reply in return to highlight the main areas of concern.

I'm genuinely curious to know why you think the new rules will necessarily be any more dangerous at lower levels? I don't think players at lower levels are inherently more stupid/careless than players at higher levels so why the assumption that they will behave stupidly/carelessly under the new rules?
David Ellcock

Secret Umpire: Years of experience as a player and an umpire at all different levels of the game having seen it first hand, the skill level is not there from either players or more importantly umpire to blow correctly.

As an umpire I would find it difficult if I had players off on yellows and greens - just saying.
Julie Gunn

Secret Umpire: I wholeheartedly agree and worry that the game without a TD could become very fragmented as we stop time, record details, wait for the player to leave the pitch etc

It's not the players that it [sic] will be dangerous, it's the lack of knowledge from umpires that are just players helping out in lower leagues.
Jon Veck

Secret Umpire: This is certainly a significant factor, however as mentioned previously, without proper support, training and encouragement then this will continue to be an issue for players and umpire alike.

If as umpires we can quickly anticipate the landing zone of any raised ball we can intervene with an early FH (if appropriate) to prevent a free for all. In that sense the umpiring skill doesn't actually change I think
Ian Dinwiddy

Secret Umpire: The key word in this statement is 'if': all very well 'if' we do and a potential mess if we don't. The skill is the same it is the application that is key.

So, without proper coaching, mentoring and training from clubs, umpiring associations and England Hockey prior to and during each season, how can umpires be expected to apply another barrage of new rules and interpretations when they struggle with the ones we already have?

The Telegraph


---

FIH Executive Board endorses Olympic Agenda 2020

The FIH Executive Board (EB) held its first meeting of 2015 at the FIH headquarters in Lausanne.



FIH President, Leandro Negre and FIH Athletes' Committee Chair, Michael Green (Photo: FIH)

Over the weekend, the Executive Board (EB) held its first meeting of 2015 at the FIH headquarters in Lausanne. The EB decided to put forward FIH President Leandro Negro for election to the ASOIF Council during the next ASOIF General Assembly on 22 April. The EB also supports Negre to run for another term as FIH President with elections to be held in November 2016. Other important items on the agenda included the implementation of the Hockey Revolution and Olympic Agenda 2020.

Having received an update on the recommendations of Olympic Agenda 2020, the EB unanimously welcomed this new strategic roadmap which lays out the future of the Olympic Movement and was adopted by the full IOC membership in December last year. In the months preceding the IOC Session, FIH has been involved in related discussions and consultations. FIH President Leandro Negre was part of one of the 14 Olympic Agenda 2020 Working Groups. And hockey role model Marsha Cox from South Africa participated in the round table with IOC President Thomas Bach in November 2014 when he revealed the 40 proposals that make up Olympic Agenda 2020.

It was confirmed, during the session, that the hockey family is ready to support the implementation of the recommendations which relate to many topics the FIH and its members are closely involved with. The FIH has in fact already started to work with the IOC and other federations on how the role of the IFs can be enhanced in the planning and delivery of the Olympic competitions, including the study of transferring technical responsibilities from the Olympic Games Organising Committees to the IFs (recommendation 13).

Leandro Negre said after the meeting: "Hockey is thrilled to be part of this process. These are exciting times and as a matter of principle, Olympic Agenda 2020 will feature as a fixed item during our EB meetings. It is important for us to analyse the implications and to discuss the contributions that we can make.  We will also strongly involve our Athletes' Committee in this regard."

Olympic Agenda 2020 stipulates the protection of clean athletes as the IOC's ultimate goal - a subject that features also on the top of FIH's priorities. Hockey was one of the first Olympic sports to establish a whistleblowing system. Earlier this year, the FIH signed up to the IOC's Integrity Betting Intelligence System (IBIS). As an intelligence-sharing digital platform, IBIS enables FIH to access an extensive network of monitoring and data-sharing across sports, event owners and the major sports-betting entities.

On her meeting with President Bach, South African captain and three time Olympian Marsha said: "I love the fact that he wants to put athletes at the heart and keep them close to the way the Olympics moves forward – just like FIH is doing with the Athletes' Committee". Marsha was elected to the FIH Athletes' Committee by her peers during the 2014 Hockey World Cup.

Olympic Agenda 2020 also foresees to move from a sport-based to an event-based Olympic programme and encourages gender equality across all sports. Meanwhile and with hockey being a truly gender neutral sport, the FIH can tick off the recommendation that refers to: "the IOC to work with the International Federations to achieve 50 per cent female participation in the Olympic Games and to stimulate women's participation and involvement in sport by creating more participation opportunities at the Olympic Games."

FIH site