All the news for Tuesday 24 February 2015

Indian eves defeat Germany on European soils




Valencia (Spain), Indian girls led by veteran Ritu Rani have defeated Germany 2-1 in a hard fought match played at Valancia in Spain.

This was the last engagement for our girls in their European tour.

Thankfully, the Indian eves emerged victorious 2-1.

The Indian team is on the tour in preparation for the FIH World League Round 2, to be held in New Delhi from 07 - 15 March, 2015.

Both the teams started the match cautiously as neither team wanted to give the initial edge to the other. The teams made desperate attempts to strike goals but could not, the entire first half remaining barren.

It was Deepika who opened the score for Indian eves in the 40th minute by scoring a field goal.

Germany did not sit back, and pressed hard in search of equaliser. However, the Indian eves displaying some spectacular stick work, dominated the game and kept the ball in their possession for long spells. It was through the stick of Amandeep Singh who successfully converted the penalty corner in the 55th minute to double the lead for India.

Germany did not disappoint the spectators, and played with a single intention to score. It paid dividends, and helped open their score card.

Germany's Marie Mavers finally broke the shackles and slapped the ball towards the nets and pumped in a lone goal through a field effort in the 59th minute taking the score to 2-1. Unable to add any further goals the game ended with India taking the win 2-1 against Germany.

Ambassador of India to Spain, Vikram Misri and the Secretary Chander Parkash Gandhi were seen enjoying the match and supporting the Indian eves to go for the win.

Stick2Hockey.com


---

Indian eves defeat Germany 2-1 in Valencia

VALENCIA (Spain): In a hard-fought match against Germany, Indian eves emerged victorious 2-1 in their final game of the Spain tour on Monday.

The matches were played in preparation for the FIH World League Round 2, to be held in New Delhi from March 7 to 15.

Both the teams started cautiously as neither team wanted to give the initial edge to the other.

The two teams made desperate attempts to strike the goal post but all efforts went in vain. The entire first half of the game did not yield any result for the sides.

It was Deepika, who opened the scoring for the Indians and surged ahead in the 40th minute by netting the ball.

Germany then pressed hard in search of an equaliser but the Indian eves displaying some spectacular stick work as they dominated the game and kept the ball in their possession.

It was Amandeep Singh, who successfully converted a penalty corner in the 55th minute to extend India's lead.

Germany then played with a single intention to score and finally broke the shackles when Marie Mavers slapped the ball towards the nets and pumped in a lone goal through a field effort in the 59th minute to reduce the margin.

Thereafter none of the teams could score any more goals and the game ended in India's favour.

Ambassador of India to Spain Vikram Misri and the secretary Chander Parkash Gandhi were seen enjoying the match and supporting the Indian eves.

The Times of India


---

Eves end tour with win over Germany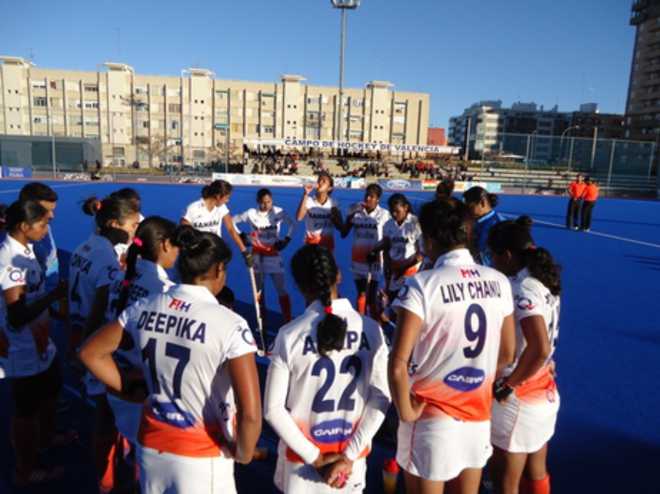 Indian hockey team in a huddle. Courtesy: Hockey India

New Delhi - In a hard fought match here, the Indian women's hockey team emerged victorious 2-1 over Germany in what was the last match of their tour of Spain.

Both teams started cautiously Sunday evening as neither wanted to give the initial edge to the other. The teams made attempts to strike but their efforts went in vain as the first half ended 0-0. It was Deepika who opened the scoring to help India surge ahead in the 40th minute by converting a field goal. Germany did not sit back and pressed hard in search of an equaliser but India displayed some spectacular stick work to dominate and keep possession.

It was through the stick of Amandeep Singh, who converted a penalty corner in the 55th minute, giving India a 2-0 lead. Germany's Marie Mavers finally broke the shackles and slapped the ball towards the nets to pump in their lone goal in the 59th minute. Unable to add further, the game ended in favour of India.

The Tribune


---

Ashley Jackson basks in double league glory with Rays and Grinstead

By Graham Wilson



Ashley Jackson won the Indian Hero League with Ranchi Rays

ASHLEY JACKSON basked in the glory after leading the Ranchi Rays to the Hero India League title in New Delhi and had the double satisfaction that at home his East Grinstead club also secured a national league play-off place.

Great Britain midfielder Jackson was named player of the tournament, hockey's equivalent of cricket's IPL, after scoring 12 goals, and the winner in a 3-2 final that had ended deadlocked at 2-2. His team-mate, GB captain Barry Middleton, won the goal of the final award.

"It has been a very satisfying phase for me," said Jackson. "We showed a lot of  character as we fought our way back from a goal down. It has been an absolute pleasure to play in front of the best fans ever. Time to head home."

Mark Gleghorne confirmed East Grinstead's place in the title play-offs, to be played at the Olympic Park in London on April 11-12, when he scored four minutes from time in a 3-2 defeat of injury-hit champions Beeston. Surbiton also secured their place at Stratford after Matt Daly fired a second-half double to draw 3-3 at Wimbledon.

Beeston remain third in the Now: Pensions League, level on points with Wimbledon but with a superior goal difference. Wimbledon have a 10-point advantage with four games remaining over fifth-placed Reading, who were forced to settle for a 2-2 draw against relegation-threatened Southgate.

Tom Carson gave Reading an early lead before goals from John Sterlini and Giulio put Southgate ahead. But Richard Mantell was on hand to rescue a point with a penalty corner conversion.



Jackson celebrates league success with team-mate Mandeep

It has been quite a revival from Brooklands Manchester University. They moved away from trouble, with a 3-2 win over Hampstead and Westminster, who they leapfrog in the table. Aiden Khares scored the winner with five minutes remaining.

Bottom of the table Canterbury picked up only their second victory of the season with a 3-1 win over Cannock courtesy of goals from Craig Boyne, Wei Adams and Francisco Montoya.

Jen Wilson's late strike from a penalty corner against Bowdon Hightown all but confirmed Canterbury's place in the Investec League play-offs at the Olympic Park on April 18-19.

Surbiton pulled three points clear at the top after fighting back to win 2-1 against the University of Birmingham, Emily Atkinson scoring the winner two minutes from the end.

 Leicester let slip a two-goal lead as they missed the chance to leapfrog Holcombe into fourth in a 2-2 draw. Tamsyn Naylor and Nicola White hit back for Holcombe after Nikki Laybourne and Katie Long had scored for Leicester.

Buckingham boosted their survival prospects with a 1-0 win at bottom side Beeston thanks to Leanne Grimsley's second- half goal. The result leaves struggling Beeston facing a seven-point gap to safety.

Daily Express


---

'Marathon' semis helped: Harendra

Biswajyoti Brahma

NEW DELHI: This was for the first time Ranchi Rays were taking part in the Hero Hockey India League. Though Ranchi had a team in the first two editions - Ranchi Rhinos had to be disbanded. Born out of that were the Rays, bought by new owners - Indian skipper MS Dhoni as a co-owner.

To begin with, Rays had modest hope. They had set a target to finish in the Top Five in their maiden appearance in the six-team tournament. On Sunday, all that changed.

"Before the final, I had told the boys that you have nothing to lose," coach Harendra Singh said. "This was our first year and our target was to finish in top five. I told them, 'We are playing in the final and that's a big achievement in itself. You play and stick to what I say and you will get good result."

Harendra may not admit it, but luck played some part in them earning the HIL title.

On Saturday they had pipped Uttar Pradesh Wizards in the semifinals after a marathon penalty shootout. The 24 penalties taken gave Rays some valuable practice.

That the Rays had done their homework was evident from the way they went about their job in the shootout. "We have to tell goalkeepers how to use their sticks during shootouts. In which way they should use it, to deny space to the striker, to advance and at the same time looking for opportunity to hit the ball away with the stick," said Harendra.

"That's very crucial. That's the secret of our team's success in the semis and final. Our goalie Lovell Tyler put this to use and we won."

On a personal front, Harendra had a great reason to rejoice. He had been the head coach of the national team in the past but had been removed every time over issues typical to Indian hockey . "I have always been gone through test by fire. By god's grace I have come out successfully every time."

The Times of India


---

Won't let any player think himself more equal than others: Ashley Jackson

As the heart of England's national hockey team, Ashley Jackson knows what it means to perform under pressure. On Sunday, as he had for the last one month, the midfielder did it again, guiding Ranchi Rays to the Hero Hockey India League title in its maiden season.

On Saturday, after his team managed to edge ahead after a marathon shoot-out in the semifinals, Jackson wasn't interested in saying much. On Sunday, the 27-year-old was more than willing to share his excitement. "Yeah, the title has wiped out all tiredness, everything. We were tired after the semifinal and we showed a lot of character (in the final) against a very good side. It is a great feeling to do it with this team," he said.

Jackson, who was named the Most Valuable Player of the tournament, had the dual responsibility this year of mentoring a young team, and single-handedly controlling the midfield in the absence of German captain Moritz Fuerste. That he ended up as the top scorer of the tournament as well was proof of how much he had impacted the side's fortunes.

"I am lucky to have a player like Ashley in my team. He gives a whole new definition to words like discipline, fitness and commitment. He proved why he is regarded so highly in International hockey," a proud coach, Harendra Singh, said about his captain.

Asked about his team's USP, Harendra said it was the absence of a star. "We have players who are all amazing. Ashley, Fergus Kavanagh, Barry Middleton, Manpreet Singh, Birendra Lakra, every one is a potential match-winner but no one is above the team. Kavanagh may not have won any individual award but he was the rock of our defence and enjoys everyone's respect for stepping up every time the team needed him.

"I know I have often been criticised for saying this, even with the national team, but I maintain that a team with stars who are considered more special than others will always struggle. It is natural when one player gets more attention in a team game. I will never seek attention for myself and I won't let any player think himself more equal than others," Harendra said.To be honest, the Ranchi players did not have to start from scratch. Having won the inaugural title in 2013, as Rhinos, the ownership changed this year. Unlike the Mumbai franchise, where the new owners disbanded and put together a new team, Sahara and M.S. Dhoni entrusted Harendra with handling the team, not meddling in its composition.

"It was a big advantage. We have known each other well over three years and enjoy playing together. The continuity ensured we did not have to re-plan everything," Jackson admitted. Both he and Harendra hoped they would able to retain at least the core of the side, if not most of it, next year when the initial three-year contracts would be over and fresh auctions conducted for all players.

The Hindu


---

Australian Women's National Squad

Women's National Senior and National Development Squads announced




Hockey Australia has announced a 23-athlete women's National Senior Squad and a 16-athlete National Development Squad as it looks towards its Olympic qualifying events this year and to Rio 2016.

While Olympic qualification is the primary target in 2015, the squads are representative of an ongoing push to improve the depth of talent in Australia's women's hockey program.

Five athletes make the step up to the senior national squad from the 2014 development and junior groups.




Georgina Morgan (NSW), Gabrielle Nance (SA/NSW*), Amelia Spence (TAS) and Mariah Williams (NSW) all step up from the 2014 National Junior Squad while Kathryn Slattery (WA) is included having been a member of the 2014 National Development Squad. Nance, Slattery and Spence were part of the Hockeyroos team that won silver at the Champions Trophy in Argentina in December.

Announcing the squads, Australian women's National Coach Adam Commens said, "Halfway towards the Olympic Games our major focus needs to be on qualifying for Rio and the Games themselves. But we need to have an eye for the future and the selections reflect that with a number of younger players coming into the centralised program.

"Our national squad is deliberately quite tight with 23 athletes that we feel deserve to be in the top group and who will be afforded the majority of opportunities in 2015, but we have the option to promote players from the development squad at any time during the year."

Commenting on the five new faces in the National Senior Squad, Commens added, "The players we've added to the senior group all performed well in 2014, particularly at the Champions Trophy. They all bring unique talents to the Hockeyroos and I can see all five playing a part in our strongest side in 2015."

The National Development Squad includes nine athletes that were members of the National Junior Squad in 2014, two who were part of the senior squad and four who are new to the program. The new faces are Stephanie Kershaw (QLD), Savannah Fitzpatrick (QLD), Kate Hanna (NSW) and Renee Taylor (QLD).

Outlining his hopes for the development squad this year, Commens said, "It's important over the next 12 months that we have meaningful opportunities for the development squad. That means giving them the exposure to our training environment and international competition where we can."

Four members of the National Development Squad have been awarded scholarships to the centralised training program in Perth, alongside the National Senior Squad. They are Madison Fitzpatrick, Kate Hanna, Stephanie Kershaw and Renee Taylor.  

The Hockeyroos have two opportunities to qualify for the 2016 Olympic Games. They must finish in the top three at the FIH World League Semi Final tournament in Antwerp, Belgium, in June or win the Oceania Cup in Stratford, New Zealand, in October.

The team's first outing this year will be at an eight-nation tournament, the Hawke's Bay Festival, in New Zealand from 11-19 April. Runners-up last year, Australia's Hockeyroos (world #2) will be joined in Hawke's Bay by Argentina (#3), New Zealand (#4), China (#5), USA (#8), Korea (#9), Japan (#10) and India (#13).

Selection for the 2015 national squads was based on performances at the 2014 Australian Hockey League, preparation for the 2014 Champions Trophy and performances at the competition, Hockey Australia's national junior camp on the Gold Coast in December and the national 'super camp' held in Perth this month.

Comment on the national squads using #Roovolution on social media.

2015 National Senior Squad

Name (Hometown, State)
Teneal Attard (Mackay, QLD)
Madonna Blyth (Brisbane, QLD)
Edwina Bone (Evatt, ACT)
Jane Claxton (Adelaide, SA)
Kirstin Dwyer (Mackay, QLD)
Anna Flanagan (Canberra, ACT)
Kate Jenner (Tamworth, NSW)
Jodie Kenny (Wamuran, QLD)
Rachael Lynch (Melbourne, VIC)
Karri McMahon (Berri, SA)
Georgina Morgan (Armidale, NSW)
Gabrielle Nance* (Kingscliff, NSW)
Georgia Nanscawen (Melbourne, VIC)
Ashleigh Nelson (Wagin, WA)
Georgie Parker (Berri, SA)
Brooke Peris (Darwin, NT)
Casey Sablowski (South Coast, NSW)
Kathryn Slattery (South Stirling, WA)
Emily Smith (Crookwell, NSW)
Amelia Spence (Hobart, TAS)
Ashlee Wells (Morwell, VIC)
Kellie White (Crookwell, NSW)
Mariah Williams (Newcastle, NSW)

*Gabrielle Nance is an athlete at the South Australian Sports Institute but grew up in Kingscliff, NSW.

2015 National Development Squad
Name (Hometown, State)
Murphy Allendorf (Mount Gravatt, QLD)
Laura Barden (Kew, VIC)
Jocelyn Bartram (Albury, NSW)
Stephanie Kershaw (Townsville, QLD)
Jacqui Day (Mountain Creek, QLD)
Elizabeth Duguid (Darwin, NT)
Madison Fitzpatrick (Cabarita Beach, QLD)
Savannah Fitzpatrick (Cabarita Beach, QLD)
Kyra Flynn (Hillarys, WA)
Kate Hanna (Constitution Hill, NSW)
Jordyn Holzberger (Ipswich, QLD)
Audrey Smith (Wynnum, QLD)
Hayley Padget (Hurstbridge, VIC)
Mathilda Carmichael (Willoughby, NSW)
Penny Squibb (Tambellup, WA)
Renee Taylor (Everton Park, QLD)

Hockey Australia media release


---

Canadian keepers Carter and Kindler enjoying internal competition

World League Round 2 begins February 28th in Chula Vista

Shaheed Devji




In a year with 2016 Olympic qualification up for grabs, there is no lack of motivation for any member of the Canadian Men's National Field Hockey Team.

Each training session and each competition is a chance for athletes to impress the coaching staff and earn their way into a spot in the year's most important matches.

This could not be more true for goalkeepers David Carter and Antoni Kindler, who are both on the Canadian touring roster currently in California preparing for World League Round 2, the first step of the Olympic qualification process, which begins on Saturday.

"When we're on the field, we're big competitors in training and it sometimes gets a bit heated," says Carter of the dynamic between the two tenders. "We know the coaches just want to put the best guy out there for the best chance to win and we respect their decisions."

As veteran keepers, internal competition is something both have grown accustomed to.

Both have been a part of the Canadian National Team during highs and lows over the past several years. And both would like to be front and center on the journey to Olympic qualification this year.

"It's no secret that you get to National Teams by being a competitor and priding yourself on your ability," says Kindler. "I think both Carter and I are competitive and we both really want to be on the field whenever we can."

"That being said, I think our team has the luxury of having two very capable goalies that our coaching staff clearly has shown that they have trust and put faith in. And I think the team feels the same way."

Kindler - who has never been to an Olympic Games - was in goal in 2011 when the Men's National Team, after leading at halftime, suffered a narrow loss to Argentina at the Pan American Games, losing out on a spot in the 2012 Olympics.

Carter went to the 2008 Olympics in Beijing, China but didn't find his way onto the field, serving as a backup to now retired goalkeeper Mike Mahood.

While disappointing, both experiences for both keepers will go a long with in how they prepare for and perform if presented with the opportunity to lead Canada to Olympic qualification in 2016.

"It's something that we've gone through before," explains Carter, 33, a veteran of 96 international matches for Canada. "I've been in net when the team qualified for the World Cup. That's an experience you use."

"The pressure is there but it's something we thrive on and appreciate, that's why we play the game."

With World League Round 2 set to kick off on Saturday, the road to Olympic qualification will officially be in full swing and with it comes high expectations.

While many athletes - especially goalkeepers who typically already carry a heavy load - may feel the pressure accompanied with these expectations, the experience of Canada's two goalkeepers allows them to view it differently.

It serves as added motivation.

"That's ultimately the reason why I'm still playing," says Kindler, 26, about the possibility of qualifying for his first Olympics. "That's definitely one of those goals that any amateur athlete has."

"When you get the opportunity you just have to make the most of it."

Between the two of them, Kindler and Carter have played in 143 official international matches for Canada.

And whether it's Carter or Kindler between the pipes turning away the opposition's shots in any given game on the way to earning a spot at the Olympics, what you can expect from the two field hockey players who have been through almost everything their sport has to offer is quite simply what brought them to the point of having the opprtunity: their best effort, on and off the field.

Field Hockey Canada media release


---

Future Black Sticks Women excited about Japan series




Auckland midfielder Dani Sutherland is expecting to face a fit and physical team when the Future Black Sticks take on Japan in five tests in Auckland over the next week.

The Japanese team arrived today and will play the Kiwis this Thursday 26 February, Friday 27 February, Sunday 1 March, Monday 2 March and Wednesday 4 March at Auckland Grammar School in Mt Eden.

"Japan is a bit of an unknown side and they play a much different style of hockey to us. It will be a good challenge to play them –  there are aspects of my game I need to build on and it will be great to see the team progress throughout the series," said Sutherland, who is one of the senior players in the team, aged 20.

Coach Jude Menezes said the aim for all Future Black Sticks series is to replicate the Black Sticks environment – both on and off the field - so that the transition to the national squad is as seamless as possible.

"We want to play attacking, aggressive hockey and mimic what the Black Sticks are doing. It is about playing the same 'brand' of hockey as the Black Sticks. While the results are important, what we are looking for is that players are following the game plan and sticking to the team systems and structures," said Menezes.

Sutherland is under no illusion that the team of 20 players from around the country will be worked hard over the upcoming week.

"I think we can expect to be pushed hard – it won't be a walk in the park!" said Sutherland.

Menezes has scheduled fitness testing and trainings in and around game time to get the most out of the team being together.

"Although the five tests are the number one focus, what happens outside of the games is equally as important," said Menezes.

"To have everyone together and focussed on hockey for the week is fantastic. We want players turning up to trainings as committed as they would be when they are about to play a game."

All the games are being played at Auckland Grammar School on Normanby Road, Mt Eden and it is FREE ENTRY.

For game details, click here.


Future Black Sticks vs Japan, February/March 2015

Shirt #

Name

Position

1

Kirsten Nation

Goalkeeper

2

Tegan Muraahi

Goalkeeper

3

Frances Davies

Defender

4

Maddison Dowe

Defender

5

Alex Conway

Defender

6

Stephanie Dickins

Screen

7

Tessa Joop

Screen

8

Sarah Walcott

Screen

9

Maddi McLean

Midfielder

10

Dani Sutherland

Midfielder

11

Alia Jaques

Midfielder

12

Catherine Tinning

Midfielder

13

Polly Inglis

Midfielder

14

Tarryn Davey

Midfielder

15

Su Arn Kwek

Attacker

16

Kelsey Smith

Attacker

17

Arnica Palmer

Attacker

18

Nicola McDonnell

Attacker

19

Phoebe Steele

Attacker

20

Sam Polovnikoff

Attacker
Head coach: Jude Menezes
Assistant coach: Lincoln Churchill
Manager: Robyn Neil
Performance Analyst: Sam Bartholomew
Physiotherapist: Peter Lee
Hockey New Zealand Media release


---

Junior National Team U-17 and U-19 Rosters are Announced for Belgium Tour

USA Field Hockey is proud to announce the U-17 and U-19 Junior National Team rosters for the upcoming Belgium tour scheduled for April 4 - 10. Both squads will be competing against a premier Holland club as well as traveling to Belgium for four matches for more elite competition. The U-19 team will be coached by Ainslee Lamb and Tamara Durante while the U-17 team will be coached by Kristen Holmes-Winn and Jarred Martin. USA Field Hockey's Chelsea Mitchell will be the tour manager.

"There is no doubt that this group has exceptional talent but what was even more pleasing was the mentality they displayed in the training environment and in our meetings," said Head Coach U17 Kristen Holmes-Winn. "They are engaged, energetic and their love for the game was evident by the smiles they brought to the field each session. We were grateful for the opportunity to train at Spooky Nook Sports while our U.S. Senior and U-21 Teams competed in their respective series. It was a sensational opportunity for these young, aspiring athletes to be so close to their heroes in this sport. The momentum and growth from our training blocks and the inspiration gained from being along side our national teams will no doubt serve as a great foundation for our tour to Belgium."

"The U-19 has had two great training opportunities and I look forward to a great Belgium trip," said U-19 Coach Tracey Fuchs. "They have had a tremendous opportunity not only to train at Spooky Nook, but also to cheer on Team USA in their series against Argentina and the U21 games against Canada. This is a very talented young group and I look forward to positive results in Belgium."

U-19 Coaches: Ainslee Lamb and Tamara Durante
Manager: Chelsea Mitchell

Caroline Andretta
Jordan Barry
Anna Bottino
Austyn Cuneo
Danielle Duseau
Sarah Furey
Caroline Hanks
Laura Hurff
Kelly Johnson
Melanie Kruesh
Kellee LePage
Erin Matson
Sophia Miller
Maddie Morano
Margaux Paolino
Sami Steele
Julianna Tornetta
Nicole Woods

U-17 Coaches: Kristen Holmes-Winn and Jarred Martin
Manager: Chelsea Mitchell

Maddie Backsai
Haley Schleicher
Elise Wong
Mayv Clune
Brooke DeBerdine
Sammy Popper
Cassie Sumfest
Jillian Wolgemuth
Lexi Davidson
Kyler Greenwalt
Hannah Menge
Corrine Zanoli
Meredith Sholder
Megan  DuVernois
Lily Posternak
Callie Goodman
Sarah Dwyer
Amanda Hendry

USFHA media release


---

U-16 National Indoor Tournament brings out Nations Top Talent




Medals of gold were placed around the necks of U-16 National Indoor Tournament at Spooky Nook Sports Complex in Lancaster, Pa. this weekend. Hundreds of athletes from around the nation brought out their best skills to complete for the U-16 championship title.

USA Field Hockey's Karen Collins, Director of Events was very happy with the turnout of the tournament. "Athletes truly brought their 'A' games and it showed," he stated. "Each team battled right up to the end. It was amazing to watch."

Thank you for all the athletes and their families for participating in this year's U-16 Indoor National Tournament.

Congratulation to our 2015 U-16 Winners!

USFHA media release


---

Clubhouse: The Inside Track



Holly Payne of Leicester

Leicester are still in the hunt for a place at the Investec Women's League Finals weekend after a draw with rivals Holcombe at the weekend and Great Britain's Holly Payne is optimistic about their chances. Meanwhile, East Grinstead have booked their slot at the NOW: Pensions Men's League Finals weekend, but in characteristic style, Coach Karl Stagno will not accept resting on their laurels. Here are some of their thoughts:

Holly Payne, Leicester:

On their draw with Holcombe:
"It was a tough game. We played really well and started strongly. We were 2-0 up with a minute to go to half time so it was disappointing to let them back into the game. They've got some really good players so perhaps before the game we would have been happy with a draw, but on reflection it feels like a missed chance."

On the letting their opponents back into the game:
"We've done well this season with getting ahead and holding onto the lead so obviously we're disappointed to have lost one this week.  It was down to a lack of concentration on our part. A minute to go to half time and we conceded from a crash ball and deflection which has happened a couple of times recently. We need to stay switched on at the back at all times to get the points."

On Leicester's playoff ambitions:
"We're still hopeful and we still believe we can make that top four. It's really tight and three points this weekend would've been really valuable and put us into fourth. We've made it hard for ourselves but if we win all our games we can still do it. It could come down to the last game of the season against Reading away, that could be a crucial game for us."

"It's important for the club to get back amongst the top four teams but we've lost a lot of international players in recent times and we're still rebuilding the squad a little bit. We've got a lot of young players coming through and we've done well to compete but we'd like to push on and get back to the top."

On Leicester's chances should they make playoffs:
"If we get there we have a chance just like anyone else. When we have a full squad we can compete with anyone. We need to get there first which is a big ask but if we do, we won't be afraid of anyone."

On joining the Central Programme and her Great Britain debut:
"It was great to get my debut at international level. I was so nervous before the game but getting that first cap was a great honour and something I really enjoyed.

The workload has increased since joining the programme and I'm enjoying it and thriving on the opportunity. I've loved the extra training and I hope I can continue to improve and take those improvements back to Leicester to make a difference for them."



East Grinstead's Karl Stagno

Karl Stagno, East Grinstead:

On the win over Beeston:
"We deserve a lot of credit for the performance today. It's been a tough stage of the season for us with indoor and outdoor preparations overlapping, so it's a very difficult time which has shown with the points we've dropped recently. First half we were second best in all areas, but second half we were excellent and could have won by more. We have some key players away and lost two more with injury. We played with effectively 13 today because of that and yet we kept a good tempo, pressed very hard, It shows the depth and the level of fitness of the group. There is work to be done, but overall, I'm very pleased."

On the race for first place:
"We shouldn't have dropped points when we have but these things happen. We knew Surbiton had a tough run of games so to be able to capitalise and get a win in such a big game as this was very important.

No team will stand up and say they just want to qualify for play offs. Every team wants to win everything they can and we are no different. You approach every game to win. We won't look at who we might play in a playoff, we want to win every game and we want to beat whoever we play. If we finish top, that is great and of course we want to guarantee Europe but we have work to do with our goalscoring, and maybe with some other aspects but we want to win all of the time."

On his team's chances in the playoffs:
"All the teams can beat each other on their day. Wimbledon beat us 4-1 at our home, and they deserved to. Surbiton score a lot of goals, but can concede, too, Beeston are still the best team in the country alongside us, so if it is that four, there will be nothing taken for granted."

England Hockey Board Media release


---

McLeod extends stay with Waterloo Ducks




Waterloo Ducks have extended Shane McLeod's contract with the Belgian club for another two years following an excellent spell in charge that brought home the national title in 2013 and 2014.

In a club statement today, the Ducks described McLeod as a "true magician" and said they are delighted to have extended the New Zealander's stay with the club.

"Shane has managed to recreate with his staff a competitive team this year despite the departure of five major players while also setting up a women's team capable of challenging for top honours.

"Shane is undoubtedly one of the best coaches in the world and his record speaks for itself."

His side drew with Daring 2-2 on Sunday on the resumption of the Belgian Honours Division in the battle between second and third place.

Tanguy Cosyns put Daring ahead from an 11th minute corner. Nicolas van Diest equalised from Gilles Jacob's pass but Jof Cosyns put the Molenbeek side ahead once more. Jacob, though, earned a share of the spoils for the Ducks.

Leuven extended their lead at the top of the table with a 3-1 win over Racing. Leopold stay fourth courtesy of their 4-2 win over Oree.

Euro Hockey League media release


---

MHC treasurer Radha: Give us two weeks to settle bills

By Jugjet Singh

MALAYSIAN Hockey Confederation (MHC) treasurer Datuk N. Radhakrishnan yesterday confirmed that they body has many unsettled bills to honour, but gave an assurance that everybody will receive their due in the next two weeks.

Officials, umpires, clubs and national players cried foul last weekend when their allowances, winning purse, bonuses and other monetary promises have fallen on deaf ears since last year.

MHC are said to be in the red, but president Tengku Abdullah Sultan Ahmad Shah will fork out some cash and settle the matter before bowing out of the Confederation.

"Yes, whatever that has been written about non-payment on our part is true, but the wheels are already turning to make sure payment is made in the next two weeks," said Radhakrishnan.

The treasurer met Tengku Abdullah, together with MHC secretary general Datuk Johari Aziz to settle the matter.

"We have contacted some of the sponsors who have yet to oblige their pledges and the outcome is positive. Also, Tengku Abdullah will fork out some personal cash to settle the overdue issues.

Umpires and match officials, about 50 of them, have yet to receive allowances and traveling costs for officiating at the Malaysia Hockey League which ended in December.

Each MHL umpire and official is owed at least RM3,000 by the MHC.

Even match winnings for the top-four teams in the MHL has yet to be settled. The MHC owe TNB CUP clubs a whopping RM190,000. Champions Terengganu Hockey Team (Rm70,000), runners-up Kuala Lumpur HA (RM50,000), bronze medallists Tenaga Nasional (RM40,000) and fourth-placed Maybank (RM30,000) have yet to see the promised purse.

"I understand the hardships faced by individuals and clubs because of late payment, and apologise for the delay. Rest assured that we are doing all we can to honour everybody we owe," said Radhakrishnan.

MHC al;so owe TNB CUP roll of honour players Fitri Saari (best player of the final), Faizal Saari (top-scorer, 17 goals) and Hafizuddin Othman (best goalkeeper) RM2,000 each.

Tenaga are the title sponsors for MHL and other domestic tournaments, to the tune of RM2 million per-year.

States are also still awaiting for the promised subsidy of RM3,000 each for the Raja Noora Ashikin Cup in November.

On the player-side Faizal, after scoring 12 goals and being named the Best Player in the Singapore World League, refused to attend training since because bonus promises made by certain MHC officials were never realised.

MHC are at the verge of finalising their election date, and Tengku Abdullah has made a stand of not seeking re-election for the president's post as he wants to concentrate on his Asian Hockey Federation (AHF) president's post, as well as make a move to be elected as an executive board member of FIFA.

The MHC are said to be in the red to the tune of RM2million, because they also owe at least three officials about RM100,000 each after they forked out personal cash to bail out overseas trips as well as promised bonuses to players for qualifying for the World Cup.

Jugjet's World of Field Hockey