All the news for Wednesday 18 February 2015

Shame as Kenya fails to honour world series matches

By BRIAN YONGA



Tracy Karanja trains with the national women's hockey team at City Park Stadium on February 7, 2015 ahead of the World League Two series in Uruguay. PHOTO | MARTIN MUKANGU

The national women's hockey team failed to honour its first two matches of the World League two series in Montevideo, Uruguay handing walkovers to their opponents.

Kenya arrived in Montevideo Sunday night, a day after leaving Nairobi for the Olympic qualifiers. The Jos Openda-coached side spent the entire Sunday morning in Sao Paolo after a encountering a problem with their connecting flight leading to the delay, a Kenya Hockey Union official said.

By the time they arrived in Montevideo, it was past their first match against Trinidad and Tobago handing their opponents three free points and five goals. Ironically, KHU had written to the International Hockey Federation (FIH) requesting it to reschedule the team's opening match, a request the global body agreed to.

However, it is unclear why the team did not play their second match against France which was to kick off at 8pm on Monday with FIH yet to give an explanation as to why the the European giants were awarded free points.

SEEKING AN EXPLANATION

KHU Chairman Nahshon Randiek said he had written to the international body to seek an explanation over the same noting that the team was ready for that match having already missed their opening pool B match.

"I have spoken to the technical team and they don't understand why they were not allowed to play the second game yet they were ready. I am seeking an explanation from FIH over the same because I think it's right," Randiek said.

He confirmed the team missed their opening match due to the delay in the connecting flight from Sao Paolo to Montevideo adding it was beyond them.
KHU chairman also told Nation Sport that the government had sent the Sh5 million for the team's food, accommodation and allowances which had caused the team's delayed departure from Nairobi.

"The Permanent Secretary in charge of Sports assured me that the money had already been wired to the team's account and therefore there is no cause for alarm in terms of where they are staying and their meals," he added.

BOTTOM OF THE TABLE

Kenya is set to take on Azerbaijan in their last group match Tuesday night ahead of the knockout stages which begin on Thursday. Kenya is bottom of Pool B with no points from two games.

Azerbaijan tops the pool with six points winning both their opening two games, followed by France who are on three points same as Trinidad and Tobago but have a superior goal difference.

Daily Nation


---

KENYA'S MISSED CHANCE: Women's national hockey team's woes follow them to World League in Uruguay

By Elizabeth Mburugu



Kenya Glennis Namasake(l) and Ghana Amestina Cofie fight for the ball when they played World League round one at Citypark ,Nairobi. Kenya won 1-0. ON 06/09/14 PHOTO: JENIPHER WACHIE

The national women's hockey team is in despair in the on-going International Hockey Federation (FIH) World League Two in Montevideo, Uruguay. This follows FIH's decision to award their opponents walkovers as they failed to make it to the South American country in good time to honour their matches.

They are yet to play a match as the competition entered day four and are still hopeful FIH will allow them to play Azerbaijan. They arrived in Montevideo late for their tie against Trinidad and Tobago, which prompted FIH to award the latter five goals and three points.

In what Kenya Hockey Union (KHU) chairman Nashon Randiek described as unclear circumstances, Kenya were denied a chance to play against France despite making it to the pitch, which also resulted in a walkover.

Randiek said FIH was yet to communicate to the union to shed light on their decision to award France the points.

"The coaches informed me of the development and I immediately wrote to FIH to find out what was going, but they are yet to respond."

He added that the team had logistical problems that saw them leave Sao Paulo on two different flights, making it impossible to honour their match. Prior to their departure, KHU had blamed the Government for not releasing funds in good time.

KHU had earlier written to FIH seeking a possible rescheduling of their opening match against France, which the world body granted. This saw their tie against France moved to Monday evening, but their problems began when they did not play Trinidad and Tobago on Sunday.

Now the team's participation hangs in the balance and there are fears their trip to Uruguay might have been in vain. The FIH World League series is part of the road to the Rio 2016 Olympics and the teams that excel will automatically qualify for the quadrennial event. The Kenyan girls qualified for League Two after they defeated Ghana 1-0 and Tanzania 17-0 in the League One competition that the country hosted in September last year.

Meanwhile, hosts Uruguay hammered the Dominican Republic 5-1 to remain unbeaten in their pool A encounter. Italy thrashed Mexico 5-0 in another group A match to secure their first victory of the tournament.

Kenya are at the bottom of group B without a point, while Azerbaijan are at the top with six.

The Standard Online


---

Irish Women's World League 2 Squad

The women's senior World League 2 squad has been announced by Coach Darren Smith. The squad is made up of a panel of 18, with Ali Meeke and Yvonne O'Byrne bracketed as we assess the recovery of Ali Meeke's broken hand that she sustained in Valencia and impending return to hockey over late February/early March. Yvonne O'Byrne will travel with the team to London for the Great Britain series.

The squad was selected following a test series against Spain in January and an intense training camp in Dublin in March. The team will be the highest ranked in the upcoming World League 2 tournament which will see them pitted against the Ukraine (March 14th), Canada (March 15th) and Turkey (March 17th) initially. World League 2 is an important step on the road to Olympic Qualification and the team need to finish in the top 2 in order to qualify for World League 3.

Coach Darren Smith said "We're very excited to be hosting World League 2 and playing in front of our home crowd. It's going to be a tough tournament with 8 good teams, and Canada, Chile, Belarus and the Ukraine in particular all vying for top spots."

We're delighted to have the continued support of The Irish Sports Council and Sports Northern Ireland as we continue along the Road to Rio.

World League 2 Squad:
    Naomi Carroll
    Lizzie Colvin
    Aine Connery
    Nicci Daly
    Kate Dillon
    Nikki Evans
    Megan Frazer - Captain
    Emma Gray
    Shirley McCay
    Ayeisha McFerran
    Hannah Matthews
    Katie Mullan
    Anna O'Flanagan
    Gill Pinder
    Cliodhna Sargent - Vice Captain
    Emma Smyth
    Chloe Watkins
    (Ali Meeke / Yvonne O'Byrne )

Irish Hockey Association media release


---

India confirmed for Hawke's Bay Festival




India will complete the lineup for the 2015 Hawke's Bay Festival of Hockey women's tournament to be held in Hastings in April.

"The inaugural event in 2014 included 6 international teams, but the vision was always to expand to 8 teams this year. Hockey NZ and the tournament organisers, HBSEEC, are delighted that India has agreed to come 'downunder' in 2015," said event director David Nancarrow.

"India is ranked 13th in the world but importantly the sport is second only to cricket in public interest in India. This is an exciting development for the Festival of Hockey as it opens up a huge new audience of passionate Hockey fans."

"The six teams that attended the event last year have given the tournament a big tick of approval, as they have all committed to returning this year. With the addition of the USA and India, the tournament is now truly global."

World hockey's governing body – the FIH – has further reinforced the international importance of this tournament with the appointment of leading international referees and officials from England, Singapore, Malaysia, the Netherlands and Fiji to attend the 2015 Festival of Hockey.

Alongside the international event, the Festival will again incorporate an affiliates tournament (7th – 11th April), which will include 12 teams. The quality of the competition at this event steps up a notch this year with the inclusion of the Hong Kong men's and women's teams.

The Furnware Cup (16th – 19th April) will be played between 8 schoolgirl teams including five from Hawke's Bay and three from outside the region. 80 games of hockey will be played over 13 days with 28 teams participating.

The eight international teams competing in the Hawke's Bay Cup international tournament from the 11th – 19th April are:

Australia (world ranking 2nd)
Argentina (3rd)
New Zealand (4th)
China (5th)
USA (8th)
Korea (9th)
Japan (10th)
India (13th)

Matches at the Festival of Hockey will be hosted at both the Regional Sports Park in Hastings and Park Island in Napier.

For tickets and further Festival information go to www.hockeyfestival.nz

The Hawke's Bay Festival of Hockey is a collaboration between Hockey New Zealand and Hawke's Bay Sports Events and Entertainment Consortium (HBSEEC).

Hockey New Zealand Media release


---

Rays rally to upset Warriors



Tough fight: Fergus Kavanagh of Ranchi Rays thwarts an attack from Punjab Warriors. Photo: Akhilesh Kumar   

Captain Ashley Jackson scored a brilliant hat-trick, including two stunning goals in the dying moments, as Ranchi Rays recorded an upset 3-2 win over Punjab Warriors in a thrilling match of the Hero Hockey India League here on Tuesday.

With the win on Tuesday, Ranchi, who snatched the game from the jaws of defeat, moved to the top of points table having won six games out of 10 while Punjab stay on five victories from nine games played so far with one more game to go.

Both teams had already earned a berth in the semi-finals before going into this match played at the International Hockey stadium here.

With hockey legend Balbir Singh Sr watching the game, both teams fought hard to outdo each other and Punjab were in the lead 2-1 right until the end before Jackson's twin-strike in the final minute left the home team stunned in a match that witnessed twists and turns until the end.

Ranchi were down two goals at the end of first quarter. However, they came back strongly and got their first goal when the Jackson's sharp hit of a penalty corner beat goalkeeper Jaap Stockmann all ends up in the 26th minute.

Thereafter, the two teams jostled right till the end with Punjab leading 2-1 until the last minute of the match.

The home team and their supporters were then left stunned as Jackson pumped in two goals from penalty corners in the final few seconds.

The final minute of the game was full of drama when umpire Gurinder Sangha awarded two penalty strokes in Ranchi's favour but the video referrals awarded penalty corner, with the visitors making no mistake even from that opportunity.

For Punjab, penalty-corner-specialist Sandeep Singh put his team ahead in the ninth minute when he scored of the first penalty corner which his team earned.

Towards the end of first quarter, the home team earned two back-to-back penalty corners, with Christopher Ciriello converting from the second one giving his team a 2-0 lead.

Just before the end of second quarter, Punjab earned their fourth penalty corner, but failed to convert while four back-to-back penalty corners were awarded to them in the fourth quarter, but they failed to convert any of them as well.

Punjab Warriors were a depleted side on Tuesday in the absence of their star players, including skipper Jamie Dwyer, Mark Knowels, Lucas Rey and Dharamvir Singh. 

The Hindu


---

Ranchi stun Punjab Warriors 3-2

Deepankar Sharda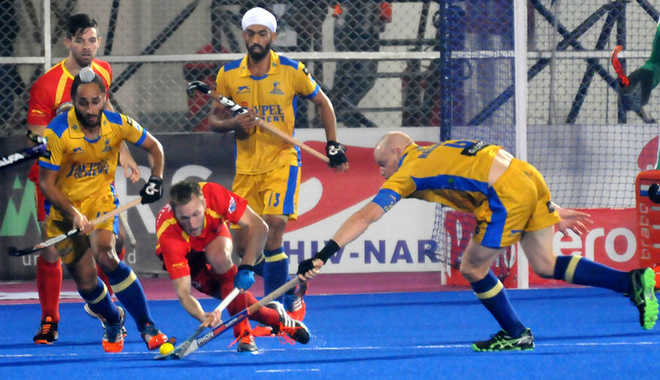 Punjab Warriors' Rob Hammond tries to tackle Ranchi Rays' Barry Middleton during their HIL match in Mohali on Tuesday. Vicky Gharu

Mohali - Punjab Warriors started in strong fashion but it was the late-charge by Ranchi Rays that stole the evening and stunned the spectators.

The Rays, who were 2-1 down till the last minute, scored two quick-fire goals off penalty corners — Ashley Jackson completed his hat-trick — to climb to the top of the points table.

Punjab Warriors started on an active note. The team got the lead in the 9th minute when Sandeep Singh scored off a penalty corner. The lead was soon doubled by Christopher Ciriello, again through a penalty corner, in the 15th minute.

The Rays started playing a more attacking game and, in the 26th minute, got their first penalty corner, which captain Jackson fired into the back of the net.

The home team missed their chances and could have increased their lead. But the visitors held on, and in the last minute, the unthinkable happened. At the start of the final minute, Ranchi got a penalty corner due to Simranjeet Singh's foul.

Jackson again beat goalkeeper Jaap Stockman all ends up. Shell-shocked, Punjab gave away another penalty corner. This time the video referral came in handy for the Rays.

Jackson's high drag-flick to the left of Stockman sent the men in red running wild, with the Punjab players not knowing what hit them.

The Tribune


---

A dress rehearsal for semifinal

With both teams having already qualified for the knockouts of the Hero Hockey India League, Delhi Waveriders' last league match against Uttar Pradesh Wizards at the Major Dhyanchand National Stadium here on Wednesday will be more a contest to decide the semifinal line-up than anything else.

While Delhi, on 23 points, has no chance of moving above its current fourth spot even with a win, UP has 30 from nine games and can go top of the table with an outright victory. That would also make Wednesday's game a rehearsal for the semifinal.

The Hindu


---

Dabang Mumbai exhibits street hockey to extends its lease on masses




Mumbai, 10th February: Every Hockey India League Franchise need to take hockey to all corners of India, and it is a sine qua non for them to mingle with the masses, for, hockey needs to penetrate every sector to sustain and improve its profile.

Dabang Mumbai, a new out in the HHIL family, seemed to have understood the bottomline clearly, as it has been endeavouring efforts towards this objective. Recently its team celebrated what it calls 'gully hockey' in Mumbai.

A week before when the team came to Delhi, its coaches and the team interacted with a NGO kids, called One Thousand Hockey Legs, and made them 'fevicol'ed to them.

Dabang Mumbai players, fresh from their victory in the Hockey India League on last Sunday against Kalinga Lancers, had fun engaging with the young fans and supporters. They spent time playing and interacting with the students of the city based HR College.

Over 200 students participated in the games and training sessions as the players explained them the nuances of the game and tactics, while hundreds watch them create magic with their hockey sticks.

The 'gully hockey' initiative is part of Dabang Mumbai's effort to promote the game across cross section of the society and explore the different avenues that Mumbaikars could utilize to follow their passion for hockey and go out and play the game.




This newly-formed Mumbai outfit of the Hero Hockey Indian League (HHIL) and owned by DoIT Sports Management Pvt. Ltd, has always believed that the future of sports development in India depends largely on a "RUrban" model where the sport should not be restricted to available surfaces and conditions.

On the contrary utilizing various avenues and surfaces only works towards encouraging and groom future talent.

DoIT Sports Management Director Radha Kapoor expressed her confidence about the approach. She believes the concept will shoot off the popularity of the sport in the city.

"Dabang' is an expression of the irrepressible spirit of victory. By spearheading the hockey movement in key regions of Maharashtra, Gujarat and Goa, Dabang Mumbai reinforces its commitment towards India's most prestigious sport - Hockey. The primary objective of the Dabang MumbaiFranchise will be to create a grass-root program that lends a steady stream of talented youngsters to India, eight-time Olympic Champions, and support in its continued effort to reclaim World supremacy in the sport."

Speaking on the occasion, Dabang Mumbai's strategic advisor and mentor Viren Rasquinha said, "the only way to produce more hockey stars from Mumbai is to take the game to the masses. Dabang Mumbai's grass - root initiative aims at introducing the game to a large number of youngsters and then identifying and nurturing their talent to produce more international champions."




Dabang Mumbai has already undertaken some concrete steps towards development of grass-root talent in the city and adjoining areas by initiating Coaches and young players being trained by Dabang Mumbai players and coaching staffs. The team has also tied up with famous European club, HC Bloemendaal and as part of this technical alliance; special clinics will be organized twice a year for the hockey enthusiasts and budding talents in the city and around.

"The gully hockey initiative will definitely provide a boost to the sport in the colleges and we are extremely proud that our city team Dabang Mumbai has selected HR College for such a buddy game," HR College principal said.

Stick2Hockey.com


---

Fiji hockey's first

Emoni Narawa



Fiji Hockey Federation president Dr Robin Mitchell speaks to the media as Epeli Tukuca looks on during a press conference in Suva yesterday. Picture: JONACANI LALAKOBAU

EPELI Tukuca is Fiji's first international hockey umpire.

The 37-year-old from Lautoka is now eligible to officiate as an International Outdoor Umpire.

The former national hockey rep said the achievement was a milestone not only for him but Fiji Hockey Association as well.

"Oh it's a milestone for Fiji hockey, being the first umpire to reach this level," Tukuca said.

And it took the former Tilak High School student four years to reach the level.

He said the competition in the national team convinced him to try out a new adventure.

"I've been associated with hockey for 20 years since my high school days in Tilak.

"As I'm getting older and the younger players coming into the scene it was getting harder and harder to get into Fiji hockey so I asked myself how else can I contribute to Fiji hockey and I thought why not take up umpiring."

Tukuca had no regrets of trading the hockey stick with an umpire whistle.

He said he had travelled the world to officiate at international events.

He hoped to further upgrade the level of umpiring in the country.

"Certain people have seen that I have travelled to some parts of the world and they're interested in it now so I am planning to do umpire courses around the country."

Fiji Hockey president Doctor Robin Mitchell congratulated Tukuca for his achievement.

"This is a big achievement for us as a minor sport, in the sense that he is the first international upgraded umpire," he said.

Tukuca was assisted by the Oceania Hockey Federation, the Australian Masters Hockey Association and New Zealand Hockey to attend clinics and to referee at matches controlled by these organisations which included the 2012 Oceania U21 Hockey World Qualifiers Tournament (Gold Coast), 2012 FIH World League/Oceania Pacific Cup in Suva, the 2013 Australian Masters National Championships in Sydney, Oceania Cup (Men) that was held at Straford in New Zealand, the 2014 Oceania Qualifying Tournament for Nanjing Youth Olympic Games at Port Vila in Vanuatu.

He was also appointed to umpire at the Nanjing Youth Olympic Games, China and the FIH World League/Oceania Pacific Cup in Suva last December.

The Fiji Times


---

Something triggered Faizal's bad behaviour, says Khairy

By Fadhli Ishak

KUALA LUMPUR: Youth and Sports Minister Khairy Jamaluddin is in a dilemma on how to handle the volatile striker Faizal Saari but believed there is something triggering his bad behaviour.

Khairy said it was difficult to deal with such a talented yet problematic player considering what he has to offer the national team.

Faizal has not attended a single training session since scoring 12 goals and being named player of the tournament at the Singapore World League round two last month.

"He is a special kind of player, the star of the team but he is also a character. He goes to training when he wants to, sometimes late, and has terrible discipline.

"But when the time comes he delivers the goods and performs very well. I myself am in a dilemma, what am I supposed to do with a player like this?

"I have been told that Faizal is unhappy with the Malaysian Hockey Confederation (MHC) but I am unsure of what it is," he said.

Khairy added that since the MHC cannot handle Faizal, he had asked the National Sports Council director-general Datuk Ahmad Shapawi Ismail to meet him and find out what was the problem.

The national squad is currently preparing for the Azlan Shah Cup which would be held in Ipoh this April. Other countries that would be competing includes Australia, India, New Zealand, South Korea and Canada.

New Straits Times


---

Hockey's Saari brothers tough it out in trying times

By Aftar Singh

KUALA LUMPUR: These have been trying times for the Saari brothers.

Top hockey forward Faizal has not attended national team training since Feb 6 as he's back in Kuala Terengganu to help his parents clean up their home following the massive floods which hit the east coast last month.

"I'm still in the midst of helping my parents clean up our house in Kuala Terengganu. But I'll definitely join the training by next week," said Faizal, who is also awaiting news about playing for a German club.

Faizal is looking forward to playing for Berlin Club in the German Hockey League, which begins next month.

The 24-year-old Faizal was in superb form en route to leading the national team to winning the World League Second Round in Singapore last month.

The victory ensured Malaysia qualify for the World League semi-finals in Belgium from June 20-July 5.

The World League is the qualifying tournament for the next year's Rio de Janeiro Olympics.

The 24-year-old Faizal also collected two individual awards in the Singapore tournament – as the top scorer with 12 goals and as the best player.

National team manager Datuk Nur Azmi Ahmad said that they've given Faizal until next week to report for training.

"I was told that Faizal has gone to his home town in Terengganu to help his parents clean up their house which was badly affected by the floods which hit the east coast.

"He also wanted to repair his car, which was damaged due to the floods. So, we have given him until next week to turn up for training," said Nur Azmi.

Faizal's younger brother, Fitri, suffered a huge blow when his wife had a miscarriage recently. They were expecting their first child.

"We have given him a break from training to be with his wife," said Nur Azmi.

The national team are preparing for the six-nation Sultan Azlan Shah Cup in Ipoh from April 5-12 and there are 35 players in the training squad.

The other five teams are defending champions Australia, New Zealand, India, South Korea and Canada.

The national team will be handled by Tai Beng Hai, with Australian Neil Hawgood acting as the consultant.

Malaysia played three friendly matches against Egypt at the National Hockey Stadium in Bukit Jalil last week – losing the first 3-0 and winning the next two 3-1 and 6-4.

Nur Azmi said that the national team would head for Perth next month to play five friendlies against the Australian national team in preparation for the Sultan Azlan Shah Cup.

The team are in upbeat mood after winning the World League Second Round last month.

The Star of Malaysia


---

Nice guys DO come first

FIH talk to 2014 Player of the Year Mark Knowles



(Photo: FIH)

Mark Knowles has been a key member of the Kookaburra's squad for 11 years. During that time he picked up Olympic Gold in 2004, two Champions Trophy gold medals and, of course, he lifted the World Cup in the Hague as Captain of the victorious Australian squad. Among his personal honours, Mark was awarded the World Young Player of the Year in 2007, has been part of the FIH All-Stars team in 2007 and 2009, and now he has been voted by his peers, coaches and fans as the 2014 FIH Player of the Year. He is also universally recognised among his team-mates and opponents as a 'really great guy.'

How do you feel after being voted 2014 Player of the Year

MK: It's an unbelievable honour. I've been playing international hockey for 10 years and have always tried to improve my game and be a role model for teammates and the sport. This award shows me that hard work and persistence pays off.

In a year that has seen great success for Australia, what has been your personal highlight?

MK: The World Cup without a doubt. We worked so hard as a team after our disappointment in London (Australia won bronze at the 2012 Olympics). I was so proud of our team and pleased with how well I could contribute as a leader

What do you think has contributed to your success this year? Has it been increased training, different pressures…

MK: For me it was the level of consistency I was able to play at. My basics and positioning have been a focus for me, with help from coaching staff and this gave me confidence for the rest of my game. Having the ball on my stick allowed me to expand in other areas.

How has the team around you helped your personal performances?

MK: The team means everything to me. We do nothing alone. The level our team played at throughout 2014 is the main reason I believe I have won this award. If the team plays well, individual awards can happen. The way our Kookaburras boys set goals of winning World Cup pushed us all to work harder and push each other every day.

What is it about the Australian approach that keeps you at the top so consistently?

MK: Our work ethic is very important but also the mantra that 'good is never good enough'. Our coaching staff were major drivers in this philosophy but it's the players that have to buy into the approach and we have done this. For me personally it's about learning and improving from past disappointments also. I think of mistakes in the Olympic semi-finals of 2008 and 2012 every day and my focus is to work hard and improve so those days don't happen again

What next for you?

MK: It's all about looking at ways to improve my game and particularly my leadership style. We all have to evolve and be better. The Rio 2016 Olympics is where I want to be at my best. I have a young family and I feel this affords me a balance in my life I didn't have previously. They are amazing supporters and I want to share more success with my teammates but also for my family for so many years of support.

FIH site


---

Iain Lewers talks fitness testing and hill sprints



Iain Lewers in action for England at the NOW Pensions Nations Cup

The Great Britain men's centralised squad has just returned to pitch-based training following a gruelling month of fitness at Bisham Abbey National Sports Centre. The four week block is known as physical development focus and includes an increased level of gym work, running sessions and weekly hill sprints. The one thing that isn't on the timetable for Head Coach Bobby Crutchley's squad is playing hockey!

Great Britain and England's Iain Lewers likens his month of January to that of pre-season fitness training for club players before the league gets underway in September. We caught up with the Holcombe defender to find out a bit more about the sessions.

Q. A lot of people would dread the idea of a month of hill sprints and fitness testing without getting chance to pick up a hockey stick! Is that the case with the squad or do you look forward to January?

"I don't think we dread them as such. It's only four weeks of the year for this particular block of work so you just have to make sure you are mentally, as well as physically, up for it. I think perhaps you physically dread it because you know what you're about to put your body through and it is tough when it's just a running block, but everyone is going through the same pain and we help each other through it."

Q. Do you get to have any fun with the sessions or does everyone take them very seriously?

"It is all quite serious and obviously when you're doing intense training like that I wouldn't say much banter goes on during the sessions, but we do create certain scenarios during some of the sessions to detract from the running. As part of the hill training we carry 20 kilo bags on our backs, but instead of doing it individually we're put into teams. The net result is still improved fitness, but we get each other through it and it's more rewarding in groups. It's a real test of character and our level of mental resilience is being challenged as much as our physical abilities at times. Having said that, in a group of 30 guys there's normally someone who will crack a joke and lighten the mood at the end of an exhausting set."

Q. And now you're back out on the pitch at Bisham Abbey and with your club [Holcombe], do you notice a difference going back after a block of training like that?

"Yes definitely. Perhaps not in the first few sessions because everyone's lacking a bit of sharpness on the ball after a break away, but once the tempo improves you really start to feel the benefits. On top of the physical benefits I think I can speak for the whole team when I say we all really look forward to picking up our sticks and getting back on the pitch!"

As the squad is enjoying its phase back on the pitch the team is looking forward to an action packed 2015 which includes Olympic Qualification at the World League Semi Final in Belgium in June and EuroHockey Championships [as England] on home turf on Olympic Park in August.

As part of their preparations for the year ahead Great Britain are playing against defending Olympic and European Champions Germany in the Nations Cup on home turf on Tuesday 14 April at 7pm.

England Hockey Board Media release


---

English National Schools Championships for Girls



Celebrations at the National Schools Championships for Girls

The Girls Schools Finals, one of hockey's longest running events, will take the stage as the first national finals to be held at Lee Valley Hockey & Tennis Centre, hockey's Olympic legacy venue at Queen Elizabeth Olympic Park.

The event will be held from 24-26 February with the U16s & U18 competitions on the 24th-25th and the U14s on 26th.

The five Regional winners in each age group qualified directly for the finals along with the runners-up from the respective Regions of last year's winners. The other four Regional runners-up met in two play-off games with the winners of those games making it through to Lee Valley.

Two of last season's champions U18 winners –. Repton and the U14 champions St Georges College return to defend their titles.  Repton, along with Grammar School at Leeds, are represented in all three tournaments with their U16s looking for the double having won the Indoor title at Bromsgrove in January. However their U18s dominance indoors was ended by Ipswich, who themselves saw Framlingham take the East U18 outdoor title to qualify for the outdoor finals. 

The U16 champions Cranleigh lost out to Ardingly and St Georges in the South qualifier but they did win through in the U14s and U18s.

The full list of teams is as below.

U16  Pool C
South 1 - Ardingly
East 1 - Joyce Frankland
Midlands 1 - Repton
North/West Qualifier - Clifton

U16 Pool D
South 2 - St Georges
West 1 - Canford
North 1 - Grammar School at Leeds
East/Midlands Qualifier - Oundle

U18 Pool E
Midlands 1 - Repton
North 1 - Stockport
East 1 - Framlingham
South/West Qualifier - Millfield

U18 Pool F
Midlands 2 - Trent
South 1 - Cranleigh
West 1 - Queens, Taunton
North/East Qualifier - Grammar School at Leeds

U14 Pool A
South 1 - Cranleigh
East 1 - Framlingham
Midlands 1 - Repton
North/West Qualifier - Blundells

U14 Pool B
South 2 - St Georges
West 1 - Kings, Taunton
North 1 - Grammar School At Leeds
East/Midlands Qualifier - Oundle

For further details of the event, including match schedule and how to buy discounted advance tickets click here.

England Hockey Board Media release


---

Golf balls the crowning moment for British designer's hockey stick in bid to reduce bone-crunching vibrations

British design firm Crown Hockey aims to take on major brands Grays and Adidas after patenting unique stick
           
By Rod Gilmour



Groovy: British company Crown Hockey claims to have produced lightest ever stick Photo: CROWN HOCKEY

Most amateur hockey players will have endured the familiar scenario more than once in midweek training sessions over the winter: the bone-shuddering vibration to the hand after a hefty slap hit of the stick and the inevitable shake of the wrist.

However, one British designer believes he has found the cure for an age-old problem thanks to a revolutionary stick which is both lighter and, significantly, the first to be produced in the UK.

Evan Mackrill, founder of Crown Hockey, calls it a "university project gone mad" while his new design aims to increase power and lower vibration through a patented method of grooves along the stick.

The idea was spawned while studying golf balls during his sports' product design degree at Brighton University. It has proved the 'eureka' moment in a project which will this week see the first sticks being produced after receiving backing from Kickstarter, the crowdfunding site.

"I thought about the vibration in hockey and how people are asking for lighter sticks with more carbon fibre in them," he says. "But it's really creating more vibrations as they are getting stiffer sticks.

"I tried to cure that problem and work out what would reduce vibrations."

To do this, he tested plain sticks against well known brands like Grays and Adidas to see if it made a difference from a structural point of view.

Mackrill and fellow founder Matt Hutton soon realised that the more surface area you have, the greater the vibration to disperse over. "We thought of geometry and golf balls, which have a high surface area shape due to the many circles altogether," he says.

He packed dimples to the back of the stick, ran some tests and proved it worked. Positive feedback at New Designers, where a selected few from Universities showcase their final year's work, confirmed that the business model could work.

"Most sticks are made with 60 per cent resin due to carbon fibre costs," he says. "The stick looks nice but it's packed with resin. It's a lottery as to whether you get a good stick or one that has to be returned. Some big brands have a 50 per cent return rate on some of their models due to the market volume.



Brighton brains: Evan Mackrill, right, and Matt Hutton

"We're using a completely new manufacturing process. It's not about how much carbon fibre, it's about how you use it."

As well as positioning themselves at the higher end of the market - the sticks will at first retail for around £350 - their office is also close to Bisham Abbey, GB Hockey's headquarters, where several internationals have already tested the stick.

"A lot of professionals pick mid-range hockey sticks as it has more fibre glass in them so the impact on their hands is dampened," admits Mackrill, who will take his dimpled sticks on a clubs' roadshow in the coming weeks.

"The fact that they are selecting to not have the mechanical advantages of the stick and go for a vibration dampener, I just thought that someone could just focus on the vibration side and get the stick right."

His plan is to have the Crown brand made with machines in the UK - most sticks are conceived in India and Pakistan - to save on labour costs. "To say the sticks are British engineered is a good selling point and there would be quality control over it. After all, we are trying to sell the best of the best."

For more information go to Crown Hockey

The Telegraph