All the news for Sunday 8 February 2015

Shock final at Men's IWC as Netherlands face Austria

Dutch down Germany while Austria power past Iran in semi-finals at Indoor World Cup in Germany


   
The Dutch reached their first final in Indoor World Cup history. (Photo: FIH / Stanislas Brochier)

The Netherlands men have recorded one of the biggest shocks in Indoor Hockey World Cup history by defeating triple world champions Germany in the tournament semi-finals in Leipzig. The sensational result means that it is a certainty that a new name will be engraved on the men's trophy, with Austria also making the title match after beating Iran.

The first semi-final was played in front of a hugely vocal sell-out 5,500 crowd and was an absolute thriller, with the Netherlands producing some truly magical hockey to race into a 4-1 half time lead before Germany battled back, with Alexander Otte levelling the scores with literally seconds of the match take the game to a dramatic shoot-out. 

Netherlands goalkeeper Laurens Goedegebuure was the hero of the hour, producing magnificent saves from Moritz Fürste and Fabian Pehlke to give the Dutch an historic victory at Germany's home of indoor hockey.  "It is unbelievable that we won", said Dutch shot-stopper Goedegebuure after the game. "When we look back at this next week we will just say 'wow'". Netherlands coach Robin Rösch was full of praise for Goedegebuure, commenting: "Big thanks to our goalkeeper because he kept us in the game today, and we knew that Germany could fight back. In the end the win was a bit lucky for us but we deserved it."

Commenting on his team's defeat, Germany Head Coach Stefan Kermas said: "We lost the match in the first half, not in the shoot-out. After we came back I thought that we would make it, but we didn't."

The Netherlands will play Austria in Sunday's showpiece final after they defeated surprise team Iran 7-5. The Austrians were in sparkling form to open up a 6-1 lead, but the Iranians – who produced a shock result by defeating Russia in the quarter-finals – scored three times in quick succession to breathe new life into the match. However, Austrian goal-machine Michael Körper put the result beyond doubt with his fourth of the game before Iran's Behadad Beiranvand completed the scoring.

Speaking after the match, Austria captain Benni Stanzl said: "I'm speechless. I really cannot describe what has happened. It is an historical success for a small federation like the Austrian federation. It hurts that Germany are not in the final because many of my friends are in their team, but we have a good chance to beat the Netherlands in the final." Regarding defeated opponents Iran, Stanzl said: "It was a sensational performance from them. They fully deserved the chance to play in the semi-final."

The men's matches that take place on Sunday at the Indoor World Cup will decide the placings from 1 to 8. The Bronze medal match between host nation Germany and Iran takes places at 1130 (UTC / GMT +1), with the title match between Netherlands and Austria starting at 1430. Sweden and Russia will play for 5th place at 0830, with Switzerland and Poland fighting for 7th at 08.45 on pitch 2.

5-8 classification matches

Sweden confirmed their place in the play-off for fifth place with a 4-3 victory over Switzerland. Karl Hemvik scored a hat-trick for the Swedes, who will go into the 5-6 classification match knowing that they have performed way above expectations. The team came into the tournament as the lowest ranked in the tournament, placed 17th in the FIH Indoor World Rankings, but are now guaranteed at 6th place finish at minimum.

Sweden's opponents in the 5-6 classification game will be Russia, who overpowered Poland. Goals from Sergey Spichkovskiy (2), Alexander Zhirkov, Dmitry Volkov, Evgeny Mokrousov and Alexander Likov helped Russia to a 6-4 win over the Poles. Poland and Switzerland will play off for 7th place.
Website
Full coverage of the events will be available via www.fih.ch with live streaming of key matches from the quarter-final stage being available in most territories.
You Tube - Live from Friday
The FIH You Tube channel will become active from the quarter-finals, with highlights of key matches being posted as soon as they become available. To visit our You Tube channel, click the link below:
www.youtube.com/fihockey
Social media
FIH will provide comprehensive coverage of the event via our social media channels, including Facebook, Instagram and Twitter.
Facebook: facebook.com/fihockey
Instagram: instagram.com/fihockey
Twitter: twitter.com/fih_hockey
#IWC2015 #leipzig #fihockey #lovehockey

FIH site


---

Germany & Netherlands qualify for women's IWC "dream final"

Austria & Czechs will fight for Bronze at Indoor World Cup in Leipzig



Defending world champions celebrate their win over Austria. (Photo: FIH / Frank Uijlenbroek)

The women of Germany and the Netherlands will play in a dream final on Sunday thanks to victories in their respective semi-final matches. Die Danas powered to a 7-0 semi-final victory over Austria, while the Netherlands emerged from a tough match against Czech Republic as 3-1 winners.

Germany reached the tournament final with a terrific display to crush Austria. A capacity 5,500 crowd watched the home favourites storm into a 5-0 lead with team captain Katharina Otte scoring twice and Franzisca Hauke, Anne Schröder and Katharina Windfeder putting Germany out of sight at half time. Kristina Hillmann and Charlotte van Bodegom chipped in with second half efforts to complete the scoring and delight the home crowd.

"It was important to make a few good saves at the start of the match", said Germany goalkeeper Yvonne Frank, who along with team-mate Céline Wilde was celebrating not just the win but also her birthday. "I am very happy to win and it is my birthday, so everything is good. We are exhausted and need to recover if we are to win the title tomorrow."

Although clearly disappointed by the defeat, Austria Head Coach Nitan Sondhi said that the occasion was very special occasion for his players. "It was a highlight for everybody to play in front of the crowd, but now we really want to finish the tournament by winning bronze."

Germany were joined in the final by the Netherlands, who took a 1-0 lead into half time thanks to Lieke Hulsen and extended their advantage moments after the break through Denise Admiraal. The Czechs made life interesting when Adela Bizova slammed home a penalty corner in the 29th minute, but Denise Admiraal strick again to seal a 3-1 win for the Dutch girls.

Netherlands captain Karin van Ouden was pleased with her team's performance. "We scored early today and played much better than we did against Ukraine, The whole match was more controlled. We know that we will have the crowd against us tomorrow, but we are really looking forward to playing Germany."

Czech captain Tereza Mejzlikova said: "It was a great success to reach the semis, but today we made cheap mistakes and the Dutch punished us. They deserved the win but we are now really motivated to win the bronze medal match against Austria.

The women's matches that take place tomorrow at the Indoor World Cup will decide the placings from 1 to 8. The Bronze medal match between Czech Republic and Austria takes placed at 1000 (UTC / GMT +1), with the title match between Germany and the Netherlands starting at 1300. Belarus and Australia will play for 7th place at 1015 on pitch 2, with Poland and Ukraine fighting for 5th at 11.45.
Website
Full coverage of the events will be available via www.fih.ch with live streaming of key matches from the quarter-final stage being available in most territories.
You Tube - Live from Friday
The FIH You Tube channel will become active from the quarter-finals, with highlights of key matches being posted as soon as they become available. To visit our You Tube channel, click the link below:
www.youtube.com/fihockey
Social media
FIH will provide comprehensive coverage of the event via our social media channels, including Facebook, Instagram and Twitter.
Facebook: facebook.com/fihockey
Instagram: instagram.com/fihockey
Twitter: twitter.com/fih_hockey
#IWC2015 #leipzig #fihockey #lovehockey

FIH site


---

Women lose shoot-out

Australia to play for 7th/8th after going down to Ukraine in shoot-out

Reporting by Courtney Beaton



Photo credit: Andrew & Debra Spence / Sydney Indoor Hockey Assoc.

Ukraine defeated Australia's women in the fifth/eighth playoff at the Indoor World Cup after an intense post-game shoot out that saw Australia fall just one goal shy. The result means that Australia's women will contest the classification playoff for seventh and eighth positions against Belarus on Sunday.

Australia conceded two early goals to Ukraine's Maryna Khilko, putting them on the back foot early, but a decision by Ukraine to replace their goalkeeper with a kicking-back at the 17 minute mark allowed Australia back in the game via a penalty corner conversion from defender Ashley Fey right on half-time.

Ukraine opted to keep their goalkeeper on the bench to open the second half and again Australia punished them with a field goal from Tegan Boucher – a just reward for a strong tournament.

Australia hit the lead with just seven minutes to play when Emily Riordan chalked her name up on the score sheet again through another penalty corner conversion.

Despite being a goal down, Ukraine held strong and at one point had two of their players off the pitch with temporary suspensions, which gave them just two field players on the court but they were able to fend off all efforts by Australia.

The Europeans' hard work was aptly rewarded with Halyna Liahsenko finding the net with just two minutes to play to send the game into a shoot-out.

Holly Evans was the first to go one-on-one against Ukraine's keeper Tetyana Stepanchenko, who defended strongly, but Evans' tight skills saw the keeper concede a stroke to give Australia a second chance. The resulting shot from Evans narrowly missed.

Australia's keeper, Peta Sutherland, stood strong and was able to fend off any efforts by Ukraine's Khilko before Kary Chau stepped up for Australia's second attempt and missed.
Maryna Vynohradova was the first to score through a strong shot past Sutherland but Australia's captain, Emma McLeish quickly answered back with a no nonsense shot from the top of the circle that flew through the keeper's feet.

It wasn't enough though as Ukraine's final shot through Yana Sitalo found the net past Sutherland handing them the win and the opportunity to play off for a possible high of fifth place.

Australia will now fight for seventh place against Belarus on the final day of the tournament. The match takes place at 20:15 AEDT Sunday. Pre-tournament favourites Germany and the Netherlands will meet in the final.

Indoor World Cup
Women's Match 7 - Australia v Ukraine
5th-8th Place Playoff

AUSTRALIA  3 (1)
Ashlea Fey 19 (PC)
Tegan Boucher 22 (FG)
Emily Riordan 33 (PC)
                        
UKRAINE  3 (2)*
Maryna Khilko 10, 14 (FG, PS)
Halyna Liashenko 38 (FG)
                         
*Ukraine win 2-1 on shoot-out
                       
Shoot-out:
Holly Evans (AUS) - no goal; Maryna Khilko (UKR) - no goal
Kary Chau (AUS) - no goal; Maryna Vynohradova (UKR) - no goal
Emma McLeish (AUS) - goa; Yana Sitalo (UKR) - goal
                        
Australia to play Belarus for seventh/eighth

Women's Indoor World Cup Tournament Classification

1. Germany OR Netherlands
2. Germany OR Netherlands
3. Austria OR Czech Republic
4. Austria OR Czech Republic
5. Poland OR Ukraine
6. Poland OR Ukraine
7. Australia OR Belarus
8. Australia OR Belarus
9. South Africa
10. Canada
11. Belgium
12. Kazahkstan

Hockey Australia media release


---

Men finish tenth

Australia place tenth at Indoor World Cup after Czech defeat

Reporting by Courtney Beaton



Photo credit: Andrew & Debra Spence / Sydney Indoor Hockey Assoc.

Australia's men's team went down 6-4 to the Czech Republic in their final game of the 2015 Indoor World Cup, leaving them tenth in the classification and dashing hopes for a positive end to what has been a campaign that has left many wondering what could have been.

Having drawn with the Czechs in game one, the first 0-0 game in Indoor World Cup history, the meeting in the men's ninth/tenth playoff was a very different affair and Czechs were immediately on the attack to ensure there would be a different outcome.

They scored first through Lukas Plochy just two minutes into the game before Jakub Kyndal found the net a minute later to give the Czech Republic an early 2-0 lead.

Australia picked up their game and began to apply offensive pressure through Thomas Sinclair and Flynn Ogilvie but Filip Neusser stood up to any challenge or shot they fired at him, confirming yet again why he is considered the number one goalkeeper in the world.

And it was 3-0 soon after. David Vacek extended the lead in the eighth minute and it would prove to be a too big a lead to relinquish despite a desperate late fight back by Australia.

Simon Beaton pulled out another strong performance and was the first to score for Australia through a penalty corner conversion to keep Australia in the game leading into the break.
Again, the Czechs fired back with Plochy scoring his second goal of the game just a minute into the second half.

Australia swapped in Seyi Onitiri for goalkeeper Malcolm Beer to run as a kicking-back with 14 minutes to play, heightening the offensive pressure on the Czech defence. But again, Neusser was too good in the net, making several game winning saves on the line.

The Czechs made the most of Australia's lack of a goalkeeper and Plochy bagged his hat-trick with ten minutes remaining. Despite a margin of four, Australia pursued the fight.
                       
Beaton swapped in for Onitiri as the kicking-back and Australia were able to score two consecutive goals, the first through Heath Ogilvie who found the top of the net, fast becoming a signature special, before Beaton scored his second goal of the game through a penalty stroke.

Despite the late run home, the Czechs were able to hold off Australia with a final score of 6-4 to confirm Australia's final classification of tenth at the 2015 Indoor World Cup.

Elsewhere, in a tournament shock, hosts and three-time champions Germany went down to the Netherlands in a semi final shoot-out that will see the Dutch play Austria for the title on Sunday.

Men's Indoor World Cup
Men's Match 7 - Australia v Czech Republic
9th-10th Place Playoff

AUSTRALIA  4 (1)
Simon Beaton 17, 33 (PC, PS)
Heath Ogilvie 30 (PC)
Kurt Ogilvie 38 (FG)
                        
CZECH REPUBLIC  6 (3)
Lukas Plochy 2, 21, 30 (PC, FG, FG)
Jakub Kyndl 3 (FG)
David Vacek 8, 37 (FG, FG)
                        
Australia finishes tenth at the 2015 Indoor World Cup       

Indoor World Cup Tournament Classification

1. Austria OR Netherlands
2. Austria OR Netherlands
3. Germany OR Iran
4. Germany OR Iran
5. Russia OR Sweden
6. Russia OR Sweden
7. Poland OR Switzerland
8. Poland OR Switzerland
9. Czech Republic
10. Australia
11. South Africa
12. Canada

Hockey Australia media release


---

International umpires pick up their sticks in Leipzig

Shrives represents South Africa at Indoor World Cup with Delforge playing for Belgium



International umpire Ayden Shrives plays for South Africa at the Indoor World Cup. (Photo: FIH / Frank Uijlenbroek)

South Africa's Ayden Shrives and Laurine Delforge from Belgium are normally pursuing their international umpiring careers, but that is not the case at the Indoor Hockey World Cup.  In Leipzig, the well-known whistle-blowers are here as showing their considerable playing talents as members of their respective international teams.

"This is a once in a lifetime experience," Shrives said. When he was informed that he has a chance of being selected for the South African Indoor World Cup squad, he did not hesitate. "I participated in several training camps and lost 10 kilos in weight. This is also good for my umpiring."
Being back on the pitch is no problem for him although his focus has been very different in recent years: "I always played indoor but not on this level. I focussed on my umpiring career." As Shrives is now experiencing the Indoor World Cup as a player, his next goal is obvious: "I definitely want to represent South Africa as an umpire at an Indoor World Cup."

Belgium's Delforge, who was recently appointed to umpire at the Rabobank Hockey World Cup in The Hague, tries to differentiate between both of her hockey careers: "I'm here as a player. Of course I do know many of the umpires but here I'm not speaking that much to them because I'm a member of the Belgian team." However, Shrives states that he tries to interact with the officials too. "My friends are my friends. If I have the possibility to see them back after years I catch up with them, doesn't matter whether I'm here as a player or as an umpire."

Austrian Indoor World Cup umpire Michael Eilmer recently officiated alongside Shrives at the Pahang Hockey Champions Challenge 1 in Kuantan, Malaysia. In Leipzig, Eilmer umpired South Africa's opening match against Poland. "It was nothing special. We were shaking hands before the match, so no difference," Eilmer said. Shrives agreed: "Yes, during the matches everybody does their job."

When the Indoor World Cup comes to an end on Sunday, both Shrives and Delforge will switch their focus back to their outdoor umpiring careers. Shrives is already looking forward to the Hockey World League Final in India at the end of the year where he is appointed as an umpire. The 32-year-old his likely to umpire Olympic champions such as Germany's Mo Fürste, Tobi Hauke or Thilo Stralkowski, who like Shrives have all been in action at the Indoor World Cup.

FIH site


---

Punt gives Black Sticks Women a 5-1 win



Pictured: Captain Anita Punt in action during today's game at the Whangarei ITM Hockey Centre. Please credit photosport.co.nz

The Black Sticks Women have wrapped up their series against Canada in Whangarei, with a 5-1 win thanks to captain Anita Punt who converted four penalty corners.

It was a scrappy game compared to the previous two tests at the Whangarei ITM Hockey Centre, but Punt's clinical drag flicks helped pull her side to a 3-0 series victory.

"We didn't start that great today, whereas yesterday we had a really good first half and then let ourselves down in the second," said Punt.

"The performance for me on the field I thought was a bit disappointing, I didn't do what I would like to have done, but it's really good to execute the penalty corners. That is something I've been working on and I take pride in the percentage we convert," said Punt.

This series against Canada has provided coach Mark Hager the chance to give his side some game time after the summer break as well as test newcomers Rachel McCann and Kirsten Pearce.

"The combinations that we have started to build, especially with the new girls that have come in, we can only get better from here. We haven't actually had a lot of training so far this year, so it is exciting to see the potential the team has," said Punt.

Today's game was the opposite of yesterday's, with the majority of goals being scored in the second half.

Punt converted a penalty corner in the second minute and although the Kiwis had numerous shots at goal throughout the first half, the Canadian defence did a good job of shutting them down.

In the 33rd minute, Canadian Brienne Stairs scored the equaliser and the Black Sticks worked hard to regain the lead.

The Kiwis got what they wanted ten minutes later when McCann scored, working the ball through the Canadian defence and knocking home her first international goal.

From then on, it was all high-fives to Punt as she converted three penalty corners and stretched the full time score to 5-1.

The Black Sticks Women have a short break and then a five week training block ahead of the Hawke's Bay Festival in April.

RESULTS
Full time:  5-1 (NZ win)
Half time: 1-0 (NZ lead)
NZ goal scorers: Anita Punt x4, Rachel McCann 
Canadian goal scorers: Brienne Stairs

The umpires today were Aleesha Unka and Julena Phillips.

Hockey New Zealand Media release


---

Black Sticks women eye series whitewash after thrashing Canada 4-0 in Whangarei



IN CONTROL: New Zealand's Sam Charlton switches play during the 4-0 win over Canada in Whangarei. Photosport

The Black Sticks women are heading for a series whitewash against Canada after winning 4-0 today in their second match of a three-test series in Whangarei.

The Kiwis won their opening game 4-1 on Thursday, with the final game to be held tomorrow at 3pm.

The Black Sticks scored all four goals in the first half, but were unable to convert any of their chances in the second.

"It was a good first quarter, I thought we were very clinical and even in the second quarter I thought we dominated. And then in the second half we lost structure and intensity, we weren't running onto the ball with the same energy," said head coach Mark Hager.

"To give Canada credit they stepped up their work ethic and their basic skills improved as the game went on. We rested Sam Charlton throughout the game – we didn't give her as much game time and at times we missed her leadership on the field.

"But it's a learning curve for our young ones and they are getting game time, so hopefully they get better because of the experience," Hager said.

In the first half, the Black Sticks dominated in all areas of the game. They turned over the ball on defence and made the most of it upfront with combinations working well, resulting in goals.

North Harbour's Petrea Webster scored in the second minute thanks to a nice set up from Anita Punt and Kirsten Pearce. In the only penalty corner of the first half, local girl Brooke Neal got the second goal of the game scoring from a clever variation.

In the 11th minute, the keeper was caught high and Webster diving to reach the ball, just got an edge on it and ever so slowly the ball drifted over the line.

Northland star Stacey Michelsen finished off the scoring when she had a one-on-one with the keeper and finding space, she tapped it into goal.
Ad Feedback

The intensity dropped off in the second half, Canterbury's Olivia Merry and captain Anita Punt had two of the better shots on goal but they were unable to convert.

The Black Sticks were without Aniwaka Roberts today following a calf injury in the first game, she is unlikely to play tomorrow.

Stuff


---

Punjab rattles Delhi for a 7-0 glory

K. Arumugam




In what can be described as the worst ever one-sided match, ever-improving pool toppers Punjab Warriors rattled the defending champions Delhi Waver riders for a fluent 7-0 victory, the biggest margin of victory in the history of the Hero Hockey India League Season.

Though its a fact that the present edition of HHIL has opened up after sedate initial phase, the kind of margin that Mohali witnessed is quite an amazing development.

That the winners maintained a clinical precision throughout the sixty-minute feat can be gauged by the fact that Punjab converted four out of five penalty corners, featuring a hat-trick for local hero Sandeep Singh.

Sandeep's three-goal is the second hattrick of the present edition after the first one struck by Ashley Jackson of Ranchi Rays. Sandeep took only three penalty corners today, and saw all of them reaching home.

Sandeep was fittingly declared Hero Man of the Match.

He struck the team's first goal in the 10th minute, 45th and 53rd minutes.

In between, SV Sunil, Simon Orchard, Rob Hammond, and Chris Criello posted a goal apiece.

A perfect field environ was set up by his team mates for the ever-green Sandeep to do his art of goal making.

With full of aggression and opportunism, Punjab exhibited an all around superiority in today's match

Rattled Delhi did nothing correct, even missing out a stroke.

Punjab's forwardline on the other hand seemed fitter, athletic and opportune.

A team whose goalie in the last two editions was none other than Germany's Nicholas Jacobi, the way the team let in goals, two in first quarters itself, gives a picture of contrast.

For the Punjab team that lost to UPW in their previous match, the win comes as a big reliever.

With five wins, a draw and loss, Punjab leads the points table.

Panic stricken Delhi, which sensed its worst goings on in the field, cracked, even its captain Sardar Singh getting yellow card suspension.

An injury to the otherwise reliable Rupinder, who also missed both the penalty corners the team got, too proved Delhi's undoing.

A team trained by total hockey proponent like Cedric D'Souza, where tight defence being the guiding spirit of modern day hockey, is an unexpected antic-climax.

He could not give proper answer for the defeat though conceded while the victors played their best match while his team had a bad day.

Stick2Hockey.com


---

Seven-star Punjab demolish reigning champs Delhi

Deepankar Sharda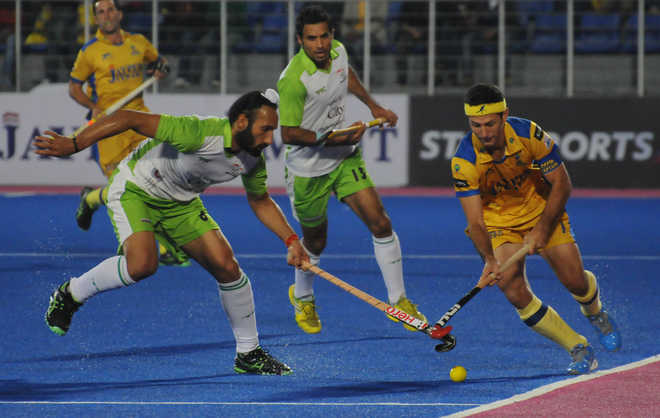 Delhi Waveriders' Sardar Singh tries to tackle Punjab Warriors' Jamie Dwyer during their HIL match in Mohali on Saturday. Vicky Gharu

Mohali - 'Simply wonderful' falls perfect for Punjab Warriors' performance against defending champions Delhi Waveriders today. In their third home game of the Hockey India League, the Punjab side thrashed Waveriders 7-0.

Drag-flicker Sandeep Singh scored a hat-trick, while SV Sunil, Simon Orchard, Christopher Ciriello and Rob Hammond scored one goal each for the home team.

Familiar with the Waveriders' capabilities, the Warriors played an attacking game since the word go. Unlike their previous matches, the home side played an attacking game and put continuous pressure on the visitors.

Sandeep, who was adjudged the man of the match, had a cent percent record with penalty corners.

He opened the team's account in the 10th minute and struck two more in the 45th and 53rd minutes.

Sunil scored the second goal of the evening with a brilliant solo effort.

The win helped the Warriors go nine points clear at the top – they have 28 points from seven games. Ranchi Rays are second followed by Uttar Pradesh Wizards and the Waveriders.

The Tribune


---

Jaypee Punjab Warriors drub Delhi Waveriders 7-0

MOHALI: Drag flicker Sandeep Singh struck thrice as title contender Jaypee Punjab Warriors blanked Delhi Waveriders 7-0 in a Hockey India League match on Saturday.

In the first quarter of the match, table-toppers Punjab Warriors kept the visitors busy with their continuous attacks, enjoying more ball possession.

In the 10th minute, Punjab Warriors earned a penalty corner where the teams' deadly duo -- Jamie Dwyer and Sandeep Singh - took their favourite positions.

Among the world's best drag-flickers, Australia's Jamie injected the ball into the pack where Sandeep Singh didn't waste a moment to hit the ball hard into the box, beating Delhi Waveriders' defenders and goal-keeper Rassie Pieterse.

The Barry Dancers boys' aggressive efforts got another success in 14th minute when midfielder Gurmail Singh attacked from the left flank and chipped the ball towards forward SV Sunil, who out-foxed the three players and a goal-keeper and sent the ball into the net.

In the second quarter, Delhi Waveriders came with better game-plans to fight back in the match but they failed to match attacking moves of Warriors. However, the Delhi-team kept-on attacking.

On the other side, Jaypee Punjab Warriors thwarted the Waveriders' attacks and counter-attacked to keep the visitors busy through-out the quarter.

Delhi Waveriders managed to earn a penalty corner, which was foiled by JPW's strong defence, followed by a penalty stroke in the 27th minute. Delhi Waveriders got the best chance to open their account and the hitter only need to beat the world's best goal-keeper Jaap Stockman.

New Zealand defender Andrew Hayward took the shot and he aimed the right-bottom corner spot of the goal-box. Hayward smashed the ball hard on the spot but it hit the goal-post and went outside. Delhi Waveriders missed a golden opportunity to score their first goal and the scoreline stood 2-0 by the end of the half-time.

In the third quarter, both the teams stepped-on the field with more aggression. Sardar Singh-led Delhi Waveriders' performance improved in each quarter whereas Warriors didn't o lose their grip.

In the 34th minute, Jaypee Punjab Warriors counter-attacked with a long pass to their Australian midfielder Simon Orchard, who was standing in the D between two defenders. Simon received the ball in the air and shot it hard into the net without giving a moment to react to the defenders and the South-African goal-keeper Rassie.

Simon scored his first goal of the HHIL 2015 and the Australian player celebrated the goal by jumping into the stand and hugged his fans.

The third goal of the Warriors put a huge pressure on Delhi Waveriders and the Delhi-team seemed losing ground.

The Jamie Dwyer-led team continued their domination in the match and kept-on charging on their opponents. In the 45th minute, they managed to earn another penalty corner and this time again, Sandeep Singh converted the opportunity with his powerful shot into the net.

With Sandeep's seventh goal of the HHIL 2015, Jaypee Punjab Warriors took the score to 4-0 by the end of the third quarter.

Continuing the scoring spree, the League's top contenders Jaypee Punjab Warriors scored two more goals in the fourth quarter. They received a penalty corner in the 47th minute and it was beautifully converted into the fifth goal by Australia's best penalty corner specialist Christopher Ciriello.

After three minutes, the forward players attacked again from all fronts by passing ball from one end to other. This time, Australian midfielder Robert Hammond reflected a shot into the box while sliding down on the blue turf and scored the sixth goal for Jaypee Punjab Warriors in 50th minute.

However, the day belonged to Sandeep Singh who scored his third goal after three minutes through a penalty corner. The highest goal scorer of the League Sandeep again proved that why he is considered as the best penalty corner specialist after he scored the seventh goal of the match in 53rd minute and the score-line stood 7-0 by the final whistle.

After the humiliating defeat, the defending champions Delhi Waveriders failed to earn a single point from the match and remained at fourth position.

The Times of India


---

Struggling teams Mumbai, Kalinga to fight for staying afloat

MUMBAI: Winless Dabang Mumbai and struggling Kalinga Lancers cross swords here on Sunday in a Hockey India League match that would determine to a large extent which of them stays afloat to progress further in the event.

Mumbai, coached by German Valentin Altenburg, have failed to live up to their promise after having recruited top overseas players like Australian World Cup winning team member Glenn Turner and star Belgian player Tom Boon. Another loss tomorrow at the Mahindra Stadium would virtually end their semifinal hopes.

Lancers started with a bang at home in Bhuabaneshwar by thrashing Ranchi Rays 6-3 on January 22 but come into this game after being, in turn, whipped 4-0 in their previous match yesterday at Ranchi in a sweet revenge for the Rays.

So, the teams currently placed at the bottom two spots of the six-team table have a lot to play for when they clash here tomorrow.

Mumbai's problem stems from the fact that Turner, who leads from the front, has not secured enough support from the midfield to rip apart the rival defences.

In their previous game against defending champions Delhi Waveriders at home, Mumbai hardly made a threatening move barring securing a few penalty corners without drag-flick specialist Harmanpreet Singh being able to find the mark from these set pieces.

They need to show a lot more speed and thrust in their attacks and more assurance in defending than they have displayed till date to put it across Lancers.

The visitors, who have eight points from one win and five losses as compared to the hosts' seven from two draws and three losses, also have to plug their leaks in deep defence.

On paper, Mumbai appear to hold the edge against Jude Felix-coached Lancers who are mainly dependent on Australian Russell Ford, who has appeared in the World Cup and Olympics, and a few current and former India internationals like Vikram Kanth, Gurjinder Singh and Lalit Upadhyay.

The Times of India


---

Surbiton scrape past rivals Leicester



Lily Elliott of Leicester is tackled by Sarah Page of Surbiton, Feb 7 2015, Credit Matt Henderson

SURBITON continued their unbeaten streak with a 2-1 victory over rivals Leicester in their first match of 2015 in the Investec Women's Hockey League Premier Division on Saturday.

Sarah Page broke the deadlock for the league leaders after just three minutes and despite Rachel Mack equalising for Leicester, Jo Hunter hit a winner for Surbiton seven minutes from time. This is their tenth win in 12.

Clifton are level on points with Surbiton but are behind on goal difference and have played one more match. They faced rock bottom Beeston who have picked up only one point so far.

There was never any danger of a shock with Claire Thomas getting Clifton off the mark in the first minute before a Dawn Mitchell-Williams double made it 3-0.

Bowdon Hightown moved out of the relegation places with an impressive 4-2 win over Holcombe. Tina Cullen was their hero, scoring twice. Nicola White also scored a brace but found herself on the losing side.

Canterbury were 4-1 winners over Buckingham as Susannah Townsend found the net twice. They are third in the table, eight points ahead of fourth-placed University of Birmingham who lost 2-0 to Reading. Kate Richardson-Walsh scored both of Reading's goals.

Investec Conference West

Slough are still undefeated in the Investec Conference West and continued their fine form with a 3-1 victory over third-placed Gloucester City. Jess Brooker struck twice for the side that are now eight points clear at the top.

Swansea City are trying to keep Slough in sight and came through a tough test from Trojans to win 3-2.

Cheltenham claimed their fifth point of the season with a 1-1 draw against fellow strugglers Stourport and second from bottom Olton and West Warwicks beat Bristol Firebrands 2-0. A Hannah Griffiths goal proved to be enough for Isca to take a 1-0 win against Oxford Hawks.

Investec Conference North

Wakefield strengthened their grip on the top of the Conference North table with a stunning 6-0 defeat of Whitley Bay and Tynemouth. Sally Walton was their hat-trick hero.

Brooklands Poynton are still level on points in second place following a 3-1 win over Loughborough Students. Annabelle Watton, Jessica Berry and Sarah Newman scored their goals.

Sutton Coldfield moved up to third place with a 3-2 win over Liverpool Sefton and University of Durham beat Kendal by the same score. In the other game in the division, Ben Rhydding were held to a goalless draw by bottom of the table Cannock.

Investec Conference East

Maidenhead moved to within three points of second place in the Investec Conference East with a 4-1 defeat of Horsham. Chantal Frost opened the scoring in the fifth minute and Jane Smith rounded it off in the 67th.

Something major would now have to happen to prevent East Grinstead from topping the table come the end of the season. They are eight points in front, undefeated and they racked up their ninth win this weekend, beating St Albans 2-0 via goals from Zoe Burrell and Sophie Bray.

Bedford are bottom but claimed their third win of the season with a comprehensive 3-0 defeat of Chelmsford. Kate Costin grabbed a brace.

Sevenoaks beat Wimbledon 3-2 and Harleston Magpies' game against Ipswich ended 0-0.

Investec Women's Hockey League (Saturday, February 7 2015):

Investec Women's Premier Division: Beeston 0, Clifton 3; Buckingham 1, Canterbury 4; University of Birmingham 0, Reading 2; Bowdon Hightown 4, Holcombe 2; Surbiton 2, Leicester 1.

Investec Women's Conference West: Isca 1, Oxford Hawks 0; Swansea City 3, Trojans 2; Olton and West Warwicks 2, Bristol Firebrands 0; Cheltenham 1, Stourport 1; Slough 3, Gloucester City 1.

Investec Women's Conference North: University of Durham 3, Kendal 2; Brooklands Poynton 3, Loughborough Students 1; Liverpool Sefton 2, Sutton Coldfield 3; Whitley Bay and Tynemouth 0, Wakefield 6; Ben Rhydding 0, Cannock 0.

Investec Women's Conference East: Sevenoaks 3, Wimbledon 2; Bedford 3, Chelmsford 0; Maidenhead 4, Horsham 1; East Grinstead 2, St Albans 0; Harleston Magpies 0, Ipswich 0.

England Hockey Board Media release


---

Purple Robes and Wanderers retain indoor crowns



Two in a row for champions Inverleith. Photo Credit: Duncan Gray

Inverleith and Dundee Wanderers were the winners of the Men's and Women's titles in the National Indoor League Gala Finals in what was a packed day of action at the Bells Sports Centre in Perth today.

The Men's National Indoor League Division 1 title decider between indoor specialists Grove Menzieshill and Inverleith was always going to be a fiery contest and it didn't disappoint.

Chris Wilson gave Grove Menzieshill the lead in the 11th minute, his deflection from Ross McPherson's shot careering high into the net. Gavin Byers doubled the lead three minutes later to make it 2-0.

However, Inverleith stormed back after the interval, Adam McKenzie and Stephen Dick levelling the scores at 2-2 by the midway point of the half, before Aeden McCrossan gave the Purple Robes a 3-2 lead in the 31st minute.

Nevertheless, Wilson claimed his second of the match to level the scores again at 3-3 sixty seconds later.

With three minutes remaining, good work from Dick found Derek Salmond with the goalkeeper to beat and he made no mistake slamming the ball home to make it 4-3.

Two minutes later, Dick wrapped up the match to make it 5-3 and send the title back to Edinburgh for a second year running.



Derek Salmond celebrates his goal for Inverleith. Photo Credit: Duncan Gray

In the Women's National Indoor League Division 1 final, Dundee Wanderers cruised to an 8-1 success over Clydesdale Western.



Vikki Bunce demonstrated her prowess with four goals in the women's final. Photo Credit: Duncan Gray

Four goals from international star Vikki Bunce was always going to make it an uphill struggle for the Titwood outfit.

Charlotte Watson added a double with goals either side of the half-time break, while goals from Rachel Osbourne and Emily Dark gave the Tayside outfit a comfortable win.

Clydesdale Western's consolation came from Fiona Bruce.

Wanderers notched up their third league title in a row in the process and they will also take Scotland's European spot next year.



Dundee Wanderers. Champions. Photo Credit: Duncan Gray

Grove Menzieshill II were crowned champions of Men's National Indoor League Division 2 after defeating Uddingston 4-3.



Grove Menzieshill win Division 2. Photo Credit: Duncan Gray

Ben Cromar netted twice, with goals also coming from Cameron Goldie and Andrew Johnston. Martin Lorimer, Tom Hyndman and Nic McEwen were Uddingston's scorers.

Inverleith Ladies ran out winners of Women's National Indoor League Division 2 after a narrow 6-5 success against Dundee Wanderers II.



Inverleith Ladies celebrate. Photo Credit Duncan Gray

Doubles for Lucy Jamieson and Carly Bisset helped themselves to two goals each, while Rachel Campbell and Lucy Jamieson netted one apiece. Sam Sangster (x2), Katy Smith (x2) and Alison Sangster scored for the Dundonians.
Men's National Indoor League Division 1 & 2 Play-Offs

Hillhead were relegated from Men's National Indoor League Division 1 after falling to a heavy 10-2 defeat at the hands of PSL Team Sport Clydesdale, which included four goals from Fraser Hirst and a double from Ciaran Crawford.



Fraser Hirst was in among the goals for Clydesdale. Photo Credit: Duncan Gray

Crawford was on fire for the Glasgow side in the following Division 1 / 2 Play-Off against Alpha Data Carnegie, netting a first half hat-trick penalty corners in a 11-1 win over Alpha Data Carnegie to keep their place in Division 1.

Harris Academy FP condemned Inverleith II to relegation from Division 2 after a 9-2 win. Albert Rowling scored a phenomenal six goals, while Gavin Martin scored twice and Sam Owen-Hughes also made his way onto the scoresheet.



An 8-4 win for Harris Academy FP kept their Division 2 status in tact. Photo Credit: Duncan Gray

The Taysiders went on to defeat Thomsons Cycles Kelburne II with a 8-4 win in the Division 2 / 3 Play-Off, Rowling scoring another four goals.

Marc Callaghan grabbed a double with Ethan Drew and Gavin Martin scoring once. Andrew Bremner, Andrew Duff (x2) and Miles Goldie got the goals for the Paisley side.
Women's National Indoor League Division 1 & 2 Play-Offs

CALA Edinburgh survived the intensity of two survival matches in Women's National Indoor League Division 1. In their first match, they saw off the threat of fellow strugglers Aberdeen Bon Accord MBC with a 6-3 win to relegate the Aberdonians.



CALA Edinburgh fought their way to safety in Division 1. Photo Credit: Duncan Gray

They subsequently faced Edinburgh University in the Division 1/2 play-off after the students dispatched Aberdeen Ladies earlier in the day with a comprehensive 11-1 win, including hat-tricks from Becky Dru and Claire Hill.

A double from Amy Brodie, with goals from Emma Stirling and Amy Jane Russell were enough to ensure the capital outfit eased to a 4-1 win and retain their place in the top division.

Results

Match 1: CALA Edinburgh (Amy Brodie 3', 24', Robin Robeson 24', Lucy Lanigan 27', 30', Hannah McKie 38') 6-3 Aberdeen Bon Accord MBC (Morven Duff 9', Holly Masson 29', 33'). Aberdeen Bon Accord MBC relegated from Women's Division 1.

Match 2: Aberdeen Ladies (Sarah Allan 12') 1-11 Edinburgh University (Rebecca Dru 1' 7', 22' Claire Hill 5' 6' 15', Katherine Donner 10', Fiona Galbraith 32', Waverley Miller 35' 38', Bethan Mann 38'). Edinburgh University progressed to Women's Division 1 / 2 Play-Off

Match 3: Hillhead (Iain Hilton 20' 31') 2-10 Clydesdale (Fraser Hirst 1' 3' 23' 35', Ciaran Crawford 13' 36', Patrick Lonergan 22', Dean Baber 24', David Clark 38', David Nairn 40') Hillhead relegated from Men's Division 1, Clydesale progressed to Division 1 /2 Play-Off.

Match 4: Harris Academy FP (Albert Rowling x6, Gavin Martin x2, Hughes x1) 9-2 Inverleith II (Stuart Hutton x1, Ross Jamieson x1). Inverleith II relegated from Men's Division 2

Match 5: Uddingston (Martin Lorimer 13', Tom Hyndman 19', Nic McEwen 39') 3-4 Grove Menzieshill (Ben Cromar 9' 10', Cameron Golden 34', Alan Johnston 38'). Grove Menzieshill II win Men's Division 2.

Match 6: Dundee Wanderers II (Sam Sangster 16' 34', Katy Smith 21' 23', Alison Sangster 38') 5-6 Inverleith Ladies (Laura Swanson 1' 14', Carly Bisset 2' 29', Rachel Campbell 10', Lucy Jamieson 13'). Inverleith Ladies win Women's Division 2

Match 7: CALA Edinburgh (Amy Brodie 4' 17', Emma Stirling 5', Amy Jane Russell 38') 4-1 Edinburgh University (Rebecca Dru 9'). CALA Edinburgh retain place in Women's Division 1

Match 8: Clydesdale (Ciaran Crawford 2' 3' 6', David Clark 22' 29' 38', David Nairn 17', Dean Baber 18', Chris McFadden 27', Michael McKenzie 28' 31') 11-1 Alpha Data Carnegie (Jamie Stewart 16'). Clydesdale retain place in Men's Division 1.

Match 9: Harris Academy FP (Albert Rowlings 3' 6' 15' 38', Ethan Drew 7' Marc Callaghan 18' 37', Gavin Martin 40') 8-4 Kelburne II (Miles Goldie 1', Andrew Bremner 22', Andrew Duff 25', 30'). Harris Academy retain place in Men's Division 2.

Match 10: Dundee Wanderers (Vikki Bunce 1' 5' 22' 36', Charlotte Watson 8' 30', Rachel Osbourne 14', Emily Dark 27') 8-1 Clydesdale Western (Fiona Bruce 17'). Dundee Wanderers win the Women's Division 1 title.

Match 11: Grove Menzieshill (Chris Wilson 11' 32', Gavin Byers 14') 3-5 Inverleith (Adam McKenzie 24', Stephen Dick 27' 39'', Aeden McCrossan 31', Derek Salmond 37'). Inverleith win the Men's Division 1 title.

Scottish Hockey Union media release


---

PJCC on course for top-two finish

by Jugjet Singh

PETALING Jaya City Council (PJCC) came back from a goal down to beat Politeknik Malaysia 3-1 to claim their fourth win in the MHC-MILO-NSC Junior Hockey League yesterday.

The win places PJCC, who finished third last season, on course for a top two finish, as their only blemish was a 2-2 draw against defending champions Thunderbolts.

In the other Division One match, KLHC edged SSP-MSP-Thunderbolts 3-2.

"As expected it was a tough encounter. We went down first and it was a battle then on to turn the match around," said PJCC team manager Zainal Abidin.

"Fortunately, we managed to find the back of the board three time but they were not easy goals. The commitment from the players is good but there is more than could be done when we play UniKL next month."

Izzuan Halim scored for Politeknik off a penalty corner in the eighth minute but Husaini Bakar (21st), Fakrul Razi (34th) and Haikal Zamri (69th) sealed the win.

PJCC play Olak PKT Tigers next Friday and KLHC the following day.

RESULTS: Division One: Politeknik 1 PJCC 3, KLHC 3 SSP-Thunderbolts 2.

Division Two: Group A -- KLSS 3 Sek Tunku Abdul Rahman 3, BJSS Jnrs 2 SM Sains 1.

Group B: Ismo PHA 13 1MAS Penang 0, MATRI 5 MSSD Larut Matang 1.

Group C: Tun Hussein On 5 SMSJ Knight 1, 1MAS Malacca 12 1MAS Johor 0.

SUNDAY -- Division One: OLAK PKT Tigers v SSTMI Thunderbolts (National Stadium II).

Division Two: Group A -- MSNT-PHT v 1MAS Perak (Kuala Terengganu).

Group B: 1MAS Perlis v MSSD Larut Matang (Perlis), MSS Kedah v Nurinsafi-Penang HA (Padang Serai).

Group C: 1MAS TBSS Tampin v SMKDBL (Seremban II).
Note: All matches at 4.45pm.

Jugjet's World of Field Hockey


---

MBPJ win keeps it tight in Junior hockey league

By S. Ramaguru

KUALA LUMPUR: It's tight at the top.

And former champions Petaling Jaya City Council (MBPJ) are happy to remain in third spot of the Division One standings – and stay in the title mix of the MHC-Milo-NSC-Malaysia Junior Hockey League (MJHL) – after a 3-1 win over Politeknik Malaysia at the Taman Daya Hockey Stadium in Johor Baru on Saturday.

Izzuan Halim opened the scoring for Politeknik Malaysia through a penalty corner in the eighth minute.

But goals by Husaini Bakar (21st minute), Fakrul Razi Kunyapu (34th) and Haikal Zamri (68th) sealed victory for MBPJ.

MBPJ now have 13 points – the same as defending champions SSTMI-Thunderbolt. Universiti Kuala Lumpur (UniKL) lead the standings with 15 points.

So, MBPJ know how crucial it is to keep collecting full points.

MBPJ team manager Zainal Abidin Ismail acknowledged that the three points ensured they stayed in contention for the title.

"It wasn't an easy game but we were focused on securing full points.

"At this stage, the match that counts the most is the one against UniKL.

Similarly, UniKL still have to play against champions SSTMI. These matches will most likely decide the fate of the league title," he said.

In another Division One match, KLSS-KLHC kept alive their hopes of a top-four finish with a 3-2 win over Pahang SS-Thunderbolt at the KL Hockey Stadium in Jalan Pantai.

Mohd Hafizuddin Zaidi, Mohd Rahimi Iskandar and Azmeer Mohamed scored for the KL team while Wan Mohd Asyraf and Iskandar Fareez replied for Pahang.

KLSS-KLHC jumped over Pahang SS into fourth spot with seven points from five matches.

Only the top four teams from Division One will qualify for the knockout stage.

The Star of Malaysia


---

MHC start damage control

by Jugjet Singh

RACING against time, the Malaysian Hockey Confederation (MHC) officials finally got off their high horse and started damage control to save the elections which are slated for Feb 13.

A day after receiving a 'warning letter' from the Sports Commissioner's office, MHC president Tengku Abdullah Sultan Ahmad Shah called for a meeting in a bid to clean up their constitution mess.

Sports Commissioned Datuk Zaiton Othman had to step in after a heated controvercy on the rights of women in MHC's amended constitution, which was done during an EOGM in Johor Baru in October.

The SC's sent a media statement and gave two suggestions on how the MHC can wrangle themselves out of this mess and the MHC duly followed the instructions.

After yesterday's meeting MHC sent a letter to the SC's office : "With reference to the Sc's decision that the EOGM held last October is null and void due to non compliance of the required quorum.

"Therefore the MHC shall have 1. An EOGM of Feb 13 to discuss the sports commissioner's directive and AGM as well as governing constitution to be used.

"For the 8th AGM of Feb 13, the additional agenda to be included in addition to the earlier agenda stipulated is nominations for MHC offfice bearers and Elections of MHC office bearers."

The letter was signed by Tengku Abdulah and a copy sent to the SC's office.

The action was taken after Zaiton's media statement read: "The Sports Commissioner has made a decision that the Malaysian Hockey Confederation (MHC) Extarordinary General Meeting (EGM) was held in a hap-hazard manner, especially regarding quorum.

The MHC have two avenues to correct this situation

1. Continue with their Annual General Meetion (AGM) on the proposed date of Feb 13 by using the old constitution or..
2. Hold another EGM to discuss amendments with the right quorum.

Jugjet's World of Field Hockey


---

MHC's AGM to go ahead next Friday

By S. Ramaguru



The out-going MHC president Tengku Abdullah Sultan Ahmad Shah (centre) watching the Malaysia hockey team in action at the World Cup in Holland last year.

KUALA LUMPUR: The Malaysian Hockey Confederation (MHC) have accepted the Sports Commissioner's decision to nullify the Extraordinary General Meeting held last year to approve the amendments to their constitution.

The MHC, however, will still go ahead with the proposed Annual General Meeting (AGM) next Friday.

And, in line with the directive from Sports Commissioner Datuk Zaiton Othman, the MHC will revert to their old constitution for the AGM.

MHC president Tengku Abdullah Sultan Ahmad Shah has sent out letters to all the affiliates informing them that the meeting on Friday will go ahead as scheduled.

He also said that MHC would adhere to Datuk Zaitun's suggestion that they follow the previous constitution.

Tengku Abdullah, in his letter to the affiliates, said that an EGM would be held prior to the AGM, whereby the agenda is to discuss the decision of the Sports Commissioner (on the status of the EGM held last year) and then to approve the holding of the AGM under the old constitution.

Tengku Abdullah also stated that the nominations for the various posts will now come from the floor.

At last week's AGM, Selangor HA's Datuk Seri Subahan Kamal was nominated for the president's post. He was unopposed.

Now, he will have to wait for the meeting on Friday to be re-nominated. Tengku Abdullah is not seeking re-election as he has taken over as president of the Asian Hockey Federation.

The MHC's old constitution states that the president will be a man and the deputy a woman.

There are 12 vice-presidents' posts and 16 committee members. In addition, the president will also pick the independent delegates, the secretary and treasurer.

The Star of Malaysia


---

Suva introduces new hockey code for off-season

Shalveen Chand

SUVA Hockey started its off-season program with the abbreviated five-a-side code at the National Hockey Centre in Suva yesterday.

Association president Litia Savu said this was an attempt to help national players as the Pacific Games would be played in the abbreviated code of the game.

"Papua New Guinea does not have enough turfs so all hockey matches in the Pacific Games would be played in the five-a-side code," Savu said.

"Our season does not start until May and we have some eight weekends until then. So all our off-season games would be played in the abbreviated code.

"We want to do our bit to prepare our players and ensure that we remain the best in the region."

Savu said the national trial was due later this month and Suva Hockey, being the biggest affiliate and boasting the most national players, had their part to do.

"The players are having fun and our player base is looking to increase," she said.

"The under-18s have also moved up and most of them are now playing with the seniors and I have a feeling that they would also be attempting a spot in the national team."

With the code shortened for the Pacific Games, competition for spots in the national would increase.

The five-a-side code has also been adopted by England Hockey and all their indoor games are played in the code.

The Fiji Times