All the news for Friday 6 February 2015

WC2015: In-form nations claim early quarter-final tickets

Four men's and four women's teams secure QF qualification at Indoor World Cup in Leipzig



Alexander Otte and his German team have reached the quarter-finals. (Photo: FIH / Frank Uijlenbroek)

Four men's and four women's teams secured a safe passage through to the quarter-final phase of the Indoor Hockey World Cup after the completion of the third round of matches in Leipzig, Germany.

Women's Pool A

Home favourites Germany sealed their place in the last eight with a 6-3 victory over Ukraine, with Katharina Windfeder scoring twice for the host nation. Die Danas are joined in the quarter-finals by surprise team Australia, who continued their excellent form with a 3-1 win over Canada to draw level on points with Germany at the top of Pool A. Austria remain on track for a quarter-final place having overcome a stern challenge from Belgium to move onto six points, with team captain Kristine Vukovich scoring twice to guide her team to victory.

Women's Pool B

After two clean sheets on Day 1, the Netherlands conceded their first goals of the tournament in their Pool B meeting with Czech Republic, but it did not stop the dazzling Dutch girls from emerging as 7-2 winners to book a ticket to the quarter-finals. Belarus confirmed their place in the quarter-finals thanks in part to a fine individual performance from Krestina Papkova, who bagged five goals in an 11-0 victory over South Africa. Poland's chances of reaching the quarter-finals improved with a 6-1 win over Kazakhstan, a result described by team captain Marlena Rybacha as "an important win, especially because we were really disappointed with yesterday's results."

To keep track of all the details from the women's competition, click here.
Men's Pool A
Reigning Indoor World champions Germany claimed their third win of the tournament by defeating Czech Republic 9-4, with Alexander Otte grabbing a hat-trick. Like Germany, Austria ended the session with nine points as a Patrick Schmidt double strike helped his team to a 4-1 win against Sweden. Both Germany and Austria are already qualified for the top eight, while the other four teams in the pool vie for the remaining four quarter-final spots. Iran currently sit third in Pool A after recording an 8-5 victory over Australia in a fiery clash, with Iran's Navid Taherirad, hitting a hat-trick in the game. 
Men's Pool B
Russia confirmed that they would be making an appearance in the last eight by crushing South Africa 10-2, with Alexander Likov (5) and Marat Khairullin (4) netting nine goals between them. Russia have are the only team in Pool B to have won all three of their matches, with the Netherlands losing their 100% record in a 3-3 draw with triple Indoor World Cup silver medallists Poland. The Dutch were 3-0 up in the match, but Poland's brave decision to replace their keeper with an outfield player inspired a brilliant comeback with Tomasz Gorny scoring twice. Switzerland claimed a 4-0 win over Canada to move onto four points and keep their quarter-final hopes very much alive. 
To keep track of all the details from the men's competition, click here.
Website
Full coverage of the events will be available via www.fih.ch with live streaming of key matches from the quarter-final stage being available in most territories.

You Tube - Live from Friday
The FIH You Tube channel will become active from the quarter-finals, with highlights of key matches being posted as soon as they become available. To visit our You Tube channel, click the link below:
Social media
FIH will provide comprehensive coverage of the event via our social media channels, including Facebook, Instagram and Twitter.
Facebook: facebook.com/fihockey
Instagram: instagram.com/fihockey
Twitter: twitter.com/fih_hockey
#IWC2015 #leipzig #fihockey

FIH site


---

Germany defeat Austria in "clash of the giants"

Netherlands and Iran also impress at the Indoor Hockey World Cup



Mo Fürste and his German Team remain unbeaten at this Indoor World Cup. (Photo: FIH / Frank Uijlenbroek)
 
2012 FIH Player of the Year Moritz Fürste scored twice to help Germany defeat Austria in the showpiece match of Day 2's evening session at the men's Indoor Hockey World Cup in Leipzig, Germany.

The reigning Indoor World Champions were given a stern test in their Pool A encounter, with the Austrians fighting back from 3-0 down before time eventually ran out with the score at 5-4. "We knew that it was always going to be a tough game against the Austrians, but we are very glad to have won it", said Germany's goalie Tobias Walter.

Germany and Austria remain the only confirmed quarter-finalists from Pool A at the end of Day 2, with Iran, Australia, Czech Republic and Sweden all still in contention going into Friday's final round of Pool matches. It was a good day for the Iranians, who added a 3-3 draw with Czech Republic to the three points they claimed against Australia earlier in the day. Iran's Hamid Noraniyan netted the equaliser in the final minute of the match to earn what could be a crucial point in the race for the quarter-finals. The Czech team currently sits on two points alongside Australia and Sweden, two teams that went head-to-head and also recorded also recorded a 3-3 draw.

 Russia and the Netherlands remain unbeaten after four matches in Pool B, with both teams having three wins and a draw ahead of Friday's showdown between the two nations in the final round of Pool matches. Russia dropped their first points of the tournament in an electrifying 5-5 draw with Poland, who have also qualified for the quarter-finals. Remarkably, Russia fought back from 4-0 down against the triple Indoor World Cup Silver medallists before drawing level ahead of a dramatic finish.

Two goals were scored in the final minute of the contest, with Bartosz Zywiczka seemingly winning the game for Poland before Russia's Mikhail Proskuryakov levelled seconds later. "Poland played very well, but I'm glad we came back with the equaliser", said Russian goalkeeper Artem Dryanitsyn. "We showed great character, but it seems that we needed the challenge to show our full power."

"In my opinion, we lost two points instead of winning one in this match", said Poland's Dawid Zimnicki. "The draw was really unfortunate. Our goal should have been to reach the final of this tournament, but for now we need to ensure that we avoid playing Germany in the quarter-final."

Two goals from team captain Robert Tigges helped the Netherlands to a 5-2 win against Switzerland. "After drawing with Poland in the morning we focused on our match against Switzerland because we really want to finish first in the table, which would help us get an easier opponent in the quarter-final", said Robbert van der Peppel. "We dealt with the pressure much better than in the morning."

Christian Stengler gave his reaction the result, stating: "We accepted the challenge and we knew that it was going to be a tough match. We were a bit unlucky in our attacking play today, but now we have a real knock-out match tomorrow against South Africa to see who gets in the quarter-final."

South Africa and Canada played out an entertaining 5-5 draw, a point which keeps the South Africans in with a chance of reaching the quarters but was not enough for Canada.

FIH site


---

Australia & Czech Republic light up Leipzig

Germany & Netherlands maintain charge, but Aussies & Czechs continue to perform at the Indoor World Cup



The Czech women marched through to the quarter-finals. (Photo: FIH / Frank Uijlenbroek)

Day 2 of the women's Indoor World Cup competition has come to an end, with reigning champions Germany and 2007 champions the Netherlands maintaining their winning ways by each claiming their fourth successive victories. However, when it comes to eye-catching performances, Australia and Czech Republic are certainly giving them a run for their money in Leipzig.

Germany continue to please the home fans by producing top class indoor hockey, and made it four wins from four by defeating Austria 10-1. "We made a super start", said Germany's Lydia Haase, who scored three times in the contest. "It is amazing to play here as there are so many people in the stands supporting us. We are looking forward to playing Australia tomorrow. We know that they are good, and if we want to win the tournament we have to beat everybody."

In-form Australia stayed level on points with Germany at the top of Pool A by edging past Belgium 4-3, bagging a remarkable fourth successive victory. The Aussies have openly admitted that their squad came into this event with masses of indoor training in the bank, and their efforts are clearly paying dividends. Friday's meeting with the host nation is all set to be a cracker, with the winner sealing top spot in the Pool.

Ukraine missed the chance to join Germany, Australia and Austria as the Pool A quarter-finalists by drawing 4-4 with Canada, a score-line that disappointed Ukrainian scorer Yana Vorushylo. "We are not happy with today's result as we had opportunities to score but we didn't do it. We definitely need to improve this but it remains our target to reach the quarter-finals."

Although one place remains up for grabs in Pool A, Pool B is already settled, with Netherlands, Czech Republic, Poland and Belarus all qualifying for the last eight. The Netherlands have been in brilliant form so far here in Leipzig, so much so that many see them as potential champions. Their fourth victory of the tournament came against Belarus, winning 8-1 with Lieke Hulsen and Pauline van Nes both scoring hat-tricks as the Dutch extended their advantage at the top of Pool B.

Despite the fine form shown by her team, Netherlands captain Karin den Ouden was keen to play down the hype. "You can never be satisfied as we know that there will be tighter games from the quarter-finals. The fact that we are now seen as the big favourites doesn't mean anything to us. The first day to be satisfied could be after the final on Sunday."

Although the Dutch have been the standout team, Czech Republic have certainly left their mark on Pool B. Following this morning's defeat against the Netherlands, the Czechs made it nine points from a possible twelve with an 11-1 thrashing of Kazakhstan, helped greatly by four goals from Katerina Lacina. "I think this was a good game", said Czech star Kamila Dukatova. "We tried to continue on the same level in the second half but this was difficult as we scored six goals in the first. I think our first two days are very satisfying. The experience gained in the morning's game against Netherlands will help us to progress in this tournament."

It was a good day in terms of results for Poland, who following up this morning's 6-1 victory over Kazakhstan with a 5-1 win against South Africa. "We are glad that we got six points today, but we are not happy with the way we played", said Poland's Joanna Wieloch. "We will put everything into tomorrow when we play the Netherlands as we really want to avoid playing Germany in the quarter-final."

FIH site


---

Indoor women reach quarters

Australian indoor team beats Canada & Belgium to reach last eight

Reporting by Courtney Beaton



Photo credit: Andrew & Debra Spence / Sydney Indoor Hockey Assoc.

The Australian Indoor women have successfully achieved their initial target of qualifying for the all-important quarter finals at the Indoor World Cup in Leipzig, Germany.

Victories over Canada and Belgium on day two, coming off the back of day one wins over Ukraine and Austria, mean that the Australian women will finish no lower than second place in Pool A. They face hosts and defending champions Germany in their final Pool A match on Friday before playing their quarter final tie a few hours later. Their quarter final opponent will only be known following the conclusion of the group stage.

Match 3 - Australia v Canada

AUSTRALIA   3 (1)
Kizziah Plumb 3 (FG)
Emily Riordan 23, 36 (PC, PC)

CANADA   1 (0)
Kristen Shier 27 (PC)

Coming out the blocks sharply, the Australians were the first to score through dynamo striker Kizziah Plumb in just the third minute of play. And it was a lead that the girls in green and gold would hold on to heading into the half time break.

Three minutes into the second half, Emily Riordan bagged the first of a brace of penalty corner goals to double Australia's lead. Soon after, Canada's Kristen Shier halved the deficit from a penalty corner to ensure the Canadians were still in the game.

As they hunted for an equaliser, Canada removed the goalkeeper in the final four minutes to boost their offence, but they could not match the determination of this Australian outfit who were ruthless in attack and sold in defence.

And it was Emily Riordan who once again was able to seal the win from another penalty corner late on to earn Australia their third win of the tournament.

Match 4 - Australia v Belgium

AUSTRALIA   4 (2)
Makaela Potts 9, 31 (FG, FG)
Holly Evans 15 (FG)
Kyah Gray 37 (PC)

BELGIUM   3 (0)
Celine Closset 33, 35, 40 (PC, PC, PC)

Australia now sit second in Pool A, level with Germany but behind on goal difference, following their fourth win of the tournament, as they downed Belgium 4-3.

The game started strongly and Australia looked poised to continue to dominate play as they had done in their previous matches.

Makaela Potts opened the scoring midway through the first half with a field goal before Holly Evans found the net to give Australia a two goal lead at half time.

One wasn't enough for Potts who scored her second goal of the game midway through the second half and it appeared all but game over until a late surge from Belgium put Australia on the back foot.

Three consecutive penalty corner conversions from Belgium's Celine Closset in the closing seven minutes of the game caused some late panic to the normally structured and stable Australian side but Kyah Gray was able to seal the win with a late goal from a penalty corner between Closset's second and third strikes.

Pool A:
(After four games each)
1. Germany (12 points)
2. Australia (12 points)
3. Austria (6 points)
4. Ukraine (4 points)
5. Canada (1 points)
6. Belgium (0 points)

Pool B:
(After four games each)
1. Netherlands (12 points)
2. Czech Republic (9 points)
3. Poland (7 points)
4. Belarus (7 point)
5. South Africa (0 points)
6. Kazahkstan (0 points)

Hockey Australia media release


---

Fiesty day for Aussie men

Australia go down 8-5 to Iran before 3-3 draw with Sweden

Reporting by Courtney Beaton



Photo credit: Andrew & Debra Spence / Sydney Indoor Hockey Assoc.

Australia's Indoor men's team found their goal scoring touch on day two of the Indoor World Cup in Leipzig and picked up their second point of the tournament from a 3-3 draw with Sweden. However, in a hot tempered encounter on Thursday morning, they went down to Iran 5-8.

Australia's hopes of reaching the quarter final stage are still mathematically alive but are no longer in their own hands. To do so they will have to beat three-times winners Germany in their final Pool A fixture and have other results go their way. Finishing outside of the top four in the Pool would place Australia into a classification playoff for ninth to 12th positions.


Match 3 – Australia v Iran

AUSTRALIA   5 (1)
Heath Ogilvie 9, 34 (PC, FG)
Garry Backhus 32 (PC)
Flynn Ogilvie 39 (FG)
Thomas Sinclair 40 (FG)

IRAN   8 (1)
Navid Taherirad 10, 36, 37 (FG,FG,FG)
Abbas Aroei 28 (FG)
Behdad Beiranvand 29 (FG)
Masoud Bohlooli 32, 40 (FG,FG)
Mohsen Bohlouli 38 (FG)

Australia succumbed 8-5 to Iran in an emotionally charged match-up on day two of the tournament in a contest that saw 13 goals and ten cards shown.

Australia set a fiery opening pace and were rewarded early through a penalty corner conversion from Heath Ogilivie, who opened the scoring for 1-0. But less than 60 seconds later Iran were level through Navid Taherirad.

Despite controlling the game for the most of the first half, the high tempo and physicality would come at a cost.

Kurt Ogilvie and Paul MacKinnon were both sidelined with green cards in the opening 12 minutes of play before MacKinnon was handed back-to-back yellow cards for a contentious 'drill' on two Iranian players, which was upgraded to a red card on the stroke of half time and saw him sidelined for the remainder of the game. Iranian players were also shown two green cards and a yellow in the opening 20 minutes.

With the scores locked at 1-1 heading into the second half, a man down, Australia were forced to take to the field with just three field players and their keeper, Benjamin Rennie.

Despite some valiant defensive efforts from the undermanned Australians, Iran soon capitalised and scored three goals in almost as many minutes.

Trailing 4-1 with eight minutes to play, Australia threw the dice, swapping out Rennie for Seyi Onitiri to step in as the kicking-back and went on the attack.

With the help of the additional outfield player, Australia were able to claw their way back into the game with goals from Gary Backhus and Heath Ogilvie, his second of the match, to bring them back to within one with still six minutes to play.

Three goals followed for Iran – including the completion of a hat-trick by Navid Taherirad - before Australia once again fired back in spectacular fashion with Flynn Ogilvie finding the top corner. In the final minute, two Iranians were sent to the sidelines with yellow cards which gave Australia a rare advantage on the court and saw young striker Thomas Sinclair score his first goal of the tournament to bring Australia back to within two.

It wasn't enough, however, as 25 minutes with a man down proved too much.

Match 4 – Australia v Sweden

AUSTRALIA 3 (1)
Paul MacKinnon 16,30 (PC, PC)
Flynn Ogilvie 26 (PC)

SWEDEN 3 (2)
Anders Lundqvist 5 (PC)
Joakim Bjorkman 8 (FG)
Karl Hemvik 33 (PC)

Australia's men earned their second point of the tournament in a 3-3 draw with Sweden but in truth it was a game they needed to win to keep the chance of a quarter final berth in their own hands. With world number one Germany their last remaining Pool A encounter on Friday they face an uphill battle to reach the last eight.

It was Sweden's captain, Anders Lundqvist, that opened the scoring via a penalty corner and just three minutes later his team mate, Joakim Bjorkman, found the net to give Sweden an early two goal lead.

Australia's Paul MacKinnon was out for redemption after being handed a red card and sidelined for over 20 minutes in the previous game. And redeem himself he did with a blistering shot off a penalty corner to bring Australia back to within one heading into the half time break.

A penalty corner six minutes into the second half levelled the scores with striker Flynn Ogilvie finding the net before MacKinnon scored his second goal of the match in a similar fashion to his first, putting Australia in front for the first time in the game with ten minutes remaining.

The lead was short-lived with Sweden's Karl Hemvik scoring three minutes later. Despite all efforts by Australia to re-take the lead, including substituting their starting goalkeeper, Benjamin Rennie, to bolster their offence, they could not find the vital fourth goal.

They say defence wins games and offence determines the margin. The stellar effort of Rennie in the nets was worthy of a win; his performance ensured Australia's hopes for a finals berth are still mathematically alive ahead of tomorrow's game against Germany.

*Matthew Hotchkis has been suspended from playing in the Indoor World Cup by Hockey Australia for a breach of the athlete Code of Conduct. He played no part in the matches against Iran and Sweden and will not take to the field in Australia's remaining matches. Hockey Australia will make no further comment on the matter.

Pool A:
(After four games each)
1. Germany (12 points)
2. Austria (9 points)
3. Iran (4 points)
4. Czech Republic (3 points)
5. Australia (2 points)
6. Sweden (2 points)

Pool B:
(After four games each)
1. Russia (10 points)
2. Netherlands (10 points)
3. Poland (6 points)
4. Switzerland (4 points)
5. Canada (1 point)
6. South Africa (1 point)

Australian Indoor Squad
Garry Backhus (Amaroo, ACT)
Simon Beaton (Warilla, NSW)
Malcolm Beer (Evatt, ACT)
Nigel Croke (Moorebank, NSW)
Matthew Hotchkis (Curtin, ACT)*
Paul MacKinnon (Nicholls, ACT)
Flynn Ogilvie (Woonona, NSW)
Heath Ogilvie (Woonona, NSW)
Kurt Ogilvie (Woonona, NSW)
Seyi Onitiri (Canberra, ACT)
Ben Rennie (Scarborough, WA)
Thomas Sinclair (Balwyn, VIC)

Hockey Australia media release


---

Indoor World Cup - Day 2

Points earned by both Canadian teams

Yan Huckendubler, in Leipzig



Kenny Pereira in action. "King" Kenny is the oldest participant in the Indoor World Cup at 41. Pic Yan Huckendubler.

The Canadian men's and women's teams both started the day with a loss, but reversed the trend in the afternoon with spectacular come-backs to tie their second matches of the day.

(women) Australia vs. Canada: 3-1 (ht: 1-0)

Canada opened their second day against Australia, ranked four spots above them in the world rankings. Australia scored early from a messy situation in front of KJ Williams in Canadian goal. The Canadians continued their patient build-up in midfield but could not bulge the compact Australian defense.

The pace progressively picked-up and players seemed often frustrated by some mysterious umpiring calls. Canada had a chance on late penalty-corner, but the shot was wide and the break was reached with the meagre one-goal lead for the Aussies.

Canada was again unsuccessful on another penalty-corner early in second period. Australia on the other end did not miss their chance to increase their lead on another penalty-corner in the 23rd minute. The Canadians reacted well and Kri Shier netted a penalty-corner to narrow the gap to one goal with still 13 minutes on the clock.  

Fortune can change quickly in the indoor and Canada had a couple of good opportunities to tie the score, but Australia weathered the storm calmly, then rebuilt their 2-goal lead in the 36th minute on yet another penalty-corner. Canada kept trying and trying, pulling their goal-keeper with three minutes to go, but there was always an Australian stick to spoil the last pass, plus a little bit of bad luck on some clear chances.

(men) Canada vs. Switzerland: 0-4 (ht: 0-1)

Switzerland is on theory lower than Canada in the world rankings, but have been preparing hard for this competition, managing to tie #2 Poland on opening day. The Swiss immediately put a high pace into their game, with slick combinations. The Canadian defense stayed strong and compact, matching their opponents pace for pace, and well backed by Shankar Premakanthan who was, once again, making his presence felt in front of the Canadian goal.

Canada defended well two penalty-corners and were progressively becoming more entrepreneurial up-field, but the score remained 0-0… until the very last seconds of the period, when Switzerland were awarded a penalty-stroke. They did not waste the opportunity and went into the break with this lone goal to their credit.

The same pattern continued in second period, with Canada very much into the match and having chances to tie the score, including on a penalty-corner. However, they were not rewarded for their tireless efforts. Switzerland increased its lead in the 24th minute and Canada, with their backs to the wall, made the bold move to replace their goal-keeper with an extra attacker with twelve minutes to go. It nearly paid off, but nothing seemed to go the Canadians' way in this competition and they could not score on yet another penalty-corner, then even on a penalty-stroke awarded after another penalty-corner.

Switzerland, on the other hand, had no trouble scoring their third goal, on penalty-corner, in a goal without goal-keeper. They added a fourth goal for good measure, and the Canadians finished the match stunned, their hope of qualifying for the quarter-finals evaporated in smoke.

(women) Canada vs. Ukraine: 4-4 (ht: 3-3)

The Canadian women arrived to play against Ukraine, ranked 5th in the world, in a completely different spirit than in their morning match against Australia, much to the pleasure and excitement of their numerous fans, who once again warmed the atmosphere of the hall.

The Canadians quickly went down by two goals, first on a cheeky behind the back deflection by a Ukrainian forward, then on a penalty-corner following a severe green card for a hasty substitution. But they reacted promptly with typical Canadian pride and Madison Thompson pulled them back level with two quick goals in less than a minute!

The tone was set and the match became a lively back and forth affair that seemed to suit the Canadian team better than the tactical game chess that they tried to play earlier in the competition.

Ukraine regained the lead on another penalty-corner, but KJ Williams was on fire in the Canadian goal, showing her class with two reflex saves on shots from close range, then with countless decisive actions to protect her goal. Canada leveled the score again before the break by Kaelan Watson on penalty corner, and half-time was reached on a tied score 3-3.

Ukraine scored their fourth goal in the 34th minute on a shot initially saved by KJ Williams but that rolled slowly over the line without any Canadian stick able to repel it. However, Canada replied on the next action by Erin Houle, and the game continued at a frantic pace, with hot situations in front of both goals.

Canada survived a number of penalty-corners then, after another exceptional glove save by KJ Williams with two minutes to go, they clearly signaled that they wanted more than a tie by boldly pulling their keeper! They earned a penalty-corner with hardly any time on the clock but, with the heart rate of everybody on the hall, players and spectators, reaching unchartered territory, the ball hit by Kri Shier and heading for the winning goal was miraculously deflected by a desperate defender.

The Canadian women nevertheless greatly deserved their first point of the competition, before playing their last pool match against Belgium on Friday morning.

(men) Canada vs. South Africa: 5-5 (ht: 2-3)

The Canadian men followed the pattern set by the women's team: let the opponent take the lead, then engineer an exciting come-back. Against South Africa, our men were down one goal within one minute of play, down by two on the five minute mark and down by three before reaching ten minutes of play. Then they set their wheels in motion. Devohn Noronha Teixeira scored first a stunning lob over the keeper from a difficult angle, then was on hand to pounce on a loose ball in a scrum in the circle to push the ball in goal.

Canada carried this momentum into the second period and promptly forced a penalty-corner. Jonathan Roberts was this time on target, and the large contingent of Canadian fans was breathing easier with the score tied at 3-3.

The Canadian players however seem to like to make things difficult for themselves and were soon down by two more goals after conceding soft penalty-corners dutifully converted by the efficient South African strikers. Canada pushed up their pace another notch (or two) and besieged the South African goals to close the gap again.

However, with time passing quickly (it always does in this situation…) and the South African stubbornly refusing to fold, Canada decided to replace their goal-keeper with an extra attacker with five minutes to play. It immediately worked and captain Kenny Pereira scored in the 37th minute, immediately followed by Devohn Noronha Teixeira, completing his hat-trick in the 38th minute.

The second come-back unfortunately stopped there. Jeewanjot Singh Bath has a last second opportunity, but his shot in a difficult angle was marginally wide. The Canadian men earned their first point of the competition, too late unfortunately to hope qualifying for the quarter-finals.

In this game, Canadian goal-keeper Shankar Premakanthan, playing in his fourth Indoor World Cup, earned his 50th Indoor Cap. Congratulations!

Results of Day 2 (Thursday February 5):
(men) Canada vs. Switzerland: 0-4 (0-1)
(men) Canada vs. South Africa: 5-5 (2-3)
(women) Australia vs. Canada: 3-1 (1-0)
(women) Canada vs. Ukraine: 4-4 (3-3)

Schedule for Day 3 (Friday February 6):
(men) Poland vs. Canada
(women) Canada vs. Belgium
Plus cross-over matches

Field Hockey Canada media release


---

Black Sticks Women take 4-1 win against Canada



Pictured: Goal scorer Petrea Webster (left) celebrates with Sam Charlton in tonight's game against Canada in Whangarei.

The Black Sticks Women have won 4-1 against Canada tonight in their first of three tests at the Whangarei ITM Hockey Centre.

Head coach Mark Hager thinks there's room for improvement in the next two games as combinations start to form again, but he was pleased with tonight's overall performance.

"We had some good patches of play and it's good to score four goals. I thought we dominated most of the game, but in the end we aren't quite where we need to be, we have five months before World League to get it right," said Hager.

"Canada will try to shut us down in the next two games. Our set pieces aren't quite as good as what we want so we have some work to do there. We have only trained four or five times since the summer break, so we will improve the more we play."

North Harbour's Petrea Webster scored in the sixth minute thanks to a nice set up from debutante striker Kirsten Pearce, but eight minutes later Canadian Karli Johansen scored from a penalty corner to tie it up and keep the visitors very much in the game. 

The Kiwis held the majority of the possession in the second quarter and Pearce was all smiles when she slipped it passed keeper Kaitlyn Williams just before half time. In the second spell, it continued to go the Kiwis way with Canterbury's Olivia Merry finding the back of the net to take it to 3-1.

The Black Sticks were awarded at least five penalty corners throughout the game but were unable to convert until 40 seconds before full time when Northland's Brooke Neal converted and sealed a first game win.

Northland's National Hockey League coach Angeline Waetford and Hager both made a presentation to local star Ella Gunson who played her 100th international tonight. It was also a special night for Canterbury's midfielder Rachel McCann who joined Pearce on debut.

The Black Sticks face Canada again at 3pm this Saturday and Sunday, with both games to be played at the Whangarei ITM Hockey Centre. Tickets are available at www.dashtickets.co.nz and are cheaper online than at the gate.

RESULTS
Full time: 4-1
Half time: 2-1 (Black Sticks lead)

NZ goal scorers: Petrea Webster, Kirsten Pearce, Olivia Merry, Brooke Neal
Canada goal scorers: Karli Johansen

Hockey New Zealand Media release


---

Angus continues to progress with Women's National Program

Shaheed Devji, fieldhockey.ca




Like many who grew up in West Vancouver, Katarina Angus was given a field hockey stick at a very young age. At about the time she began grade school, Angus began what would become a lifelong dedication to field hockey.

"It kind of become one of the few sports that I actually wanted to continue playing and pursue at a higher level," says the nineteen year-old, who attends Brown University and has taken time off this spring to train with the Women's National Team.

"I've dreamed of being able to play for Canada for so long – as long as I can remember," she adds. "My goal is to get better every day and contribute in every way I can, so I'll be showing up with that in mind everyday in training."

Her attitude coupled with her physical ability and untapped potential resulted in Angus's recent selection to the 2015 Canadian Women's National Team Senior Development Squad.

She is currently on her first Senior tour with the Women's National Team in New Zealand as they prepare for a big year ahead, with the ultimate goal of Olympic qualification.

But Angus has been on the path to becoming a part of the Senior National Team for year now. Her involvement in and commitment to the Under-16 development program has allowed her to flourish under the guidance of the National program coaches.

"Katarina's selection symbolizes an opportunity to work with a young athlete who has a lot of positive attributes," says Women's National Team head coach Ian Rutledge. "I think if she continues to work hard and finds a real desire to be an international player, she could be a dominant force for us at the back."

With desire come sacrifices, as evidenced by the many tough decisions National athletes have to make in order to commit themselves to a career serving one's country through sport.

The coaching staff views those tough decisions as an investment.

With more commitment and more desire, the better the chance one will achieve sustained success on the international level.

"It starts to be come a viable option for athletes," adds Rutledge. "You get a return for your investment."

In Angus' case, the investment is in her future playing for Canada. The decision to take time off from Brown is what came along with it making that tough call. In her mind, though, the potential of where it could lead is well worth any of the challenges that come along the way.

"I get the exposure early on to high-level field hockey," she explains. "My goal is to learn as much as I can from the players and coaching staff and continue to develop.

"Long-term, I want to continue to become an important contributor to the Women's National Program on the junior and senior level."

Field Hockey Canada media release


---

Jayde Taylor Retires

Queen of the selfie, Jayde Taylor announces retirement from Hockeyroos




Hockeyroo Jayde Taylor has announced her immediate retirement from international hockey. The 29 year-old informed Australian Head Coach Adam Commens and teammates earlier this week, calling time on a 107-cap international career that culminated in winning the Commonwealth Games final in Glasgow last August.

London Olympian Taylor - who shot to global attention after she and teammate Brooke Peris snapped a selfie with the Queen at the 2014 Commonwealth Games - retires as a two-time Commonwealth Games champion and World Cup silver medallist.

Since making her senior international debut in a 4-0 win over Great Britain in June 2010, Taylor has gone on to represent Australia at the Olympic Games, two World Cups, two Commonwealth Games, the 2011 Champions Trophy and the Oceania Cup.

Announcing her decision to retire, Taylor said, "I've been thinking long and hard over the past few months. There are several reasons I've chosen to call it a day. Many past players have said to me you 'just know' when it's time. I believe it is the right decision and the right time, not only for me but with the best interests of the [Women's High Performance] program at heart. I like to think I am a gracious person who really appreciates current and past experiences and very much dislikes letting people down. I feel that is what I would be doing if I kept going."

Recalling some of her career highlights, the defender from Bunbury, WA, said, "The World Cup silver medal and the 2014 Commonwealth Games gold medal are two special highlights for me, but I will never forget being part of the Olympic Games simply because of the event it was."




Thanking those that have played a part in her career, Taylor said, "I have had so many coaches along the way and each and every one of them has encouraged, guided, taught and inspired me in one way or another. I cannot thank them all enough! Adam [Commens], in particular, is someone whose honesty I truly value and I hope to take that with me into my future career path.

"Each and every one of my teammates, too, has provided inspiration, encouragement and advice along the way at different times. Enjoying success and a sense of achievement alongside your teammates is what keeps making you front up to the hard sessions time and time again."

Hockeyroos Head Coach Adam Commens said, "Jayde has had a very successful career. She is somebody who worked hard over a number of years to work her way into the program and who has had the resilience to stay in it. She epitomises the mental strength and resilience we expect in the Hockeyroos.

"She has a smart hockey brain and has been able to impart her knowledge on her teammates in valuable ways, from the most experienced players to those just entering the program. Her experience, knowledge and coaching ability has been invaluable throughout. She has been able to play a role regardless of position, particularly during our successes at the World Cup and Commonwealth Games in 2014."

After taking up hockey at the age of 13, Taylor progressed quickly, playing representative hockey at Under 18 and Under 21 age levels before going on to play for the Australian junior team, the Jillaroos, at the 2005 Junior World Cup. She was a member of the National Development Squad for five years before making the breakthrough to the National Senior Squad in 2010 at the age of 25.

A foot injury sustained following the London Olympic Games in 2012 ruled her out for 14 months during which she was unable to run for a full year. At the time she was told she might never run again. Of that time, Taylor said, "It was the drive and determination to be part of something that is so unique and so, so special that kept me going."




In August 2014, Taylor shot to the attention of the world after posting a selfie with teammate Brooke Peris in which the Queen appeared to 'photobomb' the pair during a visit to the Commonwealth Games hockey venue. The photo went viral and has now racked up almost 15,000 retweets and more than 13,000 favourites on Twitter. On Facebook it attracted 26,000 likes and was shared 2500 times. It garnered media attention from outlets across the globe, graced the front page of The Times newspaper in the UK and was named as Buzzfeed's third most important selfie of the year.

Speaking of that time, Taylor said, "It was a beautiful moment in our careers, shared with Brooke, which gained such a raw emotional reaction from the world, something not many people are able to say. It's still circulating on social media and I'm proud Brooke and I could be part of something so special together, and also to promote the amazing brand that the Hockeyroos is. It certainly added to the experience of the Commonwealth Games but the greatest part was sharing the gold medal with the team a week later."

Taylor is currently in the Netherlands playing club hockey for HC Bloemendaal and hopes to be able to remain in the sport in the future, in coaching or administration.

Hockey Australia congratulates Jayde on a successful career with the Hockeyroos and wishes her well for the future.

Follow Jayde on Twitter @_JaydeTaylor and on Instagram @JaydeTaylor.

Jayde Taylor's Career

September 2005 – Represents Australia at Junior World Cup in Chile where the team finishes fourth

2005-2010 – A member of the National Development Squad

June 2010 – Makes senior international debut for Hockeyroos in 4-0 win over Great Britain

September 2010 – Plays in first World Cup as Hockeyroos finish fifth in Rosario, Argentina

October 2010 – Scores the first of her three international goals in an 11-0 win over Trinidad & Tobago at the Commonwealth Games in Delhi, India

October 2010 – Wins first silverware as Hockeyroos win gold at the Commonwealth Games

June 2011 – Member of the Hockeyroos squad that finishes sixth at Champions Trophy in Amstelveen

October 2011 – Member of the Hockeyroos squad that takes silver at Oceania Cup in Hobart

July 2012 – Member of Australian team that finishes fifth at London 2012 Olympic Games, despite conceding just two goals

2012-2013 – Long-term foot injury rules her out of playing for 14 months

October 2013 – Makes comeback appearance in 1-0 defeat to Argentina in Perth

April 2014 – Scores her second international goal in 5-3 win over Korea in Hawke's Bay, New Zealand

June 2014 – Called-up to World Cup squad, replacing injured teammate Teneal Attard. Goes on to win silver medal with the Hockeyroos, losing 2-0 to Netherlands in the final

July 2014 – Posts photo of Queen 'photobombing' her selfie with Brooke Peris on Twitter. Global media attention on the pair. Scores her third and final international goal in 9-0 win over Scotland three days later

August 2014 – Wins second Commonwealth Games gold medal on shoot-out after 1-1 draw with England

February 2015 – Retires from international hockey

Hockey Australia media release


---

Mumbai swept away by Waveriders

Nandakumar Marar



Delhi Waveriders celebrate a goal against Dabang Mumbai in the Hockey India League in Mumbai on Thursday. Photo: Vivek Bendre

Dabang Mumbai's quest for a home win in the Hero Hockey India League 2015 didn't happen, as it suffered a 3-1 loss against Delhi Waveriders.

Simon Child eluded his markers twice for goals and Jason Wilson swept home a field goal at the Mahindra stadium.

Drag flicker Harmanpreet Singh injected some buzz for the host with a penalty conversion late in the fourth quarter, reducing the 2-0 deficit, only for Delhi to bang in the third off a counter-attack. The visitors have two wins now from five games, Dabang Mumbai remain at the bottom.

Hoping to make an impact in front of home fans, the red shirts tried their best but failed to shake up the Delhi defence.

Mumbai was caught sleeping in the fourth minute when the visitors struck via Simon Child. Rupinder swept a long pass towards the rival goalmouth. Walmiki tapped the ball for unmarked teammate to trap and sound the boards with an angular reverse hit along the turf. The defence waited for goalkeeper Adrian to deal with the threat, the forward took his time to find the target.

Two penalty corners won by Mumbai back-to-back did not produce any goals, both sides walked off at half-time as if holding back energy. The home team goalkeeper Adrian, playing instead of David Harte, needed to prove his worth, so did the red shirts in defence. Boon got a close look at Delhi goal in the third quarter, his reverse hit on the run flew wide.

After three quarters of controlled play, both teams focused on pulling back men into defensive positions on losing possession, the game moved into the last quarter. The onus was on Mumbai to step up pace, in rhythm with pulsing drumbeats from the stands. Child struck again, squeezing the ball home through a narrow gap between the post and custodian.

The result: Delhi Waveriders 3 (Simon Child 4 and 47, Jason Wilson 58) bt Dabang Mumbai (Harmanpreet Singh 50).

Man of Match: Gurbaj Singh (Delhi).

The Hindu


---

Same teams, same result

Like in their first-leg encounter, Delhi Waveriders hand Dabang Mumbai 3-1 drubbing

Adit Ganguly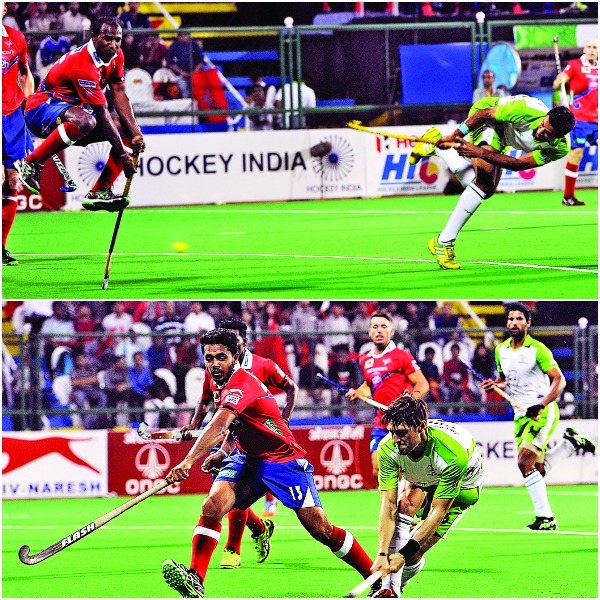 Mumbai's Vikram Pillay (left) blocks a shot by a Delhi striker at the MHA Stadium in Mumbai on Thursday, (Below) Simon Child (right) netted two. Salman Ansari dna

Same teams, same score, the only difference being the venue. Dabang Mumbai's search for their first win in the Hockey India League continued as they were handed a 1-3 defeat by the Delhi Waveriders at the MHAL Stadium in Churchgate on Thursday. For the record, Delhi had beaten Mumbai by the same scoreline in their first-leg encounter in Delhi on February 1.

It took only four minutes for Simon Child to open the account for the Waveriders, with the New Zealander's shot coming off a reverse hit and some uncertain defending from Mumbai. From then on, the Waveriders were content to soak up the pressure, build play from the back and attack on the counter. Captain Sardar Singh -- who came back after a one-match suspension -- and Rupinderpal Singh in the defence line did not allow the likes of Tom Boon & Co even a sniff at the goal. Mumbai's Glenn Turner did have a chance to equalise towards the end of the first quarter with a cross from the left flank, but Delhi's South African goalkeeper Rassie Pieterse was up to the task.

The next two quarters saw Delhi's gameplan of possession hockey being executed to the fullest. Making his presence felt was Gurbaj Singh, who was a constant livewire down the right flank. He produced a moment of magic in the 21st minute, dribbling his way past two defenders only to see his shot being deflected away by Mumbai goalkeeper Adrian D'Souza.

Mumbai dragflicker Harmanpreet Singh failed to make the most of two back-to-back penalty corners in the 30th minute. D'Souza saved another brilliant Gurbaj attempt down the right in the 41st minute.

With a quarter remaining, Mumbai were still in the game. But Child did what he did in the first quarter: score right at the start of the hooter, with Gurbaj being the creator of the goal down the right. With nine minutes to go, Mumbai did pull one back, Harmanpreet finally converting a penalty corner and giving the home crowd a sense of hope.

But the Waveriders had other ideas. The blow on Mumbai's hopes came a minute before the final hooter. Akashdeep Singh dribbled his way through the centre of Mumbai's defence and passed the ball to Child, who found an unmarked Jason Wilson. The Australian striker didn't disappoint, converting the simplest of tap-ins.

Delhi earned their second win of the tournament, while Mumbai are still without a win in five games (three losses and two draws). Not surprisingly, they are languishing at the bottom of the standings.

Stopwatch: Dabang Mumbai 1 (Harmanpreet Singh 51) lost to Delhi Waveriders 3 (Simon Child 4, 47, Jason Wilson 59)
Playing today: Ranchi Rays vs Kalinga Lancers (Live on Star Sports 2 at 7:00 pm)

DNA


---

Simon Child brace sinks Dabang Mumbai at home

History repeated itself on Thursday as Mumbai lost to Delhi yet again except that this time the Mumbai franchise were playing at home in the Hockey India League.

Dev Kotak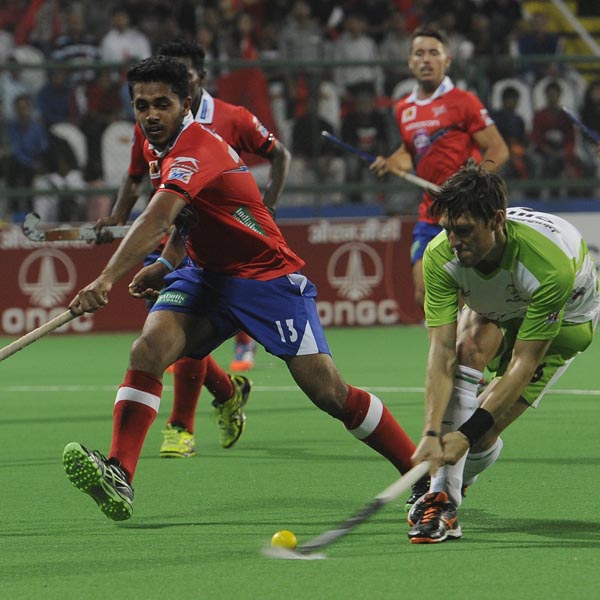 Delhi Waveriders player Child Simon score against the Dabang Mumbai at MHA Stadium in Mumbai on Thursday. Salman Ansari dna

History repeated itself on Thursday as Mumbai lost to Delhi yet again except that this time the Mumbai franchise were playing at home in the Hockey India League.

Dabang Mumbai put up yet another lacklustre performance, losing 1-3 in a reverse draw against Delhi Waveriders at the Mahindra Stadium in Mumbai. An attacking Delhi were not going to let the home side have it easy, looking threatening from the first minute itself. The defence was rock solid today after Sardar Singh returned from suspension in the last match combined well with Rupinder Pal Singh.

In Thursday's match Mumbai's performance was 'old wine in a new bottle'. Delhi looked more organised with their passing and a well-coordinated defence and powerful attack proved to be way too superior for their nemesis.

Mumbai showed a first glimpse of their attack when their Aussie captain Glenn Turner countered from the right, swooping into the circle but save by Delhi's South African goalie Rassie Pieterse. With a formidable and sharp attack, Delhi struck in the fourth minute of the first quarter through a strike by their Kiwi midfielder Simon Child.

Mumbai got close to Delhi's goal on multiple occasions, however failing to get an equalizer against the visitors who stuck to their tried-and-tested strategy. Bharat's swift attack was thwarted by Pieterse.

The visitors were clearly in control of the game, but a seesaw of attacks prevalent throughout the match did not see the home team make the most of it. Mumbai seemed to fall back and struggled after going a goal down.

Mumbai's good performance resonated from the good performance put up by custodian Adrian D'souza who made some fine saves and was majorly involved in diffusing attacks, restricting the scoreline to 3-1. Two quick shots by Talwinder Singh and Yuvraj Walmiki were disallowed by D'souza.

An easy scoring opportunity for Valentin Altenburg's Mumbai came before the end of the second quarter after they were awarded a penalty corner. Harmanpreet Singh's two successive shots failed to put his team on par with the visitors.

Mumbai made a strong start after half-time and Tom Boon showed the home side hope but slapped one over the opposition goal. Mumbai's inability to score was soon capitalised upon by Delhi as Child scored his second goal of the match in the 47th minute.

Mumbai's defence had been brought to its knees and their spirit dampened. Mumbai fought on and managed to eke out a goal in the 51st minute after Harmanpreet smashed one off the second penalty corner of the game awarded to the home side.

Mumbai fought tooth and nail to get back in the game, trailing 1-2. In an unexpected turn of events Mumbai within the next few minutes were awarded the third penalty corner. Harmanpreet was unlucky this time.

In the last two minutes of the game Mumbai were beaten as Jason Wilson scored the third goal of the match for Delhi in the 59th minute not before combining with three other teammates against and outnumbered and helpless two Mumbai defenders.

Mumbai are yet to register their first win in the tournament (2 draws, 3 losses). They host Ranchi Rays at home in Mumbai.

Dabang Mumbai -1 (Harmanpreet Singh 51) lost to Delhi Waveriders -2 (Simon Child 4,47, Jason Wilson 59)

DNA


---

Child scores twice as Delhi outclass Mumbai again in HIL

MUMBAI: Defending champions Delhi Waveriders rode roughshod over a struggling Dabang Mumbai and notched up a convincing 3-1 win in their Hockey India League encounter at the Mahindra Stadium on Thursday.

The visiting team got their first two goals of the match through New Zealander Simon Child, in the 5th and 47th minutes, before India international Harmanpreet Singh reduced the margin for Mumbai with a penalty corner goal in the 51st minute.

Any hopes of Mumbai coming back and drawing the game through a late goal as they did in their opening game against Punjab Warriors was botched when Australia's Jason Wilson found the mark two minutes from the end - the visitors' third field goal of the game - to complete the rout.

Delhi had beaten Mumbai by the same score-line in their first-leg encounter and the victory was their second in five games in the tournament, both notched against Mumbai.

Mumbai continued to remain winless in the league following their third loss in five games and remained at the bottom of the six-team table.

Delhi were clearly the superior team, faster on the ball and faster to recover after staving off a raid.

Their current India players - skipper Sardar Singh and right back Gurbaj Singh - controlled the flow of moves beautifully.

Up front, Child, Steven Edwards, Wilson and Akashdeep Singh looked sharp.

Mumbai, on the other hand, lacked in speed and cohesion and could not penetrate the rival circle as they wanted to do.

Australian Glenn Turner again looked a forlorn figure up front without adequate support from the rear.

The opening goal of the game came as early as the fifth minute.

Yuvraj Walmiki trapped it on top of the rival 'D' put forth a short pass to a totally unmarked Child on the left who had all the time in the world to take a stiff reverse hit, beat a casual-looking Mumbai custodian Adrian D'Souza and sound the board.

D'Souza, however, made amends early in the second quarter when he stretched out his left leg to thwart a goal-ward reverse shot by Delhi's Gurbaj.

Towards the end of the first half of play the home team forced two penalty corners in close succession but Harmanpreet Singh was thwarted first by rival custodian Rassie Pieterse and then by the woodwork.

Mumbai got one good look at the rival goal in the third quarter but Tom Boon's reverse hit from the left harmlessly sailed over the crossbar.

Mumbai continued to search vainly for the equaliser when the fourth and last quarter commenced but it was their citadel that fell again early.

It was Child again, fed on the right flank by Gurwinder Chandi via Edwards, who showed a clean pair of heels to two rival defenders as he cut into the 'D' and pushed firmly past D'Souza's outstretched right leg to find the far corner of the goal.

Down 0-2 and with their semifinal hopes seemingly slipping away, Mumbai attacked strongly from the right to earn their third penalty corner with 9 minutes left in the game. This time Harmanpreet made no mistake with his drag-flick and reduced the lead.

Mumbai continued to press hard for the second goal and earned their fourth short corner four minutes later. However, Harmanpreet's drag-flick was blocked with his left foot by an alert Pieterse under the Delhi bar.

But off a fast counter attack on the left side by Delhi, the ball was relayed to an unmarked Chandi on the right who, in turn, passed to Wilson stationed wide to his left, who beat D'Souza with a scoop to round off the tally.

The Times of India


---

Rays eye revenge against Lancers in HIL

RANCHI: Ranchi Rays are raring to take on Kalinga Lancers at home in the third edition of the Hockey India League (HIL) at the Astroturf Hockey Stadium on Friday.

The Rays will look to exact revenge after losing the tournament opener in Bhubaneswar to the Lancers 3-6. All eyes will be on skipper Ashley Jackson, who scored two amazing goals in the previous clash.

Support from Mandeep Singh, Nicolas Wilson and Trent Mitton in the forward line will be crucial. Meanwhile, Kothajit Singh, Manpreet Singh, Austin Smith and Barry Middleton in the midfield and Birendra Lakra and Justin Reid-Ross in defence makes for a solid Rays line-up.

On the other side, having played five matches, the Lancers have won one and lost the other four. They will look to attack from the start and are well aware that the Rays can take the game away from them if they falter.

With the likes of captain Vickram Kanth, who was awarded Man-of-the-Match in the opener, the team will be looking at repeating the feat of the last encounter. There will be huge expectations from drag-flicker Gonzalo Peillat as he is expected to run the extra mile, displaying his defending skills.

"We are upbeat post our victory against Uttar Pradesh Wizards and want to continue this momentum. We are confident and are flexible in all kinds of team combinations. We cannot take the match lightly and have to keep their defence under pressure," Jackson said.

Jackson's Lancers' counterpart, Vickram Kanth added: "We are not happy with the results till now but are quite motivated that we will make it to the top-4. We have been improving match-by-match and are in good spirit."

The Times of India


---

In-form Southgate target more scalps



Southgate's Jonty Robinson is tracked by Tom Carson of Reading. Credit Simon Parker.


After springing a surprise defeat on leaders East Grinstead last weekend, Southgate head to Beeston on Saturday with their sights set on taking another big-name scalp in the NOW: Pensions Men's Hockey League Premier Division.

They beat East Grinstead 3-2 last Sunday to move out of the relegation zone, and could climb to sixth if they beat Beeston and other results go in their favour this weekend.

And following Saturday's league match, Southgate will return home to take on Reading in the NOW: Pensions Men's Cup on Sunday.

"It was great to see the guys playing with such confidence and conviction last weekend and I hope we can do the same this weekend," said Southgate coach Jonty Robinson.

"Fergus Dunn and Simeon Bird are back in the mix for us, and they make a big impact and give the whole squad confidence to go forward, which is exciting.

"The league always takes priority for us, we know we have an uphill battle to avoid the relegation play-offs. But the Cup is very important too, and is a key development chance, so we will be using some of our youngsters on Sunday."

East Grinstead will need to bounce back quickly following their defeat to Southgate. Although they still lead the Premier Division by one point they are playing second-placed Surbiton on Saturday, and a defeat will see them drop from the top.

It is also a double-header weekend for Surbiton who, after hosting East Grinstead on Saturday, entertain Beeston in the Cup on Sunday.

Reading head to Cannock on Saturday for a league match prior to their Cup match at Southgate on Sunday, while Brooklands Manchester University are at home against Wimbledon in the league on Saturday before they go to Chichester Priory Park in the Cup on Sunday.

And in the other top-flight match this weekend, Canterbury entertain Hampstead and Westminster on Sunday.

Chichester Priory Park lie third in the NOW: Pensions Conference East, and face a tough weekend with a league match against leaders Holcombe on Saturday before they take on Premier Division Brooklands MU on Sunday.

In the NOW: Pensions Conference West Cardiff and Met lost top spot just before the Winter break, but could take it back when they go to Guildford on Saturday. They are back in action at home 24 hours later with University of Exeter the visitors. Meanwhile, leaders Team Bath Buccaneers face Cheltenham.

It's top versus bottom in the NOW: Pensions Conference North with high-flying Bowdon hosting Leek. Elsewhere, Sheffield Hallam take on Yorkshire rivals Doncaster on Saturday, before heading to Cannock in the Men's Cup on Sunday.

NOW: Pensions Men's Hockey League (Saturday, February 7 2015)

NOW: Pensions Premier Division
Cannock v Reading 14:00
Beeston v Southgate 14:00
Brooklands Manchester Univ v Wimbledon 14:00
Surbiton v East Grinstead 16:00

NOW: Pensions Conference West
Guildford v Cardiff & Met 14:00

NOW: Pensions Conference North
Sheffield Hallam v Doncaster

NOW: Pensions Conference East
Bromley and Beckenham v Brighton and Hove 16:00
Holcombe v Chichester Priory Park 18:00

NOW: Pensions Men's Hockey League (Sunday, February 8 2015)

NOW: Pensions Premier Division
Canterbury v Hampstead & Westminster 12:45

NOW: Pensions Conference West
Univ of Birmingham v Fareham 12:30
Cardiff & Met v Univ of Exeter 13:00
Barford Tigers v Whitchurch 13:00
Team Bath Buccaneers v Cheltenham 13:00
Indian Gymkhana v Guildford 14:00

NOW: Pensions Conference North
Olton & West Warwickshire v Univ of Durham 13:30
Deeside Ramblers v Loughborough Students 13:30
Belper v Wakefield 14:00
Bowdon v Leek 14:30

NOW: Pensions Conference East
Richmond v Oxted 13:30
West Herts v Old Loughtonians 14:00
Cambridge City v Teddington 12:30

NOW: Pensions Men's Cup (Sunday, February 8 2015)

Chichester Priory Park v Brooklands Manchester Univ 13:30
Cannock v Sheffield Hallam 14:00
Surbiton v Beeston 14:00
Southgate v Reading 14:30

England Hockey Board Media release


---

Clubhouse: Winter transfers



Southgate's Simeon Bird in action

With all the teams in the NOW: Pensions Men's Hockey League set to resume action this weekend, attention turns to the outdoor season and the those pushing for glory or to avoid the agony of relegation. The winter break has allowed coaches to take stock of what they have and decide if fresh faces and new blood are the way to go to get them the points they need. There have been plenty of comings and goings within the NOW: Pensions Men's League with some notable names cropping up.

Canterbury, currently bottom of the Premier Division have been busy, bringing in no less than four players over the break. Former striker David Mathews returns to the fold along with one time Pakistan international Adnan Zakir. They have also brought in Mexican striker Francisco Montoya and perhaps most eye-catching of all, Australian international Craig Boyne. Goals have been hard to come by at Polo Farm this season but with Zakir, Boyne and Montoya on target last week in friendly action they will be hoping their new recruits can fire them to safety.

As well as Boyne, heading here from Down Under, is Blake Govers, who joins Wimbledon. The surname will be familiar to some as he is the younger brother of Australian World Cup winner Kieran Govers. An under-21 international, he too knows where the goal is and will surely add some quality at SW19.

Busiest of all the teams in the top flight seems to have been Brooklands MU with six new faces joining them. Matthew Gough, Rory Capper, Sam Perrin, Matt Smith, Darius Virabi and Ross Hall have all joined up as they aim to move away from the bottom of the Premier Division.

Southgate, another side looking over their shoulders at the wrong end of the table have bolstered their ranks with the re-registration of the talismanic Simeon Bird and the signing of Fergus Dunn from Surbiton. Having beaten East Grinstead last weekend, they will hope those two can help to continue their good run and move them away from the drop zone.

Outside the Premier Division there have plenty of moves, too. Shakeel Abassi has signed for Barford Tigers, Goalkeeper Ashley Watson has left Beeston to play for Doncaster and Prabhjot Singh is a headline signing from the new recruits at Indian Gymkhana. He joins Polish duo Mateusz Stotko and Sebastian Wladysiak. Bowdon, currently top of the North Conference seem to be leaving nothing to chance as they fight to gain promotion back to the top division. They have gone abroad to bring back Alex Humphreys and Mike Shaw from SC1880 Frankfurt, added Ole Keusgen from Mulheim and Liam Alexander from Norwest Strikers in Australia.

You can take a look at all the transfers and registrations by clicking here.

England Hockey Board Media release


---

Kashmir Day hockey match played

KARACHI: To show solidarity with the people of Kashmir, an exhibition hockey match between Islahuddin XI and Kashmir XI marked the Kashmir Day at the Olympian Islahuddin and Dr M.A. Shah hockey academy on Thursday.

Played under the international rules of four halves of 15-minutes each, the match ended in a 3-3 stalemate.

Shah Zaib, Ammad and Arbaz netted once for the Islahuddin XI while Mudassir, Noman and Omar scored one goal apiece for Kashmir XI.

The match played amongst the trainees of the academy, also marked the culmination of one month long free coaching camp that was participated by over 100 up and coming players including girls.

The players were taught basic techniques and rules of the game besides physical fitness drill. The panel of coaches headed by Islahuddin who imparted training comprised Sameer Hussain, Sagheer Hussain and Musarrat Hussain.

Free hockey sticks and certificates were distributed among the participants at the prize distribution after the match.

The camp has motivated youth of the adjoining area and ever from far flung places including North Nazi­m­abad, Nazimabad, F.B. Area, Lia­quat­abad, Shah Faisal Colony, Korangi and Sarjani Town, Islahuddin told Dawn.

He thanked Sindh Governor Dr Ishratul Ibad Khan for his tremendous support, and hoped that the academy players will serve as a reservoir to the Pakistan team in future.

Dawn


---

Teams announced for Quaid-e-Azam Gold Cup

KARACHI: The 10 participating teams of the Quaid-e-Azam Gold Cup hockey tournament, being held at the Pakistan Customs sports complex from February 7-15, have been announced by event director Hanif Khan.

The teams that will take part are Pak Customs, PIA, NBP, SSGC, Railways, Police, Army, Pakistan Steel Mills, Sindh and Punjab, divided into three pools.

Over the nine-day period, the tournament will hold 23 matches; the group stages will be played from February 7-12 while the semi-finals and final will be played on February 13 and February 15 respectively.

Pakistan Customs' Chief Collector Tariq Huda said that this event was first organised in 1955 and since then has been held only four times, with the last one being staged in 2010.

He vowed that Pakistan Customs would make sure the Quaid-e-Azm Gold Cup is held on a regular basis.

The Express Tribune


---

PJCC gunning for full points

By Jugjet Singh

PETALING Jaya City Council (PJCC) will be gunning for full points this weekend as they look to close the gap with UniKL in Division One of the MHC-MILO-NSC Junior Hockey League.

As the league heads into the third weekend, UniKL hold the lead with 12 points, while last seasons double champions SSTMI Thunderbolts are hot on their heels with 10 points after four games.

However, PJCC have only played three games thus far and are third with seven points and this leaves them with a slight advantage.

Coach Azlansaufi Ahmad side has had a lengthy break after holding defending champions Thunderbolts 2-2 last Friday as they prepare for SSTMI Juniors today at the Taman Daya Stadium in Johor.

"We have not taken things easy and have been training hard, if the boys can go into tomorrow's match with a proper mindset I think we can come away with all full points.

"This week we play two games in as many days and I have told the players that they will have to be on their toes in JB to ensure that we go into the match against Politeknik with a right mindset."

Politeknik Malaysia have proven that they are no pushovers as they only lost 4-3 to UniKL.

"Some teams (like Politeknik) tend to get off on a slow start, but they have played two of the strongest teams so far and shown some good signs.

Today will also will see table toppers UniKL host Olak PKT Tigers while BJSS will be in for a torrid time when they go up against Thunderbolts.

TODAY: Division One: SSTMI Juniors v PJCC( Taman Daya Stadium, 4.45pm), BJSS v SSTMI Thunderbolts (Ministry of Education Stadium, 6.45pm), Olak PKT Tigers v UniKL Young Guns (National Stadium II, 4.45pm).

Division Two: 1 MAS Pahang v 1 MAS Perak (Temerloh, 4.45pm), BJSS Juniors v Sekolah Tunku Abdul Rahman (Ministry of Education Stadium, 4.45pm), Kuala Lumpur Sport School v SM Sains Raja Tun Azlan Shah (KLHA Stadium, 4.45pm), ISMO PHA v Nurinsafi / Penang Hockey (Azlan Shah Stadium, 4.45pm), SMSJ Knight v 1 MAS Melaka (Batu Pahat, 4.45pm), 1 MAS TBSS Tampin v 1 MAS Johor (Seremban II, 4.45pm).

Division 1 League Table:

Team P W L D F A PTS

UniKL Young Guns 4 4 0 0 10 4 12
SSTMI Thunderbolts 4 3 0 1 15 5 10
MBPJ 3 2 0 1 9 3 7
KLHC 4 1 2 1 5 7 4
BJSS JR 3 1 2 0 3 9 3
Politeknik Malaysia 3 1 2 0 5 11 3
SSP/MSP/Thunderbolt 4 1 3 0 10 9 3
Olak PKT Tigers 4 1 3 0 5 9 3
SSTMI Juniors 4 0 4 0 2 14 0

Jugjet's World of Field Hockey


---

Thunderbolt bracing for a difficult weekend in Junior hockey league

By Aftar Singh



SSTMI-Thunderbolt will miss midfielder Luqman Nul Hakim Ahmad Shukran (centre) for this weekend matches against Bukit Jalil Sports School and Olak PKT Tigers.

KUALA LUMPUR: Double champions Tunku Mahkota Ismail Sports School (SSTMI)-Thunderbolt of Johor paid a heavy price in their 2-2 draw with Petaling Jaya City Council (MBPJ) in the MHC-Milo-NSC Junior Hockey League match last Friday.

They not only dropped two valuable points but will also miss two key players due to injuries for this weekend's matches.

Midfielder Luqman Nul Hakim Ahmad Shukran and forward Mohd Zulhamizan Awang Abas are both down with hamstring injuries and will not be available for Friday's match against Bukit Jalil Sports School (BJSS) and the Olak PKT Tigers on Sunday.

SSTMI-Thunderbolt, who are gunning for their fifth consecutive Division One title, have only themselves to blame. They squandered a 2-0 lead to allow their opponents to share points with two late goals.

After four matches, Universiti Kuala Lumpur (UniKL) Young Guns lead the standings with 12 points – two ahead of second-placed SSTMI-Thunderbolt.

SSTMI-Thunderbolt coach Wan Mohd Roslan Abdul Rahman admitted that things are not looking rosy for them.

"We have dropped valuable points and cannot afford anymore slip-ups in the competition. We have put undue pressure on ourselves. I'm also concerned with injuries to Luqman and Zulhamizan as they are my key players.

"Failing to get full points this weekend will jeopardise our chances of retaining the league title," said Wan Roslan.

Third-placed MBPJ, with seven points from three matches, are also breathing down their neck. MBPJ meet winless SSTMI Juniors on Friday at the Taman Daya Stadium in Johor Baru before taking on Politeknik Malaysia on Saturday at the same venue.

MBPJ coach Azlansaufi Ahmad Sufian said his players are all fired up to give their best after holding favourites SSTMI-Thunderbolt to a 2-2 draw last Friday.

"We've been training hard and will take it one match at a time. I have stressed to the players the need to be on their toes tomorrow to ensure that we go into the match against Politeknik with the right mind set," he said.

"Collecting full points from both the matches will put us in a good position to challenge for the league title."

The Star of Malaysia


---

Three Rock Rovers to host IHL Finals 2015




The business end of the season is fast approaching and with that comes the pinnacle of the top tournament in Irish Hockey; the Irish Hockey League Finals. The teams have been battling it out since October and the finalists will come face to face on April 11th and 12th.  The IHL Working Group are pleased to announce that Three Rock Rovers will host this year's IHL finals. The club hosted the occasion 2 years ago and are delighted to welcome the tournament back to Grange Road.

Irish Hockey Association media release