All the news for Saturday 31 January 2015

Hockey India goes Dutch, selects Paul van Ass to coach men's team

Written by Mihir Vasavda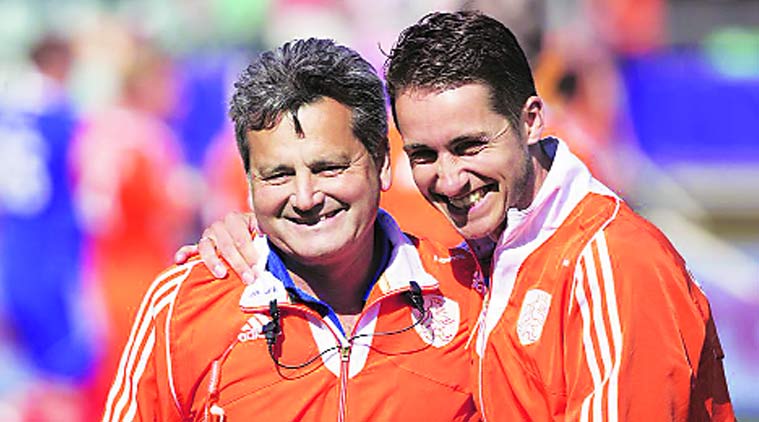 Known to be a great motivator, Van Ass (left) likes his teams to play at breakneck speed.

Outspoken and controversial. Paul van Ass may be the complete opposite of Terry Walsh, but like the Australian the 54-year-old's impeccable coaching record was reason enough for Hockey India (HI) and Sports Authority of India (SAI) to appoint him as the chief coach of the men's team on Friday.

Former assistant coach of Australian women's team and head coach of Australian men's developmental squad, Anthony Thornton of New Zealand was named as the women's coach. The decision was taken following a meeting between Hockey India and SAI officials in New Delhi on Wednesday, with Hockey India president Narinder Batra saying they have asked that the contracts of both coaches run till the 2018 World Cup.

Van Ass, who was released as Holland coach after his contract ended last year, led the team to silver medals at the London Olympics and the World Cup. Van Ass never played internationally but following his rapid rise as a coach, he has asserted his status as one of the best in the business.

He was surprisingly chosen ahead of the seasoned Marc Lammers as Holland coach in 2010 following his exploits with the junior national team and Dutch club HC Gazellen-Combinatie. His appointment, however, was criticised for he did not possess the necessary coaching certificate and lacked international experience.

Van Ass further fueled the fire by axing two of the senior-most Dutch players and icons of the game, Teun de Noojier and Taeke Taekema, from the squad after he found them to be unfit to feature in his scheme of things. Following a public backlash, he had to reinstate them in the team but omitted them again from the Olympic-bound squad. The Oranje, however, blossomed under him, playing with speed and strength that few countries could match. He stabilised the team which looked to be on the wane and turned them into world-beaters in a short span, which earned him the plaudits.

In his four-year stint as Holland's chief coach, Van Ass' high points were the final of the London Olympics and last year's World Cup. But they were also his pitfalls. Germany, to whom Holland lost in the Olympic final, became their bogey team while a 7-1 roasting at the hands of Australia in front of home crowd in the final of the World Cup last year resulted in the Dutch hockey federation not renewing his contract.

India, however, will be a challenge that will be unique from his past assignments and the responsibilities will be far-reaching. He inherits a team that is high on confidence after a memorable 2014 where Walsh guided India to an Asian Games gold medal.

The fact that India is the first team to have qualified for next year's Olympics will give him the cushion. With no major tournaments lined up this year, India will be participating in the Azlan Shah Cup in April followed by a tournament in New Zealand, the World League in Belgium in June, a home test series against Australia and exposure trips to Europe. The year concludes with the World League Final, which India will host in December.

Grave concerns

Known to be a great motivator, Van Ass likes his teams to play at breakneck speed while, at the same time, not compromising on the structural organisation. While speed and fitness is not an issue with the Sardar Singh-led side, the Dutchman will have to deal with several grave concerns. The players are notorious in failing to implement the game-plan on the field, are perceived to be fragile psychologically and lack consistency. He will also have to find the right attacking combination and also address the fragile defense.

Most importantly, though, Van Ass' relationship with Hockey India will define his stay in the country. The last three foreign coaches — Walsh, Michael Nobbs and Jose Brasa — have all had bitter bonding with Hockey India and SAI, which resulted in their exit.

Indian Express


---

Van Ass, Thornton named new hockey coaches

NEW DELHI: Paul van Ass, who spearheaded the Netherlands men's hockey team to the silver medal at the London Olympics three years ago, was named the chief coach of Indian men's hockey team on Friday.

The Dutchman's name was finalised nearly two months after Australian Terry Walsh resigned as the chief coach.

Van Ass got the nod at a special selection committee meeting headed by secretary (sports) Ajit Sharan, HI president Narinder Batra, high performance director Roelant Oltmans, Olympian Harbinder Singh and other SAI officials. Van Ass was among the three shortlisted for the job, the other two being Hans Streeder of the Netherlands and Alexander Grey of Australia.

The committee also named New Zealand's Anthony Thornton as the coach of the women's hockey team. Thornton, 47, who figured in his nation's squad which finished eighth at the 1992 Olympics in Barcelona, beat back the challenge of Canadian Mathias Ahrens and Fabian Gregory of South Africa. Both coaches have been offered contracts until the 2018 World Cup. While Van Ass will get $12,500 a month as his pay, Thornton's salary is 10,500 Australian dollars, sources told TOI.

"The sports ministry has approved their proposals and work on their visa and other formalities will begin soon," sources said.

Van Ass, 54, resurrected the fortunes of the Dutch Club HC Gazellen-Combinatie, taking them to the Euro Hockey League final in 2007-08. He then took up the onerous task of rebuilding the Dutch men's team in 2010 before leading them to the 2012 Olympic silver.

'Dutch coach is a tough taskmaster'

NEW DELHI: Dutch goalkeeper Jaap Stockmann, playing here in HIL, said on Friday that Paul Van Ass was a motivator and a tough taskmaster. "He really motivates players. At the same time, he wants 120 per cent from each player. That's why he's a very good coach. You can't be sloppy under him."

The Times of India


---

Paul van Ass named men's hockey team coach, Anthony Thornton for women team

NEW DELHI: Former Dutch national team coach Paul van Ass was on Friday named as the new head coach of India's men's hockey team, ending three months of uncertainly after Australian Terry Walsh quit under controversial circumstances.

While 54-year-old Van Ass, who was at the helm of affairs of the Dutch team from 2010 to 2014, will take charge of the men's team, New Zealand's Anthony Thornton, 47, will replace Neil Hawgood as the coach of the women's senior team.

According to a statement from the Sports Authority of India (SAI), the name of the coaches were finalised at a special selection committee meeting headed by Secretary Sports and interim Director General of SAI Ajit Sharan, Hockey India president Narinder Batra, High Performance director Roelant Oltmans and Olympian Harbinder Singh among others.

The committee considered three names -- Van Ass, Hans Streeder of the Netherlands and Alexander Grey of Australia -- for the coach's position of the men's team, while Thornton, Canada's Mathias Ahrens and Fabian Gregory of South Africa were in the race for the women's side.

According to sources privy to the development, both Van Ass and Thornton have been awarded a three-year contract till 2018. India will host the 2018 men's Hockey World Cup.

It has been learnt that both Van Ass and Thornton will get a pay cheque similar to their predecessors, Walsh and Hawgood.

While Van Ass is expected to join his new assignment within three to four weeks time, Thornton will need some more time to report to his new job as he has to give 30 days notice to his current employers.

Sources said Thornton is most likely to join the women's team only after the Women's FIH World League Round 2 to be held here from March 7 to 15.

As a player, Van Ass had limited international experience but as a coach he led the Netherlands to an Olympic silver medal in the 2012 London Olympics after being given the charge of the Dutch team in 2010. He also served as the head coach of the Dutch Under-21 team.

At the club level, Van Ass not just resurrected the fortunes of the Dutch Club HC Gazellen-Combinatie, he even took them to the Euro Hockey League final in 2007-08.

The position of the men's team coach was lying vacant for little over three months after Walsh suddenly resigned from the post just three weeks after guiding India to Asian Games gold medal after a hiatus of 16 years.

Walsh quit over pay dispute and wanted a better deal. The 60-year-old Australian, himself a noted Olympian, submitted his resignation in dramatic fashion, saying that he was finding it difficult to adjust to the decision making style of the sporting bureaucracy in the country. His contract was to run till the 2016 Rio Olympics.

In Walsh's absence, High Performance Director Oltmans, another Dutchman, performed the duties of the men's team coach in last month's FIH Champions Trophy in Bhubaneswar, where India finished fourth.

A month after Walsh's resignation, women's team's coach Neil Hawgood parted ways, refusing to extend his contract which ended in December 2014.

Newly-appointed women's team coach Thornton has been working with the New South Wales Institute of Sports in Australia for four years and has also worked with the Australian Under-21 men's team as its head coach.

Aa a Black Stick player, she represented the national side in the 1992 Barcelona Olympics, where the team finished eighth.

Speaking on the new appointments, Sharan said: "The most important criteria for selecting the two individuals was based on whether they are capable of taking Indian hockey forward.

"The national team has been performing well for the last few years and with the men's team already qualified for the Rio Olympics we are keen that the development process not just continues further but gathers pace in the next few months."

The Times of India


---

Paul van Ass, Thornton named coaches

Putting an end to speculations, the Sports Authority of India (SAI) on Friday announced Dutchman Paul van Ass and New Zealand's Anthony Thornton as coaches of the National men's and women's hockey teams respectively.

The decision was taken on Wednesday at a special selection committee meeting that included Sports Secretary and SAI Director General Ajit Sharan, Hockey India president Narinder Batra, high performance director Roelant Oltmans, Olympian Harbinder Singh and other SAI officials.

The 54-year old van Ass emerged winner from a three-member shortlist that also included compatriot Hans Streeder and Alexander Grey of Australia after several names had been doing the rounds for some time now.

Van Ass was the head coach of the Dutch u-21 team before from 2010-2014, leading it to a silver at both the London Olympics in 2012 and the World Cup at home last year. At the club level, the 54-year-old resurrected the fortunes of the Dutch Club H.C. Gazellen-Combinatie, taking it from bottom of the table to finalist.

Thornton, meanwhile, has been working with the New South Wales Institute of Sports in Australia and has been head coach of the Australia U-21 men's team.

The 47-year old New Zealander was part of the National side at the 1992 Barcelona Olympics, where his team finished eighth. He beat Canada's Mathias Ahrens and Fabian Gregory of South Africa, the other two shortlisted candidates, for the job.

Van Ass has not been associated with any team since the World Cup and is available to join duty immediately. Thornton, however, would have to serve a four-week notice and Hockey India is hopeful of getting him to take charge before the Hockey World League Round 2, to be held in Delhi from March 7-15.

Interestingly, the tenure for both coaches has not yet been finalised, though they are sure to continue till at least the 2016 Rio Olympics. While Batra said the federation had sought extended contracts for both van Ass and Thornton till the 2018 World Cup, SAI officials said nothing was decided yet. Both are expected to get almost the same remuneration as former coaches Terry Walsh and Neil Hawgood.

"The most important criteria for selecting the two individuals was based on whether they are capable of taking Indian hockey forward. The national team has been performing well for the last few years and we are keen that the development process not just continues but gathers pace," Sharan said.

The Hindu


---

Paul van Ass named Indian men's field hockey coach

NEW DELHI: Former Dutch national coach Paul van Ass was on Friday named the new coach of the Indian men's hockey team while New Zealand's Anthony Thornton was made the coach of the women's hockey team. The names were finalised at a special selection committee meeting headed by secretary sports Ajit Sharan, Hockey India (HI) president Narinder Batra, high performance director Roelant Oltmans, Olympian Harbinder Singh among other Sports Authority of India (SAI) officials.

The committee considered three names – van Ass, Hans Streeder of the Netherlands and Alexander Grey of Australia – for the position of men's coach while Thornton, Canadian Mathias Ahrens and Fabian Gregory of South Africa were in contention for the women's team. As coach, Van Ass led the Netherlands to a silver at the 2012 London Olympics after being given the job of rebuilding the team in 2010. He also served as the head coach of the Dutch Under-21 team.

Thornton has been working with the New South Wales Institute of Sports in Australia for four years and has also worked with the Australian U-21 men's team as their head coach. The former New Zealand star, now 47, represented his national side in the 1992 Barcelona Olympics. "The most important criteria for selecting the two individuals was based on whether they are capable of taking Indian hockey forward. The national team has been performing well for the last few years and with the men's team already qualified for the Rio Olympics, we are keen that the development process not just continues further but gathers pace in the next few months," Sharan said. "The sports ministry has already approved the proposal to appoint the two coaches and the paperwork is being processed with both of them."

The Daily Times


---

An enduring conundrum of foreign coaches

From S.Thyagarajan

The disgusting sequence of entry and exit of foreign coaches haunts Indian hockey for well over a decade now.

Always a subject that escalates the heat and passion, often contrived, over the argument on the need and relevance of foreign coaches, the Indian hockey establishments have always treated the issues in a cavalier fashion.

Even before the bitterness of the 'la affaire' Terry Walsh submerged into the area of amnesia a new name has cropped up.

The decision to rope in the Dutchman Paul van Ass to the assignment opens a fresh set of posers.

First of all, van Ass is not in the same league as the former stalwart Dutch strategists like Hans Jorritsma, Maurits Hendricks, or Roelant Oltmans.

A hard working taskmaster he has climbed the ladder through meticulous programming from the club level. His drive to shape up a new squad sans the super stars, Teun de Nooijer and Takae Takema engineered an encore of protest and media comments.

Unfortunately van Ass did not enjoy a very fruitful final year. His team lost the World Cup final at The Hague that is reckoned as a disaster. The 6-1 margin against the Aussies in the title contest was something unprecedented.

What van Ass has up his sleeve for the Indians more than a year more for the Olympics at Rio is difficult to prognosticate.

Perhaps the only extra advantage he may be having is that his senior in India is another Dutchman, Roelant Oltamans. The chemistry between the two Dutchmen will be more vibrant than it was with the Aussie.

All these bring us again to the capricious nature of hiring and firing foreign coaches. It is still incomprehensible to many why Hockey India manufactured a problem for Terry Walsh linking him with US Hockey as the ploy to show the door.

Many are convinced that he was sacrificed at the altar of an ego clash between the Sports Ministry and HI.

Sensitive as the subject of appointing a foreign coach has been, the whole approach continues to be haphazard.

It is unclear to many even now why India opted for someone like Gerhard Rach from Germany for the Olympics in Athens in 2004. Even several German journalists wondered what were the credentials of Rach that impressed the then IHF.

But the best offer for Indian came after the 2006 World Cup under IOC Solidarity Program at Monchengladbach providing the service of a stalwart like Ric Charlesworth.

The powers-that-be at that point of deliberately injected an element of mistrust and myopia to confuse the whole picture. Quite predictably, Ric felt humiliated and left in a huff.

In the last five years or so, India has changed coaches like a lady changing her handbags. A sincere, no-nonsense coach like Jose Brasa strove manfully to fit into an abominable system but failed after the 2010 World Cup.

The gregarious Aussie, Micheal Nobbs paid the price for the poor show at the Olympics notwithstanding his splendid start in the first Asian Champions Trophy at Ordos (Mongolia).

Terry Walsh provided everything positive and brought India back to the top of the podium at the Asian Games in Incheon and the silver medal at the Commonwealth Games at Scotland. No foreign coach so far has achieved a much as Terry.

Yet he was compelled to slip out of memory.

One may wonder whether these foreign coaches are ever ready with a resignation letter and a return air-ticket every day when they enter the field.

Only a soothsayer can predict what awaits the Paul van Ass.

Fieldhockey.com exclusive


---

Warriors hammer Delhi

Sabi Hussain

New Delhi - At a sparsely occupied Major Dhyan Chand National Stadium, Punjab Warriors continued to dominate the third edition of the Hockey India League when they beat defending champions Delhi Waveriders 3-1 here on Friday.

Some 300-odd fans occupied the largely empty stands as the HIL caravan chugged into the national capital. The players, however, didn't let it dampen their spirits and put in a fine performnace with Punjab Warriors registering a come-from-behind win after being a goal down in the first three quarters.

The dynamics of the game changed in the fourth quarter when Punjab Warriors converted a penalty corner and struck two field goals to hand Delhi Waveriders their first defeat of the league.

With this win, Punjab Warriors also avenged their last year's defeat to the same opponents in the summit clash of the HIL.

It turned out to be a horrible homecoming for the hosts as they were not only convincingly thrashed by the visitors, but also sent crashing to the last position in the six-team points table.

Punjab now sit pretty on the top with 17 points from four matches, while Delhi are bottom-placed with just five points from three games. Simon Child gave Delhi the lead when he deflected a neat pass from the left by Aakashdeep Singh into the goal in the third minute. But, that was the last time when Delhi players had a smile on their faces as the Punjab team made a mockery of their defence in the final quarter.

After trying hard for an equaliser in the second and third quarter despite chances coming their way —like when Malak Singh's field goal was turned down by the third umpire as the ball had touched his foot —  Punjab were left to do a catch-up job for most of the game.

Their fortunes changed in the fourth quarter when Christopher Ciriello converted a penalty corner to draw parity in the 50th minute. Four minutes later, SV Sunil provided his team the lead through a field goal.

In the 56th minute, Yousuf Affan pulled off an impressive juggling goal to put the final nail in Delhi's coffin. Affan's winner in the dying minutes of the game stole the show in front of the empty stadium.

There seems to be no takers for the HIL as fans kept away from the 7 pm start of the game. The "dhol" tried its best to make up for the empty stands. However, that too fell on deaf ears. While a senior franchise official blamed it on the poor marketing strategy employed by the HI, some sounded livid that the matches has been slated for a late evening start in the winters.

Van Ass, Thornton named India coaches

For the first time in the history of the Indian hockey, the national men's team will have a head coach and the High-Performance Director from a same country — The Netherlands. The Sports Authority of India (SAI) on Friday announced the appointment of former Dutch national coach Pau Van Ass as the new coach of the Indian men's hockey team. Anthony Thornton of New Zealand will be in charge of the women's national side.  The names were finalised at a special selection committee meeting headed by Secretary Sports Ajit Mohan Sharan, Hockey India president Narinder Batra, HI's High-Performance Director from The Netherlands, Roelant Oltmans, Olympian Harbinder Singh among other SAI officials. The Tribune had reported on January 28 that HI has forwarded the names of Van Ass and Thornton among others to the SAI for the top coaching job. After the unceremonious exit of Australian chief coach Terry Walsh, Oltmans had been entrusted with the task of identifying a new coach for the men's hockey team.

The Tribune


---

Punjab rallies to win

Uthra Ganesan



ON TARGET Affan Yousuf is delighted after slotting in Punjab Warriors's third goal. Photo: R.V. Moorthy

Five minutes was all it took for Jaypee Punjab Warriors to turn the game around and register its third win in four games to stay on top of the table in the third edition of the Hockey India League (HIL) here on Friday.

Punjab beat Delhi Waveriders 3-1 to not only avenge its defeat in the final last year but also deny the host its first win of the season.

With this, Punjab remains unbeaten this season and has 17 points, while Delhi is struggling at the bottom of the table with just five points. Three minutes into the game, Simon Child deflected in an Akashdeep Singh cross from the left to put his team ahead even as Punjab goalkeeper Jaap Stockmann was wrong-footed.

The turnaround began in the fourth quarter. Punjab's fourth penalty corner finally came good when Christopher Ciriello shot in low in the 50th minute.

Four minutes later, Agustin Mazzilli slapped the ball past the goalmouth from left to right and S.V. Sunil latched on to it to put the visitor in the lead.

And two minutes later, an unmarked Affan Yousuf put the ball into the top of the net.

The result: Jaypee Punjab Warriors 3 (Christopher Ciriello, S. V. Sunil, Affan Yousuf) bt Delhi Waveriders 1 (Simon Child).

The Hindu


---

Punjab Warriors stage fantastic fightback, beat Delhi Waveriders 3-1

NEW DELHI: Jaypee Punjab Warriors continued their impressive run and came from a goal down to beat defending champions Delhi Waveriders 3-1 and register their third consecutive win in the Hero Hockey India League here on Friday.

Down by a goal till the first three quarters, it took a spirited fightback from the Warriors to maintain their winning streak, pumping in three goals in the fourth and final quarter through Christopher Ciriello (50th minute), SV Sunil (54th) and Affan Yousuf (56th) at the Major Dhyan Chand National Stadium.

The Waveriders, however, were first to break the deadlock through Simon Child's field strike in the third minute.

The match started on a sizzling pace with both the teams creating opportunities from the word go.

But it was the Waveriders who struck early through Child's superb strike.

Child deflected in a fantastic diving goal after being set up by Akashdeep Singh's pass from the left flank.

Stung by the early goal, Punjab went on the attack but failed to find the back of opposition net as the first quarter ended with Delhi enjoying a slender lead.

Punjab Warriors continued to mount attack on the Delhi defence in the second quarter and in the process managed to equalise through Malak Singh. But the Waveriders went for the referral for an infringement and the goal was overturned as the hosts managed to maintain their one-goal lead at the halfway mark.

After the change of ends, the Warriors looked far more threatening as the Waveriders went on the defensive and managed to hold on to their lead at the end of the third quarter.

But Waveriders' defensive tactics completely backfired in the final 15 minutes of the match as the Punjab outfit mounted tremendous pressure on the home team's defence with continuous raids.

After wasting three penalty corners earlier, the Punjab Warriors finally managed to utilise their fourth set piece when Ciriello scored with a fierce dragflick to the right of Delhi custodian Erasmus Pieterse in the 50th minute.

The Warriors soon earned another penalty corner and it took a fine save from Pieterse to deny Varun Kumar's variation.

But four minutes later, the Delhi defence was once again caught napping by the Warriors frontline when Sunil scored with a powerful slap shot from top of the circle that beat Pieterse all ends up.

If that was not enough, an unmarked Yousuf registered his name in the scoresheet two minutes later when he finished off a Augustin Mazzilli move with a reverse flick to dash Waveriders any hopes of a comeback.

The win consolidated Punjab's position at the top of the table with 17 points from four games, while the Waveriders slumped to their first defeat after having registered two consecutive draws.

In Sunday's double header, the Waveriders will face debutants Dabang Mumbai at the same venue, while Punjab Warriors will play Kalinga Lancers in Bhubaneswar.

The Times of India


---

Kalinga Lancers eye revenge against UP Wizards

BHUBANESWAR: Kalinga Lancers will have revenge on their minds as they lock horns with Uttar Pradesh Wizards in a league match of the Hero Hockey India League (HIL) on Saturday.

The Lancers suffered a disheartening 1-5 defeat against Uttar Pradesh Wizards in their previous encounter at Lucknow and the hosts is practicing various strategies to put-up a stimulating performance on their home turf.

Jude Felix, Coach, Kalinga Lancers said: "Yesterday's performance was very disappointing for the team but we are not demoralised. We still have the best players and young talents, who have ability to win any match. Boys have the confidence and now we have understood our opponents' game, so we are looking forward to a good competition in tomorrow's match.

Uttar Pradesh are upbeat after their one-sided win against Kalinga. The Wizards had scored four goals in the last eight minutes and earned five crucial points to push the Lancers to third position.

Their players are riding high on confidence after getting back their lost form and will go all out to maintain their winning spree tomorrow.

With the Dutch player Wouter Jolie and penalty corner specialist VR Raghunath as defenders, the Lucknow-based team will utilise all their big guns such as Jeroen Hertzberger of Netherlands and SK Uthappa in the forward line.

Dutch players Bob De Voogd and Alexander Baart along with Australian Eddie Ockenden will be mending the midfield, while Kalinga will have to find a way to get past world-class goal-keeper PR Sreejesh.

Roelant Oltmans, coach of Uttar Pradesh Wizards said, "The rotation of captain in each game is working positively in our team. We won the last match under our new captain Wouter Jolie with a huge margin and we will try something different in tomorrow's match as well.

"We will stick to our strategy of using new players and changing formations during the match tomorrow. Though this is an away match, our boys are confident of showcasing their best skills against Kalinga Lancers tomorrow."

The Lancers too have plenty of talented players in their squad, including Australia's Russel Ford and Lalit Upadhyay in the forward line, Ryan Archibald of New Zealand and skipper Vickram Kanth in midfield along with Argentinean Gonzalo Peillat and Gurjinder Singh in the defence line.

The Lancers will have to stick to their strategy of aggressive attacks from the first whistle and maintain pressure on the opponents.

"We committed silly mistakes in the defence line. We focussed more on the midfield and lost our ground in the fourth quarter. We are working on those mistakes and will try not to repeat those. Tomorrow is new match at our own turf in front of our fans. We are confident that we will deliver better results this time," said Kalinga skipper Vickram Kanth.

Uttar Pradesh Wizards player Wouter Jolie said, "After yesterday's win, our team is now in a good shape and we will take this form forward. Four goals in last eight minutes is really a motivating factor for us and we will continue with our aggressive game-plan.

Our team is now better composed and combinations are working well. There is still room for improvement and we will work on new things in tomorrow's match. We are looking forward to face Kalinga Lancers again."

The Times of India


---

Haryana hockey: Coaches, players raise questions

Chandigarh - How can an individual, all by herself, select a state hockey team, appoint herself as the coach, and then eventually go as the captain of the team to the National Games? Players and coaches from Haryana are up in arms and have questioned the Sports Minister and the sports secretary's role as mute spectators.

Former India player Pritam Siwach has been selected the captain of the state team for the ucpoming National Games in Kerala. Siwach, who quit six years back (2008), first acted as the selector, nominated herself as the coach of the team but will be playing as the skipper now. Her husband Kuldeep Siwach instead would be coaching the team now. The 18-member squad has 13 players from Sonepat, all training under Pritam Siwach.

The three-member committee constituted by IOA to sponsor the participation of Haryana teams has already washed its hands off the issue. Dalel Singh, a member of the committee, said, "We have no role in t he selection process. Our function is just to forward the names provided by the associations to the IOA. If there is any discrepancy, the aggrieved person should approach Hockey India (HI), their parent body.

Hisar-based hockey player Udita, who was sidelined during the selection, said, "The selection process is flawed. Last year there were only two players from Sonepat in the Haryana team. How come there are 13 players this time for the National Games. The state government should intervene."

Shahbad coach Baldev Singh said, "Either the sports minister and secretary does not know of these developments or are not concerned."

Coach Azad Malik has questioned the entire selection criteria and asked to make the details public. "They should tell when and where trials were announced. Where was the conditioning camp held? Who all were the coaching staff and how many girls took part in the camp," he asked.

The Tribune


---

'Support the national game or abolish it'

Mohsin Ali

ISLAMABAD - Pakistan hockey team would not be able to participate in the all-important Olympic qualifiers if the bailout package is not released by the mid February.

Pakistan Hockey Federation secretary Olympian Rana Mujahid expressed these views during Pakistan hockey teams visit to National Press Club on Friday. Rana was accompanied by Olympian Asif Bajwa, Anjum Saeed Abu Zarr, Tauseeq Ahmed, M Amjed, Arsalan Qadir, Dilbar Hussain and other office bearers of the federation. NPC president Shahryar Khan, secretary Tariq Chaudhry, finance secretary Waqar Satti, Sports Committee chairman Mohsin Ali, secretary Afzal Javed, Nasir Abbas Naqvi along with others were also present on the occasion.
While speaking at the occasion NPC president Shahryar urged Prime Minister to safe the national game from completely wiping out from the country and have some mercy on national game and release the grant before it's too late.

"Government must cut its expenditures as meager Rs 3.5 million annual grant from Pakistan Sports Board is not enough to win medals. It is the right of the players to be given due recognition. They have won the hearts and minds of the masses and now in return they should be given their due status and hefty incentives. If national game suffer and God forbids green shirts fail to appear in Olympic qualifiers, then no one else but PM would be directly responsible for the debacle."

While sharing his views former PHF secretary Olympian Asif Bajwa described hockey is the one and only sports, which had won 67 medals alone for Pakistan. "It is a world record as no other country had managed to do so in one single sports. I don't know why PM is not ready to listen to the genuine demands of the players and federation. It is very important to settle the issue once n for all. PM should invite team and officials and conduct a clear the air meeting."

Asif said for the last six months the summary of special grant lies on the table of the PM but for one or another reason it is sent back with objection and now after removing all the objections it's almost three months the summary is waiting for approval but PM yet to sign. "Let me tell one thing very clear to all. If Pakistan Hockey team fails to appear in Olympic qualifiers, then not a single Pakistani team or player would have the chance of appearing in the 2016 Olympics directly. Only wild cards would be issued to few certain athletes but hockey would not even considered for wild card. The governments had made a habit of destroying every institution which had the word national in it whether it is national game, national airline or any other given national institution. It is my humble request to PM, who is also the patron of the PHF to help Pakistan hockey or else give directives the game should be abolished once and for all."

While sharing his views secretary PHF Olympian Rana Mujahid said: "I am grateful to NPC for inviting hockey team and gave us an opportunity to unearth biter realities and tell the exact story to the entire nation. Only last year we had to miss four international events and we had to pay heavy penalty for failing to fulfill commitment as we paid Rs 1.2 million in panlaties. We are only demanding Rs 500 million from government, which is no big deal for the government. But if the grant is not released by the mid of next month all our efforts would be vanished and Pakistan hockey would suffer badly and players had to face the burnt. When asked about exact funds being given to federation in last five years, Rana said federation was given Rs 700 million grant in last 5 years and Auditor General of Pakistan conducted the audit of the federation and gave clean chit as he found no irregularities in funds utilization.

Rana said if international events could be restored in country we didn't need any government help as we could easily generate funds but under present circumstances, when international teams are more than willing to come and play in Pakistan but when we seek security clearance from concerned departments, they are not ready to give clearance and under present scenario we have to whole-solely rely on government funding. He said Pakistan participated in the Champions Trophy just because of generosity of Omer Associates, Governor Sindh and Malik Riaz. "Had they not come forward, we were almost certain to miss Champions Trophy as well. I once again request Prime Minister to help federation and players and order release of special grant as soon as possible. It is my firm belief Pakistan hockey is on right track we have direction and plans to take hockey back to old glory days, but for that purpose we need government support."

The Nation


---

Paucity of fund cripples development of hockey

Kashif Abbasi

ISLAMABAD: Hockey — the national game of the country — is seeking attention of Prime Minister Nawaz Sharif to stay alive.

"Due to shortage of fund, the national game is going to die. Our participation in Sultan Azlan Shah and Olympic qualifiers is hanging in the balance," Pakistan Hockey Federation secretary Rana Mujahid said.

"If fund is not released to us, we will miss all these opportunities," he added.

Speaking at a reception hosted by the National Press Club here on Friday evening in honour of the national hockey team for their outstanding performance in the Champions Trophy and Asian Games, Rana Mujahid and Olympian Asif Bajwa said that federation was facing extreme paucity of fund.

"Our request of releasing Rs500 million has been lying at the PM office for the last several months. We request immediate approval of our file in greater interest of the game and the country," Mujahid said.

He said that so far the national game earned 67 medals for the country.

"We were world champions, we were Olympic champions, we won almost all major titles, but unfortunately, this game is not being given due attention," he added.

"If they (government) want to end hockey they should do it openly instead of killing it slowly," he lamented.

The secretary said the PHF did not receive any grant from the PM office during the last 20 months.

"The PM is the patron of hockey and he should listen to our plight," he said and added that by utilising available meagre fund the PHF had participated in Asian Games and Champions Trophy.

"In both the mega events our performance remained satisfactory as we finished as runners-up despite all odds," he said.

Speaking on the occasion, Bajwa said that hockey which brought laurels for Pakistan was going to die.

"All national organisations in this country have been destroyed one by one. And now it is the turn of hockey," he said and urged the government to come forward to save the national game.

President National Press Club Shaharyar Khan warmly greeted the national team for their brilliant performance in Champions Trophy and Asian Games.

He said the government should extend helping hand to the PHF.

"I kindly request the prime minister to issue special grant for the national team," he added.

National players Touseeq Arshad, Arslan Qadir, Mohammad Amjad, Dilbar Hussain and other officials of the PHF attended the reception.

Talking with Dawn, centre forward Touseeq and Arslan also demanded of the government to release fund for keeping the national game alive.

They said the national team was in dire need of international exposure and number of domestic tournaments.

Dawn


---

Hockey team visits Army Public School

LAHORE: The Pakistan hockey team visited the Army Public School, Peshawar to express solidarity with its students, principal and staff.

According to a press release issued by the Pakistan Hockey Federation (PHF), emotional scenes were witnessed when PHF president Akhtar Rasool, head coach Shahnaz Sheikh, chief selector Islahuddin Siddiqui and players of the national hockey team visited the school.

They laid a floral wreath on a monument in the school ground and offered fateha for the departed souls.

Dawn


---

PIA to lock horns with bankers in hockey final

Kashif Abbasi

RAWALPINDI: After winning their respective semi-finals, Pakistan International Airlines (PIA) and National Bank of Pakistan (NBP) have advanced to the final of the Chief of Army Staff Challenge Cup.

In the first semi-final of the day, PIA thumped SSGC 4-1.

The SSGC, whose captain Shakeel Abbasi left them the other day to participate in international league matches, gave a good fight in first two quarts.

PIA's Nohaiz Malik on a short-corner scored their first goal in the third minute of the game. However, SSGC players made good comeback and made several moves, though lacked finishing.

At the end of second quart, PIA were leading the match 1-0. Rizwan Ali equalised for the SSGC in the 34th minute.

In the 40th minute, Kashif Ali scored second goal for his side and two minutes later, Atif Mushtaq banged in with another goal.

Zubair Mehmood scored their fourth goal in the 50th minute, ensuring their convincing victory.

In the second semi-final, National Bank defeated Army (Seniors) 2-1.

It was relatively a good fight between the two but the bankers managed to come out of that victorious after a nerve-wrecking contest.

Army received two penalty-corners in the very first minute of the match but they could not utilise them.

From the NBP side, Ali Shan scored a beautiful field goal in the fifth minute. Forward Bilal Qadir doubled the lead in the 42th minute.

Army's only face-saving goal was scored by Mohammad Imran in the very last minute of the game.

The final will be played at the Army Hockey Stadium on Sunday.

Dawn


---

PIA, NBP in COAS Hockey final

RAWALPINDI - Pakistan International Airlines (PIA) and National Bank of Pakistan (NBP) booked their places in the final of the First Chief of the Army Staff Challenge Hockey Cup 2015 after defeating their respective opponents in the semifinals played here at the Army Hockey Stadium Friday.

In the first semifinal, one of the pre-tournament favorites PIA lived up to the expectations as they thrashed one of the surprise package Sui Southern Gas Company (SSGC) 4-1. In the second semifinal Army Senior's hopes were dashed by a star-studded National Bank of Pakistan (NBP) side, who carved out a hard-fought 2-1 victory against crowd favourites as entire stadium was backing Army team and expecting to inflict highly unlikely victory against bankers who had six international players in their ranks.

PIA started the match on a very high pace and put SSGC under enormous pressure right from the first quarter and it didn't took them long before scoring the first goal in the 7th minute through Nohaiz Malik. Seven minutes later Kashif Ali doubled the advantage through a beautiful field goal in the 14th minute.

SSGC reduced the deficit in the third quarter when their striker Imran scored a delicate goal in the 37th minute to make things a bit interesting. But SSGC failed to take advantage form their early domination and three minutes later Atif Mushtaq scored the third goal for PIA to restore two-goal cushion. It didn't take too long for airliners to complete the rout as Zubair Mehmood scored the 4th goal in the 47th minute to all but end any hope of SSGC comeback and match ended with the 4-1 result in the favour of PIA.

In the second semifinal, NBP had to dig deep to win nerve-wrecking encounter against a very spirited Army Seniors side. Ali Shan and Bilal Qadir dealt their ambitions a hammer blow as they scored two early goals, which all but end Army's dream run in the event which were mainly on the shoulders of national hockey team skipper M Imran. Despite pilling tremendous pressure, Army forwards fail to score in the first three quarters and when Imran finally scored a goal it was too little too late for the hosts, who had to settle for a bitter defeat.

Army and Sui Southern Gas Company will lock horns for the third position match today (Saturday) while the mega final of the event would be held on Sunday and Chief of Army Staff General Raheel Sharif is most likely to grace the occasion as chief guest.

The Nation


---

COAS Hockey Cup: PIA, NBP make their way into final

KARACHI: PIA and NBP made their way into the final of the first Chief of the Army Staff Challenge Hockey Cup, winning their respective semi-final matches at the Army Hockey Stadium in Rawalpindi yesterday.

In the first match, PIA faced little resistance from SSGC as they outclassed them 4-1 in the first semi-final. Nohaiz Malik started the scoring with a sixth-minute goal to give PIA the lead, which Kashif Ali doubled in the 22nd minute.

Atif Mushtaq and Zubair Mehmood scored two more goals, in the 35th and 47th minutes, to put the tie beyond SSGC. Shakeel Abbasi then scored a consolation six minutes from time.

In the second semi-final, NBP fought hard in a nerve-wracking match to book their place in the final after defeating Army Seniors 2-1. The Bankers scored their first goal in the 11th minute of the match through Ali Shan's field goal.

Then a superb flowing move resulted in Bilal Qadir beating the goalkeeper in the 29th minute to make it 2-0. Army skipper Muhammad Imran got one back in the 51st minute with a penalty corner but there was to be no comeback as NBP held on to reach the final.

The final between PIA and NBP will be played tomorrow, while Army and SSGC will fight it out for third place today.

The Express Tribune


---

Ken Pereira set to continue stellar career representing Canada

5 Days until 2015 Indoor World Cup

Shaheed Devji




To get a sense of how long Ken Pereira has been playing field hockey at the international level, one need only look as far as his own interactions.

"It's funny," says the 41 year-old who has represented Canada at almost every major tournament in which field hockey is contested. "Every time I tell somebody I'm going to the World Cup a lot of them are asking me 'Oh are you going as the coach?' And I tell them 'No, I'm still playing.'"

"That kind of stuff doesn't bother me at all."

And why would it?

Not only is he still playing, but Pereira is headed to the 2015 Indoor World Cup in Leipzig, Germany as a leader of the Canadian team.

It will be his third time at the tournament, but the Unionville, Ontario native isn't counting. He's just doing what he has always done, looking to have a good time and play his best.

"I don't think about it as my last, I don't think about it as my first," he says. "It's just another tournament that I want to do really well in on the world stage for Canada."

It's a formula that has worked quite well.

Pereira is the leader in international outdoor matches played for Canada and is among the leaders in indoor caps.

He has been to Olympic Games, World Cups, and Commonwealth Games, where he was Canada's flag bearer. And for Pereira, as much the results are important, there's nothing more important than the balance of competing and taking in the whole experience.

"Coming from Canada, you don't get to play in major events too often," he explains. "We always struggle to qualify, funding is always an issue, so when we do get there we definitely have to enjoy it and experience it but also know what we're there for and that's to compete and to do as best as Canada can do."

It's a sentiment he has been trying to impart on the younger members of the team – of which there are many – before the begin play at the World Cup on February 4th.

"I always just tell them have fun with it and have fun with the crowd and enjoy everything as much as you can," he says in his trademark relaxed tone.

"When you think of it a lot of these guys have been playing this game since they were ten, so it's just another game and whatever happens within the boards you can control and whatever happens outside you can't control."

Admittedly, Pereira says months of training, with only a few matches, can take a toll on someone who has trained a countless number of times for a countless number of tournaments. That's where he says the youth on this year's roster has kept him motivated along the way.

"It happens when you've been training for the last six months and you get to January where you're a couple weeks away," he explains. "You get into training and maybe you're not all there and you get a couple of kids who are seventeen years old who are running around like crazy, they're excited, and you see them and you kind of feed off their vibe."

Now, the time for training is over and what's certain is there will be no lack of excitement when it comes time to play for keeps in less than a week.

"For me it's pure excitement once I get there," he says. "I know once I get there I'm going to feel like I'm 20 years old and once I get on the court.

"I want to be going crazy, running around, and doing whatever I can to help Canada."

Which is exactly what Ken Pereira does best.

Field Hockey Canada media release


---

Men's World League Round 2 roster announced

Road to Olympic qualification begins on February 28 in San Diego

Field Hockey Canada has finalized the roster of athletes who will begin the road to 2016 Olympic qualification at the International Hockey Federation's Men's World League Round 2 in March.

Eighteen men have been selected to wear the red-and-white for the Canadian Men's National Field Hockey Team in the first key competition of 2015, which will take place from February 28 to March 8 in San Diego, California.

The Canadian roster is made up of sixteen athletes from British Columbia, one from Alberta, and one from Ontario. Veteran Scott Tupper will serve as team captain.

"There are always some surprises and that's the great thing about it," says Canadian Men's National Team head coach Anthony Farry. "Some guys will come from left field and do quite well and we've got a couple of those."

Of the eight teams in the competition, the top three finishers at World League Round 2 will earn spots in World League Round 3 set to take place in June in Buenos Aires, Argentina. The top four teams in Round 3 will earn qualification to the 2016 Olympic Summer Games in Brazil.

The Men's National Team is coming off a training tour in Santiago, Chile, during which they played six test matches against the host Chileans. In the final match of the series, the Canadians won handily by a score of 4-0, and finished with a record of 3W-1D-2L.

"Winning that last game in Chile – under difficult circumstances to say the least – is a big thing for us," adds Farry. "It's a big boost for our confidence."

Two officials, Ozias D'Souza (Judge) and Deric Leung (Umpire) will also represent Canada at World League 2.

In its first match of the tournament, Canada will play the host United States on Saturday, February 28 at 10:45am pacific time.
Canadian Men's National Team World League Round 2 Roster
| | | |
| --- | --- | --- |
| Name | Position | Hometown |
| Adam Froese | Defender | Abbotsford, BC |
| Antoni Kindler | Goalkeeper | Vancouver, BC |
| Ben Martin | Defender | Vancouver, BC |
| Brenden Bissett | Forward | New Westminster, BC |
| David Carter | Goalkeeper | Vancouver, BC |
| David Jameson | Midfield | Vancouver, BC |
| Devohn Noronha-Teixeira | Forward | Mississauga, ON |
| Gabriel Ho-Garcia | Forward | Burnaby, BC |
| Gordon Johnston | Defender | Vancouver, C |
| Iain Smythe | Forward | Vancouver, BC |
| John Smythe | Midfield | Vancouver, BC |
| Mark Pearson | Midfield | Tsawwassen, BC |
| Matthew Guest | Forward | Calgary, AB |
| Matthew Sarmento | Forward | Vancouver, BC |
| Paul Wharton | Midfield | Vancouver, BC |
| Scott Tupper (Captain) | Defender | Vancouver, BC |
| Sukhi Panesar | Midfield | Surrey, BC |
| Taylor Curran | Midfield | North Vancouver, BC |
Canadian Men's National Team World League Round 2 Staff
Head Coach – Anthony Farry
Assistant Coach – Paul Bundy
Team Manager – Celia Plottel
Physiotherapist – Robert Dunlop
Performance Analyst – Geoff Matthews
Canadian World League Round 2 Travelling Officials 
Judge – Ozias D'Souza
Umpire – Deric Leung

Field Hockey Canada media release


---

Wake-up call for Thunder champions

By Jugjet Singh

THREE-TIME consecutive double winners Thunderbolts received an early wake-up call when they were held to a 2-2 draw by Petaling Jaya City Council (PJCC) in Division One of the MHC-MILO-NSC Junior Hockey League at the Bukit Jalil Stadium yesterday.

Thunderbolts took a 2-0 lead, but after that, they started missing sitters and two penalty corner goals from PJCC saw them sharing the spoils.

The Thunderbolts goals were scored by Zulharmizan Awang (12th) and Husaini Husin (40th) while the hero for PJCC was  Husaini Abu Bakar who nailed his brace in the 60th and 69th minutes.

"You can call it an early wake up call for us as we failed to score sitters and the penalty corners did not work as well today (yesterday). And I believe if there was more playing time, PJCC could have even won the match because they were all over us in the last five minutes of the match," said Thunderbolts coach Wan Roslan Wan Rahman.

However, Wan Roslan said their title quest is still on sight: "The draw is a small set-back but I believe we are still good enough to defend out League title."

PJCC manager Zainal Abidin was all smiles, as he expected a hammering from the champions.

"After two strong matches by Thunderboolts we were ready for the worse, but after a second half-shelling the boys finally started to take control of the match and we are very proud of them," said Zainal.

In another Divison One match, UniKL hammered BJSS seniors 6-1.

"We still have many more matches to go and some of the teams like UniKL will be hard to crack, so this draw should motivate my players to play much better in the remaining matches," said Zainal.

RESULTS: Division One: Thunderbolts Jnrs 2 Olak PKDT Tigers 1; PJCC 2 Thunderbolts 2; UniKL 6 BJSS 1.

Division Two: Group A: 1MAS Perak 2 KLSS 2, SM Sains Raja Tun Azlan Shah x MSNT-PHT x.

Group B: 1MAS Perlis 2 ISMO PHA 2; MSSD Larut Matang 0 MSS Kedah 10.

Group C: 1MAS Malacca 2 1MAS TBSS Tampin 2, SMK Tun Hussein 1 SMKDBL PHJ 9.

TODAY: Division One -- KLHC v Thunderbolts (KLHA, 4.45pm),  SSP Thunderbolts v SSTMI Jnrs (Temerloh, 4.45pm), UniKL v Politeknik (NHS II, 6.45pm).

Division Two: Group A --    Tunku Abdul Rahman v MSN-PHT (Azlan Shah, 4.45pm); Group B: SM Agama Matri v ISMO PHA (Kangar, 4.45pm), 1MAS Penang v MSS Kedah (Sg Petani, 4.45pm); Group C: SMSJ Knight v SMK Datuk Taha (Batu Pahat, 4.45pm).

Jugjet's World of Field Hockey


---

Thunderbolt silenced by MBPJ in Junior hockey league

By S. Ramaguru



SSTMI Thunderbolt's Muhammad Firdaus Omar (right) collide with MBPJ's Kamal Ridzuan Kamaruddin during the Malaysian Junior Hockey League match in Bukit Jalil on Friday. - SAMUEL ONG/ The STAR

KUALA LUMPUR: Over-confidence put paid to defending champions SSTMI-Thunderbolt's attempt to win their third consecutive match when they were forced to share points with Petaling Jaya City Council (MBPJ) after a 2-2 draw in a MHC-MILO-NSC Junior Hockey League match.

Universiti Kuala Lumpur (UniKL) took advantage of the slip by both teams and stormed to the top of the standings when they defeated former champions Bukit Jalil Sports School 6-1 in another match at the National Hockey Stadium in Bukit Jalil.

All three teams were unbeaten after two matches. SSTMI will rue the missed chances and also their inability to take advantage of a two-goal lead. The PJ side scored two late penalty corner goals through Mohamed Husaini Abu Bakar in the 60th and 69th minutes.

SSTMI scored their goals from field attempts through Mohamed Zulhamizan and Hussaini Mohamed Husin in the 12th and 40th minute respectively.

SSTMI team manager Adam Izamry Idrus said there was too much individual play from the players and over-confidence also played a part in the draw.

"I have said many times that no team can be taken for granted. MBPJ are a title contender and have prepared well," said Adam.

"But I am sure the players would have learnt a lesson form the match and will bounce back against KLSS-KLHC tomorrow (today)."

MBPJ team manager Zainal Abidin said their ability to restrict their penalty corner takers paid off.

"Our strategy worked well and we scored both goals from set-pieces. We are very happy with the result as it keeps us firmly in the title run. I am sure we will be a match for any team with this kind of performance," he added.

The Star of Malaysia


---

EuroHockey Championships to be broadcast live



England's Women walk out at Lee Valley 2014

England Hockey and the European Hockey Federation are delighted to announce that the BBC will broadcast the EuroHockey Championships 2015, which will be staged in London on Queen Elizabeth Olympic Park, on 21-30 August.

The BBC's red button coverage of the 2013 EuroHockey Championships in Belgium reached a significant audience, with fans tuning in to watch England's women win a silver medal, and now the event is taking place on home soil.

Exposure of hockey at London 2012 has contributed to a 40% increase in club participation in the sport amongst U16 age groups, and adult initiatives like Back To Hockey have proved hugely successful. The broadcasting of the 2015 tournament will no doubt contribute to boosting both the visibility of the sport and the amount of people inspired to play.

All of England and Scotland's pool matches will be shown on the BBC red button, BBC Sport website and the free smartphone app, with the men's and women's finals on BBC Two should a home nation qualify. This will be supported with coverage on BBC Radio 5 live and the best of the tournament news on the BBC Sport website.

With the event being held at England Hockey's Olympic legacy venue Lee Valley Hockey and Tennis Centre, spectators will be able to enjoy hockey whilst reliving the memories of London 2012. Demand for tickets has been as high as expected with the Men's Final already sold out – the venue will include a fan park and entertainment for all ages, with the typically family-friendly atmosphere of hockey matches an attraction for many spectators.

The EuroHockey Championships 2015 form part of UK Sport's Gold Event Series – an ambitious programme to bring up to 70 world-class events to the UK by 2019.

England Hockey's Chief Executive Sally Munday commented: "We're delighted that the BBC will be broadcasting this flagship event. The BBC's coverage reaches significant numbers of people via their various platforms, and we are excited about this opportunity to grow our following and participation in hockey. This is the first of four consecutive major events at our new venue culminating in the 2018 Women's World Cup. We look forward to the nation getting behind our teams and enjoying world-class sport during this exciting period".

England Hockey Board Media release


---

Dog days for Flanno

Hockeyroo superstar reveals her penchant for pooches



(Photo: Treebyimages)

Anna Flanagan is a hockey superstar with a drag flick that sends shudders down the spines of the opposition's defence but, during an interview while playing at the Champions Trophy in Mendoza, it emerged that the 23-year-old defender has a softer side.

Animal-loving Anna has two dogs at home in Australia – a cross-bred mongrel called Meatball, and Shaggy the Belgium Shepard. But Anna's love of dogs is no surprise – her mother is heavily involved in a local Perth charity called the Shenton Park Dog Refuge Home, a charity that Anna supports, both through joining in fund-raising activities and helping to raise its profile through her status as a hockey icon.

"The charity is called the Dogs' Refuge Home. It rescues and re-homes Perth's unwanted and abandoned dogs, sometimes providing support and care for up to 150 dogs at a time while a suitable home is found," explains the 2013 FIH Young Player of the Year. "More than 300 volunteers support the staff in providing love and care to the dogs as well as ensuring they are walked each day. The Home operates under a pro-life policy and no dog is euthanised on economic grounds. That is why it started – to give Perth's unwanted and abandoned dogs a second chance and to save them from death row."

Since it opened in 1935, the home – which celebrates its 80th anniversary this year – has rescued and re-homed more than 400,000 dogs. It is one of the oldest animal rescue organisations in Australia. And any dog finding its way to Shenton Park can consider itself one lucky pooch, as more than 150,000 stray dogs are euthanised in Australia every year.

Anna, whose nickname among her fellow Hockeyroos is 'Flanno', is an ambassador for the annual dogs home charity walk. She says: "The home relies on donations and therefore it is important to raise as much money as possible, so the dogs have the best facilities and care they can get. I think it is important to give back to your community and use your profile in a positive way.

"I don't think being part of a charity, as a hockey player, is something that is done to grab headlines but rather it puts into perspective how lucky we are and how we can help others, in this case dogs, and make their lives a little bit easier."

Alongside the charity walk, the Dogs' Refuge Home also runs a 'Dogs for Dogs' day, where people are encouraged to have barbecues and donate proceedings to the charity and 'Jog for Dogs' – a fun run for dogs and their owners.

"As part of my life as an international hockey player, you do visit countries where you see a lot of stray dogs. It is hard seeing all the strays and not being able to do anything about it, and that is why the dogs home in Perth is an amazing initiative."

FIH site