All the news for Thursday 27 November 2014

Ireland Draw 3-3 with France in second test.




Ireland's men drew 3-3 this morning with France in their second test which has taken place in Lille in the last 18 hours as they continue to prepare for the upcoming World League 2, Olympic Qualification tournament. Ireland's goals came from Neal Glassey (on the occasion of his 2nd cap); Conor Harte and Shane O'Donoghue. Today also marked the occasion of keeper Mark Ingrams 1st cap and Mikie Watt's 150th cap.

Irish Hockey Association media release


---

Magical Luciana Aymar will be a woman possessed for Argentina, says England women's coach Danny Kerry

England Hockey women attempt to go one better at Champions Trophy after falling agonisingly close to Commonwealth gold in the summer

By Rod Gilmour



Argentina captain Luciana Aymar celebrates once more in Las Leonas colours Photo: ADY KERRY

Danny Kerry, the England women's hockey coach, says his side will likely have to quell, in Luciana Aymar, a "woman possessed" when their Champions Trophy campaign starts in Mendoza this weekend.

Aymar, 37, will play her last tournament for Argentina on home soil before retiring after a stellar 15-year career which incorporated World Cup wins in 2002 and 2010, as well as five Champions Trophy titles.

Her attempts at a sixth Champions Trophy success will not only usher in a new dawn for Argentine hockey without their most talismanic figure, but also herald the start of Kerry's first official tournament in charge of England as they attempt to back-up their Commonwealth Games silver after a poor summer World Cup.

England, who play Glasgow winners Australia in their opening match on Saturday, will meet Argentina on Tuesday, a key game which will decide the quarter-final berths of the eight-team tournament in Aymar's homeland.

Kerry, who is also England Hockey's performance director, was under no illusions of the task facing his side when they take to the pitch in front of a sell-out 5,000 crowd at the Estadio Mendocino.

Conversely, Argentina's technical director, Santiago Capurro, admitted that he would feel un orgullo bárbaro - barbaric pride - at overseeing one of Aymar's last games at the helm of Las Leones.

"In 2010, when they had the World Cup in her home town of Rosario, Aymar was like a woman possessed," said Kerry.

"She's always had a quality to open up the opposition with the ball but she worked collectively for the team throughout that World Cup. She brought a quality that most people felt that perhaps wasn't necessarily there.

"So one of two things will happen in Mendoza. Either she'll repeat 2010, wanting to win big in her last tournament for the national team or it will be about what she can do with the ball, that magical moment where she can float through and occupy players' minds.



England celebrate shoot out win to reach Commonwealth final

"They are both threats really. Sometimes if she doesn't work that hard back in defence means that she is up high in position so if you turnover the ball cheaply you are managing her counter attack."

Kerry calls Aymar's threat a "double-edged sword", rather like his view on the tournament itself.

"It's one of my favourite tournaments to go to, but we have an Olympic qualifier in June and everybody there will be using it for the developmental purposes," he admitted.

"Everyone will want to win every match but, at its core, coaches will want to develop a team, and get to know what players are like against quality sides. We want to win every game we play by improving game by game."

When England Hockey issued its release for the women's squad for Mendoza, it also left the side without a captain after the omission of Kate Richardson-Walsh. Instead of appointing one for the Champions Trophy, a "senior leadership group" would take the squad forward in Argentina.



Georgie Twigg, left, is now a senior member after debut against Argentina in 2010

"The squad as a whole has a leadership group in place throughout the year," Kerry clarified. "They will assume the duties of leading the team in Mendoza.

"We will have to name a designated captain for each game but will do this on arrival at the Champions Trophy. Whoever this may be, the responsibilities of the leadership group will remain the same."

For now, Richardson-Walsh, as with wife Helen, back training after injury, are still centrally contracted players.

"Kate will resume training in January 2015 with the rest of the squad," Kerry added. "She will compete for a place in the same way all the other players do."

The Telegraph


---

Hager sets sights on top-five finish with raw team

BRENDON EGAN



SKIPPER: Anita Punt will captain the Black Sticks women at their Champions Trophy tournament, beginning on Sunday in Argentina. GRANT MATTHEW/FAIRFAX NZ

Eliminating costly lapses from their play will be critical if the Black Sticks women are to compete with the world's best at the Champions Trophy in Argentina.

New Zealand's squad has a vastly different look to it from June's World Cup - where they placed fifth.

Outstanding midfielder Kayla Whitelock is pregnant with her first child and is having a year's break from international hockey. Defender Emily Naylor - the most capped player in New Zealand women's history - is also taking time out.

Prolific striker Katie Glynn is sidelined with a knee injury, while Gemma Flynn is having a breather ahead of another busy year of hockey in 2015.

Chuck in the retirements of Krystal Forgesson and Bianca Russell, and the Black Sticks will be missing over 1000 combined caps of experience.

Hager is realistic about the expectations of a rebuilding New Zealand side at the Champions Trophy, which begins in Mendoza on Sunday morning (NZ time) against Japan.

He said a top-five effort at the eight-team tournament would be a strong return given the high number of changes.

Just three players in the Black Sticks' squad have played over 100 tests. Nine of the team are aged 22 or younger. If the young New Zealand side are to upset the top teams in the world, Hager said they had to cut out their inconsistent periods of play.

Those mistakes hurt them during their warmup games against Argentina this week, which they lost 2-1 and 3-0.

"We've got a young group. You're going to have patches where you lack consistency throughout a game. What we've got to do is try to reduce those patches.

"We've got be stronger in those small patches of play. That's when we're conceding the goals, because we're a young group and young defensive side."

New Zealand have been grouped with World No 1, the Netherlands, and Asian sides, China and Japan in pool play. They will then cross over with the other group at the quarterfinal stage.

China and Japan have been targeted as must-win games if the Black Sticks are to finish second in the group.

During their recent home series against the United States and Australia, several new faces made their debuts, including Shiloh Gloyn, who has been selected for the Champions Trophy.

Hager felt greater depth and competition for places had been created this year.

He bemoaned the fact, New Zealand did not have an 'A' side, who travelled overseas regularly.

"We've got the depth there. It's giving the experience and exposure to them. That's what we don't have compared to a lot of the other teams.

"Our depth has to learn on the run. We've got players coming into the Australia and USA series, never having played an international before."

Anita Punt, who has been in impressive goal-scoring form this year, will captain New Zealand at the Champions Trophy.

Stacey Michelsen and Sam Charlton have been named in the senior leadership group.

The 2014 hockey year has been a taxing one for the Black Sticks. They have already amassed a whopping 40 tests, which began in February with a three-nations series in the United States.

Hager said they were determined to finish the year strongly.

Stuff


---

Roper out of Champions Trophy



Wimbledon's Phil Roper in England action

Wimbledon's Phil Roper has been ruled out of the upcoming Champions Trophy with a knee injury. The problem is not thought to be serious, however the 22-year-old will undergo minor surgery this week with a view to returning to action in the new year. Roper's place in the squad will be taken by Beeston's Ollie Willars.

Willars, who has also appeared in the World League Final and EuroHockey Championships for his country made his debut back in 2012 against India, also in the Champions Trophy. He won a bronze medal in this summer's Commonwealth Games in Glasgow and will pick up his 50th England cap during the tournament in Bhubaneswar.

England kick off their Champions Trophy campaign with an Ashes clash against Australia on December 6. They then go toe to toe with Pakistan and European rivals Belgium on December 7 and 9, respectively.

England Hockey Board Media release


---

Officials arrive in Bhubaneswar

s2h team

With 10 days to go for the start of the Hero Hockey Champions trophy, the last major international hockey tournament of the season, the preparations have already begun in the host city Bhubaneswar.

While the India team is most likely scheduled to arrive on November 27 and start their practice session from next day, a team of officials have already arrived in the capital city.

According to reports, the officials are reviewing the current state of the pitch and the arrangements made so far.

While the sale of tickets has already begun, a house-full stadium is expected, as it was during the Hockey India League early this year.

The Champions trophy will start from December 6 and continue till December 14. India is tied in Pool B along with the Netherlands, Germany and Argentina.

India will play its first match against Germany.

Stick2Hockey.com


---

Hawgood puts in his papers

Uthra Ganesan



Neil Hawgood.

The crisis in Indian hockey seems to be increasing every day. After the men's chief coach Terry Walsh, it's now the turn of women's chief coach, Neil Hawgood, to put in his papers.

A senior Hockey India official confirmed that Hawgood would not be associated with Indian hockey after 2014.

"It is wrong to say he has resigned. His contract runs out at the end of December this year and he has decided to not renew it. He has been with the team for two-and-half years, and that's a long time to be away from your family," said the official.

The federation, however, insisted that, unlike the case of Walsh, there was no acrimony with Hawgood, who took charge in July 2012. Under the Australian's stewardship, India bagged the bronze at the 2013 Asia Cup and 2014 Incheon Asian Games, a fifth-place finish at this year's Commonwealth Games, finished runner-up at the Asian Champions Trophy last year and won its maiden medal (bronze) at the junior World Cup.

However, his desire to see the side qualify for the 2014 World Cup did not materialise, though the players' fitness improved immensely.

"We would have loved him to continue because he has handled the women's programme very effectively. Honestly, the women's team is far more difficult to work with and manage than the men's. But, finally it's his decision and we have to respect it. We haven't yet thought of a replacement and have, in fact, asked him to work with us in finding his successor," the official said.

Tax issues?

Asked whether the ongoing tussle with SAI regarding tax issues was a reason for his quitting, the official denied it. "No, it wasn't. Hawgood isn't the kind of person who would create a lot of fuss. From what he told us, it was mainly due to family reasons," the official said.

There are reports that Hawgood is in talks with the Malaysian federation to coach the men's team, but nothing has been finalised.

The Australian is, however, expected to accompany the women's squad for the five-Test series against Italy in December, his last assignment with the side. The Indian women's team is currently training in Bhopal.

The Hindu


---

Hockey India looking for new coach

NEW DELHI: Hockey India (HI) virtually slammed the door on Australian coach Terry Walsh on Tuesday by saying it does not need the services of the Aussie any more and would start looking for a new coach soon.

HI's reaction came a day after Walsh wrote to the sports minister expressing his willingness to return to India immediately "to resume positive discussions" with the Sports Authority of India (SAI), his employers.

In a letter to SAI, HI president Narinder Batra has written that Walsh's alleged financial issue while he was working with the US Hockey has not been settled. "We have received a mail from Hockey USA as confidential and as per that mail the issue of financial irregularity by Walsh in USA is not settled even as of today, hence his contention that his issue with USA was settled in 2012 is false and incorrect," Batra said in the letter.

"Further, Walsh has been threatening through the media to file legal cases. Walsh has been given sufficient time to clarify on the financial irregularity issue and he instead has tried to beat around the bush. Hockey India now does not require the services of Walsh and will look for a new chief coach with approval of SAI," Batra said in a statement.

Walsh, in his letter to the sports minister, had claimed that the allegation of financial irregularity was baseless."One issue that has clouded discussions has been the introduction of a reprehensible allegation relating to my tenure with the USA Field Hockey Federation. The allegation is baseless and has already been refuted by US hockey officials. It is still being peddled.

"I have instituted legal proceedings in the United States to seek restitution and protect my reputation. I am considering similar action in India. This is very unfortunate and distracts me from the task of placing Indian hockey on an upward path to modern practices and procedures."

HI president's letter on Tuesday will deter SAI from hiring Walsh again as its director general Jiji Thomson has already made it clear that it would be difficult to engage Walsh again without HI's approval. "If HI is not happy with him, it is difficult for us to engage him as the coach of the country. The ball is in HI's court. If HI says that it is comfortable with the coach, we are ready (to re-appoint Walsh)," Thomson had said a couple of days back.

The Times of India


---

For Tokyo heroes, winning gold was the only option

Sabi Hussain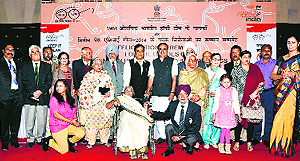 Sports Minister Sarbananda Sonowal with members of the 1964 Olympic gold-medal winning hockey team and their families at a felicitation function in New Delhi on Wednesday. PTI

New Delhi - The year 1960 witnessed the end of a golden chapter in the history of Indian hockey. The aura of invincibility, which the Indian hockey team had built around itself from 1928 to 1956, suffered a huge blow at the Rome Olympics with the loss of gold to Pakistan.

Two years before the next Olympics, India were again beaten by Pakistan in the final of the 1962 Asian Games. So in Tokyo, people wanted nothing short of gold medal. The team, on its part, showed great character to reach the final and beat Pakistan 1-0 to regain the gold medal lost four years back.

The Tokyo Games turned out to be a life-changing moment for a little-known boy from Gorakhpur in Uttar Pradesh— SM Syed Ali.

Ali was the first Muslim hockey player in 16 years to make the Olympics squad after Independence in 1947. It took four Olympics — from 1948 to 1960 — for a Muslim player to break into the national side. Ali played in two league matches and the final, playing a big role in setting up goal-scoring opportunities.

"I was the first Muslim player in 16 years to get selected for the Olympics. Just imagine the feeling, representing the nation at the biggest sporting spectacle on earth. It was a proud moment for Gorakhpur," Syed told The Tribune.

"It was my first Olympics, I wasn't even expecting a call-up. It was a dream come true for me. For a single position in the team, there would always be 4-5 candidates. It was very difficult to get in," the left winger added.

Talking about the pressure to regain the gold medal, Syed said it was a "do-or-die" situation for the team. "We had only one option, come back with the gold medal. There was no other option. We needed that medal badly and thankfully, we achieved our target," he said.

Ali was in the Capital to attend the felicitation function organised by the Sports Ministry. The winning members and next of kin of the deceased were presented a cheque for Rs 7.5 lakh each in honour of their achievement.

Gracing the occasion were five of the eight surviving members — Charanjit Singh (skipper), Dharam Singh, Harbinder Singh, Balbir Singh and Syed, while five of the deceased members were represented by their family members.

The Tribune


---

Old foes meet again

Champions Orange Telkom to open old wound against Nigeria's Heartlands in Africa Club Cup tie

By ELIZABETH MBURUGU in Bulawayo



Margret Rotich and Rose Hamis Gasper

There will be no love lost when Africa Hockey Cup of Clubs champion Orange Telkom meet former giants Heartlands of Nigeria in their last pool A encounter at Khumalo Stadium in Bulawayo, Zimbabwe.

The Kenyan girls dethroned the Nigerians in 2012 at the same venue to snatch the continental crown and bragging rights. They hope history will favour them again.

Orange have lived up to their billing and their title retention campaign remains untainted. They are yet to lose or concede a goal in the competition so far. Orange are determined to write history as the first club to win the title on a clean sheet without conceding a solitary goal.

Orange head coach Jos Openda is confident his charges will put up a hard fight against defiant Nigerians in order to achieve their objectives.

"Our main aim is to retain the title. We can only pull off by winning against the tough Nigerians," he said.

Openda added that the players have been alert and stuck to their original plans which is working for them.

"I am impressed with my players because they have remained focused, stuck to our plans and it is working for us. We have all turned our attention and are planning on to secure the much needed victory," he added.

The six-time champions have had a good run in the tournament. They opened their campaign with a 7-0 victory against Shams of Egypt.

They routed hosts Bulawayo Athletics Club (BAC) 5-0 and thumped Twende of Tanzania 9-0 to secure a semis slot. But even against Heartland, in what is a dead rubber tie, Orange are determined to win.

The last time the two clubs met, the match ended in a barren draw, which saw the West Africans relinquish to the trophy Orange.

The Nigerians pulled out of the last event held in Kampala, Uganda but are now back to reclaim their title as Captain Justina Onyedum affirms.

"We are back to repossess our title. We are not ready to go back home without the trophy. We will fight tooth and nail because we believe we deserve the continental crown," Onyedum said.

Heartlands remain unbeaten with two wins and a draw. They beat Shams 12-0 and dismissed Twende 5-0, they later played to a 3-3 draw with hosts BAC.

Debutants Genetrix of Malawi will be seeking their first ever continental victory when they take on Sharkia of Egypt.

BAC will tackle Shams of Egypt in their last group A tie, a victory for them and a loss for Heartlands to Orange will see the home girls secure a play-offs berth.

In the men's contest defending champions Egypt Police plot to arrest hosts Hippo Valley who are still in the run for a last four spot.

Another Zimbabwean side Eradicators will be seeking to wipe out Police Machines of Nigeria in a quest for a better seeding position.

Ghanaian insurers Trustees will be out to maintain their unbeaten run against poor Genetrix.

The Standard Online


---

Officials fete Quantara for efforts to revive hockey in Tanzania

By ELIZABETH MBURUGU in Bulawayo



Valentina Quantara of Twende club from Tanzania controls the ball during their match against Orange Telkom. [PHOTO: ELIZABETH MBURUGU/STANDARD]

Tanzania women's national hockey team coach Valentina Quantara has been feted by the Inter national Hockey Federation (FIH) for her efforts to revive the sport in Tanzania.

Quantara, working hand-in-hand with the Tanzania Hockey Association (THA), has breathed life into women's hockey in Tanzania. Her efforts are evident here in Bulawayo as she has managed to put together a women's national team that has taken part in major continental events since their debut in the Africa Cup of Nations held last year in Nairobi.

Nonetheless, things have not been rosy for the Italian coach, whose passion for hockey saw her knock on the doors of companies looking for sponsorship.

"The Tanzanians requested me to not only put together a team, but also look for funds to see that the team travels to Nairobi for the event and without a second thought I said yes. Nevertheless, time was not on my side as it was three months to the tournament," she said.

However, as they say, where there is a will there is a way, she managed to get help from Italian hockey players and individual sponsors. To crown it all after weeks of going round on a motorcycle, Quantara got a deal form Pepsi, which offered to sponsor the ladies to play in the Africa Cup of Nations in Nairobi.

Back on the all was not well as she only had three players turning up for training. It was not possible to continue. Her call for more ladies to join the team was not well received as they had given up on the sport.

"They were not willing to join the team, saying they did not want to waste time in training only to be told they could not travel but I encouraged them and one by one they came on board," she said.

She trained others from scratch and by the time of the event last year, she had 12 devoted players. She now has a team of 16. Quantara also plays for her team, Twende club, alongside being its coach, in competitions such as the club events to give them confidence.

Quantara has also worked hard to introduce the sport at primary school level to university in Dar es Salaam and the entire country.

The Standard Online


---

Narok keen on reign

Kenyan schools boys' hockey champs hope to silence doubters

By Sammy Kitula



Dennis Mwangi (left) of Friends School Kamusinga fights for the ball Markuku Rokoi (right) of Narok Boys High School

For years on end, Friends School Kamusinga had been calling shots in schools boys' hockey circles. Well, not until Narok High School came calling. When Emmanuel Mure struck that priceless goal after 15 minutes in this year's national final against the much-fancied Kamusinga in Mombasa, all mouths except Narok's, were left agape.

When the final whistle sounded, they were the undisputed national champions thanks to Mure's gem. They had done the unthinkable. For any schools hockey faithful, it surely bordered sacrilege. For a nondescript team to dethrone the kings and leave them bare was just improbable. Narok's crowning moment also came when their influential striker Ratia Fanaka was declared Most Valuable Player of the tournament.

And now, it will require something special for teams to wrestle the national schools boys' hockey title from Narok High School.

"We were very delighted to win our maiden national title. It was a stiff battle, but when it all came to an end, we achieved what we had prayed for - a national trophy," Narok's coach, Stephen Ole Kenga, told Feverpitch yesterday.

While the surprise win might have come as a shocker for many, it was long coming for Narok. They had done their homework well, learnt their opponents' weaknesses and with the precision of a wounded Leopard, pounced and struck their prey with delight.

"After we finished fifth in last year's national games, we knew what lay ahead of us. The teams we played against were all good, but lacked in some departments and this is where we capitalised on to win," Ole Kenga added.

To ensure Ole Kenga guides his charges to the title defence when finals are held on April 19, 2015 in Machakos, the tactician will require his battalion to be at it its best, especially after some of his top players sat for their form four examinations.

"We have several players who just sat for their form four examination, but we have other replacements and we will be good to go come next season," Ole Kenga said.

While appreciating Narok's prowess, Friends School Kamusinga's head coach, Emmanuel Sanya sees an opportunity to rectify where he went wrong and bag his team's 11 national title. For a side that has also won the East Africa hockey title an impressive four times, his work is clearly cut out.

"We know the battle ahead of us will be tough, but we know where to better ahead of the new season," Sanya said yesterday.

Next year's season will get underway with Term One national finals from April 13 in Machakos, before Nyeri hosts Term Two 'A' games that include athletics and rugby from June 5. Ball games, which fall under Term Two 'B' calendar of events, will be held in Eldoret from July 24 to August 2, before paving way for the coveted East Africa Secondary School games to be held in Rwanda from August 14.

The Standard Online


---

Holiday Tradition of National Hockey Festival Commences in Sunny California

PALM SPRINGS, Calif. – November 26, 2014 – The air has grown crisp and the temperature has fallen like leaves from the trees, marking the completion of the regular hockey season. But 9,000 of our closet hockey friends know this doesn't mean our outdoor sticks are going into hibernation until spring. After months of crossing off the calendar days, it has finally arrived. The 2014 National Hockey Festival begins bright and early tomorrow morning, Thursday, November 27, with Under-14 matches and runs through Sunday, November 30, closing out with Adult play.

The National Hockey Festival is a beloved tradition that brings people throughout the country together to make memories on and off the turf during the Thanksgiving holiday. With a rich tradition of history, it's important to celebrate last year's champions. Best of luck in defending your title this weekend!
2013 National Hockey Festival Champions

U19

 
U16

 
U14
Pool
Club
 
Pool
Club
 
Pool
Club
A
Total Dutch FH
 
S
WC Eagles
 
AA
WC Eagles
B
Nook Hockey
 
T
Spirit of USA
 
BB
 Jersey Intensity
C
Jersey Intensity FH
 
U
Jersey Intensity FH
 
CC
Bluegrass Premier
D
Spirit of USA
 
V
Aim FH
 
DD
The Edge
E
Xcalibur FHC
 
W
Saints FHC
 
EE
Alley Cats
F
Coyotes
 
X
The Gaels FHC
 
FF
High Styx
G
Rampage
 
Y
Xcalibur FHC
 
 
 
H
PA Power
 
YY
PA Mavericks FHC
 
 
 
I
PA Mavericks FHC
 
Z
Gateway FH
 
 
 
J
Rush
 
ZZ
Mystx FHC
 
 
 
K
High Styx FH
 
 
 
 
 
 
L
Alley Cats
 
 
 
 
 
 
M
G-Force FH
 
 
 
 
 
 
N
WVFHA Adanacs
 
 
 
 
 
 
O
ADK
 
 
 
 
 
 
P
Aim FH
 
 
 
 
 
 
Q
Washington Wolves
 
 
 
 
 
 
R
Bluegrass Premier (BECK)
 
 
 
 
 
 
 
 
 
 
 
 
 
 
Mixed Adult: True North
 
 
 
 
 
 
 
 
 
 
 
 
 
 
Women's Open: Red Rose
Be sure to check out all Festival has to offer both on and off the fields of competition by viewing these diverse, fun opportunities:

USMNT vs College Coaches Exhibition Match
Join us for on Field 21 on Friday, November 28 for an exciting match testing the skills of our Men's National Team against renowned College Coaches! The first 100 fans will receive an exclusive swag-bag!

Give Futures a Try with Festival Trials
Trials for USA Field Hockey's Development Pipeline, Futures, will be held at Festival! Trials will be held on Thursday at 1 p.m. and Friday at 10 a.m. Register for a Futures Festival Trial here.

Attend our Annual General Meeting
The Annual General Meeting for USA Field Hockey will be held on Saturday, November 29 at 1:00 p.m. at the Doral Desert Princess Resort just prior to the 2:00 p.m. Board of Directors meeting.

Working on the FUNdamentals
USA Field Hockey is excited to once again invite you and your family to pick up a stick at this year's National Hockey Festival! The Sport Development team will be hosting clinics, scrimmages and field hockey fun all weekend long in Palm Springs for boys and girls of all skill levels. Click here for the full schedule of clinics.

Have you checked out the digital event program yet?
Don't miss a beat in Palm Springs, Calif. with our event program including rosters, schedules, the always-necessary venue map plus a list of our vendors who will be selling the latest and greatest hockey gear around.

#FHFestival14
Make your friends at home miss you and maybe a tad jealous by tagging all of your Instagram pictures and tweets with @USAFieldHockey and #FHFestival14.

Stop by the USA Field Hockey Tent!
If you have questions, we have answers! Plus, the U.S. Men's National Team will be signing autographs on any and all of your hockey swag! Get the scoop on our Festival contest that will give you plenty of chances to take home awesome USA Field Hockey gear. More information about Festival clinics and our youth programs such as FUNdamental Field Hockey will also be available at the tent.

Whether this is your first or fourth experience as an athlete, coach, umpire or hockey fan at the National Hockey Festival, USA Field Hockey would like to warmly welcome you to Palm Springs.

USFHA media release


---

2014 Tee it Up for Futures a Success

Giving back by golfing? It's practically a no brainer. USA Field Hockey's 5th annual "Tee It Up for Futures" Golf Tournament was held earlier today at the spectacular Classic Club in Palm Desert, Calif. The 2014 edition of the event was a great success under clear California skies. All proceeds from the tournament directly benefit the Futures Scholarship Fund to help athletes realize their dream of one day becoming part of Team USA.

Thank you to everyone who participated, Global JBS for making the event a possibility and Classic Club Golf for hosting!

USFHA media release