All the news for Saturday 22 November 2014

Black Sticks Men secure series win against Japan



Pictured: Black Stick Kane Russell in action tonight against Japan. www.photosport.co.nz

The Black Sticks Men have clinched a series win against Japan winning the third match of the four-test series 2-1 at the Coastlands Kapiti Sports Turf tonight.

The game was wrapped up late in the piece, with Steve Edwards slotting home the winning goal with three minutes left on the clock, the earlier goal coming from powerful drag flicker Kane Russell. 

After a 1-1 draw and a 3-0 win in their games in Wellington earlier this week, the Kiwis were searching for a victory tonight to secure the series.

"We had a very good performance in game two, but when you play someone in a four test series you know each game will be a bit different. Japan were very good opponents today but I'm pleased that we won the game and showed some development, it was nice to knock a second goal in right towards the end," said head coach Colin Batch.

Japan played a more patient and controlled game than the previous two encounters, quickly capitalising on any errors made by the Kiwis. Their strategy paid off early on when Miyu Tanimitsu converted a penalty corner in the fifth minute.

"We actually started well, even though we conceded an early goal, I was very pleased with what we did early on. But certainly after half time it was a totally different game and we really struggled, we have to find ways to shift the ball to the other side - out of the crowded area. It's one thing Japan did well, they were confining us into a small space and they stole the ball off us a few times and created counter-attack from those situations."

"We are learning a lot, we get a bit excited out there from time to time, but we are making good progress. The team is pretty eager, they know that if they perform well they will play in more matches, there is a lot of competition but it's good competition. We are working really well together as a team, combining well and then off the field the guys get on terrific," said Batch.  

After Japan's early goal, New Zealand fought back and when the hooter sounded for quarter time, the Kiwis were awarded a penalty corner which Kane Russell drag flicked, the ball deflecting off the keeper's pad and going high into the corner.

In the second half, North Harbour's Joe Bartholomew really led New Zealand's defensive effort tonight tackling and turning over ball at every opportunity. With only three minutes left on the clock and with a vocal Kapiti crowd on the edge of their seats, Steve Edwards made it count after a nice one-two from George Muir in the circle to give Kiwis the 2-1 win.

The Black Sticks Men play their final game of the series at the Coastlands Kapiti Sports Turf at 6pm tomorrow night. Tickets can be purchased online at www.dashtickets.co.nz – gate sales are also available.  If you can't make it to the game, watch it live or on-demand at www.hockeynz.co.nz/video

RESULTS

Full time: 2-1 (NZ win)
Half time: 1-1

NZ goal scorers: Kane Russell, Steve Edwards 
Japan goal scorers: Miyu Tanimitsu
Umpires: Gareth Greenfield (NZ), David Tomlinson (NZ)

Hockey New Zealand Media release


---

Black Sticks have enough to take Japan series

SAM WORTHINGTON



HAVING A GO: Black Stick George Muir tries to work his way through the Japanese defence. Photosport

New Zealand were given another scare by a resilient Japan before sealing their four-test men's series on the Kapiti Coast tonight

The experienced Steve Edwards scored the match-winner with three minutes to play as the Black Sticks' 2-1 victory gave them an unassailable 2-0 series lead ahead of tomorrow's fourth and final international at Paraparaumu.

Game one was a 1-1 draw before New Zealand registered a 3-0 win in game two.

The Black Sticks are ranked sixth in the world to Japan's 14 and no doubt Kiwi coach Colin Batch would have preferred more comfortable scorelines.

But the inconsistency of performance is perhaps inevitable given Batch has seven international rookies in his squad.

"We had a very good performance in game two but when you're playing someone in a four-test series, you know every game is going to be a little bit different," Batch said.

"They were very good opponents today but I'm pleased that we won the game and showed some development that we're trying to put in place. It was nice to knock a second goal in right towards the end."

Miyu Tanimitsu opened the scoring after seven minutes with a drag flick into the left corner giving him his second penalty corner goal of the series.

The control New Zealand had in the second test had evaporated as the game became an even, end-to-end spectacle with chances and half-chances going begging at either end.

There was a whiff of controversy at the end of the first quarter, as Japan argued time had expired before a Kiwi penalty corner was awarded.

It mattered not to Kane Russell, who sent his drag flick into the top right corner for 1-1.

It appeared as though New Zealand may have to settle for their second draw of the series before Edwards scored the winner following a nice one-two with George Muir.

"Certainly after halftime it was a totally different game and we struggled," Batch said.

"Japan played very well and we've got to find ways to shift the ball to the other side, out of the crowded area and it's one thing Japan did well, confining us into small spaces and they stole the ball off us a few times and generated counter-attacks from those situations."

AT A GLANCE

New Zealand 2 (Kane Russell, Steve Edwards) Japan 1 (Miyu Tanimitsu). HT: 1-1

Stuff


---

NZ win over Japan

A Steve Edwards close range deflection three minutes from the finish gave New Zealand a 2-1 win over Japan in Kapiti tonight.

The result gives New Zealand an unbeatable 2-0 lead after three tests with the final international at the same venue tomorrow night.

A Kane Russell shot from a penalty corner in the first half equalised Japan's early opener from Miyu Tanimitsu. The first test was drawn 1-1 while the Black Sticks won the second 3-0.

"I was pleased with the performance. We are learning a lot and are making progress," Black Sticks coach Colin Batch said.

The New Zealand Herald


---

Mendoza and Bhubaneswar - homes to hockey's end of year showcase events

As the hockey nations get ready to descend upon Argentina and India, we take a look at what lies in store for players and supporters at the two destinations



(Photo: Frank Uijlenbroek)

Forget the Seven Wonders of the Ancient World, Mendoza, host to this year's Champions Trophy for women, is one of nine Great Capitals of Wine, a prestigious title that makes it a wine connoisseur's dream location.

Mendoza is the capital city of the Mendoza region – located in the north-west of Argentina – and not only is it a top draw for its wine, it has also been voted by National Geographic as one of the top 10 historic places in the world to visit, with plenty of museums and galleries to visit.

The aptly named Mount Glory overlooks the city, which has a central square, the Plaza Independencia, and four smaller plazas positioned like a five-roll on a dice. The network of streets, lined with avenues of trees to give shade during its 10 months of warm sunshine, are lively but with a laid-back vibe.

As the hockey players and spectators will discover, November and early December in Mendoza is a time of high temperatures, with plenty of sunshine and just a small chance of rain. Temperatures at this time of year have been known to reach 40 degrees celsius. Although the region is termed arid, the landscape has a Mediterranean feel to it because of the extensive irrigation that takes place among the vineyards and olive groves.

Mendoza is 1050km west of Beunos Aires and 340km northwest of Santiago.

Little known fact:

Mendoza was the setting for the film starring Brad Pitt, Seven Years in Tibet.

History abounds in the Indian city of Bhubaneswar, the host for this year's men's Champions Trophy. It is the capital city of the Indian state of Odisha and was founded more than 3,000 years ago. Its name derives from Tribhubaneswar, meaning Lord of Three Worlds, and is related to the Indian god Shiva.

Bhubaneswar is often referred to as the Temple City of India. With more than one thousand temples that date from ancient and medieval times right up to the latest constructions of the 20th century, it is easy to see why.

These days the city is one of India's fastest developing cities. It is an emerging information technology and education hub and its design – by the German architect Otto Konigsberger – means it is very modern in its layout, with wide streets, parks and gardens.

December is one of the coolest months in Bhubaneswar, with the temperatures dropping to 28 or 29 degrees celsius. It is also the driest month, with barely any rainfall.

Bhubaneswar is a city of festivals, fairs, music and dance. Its population is a mix of religions and ethnic groups, making it a vibrant and bustling city. It also has a distinct regional cuisine that any lover of Indian food must sample.

Little known fact:

Bhubaneswar is home to Ollywood, the Oriya cinema industry. This is where most of the state's film studios are located. Oriya culture survives in the shape of Classical Odissi dance, sand artistry and sculpture.

#BestoftheBest #CT2014

FIH site


---

Empty spots at the top give younger Black Sticks their chance to shine

By David Leggat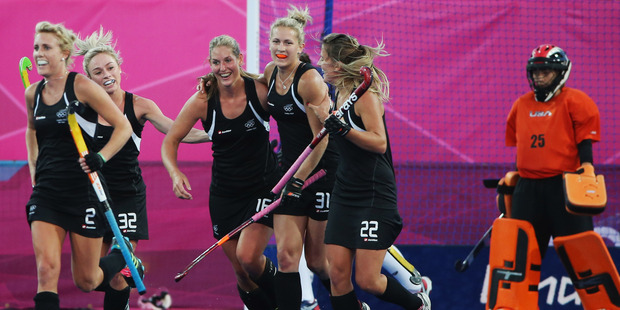 The Black Sticks arrive in Mendoza, Argentina today for the eight-nation Champions Trophy. Photo / Getty Images

New Zealand's best up-and-coming hockey internationals are about to get a top chance to show they belong in the Black Sticks.

The women's team arrive in Mendoza, Argentina today for the eight-nation Champions Trophy and coach Mark Hager wants to see his players showing their true potential.

With senior pair Kayla Whitelock and Emily Naylor taking time out from the game, Krystal Forgesson retired and striker Katie Glynn battling knee problems, it is important other players produce top performances.

"I've been pleasantly surprised in the last two tours (hosting the United States and Australia) how well they have stepped up," Hager said yesterday. "A lot of these kids have been waiting in the wings. They've had bits and pieces and now it's their turn.

"They need to show they can play a dominant role and be an impact player on the international stage.

If this group can do that then we are looking good for the future."

New Zealand have just completed a series against world No 2 Australia, drawing twice and losing once, but scoring seven goals in the process and knowing they were 17 seconds away from levelling the series in the third game in Wellington this week.

That experience should help the learning process though, as the Black Sticks were unable to retain possession to see out the remaining seconds when holding a 3-2 lead.

After goalkeeper Sally Rutherford, 33, captain Anita Punt and fellow midfielder Petrea Webster at 26 are the oldest players in the group.

Time is on their side and Hager liked much of what he saw in the series, but acknowledged more work must be done in defensive situations and capitalising on penalty corner chances.

New Zealand, ranked fourth in the world, are grouped in pool A with world champions the Netherlands, China and Japan.

The Black Sticks will be up against it when they face the Dutch, who they have never beaten.

But China and Japan, who finished sixth and 10th at the World Cup in mid-year, are certainly beatable.

They have two warmup internationals against hosts Argentina next week, and a practice game against Germany.

These games will be invaluable in getting the players immersed into tournament thinking and strategies.

The only injury concern is Canterbury attacker Sophie Cocks, who took a blow on a foot against Australia and is likely to play little role in the practice matches.

Teams in pool B are Argentina, Germany, Australia and England.

The players
New Zealand squad for the Champions Trophy in Mendoza, Argentina:
Anita Punt (c), Aniwaka Roberts (Capital), Liz Thompson, Julia King (Auckland), Petrea Webster (North Harbour), Georgia Barnett, Michaela Curtis (Central), Ella Gunson, Stacey Michelsen, Brooke Neal (Northland), Sam Charlton, Sally Rutherford, Rose Keddell, Shiloh Gloyn (Midlands), Sophie Cocks, Jordan Grant, Pippa Hayward, Olivia Merry (Canterbury).

The timetable
New Zealand schedule (all NZT)
Nov 30: v Japan
Dec 1: v Netherlands
Dec 3: v China
Classification games from Dec 5

The New Zealand Herald


---

'Hockey team eye improved penalty conversion'

KARACHI: Pakistan hockey team was working hard to improve penalty-corner conversion and penalty shootout for the upcoming Champions Trophy, chief coach Shahnaz Shaikh said on Friday.

The Champions Trophy will be held in India from December 6 to 14.

Talking to APP here at the Hockey Club of Pakistan Stadium, he said improving these two departments for better results was necessary for the tough event.

"Special training sessions are being conducted for the purpose," Olympian Shaikh said.

"We are fully aware of our grey areas and working to improve them with the help of coaches," he said.

He said innovating things and new drills were being tried to improve conversion rate.

Shahnaz said captain Mohammad Imran, Mohammad Irfan and Mohammad Tousiq were going through strenuous workouts.

Similarly, he said special emphasis was being given on the shootouts as Waqas Sharif and Haseem Khan missed vital penalty strokes in the final against India at the Asian Games in Incheon.

He admitted that Pakistan was not strongly prepared in that department.

"We are now preparing tactics and strategy for a match which goes for shootout," he said.

He expressed hope that despite financial difficulties players will give their best performance.

Pakistan team will take on Belgium in their opening match on Dec 6. They will then face England the following day before taking on Australia on Dec 9.

The quarter-finals will be played on Dec 11, semi-finals on Dec 13 and the title clash on Dec 14.

Dawn


---

HIL announces panel of Indian officials for 2015 event

NEW DELHI: With the third edition of the Hero Hockey India League fast approaching, the organisers on Friday announced the panel of Indian officials for the tournament scheduled from January 22 to February 22.

The panel boasts of esteemed and experienced names such as umpire Javed Shaikh, who has recently conducted his 100th match. The most experienced umpire, Shaikh has been officiating in major tournaments like the FIH World Cup, the Commonwealth Games and the Asian Games since 2003.

Raghu Prasad RV, who has conducted 90 matches till now, will be seen on field during the league. He has been officiating since 2004 and conducted matches in the FIH World Cup and the Commonwealth Games. He also officiated in the 2012 London Olympics.

The officials' panel also include Gurinder Singh Sangha (37 matches), Ripudaman Sharma (15 matches), Anil Kumar (6 matches) and a new name to the list Gurbaj Singh, who will make his debut. The panel consists of judges - Anjali Sharma, Milind Narwekar and Sonia Bathla.

The technical officials in the panel include Claudius de Sales, Moghul Mohammed Muneer and Ashutosh Verma.

Speaking on the appointment, Hockey India League's CEO, Elena Norman said, "The League is in its third year and hence, it is necessary we take it a notch higher in all fronts. The entire panel of umpires and officials coming on board are known for their work towards the game and they have vast experience in officiating international-level matches around the world.

"Hero Hockey India League welcomes each one on board and will look forward to their contribution in this season."

The Times of India


---

KLHC closer to title

By Jugjet Singh



UniKL's Patrick Shultz (front) dribbles past Sapura's Norsyafiq Sumantre and Hameet Singh in their MHL match at the National Hockey Stadium in Bukit Jalil yesterday. Pic by Hasriyayah Sabudin

DOUBLE champions Kuala Lumpur Hockey Club (KLHC) demolished Maybank 5-1 to tighten their grip on the Malaysia Hockey League Premier Division League title.

If KLHC beat Sapura and Terengganu Hockey Team (THT) beat Maybank tomorrow, then, the League title will be decided in Kuala Terengganu on Nov 28 when THT host KLHC.

The KLHC goals were scored by Harvinder Singh (ninth), Muhamamd Imran (11th), Razie Rahim (22nd), Rashid Baharom(34th) and Syamim Yusof (50th). Shakeel Abbasi (35th) scored for Maybank.

In another match, Sapura and UniKL played to a 3-3 draw.

"We lost 3-2 to Sapura in Round One and now held them to a draw and I see some improvement in the team. Right now, we are focussed on the 11th game, which is the knock-out, where we hope to spring a surprise," said UniKL coach Arul Selvaraj.

THT kept pace with the leaders when they beat Tenaga Nasional 4-2 in Kuala Terengganu.

THT goals were scored by Tengku Ahmad Tajuddin (sixth, 55th), Fitri Saari (22nd) and Firhan Ashaari (39th). Azammi Adabi (10th) and Shahril Saabah (59th) scored for Tenaga.

"This is a crucial win as we need to keep pace with the leaders (KLHC) to have a shot at the league title. However, Firhan (Ashaari) picked up a yellow card and with his demerit points reaching 10, he will be suspended for Sunday's (tomorrow) match against Maybank.

"Even though we will lose a goal-getter, the five Korean imports have started to gel with the local players, and I expect them to deliver another three points against the Tigers," said THT coach Sarjit Singh.

RESULTS — Terengganu HT 4 Tenaga Nasional 2; UniKl 3 Sapura 3; Maybank 1 KLHC 5.

TOMORROW — Terengganu HT v Maybank (Kuala Terengganu, 5pm); KLHC v Sapura (National Stadium 6pm, Pitch II); Tenaga Nasional v UniKL (National Stadium 8pm, Pitch II).

New Straits Times


---

KLHC purring along to hockey title defence



KLHC's Waseem Ahmad (centre) vie for the ball with Maybank's Shahrin Mohamad (left) and Moritz Knobloch during their Malaysia Hockey League match on Friday. - FAIHAN GHANI/The STAR

KUALA LUMPUR: Kuala Lumpur Hockey Club (KLHC) warmed up for their possible title-decider against Terengganu next weekend with a 5-1 win over Maybank in the Premier Division of the Malaysia Hockey League (MHL).

Goals by Harvinder Singh (ninth minute), Mohamed Imran (11th), Mohd Razie Rahim (22nd), Mohd Rashid Baharom (34th) and Mohd Syamin Yusof (50th) gave the defending champions their seventh straight win in as many matches at the National Hockey Stadium in Bukit Jalil on Friday.

The Tigers scored their only goal in the 35th minute through Shakeel Abassi.

KLHC lead the six-team standings with 21 points, three more than second-placed Terengganu, who kept pace with a 4-2 win over Tenaga Nasional at the Kuala Terengganu Hockey Stadium.

If KLHC and Terengganu win their matches tomorrow – against Sapura and Maybank respectively – then, the title clash will be decided on Nov 28 in Kuala Terengganu.

In the Terengganu-Tenaga match, Tengku Ahmad Tajuddin scored a brace in the sixth and 55th minutes while Fitri Saari (22nd) and Mohd Firhan Azhari (39th) added one each for the east coast side.

Mohd Azammi Adabi (10th minute) and Mohd Shahril Saabah (59th) scored for Tenaga.

Terengganu's Firhan will have to sit out the match against Maybank after picking up a yellow card – to earn four demerit points – on Friday.

He had six demerit points before the game.

Terengganu team manager Mohd Sabri Salleh was not perturbed, preferring instead to talk about his men's performance.

"It is the points gained that matter. The players kept their cool and were able to stay ahead of Tenaga at all times. We could have scored a few more goals but the players wasted the chances.

"It was more important that we did not pick up any injuries and all the players will be available, including Faizal Saari. Only Firhan will sit out the match against Maybank," he said.

Faizal has finished serving a two-match ban for an earlier red card offence against Sapura on Nov 14.

In another match at the National Hockey Stadium, Sapura and Universiti Kuala Lumpur (UniKL) drew 3-3.

Faridzul Afiq Mohmed (fifth), Dangerous Lee (52nd) and Kashif Ali (57th) scored for Sapura while Mohd Ashran Hamsani (ninth) and Mohd Noor Akmal Ghaffar (18th, 60th) replied for UniKL.

The Star of Malaysia


---

Defending Champion UConn Returns To NCAA Field Hockey Final

By Lori Riley

The UConn field hockey team advanced to its second consecutive national championship game with a 1-0 victory over Albany in the NCAA semifinals Friday night at the University of Maryland.

UConn (19-3), the defending national champion, will play Syracuse, a 3-2 shootout winner over North Carolina in the first semifinal, Sunday at 1 p.m. at Maryland. Syracuse is 18-5.

Senior forward Chloe Hunnable scored 3:16 into the first half to put UConn up 1-0, and the Huskies held on despite being outshot 10-5 by Albany (20-3) and losing players to penalties.

Albany pulled its goalkeeper in the last five minutes of the game, but despite being a man up, did not score. UConn goalkeeper Nina Klein made five saves.

Hartford Courant


---

Syracuse field hockey advances to national championship game with win over North Carolina

College Park, Md. — For the first time in program history, the No. 4 Syracuse University field hockey team has advanced to the NCAA Tournament final with a 3-2 stroke-off win against No. 1 North Carolina in the national semifinals on Friday afternoon. Junior midfielder Alyssa Manley tallied the game-winning goal on the sixth penalty stroke of the stroke-off.

"That was an amazing game for both teams," head coach Ange Bradley said. "It was competitive to the very end. I am happy we were able to get the result and advance."

Following two scoreless 15-minute overtime periods, the game would be decided by a stroke-off. Syracuse (18-5) held a 3-2 advantage in the stroke-off heading to its fifth player, junior forward Emma Russell. Russell could not convert and North Carolina (19-4) would tie it up on its final attempt to send it to a sudden victory stroke-off. Junior goalkeeper Jess Jecko made a save on the Tar Heels' first sudden victory try to set the stage for Manley, who slotted it home to send the Orange to its first-ever national final.

North Carolina capitalized off its first shot of the contest. The Tar Heels were awarded a penalty corner in the 16th minute of play. Junior back Nina Notman sent a shot toward the cage and junior midfielder Emma Bozek redirected it to give North Carolina an early 1-0 advantage.

Syracuse controlled possession for the majority of the first half, but could not push through. Eventually, the Orange was able to slot one home in the 34th minute. Russell sent a shot on goal, but was turned away. She collected the rebound and put it past UNC sophomore goalkeeper Shannon Johnson to knot the score. It marked her 21st goal of the 2014 season.

The Orange seized its late first-half momentum and scored in the 48th minute out of the halftime intermission. Manley drove down the field and sent a ball to the far post. It found the stick of freshman forward Lieke Visser, who give the team a 2-1 lead.

North Carolina was seeking to knot things up for the remainder of regulation. With just under 10 minutes left, UNC pulled its goalkeeper in favor of an extra field player. The ploy worked as the Tar Heels' Notman pulled one in from near the top of the circle in the 65th minute to tie it up. Neither team could find the back of the net in the final five minutes and the game was destined for overtime.

Syracuse put together one of its finest defensive performances in the first overtime frame. After freshman midfielder Laura Hurff was dealt a yellow card in the 76th minute, the Orange were forced to play a man down for five minutes. North Carolina was on the attack throughout, but was turned away again and again by the Orange defense.

The Syracuse University field hockey team will take on the winner of No. 3 Connecticut and No. 12 Albany in the national final on Sunday afternoon in College Park, Md. The game is slated to begin at 1 p.m. A free video stream will be available on NCAA.com.

Syracuse University media release


---

Kenya set for two-pronged continental title hunt

By BRIAN YONGA



Telkom Orange women's hockey players display the Kenya Hockey Union women's Premier League trophy. Telkom Orange and Strathmore Scorpions hockey teams will get their campaigns underway at the Africa Cup of Club Championships (ACCA) in Bulawayo, Zimbabwe this weekend. PHOTO | NATION MEDIA GROUP

Telkom Orange and Strathmore Scorpions women's hockey teams will get their campaigns underway at the Africa Cup of Club Championships (ACCA) in Bulawayo, Zimbabwe this weekend.

Strathmore will take on home side Bulawayo Athletics Club (BAC) at the Khumalo Stadium Friday at 5pm (Kenyan time) while defending champions Orange will play their opening match against Malawian outfit Genetrix on Sunday at 1 p.m.

Scorpions, who were losing finalists in the tournament's last edition early this year, flew out of the country on Wednesday night and arrived in Zimbabwe on Thursday.

The Meshack Senge-coached team will be aiming to lift their maiden title but will face stiff challenge from the host team which is one of the oldest clubs in Zimbabwe.

Senge has warned his players to expect a tough match from their opponents.

"We have never played them before so we don't know much about them but we believe we can win the match," Senge told Saturday Nation Sport on phone from Bulawayo.

Scorpions' attack will be led by prolific striker Gilly Okumu, who has been in fine form this season, notching 10 goals in the league campaign.

EYING SEVENTH TITLE

Okumu will be making her debut in the continental event and the university side will certainly fancy their chances with the 22-year-old in the pitch.

"Our form in the league has been good and if we can play like that in Bulawayo, we have a huge chance of winning the title," Okumu said during the team's last training session at the City Park Stadium on Tuesday.

The Kenyan side's next match will be against Tanzania's Twende on Sunday afternoon.

Defending champions Orange will be up against Pool A opponents Genetrix in the first meeting between the two teams.

Orange, who are eying a record seventh title, will start as firm favourites against Genetrix who are making their debut in the continental event.

The team has retained a bulk of players who triumphed in Uganda in January this year.

"We know nothing about our opponents but every team at this stage is strong and we therefore will not take them for granted," Orange coach Jos Openda said.

Daily Nation


---

Winning Students scholarships for hockey players

Scotland's budding hockey scholars have been included among a group of more than 150 top athletes – including many medallists from the Glasgow 2014 Commonwealth Games – who have been selected for a prestigious scholarship.

The Winning Students sports scholarships provide gifted young athletes studying in colleges and universities across Scotland with funding support and the flexibility to achieve their sporting and study goals.

First established in 2008, the Winning Students scholarships are funded by the Scottish Funding Council and managed by the University of Stirling, with 31 colleges and universities now signed up to provide high quality support to their athletes.

Twenty-seven hockey players have been awarded with funding, including a number of Scotland's Glasgow 2014 Commonwealth Games squad.



Mo McLellan v IRL



Hamish Imrie

The funding will enable students to balance their education with their high performance commitments at senior and youth international levels.

Recent research found graduates of the scholarships had lower levels of unemployment and higher salaries for their first full-time jobs.

For more information, visit the Winning Students website.

Hockey

Gordon Amour (University of Edinburgh), Michael Bremner (Glasgow School of Art), Millie Brown (University of Glasgow), Louise Campbell (University of Edinburgh), Nicki Cochrane (University of Edinburgh), Mairi Drummond (University of Edinburgh), Jenny Eadie (University of Glasgow), Claire Hill (University of Edinburgh), Kirsty Hill (Queen Margaret University), Gregor Hirst (Glasgow Caledonian University), Hamish Imrie (Edinburgh College), Emma McGregor (Heriot-Watt University), Kirsten Mcintosh (University of Edinburgh), Ross McIntyre (University of Strathclyde), Jack McKenzie (Glasgow Clyde College), Morag McLellan (University of Edinburgh), Jenny Morris (University of Glasgow), Maisie Morris (University of Edinburgh), Lee Morton (University of the West of Scotland), Kirsten Peters (University of Edinburgh), Katie Robertson (Abertay University), Sarah Robertson (University of Edinburgh), Fergus Sandison (Perth College UHI), Rowan Sinclair (University of Glasgow), Zoe Sinclair (University of Glasgow), Nicola Skrastin (University of Glasgow), Jamie Wong (University of Edinburgh).

Scottish Hockey Union media release


---

U18 club sides prepare for National Competition

The first competition date of the National U18 competition takes place this Sunday 23 November at Peffermill Playing Fields, Edinburgh, with both the boys and girls teams in action.

The competition format contains two round-robin pools played over two dates (second date is 22 Feb at Countesswells), before advancing to a finals day on 30 May at the Glasgow National Hockey Centre.

CALA Edinburgh, Granite City Wanderers, Hillhead and Inverleith make up Pool A of the girls event, while Clydesdale, Grove Menzieshill, Fjordhus Reivers and Watsonians contest Pool B.

In the boys event, Aberdeen GSFP, CALA Edinburgh, Perthshire, Watsonians and Western Wildcats are drawn in Pool A; Pool B includes Gordonians, Grange, Grove Menzieshill, Clydesdale and Inverleith.

Good luck to all the teams taking part!

Scottish Hockey Union media release


---

Meet USA Field Hockey's DIII 2014 MVP Mary Kate Olson

Congratulations to Mary Kate Olson, USA Field Hockey's peer-voted DIII MVP of the 2014 regular season! Learn more about this star standout below.

Whether she's exploring new terrain on a hike or tightly defending a rival attacker on the pitch, Mary Kate Olson believes in taking each moment one step at a time. With a composed mindset and competitive spirit, the Woodland, Md. native is a natural leader for the Franklin & Marshall Field Hockey squad. Add her impressive skill set, selfless attitude and dedication to excellence and Olson is a ferocious threat both on the field and in the classroom. Continually inspired by her teammates' tenacity, Olson, a junior, has been a standout starter on the Diplomats' defensive unit since 2012. In 2013, she was named to the Synapse Sports All-America Second Team, Longstreth NFHCA DIII All-America Second Team, Longstreth/NFHCA DIII All-South Region First Team and All-Centennial Conference First Team. No matter how many more accolades sure to come in the talented defender's career, Olson's future looks bright with her belief that the greatest privilege is the opportunity to play alongside her incredible teammates.

USA Field Hockey: What's your most memorable moment of the 2014 regular season?

MKO: One of the most memorable moments would definitely be our win against Mary Washington. In the second half, we came back from a two-goal deficit to tie the game and then took the lead with two minutes left in regular time. They are an amazing opponent, and it was such a wonderful win to celebrate with the team!

USA Field Hockey: Whom do you consider your field hockey role model or mentor to be?

MKO: To be quite honest, my teammates are my role models. I am so fortunate to play with such amazing women who push me to be my very best each day both on and off the field. Every day at practice we are always pushing each other to compete at a higher level and everything I do is for them. My teammates' skill, tenacity, and composure constantly inspire me and without their support and excellent skill, I would not be the player I am today.

USA Field Hockey: What words of advice do you have for those aspiring to play hockey at the collegiate level?

MKO: My advice would be this: keep playing because you love the sport, the thrill and competition. That's when things will begin to fall in place. You'll find the college program you are meant to be with if you keep in mind your personal values and goals and keep working hard between all the schoolwork, practices, and games.

USA Field Hockey: When did you begin playing hockey and how were you introduced to the sport?

MKO: I began playing field hockey in fifth grade and was introduced to the sport through a family friend. After that, it was easy. I was a kid who fell in love with the sport and loved having the opportunity to play!

USA Field Hockey: As seasoned defender for the Diplomats, what is your mindset before heading into matches?

MKO: One of the reasons I chose F&M is that the Centennial Conference has great competition. That being said, I approach every game with a similar mindset: every opponent is going to be aggressive and skillful. You just have to play your game, trust your teammates, and capitalize on opportunities given to determine the outcome on the game.

USA Field Hockey: Do you have any pre-match rituals? What's your routine leading up to the game look like?

MKO: Don't we all? Apart from the small superstitions here and there, my one main ritual would probably be our daily dance parties in the locker room. Dancing to our different playlists is probably the best way to get amped for a big game—not to mention it helps to shake out any nerves to get loose before playing!

USA Field Hockey: When put in a numbers down situation or a similar obstacle arises during a game, how to you keep composure and focus?

MKO: Our coach always tells us to take it one moment at a time, one play at a time. To me, those are excellent words to both live and play by. Having this particular mindset when taking the field reminds you that there will be both good and bad times, but it's all about how you react to them. Everyone always says that it's never who is more skilled that wins the game, it's always who wants it more—and it's true!

USA Field Hockey: What's your major? How do you balance the demands of school with your desire to continually excel in hockey?

MKO: I am a Business, Organizations, and Society major at F&M. That's one thing about going Division III for field hockey—it's a great balance between field hockey and academics! I try to get the majority of my work done during the day so that way after a practice or a game I can get some rest to stay healthy for the season. It's a little tricky to sort out the balance in the beginning but having a good academic semester makes the season that much more enjoyable!

USA Field Hockey: What is your favorite pastime/hobby off the field?

MKO: One of my favorite activities off the field is hiking. It's so fun to hike different trails.  It's also a great workout and a fun way to go exploring with your friends!

USFHA media release