All the news for Tuesday 28 October 2014

Knee injury rules Katie Glynn out of Black Sticks

BRENDON EGAN



STAR FORWARD: Katie Glynn. Getty Images

The Black Sticks women will be without star striker Katie Glynn for the rest of the international hockey year.

New Zealand's all-time leading women's goal-scorer remains troubled by a knee injury. She is not expected to feature in next month's series against Australia in Wellington, or in the Champions Trophy in Argentina from November 29 to December 7.

New Zealand coach Mark Hager said Glynn had not carried out any stick work since the Commonwealth Games. She was back running, but was bothered by pain.

"It's highly unlikely she'll be available for any of the tours this year," Hager said.

"She's struggling a little bit with it and hasn't come on as much as we would have liked post-World Cup and Commonwealth Games. She's a valuable player for us for the future, so we'll just take it easy."

Canterbury goalkeeper Amelia Gibson will also be sidelined for the rest of the year after breaking her collarbone during the Black Sticks' 3-2 series loss to the United States.

Those losses will be offset by the return of experienced midfielder Stacey Michelsen, who missed the US series to focus on her law exams.

Hager said she would provide a massive boost.

"She's a class player. She's one of the best players in the world now. She'd be in the top 10 quite easily."

The Black Sticks women play Australia in three games over November 15-18 in Wellington.

Meanwhile, 98-test New Zealand men's defender Richard Petherick has announced his retirement from international hockey today.

The 28-year-old made his debut in 2005 and represented New Zealand at two World Cups (Germany 2006, India 2010), the 2012 London Olympics. He was a reserve athlete at the 2008 Beijing Games.

Petherick has retired to concentrate on his career.

Stuff


---

Petherick retires from international hockey




After 98 tests for the Black Sticks, defender Richard Petherick has announced his retirement from international hockey.

The 28-year-old made his debut in 2005 and has represented New Zealand at two World Cups (Germany 2006, India 2010), the 2012 London Olympics and was a reserve athlete at the 2008 Beijing Games.

Petherick has stepped away from international contention and is looking forward to settling back into life in Hamilton and focussing on a career.

Next year will be dedicated to completing his postgraduate degree in teaching while staying connected to hockey within the Waikato and Midlands region.

He said his decision was a natural progression on the path his life is taking him.

"I think the decision is pretty well due and pragmatic so it wasn't too difficult to make. I looked overall at my career and the highlights of selection and lows of being left out were rather tough emotionally, and more recently the life of a hockey player has been taxing on my now injury prone aging body," he said.

"Away from hockey I'm looking forward to joining the real world, and investing more time with family and friends who due to hockey commitments were somewhat neglected over the past 10 years."

Petherick has suffered from several injuries over the past few years, mostly issues with his back. As one of the taller players in the sport, it's a long way to the turf and that has taken its toll.

"I've had my fair share of issues with my back from all my years in hockey. I have managed it quite well but it's a long way down for me, even with a longer stick!

"I've had to continue to rehab well and do a lot of core work, but I've acknowledged my back's not a big fan of hockey so I need to find other things to do."

Petherick made his debut back in 2005 as an 18-year-old in front of a home crowd in Hamilton.

Over the last 10 years he has played for his region Midlands and the Black Sticks as well as in Australia for the Southern Hotshots, Malaysia with University of Kuala Lumpur, Holland for HGC and four seasons for German club Blau-Weiss Berlin.

Other than his debut, he identifies winning the 2009 Champions Challenge and 2012 Azlan Shah Cup along with competing at the 2012 London Olympics as his career highlights.

Petherick is excited about the prospect of enjoying the upcoming Kiwi summer before reassessing his level of playing involvement at representative level for Midlands and his club Hamilton Old Boys.

"There many people I need to thank including my family, friends, Hamilton Boys High School, Waikato Hockey, Midlands Hockey, Hockey New Zealand, HPSNZ support staff and my sponsors Glenn Cox at TK Hockey and James O'Rourke at Mizuno who have been so supportive throughout my Black Sticks career.

"I'm sure I'll miss the life of an international hockey player and all it encompasses but this is a new chapter and I'm really looking forward to it."

Hockey New Zealand Media release


---

Senior women face Ireland in test match series

Scotland Senior Women travel to Dublin for a three match test series against Ireland in what will be their second training camp inside a month.

They face Ireland on 2nd and third of November at the Three Rock Rovers free for spectators and again on Wednesday 5th November at Alexandra College.

Scotland Senior Women Head Coach Gordon Shepherd has selected a slightly different side to the Germany trip with Captain Leigh Fawcett and Becky Ward out due to work commitments and Aileen Davis comes back in from making her first appearance since the Glasgow 2014 Commonwealth Games. Only Davis, Susan McGilveray, Nicola Skrastin, Sarah Robertson and Nikki Kidd feature from the Glasgow 2014 side.

Kirsten McIntosh, Louise Campbell, Nicola Cochrane, Kirsten Peters and Maisie Morris come in to the squad off following inclusion in the Great Britain U21 Women training camp that recently took place in England.

Head coach Gordon Shepherd is looking forward to the trip over, stating, "This is great to see the whole squad perform against top international sides. This is an invaluable opportunity to help me get a better understanding of the squad in the lead up to a very important summer next year with the Europeans in London."

Sarah Robertson is to receive her 50th cap for Scotland if she features in the first match of the test series and Kirsten Peters, Emma McGregor, Jenny Morris and Rowen Sinclair are all to receive their first caps for Scotland.

Squad for Ireland 2-5th November

Susan McGilveray, Alison Howie, Nicola Skrastin, Rowan Sinclair (all Clydesdale Western), Kirsten McIntosh, Nicola Cochrane, Becky Merchant, Maisie Morris, Kirsten Peters, Louise Campbell (all Edinburgh University), Sarah Robertson (KHC Leuven), Kareena Marshall (Western Wildcats), Nikki Kidd (Mannheimer HC), Aileen Davis (Clifton), Amber McNeill and Emma McGregor (both CALA Edinburgh), Jenny Morris (GHK), Amy Brodie (Grove Menzieshill)

Fixtures

Sunday 2nd November 18.00 Ireland v Scotland Three Rock Rovers (TRR)
Monday 3rd November 19.00 Ireland v Scotland Three Rock Rovers (TRR)
Wednesday 5th November 12.30 Ireland v Scotland Alexandra College

Scottish Hockey Union media release


---

CLUBHOUSE: The Inside Track



Andy Watts, Reading

Seven games into the domestic league season and the tables are starting to take shape. Leicester kept themselves in touch with the teams about them with an excellent 3-0 win over old foes Reading whilst in the NOW: Pensions Men's Premier Division, Reading continued their good run with a hard-earned win over Hampstead and Westminster. Both coaches, Leicester's David Mayer and Reading's Andy Watts gave us their thoughts.

Andy Watts, Reading.
On the win over Hampstead and Westminster:
"The performance was encouraging. The biggest thing for us was to improve on how we've played previously. We weren't at our best last week against Beeston so to show some improvements and to pick up three points is extremely pleasing."

On Reading's start to the season:
"It's a new group this season and with injuries as well we've lacked a little bit of continuity. We've lost to Beeston, East Grinstead and Surbiton but taken points off the teams around and below us. It's been frustrating at times due to the transitional nature of our start but despite taking some time for us to bed in I'm really pleased to see the direction we're heading."

On making the change from player to coach:
"I'm keen to give my all to coaching and that's the fairest thing for everyone. The club and my players have been really supportive. I have some experienced players to call upon but also an exciting group of up and coming talents. I've really enjoyed the switch to coaching so far."

On the development of Reading's young guns:
"We've had a number of U18s step up, Will Carter-Keal and Jack Whelan in particular have done well. We want to promote youth from within the club to take us forwards. Obviously you need a balance but these players are the ones we need to invest the time in now to ensure we are in good hands for the future.

To start with, some of the young players were a little star struck with some of the senior personnel we have. The older players have been fantastic at welcoming them and passing on their knowledge and experience and the young players are growing in confidence on and off the field with every week."

On Reading's aims for the season:
"In each of the games we have lost we were competitive. Although we don't have the depth we had in previous years, I really feel we have the capability to pick up the points and get into the playoffs. The top three have pulled away a little but beating Wimbledon and Hampstead, who are part of the group battling for 4th, could prove to be very important results for us."



David Mayer of Leicester asks the questions

David Mayer, Leicester Coach.
On the weekend's performance:
"We've had a challenge this year with a large turnaround in personnel but we've played very well recently. The last two weekends we could have got a bit more out of the game but we felt like we were really gelling as a team and getting close to how we want to play as a unit. We played well this weekend. They were missing a few players but we played what was in front of us well and we were really pleased to get the win."

On the rivalry with Reading:
"You don't lose the rivalry. Things change and the personnel changes but it was still Reading vs. Leicester and there's still that intensity that you'd expect. It's one of the games you look out for when the fixtures come out and it still has a real draw to it. Once the game starts you have to put that to one side but it's nice to have games like this."

On Leicester's new signings:
"I'm really pleased with the players we picked up and I know with this group we can do well. Experience tells me it can take time for everyone to gel but I know we have the talent to achieve what we want to. I'm pleased with them not just as hockey players but they way they've come into the group in general, how they conduct themselves and what they bring to us as a club. If we achieve something this year it'll be great but we can also look to next year, too."

On his side's aims for the season:
"We want to stay up first and foremost as everyone does. By Christmas we'd like to be safe and looking upwards. If we play as well as we can we can get to playoffs but we want to keep progressing and do well next year.

We won the league the year before last and we won a European Gold last year so we've not fallen too far off the pedestal. We have to work hard to make sure we keep improving and see where that leaves us at the end of the season."

On the teams to look out for:
"The general standard of the league is really high this year. We haven't come across any weaknesses so far. Obviously you look at teams like Surbiton with their depth and Canterbury were one of the toughest sides we faced last year so you can't look beyond them. We just want to focus on ourselves and what we're doing, most importantly."

With a break in the league calendar scheduled for this week there is only East Grinstead's re-arranged game with Southgate this coming weekend.

England Hockey Board Media release


---

Holcombe hockey star Nicci Daly eyes Formula One dream

By Graham Wilson



Daly, 26, is an Irish international with an eye on an Olympic place in the Rio Games.

NICCI DALY'S driving ambition earned her a 31st-minute goal for Investec premier division newcomers Holcombe in a 1-1 draw against champions Surbiton.

But she also comes from a motor-racing family. Her father won the Leinster Trophy while her uncle Derek Daly raced for Williams. In between travelling between the Kent club and Ireland for training she also works for Ford at Dagenham as a test engineer.

"l would like to get into Formula 1 myself eventually," she said "but Rio is where I want to go first."

Holcombe are in fourth place with Surbiton leading the league by three points above Canterbury and Clifton, who registered 3-0 and 6-3 wins over Bowdon Hightown and Beeston respectively.

East Grinstead were the fall-guys in the NOW: Pensions League, wrecked 4-1 by second-half goals from Wimbledon's Phil Roper, Ali Brogdon and Henry Weir while leaders Surbiton crushed Brooklands 7-1.

League champions Beeston have been drawn away to GB skipper Barry Middleton's Holcombe in the last 16 of the national cup on November 16 while Holcombe's ladies must play holders Surbiton.

Former GB Olympic coach Jason Lee is back coaching the men at his old club Bromley & Beckenham.

Daily Express


---

Northland re-appoint coach Waetford for 2015



Photo courtesy Sue Shepherd

Hockey Northland is excited to announce the re-appointment of Angeline Waetford as head coach of the 2015 Mark Cromie Holden Northland Women's Ford National Hockey League side (NHL).

This is following Northland's historic 2014 NHL campaign where the side made the final against Auckland.

Angeline's 2014 squad included Olympians, Northland centurions and Northland club and age group players that is built for a multi-year approach to winning the K Cup.

The 2015 Ford National Hockey League will be held for the first time in Northland at the world class Whangarei ITM Hockey Centre from the 12th-20th September.

Angeline is one of New Zealand's top coaches and has been involved in Hockey New Zealand's Junior Black Sticks programmes over the last five years.

She has been head coach or assistant coach of many of New Zealand's age group teams and was assistant coach of the 2013 Junior Black Sticks team that finished ninth at the Junior World Cup.

Hockey Northland would like to congratulate and wish Angeline all the best for her 2015 NHL campaign.

Hockey New Zealand Media release


---

Interest on the wane

By Jugjet Singh

PLENTY of money is being pumped into the Malaysia Hockey League (MHL) but the number of teams is declining.

The MHL Premier Division, the pride of the Malaysian Hockey Confederation (MHC), will only see six teams competing from this weekend, one less than last season.

The dominant Kuala Lumpur Hockey Club (KLHC), four-time back-to-back double champions, will start against Tenaga Nasional in a Charity Shield match this Wednesday, while the two-leg action begins on Friday.

The other four teams are Terengganu HT, Sapura, Maybank and UniKL.

Yesterday, title sponsor Tenaga Nasional came in with RM2 million for the entire year's domestic commitments. In total, TNB has invested RM12 million in the local leagues since 2006.

One reason for the decline is that the "quality player pool" is drying up, and the teams have resorted to hiring foreign players to lay their hands on the two titles.

Maybank have signed three foreign players in goalkeeper Moritz Knobloch from Germany, and Pakistanis Shakeel Abassi and Abdul Haseem Khan who were both members of the silver medal-winning team in the Incheon Asian Games while defending champions KLHC, coached by K. Dharmaraj, have six foreign signings.

Dharma's foreign pack include two young Australians — Harrison Page and Matthew Mallinson, both 20 years of age, and Pakistanis Akhtar Ali, Waseem Ahmad, Fareed Ahmad and Muhammad Imran.

Terengganu Hockey Team have registered five Koreans in penalty-corner specialist Jang Jong-hyun, Bae Jeong-seok, Seo Jong-ho and brothers Kang Moon-kyu and Kang Moon-Kweon

Sapura also have four Pakistani players and UniKL four foreign players. The only all-local side are Tenaga Nasional.

But with so many foreign players earning a handsome keep in the Premier Division, many budding local talents will have to watch from the sidelines.

Juniors team manager Mirnawan Nawawi did say, after his charges finished fifth in the Sultan of Johor Cup, that he will be scouting for talent in the Premier Division of the MHL to strengthen his 2016 Junior World Cup trainees.

But it is the same old local faces playing for the six clubs, so talent scouting is out of the question.

TOMORROW — Charity Shield: KLHC v Tenaga (6pm, National Stadium, Pitch II).

FRIDAY: Sapura v Maybank (6pm), UniKL v Terengganu HT (8pm).

SUNDAY: Tenaga v Terengganu HT (6pm, National Stadium, Pitch I); Sapura v UniKL (6pm, National Stadium, Pitch II); KLHC v Maybank (8pm, National Stadium, Pitch II).

New Straits Times


---

Top foreign players to grace Malaysia Hockey League

by S. Ramaguru



South Korean Jang Jong-hyun will play for Terengganu in the Malaysia Hockey League starting on Wednesday. - Filepic

KUALA LUMPUR: There will be no shortage of top-notch foreign players when the six-team Premier Division of the Malaysia Hockey League (MHL) gets under way at the National Hockey Stadium in Bukit Jalil on Wednesday.

With the exception of Tenaga Nasional, all the other five teams – defending double champions Kuala Lumpur Hockey Club (KLHC), Maybank, Sapura, Universiti Kuala Lumpur (UniKL) and Terengganu – have roped in foreign players to shore up their title challenge.

There will be a total of 23 foreign players in the fray. The major stars on parade will be South Korean penalty corner specialist Jang Jong-hyun along with his national team-mates Kang Moon-kweon, Bae Jeong-seok and Seo Jong-ho.

The four will turn out for Terengganu, who have been installed as the favourites for the title this season.

Pakistan have the biggest contingent with 10 of their players involved in the league. Leading the way is last year's MHL top scorer Kashif Ali, who will again feature for Sapura. Veteran Mohamed Zubair is also in the Sapura line-up.

Other Pakistani stars include Waseem Ahmad and Akhtar Ali playing for KLHC and current internationals Abdul Haseem Khan and Shakeel Abbasi for Maybank.

KLHC have the most number of foreign players with six followed by Terengganu (5), Sapura (5), UniKL (4) and Maybank (3).

KLHC and Tenaga, last year's finalists, will kick off their league tomorrow. On Friday, Sapura will play Maybank followed by the UniKL-Terengganu match.

Tenaga Nasional Berhad (TNB) has once again reaffirmed their commitment to sponsor the MHL for the ninth year.

"Hockey is one of the elite sports in the country and we are proud to be associated with the Malaysian Hockey Confederation (MHC) in the development of the game. We expect the MHL to be very competitive and look forward to an excellent top class fare in the coming weeks," said Datuk Ir Mohd Aminuddin Mohd Amin, the TNB senior general-manager for corporate affairs and communications, during the launch of the league yesterday.

MHC senior vice president Datuk Nur Azmie Ahmad said they were grateful to TNB for their continued support in the country's premier league event.

"It is a tough league with a lot of experienced foreign players. Only six teams will be competing but the quality of players playing in every team is very high," he said.

The Star of Malaysia


---

Hockey player Mohd Azwar counting his blessings after near miss

by Aftar Singh



Mohd Azwar Abdul Rahman (right) during a training session at the National Hockey Stadium in Bukit Jalil last year. - Filepic

SOMETIMES we tend to take things for granted.

And when it is nearly taken away from us, we realise just how important that thing is to us.

Hockey forward Mohd Azwar Abdul Rahman had such an experience – and it has made the 19-year-old all the more determined to reach greater heights one day.

The Project 2013 squad player was involved in a motorcycle accident last year and it nearly ended his hockey career.

He was on his way to meet a friend in Cheras in January last year when he lost control of his machine and skidded. The Sungai Petani-born player suffered bruises and injuries to both his hands and legs and was out of action for more than two months.

The Penang Free School student, who has good dribbling skills, had only played four matches in Division One of the Malaysian Junior Hockey League (MJHL) when he was involved in the accident.

Now, he looks back at the accident as the turning point in his life.

"It has taught me to be careful when riding a motorbike. I've always fancied motorcycles ... and it almost cost my hockey career – and my life. I was lucky to have escaped with just cuts and bruises," said Azwar.

"I have a phobia about riding motorcycles now."

And he is thankful that he has been given a second chance at making something of his immense hockey talent.

Though standing at only 1.60m tall (five feet and three inches), Azwar has big ambitions.

Even when he was recovering from his injuries, he never gave up hope of playing for the country, one day.

That was what kept him going and when he recovered, he was glad to join the Project 2013 squad.

He gave his best in training and was selected for the playing tours to Europe, South Korea and Australia last year.

"I thought I wouldn't be recalled to join the Project 2013 squad after the accident ... I must thank coach K. Dharmaraj for giving me a chance," he said.

Azwar also featured in the third edition of the Sultan of Johor Cup last year, helping Malaysia to a runner-up finish behind India.

He was disappointed not to have earned a spot in the Junior World Cup in New Delhi last year. So, it came as a surprise when he got the chance to make his debut with the national senior team in the Myanmar SEA Games last December, which Malaysia won.

Azwar, who netted two goals in the SEA Games, has made steady progress since joining the Project squad in 2012.

He also featured in the recently-ended Sultan of Johor Cup at the Taman Daya Stadium in Johor Baru, where Malaysia finished fifth out of six teams.

Although his dream of featuring in the Junior World Cup last year did not materialise, he has vowed not to let it dampen his spirit.

"That snub has motivated me to train even harder so that I can win a place for the next Junior World Cup in 2016 ... also in New Delhi," said Azwar.

Now, that's the kind of fighting spirit a lot of our athletes could do with.

The Star of Malaysia


---

Punjab juniors pushing Indian hockey towards better future

Indervir Grewal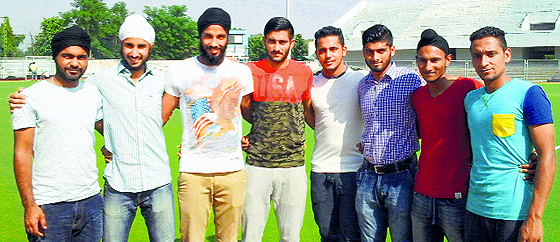 Members of the junior India hockey team that won the Sultan of Johor Cup — Simranjeet Singh, Santa Singh, Jarmanpreet Singh, Parvinder Singh, Harmanpreet Singh, Varun Kumar, Harjeet Singh and Gurinder Singh — at the Surjit Hockey Stadium. Tribune photo

Chandigarh - "Leave a seat for the captain," joked a few as Harjeet Singh walked into the room. The slim centre half smiled shyly; he didn't mind the teasing. He has known most of the other boys for almost all of his playing life.

He took the empty seat and the room at the Surjit hockey academy's hostel in Jalandhar filled up with lively banter. The eight Punjab players, who were part of the Indian junior team that won the Sultan of Johor Cup recently, were in the city on Saturday for an informal felicitation ceremony organised by Pargat Singh, president of Hockey Punjab.

For seven of them it was a sort of homecoming. Harmanpreet Singh, Varun Kumar, Gurinder Singh, Simranjeet Singh, Parvinder Singh, Jarmanpreet Singh and Harjeet are all former trainees of the academy. Santa Singh is a trainee of the Namdhari academy in Sri Bhaini Sahib.

It is no secret that Punjab has again become a dominant force in Indian hockey. Punjab has won the junior national title three years in a row. Around 20 players from Punjab are currently part of the senior and junior India teams and most of them have become indispensable.

The current team is no exception. Varun and Harmanpreet were rock solid in defence. Both drag-flickers, Varun scored three goals, while Harmanpreet was the top scorer with nine goals and was named the best player of the tournament. Up front, Parvinder scored three of the best field goals of the tournament. Simranjeet, though scored only one goal, stood out for his crafty stickwork.

The midfield was controlled by Gurinder on the left, Harjeet in the middle and Jarmanpreet on the right. All three proved irreplaceable and were the least substituted players.

Double the promise

Harjeet, who, along with Jarmanpreet, was part of the team that won the title last year, was named the most promising player for the second year in a row. But this time the title win was extra sweet. "Last year, I was the junior-most. They were all two-three years senior to me so I was never as comfortable as I was this time," said Harjeet.

These players are of the same batch. Except for Harmanpreet and Parvinder, who came to Jalandhar from Malwa School academy, Ludhiana, only three years ago, the others were together at Surjit academy for over six years.

"It's rare to have so many players from a single batch get into the national team," said Avtar Singh, coach at the academy. "These boys are lucky. It makes it so much easier to cope with the new environment and the pressure. The support and understanding is already there."

The closeness is palpable. It also, to a level, helps explain how this raw team, which underwent only three training camps before going to Malaysia, achieved such a big feat.

For six of these boys, this was their first major tournament. Not many expected them to defend the title. Last year's team was the clear favourite. Many were part of the senior team as well; players like Manpreet Singh, Ramandeep Singh and Kothajit Singh were already known names.

That makes this current victory extra special, and it was made possible by the team's discipline in carrying out the tactics set by coach Harendra Singh and High Performance Director Roelant Oltmans.

The speed with which the team rotated the ball and kept possession was unprecedented in Indian hockey. It was a quintessential show of teamwork as every player executed his duties to perfection, more so off the ball than with it.

"The coaches emphasised on small details like passing and receiving," said Harjeet.

"We were told to pass only to the right of a player and receive on our right," Gurinder elaborated.

The idea was to eliminate common mistakes like missed passes and decrease the threat of turnovers. For long, the Indian teams have been susceptible to counter-attacks. It's a small detail but made a big difference — the Indians were very rarely caught out of position.

It's very basic, but it's easier said than done, especially in a final. England, vastly more experienced than India, was the favoured team. But India's tactics didn't waver. They held on even under extreme pressure near the end. They showed great resolve, discipline and aptitude.

Instilling discipline

At the hostel, Avtar and Jaspreet Jassi, physical trainer at the academy, walked in and the boys went quiet. "This is just the beginning and you need to work much harder from here on," Avtar told the boys, with a few specific suggestions.

Jarmanpreet needs to work on his one-on-one skills to get into goal-scoring positions. Harmanpreet has to improve his movement with the ball. Simranjeet, who underwent a knee surgery last year, must improve his fitness level.

"We have always tried to instill discipline and mutual respect into our trainees," Avtar added. "When we joined in 2006, hockey in Punjab was plagued by indiscipline; the seniors misbehaved with the juniors. Back then everybody wanted to be a star and indulged in individualistic play," added Avtar.

Hockey was played at a much slower pace and selfishness didn't compromise the team to the extent it does now. Losing the ball in the midfield almost always leads to a counter attack and a try at your goal.

"The first batches were prone to it. As the game changed, they found it hard to eradicate these bad habits. To be honest, even we were still coping with the changes in the game. But even so, many of our trainees like Manpreet and Akashdeep Singh have made it to the national team."

Avtar, Jaspreet and Gurdev Singh, the senior coach at the academy, admit that it's a process and they keep learning from each batch.

"This group (Harjeet and Co) received better training than their seniors. Our training methods have improved as we understand the changing demands of the game. The players are getting more exposure, learning from their seniors. They are more receptive and adaptive. The game has become incredibly fast and compact and the younger kids are starting to understand that mastering the basic skills and teamwork is much more effective than just trying to dodge every opponent player."

The system, which was put in place in 2006 when Pargat Singh was the Director Sports, has found its stride. The current players have already raised the bar set by their predecessors. But the coaching staff at Surjit academy is confident that the future will only be better.

The Tribune


---

HI appoints Kaushik as Central Zone's High Performance Manager

NEW DELHI: Hockey India on Monday appointed former India coach MK Kaushik as the High Performance Manager for the Central Zone.

"Mr. Kaushik, who was the coach of the Indian Men Hockey team that won Gold medal at the recently concluded 17th Asian Games 2014 in Incheon, South Korea will be seen in a new role from 1 November 2014," HI said in a statement.

Kaushik will monitor all domestic activities in the central zone comprising Madhya Pradesh, Chhattisgarh, Orissa, Bihar, Jharkhand, Uttar Pradesh and Uttarakhand.

"He will be responsible towards teaching the coaches of academy and states' players the right techniques which in turn will help develop the players in the long run."

Hockey India had earlier appointed V Baskaran for the south zone and Sukhvir Singh Grewal for the north zone.

The Manager High Performance of each zone will work under Director, High Performance Roelant Oltmans and will also monitor and evaluate the performance of coaches in Hockey India Member Units and Academies and identify the talent for elite coaching opportunities.

In consultation with Director High Performance, Kaushik will create, maintain and develop technical content for dissemination.

Speaking on Kaushik's appointment, Hockey India President Narinder Batra said, "Mr. Kaushik is a great resource for Indian Hockey, who has valuable experience and in-depth knowledge of the sport.

"The experience that he carries of the game, made us realise that he needs to be given larger roles as it will prove beneficial in our efforts to develop the game and the players in the central zone of the country. This initiative will further help us to not only identifying talent at grass root level but also minutely monitor such players in their development."

Speaking on the new role Kaushik said, "I am looking forward to my new role as High Performance Manager. It is a positive step forward for the betterment of the sport in the country at grassroots level.

"This initiative of Hockey India will help to boost the infrastructure of hockey in the country and will be helpful in identifying the right talent. I am confident that Hockey India's plan of introducing their High Performance Coaching Programme in the country will take the sport to different level."

Kaushik, who was a member of the 1980 Olympics Gold Medal winning team, had also coached both the men and women's teams.

The Times of India


---

Vivek Singh Kockey Academy launched

Sudheendra Tripathi

MUMBAI: Rahul Singh is a man of very few words. But talk to him about his older brother, friend and mentor, the late Vivek Singh, Rahul is ustoppable... just like he was on the hockey field. On Sunday, Rahul who represented India at the Atlanta Games in 1996, launched an academy in memory of Vivek at Matunga's Don Bosco High School. The Academy was inaugurated by Khel Ratna, Dharaj Pillay in presence of Olympians Merwyn Fernandes and Joachim Carvalho among many hockey stalwarts.

"There's an academy in the memory of Vivek (bhaiyya) successfully running in my hometown Varanasi. I had this dream of launching an academy in Mumbai where I have played all my hockey. I am what I am today because of hockey and I have learnt my trade in the city. So I owe hockey and this city a lot. It was always at the back of mind to launch and academy here.But somehow things were not falling in place.But I am happy that after years of frustration and toil, I am finally going to realize my dream," Rahul, one of the game's sharpest minds told TOI.

Pillay, who had launched an academy of his own a few years back, will be among the visiting coaches at the the Vivek Singh Hockey Academy. "For unfortunate reasons I had to close my academy . But all of us will ensure that the Vivek Singh Hockey Academy doesn't shut down. Vivek was a very close senior of mine and I used to look up at him. So I would go out of my way , if the need be, to come down and interact with children at the academy," Pillay said.

Rahul promises that this academy will be different in terms of coaching techniques. "Of course the main emphasis will be on basics. But one thing which we will try and instill among our wards is the importance of playing intelligent hockey," the 38-year-old observed.

KNOW VIVEK SINGH

Vivek Singh was an employee of the North Eastern Railway and played around 200 games for the country. He represented India at the Seoul Olympics in 1988, Champions Trophy in Germany in 1989, Lahore World Cup and the Beijing Asian Games in 1990. Vivek passed away at his residence in Varanasi after a prolonged battle with cancer in 2005.

The Times of India


---

Fast-rising Greensharks to challenge big boys for title

By BRIAN YONGA



Dennis Obata of Park Road team is challenged by Geoffrey Nyagaga and Edwin Otieno of Greensharks l, during their Kenya Hockey Union (KHU) men's Premier League match at City Park Stadium on October 12, 2014. Greensharks have become serious contenders for top honours. FILE PHOTO | MARTIN MUKANGU | NATION MEDIA GROUP

They were considered minnows in the title race when the Kenya Hockey Union (KHU) league season got underway in June but five months down the line, Greensharks have become serious contenders for top honours.

At the weekend, Greensharks underlined their title credentials by becoming the first men's team to book a spot in the play-offs after a superb 4-0 win away to debutants Nakuru Sikh Union and finish the regular league unbeaten.

Three wins and two draws later, the law enforcers can now start preparing for the semi-finals after a superb season that included a famous win over champions Kenya Police in their first game that got people talking about them.

However, their most defining game of the season was when they fought back from two goals down to draw 3-3 with USIU in what was arguably the game of the season.

It is the fighting spirit that has put the team two games away from their maiden league title.

NOT YET

They now sit on top of Pool A with 11 points, four more than second-placed USIU who have played four games, one less than the leaders.

Greensharks coach Nixon Nyangaga, however, believes the team is yet to reach its full potential.

"This (reaching play-offs) was our first target when the season got underway. We have now made it to the play-offs and we'll continue preparing hard for the semis because tougher opponents await us," Nyangaga said.

With Sharks grabbing one of the two slots available, the race for the remaining slot is between USIU, third-place Kenya Police who are also the champions and Western Jaguars.

Police have six points from three games and are a point ahead of Western Jaguars who are still unbeaten and have played three games.

RELEGATION

Nakuru are bottom with no points and are staring at relegation from the top flight.

In Pool B, 2012 champions Nairobi Simba are on course for a semi-final berth after a 3-1 win over Mombasa Sports Club on Sunday.

Simba moved to second with 12 points and need just a point in their remaining two games to qualify for the semis.

Strathmore Gladiators who completed their matches are top, also on 12 points, but with a superior goal difference.

Wazalendo are third with nine points and a huge win in their last game will see them lock Strathmore out of the play-offs.

In the women's league, Vikings' 5-0 win over Multimedia could not help them clinch a paly-off spot.

Daily Nation


---

Title hunt hots up

Simba beat Mombasa Sports Club to inch closer to play-offs

By Elizabeth Mburugu



GEORGE MUTIRA-01: Nairobi Simba George Mutira (l) fight with Wazee player Eddy Odhiambo and for the ball during the Vaisakhi Tournament played at Citypark. Simba won 1-0. ON 20/04/14 PHOTO:JENIPHER WACGHIE

Nairobi Simba beat Mombasa Sports Club 3-1 to increase their chances of making it to the last four of the Kenya Hockey Union (KHU) men's premier league.

Nairobi, who were recently stripped off second place following a successful appeal by Kisumu Simba, kept their heads high to secure three points.

Simba are also not a happy lot as they are being forced to play without key players George Mutira and Davis Wanangwe who are currently on suspension by KHU. Also missing was embattled Nelson Shihale who the club has been allegedly fielding without proper transfer from Strathmore University.

However, the 2012 champions will not allow their misfortunes to deter them from having a successful campaign this season. Nairobi team manager Kalpesh Solanki told FeverPitch that they are one match away from achieving their first goal.

"Our first goal at the beginning of the season was to secure a play-offs berth and we are one foot in, will work hard to maintain a clean sheet," said Solanki.

Nairobi Simba went into the match with victory on their minds, playing on the offensive and looking for an early lead. Their efforts almost paid off in the second minute when Jaspreet Kalsi put MSC goalkeeper Caleb Simiyu on the test but Simiyu was up to the task. However, Wilson Otieno converted a penalty corner in the 17th minute.

SHAH CONVERTED

Otieno almost got another one two minutes later but Simiyu did well to save the day, as Shabaz Shah converted a short corner in the 35th minute to give Simba a 2-0 lead at the breather.

Coming into the second half, MSC had composed themselves, containing former champions and trying to score goals. Edwin Mahaga's 40th minute shot missed the board to the relief of Nairobi's long-serving goalkeeper Ajay Dosaja who was already beaten.

Haggai Pepela put his name on the score sheet in the 53rd minute through a field goal. Victor Gitahi scored MSC's consolation goal in the 60th minute.

Nevertheless, the Coast-based players did not leave the city empty handed as they earned a point from a 1-1 draw against Kenya College of Accountancy University. 

Chris Wokila broke the deadlock in the 60th minute to give the students the lead in the 60th minute. Brian Karimi last minute goal denied the students the much needed victory.

In the women's national league, Vikings trounced Multimedia University 4-0 to revive their hopes of remaining in the title race.

Vikings overcame the students despite fielding nine players only as other players failed to show up. After leading 3-0 by half-time, Vikings added a fourth goal in the second half to seal the three vital points.

The Standard Online


---

Field hockey comes up short at BU, 2-1, in final regular-season game

by Matthew Morris



Freshman midfielder Tara Vittese scored Virginia's lone goal Sunday against Boston University, when the Cavaliers took their fourth defeat in five games. Virginia next plays in the ACC Field Hockey Championships at Duke's Jack Katz Stadium. Sarah MacAdam | The Cavalier Daily

The Virginia field hockey team concluded its regular season Sunday afternoon at Boston University, falling to the Terriers, 2-1, at New Balance Field.

The loss was the Cavaliers' fourth in five games — a concerning reality with postseason play around the corner.

Junior midfielder Sofi Laurito was the difference maker for BU (10-7, 4-1 Patriot), netting two first-half goals to hand Virginia (12-7, 4-2 ACC) a deficit it never overcame.

Laurito scored 20 minutes into the game when she penetrated the circle and shot past Virginia senior goalkeeper Jenny Johnstone. BU doubled its lead in the 32nd minute courtesy of Laurito's strike off a short corner.

Freshman midfielder Tara Vittese got Virginia on the scoreboard as time expired in the second half. Vittese finishes her first season in Charlottesville with 17 goals and 17 assists for a team-leading 51 points.

Johnstone, who exited after the first half, took the loss. Redshirt sophomore backup Rebecca Holden recorded two saves in the second half.

The Cavaliers next play Thursday, Nov. 6 at Duke's Jack Katz Stadium, site of the 2014 ACC Field Hockey Championships, where Virginia will compete as the No. 1 seed for the first time since 1998.

The Cavalier Daily