All the news for Tuesday 30 September 2014

Asian Games results Day 11

7/8 Bangladesh 2 Oman 3 (M)
Semi-final 1 Korea 0 India 1 (M)
Semi-final 2 Pakistan 0 Malaysia 0 (M) Pakistan win 6-5 on shootout.

17th Asian Games, Incheon 2014 Official site


---

Hosts Korea to face China in Incheon women's final

Japan & India will dispute Bronze medal match at Asian Games



Host nation Korea claimed a 3-1 win over India to set up a Gold medal clash with China at the 2014 Asian Games in Incheon. (Photo: Asian Hockey Federation)

In two very close women's semi-final encounters, China and Korea came out on top against Japan and India at the Asian Games in Incheon on Monday (29th September). Thailand took 7th place with a win over Hong Kong, while Singapore secured victory over Sri Lanka to come 9th in the men's tournament.

In today's first semi-final, reigning Asian Games champions China faced Japan. In an astonishing game, the game was confined to midfield for long stretches with only a handful of circle penetrations at either end. The entire game had only one single shot on goal, from the only penalty corner of the match which three minutes from the end. China's Wang Mengyu did not waste the opportunity, putting a cracking flick into the top left corner. Japan rushed to level the score but ran out of time, and the final whistle sounded to confirm China's place in a fourth consecutive Asian Games final.

China's coach You Baodong commented after the match that he was very happy with the way his players stuck to the game plan that had been prepared, and called the Japanese defence the best in Asia, and one that the Chinese and other Asian teams have learned a lot from.

The other semi-final saw Korea take on India, and in a match that was closer than might have been expected given the teams' rankings and performances, Korea eventually took the win. However, they were given a good run for their money by their Indian opponents, especially in the later stages of the match when the Korean players slowed down and missed their captain Kim Jongeun who left the field after getting hit on the ankle.

An early goal from Kim Darae was met with a reply from Namita Toppo, with the Korean lead only to be restored just before halftime. Park Mihyun scored Korea's third near the end of the third quarter, and despite a very good effort, India could not come up with a reply. Despite the defeat, Indian coach Neil Hawgood showed himself fiercely proud of his girls, reiterating his statement from a few days ago that Korea are by far the best team in the competition, and India being able to challenge them only shows how far the team has come.

Prior to the semi-finals, Thailand had taken on Hong Kong in the women's play-off match for 7th place. Two early goals, when Hong Kong hadn't quite got their feet on the ground, gave Thailand an added advantage, but they were the stronger team throughout. Scoring again just after halftime and twice in the last few minutes of the match, it was a clear victory for Thailand, with Tikhamporn Sakunpithak bagging a hat-trick.

Singapore and Sri Lanka were also in action, playing off for 9th place in the men's competition. Singapore had a strong first half and built a three goal lead, but a second half comeback saw Sri Lanka get to 3-4. While pushing for the elusive equaliser however, Sri Lanka ended up conceding a penalty stroke two minutes from the end which Singapore made good use of to finalise the 5-3 scoreline that gave them 9th place in the event. Despite finishing in last place, Sri Lanka's team manager Sarath Dissanayake expressed his happiness with today's performance and highlighted that it was Sri Lanka's first appearance in Asian Games in 36 years, and that this was mainly a step towards a bigger and better future for the team. 

Results

Monday, 29 September 2014 – Men
9/10th place: Singapore – Sri Lanka 5-3 (3-0)

Monday, 29 September 2014 – Women
7/8th place: Thailand – Hong Kong 5-0 (2-0)
Semi-Final: China – Japan 1-0 (0-0)
Semi-Final: Korea – India 3-1 (2-1)

FIH site


---

Indian women lose to South Korea in hockey semifinal

S. Thyagarajan

China, the defending champion, and South Korea will contest for the women's hockey gold medal on Wednesday after prevailing over Japan (1-0) and India (3-1) respectively here on Monday.

Downpour throughout the day impacted the quality of the competition at this crucial stage of the event.

It was not easy for the Koreans as the Indians put up a lot of resistance, though the frontline asserted itself only late in the final quarter.

Stunned by the early goal by Darae Kim, the Indians managed not only to hit back through a lovely goal by Namita Toppo, but also kept the Koreans on a leash. The defenders, led by Toppo, who made a goalline save in the second quarter, smothered the pressure.

The Koreans enjoyed the advantage of four penalty corners in this quarter but found the rivals tough to crack. Only nearing half-time did the Koreans succeed in increasing the margin through a deflection by Han Hyelyoung off a penalty corner. Goalkeeper Savita made a few good saves. Early in the game there was a semblance of Indian attack taking control thanks to a few quick runs down by Rani and Lilima Minz.

Late in the third quarter, an incisive long pass by Cheon caught the defenders off-guard, and Park Mihyun, threatening to score any time, completed the move with a neat push.

In the other match, the Chinese were more efficient though Japan shared the exchanges evenly until the second half. It took a spectacular penalty corner shot by Wang Mengyu, less than three minutes before the hooter, to seal it in China's favour.

The results:

Men: 9-10: Singapore 5 (Noor Shah, Muhammad Johan, Muhammad Nabri, Latif Marcian, Zulkepli Nur Ashriq) bt Sri Lanka 3 (Nawan Anju Kalahe 2, Sundarwan Sudusingha).

Women: (7-8): Thailand 5 (Sukumpithak 3, Sirikwan Wongkeuw, Sulocha Loskakul) bt Hong Kong 0. Semifinals: China 1 (Wang Mengyu) bt Japan 0; South Korea 3 (Darae Kim, Han Hyelyoung, Park Mihyun) bt India 1 (Namita Toppo).

Tuesday's matches: (Men): (7-8:): Bangladesh vs Oman (10.30 a.m.); Semifinals: South Korea vs India (1 p.m.); Pakistan vs Malaysia (3.30 p.m.).

The Hindu


---

Indian eves lose to South Korea in hockey semifinal

INCHEON: Indian women's hockey team put up a determined effort before going down to a superior South Korean outfit by 1-3 margin in the semifinal of the 17th Asian Games, on Monday.

India will now play in the bronze medal play-off match against Japan, whom China beat 1-0 in the other semi-final.

Korea opened the account as early as third minute when Kim Darae's reflex snap shot beat Indian goalie Savita all ends up it make it 1-0.

In the 11th minute, India levelled the proceedings courtesy wonderful strike from Namita Toppo from the the top of the 'D'. Namita entered the box and took a rasping shot at the corner of the net to make it 1-1.

After finishing on even keel in the first quarter, Indian girls fought hard in the second quarter before conceding the lead in the 28th minute with a strike from Han Hyelyoung.

Korea finally took an unassailable lead in the 42nd minute when Park Mihyun took advantage of poor defending after being fed right in-front of the Indian custodian.

Park trapped the ball and then had enough time to turn and slot it after it rebounded off Savita.

In the final quarter, India did get a penalty corner but drag-flick specialist Jaspreet Kaur failed to convert it.

Indian women will thus have revenge on their mind when they take on Japan in the bronze medal play-off. Japan won that contest 1-0 in Guangzhou edition four years back.

The Times of India


---

Pakistan take on Malaysia, India face South Korea in semifinals today

By Muhammad Ali

INCHEON: The semifinals of the 17th Asian Games Men's Hockey Tournament will be played at the Seonhak Hockey Stadium here on Tuesday (today) with Pakistan taking on Malaysia and India facing South Korea. The semifinalists teams are among the top-four of their respective pools. Pool A comprises last Asiad's runners up Malaysia, South Korea, Japan, Bangladesh and Singapore. While Pool B has Pakistan, India, Oman, China and Sri Lanka. Pakistan and South Korea finished their pools rounds with an impressive record of four wins in four matches, while conceding only one goal each. Pakistan defeated Sri Lanka 14-0, China 2-0, India 2-1 and Oman 8-0. Pakistan performance in the league round has been brilliant after a very long time. The greenshirts played a combination of classic and modern hockey: scoring 26 goals in four matches and conceding just one, a unique feat not witnessed since long. On the other hand, South Korea defeated Singapore 12-0, Malaysia 2-1, Japan 4-0 and Bangladesh 7-0. It is pertinent to mention that Pakistan defeated Malaysia in the final of the last Asiad in Guangzhou, China four years ago to clinch the gold medal.

The Asian Games hold great significance for the hockey nations of the continent as the winners of both the men and women's section will directly qualify for the 2016 Olympics in Rio de Janeiro. At Incheon, Pakistan are looking for an automatic berth for the 2016 Olympic Games in Brazil. If they retain the gold, Pakistan will directly make the cut for Rio 2016 and will not have to take part in the tough Olympic Qualifiers. The greenshirts certainly know the importance of securing a direct berth in a major event like the Olympics, having missed out on World Cup 2014 in Holland.

It seems that with the appointment of new coaching team headed by veteran Olympian Shahnaz Sheikh, the greenshirts are taking giant strides. Shahnaz told Daily Times Monday that he was happy with his team's build-up towards the semifinals and not everything had been disclosed yet. He said it was a good performance towards the semis but he believed that Pakistan should have scored more goals and missing ratio was still not under fully control. "I expect my boys to improve further in the semifinal as we can't afford any leniency and we have to maintain not only our winning run but to further improve our conversion rate," he added.

He said Pakistan had two days before playing the semifinal and they had concentrated to work on the basics. "Pakistan must play an energetic but composed game against Malaysia tomorrow," he said. "Defending our title and making next Olympics are main targets. We are two matches away from our mission," a confident Shahnaz maintained after the team's training session in rain. "We have few secret weapons for the big matches and we will show them in the next two games," the former Pakistan forward said.

Malaysia scored 18 goals and conceded six goals in the league which shows the difference between the two teams. Like Pakistan, Malaysia also play attacking hockey with brilliant stick work. Malaysian hockey coach Arul Selvaraj said that he was satisfied with the spirit and determination of his players. "My players will show same spirit and understanding in the semi against Pakistan, which they showed in the league contests." Malaysia won the silver medal at 2010 Guangzhou Asian Games after losing to Pakistan 2-0 in the final.

India had more difficulty on their path into the semifinals, getting hammered at the hands of Pakistan and doing battle with a fierce Chinese side. However, a lot of concerns lie in all departments of their game. Their defence is still not steady in the face of speedy thrusts and the weakness was evident against a skilful Pakistan side. The Indian attack also lacks a real 'livewire' approach and the midfield has still not exercised the authority required at this level. India are depending on earning penalty corners to move ahead in matches, a dangerous trend, and with ace drag-flicker Rupinderpal Singh injuring his groin in the second game against Oman has really not been up to the mark. India's coach Terry Walsh said that while he was of course happy with reaching the semi-finals, he was not entirely happy with the performance of his team, citing a lack of fluidity, good decision-making and cohesion as the main aspects holding the team back. "We can't make mistakes in tomorrow's match against Korea," he said.

"If India want gold then they have to win semifinal and then the final," he added. South Korea could prove a hard nut to crack for the Indians, keeping in view their performance in the league round. India, seeking their first Asiad title since 1998, will have to make a giant effort to overpower strong Koreans to keep their medal hopes alive.

Pakistan hockey team are the most successful in the Asian Games. Pakistan's records at Asian level are unmatchable. Pakistan have won the Asian Games gold medal eight times: 1958, 1962, 1970, 1974, 1978, 1982, 1990 and 2010; this is also the highest number of times a country have come first. They have also won 02 silver and 03 bronze medals. It was after a long gap of 20 years that Pakistan finally regained the hockey title by blanking Malaysia 2-0 in the final of the Asian Games 2010. It was Pakistan's eighth Asiad hockey gold, ending a drought that stretched back to the Beijing Asiad in 1990.

The field hockey at the 17th Asian Games is being held under a new format introduced in a bid to make the game faster. Four 15-minute quarters have replace the previous format of two 35-minute halves, bringing coaches and game management more into focus. The new system has been tested in friendly matches and tournaments, but the blue turf at the Seonhok Stadium is seeing it for the first time in the international arena.

The Daily Times


---

Home truth beckons India

K. Arumugam

Home truth beckons Indian men's hockey team, as they meet the hosts Korea tomorrow in the semifinals of the Incheon Asian Games.

A ball of gloom descended today in India, as their distaff side were easily distanced from their ambition to reach the finals by the Korean girls, with a 3-1 victory, despite being sloppy in many areas of the game.

Indian men's team, which is far more experienced and result givers compared to their women counterparts, now has the onerous task of lifting the morale of India at Incheon. First thing for that is to lift their own morale, which seems on low after a string of unsatisfactory performance including woeful circle show again Pakistan.

The hosts, living up to the expectation of the home crowd, have always been a tough nut in crunch matches, habitually lifting their game to required level.

That is exactly the strength of Korea and also the factors why it could unseat both India and Pak from their premier position in Asian field hockey. Take for instance, last Asia Cup. India defeated Korea 2-0 with a goal apiece in the first and ten minutes of the league encounter.

India however could not sustain the level of consistency required, in the final. Both teams tied 3-3 at 64th minute, India could have stretched them to tie-breaker to create another Bangkok kind of Gold, but it was not to be.

At 68th minutes, that is less than two minutes left for the hooter, Ka Moon Kyen struck the death blow, with that a ticket to The Hague.

That is Korea, they have a knack of turning out great form when matters, a penalty corner converted in the last two minutes in 2002 Asiad final too is fresh in everybody's mind.

Therefore, it is prudent not to consider 3-0 rout of last World Cup and consider India has some psychological advantage.

Its not there. India has to work hard, and pull up socks to set their eyes on the final, which can keep their Gold and direct passage to Rio Olympics.

The Sardar Singh's boys in Incheon did not show even an inch better compared to Glascow or The Hague performance.

If it all, they struggled even against less-fancied and easily beatable sides in this Asiad.

A glaring lacuna of course is penalty corner- either getting them matching with the quality of circle entries or converting them with a systemic rhythm. Indian PC department looks jaded, barren, and even low on scheming.

The team cannot parrot out the reason that Rupinder Pal is not there on the play field due to injury.

Injury happens to any player in any tournament, the top teams are supposed to have plan Two.

Here in Incheon, otherwise reliable Raghunath have to rise to the occasion tomorrow to cover up the glaring lacuna.

Indians must have by now seen how sharp their tomorrow's rival is inside D. Indians have to be hawkish inside D, and be able to convert half chances into full, though at present even sitters are allowed to roll by due to ball watching or poor anticipation.

Social media is even agog with a jocular post that what was the last occasion a particular player trapped the ball inside D etc.

India need to be a professional side tomorrow, glimpses of which were seen against Pakistan though. While Pak played individual game, which is risky, while Indians played a compact, team game.

Tomorrow will also mark whether our hockey is worth the budget it spends.

Stick2Hockey.com


---

Failure in semis not an option for India

Michael Nobbs



Best prepared with the best players available and the best of resources provided in preparation, India must beat South Korea for a shot at gold. (Getty Images)

The time for talk is over, India to meet South Korea in the first semi-final of Incheon Asian Games. This game and the subsequent grand final (if India go through) are two critical games for Indian hockey and coach Terry Walsh.

Failure is not really an option. The Indian line-up has the best players they have to offer, all rebel World Series Hockey players available and no other hockey association interfering this time. India's Asian Games squad has players with world class experience from the Hockey India League. This team is the best prepared, has an experienced support staff, and the biggest investment ever spent on coaches. Should India expect anything less than gold?

Well, sport is sport and anything can happen on the day; but as the top teams in world hockey consistently perform at a consistent level and have similar programmes, their associations expect and demand results. It's time India do the same.

Now, looking at the game, South Korea are ranked 8th in the world and I feel they had the easier pool. So as it happened, they remain untested. India have had a tougher time in the group games and should have benefited from these, ironing out some of the weaknesses and problems they have in attack and defence. The pool games did give them that opportunity; however, I felt whilst at times they showed brilliance, at other times displayed very average hockey and overall still making the same errors.

But there have been some shining lights in the Indian campaign so far. PR Sreejesh has started displaying some outstanding goal-keeping form. If India were to have any chance of winning gold, Sreejesh needs to continue in this vain.

Gurbaj Singh has displayed outstanding skills but little seems to come from his use of those. He has produced many crosses and penetrations into the circle but with very little result. India's forwards have been missing in action.

Birender Lakra has been the unsung hero, an outstanding and steady player who values possession, with the ability to score field goals, plus rock solid in defence.

Rupinderpal Singh, hopefully, has recovered from his injury and surely needs to play in semifinal against South Korea. He has the ability to marshal the defence with precious conversion rate on penalty corners, and it will be hard for India to win without him.

An interesting fact is that India don't figure high up in the top goal-scorers list in this competition. In fact, Rupinderpal and VR Raghunath are both ranked 5th and 7th in goals scored off PCs. This highlights India's inability to convert chances. On the other hand, South Korea have the leading goal-scorer as well as third and fourth, showing they have a formidable strike force.

India's strikers can no longer afford to remain missing in action. SV Sunil, Ramandeep Singh, Akashdeep Singh, Nikin Thimmaiah and Gurwinder Singh Chandi will really need to show that they deserve to be in the team. Their job is to score goals, which unfortunately isn't happening at the moment.

However, if skipper Sardar Singh and Rupinderpal, Lakra, Manpreet Singh and Raghunath play to their potential then India will be unbeatable. If India beat South Korea and Pakistan get the better of Malaysia in the second semi-final, we will be licking our lips at another India-Pakistan encounter, and that too in the grand final. I am sure it's an added incentive for India to beat Korea, allowing them a chance to take revenge from the archrivals for their pool-stage defeat.

Give your best India, show us that you have the courage to 'dare to win'.

IBNLive


---

Two hurdles to Rio



Malaysian players celebrate their 4-1 win over Japan at the Seonhak Hockey Stadium on Satirday

NATIONAL hockey coach Arul Selvaraj has two more hurdles to get over, starting with today's Asian Games semi-final against Pakistan, for Malaysia to qualify for the 2016 Olympics.

Winning the gold medal in Incheon comes with an automatic ticket to Rio De Janeiro but the road ahead is fraught with difficulty.

Pakistan have long been a team Malaysia have struggled to compete with though two wins in the last eight meetings since 2012 offers hope.

For one thing, Malaysia must get their penalty corner batteries spot on, with the 4-1 win over Japan showing how useful it can be in settling a match.

Razie Rahim has scored off seven of these in four matches and Malaysia must make the set-pieces count.

"I set the team five targets to achieve when we arrived here for the Asian Games," said Arul after Malaysia confirmed their semi-final spot.

"Two of those we achieved (by winning the first two group games against Singapore and Bangladesh and then against Japan).

"We did not get a point against South Korea as I hoped but now we have another target in front us, to beat Pakistan," added Arul, whose final target is to win gold.

Malaysia and Pakistan met six times in 2013 — Malaysia won 3-1 in Johor Baru in a World Hockey League Semi-Finals placing match, drew 4-4 in a preliminary match of the same tournament, drew 2-2 at the Sultan Azlan Shah Cup before losing at the Asia Cup and again at the Asian Champions Trophy.

According to Timesport's record of Malaysia-Pakistan clashes, the national team have only won five times in 73 competitive meetings since 1958.

Pakistan also defeated Malaysia 2-0 in the 2010 Asian Games final in Guangzhou.

So confident Pakistan are of a victory that their player Muhammad Waqas said they do not look at who their opponents are when preparing for a match.

"Whoever comes, it does not matter to us. We are not a computer. We just do our best," he said.

The winners will meet either South Korea or India in the final.

New Straits Times


---

Razie's scoring touch will come in handy against Pakistan



Malaysian defender Mohd Razie Rahim (left) tries to stop a Korean player during a hockey match at the Incheon Asian Games. - AFP

INCHEON: Defender Mohd Razie Rahim is slowly but surely finding his scoring touch – and it could not have been more timely for Malaysia.

The national hockey team face a tricky semi-final tie against defending champions Pakistan at the Seonhak Stadium on Tuesday (6pm Malaysian time).

The 27-year-old Razie has scored seven goals in four matches and is in buoyant mood to add to his tally. The only match that he did not score was in the 2-1 defeat by South Korea in a group fixture.

Five of Razie's goals came from penalty corners while two were penalty stroke conversions.

The seven goals have matched his personal best tally in an international tournament – at the World League semi-final in Johor Baru last year.

But, here in Incheon, he has a good chance to break his own record. Malaysia have two more matches to play, including the game against Pakistan.

"I'm happy with my form as it will help our team achieve the objective. Pakistan are not an easy team to play against and we will have to be at our very best," said Razie, who was in the Malaysian team who lost 2-0 to Pakistan in the 2010 Asiad final in Guangzhou.

'The team is playing well. We just have to work together and support each other. Of course, it always helps to keep the mistakes down."

Razie plays in central defence with skipper Azlan Misron. The other defenders are Mohd Shukri Mutalib and Faiz Helmi.

"Pakistan have the skills to take on their opponents and they are also very fast. But we have to keep to our game plan ... like we did against Japan (which Malaysia won 4-1 to reach the semi-finals)," he said.

On a personal note, Razie said he would like to help Malaysia win their first-ever Asiad hockey gold.

"I know it is a tall order but I don't think that it is impossible. We have an equal chance as the other teams. It is a matter of getting our game right and making full use of the chances," he said.

To date, Malaysia have scored 18 goals and conceded seven in four matches.

Besides Razie, the other Malaysian scorers have been Izwan Firdaus (three); Mohd Marhan Jalil, Mohd Shahrun Nabil, Mohd Firhan Azhaari (all two); and Tengku Ahmad Tajuddin and Fitri Saari (one each).

The Star of Malaysia


---

No-nonsense terrors




PETALING JAYA — Unsung heroes Shukri Mutalib and Shahrun Nabil Abdullah have been performing consistently well for Malaysia in men's hockey at the Asian Games in Incheon.

The two have been infl uential fi gures, in both attack and defence in the group stages, especially in the decisive 4-1 win over Japan for Malaysia to book a place in the semifi nals.

The no-nonsense duo, who always run themselves to the ground, will be called upon yet again to play their roles when Malaysia take on Pakistan today (6pm, Malaysian time) for a place in the final.

Pakistan, who won the gold four years ago in Guangzhou after beating Malaysia 2-0, have many skilful individuals and are favourites — like it or not.

It will take something special from Malaysia to stun their traditional and bitter rivals.

Malaysia's interim coach S. Arul Selvaraj said he was satisfi ed with the contributions made by Shukri and Shahrun.

"These two are doing fine. They are taking their senior players' role well to carry the team. They are everywhere.

I need experienced players who are strong," said Arul, when contacted in Incheon.

"And we need these kind of players for a match of this nature."

Shukri and Shahrun aside, Arul is plotting the downfall of the mighty Pakistanis, who have beaten India 2-1 on their way to the semifinal.

"I have identifi ed their strengths to reduce the danger. They have weaknesses as well which could be exploited," he said. "We need to execute the plan."

The Malaysians have also been working on penalty corner — both in the offensive and defensive aspects.

Penalty corner is vital when it comes to a close contest, after all.

Leading the cast in the offensive aspect is No. 1 specialist Razie Rahim, who has scored fi ve goals so far. He has also scored two from penalty strokes.

Razie is also one of the fi rst runners when Malaysia defend a penalty corner besides Izad Hakimi Jamaluddin and Nabil Fiqri Mohamad Noor.

What about the experienced goalkeeper S. Kumar, who on his day is a diffi cult man to beat?

"Kumar's looking great. He's calm and knows his responsibilities well.

"He is well-prepared," said Arul. "All said, I have this trust in my players to make it diffi cult for Pakistan. It will be diffi cult but we have that chance."

Malay Mail


---

Pakistan to use 'secret weapons' in Malaysia clash today

INCHEON: After a superb show in the group stage, Pakistan face a tough test on Tuesday evening under lights when they clash with Malaysia in the Asian Games hockey semi-final here at the Seonhak Stadium.

Earlier on Tuesday in the first semi-final, India will be meeting hosts South Korea.

Pakistan blanked Malaysia in the 2010 Asian Games final in Guangzhou, China 2-0 to win their first gold after 20 years with Sohail Abbas and Rehan Butt scoring goals for the green-shirts.

Now, Pakistan, six-time former Asiad champions, not only need to make the final but also successfully defend the title to ensure direct entry into the 2016 Rio de Janeiro Olympics.

"Defending the title and making the 2016 Olympics are the main targets. We are now two matches away from our mission," a confident-looking chief coach Shahnaz Shaikh said after Pakistan team's training session amid rain.

"We have a few secret weapons for the big matches and we will display those in the next two games [semi-final and final]," the coach added.

Shahnaz said it was very disappointing that Pakistan failed to make the finals of this year's World Cup, launched by Pakistan, for the first time in 42 years.

"The heartening factor of our game in the league matches [here in Asiad] is that penalty corner conversion and forward line — two major areas — have been good for us so far," he underlined.

Out of the 26 goals Pakistan scored in the Asiad league rounds here 14 were field efforts while 12 came from penalty corners.

Pakistan captain Mohammad Imran is the tournament's highest goal-scorer with half a dozen strikes to his credit.

Meanwhile, Imran said Pakistan were upbeat in their hunt to defend the title here in Incheon.

"We all are aware of the importance of our next two matches, and we are well-equipped to handle pressure," Imran said in an interview on Monday.

"We have always enjoyed superiority over Malaysians and are now looking forward to maintaining it with some new tactical game," Imran, who was part of Pakistan's 2010 Asian Games winning team led by Zeeshan Ashraf, remarked.

"Pressure is always there in big games like semi-final but my team is ready for the task ahead," the full-back emphasised.

"I hope the team and myself will carry forward the momentum we showed in the league round," the skipper added.

"Our build-up to the knockout stage has been near-perfect and our forwards have shown thrust for [scoring] goals which is a great sign," Imran said.

In an impressive display, Pakistan faced no significant hurdle in reaching the last-four stage as they registered big wins over lowly teams like Sri Lanka (14-0) and Oman (8-0) in the group matches. The green-shirts also overpowered China (2-0) and traditional rivals India (2-1) to top the group.

It was encouraging to see that Pakistan forwards duo of Umar Bhutta and Mohammad Waqas combined brilliantly upfront and were supported by spearhead Haseem Khan, Shakeel Abbasi, Mohammad Rizwan Senior and teenager Mohammad Dilber.

Mohammad Imran, the team's penalty corner specialist, and Mohammad Irfan will be key factors in the match against Malaysia.

While Pakistan netted 26 goals while conceding just one, Malaysia banged in 18 and conceded six goals which shows the difference between the two teams.

Like Pakistan, Malaysia also play attacking hockey with brilliant stick-work. Experienced player Mohammad Razie Abdul Rahman could prove a threat for Pakistan, particularly in penalty corners.

Dawn


---

'Hard work by coach at camps paying dividends in Incheon'

ISLAMABAD: Olympian Samiullah Khan expects Pakistan to make the Asian Games final, saying it is coach Shahnaz Sheikh's efforts which has bought the green-shirts close to glory in Incheon.

"Pakistan have delivered a tremendous performance so far in the tournament and I hope they will go all out for victory in the semi-final against Mala­ysia on Tuesday," Samiullah said on Monday.

Samiullah, nicknamed 'Flying Horse' for his exceptional speed in his glorious playing days, noted it was the long training camps that had paid Pakistan well in the Asian Games.

"Shahnaz did massive work on the players at the camps set up [in lead-up to the Asiad] to prepare them for the continental event and this whole exercise has shown its results in Incheon," he said.

Samiullah, who played as a lightning-fast left winger during the 1970s and 1980s, reckoned the green-shirts seemed well practised and well-shaped to overcome Malaysia on Tuesday.

"Our players have improved in all formats. Their performance shows that they have trained hard and refined their game," he said, while lauding the coach for making this all happen.

Samiullah insisted the green-shirts should not lose their temperament now and must carry on with their winning streak.

"They have the ability to defend the title and with each win their confidence level has also improved," he said.

Samiullah advised the Pakistan players to go with a big heart and play attacking game in the semi-final, adding: "Our defence and goalkeeper should also remain alert against Malaysian forward line."

Dawn


---

'Calypso Stickwomen' start World League qualifiers

Nigel Simon



National women's team duo, Kristin Thompson, left, of Paragon and Notre Dame's Blair Wynne battle for the ball during a T&T Hockey Board Women's Championship Division match earlier this year at the National Hockey Centre, Tacarigua. Photo: Anthony Harris.

This country's senior women's hockey team will flick off their campaign in the second edition of the International Hockey Federation (FIH) World League First Round qualifying tournament against little fancied Puerto Rico from 11.30 am at the newly laid Mona Campus Hockey Facility, Kingston, Jamaica today.

It will be the first of five matches for the Anthony Marcano-coached "Calypso Stickwomen" who will also face Dominican Republic tomorrow (October 1), Jamaica (October 2), Barbados (October 4) and Venezuela on Sunday to conclude round-robin play at the end of which, only the top team will advance to round two in Montevideo, Uruguay from February 28-March 8, next year.

Speaking prior to the team's departure on Saturday morning, Marcano said he was very satisfied with the work put in by the players.

"They put in a lot of work and now its for us to go and reap the rewards of those efforts. It's not going to be easy though, as we are the top Caribbean team, which comes with a target on your back for the other teams."

Concerning the fixture line-up for his team, Marcano who also coaches local club Harvard Checkers said playing the teams who were considered the weaker teams in the group early on would allow his team time to see what it main rivals have to offer.

"We are expected to pick up maximum points in our two first matches without any problems but we know Jamaica and Barbados can be tricky tests at times, however I am confident in team's ability to win every match."

Included in the team for Jamaica, which will be captained by Patricia Wright-Alexis are the experienced quartet of Blair Wynne, Krizia Layne, Oire Trotman and Sekayi Liburd who all missed the Commonwealth Games in Glasgow, Scotland where T&T was beaten in all five matches by a combined 52-1 goals margin.

... Hockeymen have first day bye

While the local hockeywomen get their campaign off and running, the local men will have a chance to see their four rivals for top spot as the Raphael Govia-coached T&T squad has a first day bye.

When the men's competition flick off Venezuela faces Dominican Republic from 2 pm and Barbados comes up against Jamaimca from 7 pm which will give the Darren Cowie-led "Calypso Stickmen," the reigning Caribbean champions to ample time to prepare for tomorrow's first match against Venezuela from 11.30 am.

T&T will then face Dominican Republic on Thursday from 4.30 pm followed by Barbados on Saturday (2 pm) and host Jamaica on Sunday from 7 pm to end round-robin play which will see the overall winner securing the lone spot available to the Second Round in Chula Vista, California, next year (February 28 - March 8).

Squad

T&T women's team: Petal Derry (GK), Arresia Sandy (GK), Alanna Lewis (C), Patricia Wright-Alexis (C), Blair Wynne, Kayla Brathwaite, Tamia Roach, Dana-Lee De Gannes, Brittney Hingh, Krizia Layne, Zene Henry, Sekayi Liburd, Brianna Govia, Amie Olton, Elise Olton, Kristin Thompson, Oire Trotman, Keima Gardiner.

Technical staff: Anthony Marcano (coach), Stacey Siu Butt (assistant coach), Sharon De Freitas (manager), Natalie Nieves (assistant manager)

T&T men's hockey team: Andrey Rocke (goalkeeper), Karlos Stephen (goalkeeper), Darren Cowie (captain), Aidan De Gannes (vice-captain), Akim Toussaint, Wayne Legerton, Solomon Eccles, Michael II 'Otis' O'Connor, Jordan Reynos, Stefan Mouttet, Nicholas 'Triston' Grant, Ishmael Campbell, Shaquille Daniel, Marcus James, Shane Legerton, Kristien Emmanuel, Kiel Murray, Tariq Marcano.

Technical staff: Raphael Govia (interim coach), Kirth David (manager), Cindy Martin-Faustin (head of delegation), Zynul Khan (doctor), Karielle De Bique (physiotherapist), Nicholas Baldeosingh (IT technician)

The Trinidad Guardian


---

Paul Gaudoin named Kookaburras' Senior Assistant Coach




Hockey Australia is pleased to announce that Paul Gaudoin will step up to become the Senior Assistant Coach with the Kookaburras following Graham Reid's appointment as National Coach in September.

Gaudoin, who has been an assistant coach to the team since 2010, as well as being the National Junior Coach, will become Reid's right hand man as the Kookaburras prepare for the Olympic Games in Rio in 2016. The move will see him relinquish his role as National Junior Coach with Hockey Australia looking to fill that vacancy early in the new year.

Commenting on his appointment, Gaudoin said, "It's quite difficult in the end when you go for a role as Head Coach and it doesn't quite work out. It makes you think about what you want and where you want to be and this is a good place to be.

"I'm looking forward to continuing the work I've been heavily involved with over the last few years and I'm keen to take the opportunity to further develop myself in what is the best program in the world, which will ultimately prepare me for a role as a head coach.

"My focus now will be full time on the senior men's program and I'll be able to put more of my mark on it. We're in a very strong position with our junior program and we need to ensure it continues for sustained success; we need to keep blooding some of the talented young players that I've seen up close over the next two to six years."

Hockey Australia High Performance Director Trish Heberle said, "Paul has been in our system for five years and has done a great job balancing both his role with the Kookaburras and that of National Junior Coach. His progression and development over this period indicates that he is well positioned to step up into this more senior role.

"As the National Junior Coach role is now vacant, we will commence recruitment in November with an appointment planned for late January 2015. In the interim, the national coaches will work closely with the national network to ensure that our youth programs are fully supported during this transition period."

Kookaburras National Coach Graham Reid said, "It is great news for the men's program that Paul has accepted the offer of Senior Assistant Coach of the Kookaburras. We have a great history working together and I know he will challenge me and the team to be the best we can be.

"He brings to our team a unique blend of experience and expertise that no-one else provides."

A former captain of the Kookaburras, Gaudoin made 234 appearances in an 11-year international career spanning 1994-2004. He won bronze medals at two Olympic Games and was selected for a third, Athens in 2004, but withdrew through injury. A midfielder, he played in three World Cups, winning silver in 2002 and bronze in 1994.

Co-coach at the Commonwealth Games, alongside Reid, Gaudoin helped lead Australia's men to a fifth consecutive Commonwealth Games gold medal as Australia beat India 4-0 in the final. He has coached in Western Australia's premier division with West Side Wolves and led the WA Thundersticks to the Australian Hockey League titles in 2008 and 2009.

Paul Gaudoin's international playing career
2003 Champions Trophy - Amstelveen, NED - 2nd 
2002 Champions Trophy - Cologne, GER - 5th 
2002 World Cup - Kuala Lumpur, MAS - 2nd 
2002 Commonwealth - Games Manchester, ENG - 1st 
2001 Champions Trophy - Rotterdam, NED - 2nd 
2000 Olympic Games - Sydney, AUS - 3rd 
1999 Champions Trophy - Brisbane, AUS - 1st 
1998 Commonwealth Games - Kuala Lumpur, MAS - 1st 
1998 World Cup - Utrecht, NED - 4th 
1997 Champions Trophy - Adelaide, AUS - 2nd 
1996 Champions Trophy - Madras, IND - 6th
1996 Olympic Games - Atlanta, USA - 3rd
1995 Champions Trophy - Berlin, GER - 2nd 
1994 World Cup - Sydney, AUS - 3rd  

Paul Gaudoin's international coaching career
2014 Commonwealth Games (AUS men) - Glasgow, SCO - 1st
2014 World Cup (AUS men) - The Hague, NED - 1st
2014 World League Final (AUS men) - New Delhi, IND - 4th 
2013 Junior World Cup (AUS jnr men) - New Delhi, IND - 5th
2013 World League Semi Final (AUS men) - Rotterdam, NED - 2nd  
2012 Champions Trophy (AUS men) - Melbourne, AUS - 1st 
2012 Olympic Games (AUS men) - London, GBR - 3rd 
2011 Champions Trophy (AUS men) - Auckland, NZL - 1st 
2010 Commonwealth Games (AUS men) - New Delhi, IND - 1st 
2010 Champions Trophy (AUS men) - Monchengladbach, GER - 1st 
2010 World Cup (AUS men) - New Delhi, IND - 1st

Hockey Australia media release


---

Dwyer, Orchard out of AHL

QLD Blades & NSW Waratahs suffer injury blows ahead of tournament




There have been a number of changes made to the teams competing at the Australian Hockey League powered by Premier Technology Solutions.

With the tournaments beginning this weekend in Adelaide (men) and Brisbane (women), the NSW Waratahs and defending champs Queensland Blades have each been dealt an injury blow affecting two of the tournament's top players.

The Blades have lost Jamie Dwyer, who scored a thrilling last minute winning goal in the Western Australian premier league ten days ago. Dwyer, who was part of the Kookaburras' World Cup winning squad in June has torn a ligament in his foot, ruling him out of the tournament. The 35 year old forward has played in six title-winning Blades teams stretching back to 2003.

Dwyer has been replaced by 20 year-old Luke Tyne, who was originally listed as an import player for the SRA Territory Stingers. The Stingers have completed their roster, having originally listed 14 athletes while awaiting import clearances. They will contest the competition with a squad of 17.

Another Kookaburra, New South Wales' Simon Orchard has also been ruled out with a thumb injury. World and Commonwealth champion Orchard is one of three changes to the NSW Waratahs' team with Thomas Lobsey and Matthew Wark also withdrawn. The changes have opened the door for Luke Noblett, Jonathon Scott and Nicholas Hill.

ACT's Rams Home Loan Canberra Lakers have also been forced into a double change with Todd Devlin and Simon Kragh replacing Pat Kier and Jordan O'Brien.

In the women's competition, the NT Pearls have finalised its line-up after originally waiting on a number of import clearances.

Fans will be able to follow the tournaments are follows:
- Live streamed daily coverage of every match at the men's tournament via Hockey Zone
- Live streamed coverage of Finals Day at the women's tournament via Hockey Zone
- Results, top scorer charts and more updated throughout the day on the Hockey Australia website. The men's tournament here, and the women's tournament here.
- On social media using the hashtags #AHLmen and #AHLwomen.

To download the revised team listings please click here.

Hockey Australia media release


---

Premier Divisions: The Inside Track.



Todd Williams gives his post match talk to his Surbiton team

In the Investec Women's Premier Division, Clifton are setting the early pace after they picked up their third win from three, whilst in the NOW: Pensions Men's Premier Division Surbiton saw off Beeston to go top. Find out the thoughts of Surbiton's Coach Todd Williams and those of Clifton's two-goal star Joie Leigh.

Todd Williams, Surbiton.

On the weekend's game against Beeston:

It was a tough game and the score flattered us. At 3-2 they pushed on for the equaliser which allowed us to get a fourth. Quite rightly they kept pushing and we were able to score two more that probably inflated the scoreline.

On the fine margins games are decided on:

At 2-2 and 3-2 they had two or three corners and chances that they will be disappointed they didn't score. It sounds like a cliché but had they taken them it would've been a different game. I don't for a second think this puts us in the driving seat. Just as we aren't where we need to be yet, Beeston don't have anything to panic about.

On his side's improving performances:

We've made a good start. We didn't hit our straps in the first two games but ground out the wins. We played better against Beeston, which you tend to do in the bigger games. It's early still and everyone's finding their feet but I'm delighted with the players so far. We just need to keep improving.

On the summer signings:

I've been really pleased with those who joined us this summer. Lewis Prosser, David Beckett, Rupert Shipperley and Will Marshall have all been great on and off the field, exactly what we wanted. They've bought into the club but they are also fantastic hockey players. You have to have both aspects. We want good players to play for us and play good hockey and we're getting there. Those new guys understand that and are already contributing.

On his side's room for improvement:

We're nowhere near the standards we want to be at but we're pleased with the start we've made. Beeston had good patches and we did well to stay in it, we need to be better in those situations, though. We've been level or down late on in the other two games, so we know we have work to do. We have an idea of where we are and so next week will be a good test. Last time we played East Grinstead they put six on us, so we know it's going to be a big challenge. We're looking forward to it.

Joie Leigh, Clifton.

On Clifton's performance at the weekend:

"We knew it was going to be a tough game against Leicester, but we were also optimistic as we know what we are capable of as a team. It was disappointing to be 1-0 down going into the break but we regrouped at half time and just went back out and focussed on doing the basic things well. It was a good recipe for the second half as we scored three goals without reply. It was great to secure the win in that fashion because we've been working hard on our fitness and pushing on in the later stages of a game and that's exactly what we did against a decent Leicester side."

On scoring twice:

"It was a good team performance and I was just pleased to play my part in helping the team get the reward I think we deserved. My second goal came from some really good build up play; as the ball came to me I was able to cut inside the D and hit it hard at goal and it was great to see it go in."

Leigh is now in her fourth season at Clifton so we asked her what she thinks has been the key ingredient to the team establishing itself as a force to be reckoned with in the Investec Women's Premier Division:

"Steve [Rixon] started coaching us three seasons ago now and we've come a long way in that time. There's a great team spirit and unity across the whole squad and I think that's helped to maintain consistency in the way we play our hockey. Another area we work really hard on is our fitness and I think that's shown in the first three games of the season as we've managed to seal the victories and close out games."

On facing Canterbury this weekend:

"They've managed to get the better of us in recent encounters so we know we have a point to prove going into the game. Having said that, if we continue to play the way we have started this season we'll be a tough team to beat no matter who the opponent is."

On who Canterbury's key players will be:

"Mel Clewlow at the back controls the defence so well across the 70 minutes and her distribution skills are brilliant. Sarah Kerly is back with the team this year and looks to be scoring plenty of goals so we will certainly need to watch out for her."

Leigh and her team go up against Canterbury this weekend in a repeat of last season's Investec Women's Championship Play-Off semi-final. You can see all of this week's fixtures in the Investec Women's Hockey League here.

The big games come thick and fast for Williams and his Surbiton charges. After overcoming Beeston last week they now travel to East Grinstead for another top of the table clash. For all the NOW: Pensions Men's League fixtures click here. 

England Hockey Board Media release


---

GB coaches dribble hockey balls up Three Peaks



Andy Halliday ready for the NOW Pensions Mountain Dribble

Starting tomorrow, Andy Halliday and Jon Bleby, Team Manager and Assistant Coach of the GB Men's Hockey Team, will face one of their toughest challenges yet, the NOW: Pensions Mountain Dribble.

The two members of the GB Men's coaching team will not only be taking on the infamous Three Peaks Challenge, but they plan to dribble a hockey ball up and down the three highest peaks in Scotland, England and Wales; something no one has ever attempted before. To add to the challenge they have given themselves only three days to take on this monumental task!

Andy, having already successfully dribbled the entire London Marathon in 2012, will now attempt to conquer twenty six miles, eleven thousand feet of ascent and descent, and twenty four hours of dribbling over sixty hours, without picking up the ball once! This challenge is physically and mentally straining, and will put the pair to the test.  On average Andy and Jon will touch each ball fifty times a minute. This equates to approximately 72,000 touches of the ball for each dribbler.

Andy and Jon will be tackling Ben Nevis, Scafell Pike and finally Snowdon. Supported by colleagues and friends the pair will tackle the individual micro-climates of each mountain with hits, flicks and bounces.

Andy said: "Since I dribbled the London Marathon in 2012, I have been searching for another extreme hockey dribbling challenge that will push us to the very edge of our limits. The Three Peaks Challenge is a gruelling experience for a fit walker when the weather is fine, adding the task of dribbling hockey balls in such a hostile environment will stretch us mentally, technically and physically. This is an immense challenge for both of us."

Such an epic expedition would not come without meaning. Andy and Jon with the support of NOW: Pensions, the proud sponsor of the GB Men's Hockey Team and the Men's Hockey League, are raising money for WellChild and Access Sport, two child-focussed charities with very important goals.

WellChild, the Official Charity Partner of England Hockey, is a national charity working to ensure the best possible care for the thousands of young people living in the UK with a long-term or complex health conditions.

Access Sport supports community sports clubs, and as part of their disability work helps mainstream hockey clubs to become more inclusive. The charity has helped set up youth schemes such as 'Forest Flyerz', a grassroots initiative providing the opportunity for disadvantaged and disabled youths to access sport.

Andy said: "I have seen first-hand the fantastic work of both of the charities. WellChild provides essential nursing support for seriously ill children and their families. It really makes a difference to so many lives. Access Sport opens up opportunities for disadvantaged and disabled young people. I have been lucky enough to be a part of a growing hockey legacy project for young people in Newham. The difference it has made to so many has been staggering."

Barry Middleton, Captain of the GB Men's Hockey team said:  "I think they are mad! This is an extreme challenge, one not for the faint-hearted. However, they are doing it for two very worthy causes, and I know myself and all of the GB team will be thinking of them and supporting them throughout".

For more information on the NOW: Pensions Mountain Dribble follow @NOWhockey, @andyhalliday3 and @JonBleby. Show your support for the guys using #NOWdribble.

To sponsor Andy and Jon please visit their Virgin Money Giving page here:

http://uk.virginmoneygiving.com/team/NOWPensionsMountainDribble

England Hockey Board Media release


---

Underdogs Indian Oil make it memorable maiden

Adit Ganguly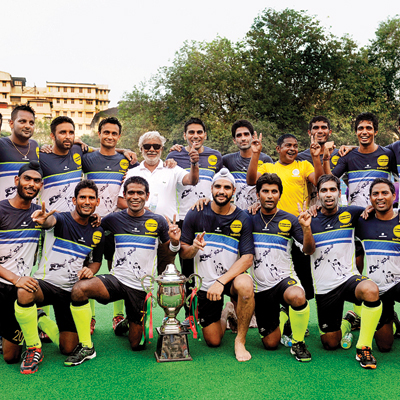 Indian Oil players pose with the trophy at MHAL ground, Churchgate, on Monday Salman Ansari DNA

The big guns failed to deliver when it mattered most as the Dhanraj Pillay-coached side Air India went down 2-3 to Indian Oil in the Hockey Super League final at the MHAL ground here on Monday.

Indian Oil were more than happy to play the role of the underdogs. It wasn't surprising, though, to see them coming out of the blocks and taking the lead in the 10th minute courtesy a well-worked goal coming from former India forward Prabhjot Singh. The rest of the half was an end to end affair with both goalkeepers being the busiest players on the pitch, not letting in any goal.

The second half saw a lot more urgency from the two sides as Air India tried their best to get back into the game and Indian Oil wanted to see the game off with a two-goal lead. Air India were rewarded for their efforts with Gaganpreet Singh equalising in the 50th minute via a well-taken penalty corner.

The match turned on its head with three goals being scored in the final 12 minutes. Indian Oil's Gurjinder Singh gave his side the lead from the penalty spot after his shot was blocked by Prabodh Tirkey's body in the 58th minute.

Indian Oil extended their lead with Prabhjot scoring his second of the match with five minutes left. Two minutes later, it was Gaganpreet, who scored for Air India via a penalty stroke after a shot was blocked by Vikas Sharma.

The feeling of the match slipping away from Indian Oil lasted just three minutes but the Deepak Thakur-led outfit held on to their one-goal lead to emerge triumphant for the first time in the league.

Stopwatch: Indian Oil 3 (Prabhjot Singh 10, 65, Gurjinder Singh 58) bt Air India 2 (Gaganpreet Singh 50, 67)

DNA


---

Monkstown make it four straight wins




A first 20-minute blitz from Monkstown propelled them a fourth win of the Leinster league season in Ireland, beating Railway Union 3-2 in their last competitive game before making their debut in the Euro Hockey League.

Jazze Henry put Town 1-0 up within a minute as the sky-blues pressed high with the youngster finishing off the move from Andy Ewington's cross. David Nolan doubled up with the Railway defence missed a long overhead and he duly got behind the last man and lobbed Craig Ellis.

Richard Sykes' drag to the bottom left corner made it 3-0. Fabian Wullschleger had a penalty stroke for number four saved by Craig Ellis after a corner push hit Kenny Carroll on the line.

From there, Rob Abbott squared the ball for Mateusz Nowakowski to tap home for a lifeline, Mark English providing the initial impetus. Abbott then deflected in a crash ball from Carroll with 20 minutes.

Monkstown had a couple of chances to make the game safe but Craig Ellis, against his former club, fronted up well while Railway kept battling but nothing further accrued.

Euro Hockey League media release


---

Atlètic stun Júnior on opening day in Spain




Atlètic Terrassa started their season in the Spanish Honour Division with a thrilling win against Catalan rival Júnior FC yesterday in a match played under heavy rain.

Despite the weather, over 300 fans took in the match and saw Atlètic have most of the ball and more of the circle penetrations, but Júnior was way more effective in the first three quarters.

At the end of the third, Júnior was leading 2-0 from just three shots, while the locals couldn't score despite having three penalty corners and some good moments from by Boltó or Di Mercurio.

But, in the last quarter, Atlètic produced a stunning comeback to the delight of the yellow fans, the including famous "Córner Groc".

Catalan star Marc Sallés scored twice in the first seven minutes, with two perfect penalty corners, and, in the last minute, Inyaki Freixa picked out Jason Niles on the far side of the circle and the Kiwi scored for 3-2.

Atlètic Terrassa will be the local team at EHL Round 1 which will be played in Barcelona from October 10 to October 12, as they are the only Catalan team playing.

In their group they will be facing Austrian SV Arminen and Scottish Bromac Kelburne. They complete their preparations next weekend with a tie against rivals CD Terrassa.

Elsewhere in the league, reigning champions Polo beat St Sebastian 3-0 while Egara were 5-1 winners over RC Jolaseta.

Club de Campo defeated UD Taburiente 3-1 while SPV Complutense defeated CD Terrassa.

Euro Hockey League media release


---

Ton to train Pakistan hockey youth

LAHORE – Foreign hockey player Ton Langenhuisjen Monday visited Unique Hockey Academy (UHA) to train young talent of the country on modern techniques which are being applied on grassroots level in leading hockey nations. Langenhuisjen appreciated the natural talent of young Pakistani boys and hoped that with little extra effort, they could be one of the best in the business. "I am very positive to give good players for Pakistan team in couple of years, as I will first work with them on grassroots level to hunt promising talent and then train them on modern lines and techniques and then provide them opportunities to play maximum hockey events to groom well," he said. Ton also appreciated the effort of Unique Group of Institution (UGI) for the revival of Pakistan hockey.

The Nation


---

Mir Ranjan Negi wants foreign coaches for juniors only

Suhas Nayse

NAGPUR: Former Indian hockey team goalkeeper Mir Ranjan Negi said on Saturday that foreign coaches are important but only for the juniors.

Negi, who was in the city on a private visit, said Indian sub-junior and junior teams need foreign experts more than the seniors. He was speaking during the meet-the-press programme organized by the Sports Journalists' Association of Nagpur (SJAN).

"You can not teach many things to the seniors. It is difficult to change the techniques after reaching certain age. That was the main reason why our foreign coaches are not producing results despite earning a handsome salary. Our standings at the major internationals tournaments are always at the bottom. We will produce better results if foreigners are appointed for the juniors," said Negi, who is running a hockey academy in Mumbai.

He came down heavily on the officials, who are occupying the seats for the last several years. "They are only bothered about their chairs and not for the development of the game. They should do something for the game or vacate the seats for the newcomers, who can change the scenario of hockey in the country," said Negi, who was very upset with the loss of India team against arch-rivals Pakistan in the Asian Games earlier this week.

He is happy with the professional leagues (HIL) but said it would better if Hockey India organise more tournaments for the youngsters.

"Leagues are good as it attract everybody's attention. But after the leagues, people tends to forget the game. I would be happy if the administrators increase the number of tournaments for the youngsters," said Negi.

The Times of India


---

Calcutta Hockey Club 1864

by Dil Bahra
 
 

National Army Museum copyright

At the National Army Museum, Study collection, in London, is a Silver tankard presented to Captain Joseph Ford Sherer, 49th Bengal Native Infantry, by the Calcutta Hockey Club, February 1864.



National Army Museum copyright

And the following year, 1865, a Silver salver was presented to Captain Sherer, by Calcutta Hockey Club.

These two items reveal that Calcutta Hockey Club was in existence in 1864, well before Teddington Hockey Club in London which was formed in 1871 and is believed to be the oldest Clubs with a continuous history.



National Army Museum copyright

This email address is being protected from spambots. You need JavaScript enabled to view it.
 
Sikhs in Hockey