All the news for Friday 9 may 2014

Keeping it in the family

Husband and wife team do officiating double act at Rabobank World Cup




"I've always believed that if your are involved in a hockey club then if something needs doing, you just get on and do it." So says Wendy Stewart as she explains her long and multi-faceted involvement with hockey. In her time the Scot, who now lives in Canada, has played, coached, administrated and umpired.

And this year, at the Rabobank Hockey World Cup, Wendy will be "just getting on and doing it" for the biggest fortnight in the hockey calendar as she pulls on her umpire kit and polishes her whistle.

Also working at The Hague will be Wendy's biggest fan – husband Tony will also be officiating at the World Cup, in his role as World Cup Judge. This is the first time a husband and wife have officiated at the same World Cup. "We will both be very professional while we are working at The Hague," says Wendy. "In fact I shall just pretend I don't know him most of the time."

The married couple are unlikely to bump into each other during the tournament as Wendy will be umpiring women's matches and Tony will be doing all things technical at the men's tournament. However, there is a chance that they might catch a glimpse of each other in action and I asked what Tony would do if Wendy gets any stick from the coaches or players? Was he likely to jump over the barrier and spring to her defence? Wendy laughs: "I think Tony would just leave me to it, he knows I can look after myself."

So is it all about hockey in the Stewart household? "Not at all, in fact we rarely mention the 'H' word. It is best to leave that side of things at the door." Wendy is very happy to compartmentalise all aspects of her life. "When we are at hockey events that is our total focus; when I am working (she is an event manager, working for herself) then I am focused on that. It is important for the balance in my life that I separate things out that way."

Tony's role at the World Cup is as one of the four judges. He explains: "I will be assisting the three technical officers and the technical director at the men's tournament. I will be attending the pre-tournament meetings as required, especially the equipment and passport checks which tend to be busy.

"During a match one judge runs the clock and the other the computer, so I'll be working one or the other for about half the games."

"In addition, because of my involvement with the Tournament Management System (TMS) software last year, I will be providing training and support as necessary to the technical officials and team managers (who now submit their starting lineups electronically) of both tournaments. TMS requires a reliable internet connection pitch side, so I'll be on the case if there are problems."

Tony and Wendy met, not unsurprisingly, on a hockey pitch. Tony explains what happened: "I was umpiring a Scotland v USA indoor match in Aberdeen. Above and behind me was a viewing area where 50 or 60 fans looked down on the action. At a crucial point in the closely-fought match I made a decision the Scottish fans didn't agree with. The fans exploded in uproar. As the bedlam began to subside, a female voice yelled out, "Get your eyes tested!"

"At the reception in the bar afterwards a woman strode purposefully towards me, demanding to know what I could possibly have been thinking about, not awarding the penalty stroke. And she's been questioning my decisions ever since!"

FIH site


---

Check out cashless at Rabobank Hockey World Cup

2014 event in The Hague will be completely cashless through MyOrder

Paying for food, drinks and souvenirs just got easier at the Rabobank Hockey World Cup 2014. Thanks to the use of special pre-paid debit cards and the mobile app of MyOrder, hockey fans will cruise through queues and have their transactions processed in a safe way.

Upon entry at the venue you will receive a MyOrder card free of charge with lots of signage to direct you to stations to load up your card. MyOrder cards can be pre-loaded using debit, credit or cash. Those with Maestro cards will have additional locations to top up their MyOrder cards, making it simple, quick and easy to make purchases throughout the Hockey Park.

Visitors will have additional benefits with discount coupons that can be uploaded onto cards via the MyOrder internet stations all around the venue. The MyOrder card allows you to make purchases costing up to €150 but don't fret, you can still use your credit card for major items like a new hockey stick or official Hockey World Cup apparel.

We are excited about the many advantages of this cash-free system and don't worry, at the end of the event you can return your MyOrder card and regain your balance back in cash. You can also choose to donate the remainder to the children's sport charity Jeugdsportfonds, which is supported by the KNHB.

The MyOrder system is also embedded within the Hockey '14 mobile app but use of the system is limited to those with Dutch phone numbers. Without a Dutch number you can still use the MyOrder system on your phone, you just need to download the specific MyOrder app.

Enjoy the first-ever cashless Hockey World Cup!

Hockey' 14 Mobile App:

DOWNLOAD (Apple)   |   DOWNLOAD (Android)

MyOrder App:

CLICK HERE

FIH site


---

Lee names Hockey World Cup squad



Alex Danson in action for England against Germany at the EuroHockey Championships 2013

With just 23 days to go England Women's Head Coach Jason Lee has named his squad of 18 athletes to travel out to The Hague in the Netherlands for the Rabobank Hockey World Cup, taking place from 31 May-15 June 2014.

All of England's matches will be shown live on Sky; the first game will be against the USA at 12:00 (UK time) on Sunday 1 June. Further information will be announced closer to the tournament.

With three World Cups under her belt and a bronze medal from 2010 [Rosario, Argentina] England Captain Kate Richardson-Walsh will be hoping her side can improve on third this time around. Having beaten the top two sides in the world last year - the Netherlands and Argentina – England head into the tournament as strong contenders, however Australia and Pool B opponents Germany have both been nemeses to Lee's side in recent times.

Speaking about the tournament ahead Lee said, "Any group at a World Cup is going to be tough. We're facing some of the best teams in the world and playing the USA in our first game is significant as they come into the tournament off the back of winning the Champions Challenge at the end of last month. Argentina is another stand out team in the group, but with all the sides ranked 11th or higher and everyone aiming for that top-two finish to reach the semi-finals, we're under no illusions as to how tough the games will be."

The squad

The squad remains largely unchanged from that which won a silver and bronze medal during 2013 at the European Championships and World League Final respectively. However Lee has named two relative newcomers in his 18; Beeston's Ellie Watton and Buckingham's Zoe Shipperley.

Ellie Watton, Beeston

Watton, an attacker, made her debut at the Investec Challenge in 2013 against South Africa and has since earned 11 international caps for England and Great Britain. Speaking about her selection Lee said, "Ellie has been part-time in the squad since April 2013, whilst holding down a full time teaching job [Oakham School, Leicestershire] and the progress she has made is remarkable. She is very much a team player and provides good link-up play with a good eye for goal."

Zoe Shipperley, Buckingham

Shipperley, also a teacher [St Edwards, Oxford], joined the centralised programme earlier this year and made her debut against New Zealand in February. Despite only having four international caps to her name, Shipperley has impressed Lee consistently during training and matches. "Zoe is a strong and powerful player and looks very comfortable in our defensive line. She is an intelligent player and reads the game well and like Ellie her progress has been significant since she joined us."

Alongside Watton and Shipperley seven other members of the squad will be experiencing their first World Cup tournament; Maddie Hinch, Kirsty Mackay, Susannah Townsend, Sam Quek, Sophie Bray, Hollie Webb and Lily Owsley.

One obvious omission from the squad is Helen Richardson-Walsh who has been suffering with ongoing back problems. A further operation in March, when the World Cup was only 92 days away, meant that time was against Richardson-Walsh to be even considered for selection, but dogged determination and hard work meant she was back in the squad to face Canada last weekend. Unfortunately for the London 2012 Olympian Lee felt that her return to playing was just too close to the selection date to be considered for the squad.

Pool B – the opponents

England are in Pool B with Argentina, China, Germany, South Africa and the USA. Of the six teams in the pool, England (3) is the second-highest ranked in the FIH World Rankings after Argentina (2), while the rest of the sides are sixth or lower.

On paper Argentina will be the biggest challenge and having won the previous World Cup in Rosario in 2010, they'll have their sights set on a repeat performance. The world number two side had a disappointing year, by their standards, in 2013, relinquishing top place in the rankings back to the Netherlands. However, their recent performances show them back to their best and no doubt they'll be looking for revenge after England took bronze against them on home turf in the World League Final at the end of 2013.

World Cup build-up

Between now and the World Cup England will face six World Cup teams as they continue preparations. Information about the fixtures can be found below.

Australia, England, Japan and Germany meet in Bremen for the women's 4 Nations tournament. The tournament takes place over three days in a round robin competition, two weeks before the World Cup.

Date, Match, Time (UK), Venue, Capped
9 May, England v Belgium, 1700 hrs, Bisham, Yes
10 May, England v Belgium, 1300 hrs, Bisham, No
23 May, England v China, 1500 hrs, Bisham, No
24 May, England v China, 1530 hrs, Bisham, No
27 May, England v NZL, 1400 hrs, The Hague, No

Rabobank Hockey World Cup squad

Shirt # - Name - Current Club - Position
1 - Maddie Hinch – Holcombe - Goalkeeper
2 - Kirsty Mackay - East Grinstead - Goalkeeper
4 - Laura Unsworth – Holcombe - Defender
6 - Hannah Macleod – Leicester - Forward
7 - Georgie Twigg – Surbiton - Midfielder
9 - Susannah Townsend - Reading - Midfielder
10 - Susie Gilbert – Reading - Midfielder
11 - Kate Richardson-Walsh – Reading - Defender
13 - Sam Quek - Reading - Defender
15 - Alex Danson – Reading - Forward
19 - Sophie Bray - East Grinstead - Forward
20 - Hollie Webb – Surbiton - Defender
21 - Ellie Watton – Beeston - Forward
22 - Ashleigh Ball – Slough - Midfielder
23 - Sally Walton – Wakefield - Defender
26 - Lily Owsley - University of Birmingham - Forward
27 - Zoe Shipperley – Buckingham - Defender
28 - Nicola White – Leicester - Forward

England Hockey Board Media release


---

Hockey team to iron out the kinks in two weeks

By Aftar Singh



The national hockey team will work on the defence before they play in the World Cup at the Hague starting May 31. - Filepic

KUALA LUMPUR: The Malaysian national hockey team will use the next two weeks to improve on their shortcomings in defence and penalty corner drag flicks in preparation for the World Cup at the Kyocera Stadium in The Hague from May 31-June 15.

The backline led by national skipper Azlan Misron came under fire for conceding goals in the Champions Challenge I tournament in Kuantan, which ended on Sunday.

Malaysia lost the first two matches against France (3-2) and South Korea (3-1) before winning their third group match against Canada (4-3).

In the quarter-finals, Malaysia were leading 4-1 against New Zealand before the Kiwis fought back to score three goals to force a 4-4 draw.

However, Malaysia defeated the Kiwis in a penalty shootout (3-2) to reach the semi-finals before losing to Canada (5-4) in another shootout after the match ended 2-2.

In the playoff for the bronze medal, Malaysia defeated Ireland 4-2.

Team manager George Koshy said that the good news is that the country's top penalty corner drag flicker Mohd Razie Abdul Rahim has recovered from a shoulder injury and will join the national team for training on Monday.

"Defender Razie's presence will definitely boost the team's morale and confidence in the backline. We will focus on fine-tuning the defence and improving on the penalty corner drag flicks in the next two weeks," said George.

There are 30 players in the training squad and the final squad of 18 players will be named before the team departs for the World Cup on May 23.

As part of their preparations, Malaysia will play a friendly against Holland on May 25. The national team will also play two matches against club sides on May 27 and May 29 before they open their Group A campaign against defending champions Australia on May 31.

Their other matches are against Belgium (June 2), England (June 5), India (June 7) and Spain (June 9).

Reigning Olympic champions Germany, New Zealand, South Korea, Argentina, South Africa and host Holland are drawn in Group B.

The Malaysian Hockey Confederation (MHC) have set a target for the national team to finish in the top 10.

Malaysia's best result was fourth in the 1975 World Cup, which was played on grass in Kuala Lumpur.

The Star of Malaysia


---

Sikhs at Utrecht World Cup 1998

by Dil Bahra



Canada's Sikhs at Utrecht World Cup 1998.

In our series of the impact Sikhs have had at Men's Hockey World Cups, we look at the ninth World Cup held in Utrecht, Netherlands 1998.

The ninth Men's Hockey World Cup was held at Galgenwaard Stadium, Utrecht, Netherlands from 21 May - 1 June 1998.

Twelve nations competed and were divided into two pools of six as follows:

Pool A: Canada, Germany, India, South Korea, Netherlands and New Zealand.

Pool B: Australia, England, Malaysia, Pakistan, Poland and Spain.

One Sikh Official, an umpire, was appointed for the Utrecht World Cup.

Amarjit Singh of Malaysia was on the Umpires panel. He was awarded his International badge in April 1993, his Grade 1 badge in February 1996 and his World Panel badge in August 1998. He umpired at the Barcelona 1992 Olympic Games.

The Canadian team had two Sikhs in their squad for Utrecht 1998 World Cup.

Bindi Singh Kullar was born in Richmond, British Columbia (BC), Canada. His father, Pritpal Singh Kullar, emigrated to Canada in 1972, having learned hockey at Sansarpur, the renowned hub of hockey in Punjab. Pritpal, a full back, joined India Field Hockey Club in Vancouver and went on to represent Canada in 1978.

Bindi studied at Douglas College BC and started playing hockey at the age of eight, under the guidance of his father. He followed in his father's footsteps by joining India Field Hockey Club.

Bindi played for Canada's Junior team at the Pan American Games in Barbados in 1996 and earned his first senior cap against Great Britain at Bishan Abbey in England in 1996. He played at the World Cup qualifier in Kuala Lumpur in 1997.

Ronnie Guriqbal Singh Jagday was born in Vancouver, BC. His parents emigrated to Canada in 1977. His father, Shiv Sharan Singh Jagday, a former Canada and USA National Coach, was Canada's Coach at the London 1986 World Cup and at the Los Angeles 1984 Olympic Games.

Ronnie studied at Centennial High School in Coguitlam and started playing hockey at the age of fourteen. He played for San Jose Khalsa Hockey Club as a centre half. He played for Canada's Junior team at the Pan American Games in Barbados in 1996 and earned his first senior cap against Spain in Barcelona in January 1998.

Canada defeated India 4 – 1 in the Pool A match and finished one place above India in the final classification.



Canada Team: Back row: Peter Milkovich, Ken Pereira, Alan Brahmst, Robin D'Abreo
Middle row: Nicki Sandhu (Assistant Coach), Dr. Navin Prasad (Physician), Bindi Kullar, Rob Short, Marek Gacek, Ian Bird, Andrew Griffiths, Ronnie Jagday, Dr. Saul Miller (Psychologist), Rutger Klein, Bob Dunlop (Physiotherapist)
Front row: Hari Kant, Scott Mosher, Chris Gifford, Shiaz Virjee (Coach),
Patrick Oswald (Manager), Patrick Burrows (Captain), Rick Roberts, Mike Mahood

Canada Team: 1. Hari Kant (G/K); 2. Michael Mahood (G/K); 3. Ian Bird; 4. Alan Brahmst; 5. Robin Diabreo; 6. Chris Gifford; 7. Patrick Burrows; 8. Andrew Griffiths; 9. Ken Pereira; 10. Scott Mosher; 11. Peter Milkovich; 12. Bindi Kullar; 13. Rob Short; 14. Ronnie Jagday; 15. Marek Gacek; 16. Rick Roberts.

Team Manager: Patrick Oswald; Coach: Shiaz Virjee

The Indian team had three Sikhs in their squad for Utrecht 1998 World Cup.

Baljeet Singh Saini, a half back from Punjab was making his first appearance at a World Cup. He played for Punjab & Sindh Bank and earned his first international when he was selected for Indra Gandhi Gold Cup in Lucknow in 1995. He captained India's team at Milton Keynes Junior World Cup in 1997 where India won the Silver medal. He played at Atlanta 1996 Olympic Games and also played at the Asian Games in Bangkok in 1998 where India won the Gold medal.

Harbhajan Singh, a forward from Punjab, was also making his first appearance at a World Cup. He had played in the test series against Germany and Pakistan just before the World Cup, scoring 2 goals.

Ramandeep Singh Grewal, a graduate from Punjab Agricultural University in Ludhiana, started playing hockey at State School tournaments. He was selected to represent Punjab in the Nationals in Madurai in 1991. A left half, he played for Punjab Police and won his national cap at the Azlan Shah Cup in Kuala Lumpur in 1995. He played at the Champions Trophy in Madras, India in 1996 and the Atlanta 1996 Olympic Games.

India Team: 1. Jude Menezes (G/K); 2. Dilip Tirkey; 3. Anil Aldrin; 4. Baljit Singh Saini; 5. Mohd Riaz; 6. Ramandeep Singh; 7. Mukesh Kumar; 8. Sabu Varkey; 9. Dhanraj Pillay; 10. Rajesh Chauhan; 11. Samir Dad; 12. Jagdish Ponnappa; 13. Lazarus; 14. Thirumal; 15. Devinder Kumar; 16. Harbhajan Singh

Manager: Ajit Pal Singh; Coach: V Baskaran.

The Malaysian team had two Sikhs in their squad for Utrecht 1998 World Cup.

Aphtar Singh played at the Atlanta 1996 Olympic Games.

Maninderjit Singh was born in Kuala Lumpur, Malaysia. He graduated from University of Malaya. A defender/sweeper, he played for Sapura Hockey Club. He was selected for the Junior squad in January 1990 and played at the Junior World Cup in Tarrasa, Spain in 1993. He earned his first senior cap in November 1992 and played at the Champions Trophy in Kuala Lumpur in 1993 and the Asian Games in Hiroshima in 1994. He played at the Atlanta 1996 Olympic Games.

Malaysia Team: 1. Paul Lopez (G/K); 2. Maninderjit Singh; 3. Lallin Abu Hassan; 4. Keevan Raj Kali Kavandan; 5. Kuhan Shanmuganathan; 6. Nor Azian Haji Bakar; 7. Chairil Anwar Abdul Aziz; 8. Brian Jayhan Siva; 9. Shankar Ramu; 10. Nor Saiful Nasiruddin; 11. Kaliswaran Muniandy; 12. Aphthar Singh; 13. Mirnawan Nawawi; 14. Calvin Fernandes; 15. Arul Selvaraj Anthonisamy; 16. Mohd Nasihin Nubi Ibrahim

Manager Kali Kavandan Sinnan.

Final Classification: 1. Netherlands; 2. Spain; 3. Germany; 4. Australia; 5. Pakistan; 6. England; 7. South Korea; 8. Canada; 9. India; 10. New Zealand; 11. Malaysia; 12. Poland.

Next week: 10th World Cup – Kuala Lumpur, Malaysia 2002.

Sikhs in Hockey


---

HI rewards 1975 WC winners, ignores the coach

Balbir Singh Sr, one of the world's best, takes the snub in his stride; chooses to be happy for his wards than be churlish

Deepankar Sharda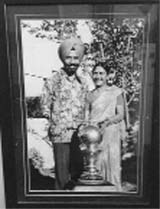 Balbir Singh Sr and his late wife with the World Cup. File photo

Chandigarh - Hockey India has decided to honour the 13 living members of the 1975 World Cup-winning team on May 14 in New Delhi, 39 years after India's only world title win.

However, Hockey India has forgotten that the team had a coach too, who happens to be one of the world's greatest ever hockey players, perhaps next only to Dhyan Chand.

India won the World Cup on May 14, 1975. This May 14, HI will honour the 13 living members of the team and present them with a gift of Rs. 1,75,000 each. The 13 players are Ajit Pal Singh, Ashok Kumar, Aslam Sher Khan, Brig. Harcharan Singh, Leslie Fernandez, Varinder Singh, Ashok Diwan, Michael Kindo, BP Govinda, Brig. HJS Chimni, VJ Phillips, Onkar Singh and Kaliah P.E.

But the coach of the 1975 team, Balbir Singh (Sr.) won't be honoured. This omission seems ignorant at best and churlish and mean at worst. In team sports, a squad wins or loses as one — including the coach.

Happy for others




Balbir Singh Sr, three time Olympic champion

The 90-year-old Balbir Singh, however, is a man far from petty or churlish —he's not bothered that he's been ignored by Hockey India. He is, in fact, delighted that his one-time wards are being honoured for winning the World Cup.

With a calm and happy smile, he says: "It's very hearting that the World Cup-winning team members are being rewarded for their exceptional performance and hopefully it will act as a motivation for the current team."

"For me, helping India regain their supremacy in the hockey world was my goal at that time and achieving it, in style, was my reward," says hockey's living legend who won three gold medals at the Olympic Games as part of the Indian team in 1948, 1952 and 1956. One of the best centre-forwards in the history of the sport, he scored five goals in the 1952 Olympics final against the Netherlands, which remains a record.

No interference

"In 1975, I agreed to the coaching job only on one condition, that there should be no interference," he says. "And a year later, when the Indian hockey officials changed two officials of the team, the same squad finished seventh in the Montreal Olympics."

The current Hockey India officials are perhaps unaware of Balbir Singh's work and dedication as coach in 1975. During the pre-World Cup coaching camp in Panjab University in Chandigarh, Balbir's father passed away but he skipped only one coaching session to attend the funeral. The rest of the rituals were performed when he came back to India after the World Cup. Around the same time, his wife slipped into a coma after suffering a haemorrhage. He still would attend two practice sessions and visit his wife, admitted in the PGI, three times a day. Fortunately, his wife recovered very well. When she got well, she asked him: "Where is the World Cup trophy?"

Coaches play a role

"Coaches do play an important role in a team's behaviour and wins," Balbir now says, sipping his green tea. "I had to cut short my Canada trip and if I remember correctly, we used to practise day and night despite my family problems. I used to sleep at the hostel with my team. For making them united, we had come up with a common prayer room, to avoid any religious gap between the players. We had a special team anthem — Jo Bole so Sahi Bharat Mata Ki Jai."

"Then, for the first time, different teams from Punjab and other parts were called to play matches with the World Cup squad. I had a special banner in my ground to encourage the kids: Regaining supremacy in world is our supremacy!"

"My father always said — 'Duty First.' I performed the same. It's amazing to see the Indian flag going up and people applauding as your national anthem is played," Balbir Singh says.

Award only for players

Does all that matter to the officials? A Hockey India official said: "Following the initiative started few years ago, only players will be awarded under this honour. It's not that Balbir Singh (Sr.) has not been honoured for his achievements but this time, Hockey India is only awarding the players of the World Cup-winning squad." A coach builds and leads a team. Sadly, for Hockey India, it was only the winning squad that brought the trophy to the nation.

My father died, and my wife suffered a crippling haemorrhage. I never missed a single session of training. Besides these two mishaps, my two younger sons were to appear in the Higher Secondary and Matriculation Final examinations. For two whole months I did not visit my home which was barely a mile and a half away. I kept shuttling between the university campus where I stayed with the team, and the PGI where my wife lay unconscious. I only took a few hours off from the training camp for the cremation of my dear father. The last rites were performed only after I returned to India after the World Cup Victory.

The Tribune


---

Working on consistency: Walsh

Indian hockey team's chief coach says it will take two years to match European level

Sabi Hussain

New Delhi - It's sometimes refreshing to see Terry Walsh's ability to look at things as they stand. The national hockey team's chief coach doesn't believe in making false promises, just a practical approach. For him, setting short term goals for the Indian team to somewhat get closer to the European style of hockey would be of no lasting use.

Walsh knows that to be successful, a lot more than skill is required. It's the culmination of many factors that makes the process work.

How long, is always the big question in terms of results.

"Look, to get this group to where you want them physiologically will take two years to really harden their body and make them play on that international scene. Many of these guys have been playing for a long time on the international scene and they have hardened their bodies, but some of the others haven't. It's difficult both physically and stretching them mentally. It's part of the whole process and the guys are working very hard. You have to wait," said Walsh.

"We are looking for consistency and progression. If you understand the difference between playing the European and Asian styles of hockey, you will know that we have not played any European hockey continually, except for the World League Final in January. You have to start living, breathing, feeling, watching all the games that take place whether it's the European League or the Dutch League, which we hadn't looked at. You have to immerse that European style of playing, and that's different from coming here and training morning to afternoon," Walsh told reporters ahead of the team's practice session here on Thursday.

The men's hockey team is undergoing rigorous training drills under the watchful eyes of Walsh and High Performance Director Roelant Oltmans at the National Stadium as part of their preparations for the World Cup.

Walsh seemed confident about India's chances at the World Cup and said the boys have the self-belief to succeed at the highest level, which was missing three months back. "Players have that self-belief which they did not have three months ago. It was significantly better than what we were at the World League Final. The European tour was part of the significant development. That has taken us to another level," said Walsh.

The former Australian centre-forward said the European tour did a lot of good to the confidence of the Indian players. "Most people rate tours in this country on success, in terms of results. It's not always the case. It's about exposure and finding out what resources do you have. I would be happy winning games that are important to me rather than on tours."

"With less than 3 weeks left to the World Cup, there are many focus areas during the preparations like introducing new techniques, putting in place strategies keeping the opponents in mind. We are also completely focusing on the development and improvement of each player."

Dharamvir among four recommended for Arjuna

Hockey India (HI) today recommended the names of ace drag-flicker V R Raghunath, striker Dharamvir Singh, Tushar Khandekar and former skipper Bharat Chetri for the prestigious Arjuna Award this year. HI announced the names of players and coaches recommended for the National Sports Awards 2014 which include the prestigious Arjuna Award, Dhyan Chand Life Time Achievement Award and Dronacharya Award.

The Tribune


---

Players showing significant improvement: Terry Walsh

NEW DELHI: Indian hockey team's chief coach Terry Walsh feels his players have shown significant improvement ahead of the FIH World Cup to be held in The Hague, Netherlands from May 31.

Walsh, who has set a top-eight target for the mega event, said the preparatory camp here post the Europe tour has proved beneficial.

"With less than three weeks left for the World Cup, the preparations of the entire unit here is coming out good and everyone is geared up to take on the challenges of the big platform," said Walsh on Thursday.

"While there are many focus areas during the preparations, like introducing new techniques, putting in place strategies keeping the opponents in mind, we are also completely focusing on the development and improvement of each player," said Walsh referring to the 33 probables for the World Cup.

The Australian, who had earlier expressed his displeasure over having the camp in the heat of Delhi, said the colder conditions in The Netherlands should not be a problem.

"The players are showing significant improvement in their self belief and there is a good overall development. The weather at Hague will not be a problem as it is expected to be around 20 degrees and hence a pleasant temperature to play in," he added.

Captain Sardar Singh praised the chief coach for dealing with the players' problems effectively.

"We are very happy with the way the coach has helped us overcome our weaknesses. The entire unit is focusing on the game and the tournament ahead," said Sardar.

The Times of India


---

BP Govinda: Sandeep struggles to deliver under pressure

Suhrid Barua

One of the biggest news in the run up to the forthcoming World Cup is not about selected probable, but the one who is missed out the list - Sandeep Singh. The ace penalty corner expert, who did reasonably well in the latest Hockey India League number was expected to make it to Europe Tour but it was not to be. Our writer Suhrid Barua explores the selectors' mind on the topical issue of Team Selection for the The Hague World Cup.

Sandeep struggles to deliver under pressure, says chief national hockey selector BP Govinda

The 2014 Men's Hockey World Cup is just five weeks away and hockey fans will be harbouring the hope of a memorable showing by the national team. The weight of expectations can sometimes take its toll on the players, but national chief hockey selector Bilimoria Putaswamy Govinda – better known as BP Govinda – says things must be seen in the right perspective. "Look, you plant a tree and want to produce the fruits overnight, which will never happen. You got to nurture it, water in order to reap the fruits of it. The Indian team has shown marked improvement in recent times – we nearly beat Olympic champions Germany twice at the 2014 Hockey World League Final in New Delhi, but we have to show more consistency and inculcate the habit of beating top teams," he says in an exclusive interview.

The 62-year-old former Indian forward – part of the famous 1975 World Cup-winning team in Kuala Lumpur, believes the Blueshirts have the wherewithal to put off a good performance in the World Cup. "I will be more than happy if we manage to finish fourth or fifth in the World Cup, anything above that or even a podium finish will be like an icing on the cake for us," he opines.

The confabulation veers towards the team selection and up comes the topic of drag-flicker Sandeep Singh. Govinda, who played for India in the 1970, 1974 and 1978 Asian Games (India bagged a silver each time), believes Sandeep will find it hard to make it to the World Cup squad. "I'm not ruling him out, but it will not be easy to break into the final squad. There is no doubt that Sandeep is one of the world's best drag-flickers, but we have often seen that he fails to deliver in crunch games. What's the point in scoring hat-tricks against weaker teams and floundering against top teams when his side needs the most? He also has to work on his defending skills, merely on the basis of his drag-flicking prowess he cannot walk into the side," he makes his point abundantly clear.

The former Indian forward, who played in the 1972 Munich Olympics and 1976 Montreal Olympics, reckons the talent pool across the country has widened thanks to the Hero Hockey India League. "The Hero Hockey India League has come as the soothing balm for the sport in the country. Youngsters are getting to play with the world's best at home – earlier teams had to be sent on foreign tours to give them such international exposure and the HIL is a great thing to have happened to Indian hockey for which Hockey India deserves a big pat on their back," he remarked.

Govinda touches a pertinent point when he talks about the fundamental difference in the formative days of Indian youngsters and youngsters from countries the Netherlands, Australia and Germany. "The Dutch have more 600 astroturfs across the country, while in India we have about thirty-odd turfs. Youngsters there start playing on turfs, while our young kids begin on grass and then play on turfs. Indian youngsters have an opportunity to play on turfs once if they are part of the sub-junior or junior nationals. Age 13-14 is the muscle growing age of a youngsters – this is where youngsters from Netherlands, Australia and Germany start playing on turfs at a young age unlike in India where our youngsters start playing on turfs at the age of 15-16 or even 17."

There is a lingering feeling that hockey as a sport doesn't have the money to attract youngsters, but Govinda doesn't buy this line of thought. "I agree that hockey used to be a poor man's game, but not anymore. There is money in hockey if you are good at it. Hockey India League is offering decent money to players for starters, which was not the case earlier. Players can play in foreign leagues and earn good money. Of course, if you try to compare with what our cricketers earn, it won't be a fair comparison," he quips.

He feels the mindset of parents also has to change if hockey talents are to emerge from every nook and corner of the country. "Rich families living in cities want their kids to play cricket and tennis as they are seen as glamour sports and not hockey, whereas those living in villages encourage kids to take up any sport. Parents have a role in encouraging youngsters to take up hockey since it is no more a poor man's game," he reasons.

The chairman of the national hockey selection committee believes the expensive nature of the hockey equipment makes it difficult for talented youngsters from villages to sustain their interest. "Hockey sticks could cost you anything between Rs8,000-20,000, while shoes (for astroturf) can cost you Rs 8,000-10,000 while a goalkeeper's equipment (gloves, helmet and pad together) cost you around Rs 80,000-90,000 or upwards. Quite often talented kids in villages give up the sport because they cannot sustain it –these are the kids who need support," Govinda points out.

Stick2Hockey.com


---

Hockey India recommends four players for Arjuna Award

NEW DELHI: Ace drag-flicker VR Raghunath, striker Dharamvir Singh, Tushar Khandekar and former skipper Bharat Chetri were on Thursday recommended by Hockey India for the prestigious Arjuna Award this year.

HI announced the names of players and coaches recommended for the National Sports Awards 2014 which includes the prestigious Arjuna Award, Dhyan Chand Life Time Achievement Award and Dronacharya Award.

For the Dhyan Chand Lifetime Achievement Award, HI has recommended former women's team captain Sumrai Tete, who is employed as a coach of the senior Indian women's side, while current coach of the junior Indian women's hockey team Romesh Pathania's name has been proposed for the Dronacharya Award.

The Times of India


---

Scotland Senior Men continue Games preparations against Wales




Following the success of the Men's 4 Nations in Glasgow last week, Scotland Senior Men return to the international stage with two matches against Wales at the Glasgow National Hockey Centre this weekend.

Scotland Senior Men Head Coach Derek Forsyth has gathered his entire performance squad at the Glasgow National Hockey Centre for training and preparations throughout this week before taking on fellow Commonwealth Games opponents Wales on Saturday 10 May and Sunday 11 May.

Looking forward to the challenge this weekend, Scotland defender William Marshall commented, "Hopefully we can take the form shown in the last two games of the Four Nations forwards this weekend into the matches against Wales.

"It is always a battle against Wales, they will be good, hard games as they are also training ahead of the Commonwealth Games."

Entry for spectators this weekend is FREE, and the team would appreciate your support as they continue their build-up and preparations for the Glasgow 2014 Commonwealth Games.

Match Schedule:

Scotland v Wales, Saturday 10 May, 3.00pm
Scotland v Wales, Sunday 11 May, 12.00pm

Scottish Hockey Union media release


---

Ireland Men To Compete in 4 Nations in Barcelona




Ireland's National Men's Hockey team, who touched down from Malaysia on Tuesday post their successful Champions Challenge I tour, will fly out to Spain this Monday to compete in a 4 nations tournament against Russia, Wales and Spain in Barcelona. Coach Ned Fulton has selected a squad of 20 for the tour. This will be Coach Ned Fulton's third away tournament after just a month in the role an opportunity which he is utilizing to see as many players tested on the international stage "I have only been in the job for about a month now and Spain is the 3rd test series of which I can see another group of Irish players compete against top opposition. This is testament to the current depth in Irish men's hockey at present . I look forward to seeing this new team compete and build on the platform laid in Champs Challenge 1."

Both of Ireland's national teams have a busy summer ahead as they continue to build for their respective World League 2's – the summer schedule will be released next week.

IRELAND TEAM – 4 Nations Spain (Barcelona)

Tuesday May 13th – Friday May 16th

GK David Harte (Kampong HC)
GK David Fitzgerald (Monkstown)
GK Stephen West     (Three Rock Rovers)                        
John Jackson (Reading HC)
Conor Harte  (Pembroke W)
Paul Gleghorne (Instonians)
Brian Doherty  (Royal Beerschot)
Stuart Loughrey  (Cannock)
Johnny Bell (Lisnagarvey)                                     
Ronan Gormley (Krefeld HC)
Shane O'Donoghue  (UCD)
Jason Lynch (Lisnagarvey)        
Michael Robson   (Annadale)
Daniel Buser (Lisnagarvey)
James Corry  (Instonians)                                  
Michael Watt (Surbiton Hockey Club)
Mitch Darling  (Three Rock Rovers)
Tim Cockram (Lisnagarvey)
Alan Sothern  (Pembroke Wanderers)
Maurice Elliot  (Pembroke Wanderers)

MATCH SCHEDULE

13 May

4pm Russia v Ireland
6pm Wales v Spain

14 Rest Day

15 May

10am Ireland v Wales
12 Russia v Spain

16 May

10 Wales v Russia
12 Ireland v Spain

Irish Hockey Association media release


---

Pakistan hockey skipper Muhammad Imran feels team would benefit from international tour

Karachi: Pakistan hockey team captain Muhammad Imran feels that an international tour would improve the nations chances of defending their Asian Games title.

Imran said that due to the lack of international sport in Pakistan, most of the probables for the nation's hockey team are not familiar with the Asian teams so the squad should be given an international tour.

According to The Dawn, Imran, who led Pakistan to the Asian Champions Trophy in 2011, said that they have got a mixture of young and experienced players at the training camp at the Naseer Bunda Hockey Stadium where 35 probables had been called up for team selection.

The skipper added that some newcomers have the potential, but they have very little or no experience of international matches.

However, Imran said that after watching the performance of the players at the training camp, he is feeling optimistic that Pakistan can defend the Asian Games title, which they won four years ago in Guangzhou.

Meanwhile, former hockey captain Shakeel Abbasi echoed Imran's views saying that he does not feel that Pakistan cannot defend their title, adding that they have committed players, but it is a fact that they have been provided with very few chances of playing other Asian teams like India, Japan and South Korea.

Pakistan will defend the Asian Games title this year in Incheon starting from September 19, the report added.

DNA


---

Torn between two states

By Jugjet Singh

MALAYSIAN National women's hockey player Norain Arshad (pic) is in a dilemma as she is involved in a tug-of-war with two states for the Perlis Malaysia Games.

The women's hockey tournament will be held from May 24 to June 3, and Norain is expected to play for Pahang, but she wants to don Kuala Lumpur colours instead.

"During the last Games, I played for Pahang as I was then living with my grandmother in that state, but I was born in Kuala Lumpur, and I'm back with my mother now and would like to play for KL.

"But I was told by Kuala Lumpur HA that I will have to represent Pahang even though I have been training with KL and this has left me in a bind," said the 21-year old who was selected to train with the national side three months ago.

KLHA secretary V. Rajamanickam said they did appeal on her behalf but was turned down by the Malaysia Games Council.

"We would appreciate if the Games Council could be a little lenient as this is a special case request from the player herself.

"She was born in KL, and even though she has played for Pahang, it was because she was then staying with her grandmother who has since passed away.

"She is back in KL with her mother and has been training with us for sometime now. We hope the Games Council will entertain our appeal for this special case."

Norain said her heart is with KL: "I'm more comfortable with the KL Sukma side and it would be difficult for me to adjust myself if I was thrown into the Pahang side with only weeks leading to the Games.

"So I hope the Games Council will show some compassion in my case."

New Straits Times


---

De Paeuw bound for Egara

The Waterloo Ducks will face next season with a new look squad following the announcement that Alexandre de Paeuw will move to Spanish runners-up Egara for the 2014/15 season.

It follows the retirement of Maxime Luycx, Benjamin Van Hove and Thomas Van Den Balck while goalkeeper Vincent Vanasch has moved to Oranje Zwart in Eindhoven.

Speaking about the move, De Paeuw said: "It should be a great experience. It's true I haven't been involved with the national time so I think it's a good time to try a new experience. Who knows? I could return home stronger. I don't know exactly how long I will stay in Spain."

Euro Hockey League media release


---

'We do not have coaches at the top level in India'

By Avinash Nair and Shreedutta Chidananda.

"A hockey intelligent guy is someone who comes to training, takes what the coach has taught him and is actually able to use it on the pitch. That quality is very scarce in Indian hockey," says Jude Felix who has been roped in to assist India's head coach Terry Walsh.



Jude Felix. SHREEDUTTA CHIDANANDA

Hockey intelligence and professionalism were the key words, as Jude Felix, the new India hockey coach, chatted with Sportstar during a short stopover in Bangalore recently. A two-time Olympian besides featuring in two World Cups and two Asian Games, Felix, who last played for India in 1995, spoke of the various reasons that saw India slip down the rankings, and the struggle to recapture the old glory. The 49-year-old, who had a long stint as a coach in Singapore, obviously likes what he is doing. Whatever spare time he has, he spends at the Jude Felix Hockey Academy, where children from the Maria Niketan orphanage are trained all year long.

Felix, who will work under the head coach, Terry Walsh, and the Hockey India High Performance Director, Roelant Oltmans, has been put on a three-month probation, leading up to the end of the World Cup (May 31 to June 15 in The Hague).

Excerpts:

Question: Do you feel you should have coached India earlier?

Answer: The last time I played for India was in 1995. And coaching the Indian team 20 years later, I know that I could've definitely come much earlier and been of help. Sadly, things didn't work out and I was busy with my overseas assignments. It's been a wonderful three weeks that I've spent here and there's so much to teach these players.

What can you teach them?

There are a lot of skills, which we Indians were known for, but have now forgotten. In fact, Australia picked up so many skills from India and mastered them back home. Playing a reverse pass is something the guys have forgotten completely. Then there's the wrong-foot overhead pass. If you do it on the normal foot, the defender can read your intentions and close you down. It's a difficult skill but those are skills that can beat the defence. Then there's camouflaging a pass — pretending to pass it to one side but playing it to the other.

At this level, it's not very difficult for them to pick it up because they're already accomplished players. It's just that they've not done it for a long time.



Recalling the forgotten skills. India's head coach Terry Walsh interacts with his players during a training session in New Delhi. Terry, according to Felix, is trying to bring in the things India were strong at, coupled with physiology, professionalism and responsibility. SHREEDUTTA CHIDANANDA

But after doing it in practice, can they do it in a match?

It's a very good point. Looking from the outside, you'll see that the coach has done a great training session and gone home. But the player has not gone and tried what he's done in training. Come the match, he's not able to do it.

That's what I call hockey intelligence. There's a clear difference between a person who's intelligent in academics and a person who's hockey intelligent. A hockey intelligent guy is someone who comes to training, takes what the coach has taught him and is actually able to use it on the pitch. That quality is very scarce in Indian hockey. The coach walks halfway, but the player has to walk the other half.

Do we have enough qualified coaches?

I'll say this categorically: we do not have coaches at the top level in India. Coaching is really vast — fitness, diet, video technology, biomechanics etc. To have a coach who knows everything and can piece the puzzle together is what is required. For a country like India, you need to have at least 30-40 coaches at the top level.

Is there a big enough pool of talent available for the national team?

Seeing the HIL, I think we've got a fairly good bunch of players. Where I felt we could be doing much better is in the goalkeeping sector. We need to have more quality goalkeepers. We have to work on it separately. Of the 35 players in the training group, there are 17 who are under 21. The future looks good — players like Manpreet, Akashdeep, who is amazingly talented, Satbir, and Nikin and Nitin Thimmaiah.

Our drag flickers must have impressed you…

There was a time when we played, when we could get a penalty corner anytime but we had no one to convert. Now, it's the other way round. We've got guys to convert, but we need to get the penalty corners. In my time, (Mohammed) Shahid could get a penalty corner anytime we wanted. But we didn't have flickers.

What are your expectations for the World Cup?

We are very happy with what we've achieved in the past. But we should just forget the past and first understand that we've slipped very far behind. That's the reality of the situation. When we finished fifth in the World Cup in 1994, it was a total, utter disappointment for us. Now, some people call it fantastic and a great finish. There's nothing to be happy about. We've definitely slipped very far away, going by the Olympics which wasn't even two years ago. We have to be realistic in knowing where we stand. If I look at the whole picture, the top eight is a fair take. If we can manage anything better, it's fantastic.

Are you okay with a three-month term?

When I heard about this three-month probation, I was simply not worried at all. I told myself, 'If I'm good, I'm going to be here for three years or 30 years. What's there to worry?' I'm confident that I can teach these guys and they will know whether to keep me or not.

Before my appointment, I attended a two-hour interview done by Roelant Oltmans and Terry Walsh. So they're getting professional in the way they are trying to appoint coaches. They had a proper interview and they have a probation period to check if the coach is up to the mark. And why not? That's the right way to go about it.

The previous coach Michael Nobbs felt India had to stop trying to play the European style of hockey and go back to its roots. Is it hard for the players to adapt to changes in coaching philosophy?

If you have different ideologies, it makes it slightly difficult to adapt. But what Nobbs says is a part of what Terry is trying to do. Because you want to build on what you're good at — those fine skills. When Nobbs said we'd been playing a European style for too long, probably he was right. Because that's when you didn't see those fake movements. We stopped doing the reverse pass, the overhead running pass, the wrong-foot pass — we've lost all that. Terry is trying to bring in that — the things we were strong at — coupled with physiology, professionalism and responsibility.

Do you see a Mohammed Shahid anywhere today?

No, definitely not. Likewise, you will not see a Shahbaz Ahmed or a Teun de Nooijer as well. Because they're rare talents. But there are a couple of very good players in India. There's this young boy called Lalit, from UP, who makes all these skills look like a piece of cake. Affan Yousuf is a brilliant player. These young guys look really good.

Sportstar


---

Around the Hockey Hemisphere with Nate Franks

Around the Hockey Hemisphere in 65 Days

For the frequent jetsetter, it's a natural, well-practiced routine. Despite the clumsy clutter of airport chaos, their speed and methodical movement through the security line is an art form maybe even worthy of an Olympic event.

Remove shoes.
Secure all liquids in a plastic bag.
Place electronics in a separate bin.
Kindly explain your three MacBook Pros, iPad, Kindle and three portable external hard drives to Transportation Security Admissions.

USA Field Hockey's Nate Franks doesn't travel comparatively light when it comes to his job and as a result is politely pulled from security to review his myriad of devices - a question he is presented with 80 percent of the time he travels. And in the name of field hockey, Franks has logged an astounding 57,966 flight miles from June 15 to August 18 and marched through 47 time zones.

As the performance analyst for USA Field Hockey, Franks films every game of every tournament he attends. While filming he codes the key events of the match using SportsCode, premier coaching software designed for teams to evaluate film and data, on a Macbook Pro.

"Normally people who don't understand what I do describe me as the video guy but in reality I'm more of a chief scout," said Franks. "After matches, I go back through the game, pull out the key moments and trends that I've identified throughout the match and put those into a format that the players and coaches can easily digest so that they don't have to watch every minute of every game themselves." 

Franks started the summer with the Women's National Team at Rutgers University for their pre-World League 3 training camp. On June 15th he flew to London with the Women's National Team for World League 3 (June 15-July 1) and then to Melbourne, Australia with the Men's National Team for a 6-match series against the Victoria Vikings Australian Hockey League team and the State Institutes and Academies of Sport (SIS/SAS) team (July 2-July 15). Next on tap for Franks was Holland/Germany for the Junior World Cup with the Women's U-21 National Team (July 17-August 5). He concluded his tour around the globe with the Men's National Team test against Chile in San Diego (August 6) and the Men's Pan Am Cup (August 7-18)

Yes, feeling jetlagged just from reading Franks' summer flight itinerary is completely understandable.

No matter his latitude and longitude coordinates, Franks begins days on tour rising around 6:30 a. m. and throwing down a quick swig of hotel coffee before heading to the pitch.

"Whether it's a three-, four- or six-game-a-day tournament, I spend the entire day at the ground in the video tower filming and coding the matches," said Franks. "The only break in the day comes when the US Team plays and instead of just filming and coding, I put on a headset and contribute as an additional assistant coach, radioing in what I see from my angle and any additional information I see in the video."

At the conclusion of each day Franks meets with the head coach on tour who usually totes food and caffeine when he rolls through the hotel doors. Franks still has another couple of hours of work to make sure he has scouting reports ready for all of Team USA's possible opponents moving forward.

From his position nestled in a comfy steel video tower this summer, Franks has collected a scrapbook of treasured moments while traveling around the hockey hemisphere. From beating Italy in the last game at World League Round 3 placing the Women's National Team in position to make the World Cup to earning a come-from-behind victory for the Men's National Team over Mexico at the Pan Am Cup, Franks keeps moments like these close.

In his experience of roaming from country to country, Franks passes along a small but beneficial tip of the trade to make life overseas a little more pleasant.

"The single most important thing to learn is how to say thank you in the local language," said Franks. "Almost everywhere I've gone with the US Teams, English is ubiquitous, but being able to express your appreciation to the German who makes sure to get you on the first shuttle from the ground or to the Brazilian who serves you lunch for 10 days out of 13 – that goes a long way to ensuring that the locals will continue to look out for you and your team."

During his extensive summer field hockey travel schedule, he has torn through 10 editions of the Economist cover to cover on his Kindle as well as 10 books (the best of which were Gone Girl by Gillian Flynn and Broken Harbor by Tana French) and devoured more than 80 games of field hockey this summer including 24 Team USA test matches. Although he doesn't sport the red and white stripes of the infamous meanderer Waldo, one can still wonder aloud, "Where in the world is Nate Franks now?"
To give a special 7 May shout out to Nate Franks, USA Field Hockey's Performance Analyst,
on his birthday, we're sharing an article from the 2013 Fall issue of  FHLife magazine
that details Nate's 2013 travel schedule and his myriad of vital
responsibilities for the U.S. Women's National Team.
Happy birthday, Nate! We appreciate all you do.