All the news for Thursday 3 April 2014

Festival of Hockey: Koreans hope to scale peak

By Harrison Christian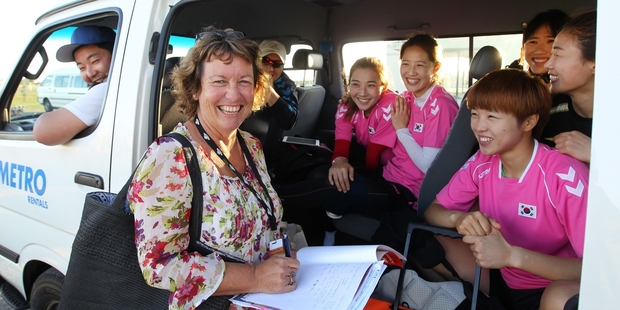 Local volunteer and Korean team liaison manager Annette Black with the Korean hockey team, here for the Hawke's Bay Festival of Hockey, at Unison Hockey Stadium, Regional Sports Park, Hastings. Photo/Paul Taylor

The Korean team is in town for the Hawke's Bay Festival of Hockey and a local volunteer plans to take them up Te Mata peak.

The team was due in the Bay yesterday morning but their flight was delayed due to fog which disrupted domestic flights in and out of Auckland airport. "Eventually they got a bus down instead," said Korean team liaison manager and Hawke's Bay local Annette Black.

"They got to see some of the countryside; they had never been out of Auckland."

Mrs Black was enjoying looking after the team as they settled into the Bay for the nine-day hockey festival.

They had begun training at the Unison Hockey stadium in Hastings.

"They found the turf a bit spongy," said Mrs Black.

"But they're getting used to it."

The Korean team was staying in Napier with the Chinese team.

Mrs Black planned to take the team up Te Mata peak if they could find the time. "Korea is a hilly country and many Koreans love hiking. I'm going to try to get them up there in between trainings and game time." Mrs Black also had "lots of other ideas".

Mrs Black did not speak Korean and had only been able to exchange "simple pleasantries" with some of the team members, but she was drawing on her experience as a volunteer at the Rugby World Cup and as manager of her daughter's hockey team.

Mrs Black and the team were looking forward to a civic welcome for hockey festival competitors at Sileni Estates tonight.

The Korean team played the Black Sticks women in two warm-up tests in Auckland and beat them both times.

The Hawke's Bay Festival of Hockey will see 65 games of hockey played throughout Hawke's Bay over nine days.

The New Zealand Herald


---

S. Korea ready to bounce back at Champions Challenge

By S. Ramaguru



South Korean and Canadian players in their group match of the Sultan Azlan Shah Cup. South Korea won 3-0, but went on to achieve only a third-placed finish.

KUALA LUMPUR: South Korea will be looking to redeem themselves at the FIH Champions Challenge I hockey tournament after a lacklustre display at the recently-concluded Sultan Azlan Shah Cup.

The world No. 7 missed several players during the Ipoh tournament due to injury as they scraped their way to a third-placed finish.

South Korean team coach Shin Seok-kyo is confident they can do better in Kuantan where the tournament will be held from April 26-May 4.

The former international defender was clearly unhappy with his team's performance in Ipoh.

"My players never showed up in Ipoh ... they were performing way below par. We hardly had enough training prior to the Sultan Azlan Shah Cup as the weather back home was not conducive for outdoor activities. I had expected better performances all around. After all, the players are fighting for a place in the World Cup team and what better way to prove their worth than at meets like this," he said.

"We will be back in Malaysia on April 15 and I hope the players will put in more effort this time around," he said.

With the 2014 World Cup just around the corner (May 31–June 15), Seok-kyo will be looking to field his best squad at the Champions Challenge.

More importantly, they will be looking at winning the tournament so as to seal their place in the Champions Trophy in 2015. Only the champions will get promoted to the Champions Trophy which is for the top eight ranked teams in the world.

Seok-kyo said that the timing of the Champions Challenge I is perfect for teams going for the World Cup.

"The tournament comes at an ideal time as I get to test my strongest squad for the World Cup. But it is also a big gamble as the possibility of losing players to injury is there," he added.

Besides South Korea, Malaysia and New Zealand are the other teams playing in Kuantan who are also going for the World Cup.

The South Koreans were denied a spot in this year's Champions Trophy as Argentina defeated them 5-0 in the final of the 2012 Champions Challenge, which was held in Quilmes, Argentina.

"Malaysia is like a second home to us and maybe that will help us to win the tournament this time around. But things won't be easy for any of the teams," he said.

The South Koreans will have arch rivals Malaysia together with Canada and France in Group B, while Group A consists of New Zealand (world No. 6) who are the highest-ranked team in the tournament alongside Japan, Ireland and Poland.

The South Koreans are expected to arrive on April 15 and it is likely that they may play a few friendly matches prior to the start of the tournament.

The Star of Malaysia


---

Roslan feeling the heat from junior's challenge

By Aftar Singh



Goalkeeper coach Martirjn Dwyer (right) instructing Roslan Jamaluddin at the Bukit Jalil Hockey Stadium last year.

KUALA LUMPUR: Seasoned campaigner Roslan Jamaluddin may have experience on his side, but a rookie 13 years his junior is looking good to upstage him in the national hockey squad.

The 35-year-old Perak-born goalkeeper, who featured in the 2000 Sydney Olympics and the 2002 World Cup in Kuala Lumpur, is feeling the heat from rookie Mohd Hafizuddin Othman, who performed well in the Sultan Azlan Shah Cup in Ipoh last month.

The 22-year-old Junior World Cupper Hafizuddin from Terengganu marked his debut in the tournament with a number of commendable saves, which contributed to Malaysia finishing as runners-up to Australia in the six-nation tournament.

Roslan did not feature in the tournament as he was nursing an ankle injury.

There are four goalkeepers in the training squad. Apart from Roslan and Hafizuddin, there is Mohd Hazrul Faiz Ahmad Sobri and first choice goalkeeper S. Kumar, who will feature in the Champions Challenge I tournament in Kuantan from April 26-May 4.

Kumar did not feature in the Sultan Azlan Shah Cup as he was still recovering from a hamstring injury picked up during the Hockey India League in February.

Roslan, who has been representing Malaysia since the 1998 Kuala Lumpur Commonwealth Games, admitted he would face a strong challenge from Hafizuddin for a place in the Champions Challenge I tournament.

"Hafizuddin has proven that he has the capabilities to play well at the senior level. He made some fine saves at the Azlan Shah Cup and he looks confident of making the cut for the Champions Challenge I.

"The pressure is on me to fight for a place in the tournament in Kuantan," said Roslan, who has 218 caps.

Roslan added that he has to perform well in the six friendly matches against the China national team (in Bukit Jalil from April 9-20) if he hopes to earn a place for the tournament in Kuantan.

"The players named for the Champions Challenge I would also be the first choice to feature in the World Cup (in The Hague from May 31-June 15)," said Roslan.

For the Champions Challenge I, Malaysia will open their Group B campaign against France on April 26. Their other matches are against South Korea (April 27) and Canada (April 29).

Group A comprises New Zealand, Japan, Ireland and Poland.

The winners of the tournament will gain an automatic berth for next year's Champions Trophy.

The Star of Malaysia


---

Hockey's greatest play-off: the day Teddington twice blew leads against re-emerging East Grinstead in 2005

Flashback: players and coaches reminisce with Telegraph Sport on the May 2005 play-off between Teddington and East Grinstead, the winner securing top-flight status

By Rod Gilmour



All white weekend: East Grinstead celebrate famous double-header win to guarantee promotion back to Premier Division

THE BUILD-UP

Due to the league's restructuring, East Grinstead, who won Division Two, were set to play Teddington to guarantee their return to the top flight. Having been relegated in 1999 and fallen to the lower echelons, the Sussex side reversed the slide to finish two games from re-joining the Premier Division.

Meanwhile, Teddington were a team on the decline. They had been a fixture in the top flight since the inception of the National Hockey League in the Eighties – and the last team to do so – but they had endured a lacklustre first half of the season. They rallied thanks to some late restructuring: parting company with their coach and asking former GB captain Jason Laslett to come out of retirement. The statistics showed that, following Christmas, they finished the season as the third best side. Although it was enough to miss automatic relegation, a play-off finale against East Grinstead now awaited.

THE DOUBLE-HEADER

The two matches were played back-to-back in Nottingham and Teddington came out fighting in the first encounter. They raced into a 3-0 lead with a brace from Malaysian international signing, Chua Boon Huat. Then came a seismic, 26-minute swing as East Grinstead scored five times, four of which came from penalty corner strikes by Kwan Browne, their Trinidadian talisman who had joined the club as player-coach in Division Two.

There was still time for a goal apiece, leaving East Grinstead with a crucial 6-4 advantage heading into the final game, 24 hours later. Surely Browne's influence would lead East Grinstead back to the top flight?

BATTLE BY THE TRENT

Teddington had other ideas. Their game plan on the Sunday was to stifle Browne's stick skills in open play and denying him at penalty corners. So began a tumultuous, 70-minute denouement.

John Barrett, former Teddington player and 2005 manager: "Before the game, there was a lot of aggravation from the technical delegates' desk over the rules and it was rather silly, so silly that I can't even remember what for. It riled a few of our players and the pressure of the day got to them."

Richard Payne, East Grinstead captain: "We went into the game as complete underdogs, but Teddington really thought they were going to roll us over and they came out with a game plan. Jason Laslett did a job on Kwan for 65 minutes of that game. Every time he got the ball, he got smashed around the shins, they upset his rhythm and unfortunately for us we were totally outplayed."

JB: "I think it was a bit of tiredness that saw us do that. We didn't have the greatest squad, they probably had the better one. We didn't perform as well in the second game and I think for two or three of them, it went over the top."

With Browne locked out of the game, Teddington led 4-0 on the day - all their goals coming from open play - and 8-6 on aggregate, with 15 minutes left. But with nine minutes remaining, Mike Williamson was given a 10-minute yellow card dismissal. It gave Brown free reign, according to Payne. Teddington survived a fourth penalty corner but, in a frantic final three minutes, conceded open-play goals to Ashley Jackson and Duncan Howarth, the last of which came 30 seconds from time.



The 2005 play-off launched the career of England star Ashley Jackson, pictured here at the 2007 Youth Olympic Festival

JB: "It was a weird game, like ping pong. No one could seem to get control of the match. But I do remember the game being the start of Ashley Jackson's ascent. And Kwan Browne made Ashley Jackson, let no one else tell you differently."

At the final whistle, the aggregate scores were level at 8-8, taking the game into 15 minutes of golden goal extra-time.

RP: "We dominated extra-time. From the first penalty corner, Kwan went to put it high and it got saved. But we immediately got another. Because I was trapping the corners and Kwan was flicking, he turned to me and said 'watch this'. The 'keeper was expecting it to go aerial so Kwan dummied to put it high and buried it in the bottom corner for the golden goal.

"The emotion that came out of him was startling. He is a fairly miserable person when he's not winning and it was more relief that we had won. He had a point to prove to some of the Teddington players as a few of them had been chirping at him throughout the two games."

Kwan Browne, former East Grinstead (now Canterbury): "That is still my favourite moment. The way it was done was just brilliant. We just managed to find a gap back to take the game into overtime with two late goals and eventually found the penalty corner winner. For me personally, I scored six of them and it was a really nice occasion. The best thing about it is that East Grinstead are now one of the top teams in Europe."

RP: "They had some quality players but they turned up with the wrong game plan in trying to wind up Kwan. They paid the price for that in the end."

AFTERMATH…

With Teddington surrendering leads in each of their games, it meant bowing out of the elite division for the first time since being a founder member in 1988/89. Browne then left East Grinstead six weeks before the start of the new season, meaning the club had to find new coaching staff.



Kwan Browne left East Grinstead to join Canterbury, but still holds affection for the Sussex side

Philip Coote, East Grinstead commercial director: "There are two sides to the coin with these things. I remember when we got relegated from the Premier League and losing 15 players of our original 20-man squad. We went down to Division Two and then up to the Premier League in consecutive seasons. We then went 6th, 4th, 2nd, title. As we realised we were then back in the top flight, we realised the amount of work we needed to be done in order for us to stay in the league."

For Barrett and his squad, it was a cruel end. After climbing out of the last automatic relegation spot thanks to six wins in their final eight league games, securing a Premier Division berth had been there for the taking.

JB: "The drive home that night was horrendous. It was quite a choke. But you felt that something was going to go wrong by the way our season had gone. We were now in a situation where players were starting to leave because we didn't have a good enough coach and the players were allegedly being offered deals at other clubs.

"We had changed grounds to a sand pitch as it was felt the 1st XI weren't part of the club - and the club was more important than the team. It was a hard year and we tried everything we could to get out of it. The biggest sadness was that, with East Grinstead on the way up, we had been there so long. We were bound to have a bad stage. The memories now are horrible."

NOW...

RP (now Sevenoaks player-coach): "We were all fairly close and even now I am getting married in two months' time and half the team are coming to the wedding. That night in 2005 we celebrated and had a very good evening. From where we came from on that day to where the club is now is amazing."

East Grinstead are current National indoor and Premier Division champions and won the European Indoor Trophy in 2013. Teddington currently play in the National League East Conference and have yet to return to the top flight.

The NOW: Pensions play-off finals takes place this weekend at Reading Hockey Club.

The Telegraph


---

WAPDA, Railways to fight for top honour



Wapda continued their domination in the tournament by defeating Army 3-1. PHOTO: APP

KARACHI: Wapda and Pakistan Railways entered the final of the National Women's Hockey Championship after achieving identical victories over their respective opponents in the semi-finals.

As expected, defending champions and the pre-event favourites Wapda continued their domination in the tournament by defeating Army 3-1.

The winners, who have been on the driving seat against their counterparts from the beginning, took an early lead to build pressure.

They started attacking Army's defence soon after the whistle blew, with Nazia Rehmat striking on the second attempt. Her field goal came in just the fourth minute.

Army attempted to level but were not good enough to surpass Wapda's defenders. Instead, the defending champions doubled their lead with Ambreen Arshad excelling in the 17th minute.

Wapda were leading 2-0 at the breather.

Army staged a fightback in the second session, with Aisha Rafiq reducing the lead in the 44th minute. But Marium Sabir made it 3-1, with Wapda persisting with the lead until the final whistle.

The other semi-final saw Railways overcoming Punjab Colour with a similar margin of 3-1, courtesy a brace from Hina Kanwal.

Aqsa Mumtaz struck the first goal in the 27th minute on a field effort. Sidra Ayub then levelled for Punjab Colour just after three minutes.

Hina scored the first of her two goals in the 33rd minute as Railways led 2-1 at half-time. She scored another goal in the 53rd minute to seal the win.

The final will be played today after Punjab Colour and Army will meet for the bronze medal.

The Express Tribune


---

Haryana, Punjab lads enter semis

Chennai - Haryana and Punjab recorded contrasting victories in their pool matches to enter the semifinals of the Hockey India junior men's National Championship (Division A) here today.

While Haryana registered a hard-fought 2-1 win over Jharkhand in Pool C, Punjab thrashed Tamil Nadu 9-1 in a Pool A encounter.

Ajit Pandit scored three goals for Punjab, Baljinder Singh added two more while Parvinder Singh, Varun Kumar, Harmanpreet Singh and Shamsher Singh added to the agony of Tamil Nadu.

For Haryana, the goals were scored by Karmbir and Nikhil Saroha.

In another Pool C match, Madhya Pradesh beat Uttar Pradesh 4-3.

The Tribune