All the news for Monday 28 April 2014

New Zealand and Canada are top in Kuantan, while USA and Korea dominate in Glasgow

No joy for home crowds as host nations Malaysia and Scotland suffer losses in pool matches



Scotland and Belgium in their opening pool A match (Photo: Rodrigo Jaramillo)

Pahang Hockey Champions Challenge 1 Kuantan

New Zealand are top of pool A after the second day of action at the Pahang Hockey Champions Challenge 1 in Kuantan, Malaysia. The Black Sticks walked away with a 6-1 victory over Japan while Ireland's Green Machine lost to Poland. The ambitious Polish team chalked up a 2-1 victory thanks to a late Pawel Bratkowski strike. Poland are now second in the pool, followed by Japan; Ireland are last.

Korea top pool B after they recorded a convincing 3-1 win over fellow Rabobank Hockey World Cup contestants Malaysia in their second match of the tournament. Canada are also unbeaten, but have an inferior goal difference so they currently sit in second place after winning their second pool B match 3-2 against France. Host nation Malaysia sit at the bottom of the pool as they have now lost both their matches, with France in third place.

Champions Challenge 1 Glasgow

Home side Scotland were unlucky not to share points with Belgium in the first pool A match of the Champions Challenge 1 in Glasgow. Alison Bell gave her side an early lead, but goals from Lieselotte van Lindt and Barbara Nelen meant Belgium finished day one on maximum points. The second pool A match revealed Korea's intentions to reclaim Champions Trophy status. Their 4-2 win over a youthful India team was gained through a composed and structured performance, with goals from Park Mi Hyun (13), Kim Ok Ju (23'), Cheon Eun Bi (28) and Lee Young Sil (42').

The USA women's team won their opening Champions Challenge 1 game in Glasgow in dominant fashion against Spain to finish Day One at the top of pool B. The USA scorers were Katie O'Donnell (29'), Michelle Vitesse (47') and Melissa Gonzalez (55'). Spain's sole goal came courtesy of Maria Gomez (62').

Follow all the action from Glasgow and Kuantan on the event websites.
 
FIH site


---

New Zealand and Poland celebrate wins in pool A



New Zealand are now top of pool A in Kuantan. (Photo: FIH)

New Zealand are top of pool A after the second day of action at the Pahang Hockey Champions Challenge 1 in Kuantan, Malaysia. The Black Sticks walked away with a 6-1 victory over Japan while Ireland's Green Machine lost to Poland. The ambitious Polish team took the 2-1 victory thanks to a late Pawel Bratkowski strike. Poland are now second in the pool, followed by Japan, Ireland are last.

Japan v New Zealand 1-6 (0-4)

New Zealand demonstrated their strength by taking home a massive 6-1 win over Japan at the Pahang Hockey Champions Challenge 1. Securing their second win in Kuantan, the Black Sticks are now top of pool A while the Samurais suffered their first defeat in this tournament.

"We are very pleased that we were able to take our chances", said New Zealand's captain Dean Couzins. "With two wins we are in a good position now although the last three matches are the most important ones. We are looking forward to the quarter finals."

The Black Sticks, playing in white today, were first to score when Steve Edwards (6') slotted in from close range. Kane Russell (12') doubled the lead soon after, firing home a penalty corner. Because of the hot weather conditions this match was also played in four quarters of 17.5 minutes each.

As soon as the second quarter had started, the Black Sticks extended their lead to 3-0 thanks to an Alex Shaw (19') field goal. Just before halftime Simon Child (34') added another goal, making the score 4-0.

In the second half, Russell (38') added his second goal of the game with a skilful dragflick. Japan's consolation goal was scored by Ippei Fujimoto (53'). Another promising Kiwi attack saw Phil Burrows linking well with Stephen Jenness (59') to cross the line again.

New Zealand, who have qualified for the Rabobank Hockey World Cup starting on May 31st in The Hague, were too strong for Japan winning this match 6-1.

Ireland v Poland 1-2 (0-1)

The crowd at the Hockey Stadium Wisma Belia saw an intense match between Ireland and Poland with chances created by either side. Poland got the better end of it, winning 2-1 thanks to a late Pawel Bratkowski strike.

The first goal in this tough encounter came on the quarter-break as Poland scored from a penalty corner. Bratkowski's shot was deflected into the net by Krystian Makowski (18') leaving the Irish goalie David Harte no chance. The second quarter saw both sides winning a penalty corner but both failed to convert.

However, the Green Machine evened the game at 1-1 on 37 minutes when Maurice Elliott (37') picked up the rebound of a shot and found the bottom of the goal.

Ireland were the stronger side throughout the third quarter but failed to capitalise. The last quarter was a very close affair as both teams defended well and limited each other to very few chances. But Bratkowski eventually scored the winner for Poland when his penalty corner shot found its way past the Irish keeper.

FIH site


---

Canada and Korea to remain unbeaten in pool B


 
Canada remain unbeaten in Kuantan. (Photo: FIH)

Canada and Korea won their matches today against France and Malaysia, respectively. Both are on four points now but Korea have the better goal difference lifting them to the top of pool B after Day 2 of the Pahang Hockey Champions Challenge 1 in Kuantan. France lost 3-2 to Canada, while host nation Malaysia suffered their second defeat, 3-1 against Korea.

Canada v France 3-2 (1-1)

Canada remain unbeaten in the Pahang Hockey Champions Challenge 1 in Kuantan after winning their second pool B match 3-2 against France. "This was a good game for us", said Canadian coach Anthony Farry. "Kuantan is a very good place to play hockey, we really enjoy the crowd." Captain Scott Tupper agrees: "It is hard for us to play here because we come from the Canadian winter but here it's much better than playing at 4 degrees in Vancouver."

This encounter promised to be an exciting one as Canada created a shock by drawing 3-3 with Korea on Day 1 while France came out on top in their opening match against host nation Malaysia, winning the game 3-2.

Canada's team captain Scott Tupper (4') started the move that led to the first goal, sending a penalty corner shot into the bottom of the goal. However, the Tricolores were able to strike back 10 minutes later when Victor Charlet converted France's first penalty corner. The remaining minutes in the first half saw both teams searching for the lead but neither were able to capitalize on their chances. The halftime score was tied at 1-1.

Canada built a two goal lead in the second half with Philip Wright (43') and Iain Smythe (58') getting on the scoreboard. The Tricolores fought hard to bounce back from a 3-1 deficit but could not find the back of the net. After Charlet (64') had added another penalty corner goal to make it 3-2, France replaced their goalkeeper with an 11th field player but the equalizer did not come.

"It is difficult for us to play two matches within two days", said French coach Frederic Soyez. "We are here with a very young team and we want to improve."

Malaysia v Korea 1-3 (0-1)

Korea walked away with a convincing 3-1 win over host nation Malaysia in Sunday's last match in the Stadium Hockey Wisma Belia. As Korea have a better goal difference than Canada, they are now on top of pool B.

Malaysia were seeking to strike back against Korea today after they lost yesterday's match against France. As both teams will participate in the Rabobank Hockey World Cup kicking off in The Hague on May 31, this match is an important reckoner for both teams.

Despite having had more ball possession and scoring opportunities, the host nation was one goal behind at halftime. Korea managed to force a penalty corner on 19 minutes and Nam Hyun fired a dragflick past Malaysia's goalie Kumar Subramiam to give his team the lead. Malaysia created a lot of promising scoring opportunities but they were unable to break down the Korean defence.

The second half started with You Hyo Sik (37') grabbing an early goal to double Korea's advantage. Soon after, the leading team forced their second penalty corner which was parried well by Malaysian Sukri Mutalib to keep his team in the contest. However, Korea eventually extended their lead to 3-0 when Jang Jong Hyun scored from their third penalty corner. Despite the disheartening scoreline, the Malaysian supporters kept on singing throughout the match. With one minute remaining Ismail Abu provided the 3-1 consolation goal much to the delight of the crowd.

"We played much better than yesterday but unfortunately we didn't take the chances we created. Now we hope to beat Canada because otherwise we will play New Zealand in the quarter final and this will be a tough match" said Malaysia coach Muhammad Dhaarmaraj.

FIH site


---

Not up to the challenge

By JUGJET SINGH



South Korea's Jang Jong Hyun (third from left) celebrates his goal against Malaysia in their Champions Challenge 1 match in Kuantan yesterday. Bernama pic

MALAYSIA were soundly beaten 3-1 by South Korea in a Group B hockey match of the Champions Challenge I in Kuantan yesterday.

After a break today, they play Canada next and it will not be an easy match as yesterday, the Canadians beat France 3-2. Malaysia had lost to France on Friday by the same margin.

However, the tournament format will see all eight teams from Group A and Group B play in the quarter-finals, and Malaysia might just draw the short straw and play against raging favourites New Zealand in the cross-over if they end at the bottom of the pool.

Coach K. Dharmaraj's men went looking for an early lead but found the going tough as the forward-line lacked direction in the first 10 minutes of the match.

However, 12 minutes into the match, Malaysian won their first penalty corner and Ahmad Kazamirul sailed it over the bar.

The Koreans soaked in the pressure and relied on counters, and finally won their first penalty corner in the 18th minute and Nam Hyun Woo made it count with a low push to the board for the lead.

Malaysia had two more penalty corners to draw level, but Shahril Saabah's drive hit the post and rebounded out in the 21st, while Kazamirul's attempt in the 32nd minute was saved by goalkeeper Lee Myung Ho.

Two minutes into the re-start, You Hyo Sik made it 2-0 with a reverse stick drive which went between the legs of goalkeeper S. Kumar.

And by the 50th minute, South Korea completed the rout with another penalty corner goal from Jang Jong Hyun. Ismail Abu scored the consolation in the 67th minute for Malaysia.

New Straits Times


---

Malaysia fall flat against South Korea

By S. Ramaguru

KUANTAN: Malaysia's hopes of a top-two finish in Group B of the Champions Challenge 1 went bust when they lost 1-3 to South Korea in their second match at the Wisma Belia Hockey Stadium.

It was their second defeat in a row for Malaysia after their 2-3 loss to France on Saturday.

The Malaysians were sloppy in defence and also allowed the Koreans too much room to attack. Their overall performance was also not up to mark and they wasted five penalty corners.

South Korea, on six points, went to the top of the group on a better goal difference than second-placed Canada.

Malaysia went into the match knowing they needed a win to keep alive their hopes of a top-two placing in the group. Likewise, the Koreans were also desperate for full points after a 3-3 draw with Canada in their opening match.

Malaysia managed to gain their first penalty corner in the 12th minute, but Ahmad Kazamirul Nasruddin sent his flick wide.

In the 18th minute, the Koreans earned their first penalty corner and they made no mistake with Nam Hyun-yoo scoring with a direct drag flick.

The Malaysians fought back and had a chance to score with their second penalty corner in the 22nd minute. This time, Mohamed Shahril Saabah took the attempt but his shot hit the post.

Malaysia had another two more penalty corners in the 33rd and 34th minutes but again the attempts by Kazamirul fell flat.

In the second half, the Koreans took just two minutes to increase their lead to 2-0 with a quick counter-attack and scored through You Hyo-sik.

Jang Jong-hyun piled on more misery for the homesters with another penalty corner goal in the 50th minute to stretch their lead to 3-0.

The Malaysians then tried to stage a fightback, but it was clear that it was a lost cause. They only managed to net a consolation goal through Ismail Abu in the 67th minute.

In an earlier match, Canada registered their first win by beating France 3-2.

The Canadians took just four minutes to open the scoring through a penalty corner goal by Scott Tupper.

Although the Canadians enjoyed possession, it was the French who looked dangerous up front.

In the 20th minute, France drew level with a penalty corner conversion by Victor Charlet.

Canada, however, went ahead again in the 43rd minute when Philip Wright scored a field goal. Iain Smythe then made it 3-1 for Canada in the 58th minute.

Charlet managed to reduce the deficit for France with another penalty corner conversion in the 64th minute.

France coach Frederic Soyez was disappointed with the loss.

"We just were not able to convert our chances. We had plenty, like 15 to 20 chances. They scored early in both halves and that put pressure on us. But we are here to learn and this is a good tournament for the young players to gain experience. We are looking forward to the coming matches," said Soyez.

France play South Korea tomorrow while Canada take on Malaysia. Today is a rest day.

The Star of Malaysia


---

Favourites New Zealand steamroll Japan

By S. Ramaguru

KUANTAN: Top seeds New Zealand romped to a 6-1 win over Japan to lead Group A in the Champions Challenge 1 hockey tournament.

The Kiwis, ranked sixth in the world, were in an uncompromising mood as they took a 4-0 first-half lead to notch their second win at the Wisma Belia Hockey Stadium yesterday.

They had defeated Ireland 2-1 in their opening match on Saturday. New Zeland now have six points and a final group match against Poland tomorrow.

Yesterday, the Black Sticks opened their scoring in the sixth minute through a close-range effort by Steve Edwards.

Kane Russell then increased the lead in the 12th minute through a penalty corner drag flick.

Alex Shaw made it 3-0 through a field goal in the 19th minute and Simon Child put his name on the score sheet in the 34th minute.

The Japanese failed to play their usual game and the speed, which they used so effectively to edge Poland 3-2 on Saturday, was sorely missing from their game.

In the second half, Russell added his second goal in the 38th minute from another penalty corner. Japan managed to pull a goal back through Ippei Fujimoto in the 53rd minute.

In the 59th minute, a brilliant one-two by Phil Burrows and Stephen Jenness allowed the latter to slot in a low shot past Japanese goalkeeper Katsuya Takese.

Said New Zealand skipper Dean Couzins: "We are very pleased that we were able to take our chances. With two wins, we are in a good position now although the last three matches are the most important ones.

"We are looking forward to the quarter-finals."

In another Group A match, Poland beat Ireland 2-1 to register their first win.

Poland scored through Krystian Makowski (18th) and Pawel Bratkowski (67th).

Maurice Elliot scored for Ireland in the 37th minute.

The Star of Malaysia


---

Black Sticks trounce Japan at Champions Challenge




The Black Sticks Men have recorded an emphatic 6-1 win over Japan in their second pool game at the Champions Challenge in Malaysia.

Four goals in the first half (Steve Edwards, Kane Russell, Alex Shaw and Simon Child) were enough to sink Japan's hopes with 35 minutes still to play.

Russell scored his double early in the second half before Stephen Jenness put the icing on the cake with a scintillating goal 10 minutes out from fulltime.

The Black Sticks were in dominant form against a familiar Japan side, which proved testing opposition in last month's three-test series in Tauranga.

Head coach Colin Batch said the team backed up last night's win with another good performance and capitalised on their scoring chances.

"Playing in extremely hot conditions again was a real test for our conditioning and the guys handled that very well," he said.

"I thought we played extremely well and finished our scoring chances with precision. All our goals were good in their own right tonight. The win puts us in a strong position in Pool A ahead of tomorrow's rest day."

It took the Black Sticks just five minutes to score their first goal of the game thanks to Steve Edwards' brilliant shot from the field.

The Black Sticks were up 2-0 in the 11th minute after Kane Russell flicked a pin-point shot into goal from a penalty corner.

Alex Shaw and Simon Child both added to the score sheet to put the Kiwis well in control and up 4-0 at halftime.

Just minutes into the second half, Russell scored his second penalty corner flick of the game with Japan helpless to stem the flow of New Zealand attack.

Japan finally showed some life in the 52nd minute, with Ippei Fujimoto getting his side on the scoreboard.

But the comeback was short lived after Capital striker Stephen Jenness struck back just minutes later to extend the Black Sticks' buffer to 6-1.

The Black Sticks play their final pool game against Poland at 11pm Tuesday night (NZ time) ahead of their cross-over quarter final.

The Champions Challenge doubles as a qualifier for the 2016 Champions Trophy with the winner earning an automatic berth, and is also important preparation for the Hockey World Cup from 31 May – 15 June in The Hague, Netherlands.

BLACK STICKS 6: (Kane Russell 2, Steve Edwards, Alex Shaw, Simon Child, Stephen Jenness)
JAPAN 1: (Ippei Fujimoto)
Halftime: Black Sticks 4-0

Hockey New Zealand Media release


---

Blacks Stick claim victory over Japan

The New Zealand men's hockey team has routed Japan to record its second successive win at the Champions Challenge tournament in Malaysia.

Steve Edwards kicked proceedings off with a goal inside five minutes and the goals continued to flow, the world No 6-ranked Black Sticks banging six of them past their hapless 14th-ranked opponents in a 6-1 hammering at Kuantan.

It was a far more comfortable watch for coach Colin Batch than 24 hours earlier, when the Kiwis edged past world No 15 Ireland 2-1 in their opening match.

New Zealand raced to a 4-0 lead at halftime, with Kane Russell (from a penalty corner), Alex Shaw and Simon Child all adding to Edwards' early strike.

Child and Edwards were both green-carded in the second half but only after Russell had scored his second goal of the night. Stephen Jenness rounded out the scoring for the Kiwis.

New Zealand play their final group match, against world No 18 Poland, on Tuesday night (NZT) with the quarterfinals on Thursday and the semifinals and final next weekend.

The winner of the tournament advances to the top-tier Champions Trophy in 2016.

Stuff


---

CC1 Match 2 Ireland 1-2 Poland

Ireland took on Poland in their second match of the Champions Challenge 1 in Malaysia today just 24 hours after a narrow 2-1 loss to New Zealand, finishing the game with the same scoreline, 2-1 loss, against Poland.

Poland took the lead after securing the first penalty corner of the match in the 18th minute Krystian Makowski with the deflection. Ireland had a prime chance to equalise in the 29th minute with their own set piece but striker Alan Sothern's shot was denied by the Polish net keeper and half time closed with Ireland trailing 1-0.

Ireland came out goal hunting and it took only two minutes for marksman Maurice Elliott, on his second cap, to be rewarded for his efforts when he leveled the score in the 37th minute.

Ireland had to withstand a total of 15 minutes with player suspensions and Poland capitalised with a late winner in the 67th minute when Pawel Bratkowski netted home his countries second goal to secure a 2-1 victory.

Commenting after the game Coach Fulton said "I felt we needed to work on our conversions we have to convert chances we make and those afforded to us and which we failed to convert.  That said we are still on track and looking forward to our next game against Japan on Wednesday"

Ireland 1 (0) Maurice Elliott pc 37m
Poland 2 (1) Krystian Makowski pc 18th; Pawel Bratkowski pc 67th m

Current Standings official website http://events.fih.ch/new/competition/283

Ireland will have a rest day tomorrow before they take on Japan in their final pool game on Tuesday before entering the quarter final stages of the tournament.

Ireland Squad

1.David Harte GK (Kampong)
2. David Fitzgerald GK (Monkstown)
3.John Jackson (Captain) (Reading)
4.Paul Gleghorne (Instonians)
5.Johnny Bell (Lisnagarvey)
6.Richard Shaw (Glenanne)
7.Mathew Bell (Banbridge)
8. Bruce McCandless (Banbridge)
9.Eugene Magee (Banbridge)
10.Drew Carlisle (Banbridge)
11. Michael Robson (Annadale)
12.Peter Brown (UCD)
13.Chris Cargo (Reading)
14.Alan Sothern (Pembroke Wanderers)
15.Steven Dowds (Banbridge)
16. Kirk Shimmins (UCD)
17.Philip Brown (Banbridge)
18. Maurice Elliot (Pembroke Wanderers)

Remaining CC1 Matches

Monday 28 April
16:00 Pool B Spain v Ireland (w)

Tuesday 29th April
17.00 Pool A Ireland v Japan (m)

Wednesday 30 April
11:30 Pool B USA v Ireland (w)

Thursday 1 May
Quarter Finals (w)
Quarter Finals (m)

Saturday 3 May
Classification Matches / Semi Finals (w)
Classification Matches / Semi Finals (m)

Sunday 4 May
Classification Matches / Finals (w)
Classification Matches / Finals (m)

Irish Hockey Association media release


---

Canada earns first win of Champions Challenge with win over France



Courtesy: FIH

Canada remains unbeaten in the Pahang Hockey Champions Challenge 1 in Kuantan after winning their second pool B match 3-2 against France.

"This was a good game for us", said Canadian coach Anthony Farry. "Kuantan is a very good place to play hockey, we really enjoy the crowd." Captain Scott Tupper agrees: "It is hard for us to play here because we come from the Canadian winter but here it's much better than playing at 4 degrees in Vancouver."

This encounter was promised to be an exciting one as Canada surprised by drawing 3-3 with Korea on Day 1 while France got the better end in their opening match against host nation Malaysia winning the game 3-2.

Canada's team captain Scott Tupper (4') started the play that led to the first goal sending a penalty corner shot into the bottom of the goal. However, the Tricolores were able to strike back ten minutes later when Victor Charlet converted France's first penalty corner. The remaining minutes in the first half saw both teams searching for the lead but both were unable to capitalize on their chances. The halftime score was tied at 1-1.

Canada built a two goals lead in the second half with Philip Wright (43') and Iain Smythe (58') getting on the scoreboard. The Tricolores fought hard to bounce back from a 3-1 deficit but could not find the back of the net. After Charlet (64') had added another penalty corner goal to 3-2, France replaced their goalkeeper by an eleventh field player but the equalizer did not come.

"It is difficult for us to play two matches within two days", said French coach Frederic Soyez. "We are here with a very young team and we want to improve."

Field Hockey Canada media release


---

Belgium and Korea get Women's Champions Challenge 1 campaign off to good start

Day One and pool A has two front runners for top spot, while Scotland rue missed chances



Korea v India in pool A match (Photo: Rodrigo Jaramillo)

Korea made a strong start to their campaign to win Champions Trophy status with a 4-2 victory over India, while Belgium carved out a win over a stubborn and energetic Scotland team.

The Scottish supporters were delighted when Alison Bell (14') put the home side ahead against Belgium in the opening game of pool A in the Champions Challenge 1. This remained the only goal of the half, although Belgium will be disappointed that they had a goal disallowed when a penalty corner shot was judged to be too high.

It took only five minutes of the second half for Belgium to equalise through Lieselotte van Lindt (40), who deflected the ball into the goal from a sweeping shot from Stephanie de Groof. It was a moment of individual brilliance from Barbara Nelen that broke the deadlock in the 53rd minute. Nelen picked up the ball at the halfway line and ran unimpeded into the circle before scoring with a reverse stick shot.

The equalser came tantalisingly close when Belgium 'keeper Aisling Dhooghe somehow kept a scrambled ball from crossing the line but, despite great work from captain Linda Clement and an energetic performance which saw the Belgium team under enormous pressure, the home side were unable to get the equaliser.

In the other pool A match, Korea established themselves as the early favourites to win the pool with a 4-2 victory over India, although it was India who first got on the score sheet through Vandana Katariya (11'). Two minutes later Park Mi Hyun (13) struck back to equalise and Kim Ok Ju (23') and Cheon Eun Bi (28) also found the back of the net in the first half. There was a brief break in the action as one of India's bronze medal winning stars from the Junior World Cup, Sushila Pukhrambam received a nasty facial injury.

A fourth goal was scored by Lee Young Sil (42') but it was India who had the final say when Poonam Rani (69') dissected the Korea defence to slot home India's second goal.

FIH site


---

USA top pool B after day one. South Africa and Ireland share spoils

Day One, pool B of the Champions Challenge 1 saw the USA win their opening game in dominant fashion, while South Africa and Ireland battled hard for a point apiece.



USA v ESP Champions Challenge 1 pool B (Photo: Rodrigo Jaramillo)

The USA played a competent game to dispatch Spain's determined but defensively naive young team 3-1, with goals coming from Katie O'Donnell (29'), Michelle Vitesse (47') and Melissa Gonzalez (55'). Spain's sole goal came courtesy of Maria Gomez (62'). After the match, goalscorer Gonzalez put the win down to great team 'togetherness.'

South Africa took an early lead against Ireland, courtesy of Sulette Damon (11') although Ireland had created a similar number of chances in what was a very end-to-end first half. Despite the best endeavours from both sides, the half ended with no further goals.

The second half produced some better finishing, although both coaches will be unhappy with some aspects of their team's defending. Ireland come back into the game through an Anna O'Flanagan (44) strike, but just five minutes later South Africa restored their lead when Dirkie Chamberlain (48') got a touch on a cross from Lilian du Plessis. Audrey O'Flynn (57') scored from a penalty corner to make it 2-2.

FIH site


---

USA take all the points in opening match at CC1 Glasgow

Spain work hard, but USA show clean finishing with three killer shots



USA vs Spain Champions Challenge 1 Glasgow (Photo: Rodrigo Jamarillo)

The USA made their intentions clear with a composed and dominating 3-1 win in the opening Champions Challenge 1 match in Glasgow against Spain. Both teams took their time to settle, but the USA had the better of the first 20 minutes with Melissa Gonzalez and Katie Reinprecht working the midfield well and Katie O'Donnell coming close with a shot fired across the Spanish goal.

It was Katie O'Donnell (30') who broke the deadlock to put USA ahead with a sweetly-struck goal from the edge of the circle. This followed a quick attack which split the Spanish defence, leaving O'Donnell to past the goalkeeper, Maria Lopez de Eguilaz Zubiria.

Two penalty corners in quick succession for the USA produced reaction saves from the Spanish goalkeeper, but despite hard work by the Red Sticks defence, Michelle Vitesse (47') was able to double the USA's lead with a shot from wide right of the circle.

Melissa Gonzalez (55') gave the USA a 3-0 lead; again this goal came via clinical finishing from the top of the circle.

Spain came back stronger in the final 10 minutes of the game and Maria Gomez (62') reduced the USA lead when she scored from a penalty corner. This gave a renewed buzz to the Red Sticks game, but for them it came a little too late to prevent the USA taking all three points.

FIH site


---

South Africa and Ireland play out a battling draw

Match ends 2-2 in second Champions Challenge 1 pool B game



South Africa vs Ireland pool B Champions Challenge 1 (Photo: Rodrigo Jaramillo)

A battling, intense match saw South Africa and Ireland win a point apiece after they drew the second pool B match of the Champions Challenge 1 in Glasgow 2-2.

South Africa got off to a cracking start when Sulette Damon (11') was gifted a simple tap-in at the post. The Ireland coach, Graham Shaw will be unhappy with his side's defending as the ball found its way through a number of players en route to goal and came after the players in green had created several chances that they had failed to convert.

Ireland defender Shirley McCay left the field with a nasty facial injury shortly before half time, but this seemed to galvanise her team and, in the dying seconds of the half, Ireland fought back and made inroads into the South Africa circle. However, goalkeeper Anelle van Deventer was equal to the challenge and the half ended 1-0.

The second half saw Ireland come back into the game though a great combination between Naomi Carroll and Anna O'Flanagan (44). Carroll found an unmarked O'Flanagan with a pin point pass and the forward was able to fire home and equal the scoreline.

Minutes later, South Africa restored their lead when Dirkie Chamberlain (49') got a touch on a cross from Lilian du Plessis, but the respite for the women in yellow and green lasted only a few minutes before Audrey O'Flynn (58') scored from a penalty corner to make it 2-2.

Both teams pressured their opponent's goal, but were unable to deliver the killer goal. Ireland's goal scorer, Audrey O'Flynn admitted that the 'intense game could have gone either way."

FIH site


---

Belgium hold firm against Scotland's assault on goal

Despite a flurry of attacking opportunities in dying moments of game, Scotland failed to score



Belgium vs Scotland Champions Challenge 1 pool A (Photo: Rodrigo Jaramillo)

The Scottish supporters were delighted when Alison Bell (14') put the home side ahead against Belgium in the opening game of pool A in the Champions Challenge 1, but delight turned to despair as Belgium fought back and took all three points.

Bell's goal was the only goal of the half, although Belgium will be disappointed that they had an equaliser disallowed when a penalty corner shot was judged to be too high.The game flowed from end-to-end, but neither side were able to capitalise on chances created, and both goalkeepers, Aisling Dhooghe for Belgium and Nicki Cochrane for Scotland, were able to deal with anything that came their way.

That changed in the second half, when within five minutes Belgium found the equaliser through a well-worked penalty corner. Lieselotte van Lindt (39) was able to deflect the ball into the goal from a sweeping shot from Stephanie de Groof.

It was 20 minutes of busy, but unproductive hockey before a piece of individual brilliance from Barbara Nelen (53) broke the deadlock. Nelen picked up the ball on the halfway line and ran unimpeded into the circle before scoring with a reverse stick shot. Almost immediately Belgium were reduced to 10 players when Stephanie de Groof was sent off, and Scotland worked hard to capitalise.

The equalser came tantalisingly close when Belgium 'keeper Aisling Dhooghe somehow kept a scrambled ball from crossing the line but, despite great work from captain Linda Clement and an energetic performance which saw the Belgium team under enormous pressure, the home side were unable to get the equaliser.

"We always knew we could compete with higher-ranked teams," said Clement after the game. "While Belgium deserved their two goals, we were pleased with the way we piled on the pressure. We know we must be more clinical in front of goal."

FIH site


---

Korea set the bar high with opening win over India

Fourth game of Day 1 in Glasgow reveals Korea as the team to beat



Korea vs India pool A CC1 (Photo: Rodrigo Jamarillo)

Korea established themselves as the early favourites to win this Champions Challenge 1 tournament with a 4-2 victory over India in their opening pool A match in Glasgow.

It was India who first appeared on the score sheet through Vandana Katariya (11') but just two minutes later Park Mi Hyun (13) struck back to equalise. Kim Ok Ju (23') and Cheon Eun Bi (28) also found the back of the net in the first half. There was a brief break in the action as one of India's bronze medal winning stars from the Junior World Cup, Sushila Pukhrambam, received a nasty facial injury from a lifted ball.

The India team did their best to exert pressure on their rivals in the second half, but the strength and accuracy of the Korean passing, combined with composure and possession when on the ball meant that the team in red were able to use the whole pitch and tire their youthful opposition.

A fourth goal was scored by Lee Young Sil (xx') but it was India who had the final say when Poonam Rani (XX') dissected the Korea defence to slot home India's second goal.

FIH site


---

U.S. Women's Team Develops Electric Tempo During First Match at Champions Challenge

Team USA contended against Spain to earn first tournament victory

GLASGOW, Scotland – The largest city in Scotland has become the hub of the international hockey scene for the week as the Champions Challenge begins. The U.S. Women's National Team met on the new Glasgow National Hockey Centre pitch with first tournament opponent Spain. Team USA secured their first win with a final tally of 3-1.

"Today's match was very pleasing," said Head Coach Craig Parnham. "The team showed some very nice spells of hockey. There's some work we're going to look at but as a whole we're looking forward to the rest of the tournament."

The starting whistle zipped through the balmy Scottish air as the USA contended against Spain who is world ranked 14th. From end line to end line the ball glided as both teams settled into their own rhythms. With 5 minutes remaining in the first half, U.S. National Team athlete Katie O'Donnell (Blue Bell, Pa.) flipped the switch with blazing speed to enter the attacking circle and light up the scoreboard. The U.S. was quick to fire off of the reset, regaining possession and earning a corner immediately after the goal. The halftime score stood USA 1, Spain 0.

"We were really excited for this first game and to apply what we learned in training to the pitch," said Kathleen Sharkey (Moosic, Pa.). "We had some good chances to score before the first goal but kept being persistent and prevailed."

An attack mindset was present in the second half when Michelle Vittese (Cherry Hill, N.J.) capitalized off of sharp passes in front of the cage leading to USA's second goal in the 55th minute mark. Vittese beautifully placed the ball to the left of the keeper to make the score 2-0.  Quick to continue forward movement, Melissa Gonzalez (Mohegan Lake, N.Y.) found a gap in Spain's defensive circle and slid a crisp reverse shot into the cage making the score 3-0. Defense veterans, Lauren Crandall (Doylestown, Pa.) and Caroline Nichols (Virginia Beach, Va.) along with the leadership of goalkeeper Jackie Kintzer (Robesonia, Pa.) kept the defense circle under tight lock. Spain was only able to earn two corners of which they scored from a straight shot from the top of the circle. The match concluded United States 3, Spain 1.

Tomorrow Team USA will play against South Africa at 2:00 p.m. local time, 9 a.m. ET.

USFHA media release


---

Investec SA hockey women and Ireland in entertaining draw

JONATHAN COOK in Glasgow



SA striker Sulette Damons celebrates her goal, team-mate Kelly Madsen joins in during the 2-2 draw in the Champions Challenge at Scotland's National Hockey Centre in Glasgow Sunday. Photo: RODRIGO JARAMILLO

World number 15 Ireland and the 11th ranked Investec South Africa women's hockey team drew their opening Champions Challenge Pool B match 2-2 at Scotland's National Hockey Centre in Glasgow Sunday after the girls in green and gold were 1-0 up at half-time.

Sulette Damons opened the scoring in the 11th minute, Ireland made a superb equaliser through Anna Flanagan in the 44th before Dirkie Chamberlain regained SA's lead five minutes later (49th) and Audrey O'Flynn went low to the far corner in the 58th for the 2-2 final goal.

"We weren't good enough in the end zone [in both attack and defence] and gave away too many corners in the second half," said SA head coach Giles Bonnet. "We created enough chances, but you've got to put them away if you want to win.

"I was happy with how we played to get the ball there, we had very many scoring chances, but you've got to score then, and that's the difference. It would have made an interesting scoreline but the final finishing was poor today."

There were numerous turnovers from both sides and Ireland earned the first penalty corner in the fourth minute, SA post player Lenise Marais coolly turning away O'Flynn's low flick towards the far corner before the South Africans made use of Damons' extreme pace down the right, but her cross didn't find a team-mate.

Neither team were connecting sufficient passes together but the Irish won their second PC after a turnover in the 10th and keeper Anelle van Deventer saved the shot comfortably.

Then SA simply exploded out of deep defence and Damons was on hand to pop in the rebound off keeper Aleisha McFerran's pads after Kathleen Taylor's initial shot, leaving the score 1-0 to the South Africans in the first quarter.

The passes were starting to flow, a Tarryn Bright and captain Marsha Cox combo saw the SA skipper's through-ball down the middle ending with Damons' powerful backhand smashing into the post and staying out.

The girls in green and gold made several entries into the strike zone but the Irish defence held firm, while at the other end SA made key recoveries from Ireland's attacks, Quanita Bobbs, Marais, Lisa Deetlefs and Cox prominent in this department.

On two occasions towards the end of the half SA might have added to the scoreboard as they exploited the right side of the pitch. Six minutes after the changeover Bright's top pass from the left saw Damons come agonisingly close to notching up her second, and then it was fellow striker Celia Evans' turn from a right cross.

Nine minutes into the half Ireland equalised in fine fashion when connections between three players culminated in Flanagan's diving deflection at the far post.

Another five minutes passed in a flash before Chamberlain put SA back in front after accurate combination play instigated from the left. Ireland then won four PCs in rapid succession and it was from the last, 12 minutes from the end that Flynn ensured the match would finish with honours even.

Winning two PCs in the last 10 minutes, SA pressed hard for the winner, the second set-piece featuring shots from Cox and Damons that were repelled, before another slick combination play resulted in Chamberlain bringing out a great save from replacement keeper Emma Gray.

Soon after, Bright might have also nailed the winner but it was not to be.

"They did not have many goalshots, but we must finish, and that's it," Bonnet added.

Investec SA meet world number 10 the USA at 3pm SA time Monday. The world's 14th-ranked Spain, the other Pool B country, lost 3-1 to the USA in Sunday's early match.

Fans can follow all the Champions Challenge action live on the International Hockey Federation's (FIH) YouTube Channel https://www.youtube.com/user/fihockey while you can go to http://events.fih.ch/new/competition/284 for all the fixtures and the Twitter handle @FIH_Hockey #CC1 to catch the matches there.

SCORERS
Investec South Africa (1) 2 (Sulette Damons 11th minute, Dirkie Chamberlain 49th)
Ireland (0) 2 (Anna Flanagan 44th, Audrey O'Flynn 58th)

INVESTEC SA TEAM
Starting: Anelle van Deventer, Lisa Deetlefs, Lenise Marais, Quanita Bobbs, Marsha Cox (capt), Shelley Russell, Bernie Coston, Tarryn Bright, Dirkie Chamberlain, Sulette Damons, Celia Evans. Rolling subs: Sanani Mangisa, Nicolene Terblanche, Illse Davids, Marcelle Manson, Kelly Madsen, Lilian du Plessis, Kathleen Taylor.

SA Hockey Association media release


---

CC1 Match 1 Ireland 2-2 South Africa




Ireland drew 2-2 with South Africa in their opening Champions Challenge I match today in Glasgow, Scotland today at 12pm.

Ireland started the match looking very fresh creating opportunities to goal score but with no Irish conversions in the first half it was South Africa who took their opportunity in the 12th minute when Sulette Damon converted after Chamberlains initial shot ricocheted back out for Damon to tip in.

Ireland had early chances with a penalty corner in the 4th minute but Audrey O'Flynn's drag was saved, before Megan Frazer's set piece was denied after Anna O'Flanagan battled well to secure Ireland their second penalty corner.

Ireland's team combined well throughout the first half  showing flair but as South Africa gained momentum they applied the pressure in the final ten minutes, but Ireland's team worked well to keep the second goal out and the first half closed out 1-0 to South Africa.

Ireland started keenly in the second half which produced early end to end play and included an early Emma Gray save. Ireland produced their goal with style in the 44th minute after Gillian Pinder laid off for a pacy Anna O'Flanagan to drive into the circle and cross shot for a sliding Naomi Carroll to covert from a full stretch to make it 1-1.

South Africa were back in the lead just minutes later when a cross shot gave South Africa a soft goal, Chamberlain claiming the honours this time to give her side a 2-1 lead.

Ireland had a good chance to secure their second goal from their third penalty corner after good Anna O'Flanagan play but the set piece didn't produce the shot. A minute later they secured their 4th, 5th and on the 6th Audrey O'Flynn put pace behind her drag flick for a low shot to make it 2-2.

The game closed out in end to end fashion with opportunities created for both sides but after an exciting match the game finished 2-2.

Ireland play Spain tomorrow at 4pm

Ireland 2 (0) Naomi Carroll 44m fg, Audrey O'Flynn 58m pc
South Africa 2 (1) Sulette Damon 12m fg; Chamberlain fg 48m

Starting XI: McFerran, Sargent, Smyth, McCay, Frazer, O'Flynn, Watkins, Mullan, O'Flanagan, Pinder, Dillon
Reserves: M Harvey, N Evans, N Carroll, N Daly, A Meeke, E Beatty, E Gray

Irish Hockey Association media release


---

Ireland 2-2 South Africa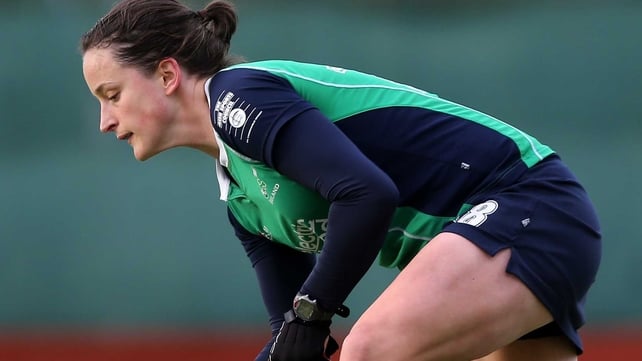 Audrey O'Flynn earned a draw for Ireland in Glasgow

Ireland drew 2-2 with South Africa in their opening Champions Challenge match today in Glasgow today.

South Africa opened the scoring in the 12th minute when Sulette Damon converted off a rebound.

Ireland had early chances with a penalty corner in the fourth minute but Audrey O'Flynn's drag was saved, before Megan Frazer's set-piece was denied.

Ireland started well after the restart and got on the scoresheet in the 44th minute when Gillian Pinder laid off for Anna O'Flanagan to drive into the circle and her cross was hammered home by a lunging Naomi Carroll.

South Africa were back in the lead just minutes later from a cross shot from Dirkie Chamberlain.

Audrey O'Flynn restored parity after a period of sustained Irish pressure from a drag flick.

Ireland play Spain tomorrow at 4pm.

RTE


---

Indian women's hockey team goes down 2-4 to Korea

GLASGOW: Indian women's hockey team went down fighting against Korea 2-4 in their opening match of the Champions Challenge 1.

The Indian team opened the scoring in the 12th minute through Vandana Katariya's field goal.

The Koreans, however, struck back immediately and scored the equaliser in the 14th minute through the stick of Mihyun Park.

The Koreans again scored in the 24th and 25th minute taking the scorecard to 3-1 at the end of the first session.

The Indian team maintained a steady attack in the second half but was unable to stop their opponents from scoring again in the 42nd minute which they converted through a penalty corner.

The Indian women reduced the margin in the 69th minute through a field goal from Poonam Rani to lose the match 2-4.

India play hosts Scotland tomorrow in their second match in Pool A.

The Times of India


---

Belgium inflict opening day defeat on Scotland



Photo Credit: Duncan Gray

Scotland Senior Women's FIH Women's Champions Challenge campaign got off to a disappointing start following a 2-1 loss at the hands of Belgium in Glasgow this afternoon.

The Scots had led through an early Ali Bell field goal, but a second half penalty corner strike from Lieselotte Van Lindt and a wonderful solo effort from Barbara Nelen inflicted an opening day defeat for the home side in Pool A of the competition.



Scotland Senior Women line-up before the match against Belgium. Photo Credit: Duncan Gray

Scotland Senior Women Head Coach Gordon Shepherd was disappointed, but not downbeat, following the match, "I'm disappointed with the result but not with the performance the players put in. I thought they put a great effort in on the pitch.

"Tactically I thought we were ok, we had our opportunities from both penalty corners and open play to get the second goal but we missed out by a fraction each time. That's international hockey sometimes."

The national side go on to face India tomorrow evening (19.00), a challenge Shepherd is relishing, "I'm really looking forward to tomorrow night and it's great that we're straight back on the pitch against India. If the players can build upon the performance they put in today with the same intensity then I'm sure we can get a victory."

It was Scotland who threatened to take the lead early on in proceedings; Vikki Bunce's aerial pass found striker Nikki Lloyd stretching out a stick to flick the ball on goal but Belgian goalkeeper Aisling D'Hooghe was alert to palm away the effort.

The hosts were not to be denied for much longer though; in the 13th minute an excellent combination between Sarah Robertson, Emily Maguire and Ailsa Wylie led to Ali Bell collecting the ball with her back to defender Aline Fobe, the Grove Menzieshill attacker subsequently swivelling to get into position and slam home the opening goal.



Ali Bell celebrates the opening goal for Scotland. Photo Credit: Duncan Gray

Belgium's players thought they had found an equalising goal shortly before half-time, but Fobe's effort was chalked off after the umpires agreed that the ball was dangerously high.

However, the Belgians were eventually back on level terms four minutes after the interval, an effectively executed penalty corner set-play concluding with Lieselotte Van Lindt slotting the ball past Scotland's Nicki Cochrane from Stephanie de Groof's penalty corner attempt.



Ailsa Wyllie averts the attentions of a Belgian defender. Photo Credit: Duncan Gray

Scottish captain Linda Clement was desperately unlucky not to restore her side's lead in the 51st minute, the goal-bound reverse stick shot being parried to safety by D'Hooghe.

Shepherd's charges were left to rue the missed opportunity two minutes later as Barbara Nelen was allowed to slalom through the home defence to strike the ball past Cochrane to give Belgium a 2-1 lead.



Belgium's Barbara Nelen and Scotland Cat Ralph battle for the ball. Photo Credit: Duncan Gray

Despite a final rally in the closing stages, Nikki Kidd being denied twice by D'Hooghe from penalty corners, while Bell was also left frustrated by a point blank double save from the shot-stopper, it was Belgium who hung on to collect the three points.

FIH Women's Champions Challenge I Result, Glasgow National Hockey Centre, Scotland
Scotland (Ali Bell 13') 1-2 Belgium (Lieselotte Van Lindt 39', Barbara Nelen 53')

Scotland Senior Women: Nicola Cochrane (Edinburgh University), Vikki Bunce (Dundee Wanderers), Morag McLellan (Clydesdale Western), Alison Bell (Grove Menzieshill), Rebecca Ward (Dundee Wanderers), Catriona Ralph (Clydesdale Western), Sarah Robertson (Edinburgh University), Linda Clement (Captain, Grove Menzieshill), Ailsa Wyllie (Grove Menzieshill), Leigh Fawcett (Grove Menzieshill), Rebecca Merchant (Edinburgh University), Nikki Kidd (Canterbury), Susan McGilveray (Clydesdale Western), Nicola Lloyd (Canterbury), Nicola Skrastin (Clydesdale Western), Emily Maguire (Reading), Aileen Davis (Clifton), Amy Gibson (Old Loughtonians).

Belgium Senior Women: Anne-Sophie De Scheermaekere, Louise Cavenaile, Aline Fobe, Stephanie De Groof, Anouk Raes, Emma Puvrez, Lieselotte Van Lindt, Axelle Wouters, Alix Gerniers, Emilie Sinia, Charlotte De Vos, Louise Versavel, Barbara Nelen, Aisling D'Hooghe, Elena Sotgiu, Jill Boon, Stephanie Van Den Borre, Manon Simons.

Scottish Hockey Union media release


---

Celtic Cup success for Masters at Titwood

Clydesdale Hockey Club played host to the Masters Celtic Cup this weekend, with Scotland tasting success.

The Over 60s tournament included France and Ireland for the first time, along with the original contestants, Scotland and Wales.

The Over 65s Celtic Cup was fought out between Scotland and Wales, whose friendly international planned for Sunday 27 April turned into an (indecisive) playoff for the Great Grand Masters Celtic Cup.

There were also two matches for Scottish Thistles against a Glasgow select and a Barbarians team.

The tournament was played at Clydesdale Hockey Club, Glasgow.

Scotland Over 60s took the Grand Masters Celtic Cup outright after three wins out of three while The Over 65s retained the Great Grand Masters trophy after two successive draws with Wales.

Friday 25 April

Scottish Thistles 3 (Mitchell, Murphy, Gallacher pen) Glasgow Select 7

Scotland Over 60 7 (Morrison 2, Loudon, Paton, Ogilvie, Lorimer, Connaghan) France Over 60 0

Wales Over 60 3 (Sparkes, Johnson 2) Ireland Over 60 1 (Gelletlie)

Saturday 26 April

Wales Over 60 7 (Sparkes 3, Wyatt 2, Johnson, Chapman) France Over 60

Scotland Over 65 2 (Springford, Crichton) Wales Over 65 2 (Minney, Hills)

Scotland Over 60 2 (Ogilvie, Bishop pen) Ireland Over 60 (Gelletlie)

Sunday 27 April

Scotland Over 65 0 Wales Over 65 0

France Over 60 0 Ireland Over 60 7 (O'Malley, Pollock, McCutheon, Blackwood, Enger 2)

Scotland Over 60 2 (Morrison, Bishop) Wales Over 60 1

Scottish Thistles 2 Barbarians 2

Scottish Hockey Union media release


---

U21 Scotland put to the test against England

U21 Scotland men were in action over the weekend as they faced neighbours England in a two match series at Peffermill, unfortunately losing 5-0 and 5-2.

Saturday saw the men play in thirds of 25 minutes each, with England attacking early on leaving the young Scots on the back foot allowing two goals in, but the Scots brushed it off and stepped up in the last two thirds giving the England side a good game.

No rest for the Scots as they played again today. The men went down 4-1 early on, Scotland's goal coming from Adean McCrossan. The young side soon fought back to secure another goal from Murray Colins to finish the game 5-2 to England. They finished the day with running penalties where England won 5-3.

Graham Moodie head coach was pleased with his teams improving performance; 'We struggled with the intensity at the start of the match going 4-1 down in the first 25 minutes but really competed after in spells. Considering we lost 8-0 in February to them and 5-0 yesterday this is a great improvement and promising for the future.'

Scottish Hockey Union media release


---

Charlesworth selects Kookaburras' World Cup squad

The Kookaburras' squad for next month's men's Rabobank Hockey World Cup has been announced by Hockey Australia. National Coach Ric Charlesworth and the selection panel have named what they believe to be the best balanced 18 athlete squad as Australia looks to successfully defend the gold medal won at the 2010 World Cup in Delhi.

Ten of that world title winning side are selected for the 2014 campaign while just three of the squad have made fewer than 50 appearances for Australia. 

Announcing the squad, Charlesworth said of the selection process: "It's as hard as it's ever been for me. 28 [fit athletes] doesn't go into 18. It's been a difficult process and there are two or three very unlucky people; some we just couldn't find a place for."

Of the 2010 gold medal winning side, Liam De Young, Jamie Dwyer, Kieran Govers, Rob Hammond, Fergus Kavanagh, Mark Knowles, Eddie Ockenden, Simon Orchard, Matthew Swann and Glenn Turner will all make the trip to The Hague. For Queenslanders Dwyer and De Young it will be a fourth World Cup having both also played in the Kookaburras' 2002 and 2006 silver medal winning campaigns. Mark Knowles, Rob Hammond and Russell Ford were also part of the 2006 squad.

For 21 year old Northern Territorian Jeremy Hayward selection marks another milestone in an exciting few months. Having played for the Australian Under 21 side, the Burras, at the Junior World Cup in December 2013, he made his senior international début just last month in the Kookaburras' successful Sultan Azlan Shah Cup campaign, scoring three goals.

Charlesworth added: "Jeremy Hayward and Aran Zalewski have earned their spots through what they've done in the past few months. Jake Whetton and Glenn Simpson are two others who will go to a tournament of this magnitude for the first time.

"There's a few senior heads there who have stood up to the load. We've got Liam De Young playing in the midfield but we know he gives us flexibility in defence too. And our forward line are all good goal scorers.

"A number of our players – both in the World Cup squad and amongst those that haven't been selected - have been injured but we believe they are on the right trajectory; the next month is critical for them to consolidate that recovery."

Having come through last week's Test series against New Zealand unscathed, Matthew Swann and Fergus Kavanagh are named following lengthy lay-offs through injury.

Goalkeepers Andrew Charter and Tyler Lovell receive the call up. Victorians Chris Ciriello and Glenn Simpson are included with 2012 Olympian Ciriello having missed the World League Finals through injury and Simpson set to play in the biggest tournament of his career having missed out on selection for the 2012 Olympic Games and the World League Finals in January.

Speaking about his ambitions for the tournament, Charlesworth said: "As with every tournament we enter we want to play in the main games at the end. To do that you need to hit the ground running and perform consistently through the tournament. We'll have a few two and three-day breaks in this competition, which will be a new challenge for us but one I believe we're capable of managing."

The Kookaburras have won the World Cup on two previous occasions; in 1986 and 2010. Only Pakistan (1978 and 1982) and Germany (2002 and 2006) have successfully defended a men's World Cup title.

Both the Kookaburras' campaign, and the Hockeyroos' World Cup being held at the same time in The Hague, will be broadcast in Australia by the ABC.

Before departing for the World Cup, the Kookaburras will select two reserves to travel to Europe as contingency cover. The Kookaburras' final World Cup preparations will take place in England and the Netherlands with two matches against World League bronze medallists England at Bisham Abbey on 24 and 25 May. After arriving in The Hague, the team will face Argentina and Germany in two unofficial, shortened practice games before opening the World Cup against Malaysia at 6:30pm AEST / 4:30pm AWST on Saturday 31 May.

Kookaburras' squad for Rabobank Hockey World Cup
The Hague, Netherlands
31 May – 15 June 2014
Athlete (Hometown, State) Caps/Goals [Age]
Andrew Charter (Canberra, ACT) 61/0 [27]
Chris Ciriello (Melbourne, VIC) 131/76 [28]
Liam De Young (Brisbane, QLD) 303/34 [32]
Jamie Dwyer (Rockhampton, QLD) 312/203 [35]
Russell Ford (Melbourne, VIC) 150/72 [30]
Kieran Govers (Wollongong, NSW) 84/40 [26]
Rob Hammond (Townsville, QLD) 247/28 [32]
Jeremy Hayward (Darwin, NT) 8/3 [21]
Fergus Kavanagh (Geraldton, WA) 176/14 [28]
Mark Knowles (Rockhampton, QLD) 231/19 [30]
Tyler Lovell (Perth, WA) 22/0 [26]
Eddie Ockenden (Hobart, TAS) 206/52 [27]
Simon Orchard (Maitland, NSW) 141/46 [27]
Glenn Simpson (Eltham, VIC) 106/20 [26]
Matthew Swann (Mackay, QLD) 98/5 [24]
Glenn Turner (Goulburn, NSW) 103/76 [29]
Jake Whetton (Brisbane, QLD) 53/23 [22]
Aran Zalewski (Margaret River, WA) 28/3 [23]

Kookaburras' record at the World Cup
1971 -  Barcelona, ESP -  8th
1973 -  Amstelveen, NED -  Did not participate
1975 -  Kuala Lumpur, MAS -  5th
1978 -  Buenos Aires, ARG -  Bronze
1982 -  Bombay, IND -  Bronze
1986 -  London, ENG -  Gold
1990 -  Lahore, PAK -  Bronze
1994 -  Sydney, AUS -  Bronze
1998 -  Utrecht, NED -  4th
2002 -  Kuala Lumpur, MAS -  Silver
2006 -  Monchengladbach, GER -  Silver
2010 -  New Delhi, IND -  Gold

World Cup arrangements & match schedule
19 May – Kookaburras depart for England
24 May – Kookaburras v England, first Test
25 May – Kookaburras v England, second Test
26 May – Kookaburras arrive in The Hague
28-29 May – Unofficial practice matches v Argentina & Germany
31 May – Kookaburras v Malaysia, 6:30pm AEST / 4:30pm AWST
2 June – Kookaburras v Spain, 9:00pm AEST / 7:00pm AWST
5 June – Kookaburras v Belgium, 00:00am AEST (6 June) / 10:00pm AWST
7 June – Kookaburras v England, 00:00am AEST (8 June) / 10:00pm AWST
9 June – Kookaburras v India, 9:00pm AEST / 7:00pm AWST
12 June – TBC - Classification matches
13 June – TBC – Semi Finals
14 June – TBC – Classification matches
15 June – TBC – Medal Matches

Hockey Australia media release


---

Dwyer, De Young head experienced Australia squad

SYDNEY: Australian field hockey coach Ric Charlesworth on Monday named an experienced squad to defend the World Cup in The Netherlands, including 10 players who helped lift the trophy four years ago.

The 18-man squad for the tournament from May 31 to June 15 in The Hague contains just three players with fewer than 50 international caps.

Jamie Dwyer, who has 312 caps, and Liam De Young (303 caps) will be heading to their fourth World Cup.

They will be joined by Kieran Govers, Rob Hammond, Fergus Kavanagh, Mark Knowles, Eddie Ockenden, Simon Orchard, Matthew Swann and Glenn Turner, who all featured in the last World Cup in New Delhi in 2010.

Australia squad: Andrew Charter, Chris Ciriello, Liam De Young, Jamie Dwyer, Russell Ford, Kieran Govers, Rob Hammond, Jeremy Hayward, Fergus Kavanagh, Mark Knowles, Tyler Lovell, Eddie Ockenden, Simon Orchard, Glenn Simpson, Matthew Swann, Glenn Turner, Jake Whetton, Aran Zalewski.

The Times of India


---

Crowning moments: Orange, Moshi CSSL lift Vaisakhi hockey titles

By  ELIZABETH MBURUGU



Moshi CSSL after lifting the men's title. [PHOTOs: JENNIPHER WACHIE/STANDARD]      

Orange Telkom outclassed Strathmore University Scorpions 7-0 to retain Kenya's women's annual Vaisakhi hockey title  yesterday at City Park Stadium.

Orange, who have won Vaisakhi for the second time, were no match for the Scorpions as they dominated the entire match, leaving the second best women's hockey club in the continent struggling.

Strathmore head coach Meshack Senge, who was a disturbed man after the match told FeverPitch: "My team's  performance was a disaster, I could not recognise my team on the pitch, they were not there," he said.

Strathmore, who were struggling in the absence of  former key player Lillian Aura who moved to Orange, lost confidence conceding easy goals."They (Strathmore) lost confidence and conceded easy goals, we should not have lost that match by (such) a big margin."

Title defence

On the other hand Orange coach Josephine Ataro told FeverPitch that they expected that score line and the game went according their plan.

"My players played according to the plan and we achieved our objective, we will now embark on preparations for the league title defence," she said.

However, Ataro also added that they would have scored more goals if they had utilised the short corners.

"Short corners were our major problem in this match, we failed to convert a single short corner but we will work on it," she added.

Orange are currently on a transition that has seen head coach Jos Openda step aside and let the ladies take charge.

Fantastic field goal

Veteran Hellen Chemtai announced Telkom's intended win three minutes into the game, scoring a fantastic field goal. Jacqueline Jow made it two in the sixth minute, sending the ball past Scorpions custodian Truphy Oriwa who seemed not to be at her best form.

Chemtai was at it again in the ninth minute to put the defending champions three up before the end of the first quarter. Audrey Omaido put her name on the score sheet in 19th minute after  beating the Scorpions defence.

National team midfielder Margaret Rotich made it five two minutes into the third quarter through a superb field goal from a Barbara Simiyu pass before Flavian Mutiva  increased their tally to 6-0 in the 40th minute.

Rotich added her second in the 47th minute to seal the huge victory and lift the fourth Vaisakhi title for the African queens.

Scorpions captain Lucy Wanjiku squandered the only opportunity they had, coming close to scoring in the 26th minute.

In the men's category Moshi CSSL triumphed 3-1 over Ghana Customs to lift the men's trophy. CSSL had a good run and finished the tournament on a clean sheet. CSSL also borrowed the services of Kisumu Simba midfielder Frank Wanangwe and Greensharks forward Tony Nyunkuri.

The Standard Online


---

SECR derail SAI Sundergarh to win All India hockey title

Suhas Nayse

NAGPUR: South East Central Railway (SECR), Nagpur stamped their authority with a clinical display to clinch the 1st All India VHA-Nagpur Gold Cup Hockey tournament at the VHA ground on Saturday.

The six-day tourney was organized by Vidarbha Hockey Association under the aegis of Hockey India.

SECR, the VHA Senior Division champions, defeated a young and promising team from Sports Authority of India (SAI) Sundergarh (Odisha) 2-1 in an absorbing final. At the half-time, both the teams were locked at 1-1.

It was the visitors who took the lead against the run of play in the 27th minute through their most dependable forward Sushil Ekka. But the railmen used all their experience to negate the lead and draw parity a minute before the lemon break.

Shadab Khan, who was left unmarked at the top of the circle, received a long ball from captain Sheikh Imran and he made no mistake in slotting the ball home, beating Odisha goalkeeper Ajay Kandulna.

Four minutes later, SECR skipper himself scored the winner for his side from a beautiful field goal.

Despite trailing, Odisha continued to play a calm and composed game. They got several chances but were denied by some tough SECR defending.

SECR custodian Chandan Singh too made some breathtaking saves throughout the match. Similarly, defenders Dheeraj Wagh, Nisaruddin and Mohd Shahid too were excellent.

Earlier in the hardline final, Sports Hostel Pomposh, Rourkela defeated Maharashtra XI 2-0. Suraj Minz scored in the 59th minute, while Thouphil Kujur converted a penalty stroke in the 64th minute.

Arjuna Awardee and Olympian Ashok Kumar was the chief guest of the final and also gave away the prizes. VHA president BC Bhartia and secretary Vinod Gawai were present on the occasion.

RESULTS:

Hardline final: Sports Hostel Pomposh, Rourkela bt Maharashtra XI 2-0. Suraj Minz (59th), Thouphil Kujur 64th).

Final: SECR 2 (Shadab Khan 34th), Sheikh Imran (38th) bt SAI, Sundergarh, Odisha 1 ( Sushil Ekka 27th).

Champion SECR, Nagpur team: Nisaruddin, Kuldeep Singh, Md Arif, Dalbir Singh, Karan Kushwaha, Shadab Khan, Sheikh Imran (C), Jerom Lakra, Irshad Mirza, Md Shahid, Nimit Lal, Dheeraj Wagh, Sunil Lakra, Ashok Nande, Chandan Singh (GK), Ankit Bihari. Coach: Gurucharan Singh; Manager: Lalit Singh.

The Times of India


---

Hockey India should develop strong bench strength: Ashok Kumar

Suhas Nayse

NAGPUR: Three-time Olympian and 1975 World Cup-winning player Ashok Kumar urged the Hockey India (HI) to develop a strong bench strength to revive the glory days of hockey in the country.

Ashok Kumar, son of legendary Major Dhyanchand, was in the city to distribute the prizes of the 1st All India Gold Cup Hockey tournament which concluded at the VHA ground on Saturday.

"We must have at least 60 quality players with us all the time. To meet the heavy demand of the international hockey schedule, the HI should concentrate on forming an equally good second and third string teams to replace the seniors in case of injuries. Having a big pool of talented youngsters is the need of the hour," said Ashok Kumar, who has played three World Cups (1971, 1973, 1975) and two Olympics at Munich and Montreal in the golden era of Indian hockey.

Talking to the media, Kumar said the professional leagues like Hockey India League (HIL) is good for the game and will change the scenario of the game in the country in few years' time.

"I am happy with HIL but I have seen several players giving more importance to HIL rather than donning the national colours. Playing for India should be the ultimate target for any budding player. On the contrary, I have seen the youngsters putting more efforts for the preparations of the HIL because he has to justify his contract amount," said Kumar, who was the recipient of Arjuna Award in 1974 and is presently working as the director of Madhya Pradesh Hockey Academy, Bhopal.

The Times of India


---

Early preparation to shape up the young talent

New Delhi, 24 April 2014: In its preparations for the 2016 World Cup, Hockey India today announced names of 60 players who have been identified to be a part of the Junior Men coaching camp at Major Dhyan Chand National Stadium in New Delhi commencing from 25 April 2014. The next FIH Junior Men Hockey World Cup scheduled to take place in India from 1-11 December 2016 and being the hosts of the tournament, Hockey India is making all out efforts to ensure that a strong team is ready to take on the opponents. Out of the 60 identified players, 33 core probable's team for the 2016 Junior World Cup will be selected on 3 and 4 May 2014.

Looking ahead, FIH Junior Men World Cup 2016, the 60 campers of junior age category have been selected by Hockey India Selectors Mr. B P Govinda, Mr. Arjun Halappa alongwith Director High Performance Mr. Roelant Oltmans, Mr. Haribinder Singh and Mr. Harendra Singh, Coach Junior Men Hockey Team on the basis of their performance in the 4th Hockey India Junior Men National Championship held at Chennai from 24 March- 6 April 2014 and 4th Hockey India Senior Men National Championship held at Lucknow from 27 February – 23 March 2014.

Hockey India selection committee will conduct selection trials of these 60 identified campers on 3 and 4 May 2014 to select 33 junior men core probables for preparations of the FIH Junior Men Hockey World Cup 2016. After the selection of 33 junior men core probables, these players will be groomed to face the challenges head-on in the upcoming Junior Men World Cup 2016 and yield better results. The coaching camp of the junior men core probables will continue till 6 June 2014.

List of players is as under:

GOALKEEPERS
1. Pankaj Rajak (Hockey Jharkhand)
2. Aamir Hasan (Hockey Bhopal)
3. Jugraj Singh (Hockey Bhopal)
4. Rattan Singh (Hockey Himachal Pradesh)
5. Vikas Dahiya (Hockey Haryana)
6. Subodh Tirkey (Hockey Odisha)
7. Nelson Leisangthem (Mumbai Hockey Association)
8. Abhinav Pandey (Uttar Pradesh Hockey)

DEFENDERS
9. Abhay Ekka (Hockey Jharkhand)
10. Jarmanpreet Singh (Hockey Punjab)
11. Navdeep Singh (Sports Authority of India)
12. Harmanpreet Singh (Hockey Punjab)
13. Anand Lakra (Hockey Odisha)
14. Owais Ahmed (Hockey Himachal Pradesh)
15. Sanjit Toppo (Hockey Odisha)
16. Nikhil Pardeshi (Mumbai Hockey Association)
17. Meiraba Singh (Manipur Hockey)
18. A. P. Singh (Uttar Pradesh Hockey)

DEFENDER / MIDFIELDERS
19. Manish Yadav (Sports Authority of India)
20. Sumit (Hockey Haryana)
21. Atuldeep (Uttar Pradesh Hockey)
22. Varun Kumar (Hockey Punjab)
23. Disan Tirkey (Hockey Odisha)
24. Nilam Sanjeep Xess (Hockey Odisha)

MIDFIELDERS
25. Santa Singh (Hockey Haryana)
26. S. H. Nilakanta Sharma (Madhya Pradesh Hockey Academy)
27. Pawan Sahani (Hockey Bhopal)
28. Sunit Kumar (Hockey Maharashtra)
29. Naveen Tirkey (Hockey Chhattisgarh)
30. Simranjeet Singh (Hockey Punjab)
31. Harjeet Singh (Hockey Punjab)
32. Baljit Singh (Hockey Punjab)
33. Somaiah K. P. (Hockey Karnataka)
34. Pruthviraj G. N. (Hockey Karnataka)
35. Joseph Toppo (Hockey Odisha)
36. Ajay Yadav (Sports Authority of India)
37. Amandeep Singh (Hockey Himachal Pradesh)
38. Prakash Barla (Hockey Odisha)
39. Janma Majhi (Services Promotion Sports Board)
40. W. Suras Singh (Steel Plant Sports Board)
41. Sanjay Paswan (Bengal Hockey Association)
42. Sahiilpreet Singh (Hockey Haryana)

MIDFIELDER / FORWARDS 43. Mohd. Nizamuddin (Madhya Pradesh Hockey Academy)
44. Manish Rajbhar (Uttar Pradesh Hockey)
45. Nikhil Saroha (Hockey Haryana)
46. Imran Khan (Uttar Pradesh Hockey)
47. Ajit Kumar Pandey (Sports Authority of India)

FORWARDS
48. Parvinder Singh (Hockey Punjab)
49. Baljinder Singh (Hockey Punjab)
50. Badal Choudhary (Hockey Himachal Pradesh)
51. Sumit Toppo (Hockey Odisha)
52. Rajat Sharma (Mumbai Hockey Association Ltd)
53. Nitesh Kilo (Hockey Jharkhand)
54. Pawan Kumar (Hockey Haryana)
55. Manpreet (Hockey Haryana)
56. Roshan Kumar (Bengal Hockey Association)
57. Santosh Baxal (Steel Plant Sports Board)
58. Ramandeep Singh (Services Sports Control Board)
59. Pandurang Sakhalkar (Goans Hockey)
60. Arman Qureshi (Air India Sports Promotion Board)

Stick2Hockey.com


---

Obituary - the voice of Pakistan hockey

Jaffer Bilgrami

KARACHI: Veteran television and radio sports commentator Sheikh Mohammad Naqi was better known as S.M. Naqi. For those who may not know him much, should know that the late commentator was once a known and a recognized voice beaming a live account of any international hockey match for Pakistan Television or Radio Pakistan from distant destinations.

By profession a sports journalist hailing from a defunct Urdu newspaper Naqi's forte was his Urdu commentary in hockey alone which he used to from the arenas of Olympics, Asian Games, Champions Trophy and other international events.

Not a broadcaster in a true sense but his deep knowledge and deep understanding of the game gave him edge and command. As a man for all seasons he was one of those few broadcasters who used to bail out his producers by accepting the assignments on a short notice in sports events other than hockey.

Naqi himself donned colours at the junior level but he was a known personality in the sports world. He served as an active member of the Pakistan Sports Writers Association for many years.

Naqi's contribution in the world of sports was recognised by the government when he was decorated with the Pride of Performance a few years ago.

As a man and a friend, Naqi belonged to the old school, loyal who hospitable and warm in his circle of friends.

Leading a private life for past few years on account of his illness which had confined him to his abode but not long ago Naqi was a prominent figure of Karachi Press Club card room. Like Farooq Mazhar and Zakir Syed he will be equally missed both at sporting events as well as at KPC and by sports enthusiasts as well his friends.

Dawn


---

Legendary commentator S.M. Naqi laid to rest

KARACHI: Pakistan legendary radio/television hockey commentator and sports journalist Sheikh Mohammad Naqi, who died here on Saturday night after protract illness, was laid to rest in Hub on Sunday. He was 79.

Naqi, who was awarded President Pride of Performance in 2004 for his meritorious contribution in the field of hockey commentary, was bedridden for the past several years.

His Namaz-e-Janaza was offered at Sultan Masjid in the Defence Housing Authority after Zuhr prayers, which was largely attended by sportsmen, media personals, friends and relatives.

Prominent who attended the funeral prayers included former Pakistan cricket captain Wasim Bari and officials of the Karachi Hockey Association and veteran broadcaster Yawar Mehdi of Radio Pakistan and Prof Ejaz Faruqi.

But no prominent Olympian was present nor did the Pakistan Hockey Federation (PHF) issue any official condolence on the demise of Naqi.

Naqi, who remained the secretary general of Pakistan Sports Writers Federation, had the honour of covering as many as nine Olympics including the 1972 Munich Olympics.

Besides playing hockey, Naqi also remained an international hockey umpire and supervised in national hockey championship.

"S.M. Naqi was an iconic figure and contributed greatly as a hockey commentator and sports journalist," Azeem Sarwar, a renowned broadcaster and presenter of Radio Pakistan who had covered a couple of World Cups abroad with late Naqi, said.

Former Olympian Samiullah Khan, chief selector and NBP Sports chief Iqbal Qasim, former KCCA President Prof Siraj Bukhari have expressed their condolences on the death of Naqi.

Dawn